Things To Know Before You Finalise Your Wedding MUA!
BY Sakshi | 22 Apr, 2018 | 10364 views | 5 min read
The most ideal time to book your makeup artist is about 4-6 months before the wedding. While it may sound like a stretch for some, the good ones get booked fast, especially if it's an 'in-season' wedding. Plus, booking a makeup artist is not a 5-minute or even a one day job. To make sure it's the right match, it might take upto 15 days, since you have to schedule a trial and weigh your options! So here are some things you should know before finalising your bridal MUA which you should keep in mind!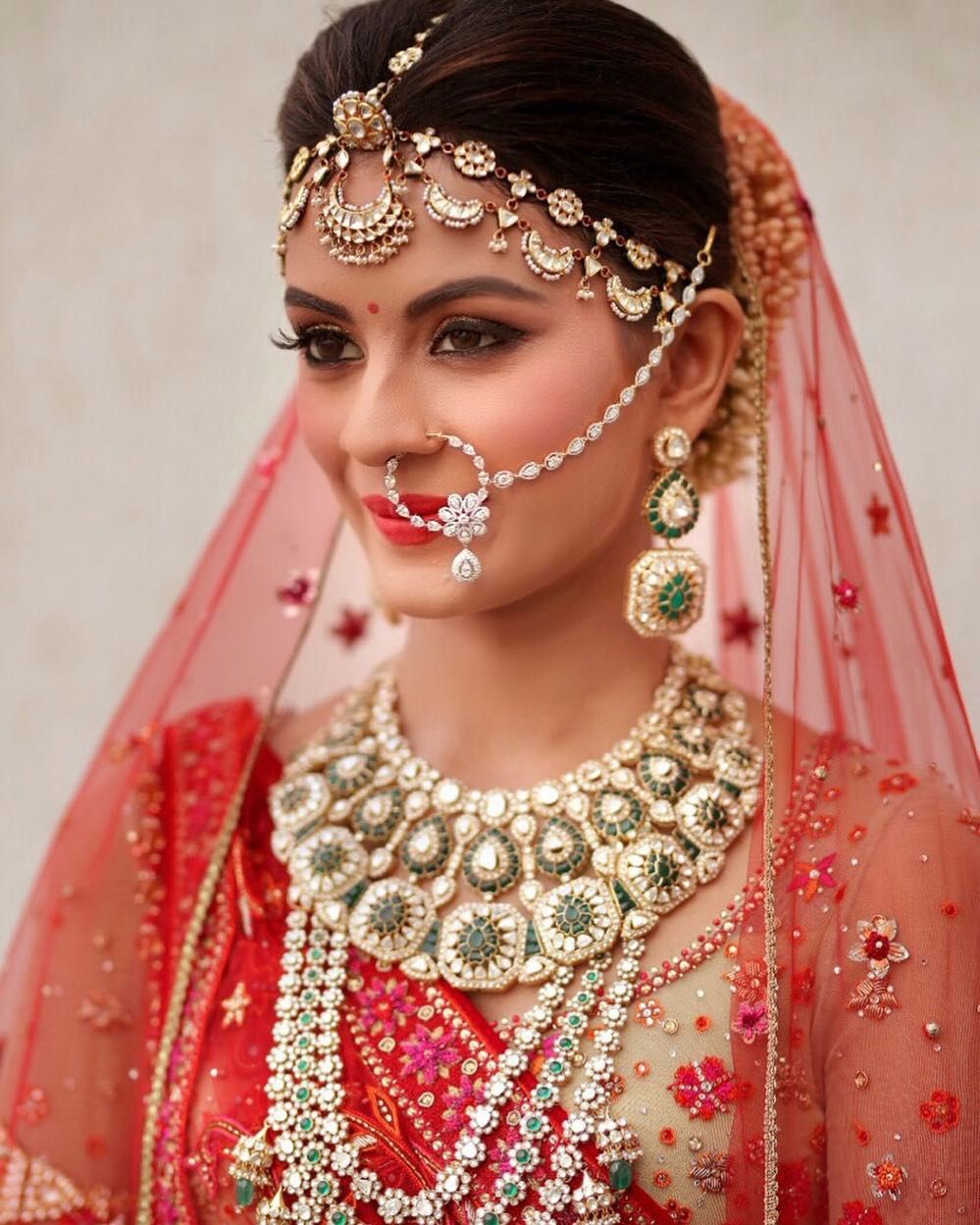 Image via taruntahiliani on Instagram
Search & Stalk!
Most good MUAs these days have an Insta page, so after narrowing down your options, make sure to check their work on social media and of course on WMG. See the recent work they have done and whether you like their style of makeup, also check how varied the looks they have given on different brides are. If you like something, save or screenshot!
Ask: How many bookings do they have on your wedding day?
A lot of brides forget to ask this imp question- if they are too packed on that day, then it might not be a good idea if they're taking you in too! 
Ask about a payment breakdown
So while it will be your deciding factor, especially if it's a budget wedding, let it not be the only factor. If an MUA is slightly higher than your budget, don't be afraid to discuss your looks with them, and request for a payment breakdown. The breakdown may involve team members, products, or travel, which can be worked around as per your needs. If they give a discount well and good, but bargaining too much isn't a very good idea, if it doesn't work out, move on to someone else. Browse MUAs in your budget on the WMG Vendor Gallery. 
Get pricing for extra makeup artist for sisters & mothers
What's included, what's not and what can be added or deducted? Get the price breakup for each too and if another person will be handling them
Don't forget the smaller functions
So most brides tend to focus on the wedding day, and not the others. Decide on which functions you want the MUA and for which ones you do not. Get a breakup from the MUA accordingly. Rates are different for smaller functions and the bridal makeup on the wedding day. But you should still discuss the look you want, but a trial is not mandatory. 
Decide: On-location or in the salon
Whether you're going for a destination wedding or having one in your city, it's a call you have to take, and one that might affect your budget too. Do you want the MUA to come to where you're getting ready or do you want to go to the salon? Decide the pros and cons of each, and if you do want the MUA to travel cities or come to your hotel, that is something you'll have to speak about in the negotiation stage itself. 
What kind of makeup do you want and what products do they use?
Regular, HD or Airbrush? What type of makeup do you want, which will depend on your skin type and does your MUA provide it? These are important factors to discuss as are the products that they are going to use! Pick something that's best for you! 
Need something extra? Speak about it before-hand
If you need hair or nail extensions or something special, then ask your MUA whether she provides them or will you have to source it. Feel free to ask questions on prices and any other doubts. But clarify everything well in advance!
Meet with them in person and get a trial!
It's best to meet your MUA in person after shortlisting. Whether you want no-makeup makeup or something grand that screams 'bridal', we highly recommend getting a makeup trial- before booking the MUA! Take along some ideas and screenshots that you have liked, and discuss a look with her that both of you love! Get clarity on whether this is paid or free too. 
Don't forget a hair trial!
A lot of brides focus only on the makeup during the trial, and forget the hair- which becomes a struggle on the D-day to get right in time! Getting a hair trial will ensure that doesn't happen and also gives you time to experiment with something that looks just perfect!
Communicate!
Talking to your MUA and keeping an open channel of communication is super important! If you don't like something, make it clear but politely. This is their work and most of them are very open to ideas and listening to yours too, so talk openly with them without thinking how they're gonna take it- most of them will take it well as long as you're being polite and nice!
Discuss the team they're coming with
A bridal look is a lot of work. Ask them how many team members are gonna come along. Sometimes the hairstylist is different, or maybe the draping person. Ask how many people he or she will bring, who does what, and also see samples of their work. Plus, does your sister want to get her makeup done by the same MUA, or maybe your mom? Then you will have to ask for more people accordingly. You could also hire someone from WMG's Family Makeup Service which is easy peasy!
What is their cancellation policy?
Emergencies can happen any time and with anyone. Make sure you get some clarity on the cancellation policy- if you cancel or they can't make it for some reason! Will they provide a back-up in that case?
ALSO READ: Unbeatable Prices For Makeup Artists In Delhi !