This Bride Had An Eco-Friendly Vegan Wedding In Dubai Which Had Some Amazing Ideas!
BY Sakshi | 17 May, 2019 | 9197 views | 7 min read
How about we start replacing big fat Indian weddings with big fat, eco-friendly weddings? Yes, we really hope for this sensibility to kick in in the next few years, and change Indian weddings for the better! But even if it goes at the rate of one couple at a time, it's still hopeful, and here is one bride who did just that. The bride, Dr Priyanka is a Reconstructive and Plastic surgeon, and got married to Dr. Amanpriya a Laproscopic and Bariatric surgeon. What was amazing was that they had a vegan wedding in Dubai, which was not just pretty, but an eco-friendly one at that too! And the best part was, that they did not compromise on the fun at all. The wedding took place at the gorgeous Waldorf Astoria – The Palm Jumeirah and there are so many ideas here which are implementable at any wedding. Over to Dr Priyanka now, as she tells us all about her unique wedding, which was shot beautifully by Priyam Parikh Photography★ 4.5 .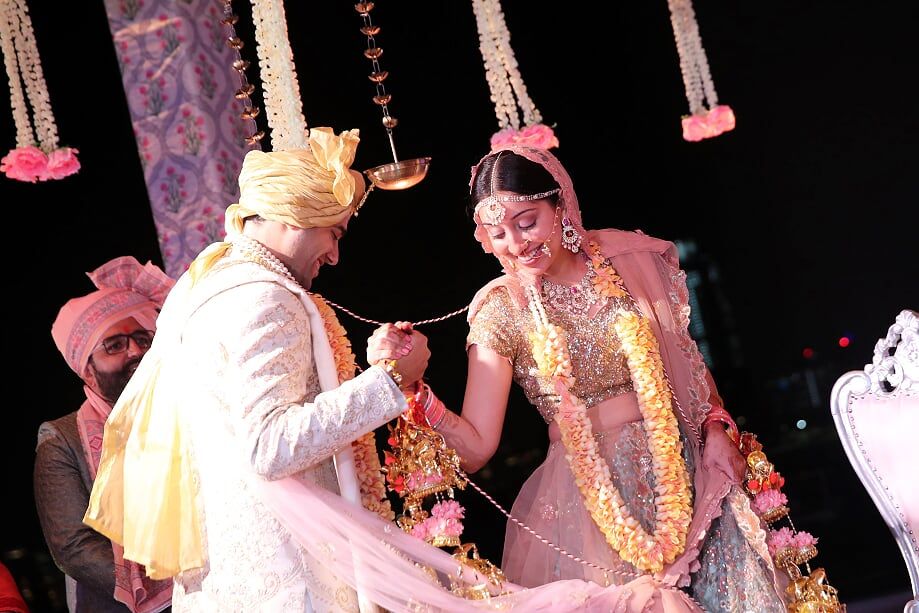 "I have been eco-friendly and an animal lover for as long as I can remember. My mom laid that foundation for me and it was only a matter of time till I took it to the next level. I have been a vegetarian for 20 years and have never used leather, but as I learned of the implications of the rest of the animal and dairy industry, I turned vegan in 2017. It was obvious that my wedding needed to be centered around these beliefs. Being Indian and that too a Punjabi, the dream of having a wedding with the experience of a lifetime was a given. How to have a big fat eco conscious Indian wedding was a challenge, and an even bigger one was to explain to the rest of the family and vendors that this can be done!"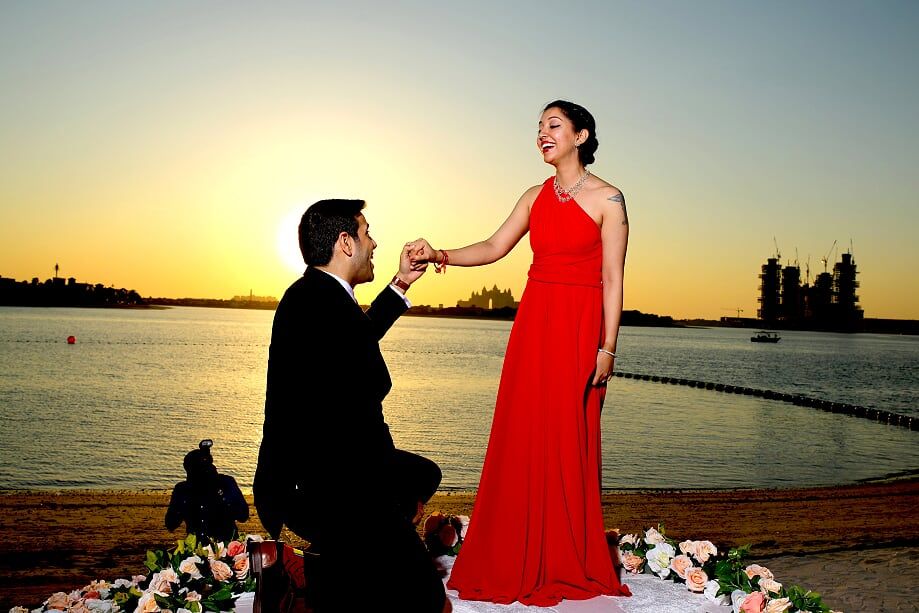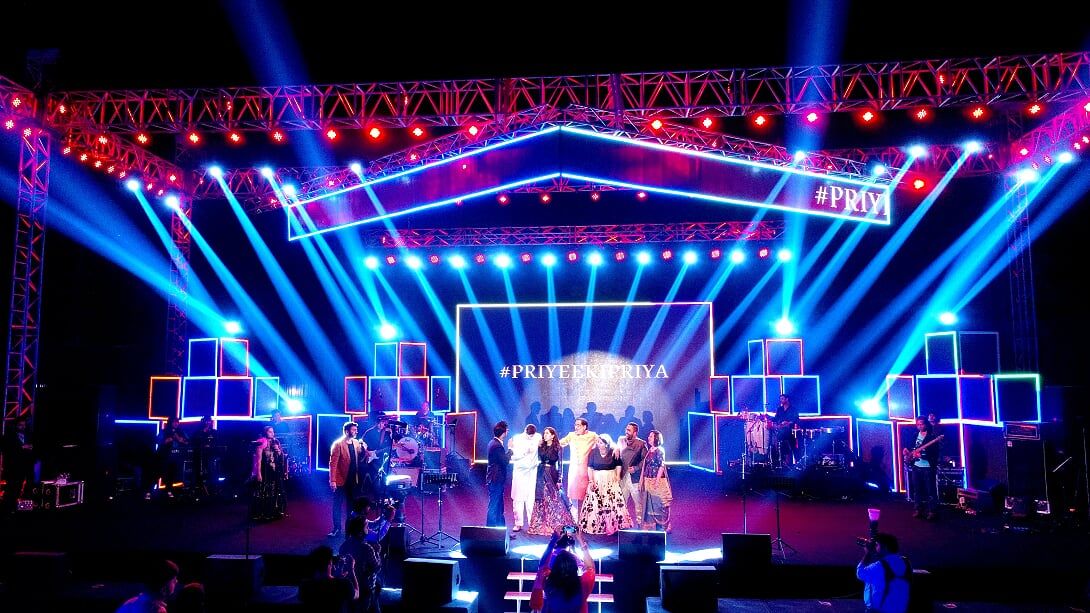 "I have travelled across 4 continents, 10 countries and certain parts of India too to fulfil my wanderlust. I am blessed to have found love in my longtime friend and that too in a person who was with me on the same page as to how to plan our wedding. Many years ago I had visited family in Dubai and seen The Palm being built and I was like, "Wow, this is where I want to get married!" Little had I known, this would come true. It took number of visits and countless discussions over video conferencing and phone calls before we could decide our final vendors. The most important was to select people who could understand what we were looking for."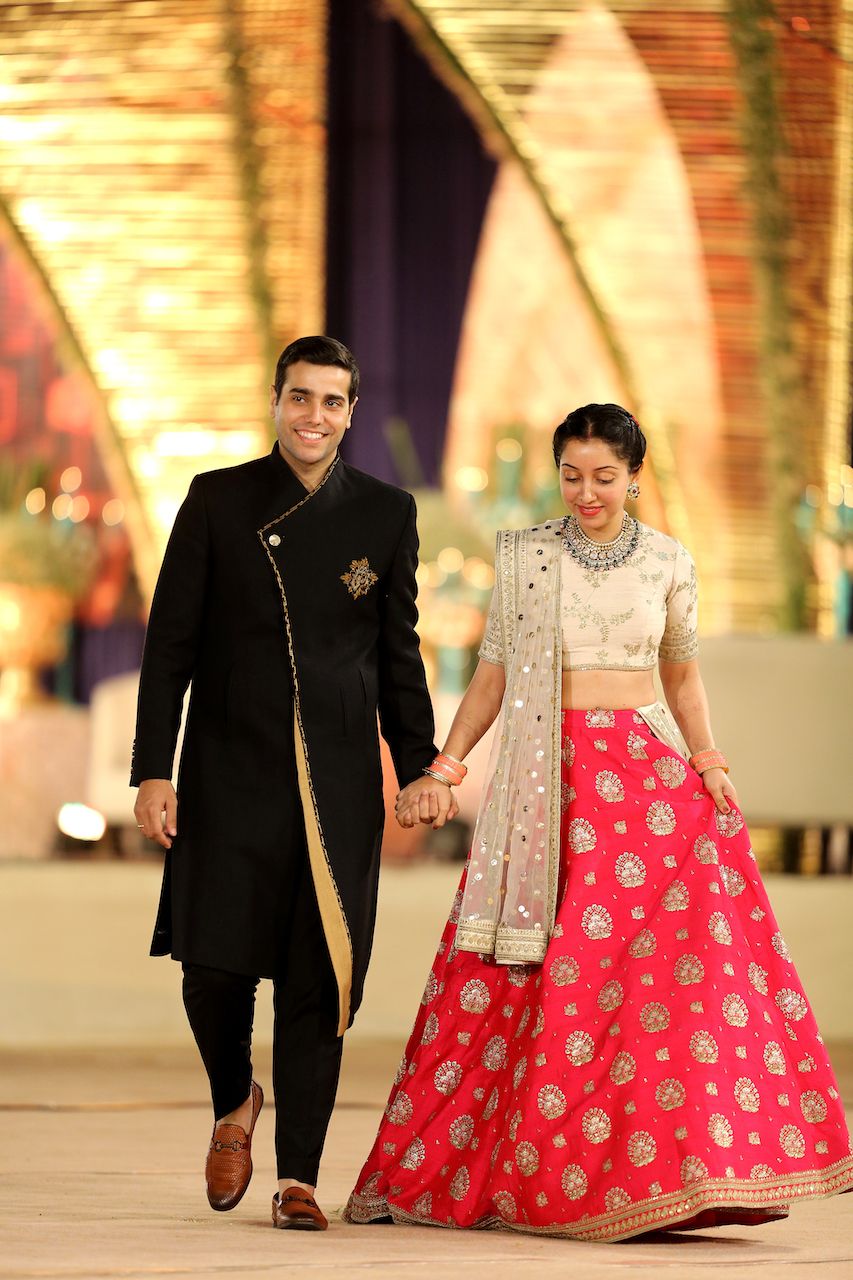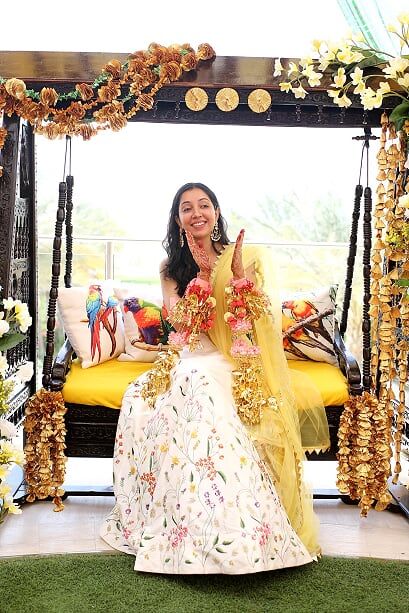 Our wedding was actually a month long festival. I had 3 prewedding functions in my hometown Bhavnagar, Gujarat and our wedding took place in the Waldorf Astoria on the Palm, Dubai. It was 3 days of nonstop fun and madness. Post wedding the festivities continued with a reception in Delhi and then a musical night and reception in Bhavnagar for about 2000 people!   Here are some ideas they implemented which were eco-friendly and amazing!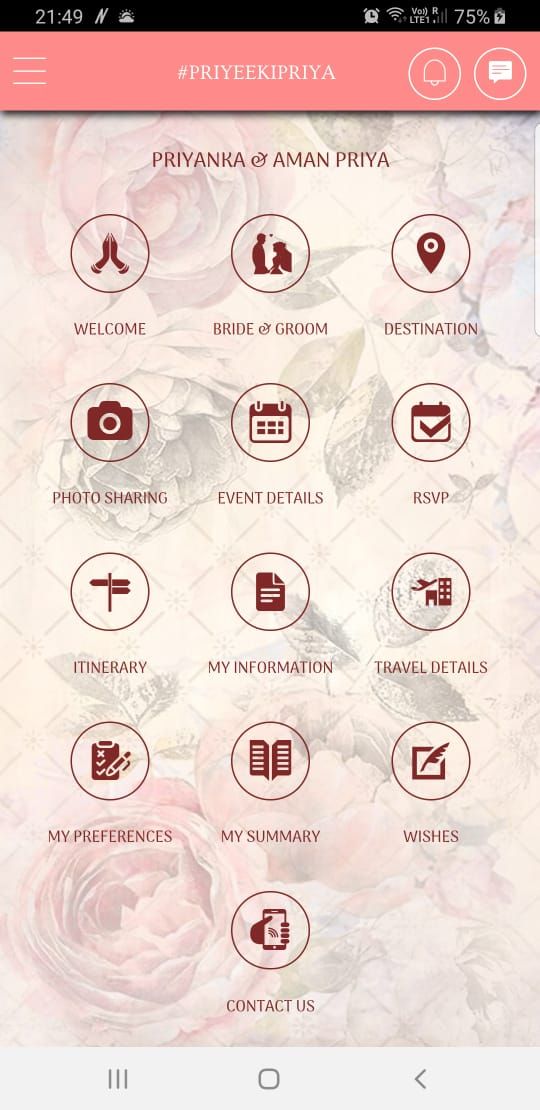 Non-paper Invitations
No wedding invitations were printed, intsead an app was created which had all the details of the events, travel details and a photo sharing feature. We had around 200 guests.
For the musical night and reception, few invites in the form of reusable picture frames were made by "Kankotri" Mumbai.
Wedding Gifting
We had made a website with our hashtag #priyeekipriya before the wedding and had requested our guests not to bring us gifts but to donate whatever amount they liked to the 3 charities we picked: "National Defence Funds", a Govt.based org for the army , "Tails Of Compassion" a Delhi NGO serving the street animals and "SHeroes" rehabilitating the acid attack survivors.
For the last wedding event at our hometown, we organized for children from the local blind school to join us and also set up a counter to collect 1.68 lac rupess for

 

"Mangal Mandir" an org that helps to rehabilate mentally challenged people. The rest of the Shagun was collected and equally matched by us to donate 9.11 lacs for the families of our martyrs through "Bharat Ke Veer".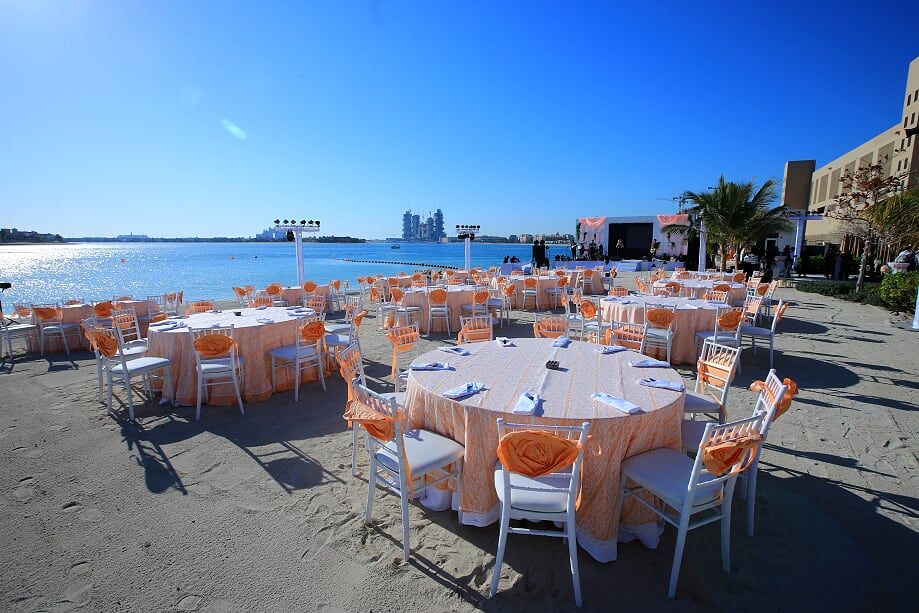 Vegan Food
The engagement and mehndi catered vegetarian food whereas the D day was purely vegan.
Even my chooda was dipped in Almond milk and for the rituals I preferred olive oil.
For all the events, food supplies were brought in and cooked as required and any excess was collected for distribution.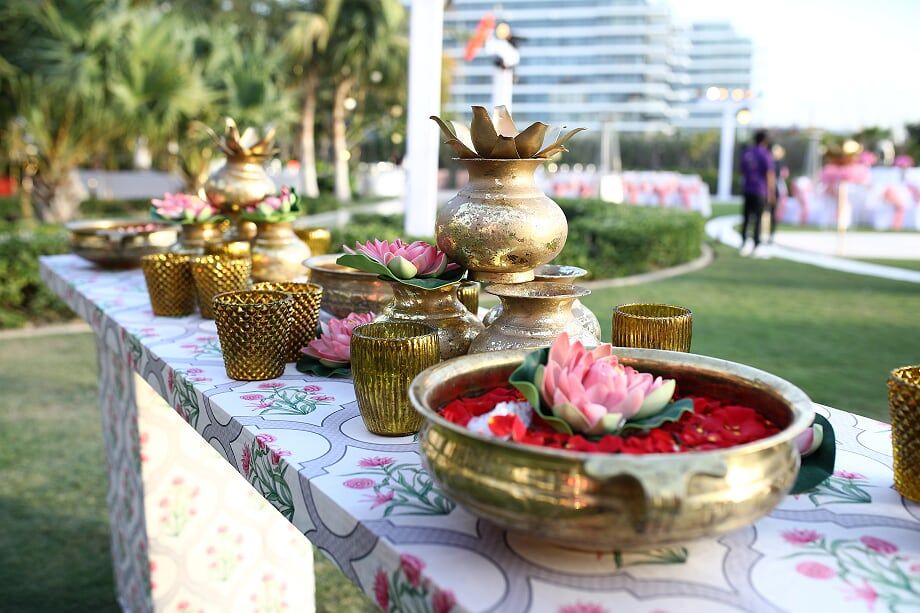 Eco-friendly Favours
The gift hampers in the rooms consisted of cloth bags with minimum required knick knacks.
For the "lagan likhna", a Gujarati tradition, we gave away a curated a wooden tray with a bamboo plant, vegan chocolates and green tea. It was simple, beautiful and with no wastage. The gifts curated for the event were by 'The Good Things in Life' based in Ahmedabad. 
Pencils made from recycled newspapers by 'The Second Life' and soaps from 'Bare necessities'.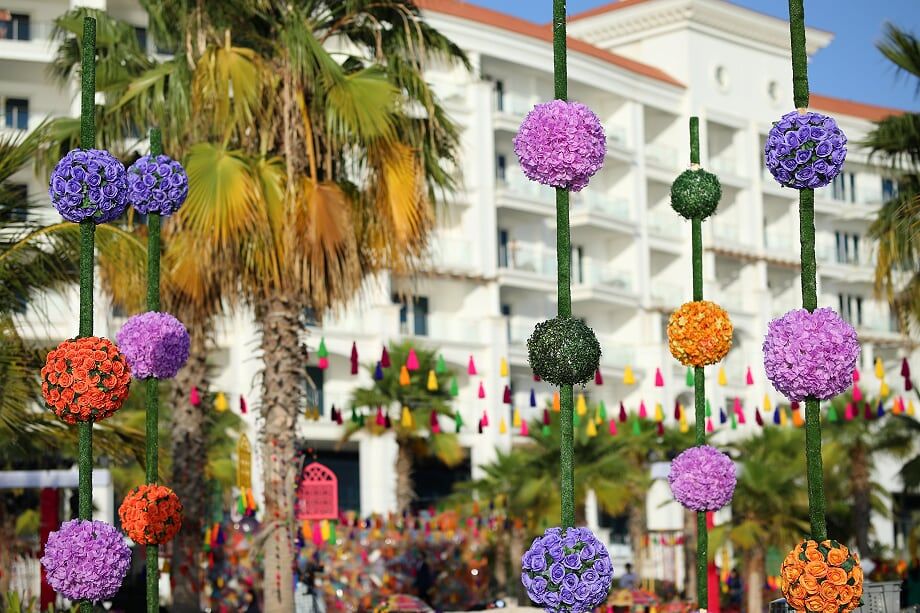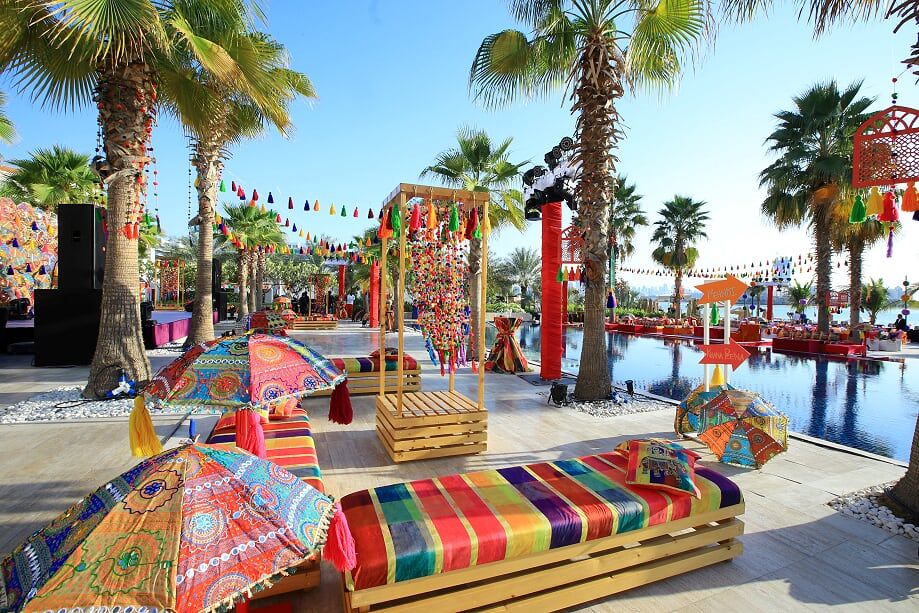 Decor Ideas
All décor materials were reusable. No flex or banners were used. The use of real flowers was limited to 10% that too as shagun in the Shaadi ki Bedi.
The "Garba night" took place in our hotel grounds at Efcee Sarovar Portico. The décor was coulurful, vibrant with all reusable materials. As gifts and to create awareness, I made a centre piece with Incense sticks from "Phool" an organization that recycles temple flowers to create them.
Outfit Ideas
My lehenga from Shyamal and Bhumika was exquisite. I met Shyamal in person and he understood what I was looking for. For all 3 days I was lucky to have met the designers who made sure no real silk was used for my outifts.
Family and close friends supported us by wearing vegan clothing i.e no silk either.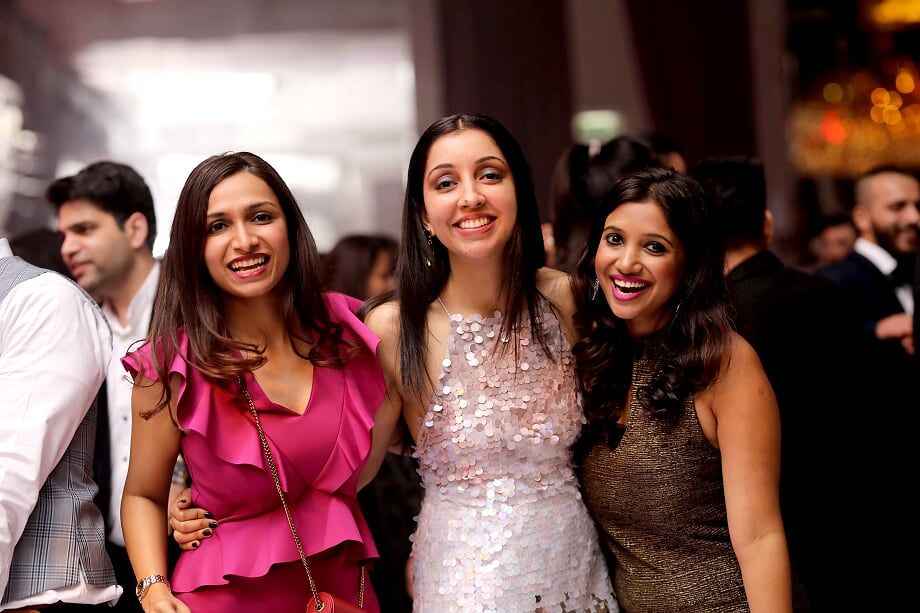 Other Ideas
The Baraat came in a jeep, ofcourse there was no riding a horse, say no to animal cruelty. The only thing I indulged in was making an entrance in a yacht !
No firecrackers were used, we saved on the environment and literally didn't burn our money.
We made sure that there was no/minimal use of straws and disposables at the bar and all throughout the functions.
For the "Mata ki chowki", the Prasad was distributed in handmade pottery bowls by local artisans courtesy Bhagyashree who runs a group called "Antarang" in Bhavnagar.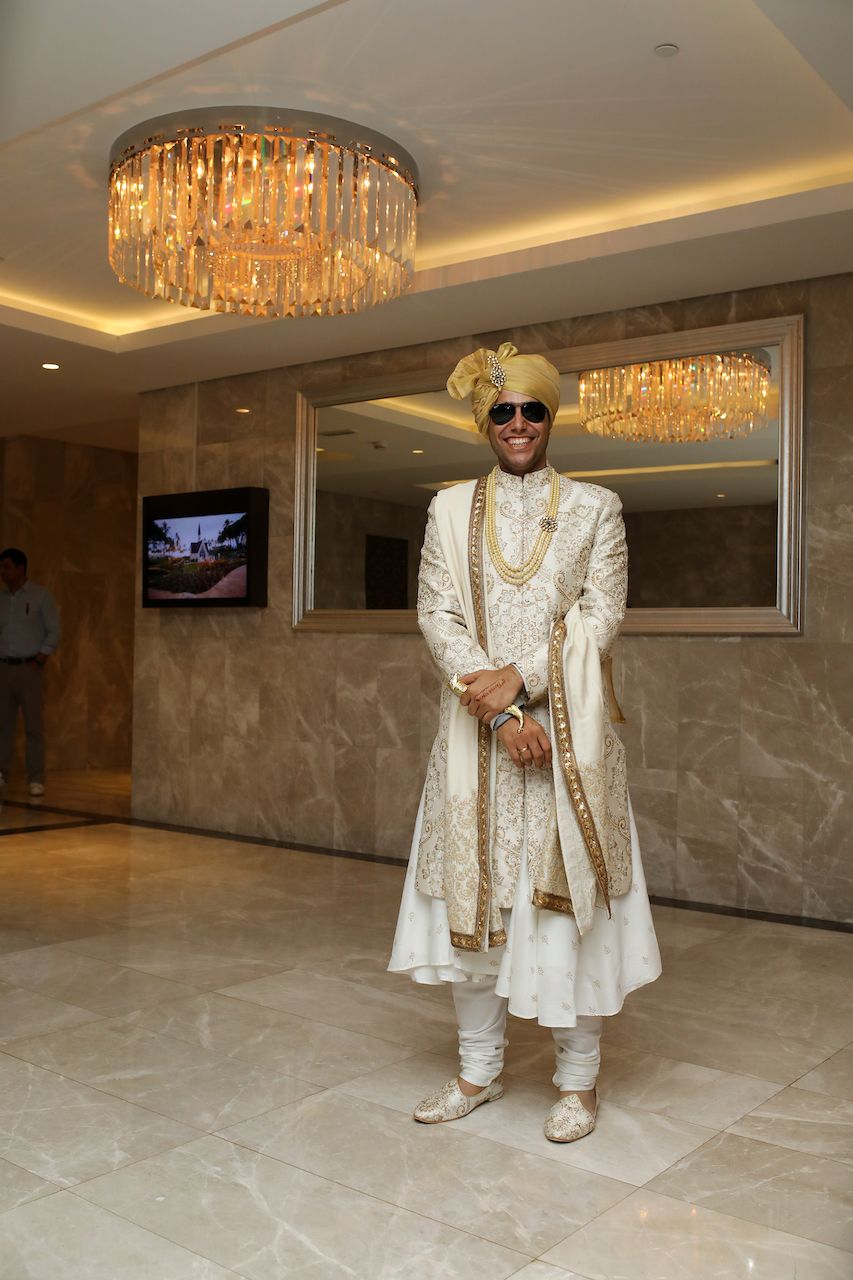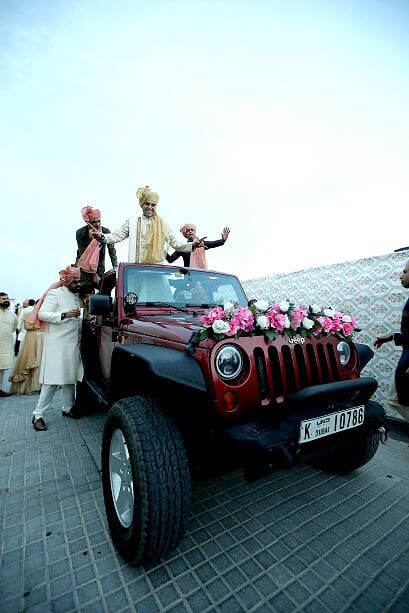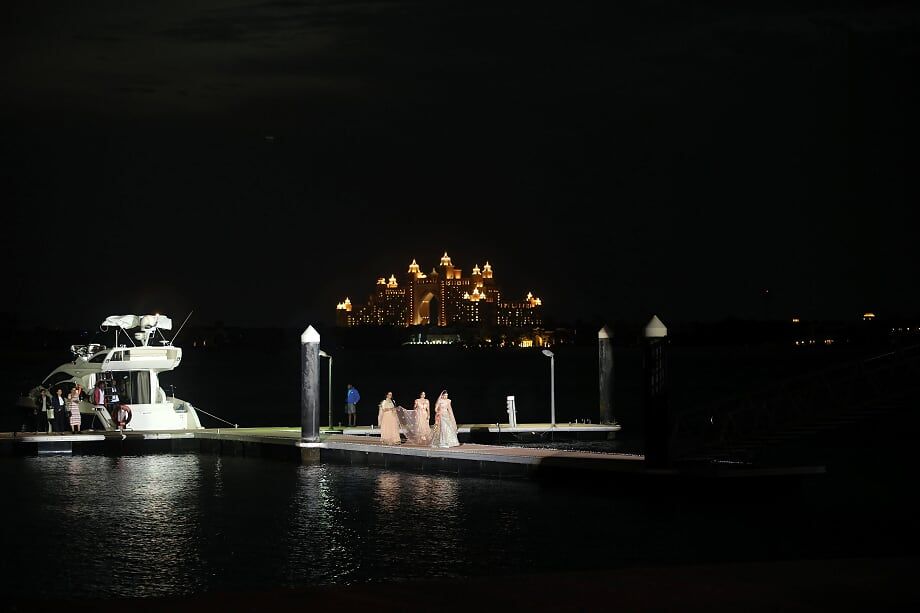 We were very lucky to have found Chaitanya from ferns and petals as our décor designer who went out of his way to plan everything for us. Our ideas and his execution were made for each other! It is a challenging task to have best of both the worlds, to have a big fat Punjabi eco conscious and socially responsible wedding… but certainly not an impossible one!
Vendors: Venue: Waldorf Astoria, The Palm, Dubai; Décor artist: Chaitanya, Ferns N Petals★ 5  Artists: Benny Dayal, Bally Sagoo in Dubai, Sachin and Jigar and 31 Sitar Symphony in Bhavnagar; Make Up Artist: Jayna Desai ; Photographer: Priyam Parikh Photography★ 4.5 ; Invitations: Kankotri Invites★ 5 , Mumbai; Favours: Antrang , Bhavnagar and Eco-friendly gift hampers by The Good Things In Life, Ahmedabad; Wedding Planning: Bhavnagar functions by Event Tadka , Ahmedabad; Jewellery: Leela Jewels, Surat★ 5 , Outhouse★ 4.8  for Mehendi, Amrapali Jewels★ 4.9 for Reception; Bridal Outfits: Anita Dongre★ 4.9 for prewedding photoshoot, Megha and Jigar★ 5 for Bhavnagar event, Gauri & Nainika★ 5 for Engagement; Papa Dont Preach★ 4.7 for Mehendi, Chamee and Palak★ 4.8 for Chura, Shyamal Bhumika★ 4.8  for Wedding and Musical Night, Anushree Reddy★ 4.8 and Sabyasachi Mukherjee★ 4.9 for Reception; Groom Outfits: Mr. Fox , Amaare★ 5 and Jatin Malik Couture★ 4.6