This Couple Planned Their ENTIRE Intimate Wedding In Less Than 5 LAKHS!
BY Sakshi | 24 Apr, 2019 | 80973 views | 6 min read
Yes, you read that right, and no, we aren't talking about 1999- we are talking about a wedding that took place this year, and let us tell you that it was done just like the couple wanted it- close-knit, without frills and show, but they still managed to keep it gorgeous! Sanaa and Siddhant had a wedding which was like an extended party and managed to have their intimate wedding, that too in Gurgaon on a budget of INR 4.5 lakhs, and this includes everything! And it wasn't just a one day wedding, it was 3 days with 4 functions and a celebration with people who really mattered to the couple. Sounds pretty unbelievable right? But it is possible, and one look at the pretty photos shot by Studio W- Photography & Live Stream Experts★ 4 will prove it! Over to Sanaa now, as she tells us all about her insanely cute wedding, which was all done her way!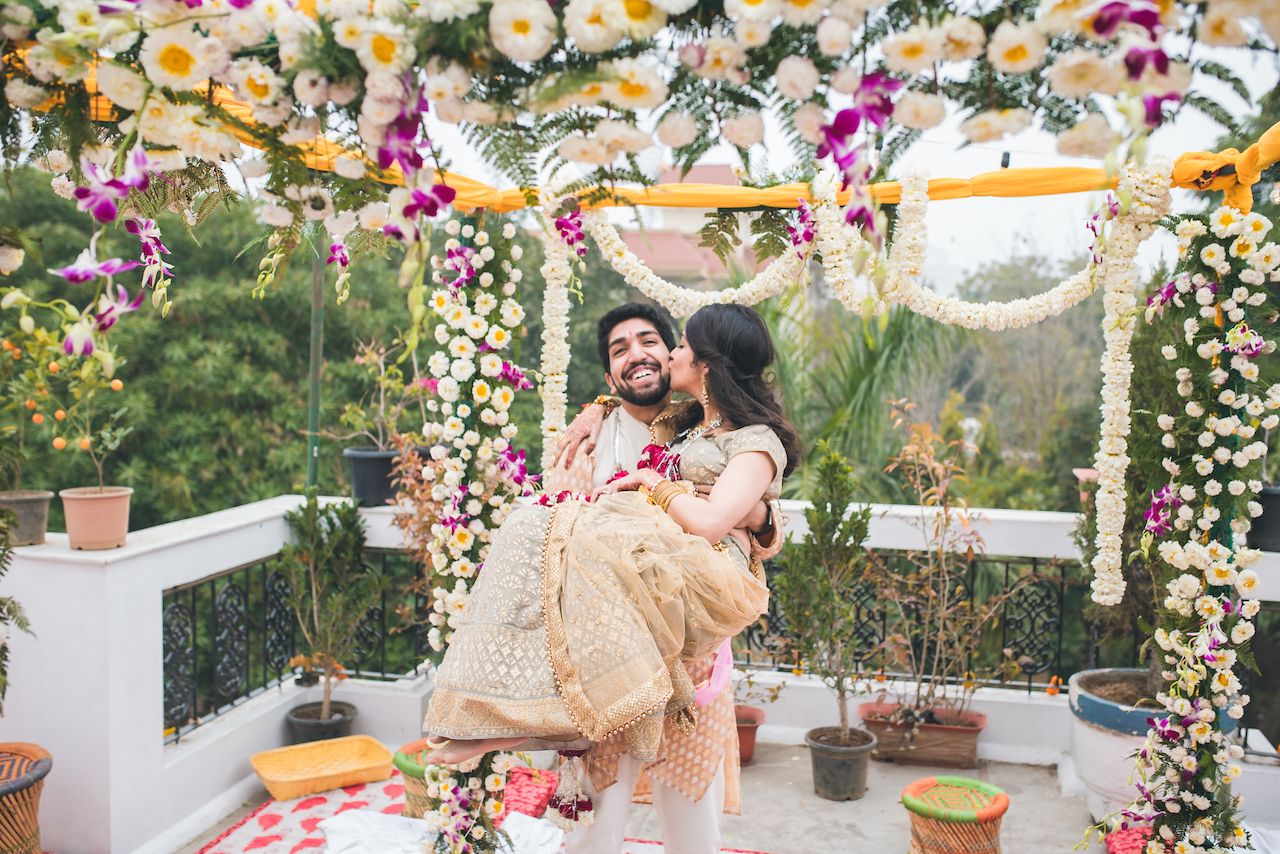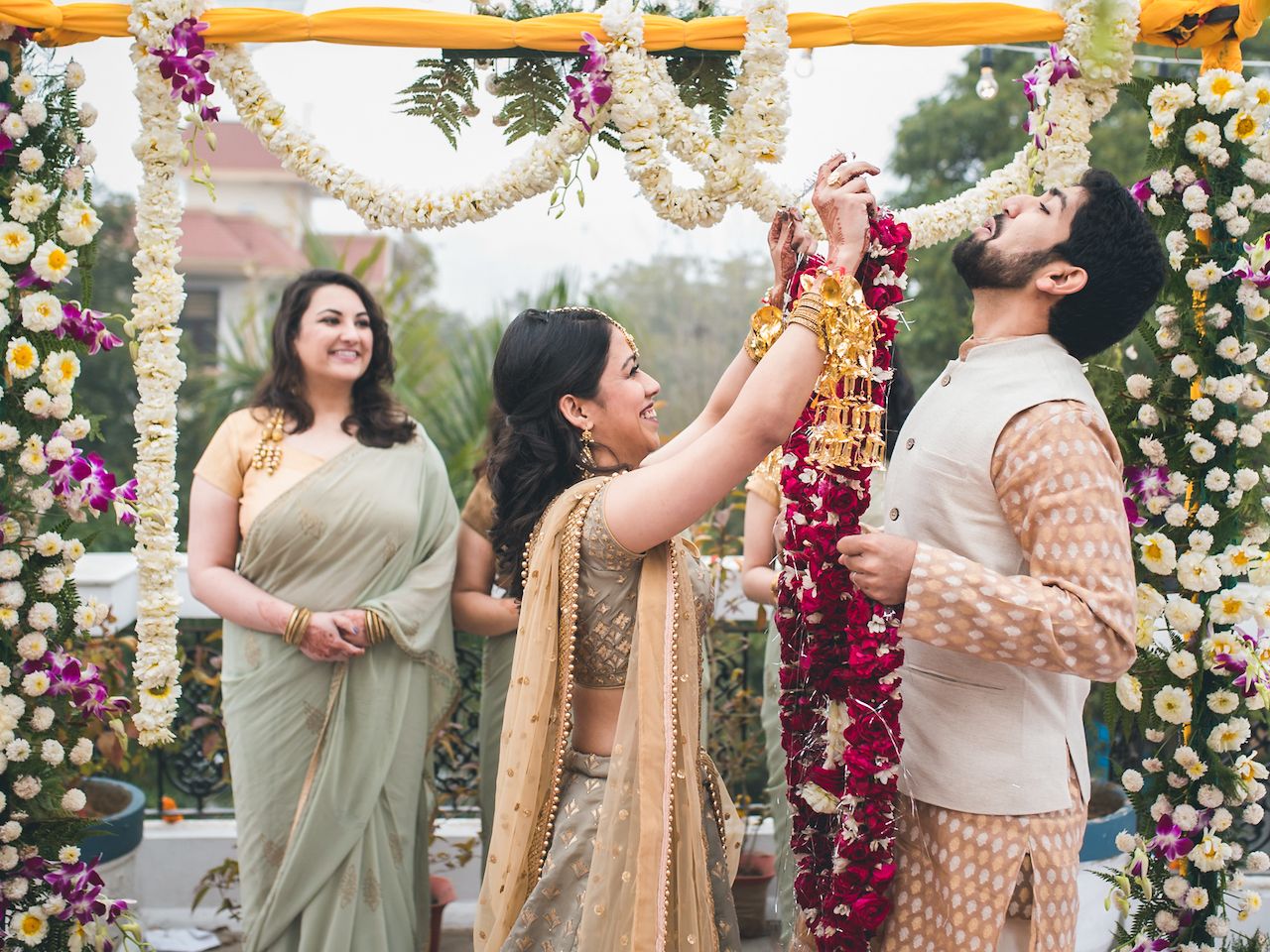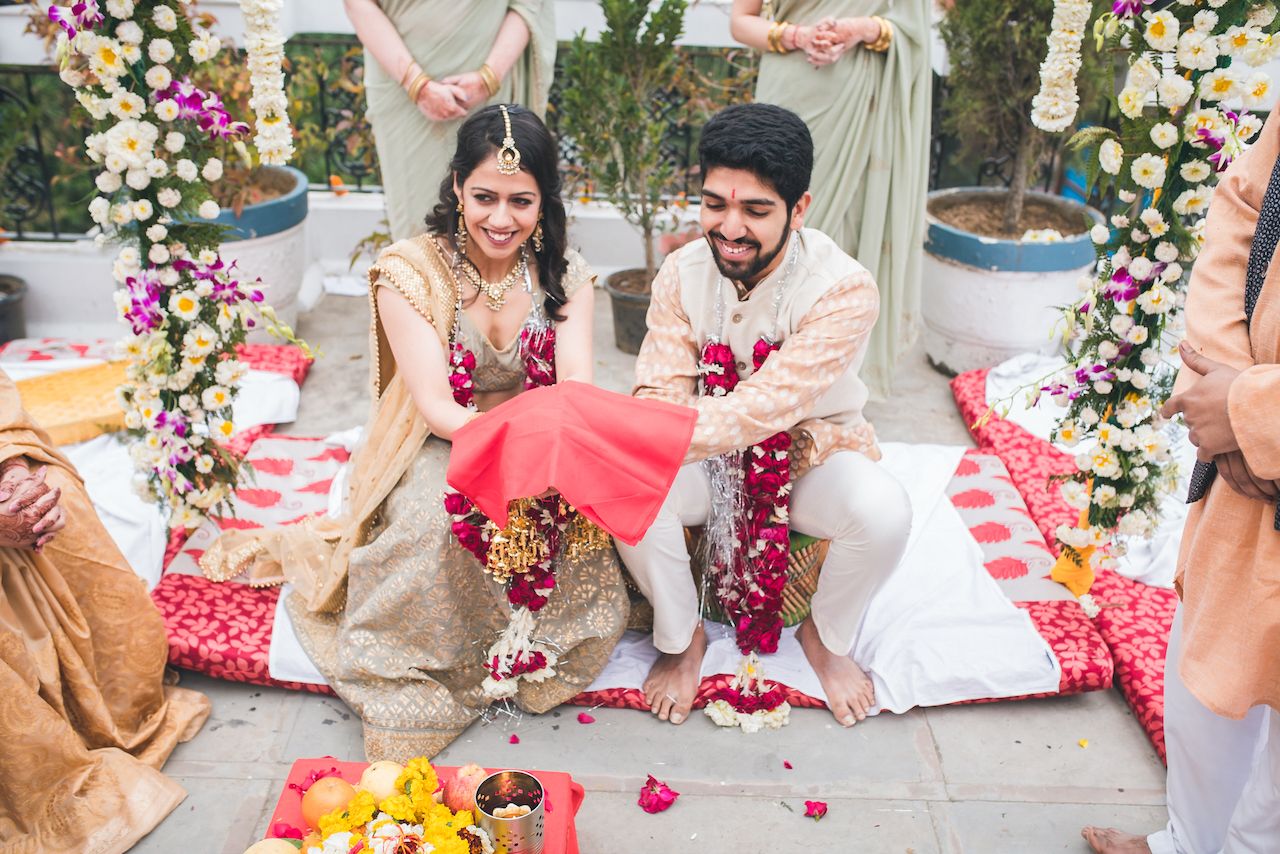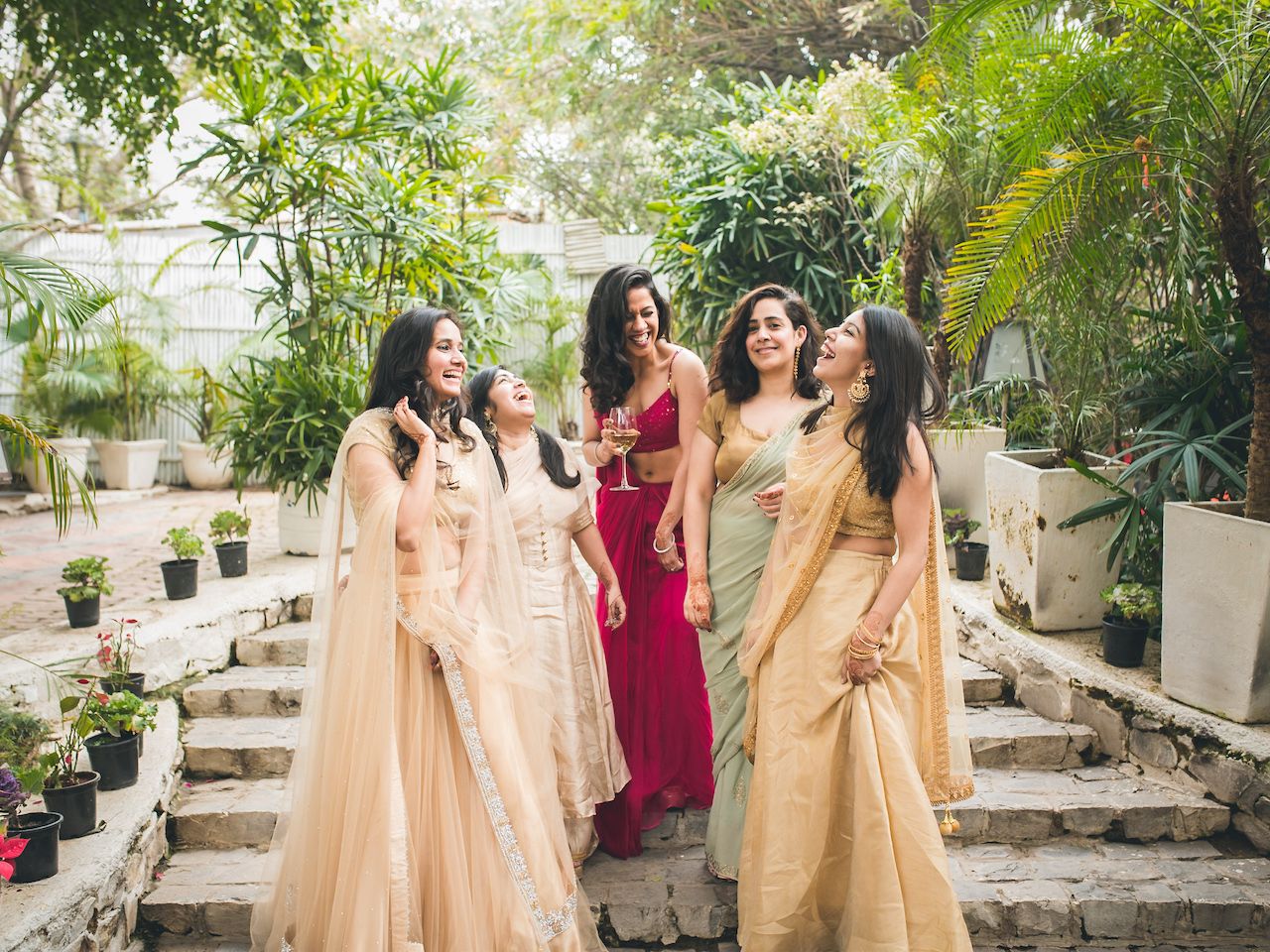 So how did they do it? Let's give you a breakdown of the finances involved.
Bridal Outfits
Money spent on all 3 bridal outfits: INR 70,000 (approx)
Instead of spending big on designer labels, the bride opted for an original, boutique designer, and her outfits were stunning. The bride got her outfits from Malini Ahuja, who is a GK-based designer in Delhi.
"So I didnt have any bridal outfits per say. For my mehendi and my party, Malini Ahuja designed both my outfits keeping in mind how simple I like them, and also that I wanted to match with Cartoon (my Husband). My bridal lehenga, we picked up off the shelf, and then bought plain sarees for my 3 sisters and matched the exact colour. A tentative budget for my suit, lehenga and party outfit would be about 70000/- I think"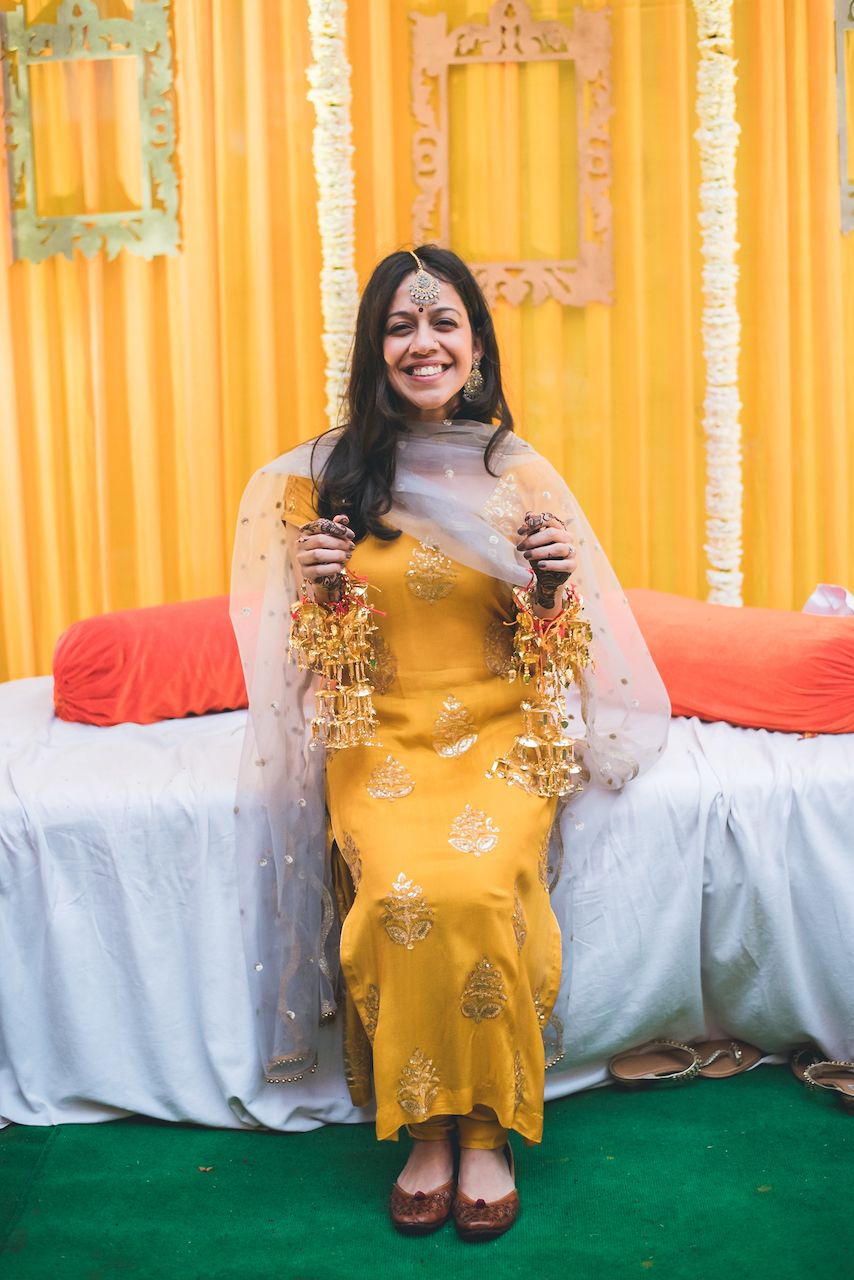 Mehendi- For her mehendi she picked a simple yellow suit with gold foil work on it, which went well with the yellow theme.
Wedding- For her wedding, she picked a pretty beige and dull gold lehenga which was subtle and perfect for an intimate wedding.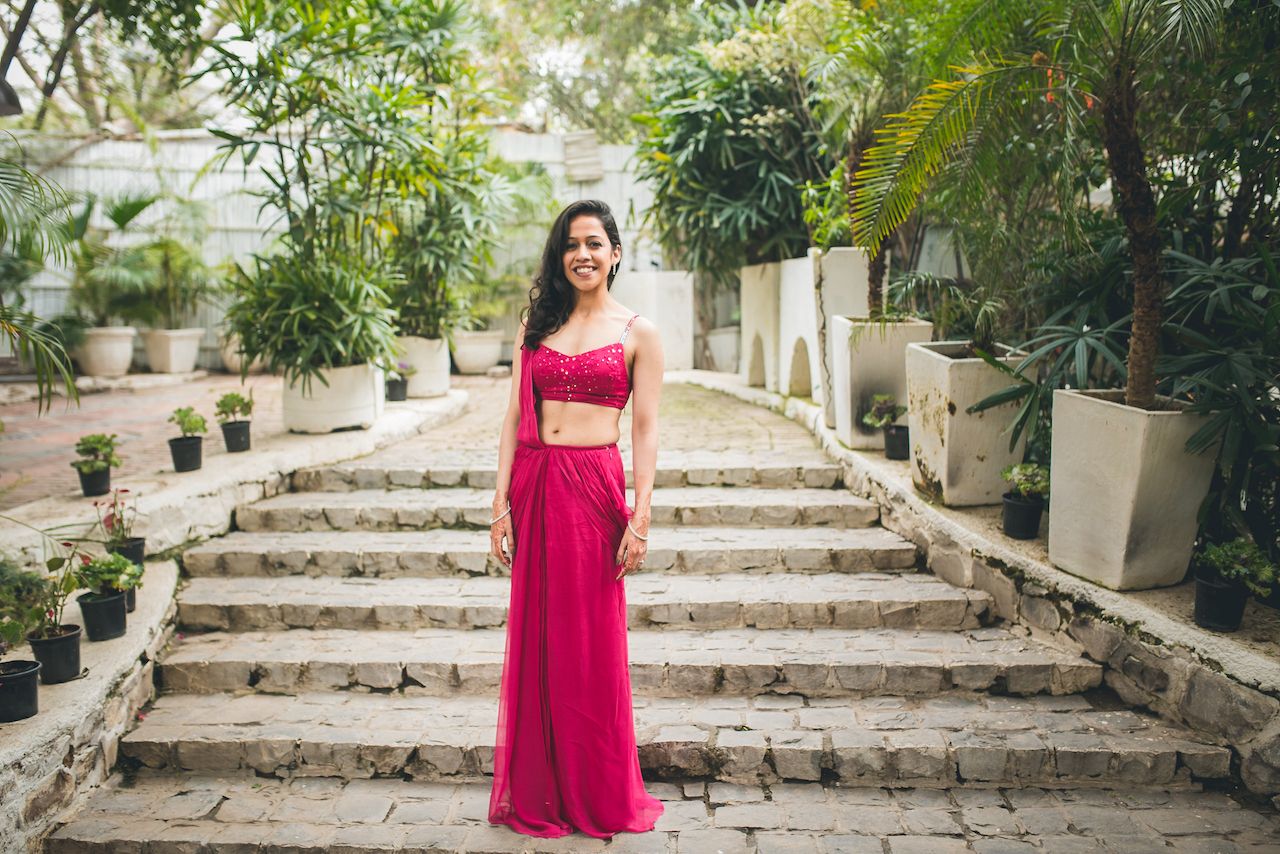 Party- For the party, she picked a chic bustier-skirt combo in maroon which was effortlessly elegant and perfect to dance in.
Makeup Artist
Money spent on MUA: None
Since Sanaa wanted to look natural at her wedding, she did not go for a professional makeup artist.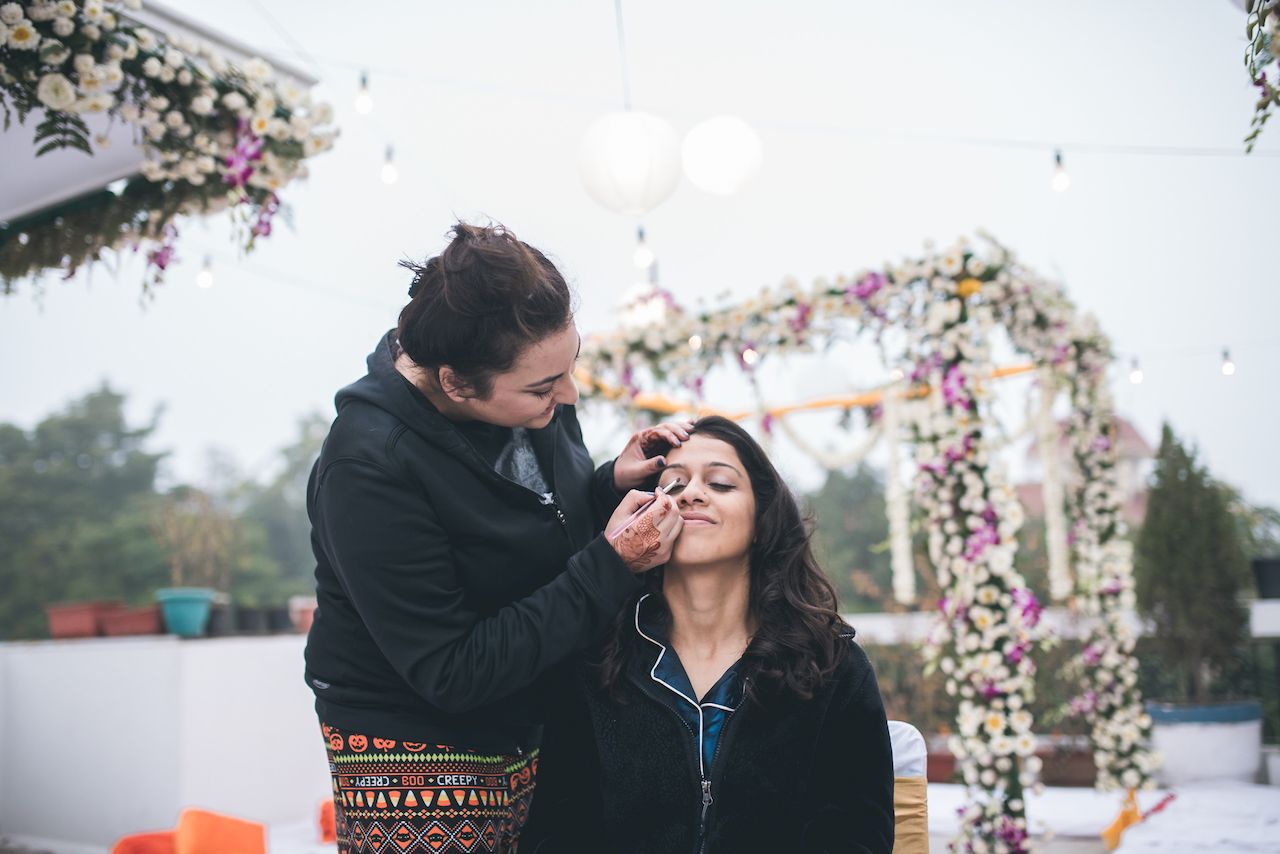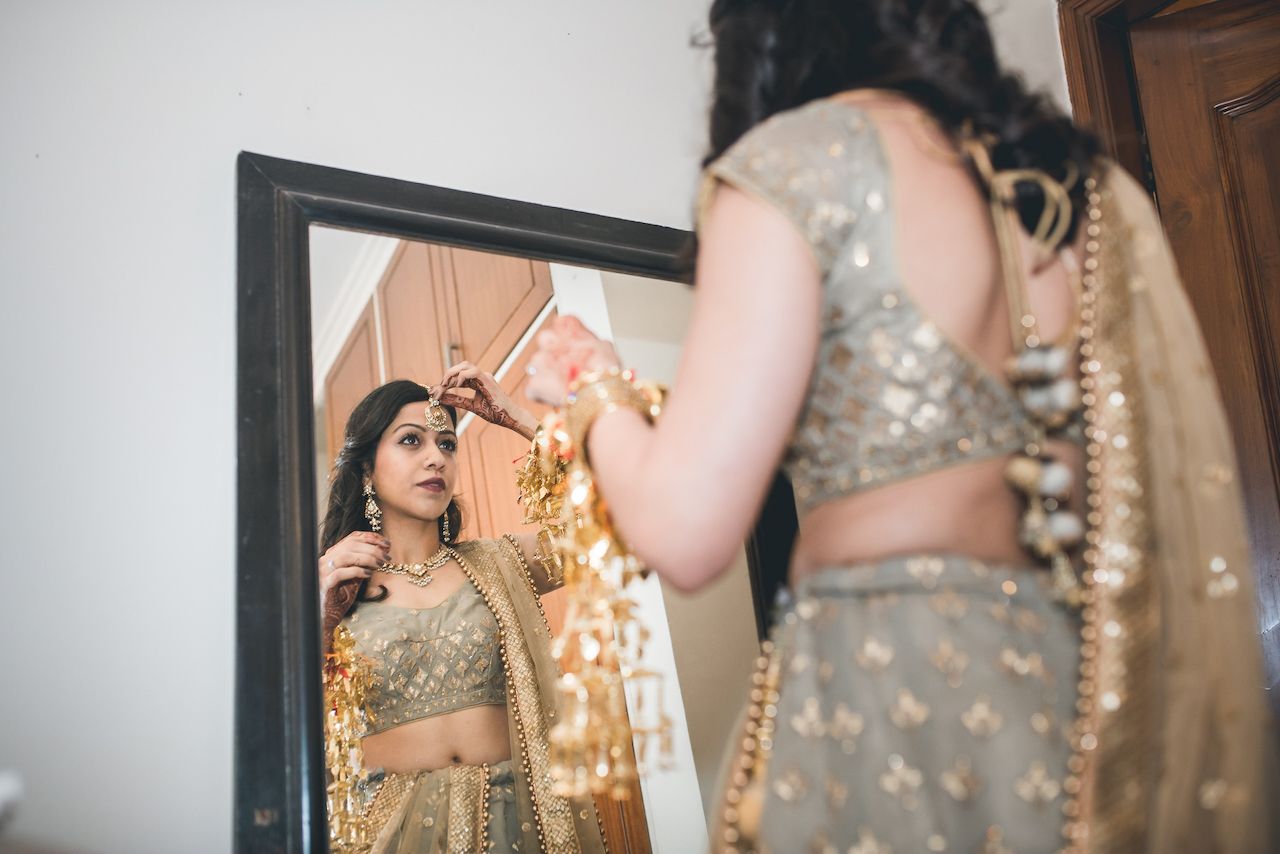 "I did not hire a make up artist. My cousin, Anupa, did my make up, and boy wasn't she just amazing!! Would pick her over and over again!"
Guest List
Mehendi- 17 people, Wedding - 24 people, Party - 58 people.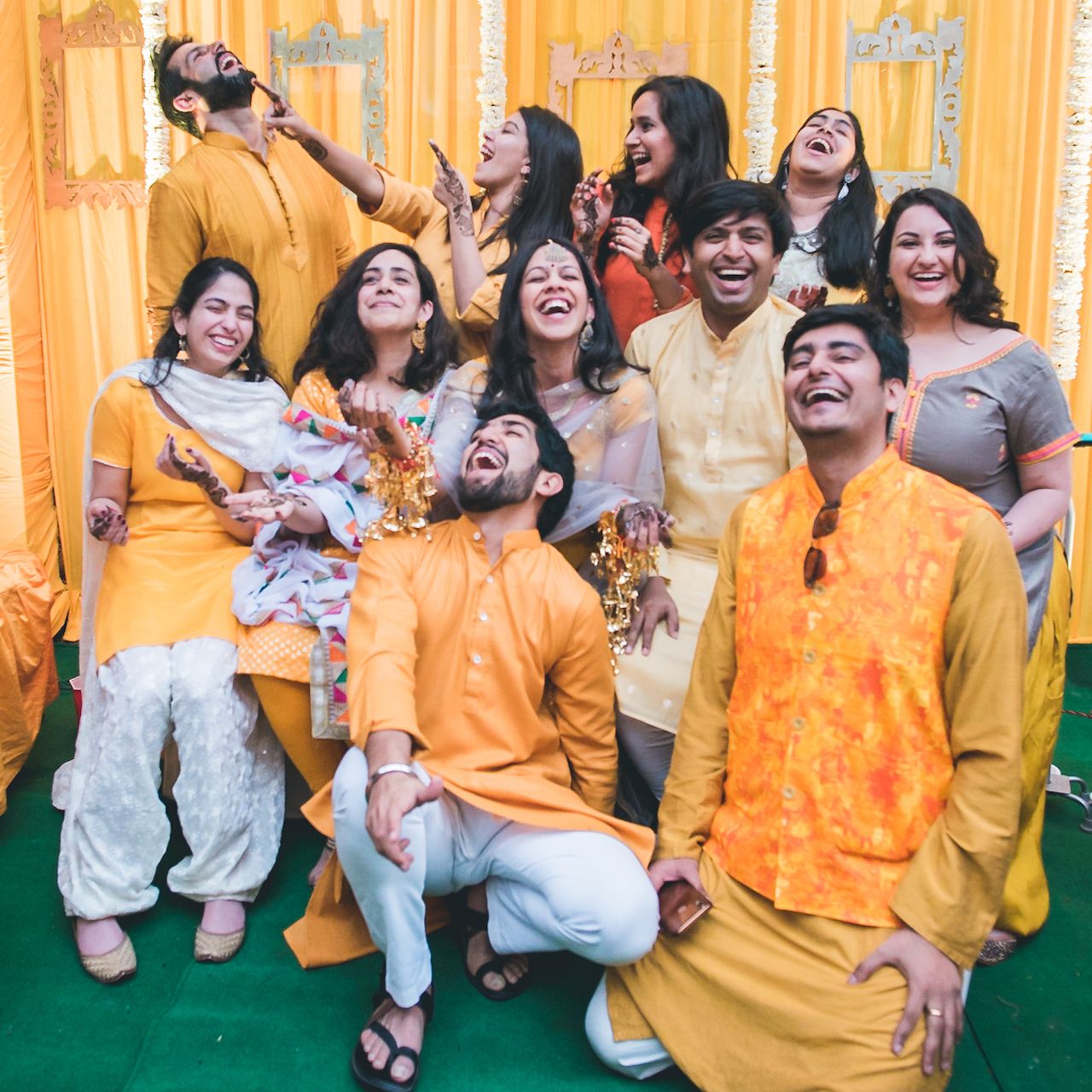 Only immediate family and friends! Sanaa and Siddhant kept the wedding intimate with an extremely tight guest list, which is a major reason for them too pull off the entire wedding on such a tight budget.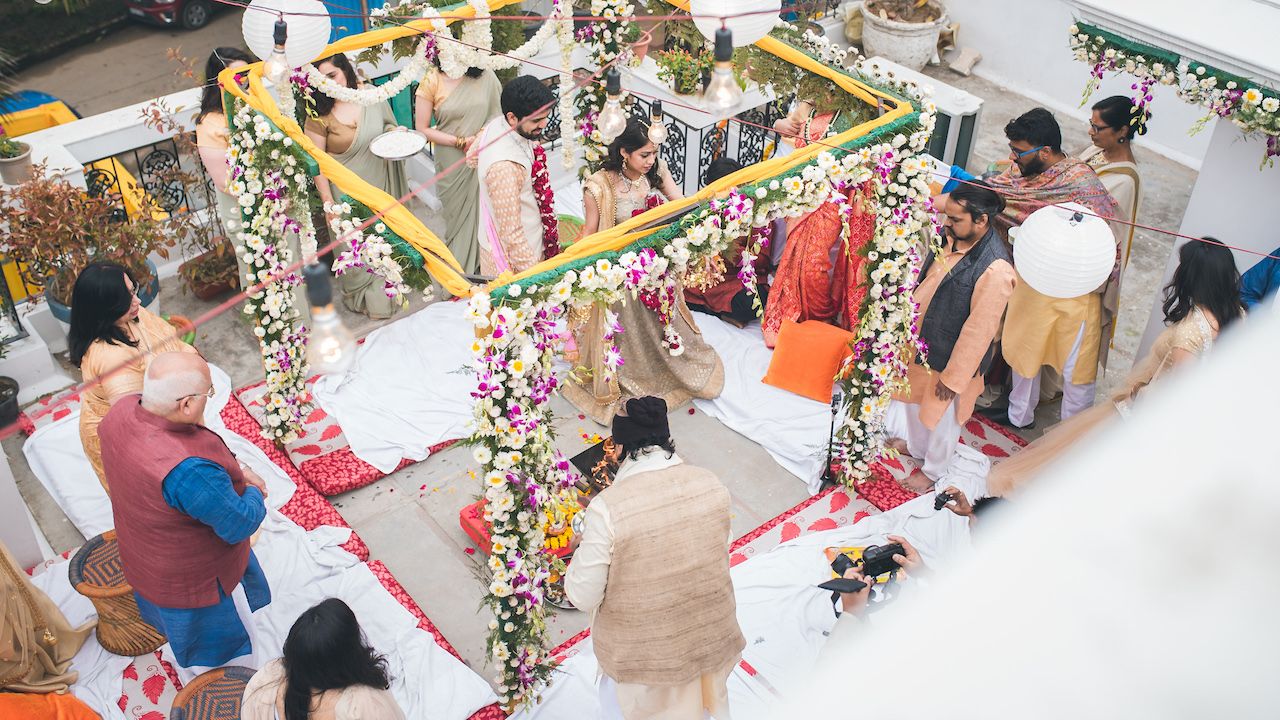 Venue
Money spent on wedding venue- None
Mehendi and Wedding Venue- Home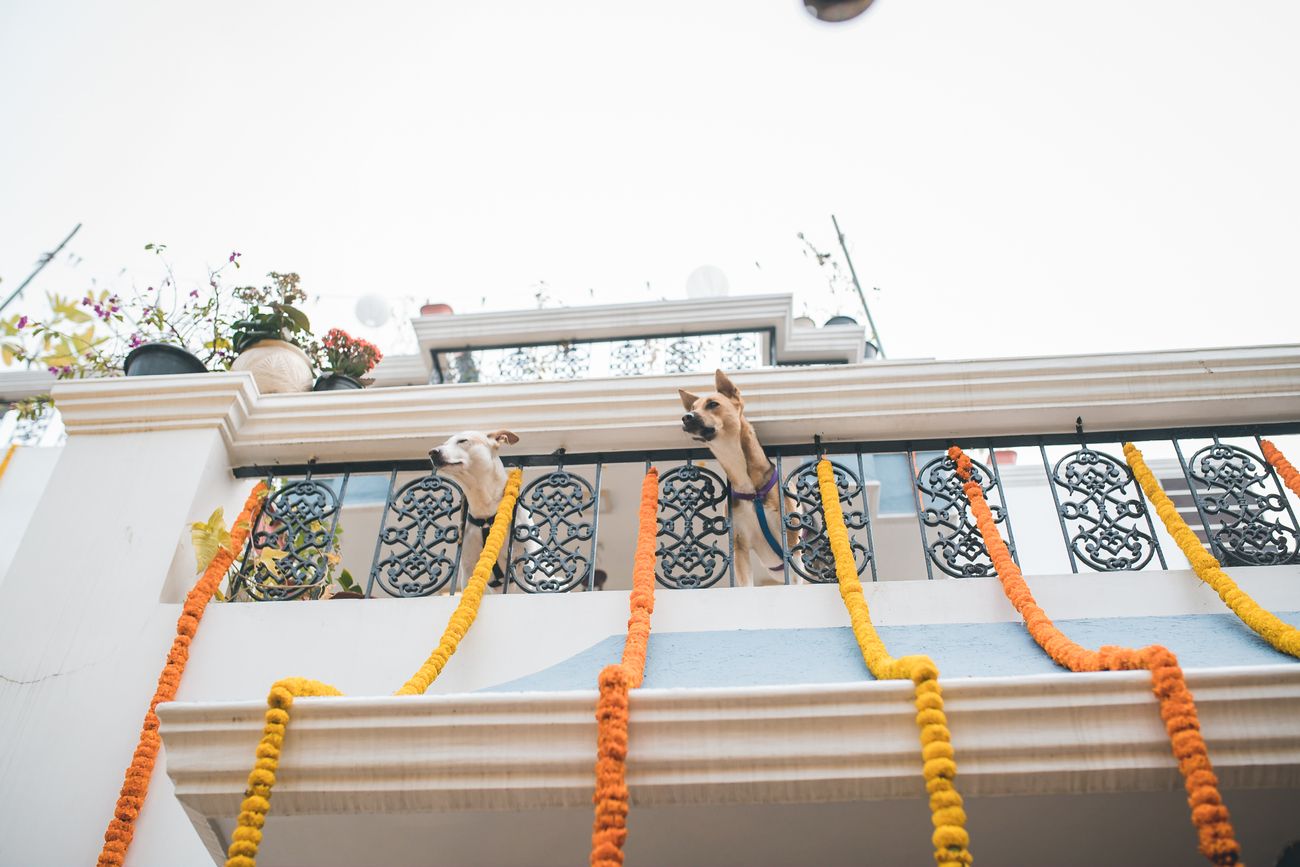 They had the mehendi and wedding at home, which was perfect for such a small crowd and looking at the photos, you just can't make that out! If the decor is done smartly, then even the smallest venue can look gorgeous!
"The venue was my house. Front garden for the mehendi, and terrace for the wedding. We could easily fit 25-30 people, and it was exactly what I had dreamed about!"
Party Venue- FIO Country Kitchen & Bar
Decor
Money spent on decor: INR 65,000 for 3 days
"I hired an off the road guy named Anil to do the tenting and decoration work, and he was simply outstanding."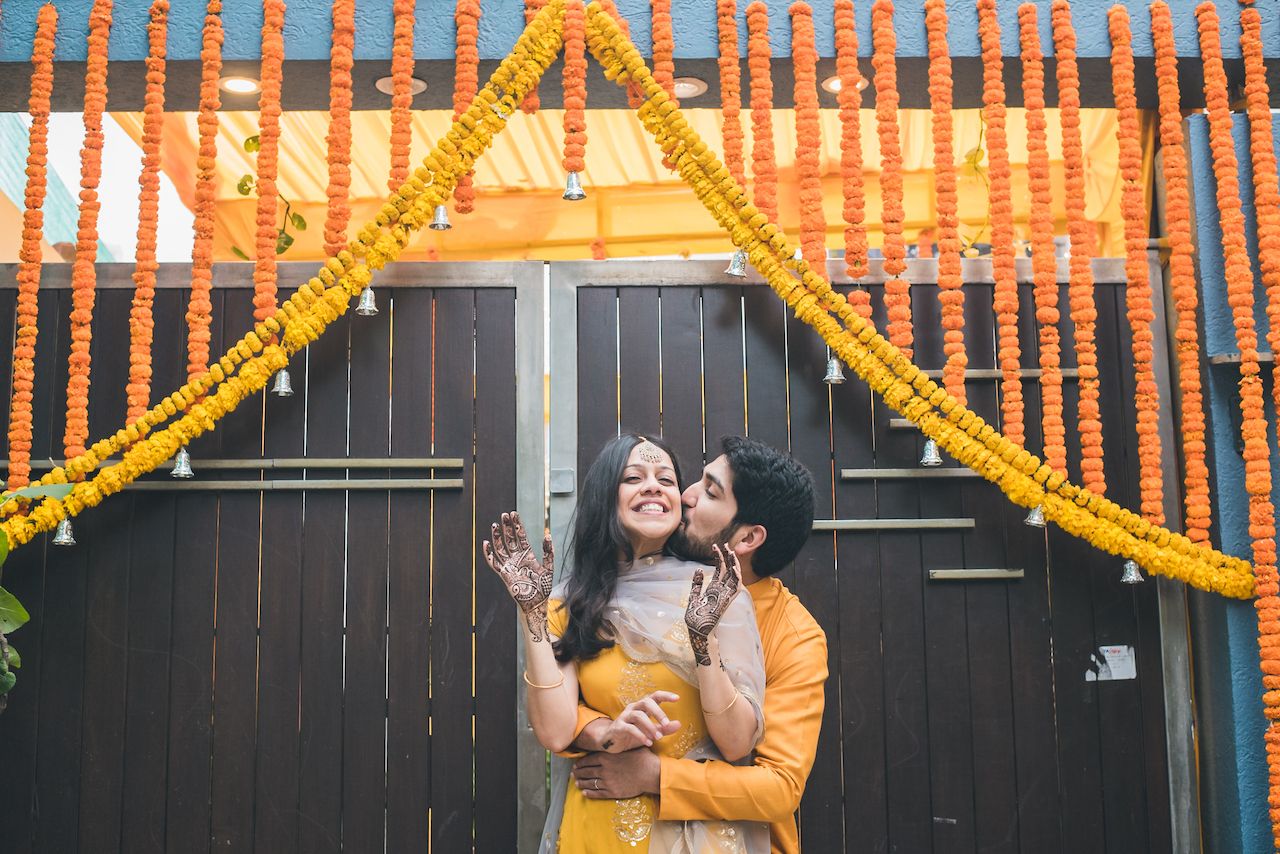 The couple kept the decor basic and minimal, and just where required.
Mehendi- The mehendi was also at home in the garden, and the decor was done smartly, with a giant yellow background, which served as a photobooth cum stage. There were polaroids, paper decor elements and pinwheels decorated around, and the entrance decor was done with marigolds.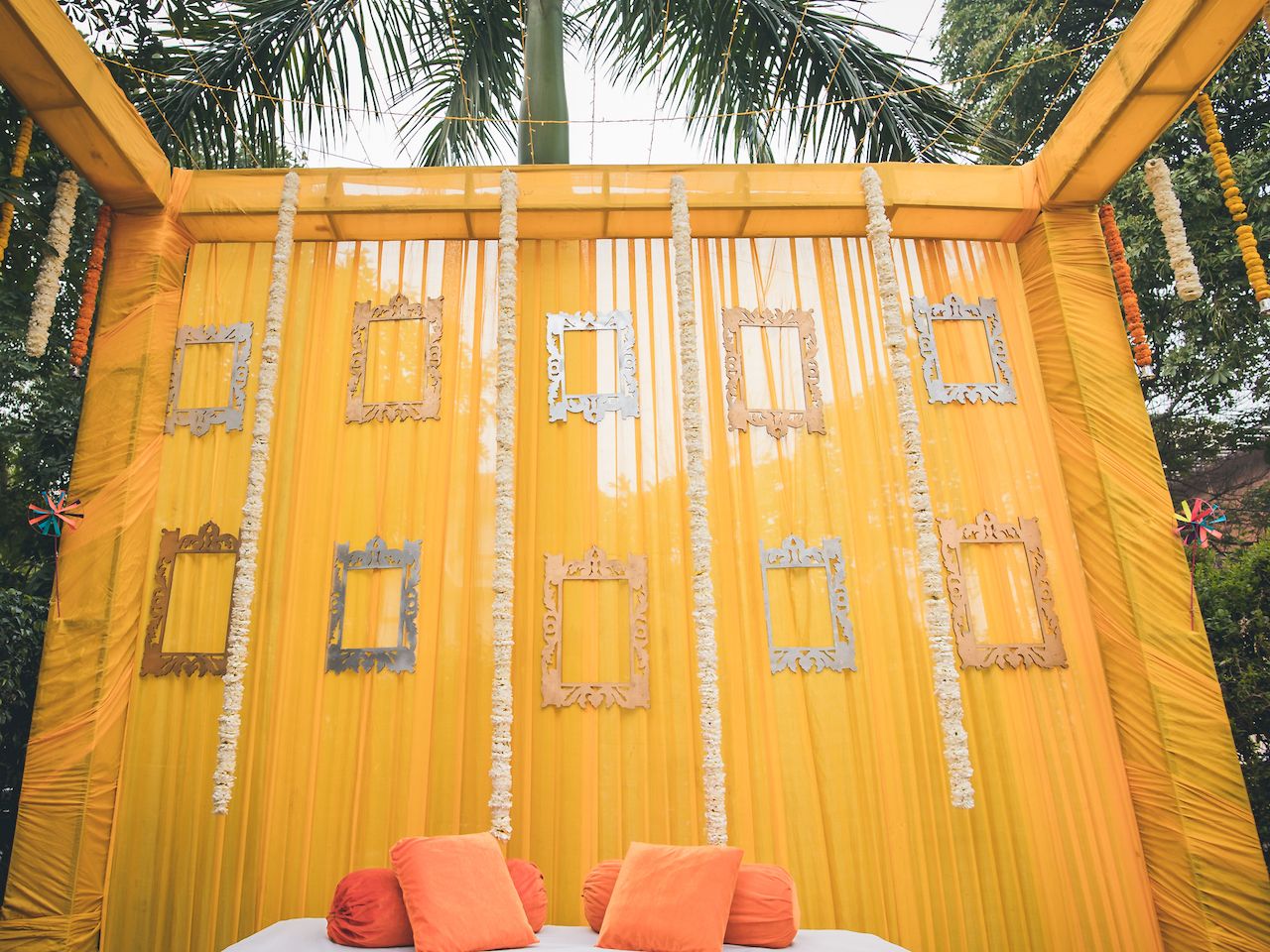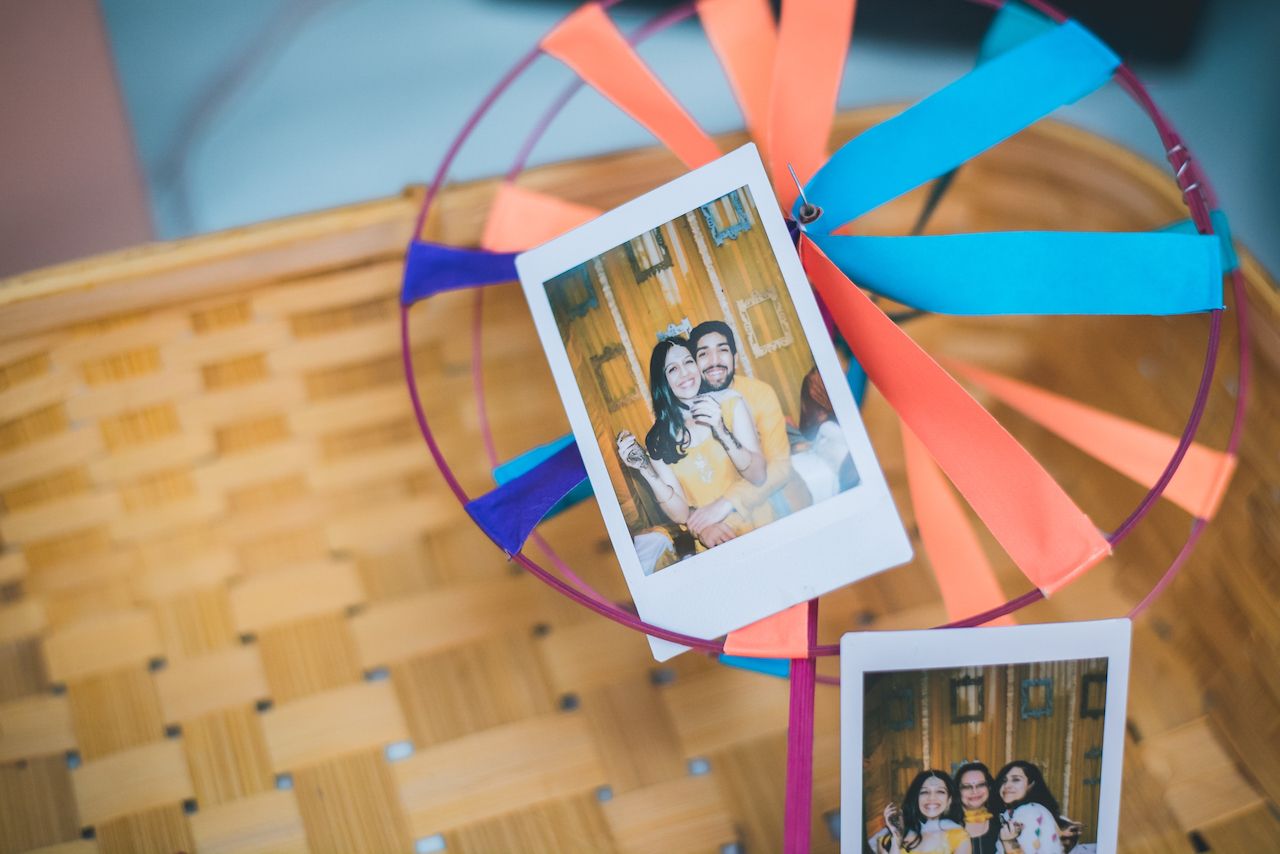 Wedding- The mandap was the focus at the wedding, and had lots of fresh local flowers around (another tweak which can make a big difference to overall cost). The entranceway was kept the same as during the mehendi, with the marigolds.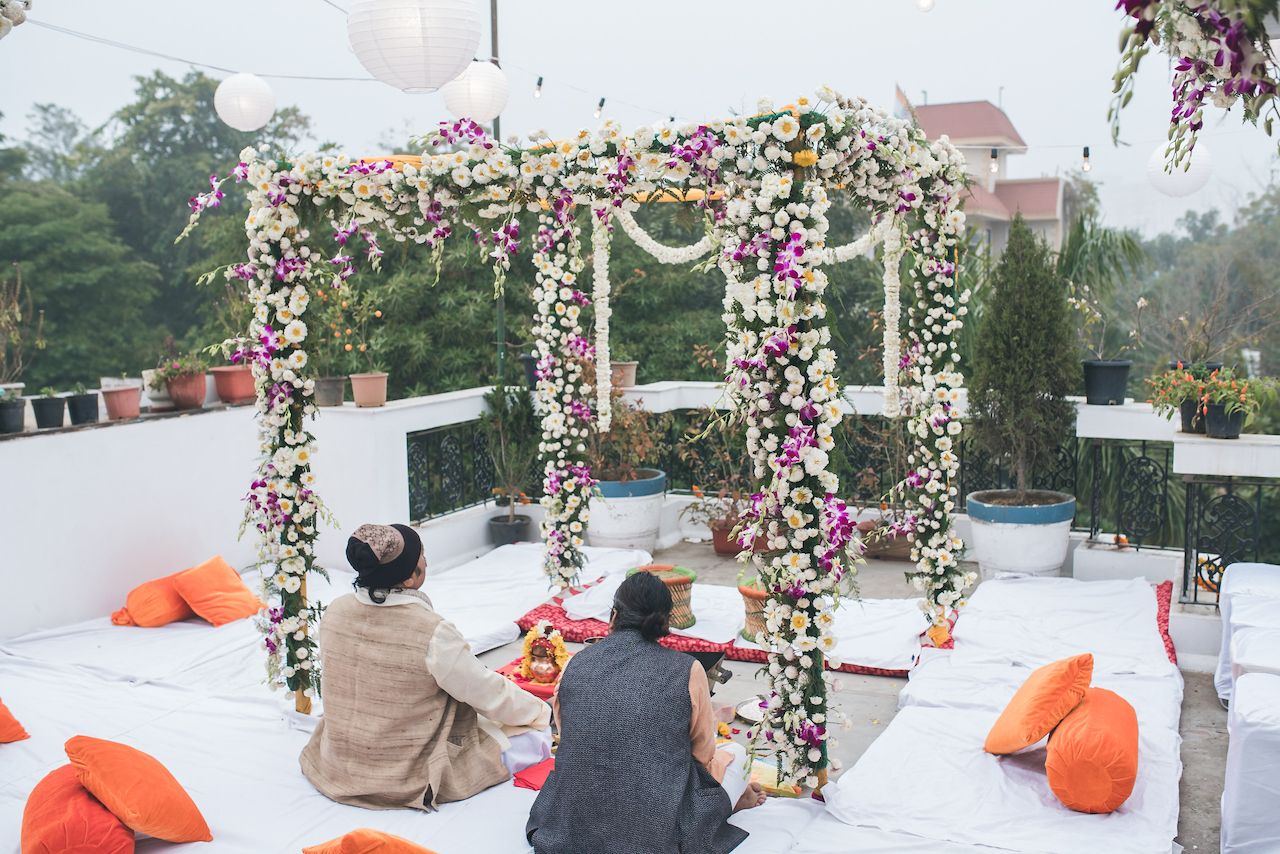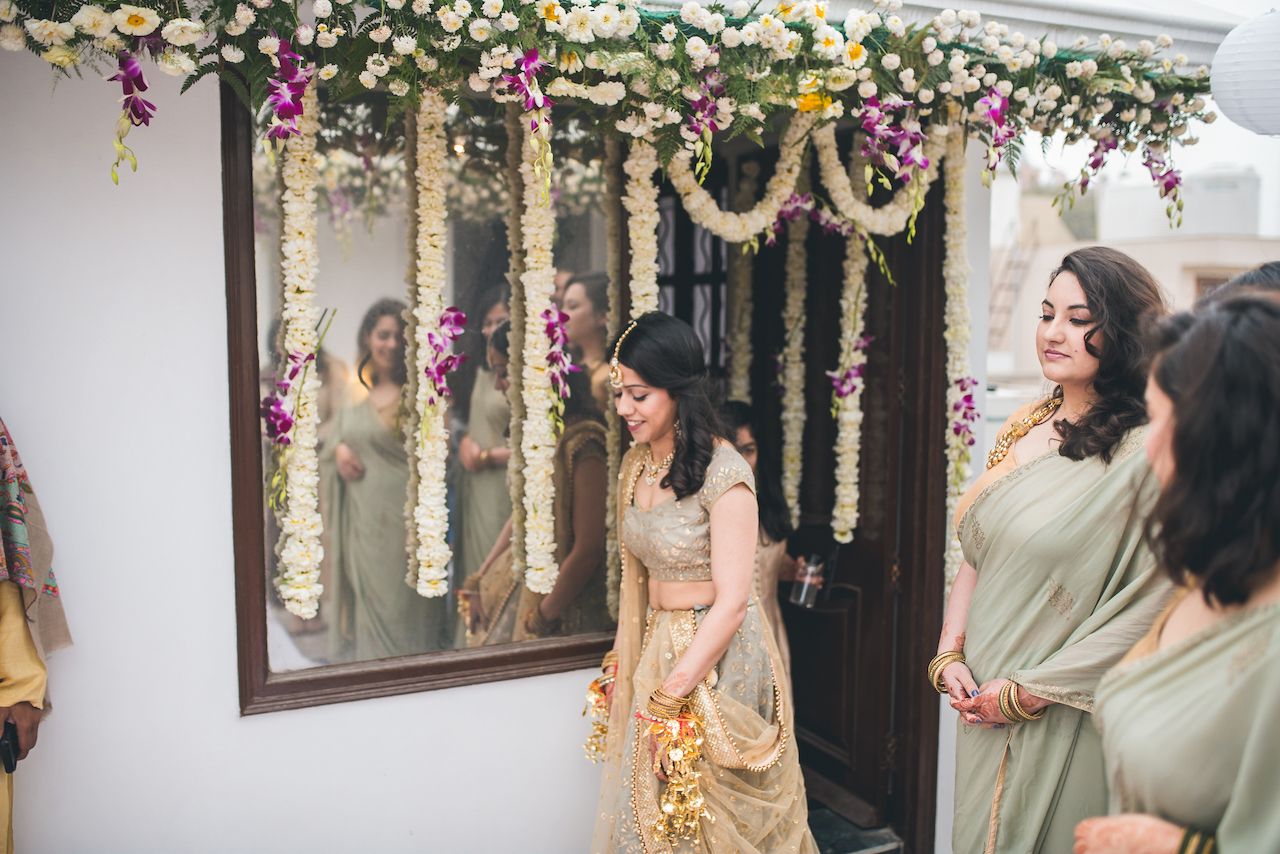 Party- Since the party was at a restaurant- and that too a pretty place with outdoor seating and open spaces, there wasn't any decor from the couple's side to do here.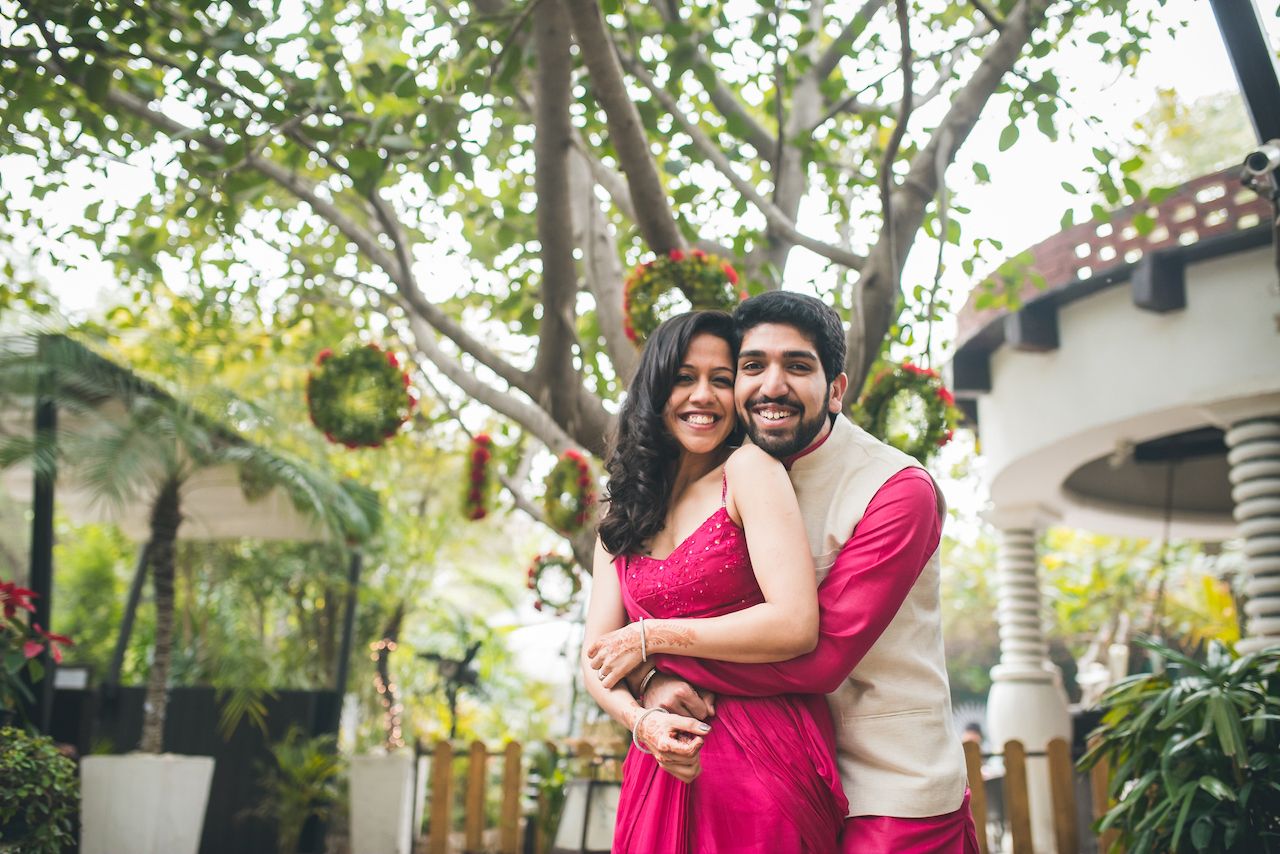 Catering
The catering was done only for the party at Fio's and there was a kebab wala on the Mehendi day. They ordered food for remaining events and made chole, puri and halwa at home on the wedding day morning.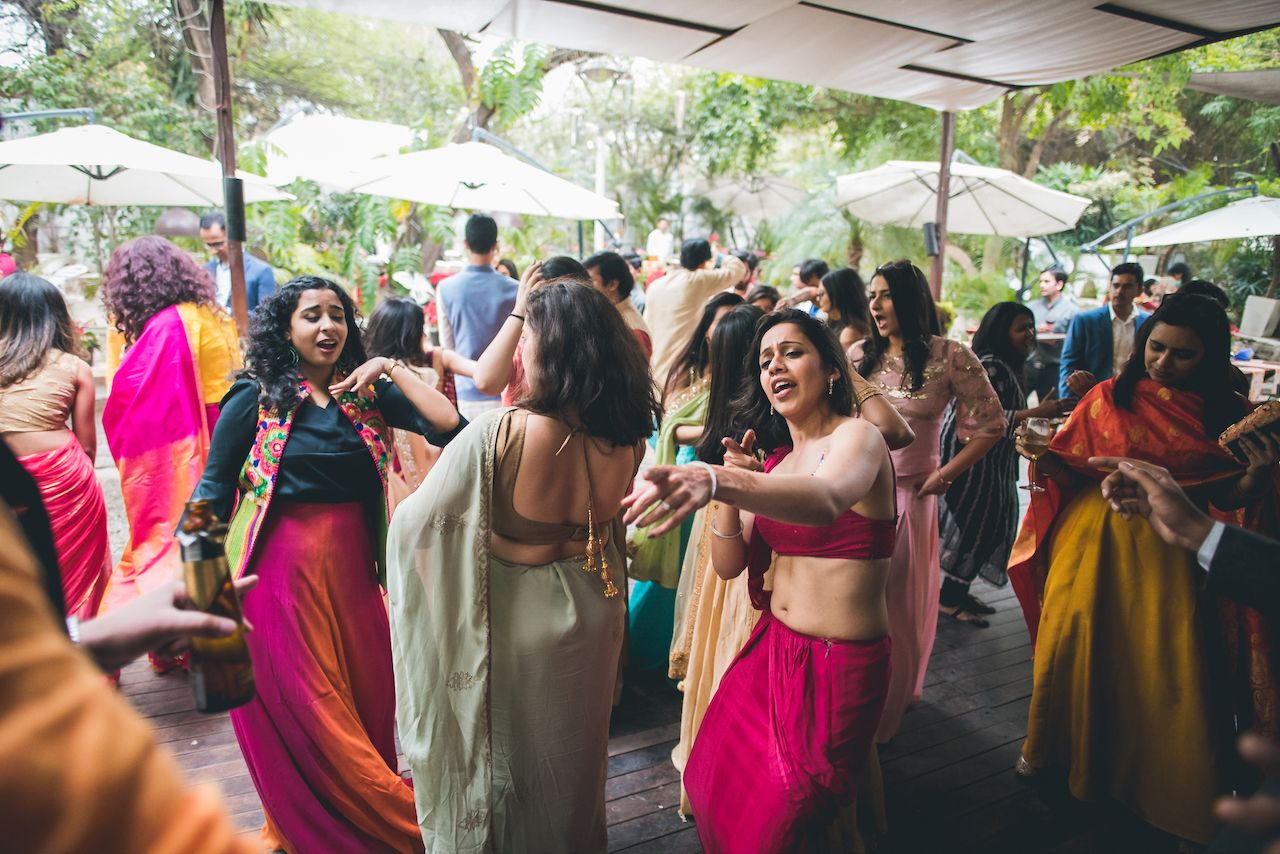 Wedding Favours
" I didn't give out any favours. All the people at my wedding were some of our closest friends, so we all ordered in food all days and I just paid for that. On our mehendi, we did have edible cookies in the shape of a hand and we did compete by drawing mehendi designs on it. I wouldnt call them favors because I ate most of them after they drew."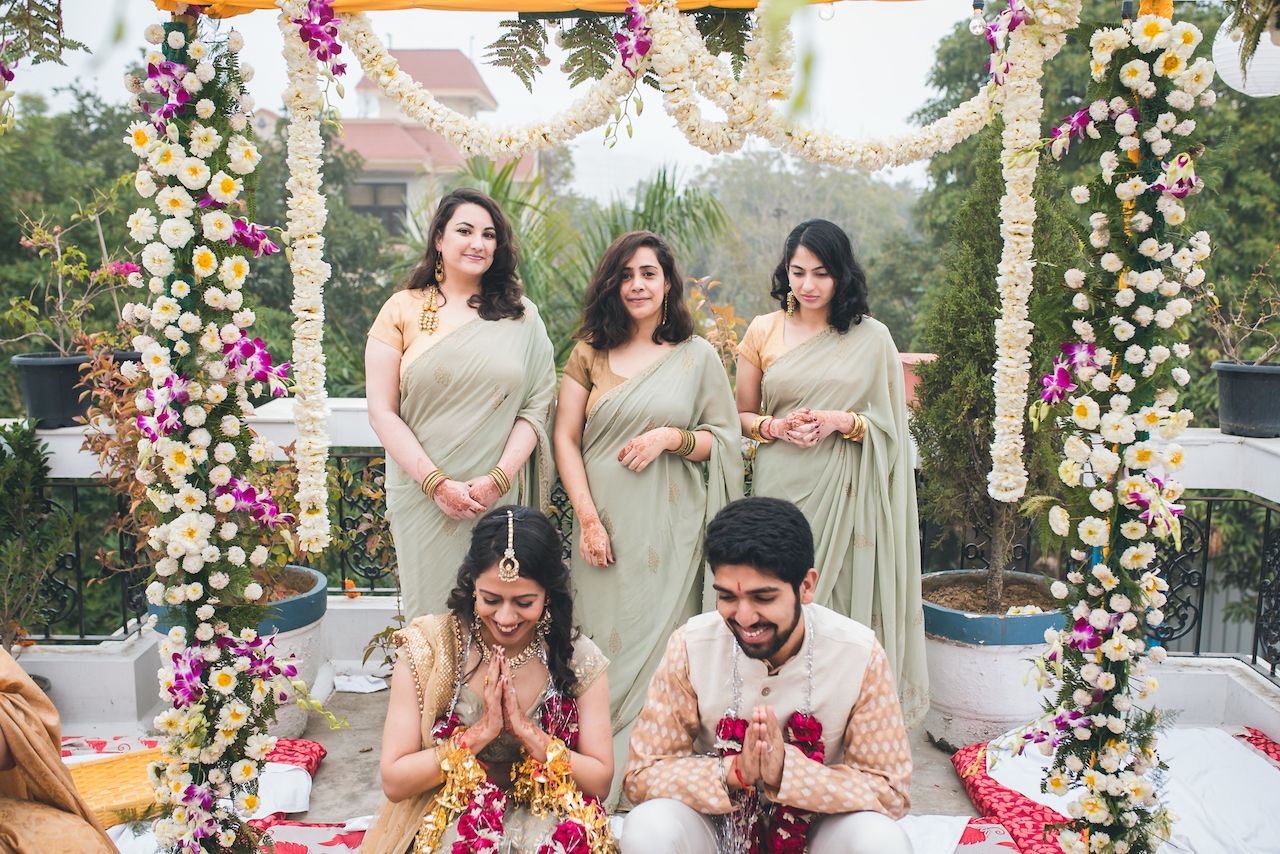 Apart from this, the other expenses the couple paid for were the groom's outfits, and the photographer. So, the total expense on the wedding came up to about INR 4.5 Lakhs, which is so practical and still looks like everyone had a blast!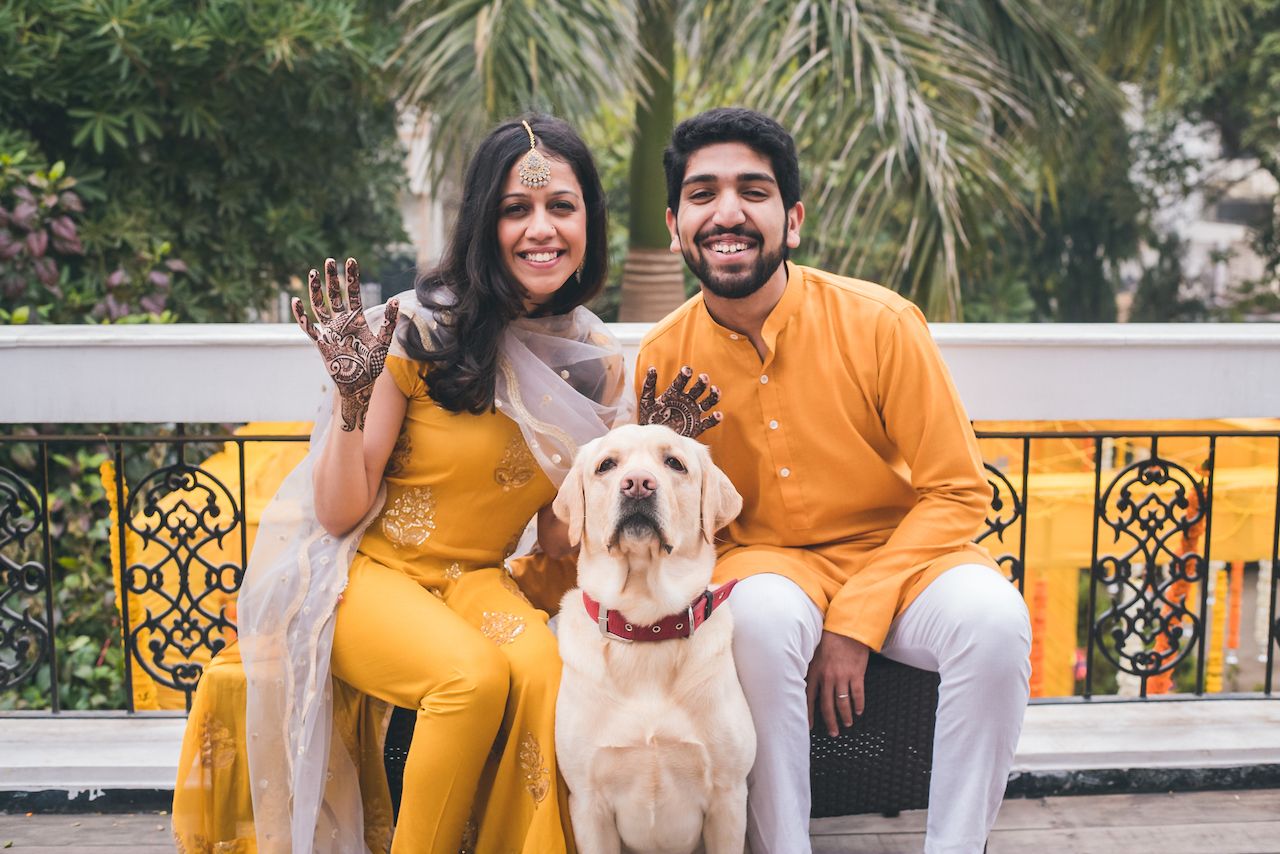 Tips from the Bride: 
Do it only if you're okay missing out on all the BRIDEY stuff that all weddings have. My idea of a wedding was fun and to celebrate the hilarious friendship my Husband and I have shared over the past 8 years. It poured on my party, mehendi and wedding. Since it was just all people I'm really close to, we all got drenched a bit, cleaned up, put up our hair in buns and continued having the best possible time I could have asked for. Definitely get your parents on board, and remember that you'll be in charge of everything.
Just think of it as a big party. My sister and I love doing up the decor for our parties, and that's exactly what we did. She clicked a gorgeous photo for our invite, made it and we sent it out via Whatsapp. We did a party on our terrace a day before the mehendi, called a tikka guy and bought disposable glasses to drink out of and danced till we couldnt any more. We all stayed over at my house, made eggs in the morning, got mehendi put and then in the evening again watched some tv and just gossiped through the night. We didnt have any staged shots at the wedding, nothing that we wouldnt do normally, and trust me, at my wedding, I fell more in love with my husband, my family and his family!
Vendors: Photography: Studio W- Photography & Live Stream Experts★ 4 ; Bridal Outfits: Malini Ahuja; Wedding party venue: FIO Country & Bar