#Trending: Bubbly Bar! How To Have A DIY Champagne Cocktail Counter!
BY Sakshi | 17 May, 2019 | 4388 views | 2 min read
Now this is a new wedding food trend we love! A bubbly counter or a mimosa counter is something new you can include in your engagement, mehendi, intimate wedding, sangeet, cocktail or even the reception- which makes it perfect for just about any function. Not only does it sound trendy, but it looks cool and since it's something that can be DIYed by the guests, makes it customisable and fun. So how do you go about including one at your wedding? Here are some tips and tricks!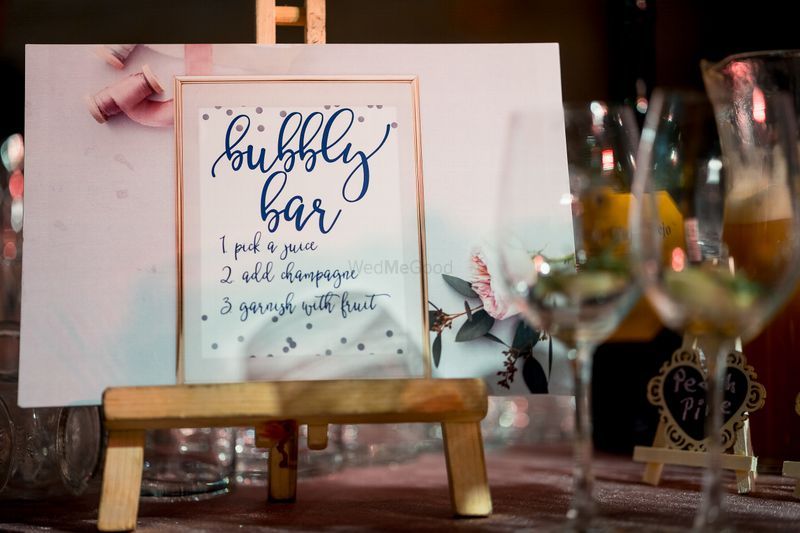 Image via Hanna & Saif (Mumbai)
So here's what you need to set it up by yourself!
A bar/ table/ dresser big enough to hold everything- champagne, glasses, fruit etc.
A cute sign so people know what it is, what to do and that they're welcome to help themselves. You can get one printed, DIY it on a chalkboard or get really fancy and creative with it.
Champagne, obviously. Prosecco is a good choice too.
Glasses, the prettier they are, the better. 
Juices or cordials for the guests to mix and match to add to their drink. 
Fresh fruits like blueberries, raspberries, strawberries, lime- which not only make the setting prettier, but can spruce up the drinks too!
Additionally, you can have some cute customised coasters, napkins, stirrers and little add ons to the glasses to make them quirky and fun.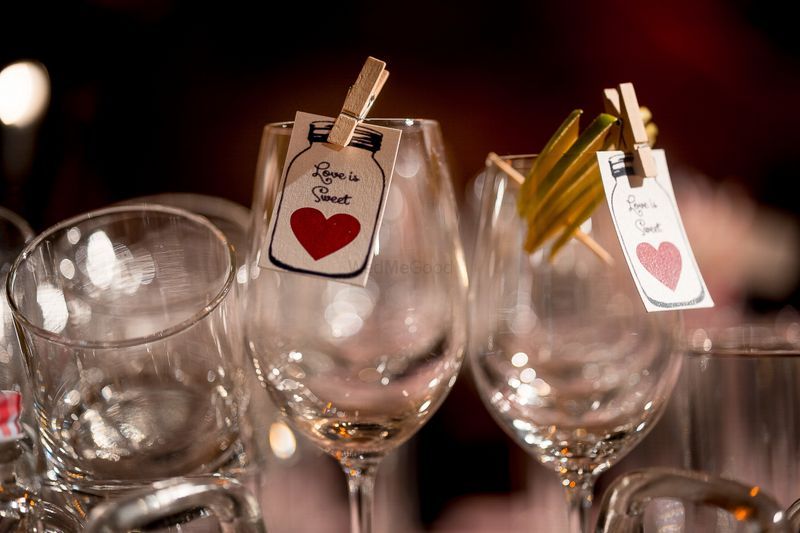 Image via Hanna & Saif (Mumbai)
You can get as creative with the flavours as you want! There are so many flavours and mixes and matches that can be made- there are enough and more ideas online for the flavours you can try out.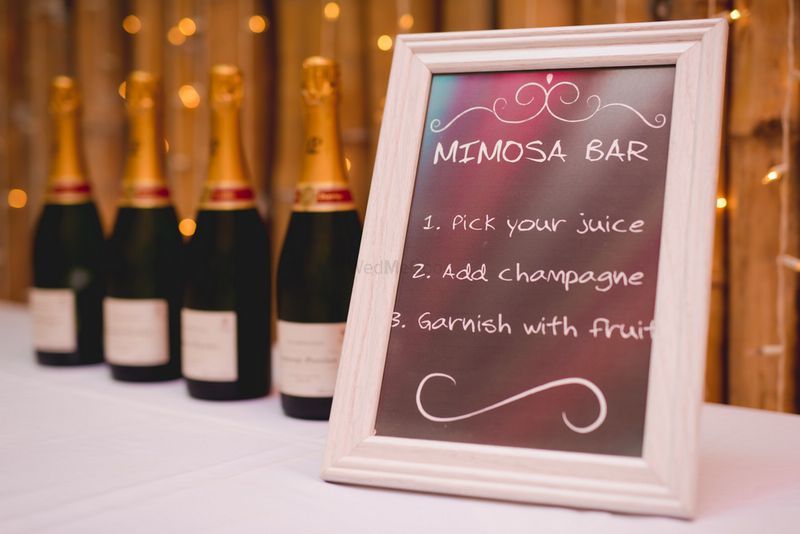 Image via Vartika & Thibaut (Mauritius)
So it's as simple as that. Sounds easy and fun right? And the best part is, that it's not that hard to set up and since the guests are going to be helping themselves, not much has to be done once it's set up too! No bartender required! So go ahead, and try it on one of your smaller functions or wedding!
ALSO READ: The Cutest Live Stations To Have At Your Wedding!