Two Is Better: 10+ Real Brides Who Wore The Most Unique Second Dupatta
BY Soha | 25 May, 2019 | 3129 views | 4 min read
ONCE. It's going to happen just once. And if you don't do it right, you might move on, but never really get over it. We're talking about your wedding pictures; what did you think? 
Lets face it, we cannot even begin to calculate just how many cameras are going to be on you on your wedding day. Who'd not want to slay? If there's one thing (out of the many other things) that writing about weddings has taught me, it is the fact that every bride truly wants to stand out, really enjoy her big day... AND have stunning pictures to re-live the good times.  
You have your outfits ready, and can go ahead and book the best photographer you can get convenient dates with. But we have another hack to make sure your pictures are 10x better than before! 
Wear a contrasting second dupatta to really make your outfits pop! What? Don't think it was be as easy as that? Have a look at these 12 brides who did just that and truly slayed at their weddings!
This Bride Really Stood Out With Her Unconventional Choice Of Colors- Green & Pink!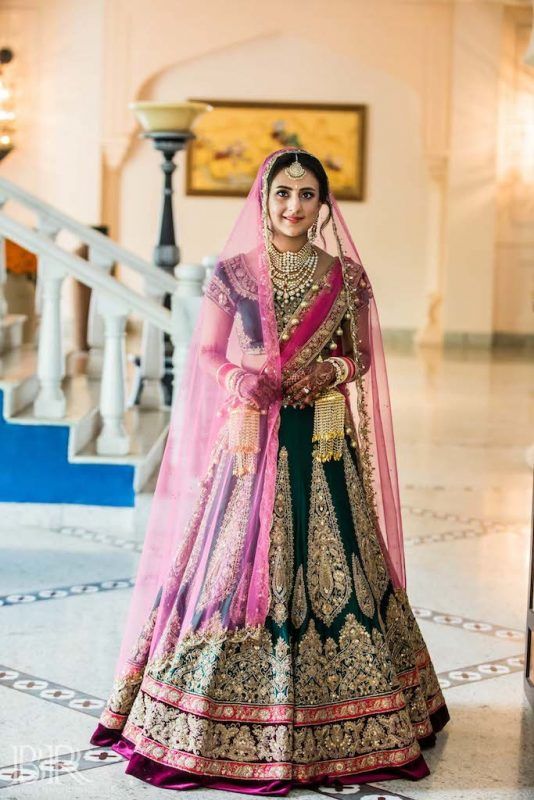 We love how she kept her dupatta plain, to compliment the heavy embroidery on the lehenga. Notice the scalloped, curved edges- subtle play with textures and shapes to keep things interesting!
Here's Another One That Shows Dupattas In Similar Textures But Different Colors Do The Trick Just Right!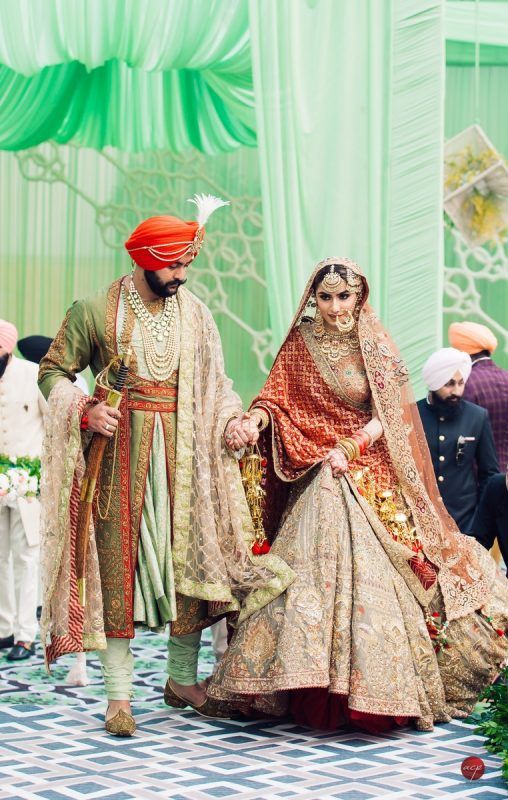 From Komal & Tanveer's wedding
Real bride Komal paired a gota-patti dupatta with her antique lehenga, to make her outfit pop! 
We Love The Subtlety Of The Shell Pink Dupatta With Her Sky Blue Lehenga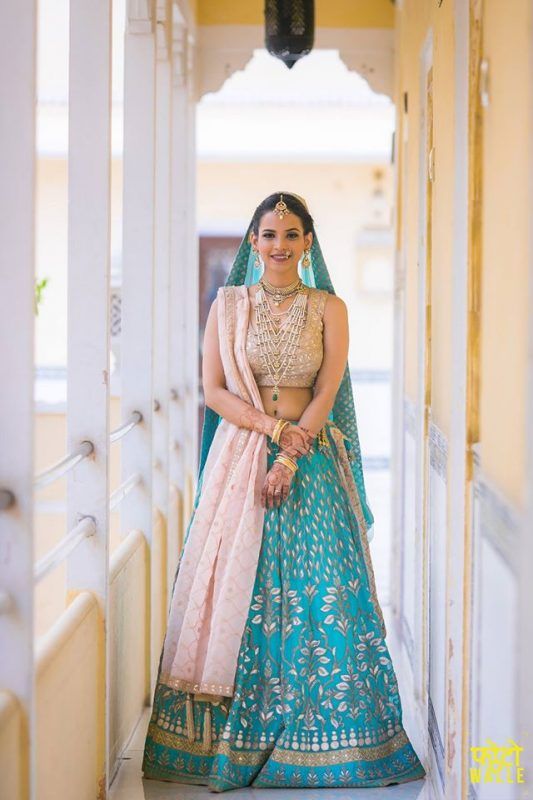 Opposites attract (attention). We know that's true. Look at this bride's choice of outfits- that pink and blue are on two extreme ends of the color spectrum and work just right!
This Bride Made Heads Turn By Pairing A Fiery Red Dupatta With Her Blue Ensemble!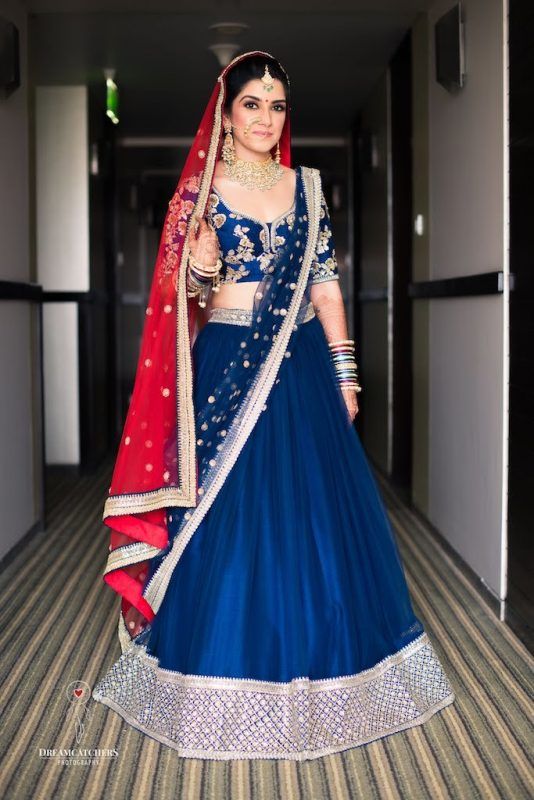 From Richa & Khushil's wedding
Another way to do it is to use two dupattas in the same design, just different colors, like this bride did.
Or This One Who Paired Hers With A Sheer Light Blue Dupatta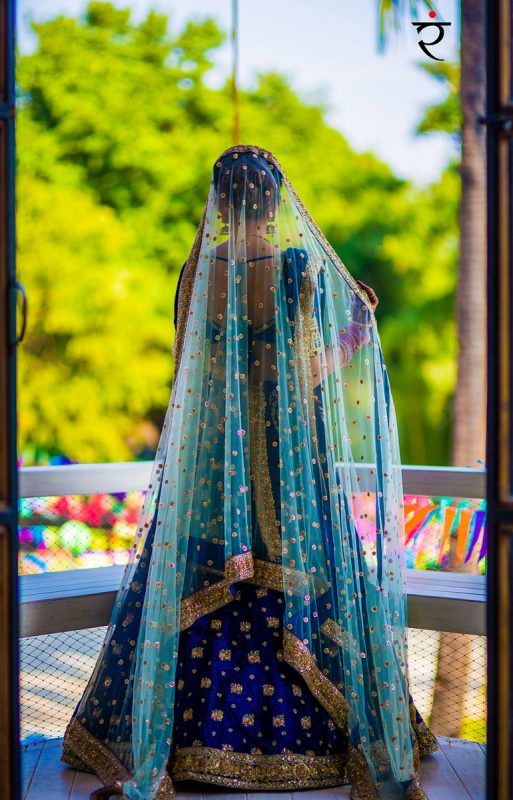 Well, sequines never go wrong!
This Bride Paired An Orange Dupatta With Her Monotone Lehenga To Add A Touch of Freshness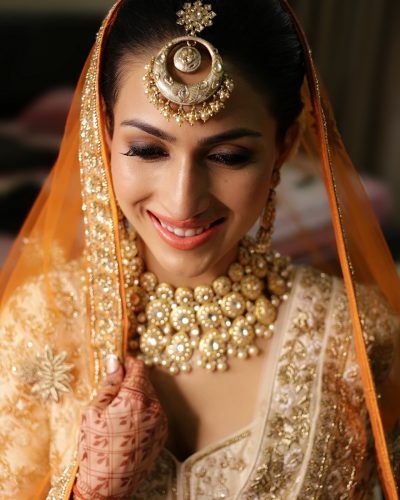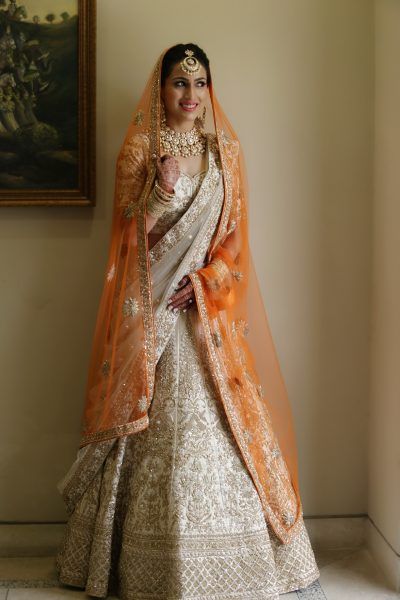 Color blocking is an interesting and sure shot way to stand out from the crowd and this bride is proof!
Here's Bride Harman Who Paired A Mint Dupatta With Her Pink Lehenga. The Hues Make For Such A Refreshing Combo, Don't They?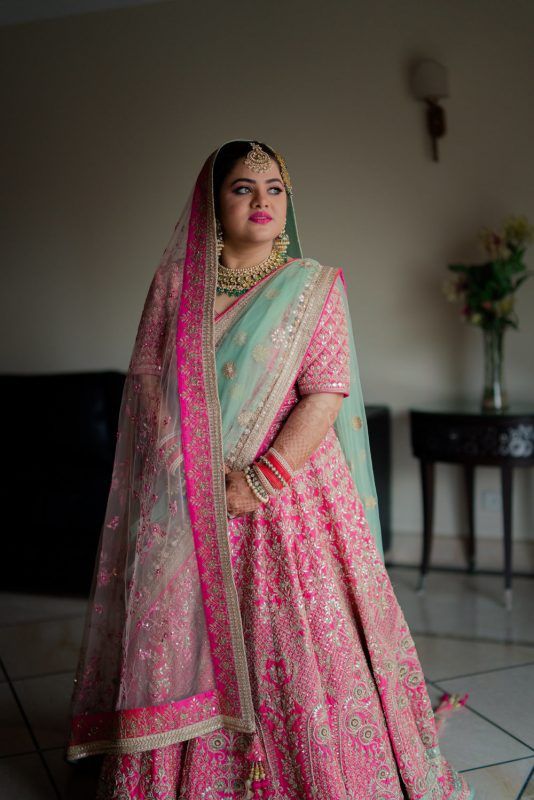 We love how this bride has draped a pink dupatta that matches perfectly with her lehenga and chose to show only a glimpse of a second, mint dupatta to break monotony! 
Or This One Who Paired A Mint Dupatta With Her Red Lehenga And Used The Trick Just Right!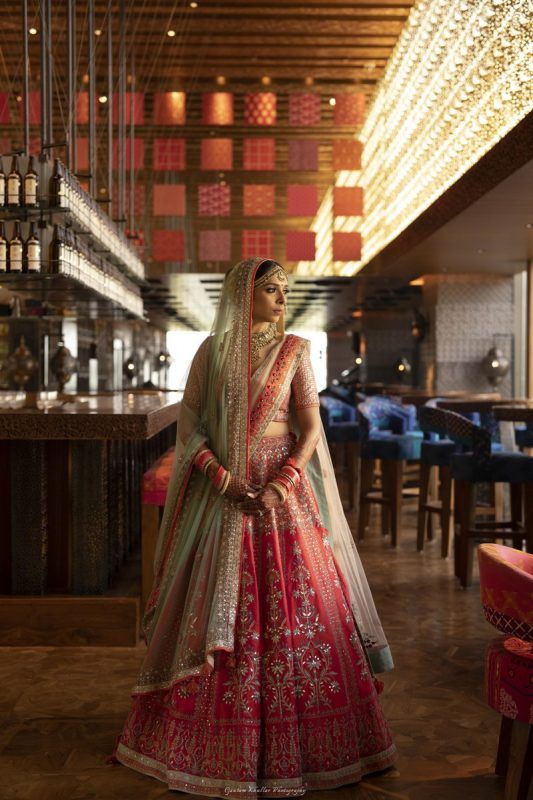 From Nikita & Raghav's wedding
Real bride Nikita chose a sheer mint dupatta with her red lehenga and kept the borders in both similar, to maintain balance.
Mint Really Seems Like The Millennial Bride's Favorite To Make Their Outfits Pop!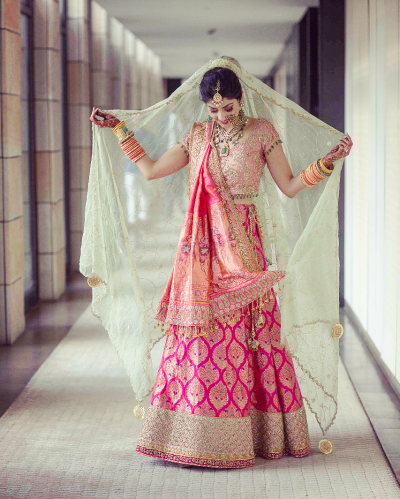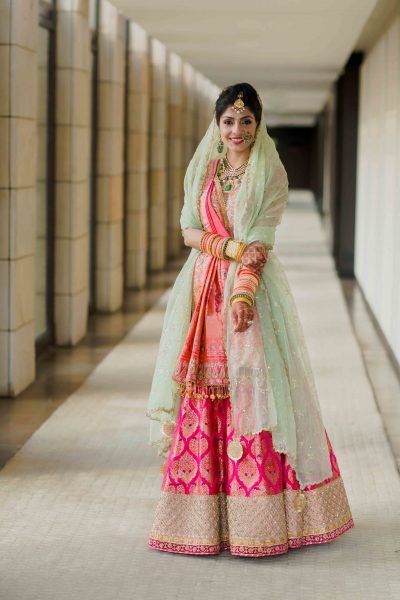 From Shimareet's wedding, shot by Lilac Weddings
What's not to love about this one? A Kanjeevaram blush pink dupatta with a mint sheer dupatta to complete the look- truly gorgeous! 
This Bride Paired A Stark Turquoise Dupatta With Her Red Lehenga To Stand Out. Did She Succeed? Hell Yess!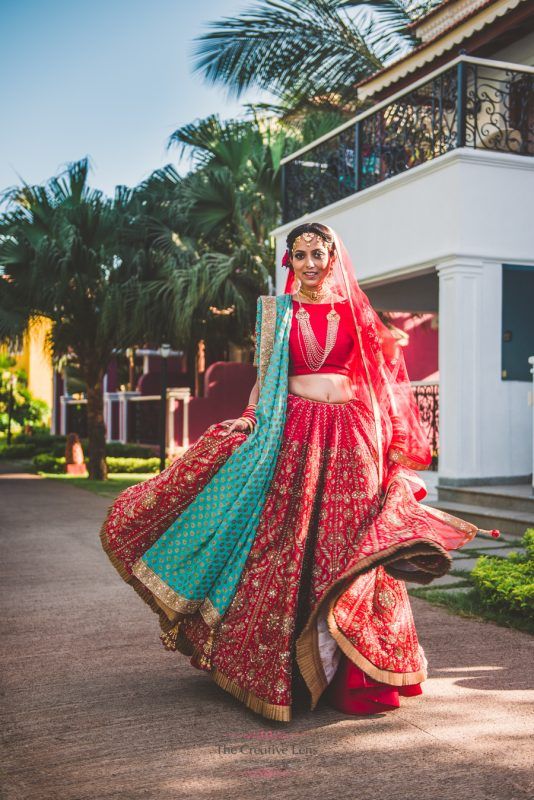 Anybody would stop and look at this bride with that popping turquoise dupatta. The minimal kanjeevaram print on it only makes things better.
You Could Pair Dupattas From The Same Color Family, But In Different Shades. Like This One Paired Her Tangerine Dupatta With A Light Coral Lehenga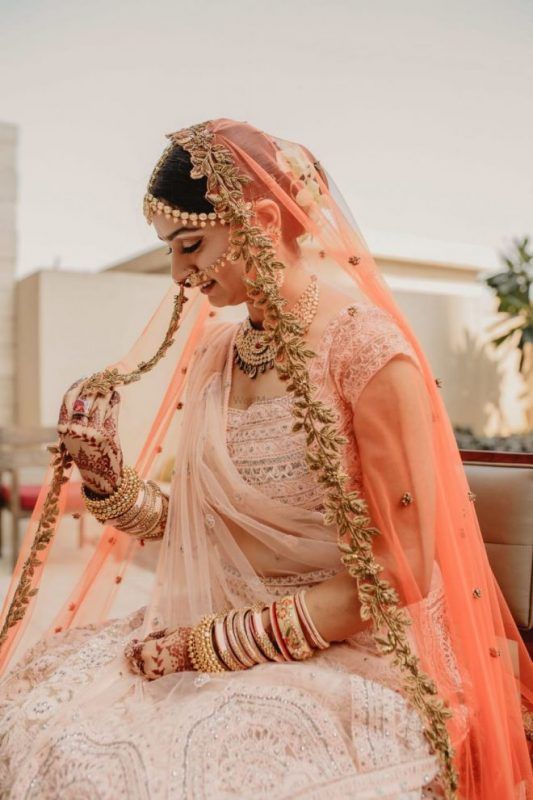 That dupatta with the scalloped edges truly are a winner. 
Here's Another Bride Who Played With The Classic, Red and Green Combo!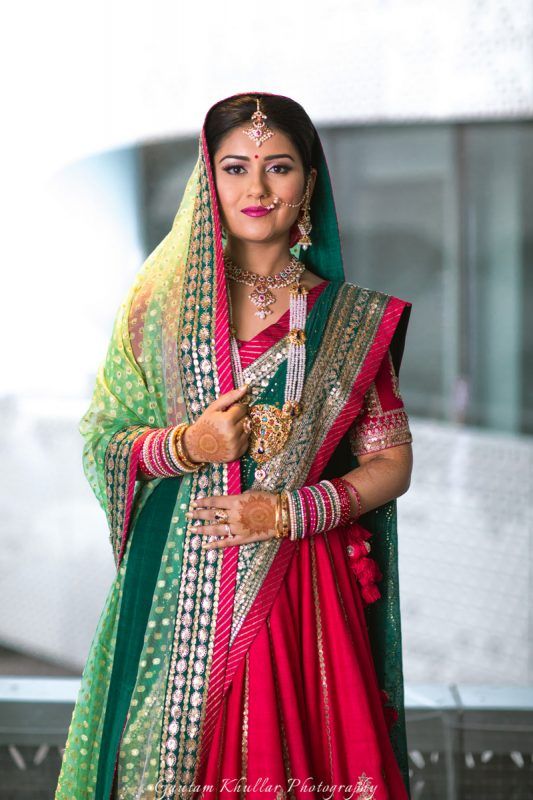 Via Gautam Khullar Photography
We love how this bride paired a contrasting green dupatta with her red lehenga. But you know what's better? She played with shades of both, red and green in her other dupatta that really makes the combination soothing to the eyes!
Convinced or not?