Under Rs 5000: 15+ DIY Decor Ideas For The Bride On a Budget!
BY The WMG Bride | 14 Sep, 2015 | 6913 views | 4 min read
Dear bride, there are so many stress points while planning a wedding. From choosing the right vendors to lehenga fittings to makeup ideas and bang in the middle of all this - your pretty little head is worried about the wedding decor. Not that you don't trust your planner but sitting together and getting fun ideas implemented requires some groundwork. And for those
brides on a budget
, it helps to know that wedding decor can be DIY-ed without making a hole in your pocket. That's why we got you 15+ simple decor ideas that can easily make your wedding look awesome within a budget. Just get your BFFs, cousins and extended family involved and you'll have the wedding of your dreams, just DIY it all.
1. Parandis Hanging 
Devika Narain and Company★ 4.5
Parandis are so fashioned but now, they are making a comeback as wedding decor. When in doubt, just get a few colourful ones and hang them.
2. Pinwheels 
You can never wrong with pinwheels - let them reflect the theme of your wedding and they really add a touch of kitsch to the wedding decor.
3. Origami Cranes 
Make colourful origami cranes and hang them up at strategic places. They really add glamour and fun to the decor.
 4. Paper Flowers in Glass Bottles 
Paper flowers are easy to make and don't cost a dime. Collect old bottles and just slip them in so the decor gives out an elegant rustic vibe!
5. Painted Glass Bottles 
Painting old bottles into the decor palette you want is so cute - work with bright colours like yellow, green and orange to punch it up.
6. Colourful Rangoli 
A good rangoli is by far one of the cheapest but most impressive decor ideas at weddings. Make an intricate one and add glitter if you like!
7. Kites and More Kites 
Picture Courtesy: Devika & Kunal's Wedding 
Kites are making a big big comeback and they're such a simple idea that they make us smile. Ask a few boy cousins to get you all the equipment and go crazy!
8. Slates 
Picture Courtesy: Vahi & Faisal's Wedding 
No need to invest in flashy frames or big chalkboards for effect, this time, go back to your childhood and bring out your slate. Write down everything you need and place them at cool spots at the wedding!
9. Initials 
Picture Courtesy: Hemant & Preet's Sydney Engagement 
Oh, this one's an oldie but a goodie. Get your local carpenter to monogram or make your initials and you can paint them in the colours of the wedding and jazz them up.
10. Wooden Clips
Picture Courtesy: With Love Nilma
Love notes, polaroids and fun marriage advice can go up on a string with a pack of wooden clips for company.
11. Embroidery Hoops
Picture Courtesy: Neeharika & Ritik's Wedding 
Get a few embroidery hoops and run some lace fabric through them and bam, French elegance is what we love!
12. Birdcages Wrapped in Marigold Flowers 
Bird cages are so 2013 but if you jazz them up just right, then it's a winner. Like how this decorator wrapped marigold flowers around them to make them sexier!
13. Paper Decor
Paper decor has been there in our arsenal since decades but what makes them great is the way in which you use them now. Hang them up on trees and set them up in interesting spaces.
14. Buntings At Strategic Locations
Picture Courtesy: Imran & Aslina's Wedding 
You can never go wrong with buntings. Just add words you love and you're set! All in a day's work.
15. Floating Flowers 
Picture Courtesy: Samantha & Heinz's Wedding 
Get a huge vase, throw in some flowers and watch the show. Yes, it's THAT easy.
16. Mirror Signboard
Picture Courtesy: ModWedding.com
Get an old mirror and scribble all your love quotes on it. Simple decor trick that will always be remembered fondly.
17. Lace Doily Bunting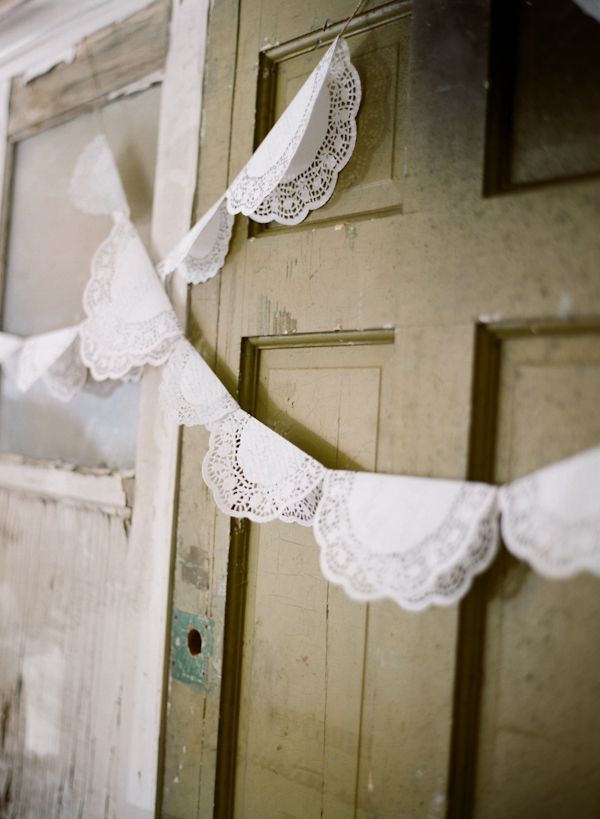 Picture Courtesy: Wedding Party App
Get a string and just stick your doilies on it - so sophisticated and elegant.
18. Paper Heart Garlands
Picture Courtesy: 10 Paperlane, Etsy
Cut colourful paper into shapes you want and tie them on a string - easy paper garlands for the hurried bride!
Have other ideas you think that we might love? Tell us in the comments section!