Unique Stage Decoration Ideas That'll Transform Your Wedding
BY Garvita | 08 Apr, 2019 | 15845 views | 7 min read
Gone are those days when decor was just another element at weddings! But things have changed now. If offered something unique, couples are willing to shell out good amount of money on decor. Stage being the focal point of any wedding ceremony, requires special attention in terms of decor. Well, mainly because the couple spends the most time on it! Also, it adds to the aesthetic value of the venue. Trust me, you wouldn't want your pictures to turn out unappealing, because of a mundane decor. To help you with that we've shortlisted some unique stage decor ideas to make your wedding a scintillating affair! Bookmark your favourite right away!
1. Lit with candles

Image via Pooja Joseph Photography
Giving flowers and drapes a miss, this stage decor was all about candles placed on tall candle stands. Totally loved the modern and stylish vibe! Also it ought to be budget friendly. Amazing, isn't it?
2. Ditch the couch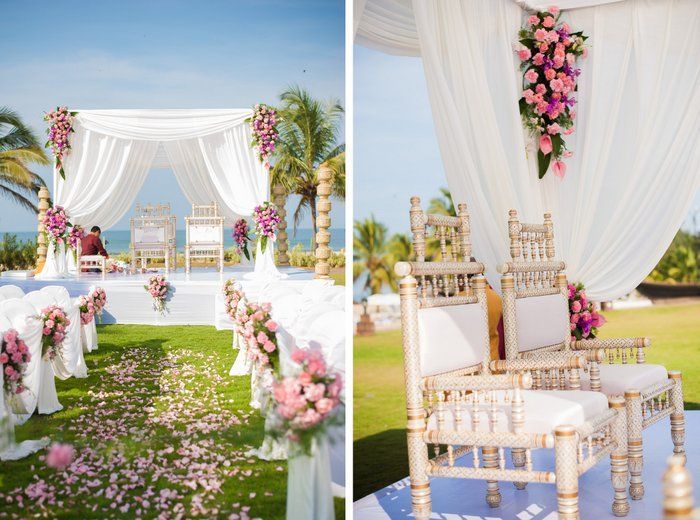 Image via Monica Moghe Photography
While we see so many stage decors all about fancy couches, this minimal decor exuded class with these structured chairs!
3. Let the lights do the drama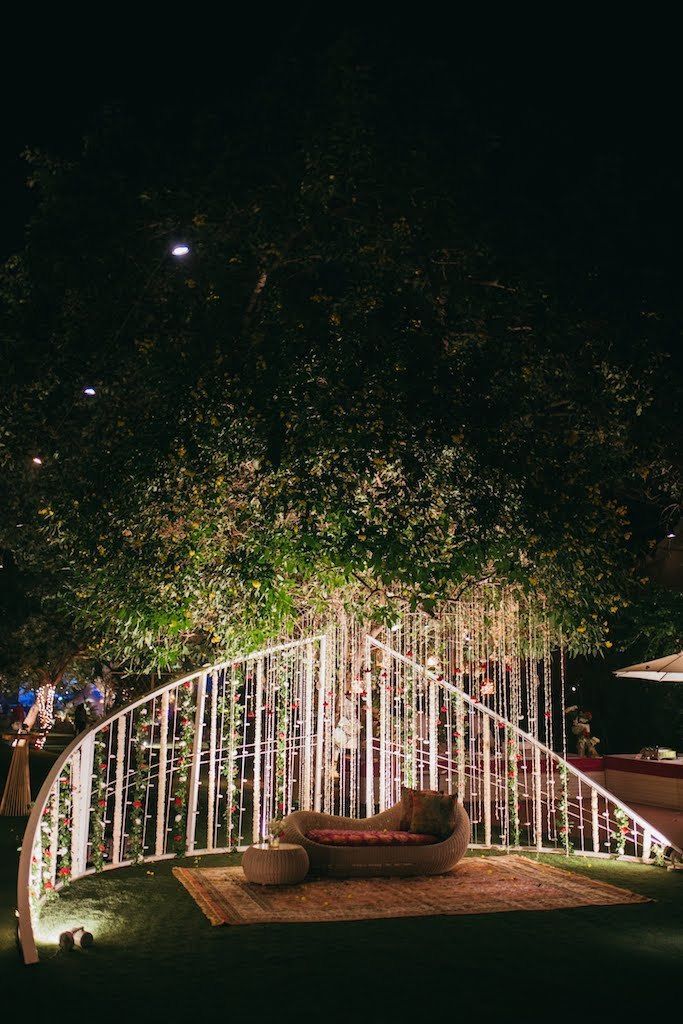 Image via Tulika & Prabhjot
With a not so average seating, this stage was lit with fairy lights! Minimal use of flowers, natural greenery, we couldn't help adding this decor to the list!
4. With a plush of nature's pink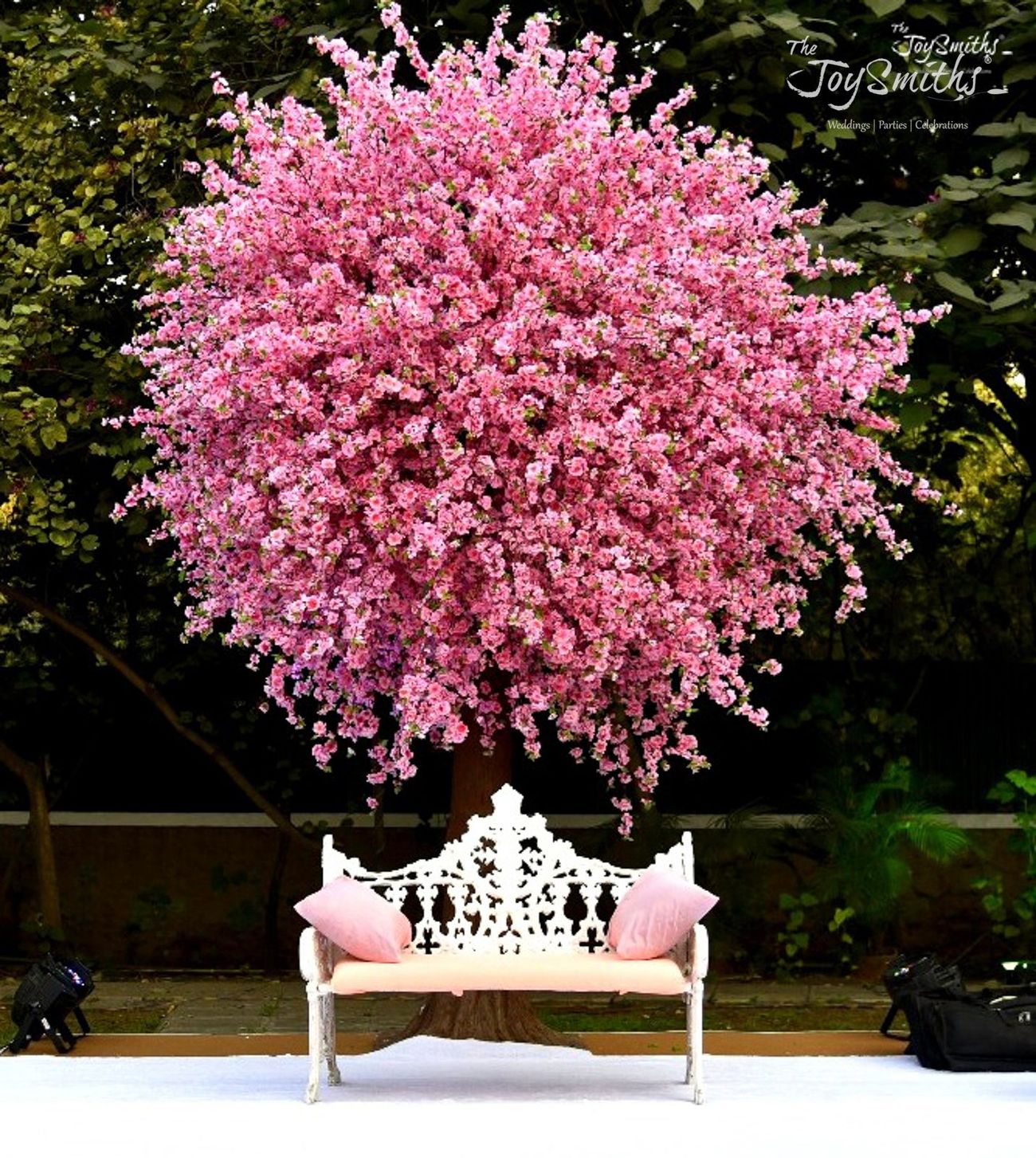 Image via The JoySmiths
At first we thought that was a setup until we looked closely and realised that's a real tree! Oh my God, literally paradise. Also, you cannot miss that cutesy vintage bench!
5. Beneath a floral wreath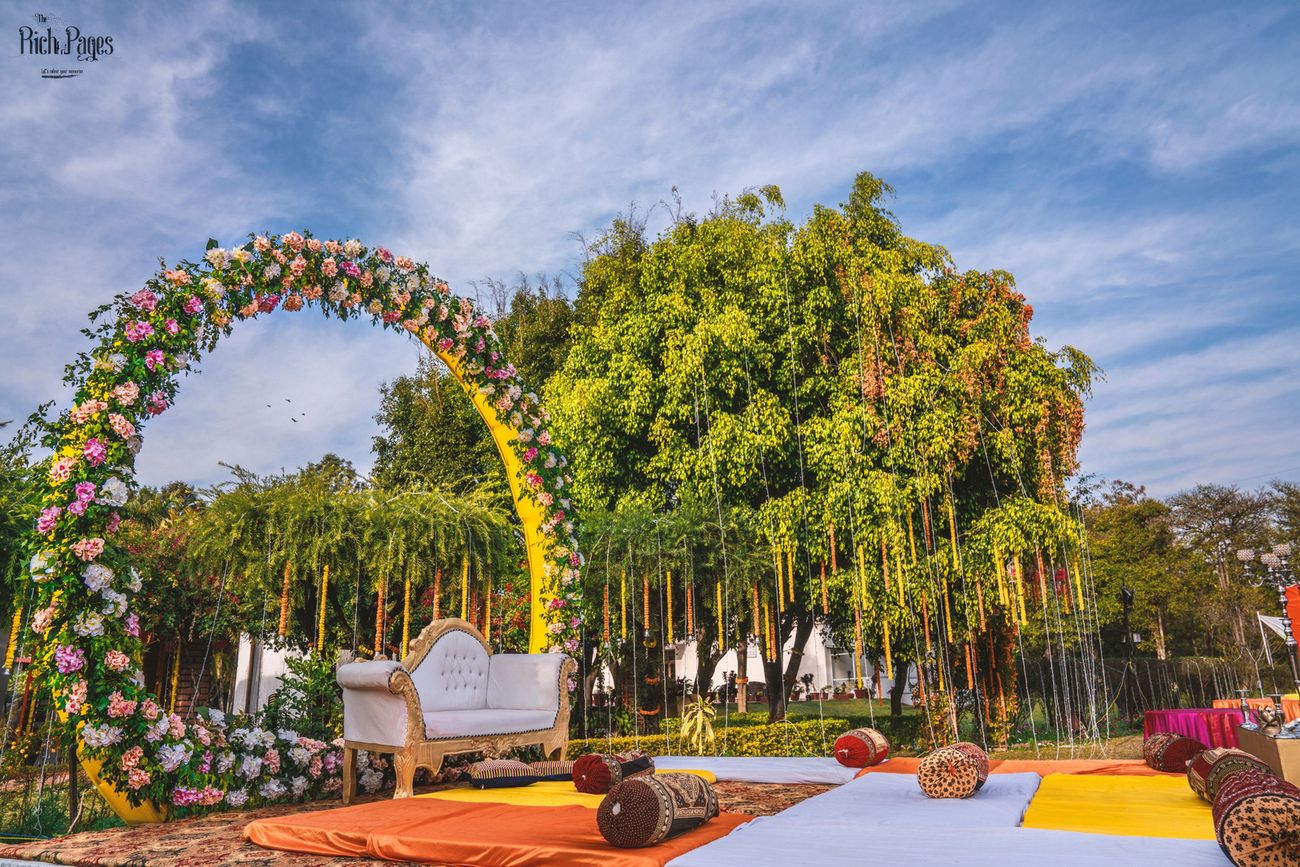 Image via The Rich Pages
A lush green outdoor venue and all you need is a giant floral wreath to decorate your stage.
6. All things royal and extraaa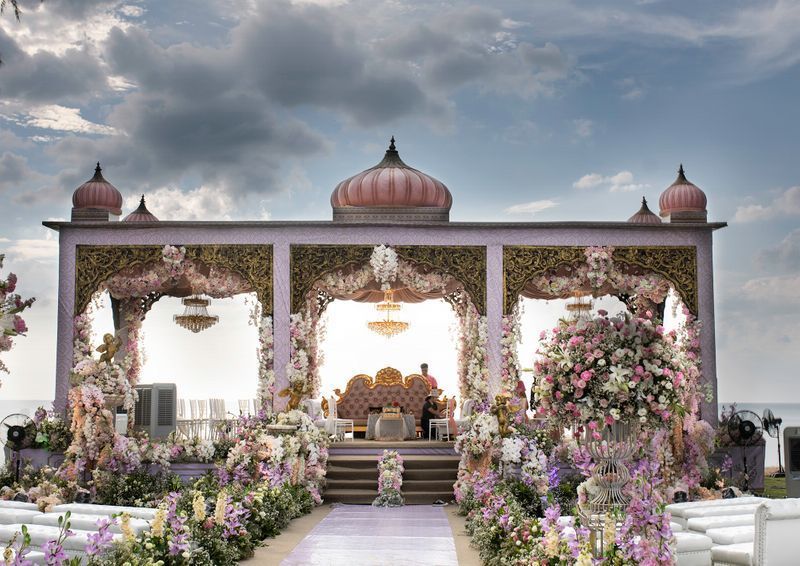 Image via Nimitham Wedding Photography 
Not looking for something basic? Well, this is what will inspire you for a stage decor that exhibits magnificence and grandeur. Palace-like backdrop, over the top floral arrangement in pastel hues and a dramatic sky. Phew, pure love!
7. Minimal is the way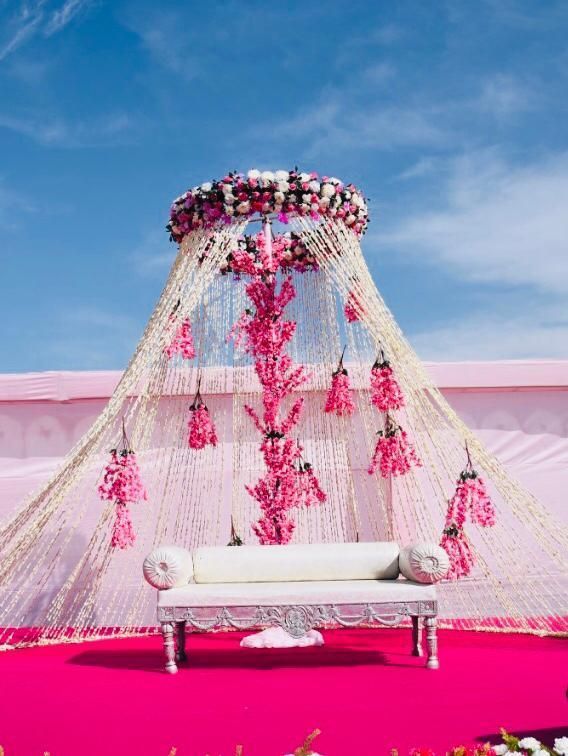 Image via Kaleerein by Kanika Kumria
Pristine white paired with an intense pink looks pleasing to the eyes! That minimal floral backdrop with an elegant couch is definitely ideal if you're looking for something subtle.
8. Vintage game strong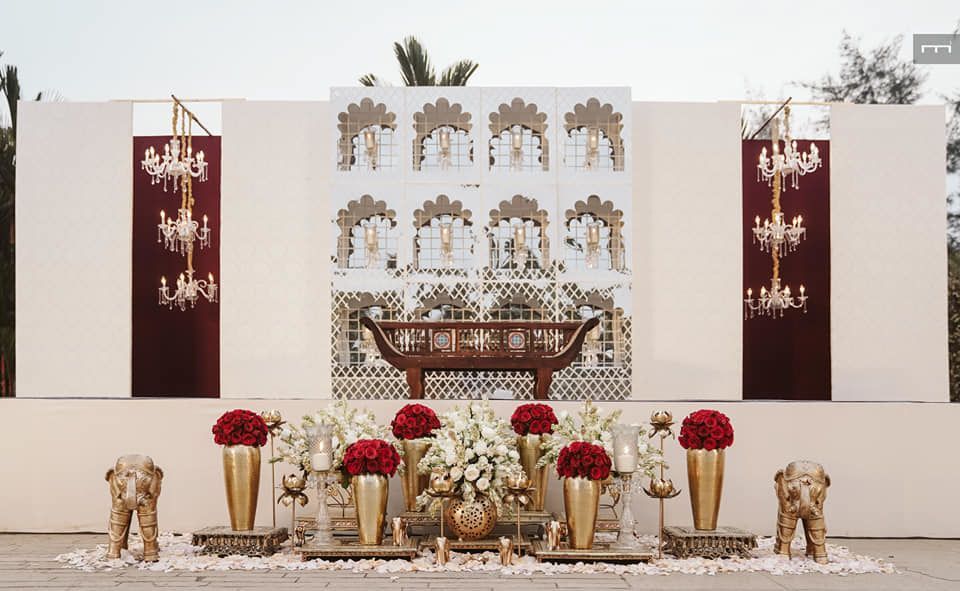 Image via Wedding Factory
Intricate wooden work with gold accents gives out beautiful vintage vibes! Luxurious, rock-crystal chandeliers, elephant figurines and red roses makes is absolute class.
9. Modern tangerine meets rustic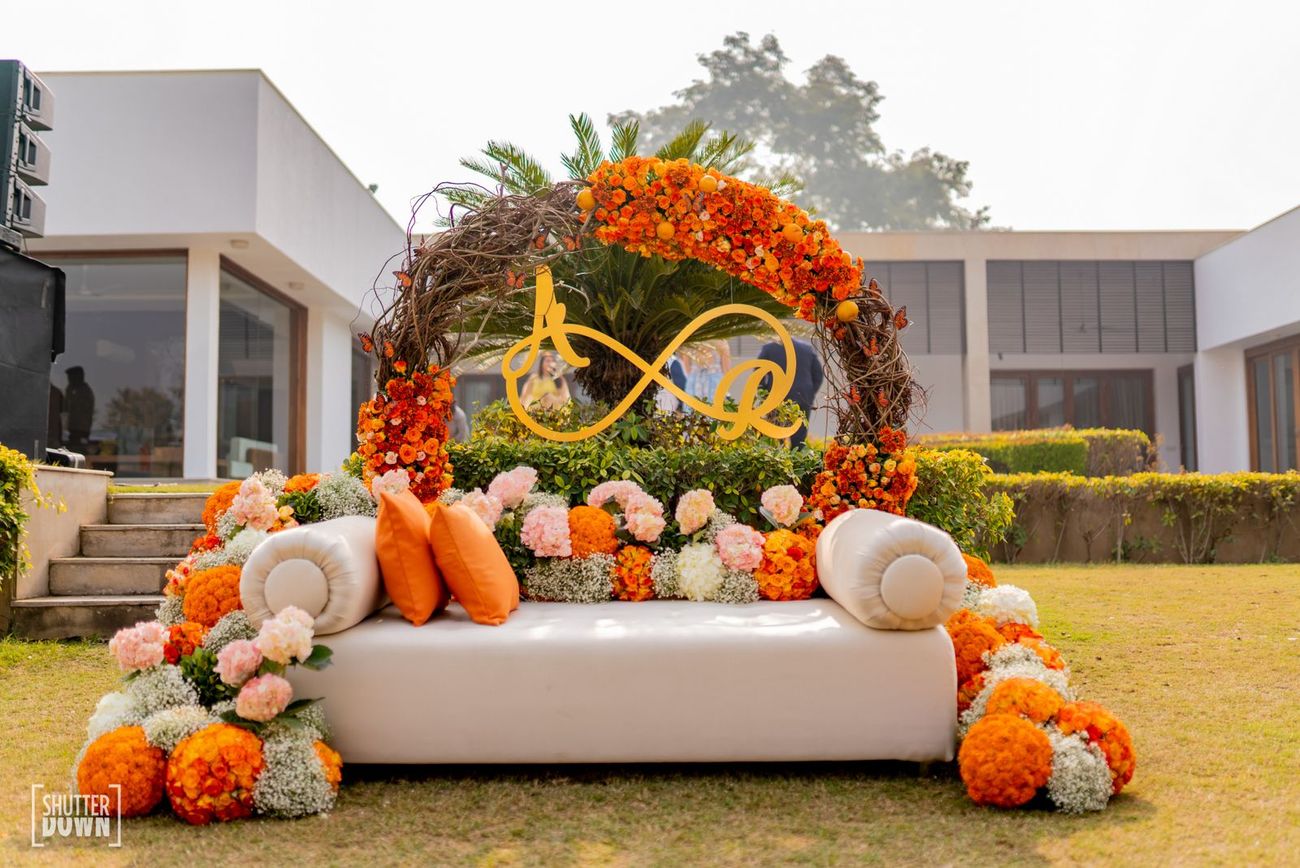 Image via Shutterdown - Lakshya Chawla
This decor, quite obviously, screams freshness and creativity. Extensive use of branches paired tangerine flowers is perfect for a modern day wedding.
10. Full of roses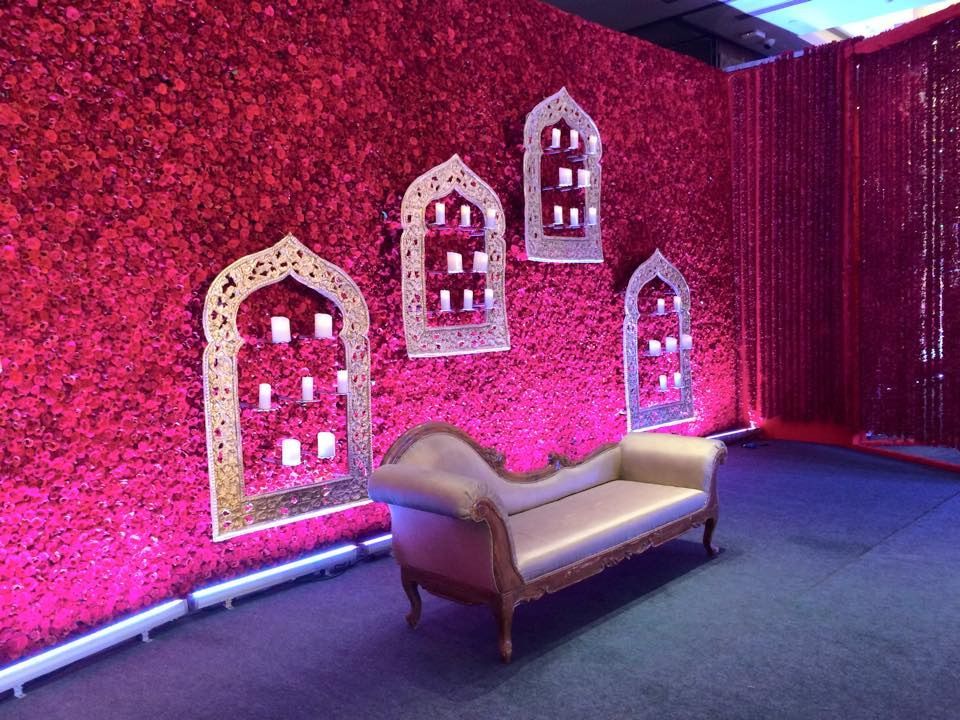 Image via Sumyog
Go old school and traditional with a stage decor full of roses! The golden detailing add royal vibes to it. We're sure the pictures would come out to be exquisite!!
11. An offbeat structured detailing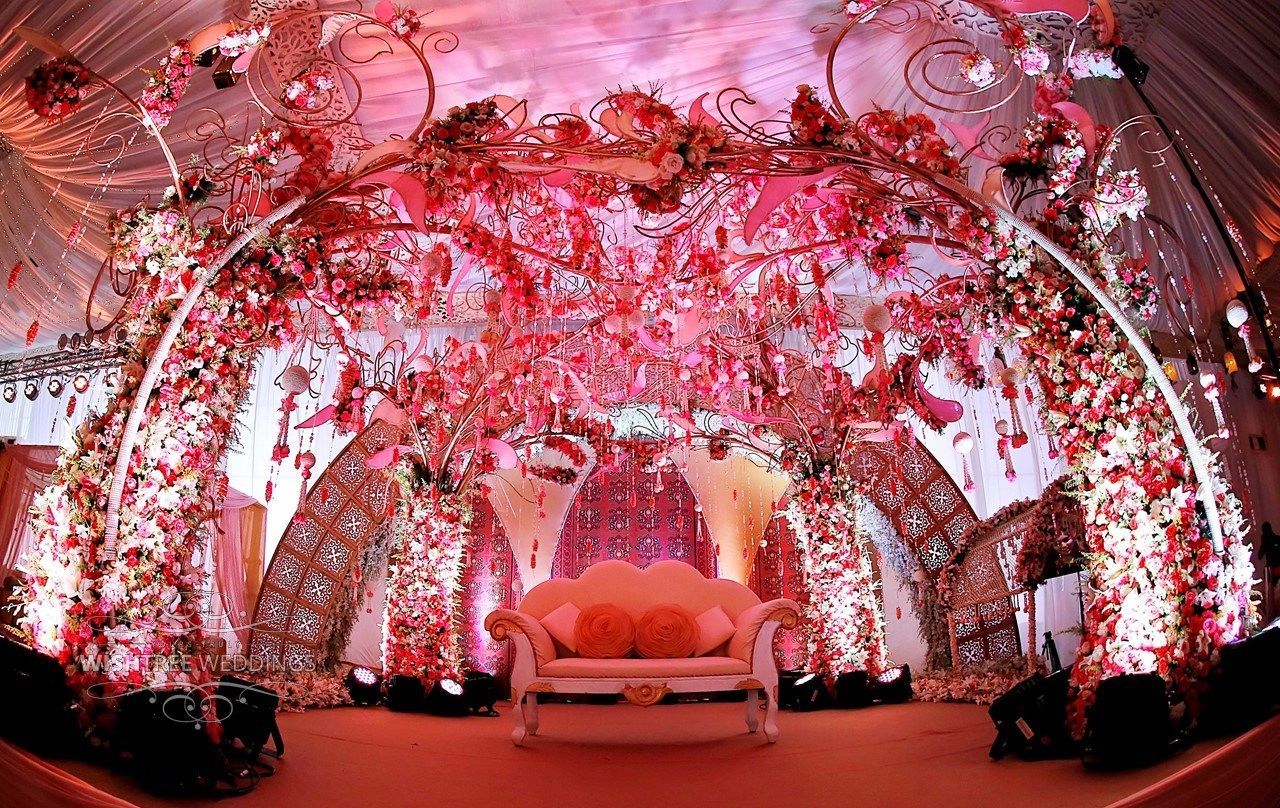 Image via Wishtree Weddings 
Some may find it OTT, but trust us it can't get anymore quirky yet classy than this! The use of red and white combination with a vintage sofa makes this wedding stage design stand out from the others
12. Pure white and luxurious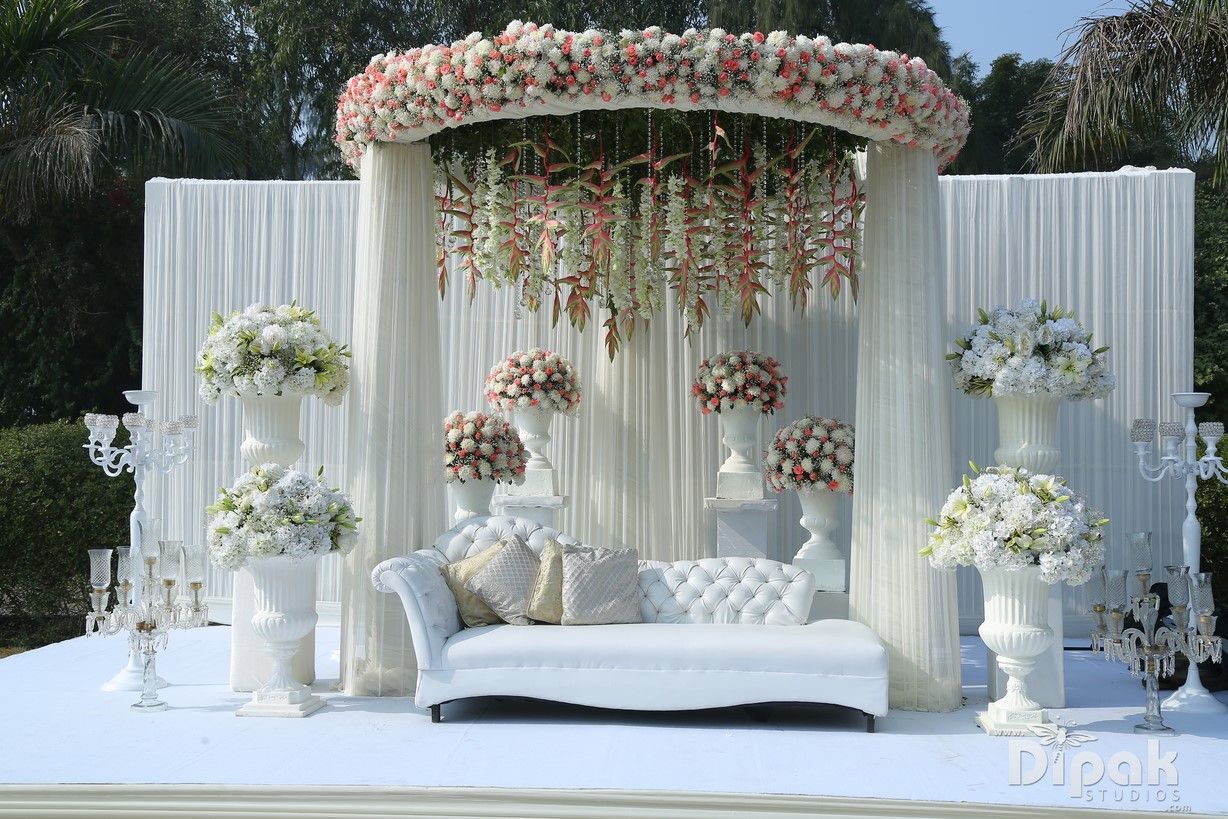 Image via Vivah Luxury Weddings
One can never go wrong with a white theme wedding! From drapes to flowers and an antique sofa to huge vases, it's definitely a sight to behold! Super apt for a day wedding!
13. Mehendi
A perfect decoration for stage for an intimate mehendi affaire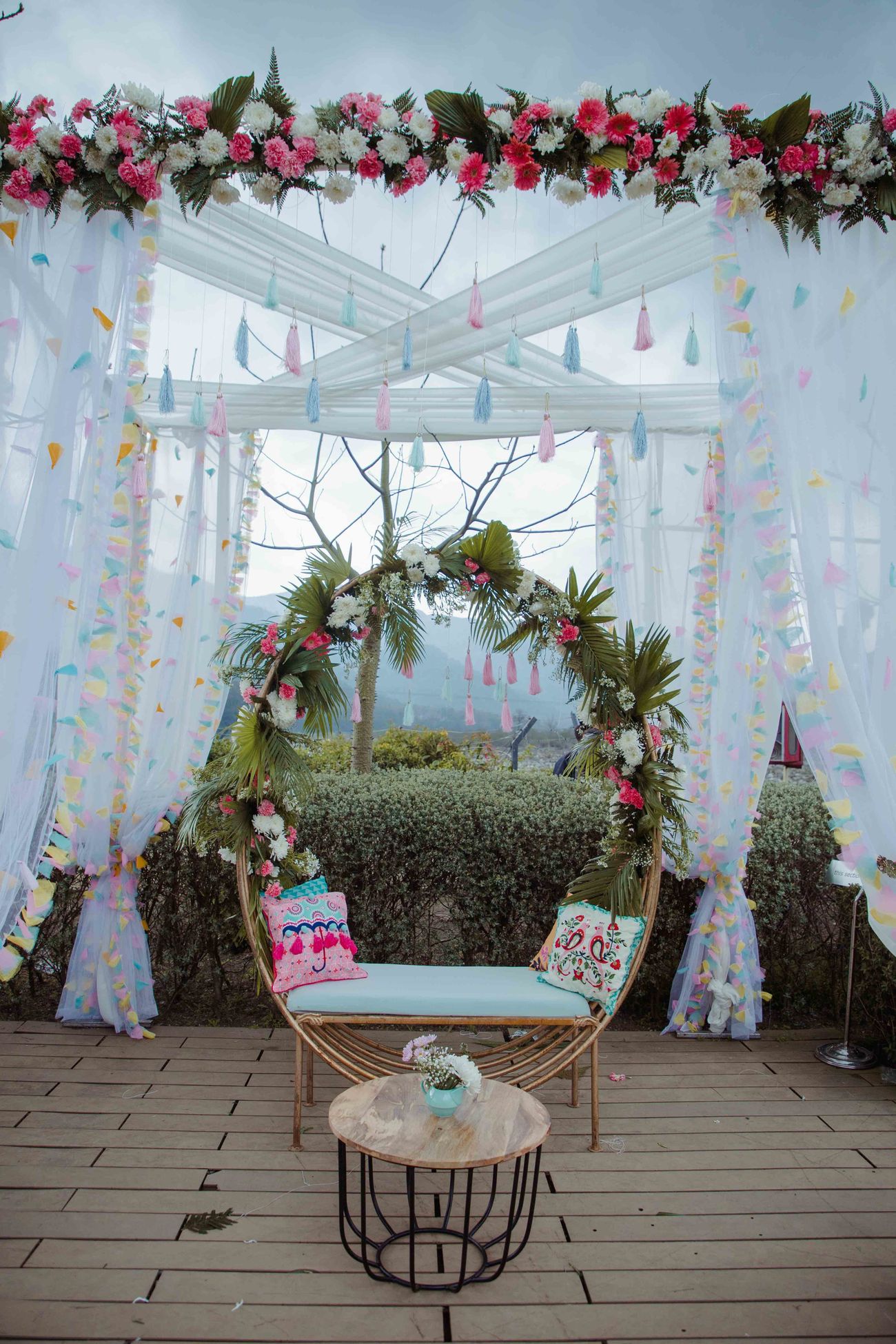 Image via: Hyacinth Events Planner★ 4.9
This simple DIY modern mehendi stage decoration can be considered perfect for a low cost wedding. A simple floral wreath seating with beautiful colours associating it with. Do not miss out on the quirky cushions as they truly represent the modern indian bride, so simple yet so chic!
The trend for Ombre has won our hearts all together...even when it comes to stages!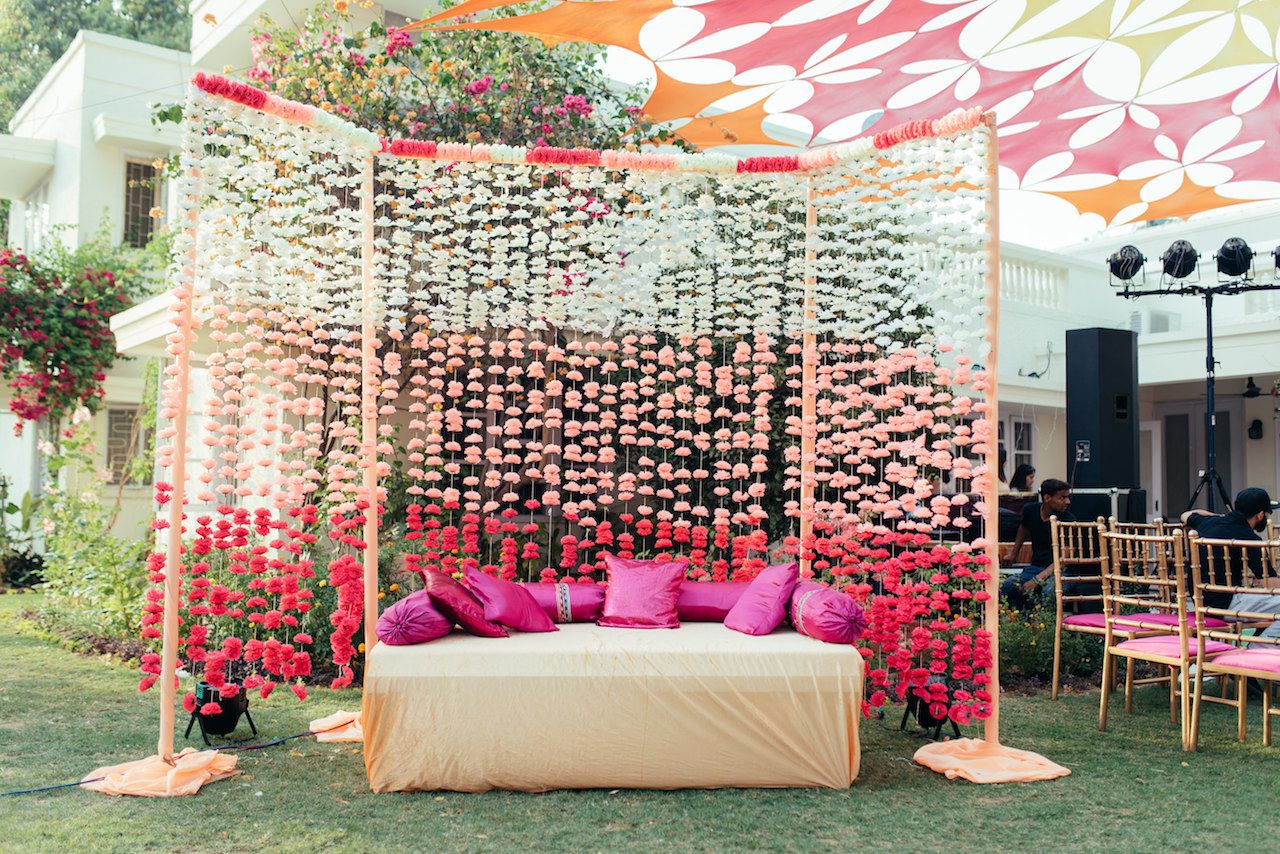 Image via: The Wedding Conteurs
This extravagant yet simple in its own way modern mehendi stage decoration is giving us major goals. The simplicity and calmness of the hues makes it perfect for day function like mehendi. If you are a modern day bride, ditch the regular set-up and go for something pinky. The floral strings make it look even better and absolutely nature lovin'
14. Haldi
A simple, DIY marigold decor stage ideas for an intimate ceremony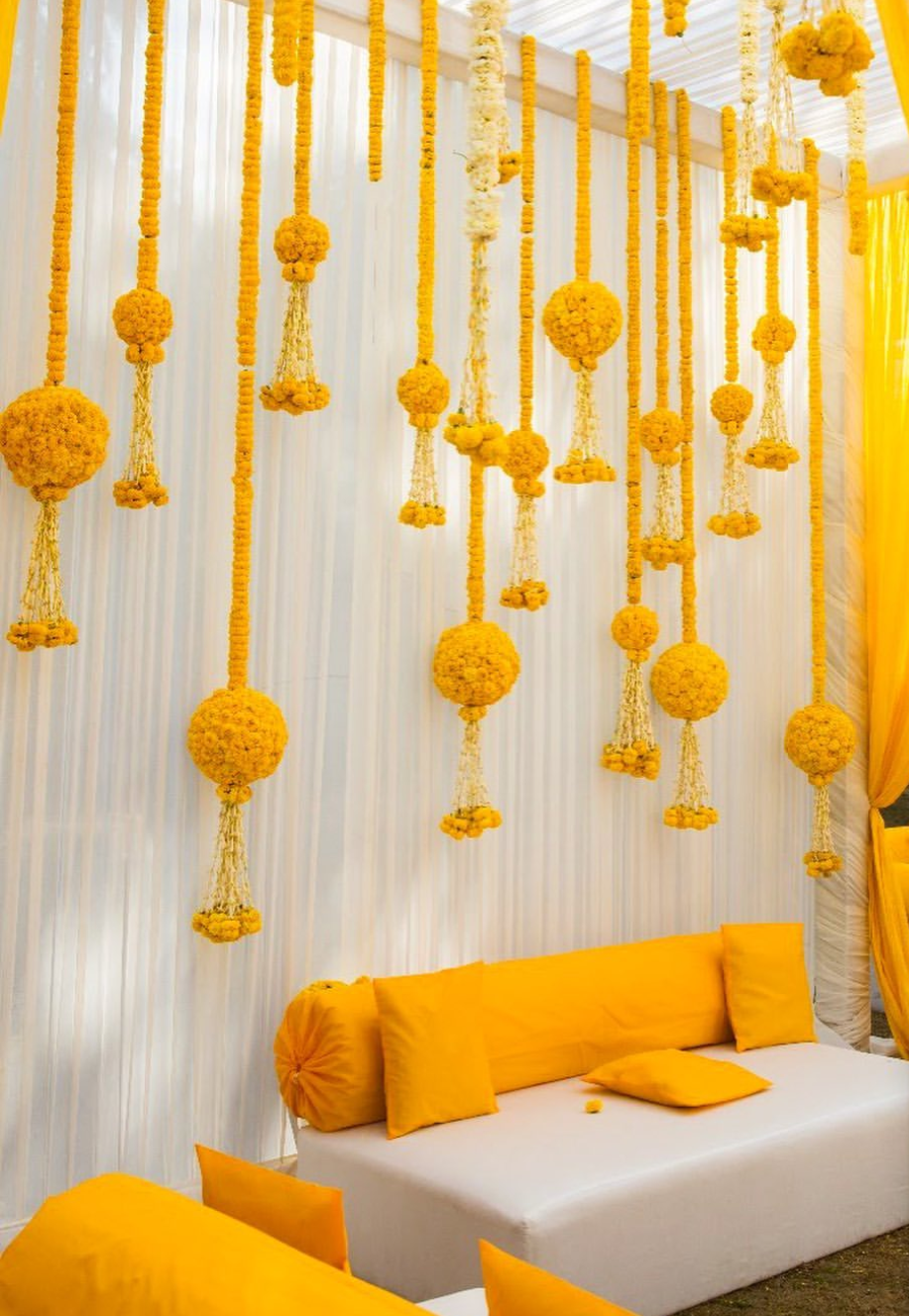 Image via: Fortunate Events★ 5
White and yellow can never go wrong, this low budget stage decoration is extremely simple to put and can be considered as an amazing set up for haldi. All you need is a couch, some classic genda phool and a tent and you will be good to go!
Include a little wood to your stage to give it a rustic vibe!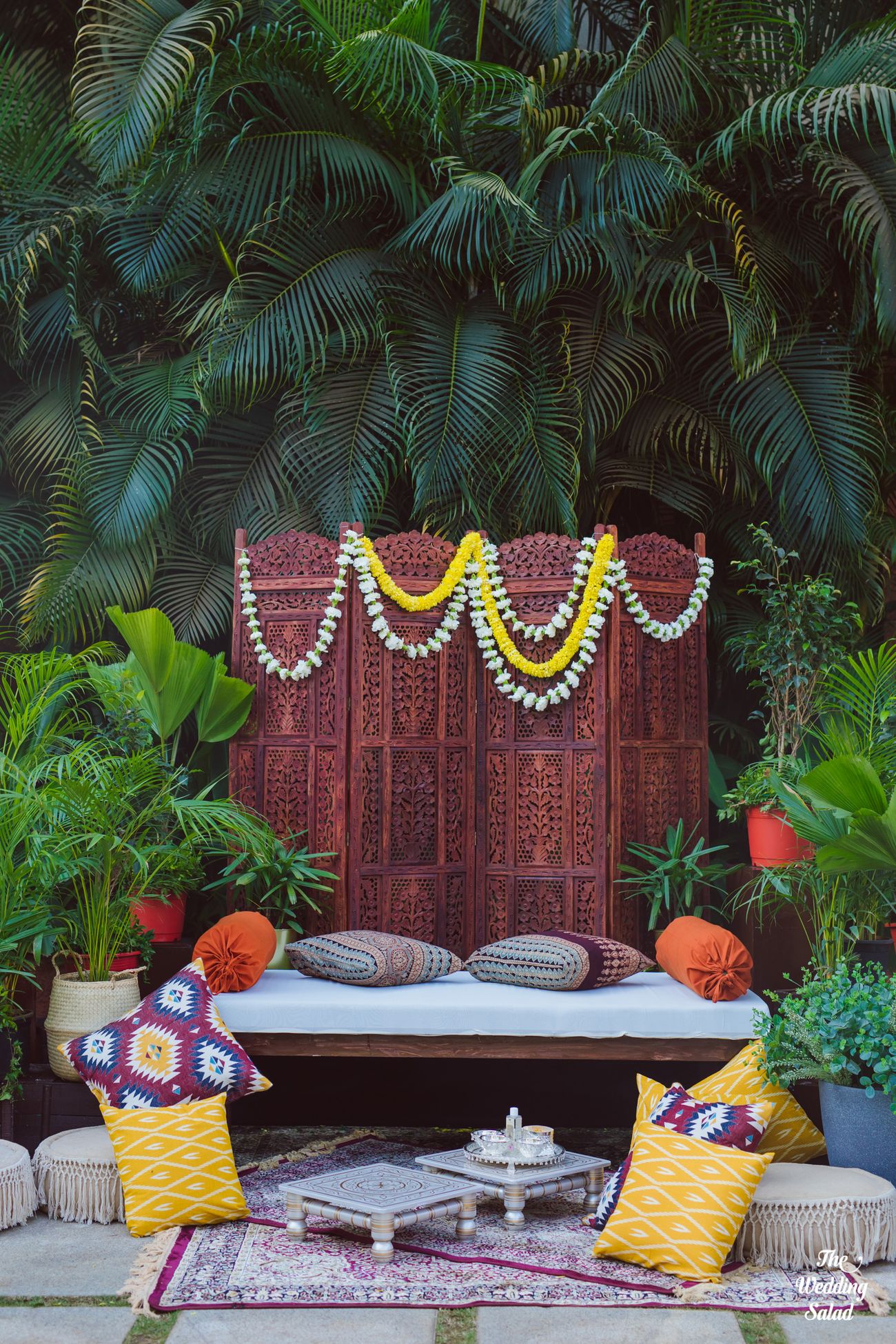 Image via: Atisuto★ 4.6
Another DIY wooden stage decoration wherein how beautifully a dresser has been converted into a background amongst all that greenery. Absolutely perfect for an intimate affair like haldi or mehendi for you to celebrate. The rustic look expresses modernity just like today's brides.
15. Engagement
Mesmerising light green and gold couple seating idea with botanical wall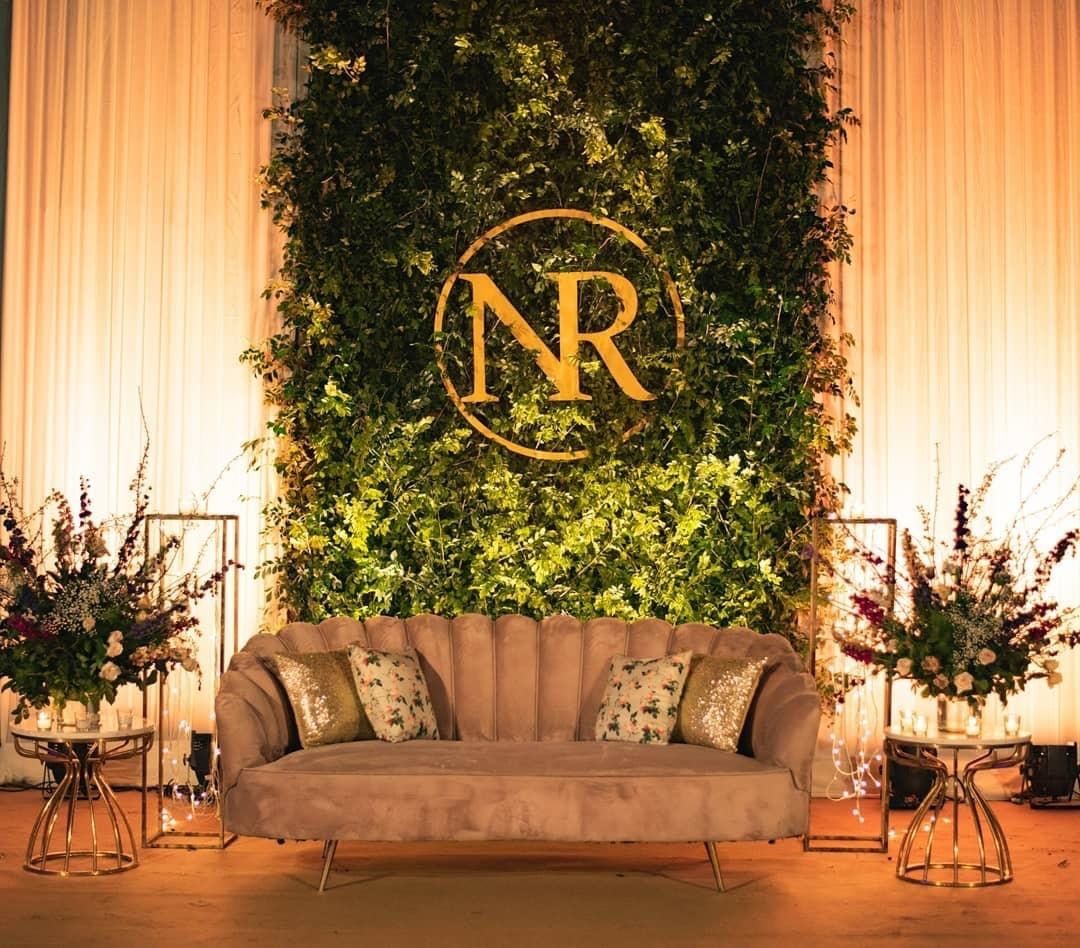 Image via: The Design Atelier★ 4.8
An elegant yet keeping up with trend kinda idea for an engagement party or sangeet. The gold plated initials enhancing themselves over the green wall look immensely great. Be it a grandeur event, this will be an appropriate sangeet or engagement stage decoration.
Unique engagement stage decor idea with florals in hanging bottles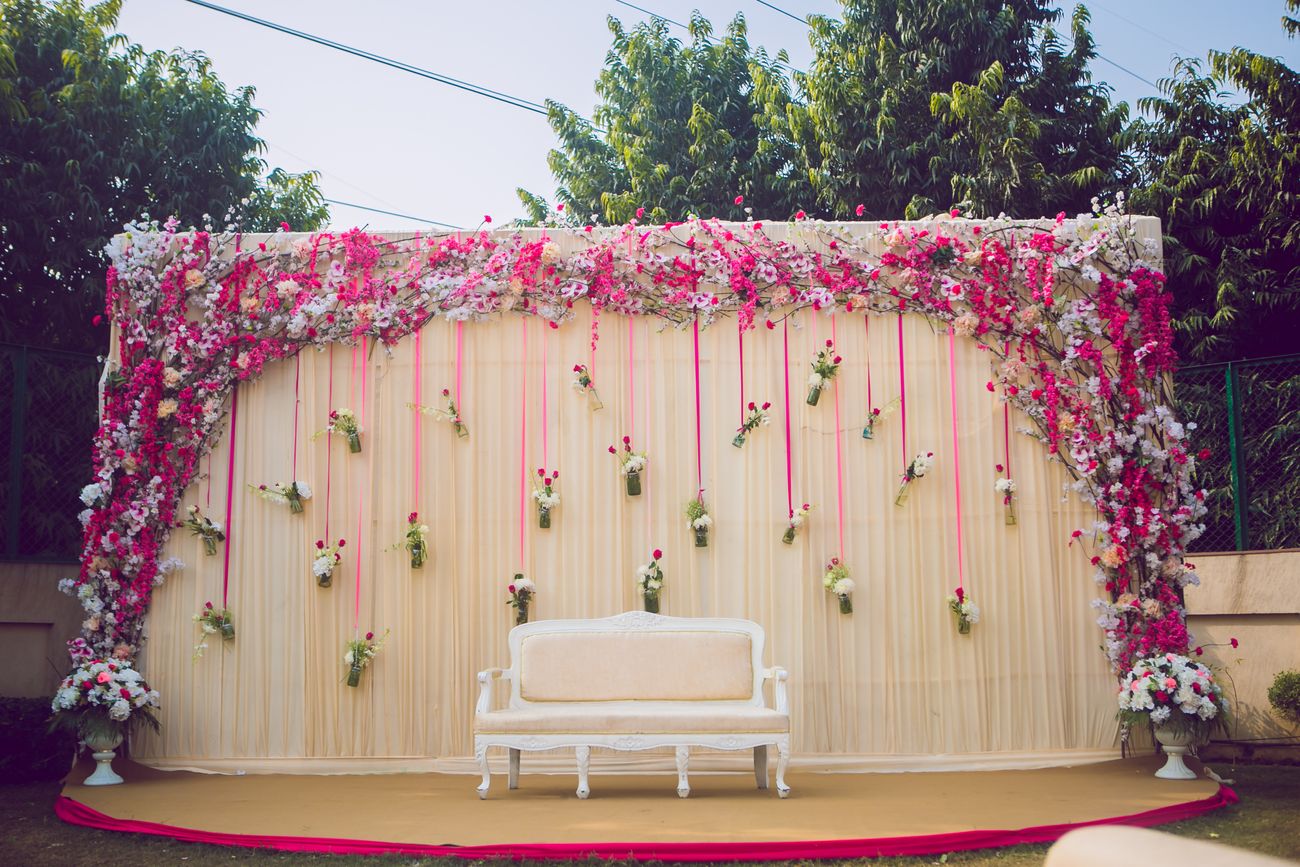 Image via: The Millennial Bridesmaid★ 5
Planning a day event? Why not decorate it with some pastel colours and use hanging bottles to sustain which makes the whole decorated stage looks gorgg. It can also be used as a perfect low cost wedding reception stage decoration. This type of decor can be suited for any type of function so just in case you fall in love with something like this...simply add another function to your list hehe!
16. Wedding
Floral decoration for wedding stages giving us major goals!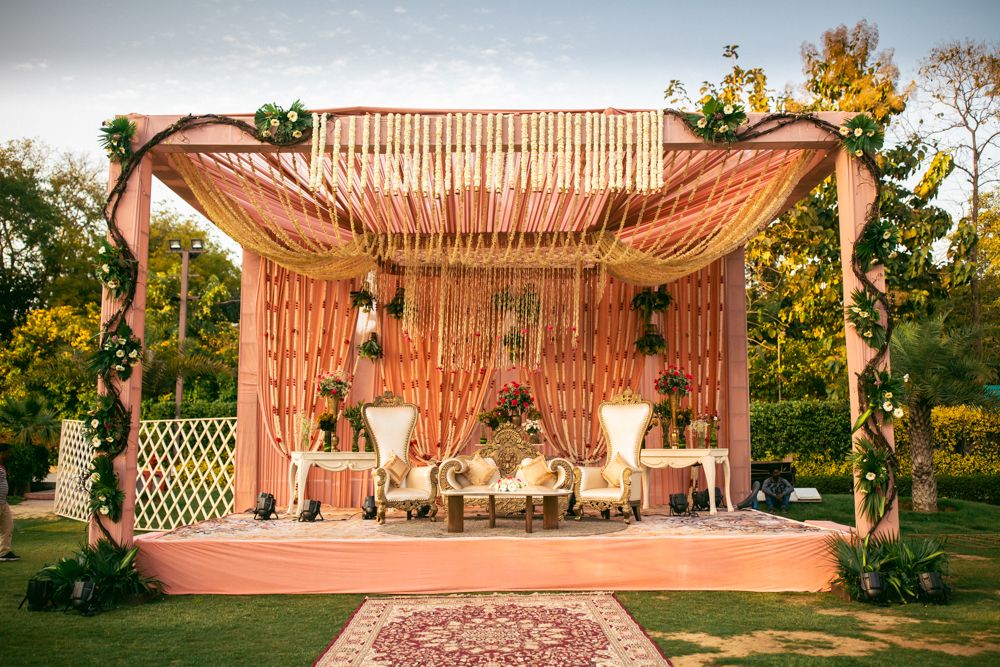 Image via: The Millennial Bridesmaid★ 5
This type of decoration can be too good to be true and appropriate for a day wedding. The shades, the stage, little creepers over the pillars makes it look even more special. Include something like this in your big fat indian wedding for some great pictures where you and your partner shine bright like a diamond!
Personalised Backdrop and a DIY wedding stage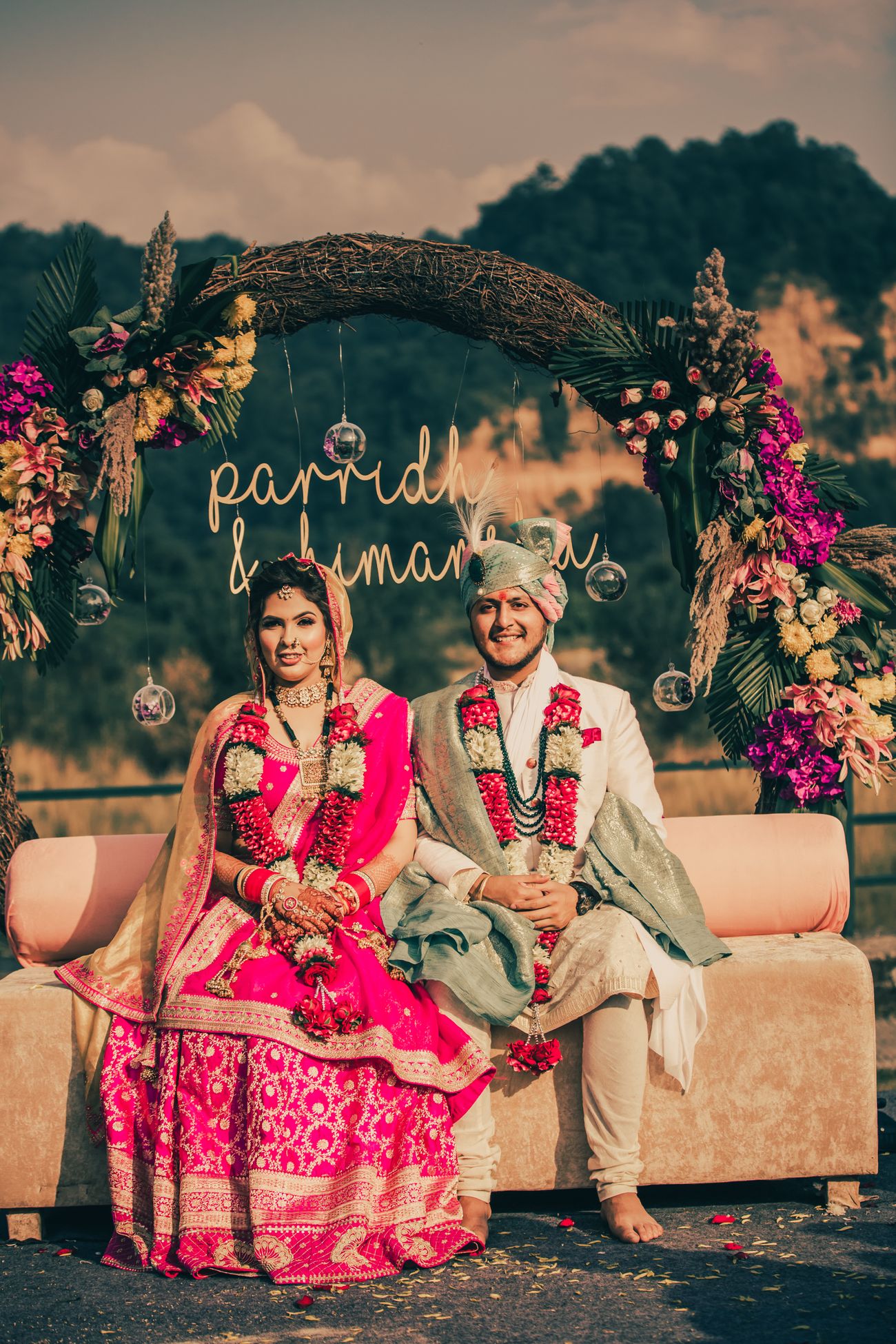 Image via: Hyacinth Events Planner★ 4.9
We love when personalisation kicks in as it makes it all the more special. This cute marriage decoration stage is simple thus has charm to it. This image exactly represents that just two or more elements can add so much to what is called a wedding stage. Beautiful in its own way and something that you wouldn't want to miss out on.
Karan Johar is that you?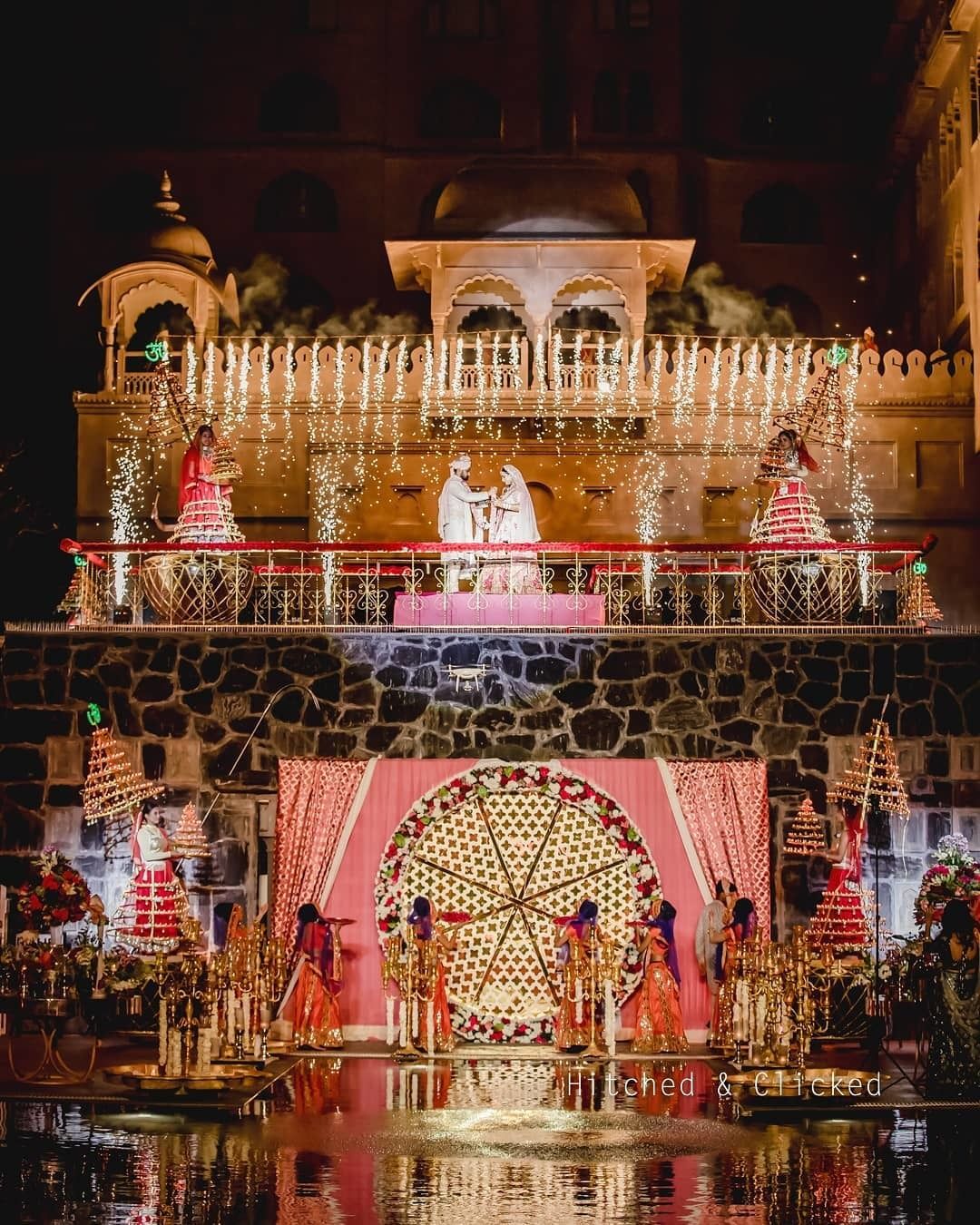 Image via:Hitched and Clicked★ 4.8
To all the brides that have been dreaming of the typical Dharma Wedding, here is the solution to all your doubts. Something as grand can match up to all your wishes and fantasies making you look like a Prince and a Princess on your special day. Totally in love with this trendy yet traditional wedding stage decoration!
17. Wooden Stage
Wooden stages have their own charm and are classic all the way!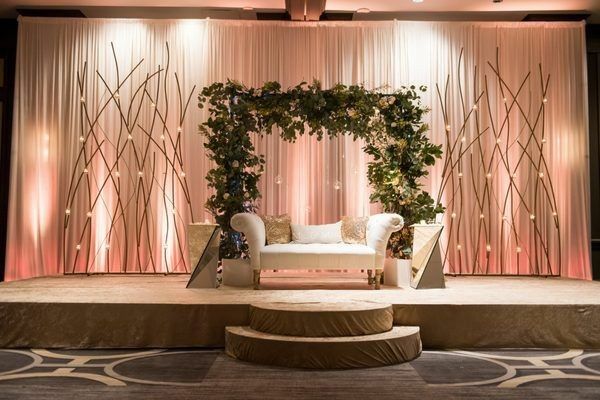 Image via: Saaj Weddings★ 4.9
You can also keep it basic and classic as all the weddings that we have seen over the years. Include stairs and a wooden wedding decorated stage and the rest can be done by your liking. This is something which can go with any background, time of the event or location as well. All you need to do is match everything up to the mark!
Totally in awe of all these designs! Imagine getting married and exchanging jaimalas at one of them? Which one out of these did you love? Do let us know in the comments below.