Everything To Know About Picking The Right Gown Silhouette For Your Cocktail!
BY Sakshi | 06 Nov, 2019 | 8677 views | 6 min read
When you go wedding shopping, the sheer amount of options can confuse anyone! Especially when it comes to your cocktail gowns. The silhouettes, the cuts, the styles – every new name they throw out there can cloud your mind. That is why, we have created the perfect guide that will help you shop for the perfect cocktail gown. While we believe that everyone can wear everything, it's always good to know what all is out there before you step out to shop. From what style of silhouettes are available in the market to all we know about gown shapes and body types – this guide covers it all!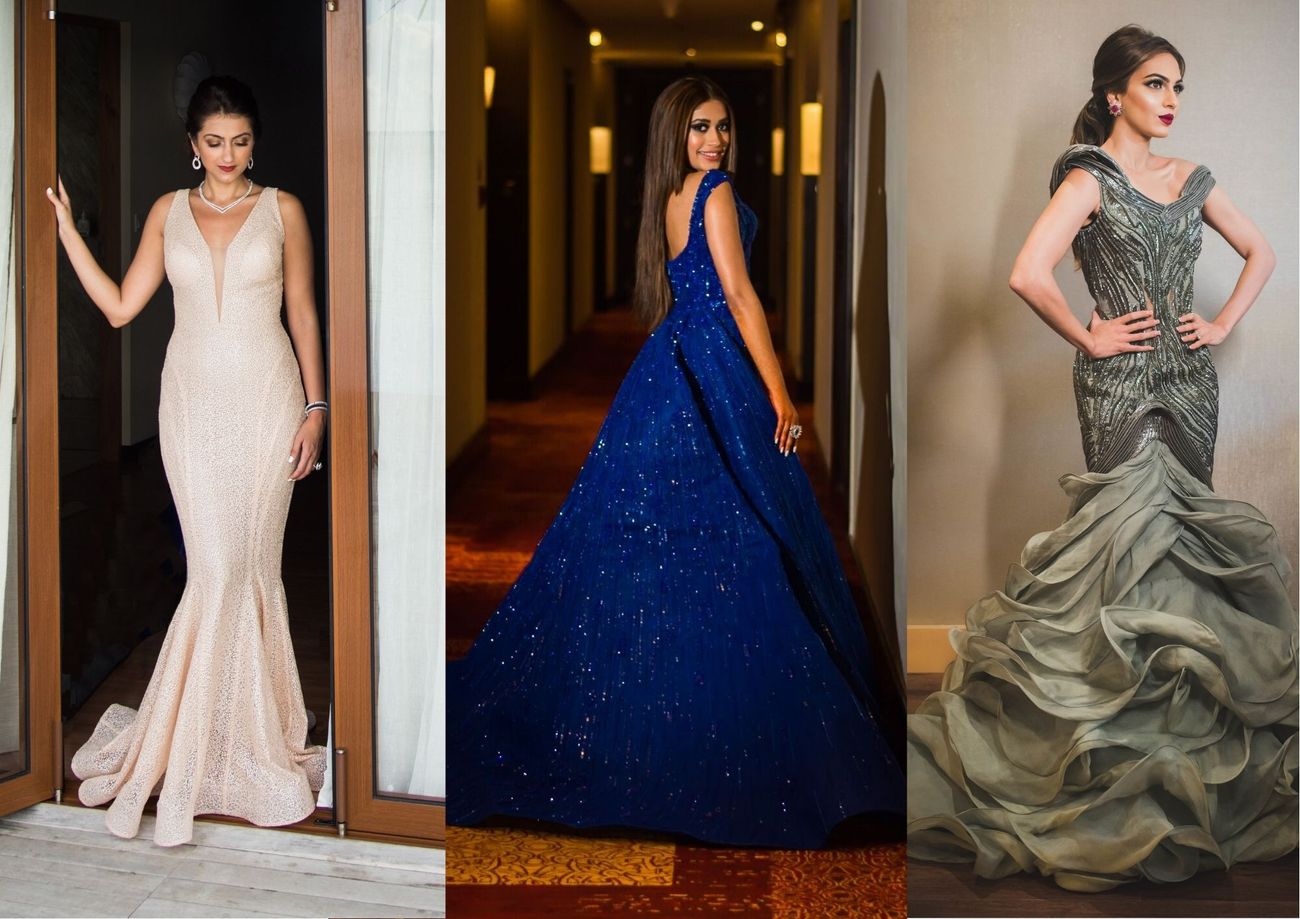 Let's first talk about the variety of gown silhouettes!
Mermaid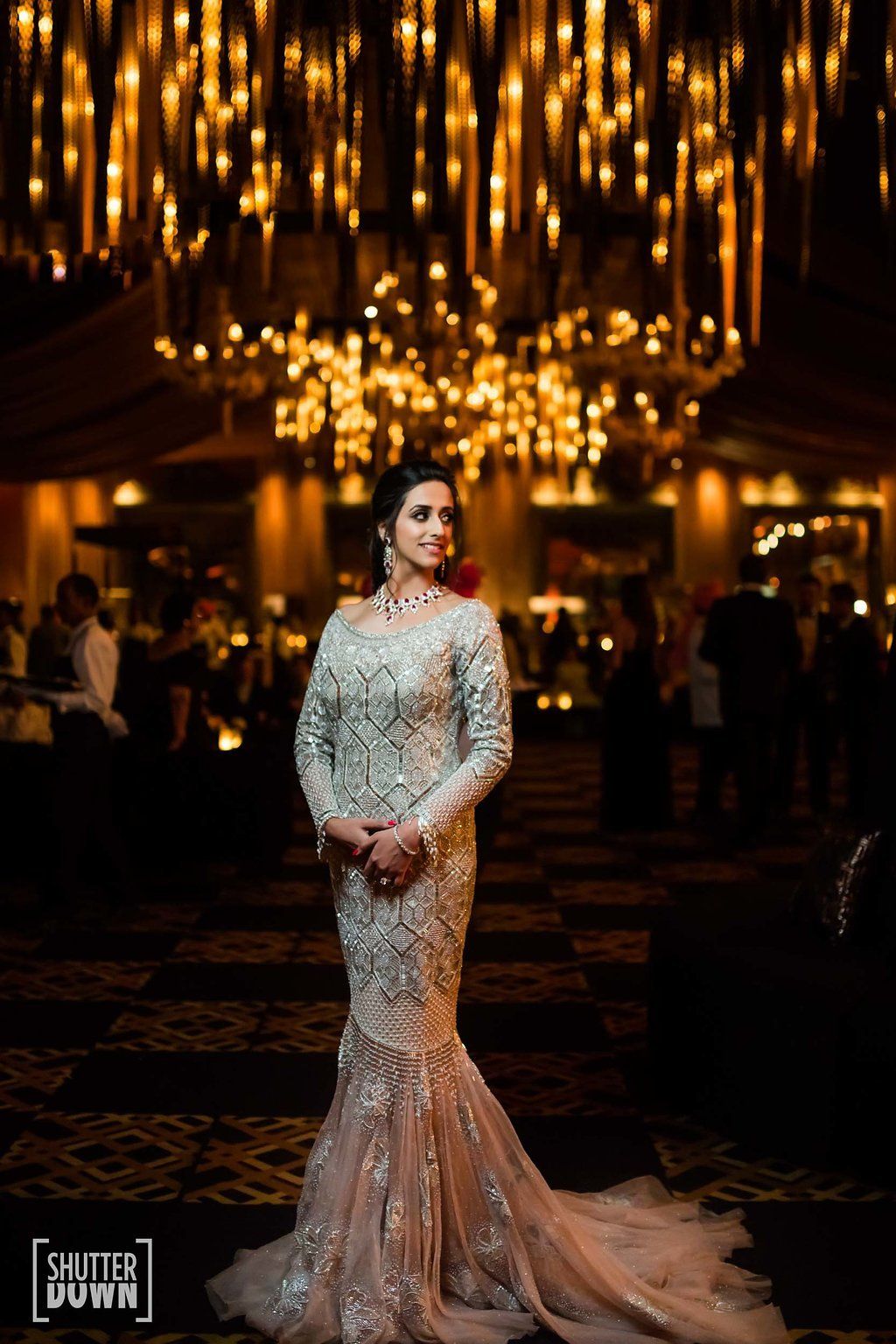 Image via Shreya and Prithviraj
Extremely fitted across the bust, hips and waist, this is one of the most popular silhouettes for red-carpet worthy cocktail gowns. This attention-grabbing silhouette flares out at the knees and is often paired with tulle, ruching, or ruffled skirts for added wow factor. Do remember that this silhouette restricts your leg movement slightly so if you are someone who wants to dance the night away, this may not be the pick!
Ball Gown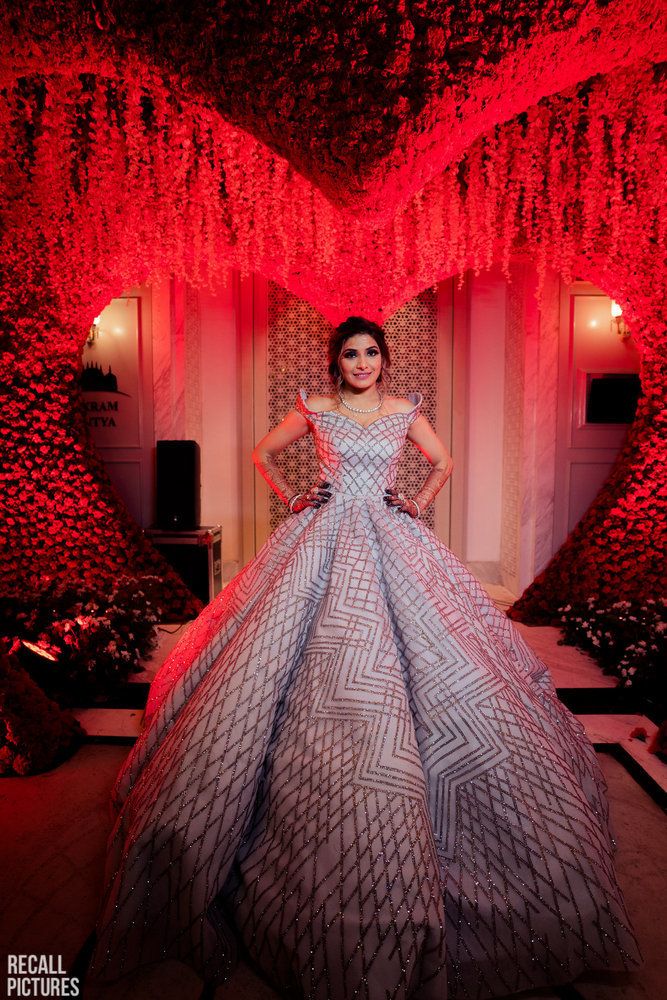 Image via Silky and Sarvesh
Want a princess moment on your cocktail night? Go for the ball-gown silhouette. It will instantly give you the Cinderella effect on the big day. A ball gown features a fitted bodice and a wide, full skirt, most often achieved by using can-can or layers of tulle. Since the full skirt glides over your lower torso, this silhouette is great for brides who want to cinch in their waist, prioritize bust support, or create the illusion of wider hips.
A-Line

Image via Sonaakshi and Nikhil
Slightly more flowy than a ball gown, A-lines have fitted bodices through the waist and cascade out towards the ground, resembling the outline of an uppercase A – which is where it derives its name from!
Trumpet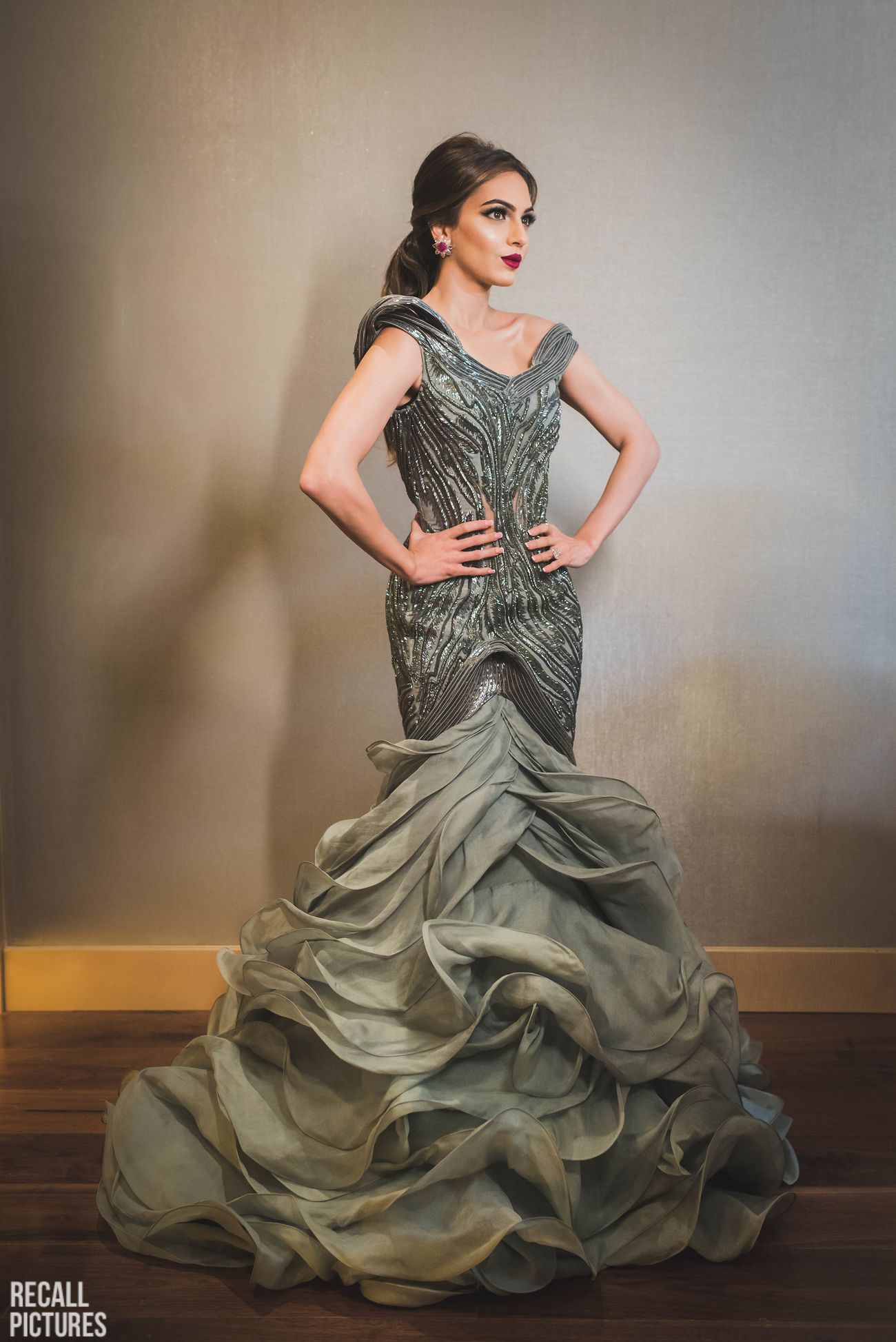 Image via Jay and Shibani
Looks very similar to a mermaid style but there is a subtle difference between a trumpet silhouette and a mermaid one. The difference is where the skirt begins to flare out. The trumpet silhouette is less fitted through the hips and gradually gets wider at the lower thigh, while the mermaid silhouette doesn't flare out until just above or at the knees. As a result, a trumpet wedding dress gives you a little more freedom to move around while still creating a dramatic look.
Tea-Length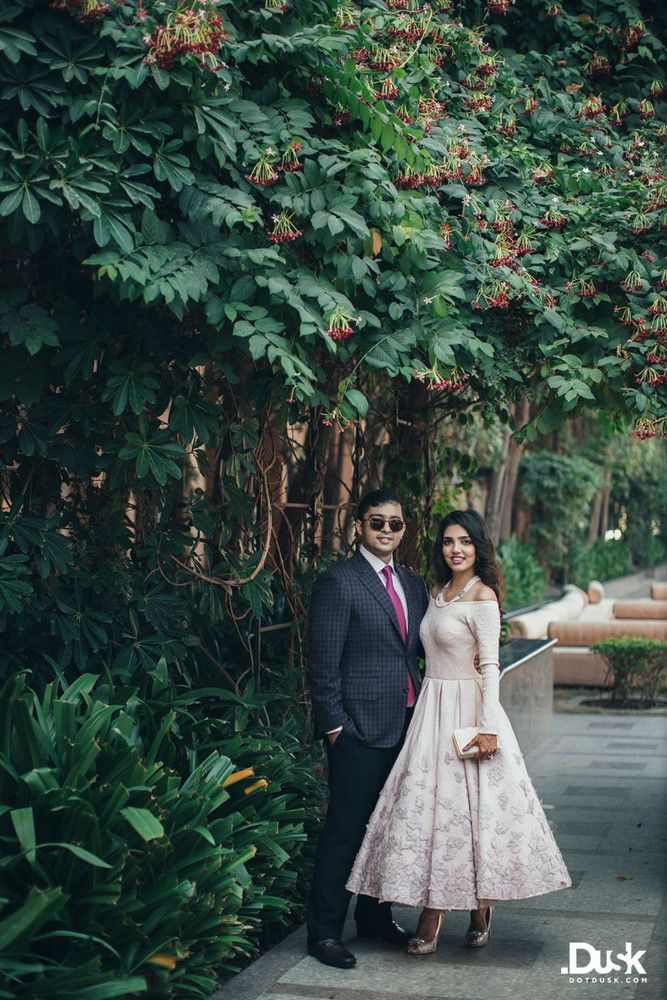 Image via Nandini & Anant
If you are bride who wants something comfortable yet pretty, the tea-length silhouette is the silhouette to go for! It's great for a brunch cocktail party too. Its characteristic vintage charm lends it added appeal. What's more, the re-usability factor of this dress is the highest amongst all!
Column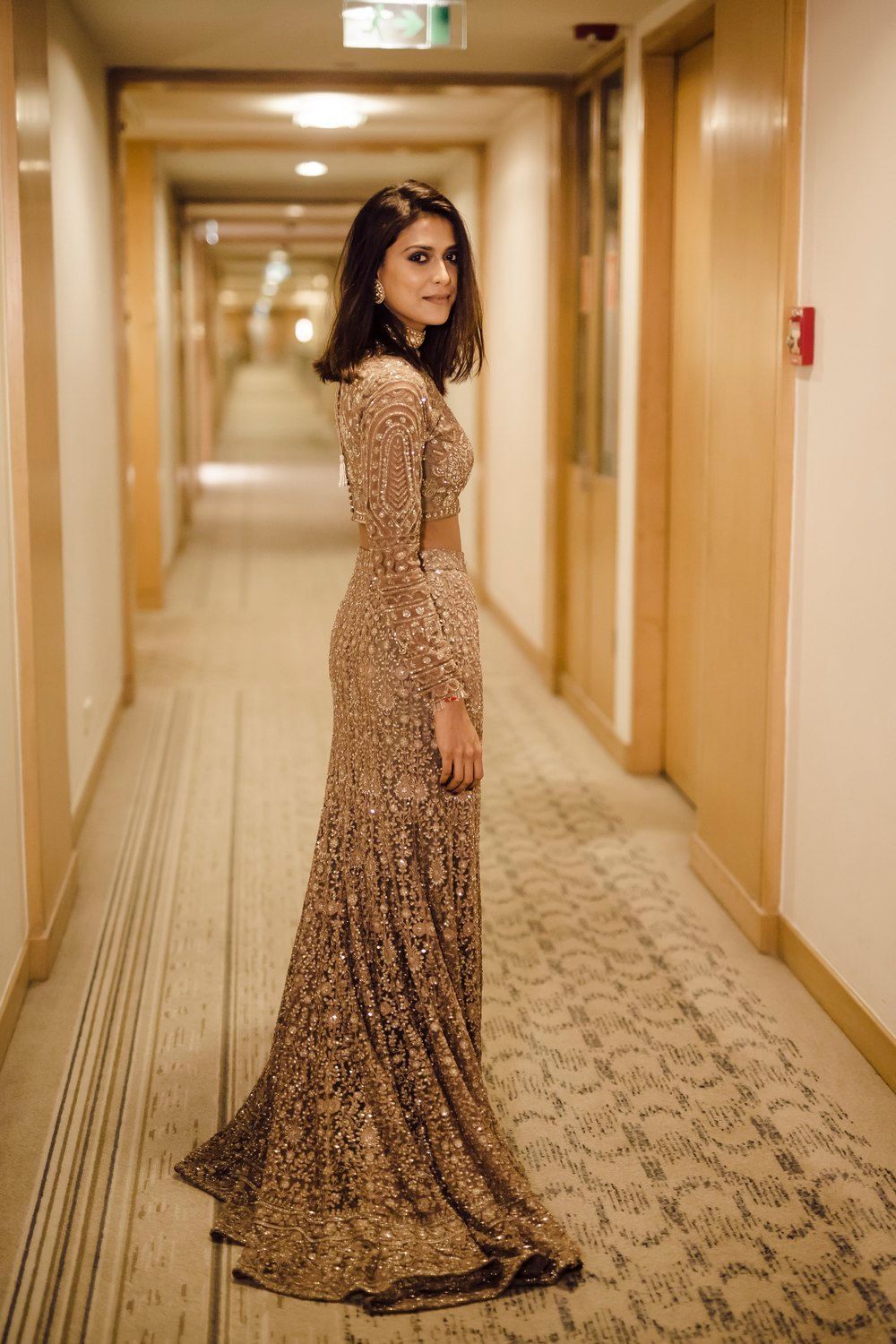 Image via Sanaa and Parth
This sophisticated silhouette is slightly fitted or loose at the waist and fall straight to the floor without any flare, creating a straight up-and-down look. These types of cocktail dresses are ideal for petite brides, since the minimal amount of material won't overwhelm smaller figures
Now let's mix and match a little, now that you know all about cocktail gown silhouttes!
Body Type: Hourglass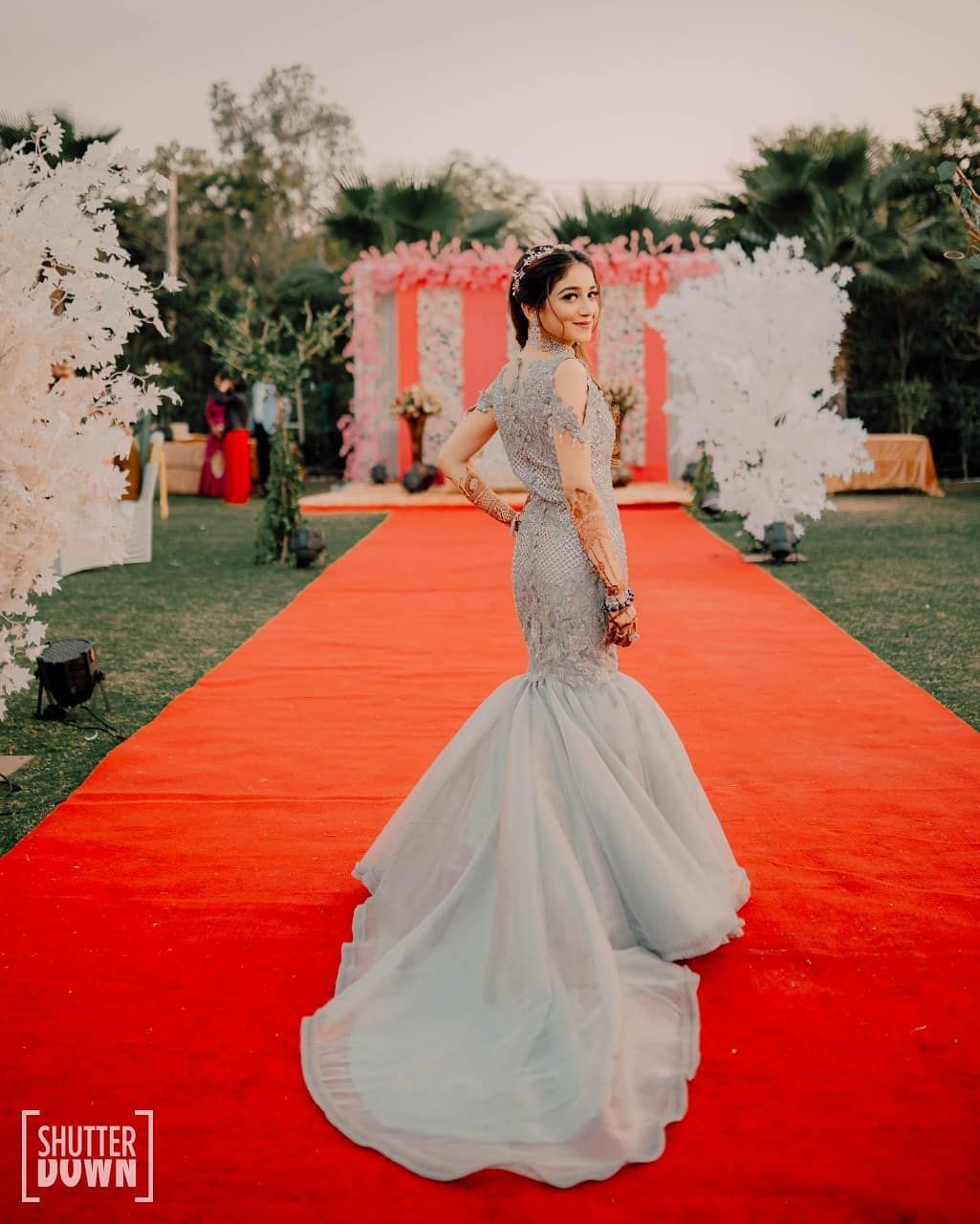 Image via Shutterdown - Lakshya Chawla★ 4.9
If you have an hourglass figure, meaning you have the right curves- a generous bustline then a narrow waist and then curvy hips, then the ideal gown shape for you is the Mermaid or Fish Cut gown. This type of dress follows the natural feminine flare of your body before it flaring out before your knees. This especially looks nice when the dress is very form fitting. Add a nice belt to cinch your waist and make it look even narrower. A fit-and-flare dress- which means tight on top and then widening at the bottom also accentuates hourglass curves
Body Type: Pear Shape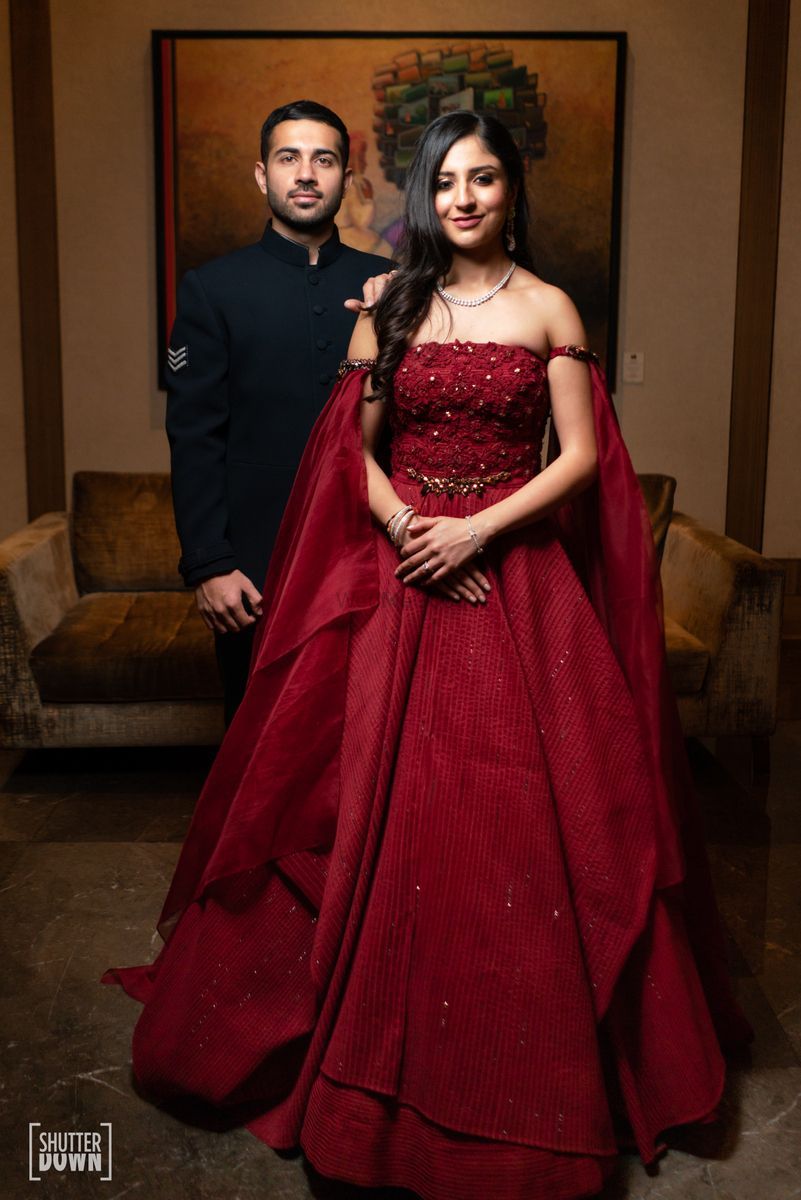 Image via Ritika & Akshay
If you have a pear shaped body, which means that you have a flatter chest, narrow shoulders but wider hips and thighs. So basically, the bottom half of your body looks wider than the top half. To balance this kind of body out and make yourself look broader near the shoulders, you need to pull eyes upwards towards the shoulders, and a high neckline can help with that. Even off shoulder is ideal, as it does draw the eyes upwards and makes you look broader at the top. 
Body Type: Petite or Short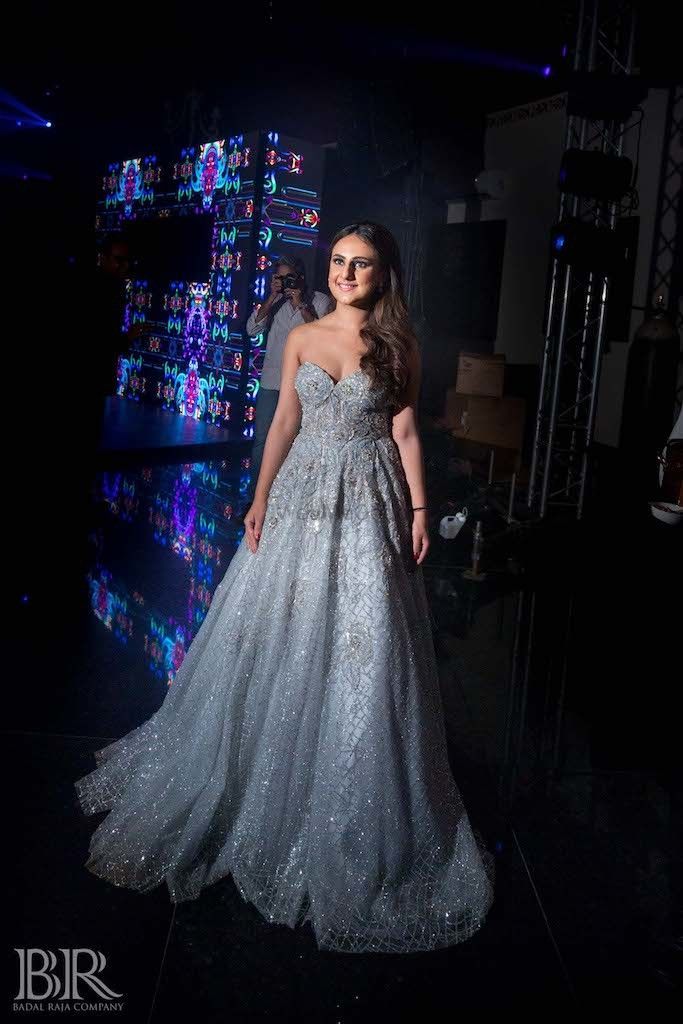 Image via Neha & Eshaan
If you look tiny and petite, and don't want to look like you're drowning in a gown, then it's important you pick the right one. This is for girls shorter than 5 feet 4 inches. Make the letters A and V your best friends. Which means A line gowns, which are universally amazing, look nice as they give definition to your waist and bust. If you're really short, whether you have curves or not, a V neck adds the illusion of height, and adding silicone cups to the bust can help accentuate them for more curves. Sheath gowns or empire waistlines look very nice on this body type. A ballgown may look too overwhelming for such body types.
Body Type: Tall and Athletic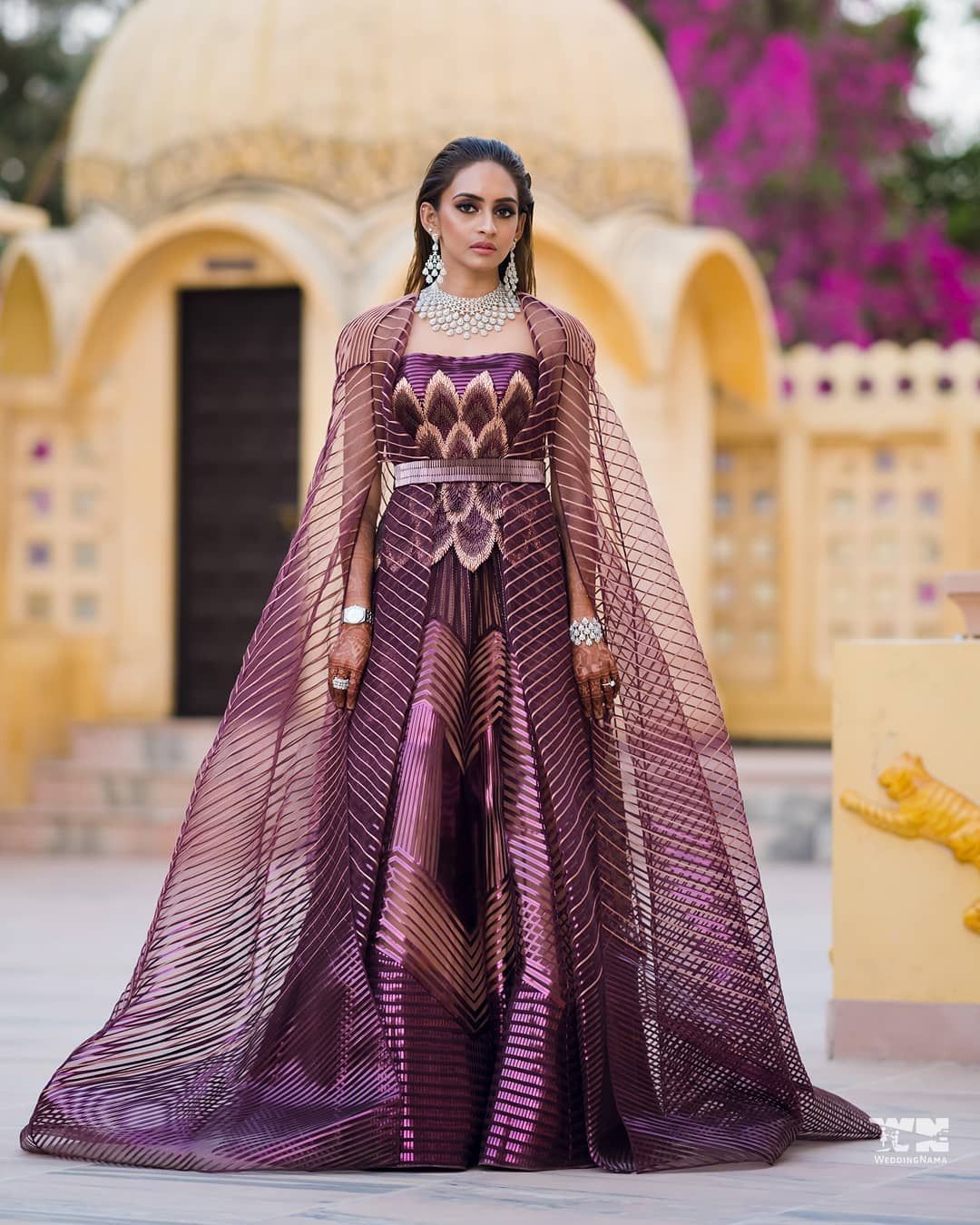 Image via Prachi & Dev
If you're tall and skinny, then ballgowns or fitted body con gowns are the perfect way to look elegant and amazing. Consider a long slit to show off those amazing legs! A high neckline paired with a full, A-line skirt showcases and balances your height at the same time. Crop top bustiers with skirts also look amazing on this body type. If you want to add the illusion of some curves, then a voluminous peplum skirt acts as a stand in for curvy hips. Geometric designs are also great for that. If you're tall and broad or curvy, then a ball gown might make you look too huge. So in that case, dont wear something poufy, opt for something more structured. Skip 3D accents or appliqué work
Body Type: Plus Size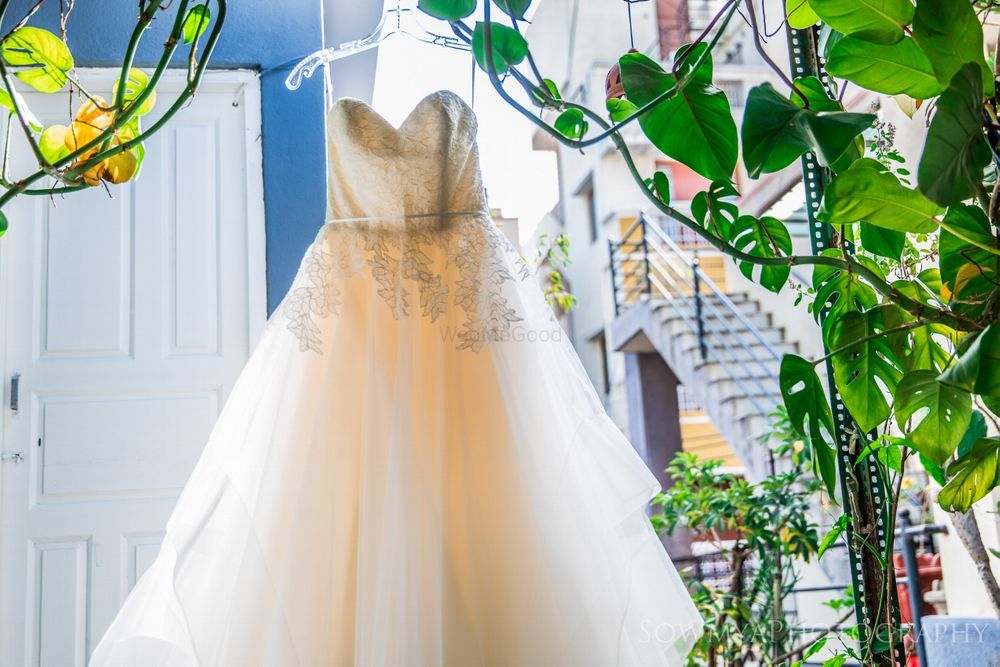 Image via Sowmya Photography★ 5
Whether you want to create the illusion of a smaller frame or celebrate your curves, we've got you covered! Empire waistlines create a lengthening effect and look elegant. A lace illusion neckline also looks pretty demure, adding a touch of elegance when paired with a slimmed down waistline. A high neckline, sheath silhouette and slight train are the ultimate trio to help you look long and tall. 
Looking for more options while picking your bridal gowns? Read Indo-Western Outfit Options for Brides to be!
And Real Brides Who Wore Saree & Lehenga Gowns To Perfection!
If you are looking to add an Indian touch to your gown, read How To Indianize A Wedding Gown?
And Real Brides Who Wore Gowns With Trains!
ALSO READ: 20+ Reception Gowns That We Spotted On Indian Brides