We Asked 4 Makeup Artists To Come Up With An Ideal Look For This Lehenga!
BY Sakshi | 11 May, 2018 | 5830 views | 4 min read
Now this is something new! You know how every MUA has a different interpretation of what look will work with which lehenga? Well, we sent a photograph of this lehenga & bride we are majorly crushing on to 4 different MUAs, and asked them the ideal makeup look they would like to give with this outfit. For reference, the lehenga here is a Sabyasachi one, very similar to the one Anushka Sharma wore at her wedding. The makeup for this bride was done by Pakhi Pahuja★ 3.9 , which we think was fabulous, but let's see the other options by leading makeup artists across the country!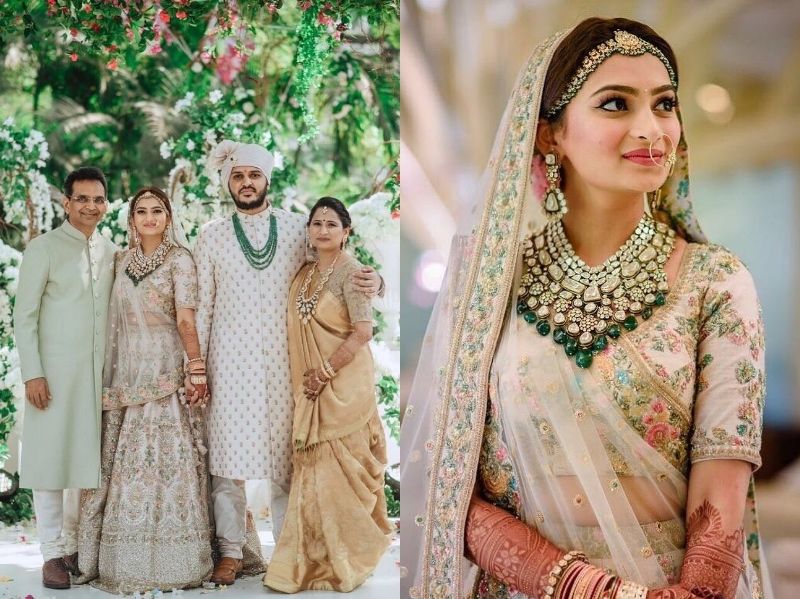 Image via Reelsandframes
I think the colours are so fresh of the outfit and keeping in mind summer trends the whole look should be 'Peaches n Cream'-
Base: Minimalistic and fresh
Lips: The lip colour should be a peachy pink as it adds to the look and a matte finish as it looks youthful.
Blush: The blush should be a coral pink like the 'Nars Orgasm' which is a very pretty pink and adds freshness to the face giving a sun-kissed look! 
Eyes: The eyeshadow on the eyelids should be a combination of peach contouring and a soft shimmer copper brown which adds just the right amount of spark to the eye with individual eyelashes. 
This look done by me on Nayantara Kothari- Dhirubhai Ambani's grand-daughter who married the Hindustan times owner was a spectacular look which would work with this lehenga too.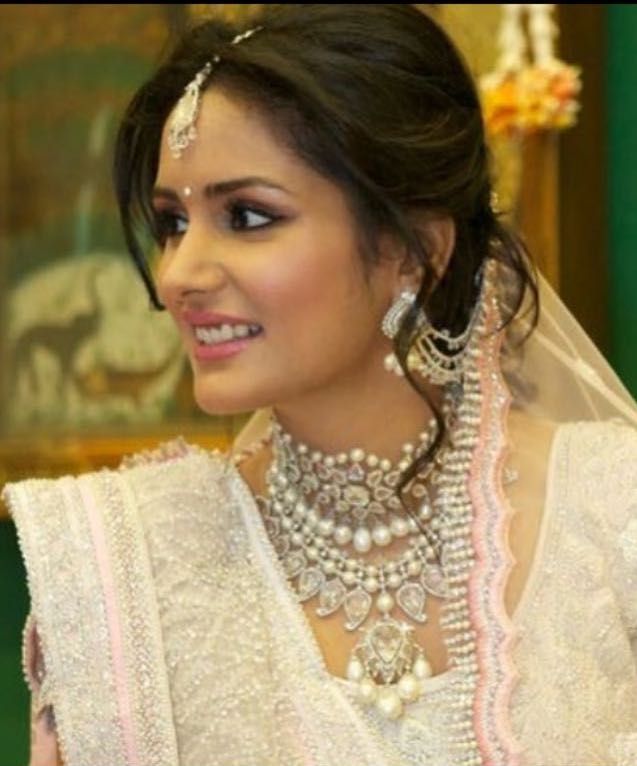 How I envision a bride in this lehenga for her big day is someone who is modern with a hint of classic. Since the lehenga is pastel, we can have a bit of colorful drama on the face.
Base: So first off, Since 2018 is all about that natural skin or rather "glass skin", the base of the skin has to be very fresh and dewy. I would avoid any kind of super matte foundation, and rather opt for foundations that give that "glow". And hightlighter on the face- loads of it of course! 
Eyes: I would love to keep the eyes in the same tones of pastel as the lehenga. Preferably a pink smokey eye with a dramatic liner and an underliner to complete the eyes. And yes glitter to make the eyeshadow more reflective. 
Blush: It would be a natural flush of color, like she is blushing all the time. This look can be comfortably achieved by cream blushes or tints/stains.
Lips: The lips can be a bright fuchsia or a rose pink but pair it up with a gloss because its like a highlighter for the lips making them appear more plump.
Hair: To complete the look the hair could be a messy bun (with single color flowers) with strands of hair falling perfectly to frame the face!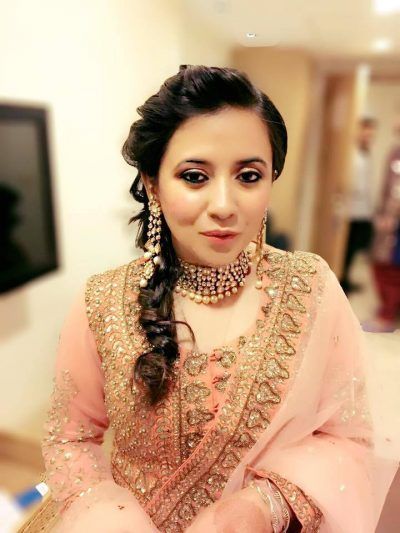 I recently worked on a bride who coincidentally wore almost the same lehenga! All aspects of the makeup were kept understated, so as to not over power the lehenga and jewellery.
Base: I gave her a flawless base, but without making it very dewy.
Eyes: I kept the eye makeup minimalistic with gold toned eyes, bold brows and a classic winged liner with fluttery lashes.
Lips: Rosy pink lips really worked well with this look.
Blush: The blush was kept like a fresh flush with highlighter. 
Hair: A bridal bun with loose curls to frame the face and volume on top.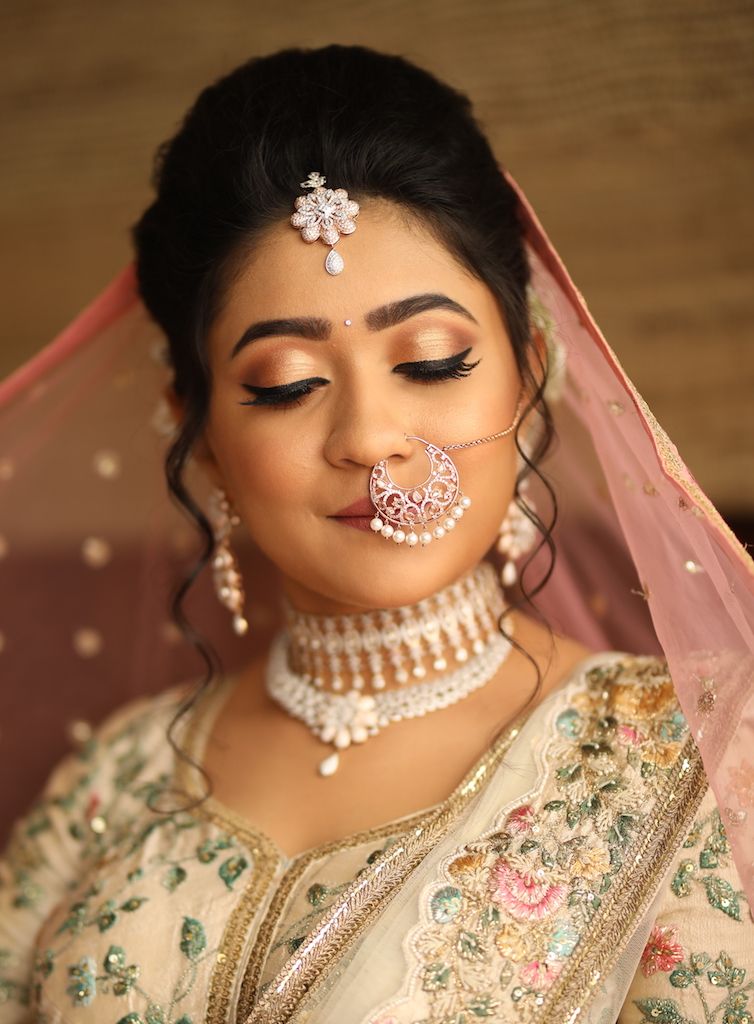 With a lehenga like this one, this is the makeup look which I think would suit most brides well:
Skin: Clean glossy dewy skin with highlighter on the right places.
Eyes: Dazzling smokey eyes which will be the centre of attention of the look. Heavy lashes and kohl to complete the look. 
Lips: MLBB is the lip colour I think would go well with this look. A nude look to balance the smokey eyes.
Blush: A peachy-pink blush would look amazing!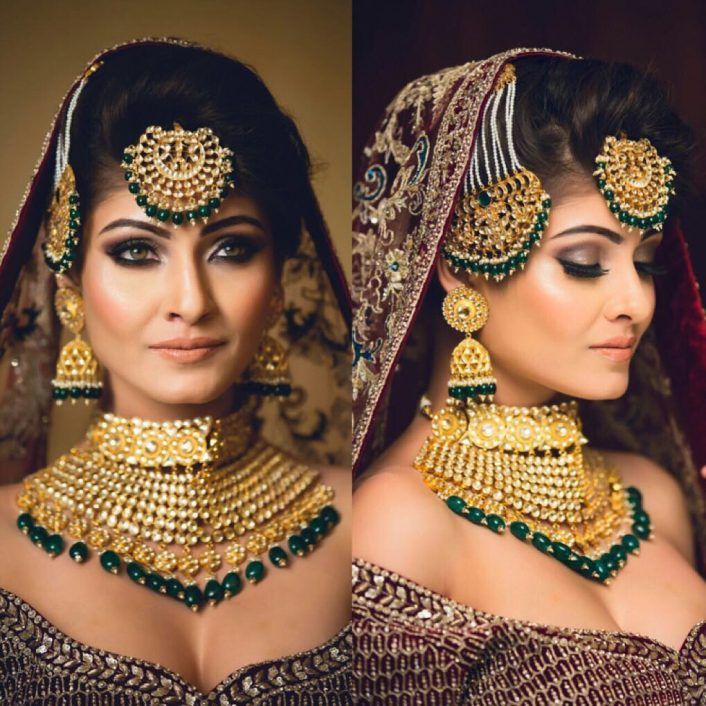 ALSO READ: Things To Know Before You Finalise Your Wedding MUA!
Looking for a makeup artist & that too in your budget? Click here to book them today!