Where To Buy Banarasi Lehengas From!
BY Sakshi | 13 Jan, 2022 | 65811 views | 5 min read
There's something special about Banarasi lehengas, and we at WedMeGood are super partial to them as you would have figured by our love for them for now! So if you love them as much as we do, we are sure you're wondering- where do you get your Banarasi lehenga from? Don't worry girl, we've got you. Here are designers- ranging from smaller to bigger ones who do Banarasi well- so go ahead and get stalking to start shopping!
Image via Ibtida by House On The Clouds★ 4.8
Mid to High-range Designers
These are the designers who have Banarasi lehengas in the range of about 50k to under about 2 lakhs, but their lehengas are amazing no matter what the price! These labels have lehengas for the smaller functions, or even those which can double up as bridal lehengas when styled right.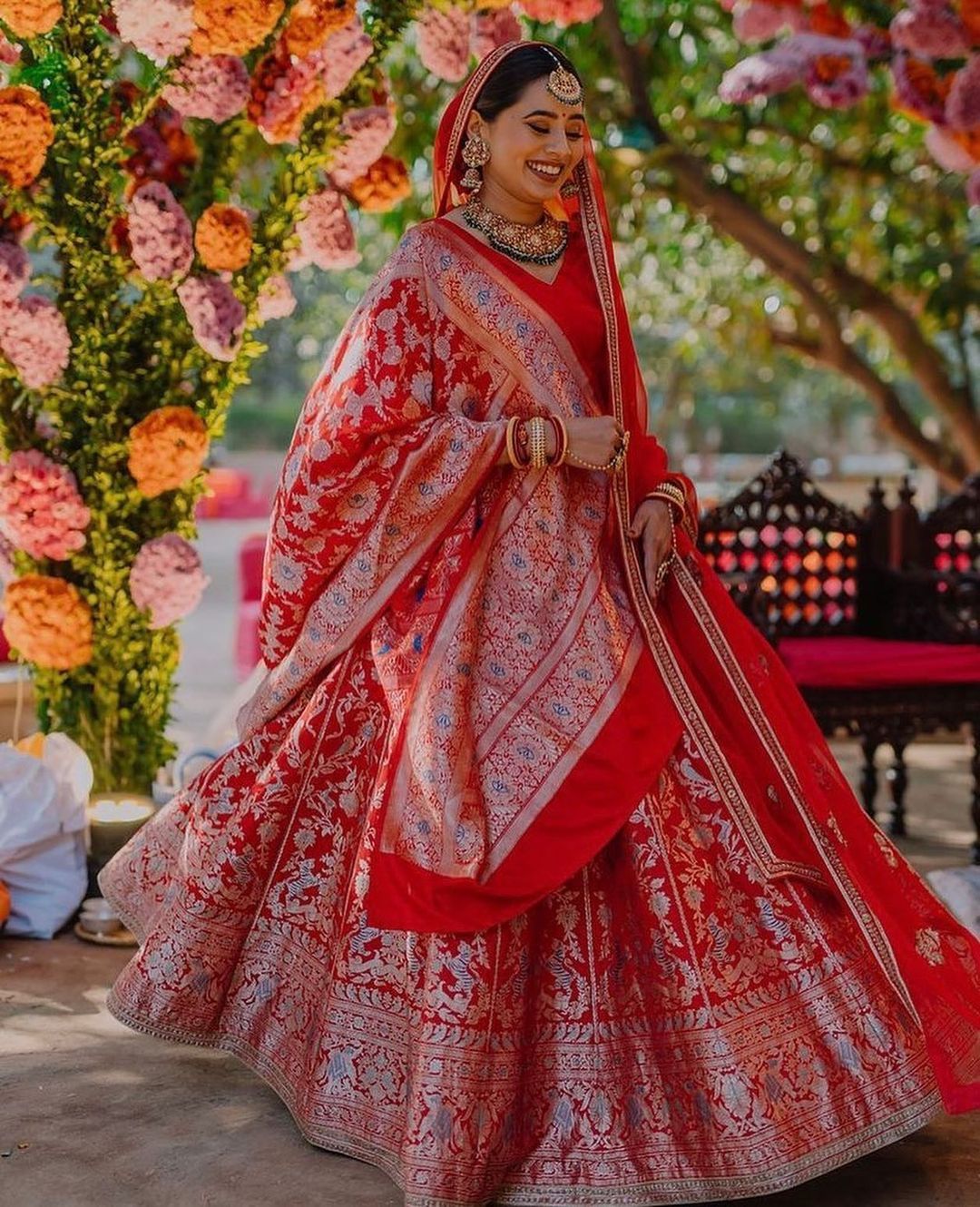 Image via Ulupis Salon & Spa★ 3.4  
This is one jaw-dropping label for brides, which does Banarasi like no one else, and has literally revived Banarasi on the designer scene. From lighter pieces to bridal lehengas, there is something for every kind of bride.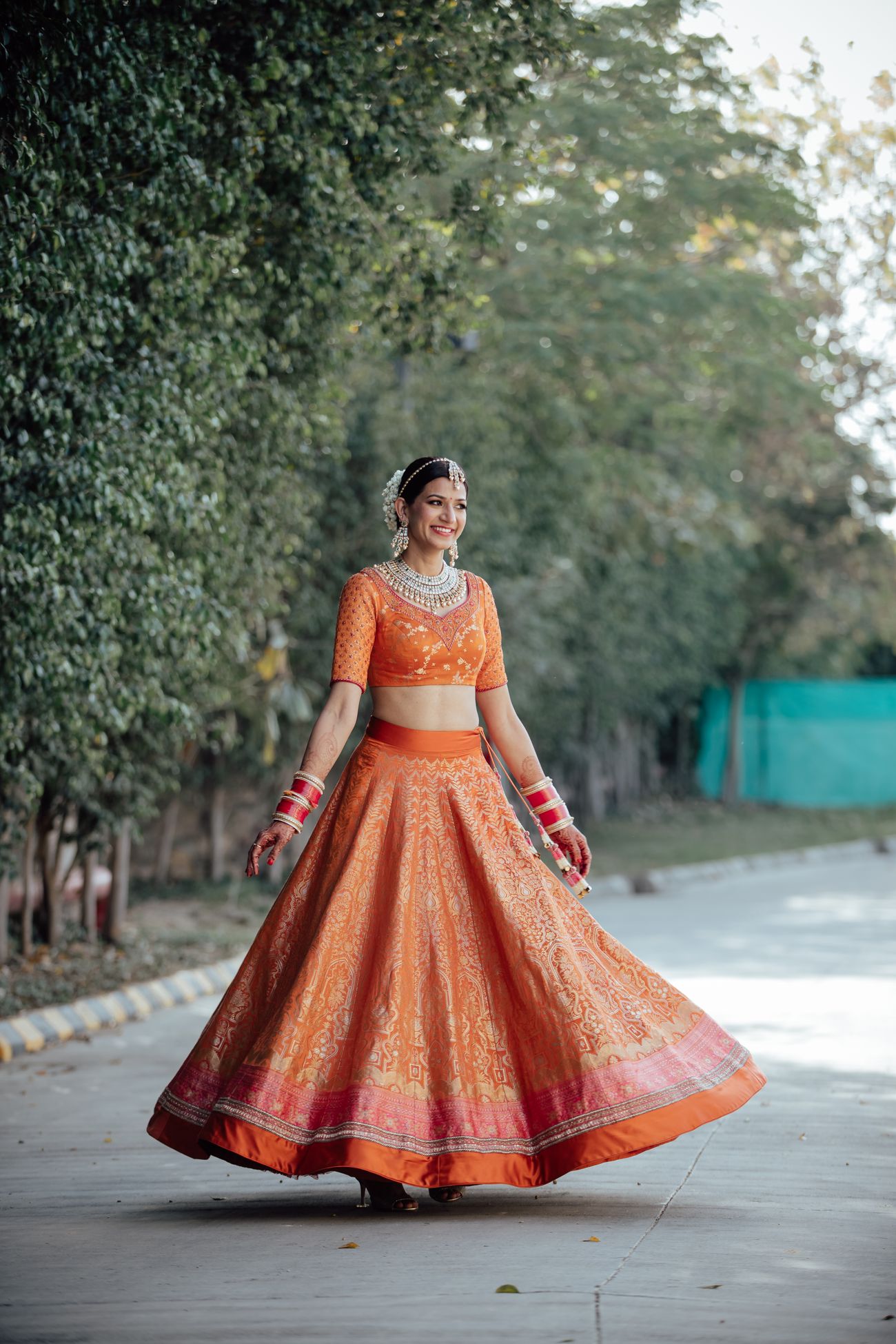 Image via Eesha and Patrick
They have some of the best Banarasi lehengas in this budget, and what's great is they have varieties in every possible colour you can imagine! From bridal reds to new age colours like fuchsia and sea green, this label will just not disappoint when it comes to Banarasi lehengas. They have great lehengas starting from a budget of about 30K, going up to a lakh or a little more.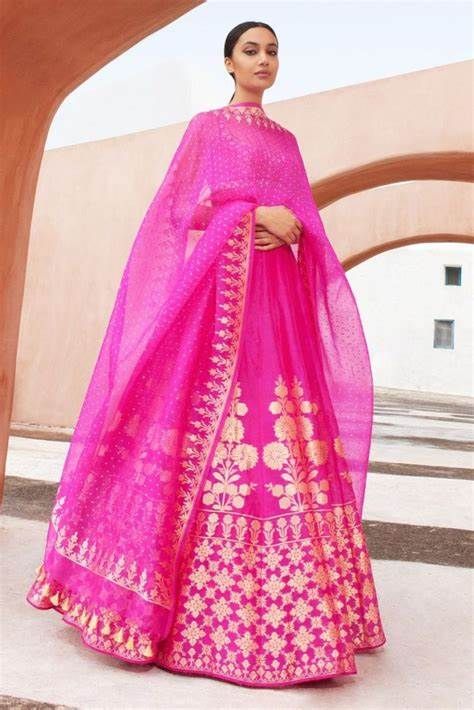 While she is a premium designer, she has Banarasi outfits in the range of 1.5 lakhs which we think is fab! She does a lot of fab Banarasi outfits- from lehengas to sarees and even suits too! We love how refreshing her work on Banarasi is, very unique and unlike any other! Love the use of fresh hues and silhouettes!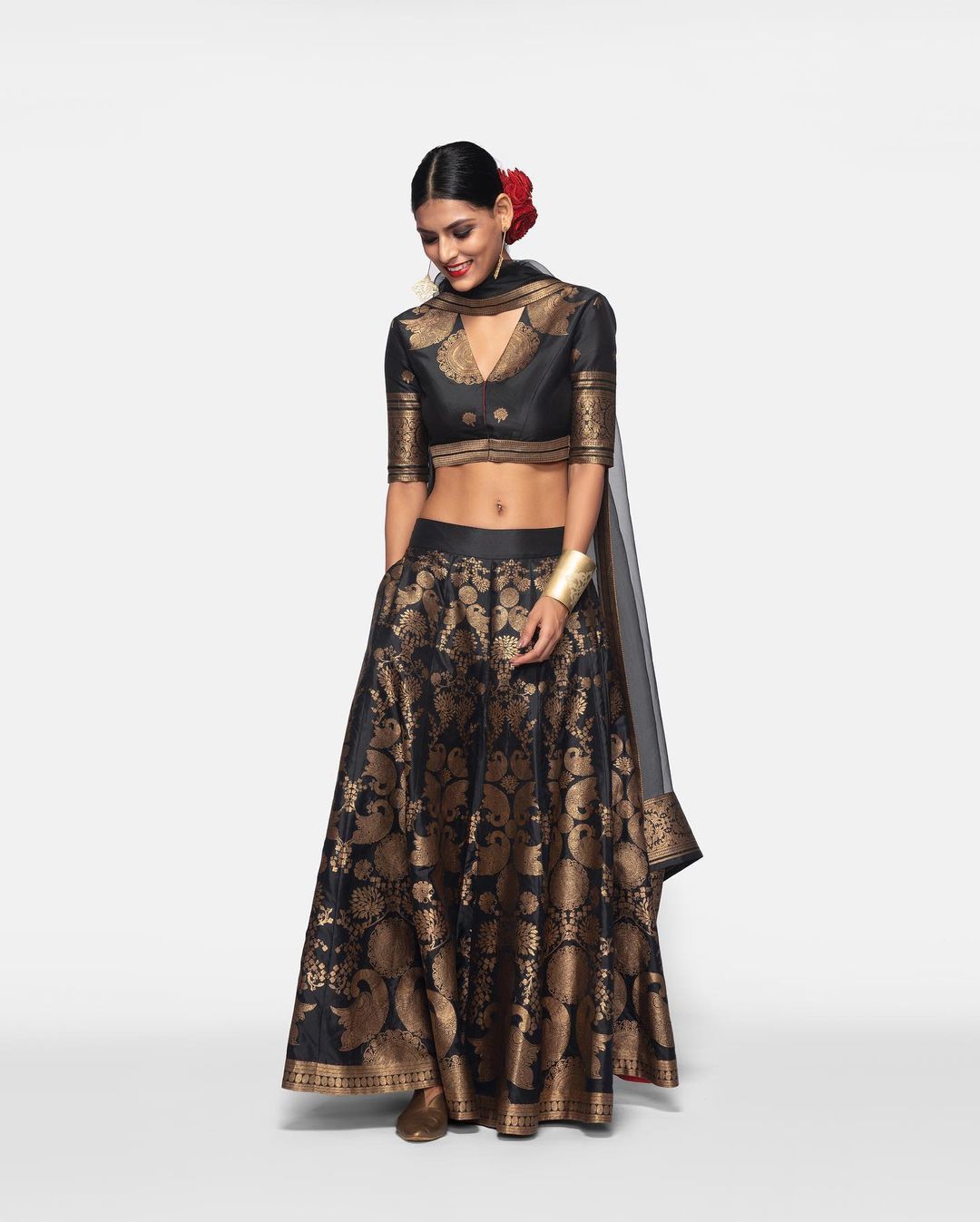 She gives Banarasi a fusion twist like no other designer. Our favourite thing about Payal Khandwala is how she uses Banarsi but in modern silhouettes. Crop tops, high waisted skirts or capes, which look new and refreshing. Her lehengas are priced 50K onwards. 
Warp and Weft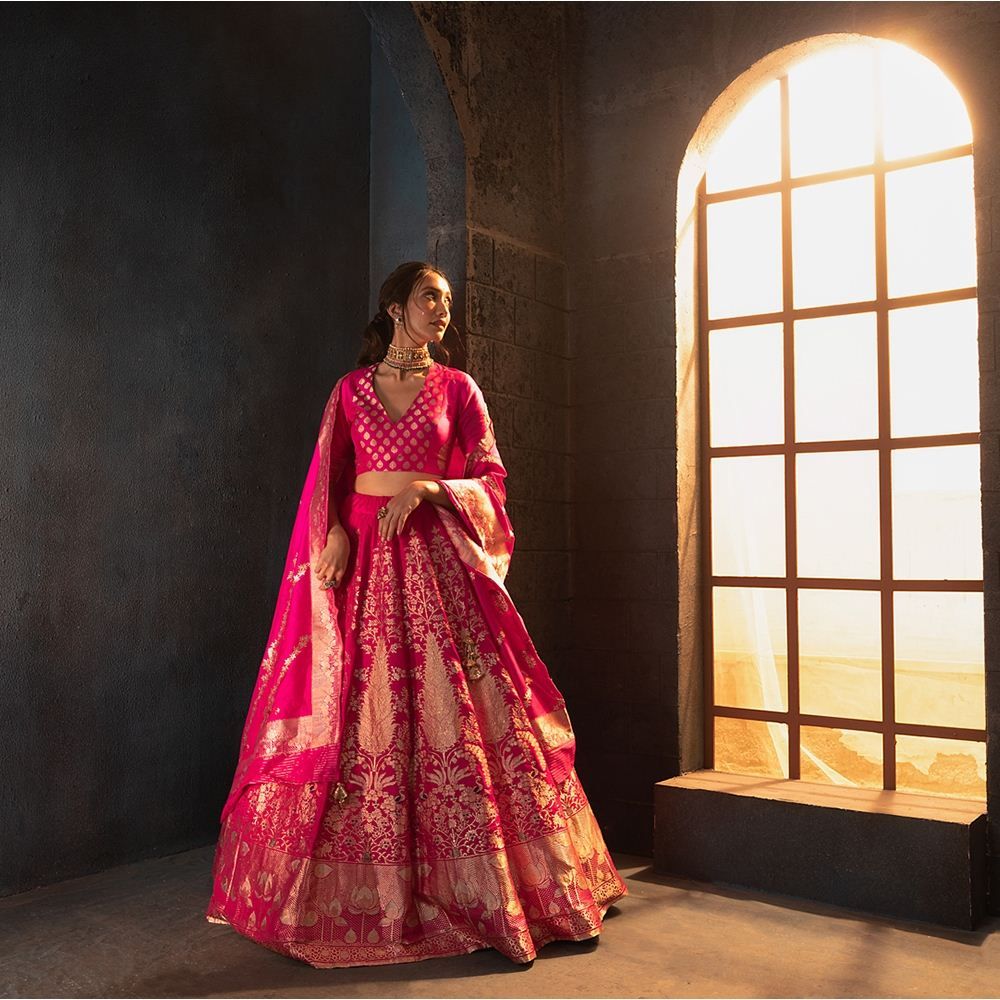 They have some beautiful bridal lehengas which we are in love with. They have a lot of options in almost every colour, and if you're a Banarasi lover, this is pure heaven!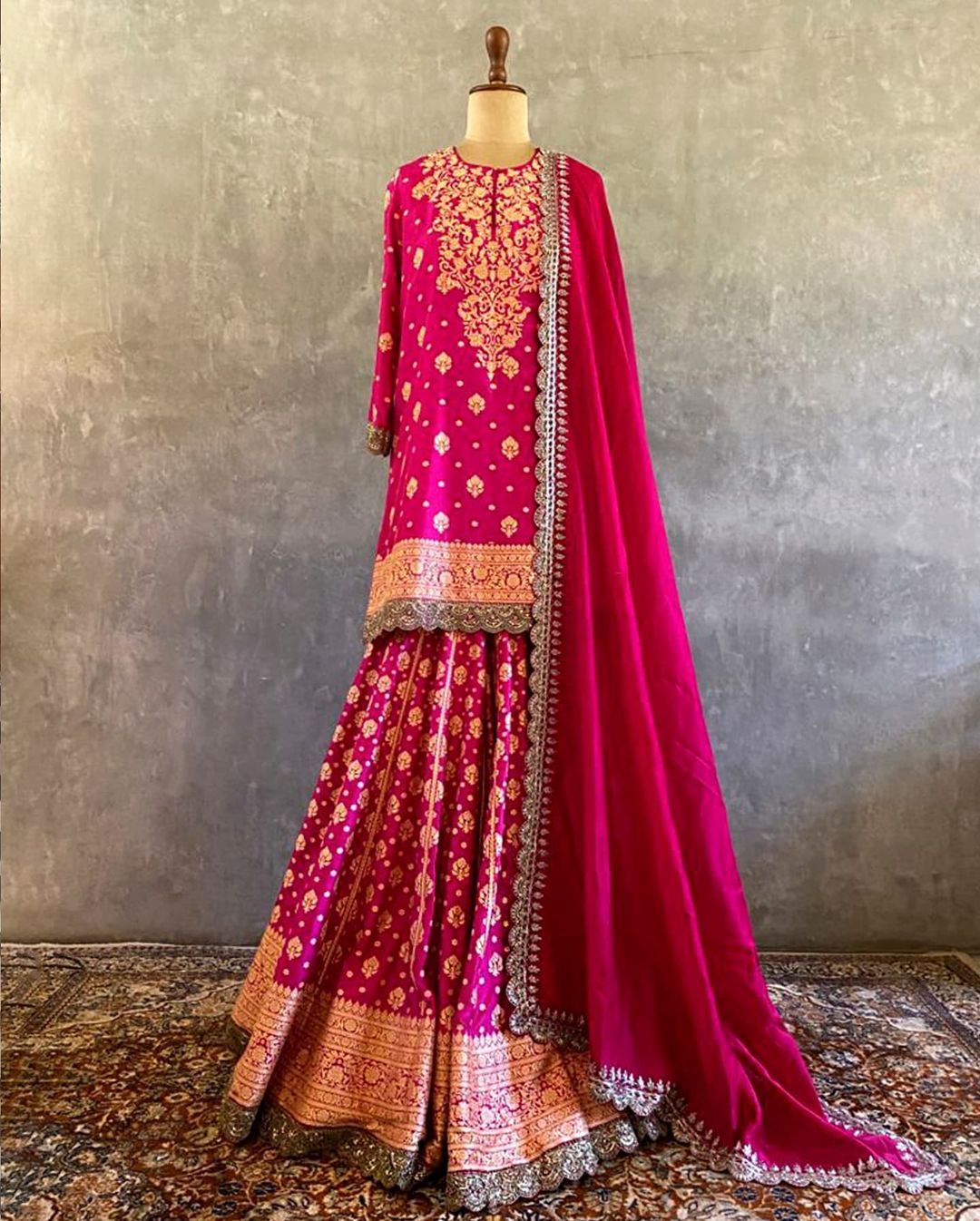 One of the freshest, most fabulous designers in this segment, we have been loving her creations off late. From bridal to lighter lehengas, she has some amazing options in Banarasi in fascinating shades and hues, which are just delightful!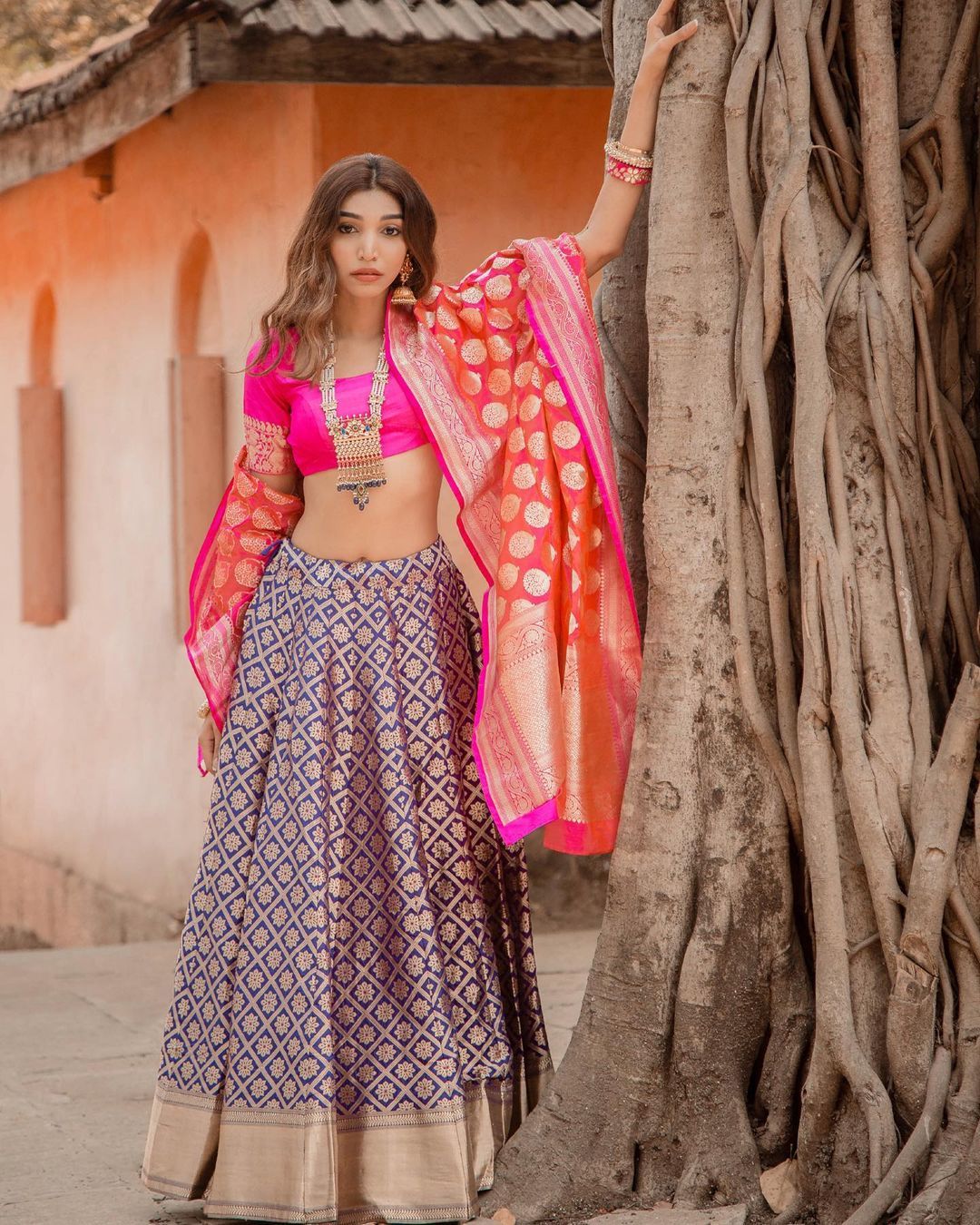 They do some pretty and elegant Banarasi lehengas which stand out 'cz of the bright and happy hues!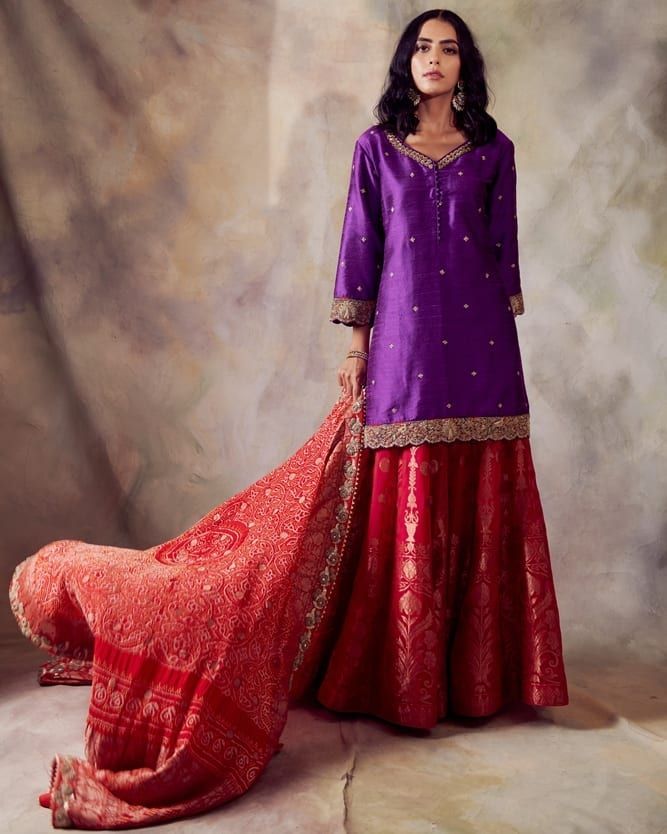 If you're looking for a heavy Banarsi lehenga for your Sangeet, then this label is ideal for that. With a range of beautiful Banarsi lehengas in almost every colour you can think of, this one has quite a range!
Budget Range
These are labels which have lehengas starting from the sub-50k range, which are affordable but bang for their buck!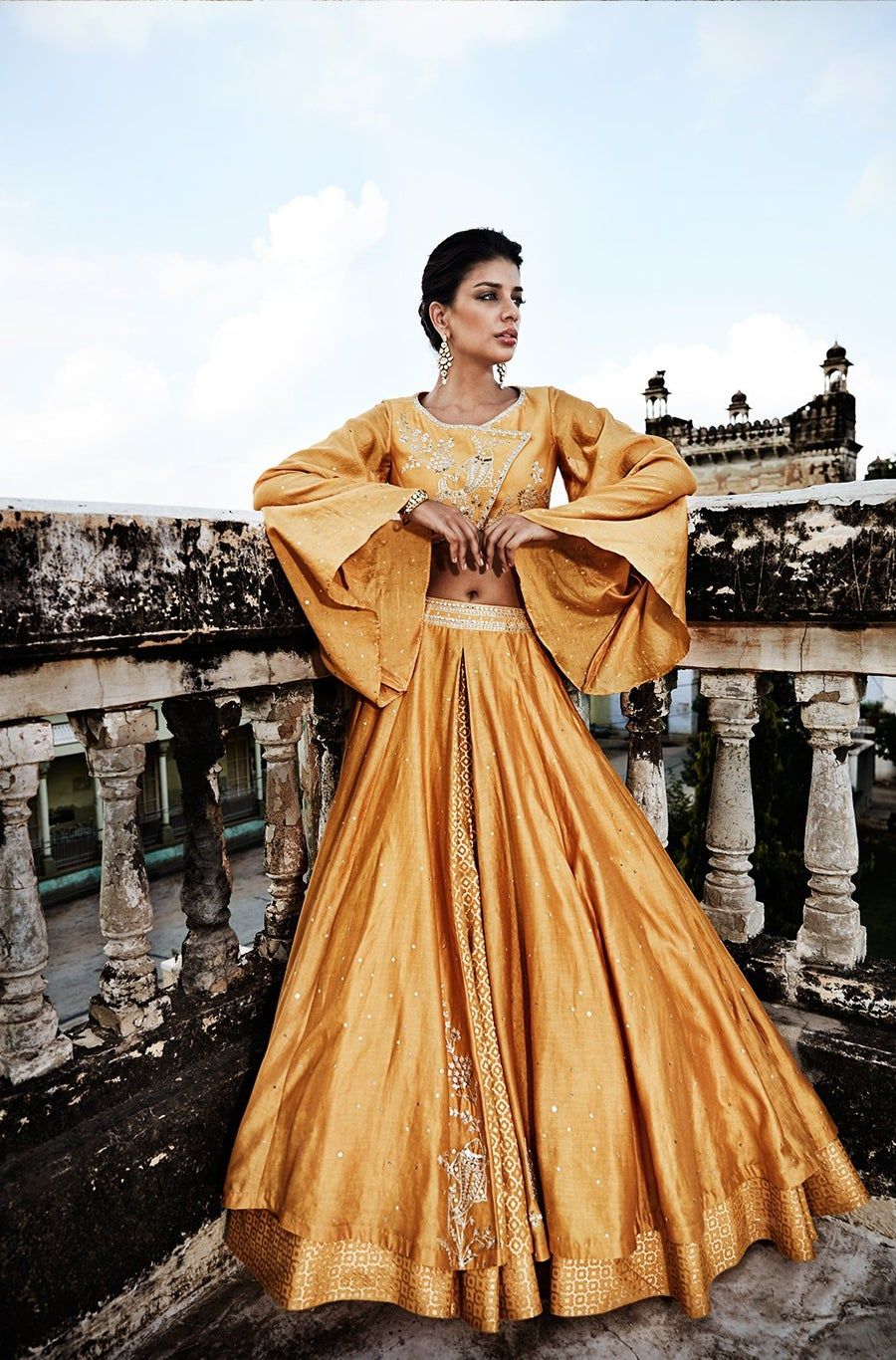 Matsya has some pretty lehengas, and they also have nice Banarasi options, and we love the label's use of colours and combinations. We especially like their pastel Banarasi lehengas, which are nice and dainty for a smaller function and super well priced too.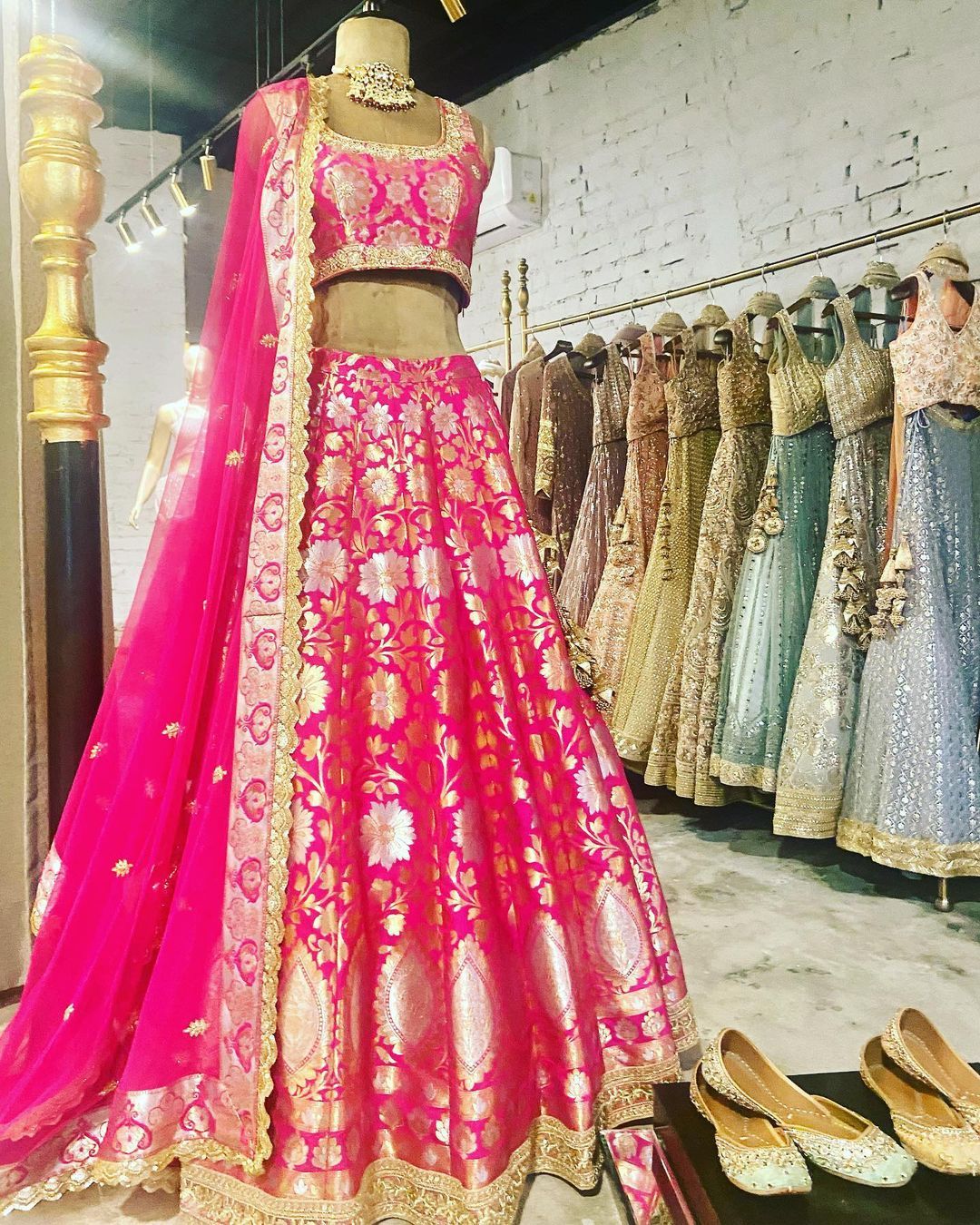 From pretty pastels to bright and vibrant, she has some pretty Benarasi lehenga designs, and so many to choose from! A lot of her lehengas fall within the budget of 30K-60K, and we love how traditional yet unique all her creations are! A great option if you're looking at a Mehendi lehenga especially!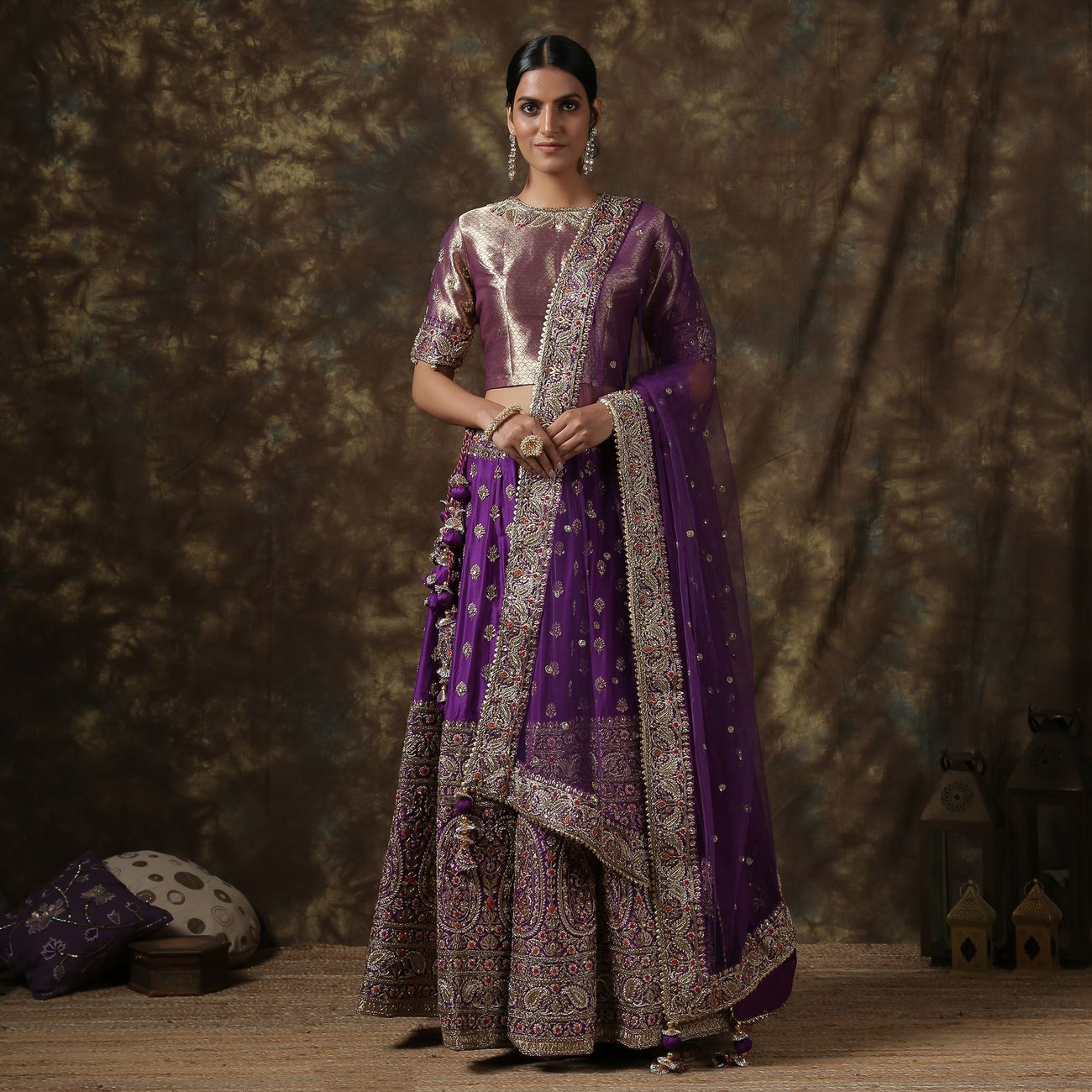 It's a Singapore-based label which has some stunning Banarasi sarees, and some lehengas too, with a nice traditional touch to them. Their lehengas are usually Banarasi paired with other work like embroidery.
Premium Designers
These are your big designers who have exclusive creations- going well into a few lakhs. While Banarasi might not be their forte, they do have creations that celebrate the traditional fabric.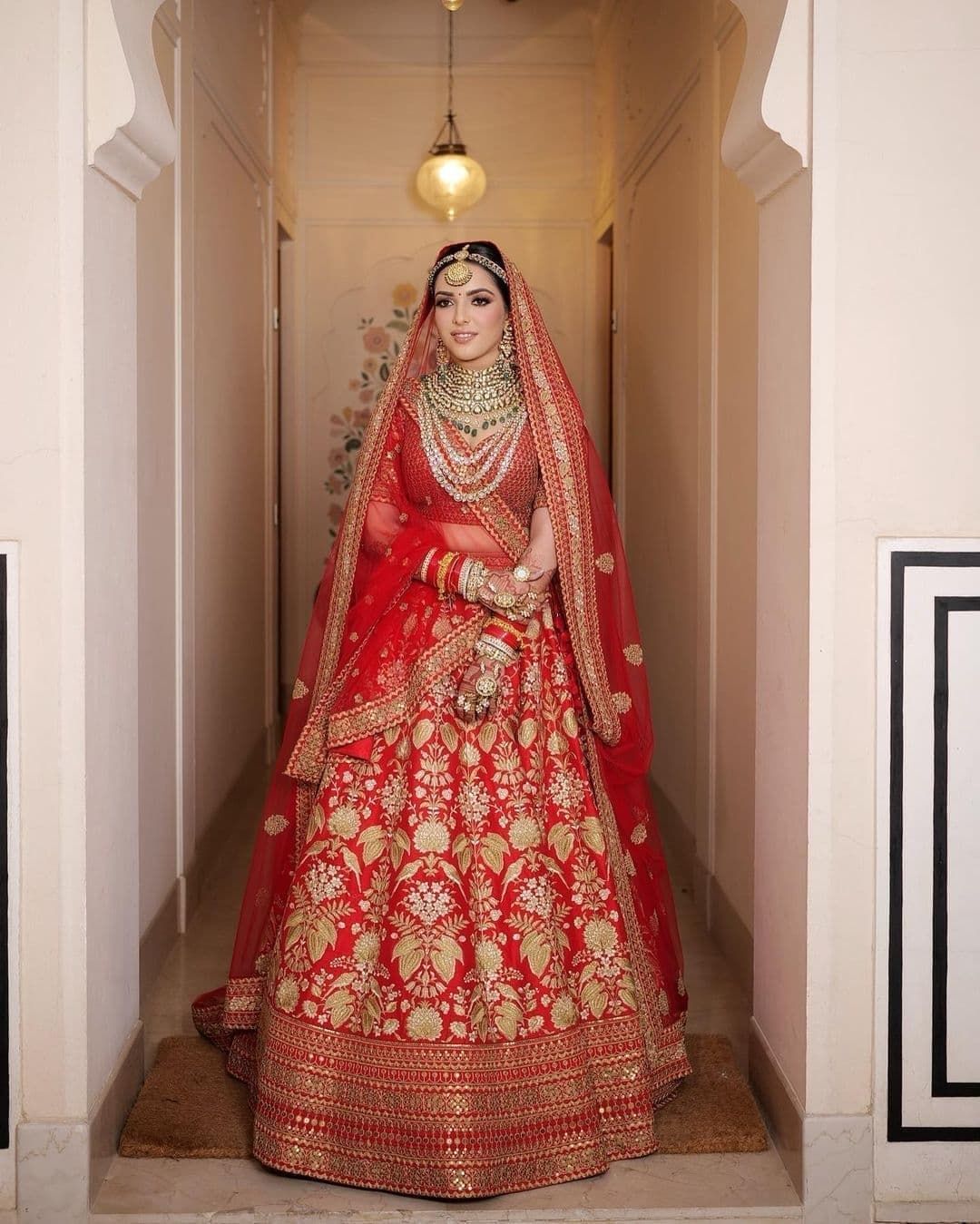 Image via Samaira Sandhu Makeover★ 4.8
Although Banarasi does not feature too much in his collections, he does have a few fabulous designs every time, and from subtle to bridal ones, there's something fascinating about his Banarasi lehengas.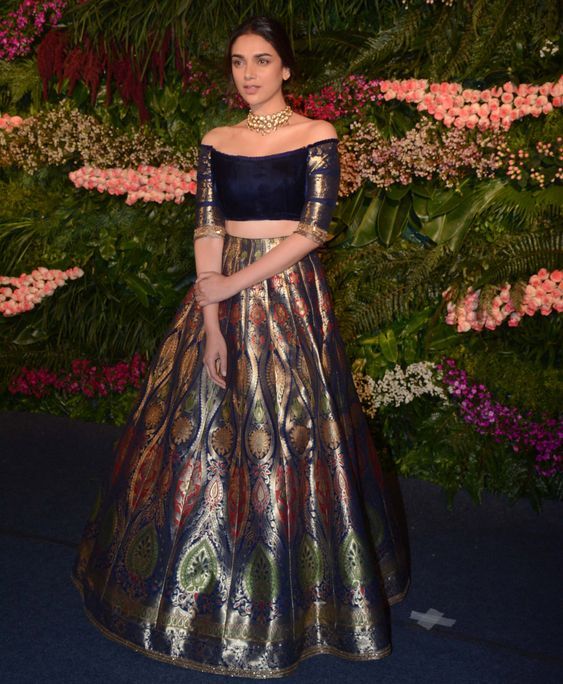 No big designer does Banarasi like he does, and his lehengas come in fresh new hues, and we loved his new trends like Banarasi only on the sleeves! Plus, how refreshing are the designs and combinations?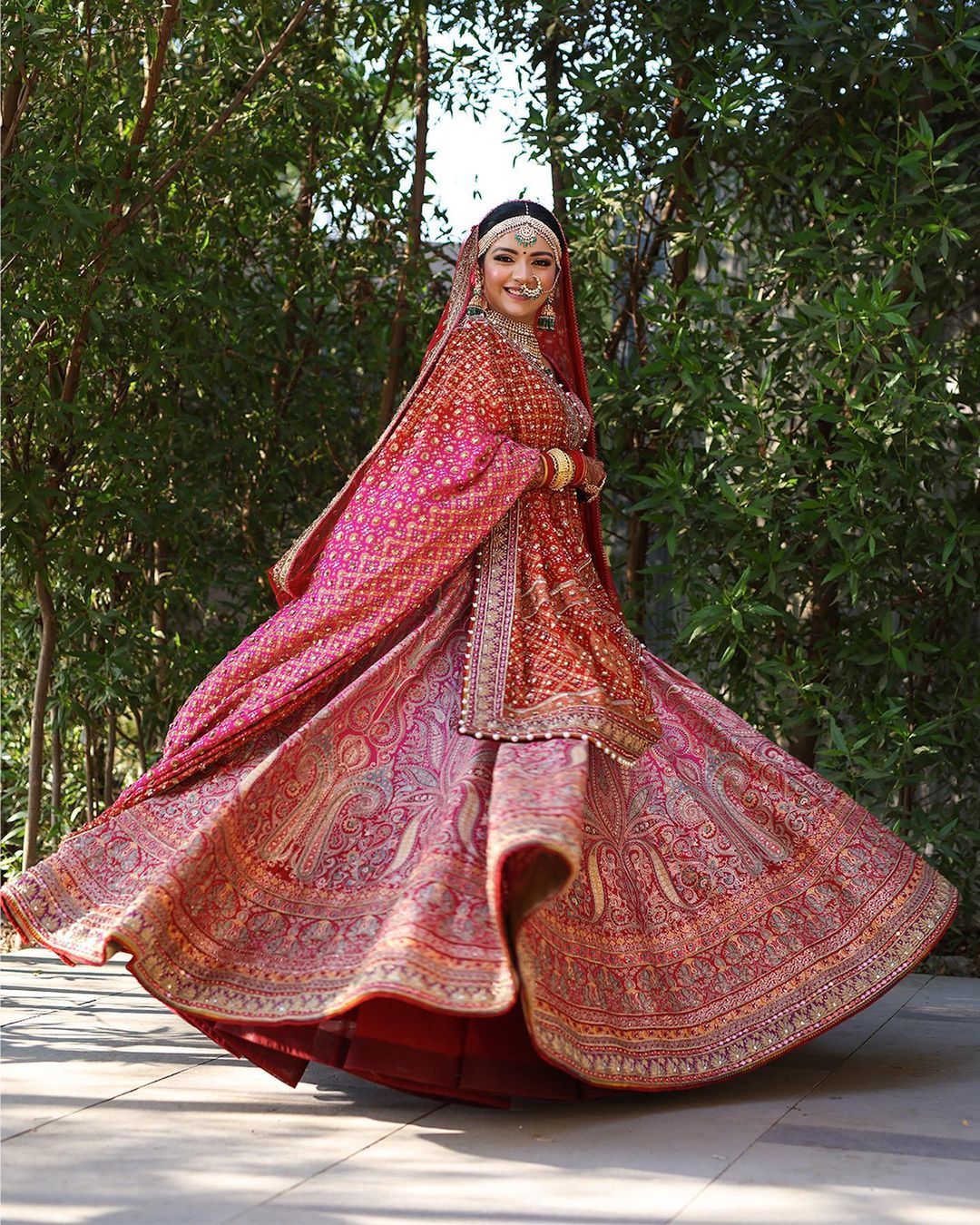 Image via @vaishnavidarshanpatel
From simple to bridal, the ace designer has a lot of Banarasi work designs in his kitty, and we love the combination of Banarasi and embroidery work on some of his bridal lehengas!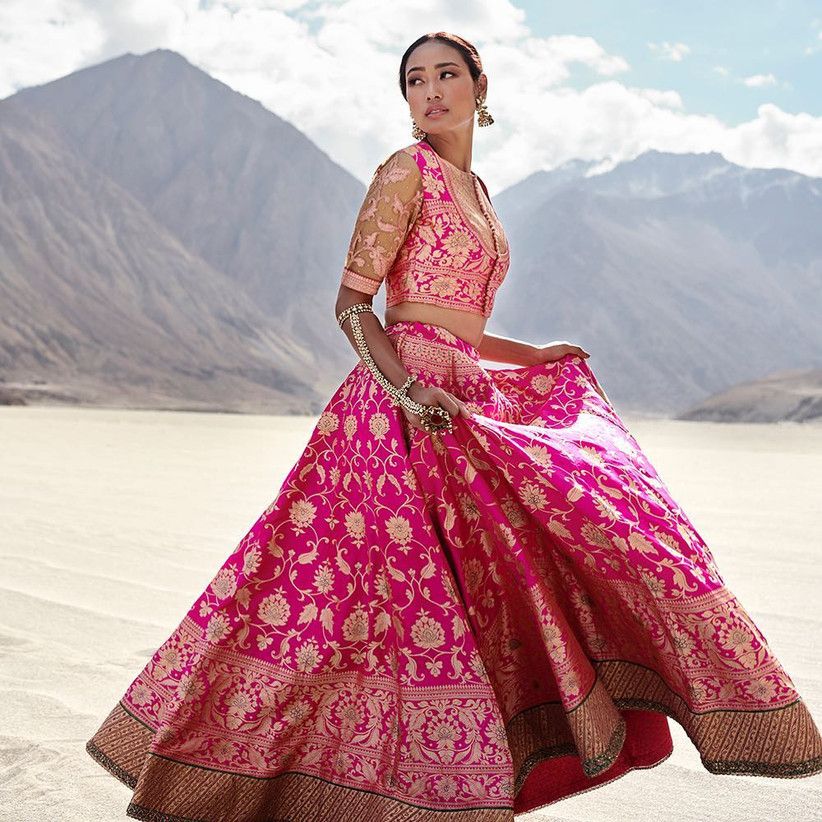 While it does not feature mainly in her creations, she does have some jaw-dropping Banarasi designs in her collections, which are pretty for new age brides, and look modern and amazing!
If online shopping is your cup of tea, then you can also shop for banarasi lehenga here
#Spotted - Droolworthy wedding lehengas by top designers on WedMeGood!
ALSO READ: Where To Buy Your Chikankari Lehenga From!