13 Creative Ways to Cut Your Wedding Costs without Killing the Joy
BY The WMG Bride | 26 Jul, 2015 | 2938 views | 6 min read
Unless your favourite Sarabhai is Monisha, cutting costs may not come naturally to you. You suck at bargaining, and don't know how to prioritise things. Sounds about right? Unlike the West, Indian weddings are often larger-than-life. We love going overboard no matter what; the swank of an Indian wedding is exactly the reason why our wedding planning industry is booming. So, if you really want to help your folks in saving some major bucks, here go 10 ideas that'll ease the load on your wallet without making you look like a total cheapskate. Just keep an open mind, okay?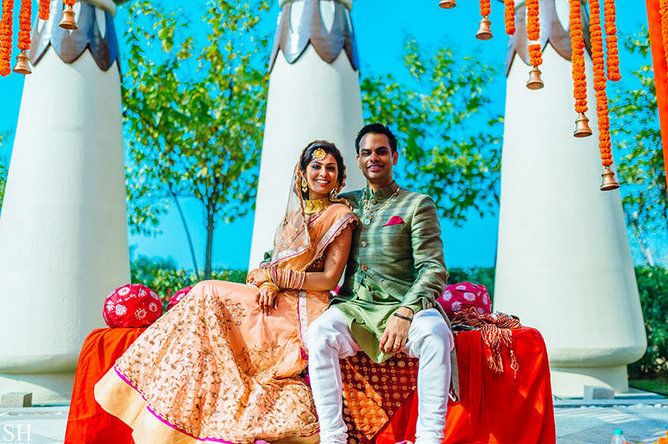 Photo via: Rish Photography★ 5
1. Shop for a 'Sangeet lehenga' as your bridal outfit
Believe it or not, the moment you utter the word "wedding" in front of vendors, the universe starts conspiring against your budget. It's best to keep the purpose of your shopping to yourself at certain occasions; for example, psychologically shopkeepers price heavy Sangeet lehengas cheaper than lighter bridal ones. Moreover, if you ask for an engagement outfit, they price it lower hoping you will also buy your wedding outfit from them Asking a makeup artist for a 'party makeup' is cheaper than asking for 'bridal makeup'.
Read: How to save big bucks on your wedding lehenga
---
2. Know how to trim your decor
So, you're not inviting your dad's aunt living in a remote location in the country because you want lilies instead of gerberas for the décor? Instead of striking people's names off your guest list, there are a ton of great tips through which you can cut down on decor.  Use  printed linen and floor decorations rather than ceiling ones as those are more expensive.
Read: Top decor tips to trim your budget
---
3. Shorten your wedding planning timeline
A general trend of engagements that last more than a year. You end up shopping all throughout the year, often for things you wont even need as much. Instead if you focus your efforts towards the last 4 -5 months alone, you know exactly the priority of things that need to get done. You also dont worry about buying things that are not 'trendy anymore'
---
4. Serve brunch or lunch instead of dinner
Most venues have a cheaper package for lunch, brunch than dinner. You could do a fabulous sit down lunch reception after morning pheras with some light cocktails flowing and save a ton of per plate  cash!
---
5. Ready Made decorated venues are your best friend
There are a ton of venues which come with ready-made decor. These turn out to be wayyy cheaper than hiring a decorator separately. The reason- the venue always has 2-3 rotating themes which the decorator uses and reuses each time. He doesn't need to make new elements and so the costs are way cheaper.
---
6. Choose city-run locations instead of out-and-out wedding venues 
There's a reason people have their weddings at Golf clubs and defense grounds – they're mind-blowingly cheaper! Opt for an out-and-out wedding venue, and you end up playing by their rules and spending an awful lot of money for an evening of swank. Also, putting up people and flying them down and entertaining them is a bigger mess unless you have great resources.
---
7. Use NGO's for wedding favors: Combine self-interest with philanthropy
There are a bunch of non-profit organisations that offer a range of wedding services. From flavoured honey, to jams and preserves you can get affordable wedding favors. You could even hire a live bangle maker, a makeup artist from NGO's around the city.
Read: How to give back to society on your wedding
---
8. Choose individual elements instead of a full-blown décor theme
This might sound inane, but believe us, you can cut back on so much, as you get to choose exactly where you want to splurge on and where you can compromise on. A theme, on the other hand, will leave you with no such liberty. For example, a kitch wedding will need everything kitschy and you'll end up spending way more overexplaining the theme. But a few simple kitsch elements - that's good, it makes a point without trying too hard.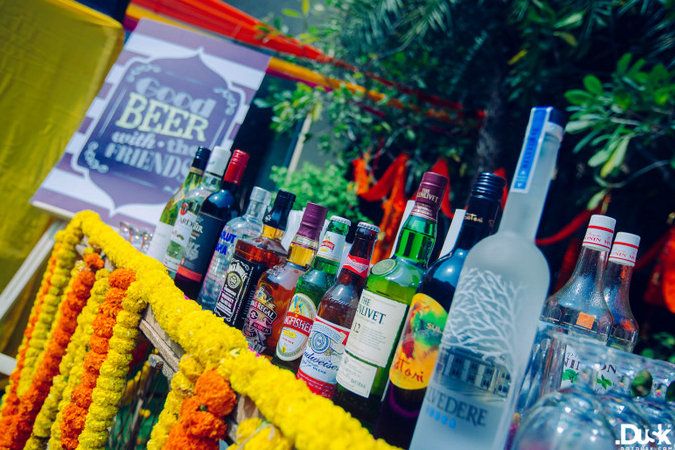 Photo via Dot Dusk
9. Limit the bar with 'Signature cocktails'
That, or keep it open for just a few hours to save money on imported liquor. Unless, of course, you're a Punjabi, 'cuz, you know, the whisky might take offense. But being careful about the bar business can take you places - opt for a menu with limited choices- make it sound fun so that the bride and groom each have a signature cocktail named after them which people can order. When you keep a limited bar with signature cocktails, people tend to stick to those drinks and run up a smaller bill
---
10. Let your talented friends offer their services for a wedding present
Cheap? Hell no. Smart? You bet. A wedding planner for a girlfriend, a DJ for a college junior, (or, a chauffeur for an ex)… oh, if you run in the right circles, you instantly know where exactly you can cut expenses.
---
11. Skip February, November, and December
We know how amazing it is to have a November wedding when the weather is perfect! While February is the month of love, November and December are when the world parties like there's no tomorrow. Whether it's flowers, food, lighting or the venue, get ready to pay more than usual during these months.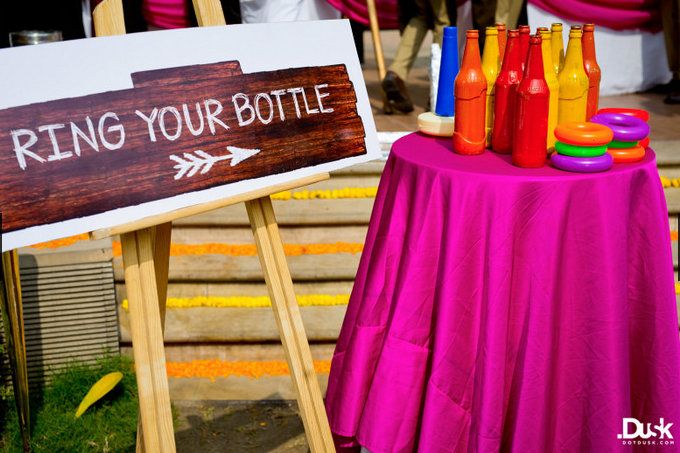 Photo via DotDusk Studios★ 5
12. Buy separates 
Yes, you might love that Sabyasachi sari but maybe you can buy the lehenga and get your own blouse made. Or buy that net dupatta and wear it with your favourite lehenga + crop top. Mixing and matching designer and off-beat labels can reduce your budget by almost a half. You could buy tons of borders from a local market, and get that attached to plain fabric to create a second dupatta for yourself.
---
13. Entertainment creatively : Case in point 'Jenga' & other games.
You could order a giant Jenga game from Ebay and put it in your garden for your mehendi. It's a conversation starter and TONS of fun. Or, you could play a ton of fun games on your sangeet instead of hiring someone from outside for your sangeet
Read: How to entertain your guests 
Other ways you can cut the budget and get yourself an amazing wedding? Tell us!