20+ Best Ways To Setup Your Home For A Wedding Function
BY Apoorva | 11 Oct, 2019 | 20425 views | 9 min read
Homes are a sentimental place for brides-to-be during weddings. Every bride wishes to have at least one or two small functions at her own house. It's the emotional connect you feel with the house that you have stayed forever and you are now leaving. But that doesn't mean that you need to have a simple function. To add to that weddings in Delhi mean ample space at home to host small functions or even mehendis and sangeets. Décor at home can be glam too. The time is gone where wedding decorations or décor at home was only limited to balloons and streamers. Wedding decorators do décor at homes too! Trust wedding decorators in Delhi to give you only the best.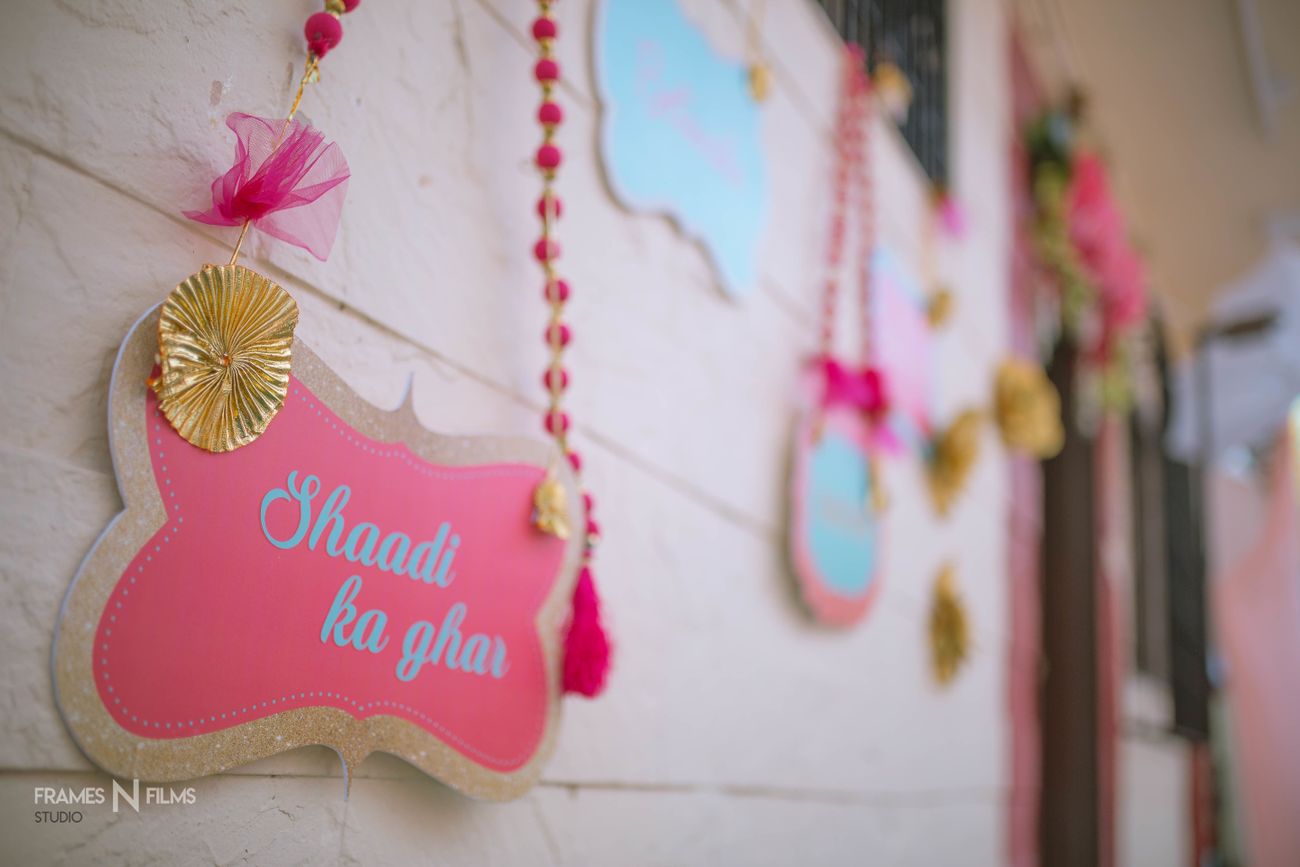 Image via Frames n Films Studio★ 4.8
Whether you plan to do a mehandi at home decorations or sangeet decor with wedding decorators in Delhi or DIY, there are a plethora of options that you can choose from. You can also see what wedding decorators have predicted to be the biggest trend for decor in 2019 weddings! For decor, you can opt for a modern flower-less mehandi at home decorations or simply call for tents and decorators and get a simple colourful décor at home done.
Gota Wreaths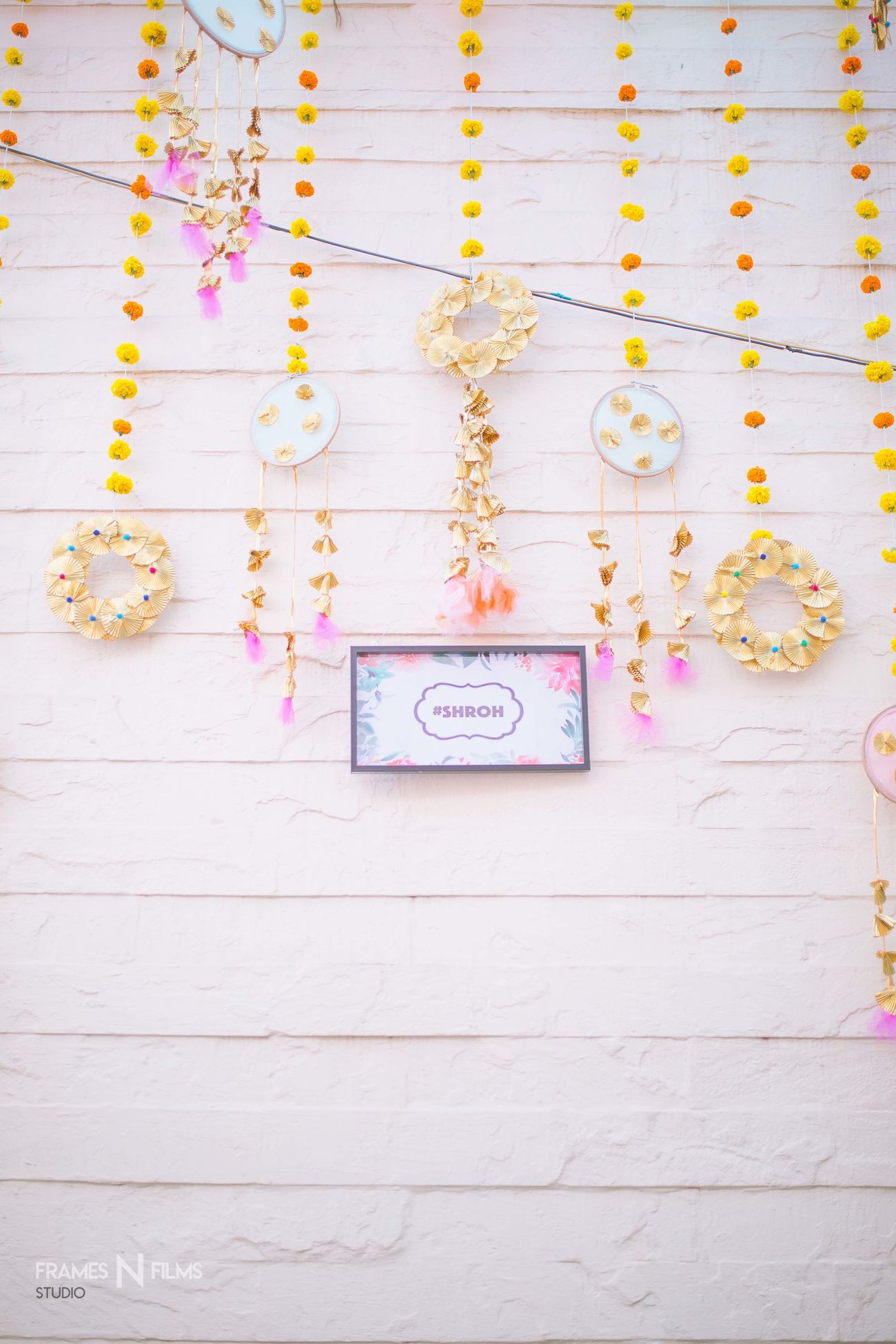 Image via Frames n Films Studio★ 4.8
You can DIY these easily. All you need to do is, create wreaths out of gota or even florals if you like flowers and string them on floral strings against a pastel backdrop. These work brilliantly for small functions where you are pressed on décor budget and can't hire the best decorators in Delhi!
Tassel Love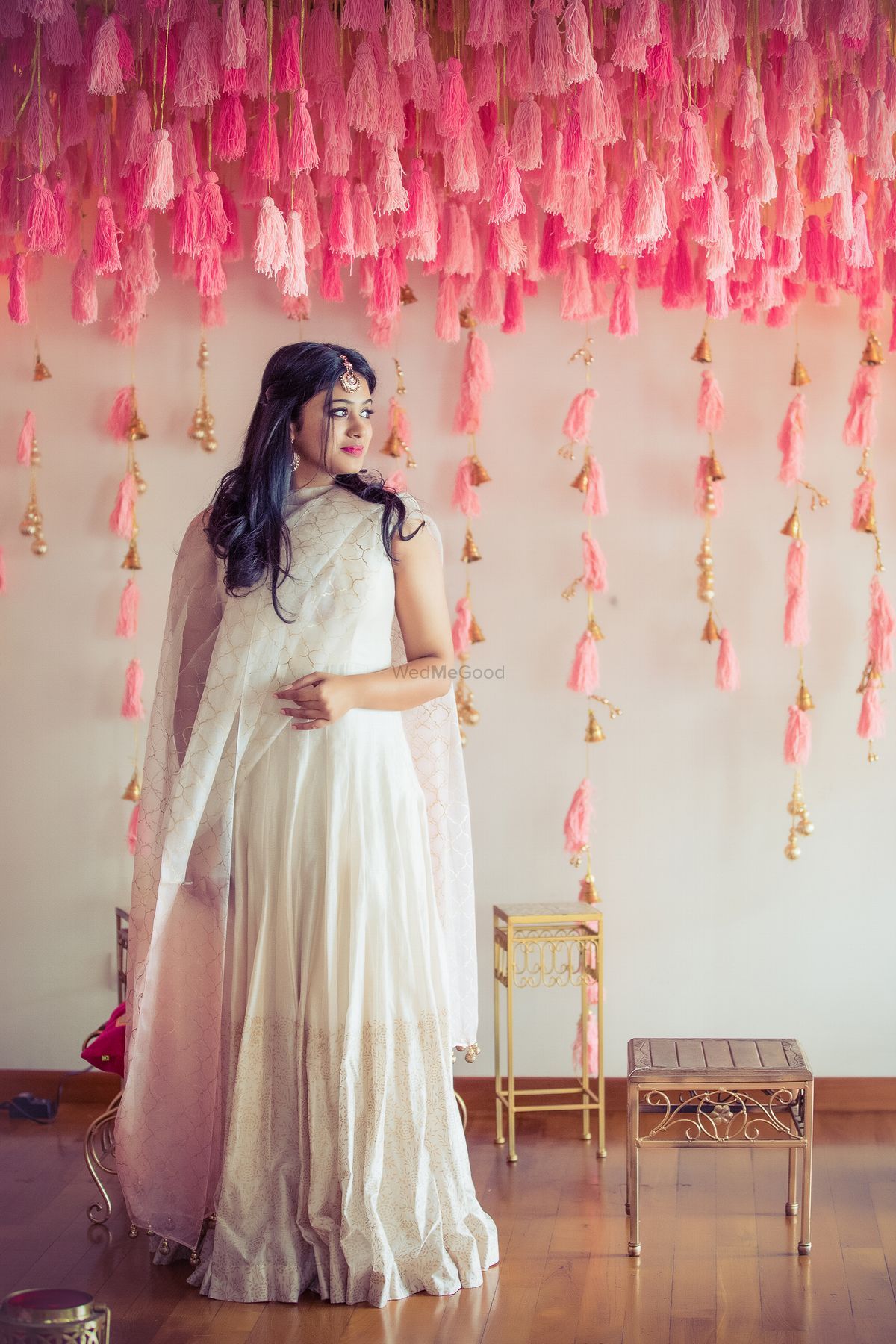 Image via Sajna Sivan Photography★ 5
Tassels were quite a hit in 2018 and they are still going strong in 2019. If you plan to do a mehendi at home decorations without going all colourful, this is a picture that you have to bookmark to show your wedding decorators in Delhi. These beautiful pink tassels make such a lovely backdrop for a mehendi at home decorations or even a haldi. The best part is that they don't have a shelf life so you can have them as home decor for wedding for an entire week or so without any worries.
How Simple Yet Stunning Is This Ombre Garland Wall?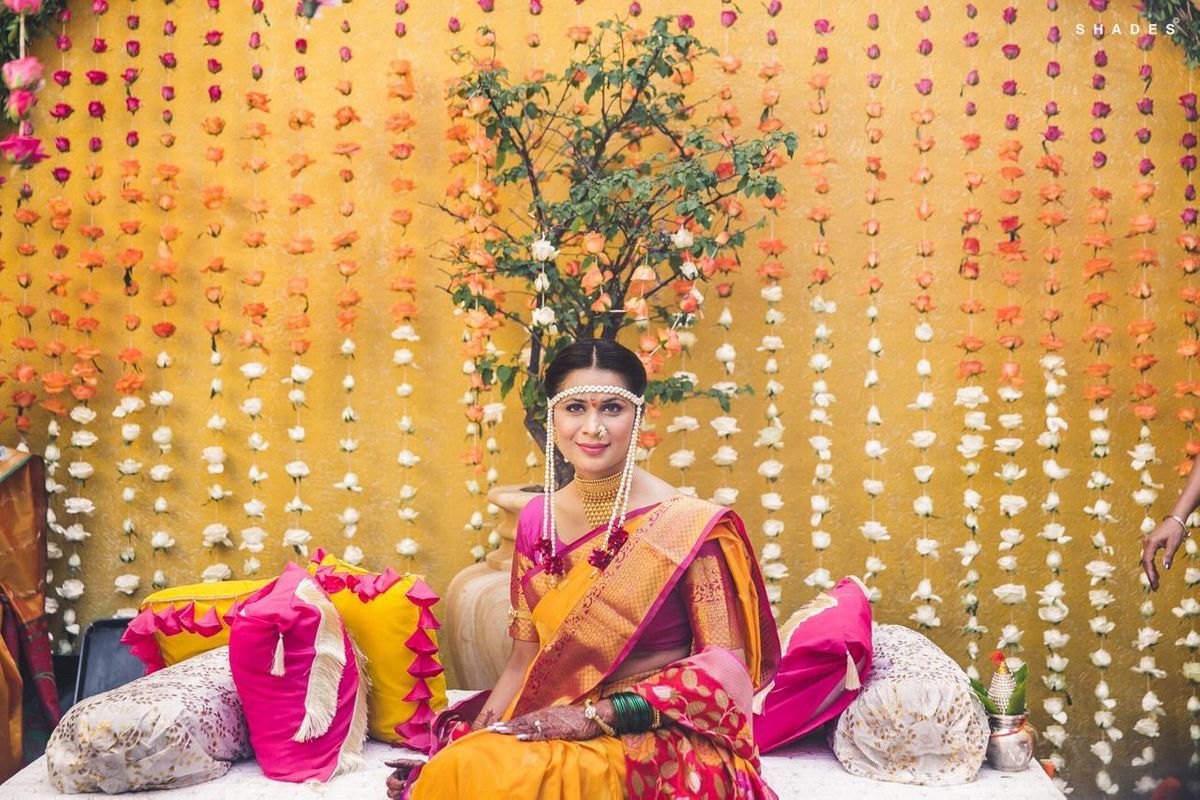 Image via Atisuto★ 4.6
If you are looking for something simple for your wedding decorators to pull off at a last minute wedding decorations at home – this is it! These flowers or any local flowers are easy to source and all they need to do is set up a solid back ground and create this lovely ombré garland wall. This will work brilliantly as a mini sangeet décor at home too!
Glass Lettering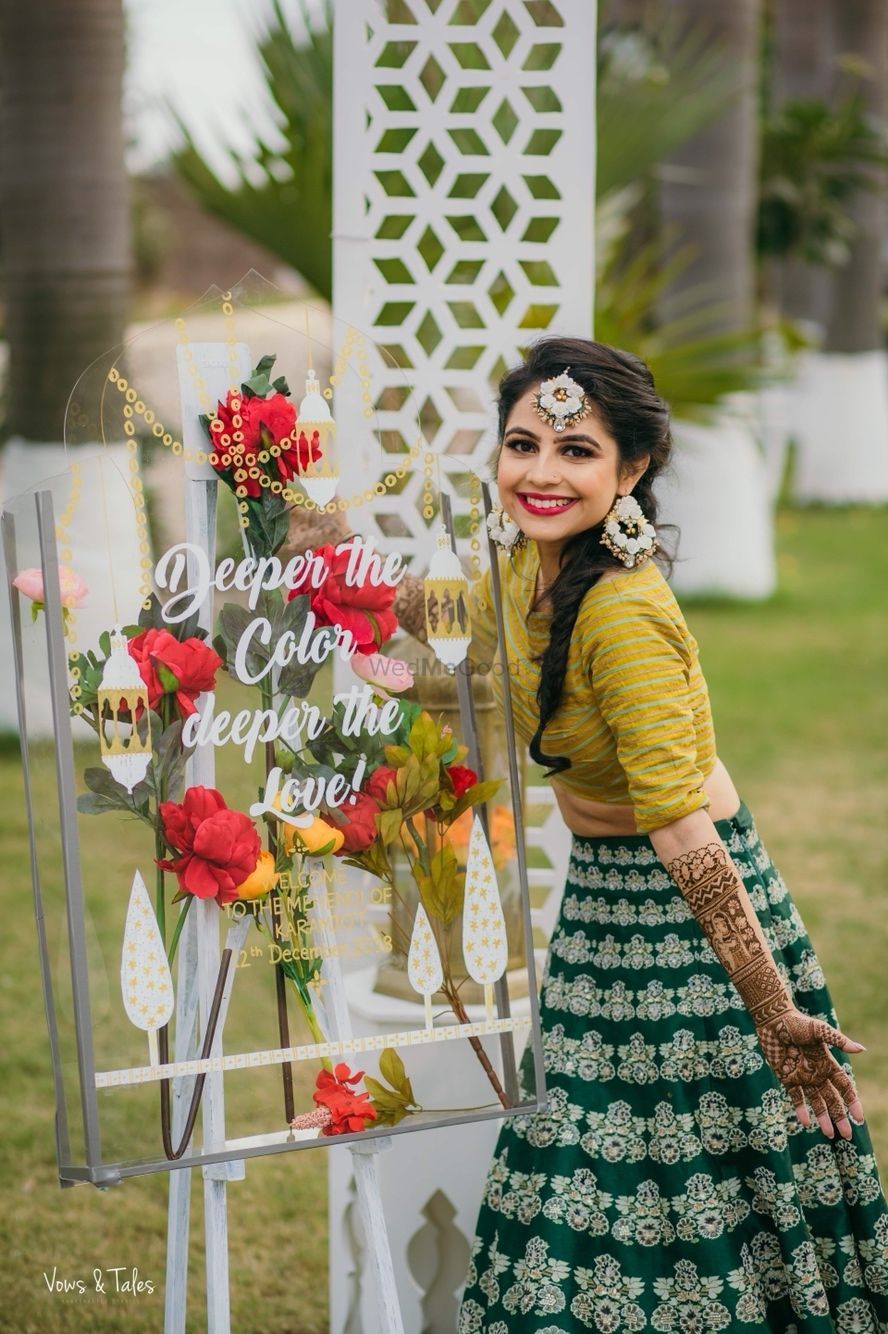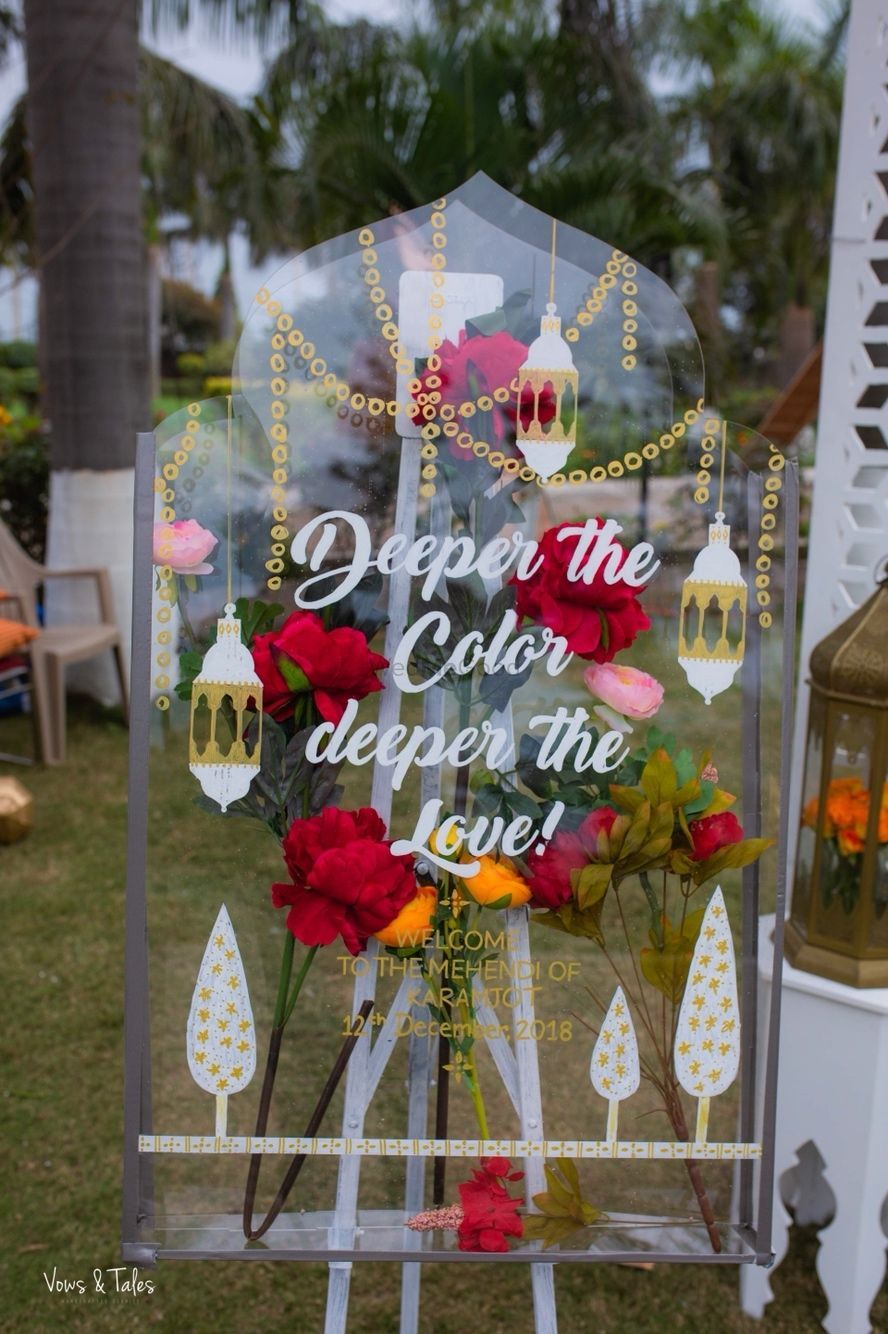 Image via To The Aisle★ 5
Isn't this so beautiful? As unique and different as this is, best decorators in Delhi will be able to create this for you for your event at home. You can either opt for plexi glass (acrylic sorts) or actual glass and have your favourite quote painted or lettered on it. This bride did it for her mehendi at home decorations – which looks so pretty for an outdoor event!
Gold Chairs With Floral Backdrop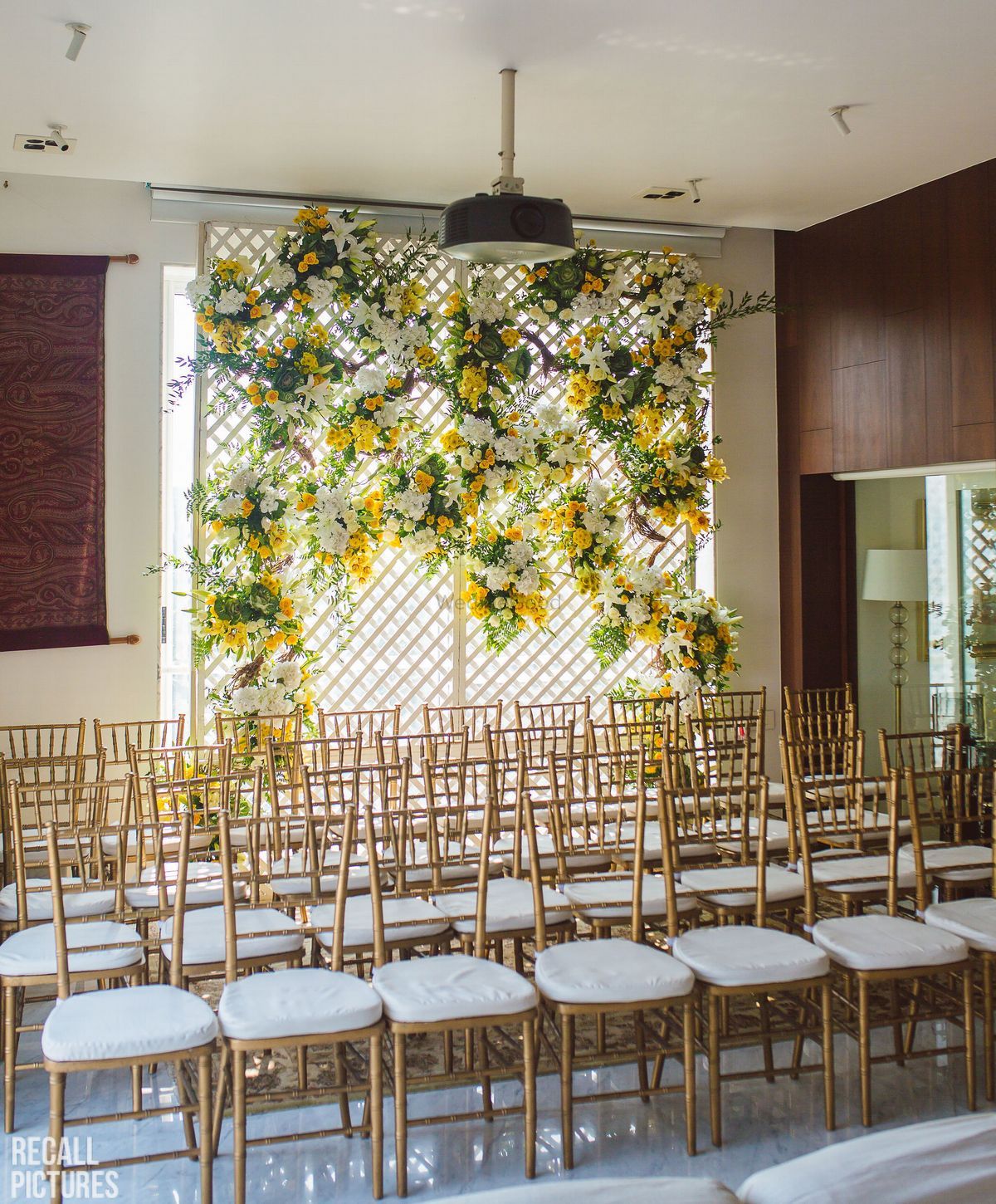 Image via Tanya and Neev's Real Engagement
Have you noticed that gold chairs instantly make everything look so chic? Look what these brilliant wedding decorators did here – created magic out of gold chairs along with a cane and floral backdrop! If the keywords to your function are – stylish yet simple, this is something that you can take a leaf out of.
Genda Phool Diyas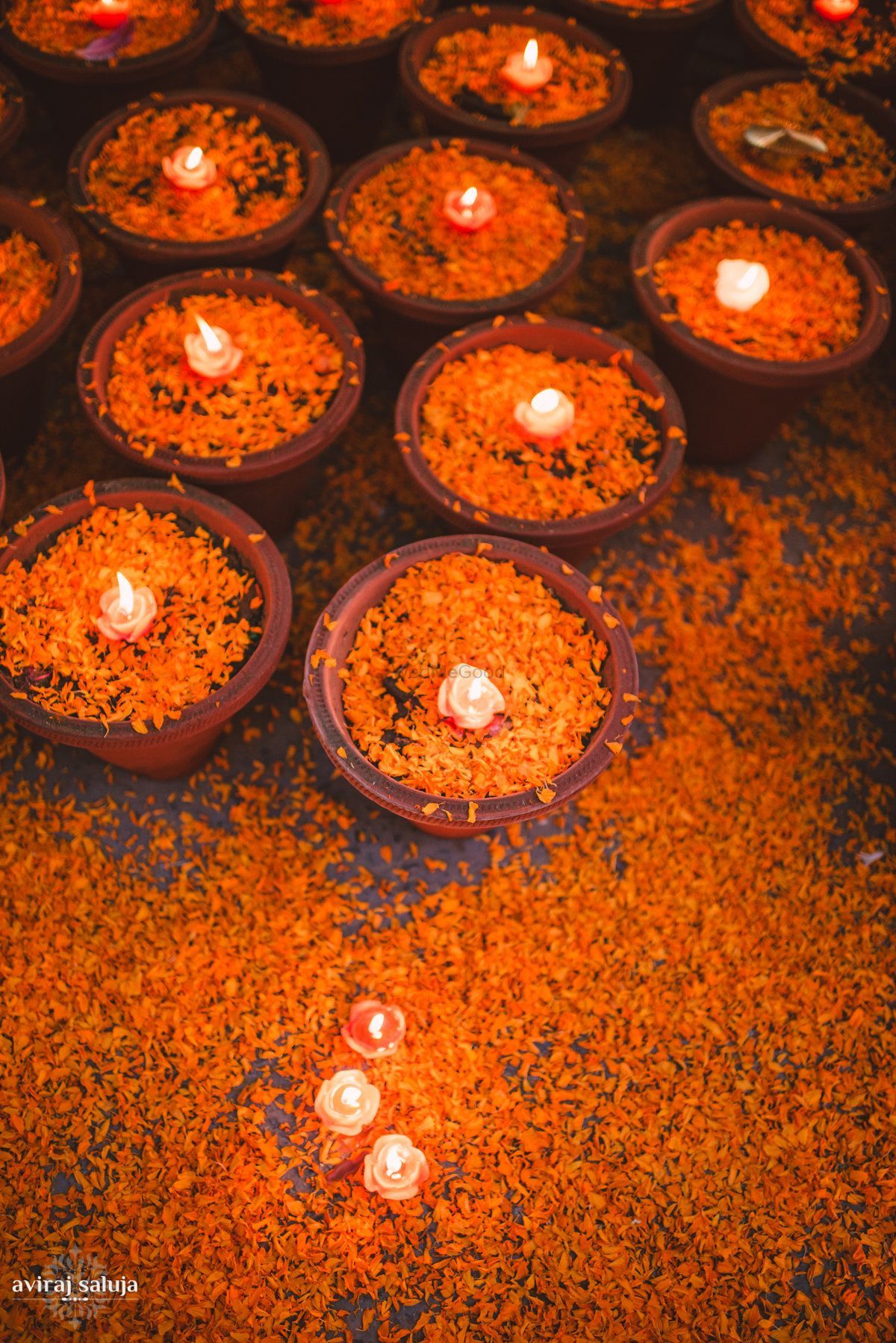 Image via Anika and Akshay Real Wedding 
No home decor for wedding can be complete without the mention of our favourite flowers – gendaphool or marigold. We loved how these simple diyas overloaded with gendaphool look so brilliant. The best part about this home décor for wedding or sangeet is that marigolds are locally available so cheaper than exotic flowers. Stays within budget and yet looks so fantastic! These will look beautiful for small functions at home, especially in the evenings when you can light them up.
Printed Floral Dance Floors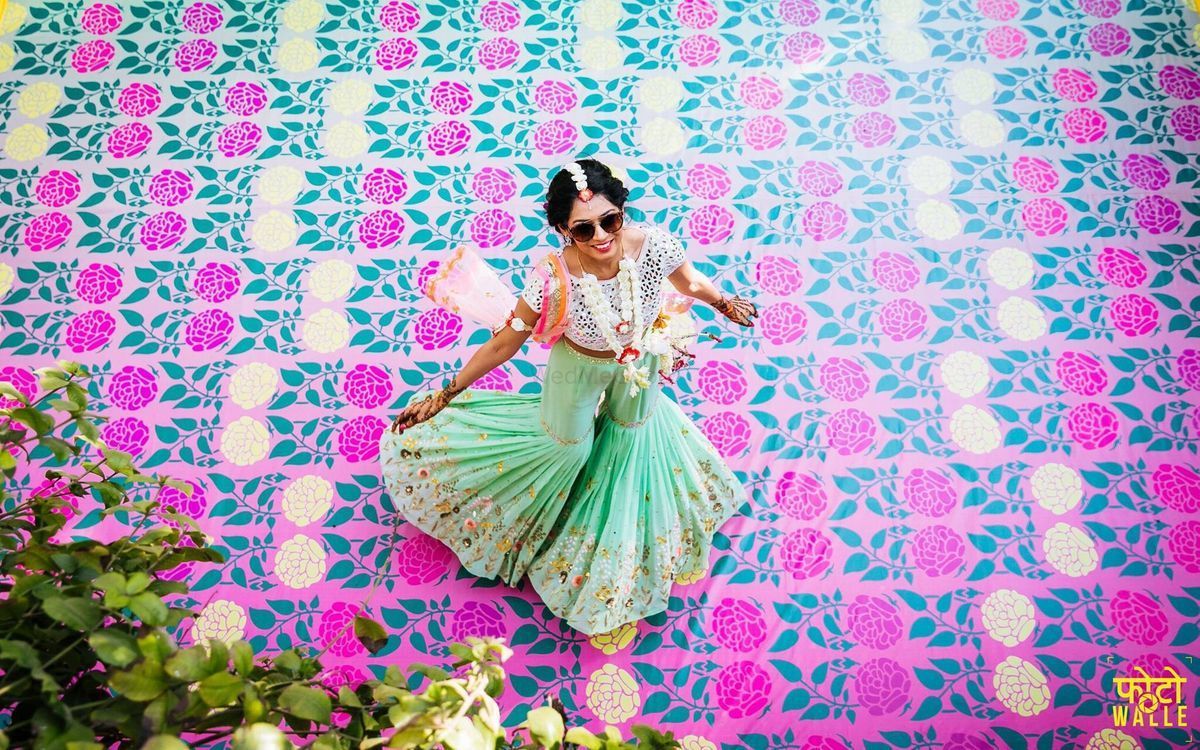 Image via Abhinav Bhagat★ 5
Planning a sangeet at home! Sangeet decor means dance floor. And why opt for the same old dance floor when you can have pretty floral printed ones. Don't forget to check out other ideas on how to incorporate printed floral in your wedding decorations.
Metal Welcome Boards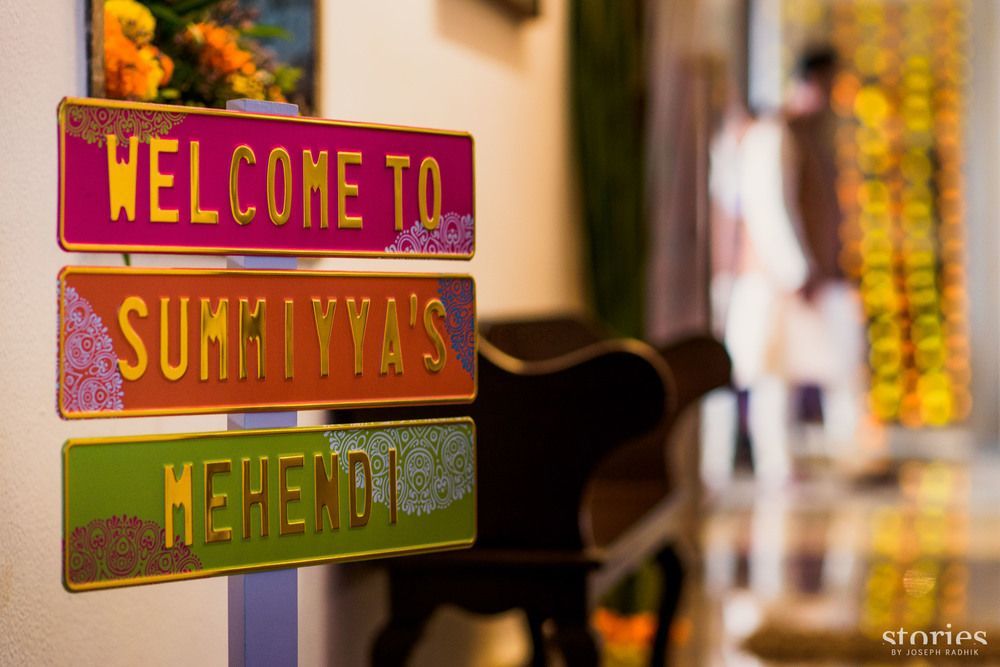 Image via Summiyya and Arnav Real Wedding
Give your cardboards a miss and opt for these funky metal welcome boards. This bride opted for colourful welcome boards for her mehandi at home decorations. This can be your every own custom décor too as you can personalise what you want on these boards. You can use them as photobooth props or as décor pieces, especially for small functions.
Pastel Tents For Decor At Home On Lawns Or Terraces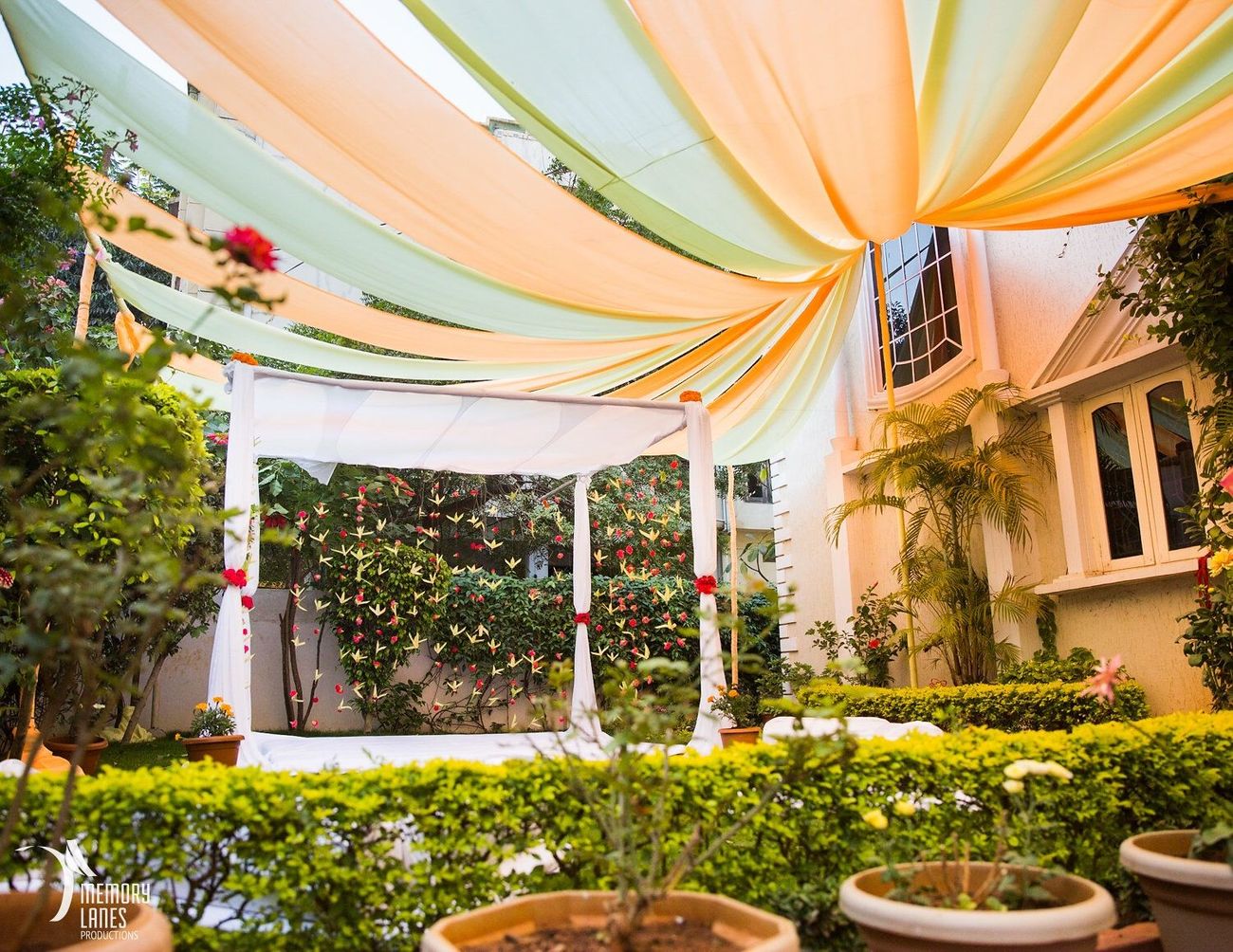 Image via Marigold Weddings★ 4.9
There is nothing more beautiful than tents and decorators that pull that off with such beautiful pastels! For a morning mehandi at home decorations, tents work brilliantly or even for a sun downer. If you have a big enough lawn area or even a terrace, tents are easy to pull off. Brief your wedding decorators on what your vision is for your outdoor space in terms of theme and colours and voila – you get a pretty tent-styled event! You can also take a cue from these lovely tent decor ideas for small functions for your wedding.
Floral Rangoli In Lawns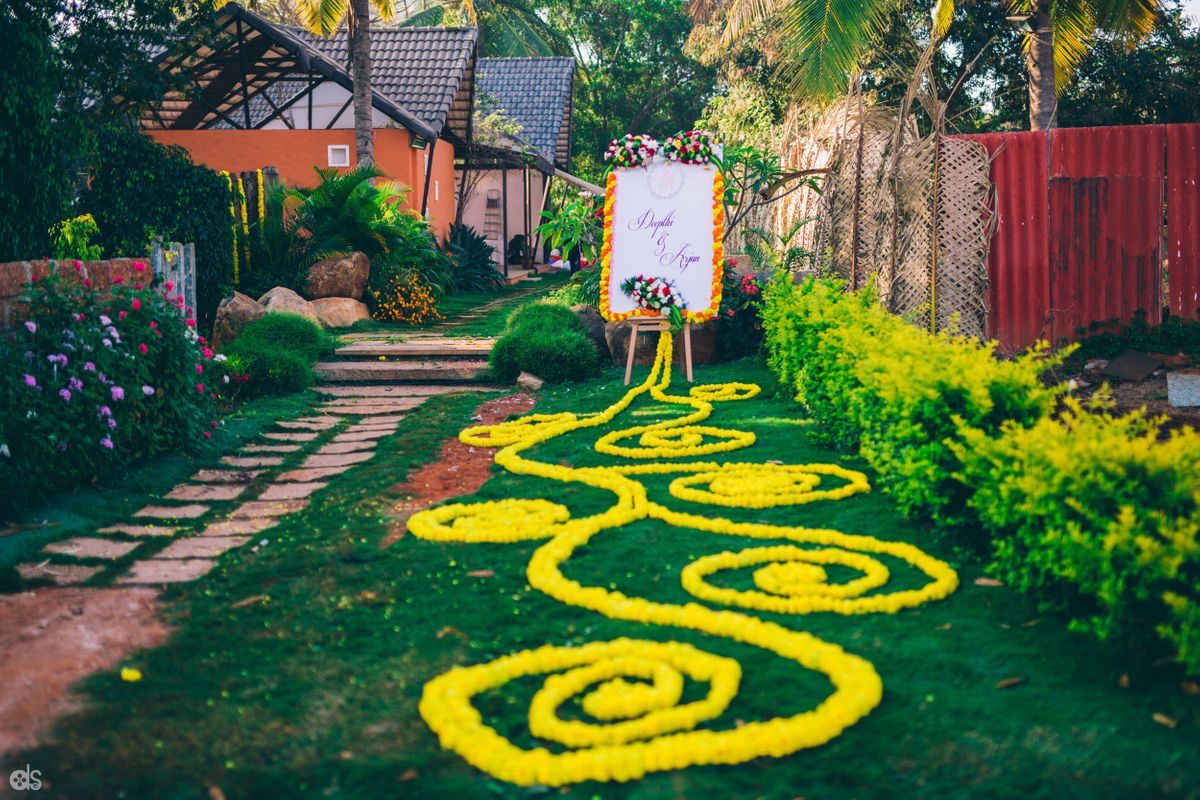 Image via Digital Stories★ 4.7
Such a simple décor idea but so brilliantly executed. You can either DIY this or book the best decorators in Delhi to pull this lovely décor off. Do remember to keep in mind that the contrast of the lawn versus the poppy marigold is what adds the extra loveliness to this décor hack!
Ladders And Fairy Lights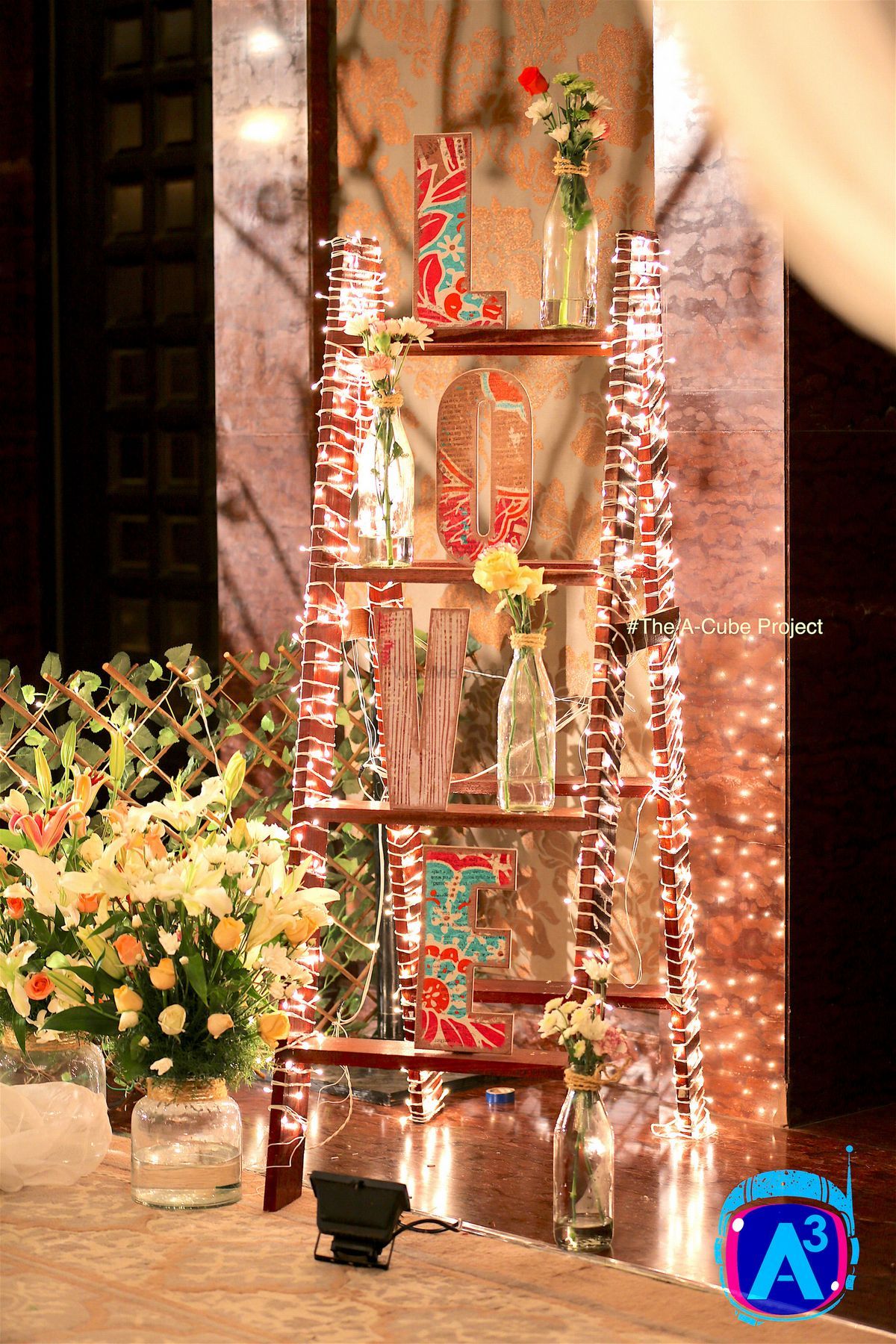 Image via The A-Cube Project★ 4.8
If you are looking for some stunning entrance décor at home, this combination will never fail. Ladders give you a chance to place a lot of things around, like these brilliant wedding decorators did – letters, bottles, flowers and wrapped up the entire thing so prettily with fairy lights. This corner will light up beautiful in the evenings as a week-long home decor for wedding week!
Wooden Board With Personalised Photo Frames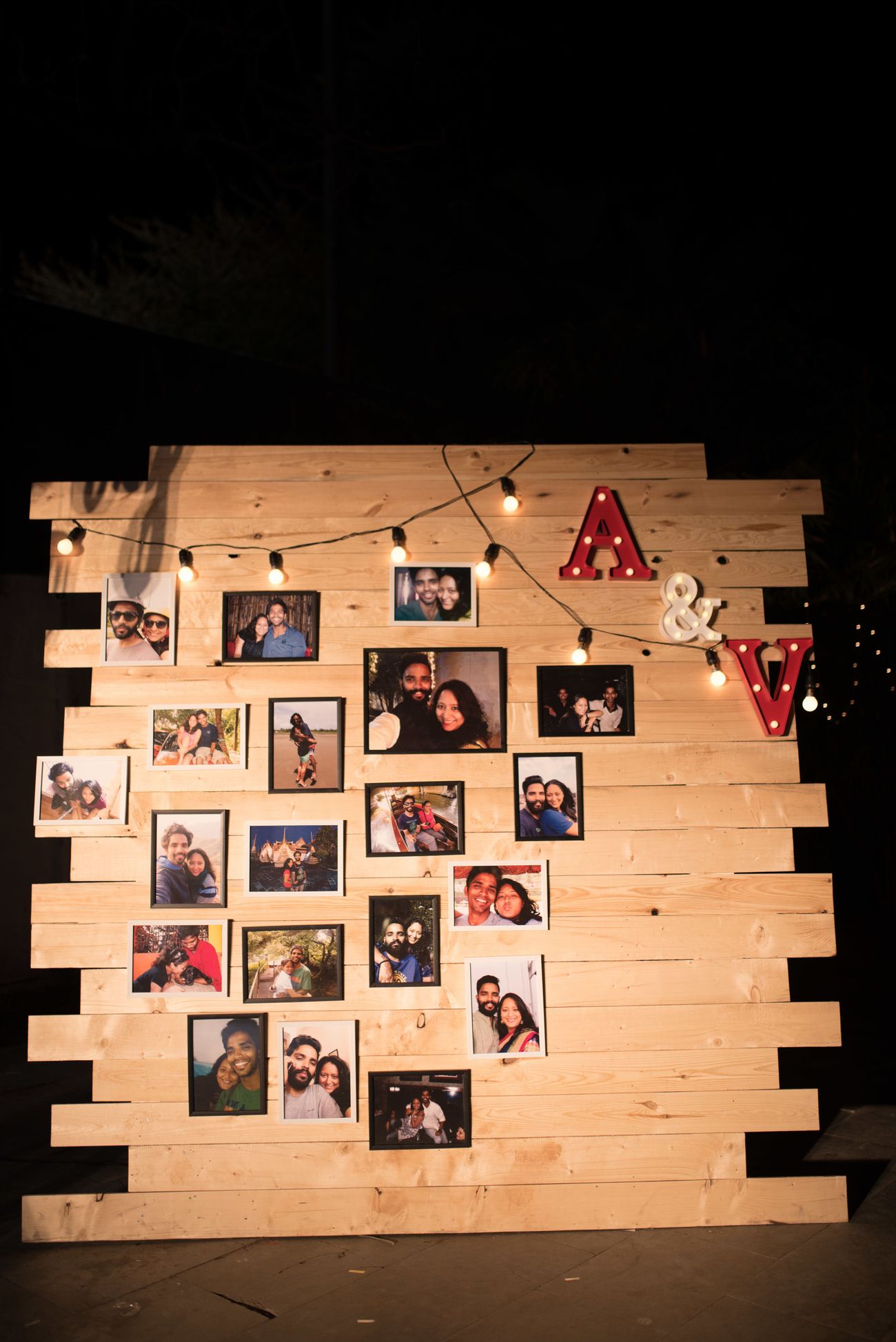 Image via Atisuto★ 4.6
Love custom decor ideas? Nothing says custom décor like a touch of personalization. This beautiful wood inspired decoration gives you a chance to showcase your personal photos. You can have your pictures with your partner or even your entire family. This beautiful décor can even act as a photobooth for small functions at home!
Who Thought Crockery And Floral Would Make Such Brilliant Center Pieces?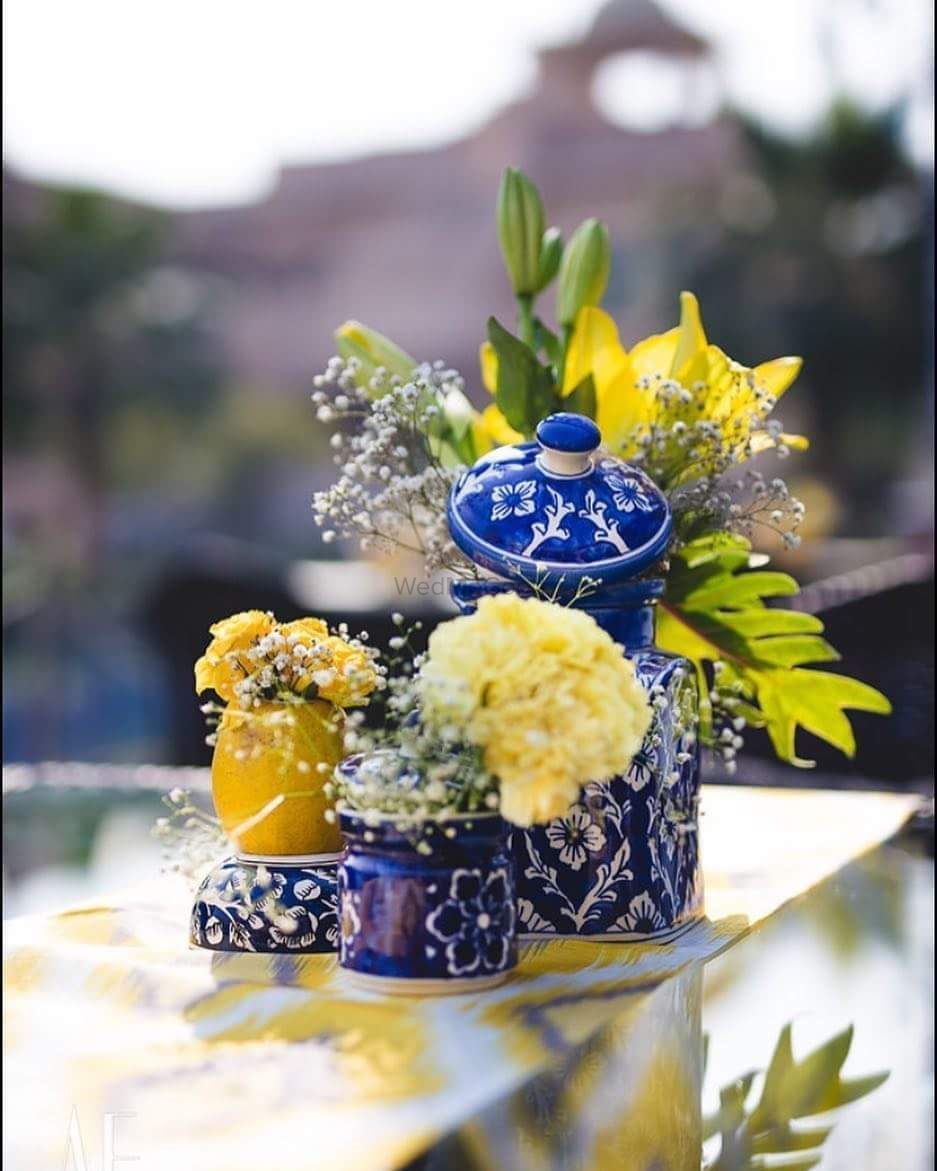 Image via The Dior Entertainment★ 5
This beautiful blue and white bone china pieces with a pop of bright yellow look so beautiful. If you are looking to create centrepieces for your home décor for wedding week, get in touch with wedding decorators in Delhi now!
Signages With Simple White Candles And Greenery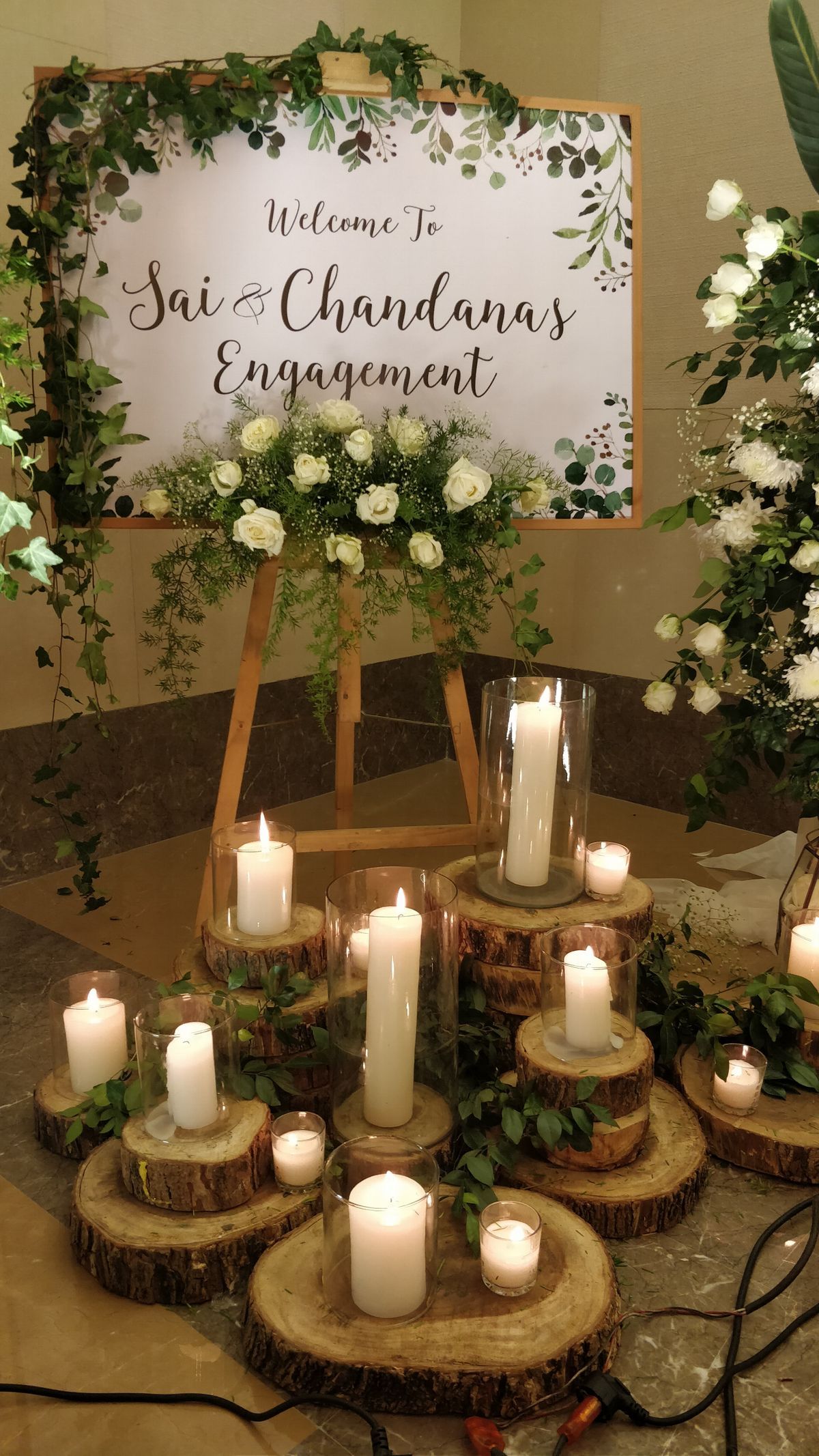 Image via The Partywaala★ 4.7
Who says simple can't be beautiful? This beautiful corner, which would be perfect as a sangeet décor entrance at home, is absolutely stunning.
Bride And Groom Monograms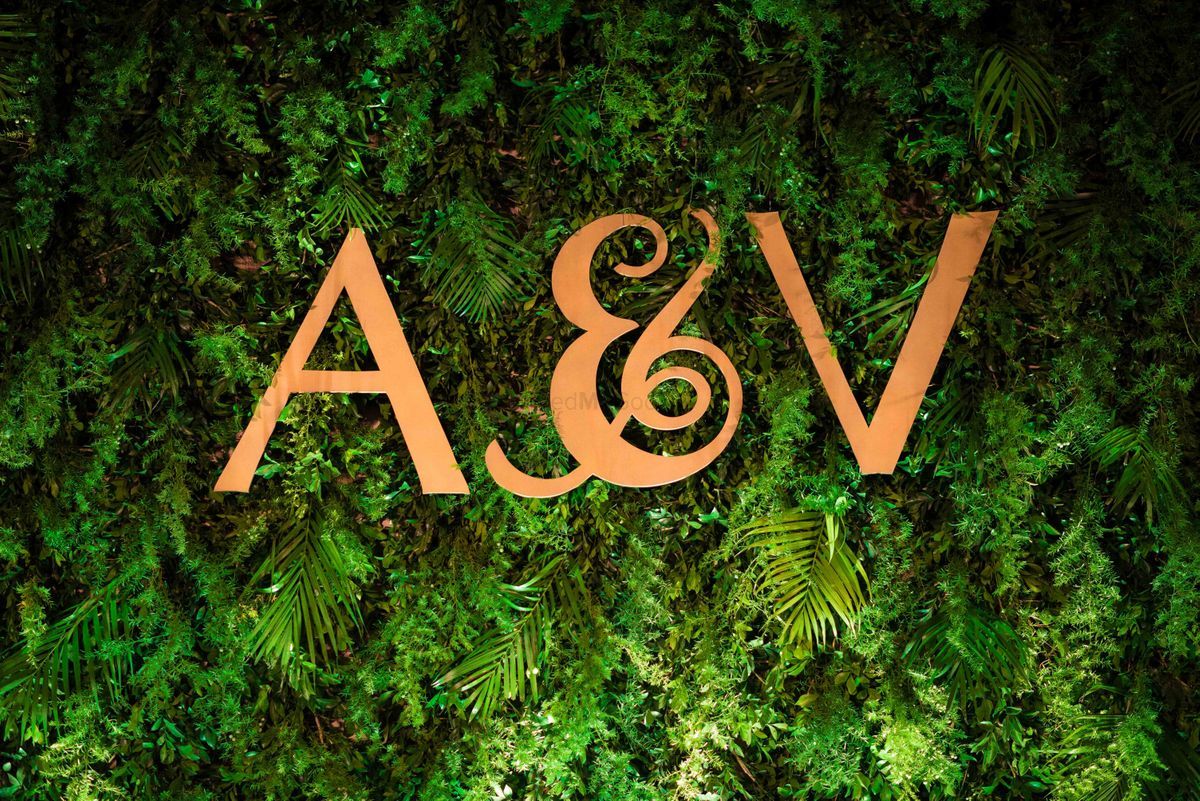 Image via Atisuto★ 4.6
These are simple yet so classy for decor at home when you don't want to go OTT with florals or any kind of flowers. All you need to tell your wedding decorators is that you want wooden letters on greenery instead of florals. You can simply hang them over a cluster of trees in your lawns or gardens.
Lettering On Mirrors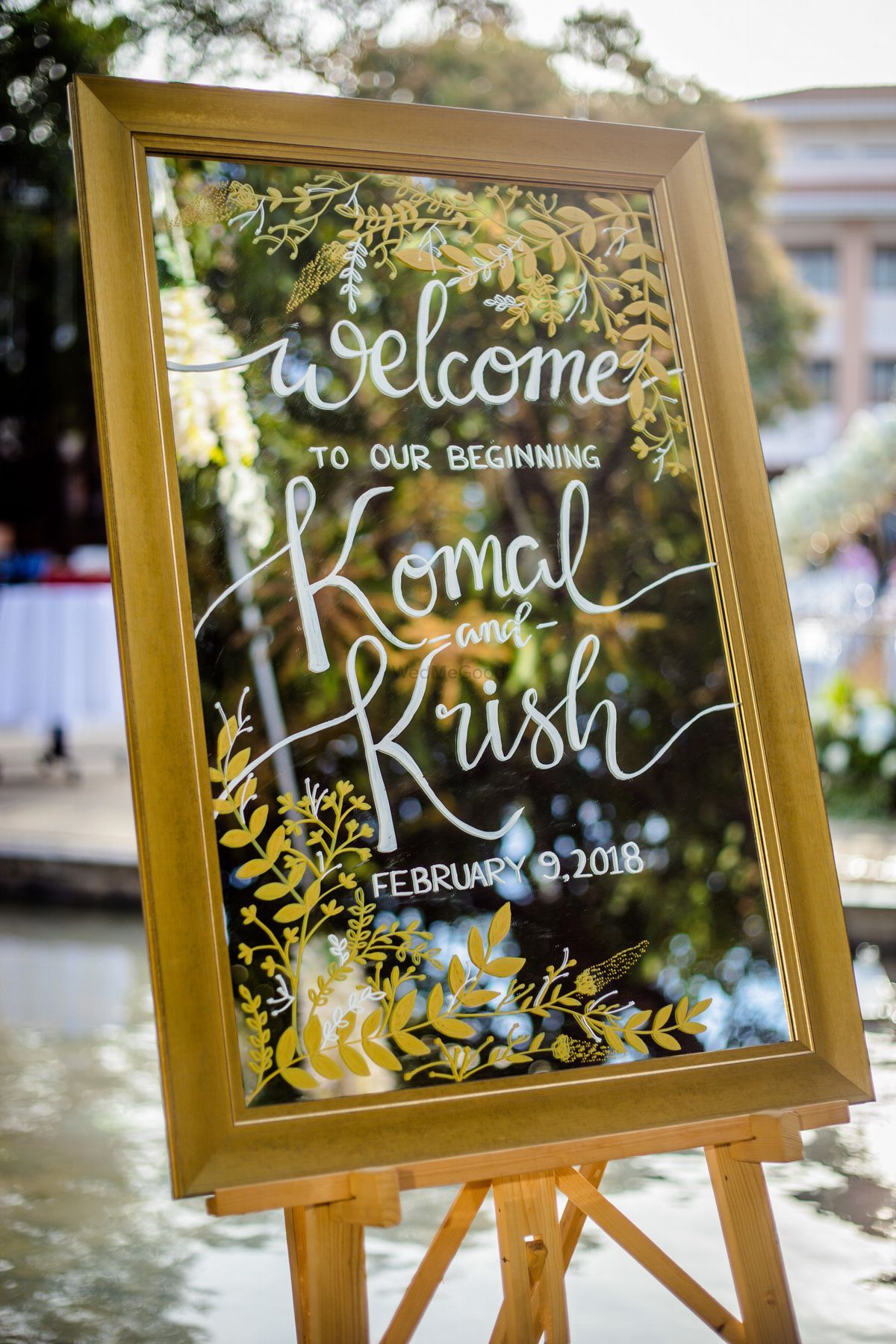 Image via To The Aisle★ 5
This one's trending everywhere you go. This lovely wedding decorations idea is perfect if you want a quote or just the couple's name written while welcoming your guests. We love the gold lettering – ask your wedding decorators to get you a beautiful calligraphic lettering on the mirror!
Lightboxes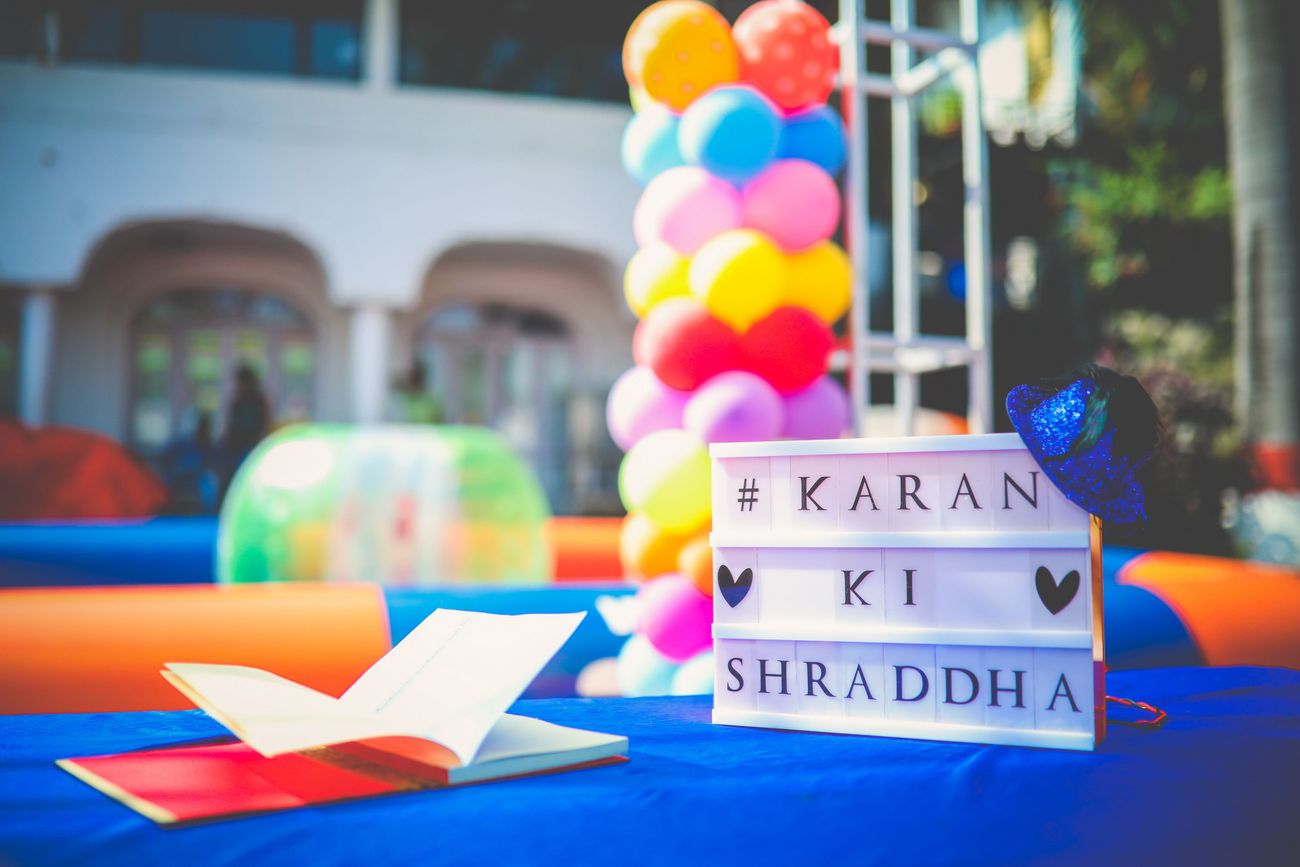 Image via Karan Shah Photography★ 4.8
These are all over Pinterest. Lightboxes are a great way to add a fun vibe to your wedding decorations. Whether its just your names or some crazy quotes, you can have them all around, and have them lit up in the evening! Don't forget to check out some Karan Shah Photography★ 4.8 on our Pinterest board too.
Hand Painted Welcome Boards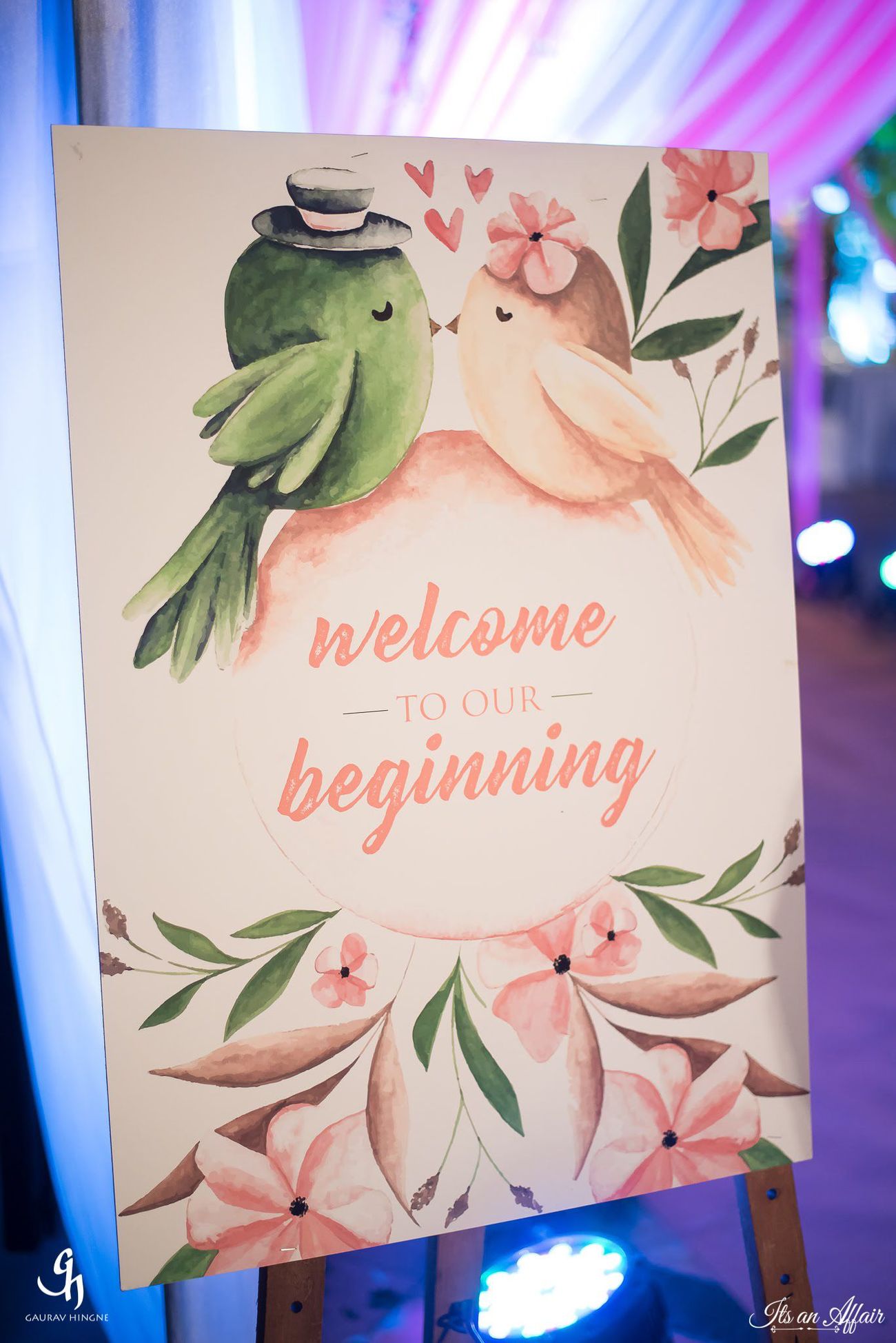 Image via Its an Affair★ 5
After mirrors and glasses, it's time for hand- painted boards. While you can DIY these for your décor at home or even ask wedding decorators to get these created. A fun way to create custom décor would be to add elements that the couple loves or which are a part of their love story!
Tulle Bows With Gajras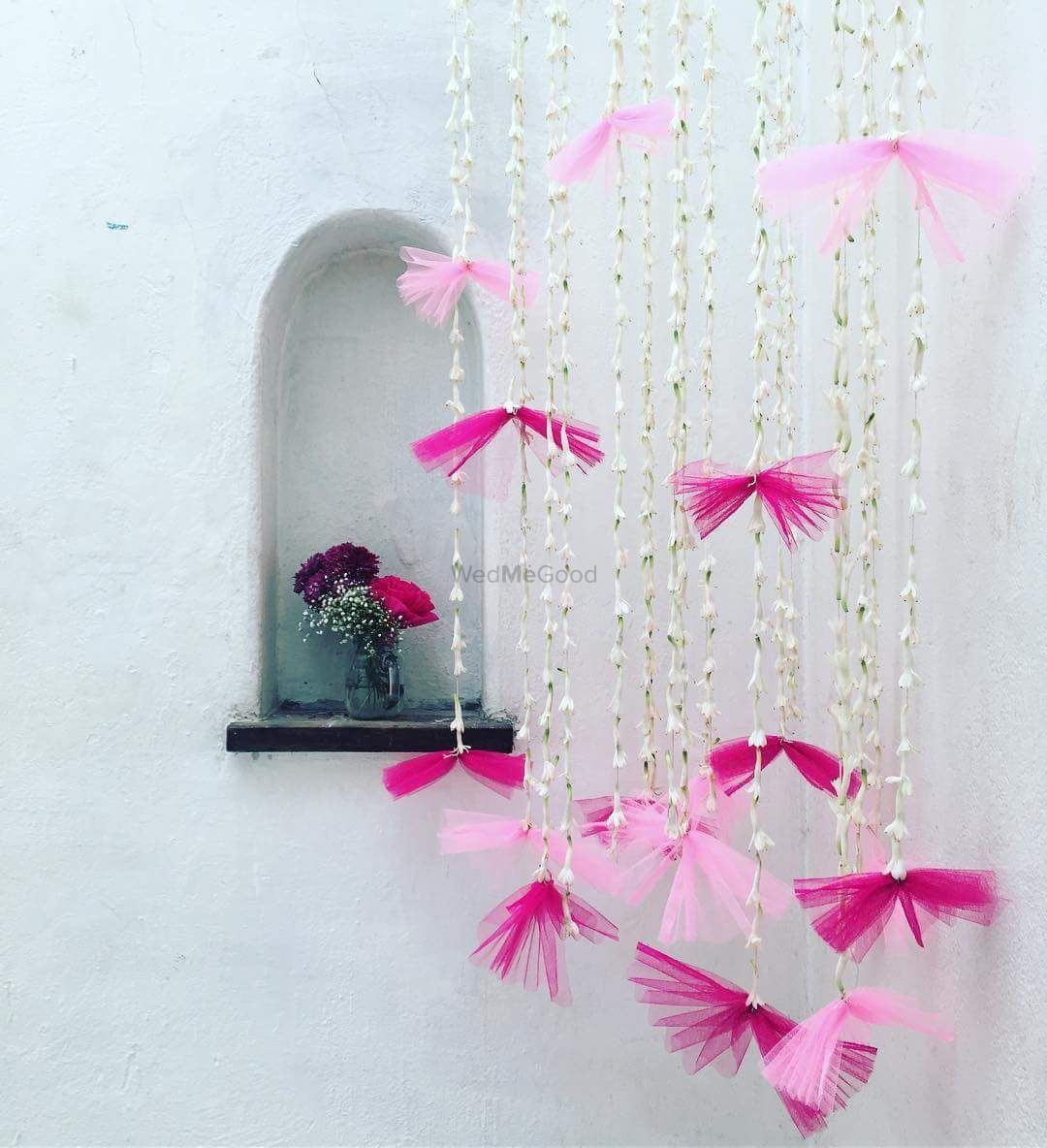 Image via The Dior Entertainment★ 5
These are adorable as anything! These little pink beauties just tied at the end of mogra garlands are a super-cute idea for mehendi at home decorations.
Quirky pillows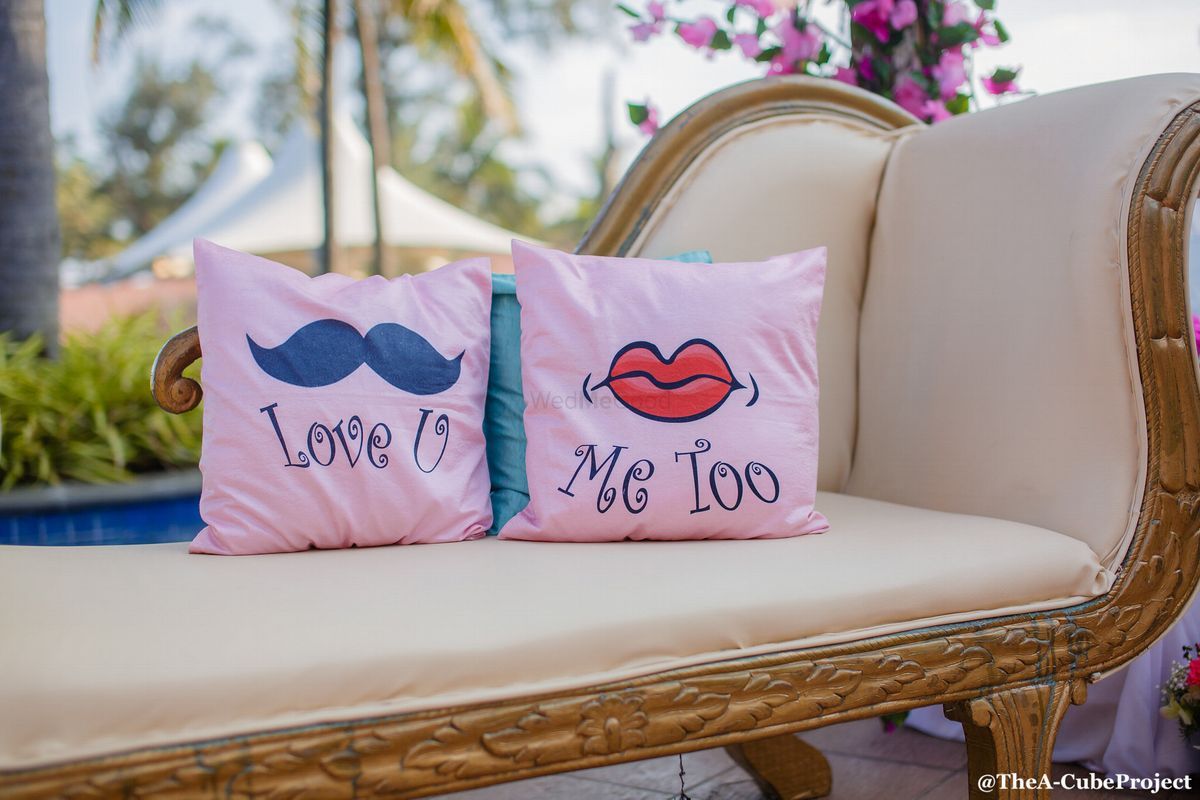 Image via The A-Cube Project★ 4.8
Want to add a little funk to your at-home events? Ask the best decorators in Delhi to add these fun pillows into the mix of décor. You can even have Bollywood poster themed pillow covers if you are planning a themed-sangeet night of sorts.
Giant Tassel Wall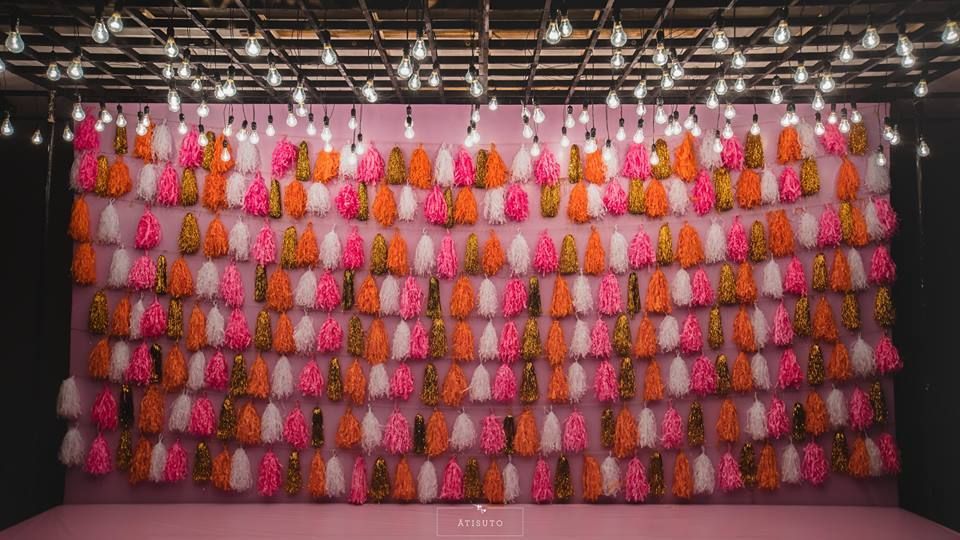 Image via Atisuto★ 4.6
Go big or go home! This giant tassel wall is perfect when you want sangeet décor at home. This can be done by the best decorators in Delhi for small functions as well as big. These are a fun alternative to floral backdrops which are done quite a lot of time when it comes to wedding decorations.
Origami Birds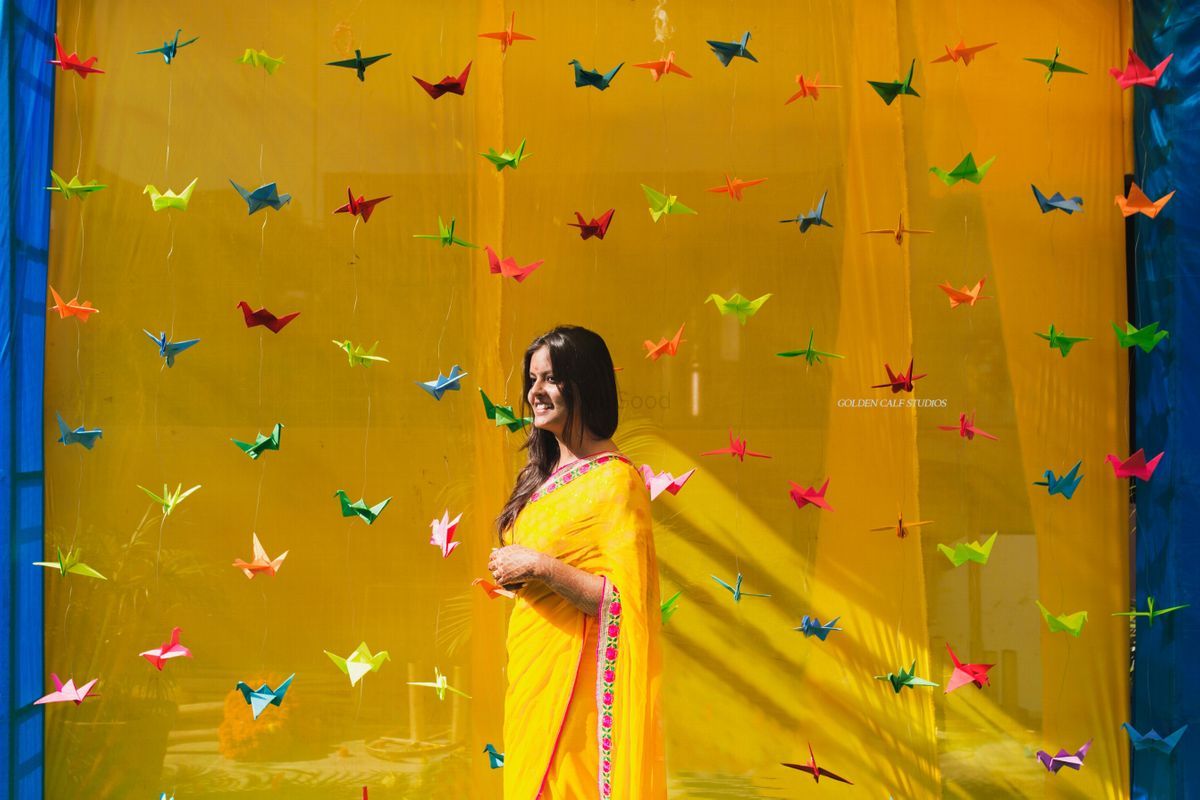 Image via Golden Calf Studios★ 5
We can never get enough of paper-based décor at home. These little cute birds made out of origami can be strung together to create a lovely and colourful backdrop by wedding decorators in Delhi. They are perfect for a mehendi or even a haldi and can be hung on a terrace or lawns.