25 Stunning Brides Slaying In Heavenly White Wedding Gowns
BY Rekha Shetty | 05 Apr, 2021 | 1280 views | 4 min read
White wedding gowns have always held a vibe that every bride wanted to recreate. Even though Indian weddings are ruled by a swash of colours, a white wedding is still something that everyone wants. Layers of soft satin, lacy long train, sequin laced borders, intricately designed neckline and a gorgeous veil makes a bride look like princess out of fairytale. Create a dreamy affair for your wedding with these breathtaking white gowns for brides in India. 
You might just want to bookmark these pure white wedding gowns handpicked by us just for you. You can select from various styles and patterns according to your liking. Trust us! It is going to make you a stunner for sure. 
Ruffled Gown 
Photo Credit - Vikram Mittal★ 5
We love this stunner gown with the gorgeous ruffles running across the dress. 
Dramatic Neckline
Photo Credit - Rahul de Cunha Pictures
Experiment with your dress nechline by giving it a dramatic style. Plunging necklines are quite a rage. 
Fish-Tail Gown 
Photo Credit - Twogether Studios
Looking for a white wedding gown with slender fit? Then this fishtail gown is just for you. 
Satin Gown
Photo Credit - Gautam Khullar Photography
Satin Gowns are the best. They give such a beautiful fall and elegance to the wedding gown. 
Off-Shoulder Gown 
Photo Credit -  Blink & Co Photography★ 5
Off-shoulder gowns like this splendid white gown are great when you want to flaunt your stunning back. 
Look Like a Princess 
Photo Credit - Maria Khan 
Doesn't this off-shoulder, ruffle gown remind you of one of Disney's princess? Look like one in a gown like this one. 
Cape Gown 
Photo Credit - Ara Alexander
We love this concept of having a detachable cape with a wedding gown. Switch to an off-shoulder dress when you hit the dance floor. 
Train Gown
Photo Credit - Makeovers By Sukanya
Long trains look beautiful and give a dramatic look especially for a bridal entry. Go for it and create a moment of AWE among the guests. 
Embrodiered Gown 
Photo Credit - The Story Filmer
Can there be anything prettier than a handmade embroderied work on a wedding gown? How gorgeous does this bride look in her wedding gown! 
Little White Dress 
Photo Credit - Vipurva Parikh Photography 
Who says you can't have a short wedding dress? Little short wedding gown looks as beautiful as the long, flowy gowns. 
Lace the Way
Photo Credit - Wedding Art
Another great addition to perk up your white gown is using lace. Doesn't this gown look out-of-this world? 
Glitter like a Star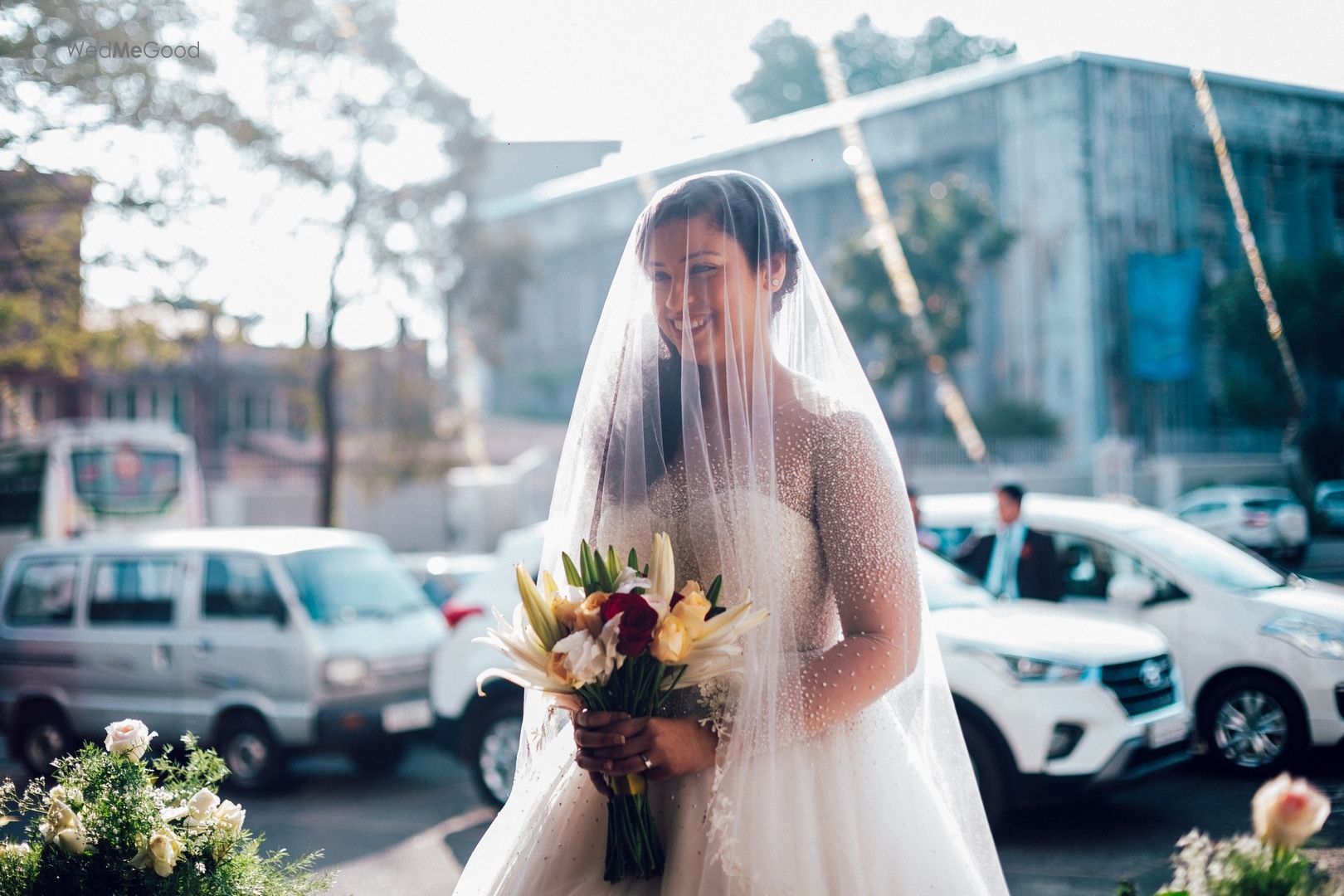 Photo Credit - Picturemakers 
Love how the sequin on this net dress makes it look like a blanket of stars. All glittery and heavenly!  
Photo Credit - Makeup by Simar Kaur
What can you say when the bride looks this adorable in a wedding gown! You can just keep gazing like we are doing it now. 
Saree-Style White Gown
Photo Credit - Studio Zeppic
We love this bride's wedding gown which is like crossover of a gown and a saree. What do you girls think about this style? 
Keep It Simple
Photo Credit - KV Designs & Decor
Sometimes keeping it simple works the best too like this simple white wedding gown. 
Classy in White 
Photo Credit - Candid Tales Photography
This stunner of a dress is all about being elegant and classy. 
Girl Next Door Look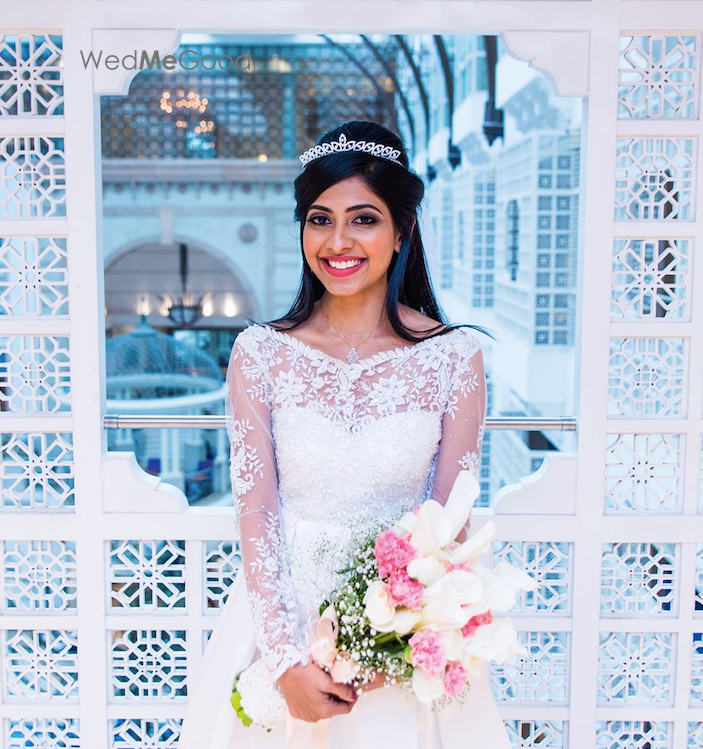 Photo Credit - Gia Makeup Artistry
This intricate floral embroderiery is awe-inspiring. 
The Sassy Bride 
Photo Credit - Amrita Singh Photo
We love this bride and her sassy wedding gown. Just what a bride of today needs. 
Play with the Neckline 
Photo Credit - Stories by Joseph Radhik
You can't really do much with the color of a wedding gown, however you can experiment with the neckline of the gown for sure. This plunging neckline is a great change. 
Stay Simple 
Photo Credit - Indian weddings by Katia
Full points for the simplicity of this wedding gown. 
Strappy Wedding Gown 
Photo Credit - WeddingNama
Go for a no-fuss wedding gown with strappy shoulders. They are good to showcase your neckpiece too. 
Doll-Up
Photo Credit - The Wedding Files
Look like a doll in a simple wedding gown, and to pump-up the look go for a soft curls. 
Accessorize with Pearls
Photo Credit - The Wedding Crasher
Pearls are a bride's best friend. We adore this bride's look of combinig simple pearl necklace with her wedding gown. 
The Veil Story
Photo Credit - Neha Brackstone Photography
What we love the most about this dress is that beautiful veil with those artistic flower pin.
Love the Train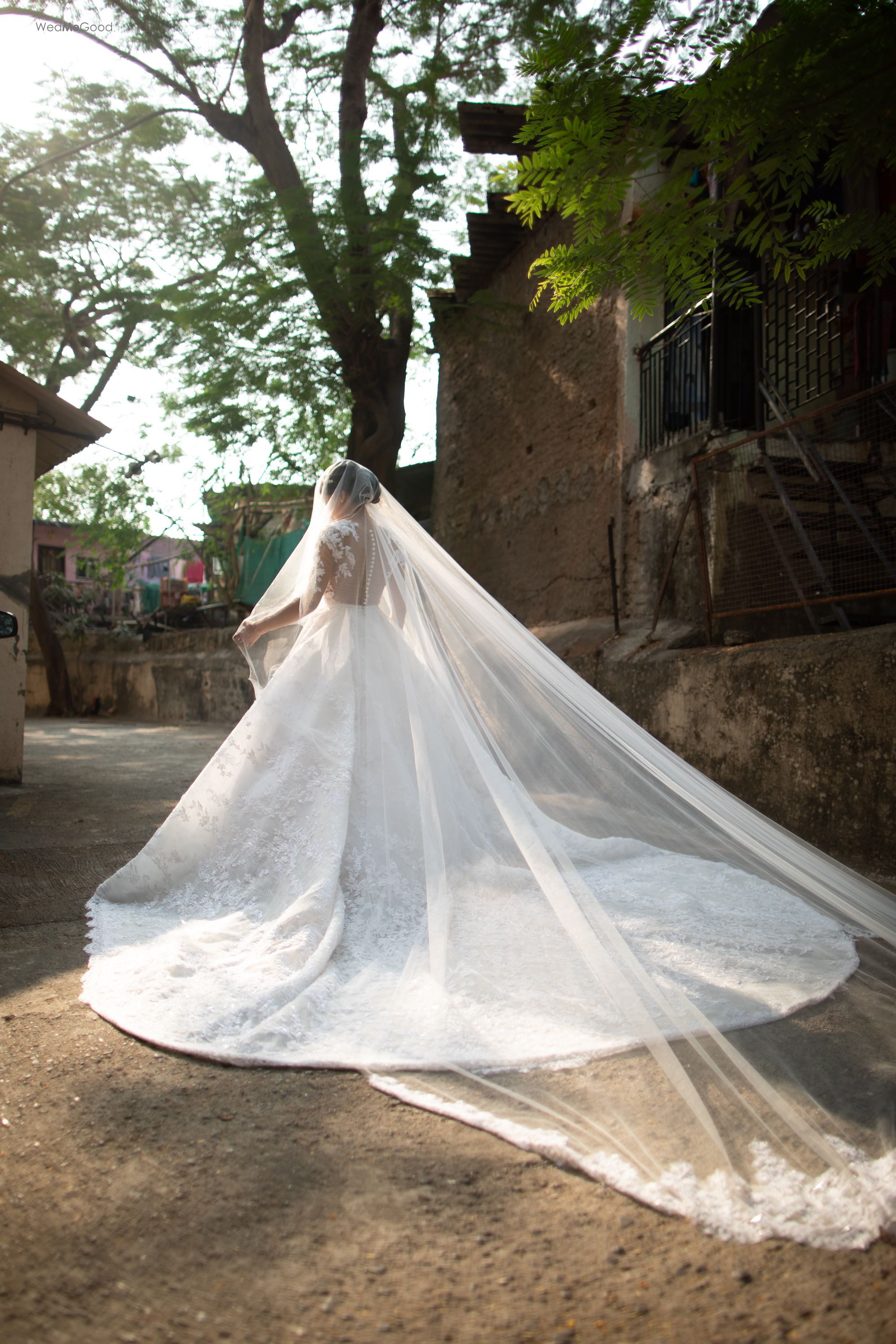 We can't get over this over-sized train and the veil. Too much of loveliness in one frame. 
You can also check out these brides who slayed in a white lehenga on their wedding day 
Get more details here on where to get christian wedding in India and to pick the perfect gown for your cocktail, click here.