Dessert Table Display Is A Must-Have At Your Modern Home Wedding. Bookmark These Ideas!
BY Garvita | 01 Feb, 2021 | 50870 views | 4 min read
Remember the time when desserts at weddings meant vanilla ice cream and chocolate sauce, alongside some Gulab Jamun? Well, dessert tables have really kicked it up a notch these days, and these ideas are certified 'adorable' by WMG team! Whether you do this at your bridal shower or engagement, dessert tables have never been sweeter.
And since intimate weddings are here to stay, it's just about adding unique elements to the decor for it to stand out as unique. With these easy-peasy decor ideas, you'll not only add a whimsical touch to the food section but it'll also eliminate the need to do extra for your overall decor. So go ahead and give 'em a shot!
A compact, DIY display idea!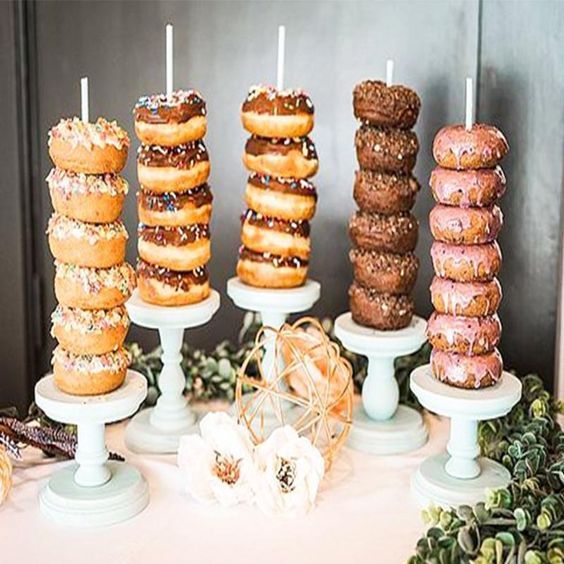 Photo by Pinterest
With intimate weddings, we do have a space crunch and it is more about smart decor right now! We love how these Donut Holds Stands have made it easy in terms of the display. Psstt.. east to DIY as well.
A white theme never disappoints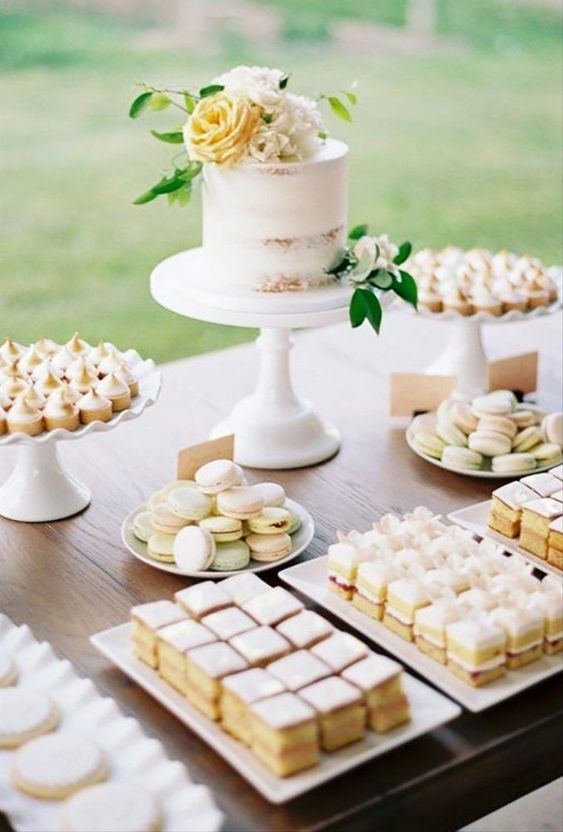 Photo by Pinterest
These dessert table display ideas are bound to be the guest-pleasers! And not to forget those Insta-worthy shots that you're going to put in your wedding album. Here are some desi desserts that can be added to this display - rasgulla, rasmalai and kheer et al.
Don't forget to add an adorable message!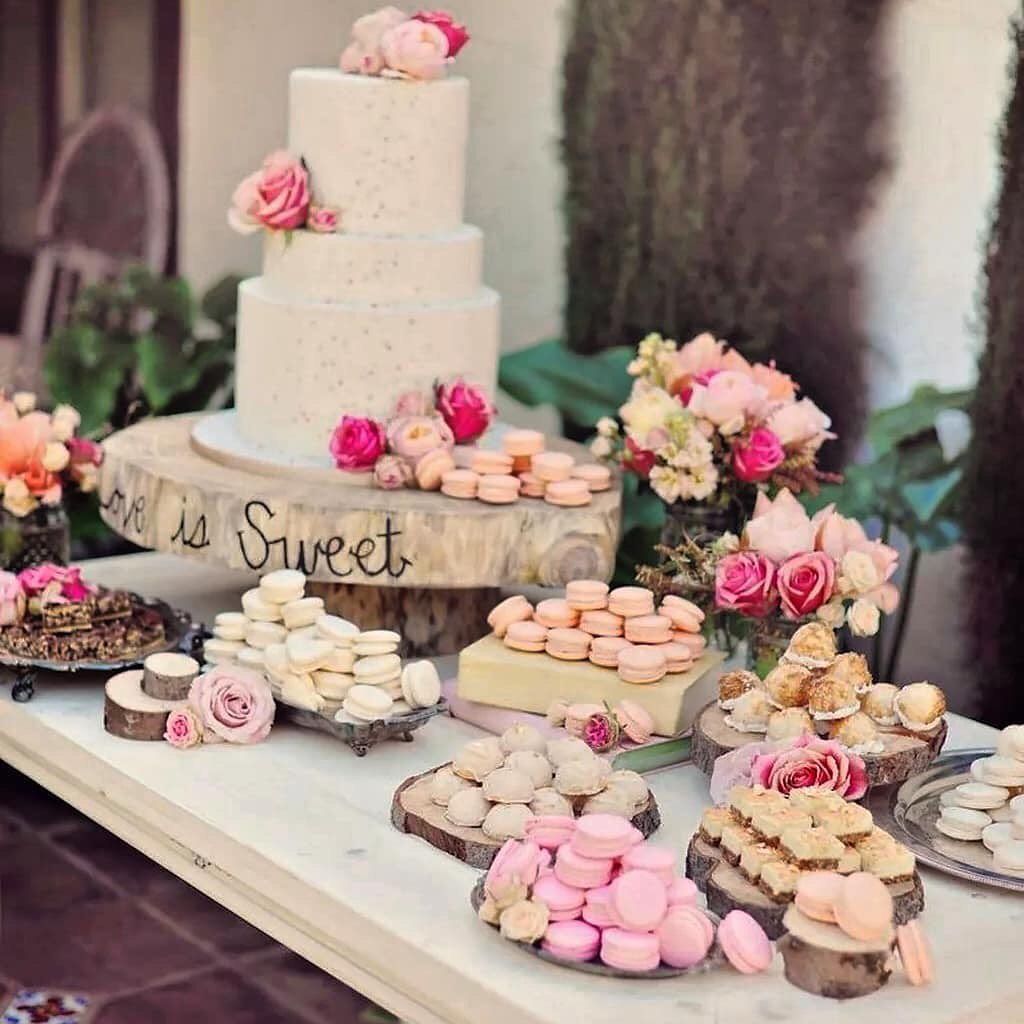 Photo by Intimate Celebrations
'Love is Sweet', seriously, can it get better than this?! Also, can't help but notice just a three-tiered cake with macarons as dessert options, keeping in mind the limited number of guests at a home wedding. Make note - you really don't have to go all out with the variety!
BTW rainbow-hued décor ideas are taking over the weddings by a storm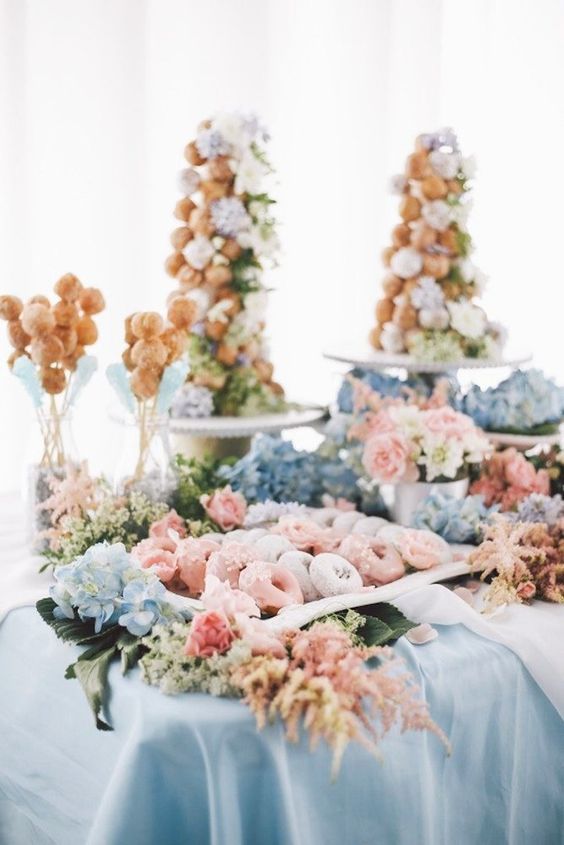 Photo by Pinterest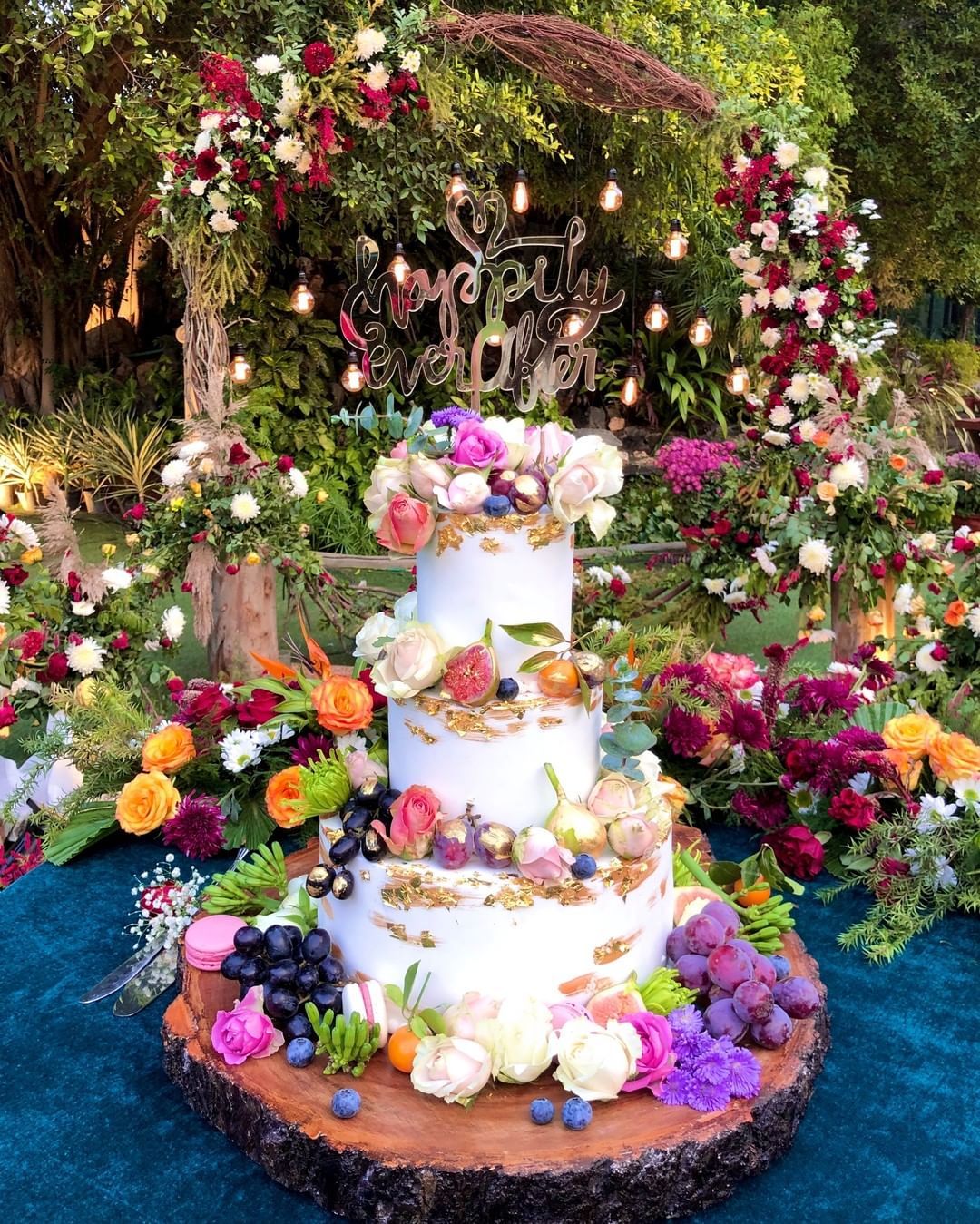 Photo by caramelpatisseriedelhi
This is what we call a display too pretty to be ruined. You can either go for unicorn pastel hues or pick bright bold colors of your choice. Will it'll make us stony-hearted if we indulge in those delicious dessert table items? Such dilemma, much wow!
Adorn the dessert display stand with flowers of your choice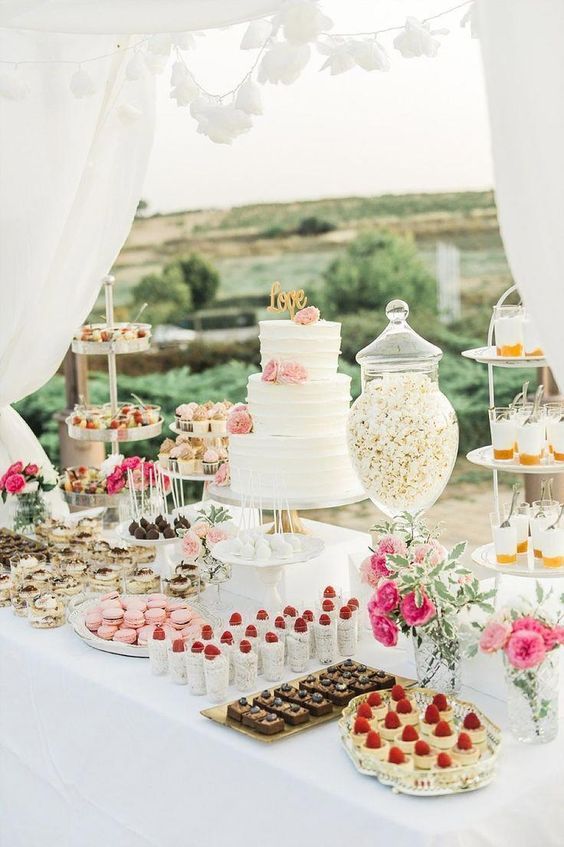 Photo by Pinterest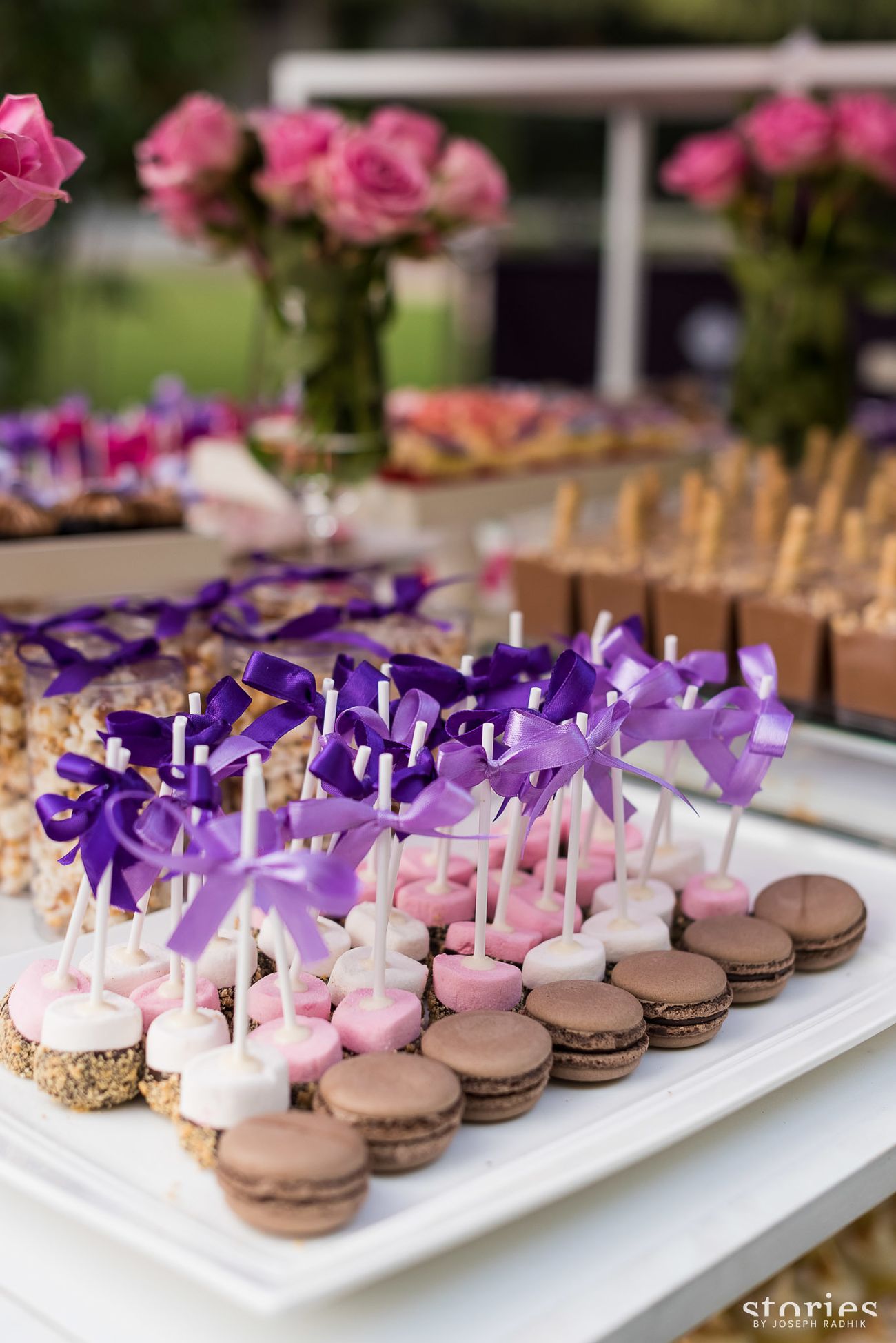 Photo by Stories by Joseph Radhik
See, we told you it is super simple! Just add some glass vases and put a bunch of your favourite flowers in it, and voilaa your DIY dessert display stand is ready.
And this one with an old-world charm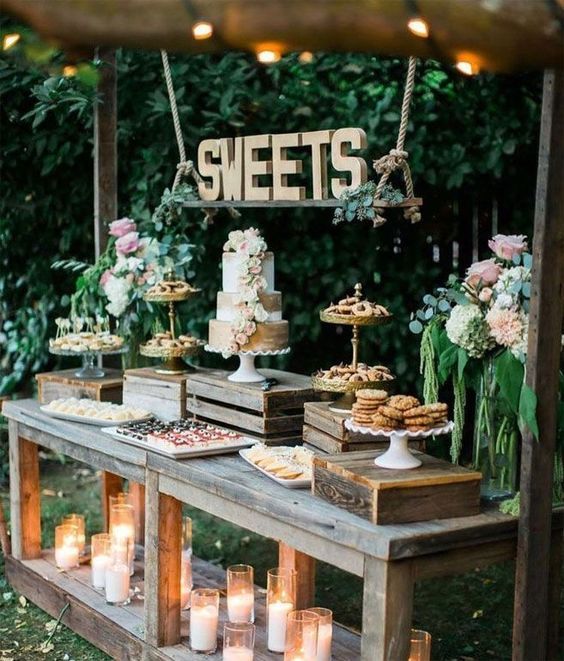 Photo by Pinterest
If you want your minimony to be all vintage and old-school, then how can the dessert display ideas not match with it? The 90s display board, an old table with antique cake stands will make it easy for you.
Sweet & princessy in pink and white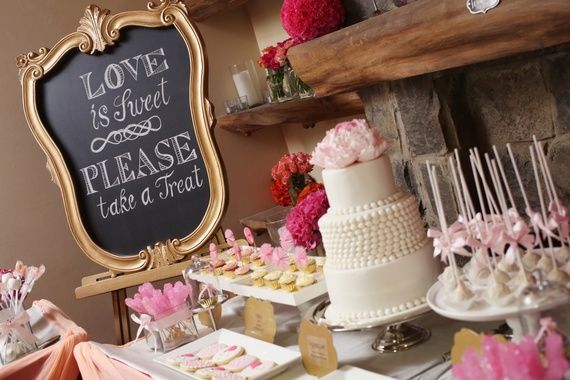 Decor by Henna Bespoke weddings
This dessert table was created at the brides home by Henna, Bespoke weddings. With a beautiful chalkboard, mini cupcakes, cookies and a cake all done up in pastel pink and white this is the perfect bridal shower dessert table. So adorable.
Bollywood style songs to kitsch it up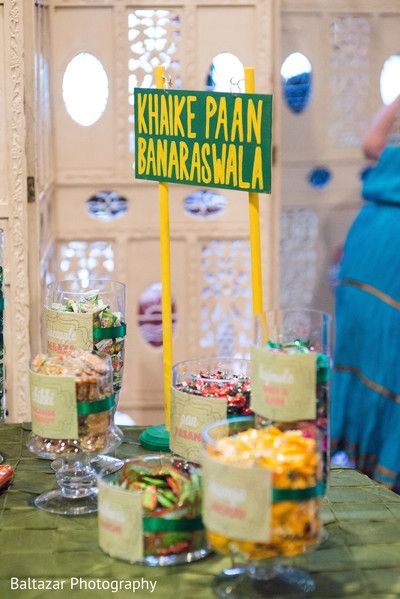 Photo by Baltazar Photography
Love how this dessert table is just made of flavoured pan in all shapes and sizes with a Bollywood song to boot. Whether you serve Pan, ice cream or kulfi- think of a catchy number to put right next to it!
Macaroons in a glass jar = sweet + beautiful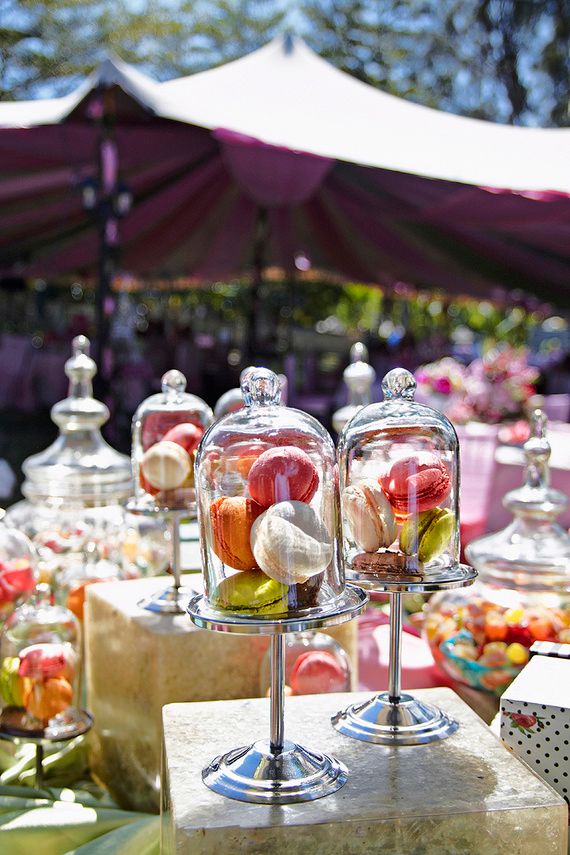 Decor by Henna Bespoke Weddings
Large glass jars with macaroons inside are super cute. Replace the macaroons with candy floss, cookies or anything else and get something just as pretty!
Personalize it with your story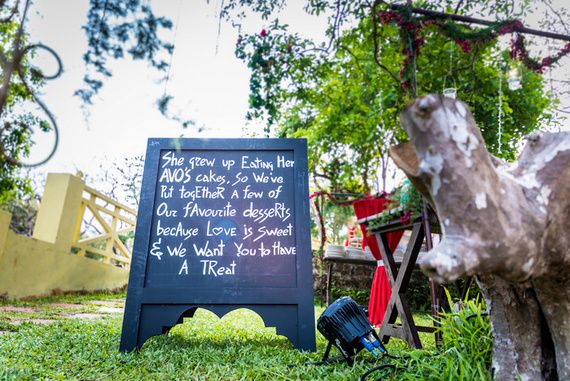 Photo by WhatKnot Photography★ 4.7 , From the engagement: Woodland engagement
Put a little bit of your life into your dessert table with a story, a saying or just listing out your favourite desserts as a couple. Great way for people to know you a bit better!
Rustic with wooden logs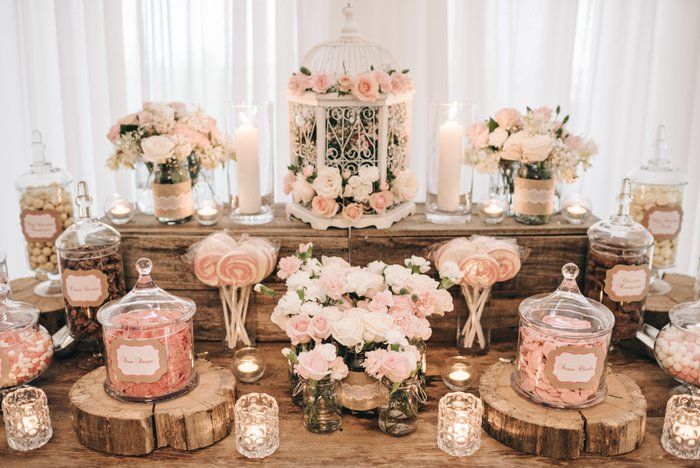 From the engagement: Vintage rustic chic engagement
Wooden logs, candles in glass jars and lots of candy ensure this dessert table looks straight out of a movie. Love the rustic, unfinished element the wood gives.
Lights under the cake table is pure gorgeousness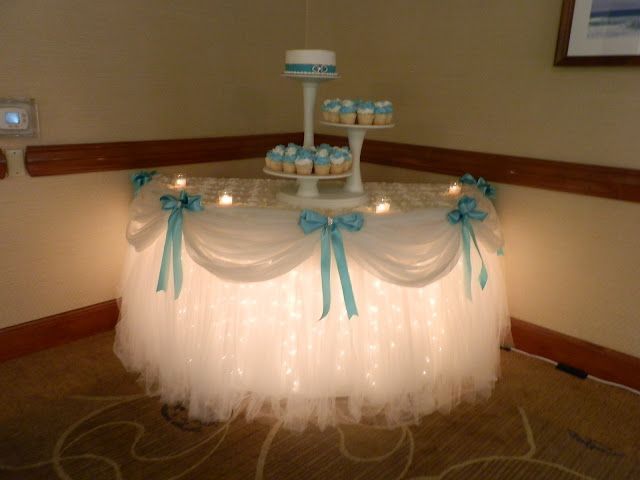 Such a great idea. Wherever your cake table is- just string some fairy lights on the underside. Great and super effective DIY!
Have a super idea you think we should try? Ping us!
ALSO READ - Easy-To-Make Desserts For Your Home Wedding Food Menu