8 New & Fun Ways To Use Bangles In Your Mehendi Decor! * DIY Alert
BY Latha Sunadh | 04 Jun, 2016 | 13618 views | 2 min read
Bangles and Mehendi nights - we cannot think of a better combination at weddings. Like makkan and paratha. Like Katrina Kaif and Mithai Pink outfits. Looks these two two just belong together, right? That's why we thought why not use these bangles to create new ideas for decor so you could feel homely and fun at your Mehendi. We did already write about
a few innovative ways to use them
, but well, 2.0 comes with more ideas and fun DIYs, so gear up!
---
Picture Courtesy: Hello Holy Days
Bunch up a few bangles, take them through a satin ribbon and make them look like tiny wreaths. It's super easy and effortless!
---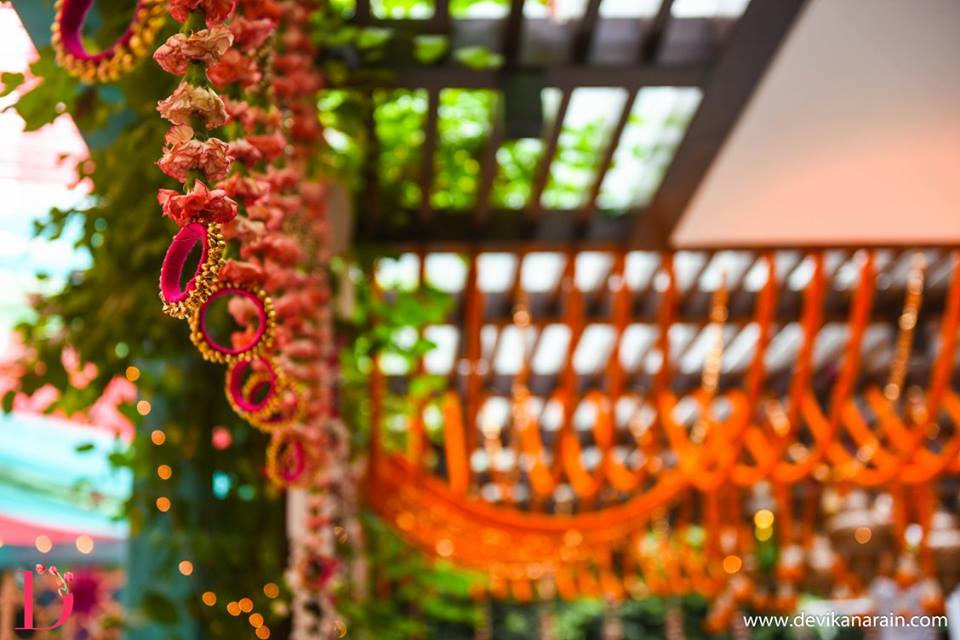 Devika Narain and Company★ 4.5
Add your favourite flower to them and just hang them up at the mandap for a beautiful Indian look. You can even use them as hangings everywhere!
---
Bunch Them And Hang Them With Kaleere
Stick all the thin ones and add a kaleera at the bottom, cute hangings and such an easy DIY too. Get your cousins to make them ASAP.
---
Picture Courtesy: Pooja & Aditya's Telugu Krabi Wedding 
Hang them in rows like in a bangle store and use that as a backdrop - such a beautiful sight eh?
---
Use them as bouquet holders
Picture Courtesy: Maharani Weddings; A brandt and son 
This one's so sweet right? You can actually bunch up a few flowers and add your favourite bangles to them. Makes for great decor pieces + document your Mehendi moments this way.
---
Hang them up on a painted twig to make them look like fun centrepieces! You can even dress them up with beads and fringes and tassles for better effect!
---
Break Them Up And Stick Them On Things You Love 
Picture Courtesy: Jabong; Indus Ladies
Break them up and add them to any household decor piece like a photo frame or a vase or a candlestand to make it look gorgeous. What a cute idea right?