A Gorgeous Kochi Wedding With The Bride In A Traditional Kanjivaram
BY Aakanksha | 07 Oct, 2019 | 13029 views | 6 min read
When we saw Gouthami & her sister rock on a Punjabi song just before Gouthami got married, to say we were hooked would be an understatement! However, it was not just that but her entire wedding that had us swooning over. She looked absolutely gorgeous in a traditional kanjivaram and Zenith looked equally dashing. Lumiere Wedding Company★ 3.9 captured this wedding in all its glory and we bet you'll be as amazed by the pictures as  we were! 
Meet Gouthami & Zenith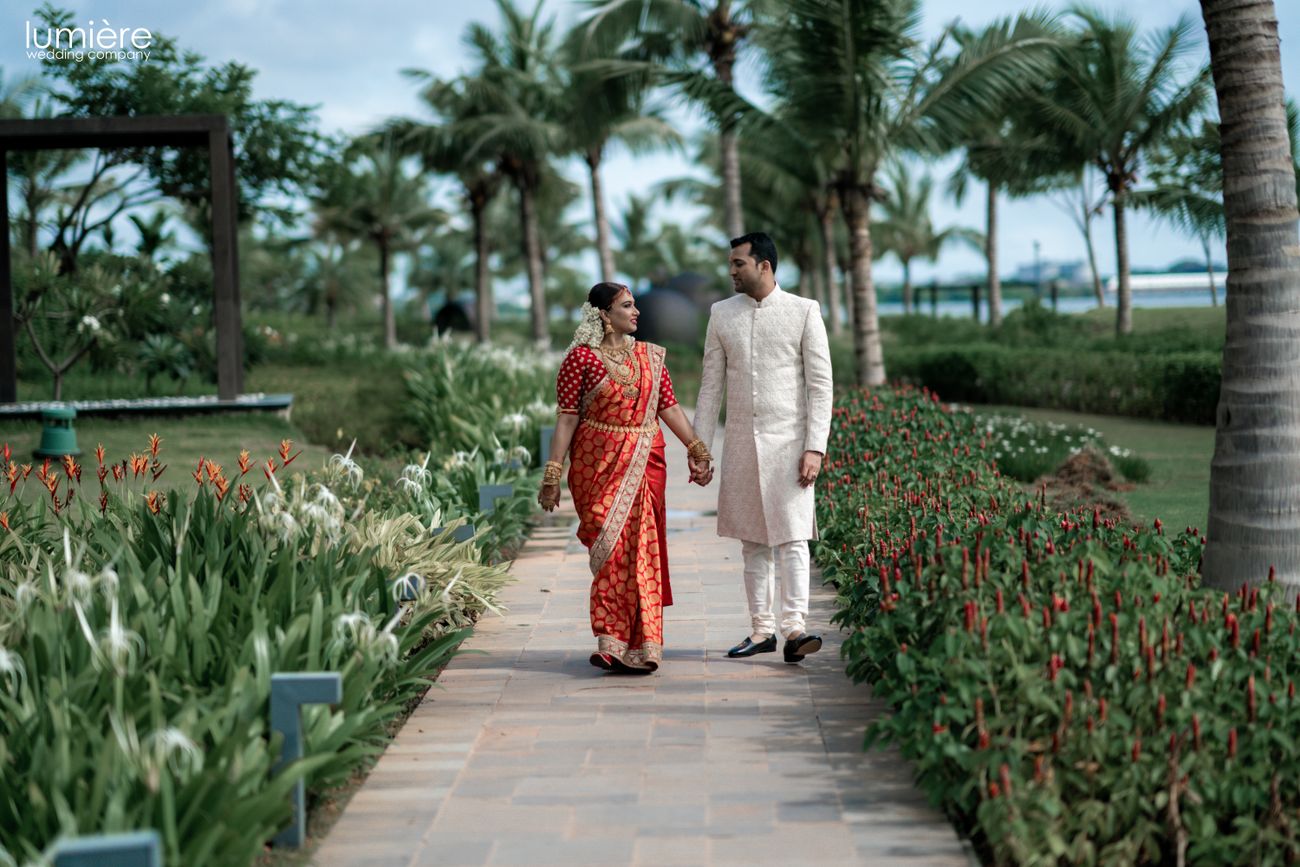 Gouthami tells us how they met and how their love blossomed over the years, "Zenith & I work as flight attendants with an international airline so our first meeting was about 6 years ago in a flight to Istanbul. It was my third flight after joining the firm. He was our senior attendant among the crew so we all quickly had an intro session before we took off the flight. I still remember he walked over and said "Hi I am zenith, your cabin supervisor, you must be new" and shook his hand, I swear his sweet smile and breathtaking looks just swept me off my feet. From then on we constantly kept on checking out each other in the entire flight as he walked up and down the cabin & kept attending the passengers till the time we landed. And anyway it was just work and we couldn't interact much beyond work so as I was about to take an exit from the cabin, he called me and asked if I was hungry , and slowly moved a cup with tiramisu towards me. I think that was the moment! . Didn't realise how a 5 hours flight turned into 5 years relationship!" 
The Sangeet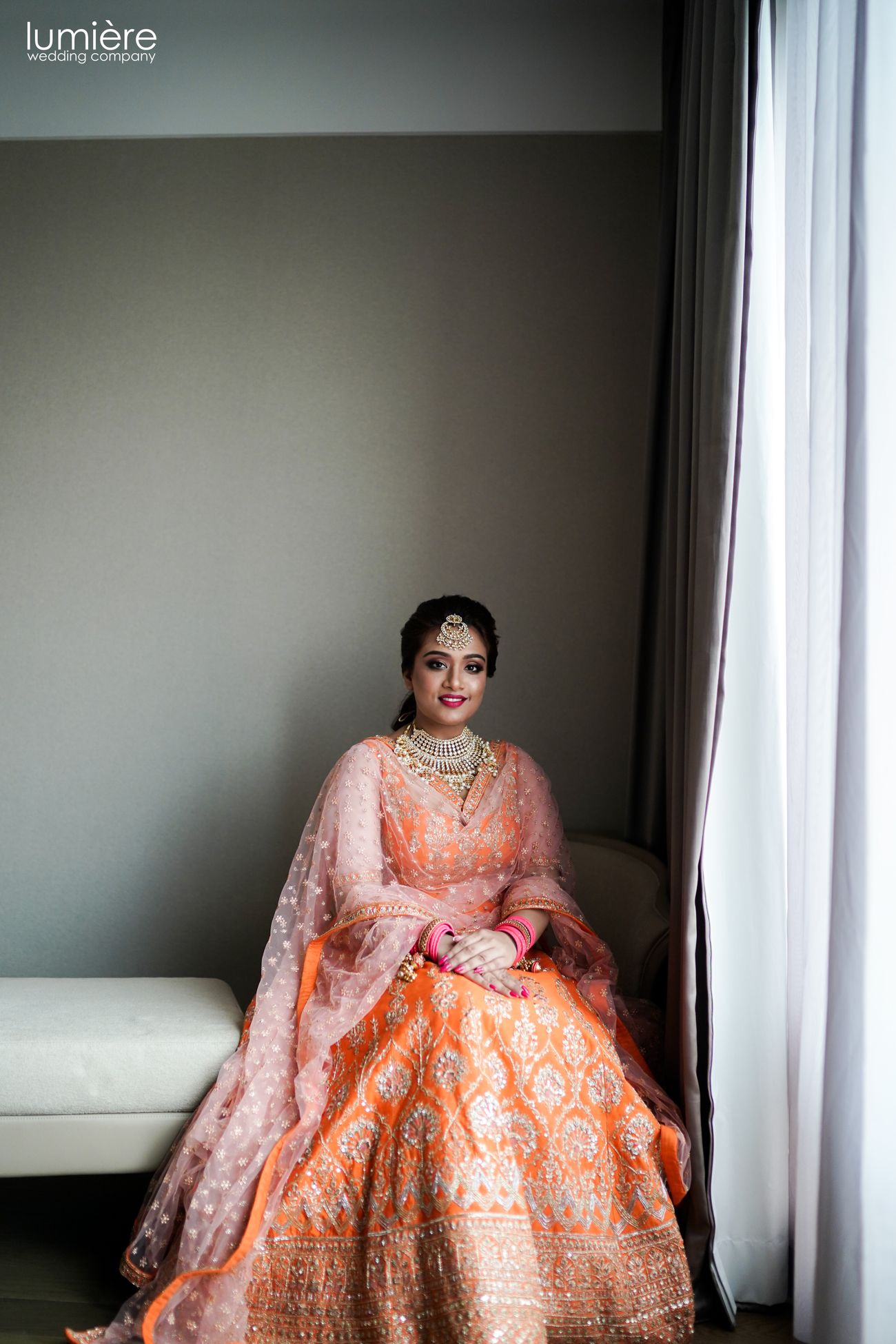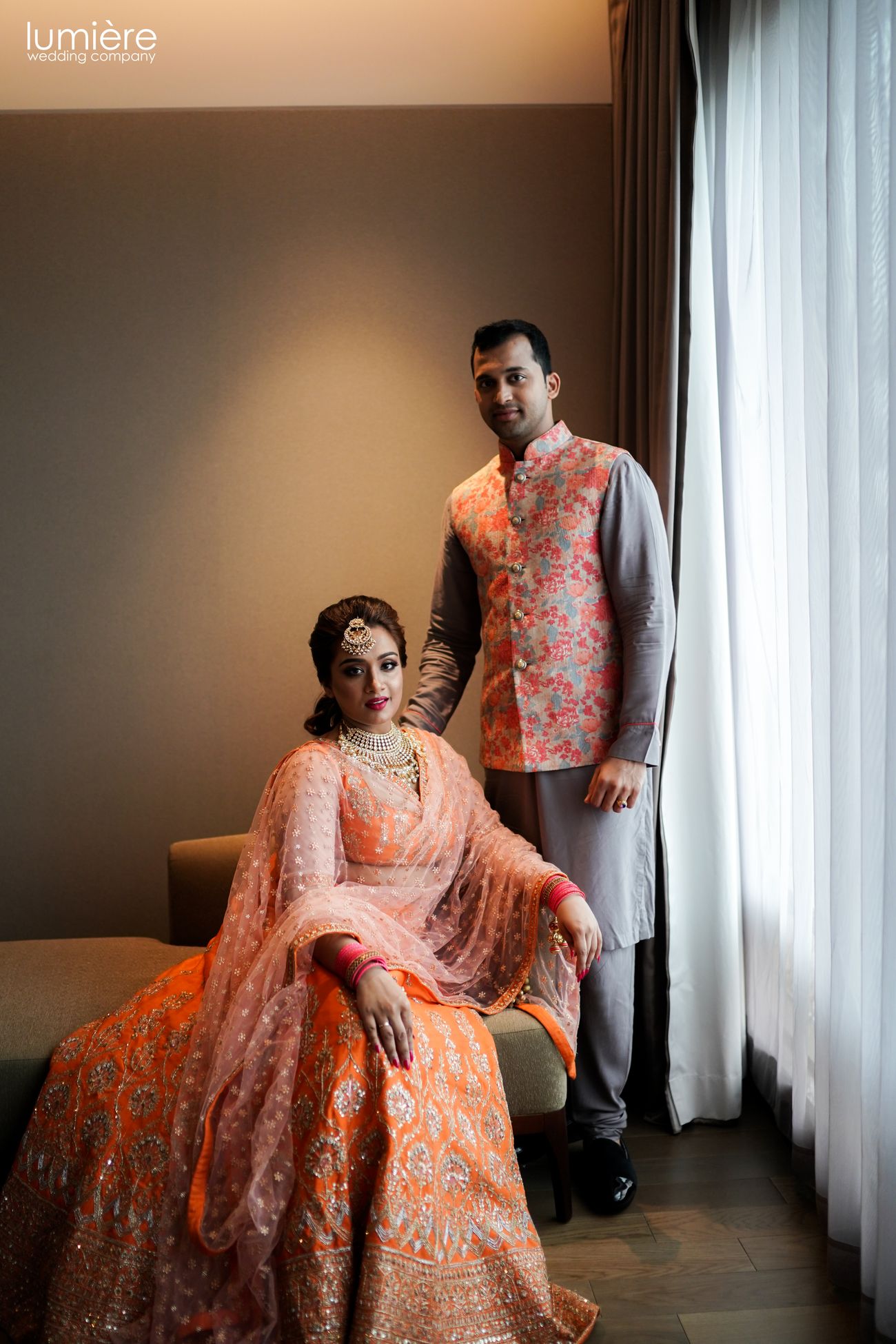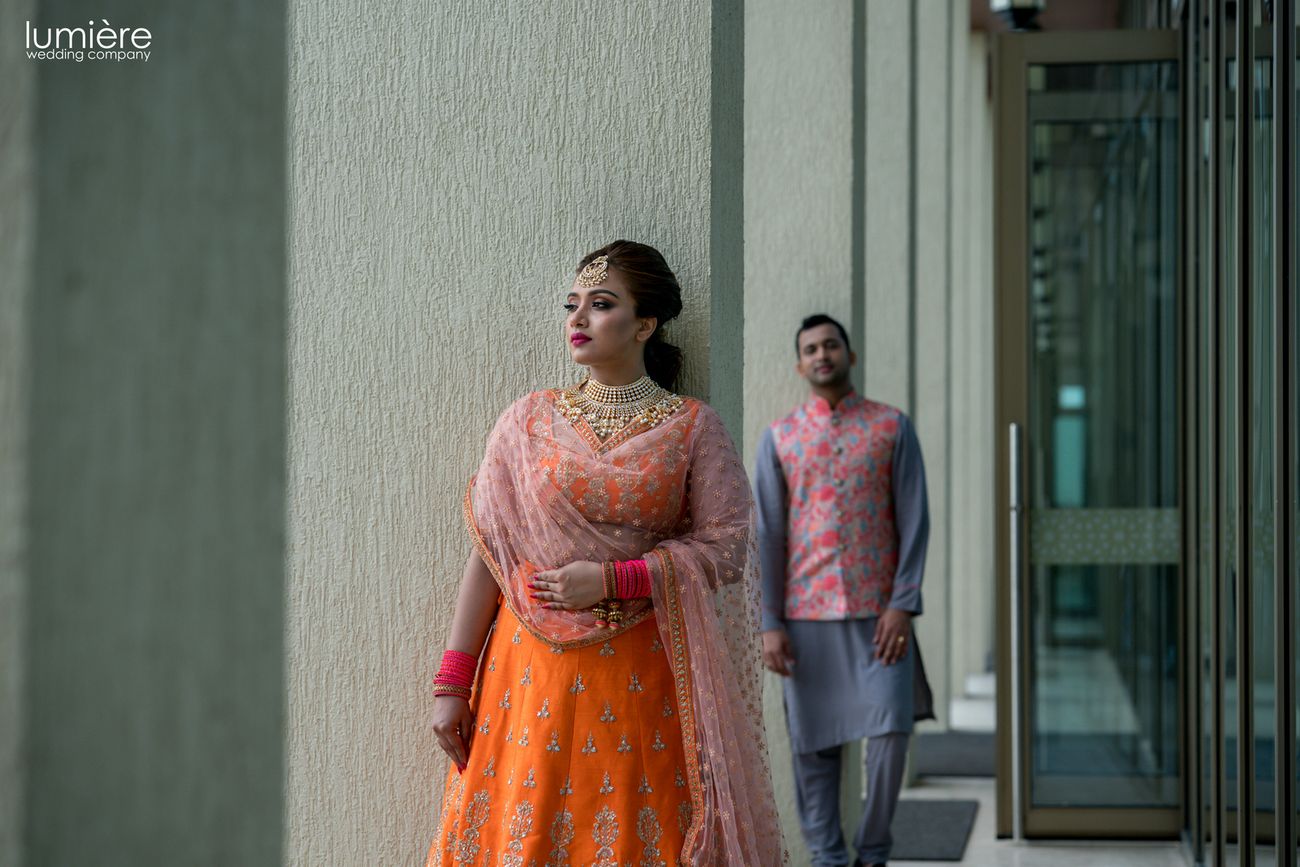 The Hindu Wedding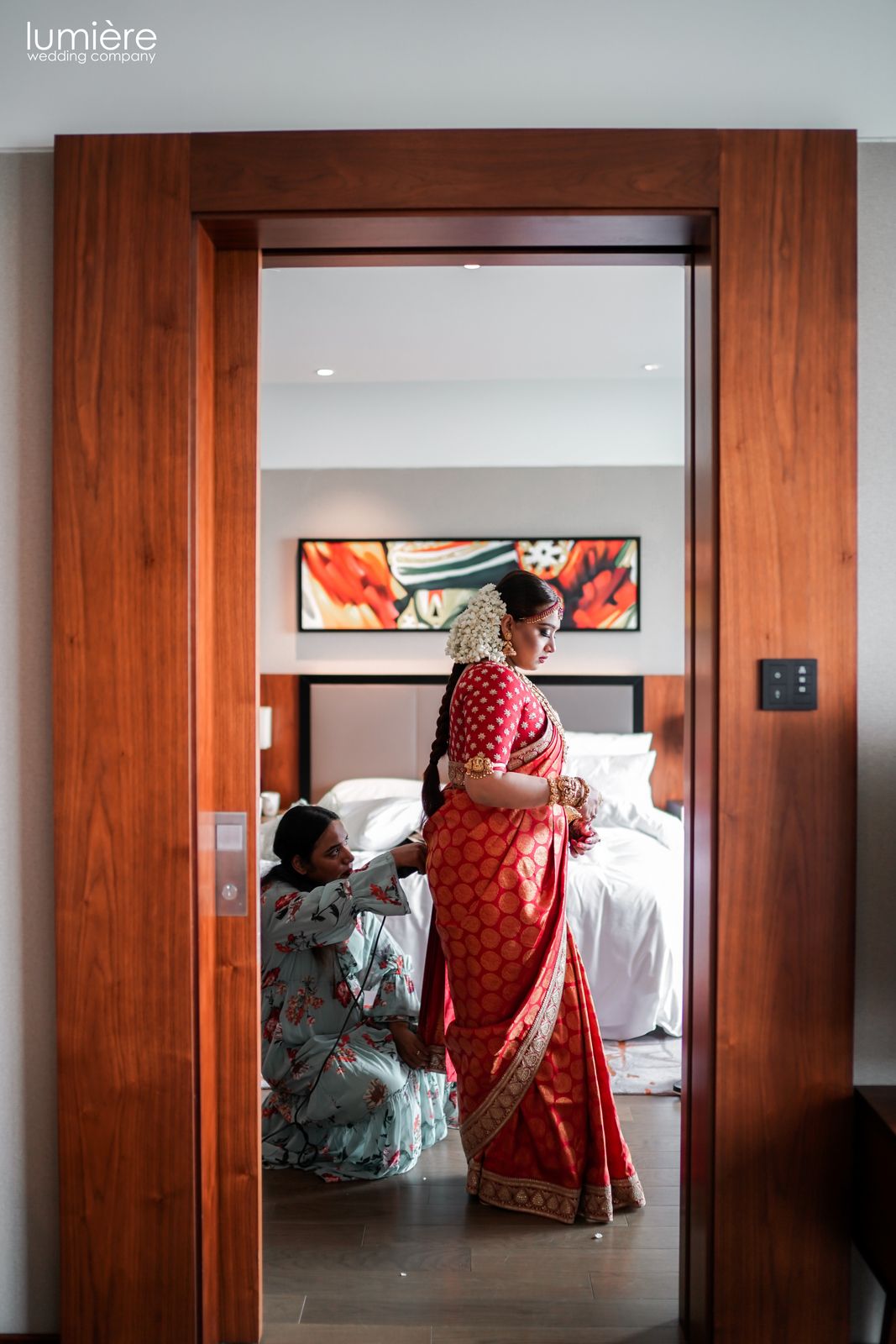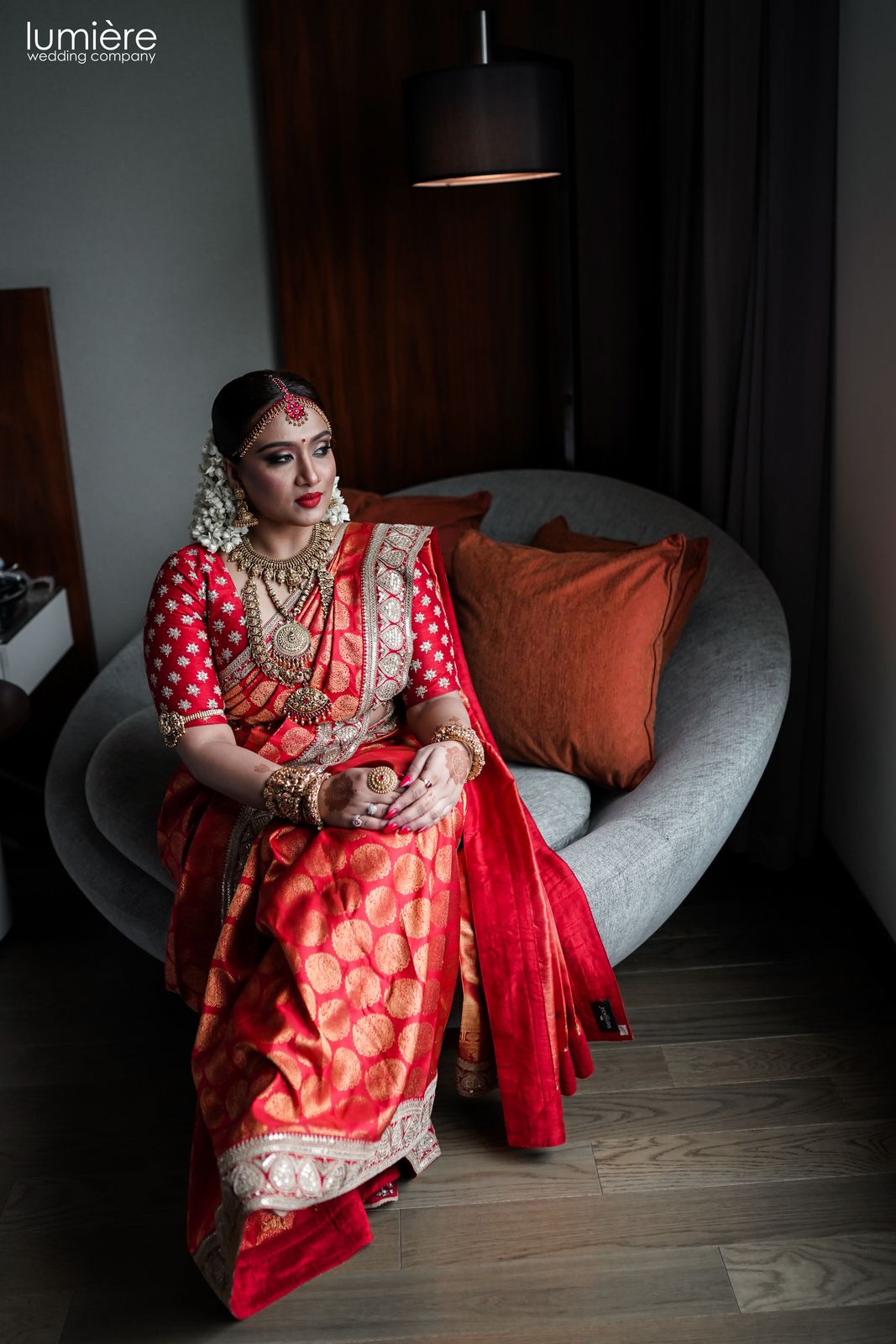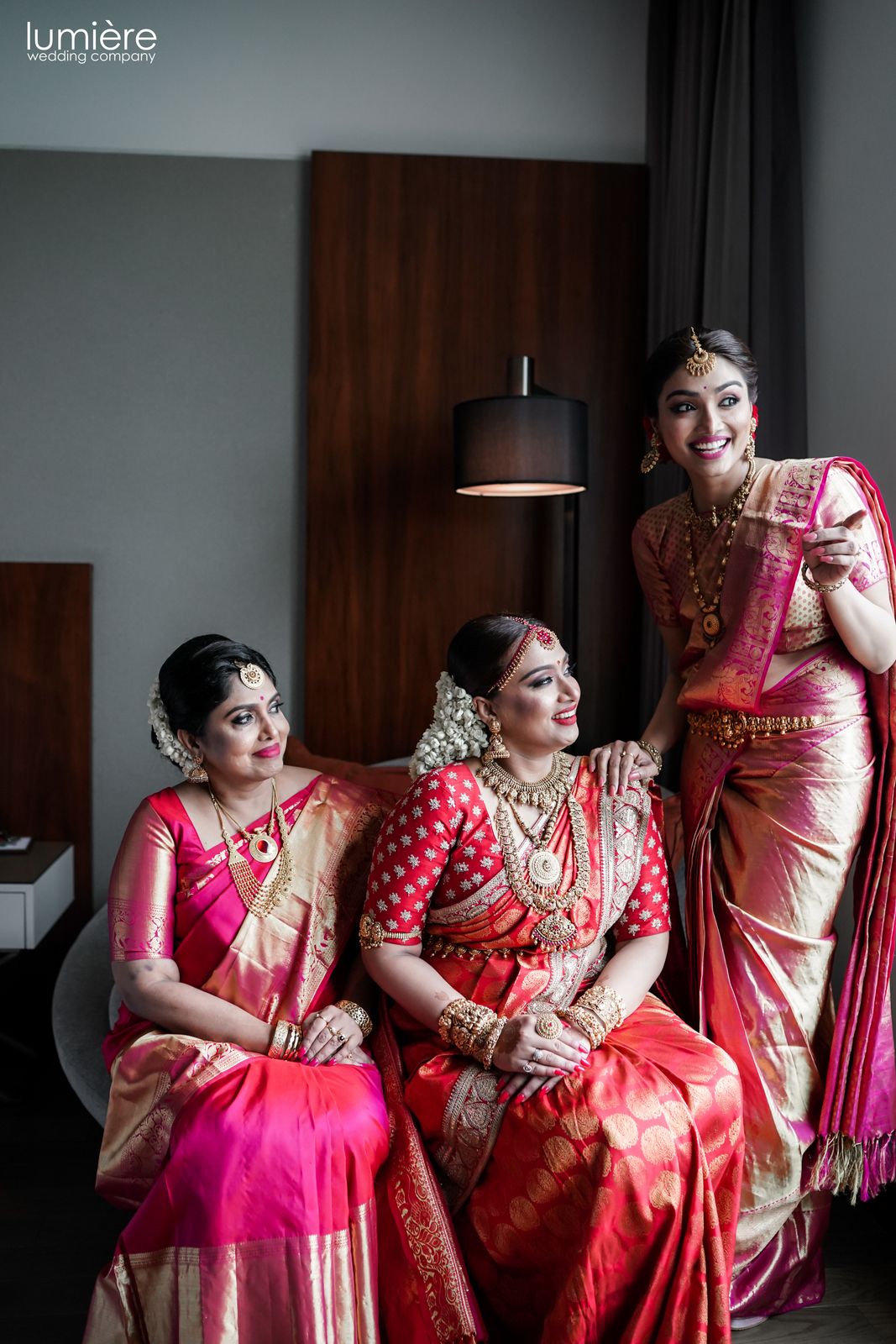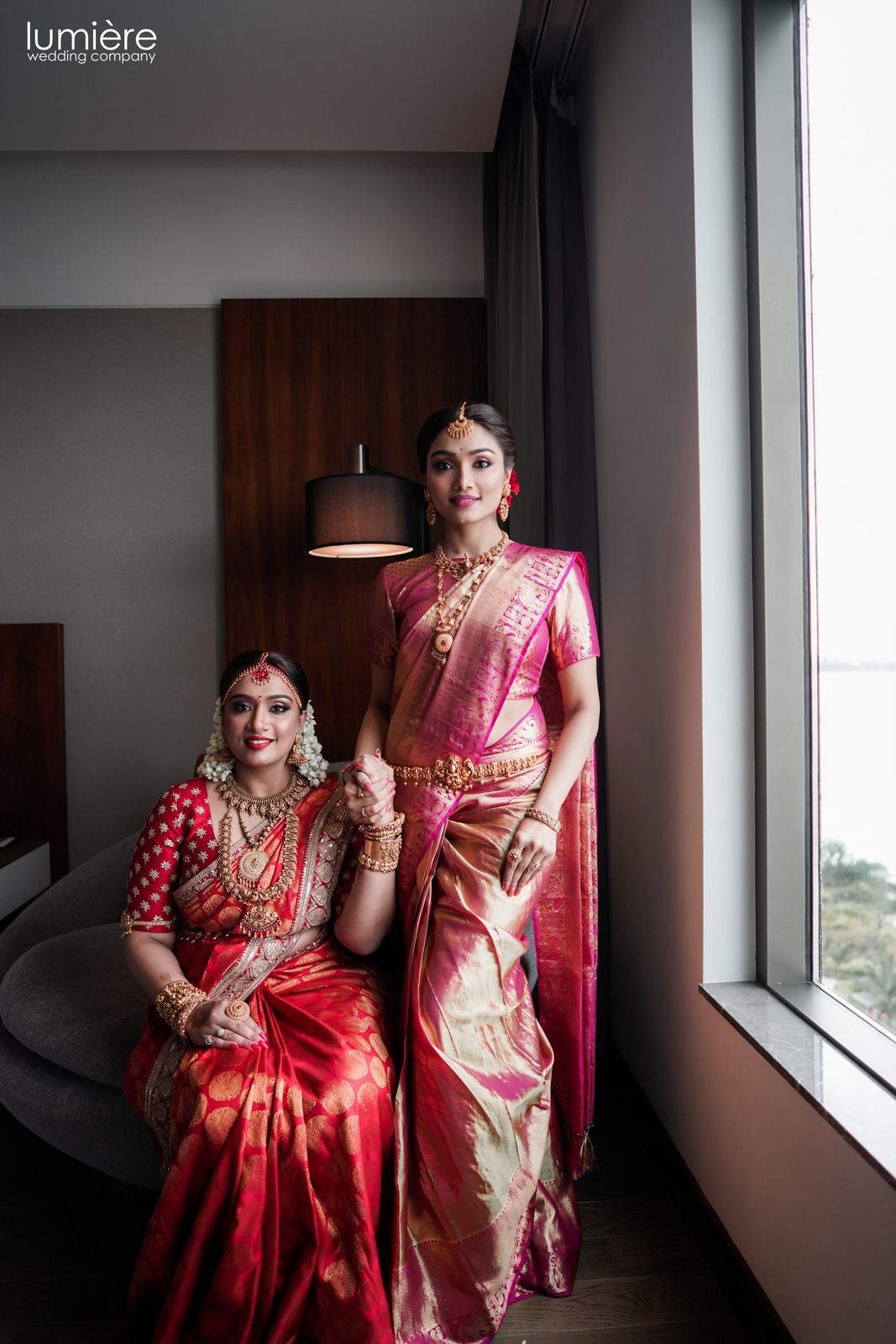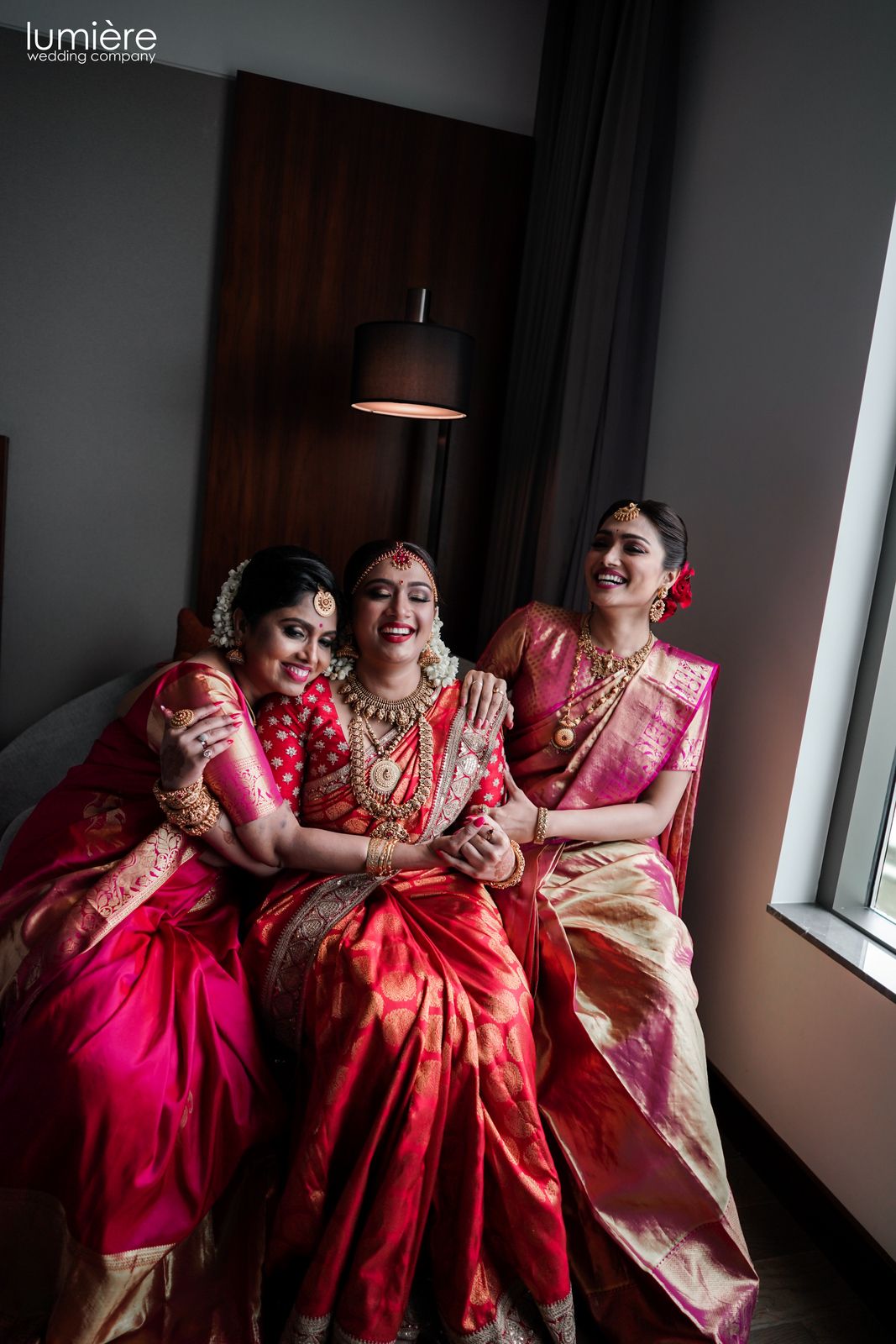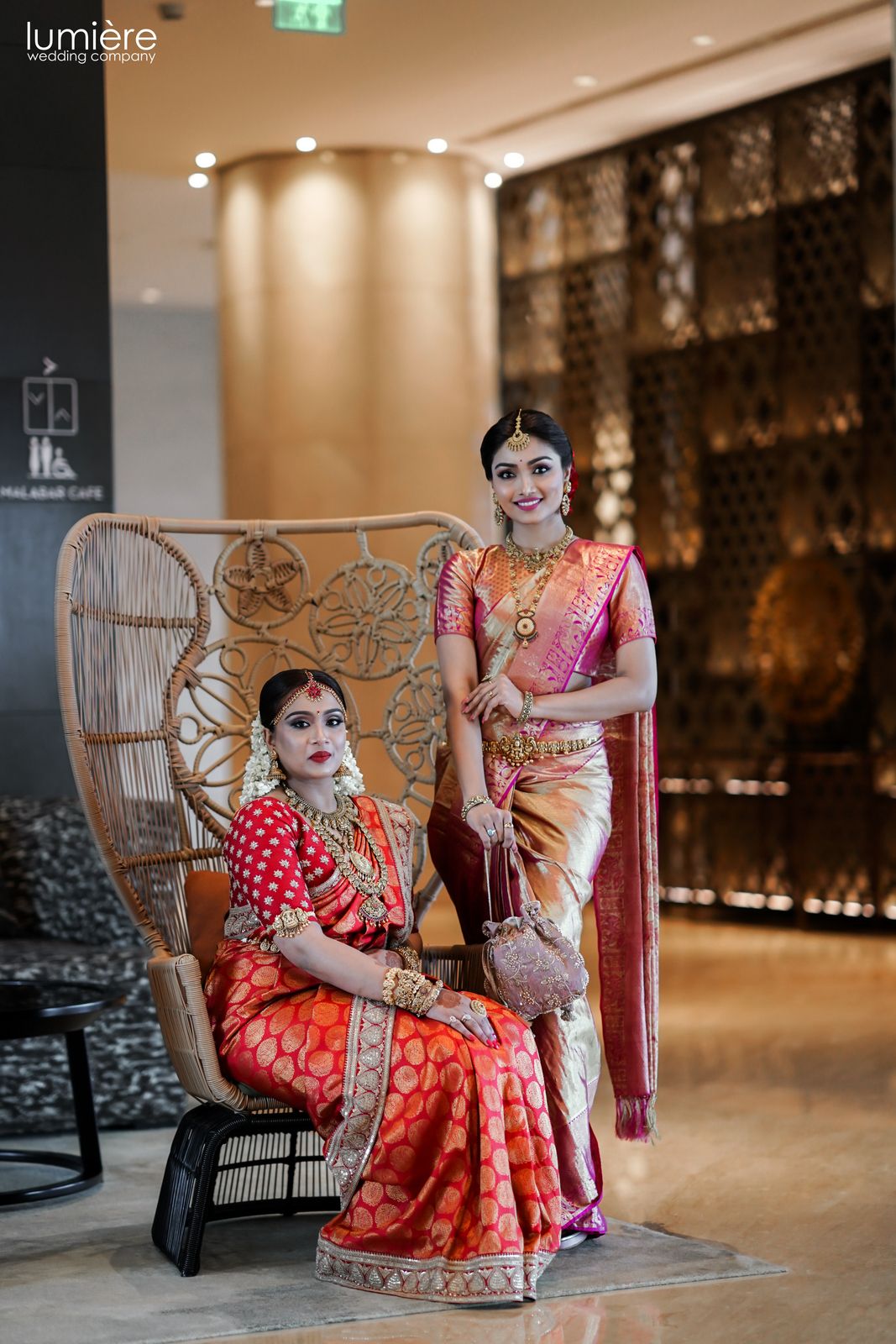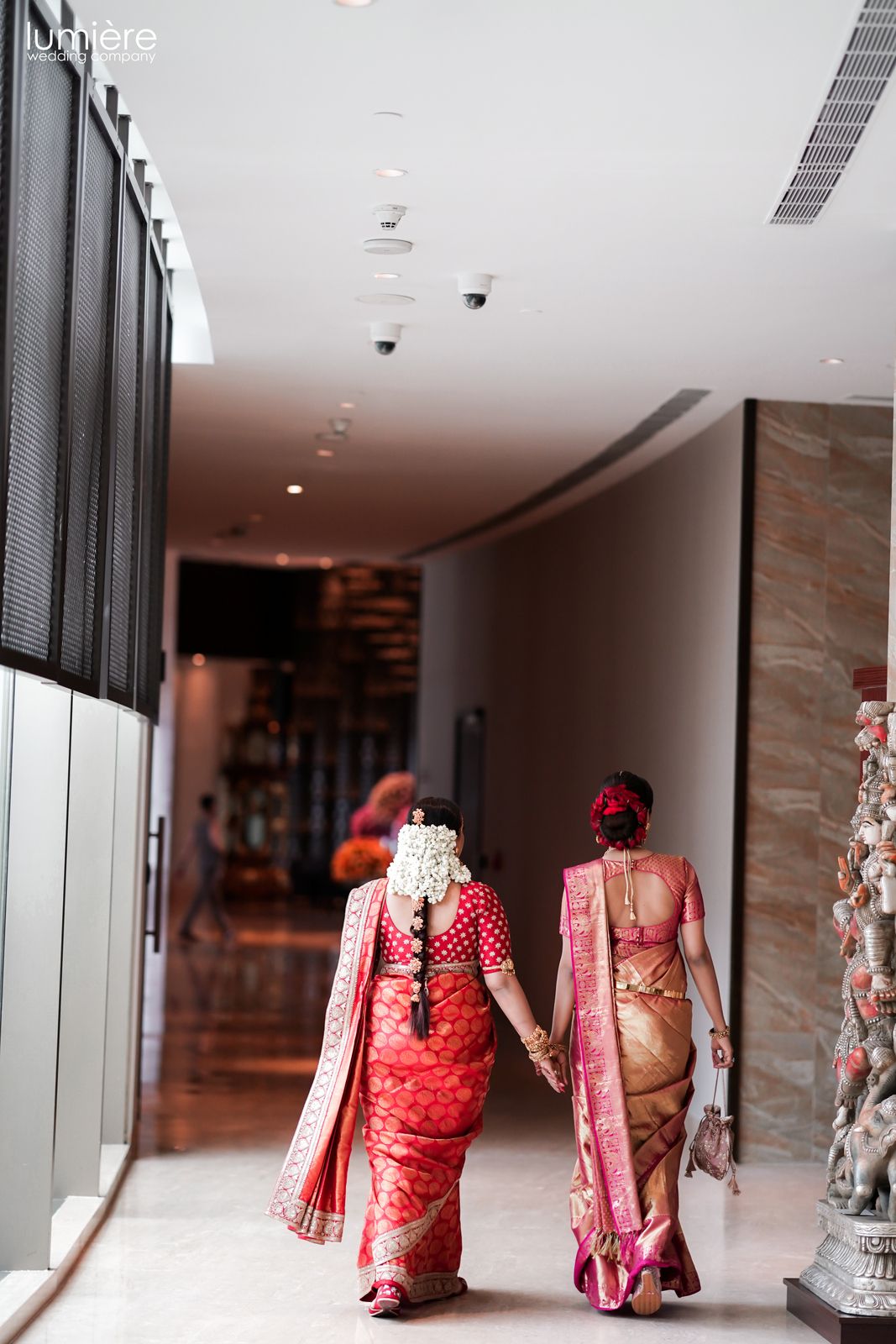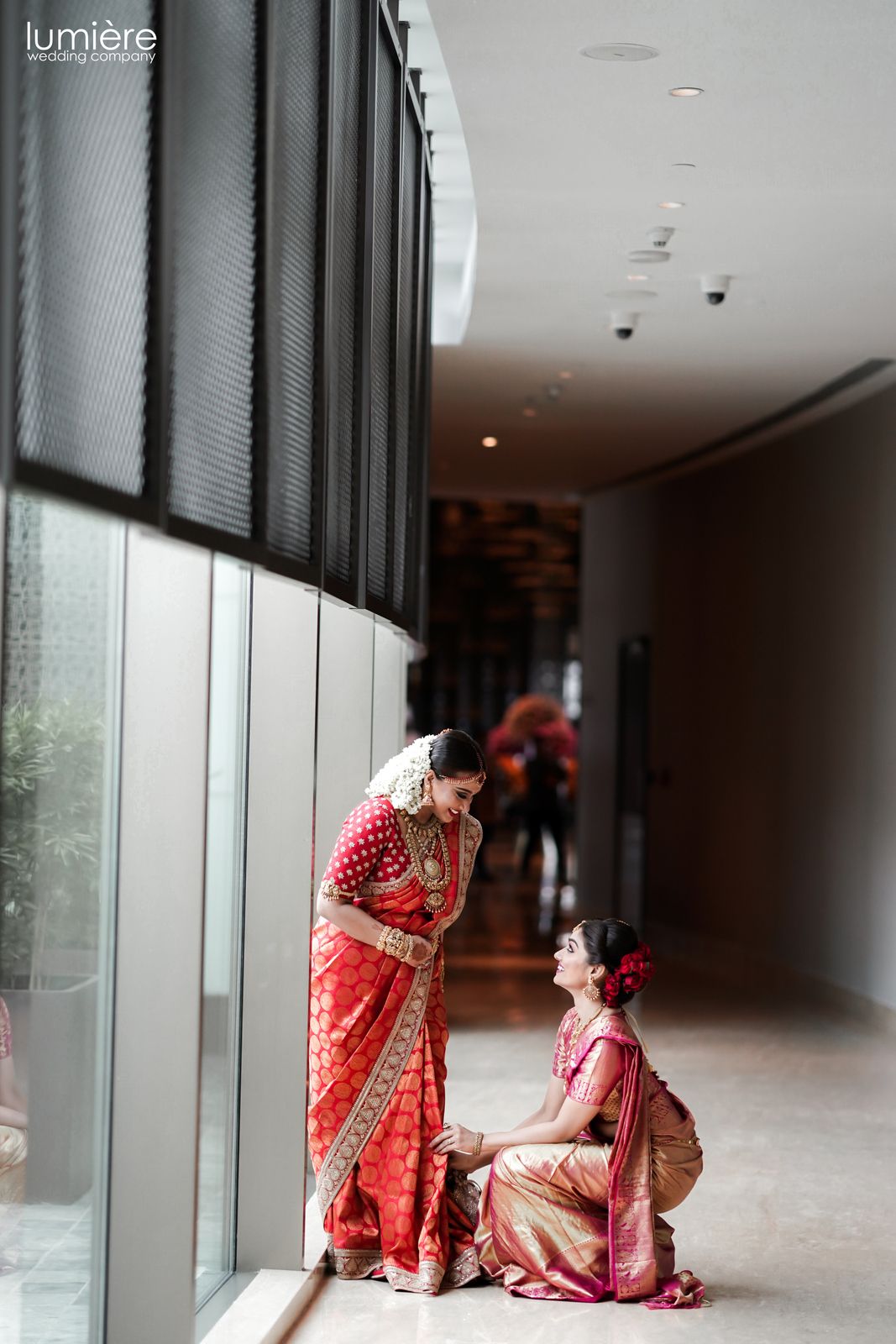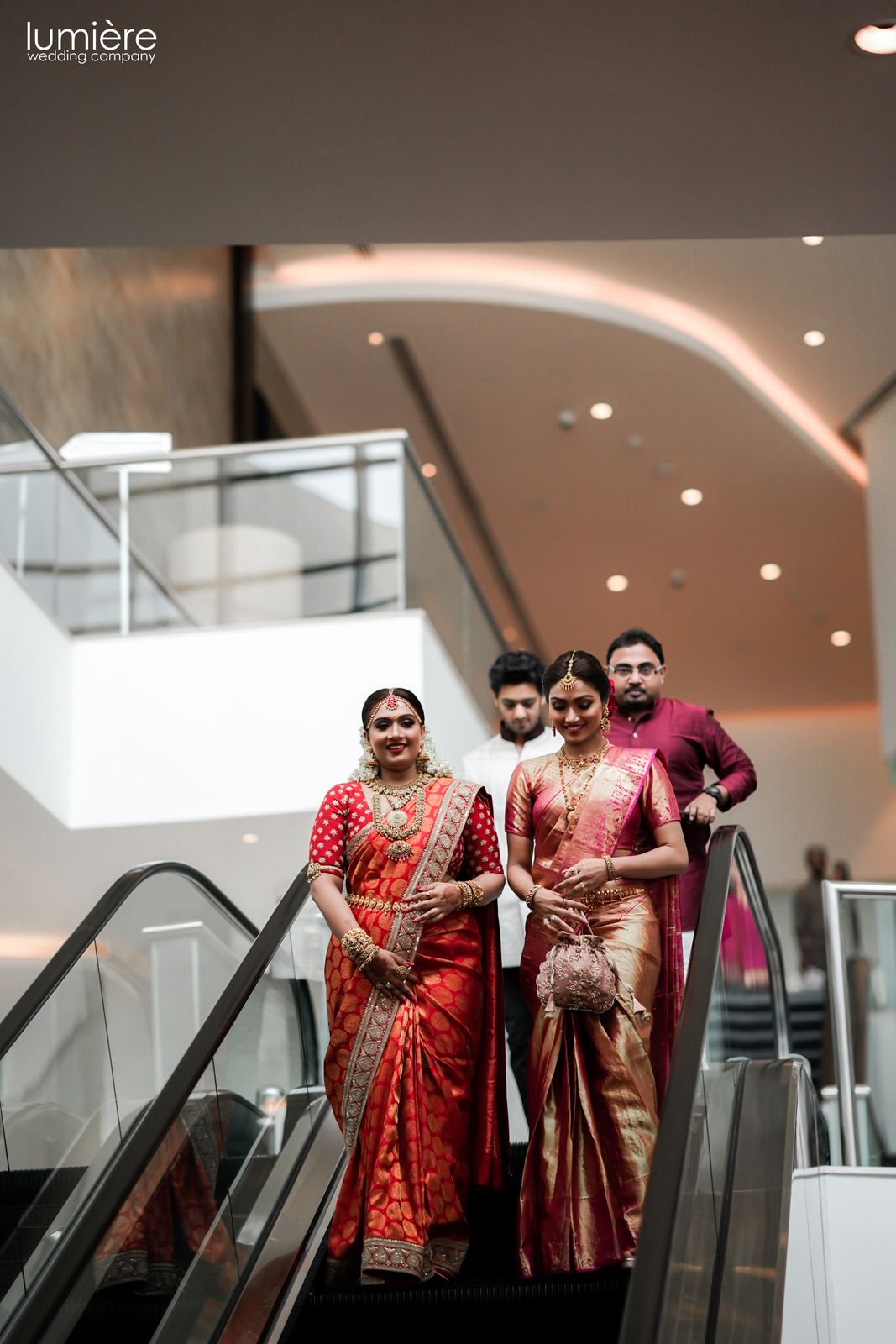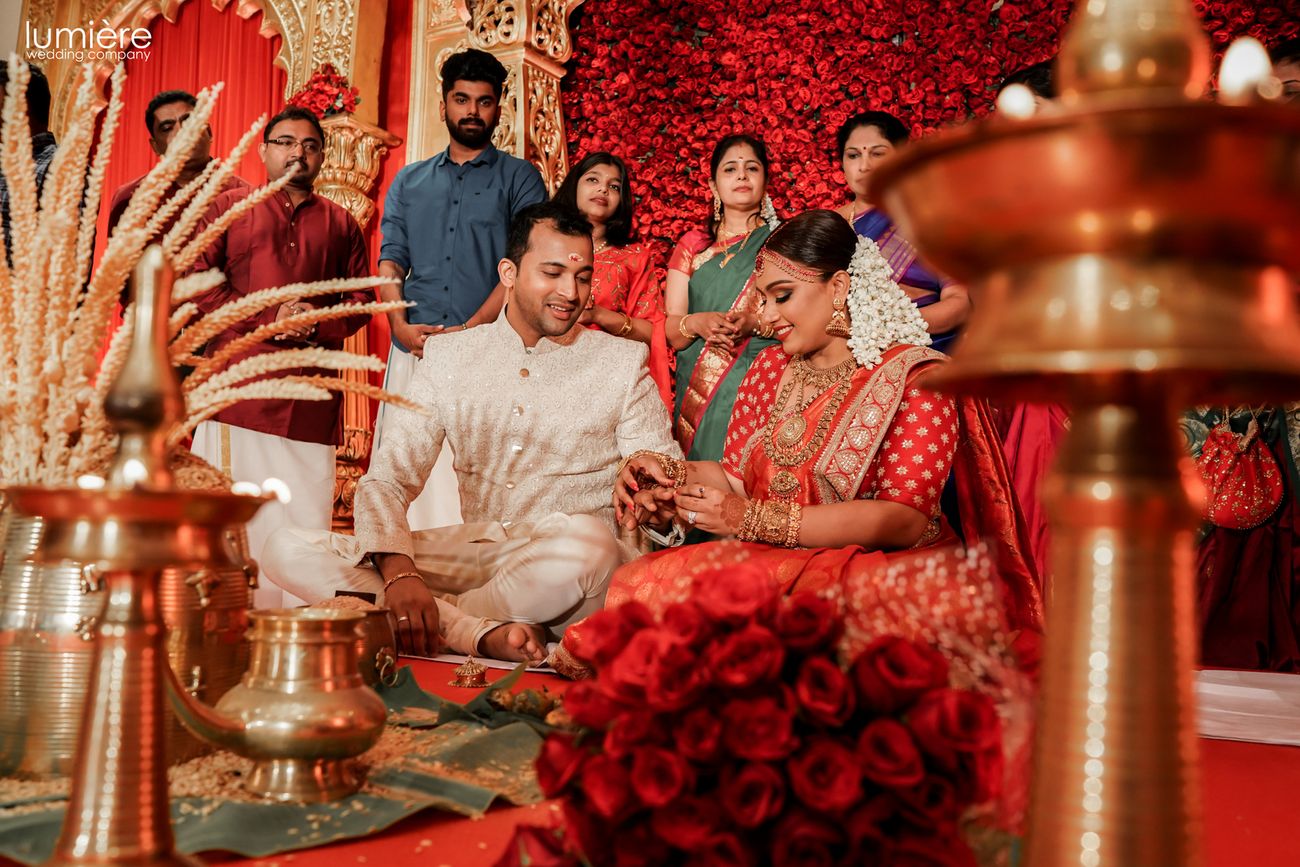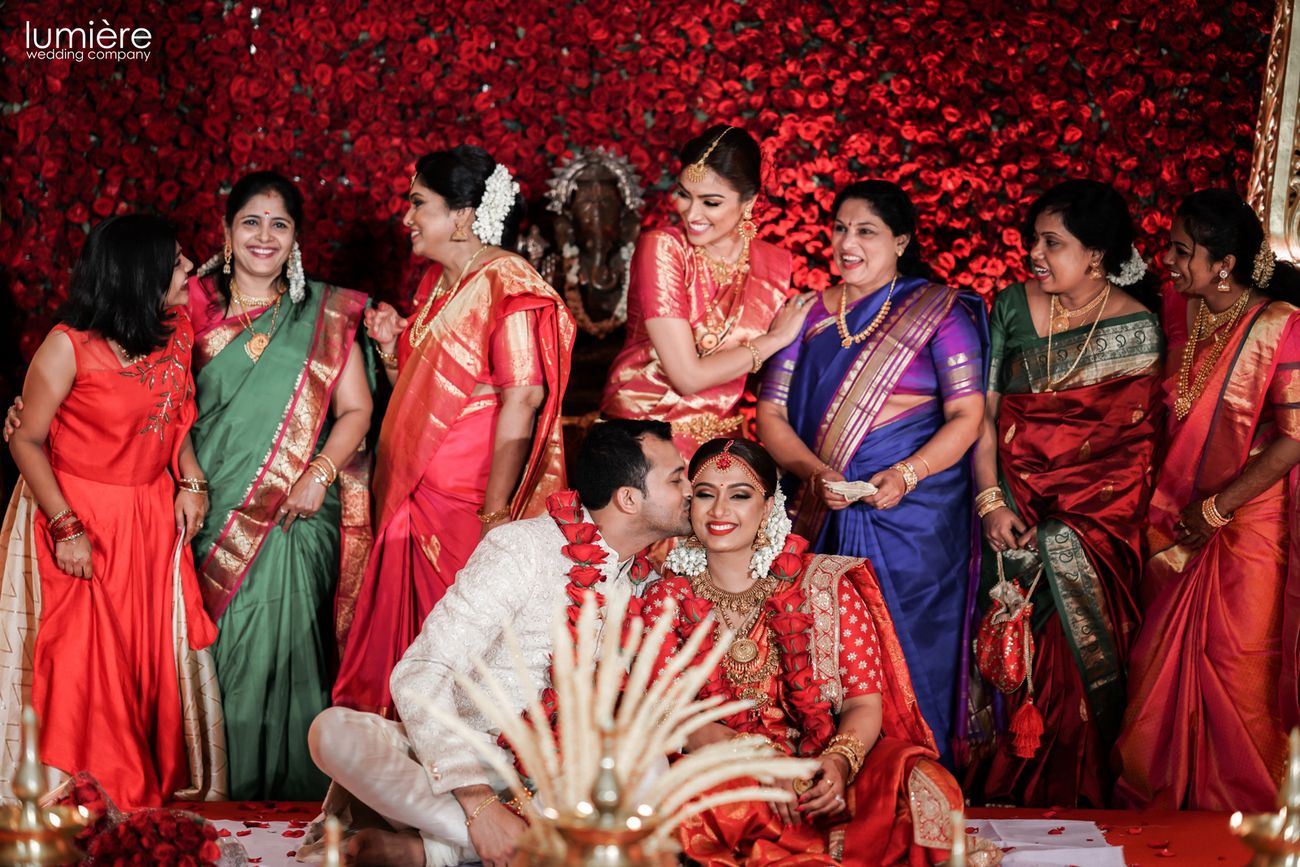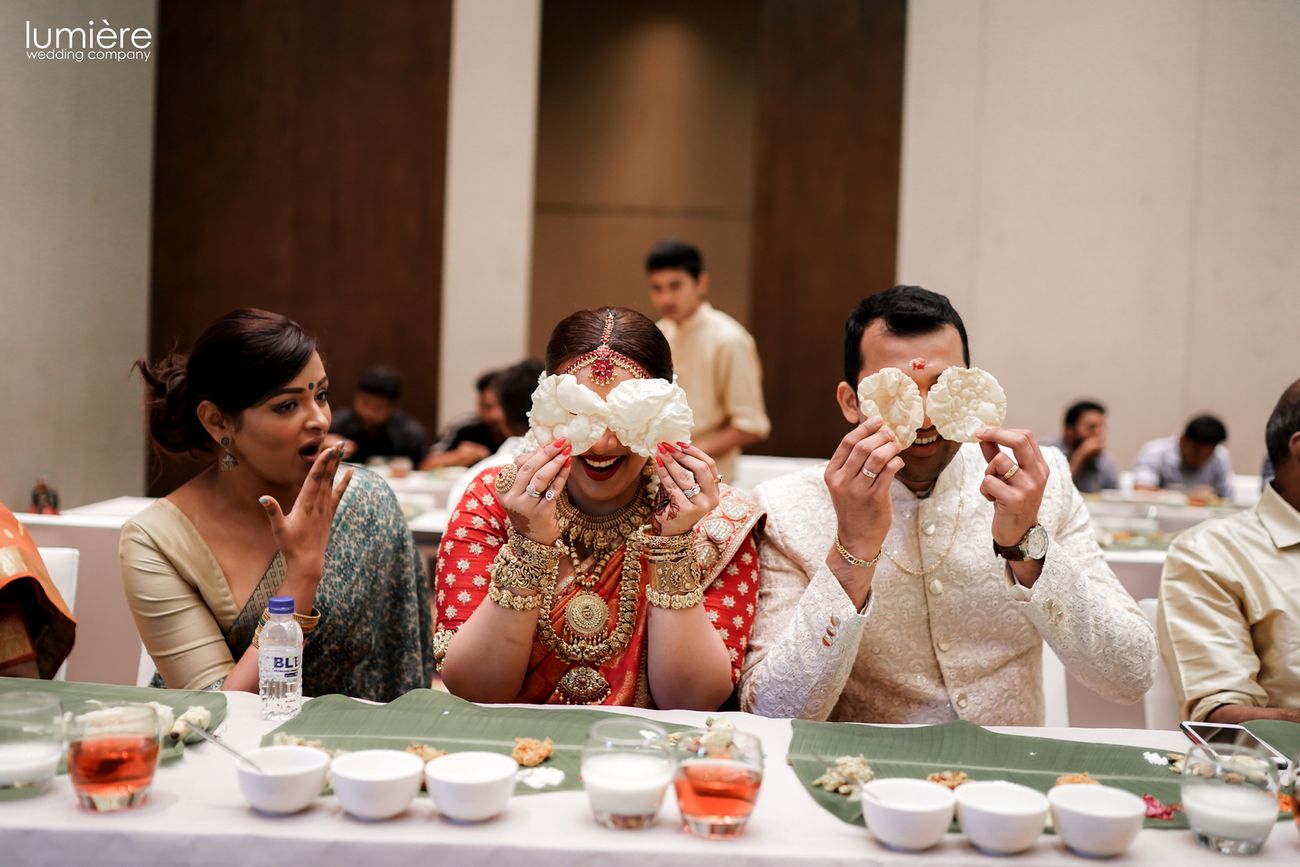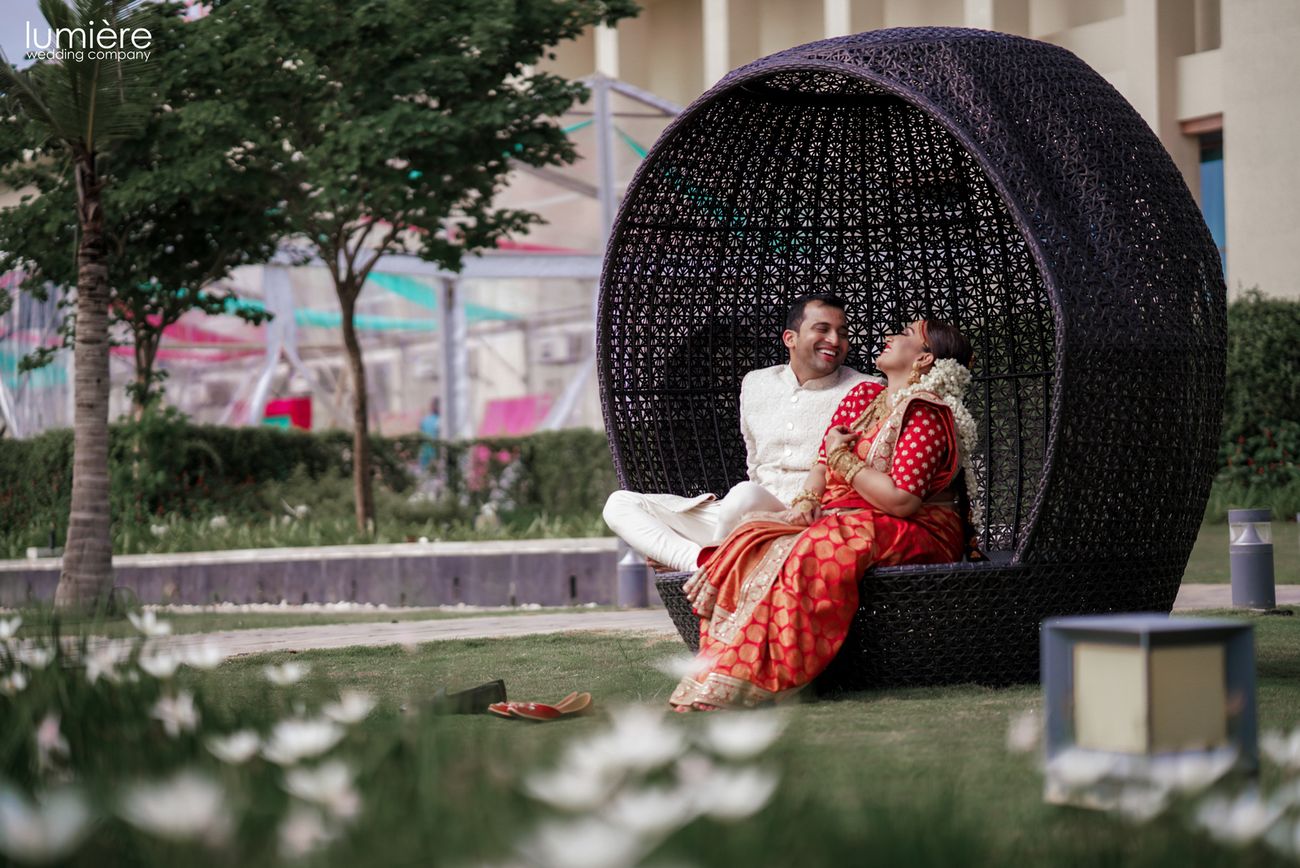 From The Bride: 
Well , working overseas and managing everything back home in India is quite difficult sometimes but for us it wasn't a task as our wedding planning and everything were taken care of my sister and my mother. Zenith & i were all relaxed and didn't have stress as my sister became our official stylist of our wedding. She was the one who took care of mine and Zenith's outfit , my jewellery and mom decided which event planner & photography we should go with which again wasn't difficult as we had thought that we would go with best people in the event industry. One thing that we kept in mind was everything would be authentic and traditional. And as I said we wanted everything the best , so with the venue. We chose Grand Hyatt kochi bolgatty to celebrate our three important days. Christian wedding we knew that we had to do it the Syrian Christian way , from rituals to food and also the decor , as zenith hails from Kottayam part of Kerala. For sangeet , we wanted proper North Indian theme. From the decor to guests outfit & Guests grooving to only Bollywood hits. We had a color theme of pink and yellow for women and made sure all the women were dressed in lehengas & men in blue kurta pajamas. The sangeet stage was customised to our theme, and a quirky photo booth personally designed by my sister. So she designed an open book of love with stairway which looked a page straight out of a novel. And made sure our hashtag #gozen was everywhere. Finally the Hindu wedding , my mother was particular about me becoming a Sabyasachi bride so I chose a red saree from his Kanchipuram collection with ethnic gold jewellery. About the decor - Kerala theme for the Hindu wedding so we had Kathakali artists at the entry way to welcome guests. Our caricature cut out was designed with the same outfit we were wearing on the wedding day. We had elephant with trunk up either sides which depicted good luck and prosperity. We had an elaborate golden mandap as the stage.
Vendor Reviews: 
As I said we wanted everything the best , so with the venue. We chose Grand Hyatt Kochi Bolgatty to enjoy every moment of the most celebrated days of my our life. Grand Hyatt has the best ballrooms with an amazing lake view which really added on to our traditional themed wedding and we got really beautiful pictures there.
Jaan Moni Das who has worked with numerous celebrities in the south cinema is a reknowned name in the makeup industry. I had been following her work for quite sometime as she has worked with my sister a lot and since then I knew that if I am getting married I will be getting my bridal look done by Jaan moni.
For my wedding all I knew was it would be only Lumiere wedding company who would capture our precious moments or no one. They are so easy to work with. Cool and calm team , just so professional and polished and always on time. And a big thank you to them for making a video of me and my sister grooving to a punjabi song . That was the best part of our wedding. It was just a spot on thought and I think we could nail it only with their help.
Eventia event designers & their team were just fabulous. They are the best in town & have best event designing team with them but when we contacted them for my wedding, my sister had her own ideas & designs & we weren't sure if they would be okay to do it all our way but team Eventia immediately nodded yes to our demands and made sure every detail was curated to our preferences and their perfection. They just made the event stress free and seamless. Just so professional.
Vendors: Venue: Grand Hyatt, Kochi; Makeup Artists: Jaanmoni Das★ 4.5 ; Photographer:Lumiere Wedding Company★ 3.9 ; Decor: Eventia Event Designers ; Bridal Outfits: Christian Wedding - Karleo Fashion, Sangeet - Kalki Fashion★ 4.4 , Hindu Wedding- Saree by Sabyasachi Mukherjee★ 4.9 ; Bridal Jewellery: Christian Wedding - Tanishq★ 4.7 , Sangeet -Minerali Store ★ 4.8 , Hindu Wedding - Malabar Gold★ 4.4 & Tanishq★ 4.7 ; Bridal Footwear: Christian Wedding - Aldo, Sangeet & Wedding - Fizzy Goblet★ 4.6 ; Groom's Outfits: Christian Wedding - Suit & Boots, Doha, Sangeet & Wedding - Talon Men; Groom's Jewellery: Christian Wedding - Cufflinks by Sacoor Brothers; Groom's Shoes: Christian Wedding - Aldo, Sangeet & Wedding - Modello Domani