A Magnificent Wedding With The Bride In Pin Worthy Outfits
BY Garvita | 11 Oct, 2019 | 9022 views | 5 min read
When we saw Chandrika's wedding pictures, the first word that came into our minds was - Magnificent! Everything about their revelries was so opulent and picturesque that we couldn't stop swooning over the details. Her outfits left us speechless, as she chose some jaw-droppingly gorgeous hues for every ceremony! And that's not it, Rolling Canvas Presentations captured the beautiful moments with such panache, leaving all the pictures worth gushing over.
Drive through to check out this larger than life wedding that happened in Australia, and experience the endless celebration!
Meet Chandrika & Arwinder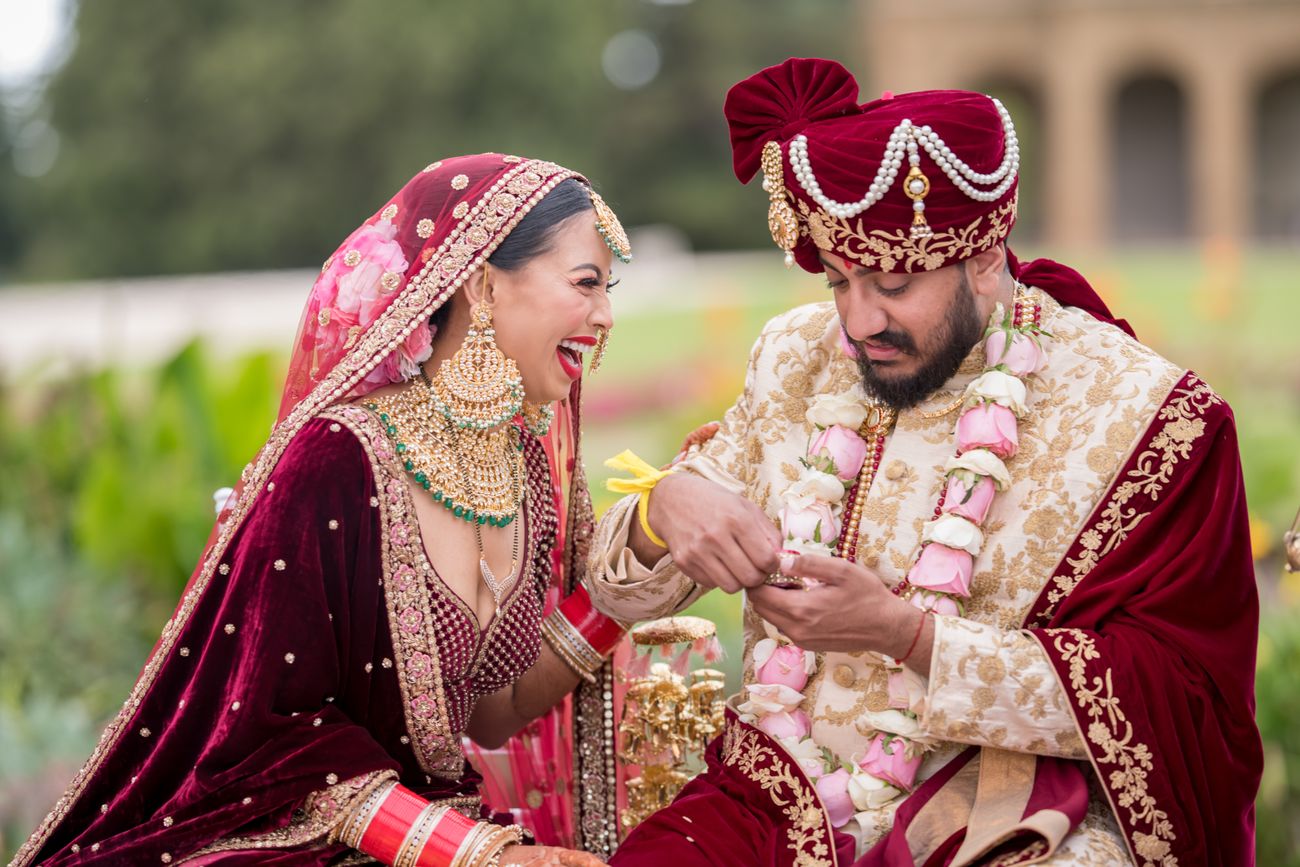 Reminiscing the beautiful moment, Chandrika tells us about their first meeting, "We met when both of us were taking a break from working as lawyers and looking to do something new. Little did we know that we will find each other and this will be the most wonderful thing for us. Arwinder was all set to go teach English in South America and I was to go work in New York. We met on my first day at his new contract work. Arwinder was very nervous as soon as he saw me and I was baffled as to why he is acting so oddly, such as bumping into cabinets around the office every time he would see me. We became great mates after it. Shortly after, he ended up changing his job and then asked me out on a snow day trip as our first date because I mentioned in passing once I haven't seen snow since I was a kid. Within one year we got engaged and married the next year. I think both of us knew, the moment we saw one another that we will end up marrying each other."  
The Haldi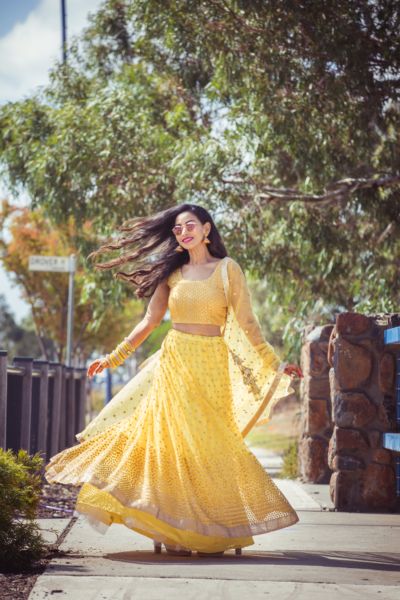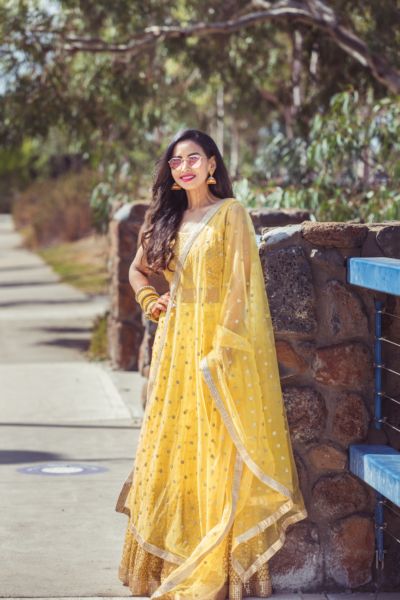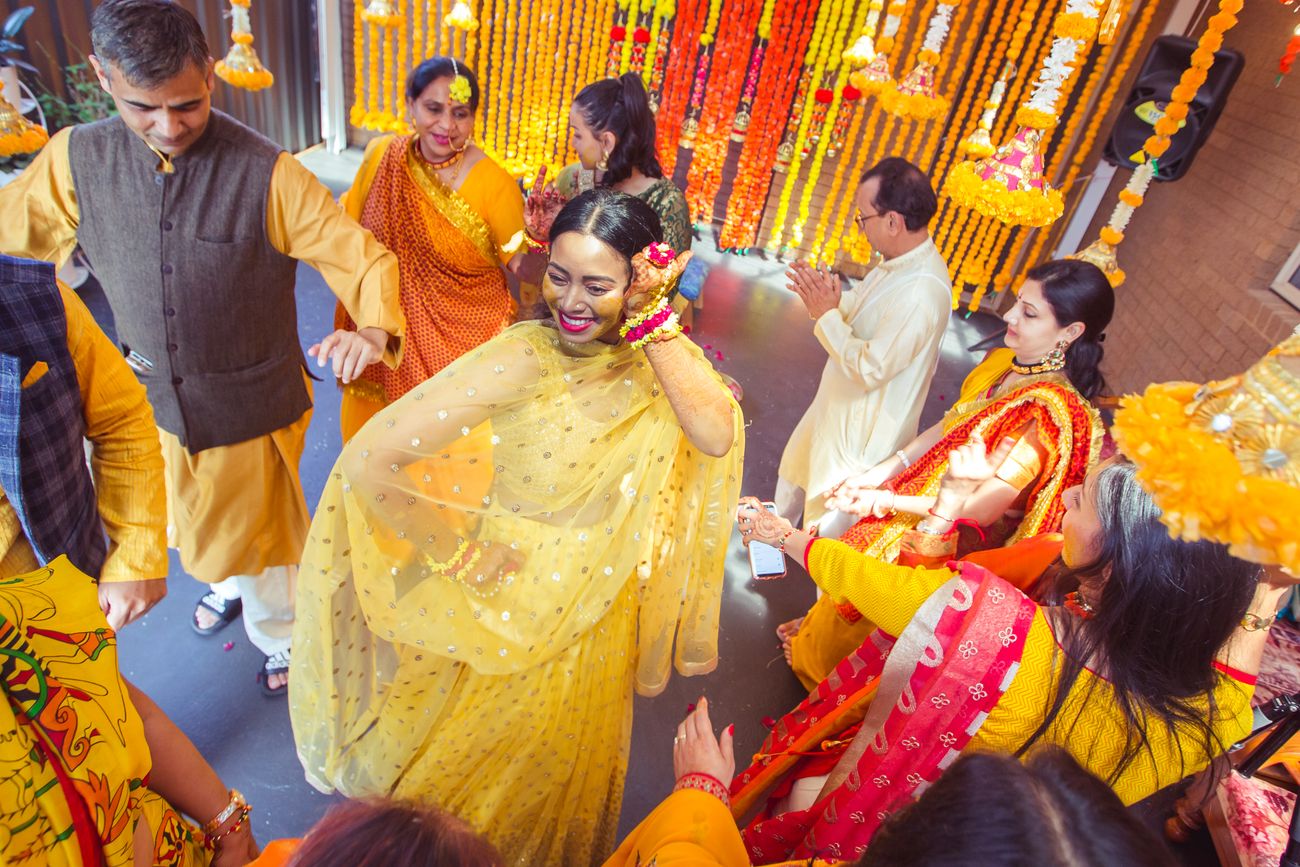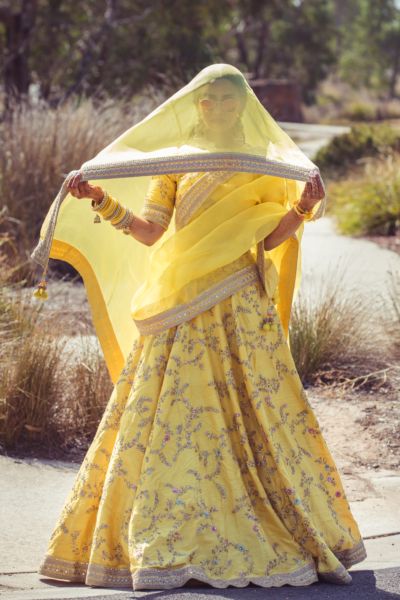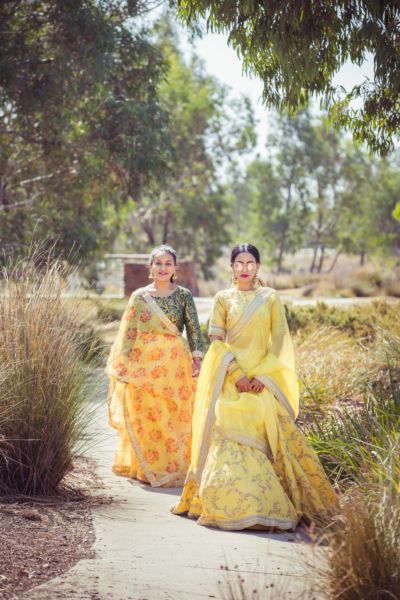 The Mehendi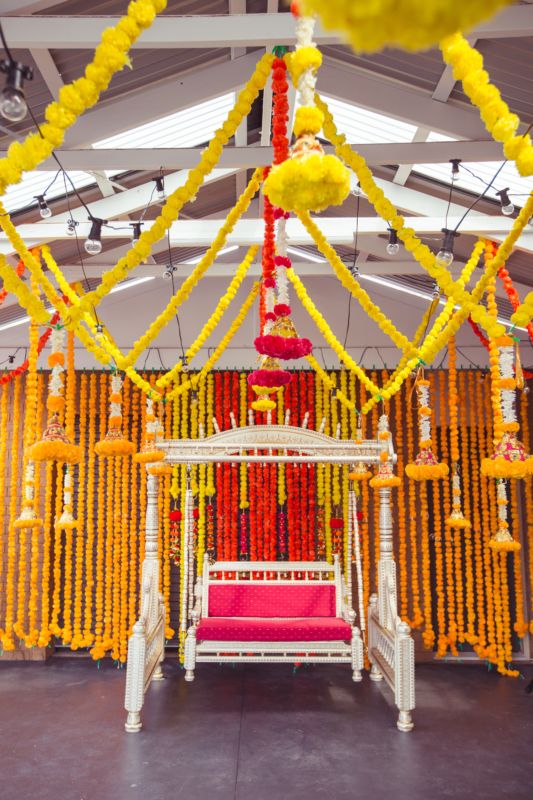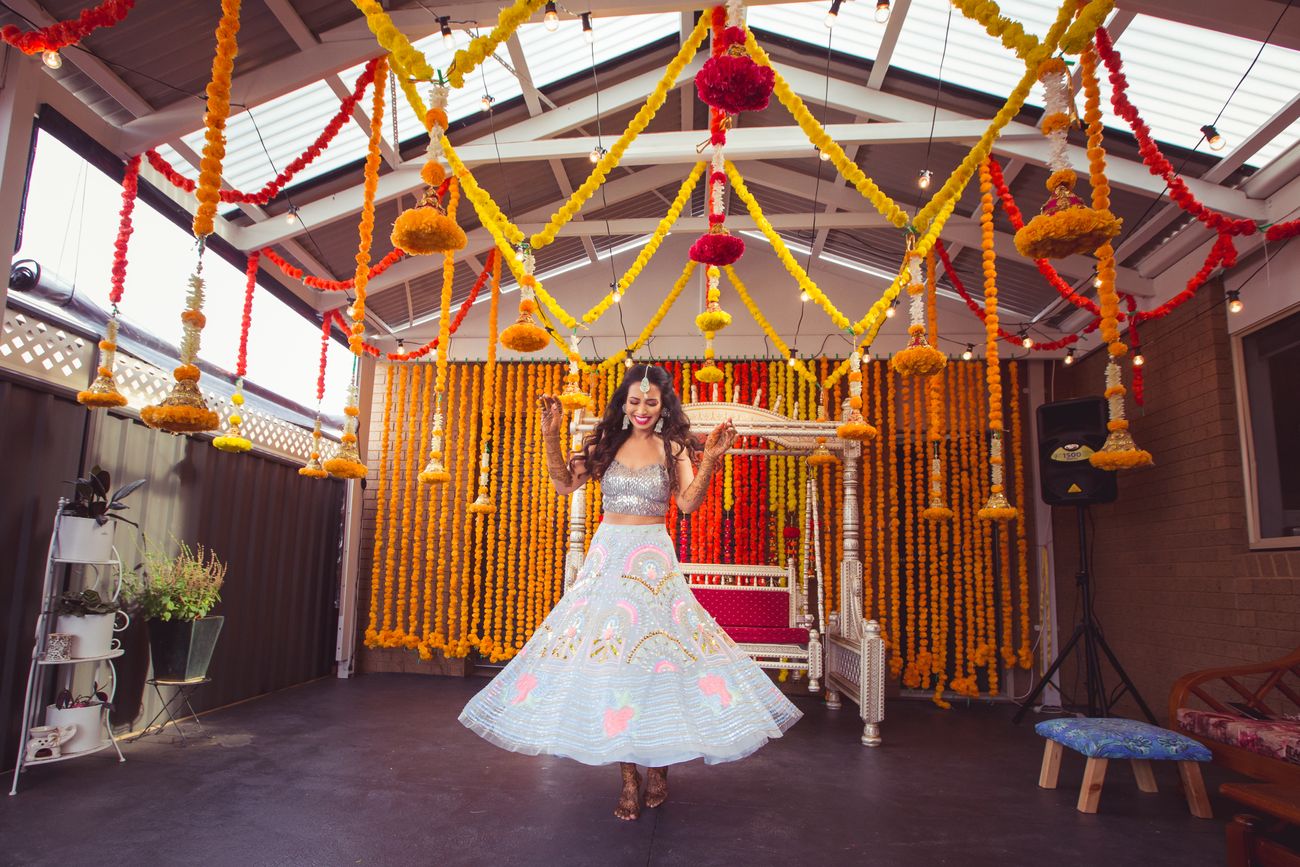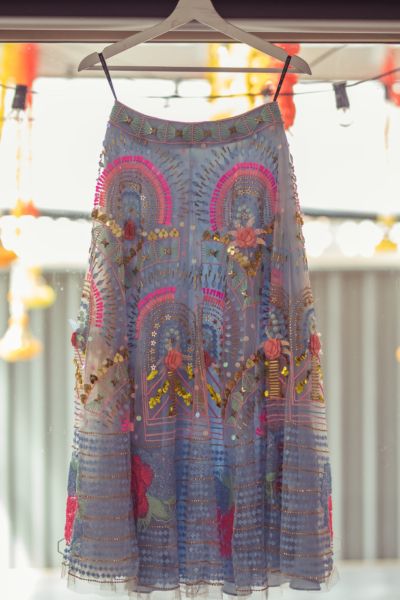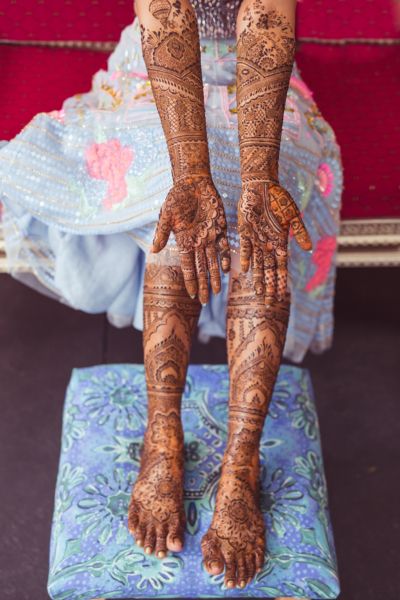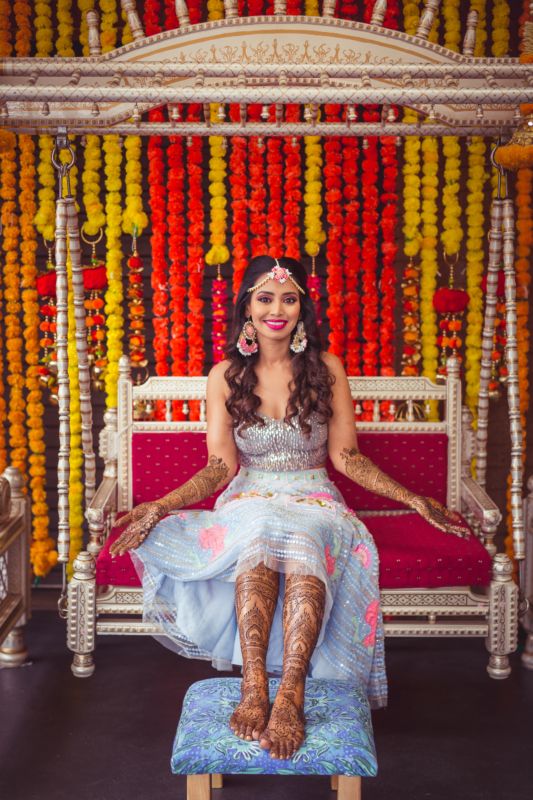 The Sangeet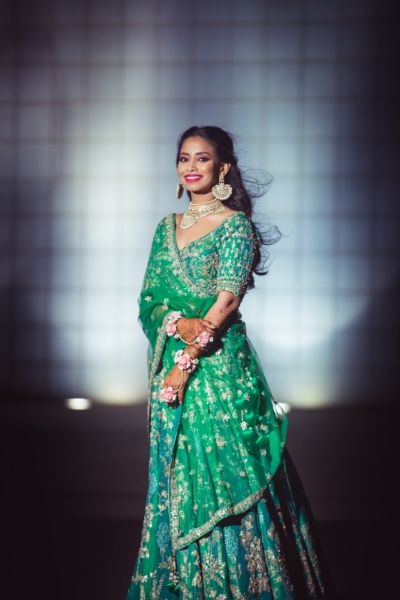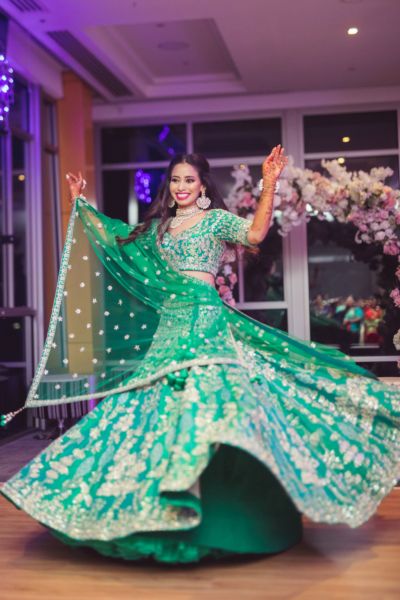 The Wedding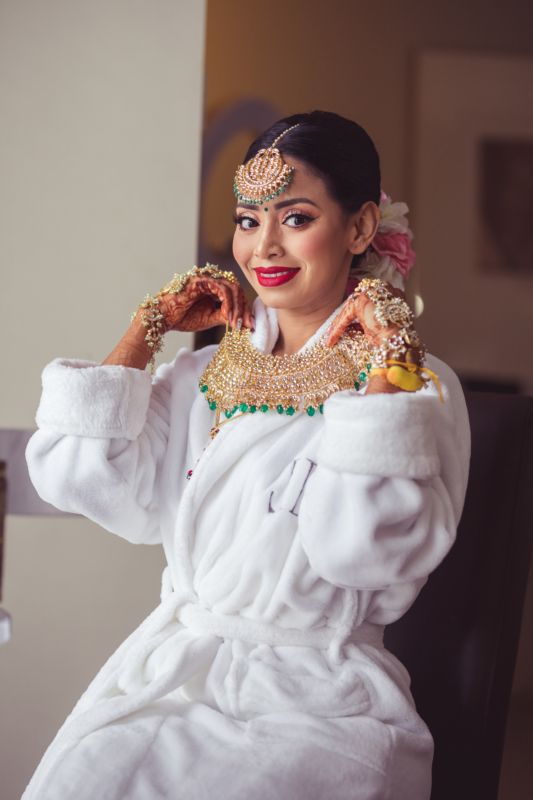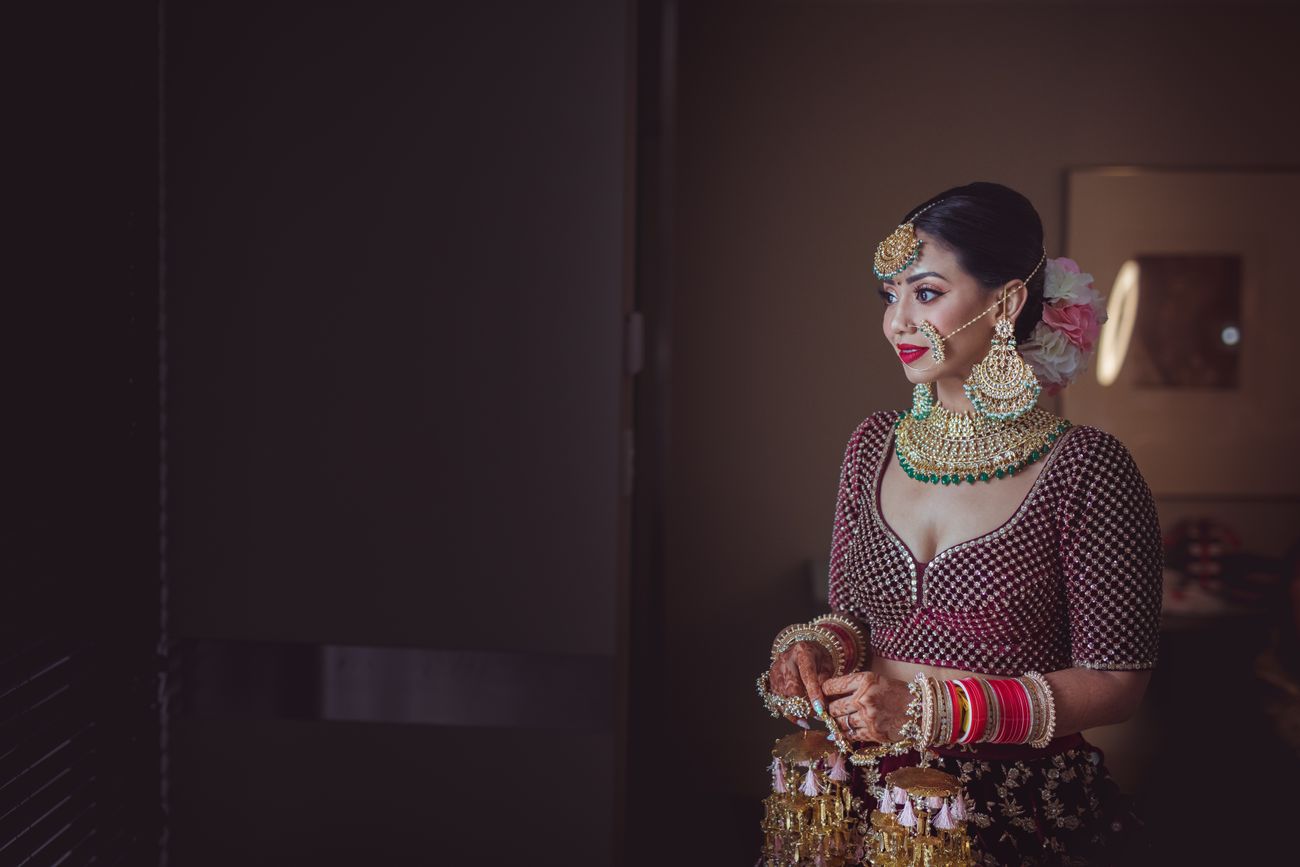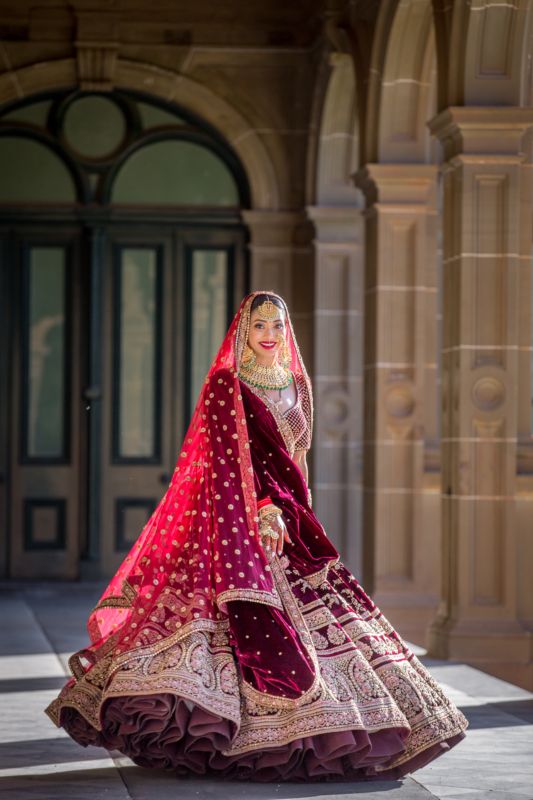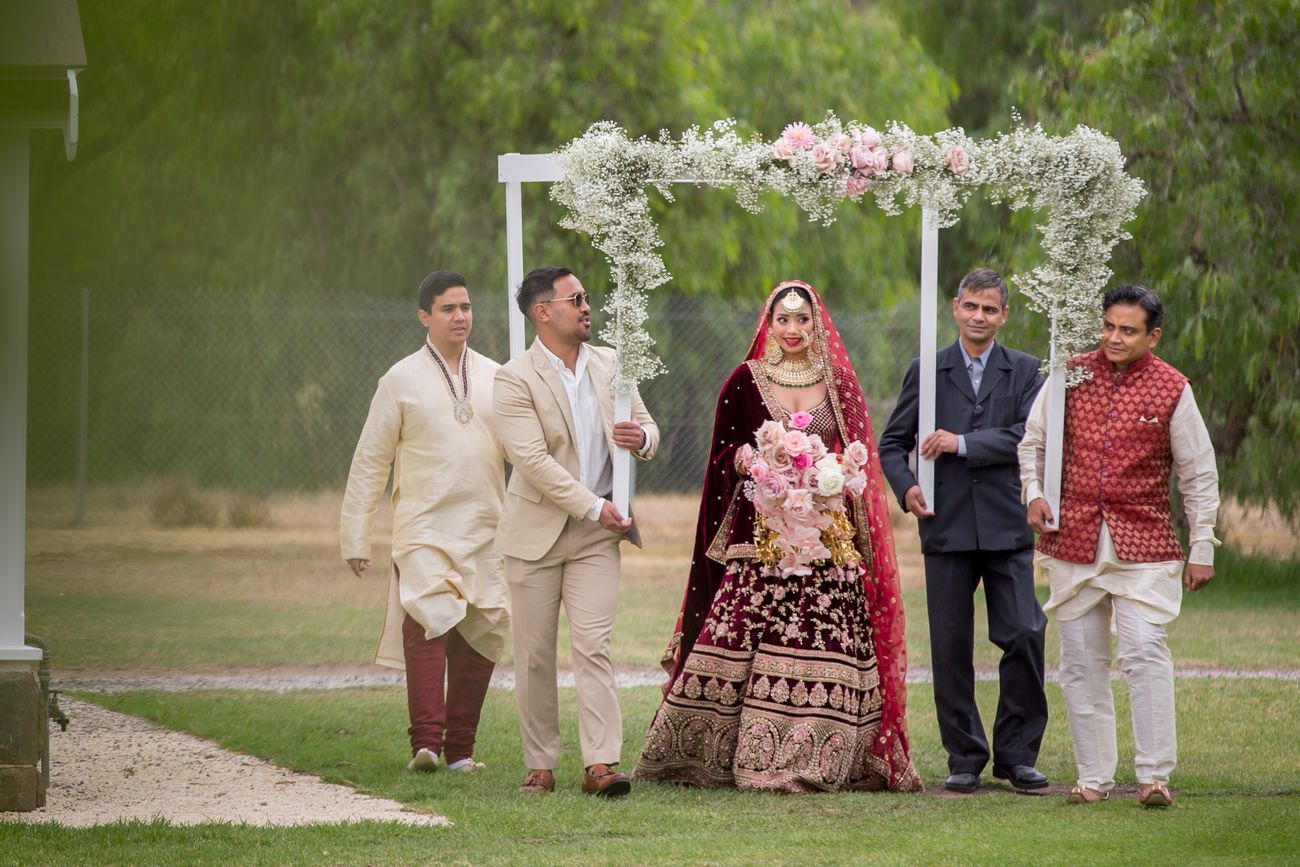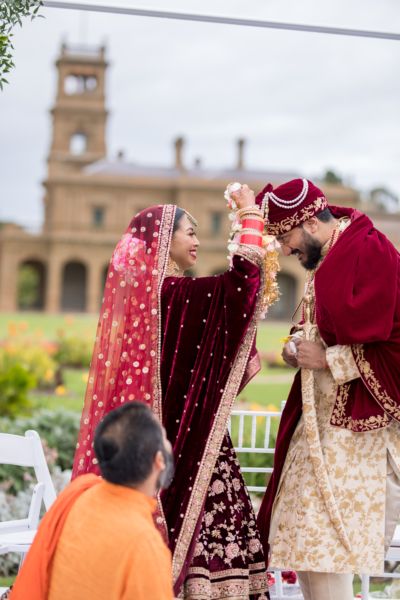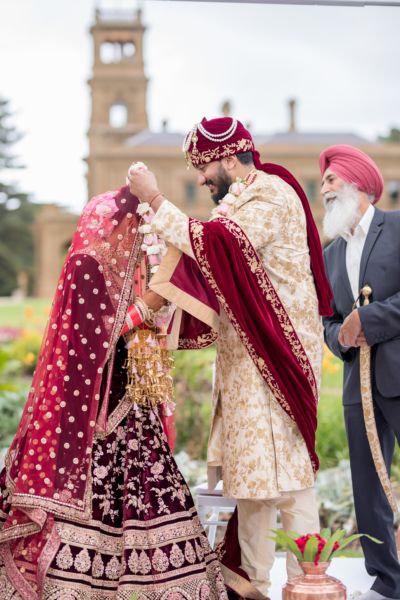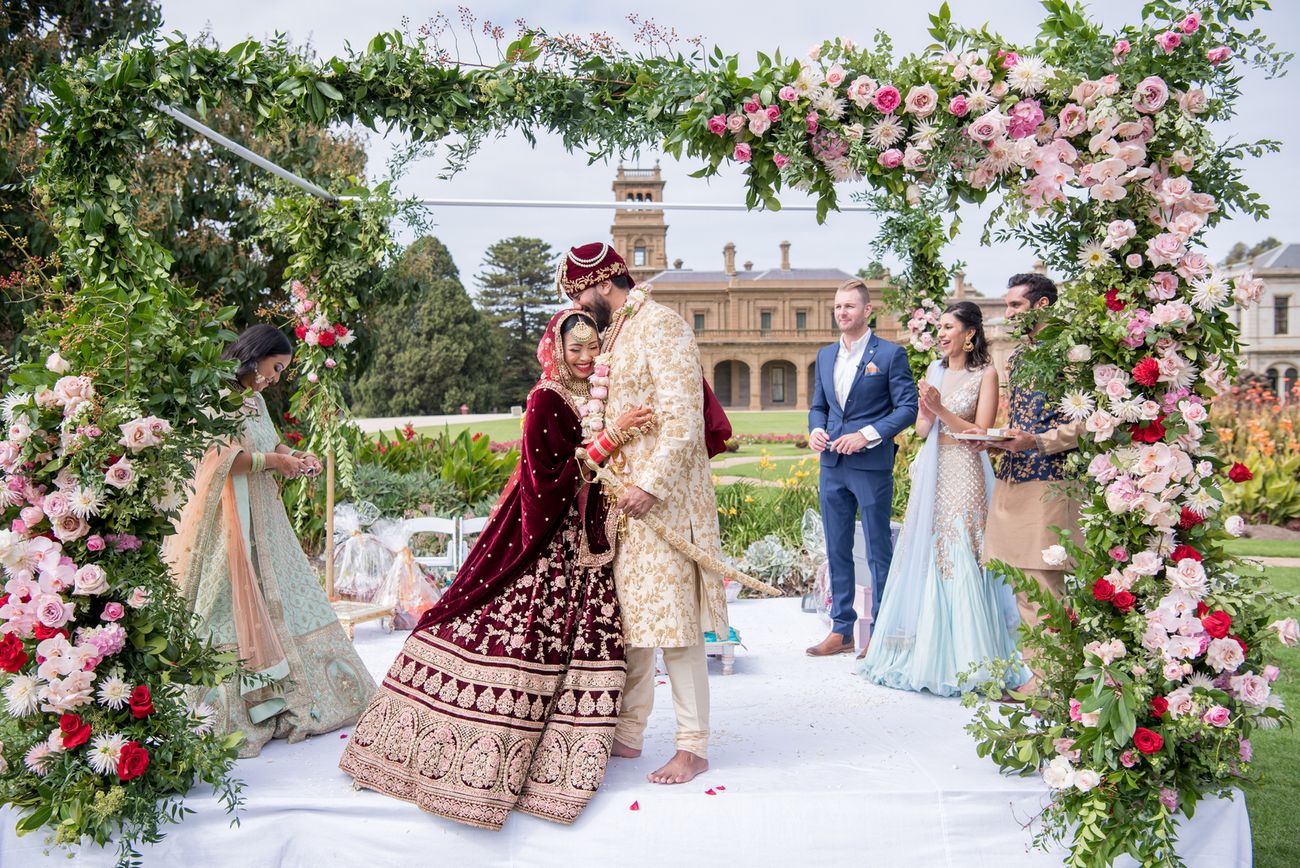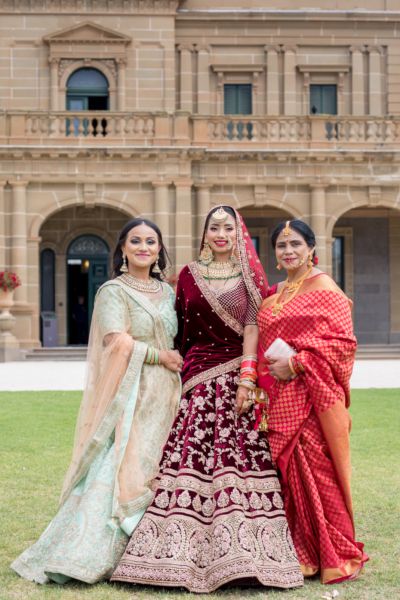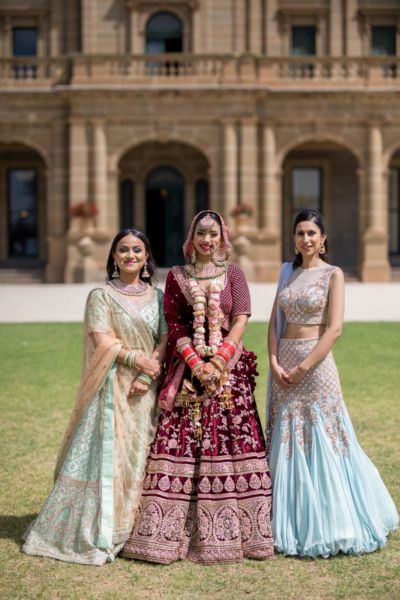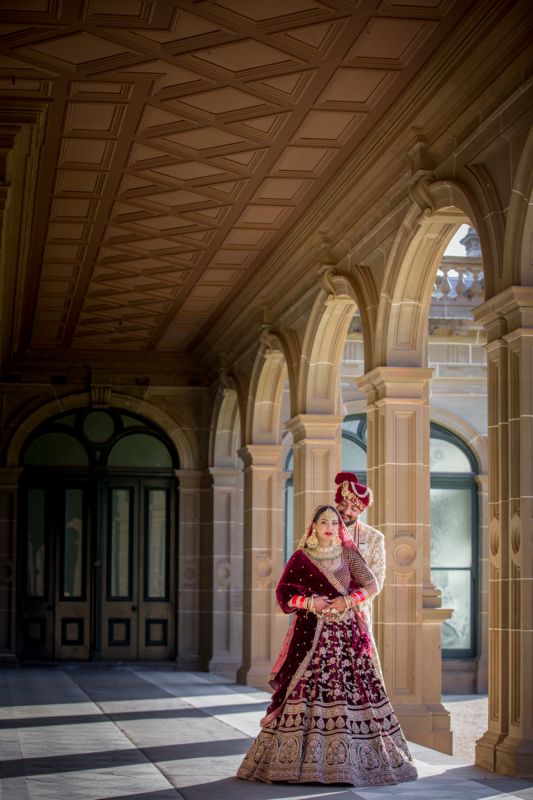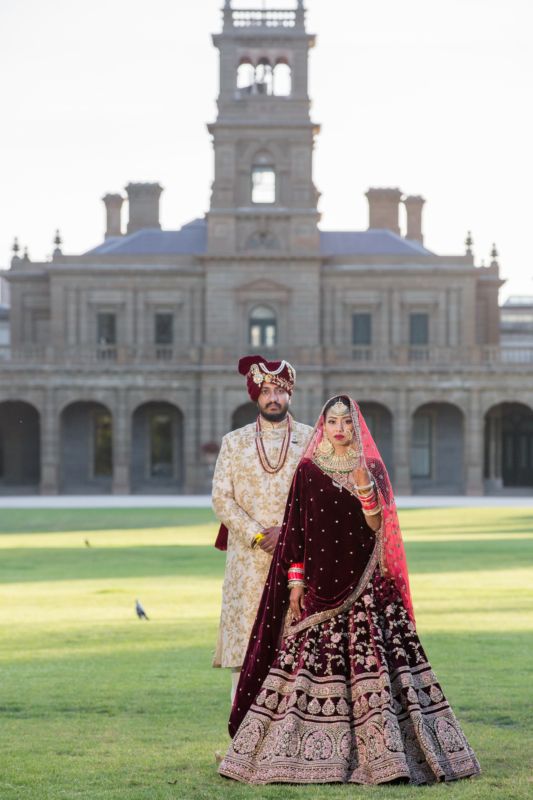 The Anand Karaj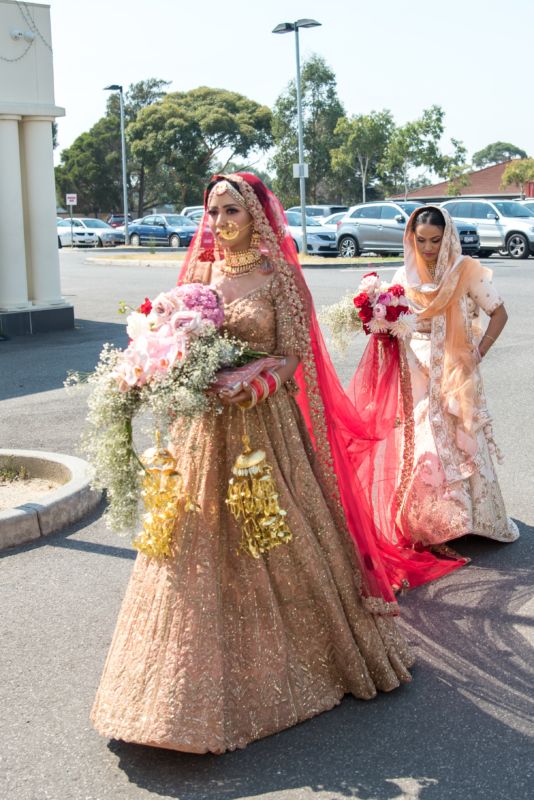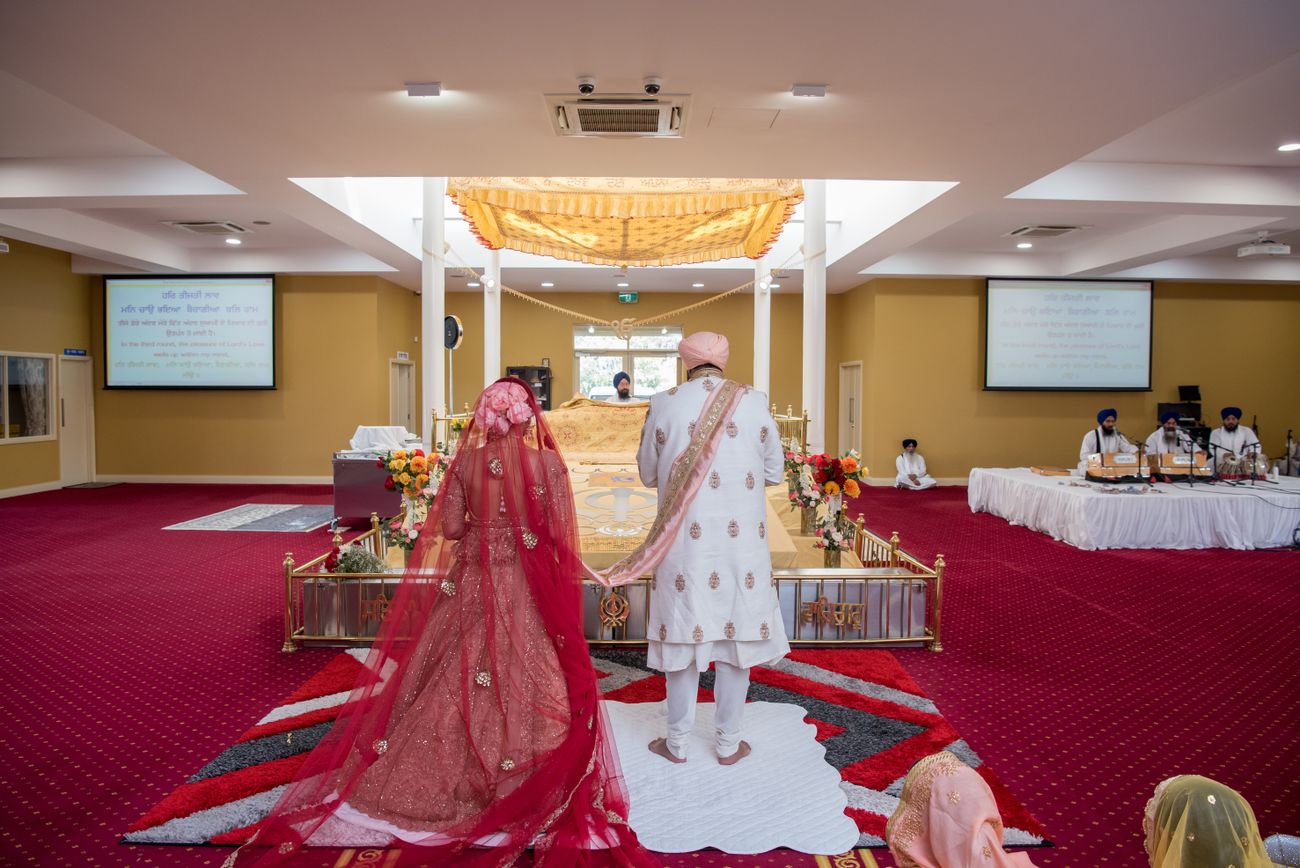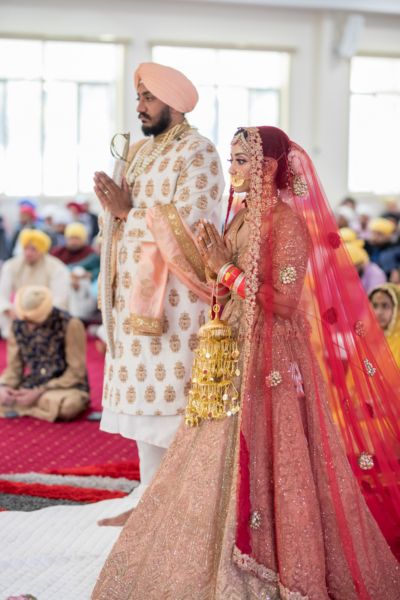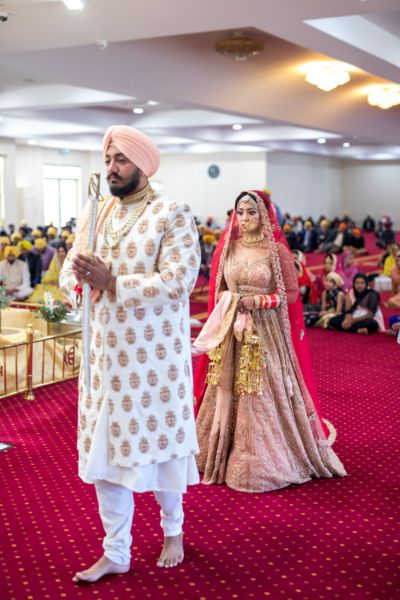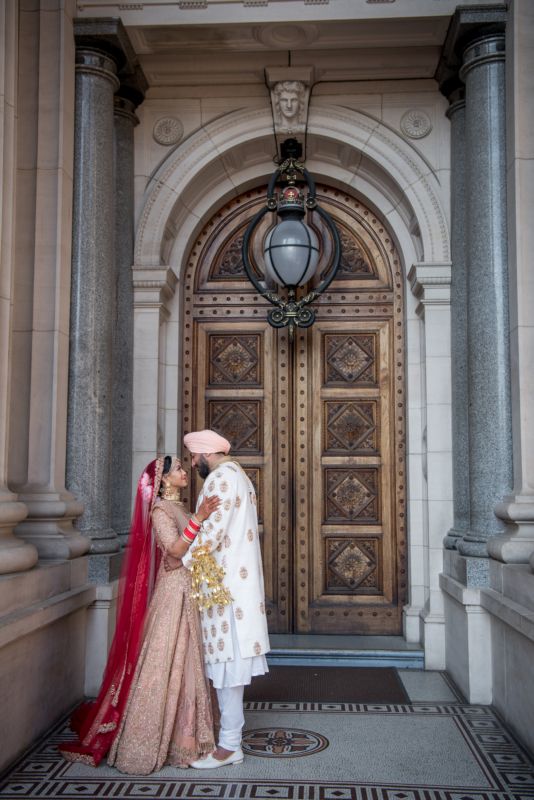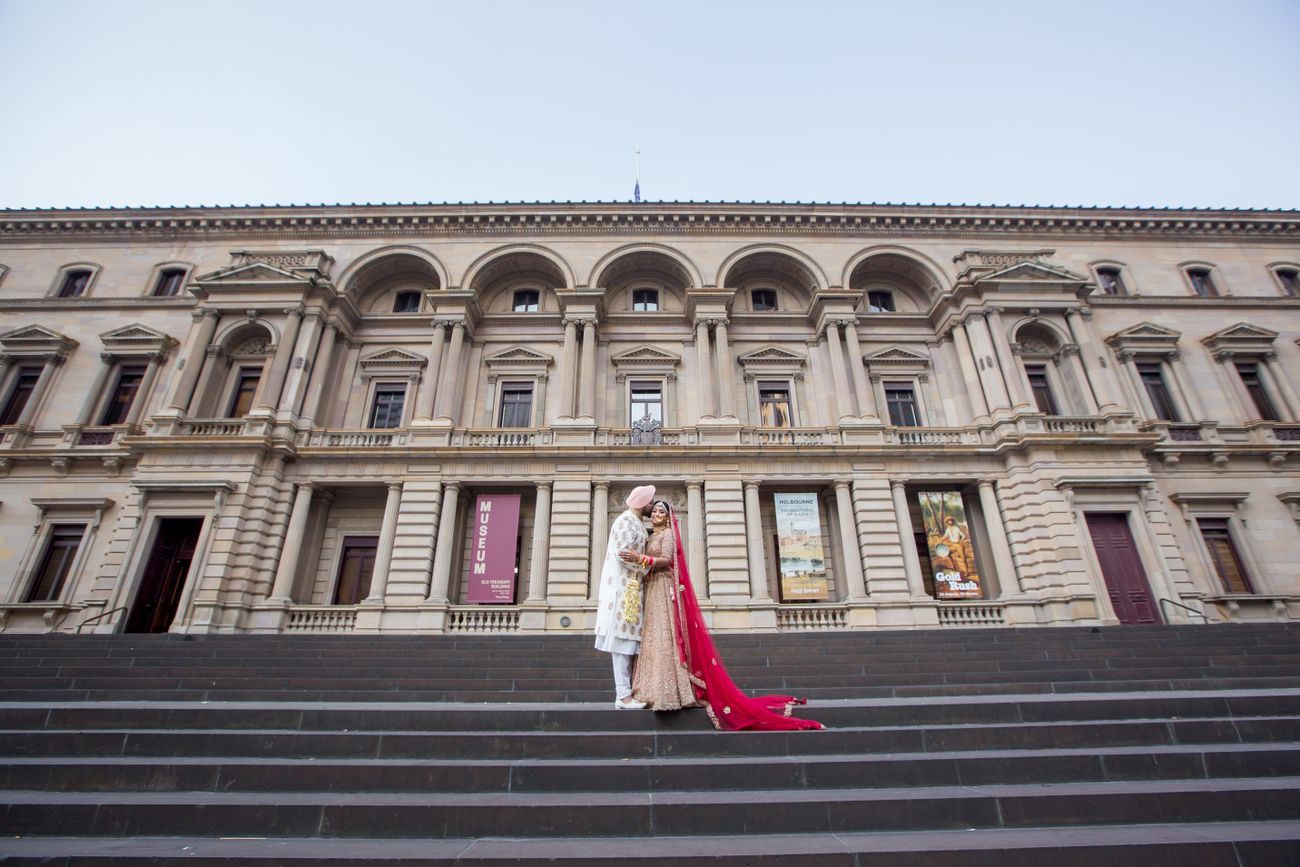 From The Bride
We both wanted a royal Indian wedding to be created in Melbourne. So we chose Werribee Mansion for our venue to reflect that. I love floral, so both our wedding outfits had floral designs. The overall look and feel of our wedding was a beautiful, modern, Australian-Indian summer wedding. Our venue and outdoor ceremony area were decorated with beautiful pink and white pastel flowers with a lot of natural greenery. We married under a big outdoor floral four-poster mandap that looked amazing in the gardens of Werribee Mansion. My bridal bouquet was filled with pink and white pastels to replicate the flowers on my bridal outfit. I walked under a wooden canopy handmade by my Husband for me, which was decorated with baby's breath and pink roses. We both wanted our both weddings to reflect our personality traits. Our overall vision was to create beautiful memories for us. Each event was visioned very carefully with love! We decided on an intimate royal Hindu wedding in Werribee Mansion. The aesthetic was to create a rustic organic floral mandap with intimate settings. For Sikh Wedding, we kept it traditional Punjabi wedding but for photos, we had again organic florals stemming out of floral wall to stay with the floral theme. For the reception, we both wanted a grand, glamorous, elegant affair. I love anything floral so throughout theme was to keep floral eccentric. We had different floral displays throughout each event.  
Vendor Reviews
The moment we got engaged, we knew the wedding venue had to be a dream venue. I visited Werribee Mansion when I was a child and was enamored by the beauty and grandeur of it. We revisited it as part of our venue hunt and fell in love with it all over again. We had beautiful rustic organic floral stemming out Mandap, followed by a lunch reception. It was all possible due to a very hardworking and the amazing venue coordinator at Refectory Bursaria. She managed to get the ceremony permit for us and organized every possible thing to make our beautiful wedding a reality. Refectory Bursaria did an amazing job for us! From taking care of the menu to the service everything was just perfect.    
I had a lovely makeup artist - Shindy Gill from Jazz Me Up. She did an amazing job with my visions for Hindu and Sikh weddings. For the Hindu wedding, I wanted a simple sleek modern bride look. Shindy Gill did an amazing job of glamorous eye makeup and red lips. Hair was inspired by Anushka Sharma, so I looked out for a floral art hair bun designer in Mumbai, who created this beautiful set of white and pink peonies and roses for my floral bun and delivered it within time! For the reception, I trusted Hellana Makeup to give me that dewy glamorous look with lots of highlights. Kelly from Kxhair Design prepared these amazing vintage hair that lasted the whole night!  
Our photographer, Rolling Canvas did a good job! Loved the pictures.
Vendors: Venue: Werribee Mansion ; Makeup Artists: Mehendi, Sangeet - Lips to Lashes Makeup, Wedding - Shindy Gill (Jazz Me Up), Reception - Hellana Makeup, KXhair Design ; Photographer: Rolling Canvas Presentations ; Decor: Reception - Abracadabra Events ; Bridal Outfits: Haldi - Sabyasachi Mukherjee, Mehendi - Papa Dont Preach, Sangeet - Anita Dongre, Wedding - Sabyasachi Mukherjee, Anand Karaj - Rimple and Harpreet Narula, Reception - Manish Malhotra  ; Bridal Jewellery: Haldi - Customised By The Bride, Mehendi - Prune, Sangeet - Free Rani, Wedding - Khanna Jewellers, Free Rani (haathphools), Purab Paschim by Ankit Khullar (nath), Anand Karaj - Ra Abta By Rahul (mathapatti), Ankita Jewellery (necklace set),  Reception - Free Rani, Malabar Gold ;  Mehendi Artist: Alisa Parveen ; Groom's Outfits: Sangeet, Wedding - Gujralsons, Reception - Geoff Lee from Saibu no Akuma ; Invites: Diksha Mehta Invites