A Spectacular Udaipur Wedding With A Splash Of Colors And A Bride In A Cherry-Red Lehenga!
BY Soha | 26 Apr, 2019 | 109 views | 6 min read
2019 is all about brides who go that extra mile and are involved in every aspect of the wedding, giving it that golden personal touch! Our bride for the day, Priyanka was no different. Now here's a wedding not only of two individuals, but two families. The couple made sure guests from both the sides got ample time to get to know each-other. Not to forget, the kickass celebrations that followed! Apart from that, we absolutely love how this bride complimented her cherry-red lehenga with a beaded pearly haar that could have caught anyone's attention from even 5 miles away! Pretty-pretty! And their story would be incomplete without a huge shoutout to team Picsurely★ 4.7 for catching all the action and awesomeness on their lens!
Meet Priyanka & Neal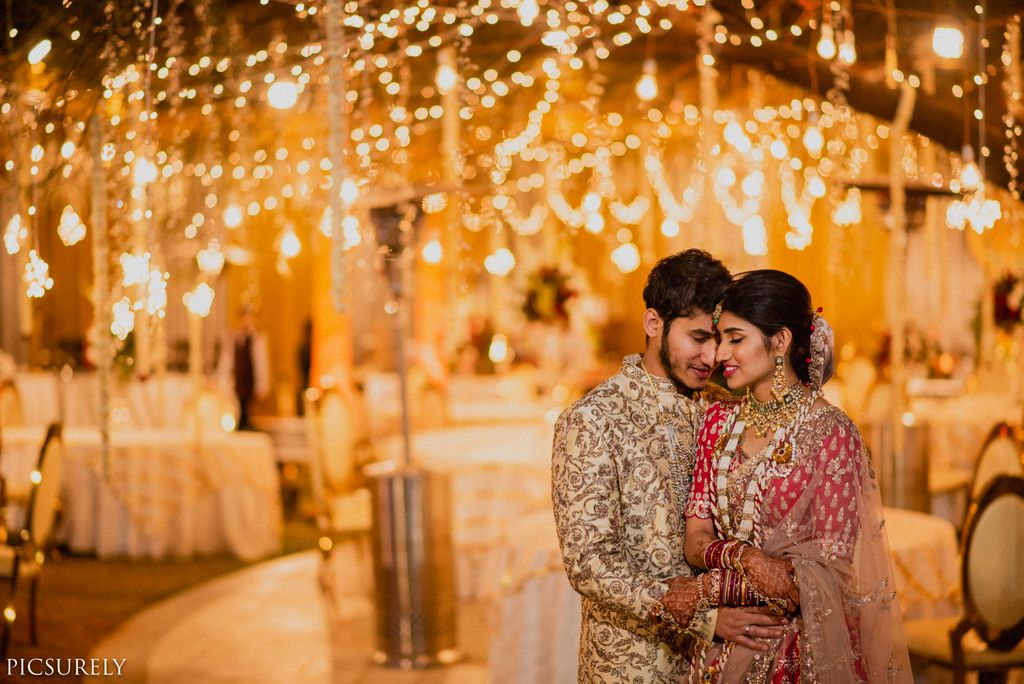 Love happens in the most unexpected ways. That was the case with Priyanka and Neal, too! "We met through mutual friends and family at Vadodara, which is Neal's home town. Conversations flew, and that is that!," shares Priyanka. 
The Mehendi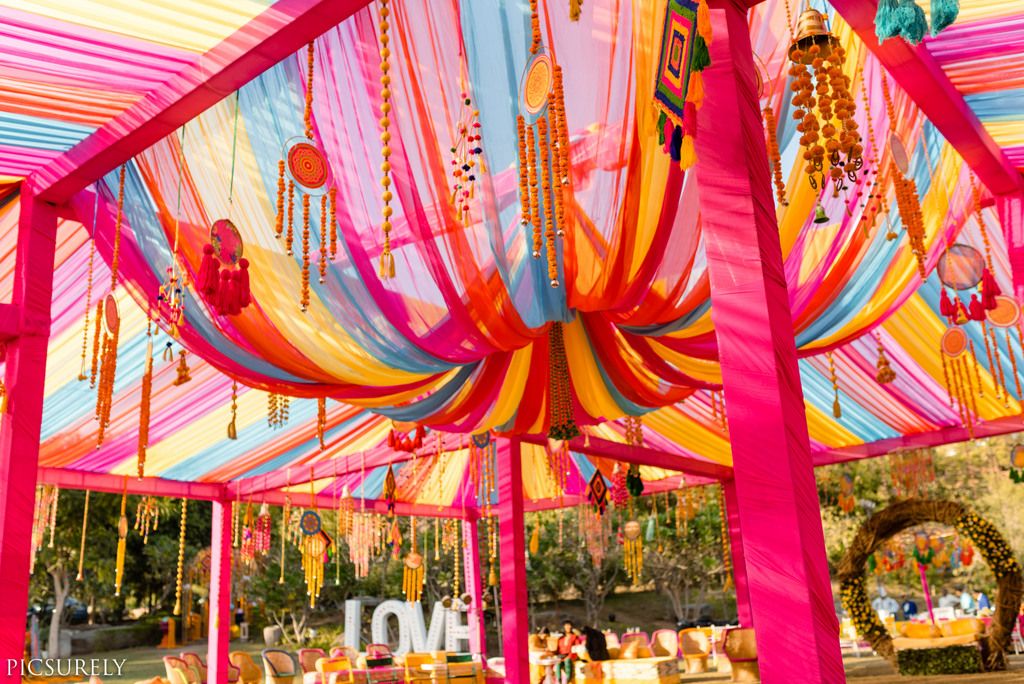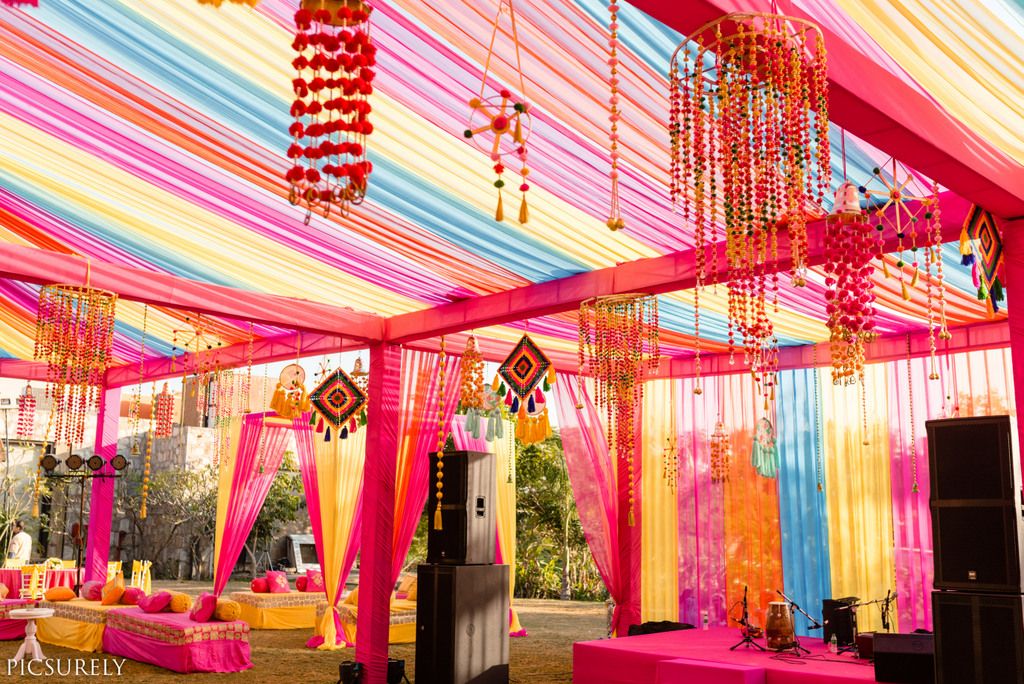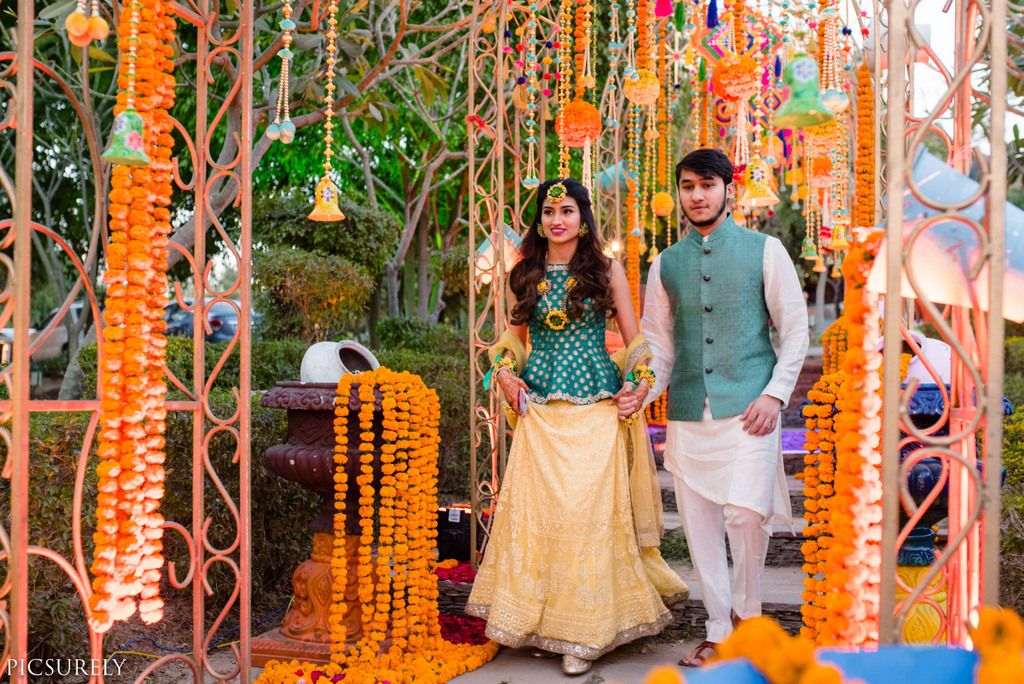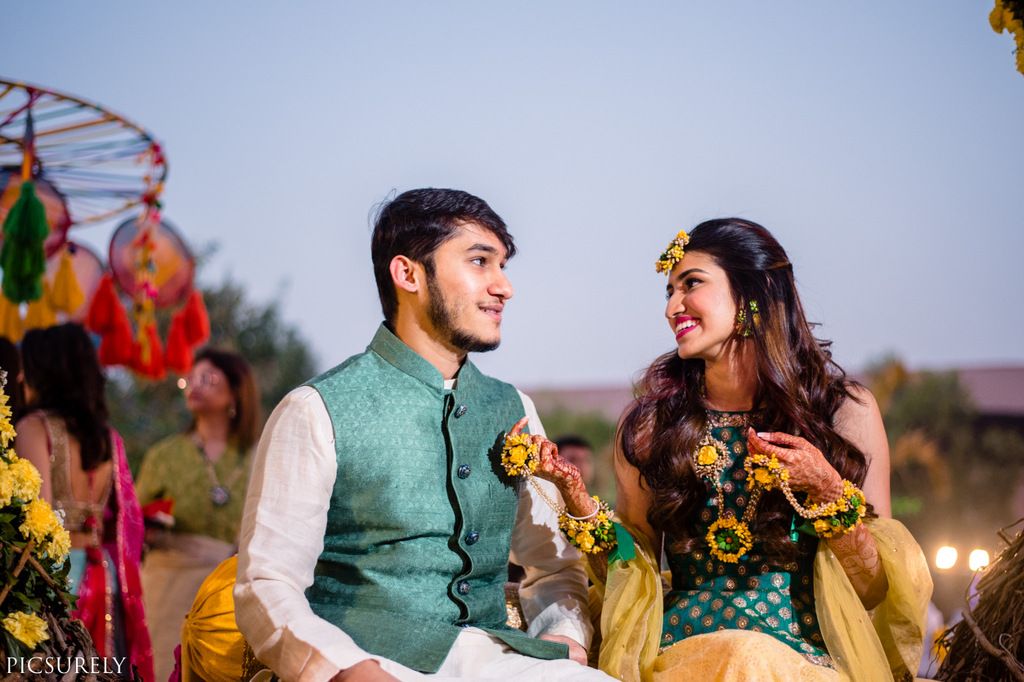 The Wedding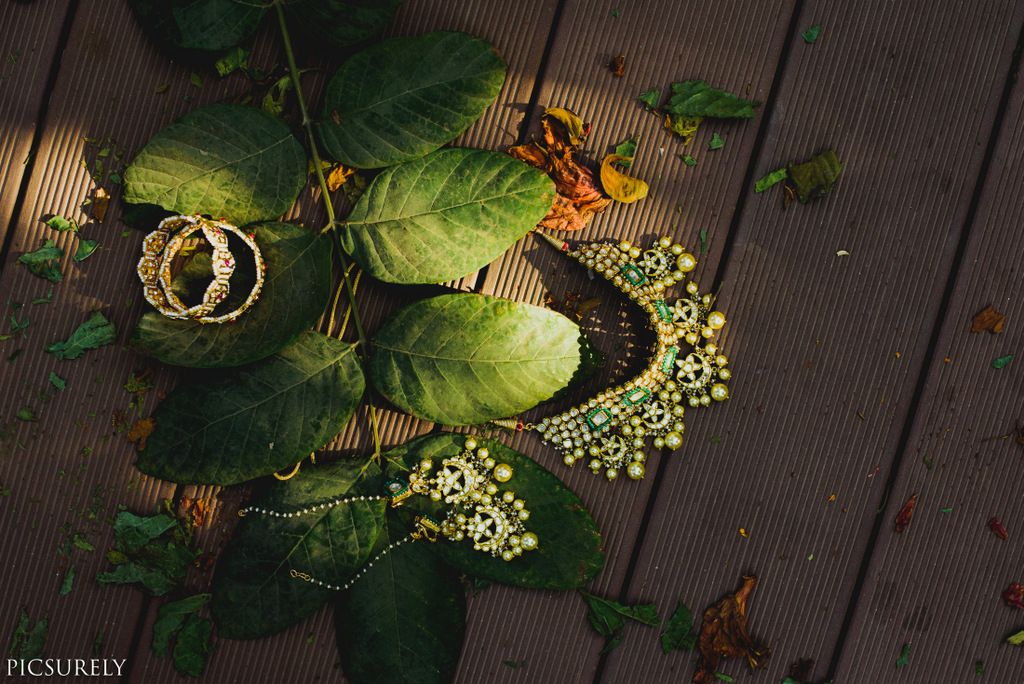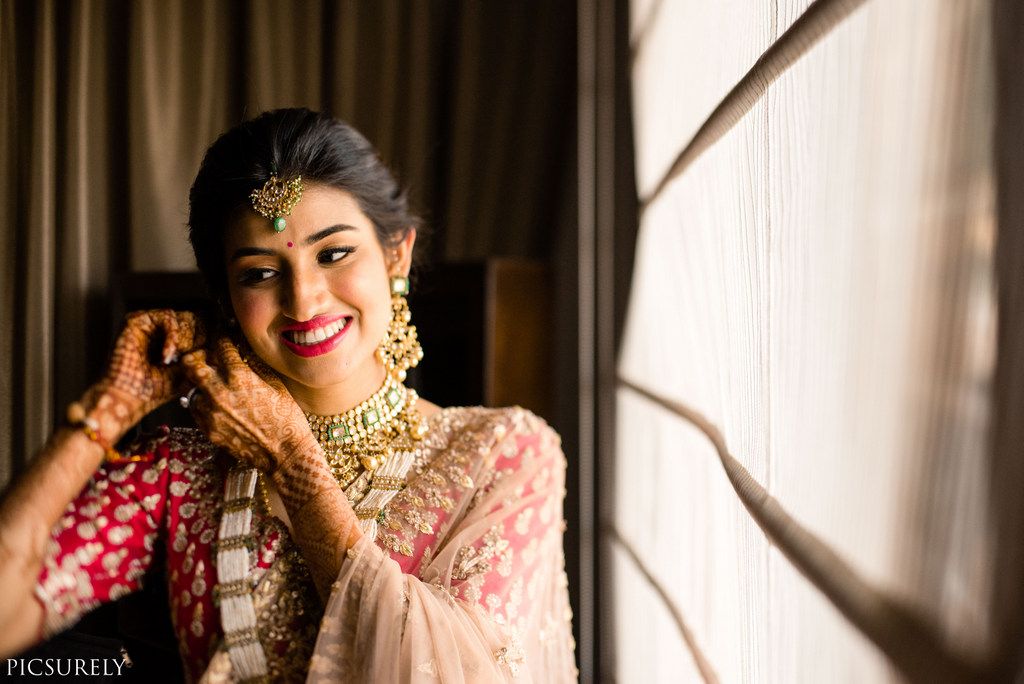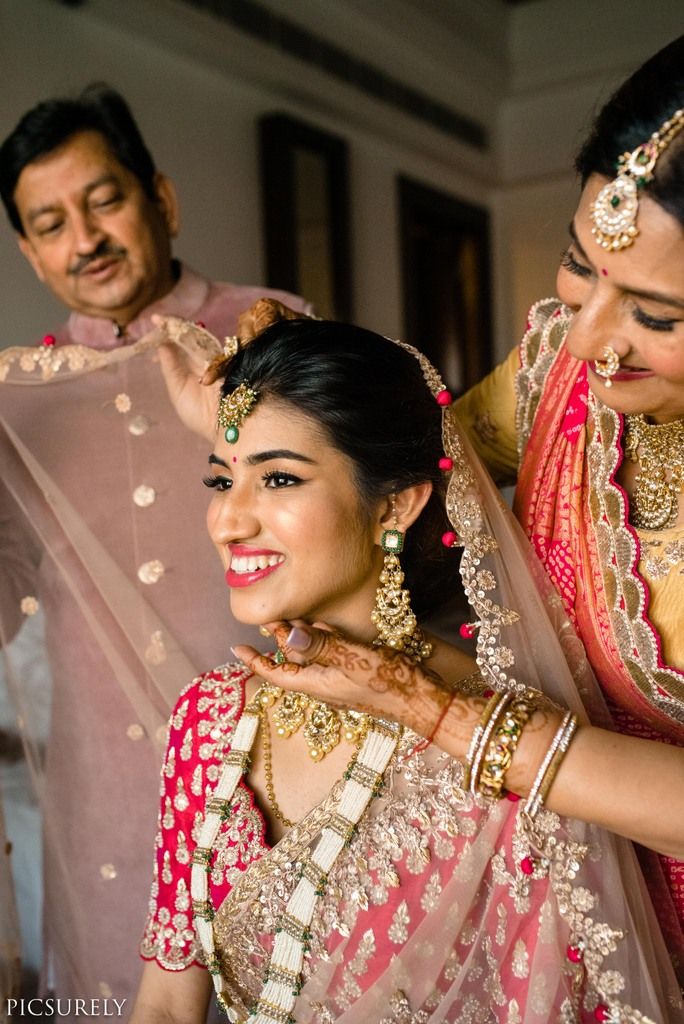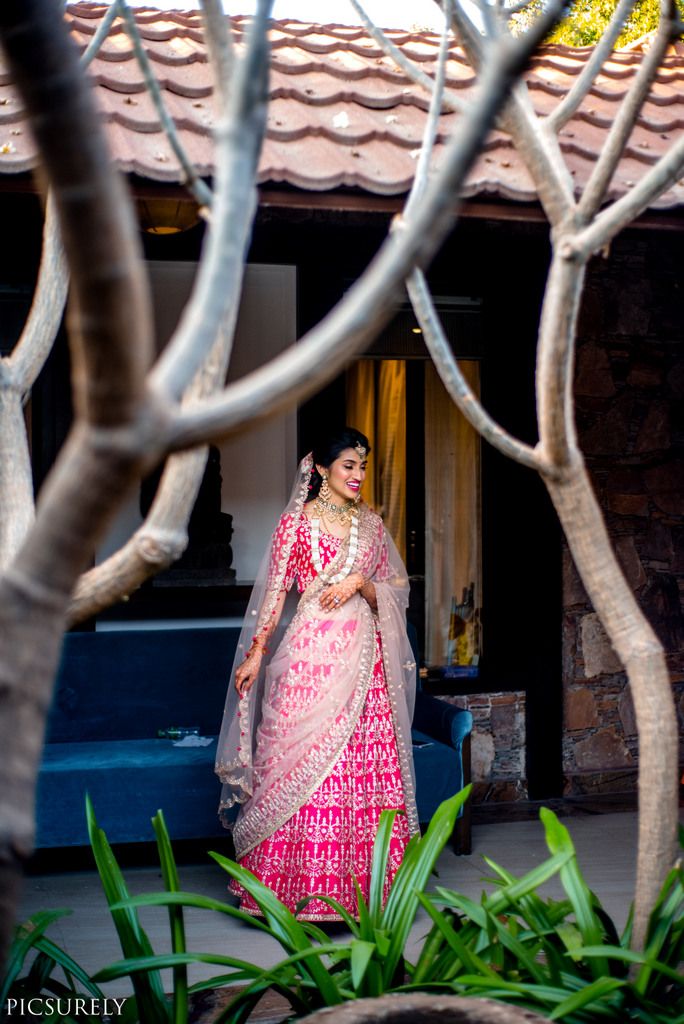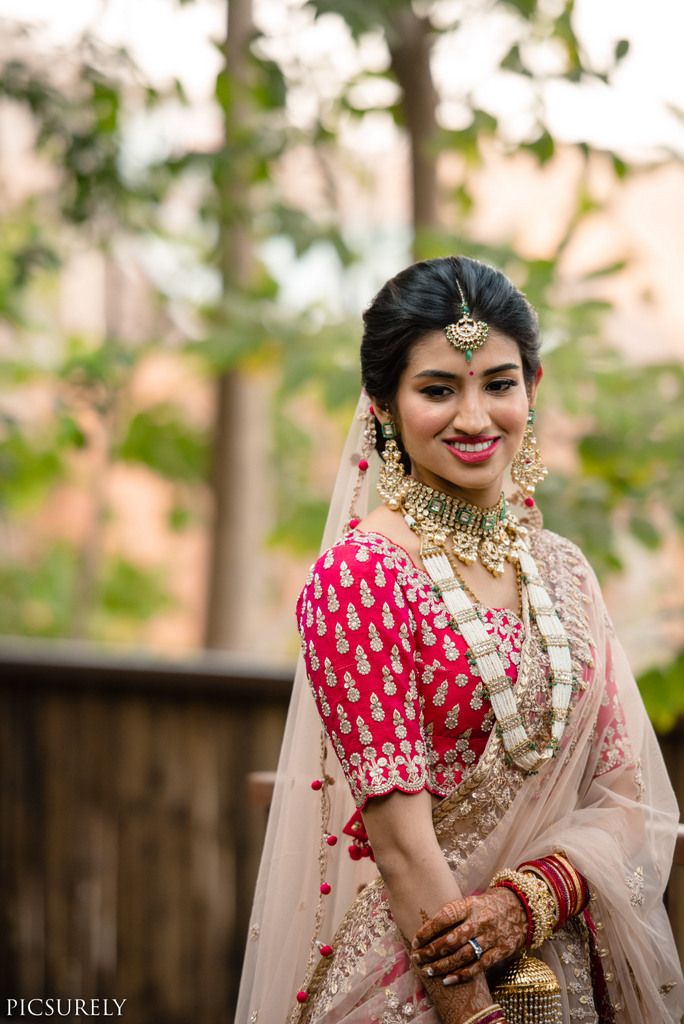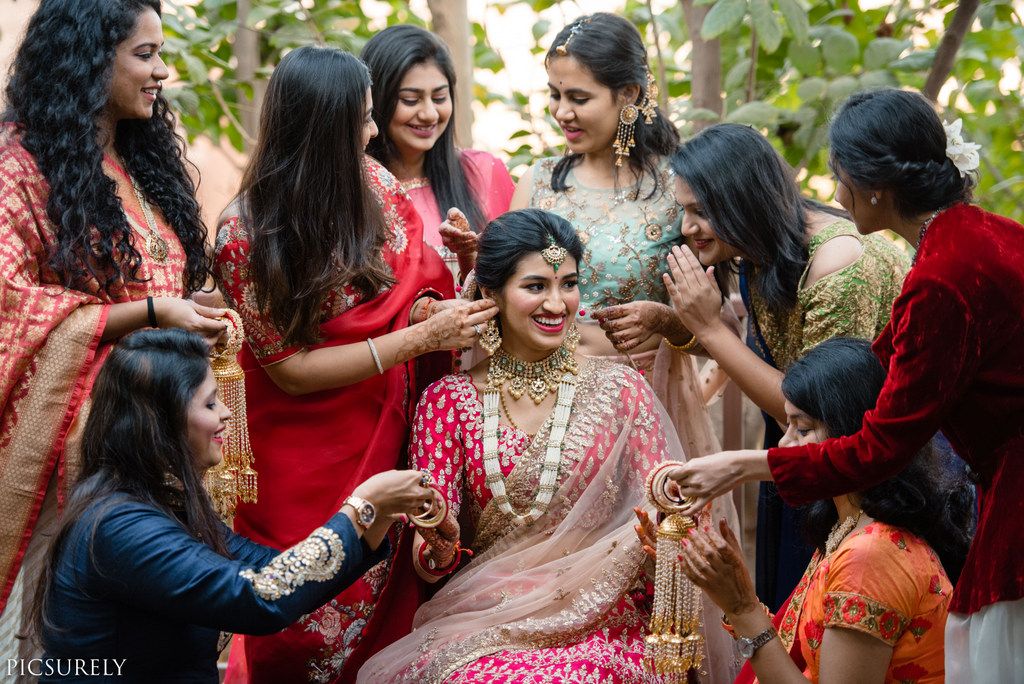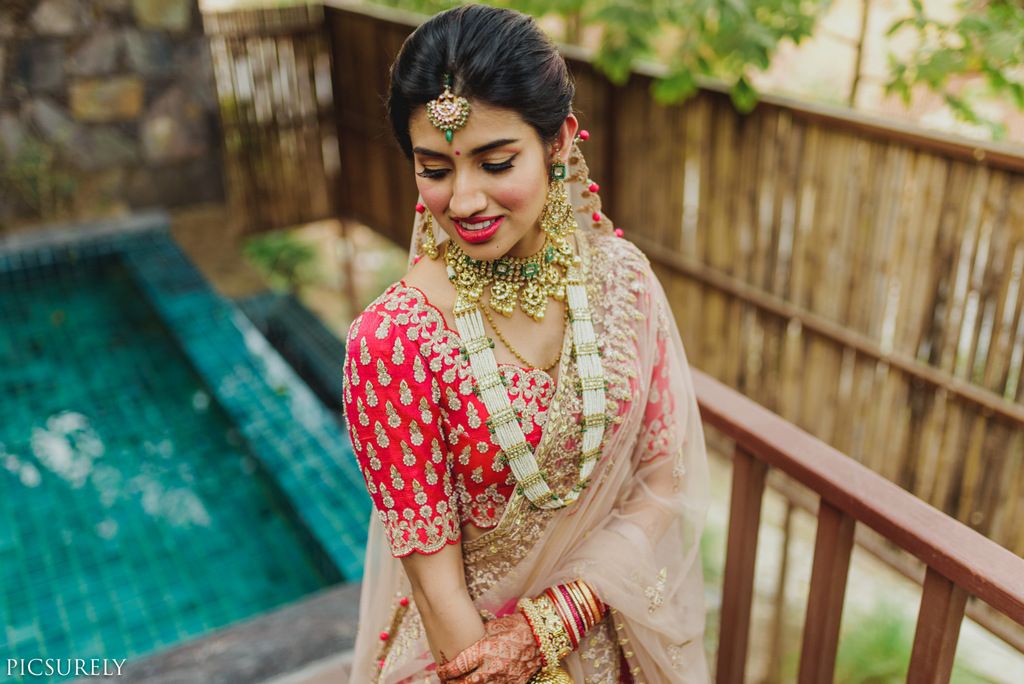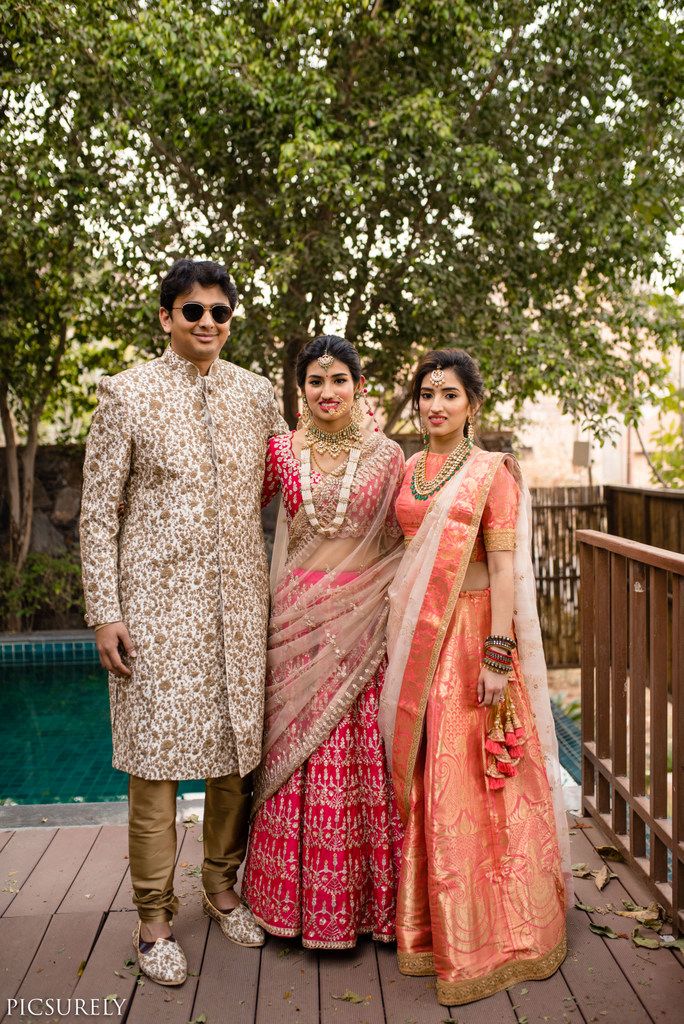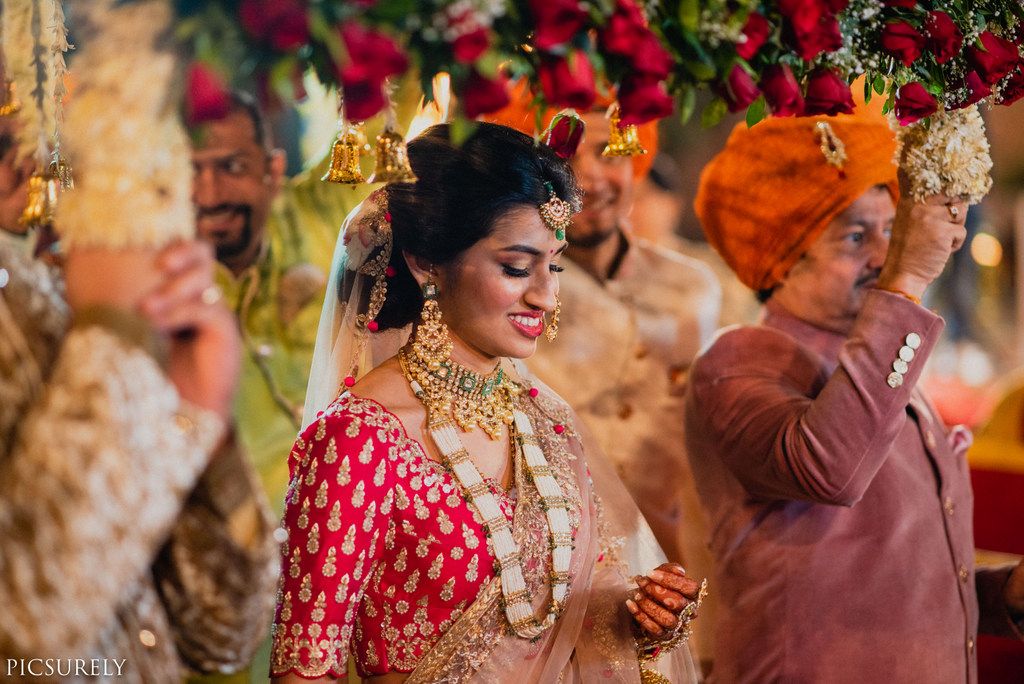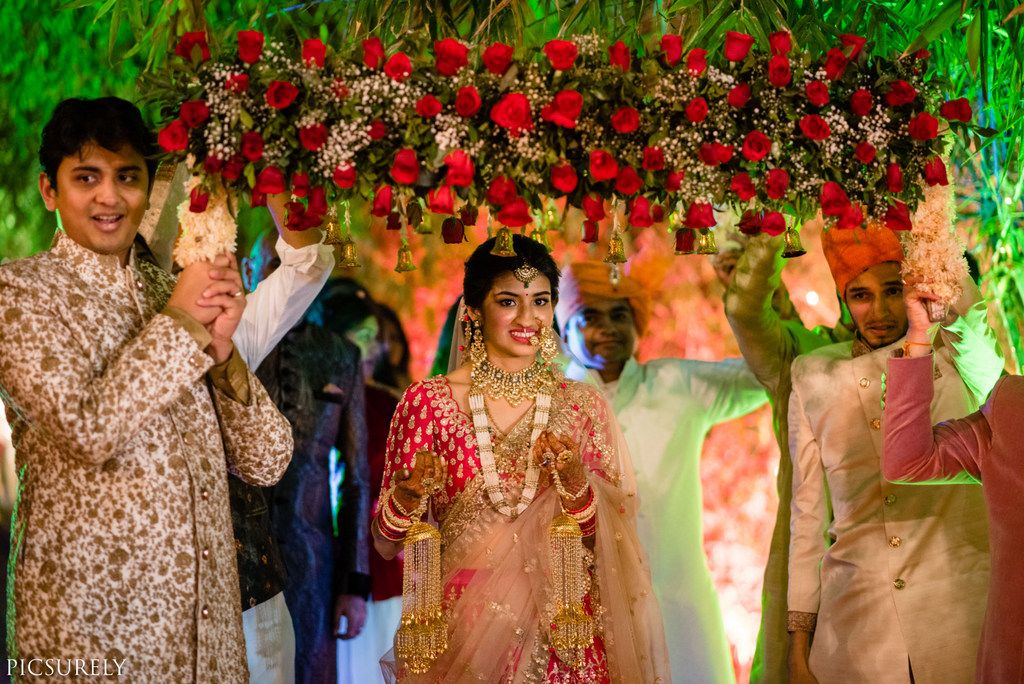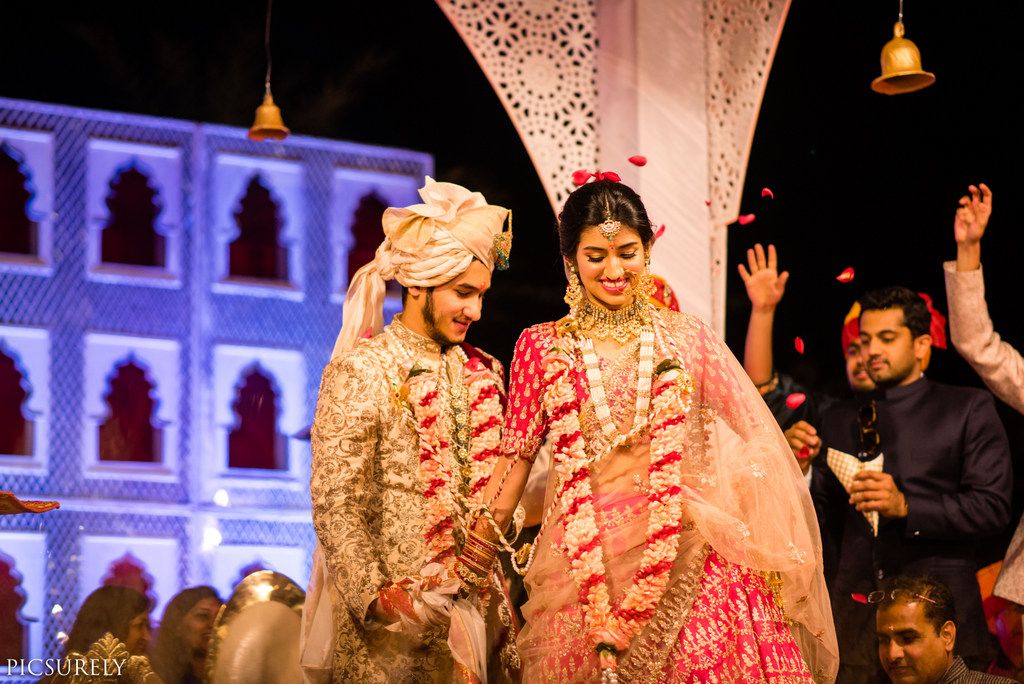 From The Bride
"Every girl dreams of a perfect wedding and my wedding conceptualization and planning had started about 12-14 months before the big day," shares an evidently ecstatic Priyanka.
"I made sure I was involved in every aspect of the wedding as much as possible because the personal touch is what makes your D-Day special and gives it a unique vibe. We had four events - Rang Rasiya Mehendi, Sufi Soiree and Cocktail, Rustic Lunch and the wedding ceremony. All the events had been planned out very precisely so they were all different from each other - the concept, design, look and feel, atmosphere, etc. This being said, I was lucky to work with vendors who invested a lot of time to understand what I wanted and turn my thoughts into reality.
The Sufi Soiree had a sangeet element where both the sides of the families and friends gave a few quick performances. My husband and I danced our hearts out during the Cocktail and made sure that the vibe was infectious. Also, the Rustic Lunch on the day of the wedding is the closest to my heart as it was a fun event planned for guests from both the sides to mingle and socialize. The whole theme was yellow and white and the guests were asked to dress in smart casuals so they would get a break from dressing up in heavy Indian clothes and jewellery. The highlight of the Rustic Lunch was when my sister and my best friend had a surprise toast prepared for me - it truly made the event more special and touching. The wedding was very a very elegant and surreal affair for me, where we wanted to keep the vibe very pure and heartwarming. The best part of the wedding ceremony was the way I felt when I was walking down the aisle with my brothers and father and when I got a glimpse of my husband looking at me in my wedding outfit. The feeling was priceless. When it was time for the festivities to begin, I had made up my mind - To let go, live, laugh my heart out, have a lot of fun and make beautiful memories. It was the best wedding I could have asked for.
Silvercraft Events: I was blessed to have Silvercraft handling my wedding as they were extremely cooperative and understanding about the whole journey. There was a time when I used to call Pratiksha from Silvercraft everyday and she handled all my queries with a lot of patience and executed things beautifully. Thank you for treating my wedding as your own and not just as a business affair - this is the best part about you guys!
Picsurely: Regan and his team were a pleasure to work with. They have given me such beautiful memories from my wedding that are timeless pieces for me. The team was extremely professional, knew what to get out of my husband and me in terms of the poses and shots and was very understanding during pockets of distress. I would definitely get married again just to be shot by you guys! Kudos to the entire team.
Amrita Kalyanpur: Amrita is one person who I have worked with before and she is a magician. I was very adamant about having her as my make up artist as I knew I would be stress free about my looks for the different events, thanks to the faith I have in her. Amrita stands out for me not only because of her skills and the way she transformed me for every events but also for her warm and friendly personality which puts you at ease while getting ready.
Be Positive 24: This Chennai based firm got the ball rolling for my wedding by working with me on the invites. The invites were designed very beautifully by the team and they did not rest until everything was done with precision and perfection. Abhishek and Nikhil spent alot of time with me just to understand the kind of people my husband and I were and made sure it was reflected in our wedding card. Every wedding card was personalised in a way that it the name of the invitee printed inside the card on the first page with a personal message. They even designed pour in room programs cards which had the my husband's and my journey in short, the list of events and also a fun DND door knob tag!
Ananta Resost and Spa: All the different vendors cannot give their best if the venue and the management does not cooperate with them. Special thanks to Ananta for their level of hospitality and for giving me and all the guests a wonderful experience at their resort. Everything was taken care of beautifully and they left no stone unturned in making my wedding a memorable one," shares Priyanka.
Vendors: Venue: - Wedding: The Ananta ;  Photographer: Picsurely★ 4.7  ; Makeup Artist: Amrita Kalyanpur ; Bridal Outfits: Mehendi - Sejal Shah,  Sangeet/Sufi night, Cocktail & Wedding- Faabiiana ; Mehendi Artist: Tanvi, Udaipur ; Groom Outfits: Mehendi - Deval, Ahmedabad; Nautanky, Ahmedabad, Sangeet/Sufi night & Cocktail - Kora, Ahmedabad, Wedding -Shyamal Bhumika★ 4.7 ; Decor: Silver Craft Events★ 5  ; Invites: Be Positive 24