Mathapatti Or Mangtikka? What To Wear And Why?
BY Sakshi | 26 Apr, 2019 | 30004 views | 4 min read
The struggle is real brides-to-be! Yes, we are sure a lot of brides go through this conundrum while finalising their bridal look- should they be a maangtikka or a mathapatti bride? With so many ideas and so much inspiration out there, it can be hard to pick which look is right for you, and if you are one of those who's confused about this decision, which can drastically and dramatically alter your final bridal look, then read on to get some tips that might help you make your decision.

Image via Red Veds★ 5  and Nandini & Ajay (Delhi)
Personal preference
Browsing some photos of brides wearing maangtikkas and some wearing Mathapattis might give you an idea of your personal preference, if you don't know it already. Even if you think a certain style will not suit you, it never hurts to try one and check for yourself! The exact same thing might not look that good on you, but there's always a way around it!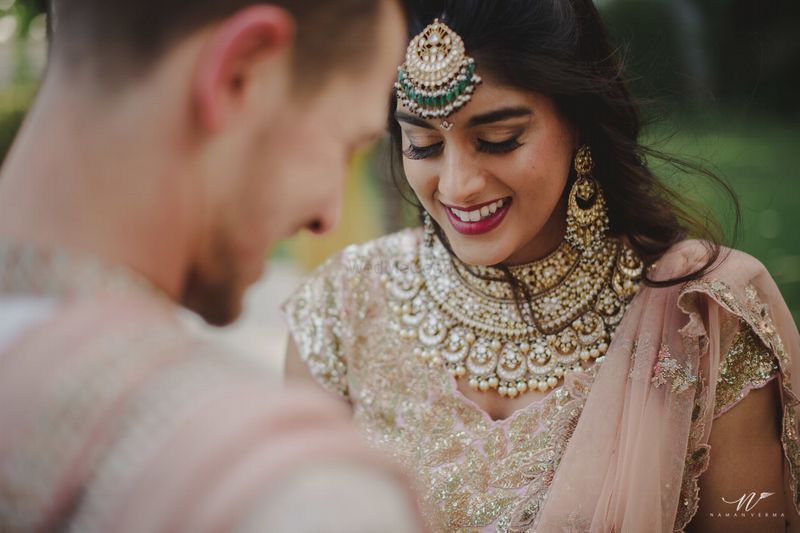 Image via Ashna & Brett (Hyderabad)
The size of your forehead
If you have a very small forehead, then a subtle maangtikka is a better option for you as compared to a mathapatti, which might cover up your entire forehead. If you are still would love to wear a mathapatti, then pick something with subtle chains on the side as compared to a huge chunky one. For brides with a big forehead, either will work, what you pick can depend on the rest of your face- the shape and size of it.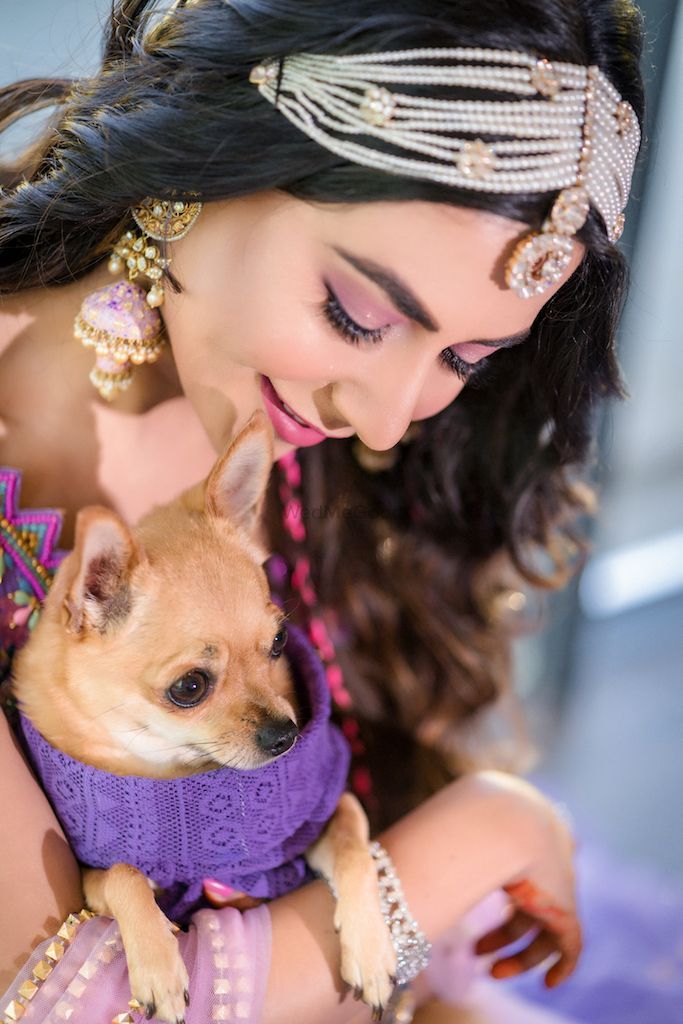 Image via Divya & Karan (Delhi)
The size of your face
Big face: Mathapatti is a better idea
If you have a big face, then a statement Mathapatti might look better on you, instead of a small little maangtikka. If you do want to wear a maangtikka, then pick one with a bigger design, so that it looks proportional to your face.
Small face: Maangtikka is a better idea
If you have a small face, then a maangtikka is a better idea for you as your face might look like it is drowning in a mathapatti. If you do want to wear one, then pick something dainty instead of one with a big, broad design and wear it higher than you normally would.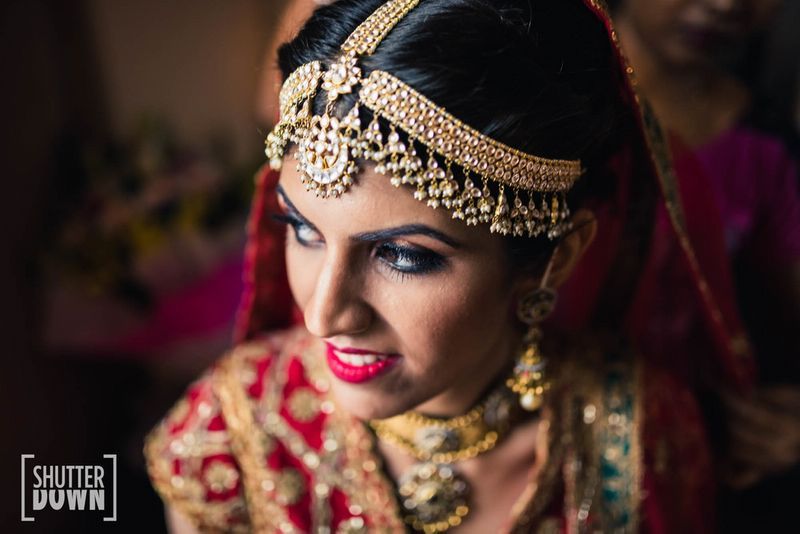 Image via Roma & Raghav (Delhi)
The shape of your face
Square face shape: Since the jawline is very pronounced in this one, with high cheekbones, an assymetrical maangtikka or mathapatti is better suited for these brides. A borla looks great too since it doesn't take too much space on the forehead.   
Round face shape: Brides who have a round face should avoid Mathapattis, as the band cuts the length of the face, making it look even rounder. A geometric maangtikka or a jhoomer is a better idea instead. Also avoid Mathapattis with a completely circular shape.
Oval face shape: These are the lucky brides who can rock whatever they want. You can make your decision depending on your face and forehead size. 
Oblong face shape: A chunky or broad mathapatti looks great on an oblong face shape, as it increases the width of the face, which is what you want. Generally, any style will look good on this face shape, but avoid a thin long maangtikka. 
Heart face shape: Delicate maangtikkas and Mathapattis which have dangling elements look nice on this face shape, but whatever you pick, make sure it is dainty and not chunky.
Diamond face shape: Again, delicate instead of chunky. Passas and jhoomars look better on this face shape than maangtikkas or Mathapattis.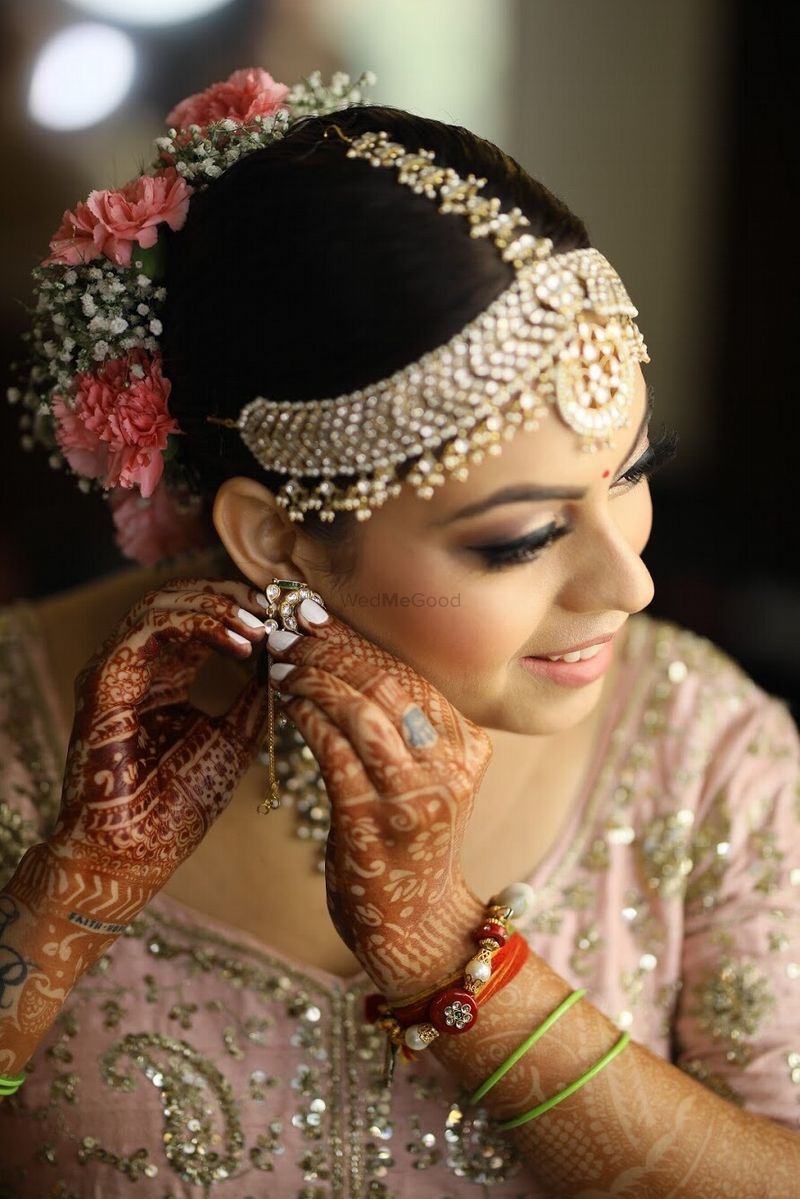 Image via Neha Grover - Makeup Artist ★ 4.8
Minimal vs Heavy 'Bridal' Look
If you want to keep your bridal look minimal and not too heavy, then a dainty maangtikka is the way to go. If you want the heavy bridal look, then a broad mathapatti suits that bill.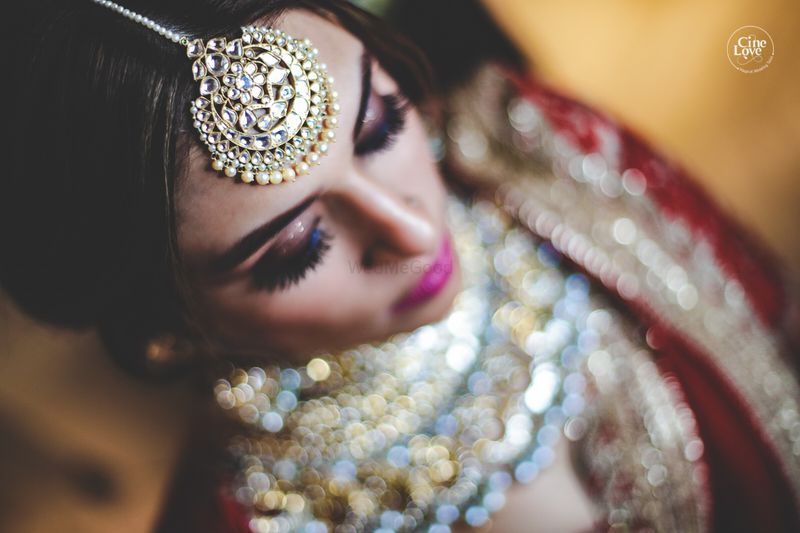 Image via Evolve Weddings India★ 4.7
The rest of your bridal jewellery
Another thing that's gonna factor here is the rest of your bridal jewellery. Wear your whole set with your blouse and then try picking what looks better with the jewellery- a maangtikka or a Mathapatti.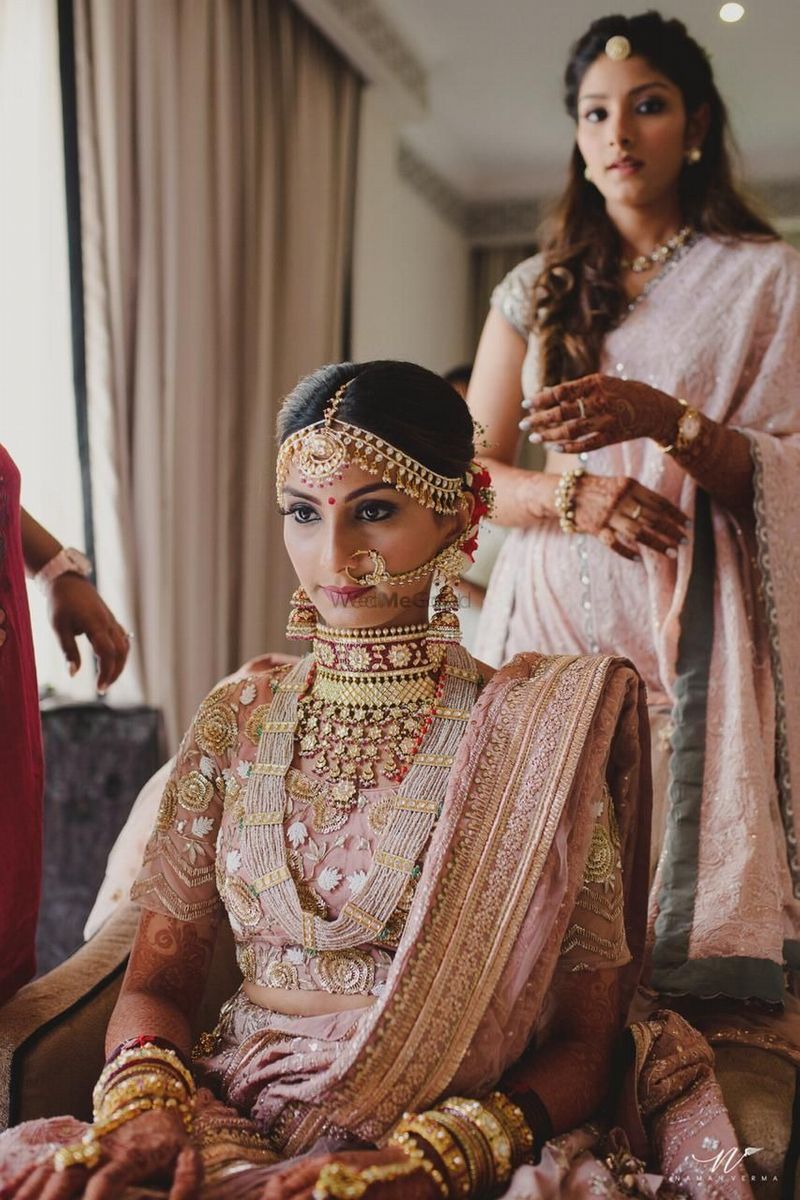 Image via Vidhi & Rushang (Jaipur)
Real vs Artificial jewellery 
If you want to wear all real jewellery on your wedding day, then picking a maangtikka over a mathapatti can cut your bridal jewellery costs by a lot, since the surface area is much lesser. 
ALSO READ: The Right Mathapatti for Every Face Shape!