A Stunning Dusk Wedding In Kerala With The Bride In A Gorgeous Peach & Ivory Lehenga
BY Aakanksha | 22 May, 2019 | 6942 views | 6 min read
We have come across many brides who have designed their own outfits, but here it was the groom who DIY-ed all his wedding wardrobe, and what a stunning job he did. However, that was not the only thing we loved about this wedding! Stunning location, gorgeous outfits, perfectly executed themes, everything here was just beautiful. Don't miss out on the absolutely perfect coordination of the couple's outfits with the decor! Vasundhara Sarovar Premier proved to be the best location for their celebrations while Magic Motion Media★ 4.5 captured their best moments in the a picture-perfect manner!  
Meet Disha & Aditya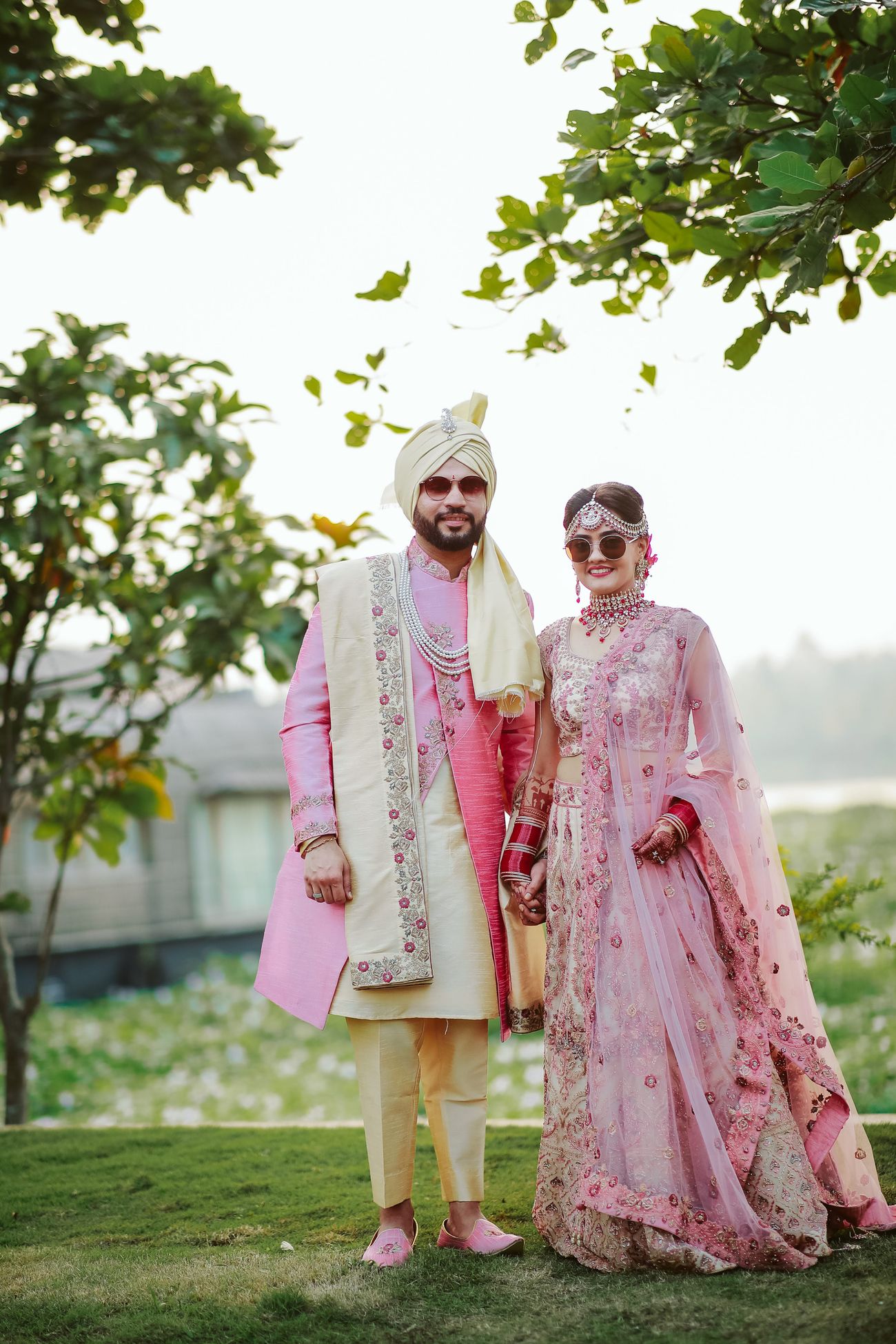 Disha and Aditya met through the traditional arranged marriage platform, and in a few conversations they knew that they wanted to be together. Both are originally from Mumbai, but Aditya is now settled and working in New York. The couple got engaged in Jan 2018, with the wedding dates set for 18th and 19th December, 2018 at Vasundhara Sarovar Premier, Kerala. The festivities were planned and curated by Disha and Aditya as they were getting to know one another, and simultaneously planning the most important day of their life sitting miles away from one another in a long distance bond ?
The Mehendi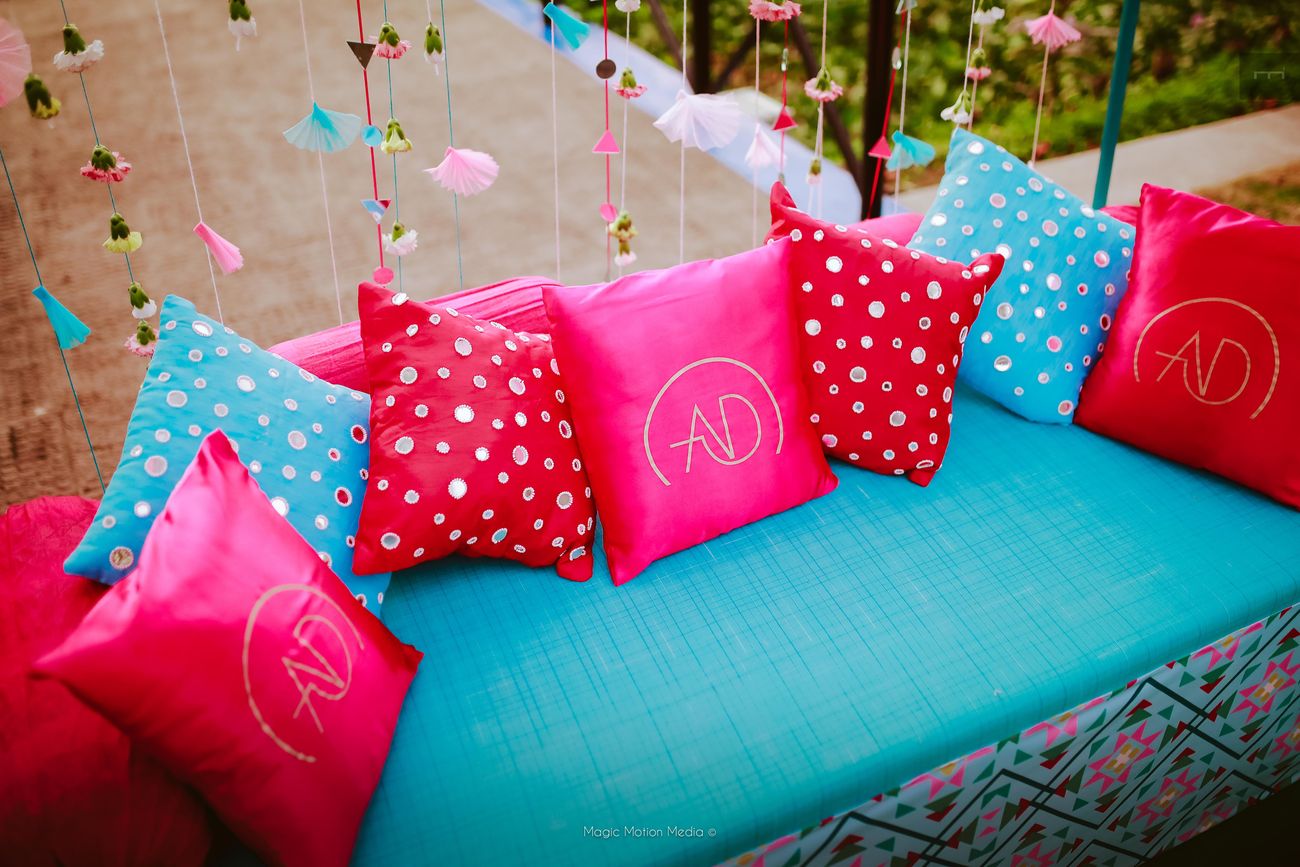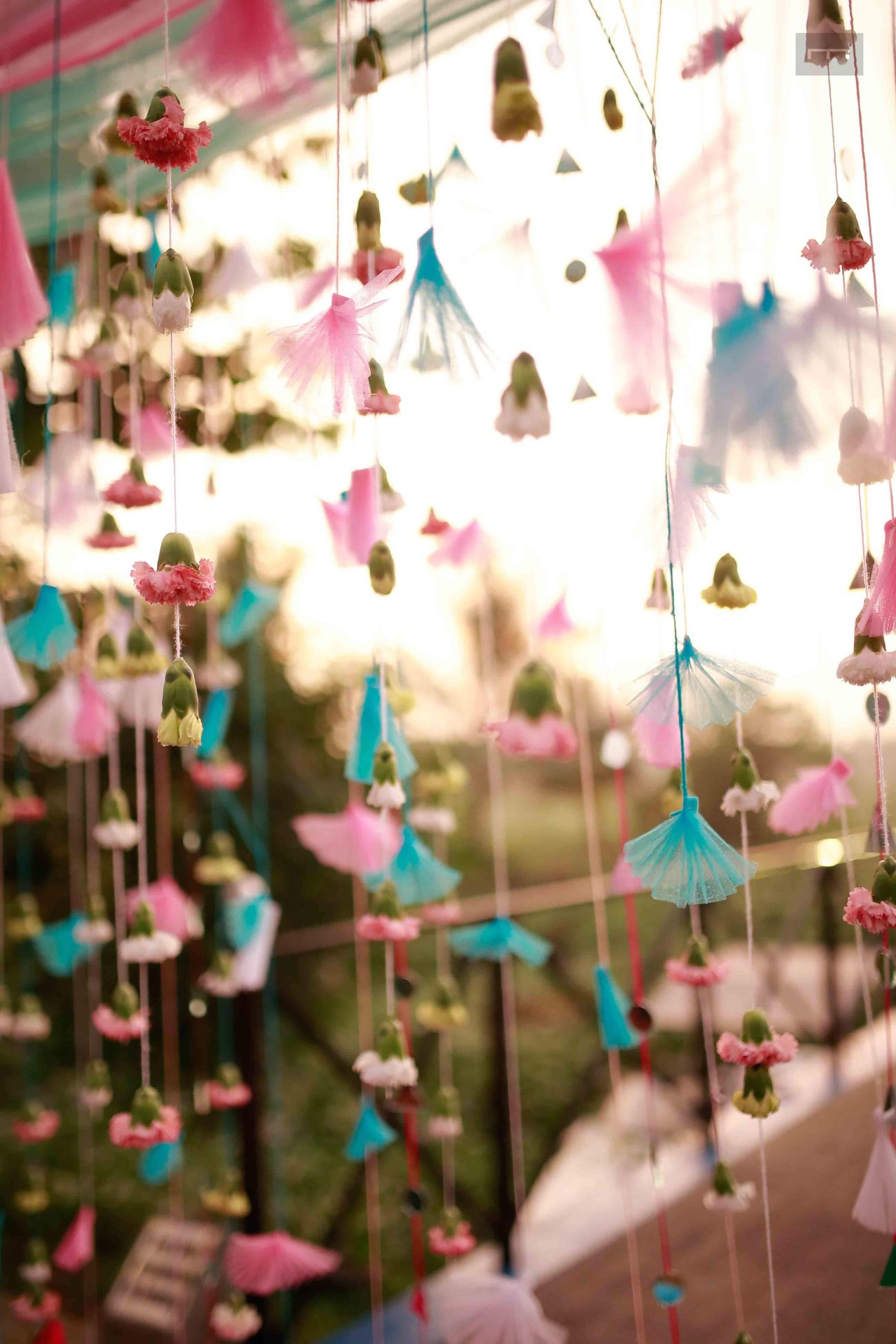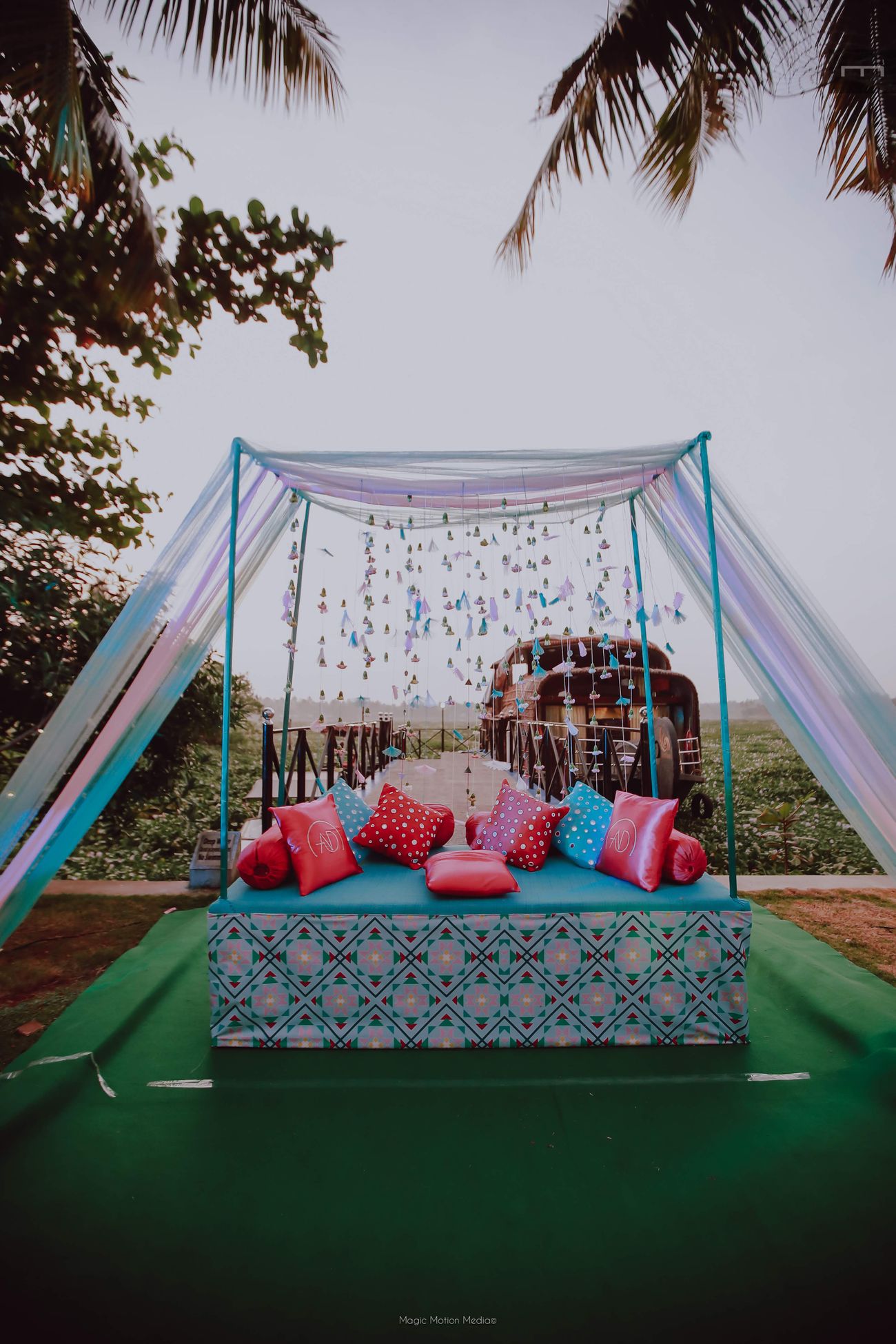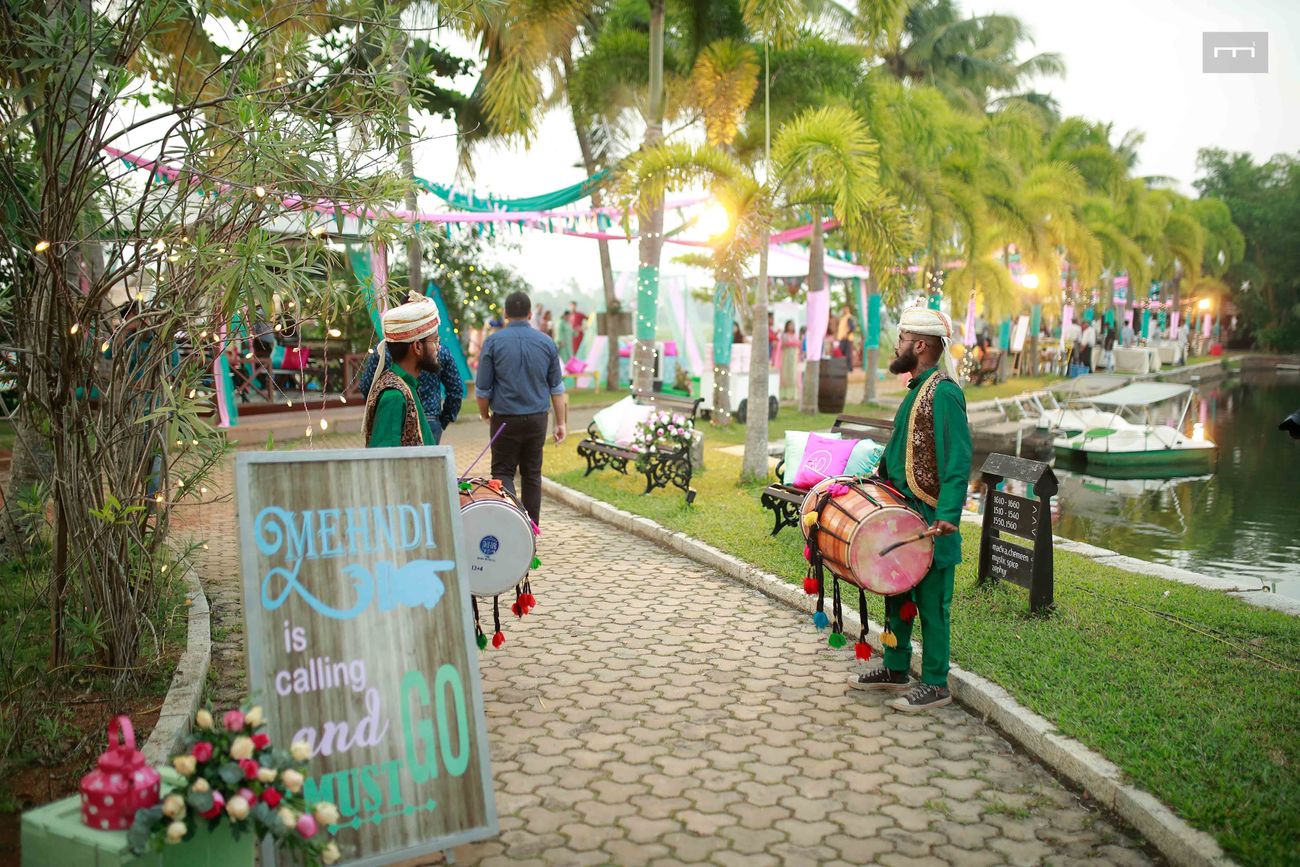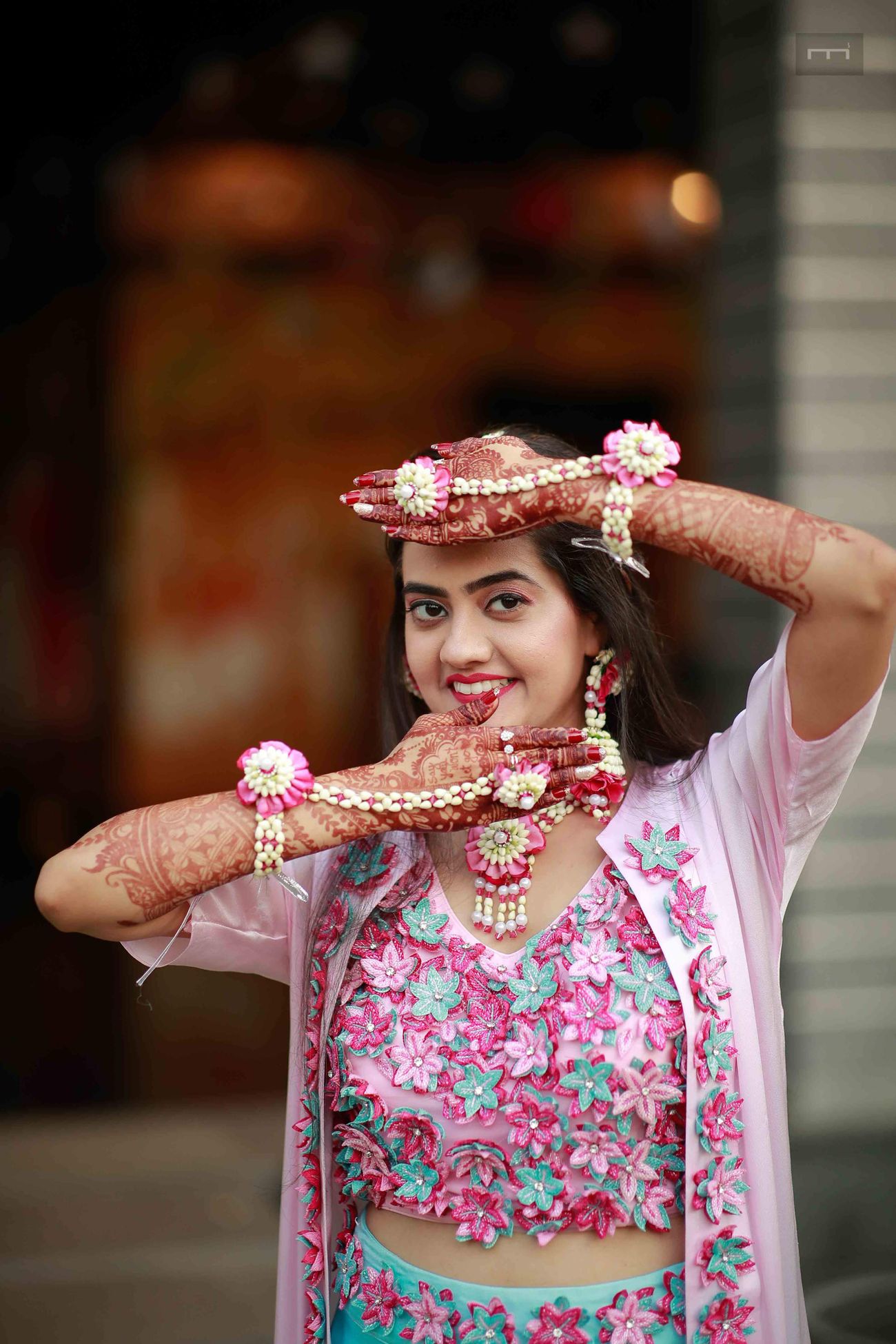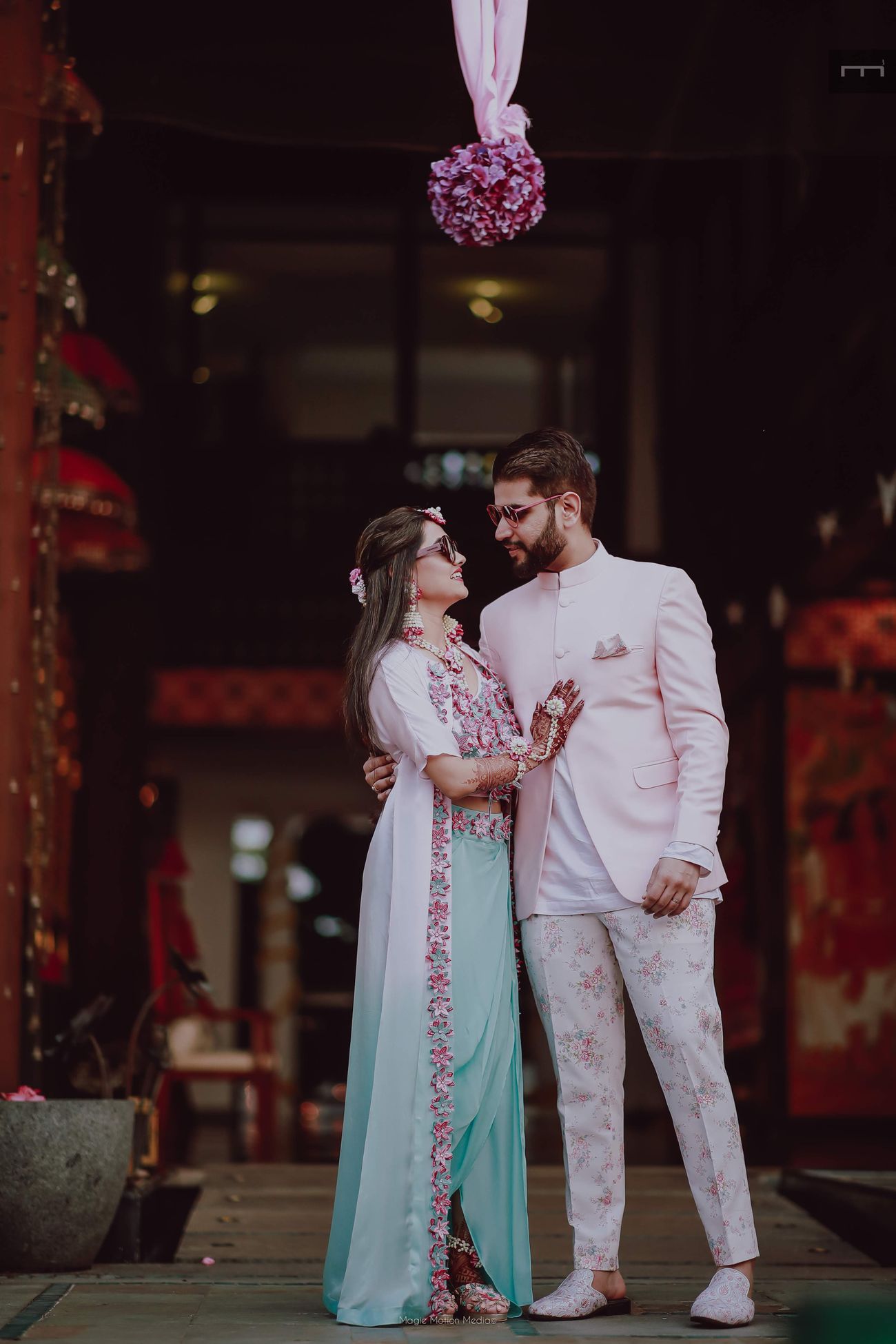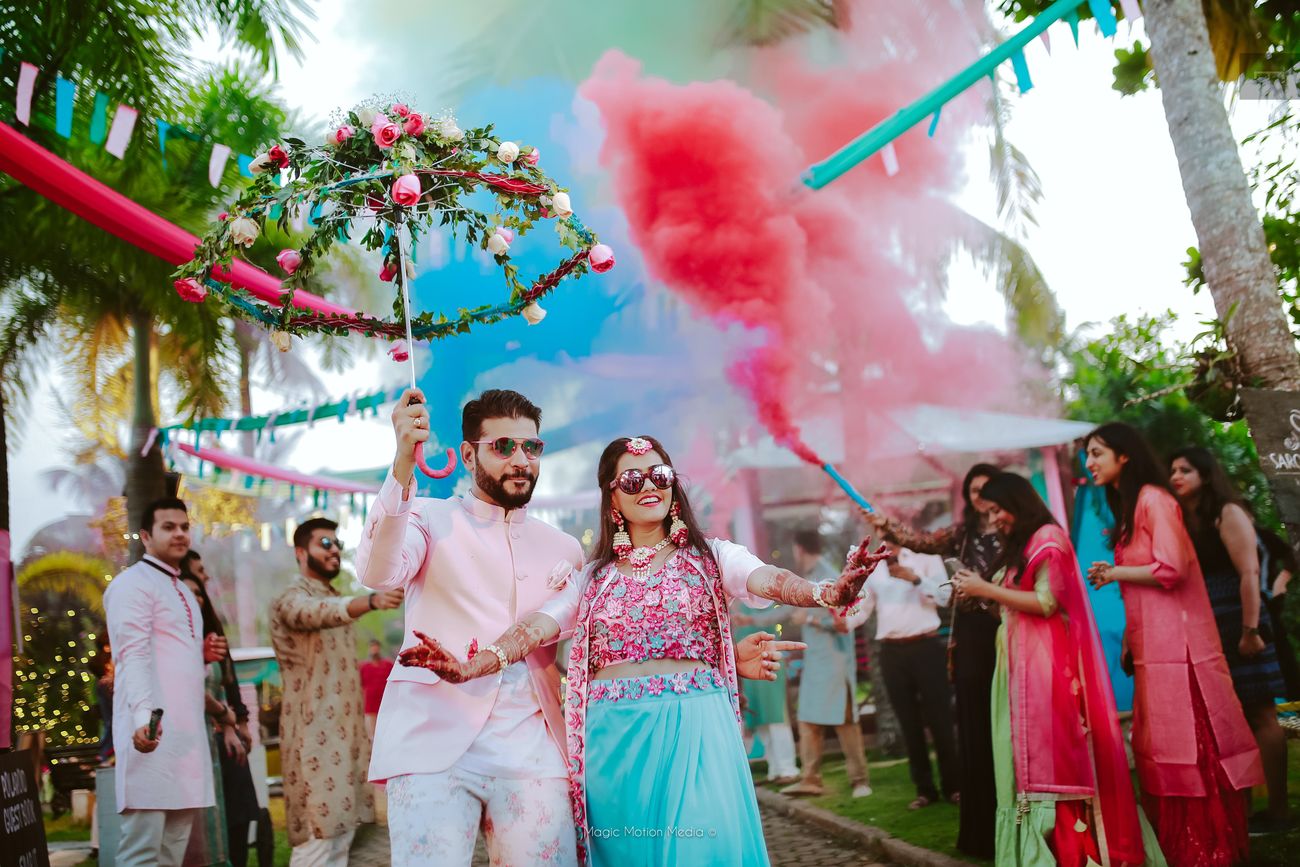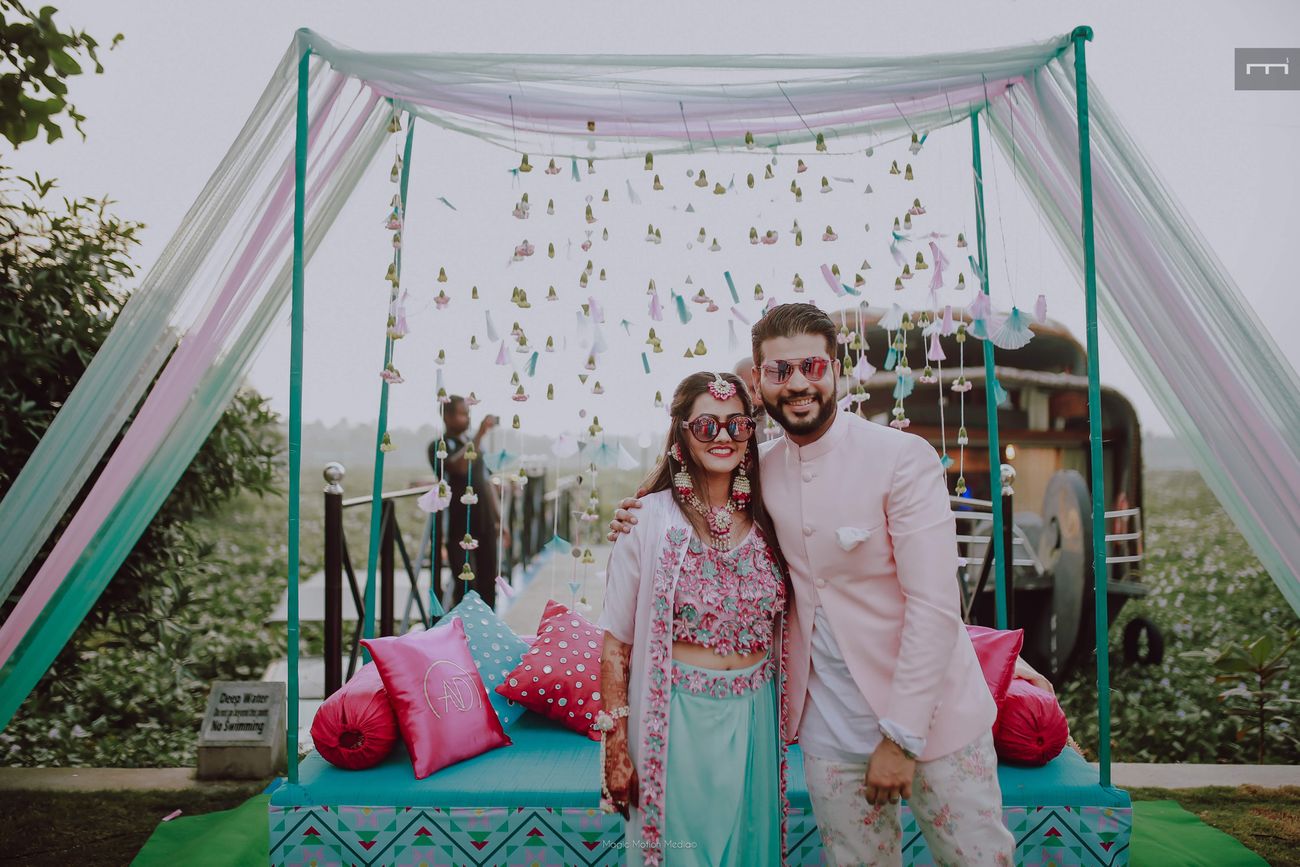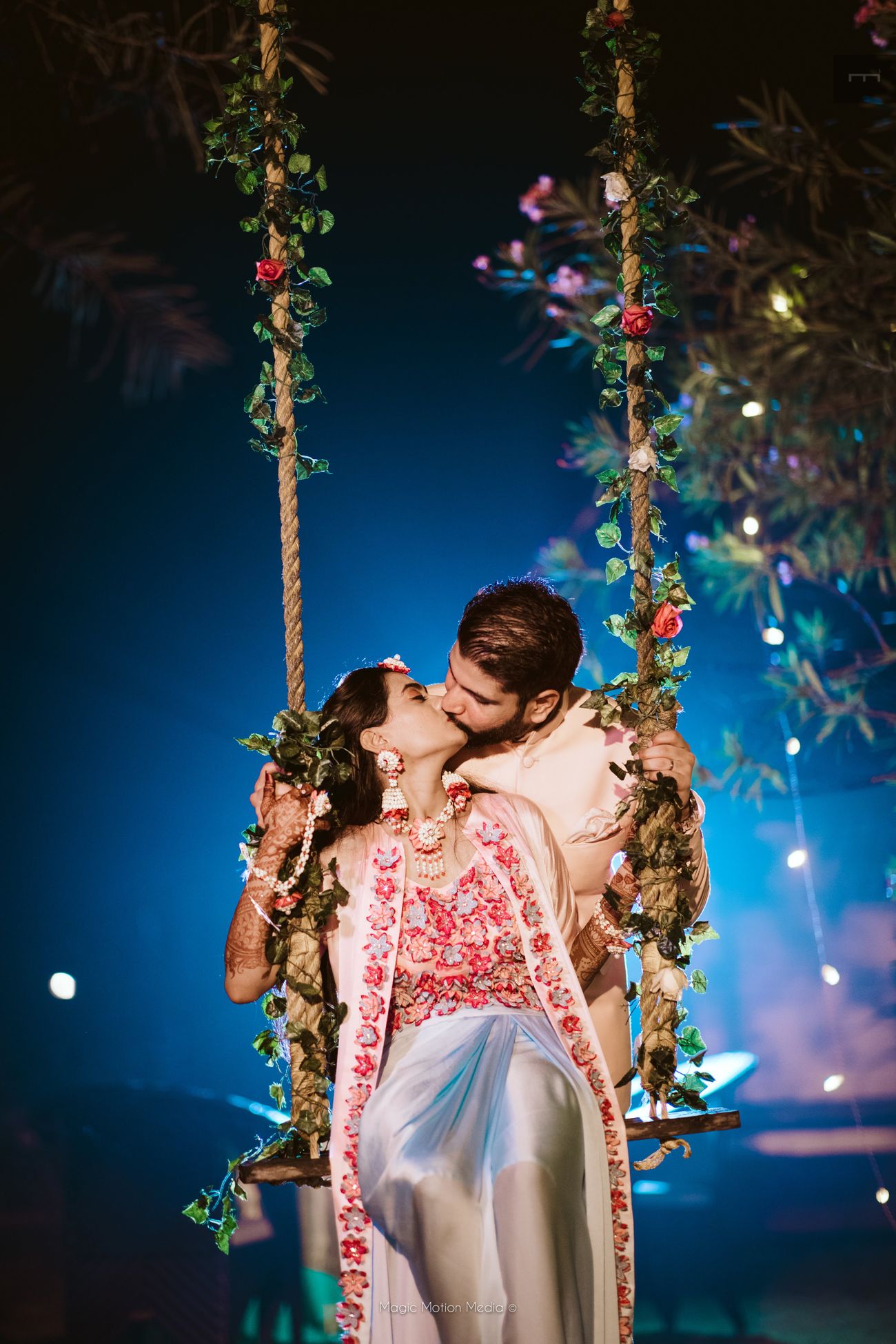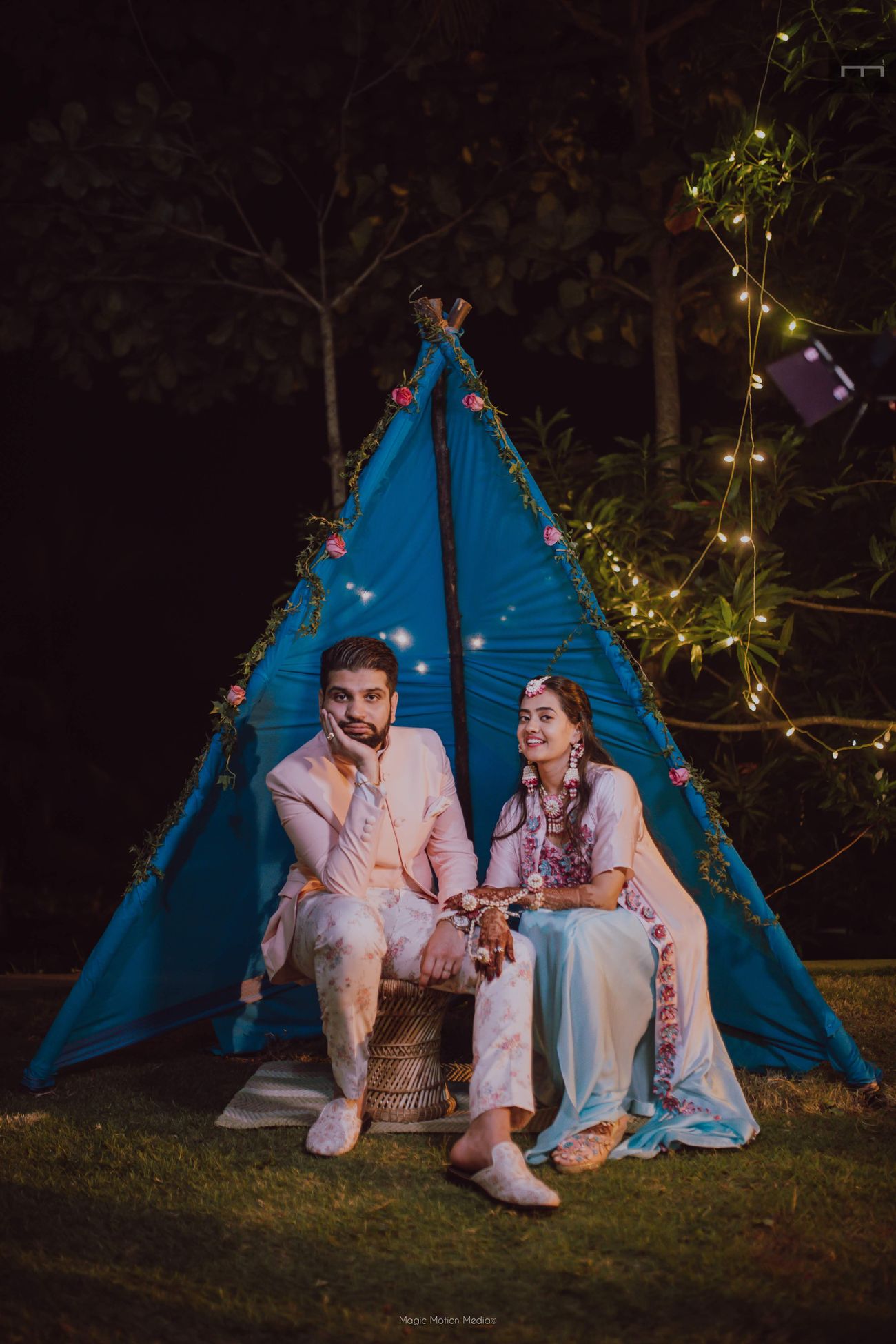 The Sangeet/Cocktail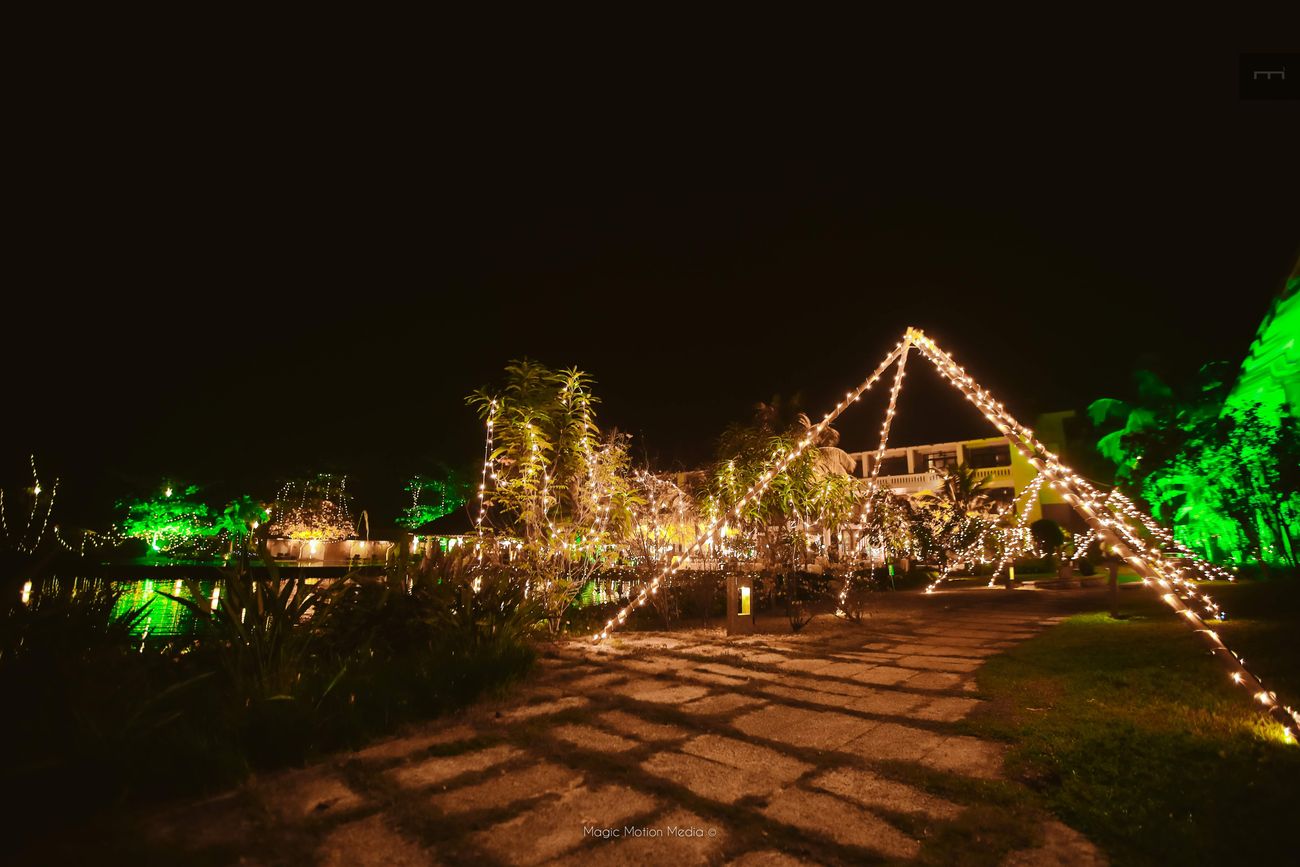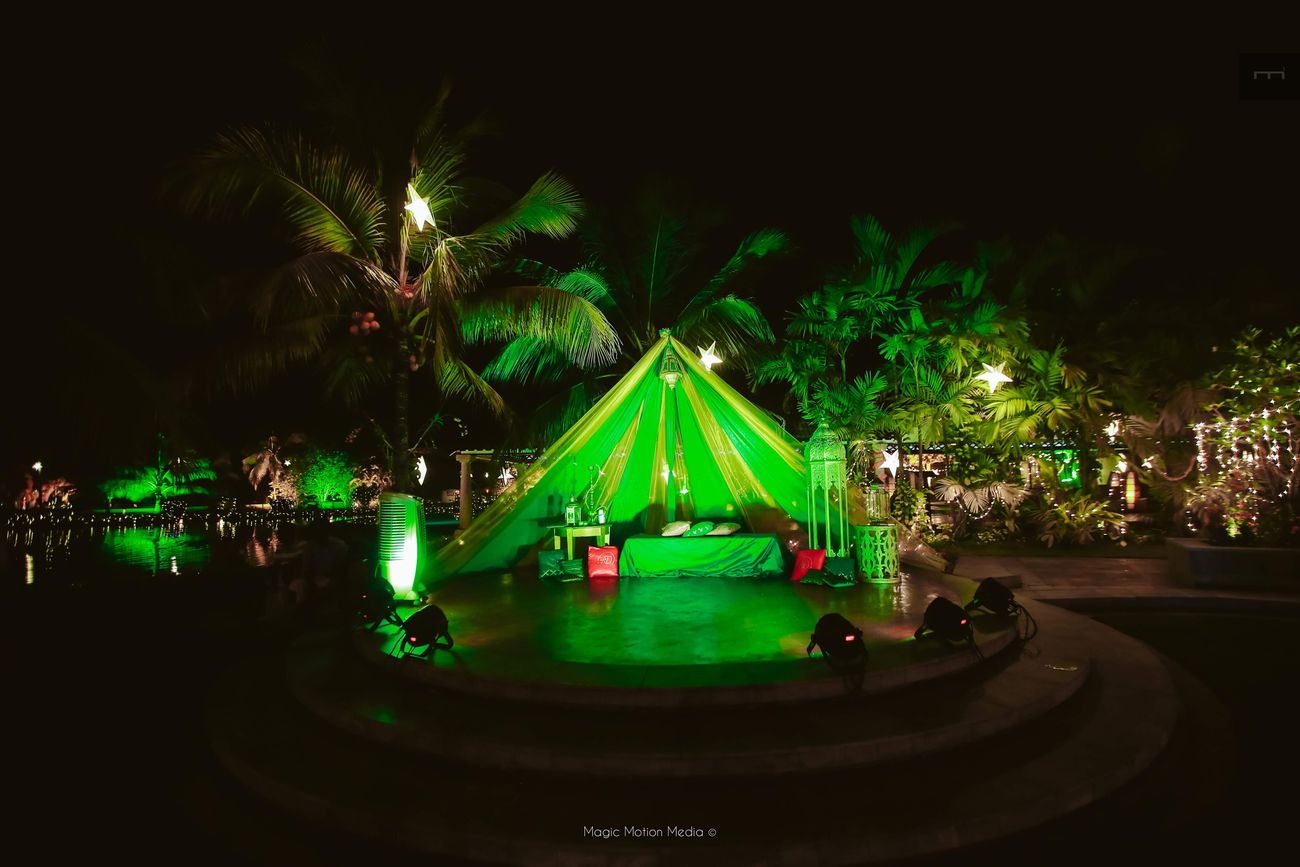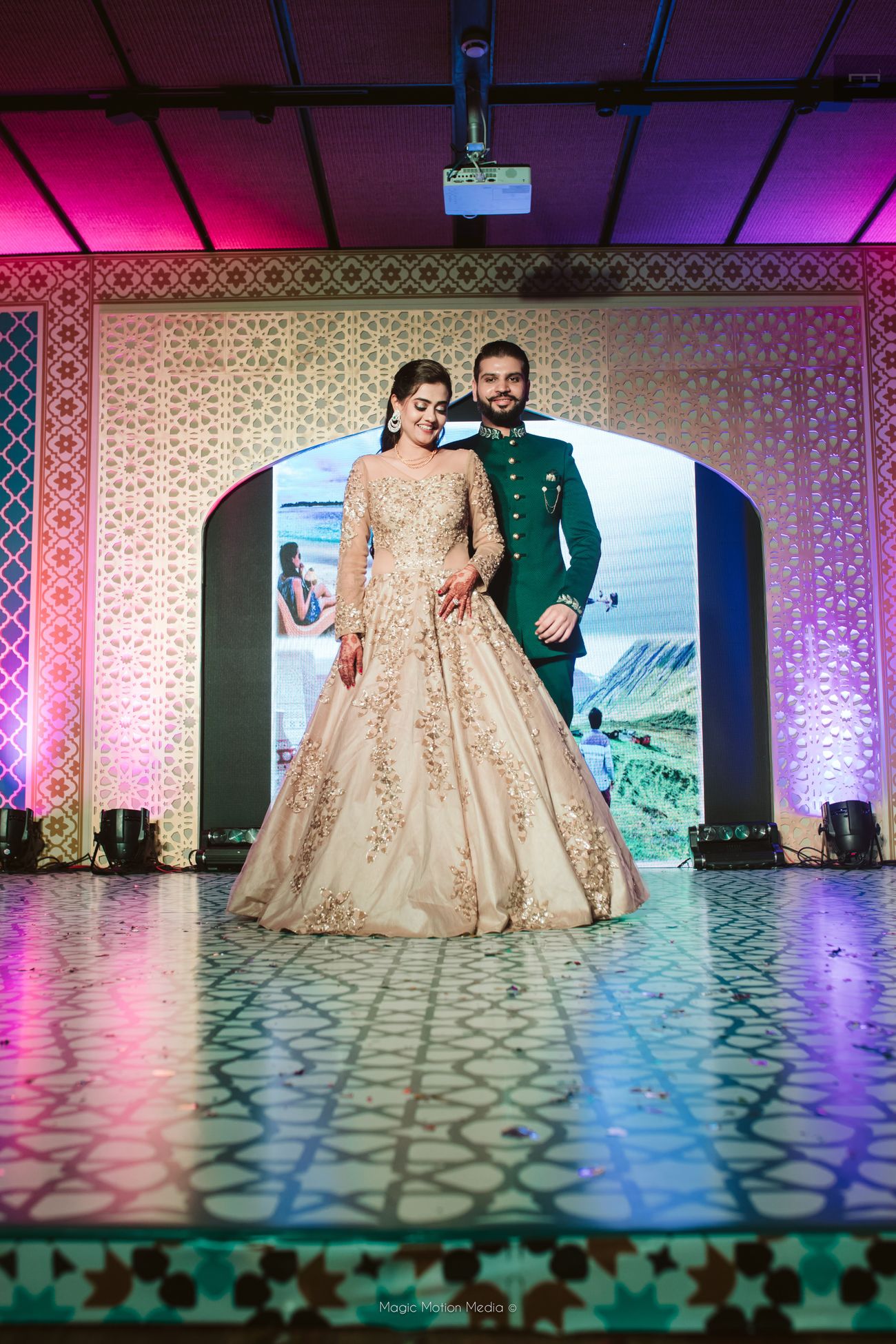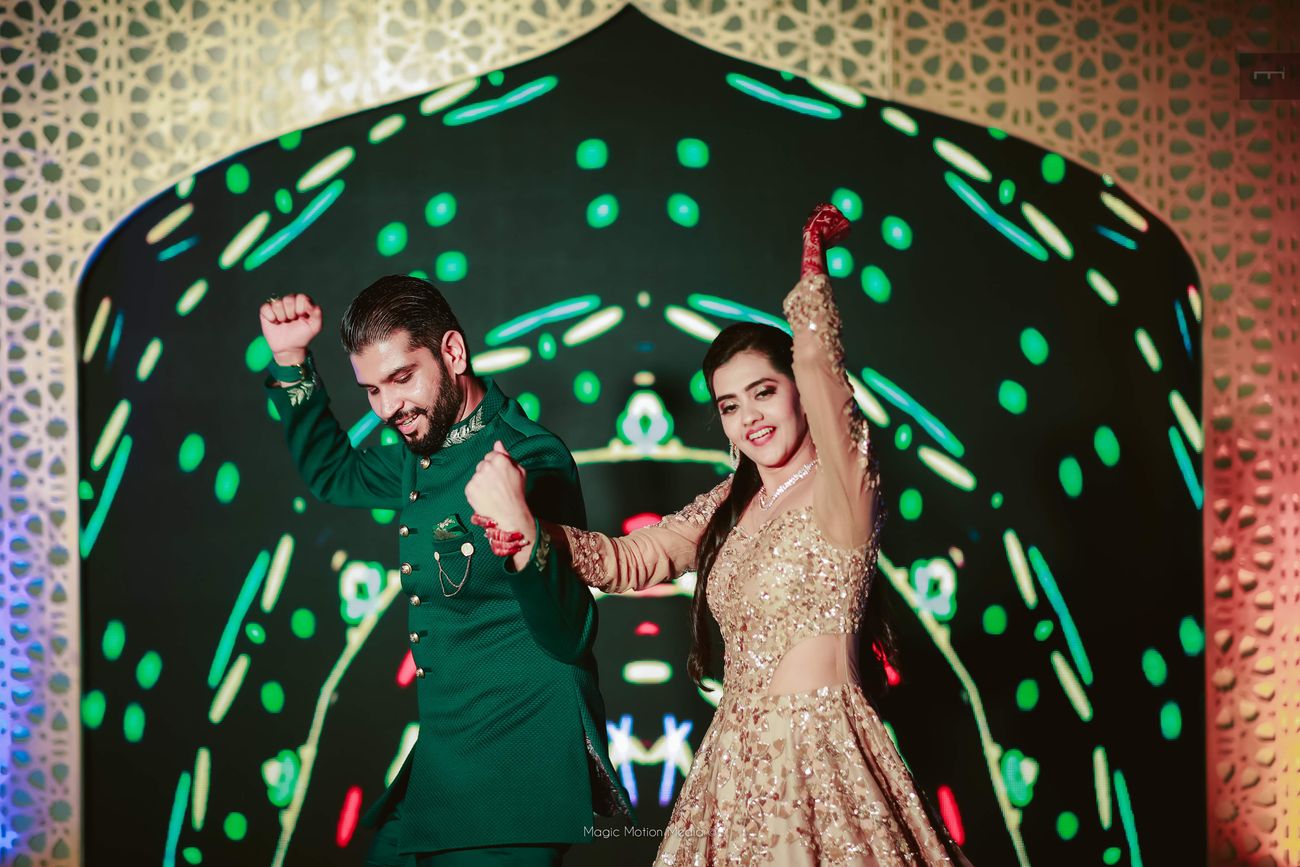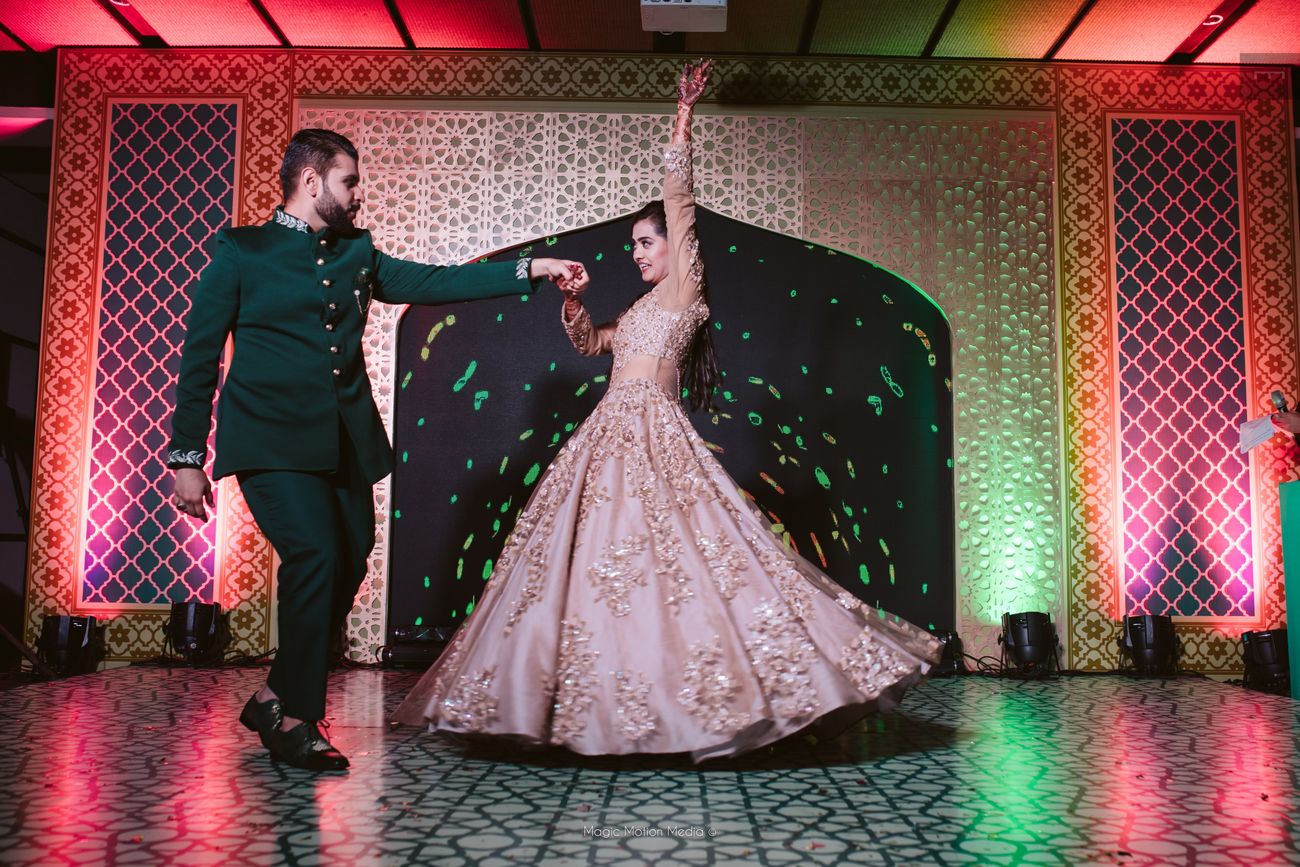 The Wedding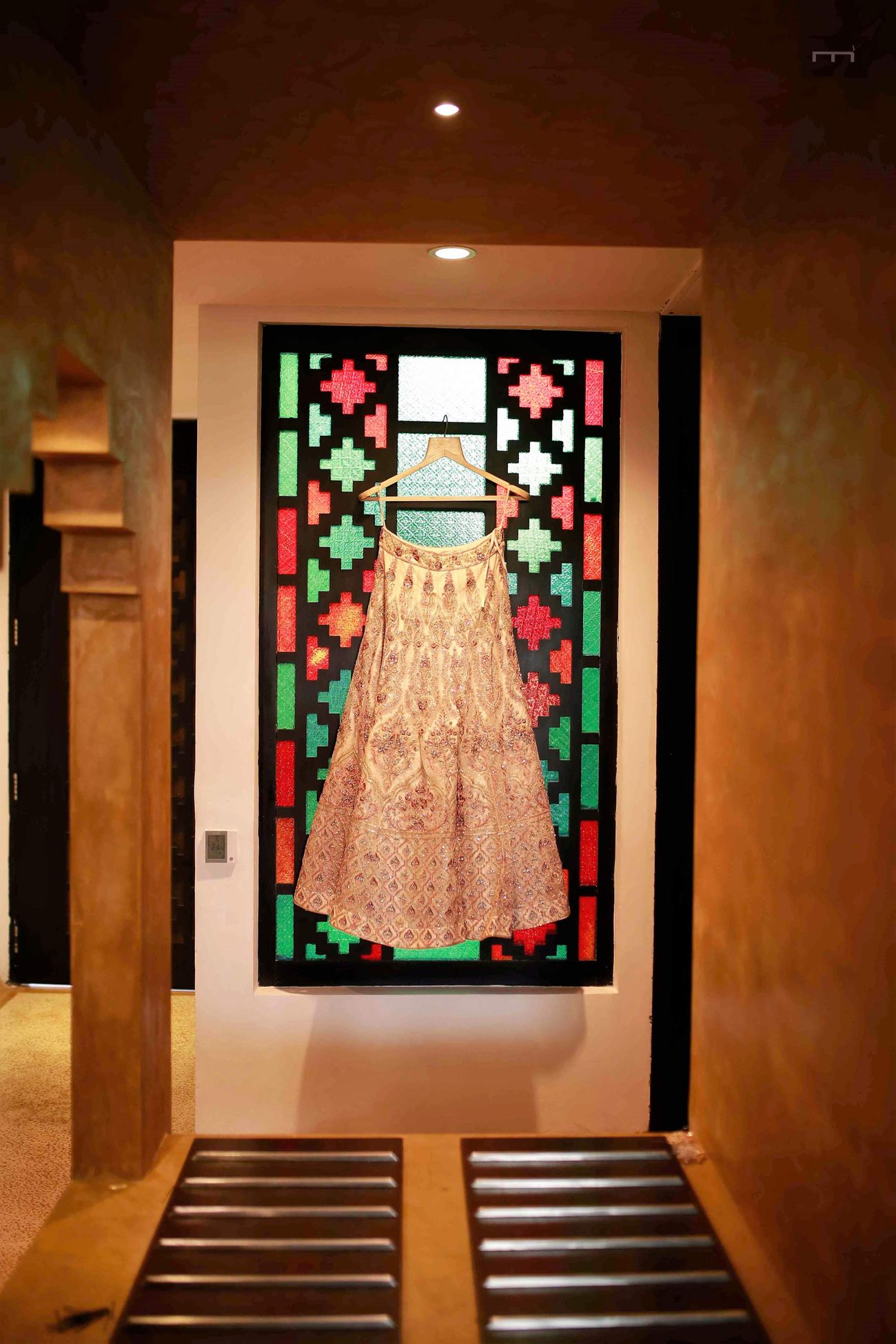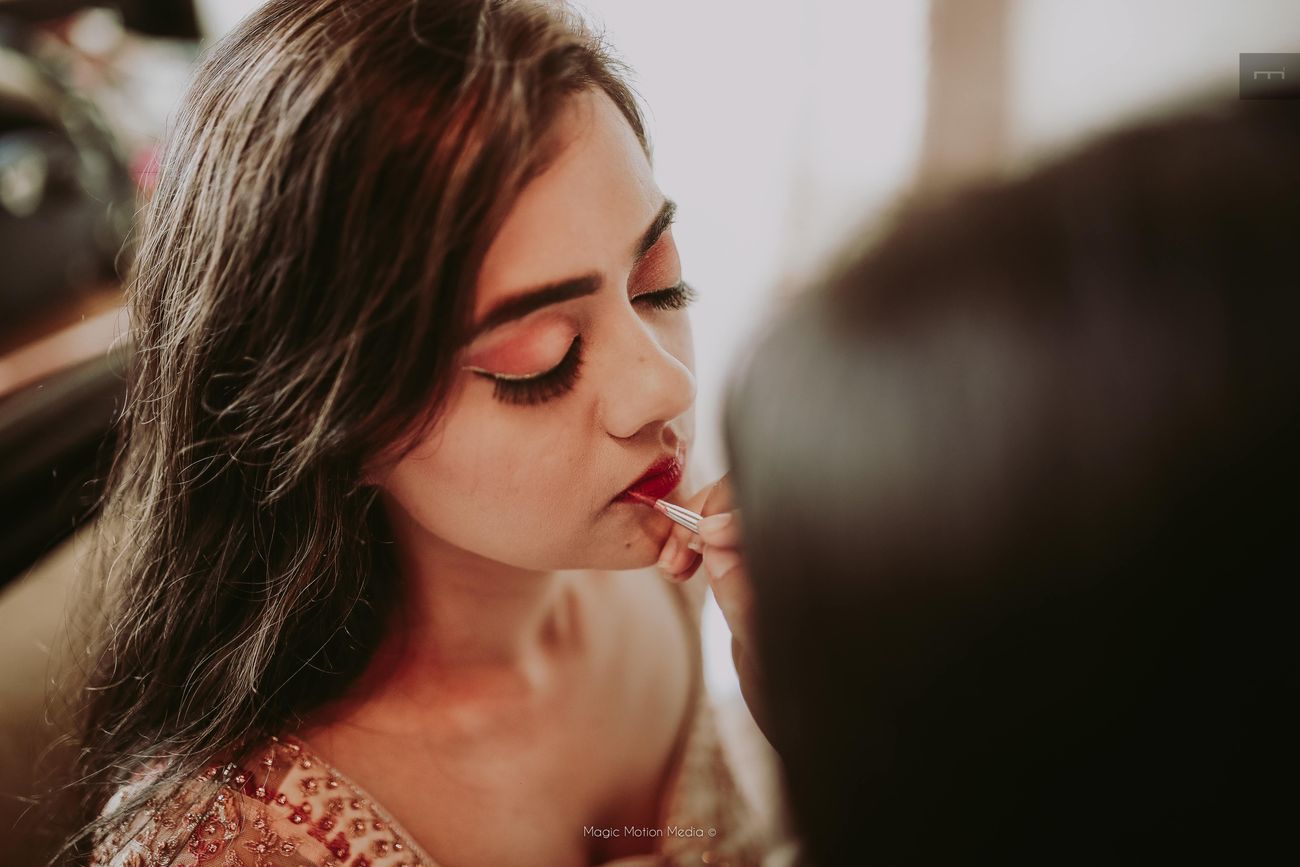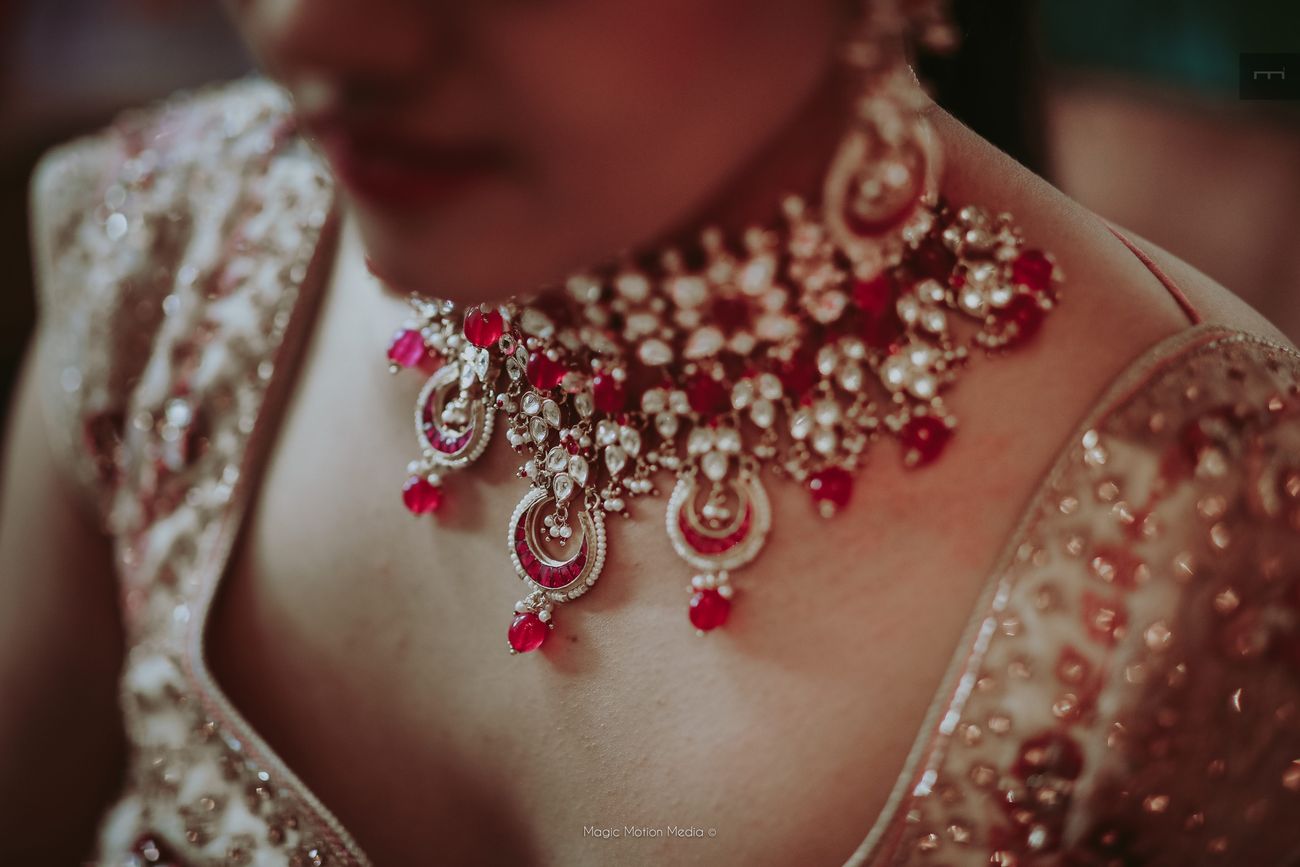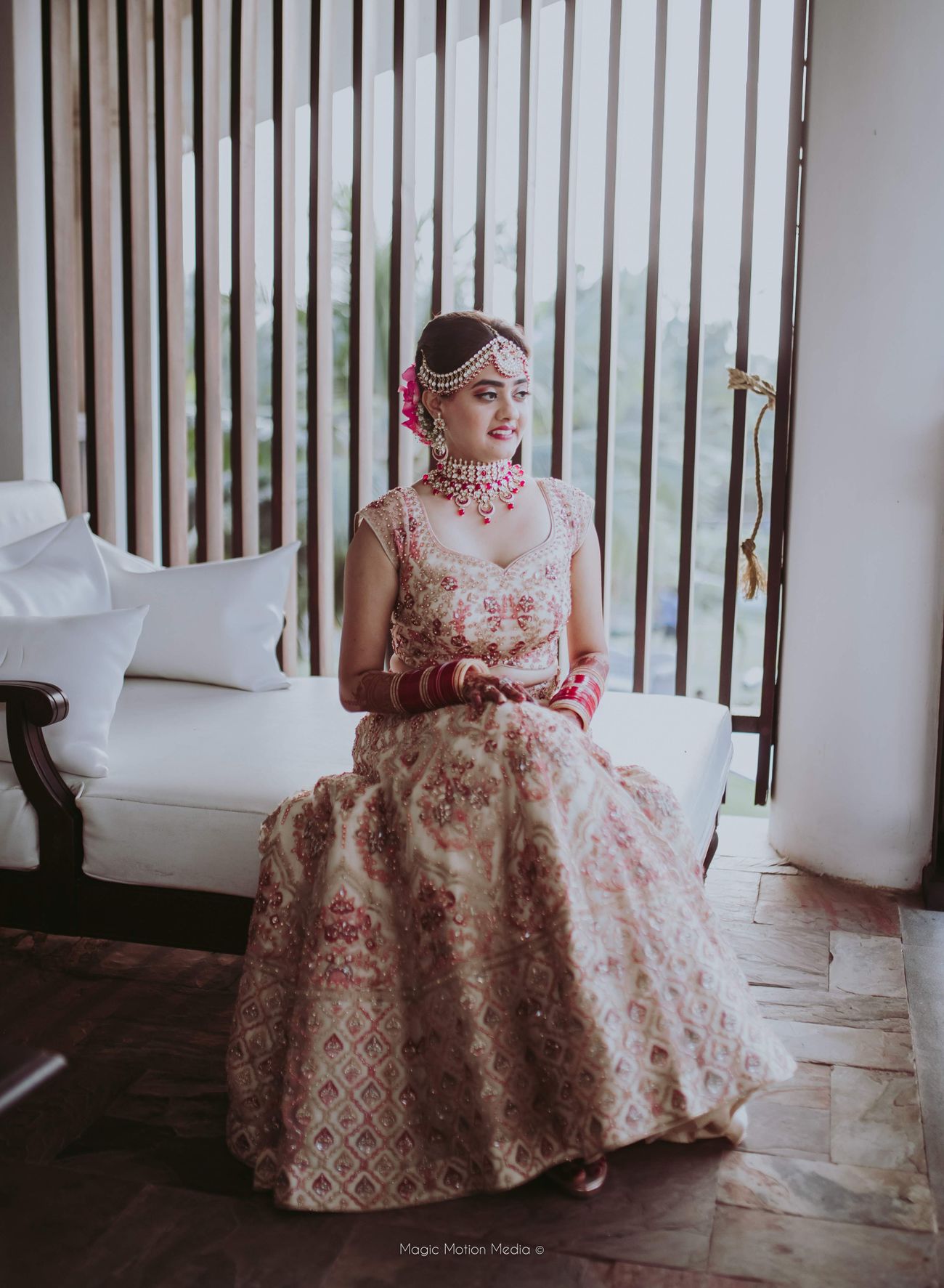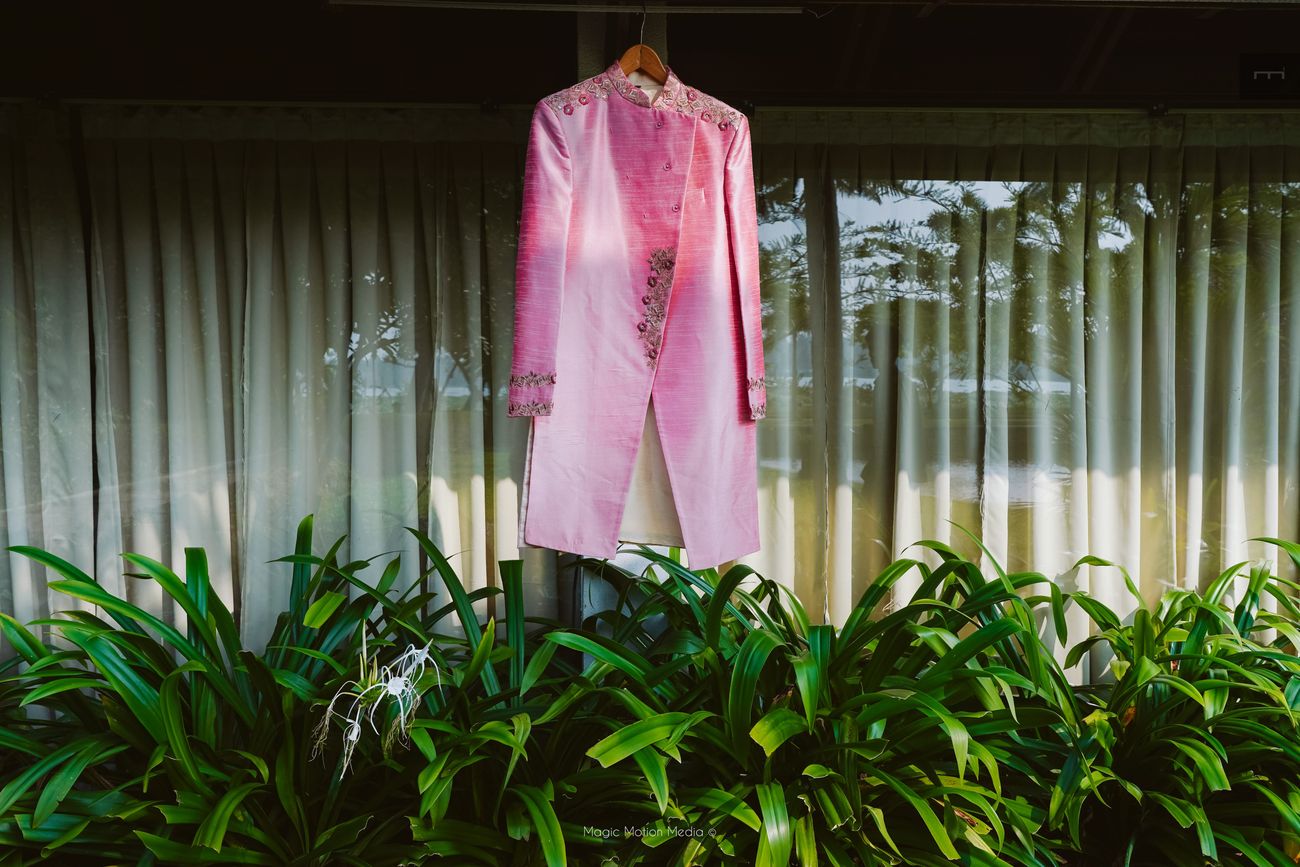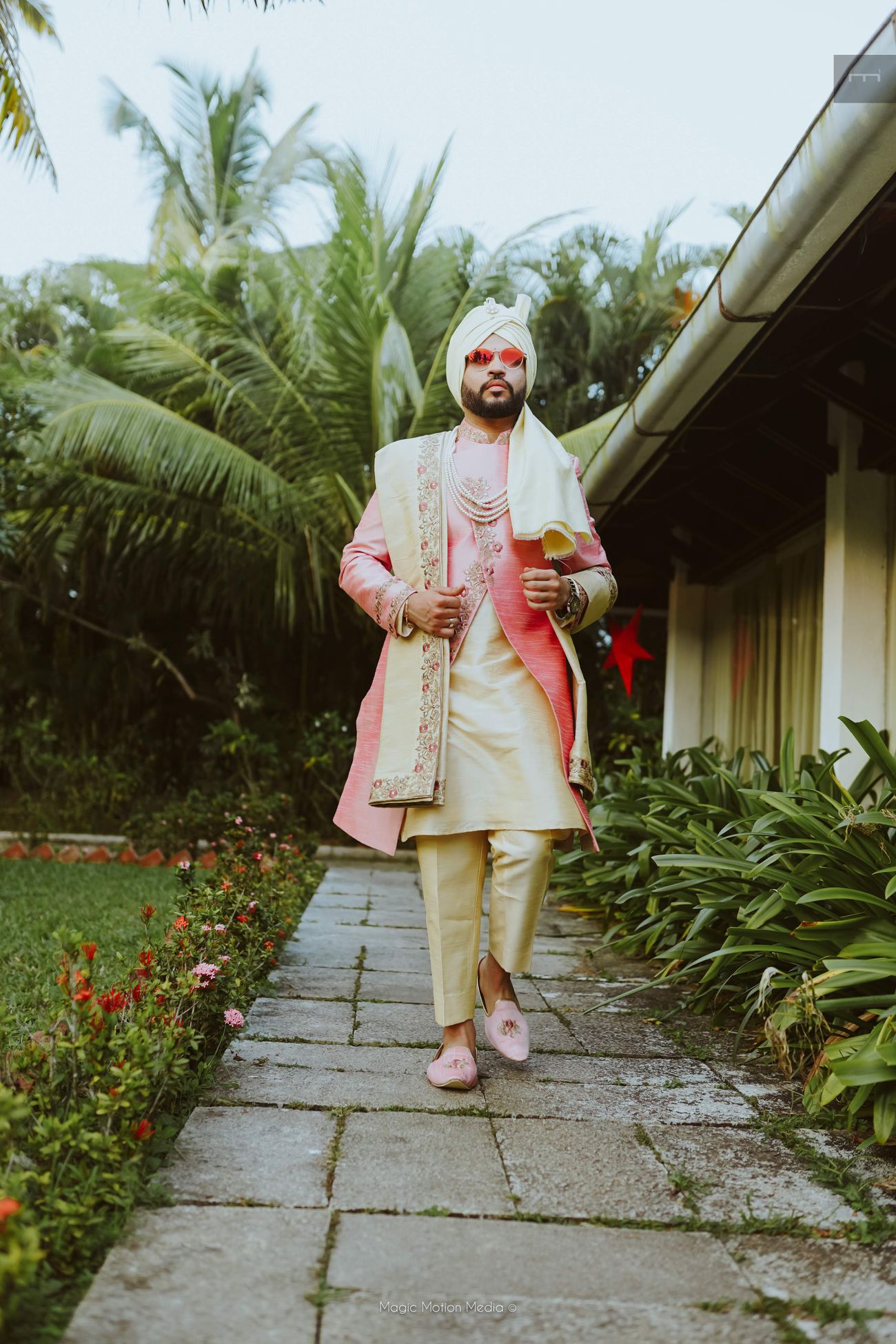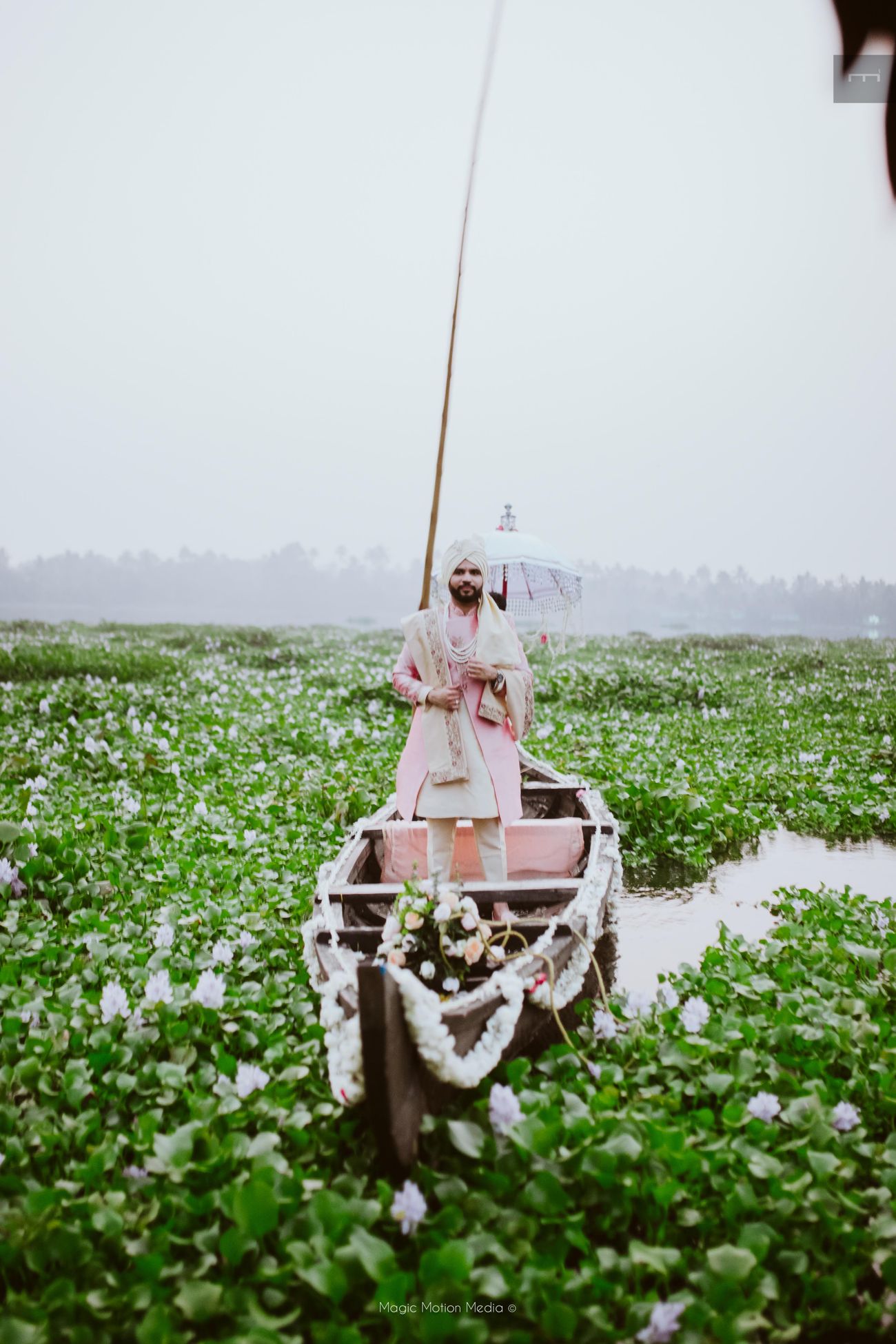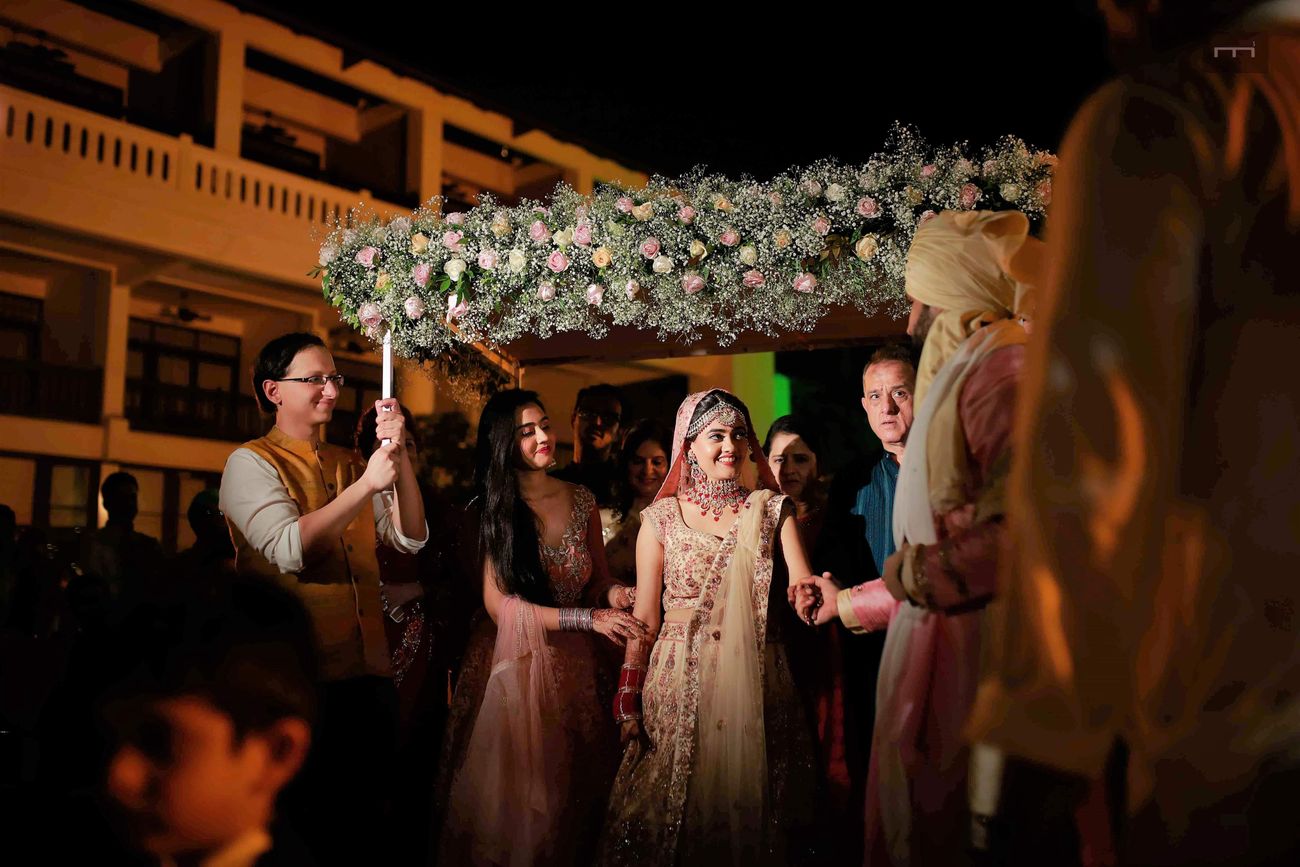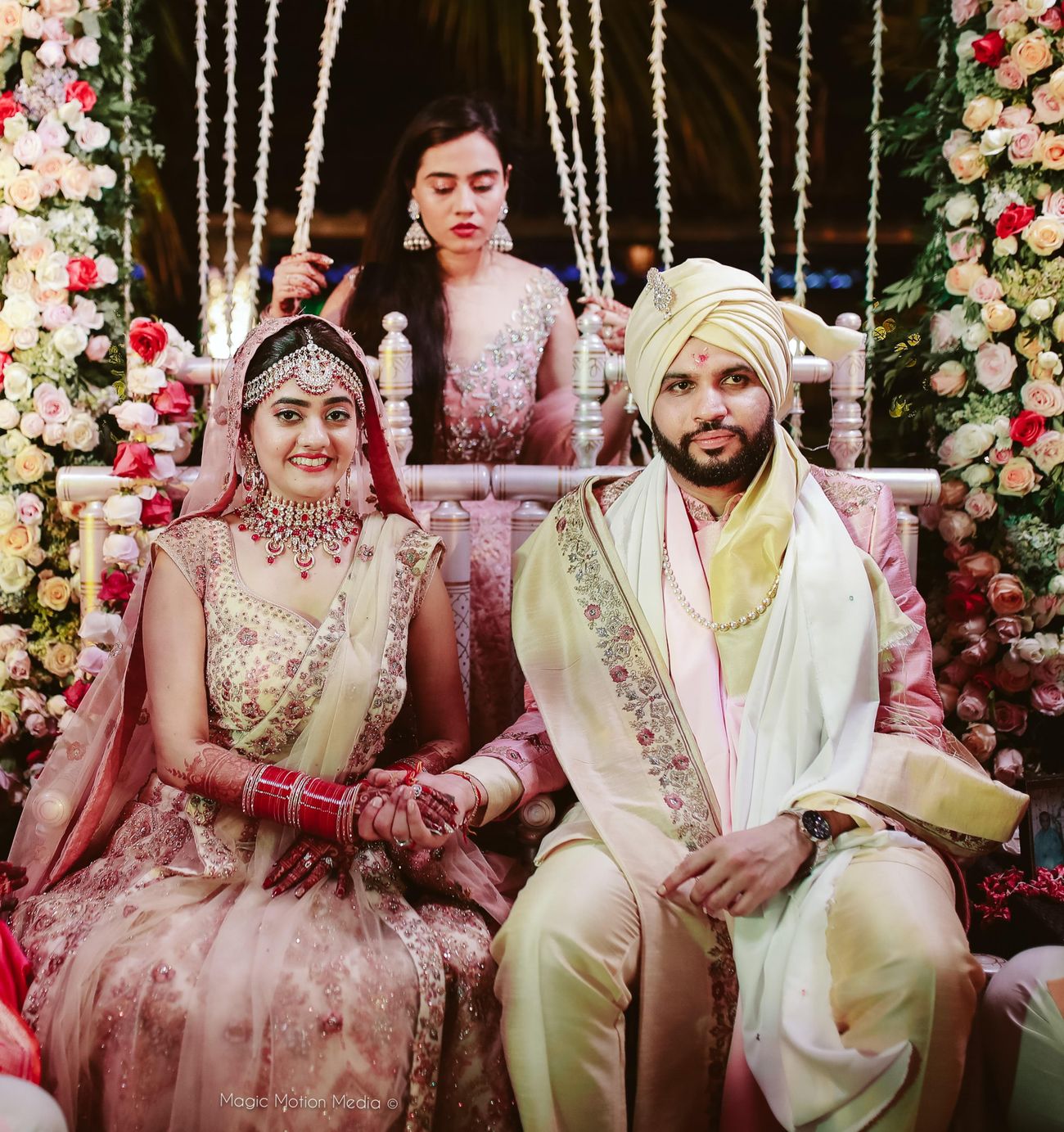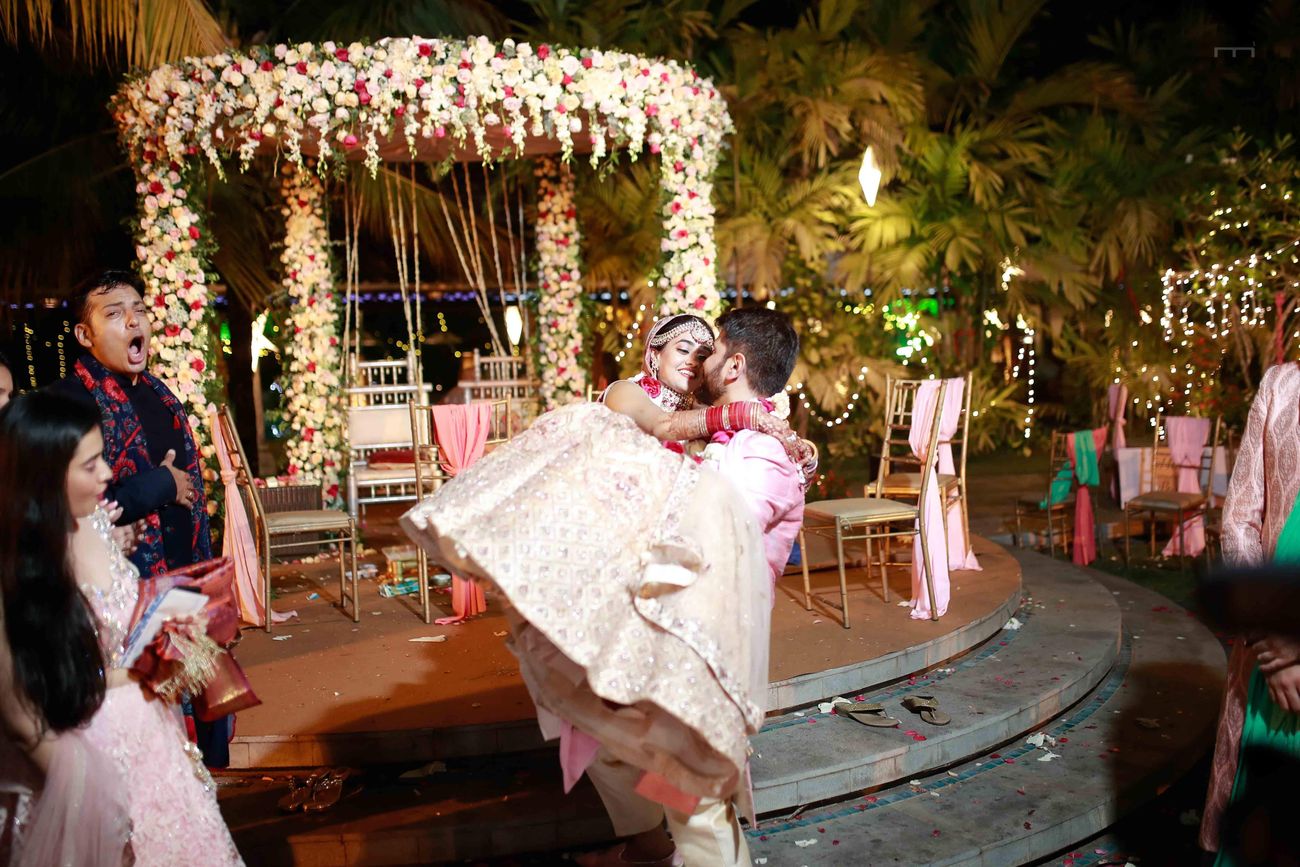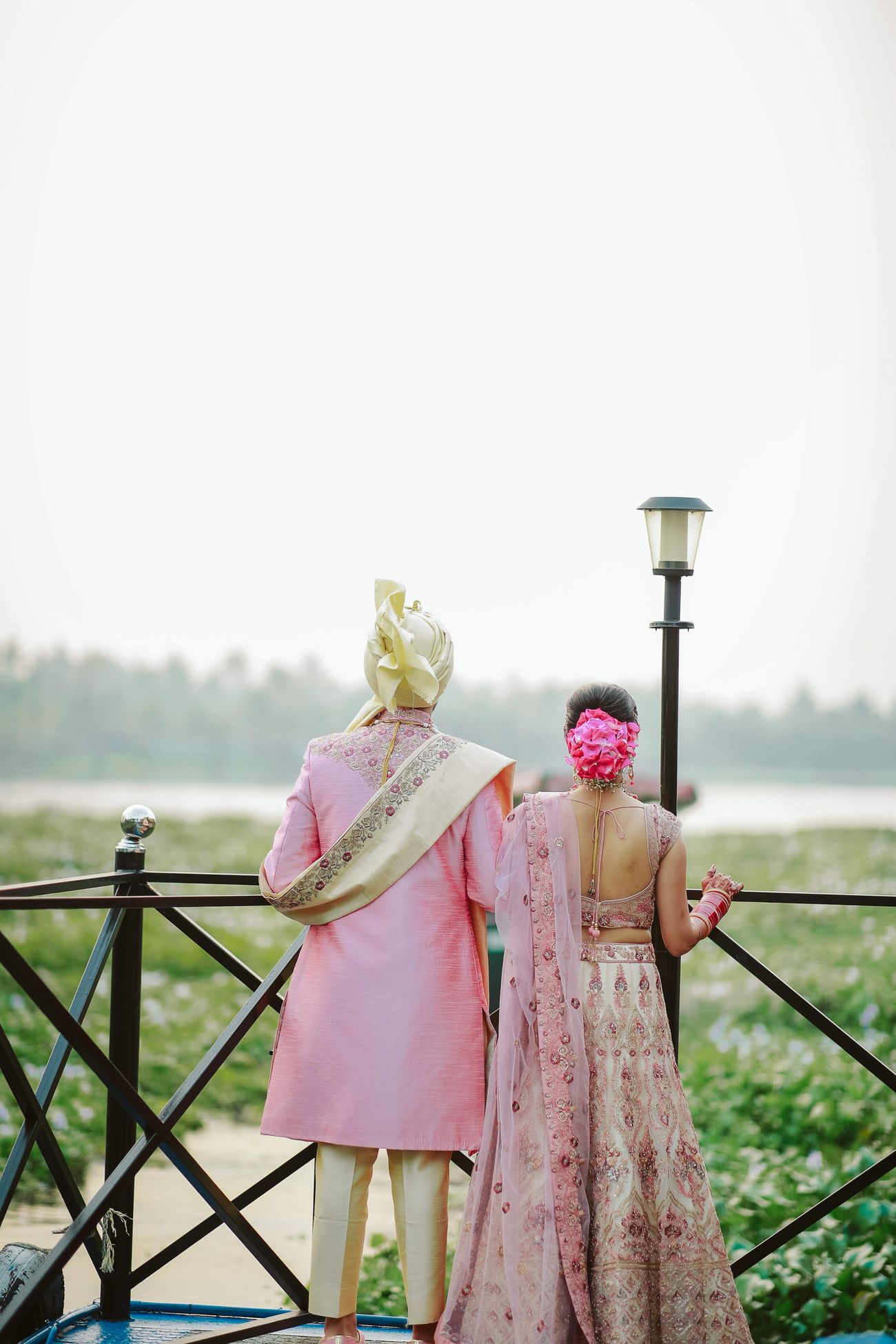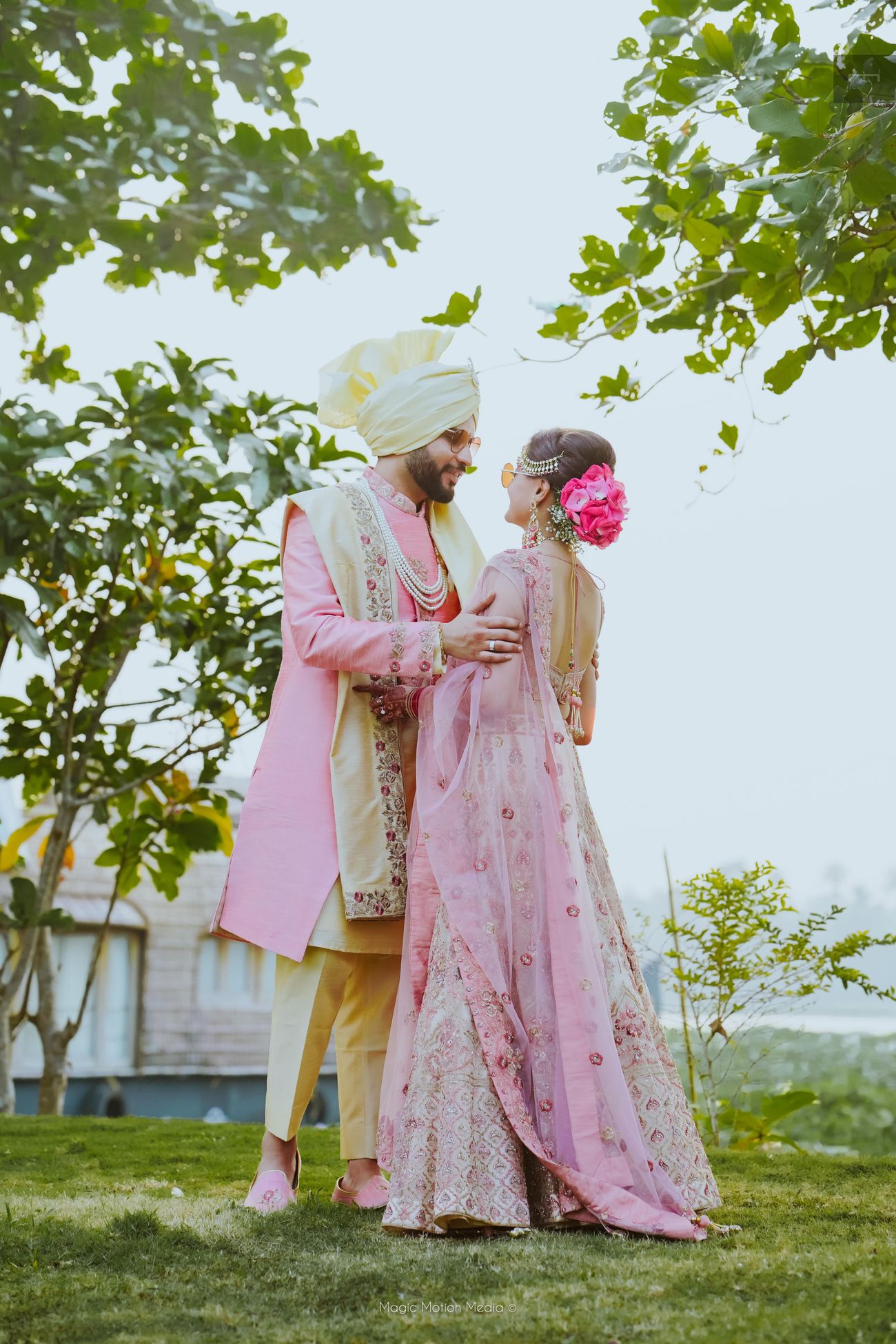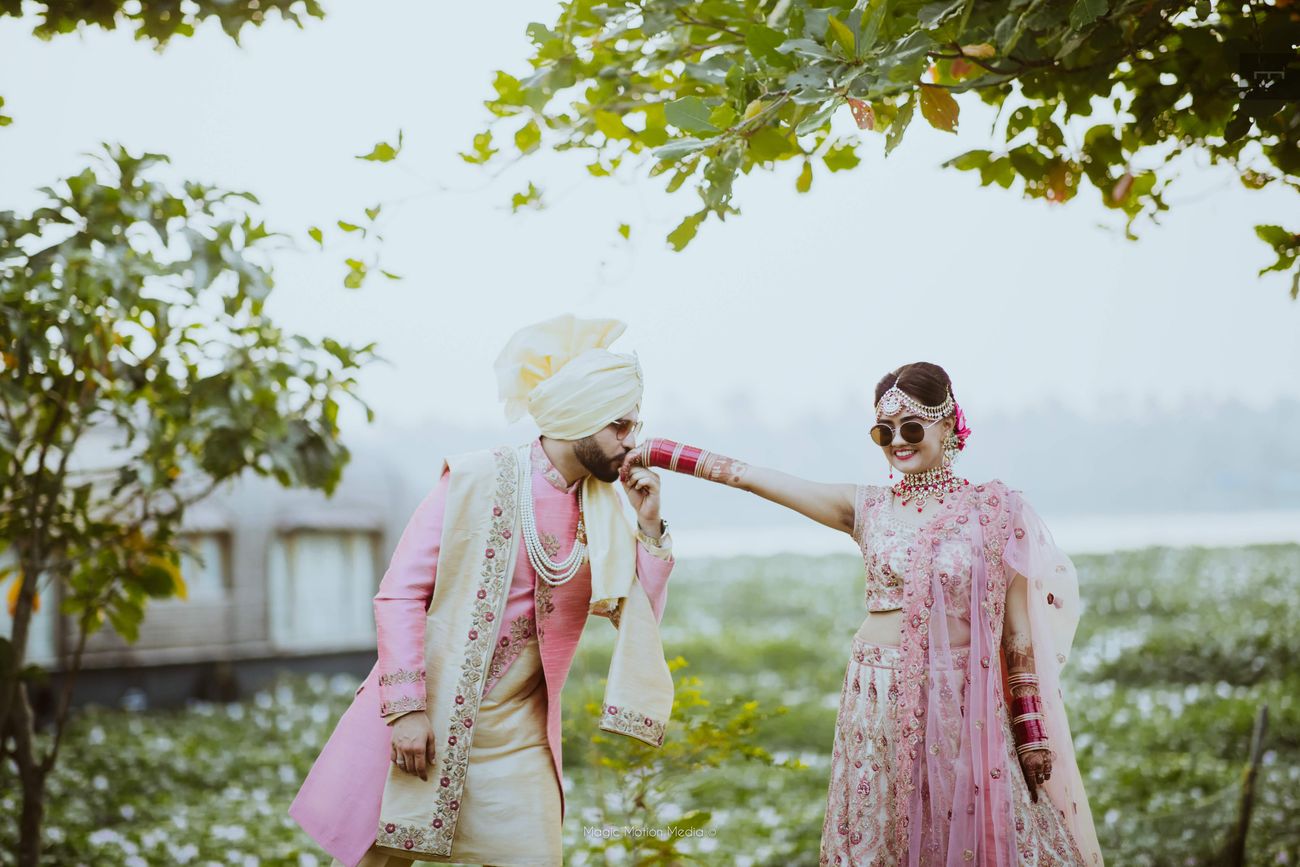 From The Couple: 
Why Kerala? We were looking for something more intimate and closer to nature preferably by the waters and Kerala seemed to have fit the bill perfectly. With the rich culture and serene views Kerala provided us with an ideal wedding location. Some of the highlights from our wedding: 
• Each of the events were centered around the couple, their likes and preferences and had a personalized element to it for their guests to keep it engaging and intimate at the same time
• Groom designed all his outfits himself, with the love of his bride
• Bride worked with designers to custom - tailor her Mehendi, sangeet and reception outfits to align with the overall setting of the wedding
• Bride put special efforts to ensure that their families were color coordinated, as per the theme of every event at the wedding
• The groom squad performed a flash-mob for the bride on her favorite song "Tenu Leke Main Javanga" as they entered the wedding aisle-way when they saw the bride
• The groomsmen roasted the groom on the Sangeet night as a part of the skit
• Both the families dressed up in traditional Kerala lungi and sarees to welcome the guests to the property with chenda melam (Kerala dhol), coconut leaf garlands and tikka
• The couple did an off-beat pre-wedding shoot that encompassed a western theme on the house boat and backwaters, and then a local essence Kerala feel shoot across the wedding location
• Bride's Sangeet performance stole the show of the night as she grooved on Sau Asmaan, Saiyaan Superstar, Pardesiya and finished it off with Nachdi Phiraan (Ps. She performed on additional numbers with her bride squad, and the groom too). The thought behind the selection of each song was the journey of Disha and Aditya through long distance love, and then moving together and settling in New York.
• Bridal Mehendi was personalized by Disha herself to depict all the elements that were focused around the couple for e.g. moving from Mumbai to New York, the love for relationship quotes, etc.
• All the wedding artifacts including the invite, logos, and other creatives were designed and put into execution by Disha and Aditya
Event themes:
Day 1:
• Svāgataṁ (Traditional Kerala Style Welcome) followed by Sadhya Fusion Lunch (Traditional Kerala Style Lunch), • Flea Market themed Sundowner Mehendi, by the Kerala Backwaters, • Escape to Marrakech Sangeet & Cocktail (Moroccan themed Sangeet and Cocktail)
Day 2:
• Ganesh Puja, Haldi and Groom's Clothes Tearing Ceremony (Sindhi ritual), • Baraat followed by Pheras in a theme of pink, peach and ivory, and a groom entry which was a flash mob! • Welcome to New York Soiree, a recception with vintage and rustic theme! 
Our bride, Disha says, "I always envisioned my wedding in a particular way, and it was the same for Aditya - we were glad to be aligned on the kind of wedding we desired and were elated to plan and curate it all by ourselves. As a couple we always believed in one thing - "Coming together is a beginning, keeping together is a progress and working together is success!" We hold this very close to our hearts, and lived through it right from the time of our courtship, through our wedding days and only continue to strengthen this over time." 
Vendor Reviews: 
Vasundhara Sarovar Premiere, Kerala A beautiful resort at the backwaters, designed aesthetically and gives out the Kerala vibe loud and beautifully! We always wanted something by the waterfront and serene and this was our best bet! The resort staff were all very responsible across both days of the festivities and our families and guests were all praises for their services.
Yashika Panchal - Young and committed make up and hair artist. I went for a trial to feel confident about my decision, she did a great job, her timely follow- ups before the wedding for my looks across all my functions made me feel i have something less to worry about as a bride. I loved the look she gave me across both the days of the festivities and felt i was looking flawless!
Magic Motion Media - Going ahead with them was undoubtedly a great choice! output of course speaks volumes but most importantly we were absolutely pleased to see the team's enthusiasm through both the days and how they very well catered to what we asked them specifically and also brought out a lot more which we evidently saw in our beautiful wedding pics
Unicorn Wedding Planners - we put up our idea of the wedding we wanted to have. They did exactly what we envisioned and the decorations across both days and the resort looked spectacular; 
Vendors: Venue: Vasundhara Sarovar Premiere, Kerala; Makeup Artist: Yashika Panchal★ 4.9 ; Photographer: Magic Motion Media★ 4.5 ; Wedding Decor: Unicorn Wedding Planners★ 5 ; Bridal Outfits: Kerala Saree - Nalli Silks★ 4.7 , Mehendi - Subarna Devendran, Sangeet - Kalki Fashion★ 4.5 , Pheras - Jiya by Veer Design Studio★ 4.7 , Reception - Inaara by Priya; Mehendi Artist: Mehendi by Anam; Groom's Outfits: Designed and Curated by himself (Don't miss the Sangeet and Mehendi Shoes ?) ; Reception Suit - HP Suits; Wedding Invites: Done by Disha and Aditya themselves