Banarasi Silk Sarees 101: Everything You Need To Know About Them!
BY Sakshi | 29 Mar, 2019 | 191589 views | 12 min read
Banarasi silk sarees are Indian sarees made in Varanasi, a city which is also called Benares or Banaras. The sarees are among the finest sarees in India and are known. And you'll find very few people who don't like them! There's something about a rich Banarasi saree which is classic- something you just cannot go wrong with, whether you're including them in your bridal trousseau or choosing to wear it on your big day, and trust us, while Banarasi lehengas might be a recent trend on the wedding day, Benarasi sarees have been worn for ages and ages by brides, and even when they do today, do really stand out in the crowd! The peculiarity hidden in the prints of a Banarasi Saree is one of a kind. Yes, there is a reason why some of the biggest designers in the countries still include Banarasi in their creations, and we have all the info and inspiration you'd need all in one post! One ought to have a Banarasi Silk Saree for a wedding or else they'll be missing something which carries a lot of grace.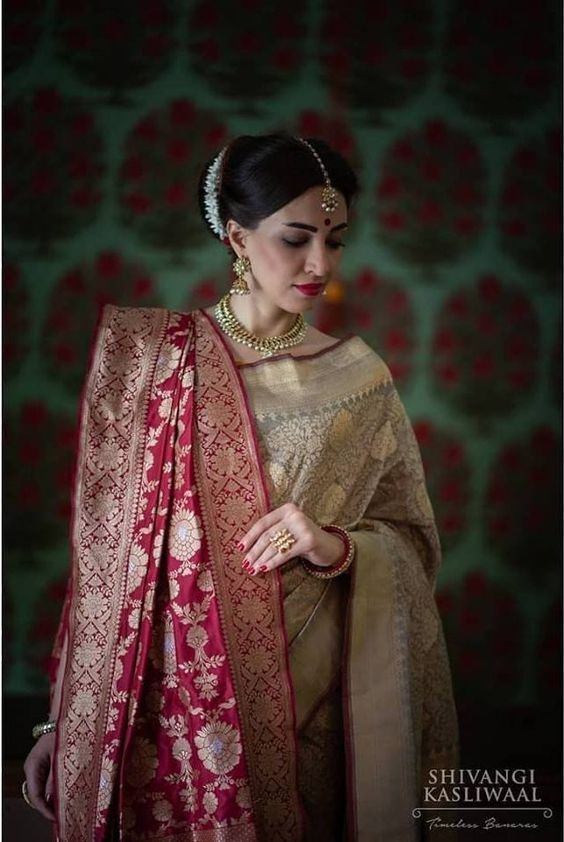 Image via Pinterest
The origin of Banarasi sarees
Banarasi sarees came into existence during the Mughal era when Muslim artisans and craftsman chose Banaras as the place that blended well with their culture and started weaving silk Banarasi sarees there. Their special characteristics are Mughal-inspired designs such as intricate intertwining floral and foliate motifs, kalga and bel, a string of upright leaves called jhallar at the outer, edge of border is a characteristic of these sarees. Depending on the intricacy of its designs and patterns, a saree can take from 15 days to a month and sometimes up to six months to complete.
There are various types of Banarasi Sarees that a bride can look upto and not just one. Silk is not the only form of Banarasi saree you get. There are four fabric varieties of Banarasi sarees, namely:
1. Pure silk (Katan)
Katan is a plain silk fabric. This has woven pure silk threads which are twisted and then woven into pure silk sarees. While today these sarees are produced using looms, during ancient times Katan sarees were handwoven using handlooms. The fabric is extremely soft and fine that has made Benarasi capture love all over again.
2. Shattir
As we all know that brides require a tinch of modernity in their outfits which makes Shattir, a perfect fabric to go to. Shattir is the sole fabric used to create contemporary and exclusive designs under the name Banarasi.
3. Organza (Kora) designed with zari and silk.
Brocades are the most beautiful and richly woven fabric where the patterns are patterned with different designs made by warp and weft. Silver threads are coated with gold and are then woven closely around a silk yarn to create zari brocade. This cloth is suitable for a Banarasi Saree for a wedding bride to make her look ravishing.
4. Georgette Banarasi Sarees
As you might know already, Georgette is a finely woven light fabric with a simple and plain weave. This is more popular for contemporary sarees. 
Banarasi sarees are also segregated according to the design process, and the different categories are:
5. Jangla Banarasi Sarees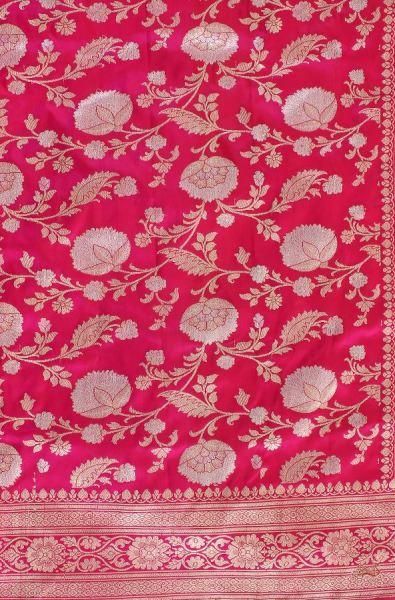 The word Jangla has been an adaptation from the word Jungle which can be explained in this particular print which spreads a vegetation motif across the saree. It is a type of brocade characterized by intricate weaving.
6. Tanchoi Banarasi Sarees
This is the beautiful 'Jamawar' style paisleys or Labyrinth woven by zari. This is another kind of Benarasi saree which is very popular for weddings, and artisans from Banaras weave patterns on these sarees with colorful weft silk yarns. The pallu of this sari is often decorated with large motifs of paisleys while the border might have criss-cross patterns.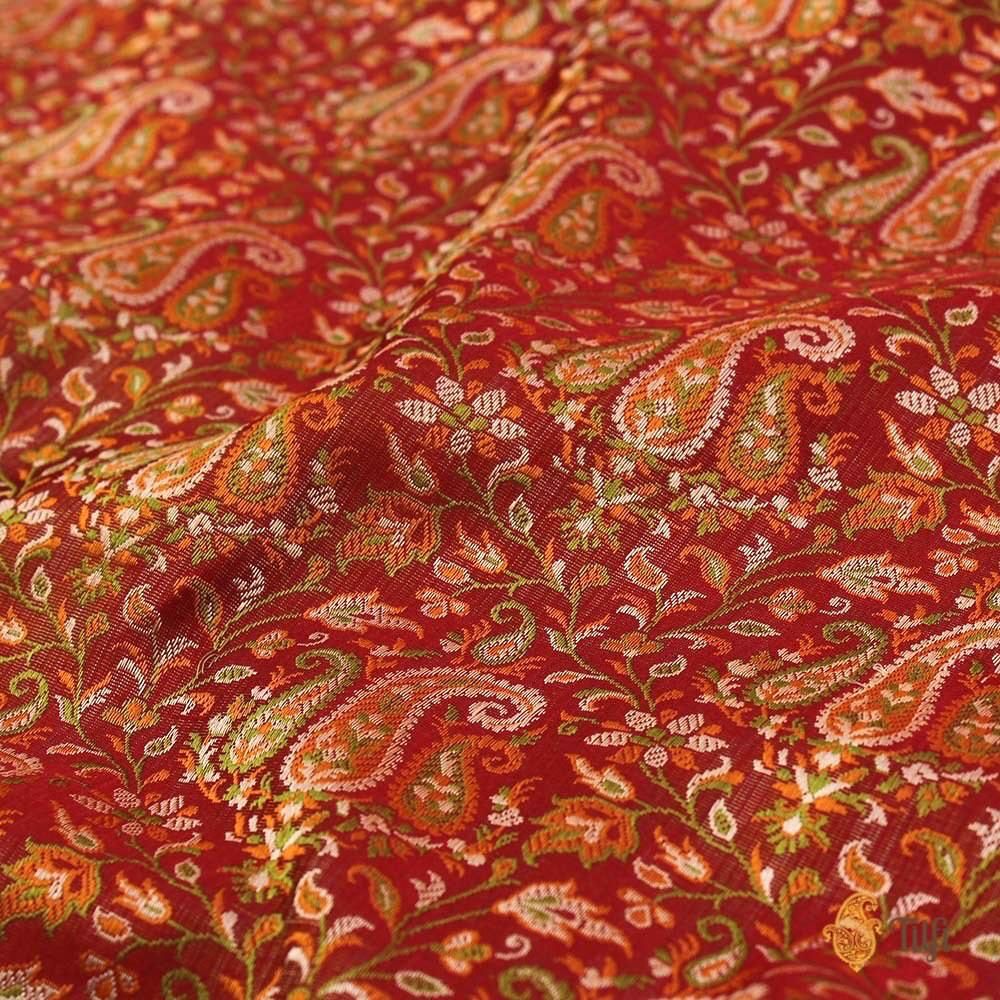 7. Cutwork Banarasi Sarees
These are the sarees which are not as expensive as the ones mentioned above, basically the less expensive version of Jamdani sarees. This one is made using cut work technique on plain texture using some cotton mixed with the silk. Most popular motifs which are featured in cut work sarees are jasmine, marigold flowers, creepers and leaves.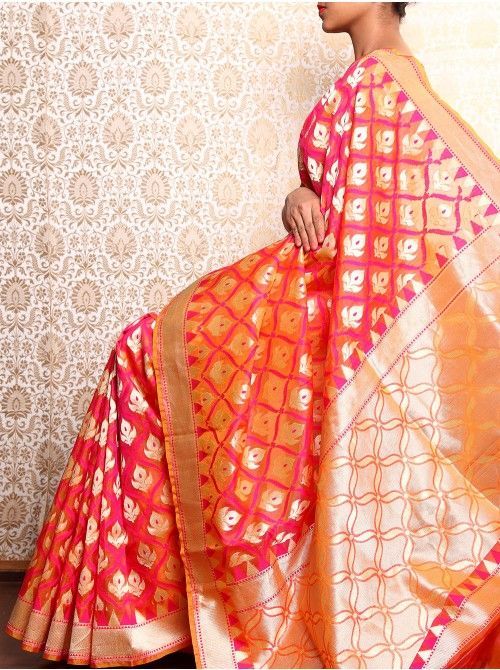 8. Tissue
These have the most delicate look and work of them all. These are delicately woven sarees with golden zari weft which adds sheen to these tissue sarees. The popular designs used in tissue sarees are golden zari woven lotus floating in a radiant pond, where the water drops are designed with cut-work technique. The border and pallu of the sari are patterned with self woven paisleys.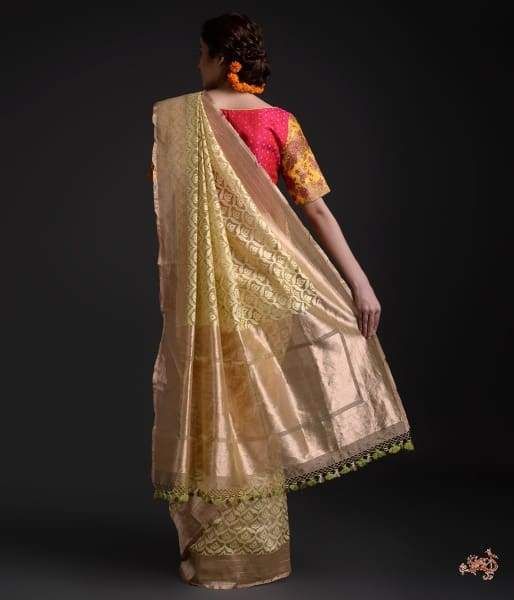 9. Butidar Banarasi Sarees
Probably the most popular and distinctive, Butidar sarees are richly woven, brocaded with threads of gold, silver and silk. Gold is darker in shade as compared to silver threads. Therefore the weavers of Banaras refer to this variety of brocade patterning as Ganga-Jamuna. Motifs are locally popularized as Angoor Bail, Ashraffi Butti, Latiffa Butti, Reshem Butti Jhummar Butti, Jhari Butta, Patti Butti, Baluchar Butta and many more.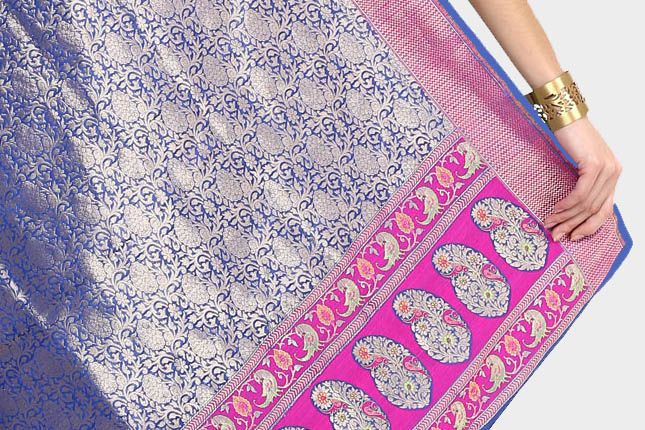 So now that you know the history and the types of Benarasi sarees, one question is bound to crop up!
How is a Banarasi saree different from a Kanjivaram?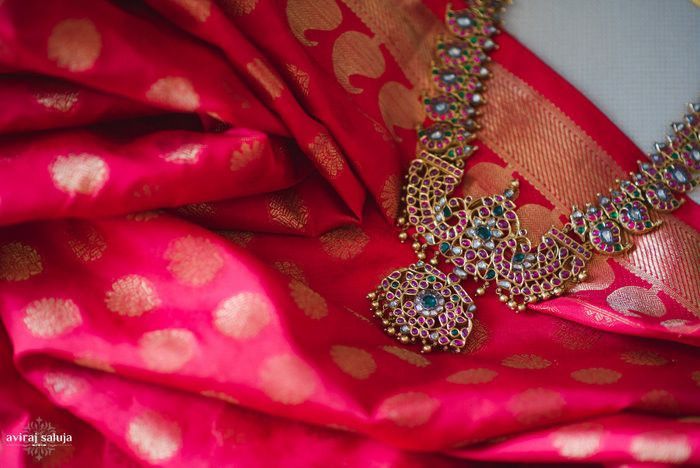 Image via Nayantara and Sourabh
Both Banarasi and Kanjivaram are two of the finest silk sarees in India, which are popular globally as well. Their popularity has no bounds as mentioned people from all over the world crave for such a print to be added in their wardrobe other than the Indian Brides. While a lot of them might seem similar on the first glance, the basic difference between these sarees is their origin and their design, which is usually culturally-inspired. The print would look extremely graceful be it the brightest of the culture. Not just the brides from South India but all over the country, there are brides who include pure banarasi silk sarees or a Kanjivaram saree in their trousseau. While Kanjivaram sarees belong to South India, Kancheepuram specifically in Tamil Nadu, Banarasi sarees find their origin in Varanasi or Banaras in North India. While in a Kanjivaram saree golden thread is used for weaving designs, Banarasi sarees have intricate gold and silver work on them using zari. They both come in a variety of designs and motifs and not to forget, colours! We have gone all Ga-Ga about the Banarasi and Kanjivaram print as it proves to be one of a kind and a must in your wedding trousseau. Either of them can simply rock the look every bride dreamed of.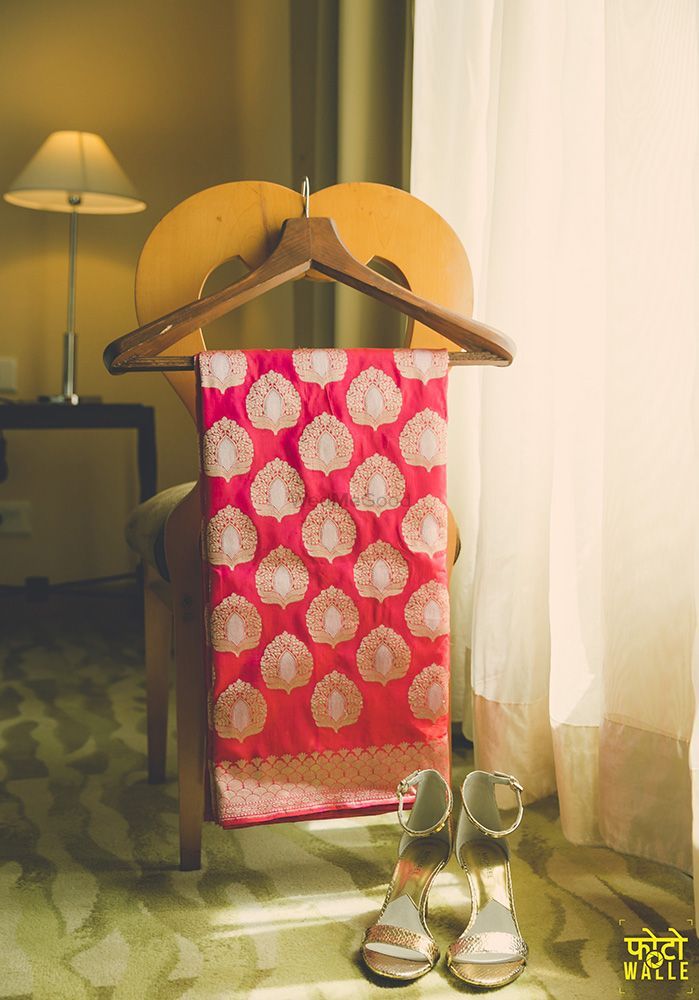 What kind of blouses look good with Banarasi sarees?
So with brides getting more and more adventurous with their blouses, there are a lot of options to choose from or experiment with your Banarasi saree. But here are the most popular ones we came across!
1. Embroidered blouse for banarasi saree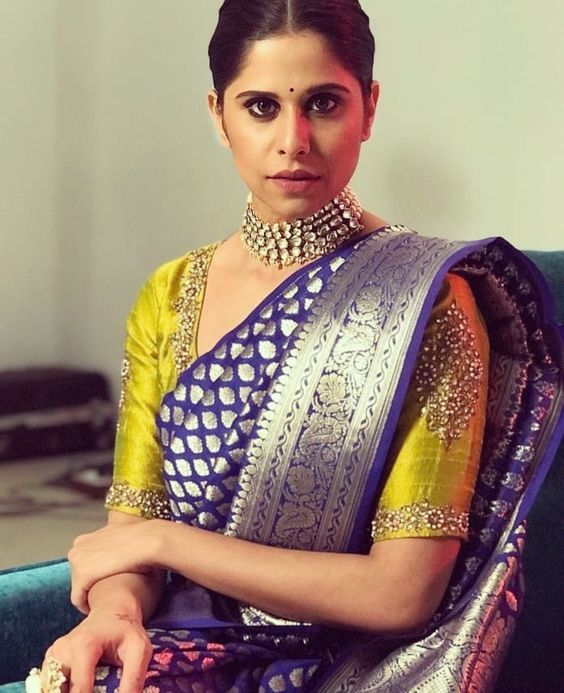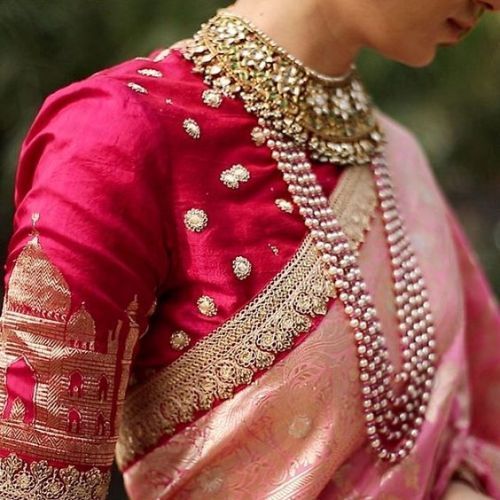 This one is the most popular with brides, especially because they add a lot more to the bridal look and they enhance banarasi saree look for wedding.
2. Simple sleeveless blouse for a banarasi saree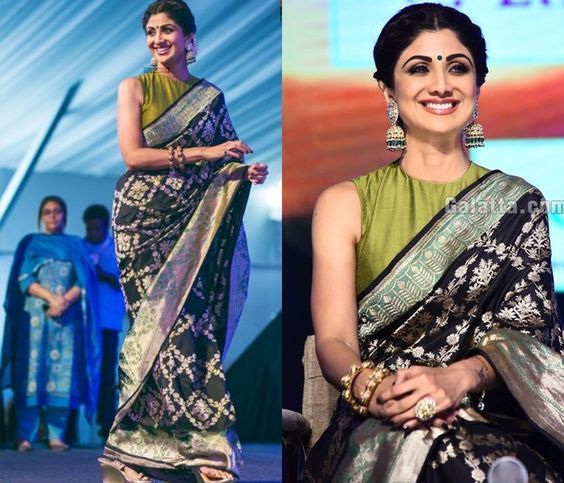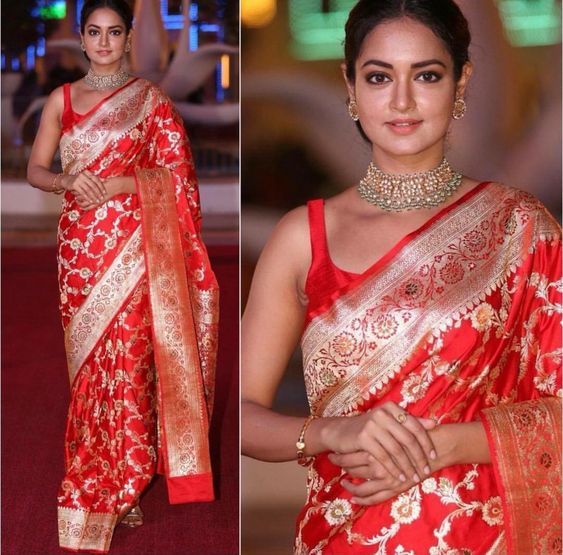 Sleeveless blouses look chic and modern with a traditional option like Banarasi sarees- and whether you're matching the colour or opting for something contrasting, looks great either way!
3. Full sleeved plain blouse for a banarasi saree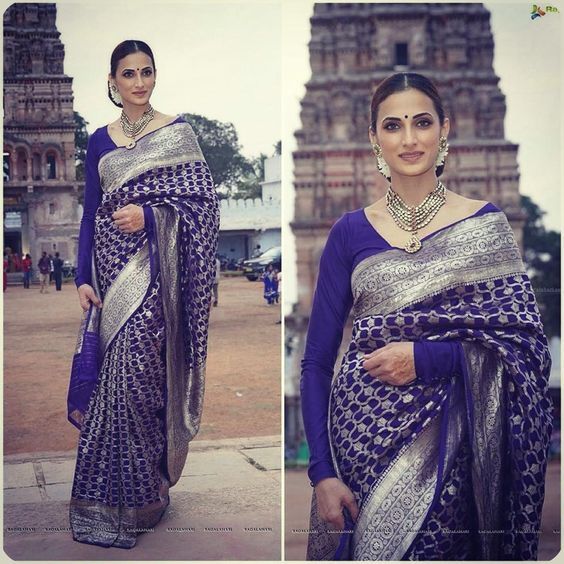 This is another subtle and simple look to pick, wearing light jewellery which is a good idea for winter weddings!
4. Plain contrasting blouse in lighter shade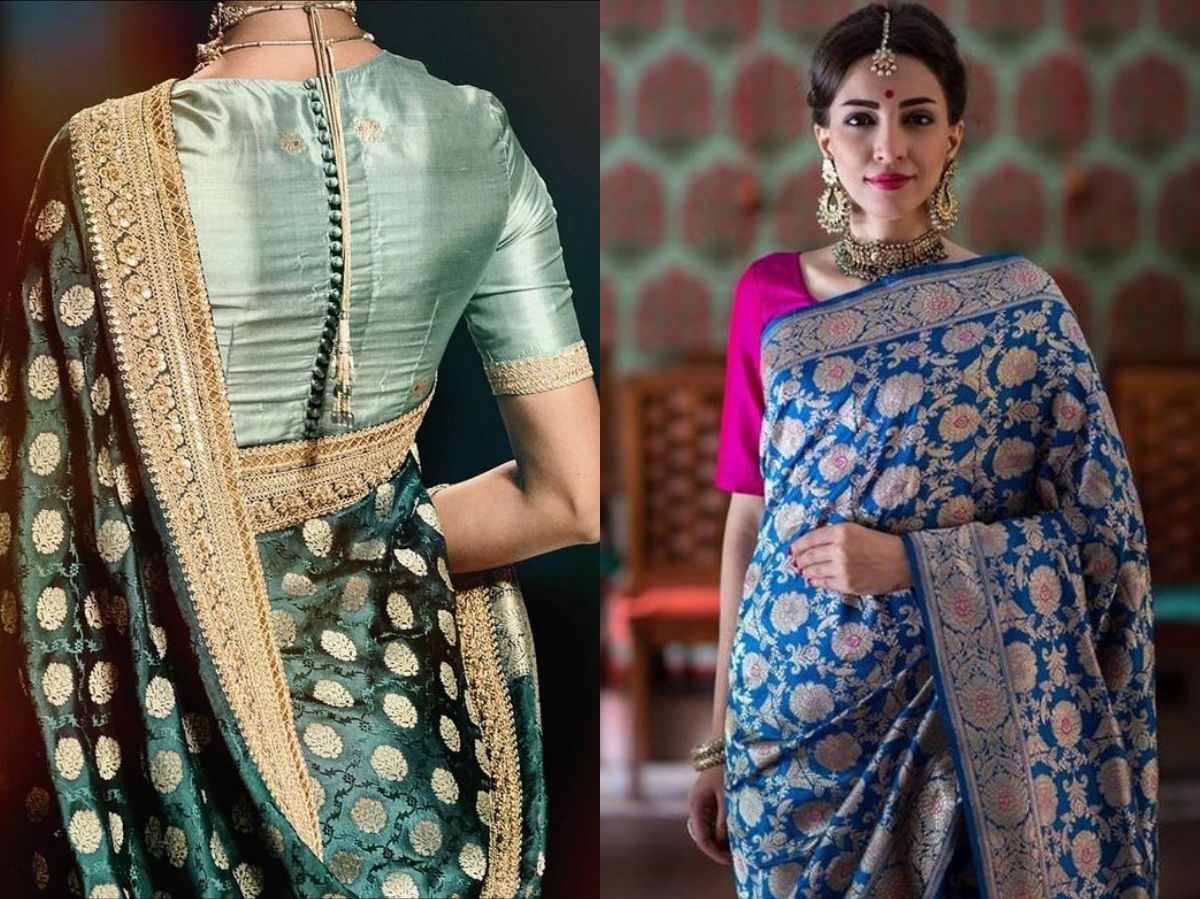 Whether you want to pick a shade lighter, darker or a new shade altogether, this is another great blouse idea for Banarasi sarees.
5. Matching border elbow length blouse for banarasi saree

The most popular and common version, this is one classic blouse design with a Banarasi saree that'll always be in vogue!
6. Brocade blouse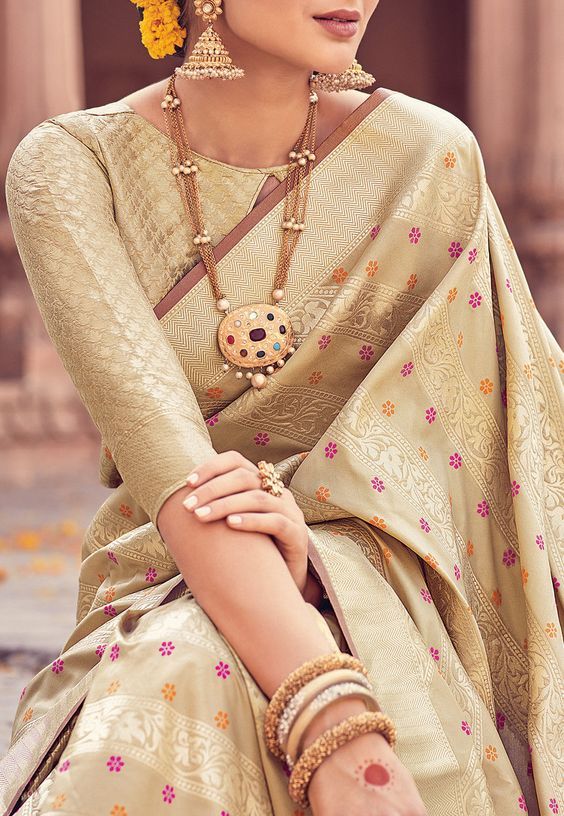 These plain ones in brocade look dainty and nice, and are a trendy new way to mix and match and wear your Banarasi saree. 
So now that we have given you enough gyaan on Benarasi silk sarees, lets show you some brides who rocked these sarees instead of lehengas on their big day, and styled and carried them off to perfection!
What all colours can a Bride wear in Banarasi Sarees?
1. Red
Red is the king of all colours when it comes to bridal wear and gets the utmost attention. The colour makes the print outshine and rich of all.
2. Pink
Pink can make a Banarasi Saree look gorgeous on a Bride. This shade would look perfect for a day wedding. You can pick a wedding saree in any shade of pink, or in combination of different colors.
3. Yellow
If you are looking for a lighter hue for a pre wedding function such as Haldi, then you cannot go wrong with yellow. The shade makes you pop up and lively any time you get to wear it.
4. Green
The shade can be worn in both lighter or darker shade depending on the event or timing of the event. Green makes the print shine all over the fabric just like the colour Red.
What are the types of Jewellery to wear with Banarasi Sarees?
1. Temple Jewellery
This type of Jewellery has been generated from Southern parts of India as well and goes perfect with a Banarasi Saree.
2. Kundan
Kundan Jewellery is the most popular and liked by all. It matches with every colour and can make your look even better.
3. Meenakari
This type of Jewellery has originated from Rajasthan and is offered in different colours using different stones in contrast with the saree and even more traditional.
Designers to consider for a gorgeous Banarasi drape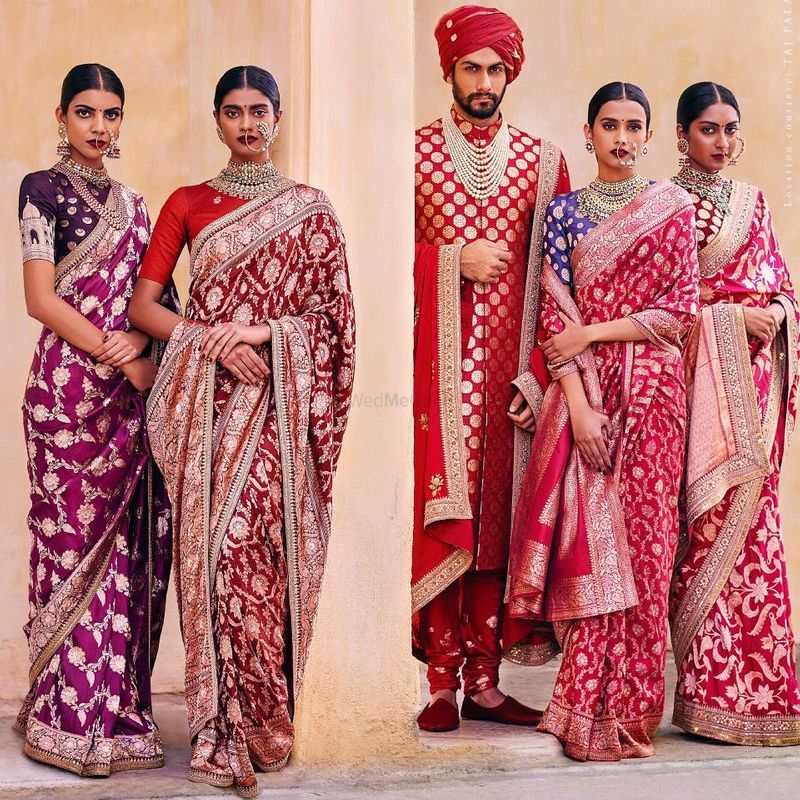 As far as the contemporary designers are concerned, he does some amazing ones which are not only big hits with celebrities, but real brides too. His Banarasi sarees have a big touch of the traditional, and if that is something which you're looking for, then Sabyasachi has some pretty ones from those in bright reds to deep purples. His Benarasi for wedding would be a tick off from the checklist of every bride.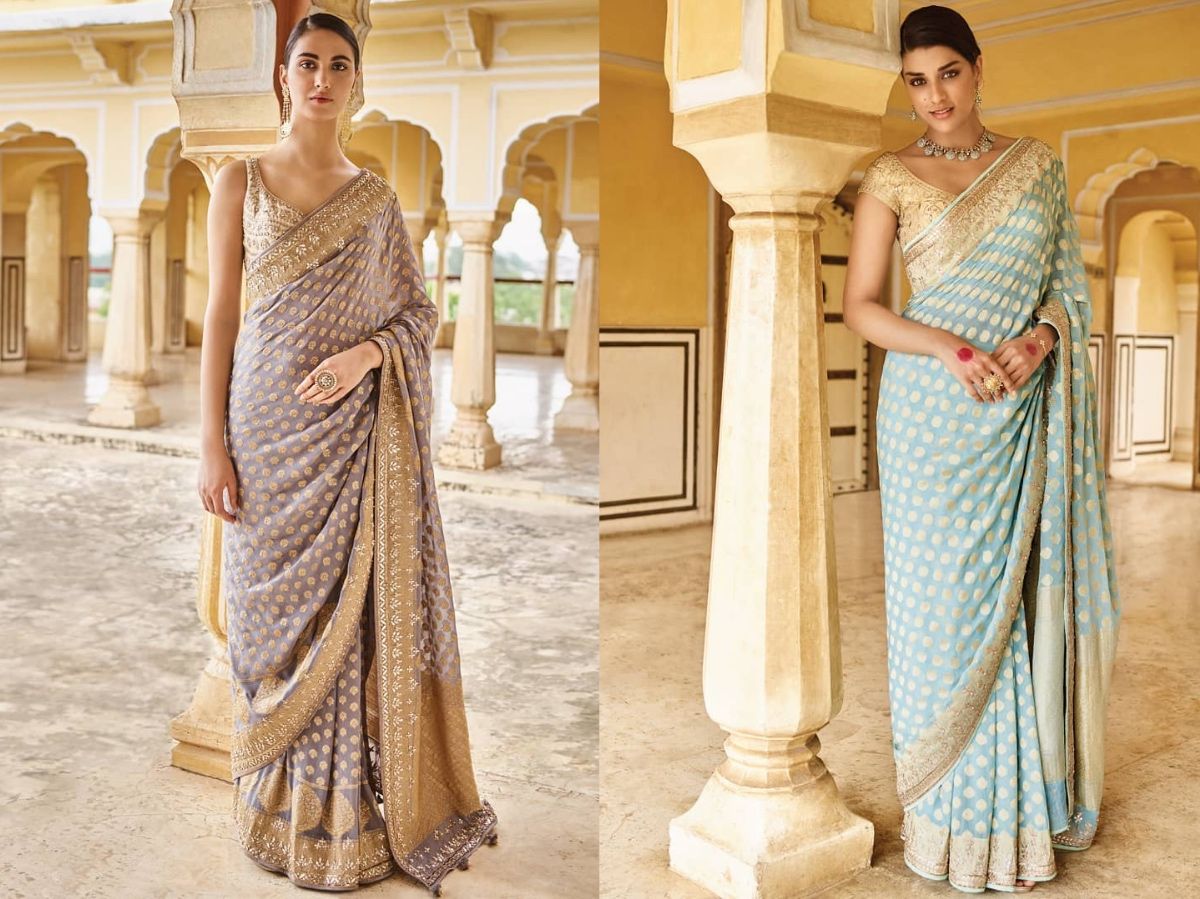 If you're looking for a Banarasi saree that's different from the traditional drapes you usually get to see, then hit her up! She has some beautiful Banarasi sarees interpreted in contemporary georgette drapes, with her signature Gota Patti work, dori, pearl and zardosi work, which looks modern and precious! Plus, check out those offbeat shades! She is not one of those to pick common shades but colours that are so different which makes her designs something to die for.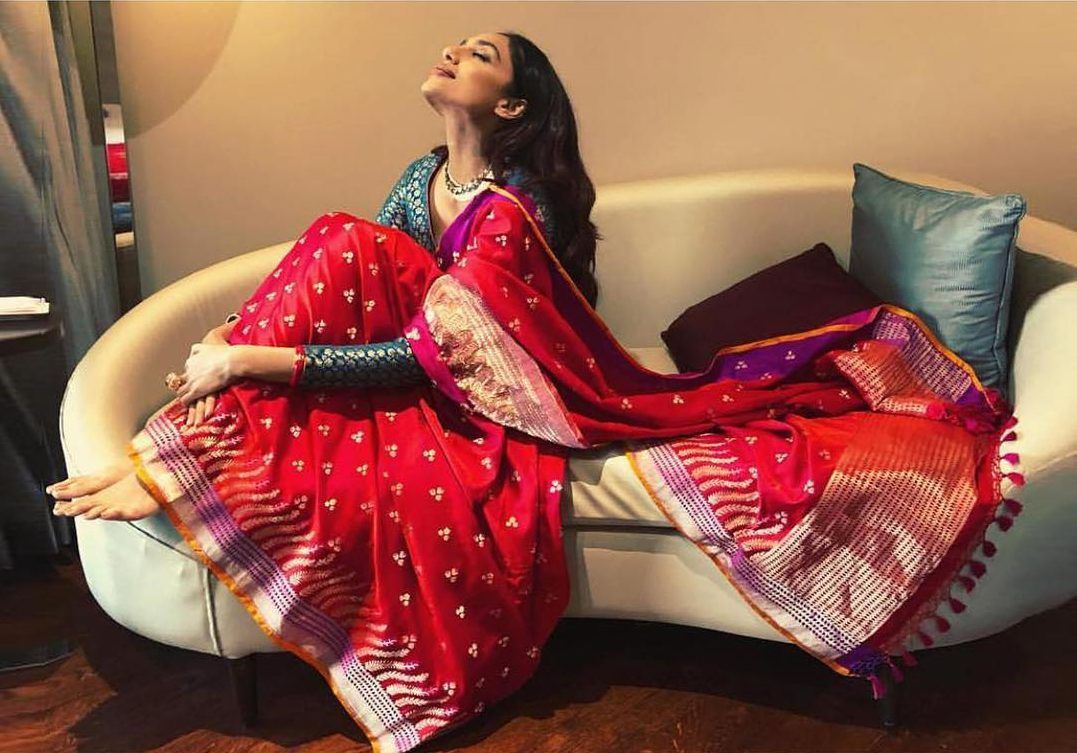 They have some gorgeous sarees with a modern touch to them, which are perfect for new-age brides! Their weaves are unique, and come in so many colours and patterns that it can be hard to make a choice! But stunning nevertheless, we see quite a few brides pick this label for their big day!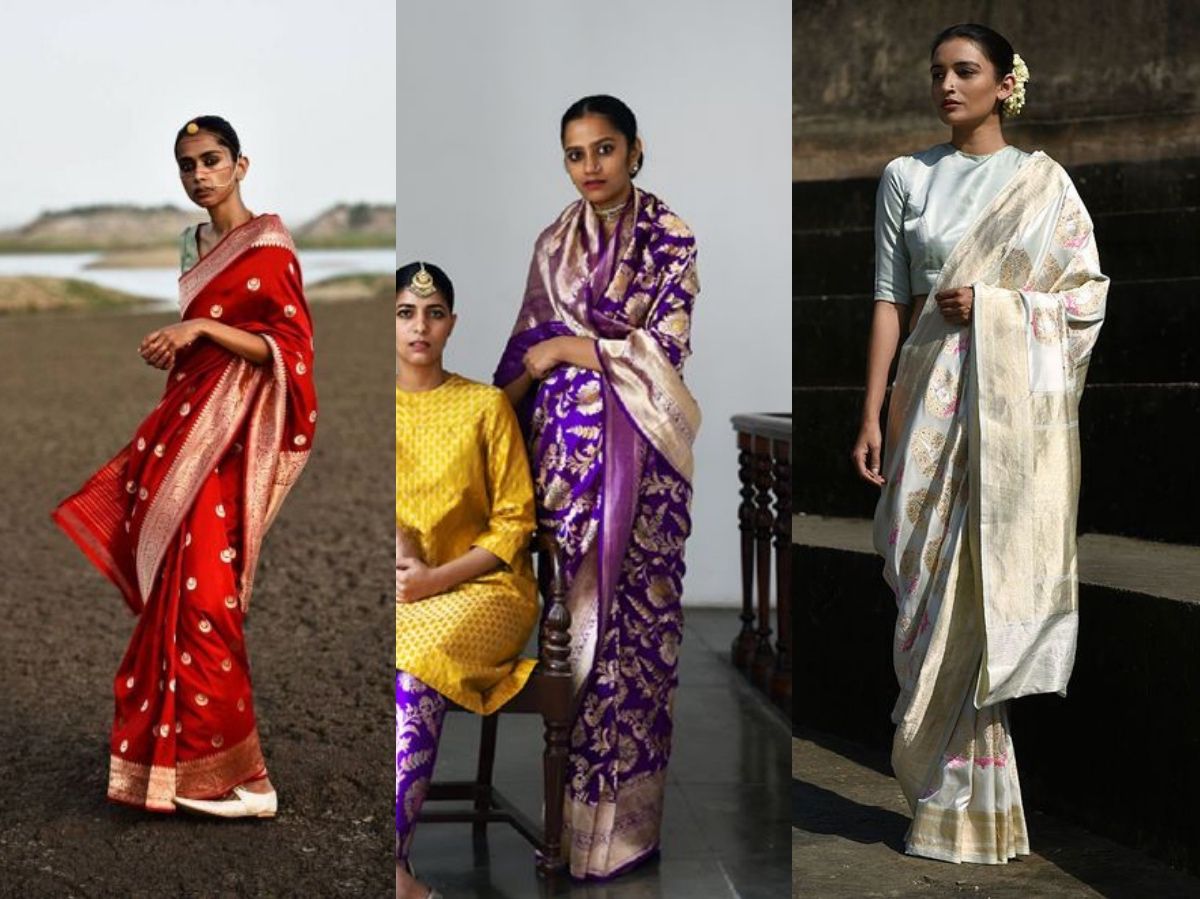 Raw Mango by Sanjay Garg has some gorgeous Banarasi drapes- after all, Banarasi is their thing! From offbeat colours to patterns, they have something for new age brides which is unique and makes a statement!
Ayush Kejriwal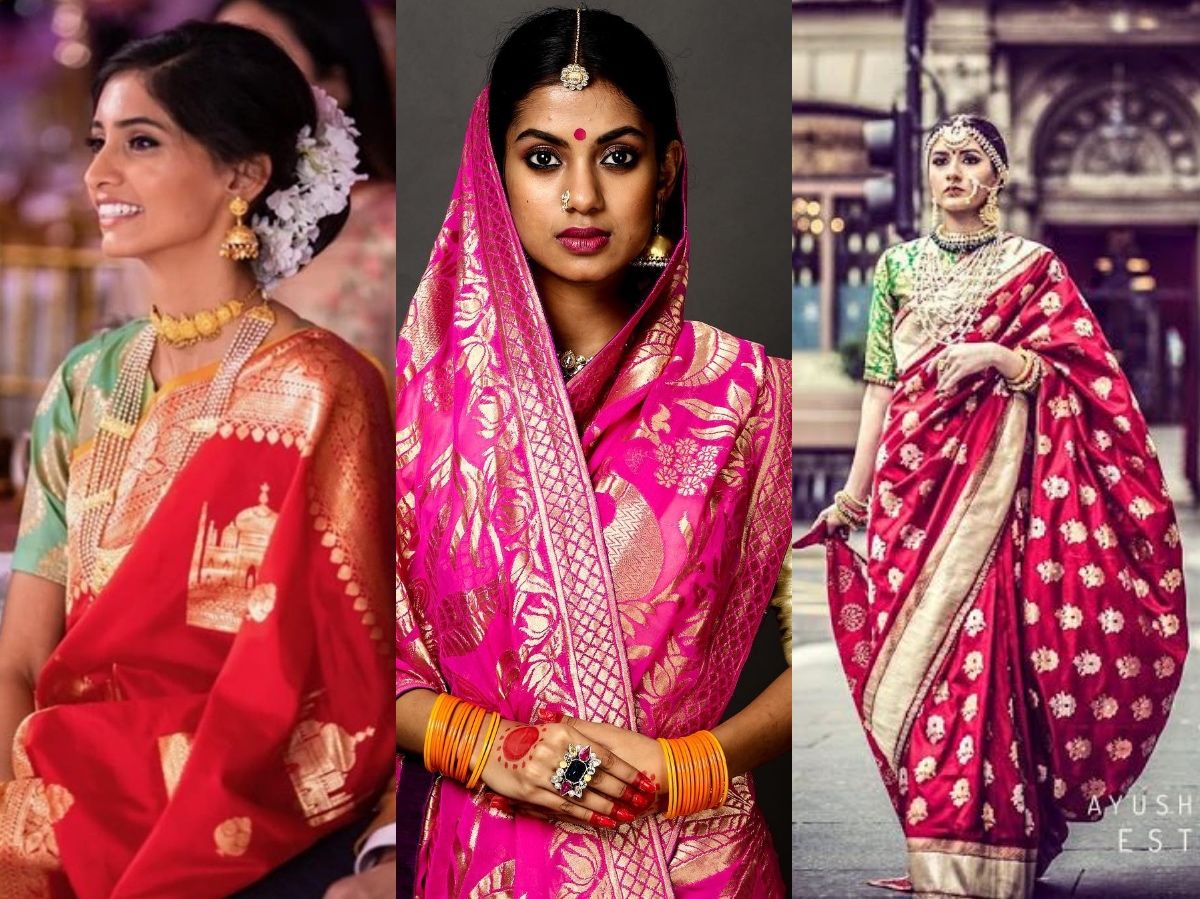 His Banarasi sarees look fresh and different, with some gorgeous hues and interesting patterns! He even has some amazing sarees in Banarasi with embroidery on them too, and if you're looking for something unique that's not been tried out by too many brides, then give this designer a shot!
Thats not it, there are many other well know designers who have some beautiful collection of benarasi sarees, click here to shop for banarasi sarees online
Here are some brides who rocked Benarasi sarees on their wedding or other wedding functions to perfection!
Can a bride only wear Designer Benarasi Sarees?
It is not necessary for a bride to wear only designers for their wedding. Whether to wear a designer piece or not totally depends upon the brides choice and the budget they have in mind. Benarsai sarees for weddings come in different price ranges. You can either wear a simple saree with heavy jewellery and make your look perfect or you can wear something heavy and go light with the jewellery .
This red and pink banarasi saree with gold work all over
Image via Shivani & Parikshit (Mumbai)
This bride's bright pink Banarasi saree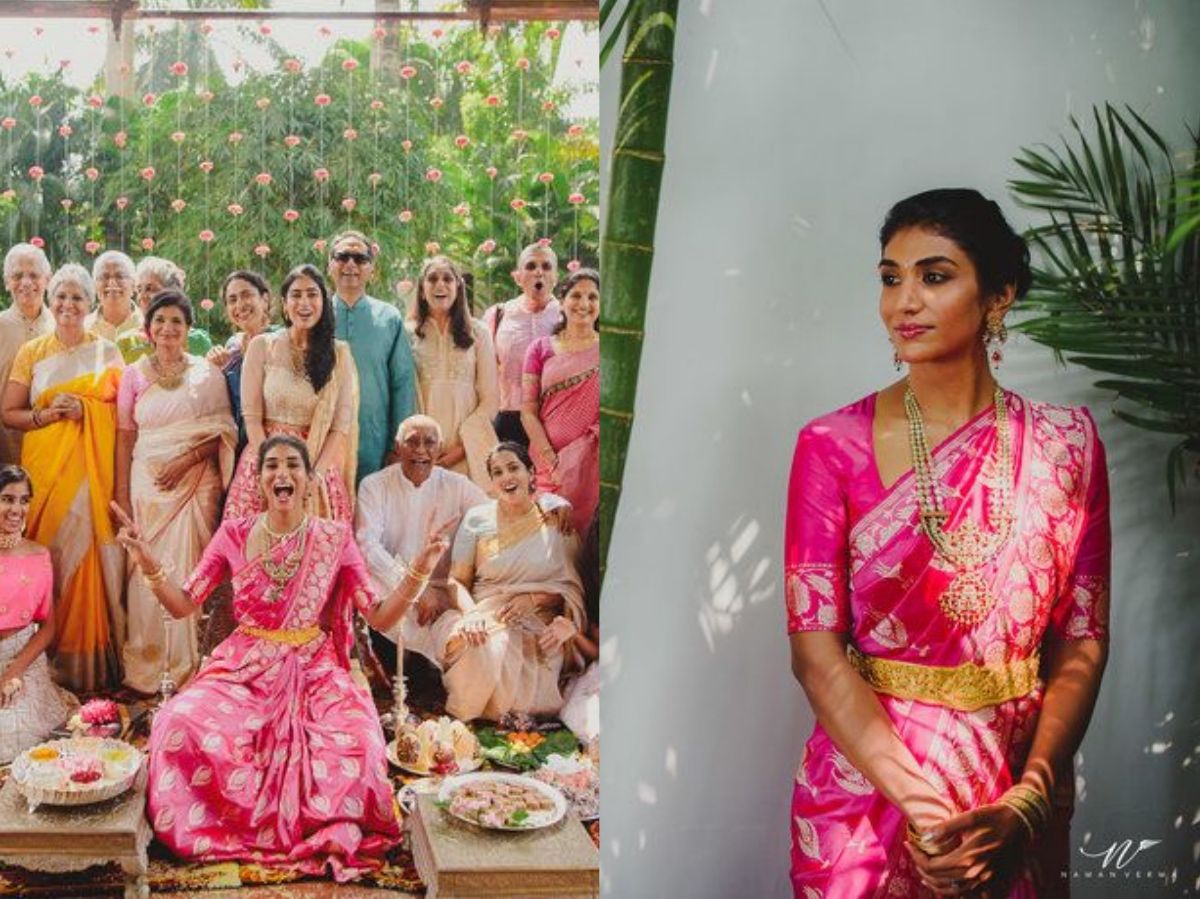 Image via Neeraj & Maya
This bride who wore Benarasi from head to toe!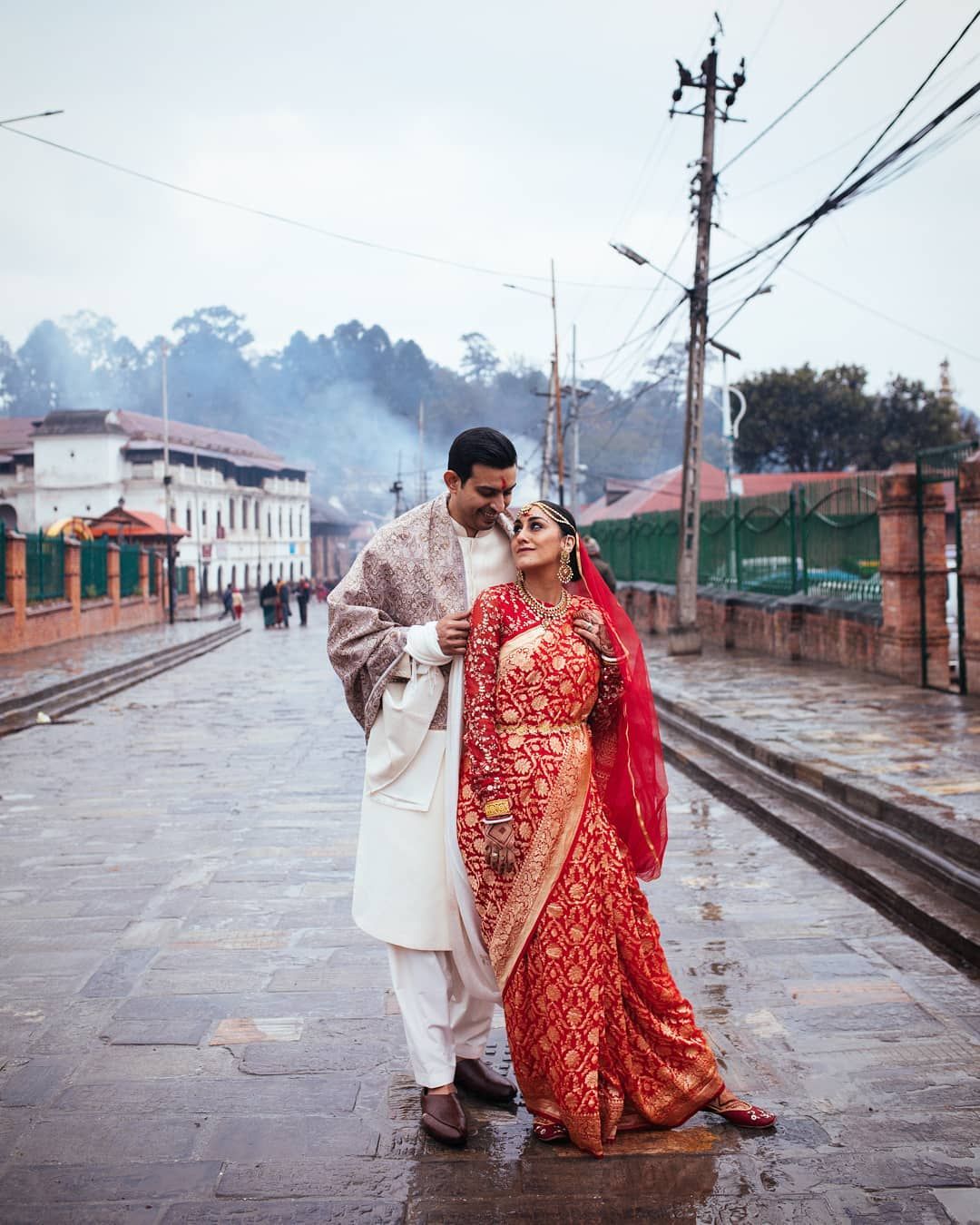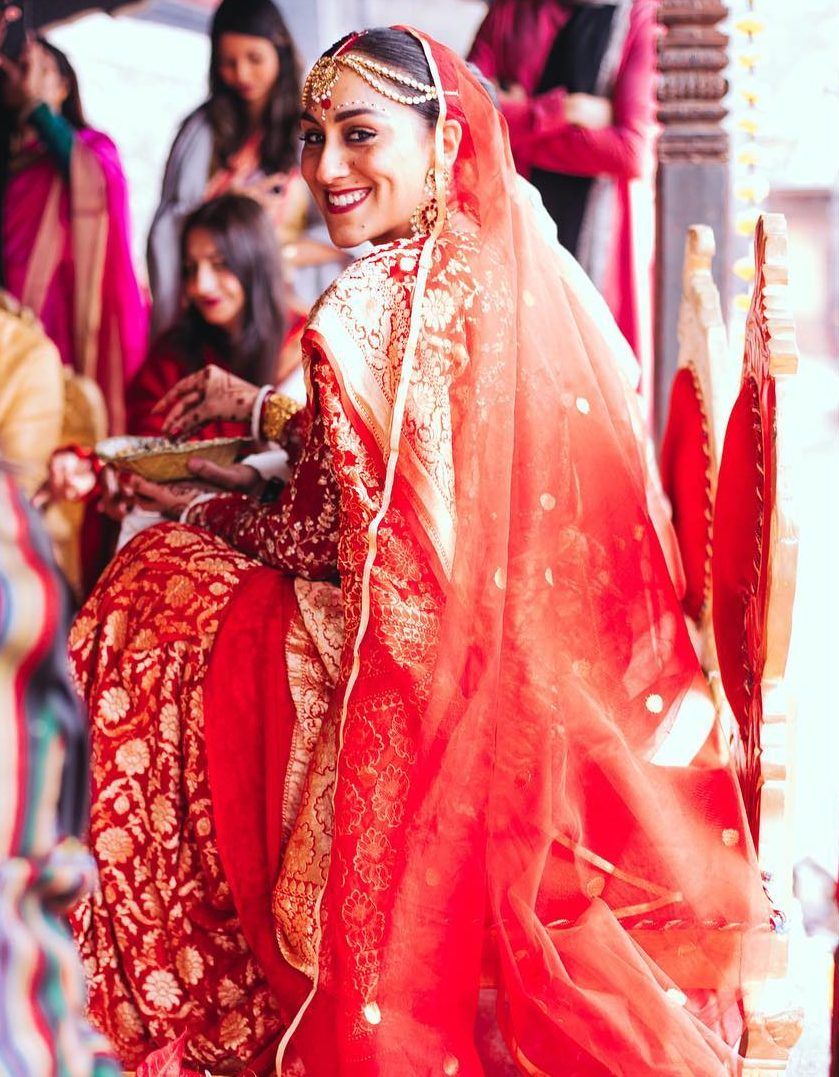 Image via karunaezara
This bride in her light pink Banarasi saree on her reception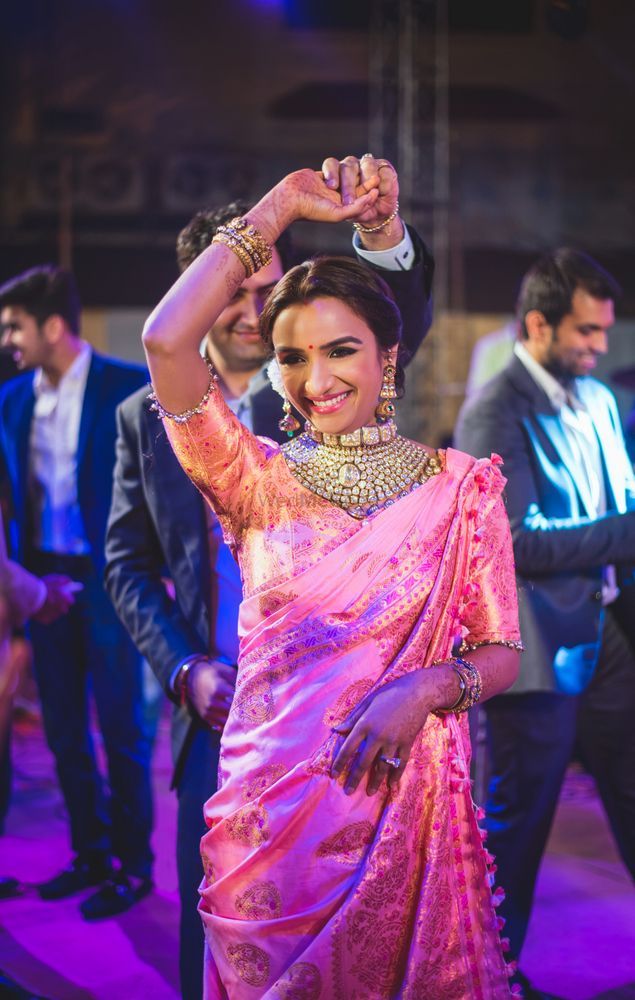 Image via Samaira & Dilkash
Anushka Sharma's Banarasi saree on her Reception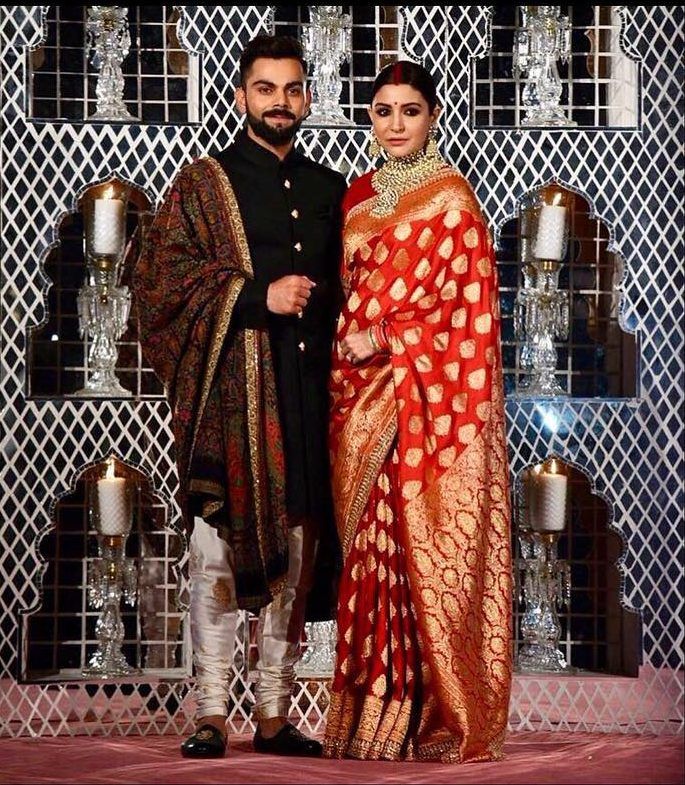 This bride's mix and matched print Banarasi saree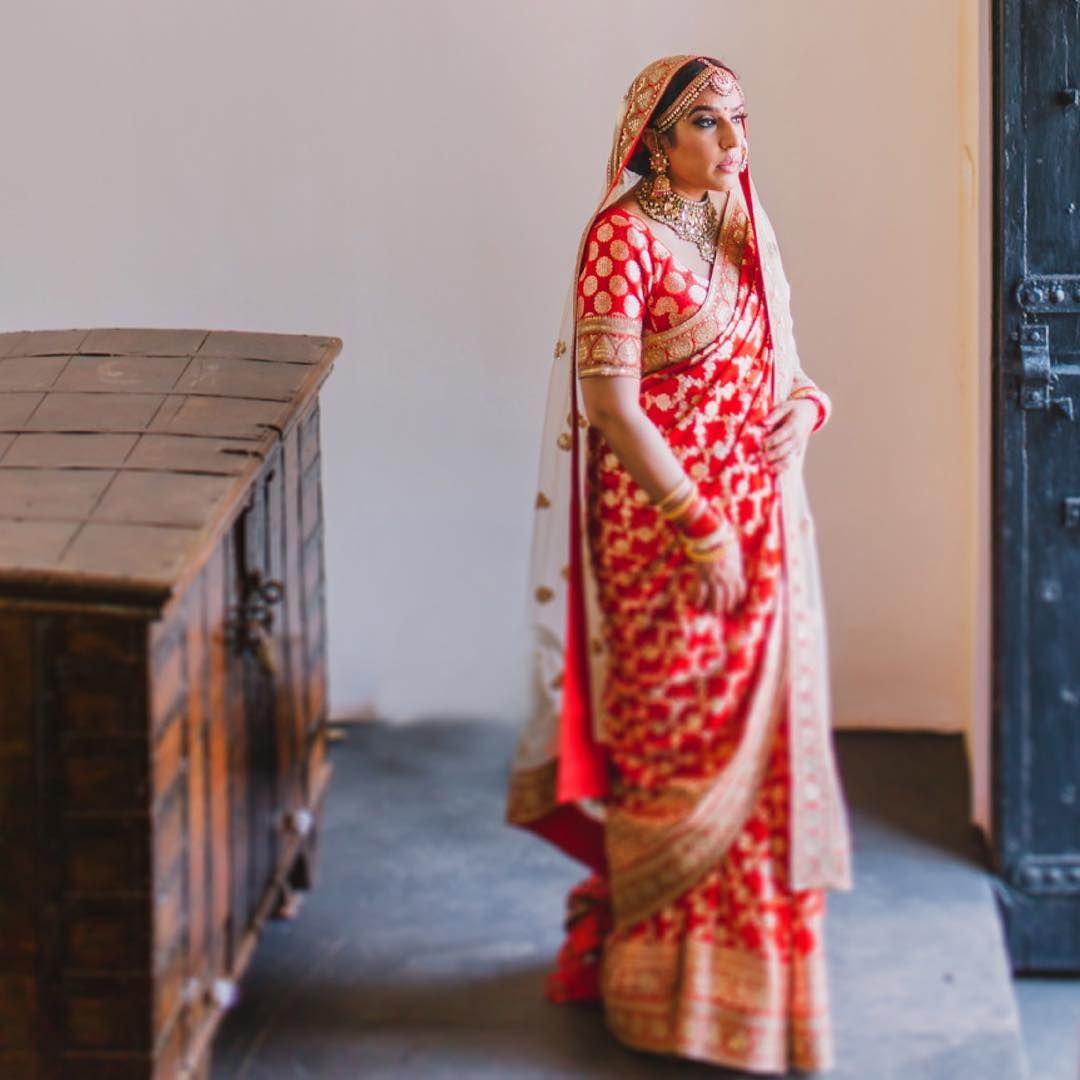 Image via @shreyasenphotography
This gorgeous fuchsia Banarasi saree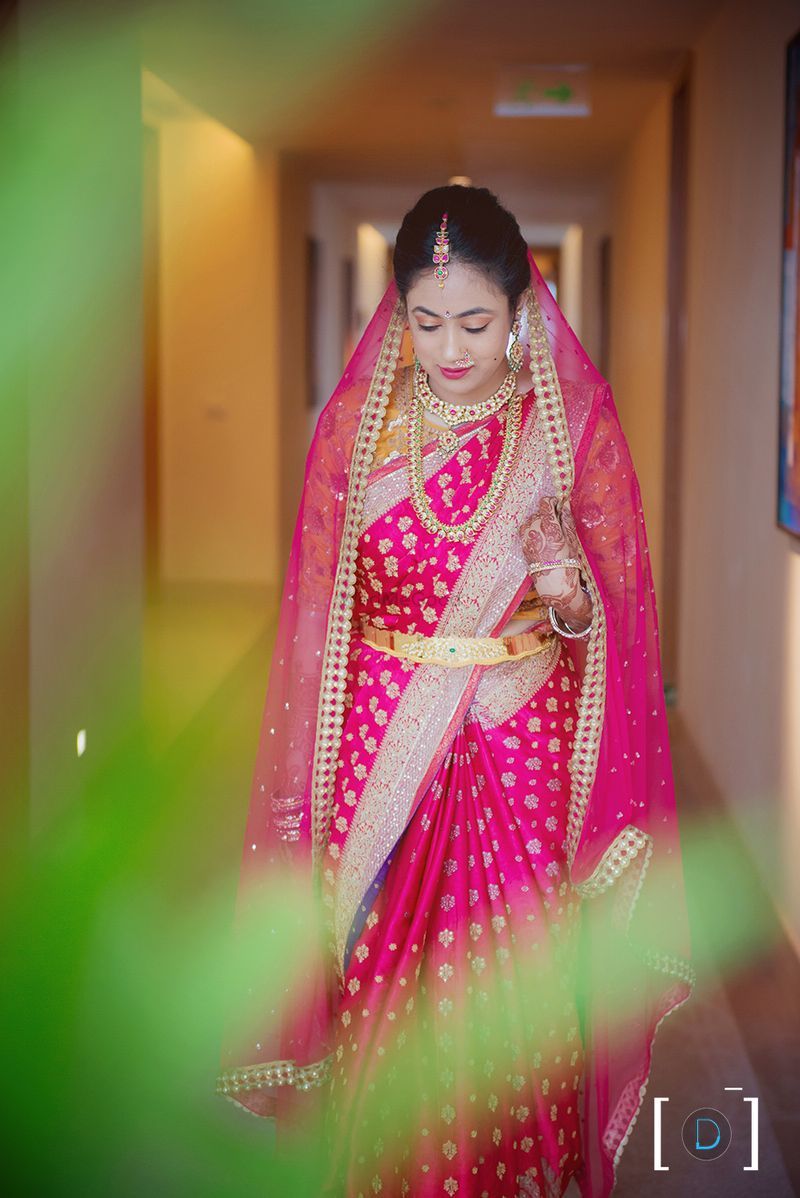 Image via Dhanika Choksi Photography★ 4.9
This bride's traditional red banarasi weave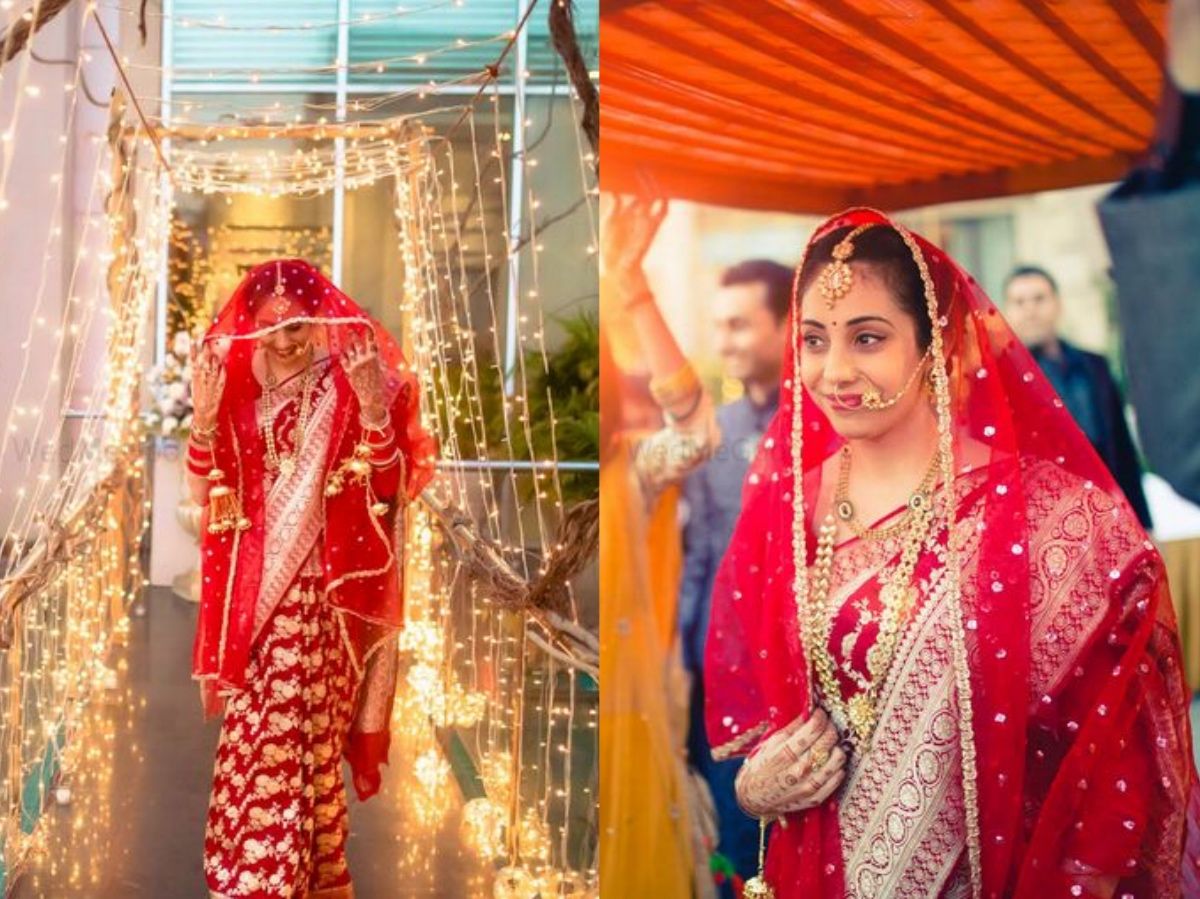 Image via Shutterdown - Lakshya Chawla
This bride's beautiful orange banarasi saree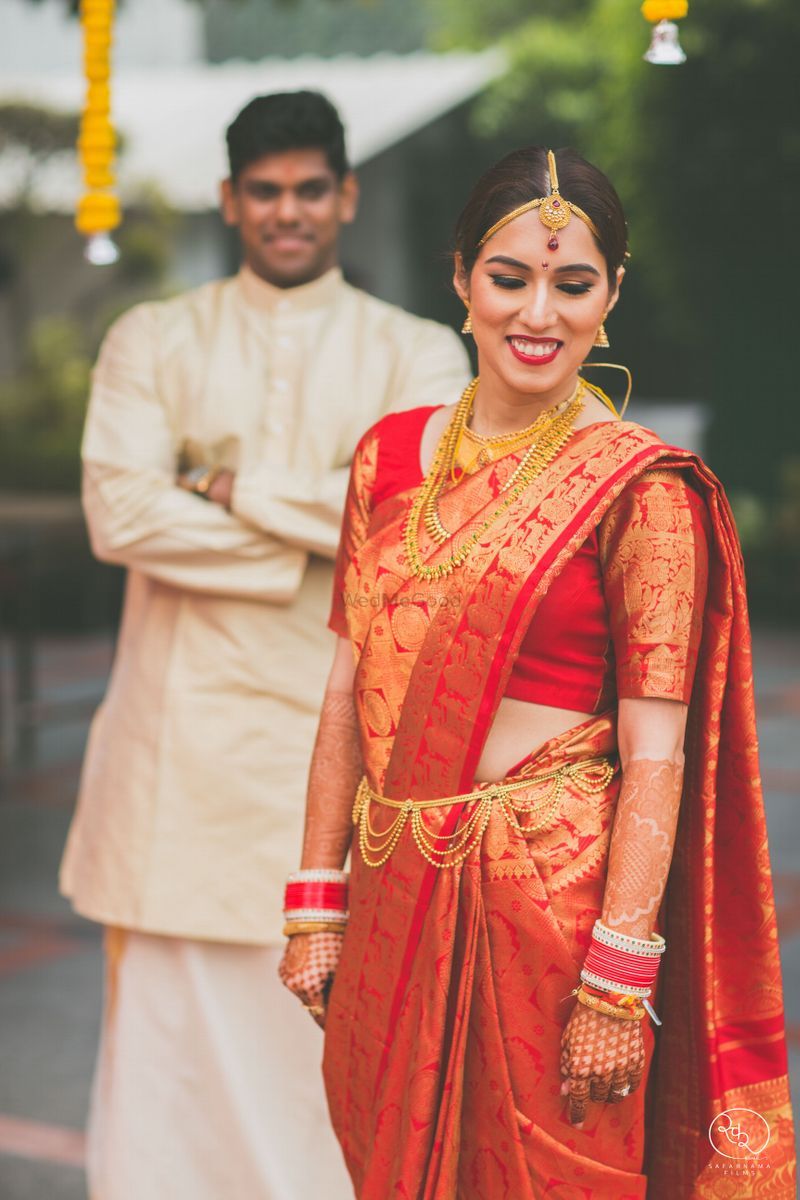 Image via Lakshya Manwani Photography
This bride who wore a Banarasi South Indian style!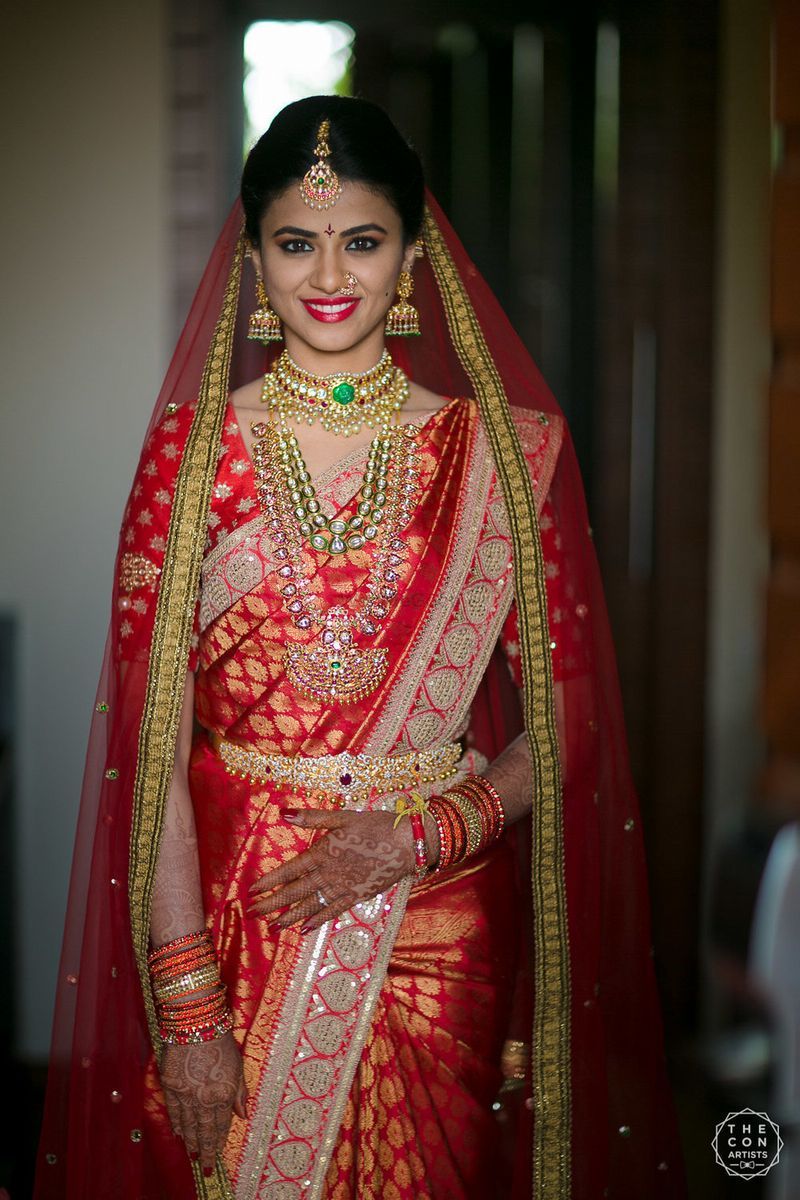 Image via Pooja & Vivek
This bride in her red Banarasi saree and Gujarati drape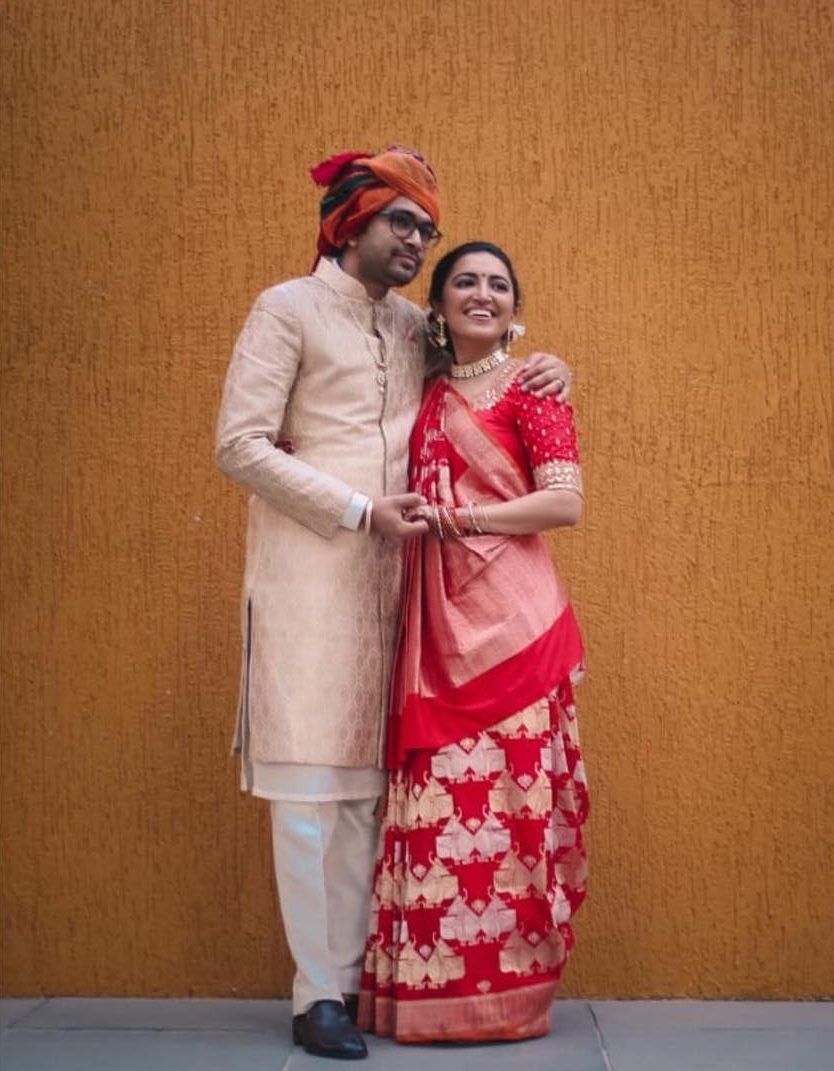 Image via ekayabanaras
What can one wear other than a saree?
You can create a different look by forming a lehenga using the same fabric. A heavy suit can also be an option to be included in your trousseau. Crop top and a long skirt can be worn for a function like mehendi made out of these fabrics.
How to take care of your Banarasi sarees
Banarasi sarees are silk sarees, which require a lot of maintenance on your part. Here are some tips and tricks which can help:
Do not leave the saree hanging on a hanger for too long as the crease could become permanent. 

Try keeping them in a dark spot in your cupboard after wrapping them up in a muslin cloth.

The muslin cloth allows the air to pass through the fabric but keeps the moisture away which can damage the saree.

Keeping them in a dark corner can help avoid discolouration of the saree. 

Iron the saree with utmost care on a low setting or get it steam ironed.

Water and perfume cannot be sprayed on certain Banarasi sarees as it could stain them.

Getting these expensive sarees dry cleaned professionally is a better idea than trying to clean them at home. 
These sarees can never disappoint you and even though it has turned out to be every bride's go to look, you ought to see something different every time which is the reason for its popularity these days that A Banarasi has become a must for your wedding day.
So, got all the info and inspiration you need? Browse the WMG Photo Gallery for more bridal trends and looks to take ideas from! 
Also, check out Banarasi lehengas and here is a bride who designed her own bridal lehenga with traditional Banarasi weaves!