Best Cocktail Gowns in 2021: WMG Roundup
BY Garvita | 16 Dec, 2021 | 5753 views | 5 min read
Another beautiful year comes to an end, and we're back with a fresh take on WMG roundups with '20+ Best Cocktail Gowns'! While in 2020 we witnessed brides playing it safe with lehengas for a Sangeet night , #BridesOf2021 went a step ahead and took a plunge with their exceptional sartorial choices! Be it the mermaid silhouette, structured adornments or a dash of bling, these brides made us stop and take note of their stunning gowns selection.
Anddd *drum rolls* here are not just team WMG's but also our readers' most loved cocktail gowns that oozed all sorts of elegance. Scroll & save now!!
Structured over a Pastel palette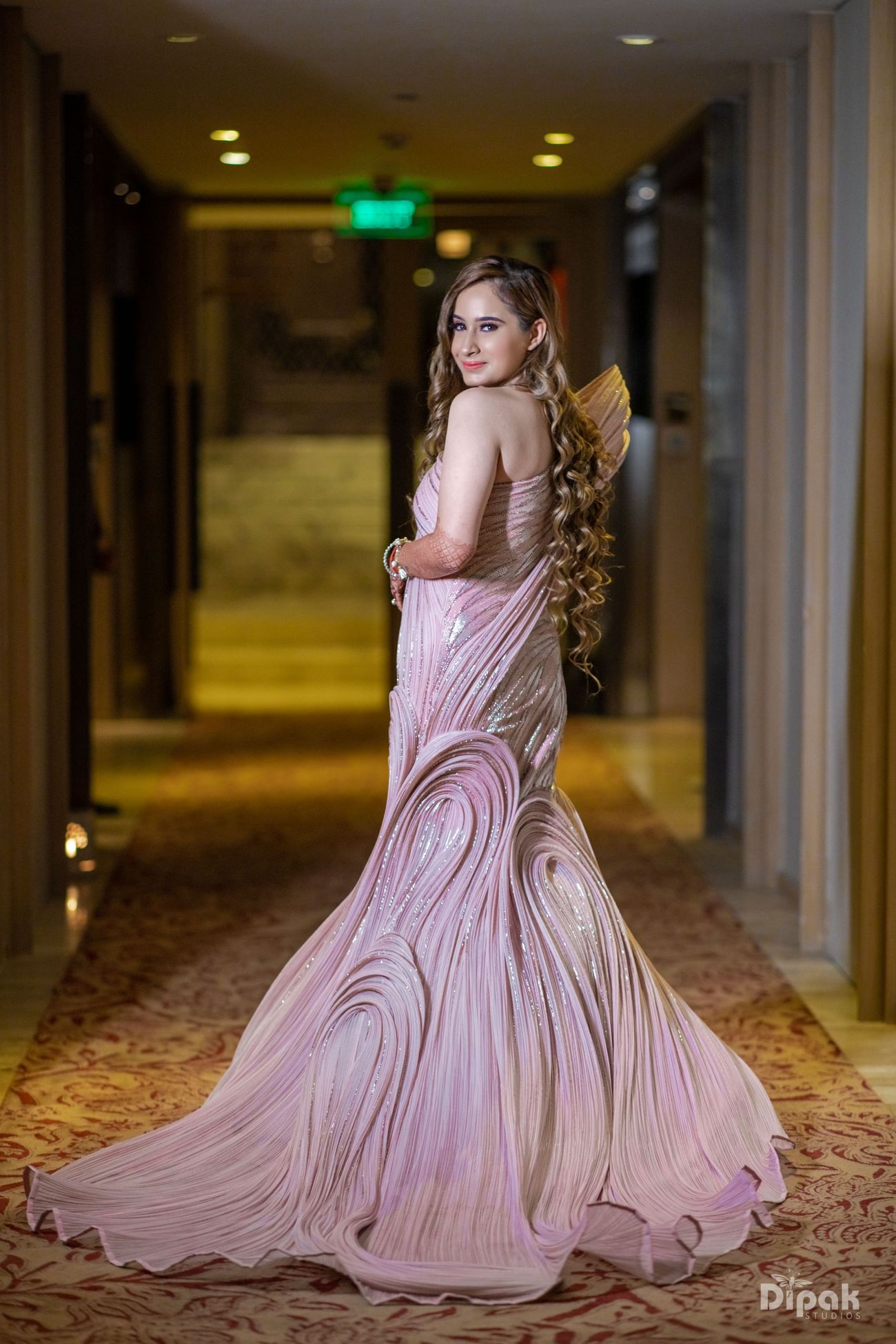 Image via Gursheet and Gurnoor / Outfit via Gaurav Gupta
Gurnoor left us mesmerized in this staple Gaurav Gupta gown! Those cascading curls & dainty jewellery pieces complemented the outfit beautifully.
Dipped in Gold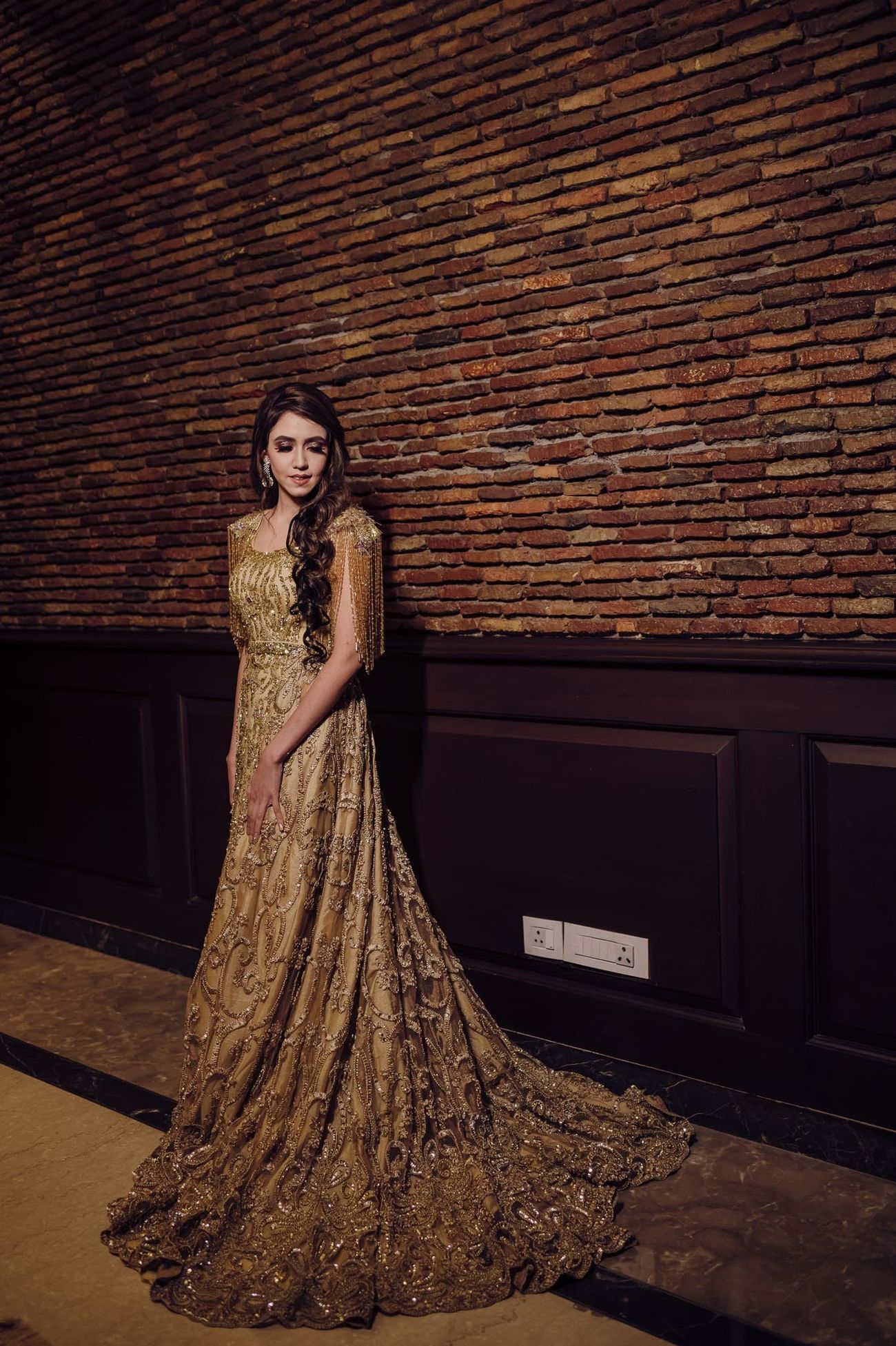 Image via Infinite Memories
We loved everything about this glimmering Gold gown! A statement piece in itself, the bride chose to balance its maximalism by styling it with just a pair of earrings. On point, eh?
Boasting of scintillating details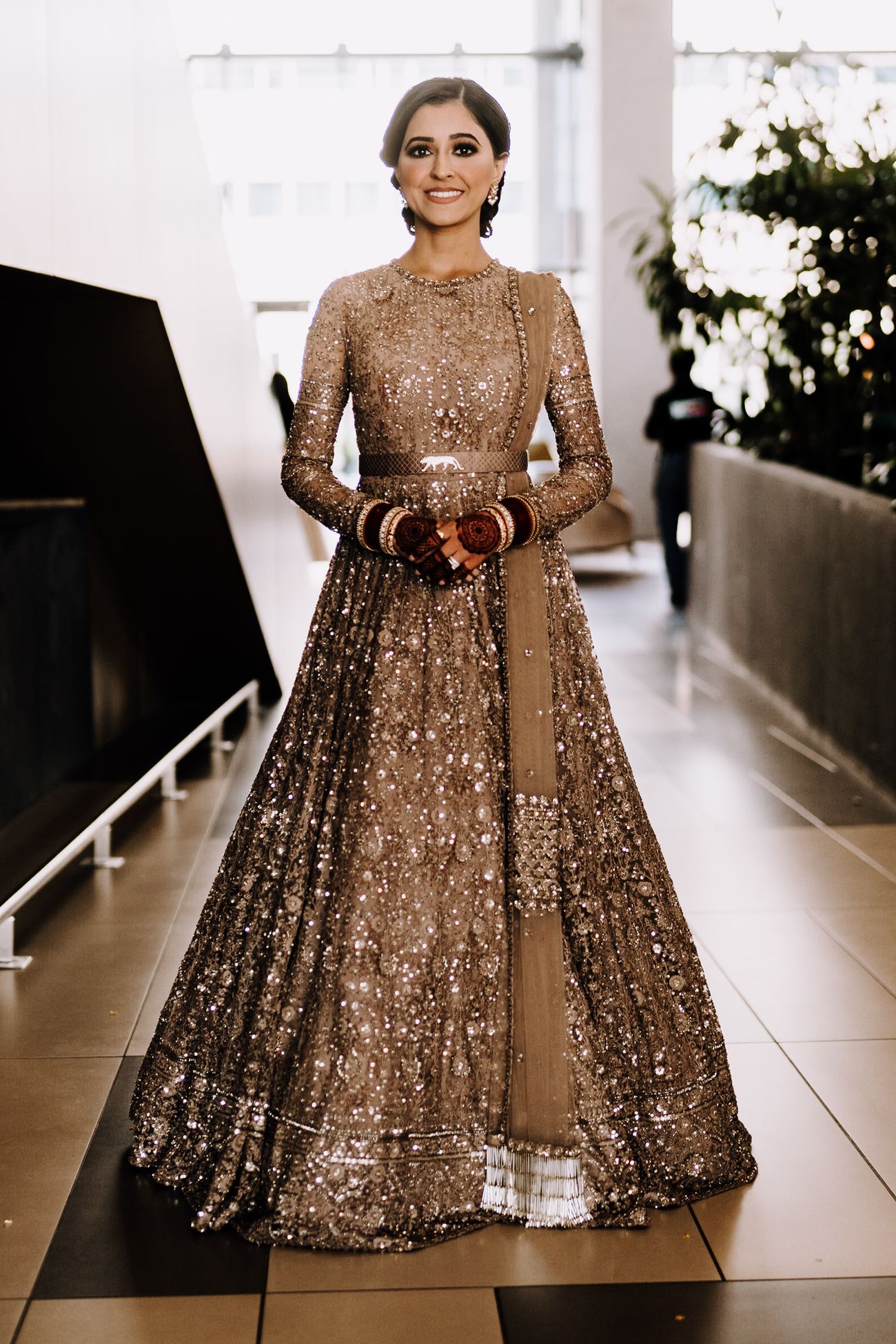 Image via Maneet and Gagan / Outfit via Sabyasachi Mukherjee
This Sabyasachi gown is ideal for brides who wish to keep it conventional with a touch of bling. Everything about it spells elegance and luxe, and we wouldn't think twice before putting it on our 'top three favorites' list !
Exude radiance in Red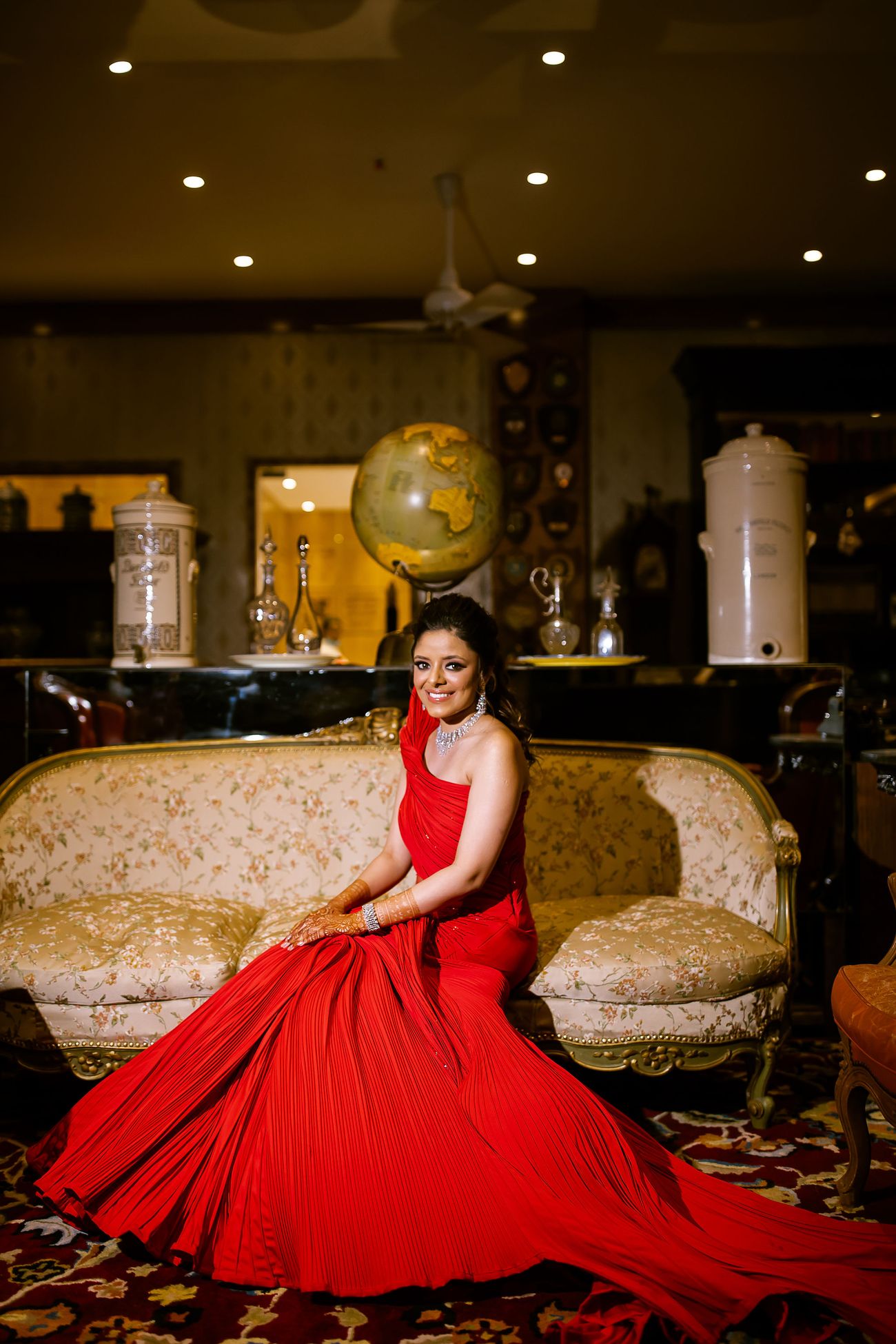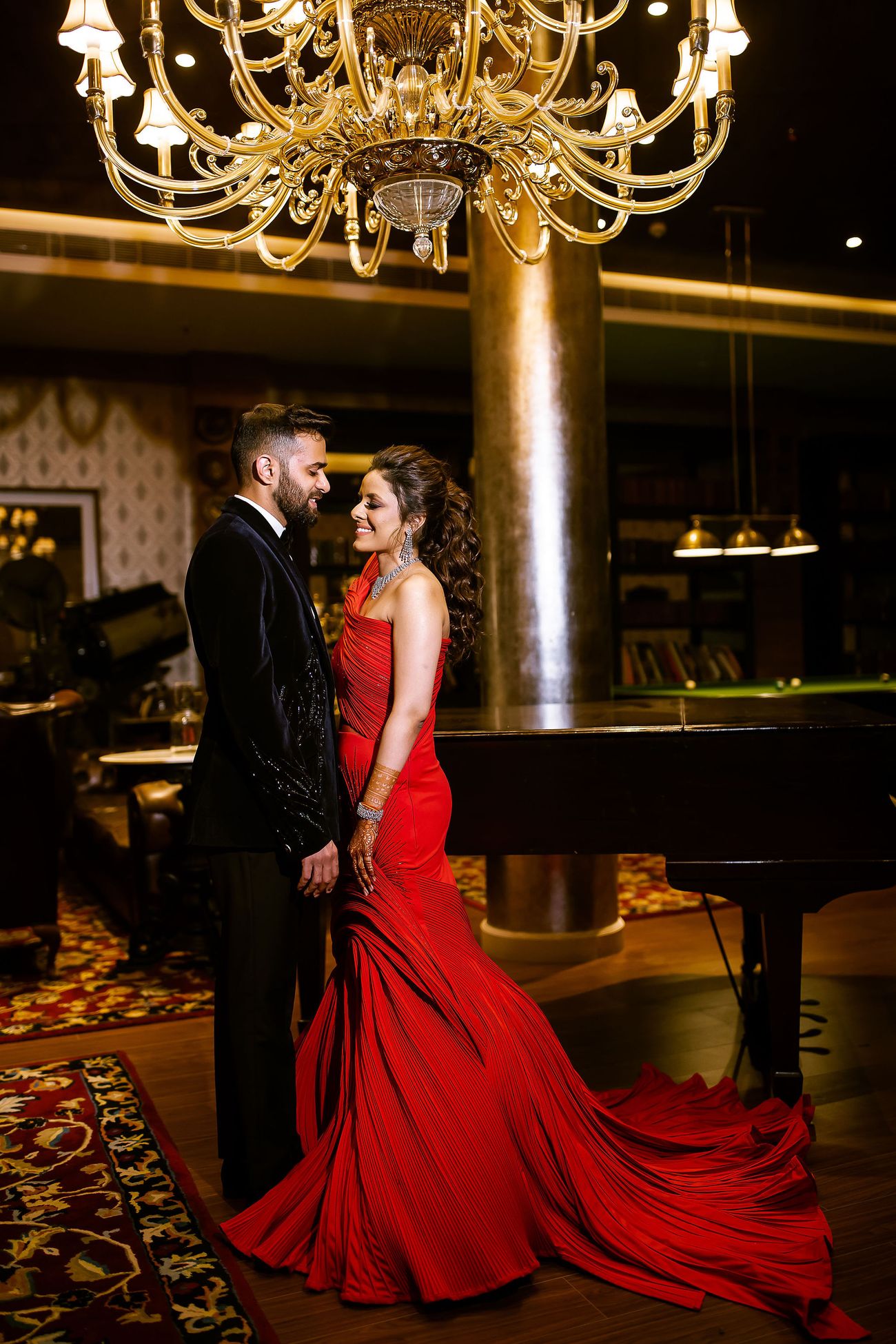 Image via Ayushi & Aayush / Outfit via Gaurav Gupta
Obsessed is an understatement! Since Ayushi chose to ditch 'red' on the wedding day, she served some major goals in this Gaurav Gupta gown for her pre-wedding festivities.
Level up with ruffles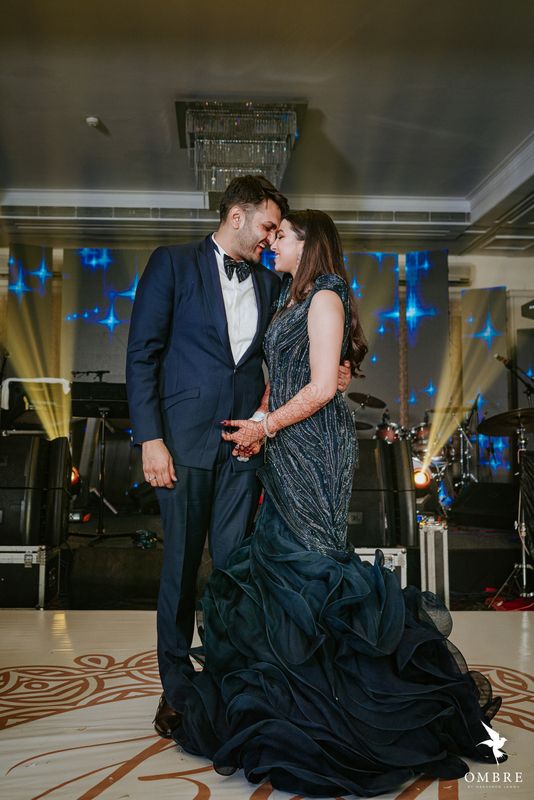 Image via Rahul & Aarushi / Outfit via Gaurav Gupta
We're low-key fans of ruffled gowns as we feel it effortlessly adds a quirky aesthetic to the whole ambiance! And Aarushi dressed in one looked fiery, to say the least (extra points to the sleek hairdo).
Keep it minimalist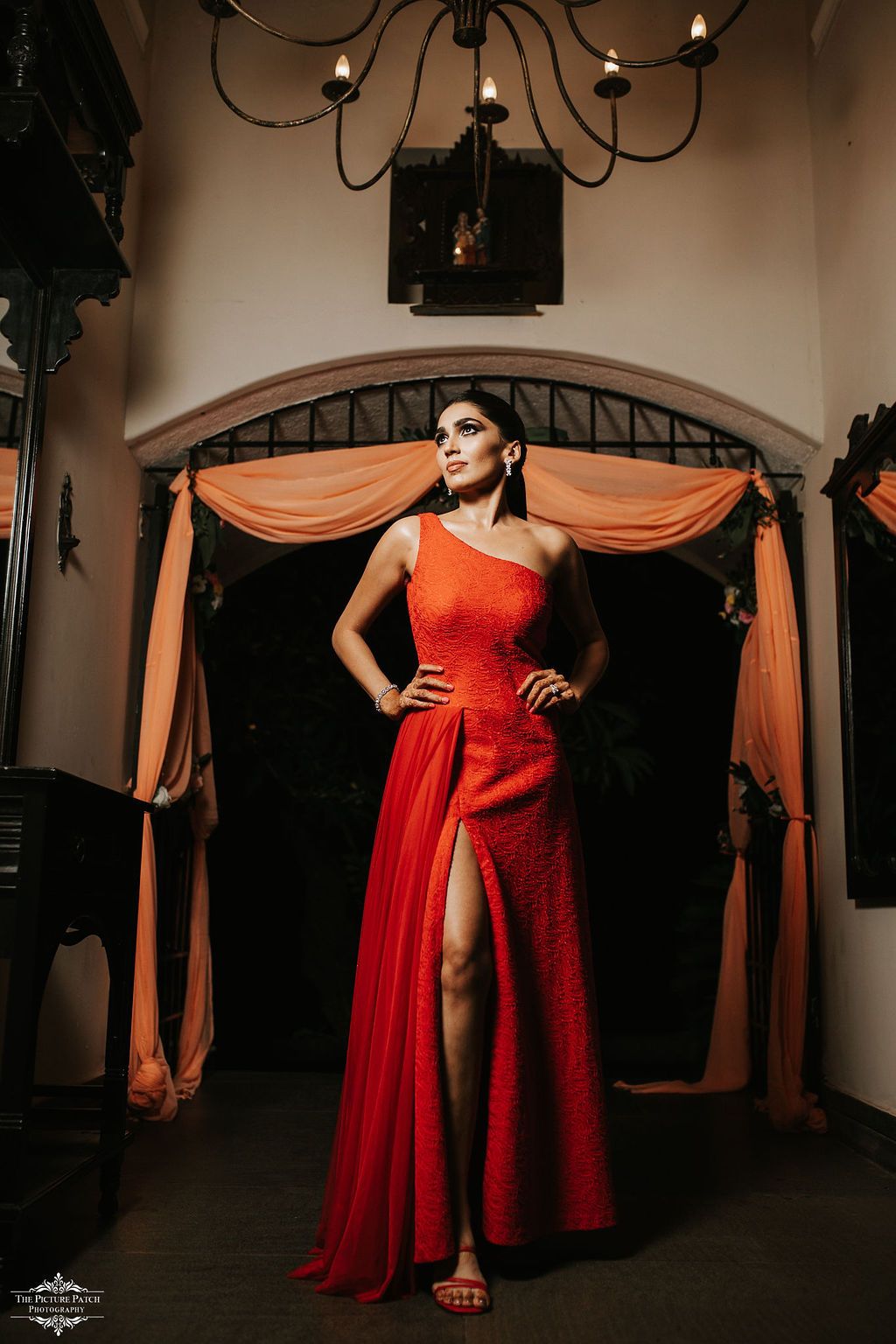 Image via Prajeeta & Yuvaraj Outfit via Nautanky
This is a sign that your wedding cocktail gown doesn't really have to be OTT every time! Prajeeta legit wowed us with this one.
Jeweled tones have always been a hit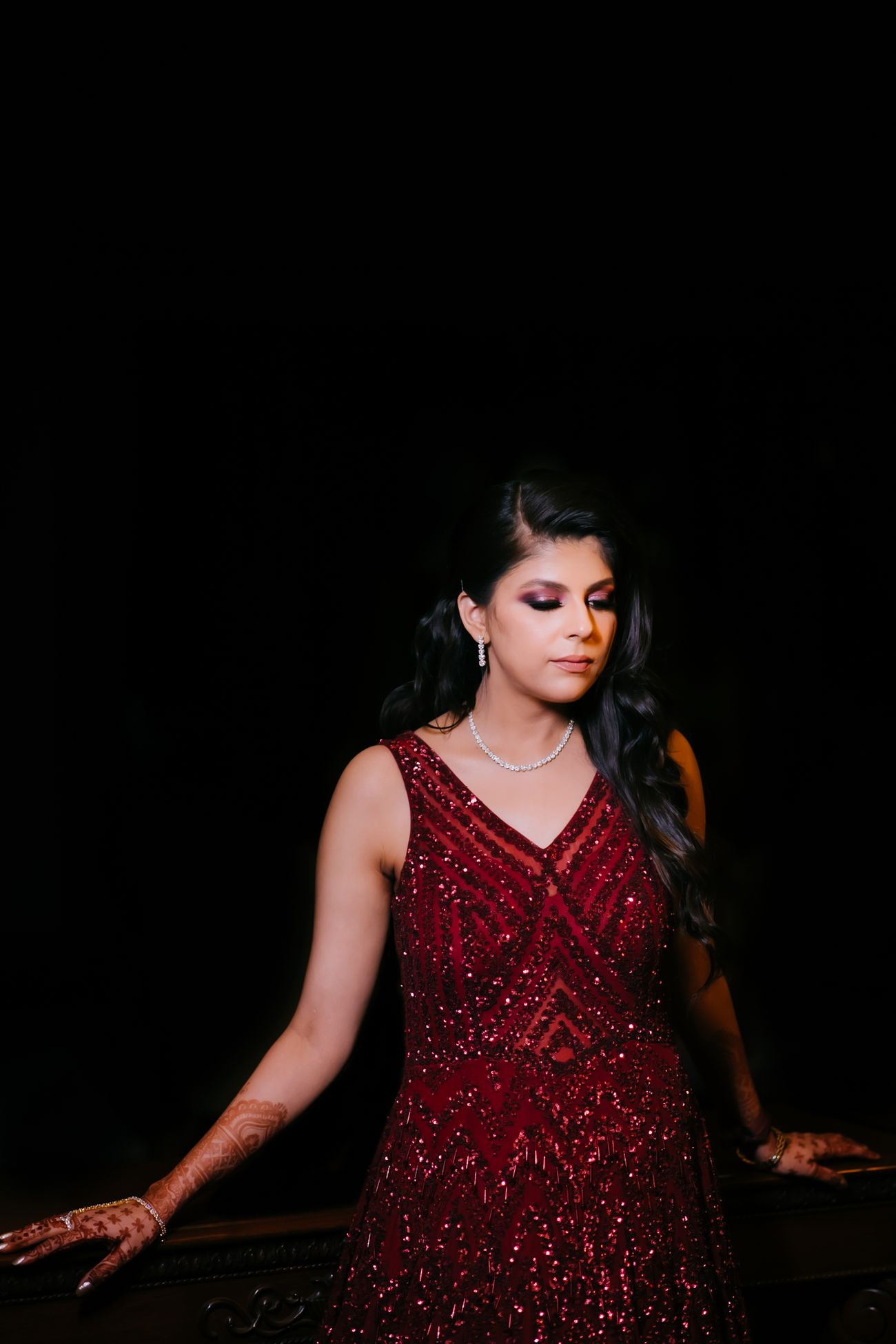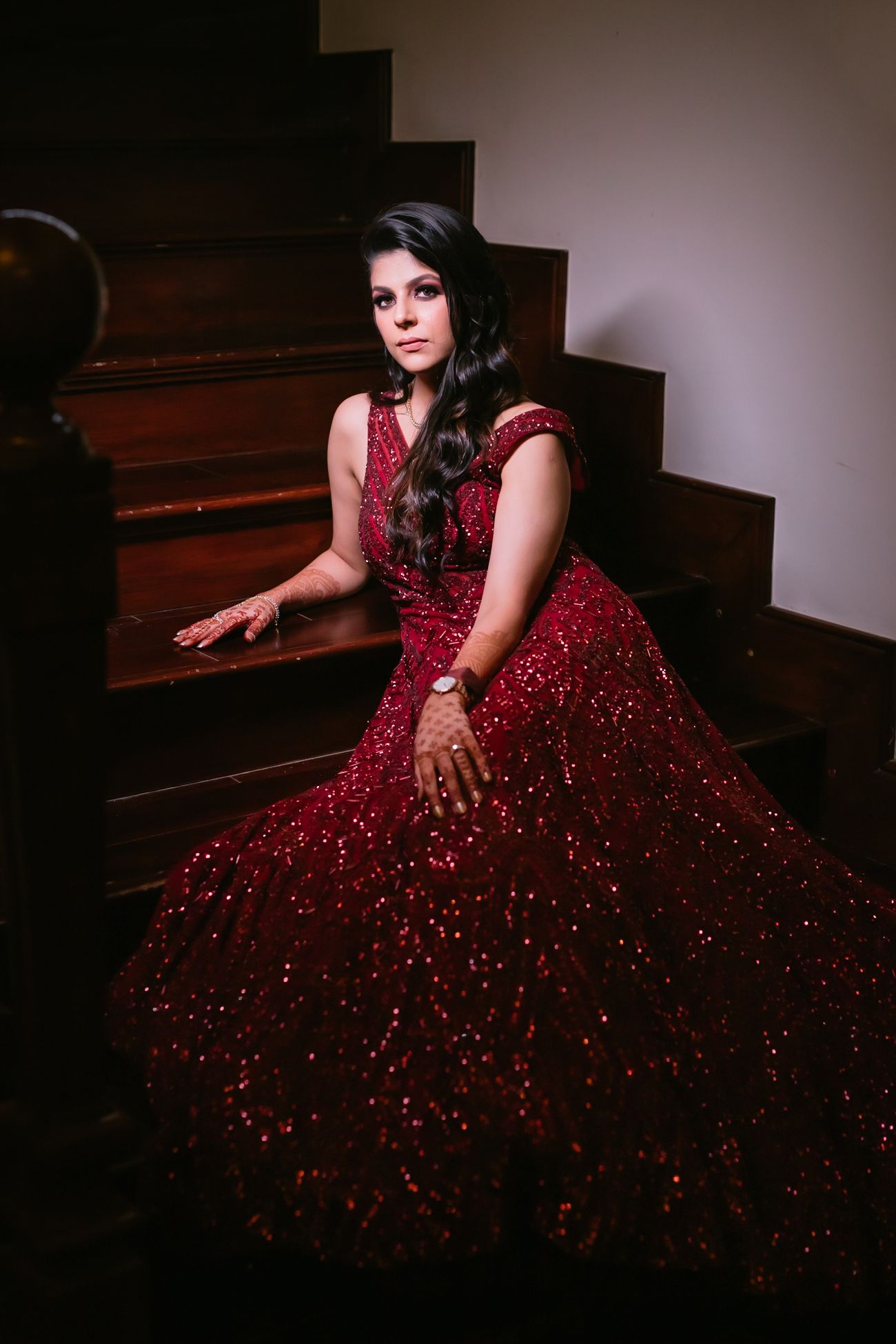 Image via Yashita & Aman / Outfit via Seema Gujral Design
What's not to love about this beauty by Seema Gujral Design?!
A blend of tradition & modernity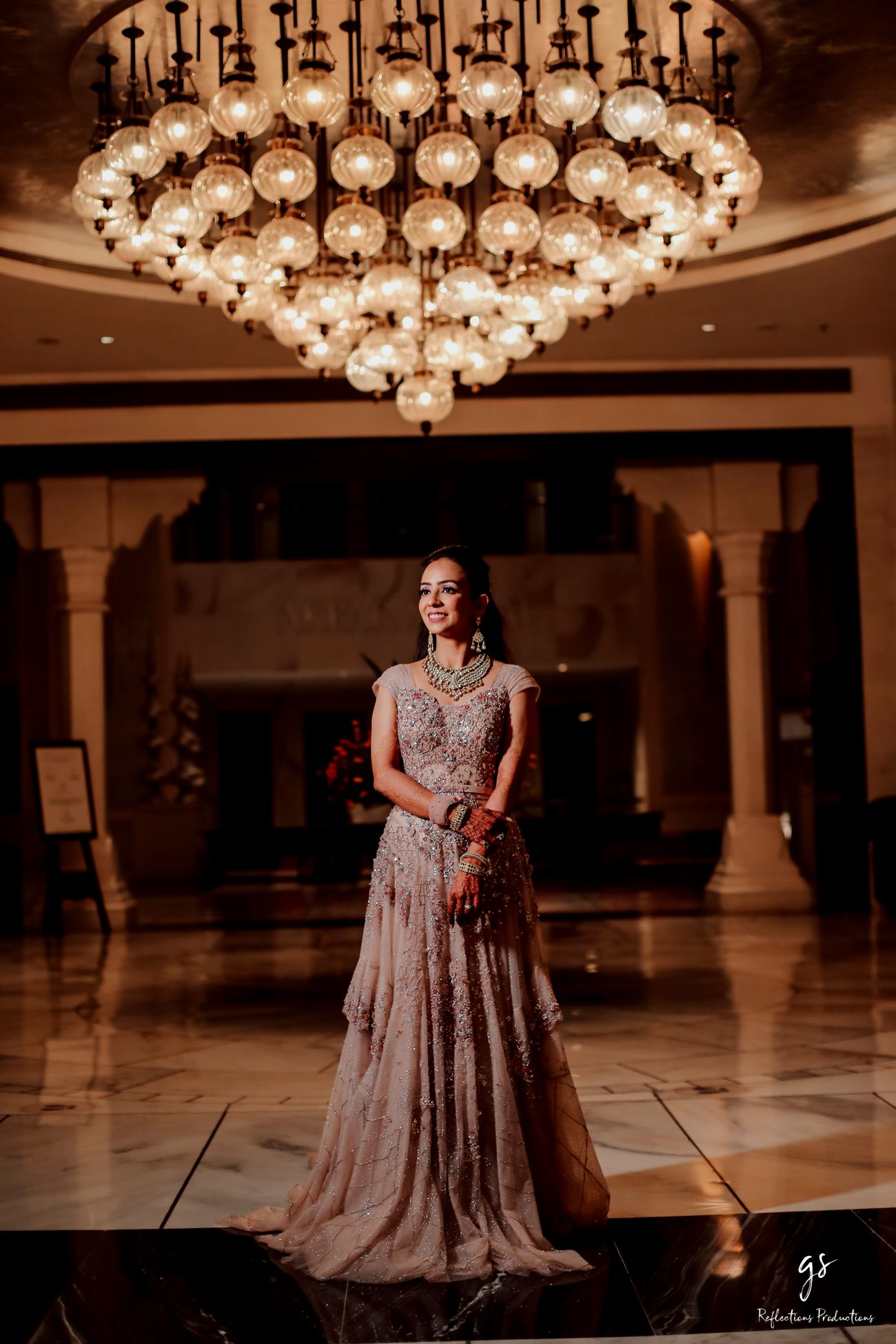 Image via Supriti Batra Makeup Studio
Falling hard for this pastel-hued gown adorned with subtle embellishments! We loved how she paired it up with bold jewelry to set a flamboyant statement.
So simple yet so dazzling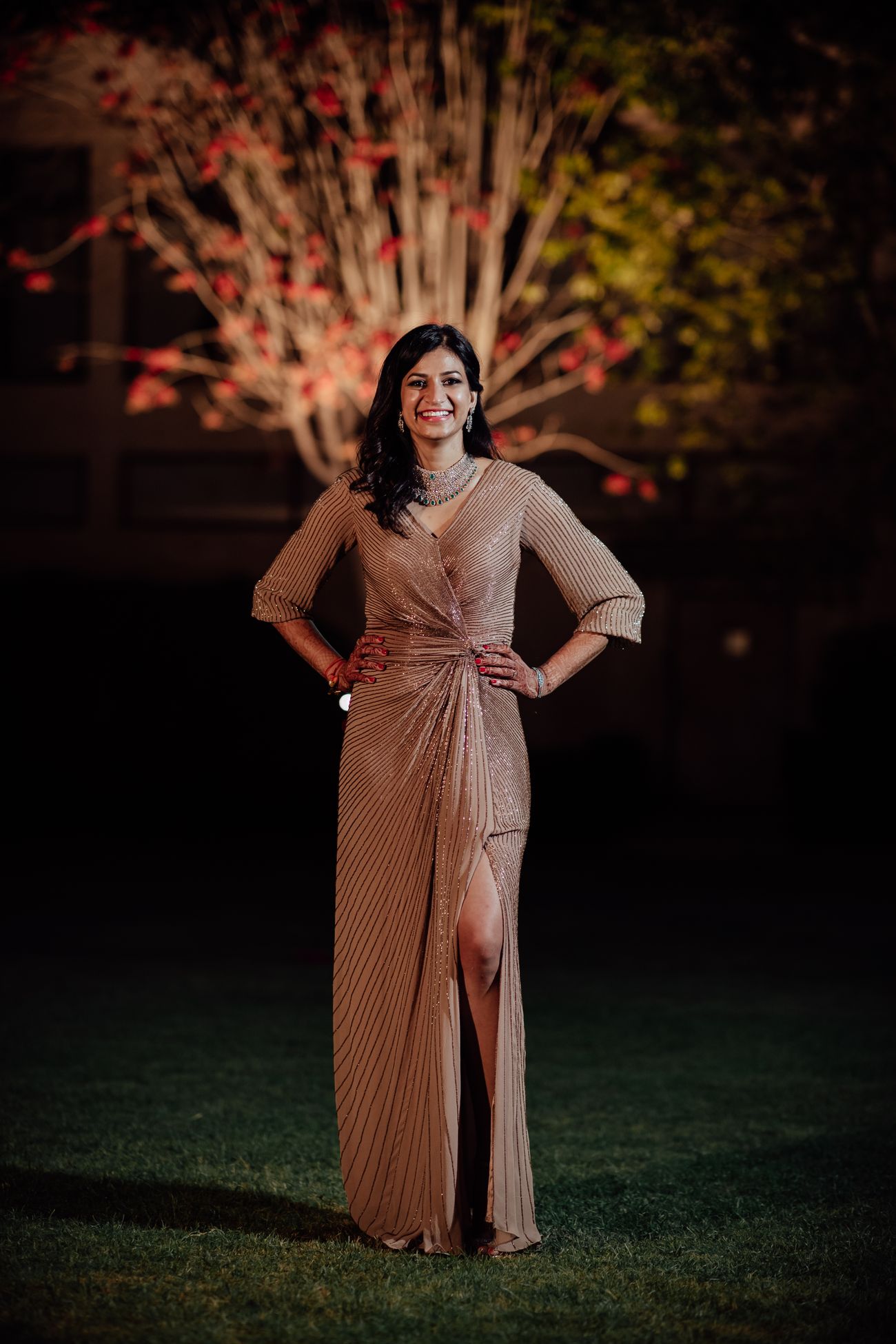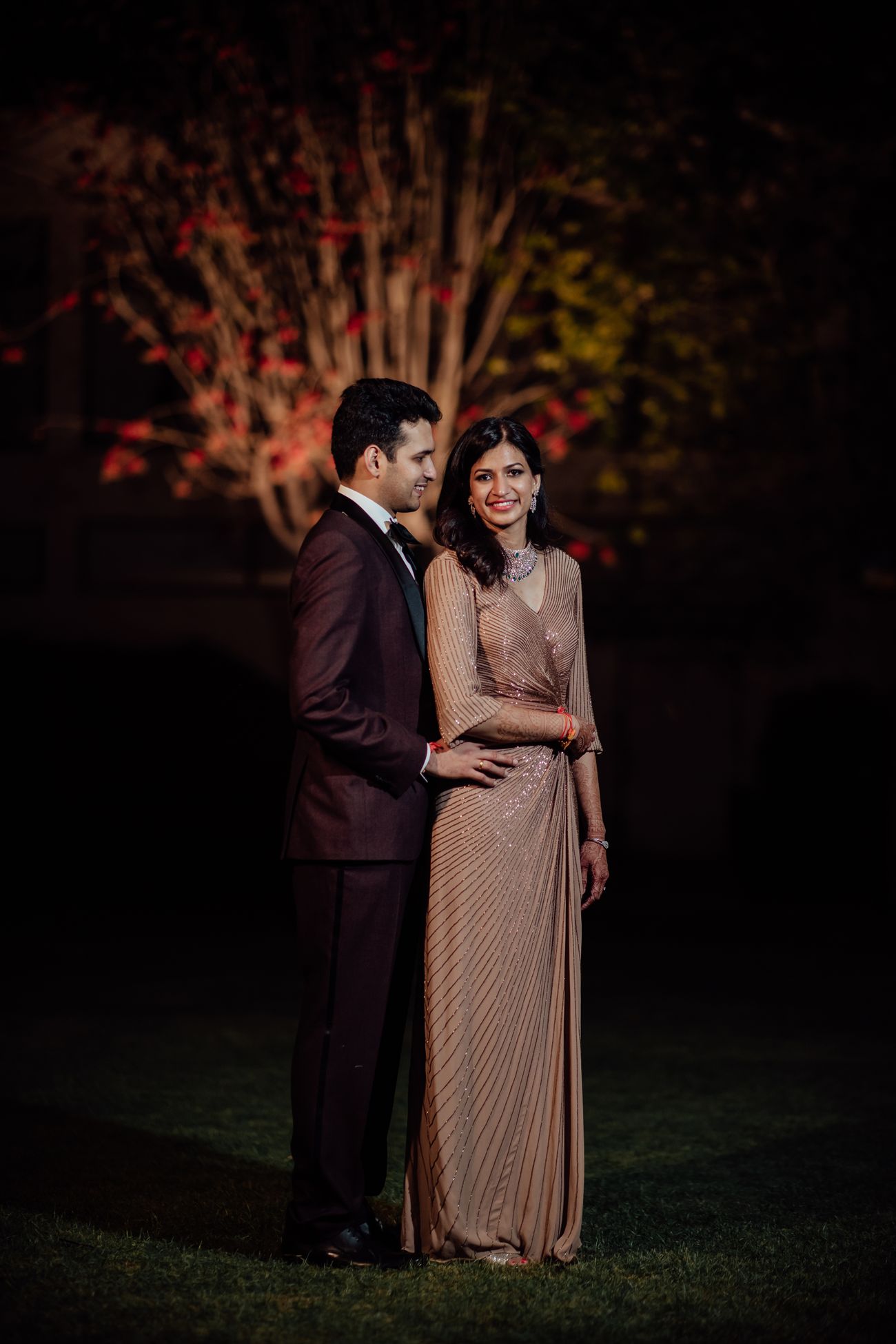 Image via Eesha & Pratick / Outfit via Zwaan
Kudos to brides who like to blend comfort with style, and this gown had the best of worlds. And as Eesha said, "I love the sparkle, the fit, the comfort of my cocktail outfit. It was everything that I wanted to make me look great for the night."
All about Emerald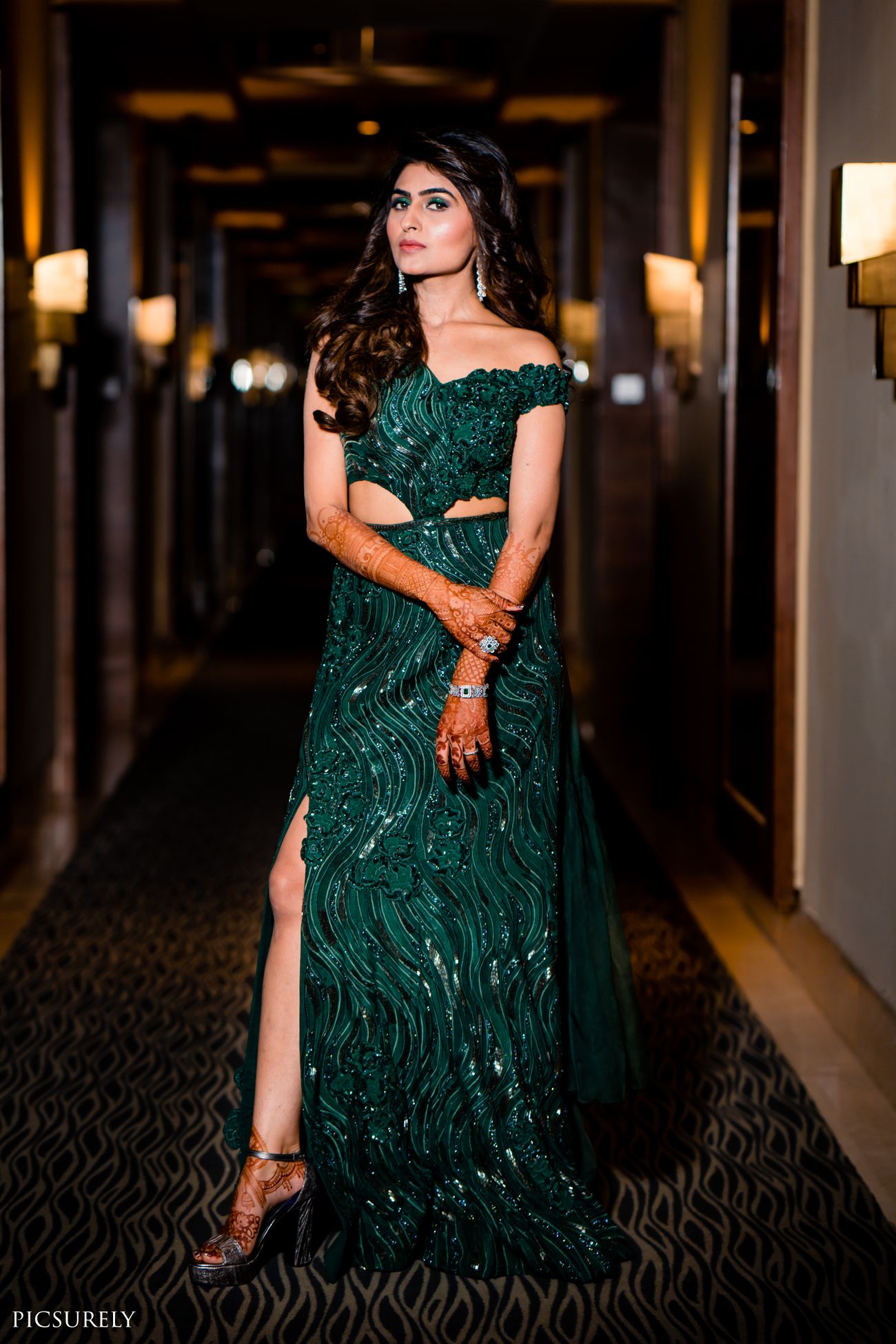 Image via Ridhi & Simrranjit / Outfit via Julie Shah
Honestly, we've seen so many brides donning a gown in this stunning hue, but the vibe of each and every look has always been unique. Maybe, there's something special about this color. We'd suggest you pin this one right away!
Of ball gowns and volume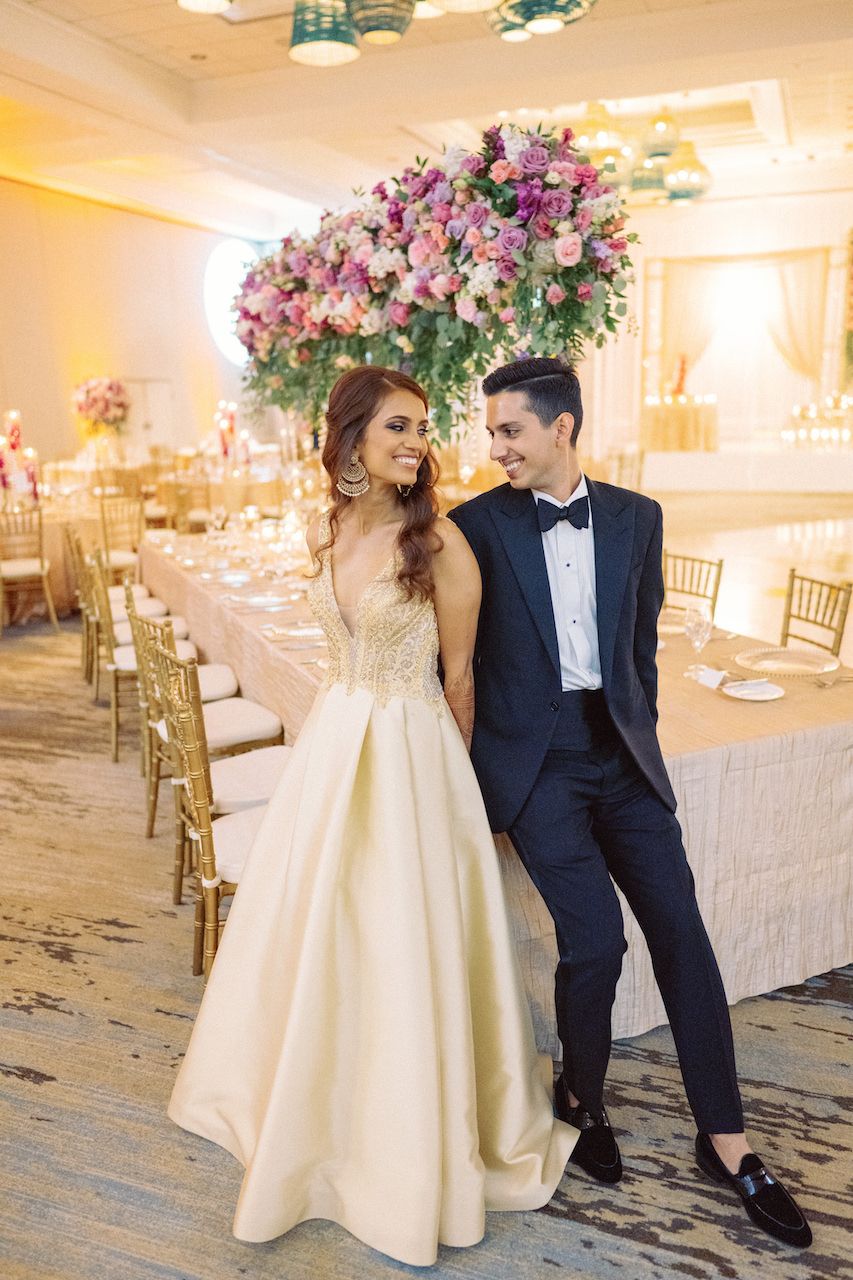 Image via Tanvika and Arya / Outfit via Enaura Bridal 
Just when we thought ball gowns are a passe, our real bride, Tanvika walked in and took us by surprise.
Impeccable fashion statement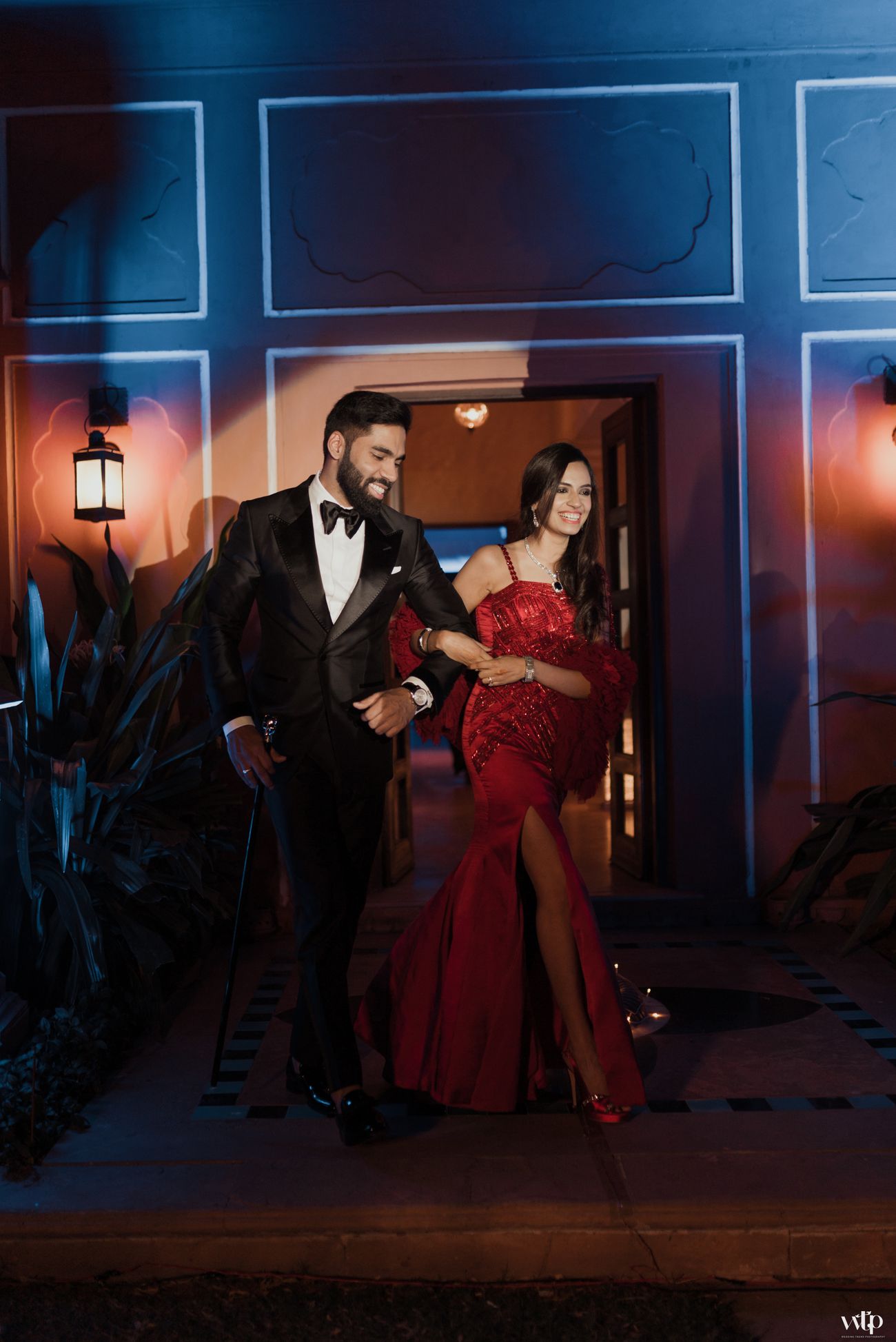 Image via Ekakshra and Abhishek / Outfit via Prakriti Chawla
This drool-worthy, slit gown is downright gorgeous, and Ekakshra definitely took it a notch above with her perfect styling! She looked like a dream in this Prakriti Chawla outfit.
Bedazzle in a flowy silhouette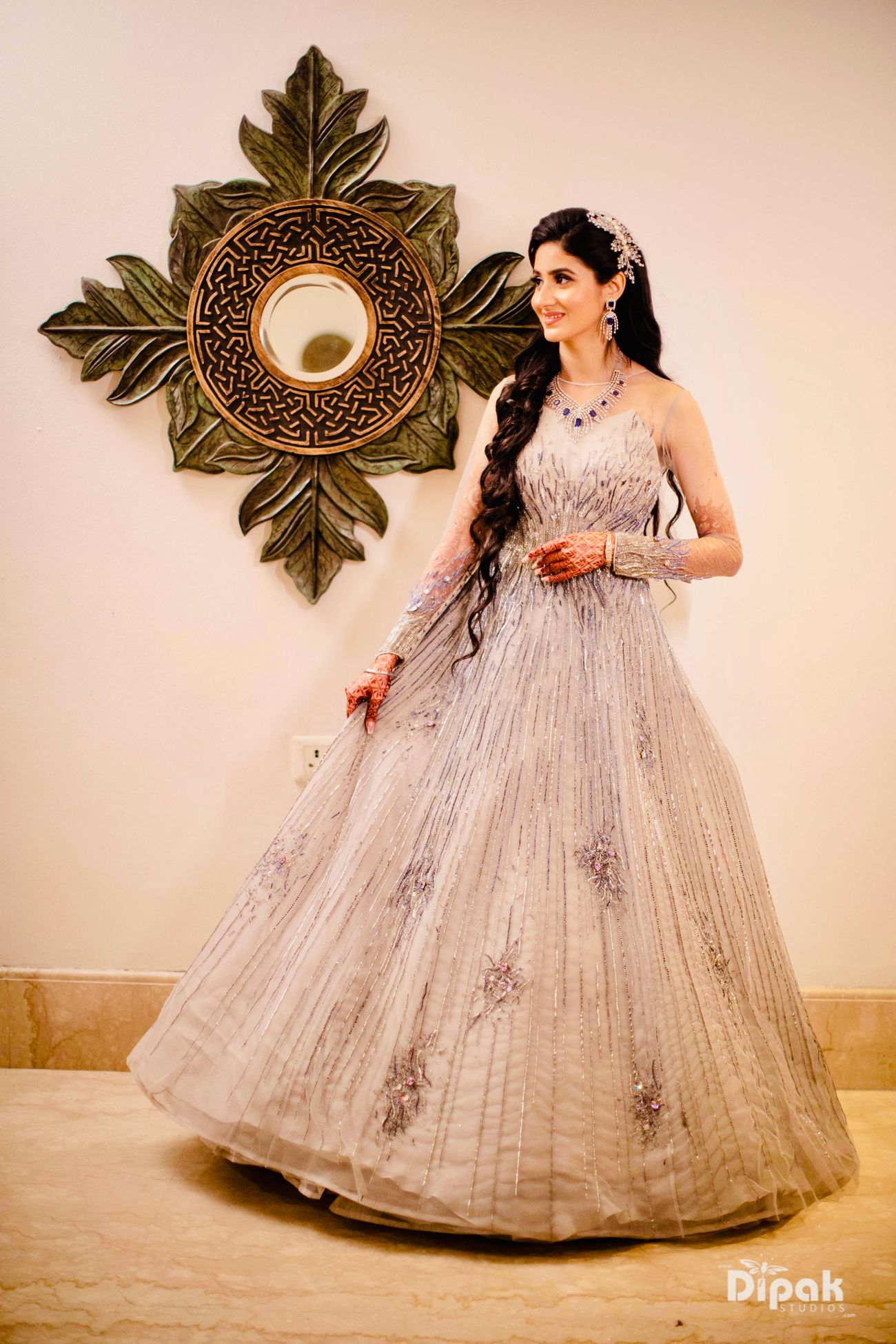 Image via Hasgun & Bibek / Outfit via Gaurav Gupta
Hasgun gave those Indian princess vibes in this grey-hued gown. She paired it up with a statement hairpiece along with an emerald bridal set and totally nailed the celebrations!
Asymmetrical game on point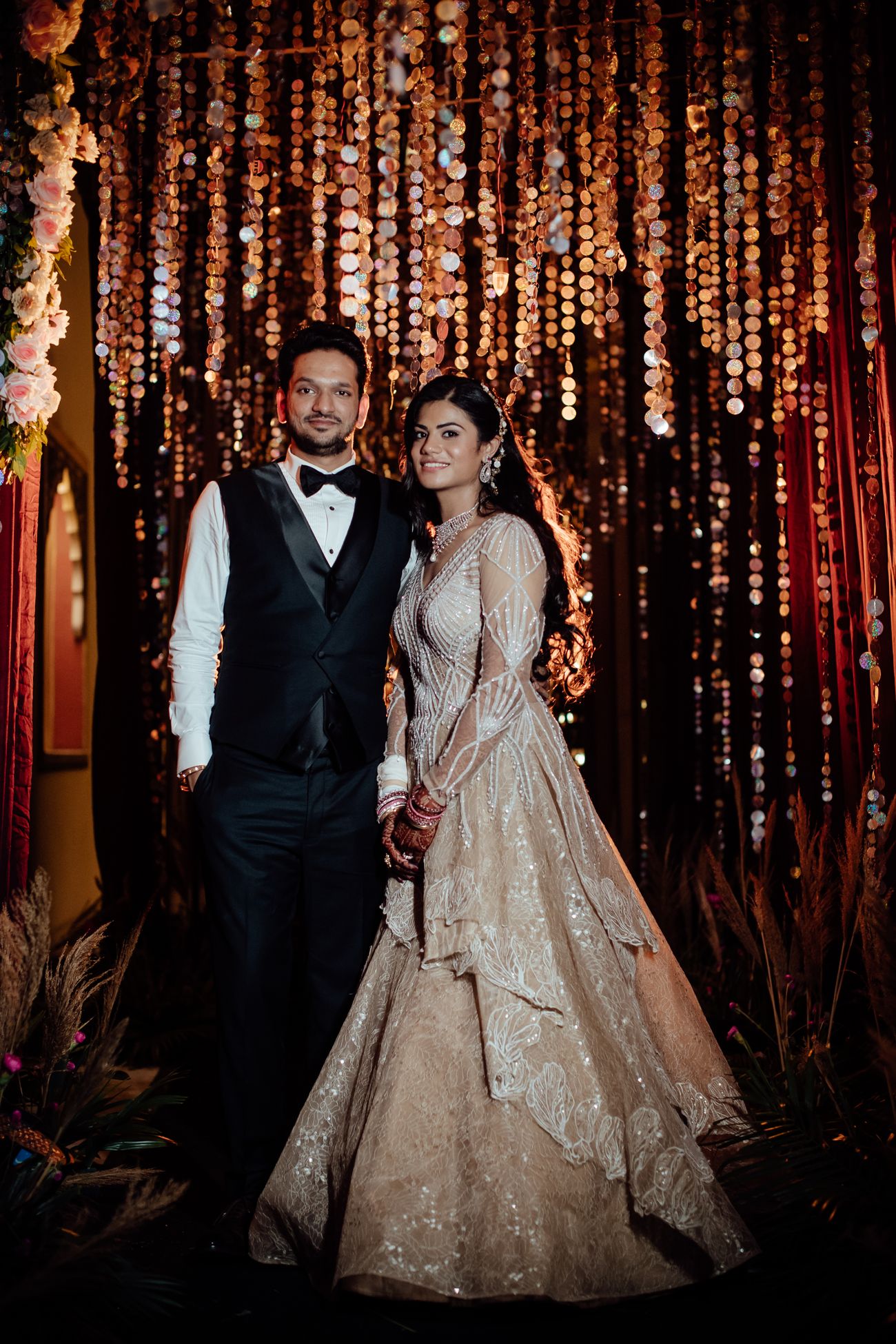 Image via Aditi & Tarun / Outfit via Kamaali Couture
Our list of pin-worthy cocktail gowns would have been incomplete without this gown! While Aditi's wedding wardrobe boasted of a myriad of impressive outfits, this one surely stole the show for us.
All things metallic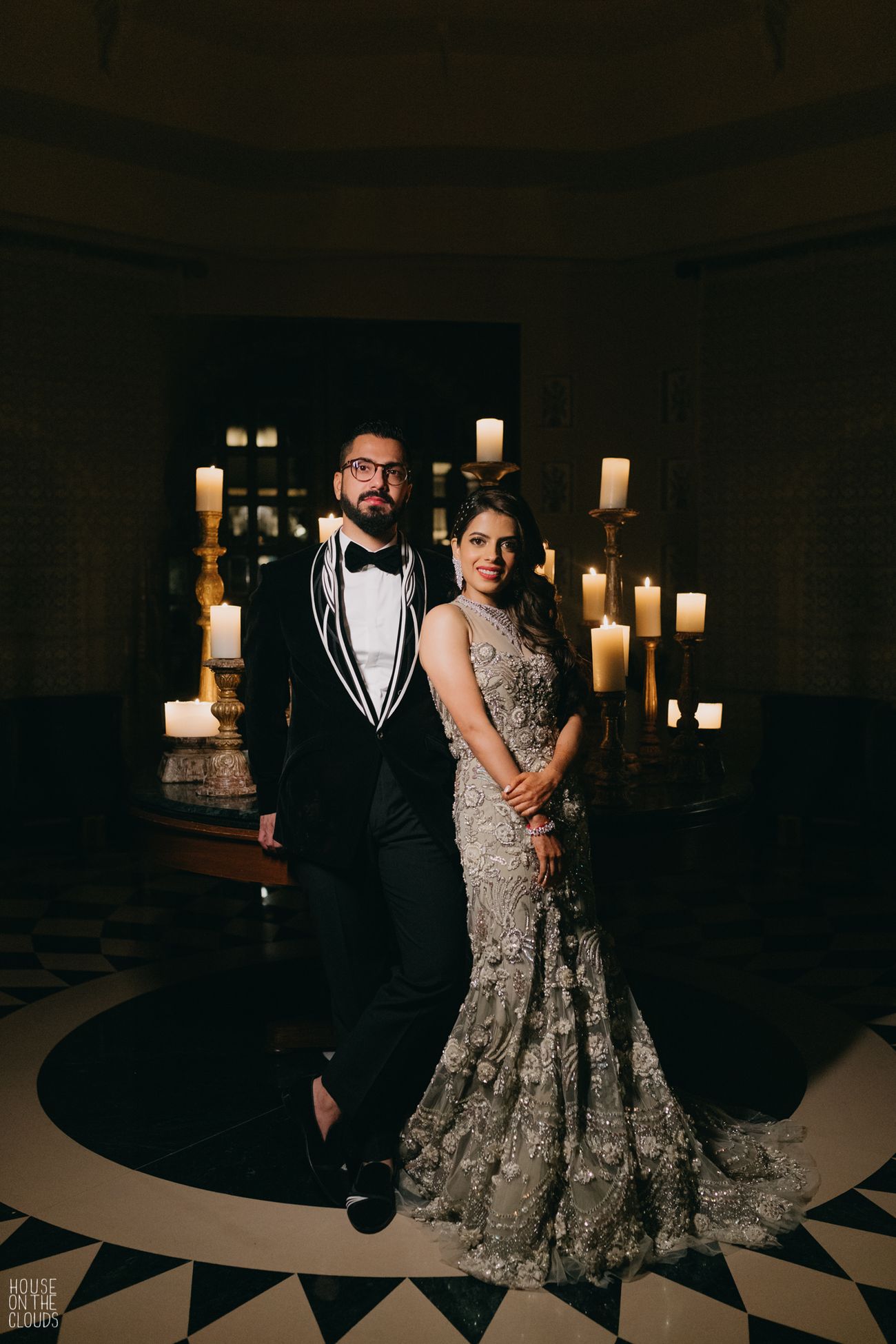 Image via Rhea & Divish / Outfit via Manish Malhotra
Can't decide what we loved more - the exquisite craftsmanship or the mermaid silhouette? Rhea wore a perfectly fitted metallic gown for her Cocktail with pristine diamond jewellery that added oomph to the whole look.
Starry nights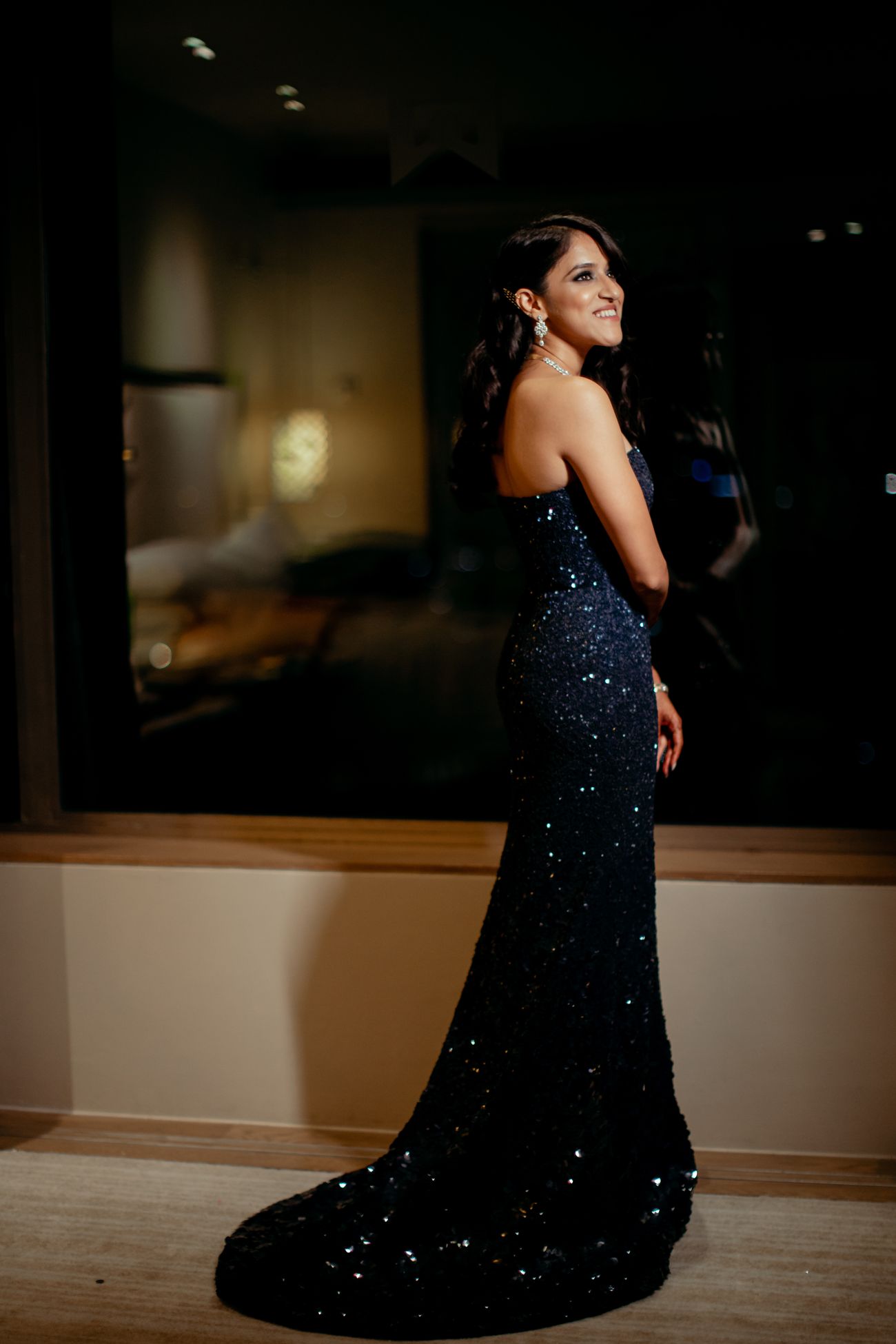 Image via Saroj & Mayur / Outfit via Sunaina Khera 
Sequinned wedding outfits are our weakness, and this one right here is ethereal beyond belief. Saroj's choice of a glimmering cocktail gown should be instantly bookmarked.
Grab attention in Ivory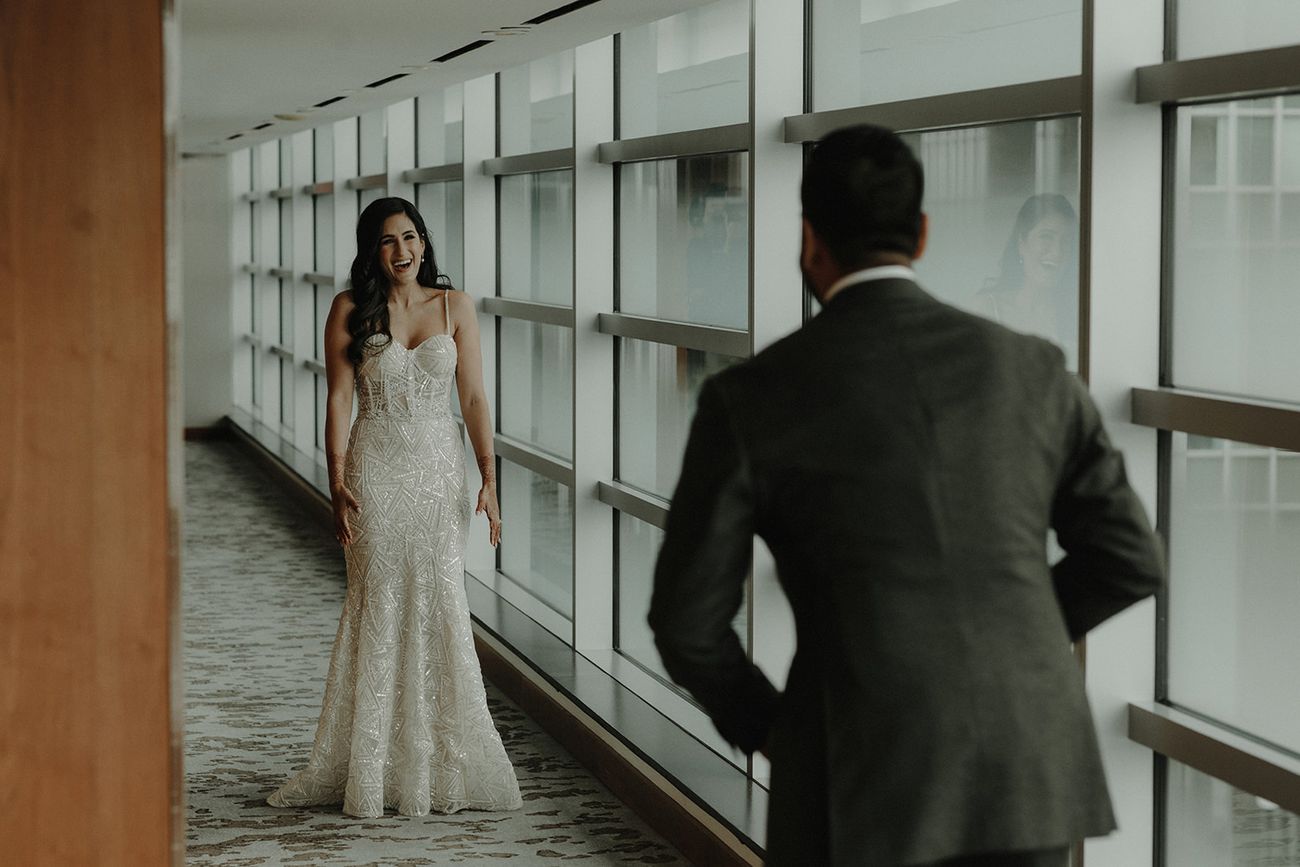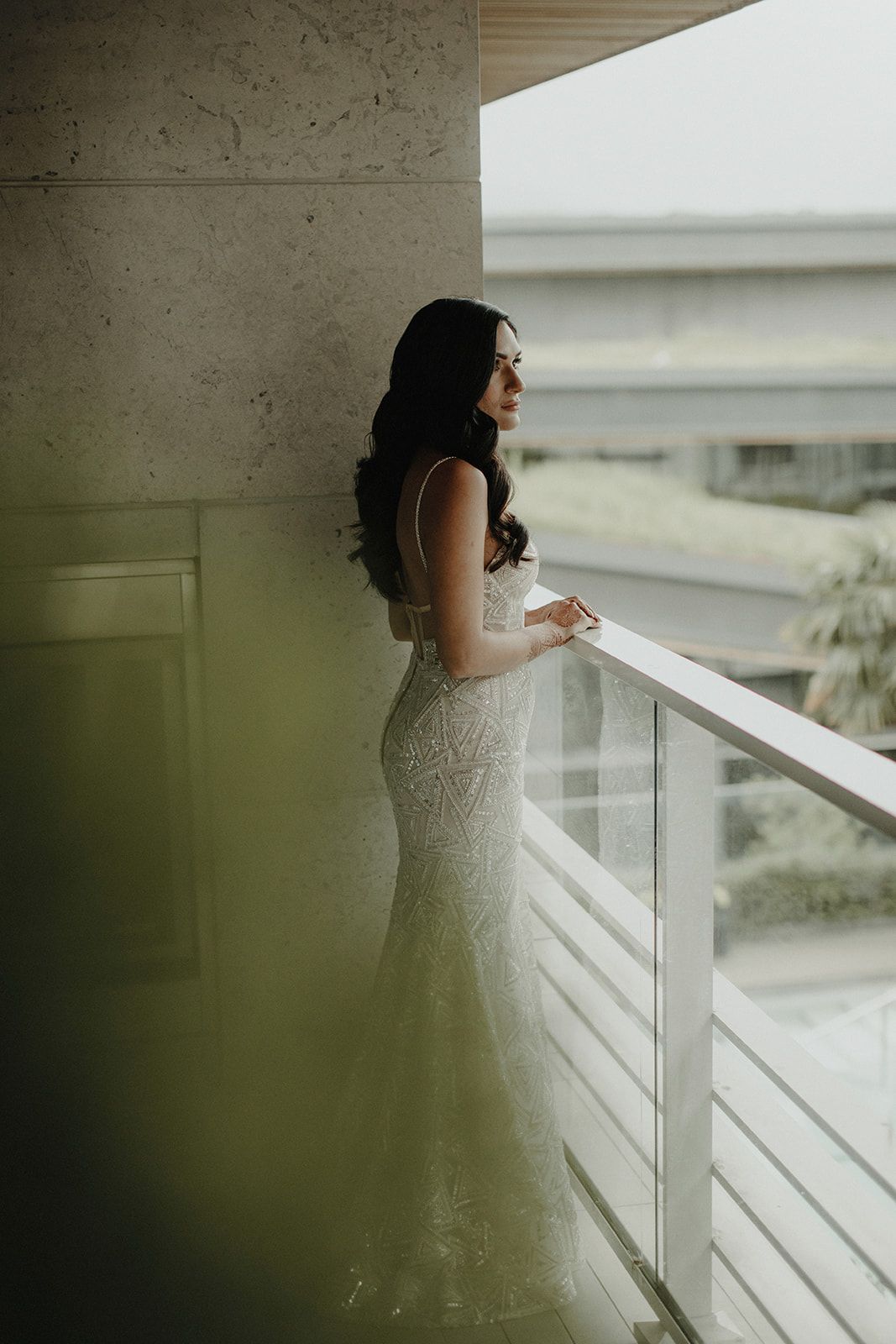 Image via Steevie and Nabil

The groom's reaction to this piece of art is exactly how we felt when we first this wedding gown! Corset git, intricate bead work and Steevie's flawless styling made this one look class apart.
Gorgeous In Grey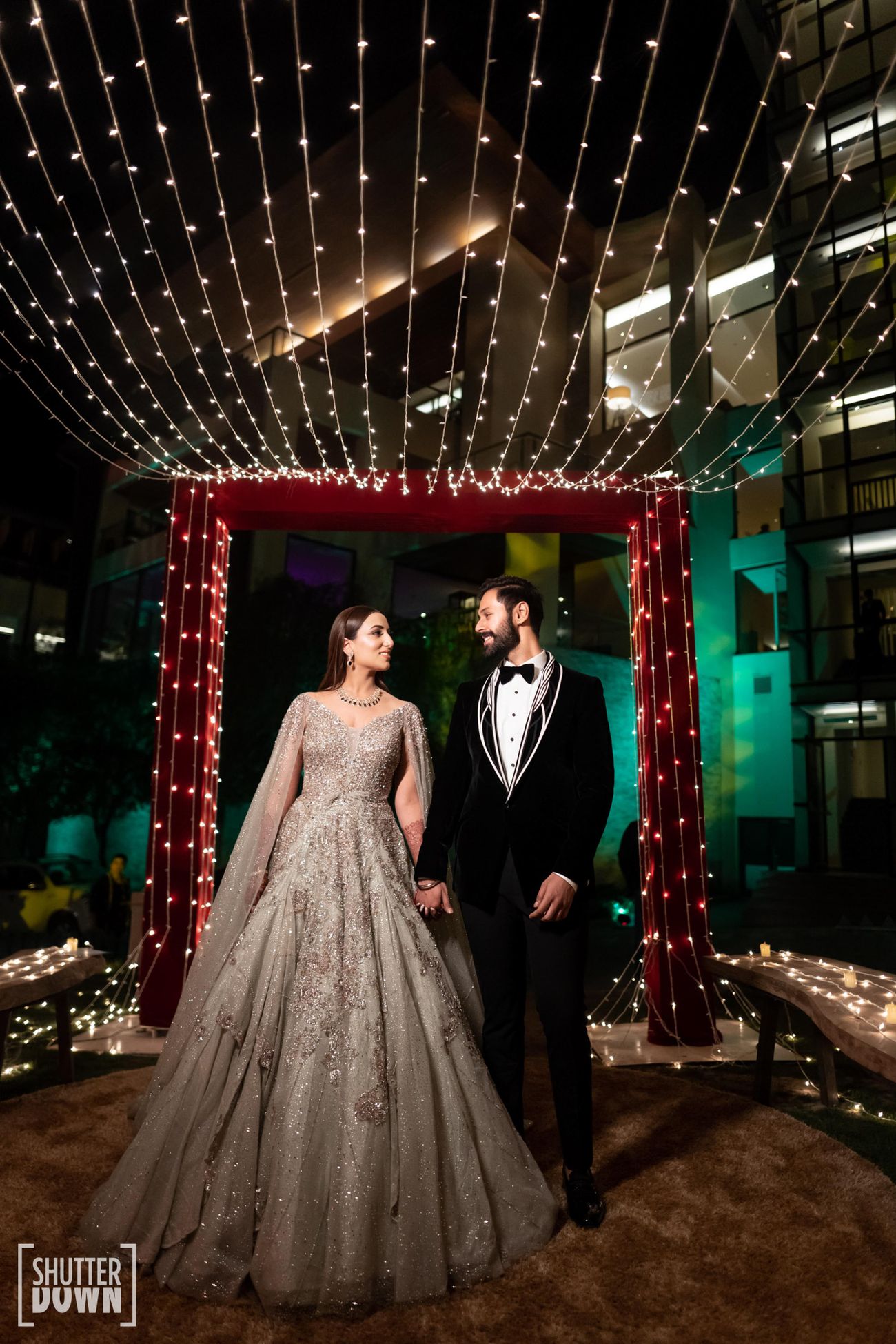 Image via Simrat & Angad / Outfit via Dolly J Bridal Collection
A voluminous gown with cape-like sleeves, glistening ruby jewellery and a million-dollar smile, what more could we ask for?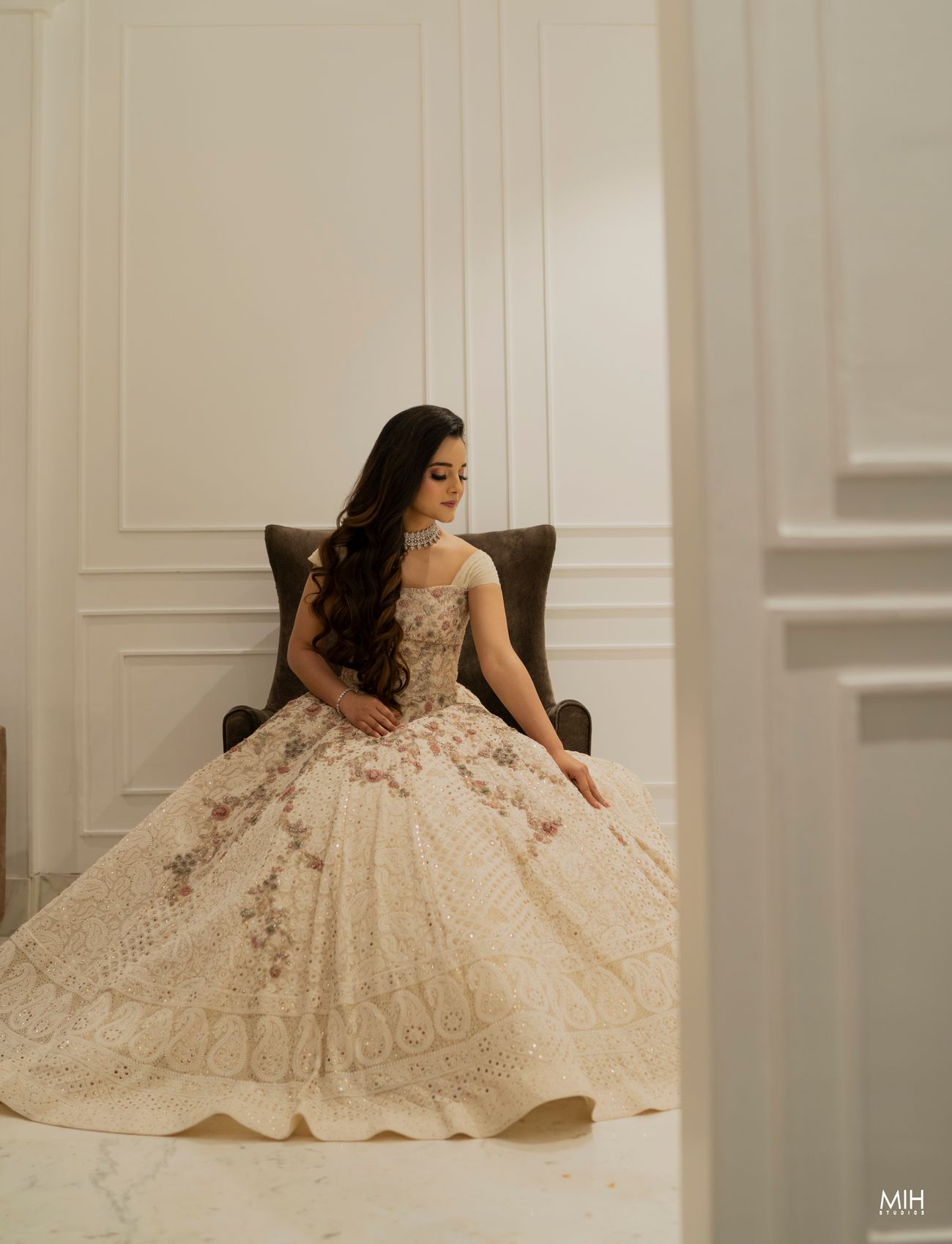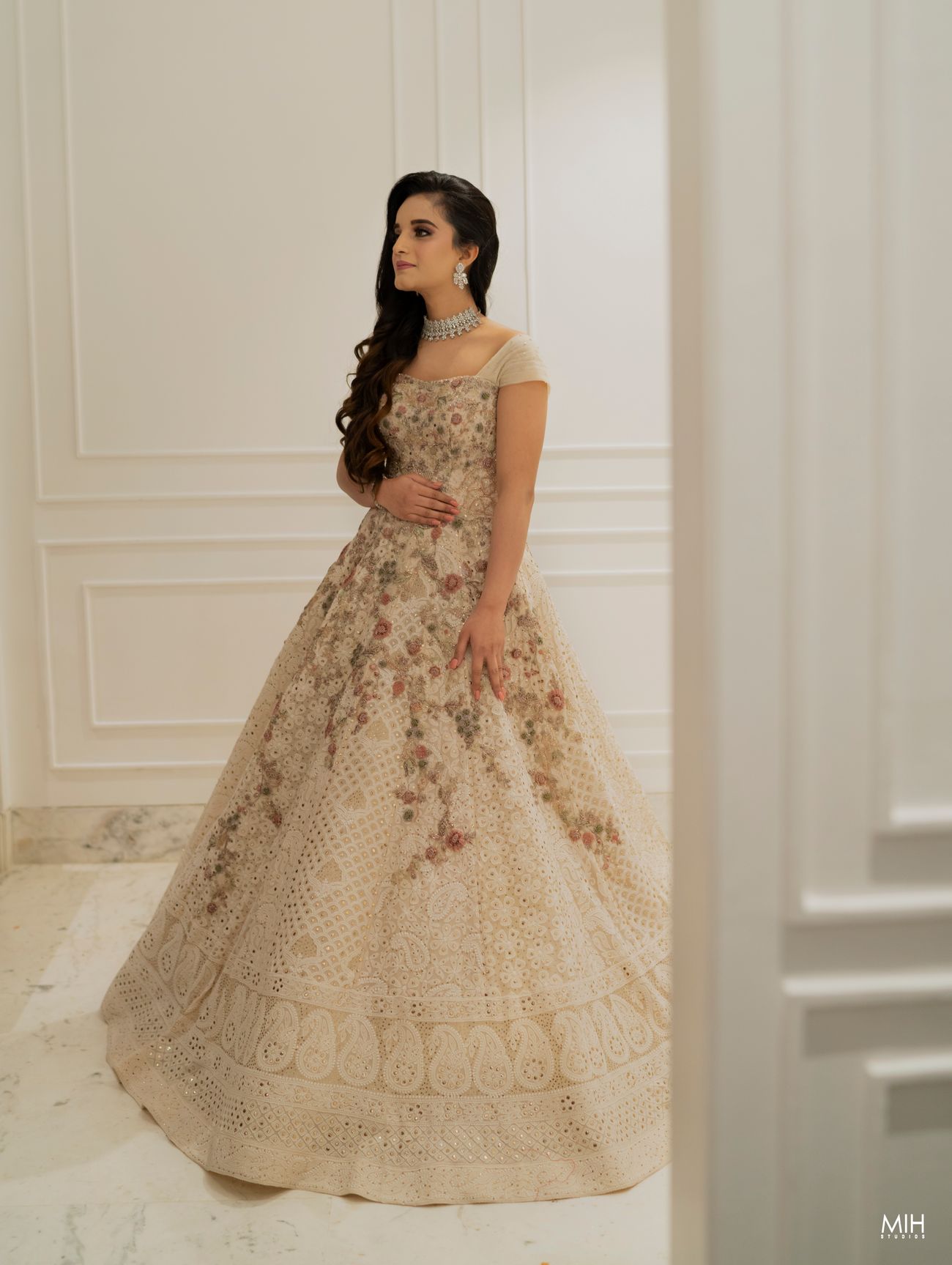 Image via Nisha & Rohit / Outfit via Dolly J Bridal Collection
Oh boy, we weren't expecting chikankari work on a gown, but when we say our brides never fail to knock us out, this is what we mean! Nisha wore an ivory princess gown and teamed it with exquisite diamond jewellery and simple makeup. All hearts for this one!
Falling for the peachy tint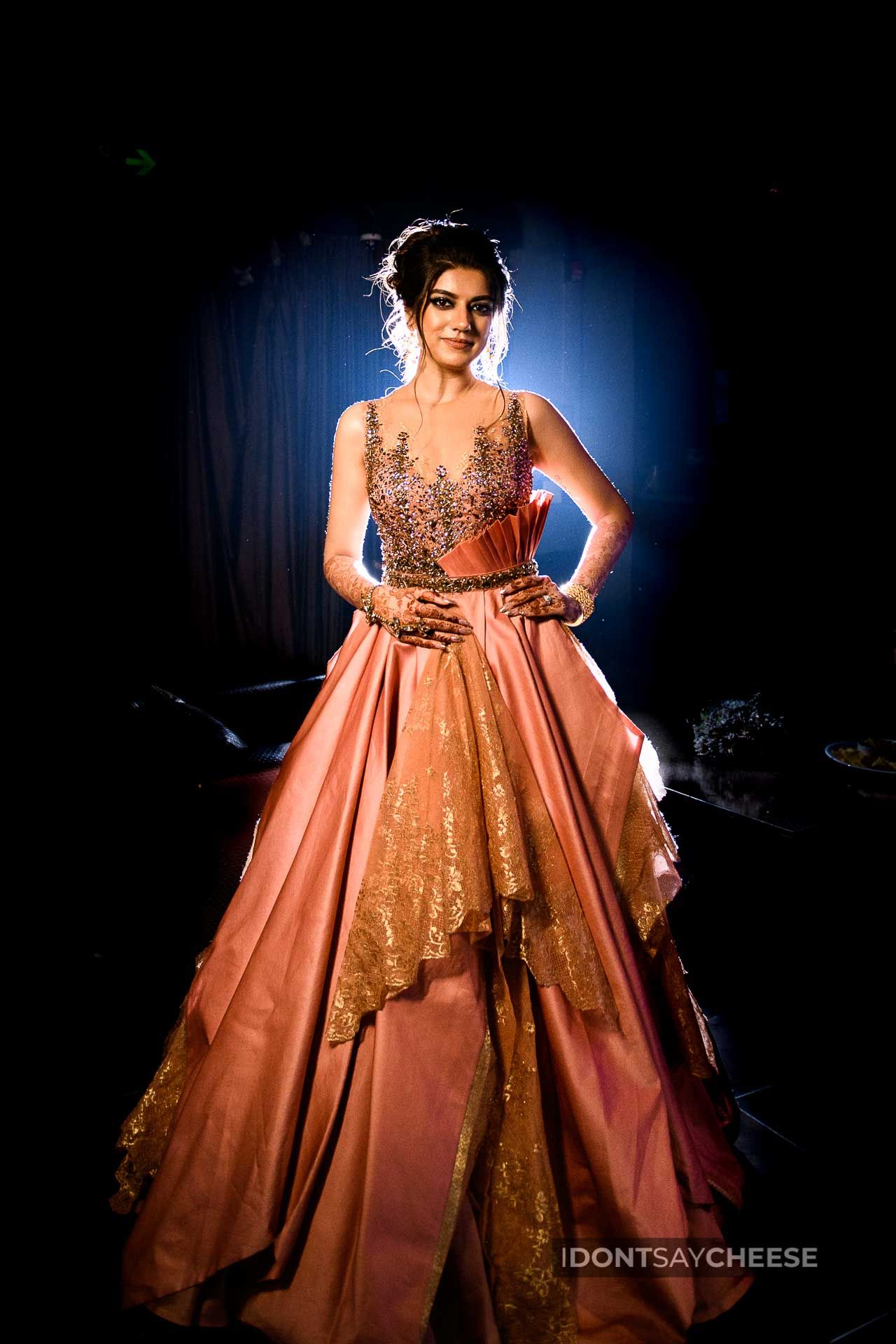 Image via Shreya & Yash / Outfit via Shantanu Nikhil
Shreya chose to give classic hues a miss and picked this unique gown in a totally unexpected color palette. Sans jewellery and a messy hairstyle was definitely a safe bet when it comes to styling a piece like this, and she aced it!
Offbeat feels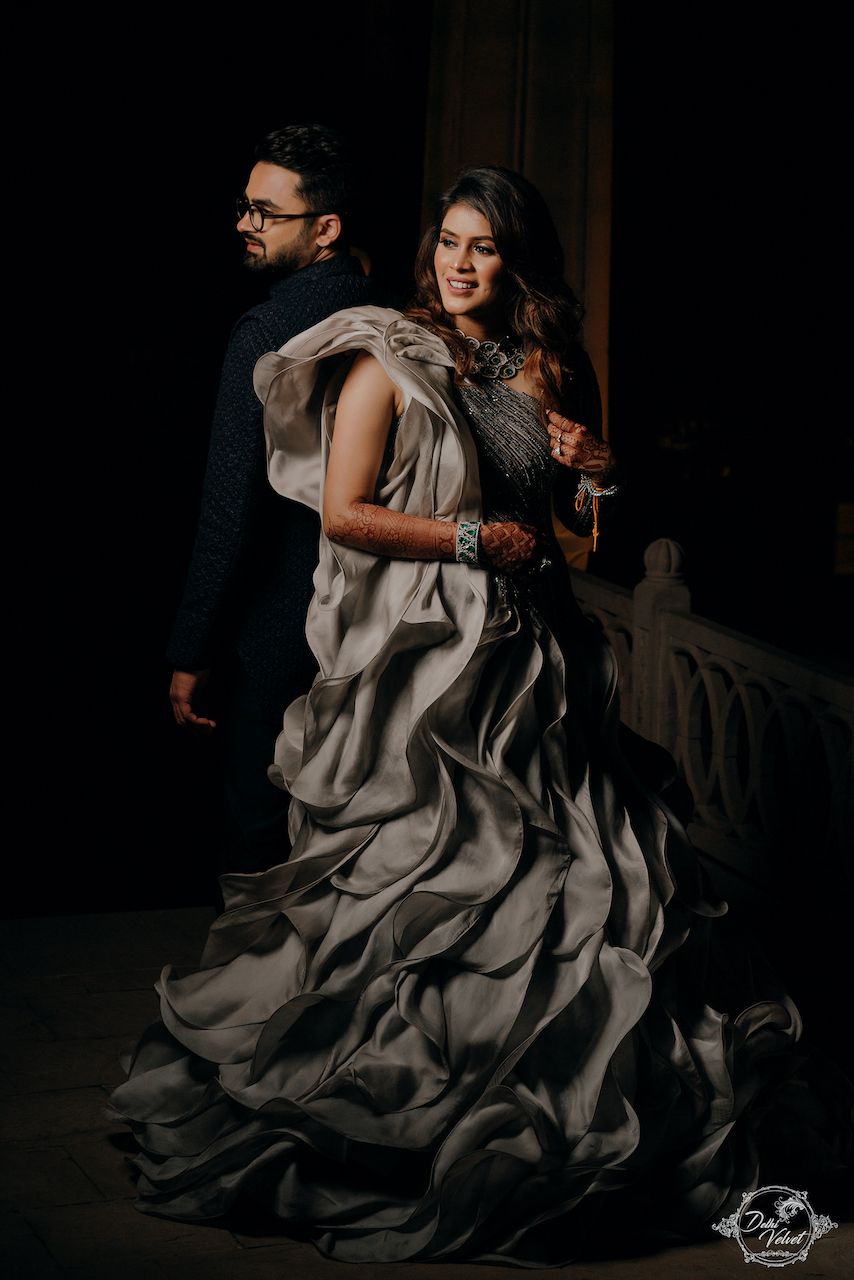 Image via Nirvani and Akhil / Outfit via Gaurav Gupta
Would you believe that our millennial bride Nirvani wore comfy sneakers with this couture, ruffled gown?
Inspired much?