Destination Weddings Under 30 Lakh : Where to Do Them?
BY Sakshi | 13 Jul, 2016 | 8516 views | 5 min read
Yes, it's possible! If you've always dreamt of a destination wedding away from yours (or his!) city or hometown, but shot the idea down 'coz of finances, let's tell you that it can be done! You might have to be really picky about who you're inviting and work on things to trim down the budget, but this dream can become a reality! WMG asked some wedding planners to give us the low down on how to have a budget destination wedding... and yes, the list does include a foreign destination as well!
Three very important things to keep in mind here...
Experts tell us that this can be pulled off if the number of guests is limited to around 100
This is also doable if it is a one night, 2 day or max 2 nights 3 day wedding.
Remember, off season can also make the weddings a lot cheaper!
So, which are the places you could consider for a budget destination wedding?
Fort Wedding
Jaipur
If you're looking for a fort wedding somewhere close to Delhi, then pick Jaipur as Udaipur might go a little over-budget 'coz of the commute. It is a capital city, but it has some gorgeous venues that don't pinch the pocket as much!
WMG loves Samode Bagh (different from Samode Palace)
Mandu
A ruined city in Madhya Pradesh, this one has some serious old-world charm! It has beautiful palaces, ornamental baths and pavillions. If you're looking for a fort destination wedding at an undiscovered location, then this is it!
---
Beach Wedding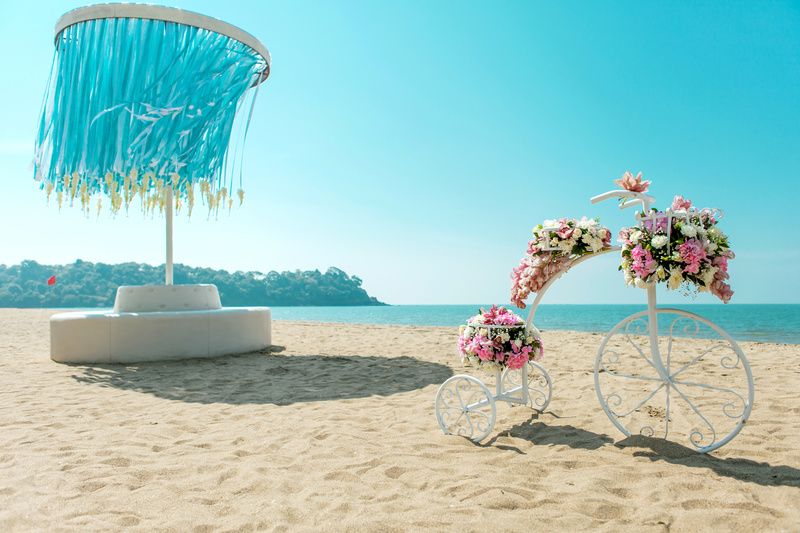 Photo Courtesy: The Lightsmiths★ 5
Mahabaleshwar
A small beach town with stunning views, if you are based in Mumbai then look no further than Mahabaleshwar . With a host of beautiful resorts you can create a memorable wedding like this one here .
WMG loves: Brightland Resort & Spa
Alibaug
This one is pretty close for people in Mumbai and Pune, and has some very lavish bungalows offered on rent for the weekend. A good and cheaper alternative to a hotel or resort!
WMG loves U Tropicana Alibaug★ 5
Gopalpur
This less-heard of place in Orissa has some beautiful properties and resorts, and hosting a wedding here will not break the bank! The most lavish resort here is also pretty affordable for a wedding, if you're planning to do a 2-day affair.
WMG loves The Mayfair Palm Beach Resort
---
Hilly & Lakeside Wedding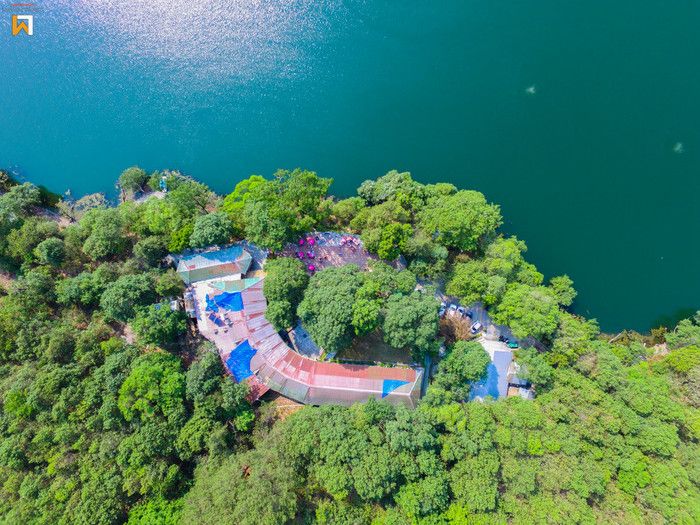 Naukuchiyatal
We just featured this stunning wedding  which had a lake, a forest and so much more all without breaking the bank. Nestled in the Himalayas this town has a genrous dose of gorgeous forests, hills and Lakes
WMG loves The Lake Resort
Lavasa
A popular hilly option for people in Mumbai and Pune, this one is also super pretty and super affordable if you get the bookings done on time. It is easily accessible by road, which can cut down the costs drastically.
---
Forest Wedding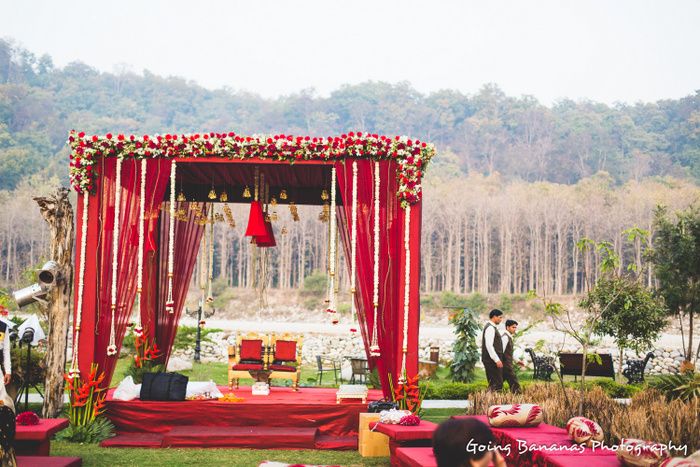 Photo Courtesy: Going Bananas Photography★ 5
Corbett
Uttarakhand's Corbett which houses the Jim Corbett National Park is also picking up for destination weddings fast thanks to it's lush greenery and easy accessibility! You can choose a camp wedding or pick from a variety of resorts in all budgets in Corbett. It is accessible from Delhi by road or rail.
WMG loves The Gateway Resort
Kanha National Park
This is what inspired The Jungle Book! Not too far from the Jabalpur and Raipur airports in Madhya Pradesh, this national park has camp sites, budget and luxury resorts for a quaint forest wedding!
---
Backwater/River Wedding
Allepey
This one is called the 'Venice of the East' for a reason, and has some stunning houseboats available on rent. The backwaters are something a lot of your guests wouldn't have seen, and there are quite a few resorts in this laidback town as well.
WMG loves The Ramada Allepey
Rishikesh
This is also fast emerging as a popular destination for weddings! Get married on the banks of the Ganges, and also participate in a weekend of water sports! There's a lot that can be done in Rishikesh and that too for a fraction of what it would cost in a big city!
WMG  loves The Divine Resort
---
Foreign Wedding... is it possible?

Nilma from With Love Nilma★ 5 says, "Depends if you chose a venue which is beautiful by itself and you don't have to do much décor except propping in a few areas and have a small, intimate guest list."
Abhinav Bhagat from Abhinav Bhagat★ 5 says, "Maybe a European style 50 pax wedding in Thailand could be possible as you end up spending anything between 50k-60k per person which might be 2 nights. Choose destinations near Bangkok and not ones where you require taking an additional flight. This can be pulled off not including flight tickets." He recommends these hotels in Thailand, which do not require an extra flight from India....
Rayong Marriott Resort & Spa
Centara Grand Mirage Beach Resort, Pattaya
So now that you've set your mind on a destination, how do you go about making it suit your budget? More tips here!
Also, give it a read if you're looking for more inspiration to plan a dream destination wedding!