These Gorgeous Table Setting Ideas Will Leave You Spellbound!
BY Garvita | 12 Dec, 2022 | 6607 views | 7 min read
The dining table is a place to gather with loved ones, delight in delectable food and make memories that will last a lifetime. A well though decor can make the event reach heights. And yes, the phrase, "A family that eats together stays together" is very well thought!
Whether it's an intimate wedding in a banquet or at home or on the beach, you're going to need to set your table, so make sure it's as chic as it could possibly be. From dry florals to crystal chandeliers, this list has it all for you. So if you are looking for wedding table set-up inspiration, bookmark this!
No matter what the occasion is, you'll find a tablescape on this list.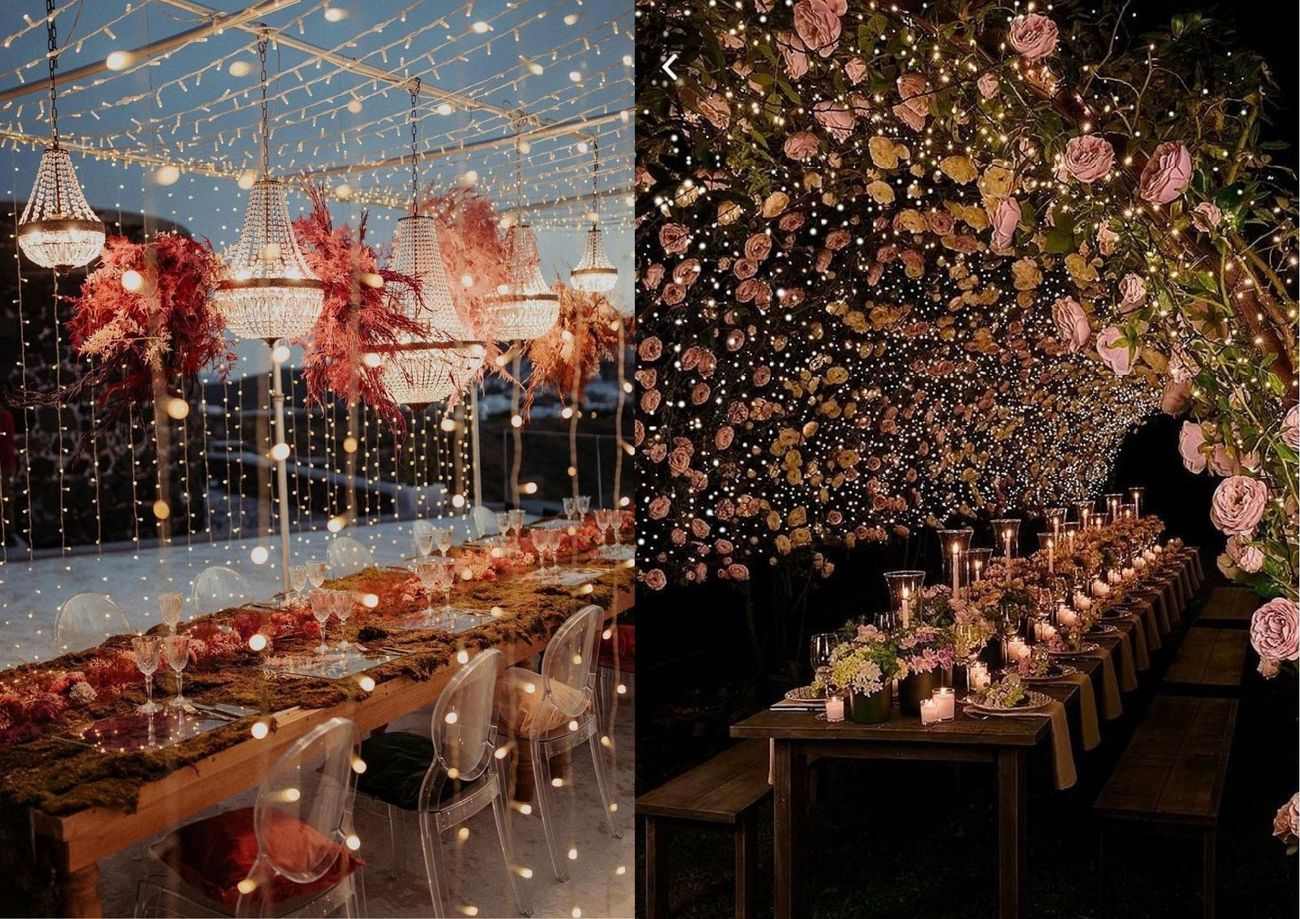 A Starry Night In Monochrome!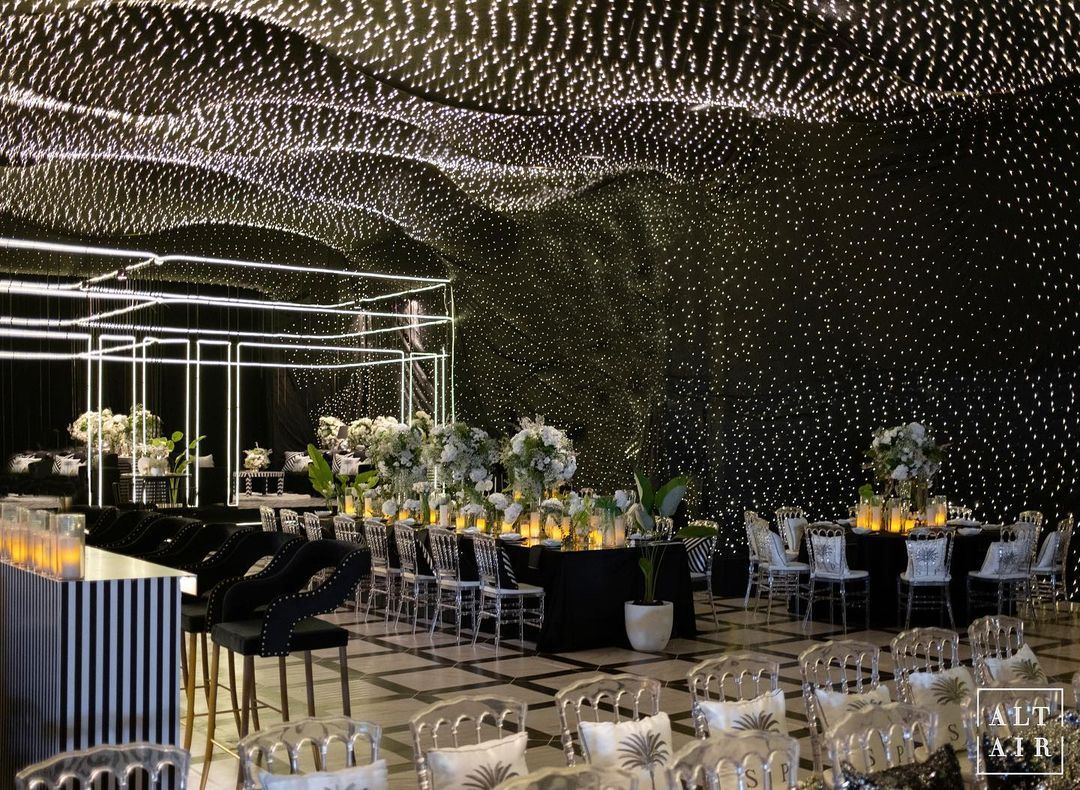 Image via Altair★ 5
What a brilliant way to create a starry canopy over a wedding table setup. Perfect for an evening wedding or even post-sunset pheras!
A Little Bohemian Dream Nestled In The Mountains!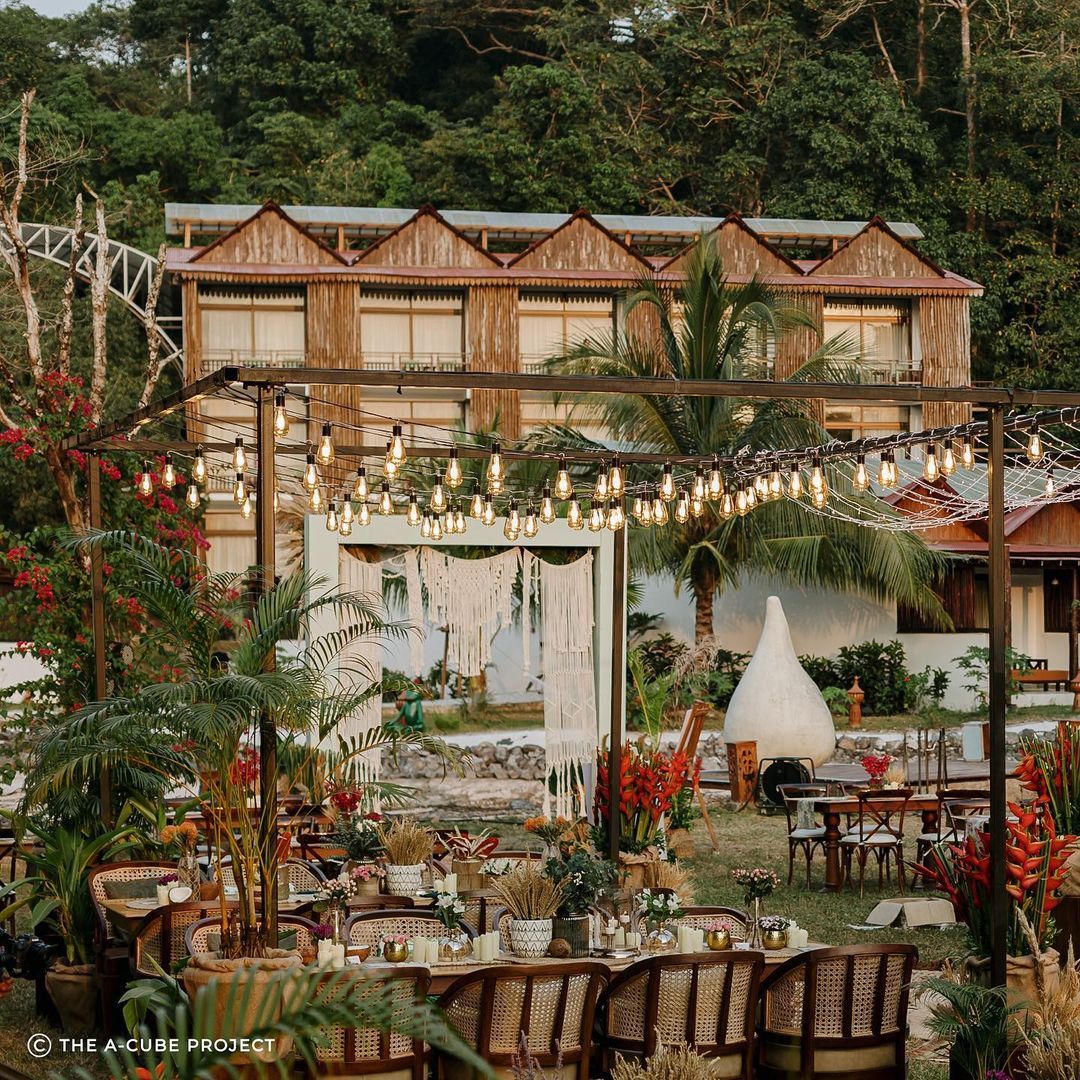 Image via The A-Cube Project★ 4.8
We are loving this mix of bohemian tablescape nestled right in the outdoor mountains.
Wood, Florals And Edison Bulbs!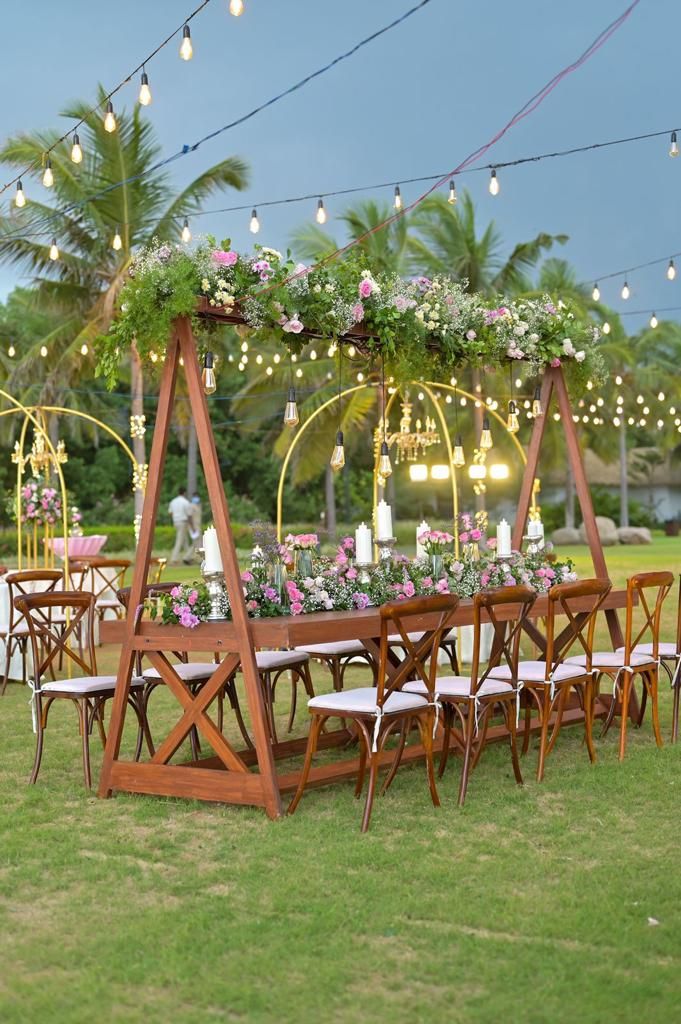 Image via Roopa and Kewin
For couples who love their florals and lights, this wooden floral setup with edison lightbulbs is perfect.
Loving The Kaleeres And Foliage Table Set Up!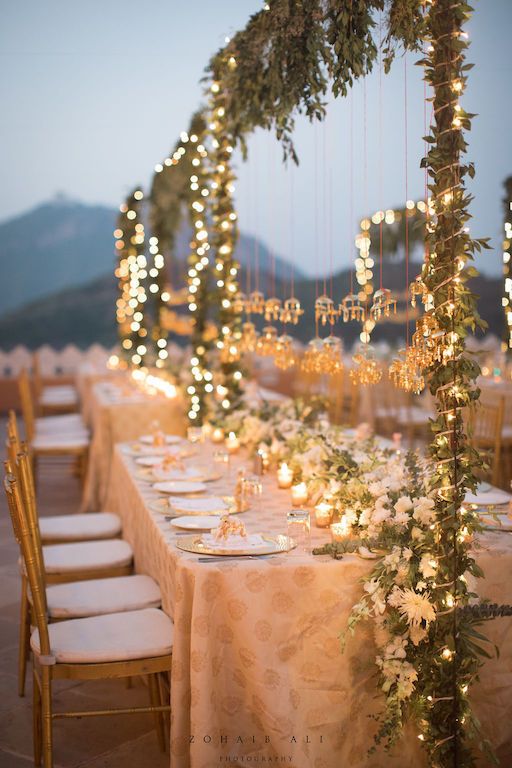 Image via Oleg and Diipa
A dose of tradition with kaleeras dangling on your wedding table set up!
A Secret Garden Table Setup, Right Out Of A Fairy Tale!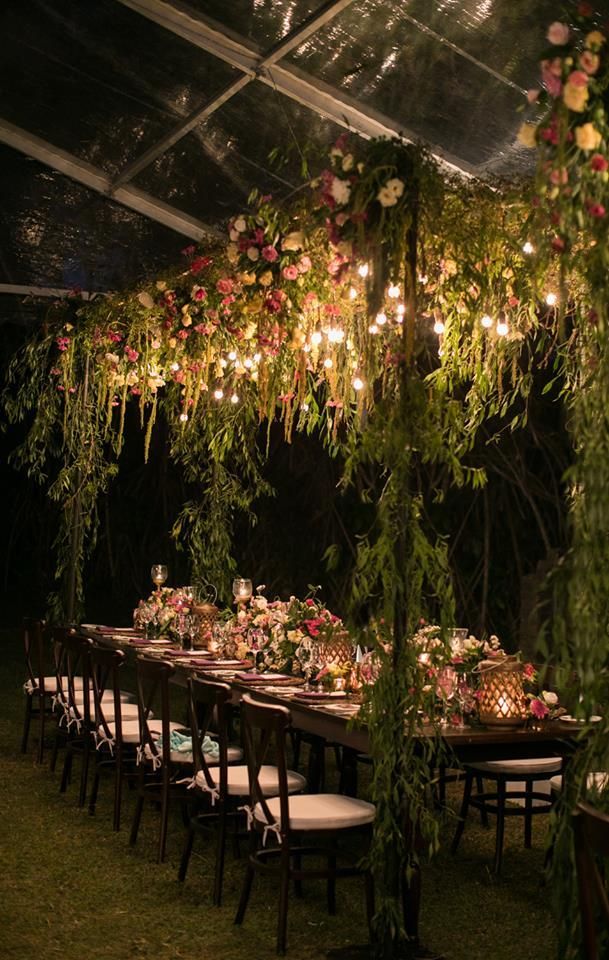 Image via Shanqh Luxury Event Planners and Decorators★ 4.8
It looks like this table set up was picked from a vintage fairytale and put at this wedding!
This All-White Dreamy Setup With White Florals!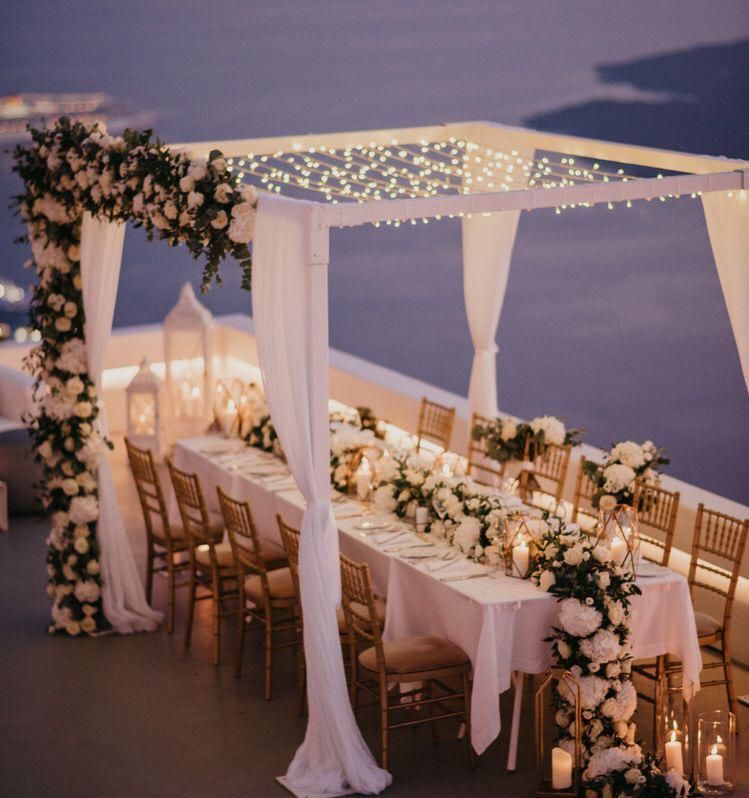 Image via Adorable Events★ 5
Love white as much as we do? Take inspiration from this all-white dreamy setup.
Rainbow Of Colours With Ranipink Chairs!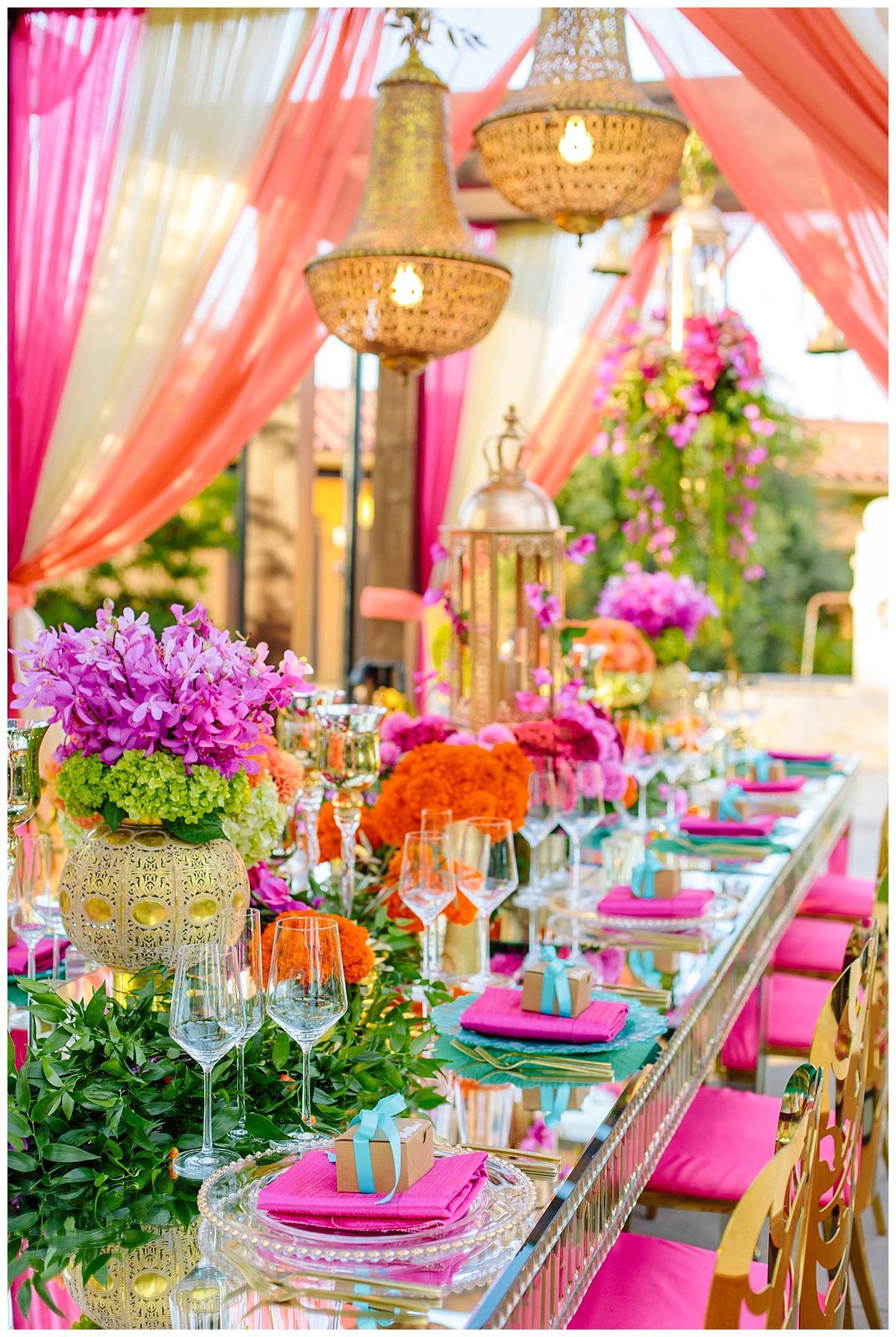 Image via Pinterest
While white has its own elegance, colours have their own fun. This gorgeous table set up with rani pink chairs is such a stunner.
Glam And Chic Wedding Table With Chandeliers & Matching Tables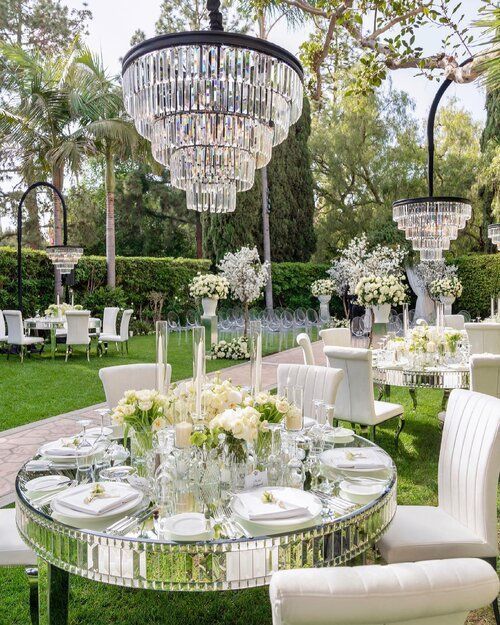 Image via Pinterest
Super glam table set up with matching chandeliers and tables!
Another Chandelier And White Floral Wedding Set Up That We Loved!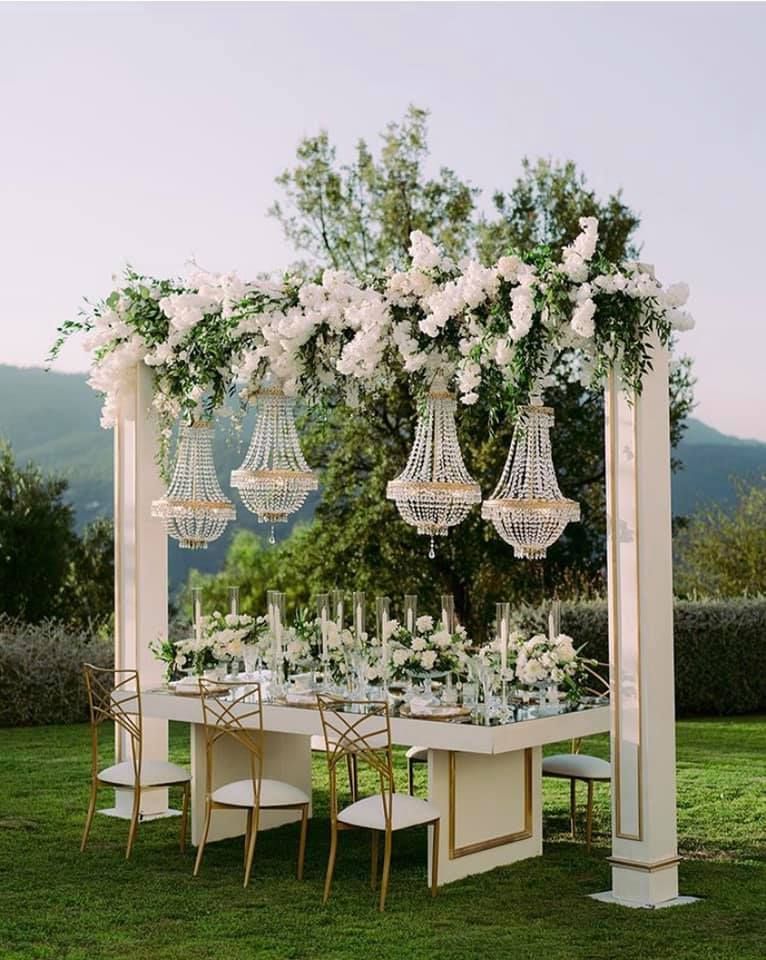 Image via Pinterest
Nothing is as glam as chandeliers floating on your wedding table. Add to that white florals and we are sold!
Boho Chic With Vivid Blooms!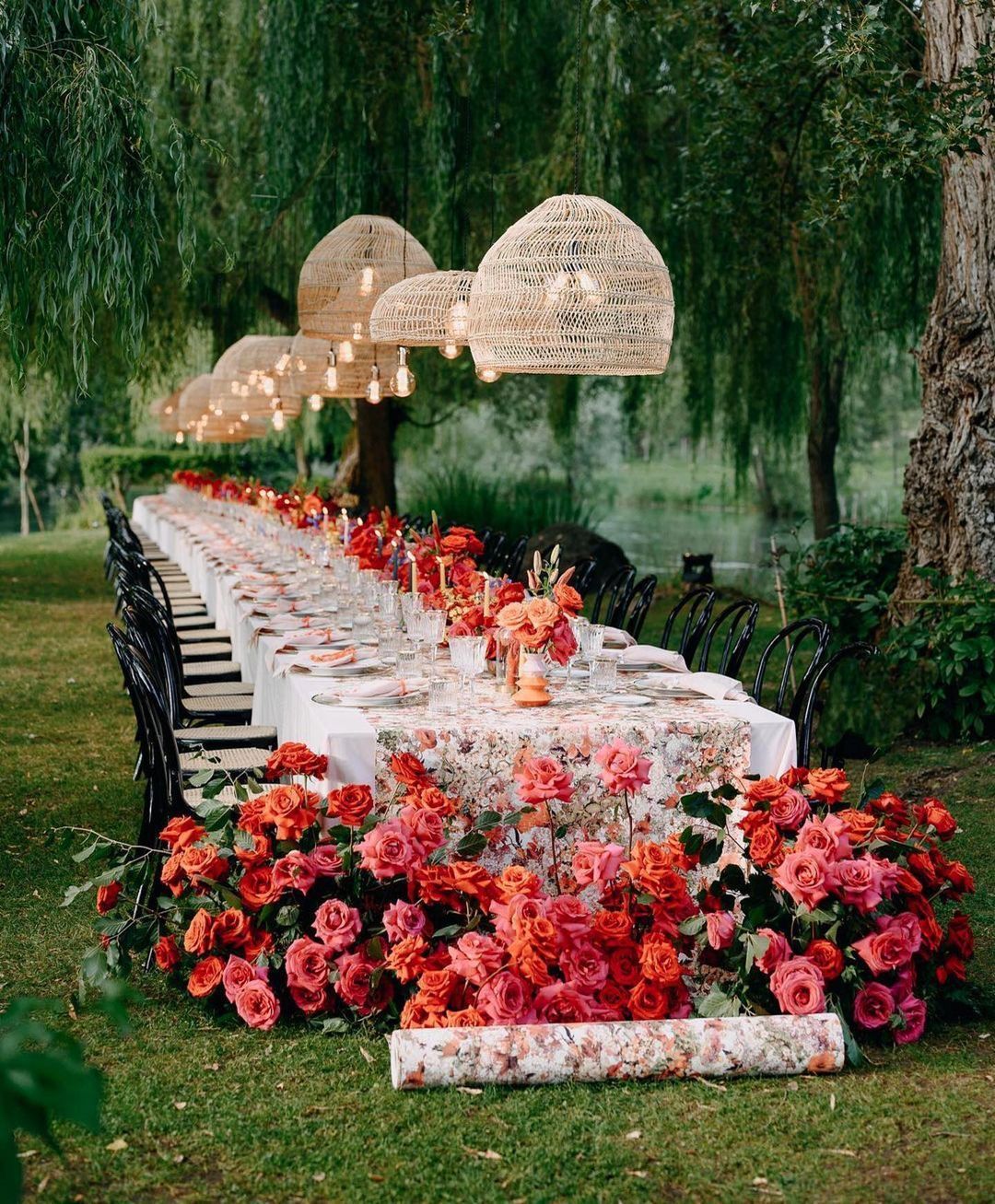 Image via Pinterest
Vintage vibes with this bohemian chic table, right in the lush green forest!
Blend 'em with vivid hues 
Couples often perceive that an intimate wedding long table setting wouldn't be that glam due to lack of resources and space, but guess what? It ain't true! You can always make your table settings more colorful with luxe velvet stools like these. Absolutely pin-worthy!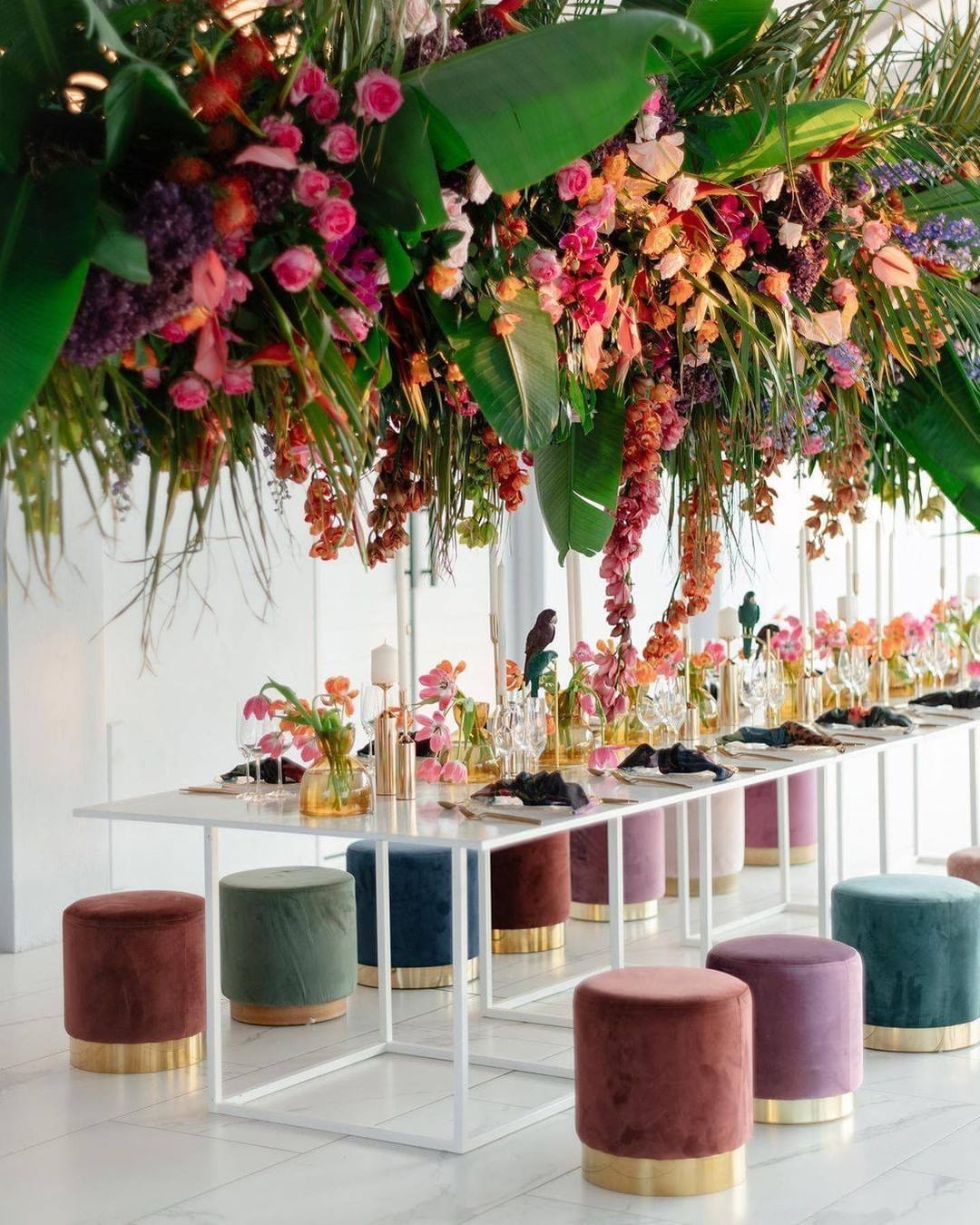 Image via ZAVION KOTZE EVENTS COMPANY
Amp it up with sequins
Add a dash of glimmer with sequinned table runners and instantly glam up your simple table setting! We feel it is a pretty affordable idea and you should totally incorporate this one.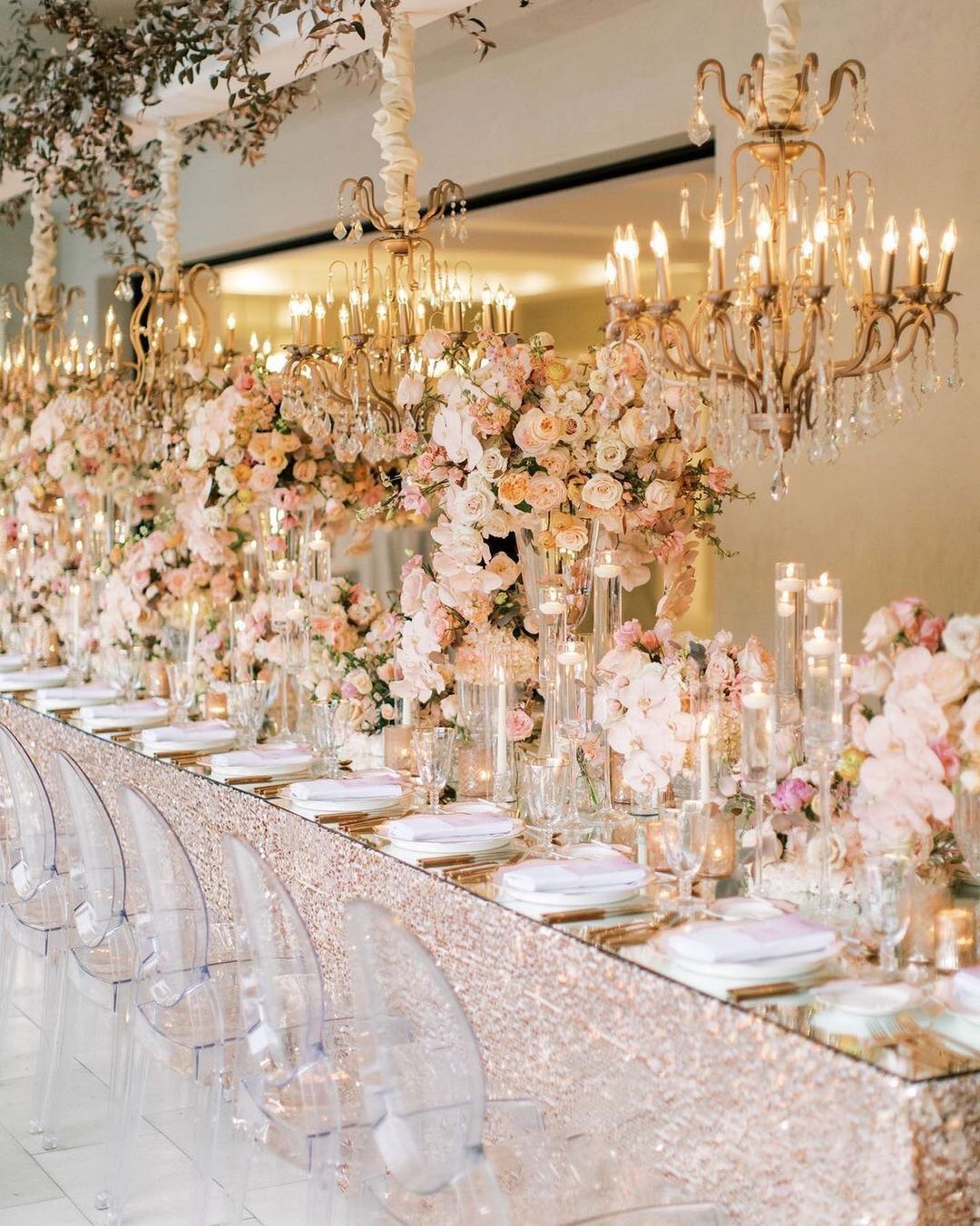 Image via Sisterlee Photography
Rattan Love
Rattan has been a major trendsetter when it comes to décor in 2020 weddings. Not only is it easy to use (no shelf life issue) but looks gorgeous too. We love how these table set ups mixed it up with some lush greens to give that lovely contrast between the two!
Honestly, don't you think these elegant wedding table settings with wicker baskets are super easy to DIY?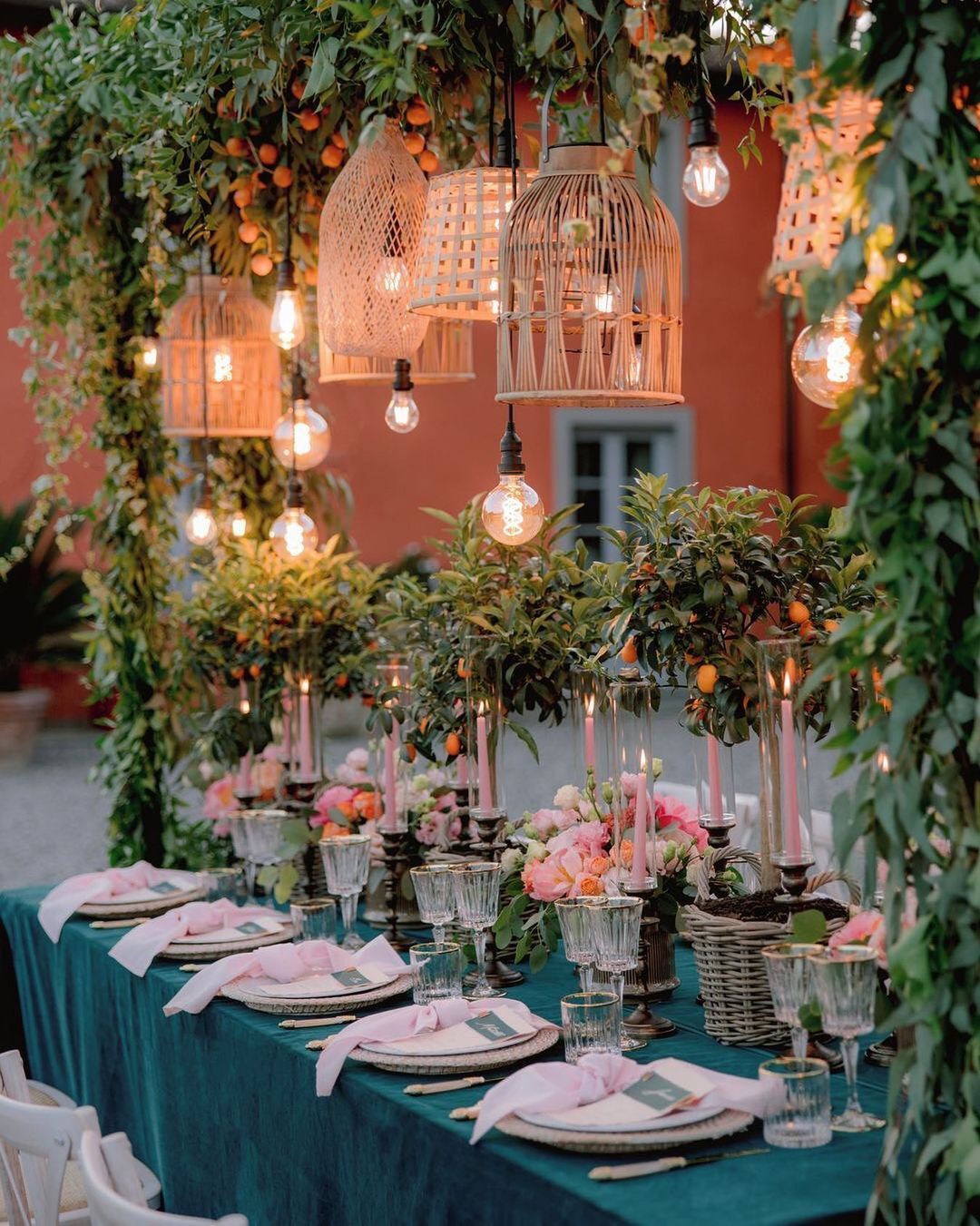 Image via Facibeni Photographers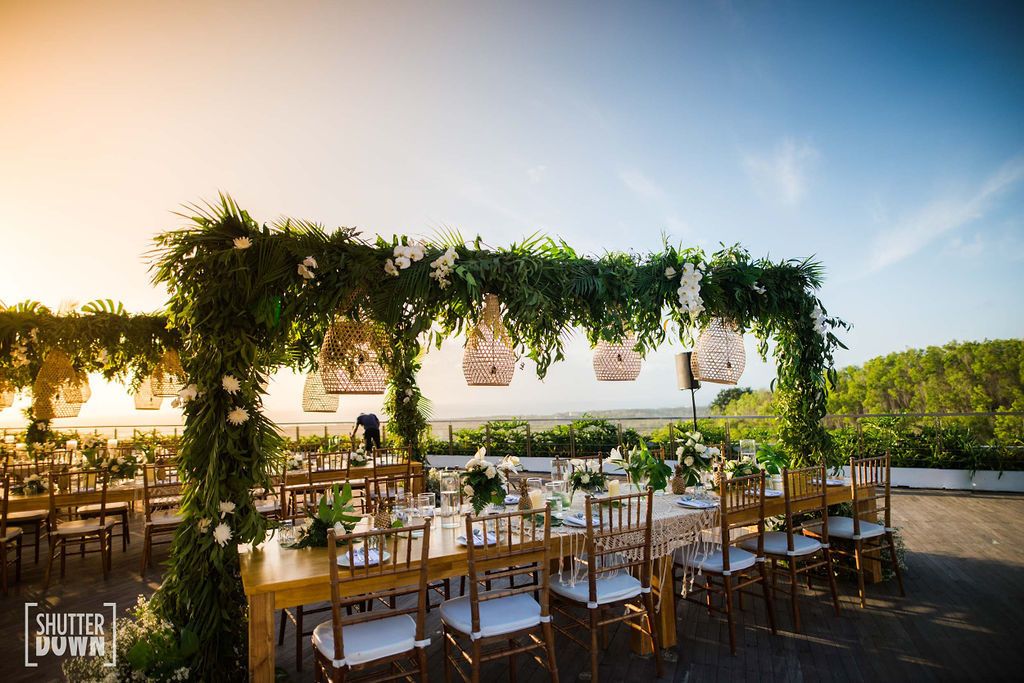 Image via Shutterdown - Lakshya Chawla★ 4.9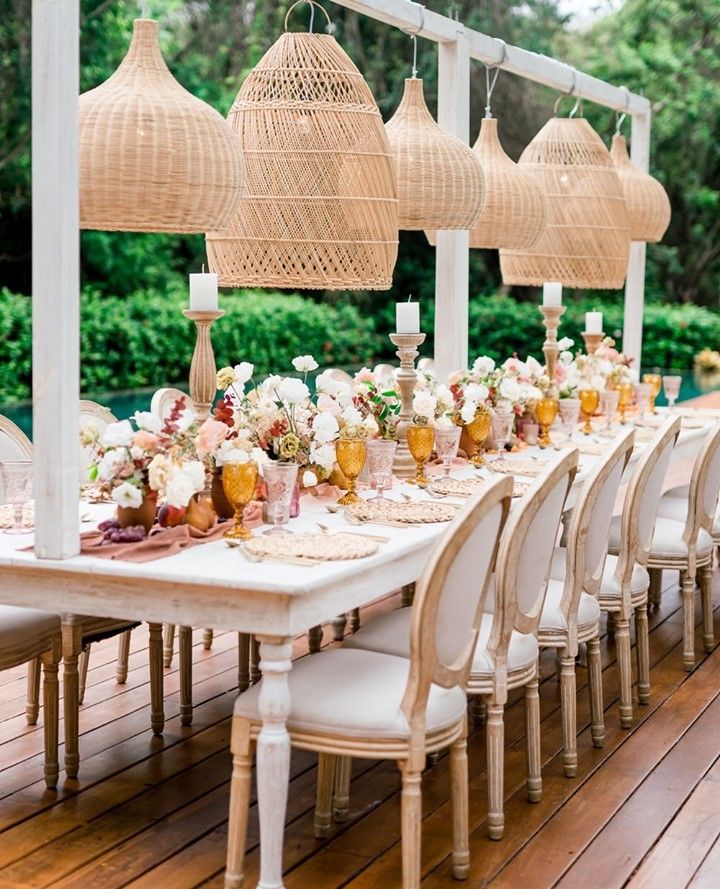 Image via Instagram
Crystal Beauties
Crystal chandeliers have always been a game changer when it comes to adding a dash of royalty to your wedding. These crystal chandelier table set ups are absolutely gorgeous! OTT table settings for your intimate celebrations? Hell yea!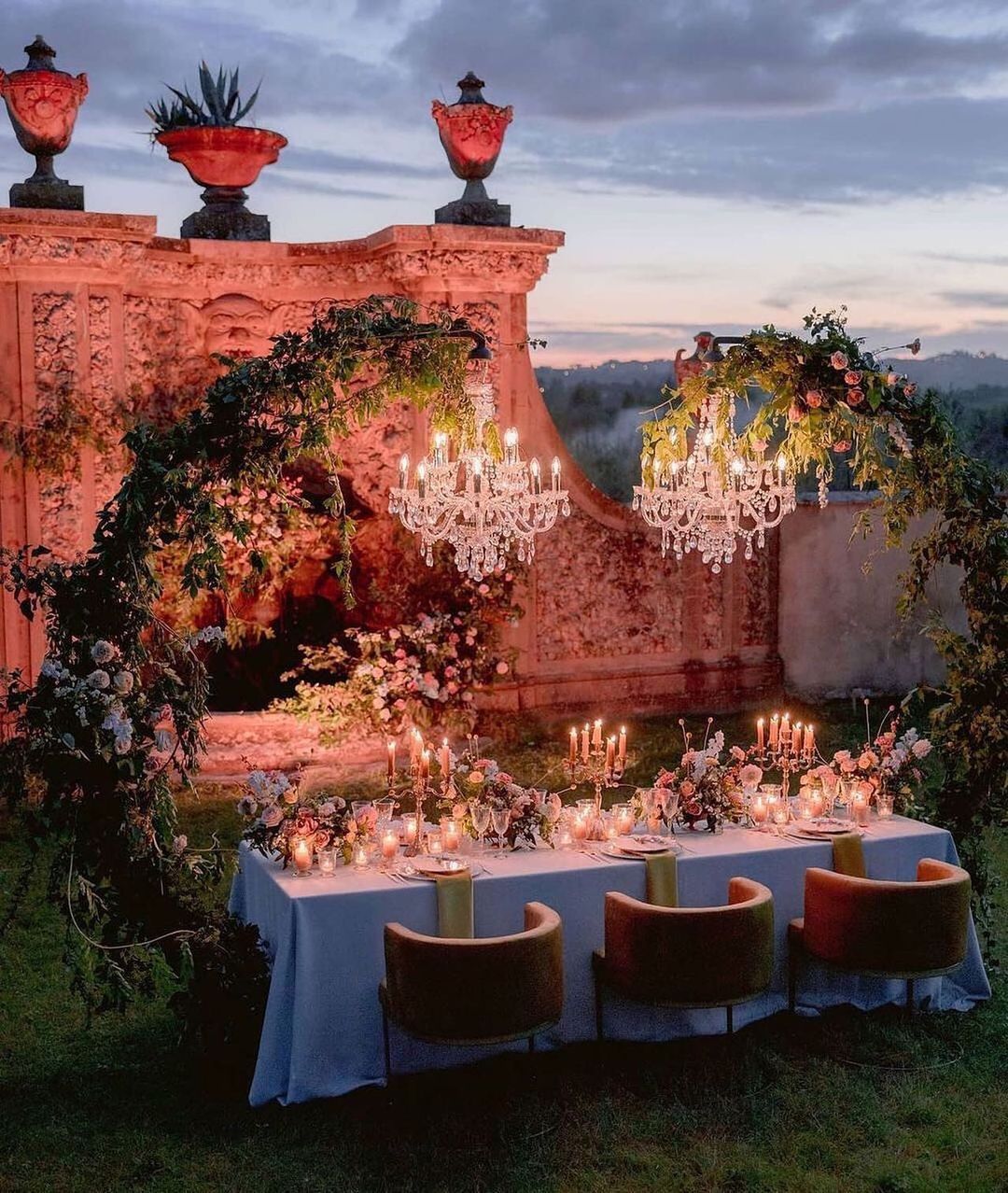 Image via Facibeni Photographers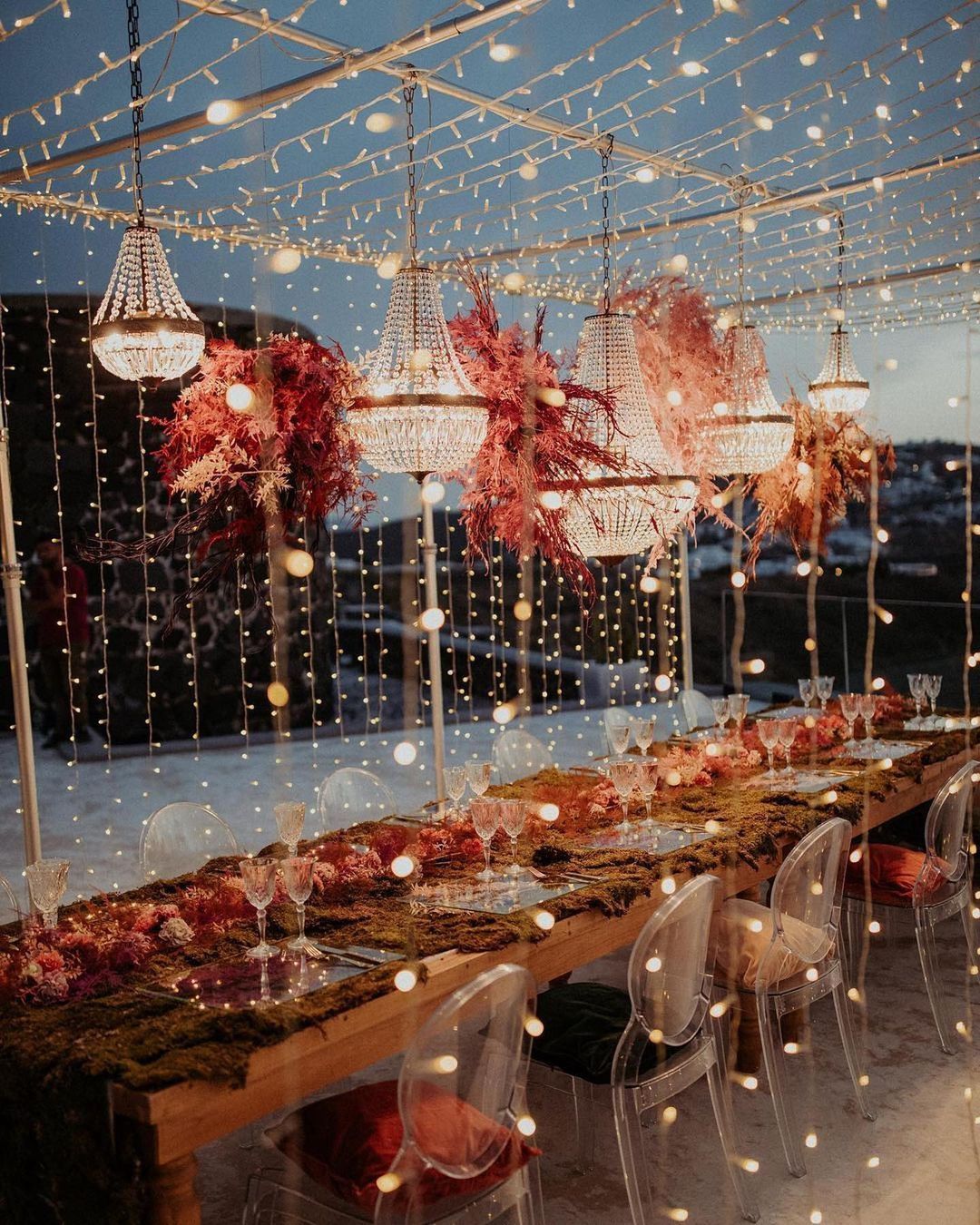 Image via Flowers Living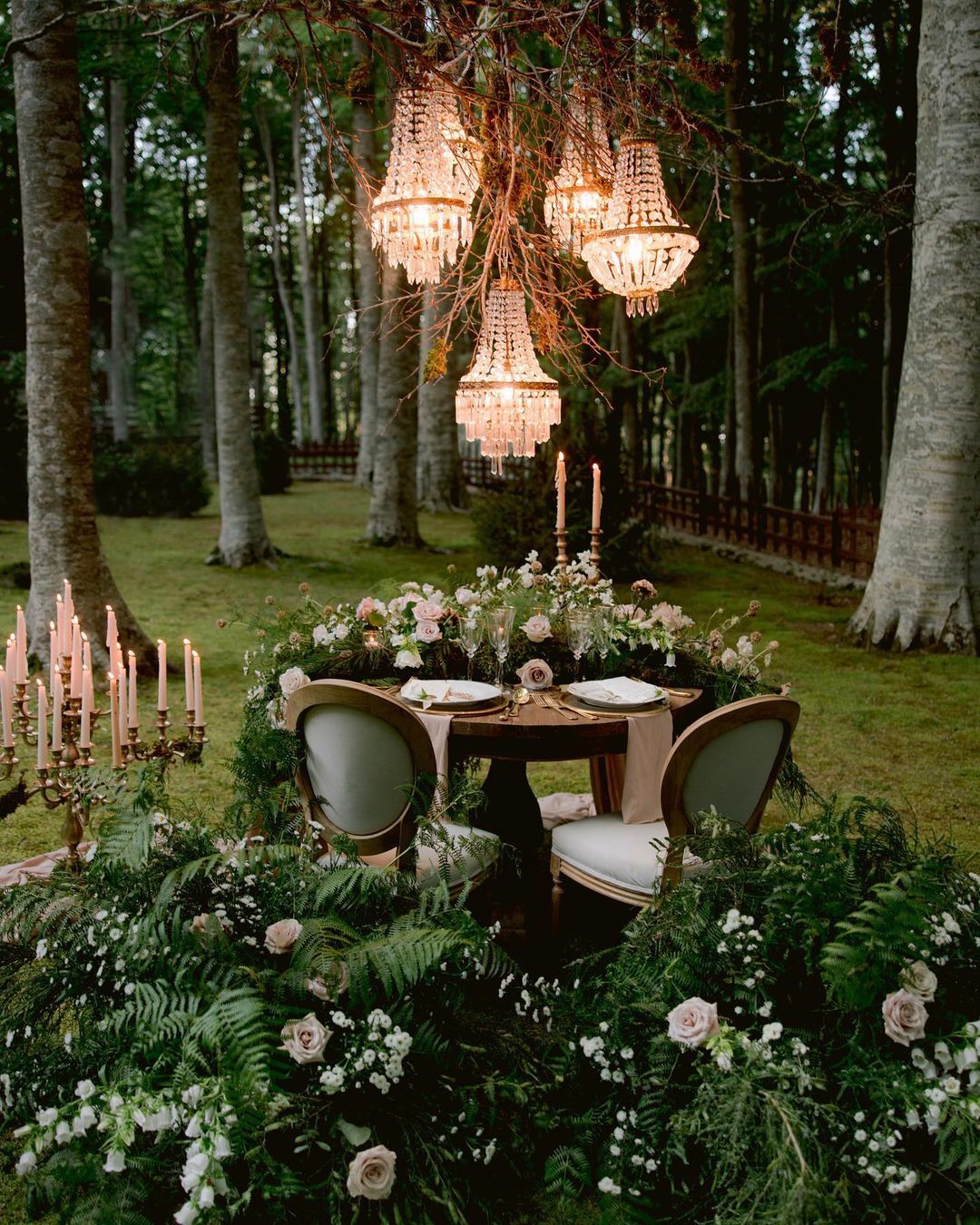 Images via Ruffled Blog
Dreamy Beach Setups!
Beach weddings are dreamy as it is, add a gorgeous sit-down dinner table to it and it takes new heights!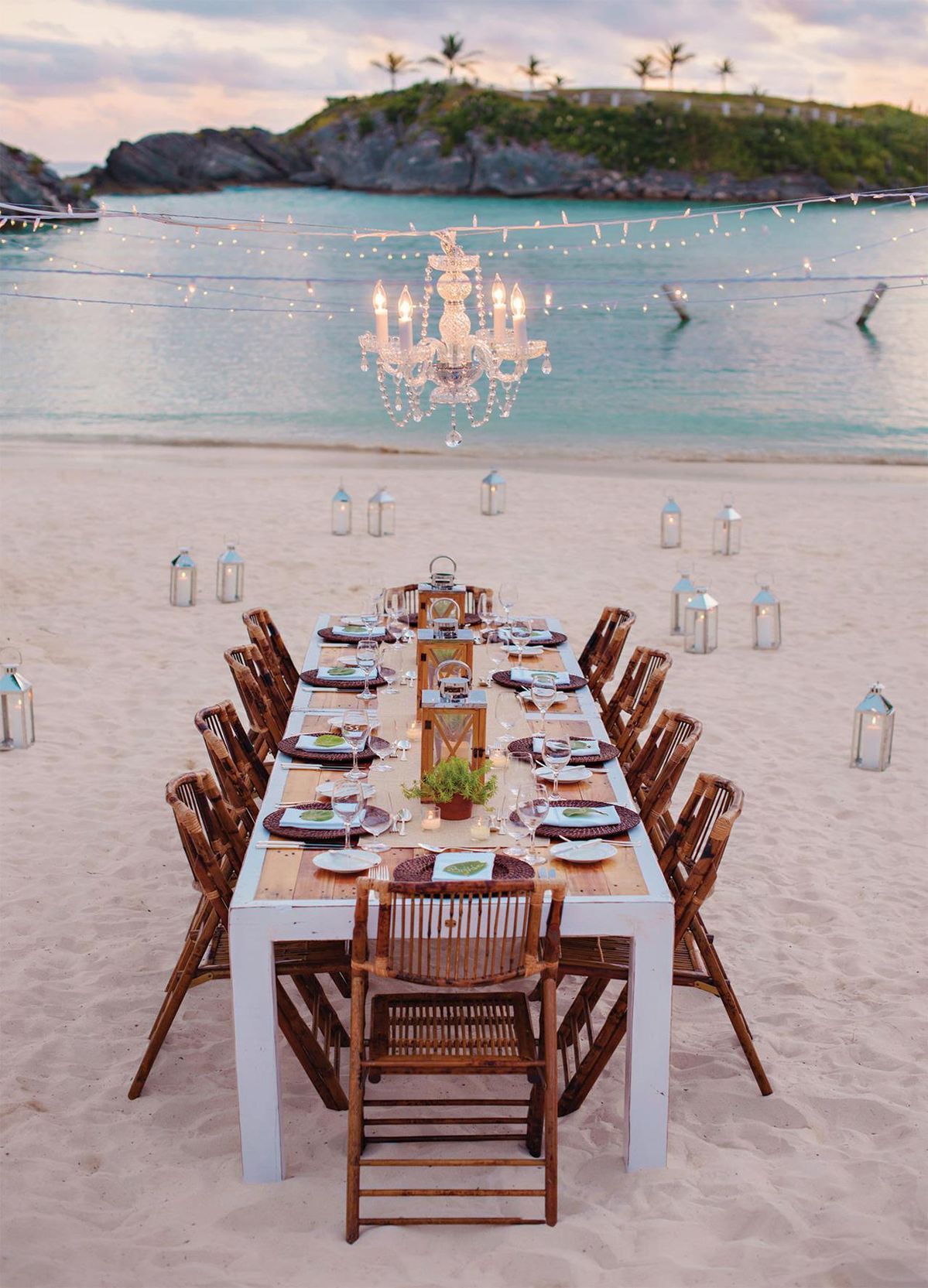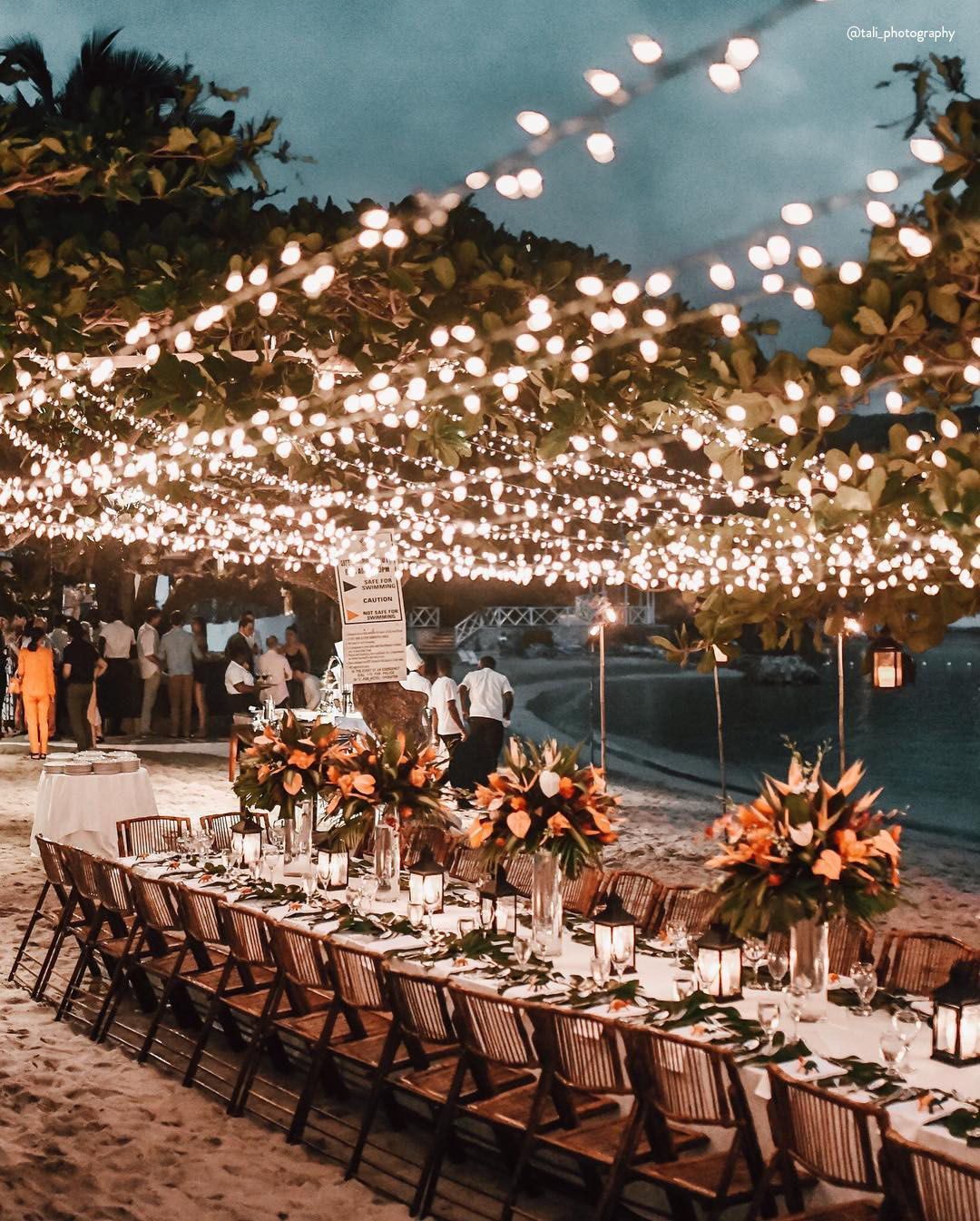 Image via Pinterest 
Give Us Some Pampas!
This season's décor has been all about pampas, and we don't see this trend going anywhere. So no points for guessing how these table set ups look so stunning with pampas! Totally diggin' the bohemian vibe.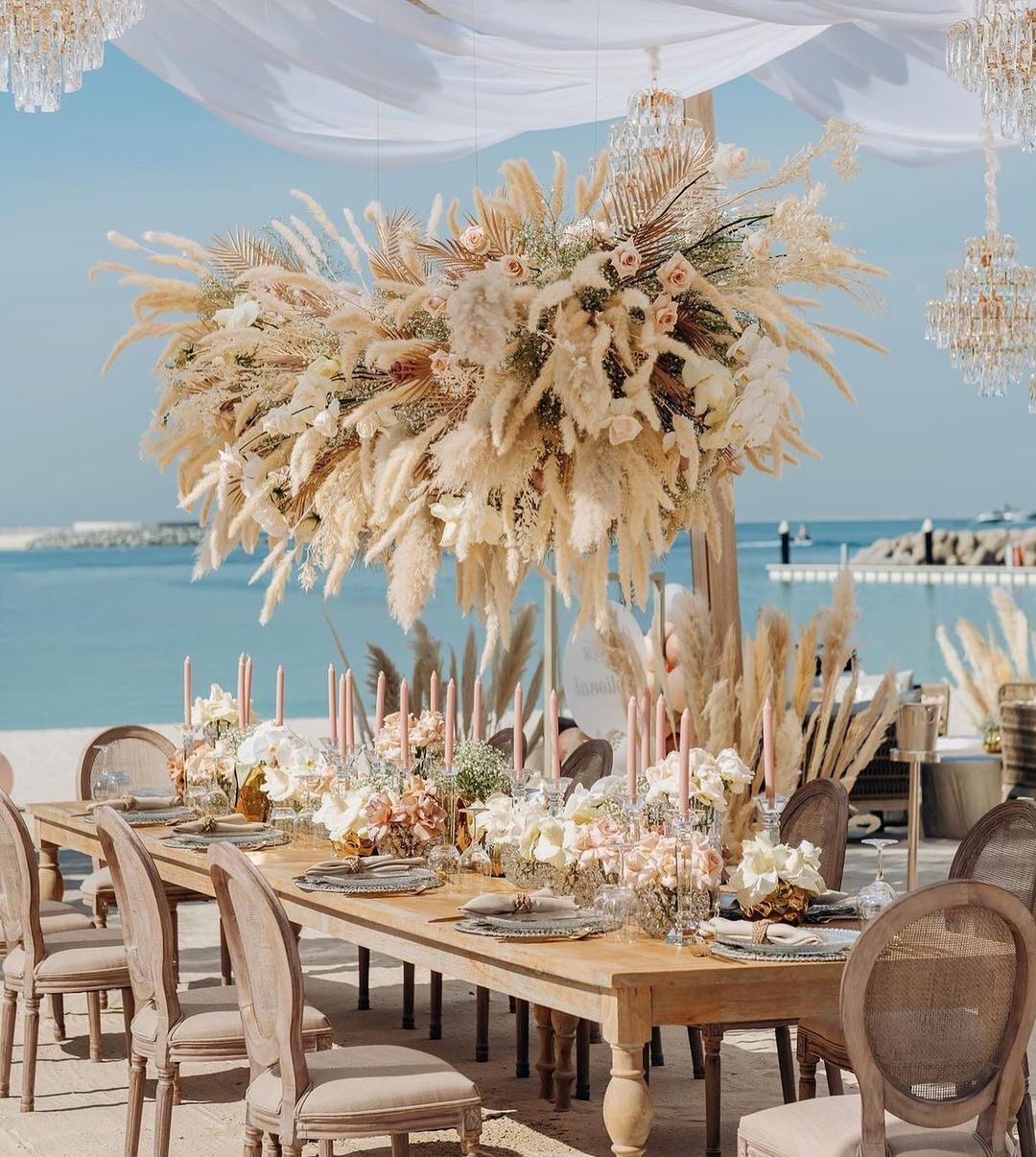 Image via Dubai Luxury Weddings & Events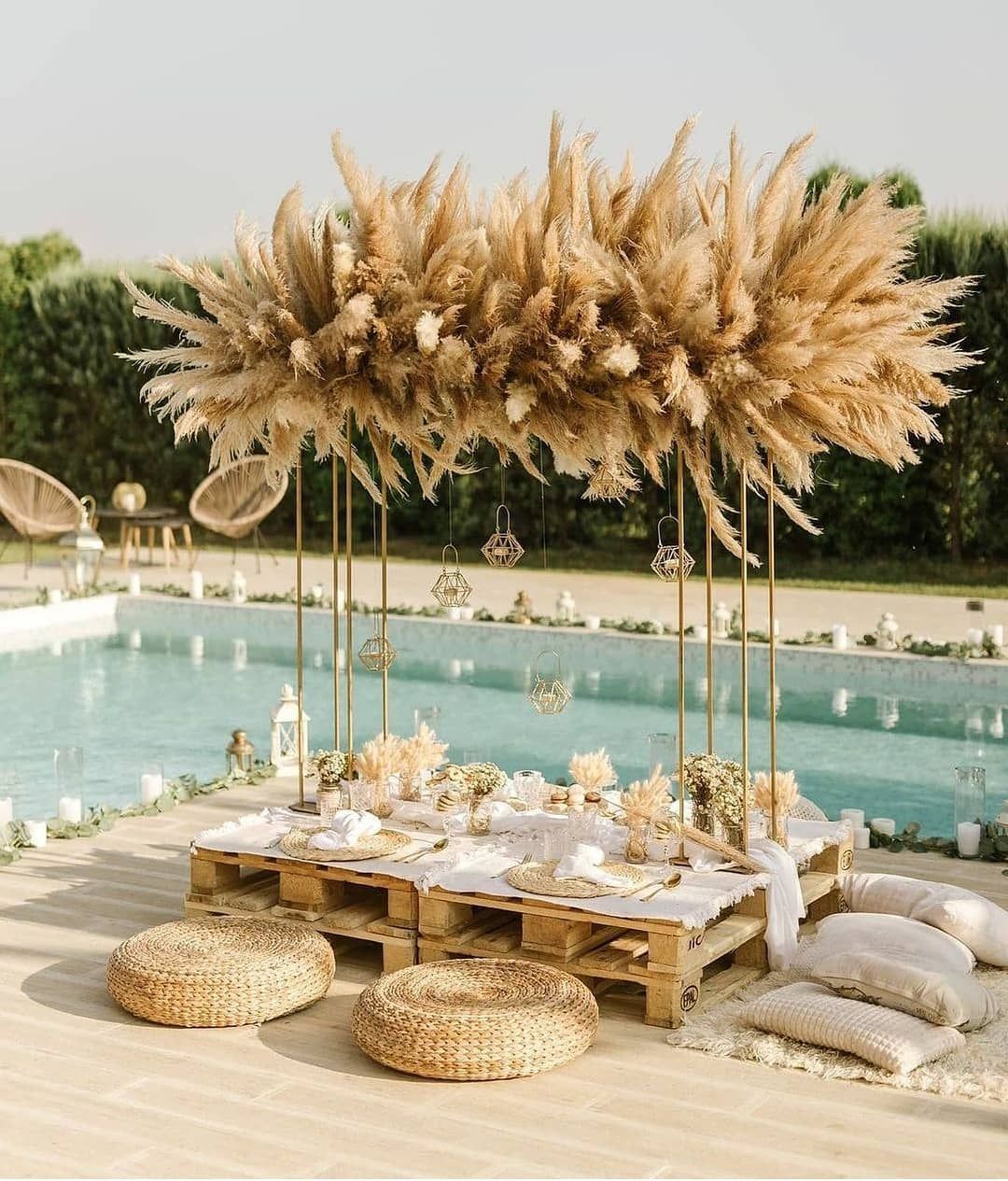 Image via Instagram
Bringing Some Bougainvillea Love!
With lush greenery and bougainvillea florals hanging from the ceiling these décor-set ups for tables is another game changer!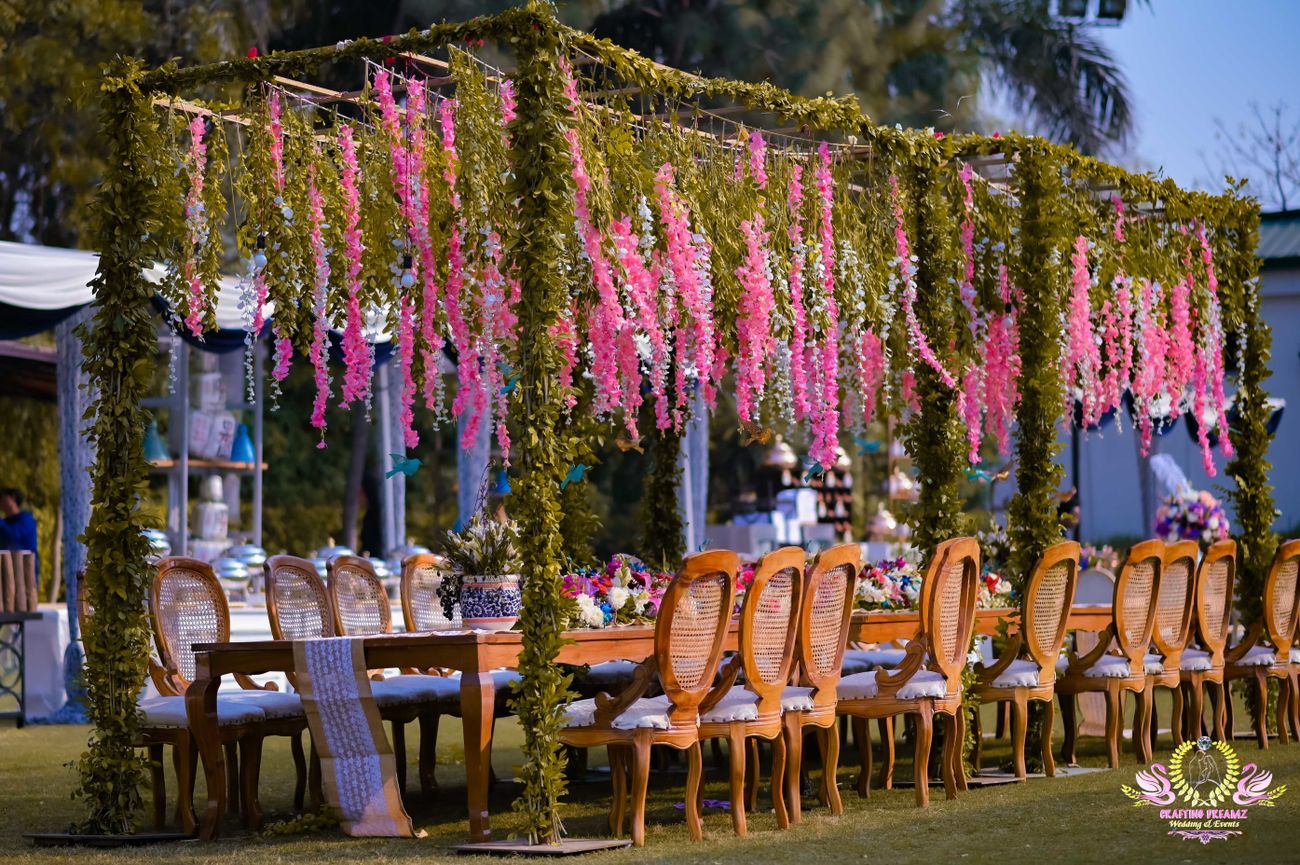 Image via Crafting Dreams★ 5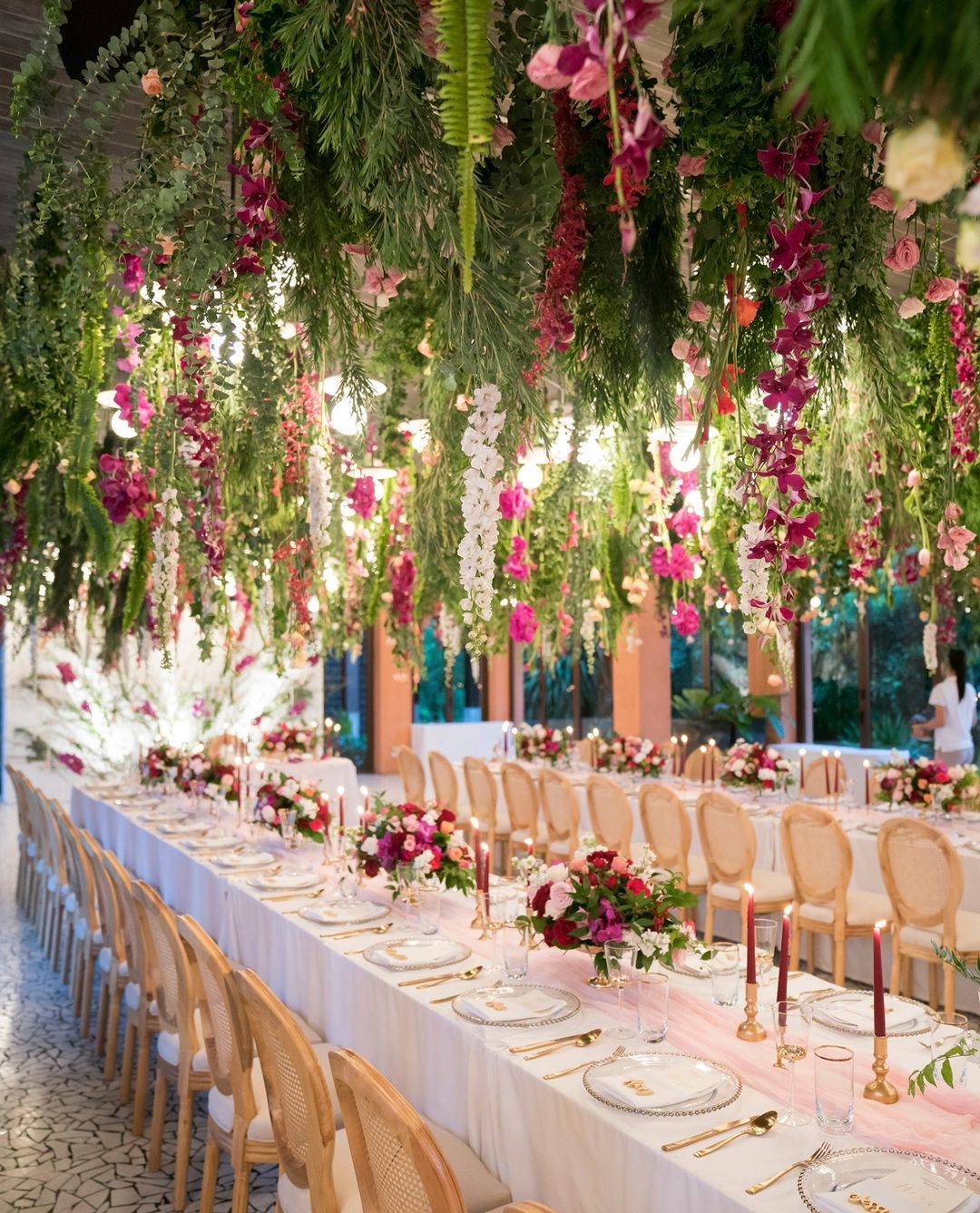 Image via Instagram
Florals + Lights = Winner!
Nothing Beats The Mix Of Florals Plus Light, To Add To That, This Dreamy Canopy Setting For This Dinner!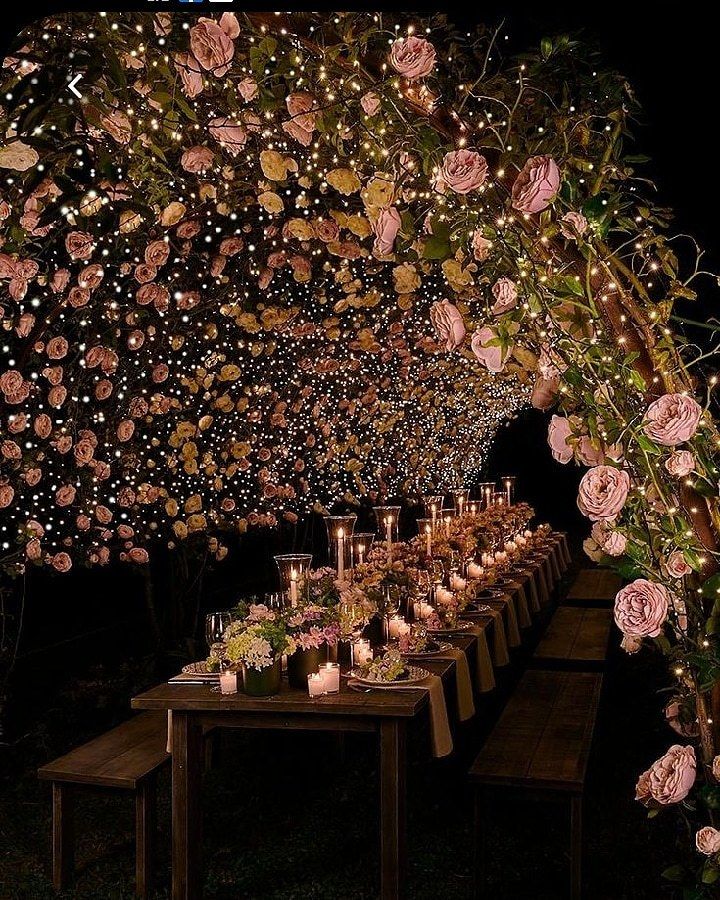 Image via EDG Enzo De Gasperi
This cascading lights set up is so gorgeous too!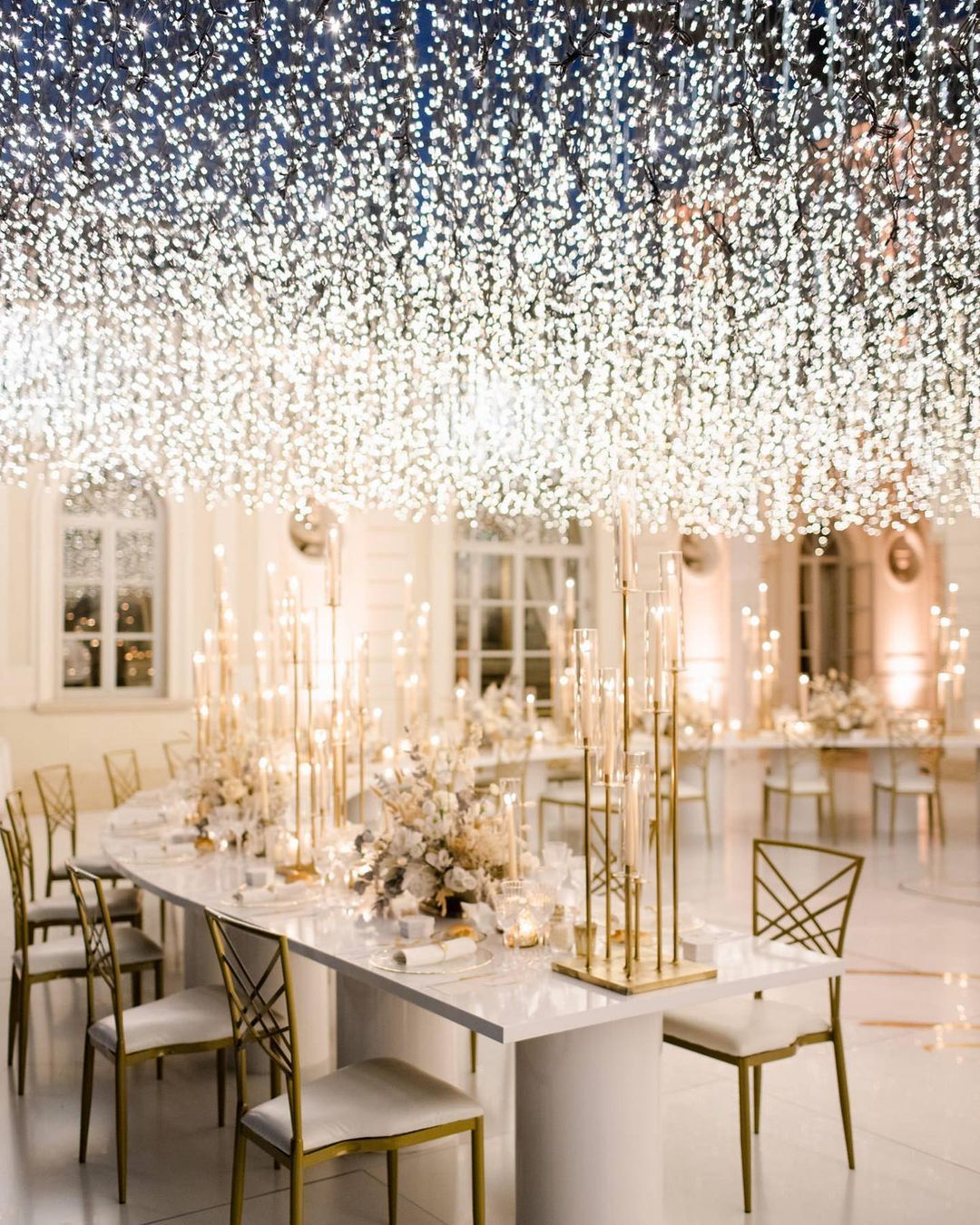 Image via Instagram
Loving These Candle Chandeliers For A Day Wedding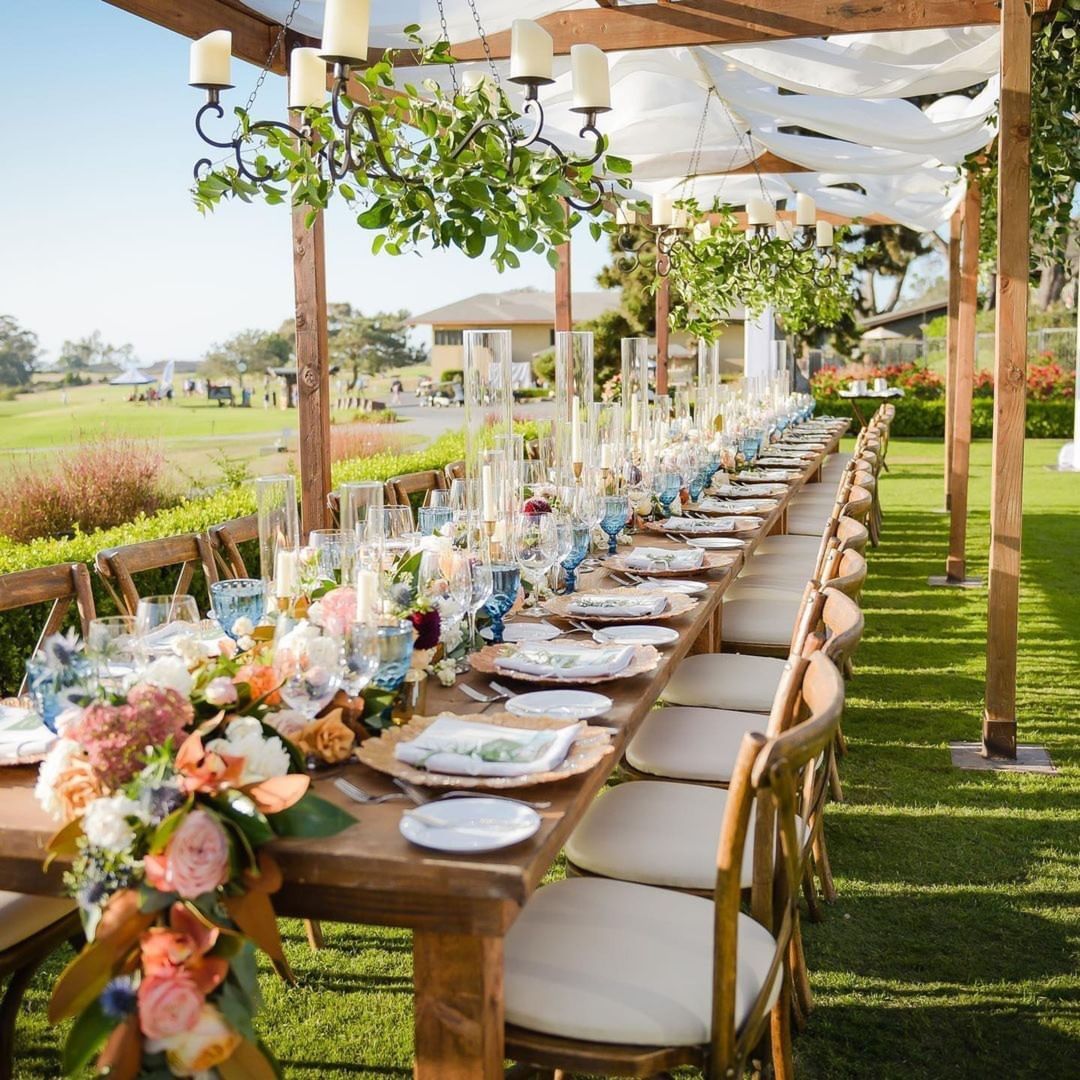 Image via Instagram
Or this one with suspended bulbs & tea-light glass holders!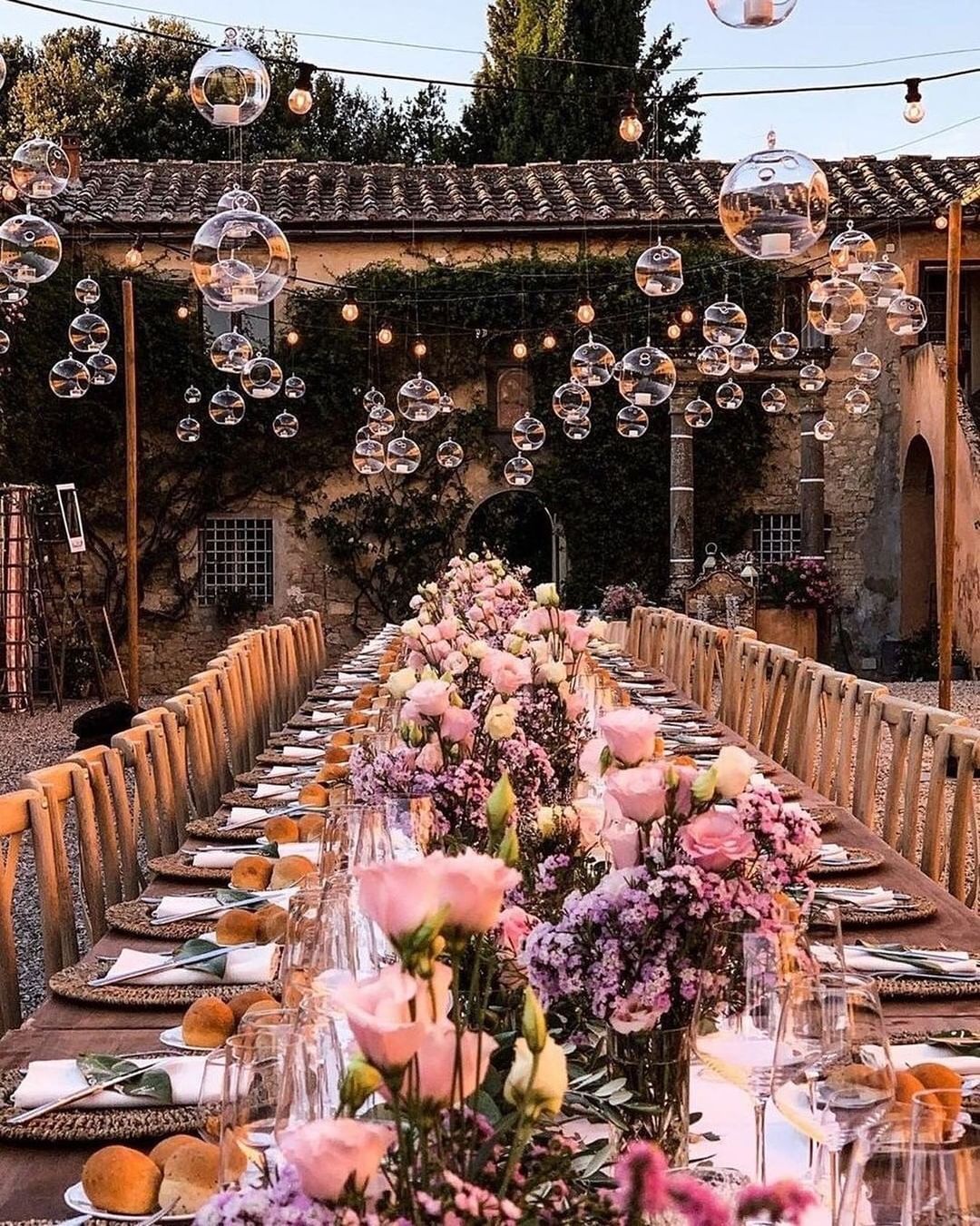 Image via Sìena Day Wedding Planner
A Touch Of Copper And Dry Florals!
Copper chairs, spice toned candles and a tangled branch installation – what more do you need?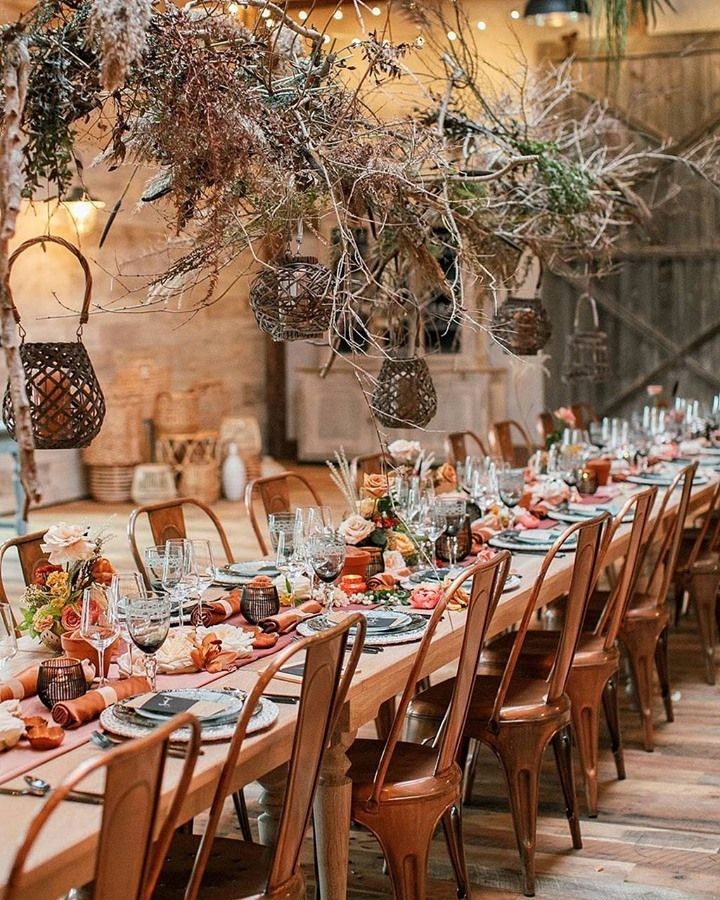 Image via Instagram
Royal Drapes
Planning a destination wedding at Rajasthan in 2021? These royal drape setting for a sit down luncheon is a great idea!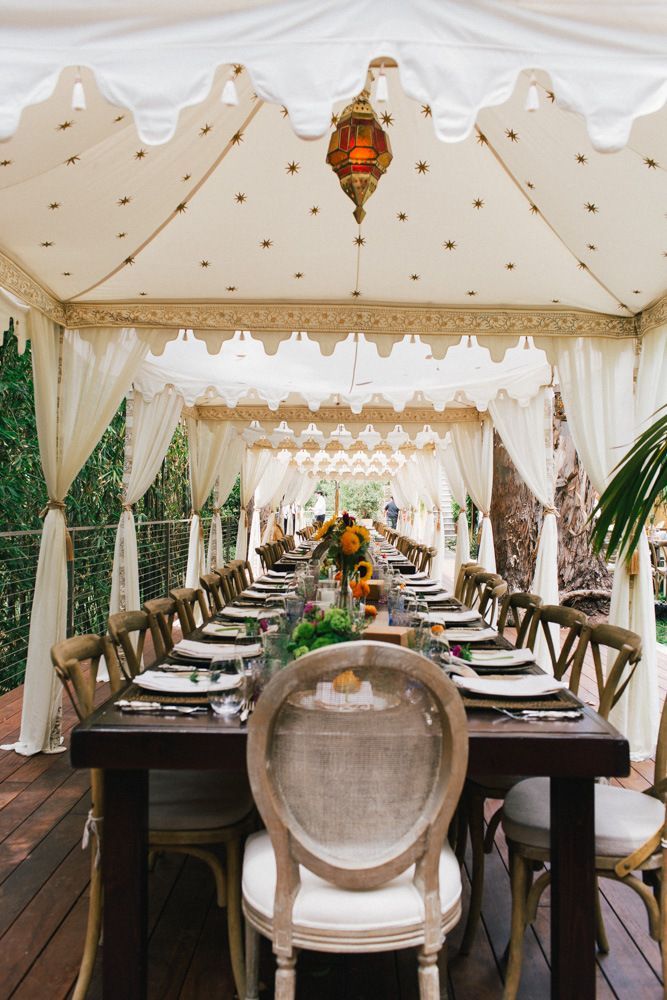 Image via ArtsyDesignCo★ 4.7
Flowery tablescape that never goes wrong!
Flowers are always the best choice and indeed a failsafe. At weddings, flowery decoration is seen the most. The pleasant aroma and vivid colour make this kind of table setting an eye-pleasing area for all the guests.
Filled with lush greens & a cascade of florals - totally dreamy!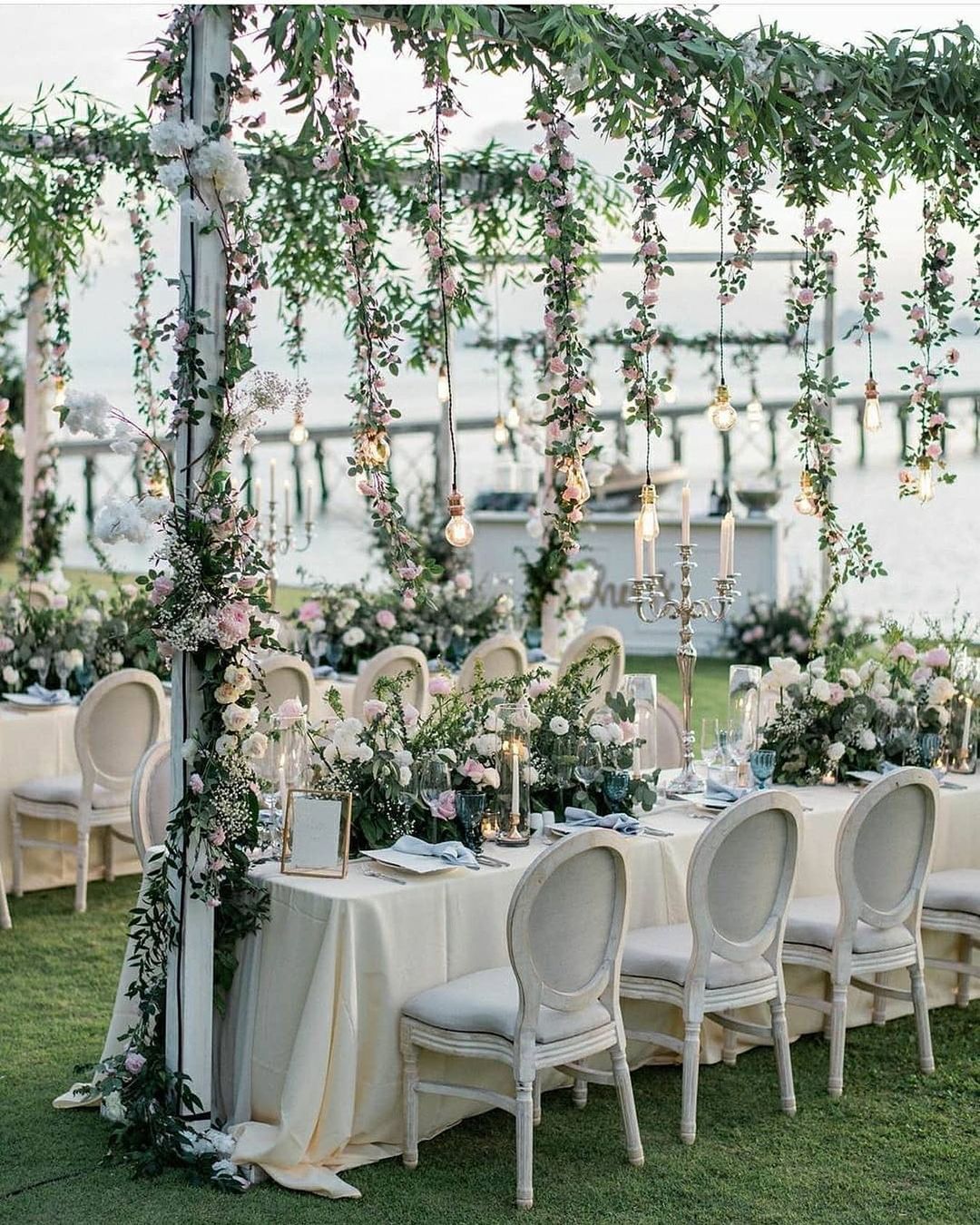 Image via IAMFLOWER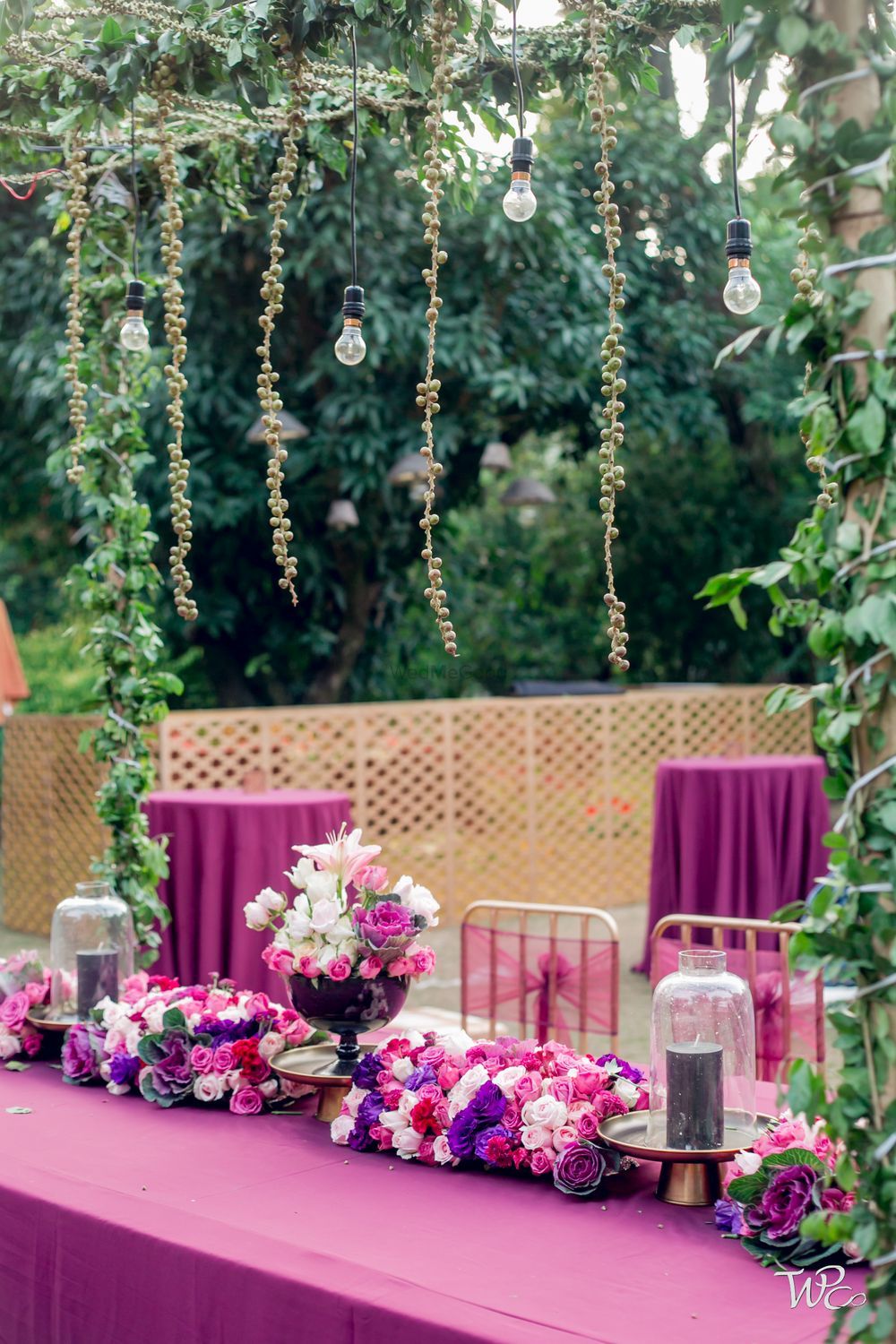 Image via The Wedding Planning Company★ 5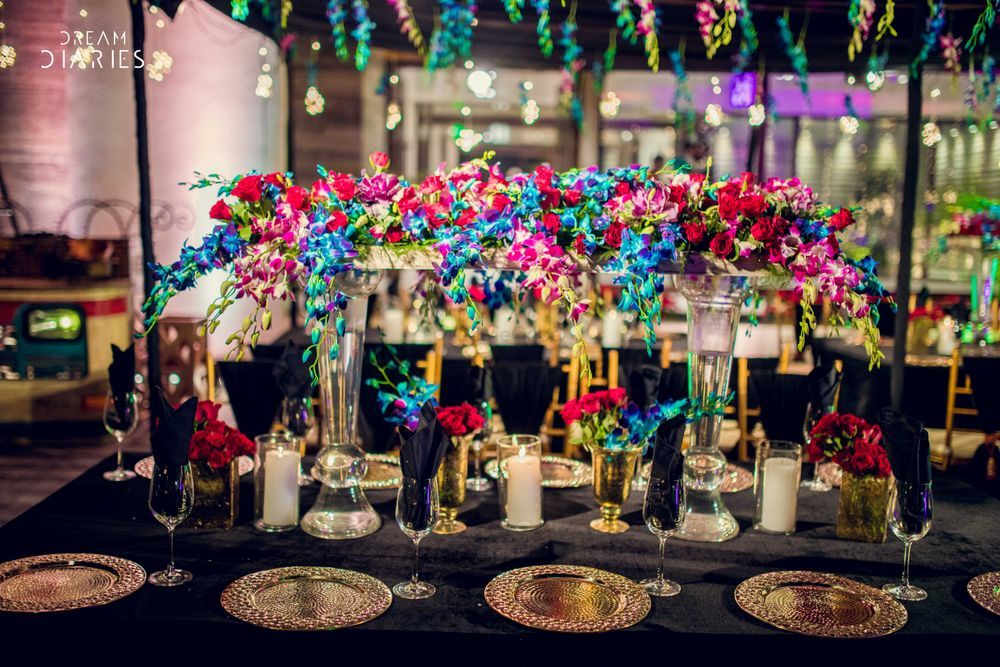 Image via Luxury Weddings by Abhishek★ 4.4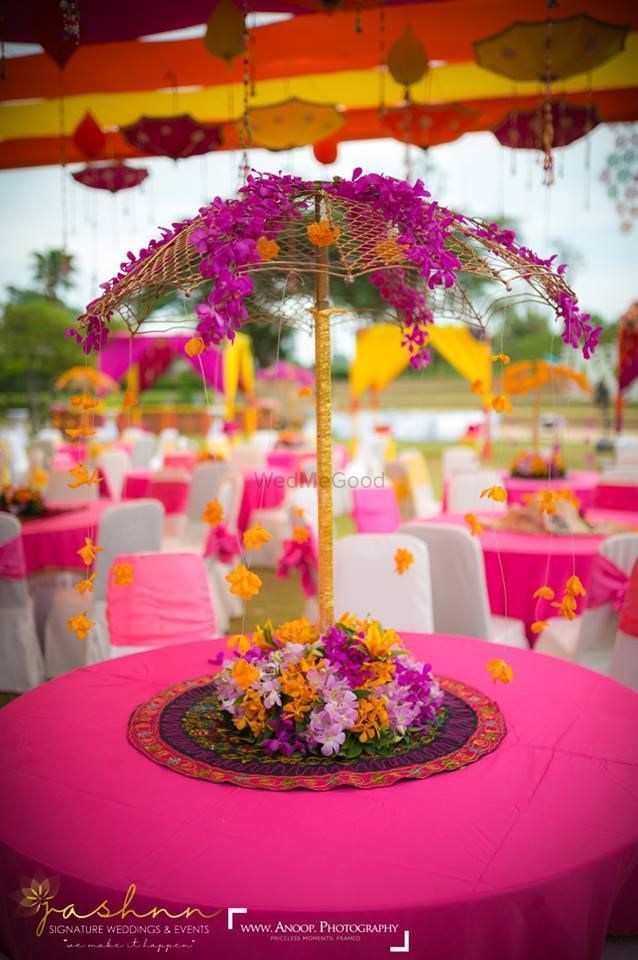 Image via Jashnn Signature Weddings & Events★ 5
Dinner by the pool: A dream come true!
For a dinner table that's by the pool and well, even the beach, we'd recommend you to go simple and let the ambiance speak for itself.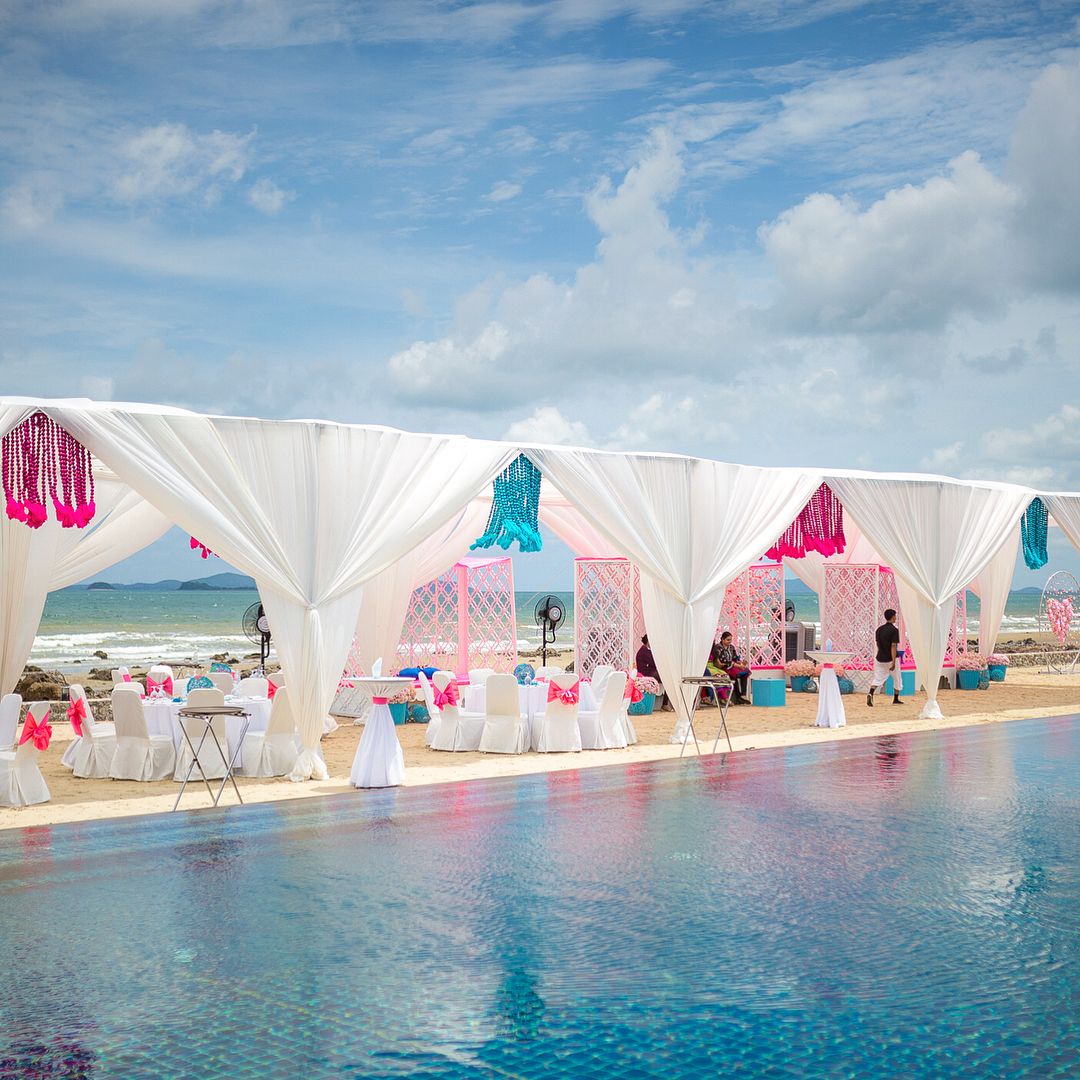 Image via @ElanEvents
Red & Golden: The Royal Style 
If a wedding is having a royal look, all the guests are pleased and your wedding becomes the talk of the town. Opt for this type of decor if you are looking for something grand!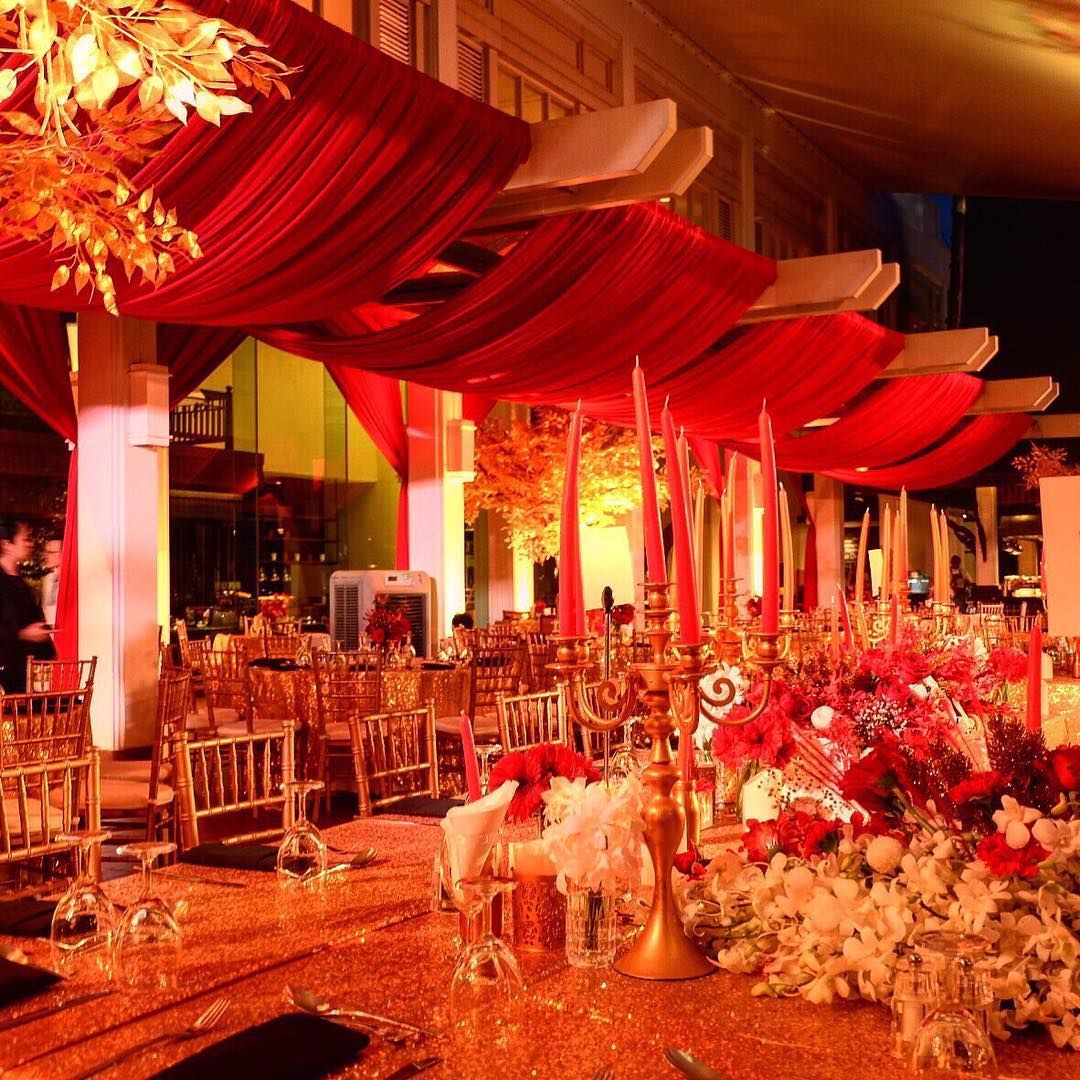 Image via @ElanEvents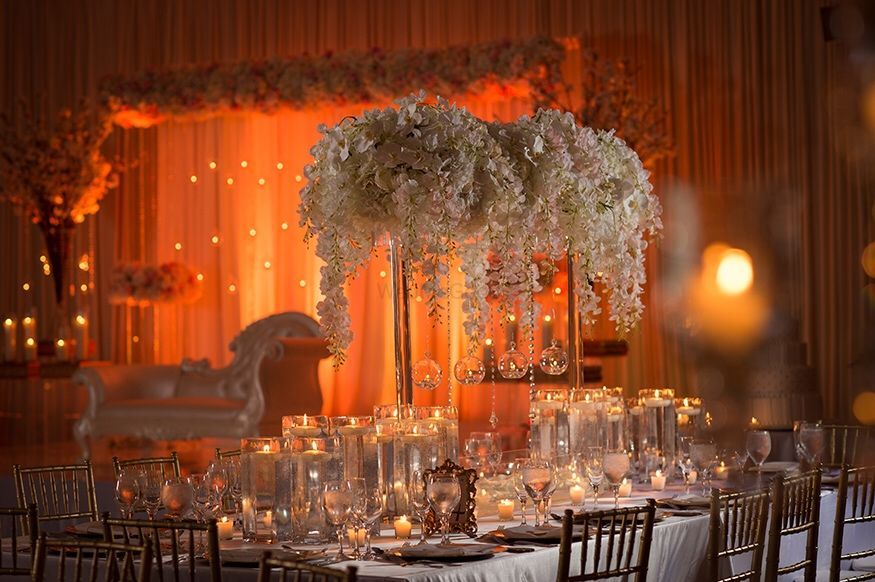 Image via Shrangar Chandni Chowk★ 4.3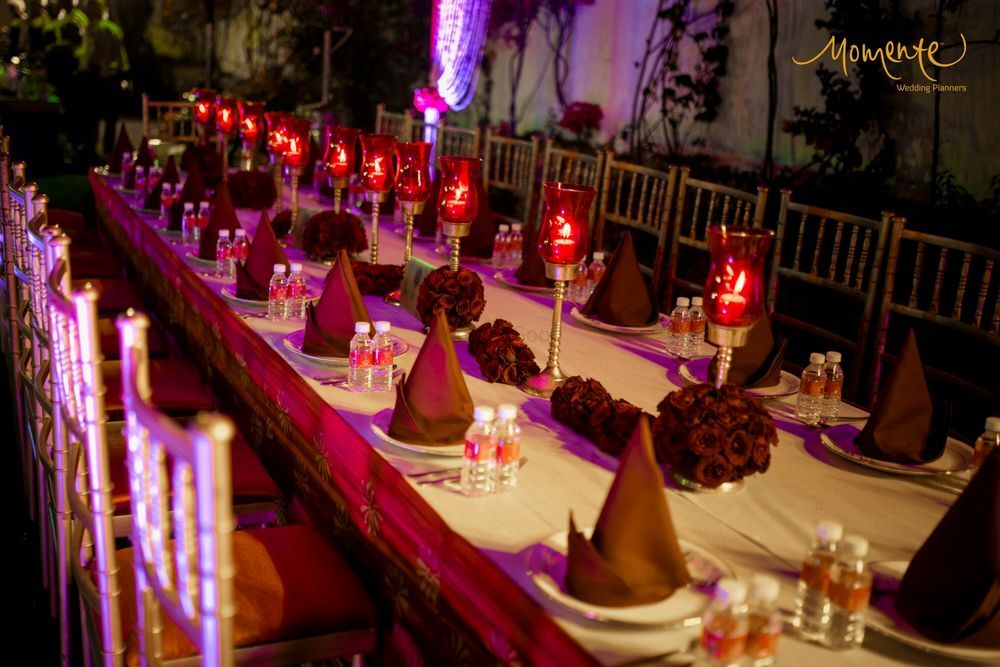 Image via Momente Wedding Planners★ 5
Fairytale chandeliers 
What better way to illuminate your table setting than with a chandelier? Lighter coloured fabrics will retain a breezy feel, while a statement chandelier ramps up the glamour. This statement glowing lighting makes the wedding unforgettable and feels as close to a fairytale as they do to reality.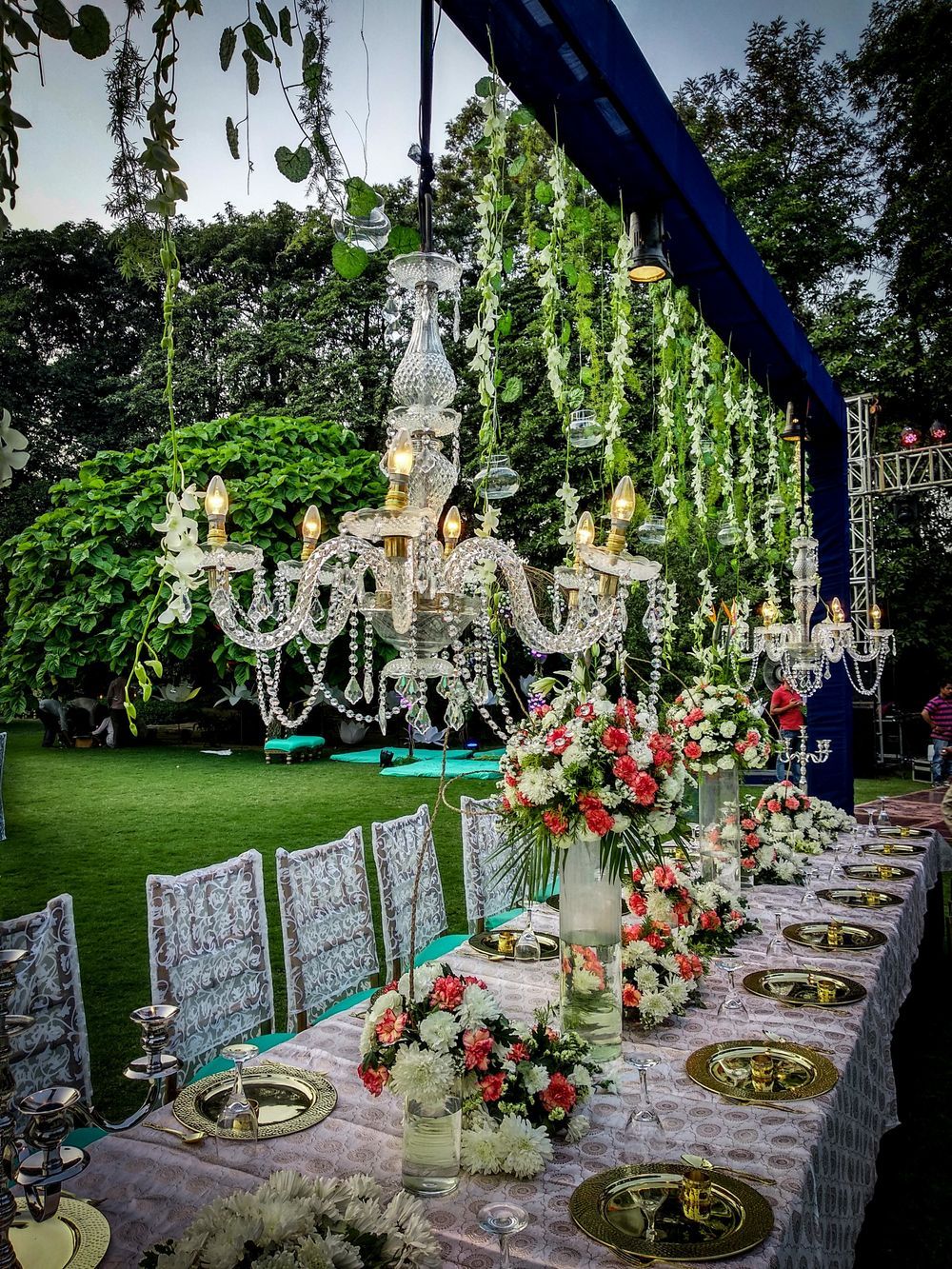 Image via Elysian Weddings★ 5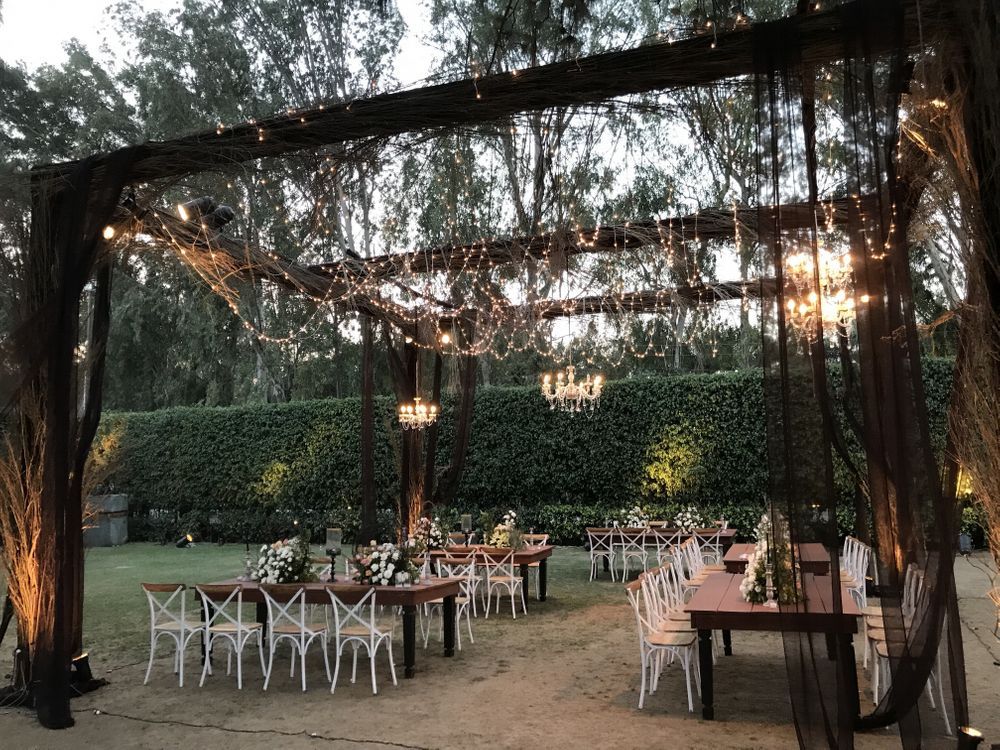 Image via Wedding Duo★ 5
Twinkling lights, catching the eyes
Wrap softly sparkling fairy lights around your venue's beams to make a shiny statement. There's nothing like this romantic glow, ever so slightly out of focus, as a backdrop for your dining area.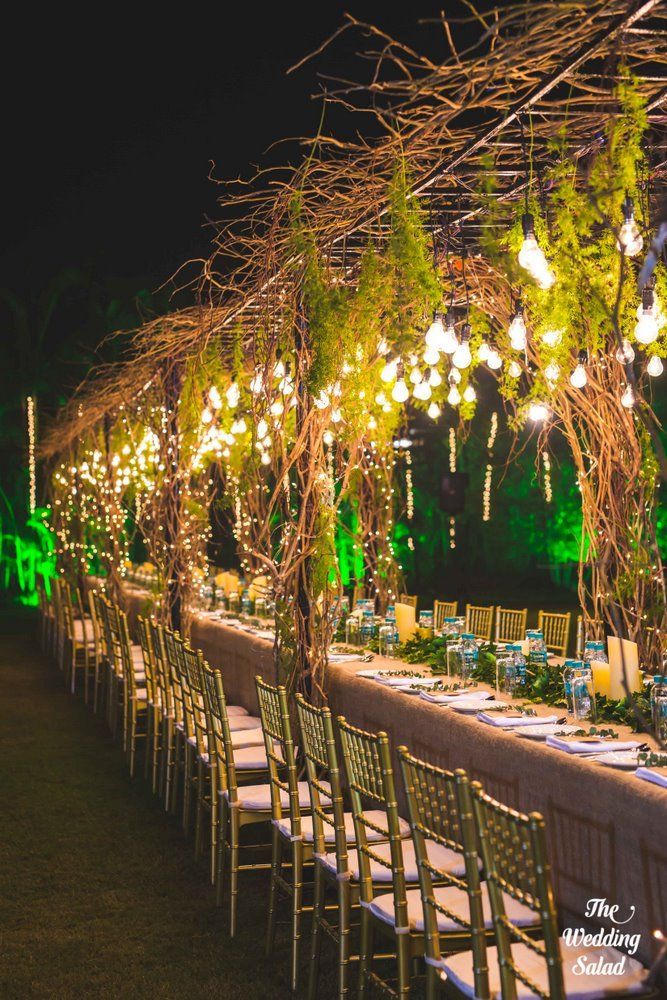 Image via The Wedding Salad★ 4.9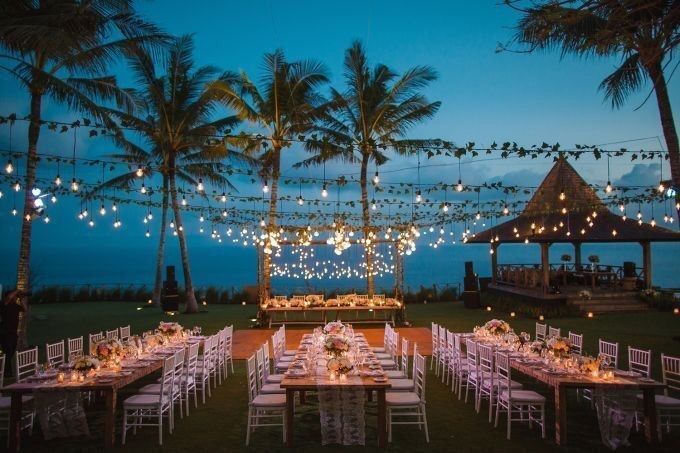 Image via Desert Pearl★ 5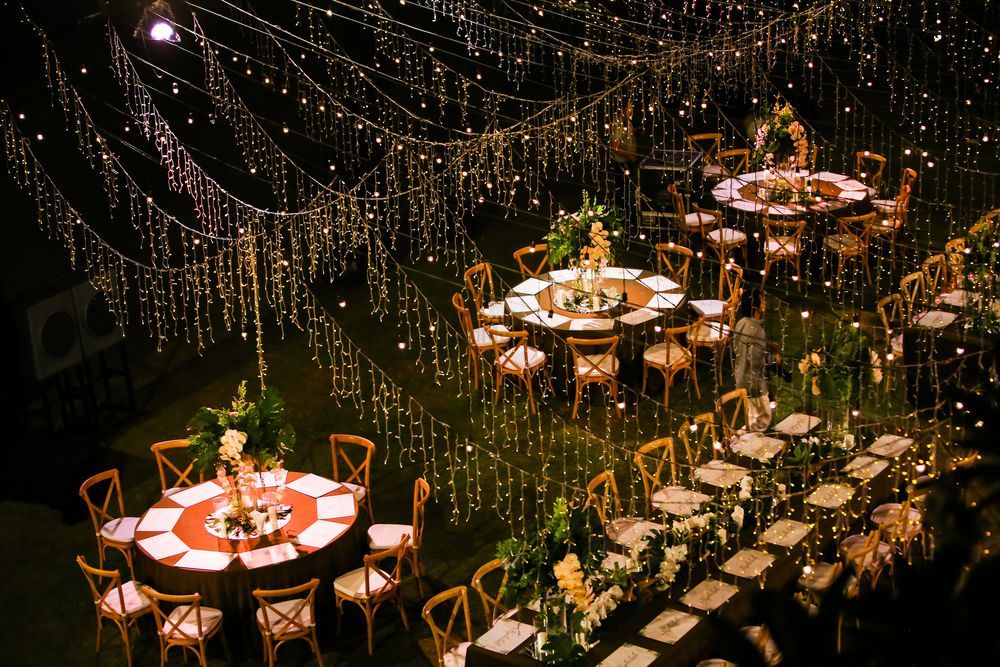 Image via Purple Tree Events Solution★ 5
Canopy of colour
Turn the venue into a kaleidoscope of colour to emphasize the space of your dining area. This decoration doubles up as dinner, and we're sure it will be one of your guests favourite. Use colourful cloth for the chair and you can even go for danglers of different colours to add an extra pop of colour.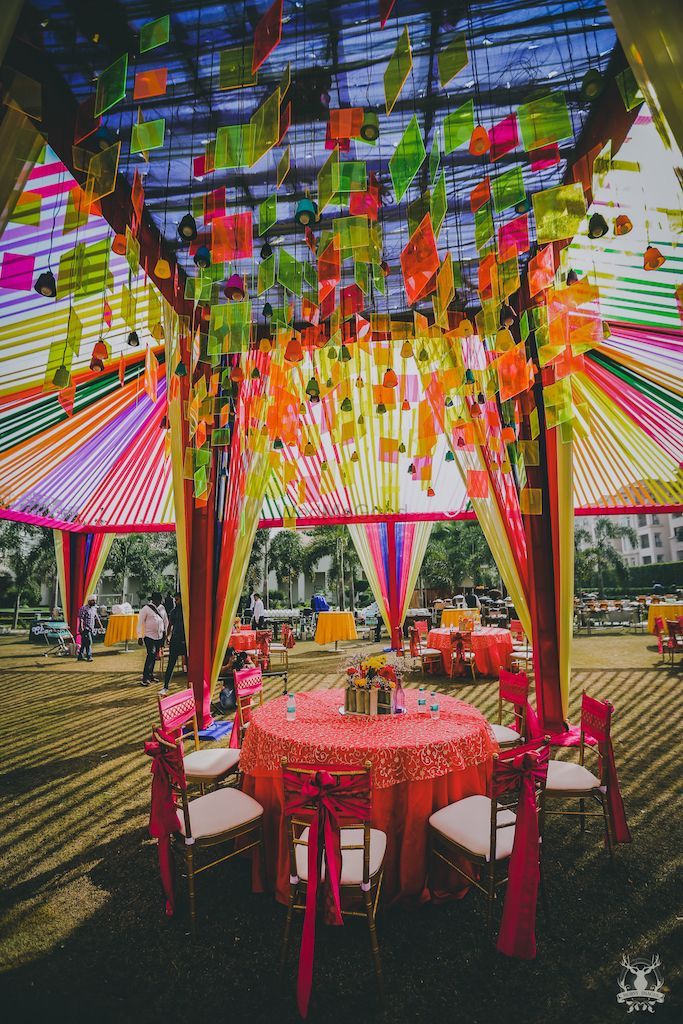 Image via @MorviPhotography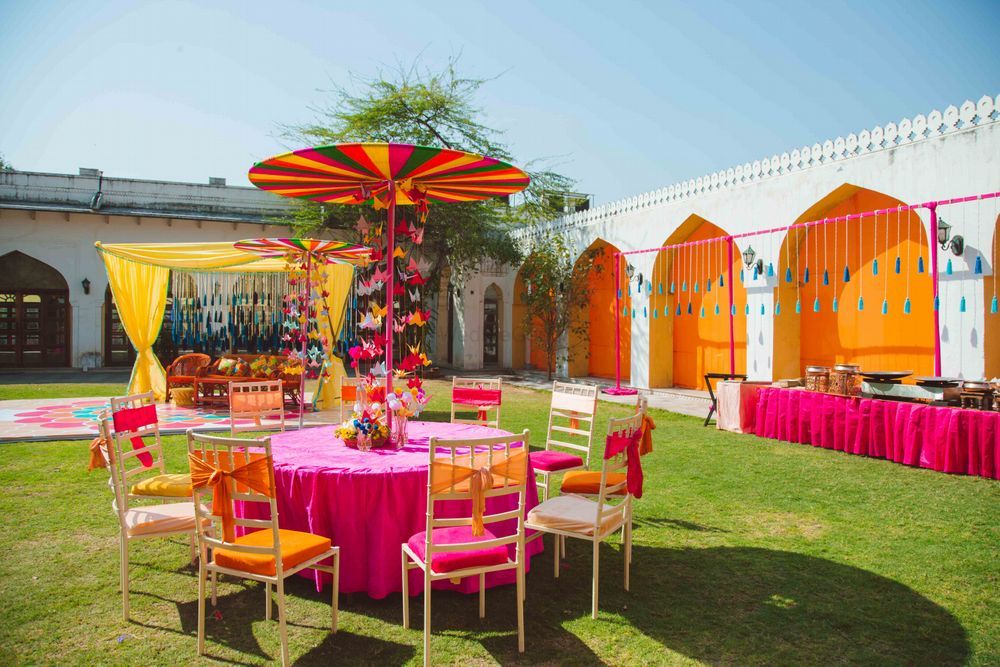 Image via Vintage Nutters★ 5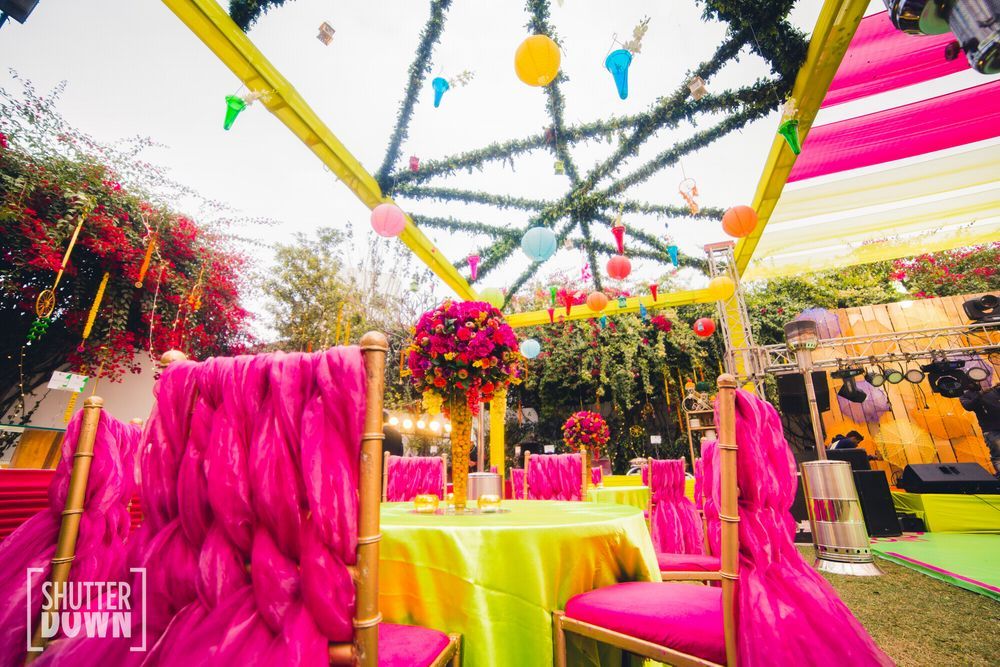 Image via @CliqueEvents
Gold colour schemes: A vintage affair
Choose an accent color to tie all of your different decorative elements together — in this photo, it's gold — and create a luxe look for less. This will be an apt choice if you want to showcase rich and wealthiness in your decor!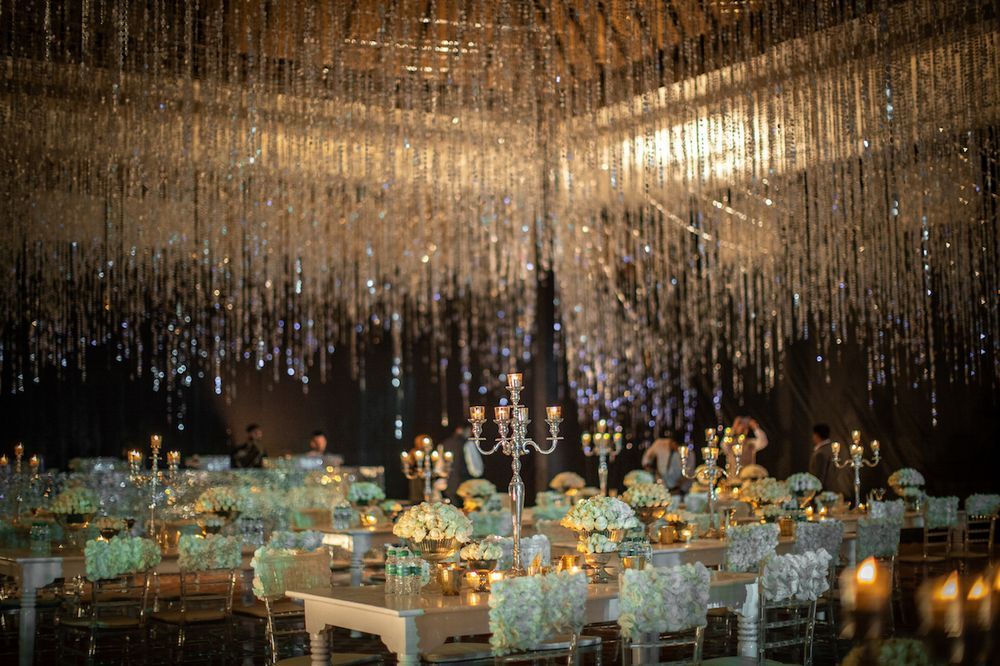 Image via Mayur Teckchandani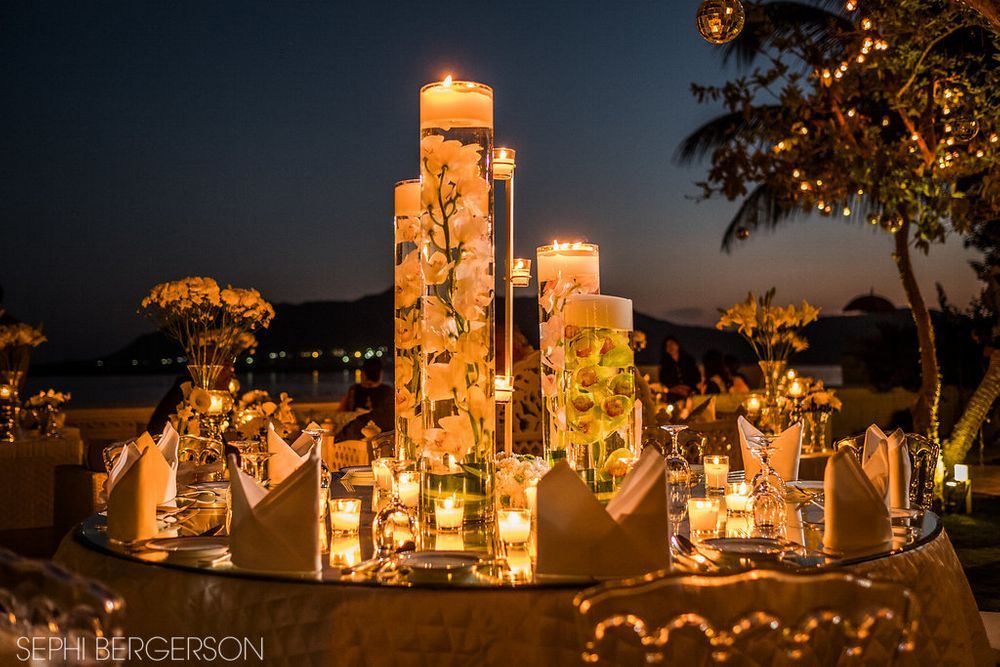 Image via A New Knot★ 5
All these beautiful table settings has our hearts! Can it get better than this?
ALSO READ - Cutest Ideas For The 'Sweetheart Table'- The Bride & Groom Table!
*Updated by Apoorva Pagar.