From Pearl Beads To 3D Bird Motifs: Flat Juttis To Buy Under Rs. 5k For Your Smaller Functions!
BY Chandni Kumar | 26 Nov, 2018 | 5101 views | 7 min read
I am sure that you must be paying a lot of attention to your bridal lehenga, jewellery and the beauty care sessions that will help you to look ultra-gorgeous on your wedding day. If you're thinking to dance the whole night by wearing those heels or kicking them off at the end of your sangeet party then wait for a second girl! How about we tell you that you can wear your wedding shoes without taking them off and be extra comfortable on your occasion? Sounds like a dream, doesn't it? 
Juttis are one of the most comfortable flat shoes available, and they are formal enough to wear for your sangeet or mehendi functions! So, we curated the best pair of flat juttis under Rs. 5k that will be super-duper perfect to wear on your wedding celebrations.
Needledust
If there is one name that comes to my mind while thinking of juttis for brides, then it is surely Needledust★ 4.6 . Located in Delhi NCR, this venture believes in reinventing & redesigning wedding juttis for its brides-to-be. Handcrafted by India's finest artisans, they specialise in leather juttis and have other varieties in pretty colors with clean curves and prints, and finished in good quality.
And if you think whether it's a good enough brand to buy or not, well, they were #DeepVeer's choice & recently Sophie Turner also wore them at Priyanka & Nick's sangeet! The couple chose Neeledust juttis and distributed these GORG golden & silver juttis as Mehendi favors to their guests. 
Ranging from: Rs. 2,700 & onward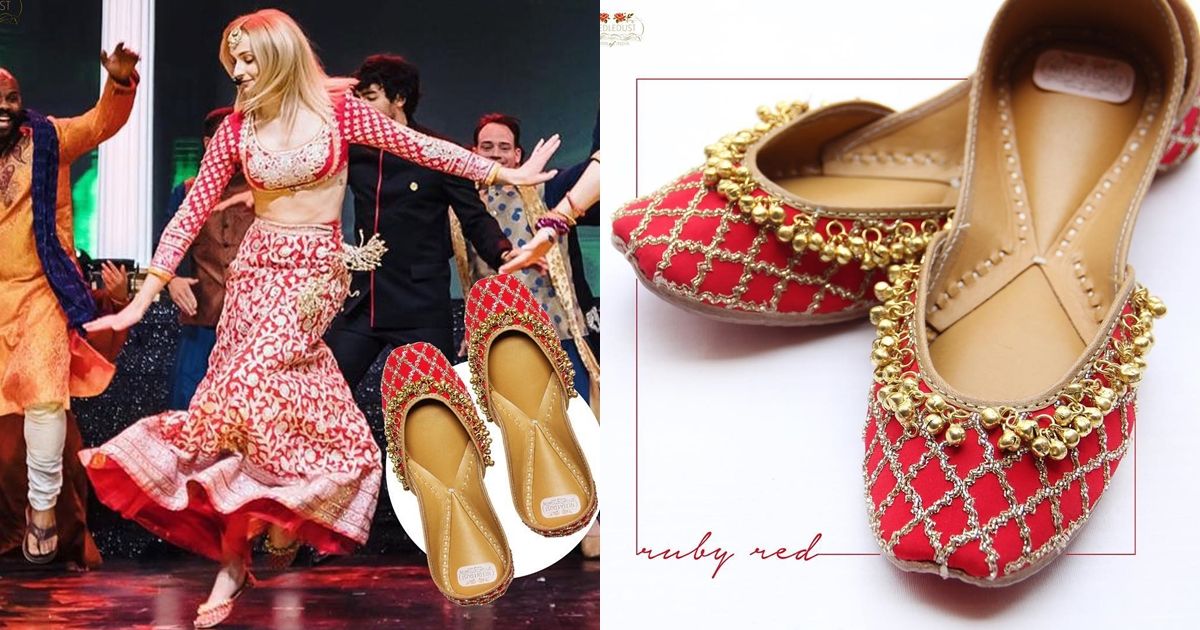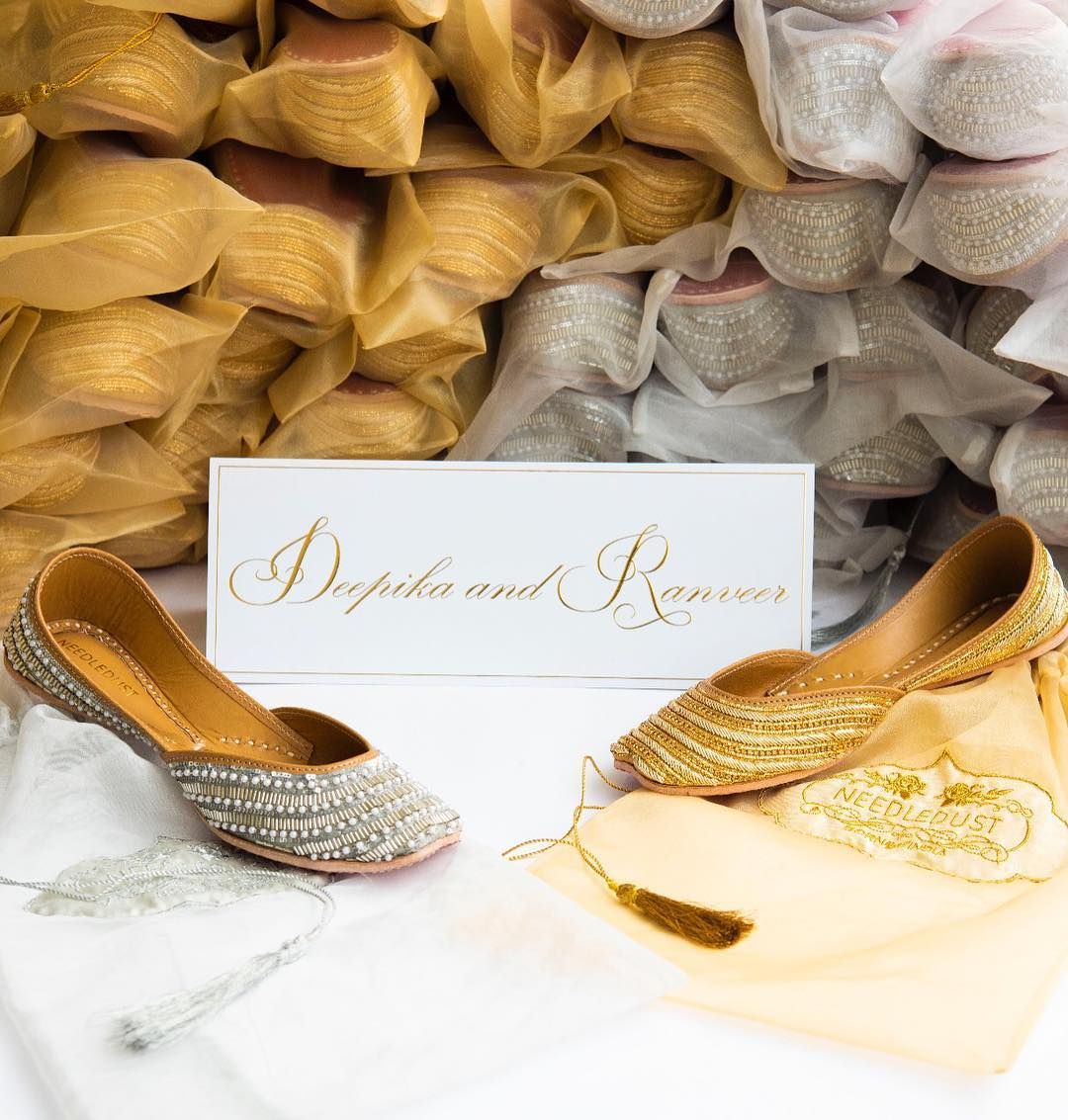 Photo Courtesy: Needledust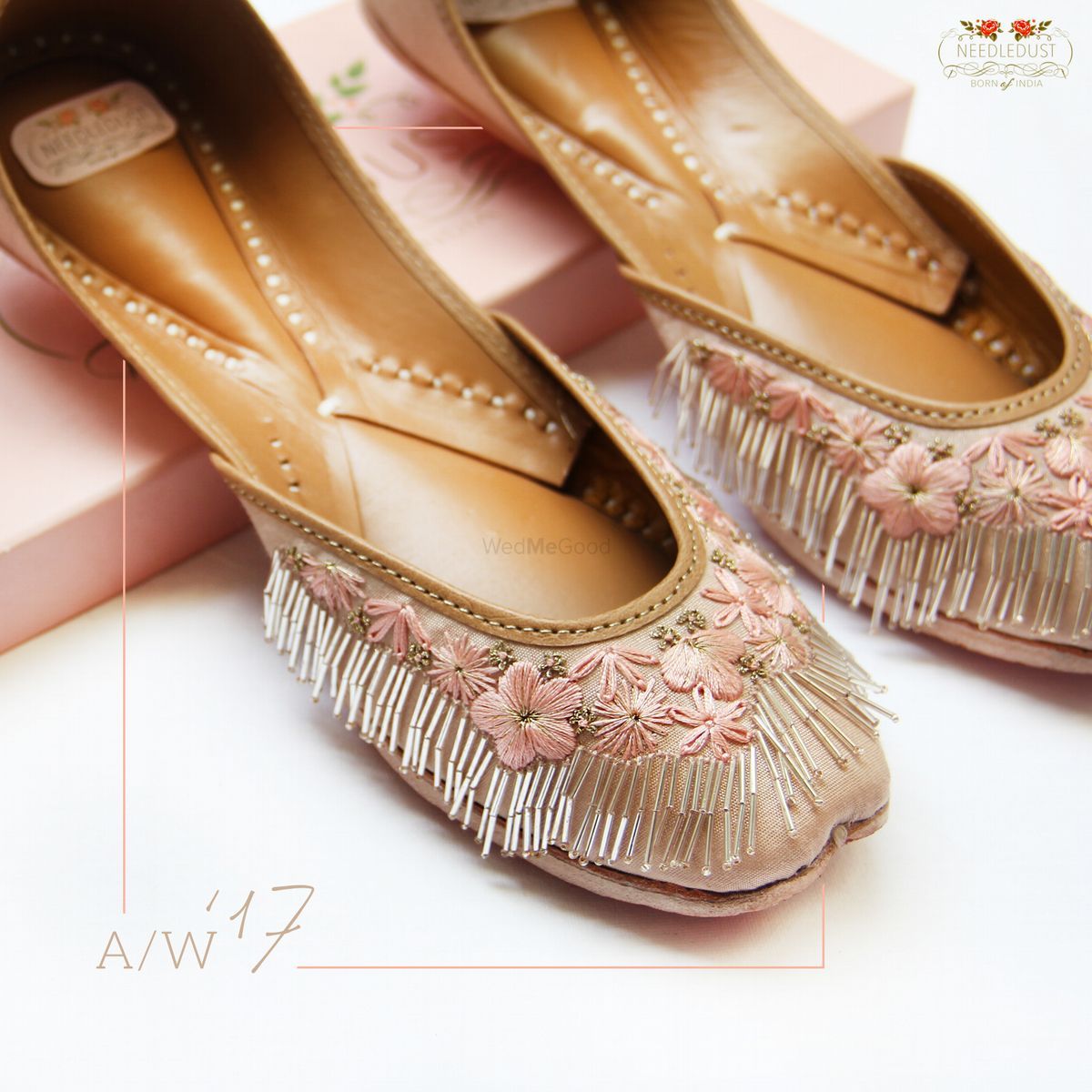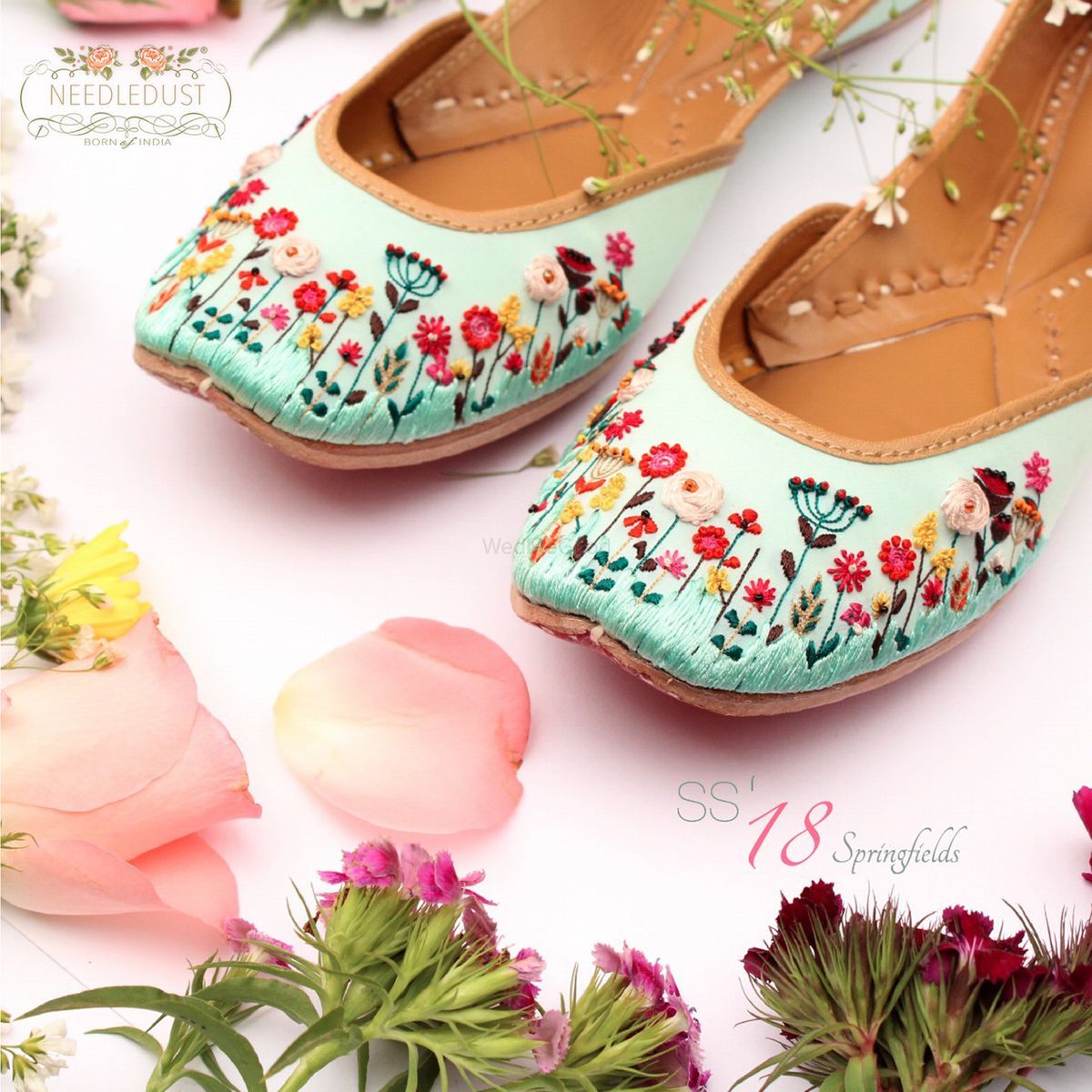 Photo Courtesy: Needledust★ 4.6
Fizzy Goblet
Are you a bride who doesn't get satisfied so easily? Fizzy Goblet in Delhi NCR has a range of collections of bridal juttis that suit the taste of every type of bride. From frills to mirror work and from hand embroidered motifs to textured silk juttis this venture is a wonderland to get your footwear at reasonable prices. Coming in varieties of colours, patterns and textures, these juttis are perfect for your mehendi, sangeet and even your wedding day. Not only this, Fizzy Goblet is also popular among the Bollywood divas who were spotted wearing juttis of this brand! Inspiring, right? 
Ranging from: Rs. 2,800 & onward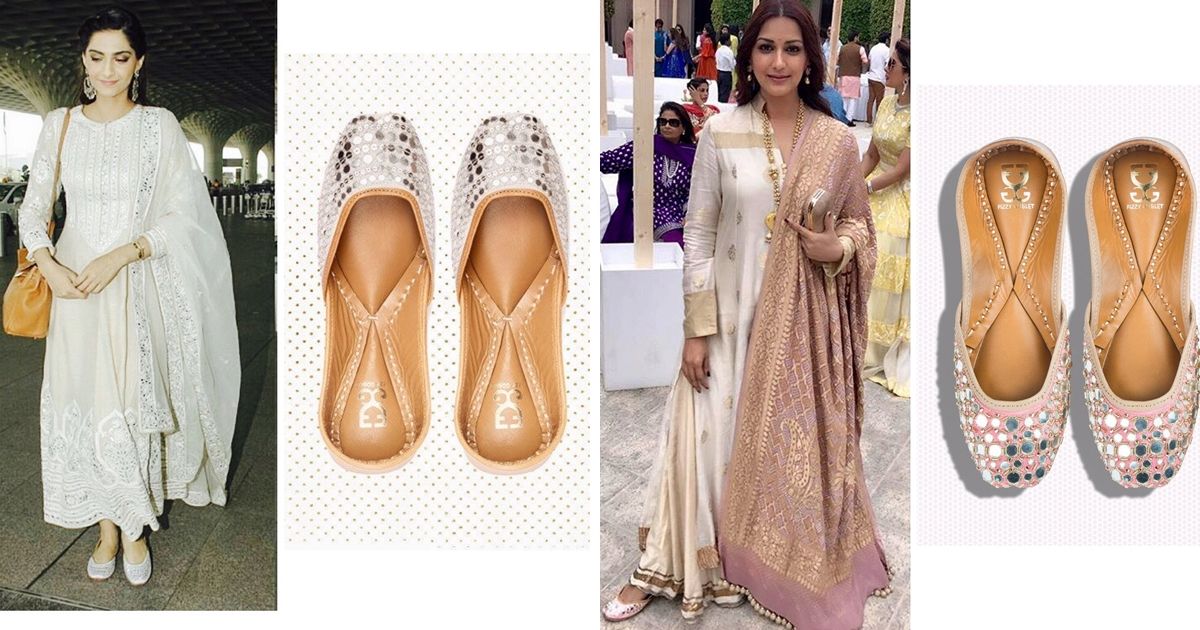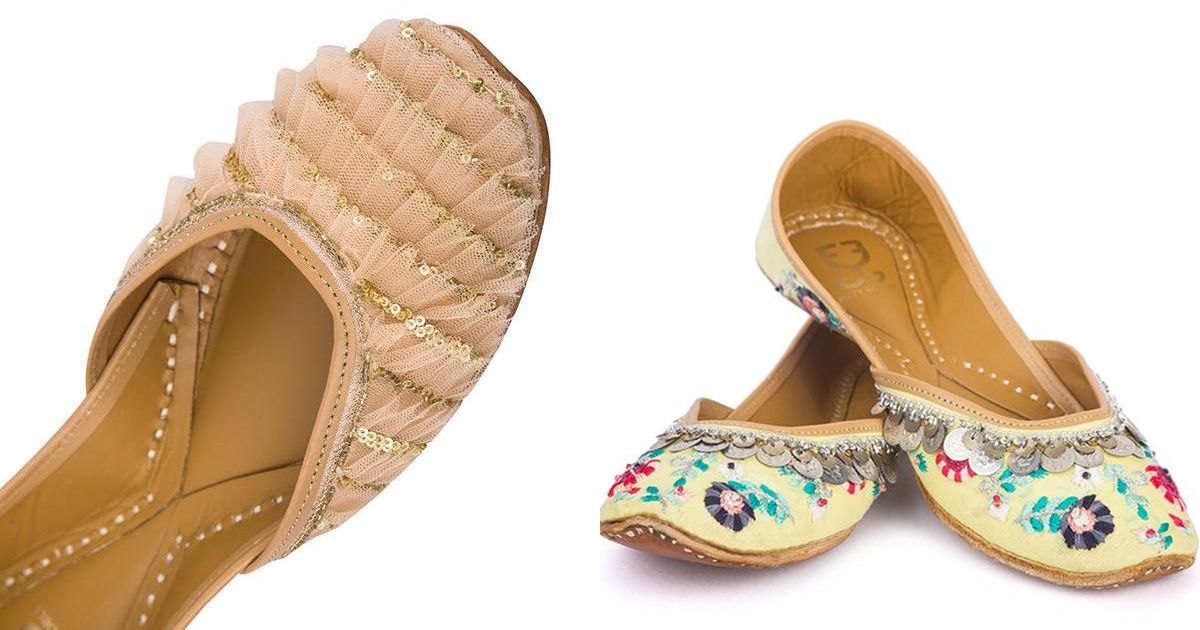 Photo Courtesy: Fizzy Goblet
 Sole House
Artistry, jeweled shoes with bright colors & bold embroidery defines what Sole House★ 5  is. If you want to add some fun & fashion to your shoe-drobe, then this is a place to dive in Delhi NCR! Always reinventing and breaking the conventions they have quirky shoe designs like 'Pataka Dukhan' that looks uber-cool for a mehendi function. Delivering your juttis in pretty packed special boxes to ensure a unique buying experience for their customers, they also have super-talented karigars who put their heart & soul to give you a comfortable feel by wearing Sole House juttis!
Ranging from: Rs. 1,600 & onward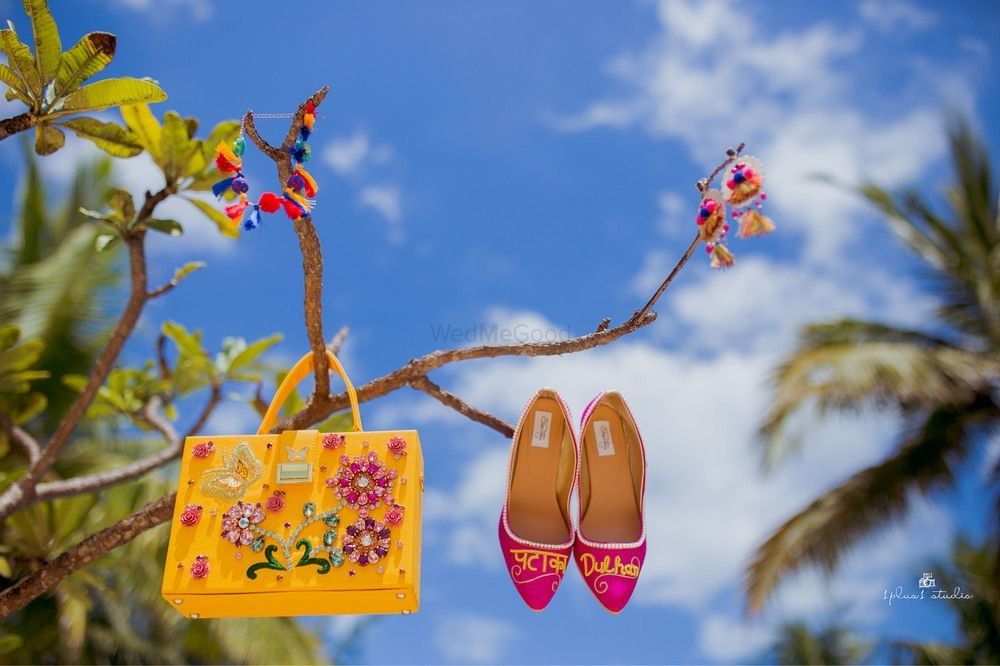 Image via: Bhavya & Teja's Real Wedding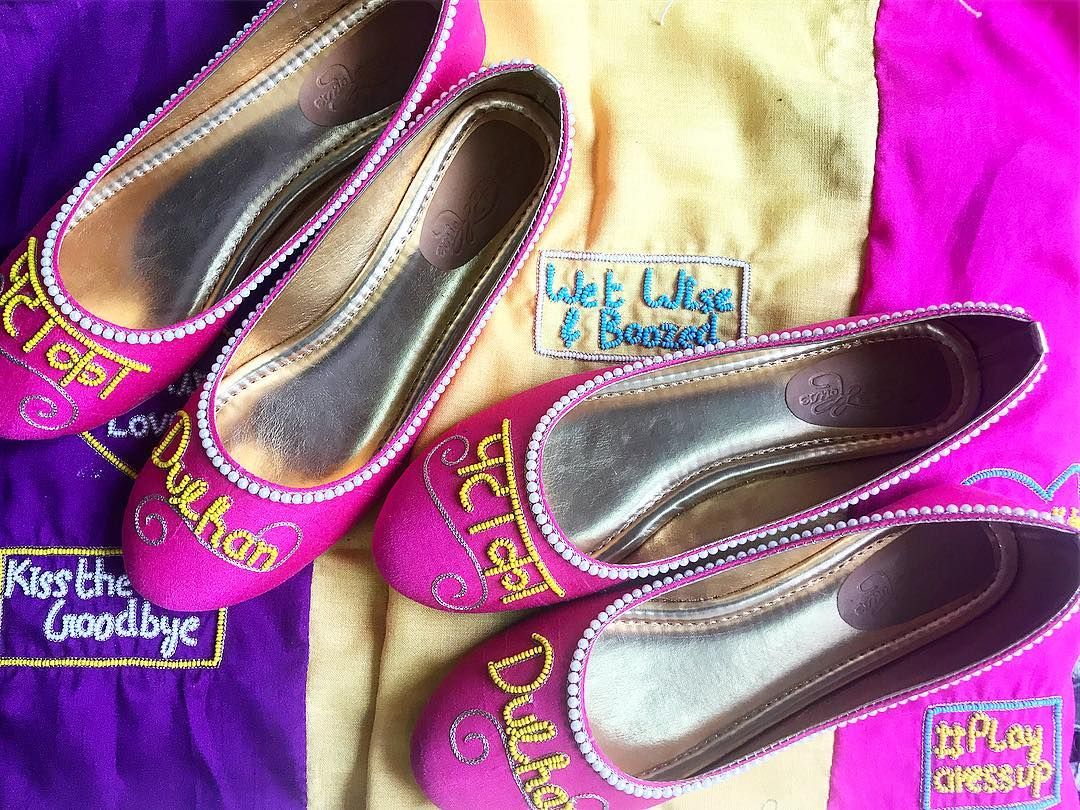 Image via: I Heart Sole House
Coral Haze 
Want to land to a place where you want to be spoiled for choice for fabrics and hues from a wide collection of footwear? Be it matching your wedding shoes with your lehenga or wearing a similar shade with your mehendi suit or dancing all the night on your BFFs wedding with comfortable juttis - Coral Haze★ 5  is a popular brand of Rida International that offers designer handcrafted Punjabi juttis for brides-to-be as well as bridesmaids. Their collection of juttis ranges from digital prints, hand-painted patterns, ornamentation, embellishments and hand embroidered footwear. 
Also, not to forget to mention that this venture is famous for its Victorian prints and fusion designs & guarantees that their high-quality fabrics and thread won't lose texture or colour throughout life.
Ranging from: Rs. 2,000 & onward


Photo Courtesy:  Coral Haze
 House of Vian
Handling each shoe with utmost love and care, House of Vian is a glamorous retail company that specialises in handmade shoes exclusively for women. They ensure that each woman who buys a pair from them feels special, feminine, elegant and attractive. This is one such venture where you would expect perfection on each cut, stitch, thread work, color and fabric and that is what makes it so unique from other brands. Famous for its distinctive styles, House of Vian believes in giving the best to its brides, with their quality and fine craftsmanship for wedding shoes!
Ranging from: Rs. 1,000 & onward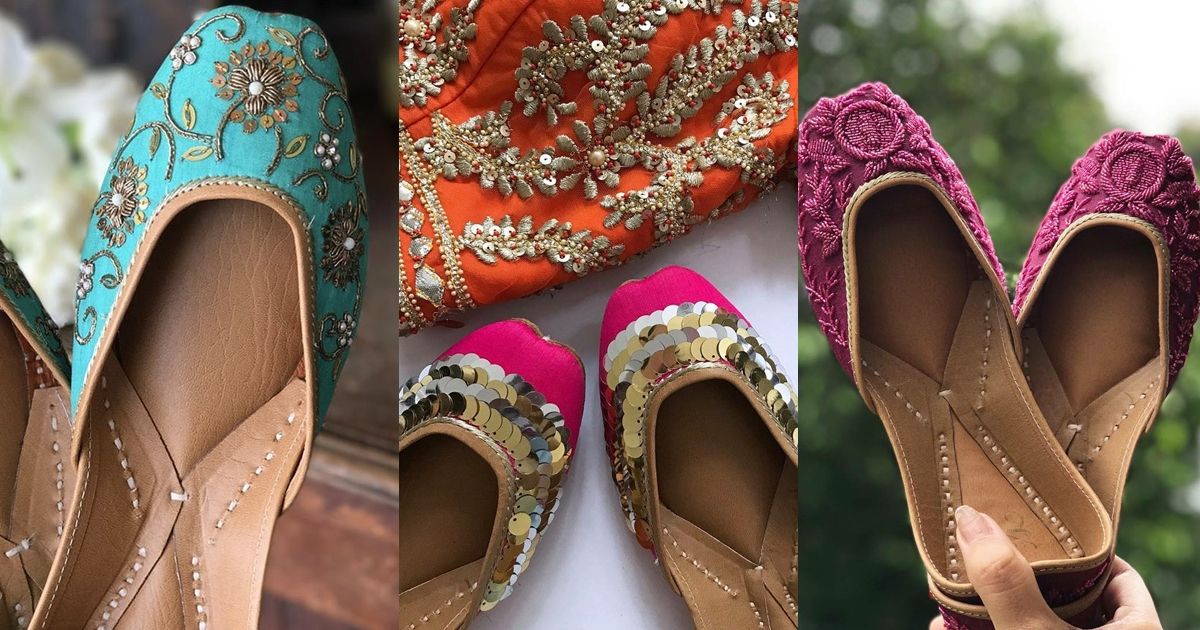 Photo Courtesy: House of Vian
Love For Jutti
Want to customise your bridal jutti? Love for Jutti★ 4.5 is your one-stop-shop for footwear that has gorgeous pearl studded shoes, watercolour juttis and 3D bird motifs that will make your feet look cute and elegant.Ccustomising to your needs and requirements they make the bridal juttis from scratch and present it in the most different way.
Ranging from: Approximately Rs. 1,000 & onward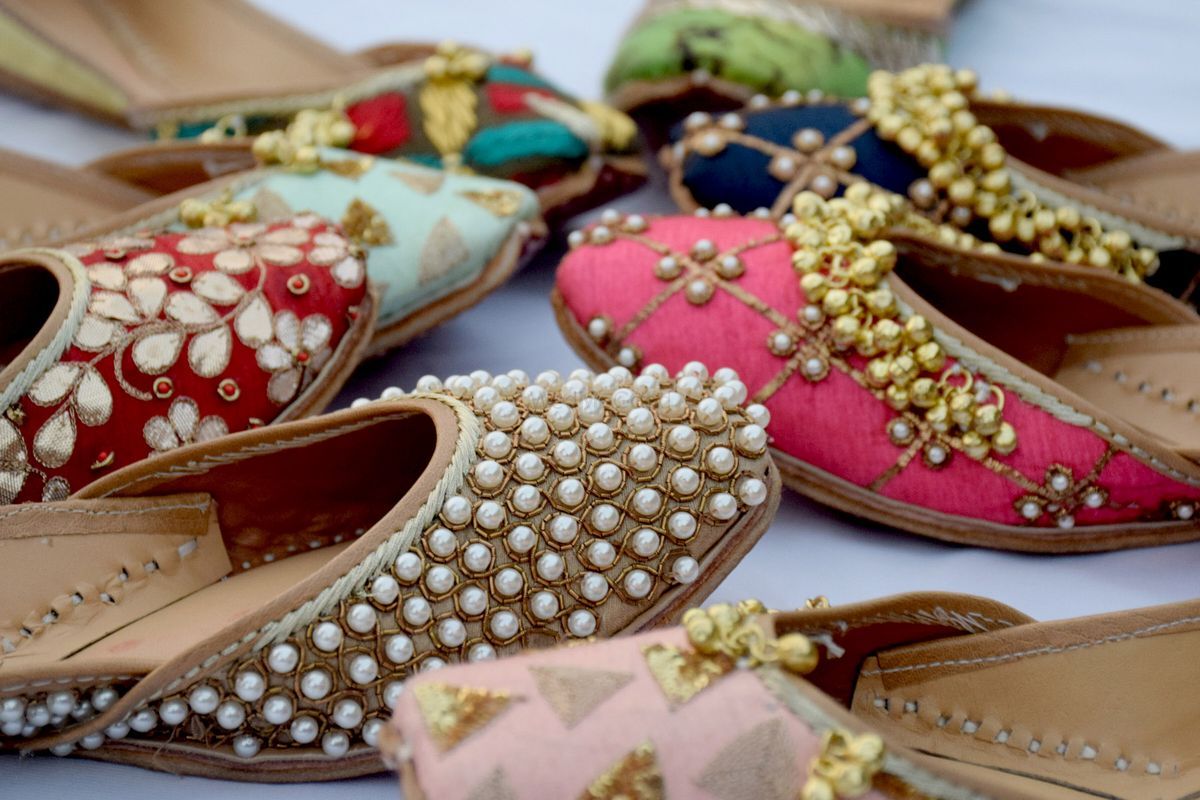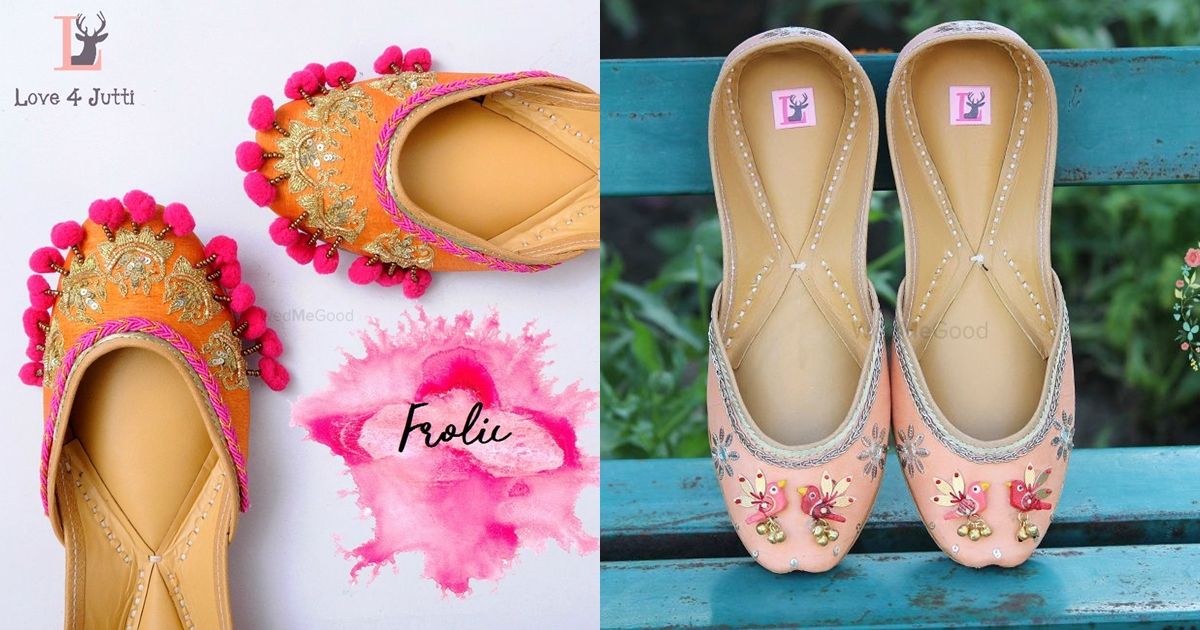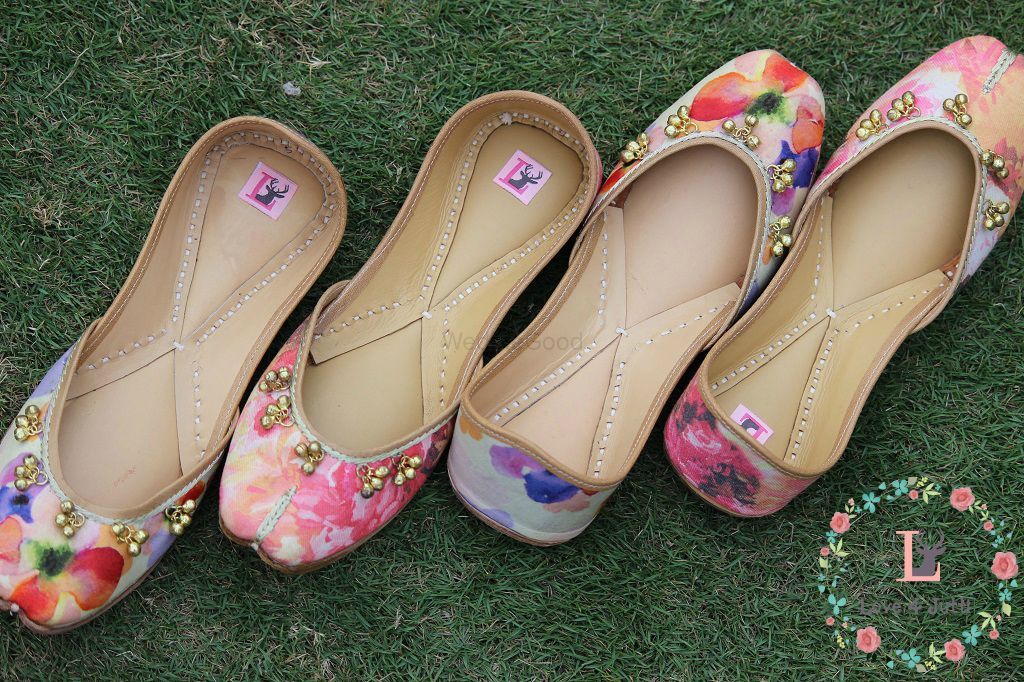 Photo Courtesy: Love for Jutti★ 4.5
 Desidora
Want to ditch heels and wear something comfortable on your wedding day? Desidora★ 5  is one such shop in Jodhpur that believes in creativity & imagination. Specialising in leather juttis & bridal mojaris they create their pieces from an intricate handmade method and selective embellishments. Their juttis can be perfectly worn for mehendi(with dhoti pants) & sangeet (with lehenga)! So, if you're in Jodhpur hop-in to this dreamland of footwear!
Ranging from: Approximately Rs. 1,000 & onward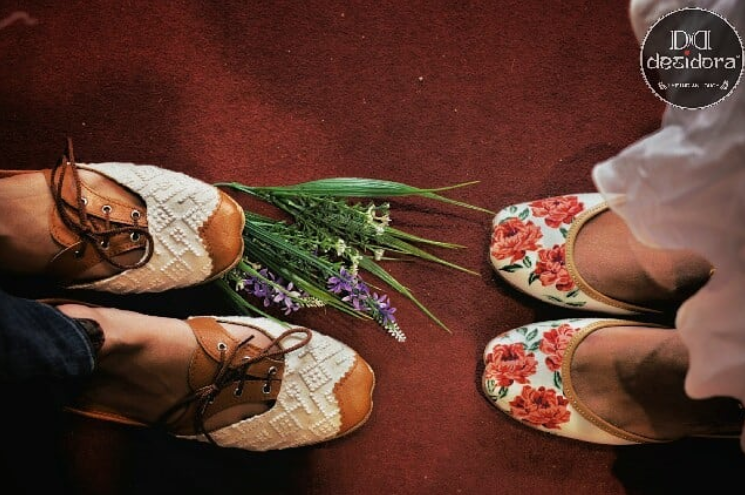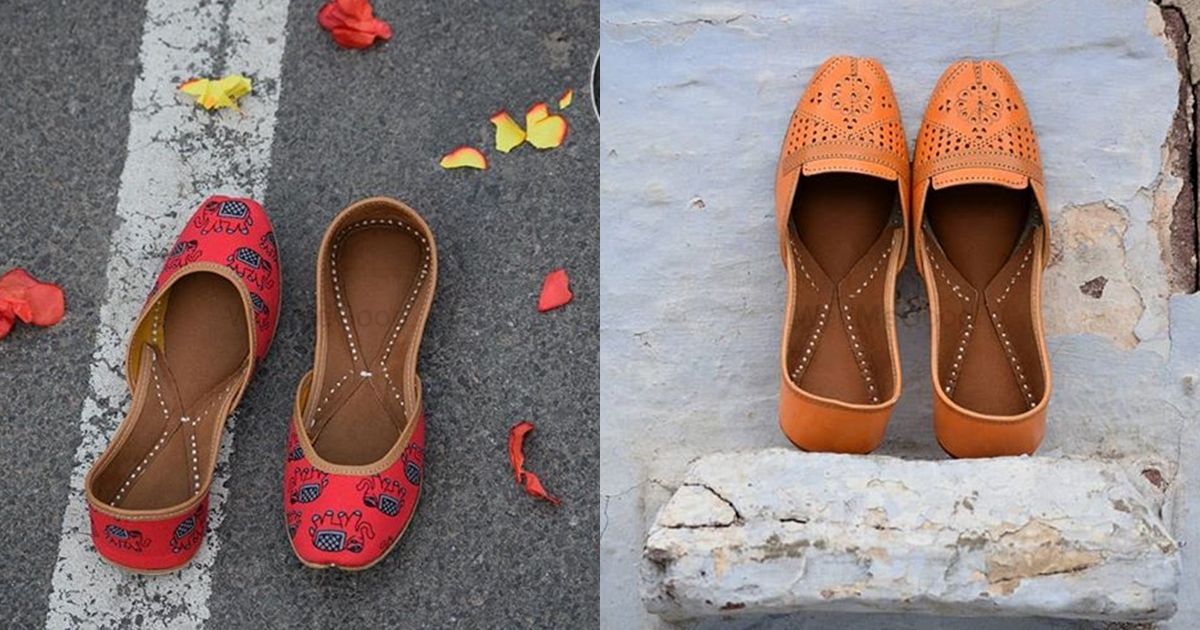 Photo Courtesy: Desidora★ 5
 Cilvana Studio
Have a theme for your wedding, mehendi or sangeet? How about we tell you that you can pair your juttis with your wedding theme? Crazy, right? Cilvana Studio★ 5  is a famous footwear brand in Srinagar, which gives their services in creating matching bridal juttis according to their client's functions and it's theme. Be it including beads, studded jewellery stones, printed or embroidered juttis and the sequencing - Cilvana Studios can make anything possible! So, adorn your feet with customised combo juttis that is perfect to wear with western & Indian outfits!
Ranging from: Rs. 899 to 3,000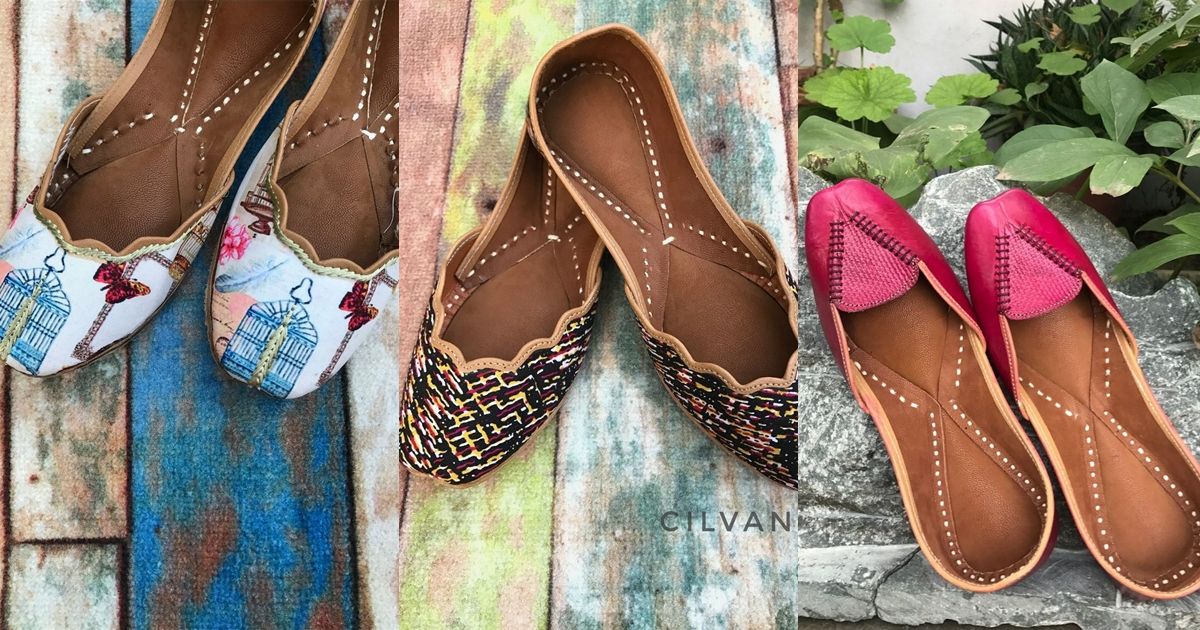 Photo Courtesy: Cilvana Studio★ 5
Saanvi By Sambhy
Wish to wear luxurious juttis at affordable price? Saanvi By Sambhy★ 5  to your rescue! Specialising in handcrafted accessories by some of India's finest artisans, they provide innovative designs & sophisticated juttis that made with the finest quality material. From dazzling embellished bags and minaudieres to flat juttis they have a collection that you can wear with every outfit. Being into this industry for more than a decade they have gorgeous floral & jewel embedded juttis, which looks classic to wear on nuptial ceremonies! Bonus: In case if you want to match everything you can also pick their fluorescent silk embroidered clutch or beautiful kundan jewellery that will go well with your outfit and footwear!
Ranging from: Rs. 3,200 & onward

Photo Courtesy: Saanvi By Sambhy
Pastels and Pop
Having your wedding in Bangalore? We have a place for you where you can get mind-boggling footwear that will make you go crazy! Specialising in Punjabi juttis Pastels and Pop★ 5 collection blends of vintage and modern designs where each piece of a shoe is embroidered & stitched together and you can definitely adorn your shoes later from the rack. Embedding the heritage in their shoes that are passed on from generations, this venture uses age-old techniques where one can see the reflection of an Indian culture blended beautifully with contemporary patterns.
Ranging from: Rs. 2,100 & onward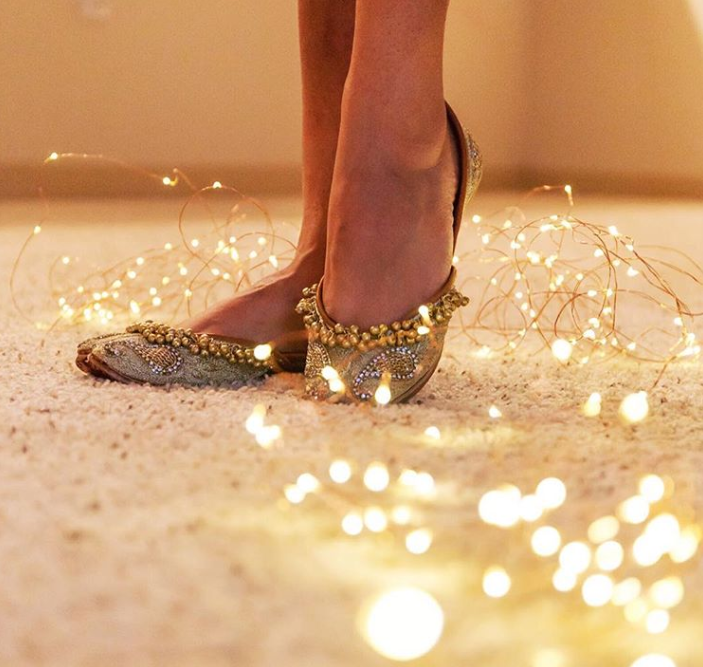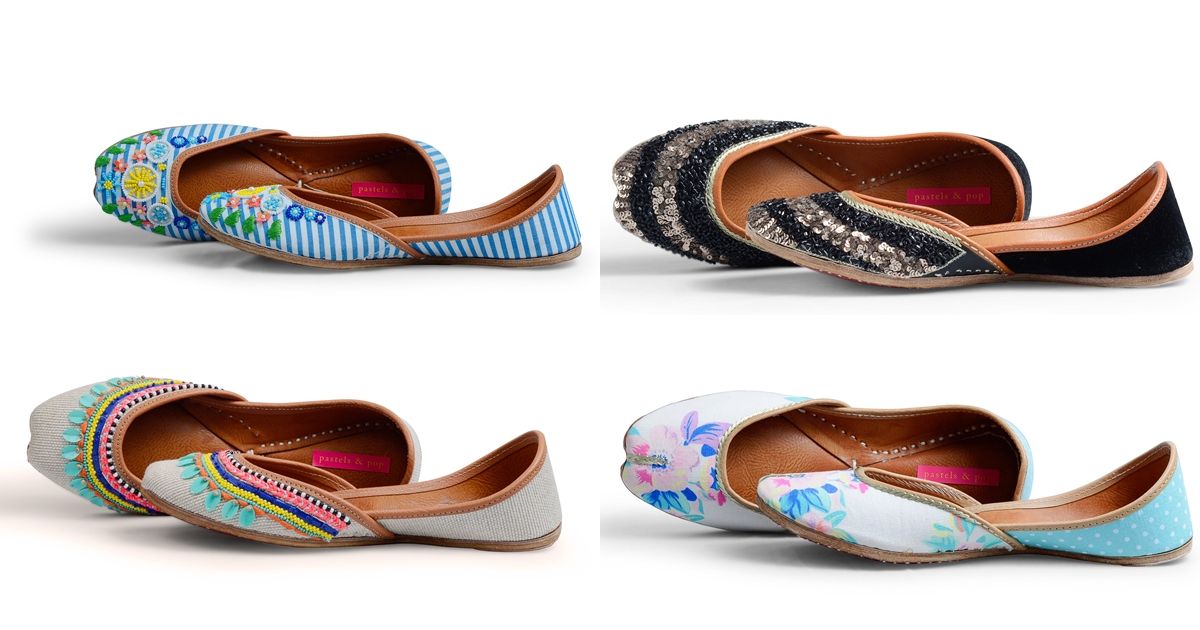 Photo Courtesy: Pastels and Pop
Bellwether
We won't lie but when it comes to juttis don't you just want to pick Punjabi or phulkari juttis for your mehendi and sangeet? Studded with cute jewellery pieces with unique designs & colorful embroidery - Bellwether★ 5 in Chandigarh believes that every woman deserves the luxury to dress up and wear the latest trend but with its roots in traditional Punjab. Be it pairing them up beautifully with a Phulkari suit or Patiala suit, wearing Bellwether can surely change your personality from head to toe!
Ranging from: Rs, 1,000 to Rs. 5,000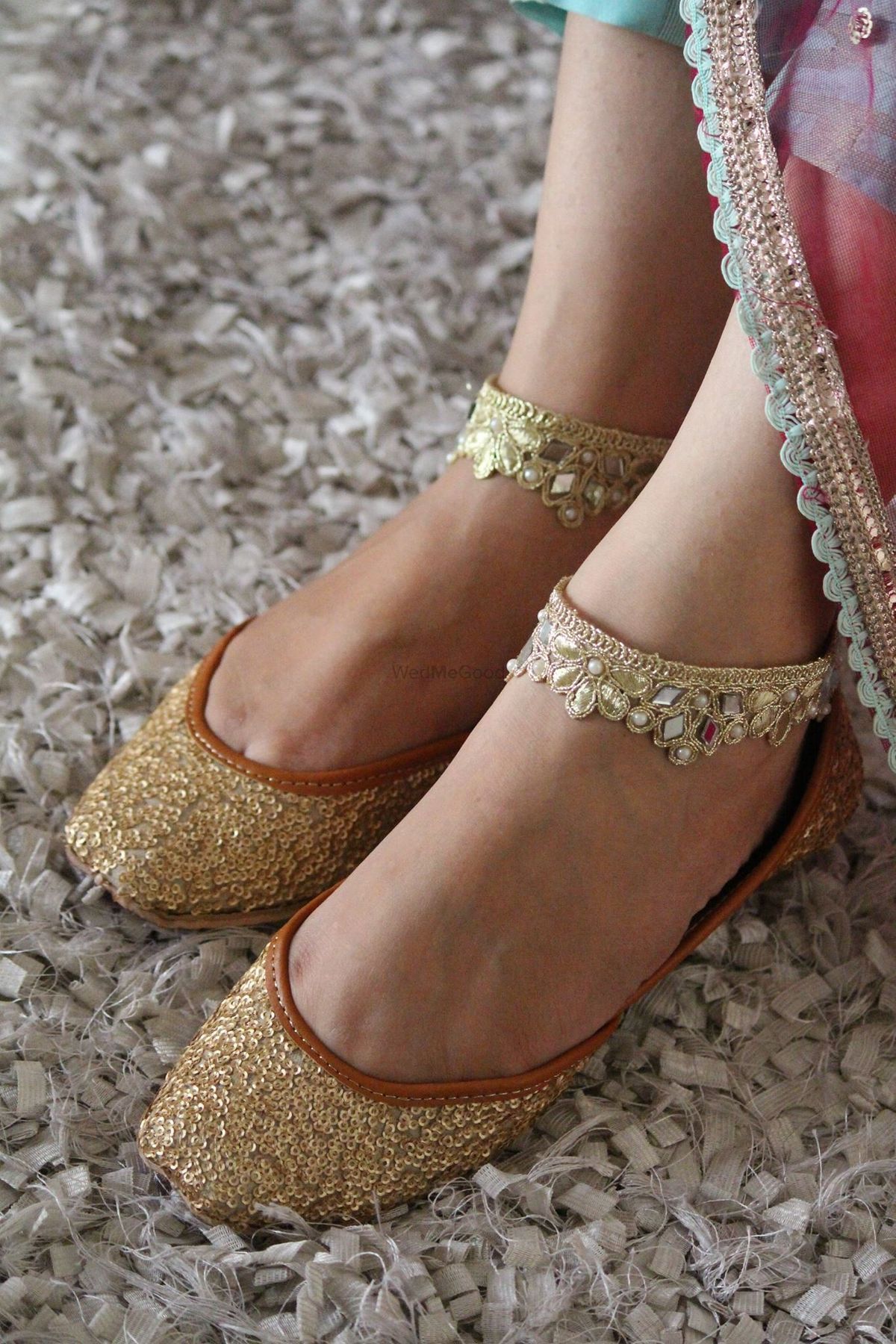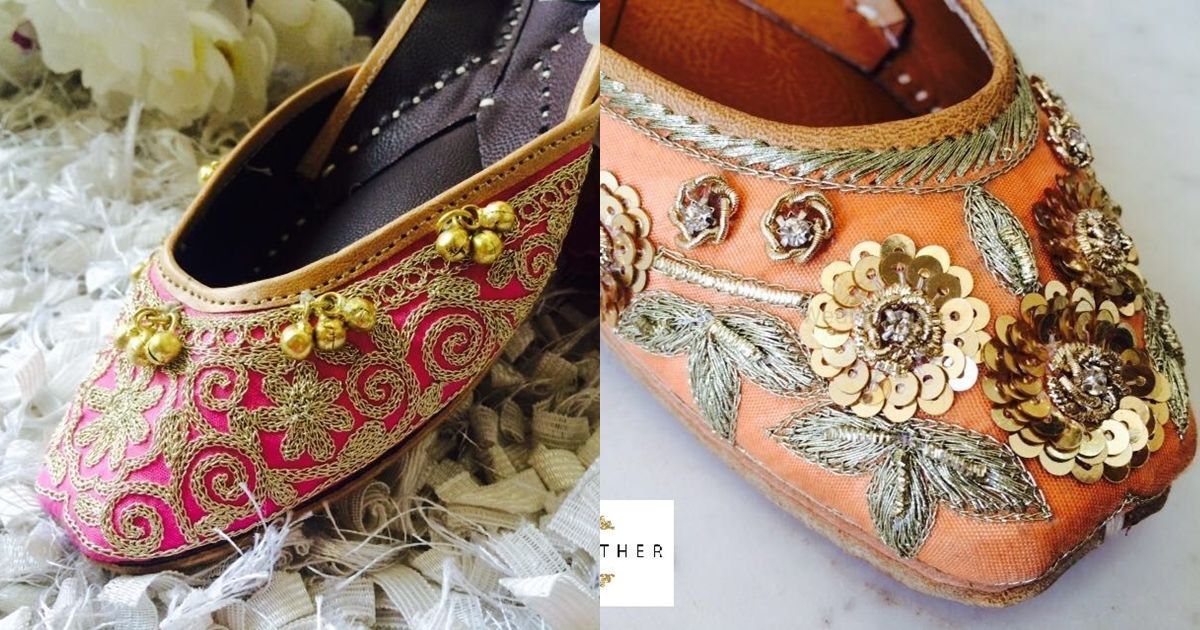 Photo Courtesy: Bellwether★ 5
Rustic Tilla
Rustic Tilla based in Ludhiana has varieties of footwear that are perfect to wear on your mehendi, sangeet and even on your Sikh wedding! Adding that oomph factor in their bridal juttisthey specialise in phulkari juttis that have intricate embroideries and looks perfect with a Punjabi suit or Indian ethnic outfits and yes gives you a great comfort to dance the whole night!
Ranging from: Rs. 1,100 & onward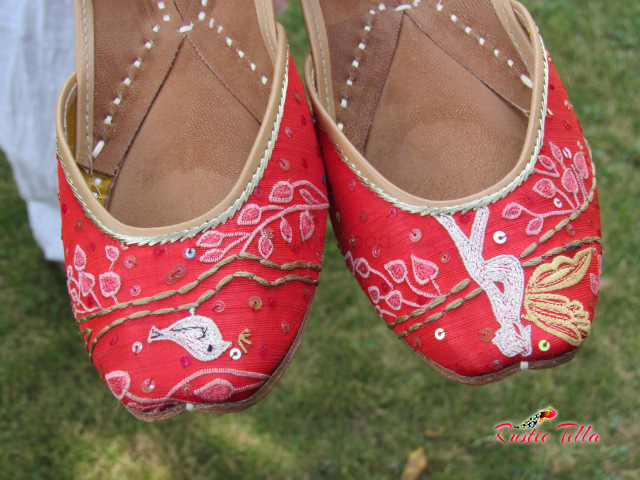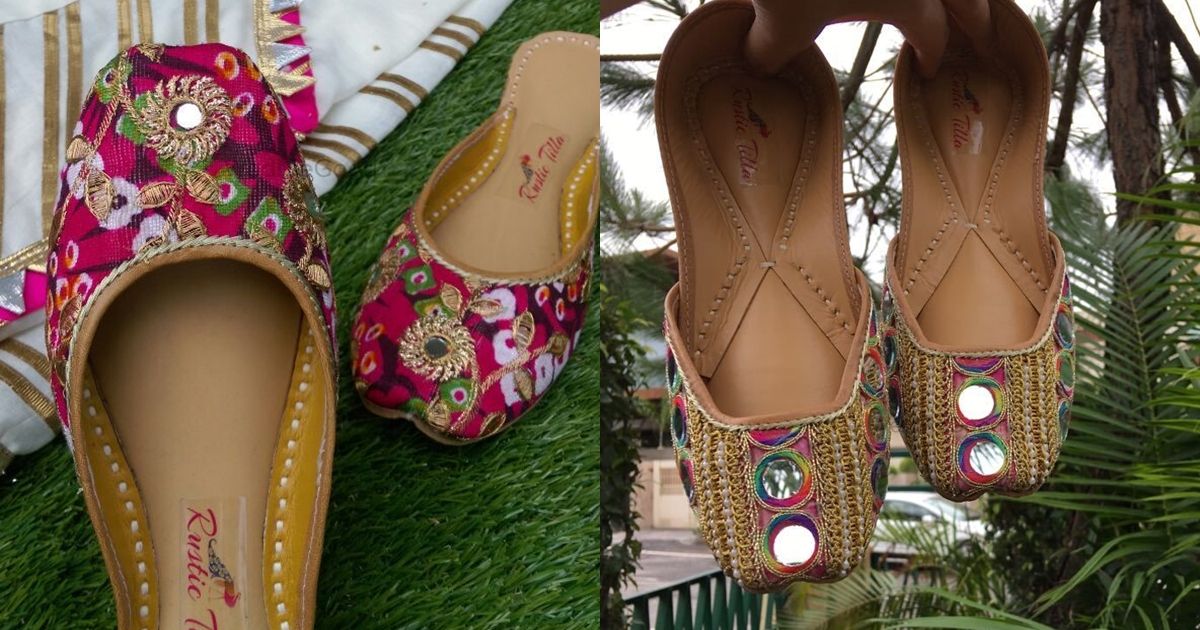 Photo Courtesy: Rustic Tilla★ 5
 So many pretty juttis for mehendi & sangeet fucntion, right? Which all flat juttis will you prefer to wear?