How To Have A Sangeet With Only 100 People!
BY Anupriya | 13 May, 2020 | 2553 views | 4 min read
The recent relaxation after unlock 4.0 that allows a gathering of 100 people at weddings September 21, 2020 onwards has indeed brought a sigh of relief to our to-be-wed couples! At least its easy to include 100 people at the wedding as compared to 50- but social distancing and precautions should be take care of even more. Although cutting down on the guest list is surely giving families a hard time, they've somehow come to terms with it, and are continuing their preparations in full swing. While some are on their unending hunt for a suitable wedding venue, others are struggling with ideas for their intimate Sangeet ceremony. And this is when we come to the picture, being the ultimate wedding guide!
Planning a 100 people wedding? Download the free WedMeGood app to plan everything!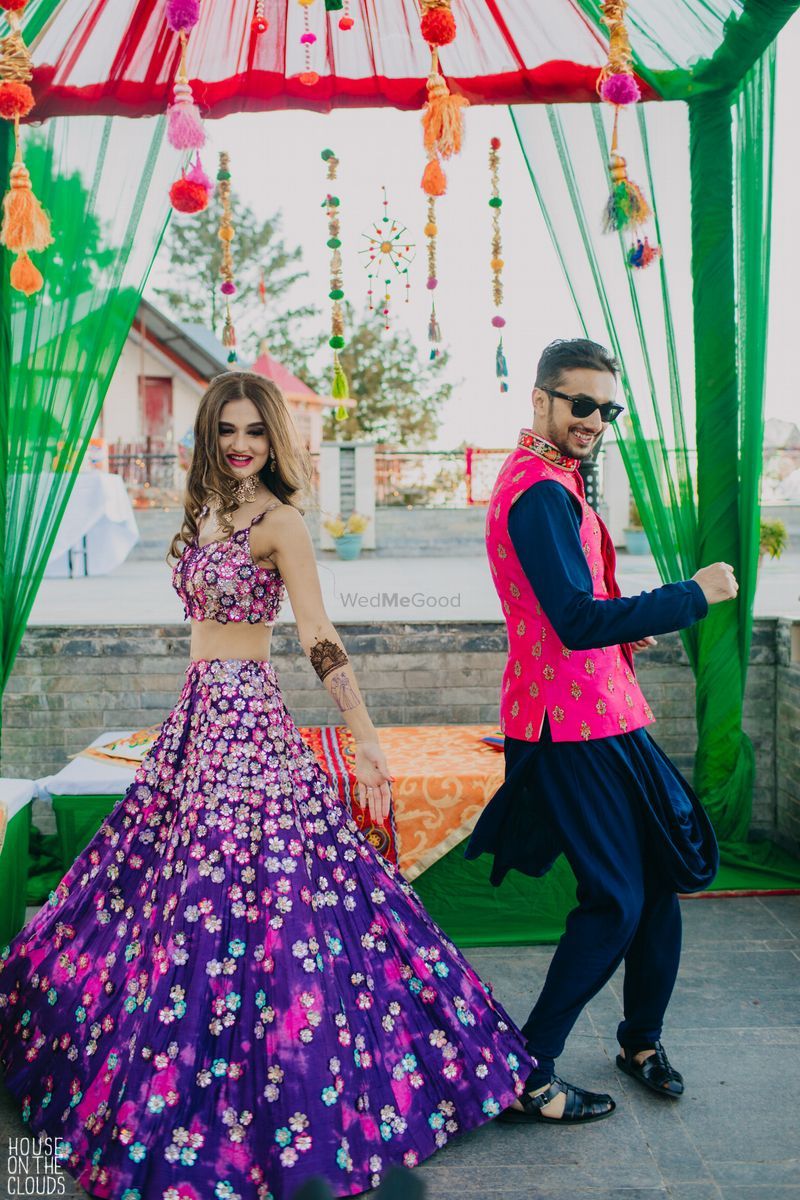 Image via Ishita & Aman
Just how we aided you all on how to get the e-pass for movement (for a social-gathering), we're now going to help you plan your Sangeet with a cap of 100 guests amidst the Covid-19 pandemic. Of course, you won't be able to execute your Bollywood movie-like sangeet dance anymore, but we have some alternate ideas in store for you. Scroll through & take notes!
Dance offs for the win!
What if you couldn't put together a blockbuster dance choreography with your squad, you can now have on-the-spot dance face-offs with the ones who attend your 50 people Sangeet! Go the old-school way and prepare chits with your guests' names written on it. Pick two at a time, and have them to show off their groovy moves! This acitivity won't only help you identify the hidden Shakti Kapoors & Hrithik Roshans in your fam, but also keep your guests engaged for long hours!
Heart-felt speeches are always a great idea!
Don't want to go the usual way? Plan a sit-down sangeet setup, and let everyone speak their heart out about the couple in their speeches. This fun activity will surely make you go down the memory lane, and reminisce all the happy moments spent with your near and dear ones.
How about a night full of games?
To add some more fun & frolic to your sangeet shenanigans, plan a few games to keep everyone indulged until the end. Putting your e-games aside for some time, plan some entertaining games that get your guests dancing, singing or spilling their creative fluids on the table. It could be an interesting game of Dumb Charades, a musical session of Antakshari or an exciting 'Draw and guess the element' activity.
Organise a virtual master class for all your guests!
Since virtual masterclasses have become a major hit these days, why not have one organised for your guests? However, make sure you take your guests' interests into consideration, and plan a session accordingly. It could be a virtual DJ session, a rock concert, a makeup session for the ladies or a live looping session for one and all present.
Put up a quirky photobooth!
Who doesn't like getting clicked? From elder ones to kids, everyone thoroughly enjoys being photographed. And when there is a beautiful photobooth/photo backdrop with some fun and jazzy props, there's no stopping at all. Hence, you should definitely tick this off for your sangeet. In case you don't want to get a photobooth setup done, you can even DIY with a few props at home.
Plan an Awards Night!
If you belong from a typical Indian family, your life must have been no less than a KJO movie itself. Which also means, you would have met some really bizarre characters in your fam who deserve to be awarded for their awesomeness. So, treat this time as your golden opportunity, and turn your sangeet bash into an awards' night. Trust me, it'll be super fun!
Do you have more suggestions for a high-spirited sangeet for 100 people? Let us know in the comments below.