The Prettiest Jhoola Seatings We Spotted!
BY Sakshi | 24 Aug, 2021 | 10795 views | 6 min read
Do you really think that home wedding decor is all about keeping it extremely basic and minimal? If yes, then this post will surely burst that bubble. Off lately we spotted super gorgeous swings at the intimate wedding setups, which instantly turned around the look & feel of the ceremony. It's such a dreamy addition to the decor! Whether you opt for minimal or quirky, you can tweak the style to suit your theme.
And trust us, it'll effortlessly take your wedding photos to a whole new level. So, to brim you with just the right kind of inspiration, we have rounded up these enchanting swing chair ideas! Get, set and read on
Amp up your existing outdoor swing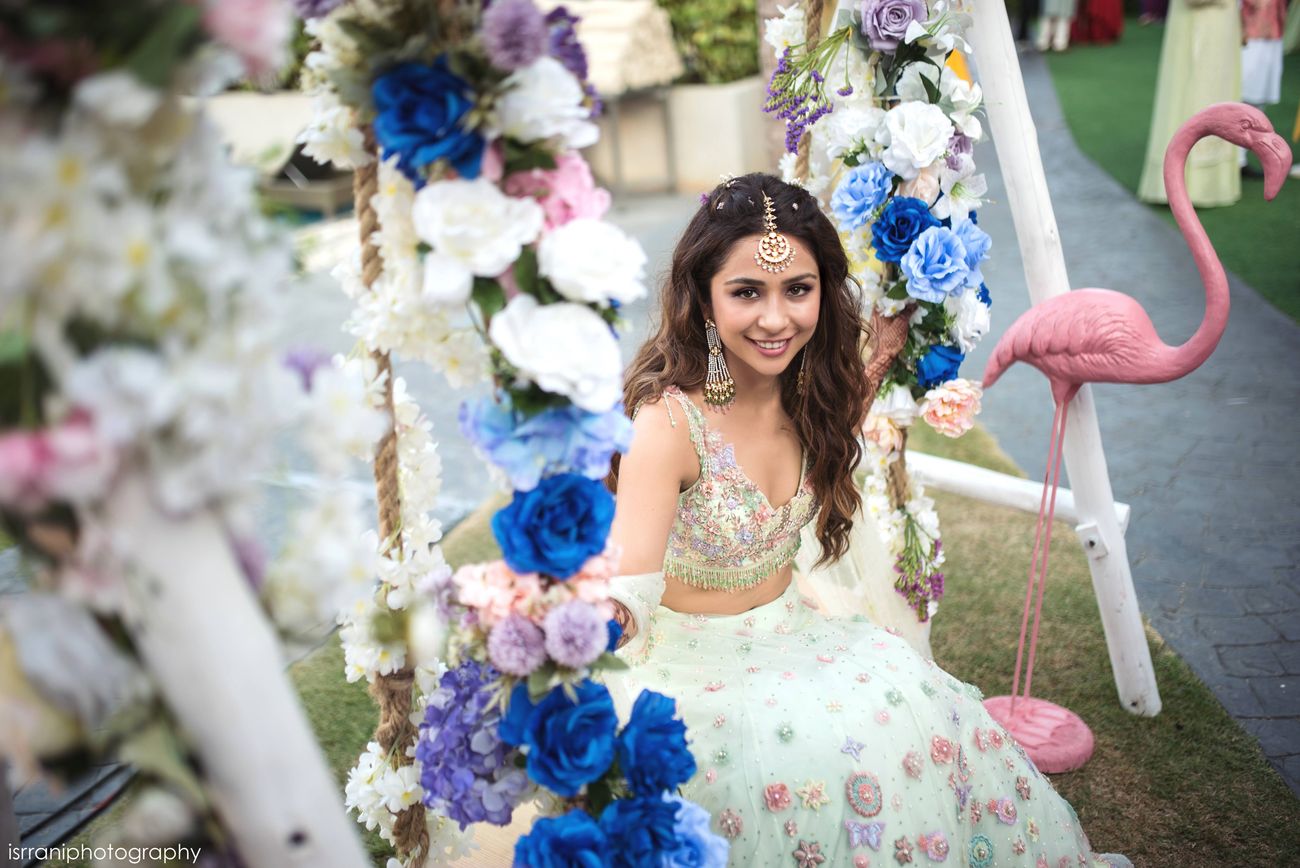 Image via Sonaakshi & Nikhil 
By suggesting, you add a swing to your intimate wedding, we're no way asking you to invest in one. If there's no decor team involved you can always get your existing swing adorned with dry flowers in offbeat hues, and tadaa a whole new setup for the bride's seating is ready in a jiffy!
Let 'em lush greens work their magic!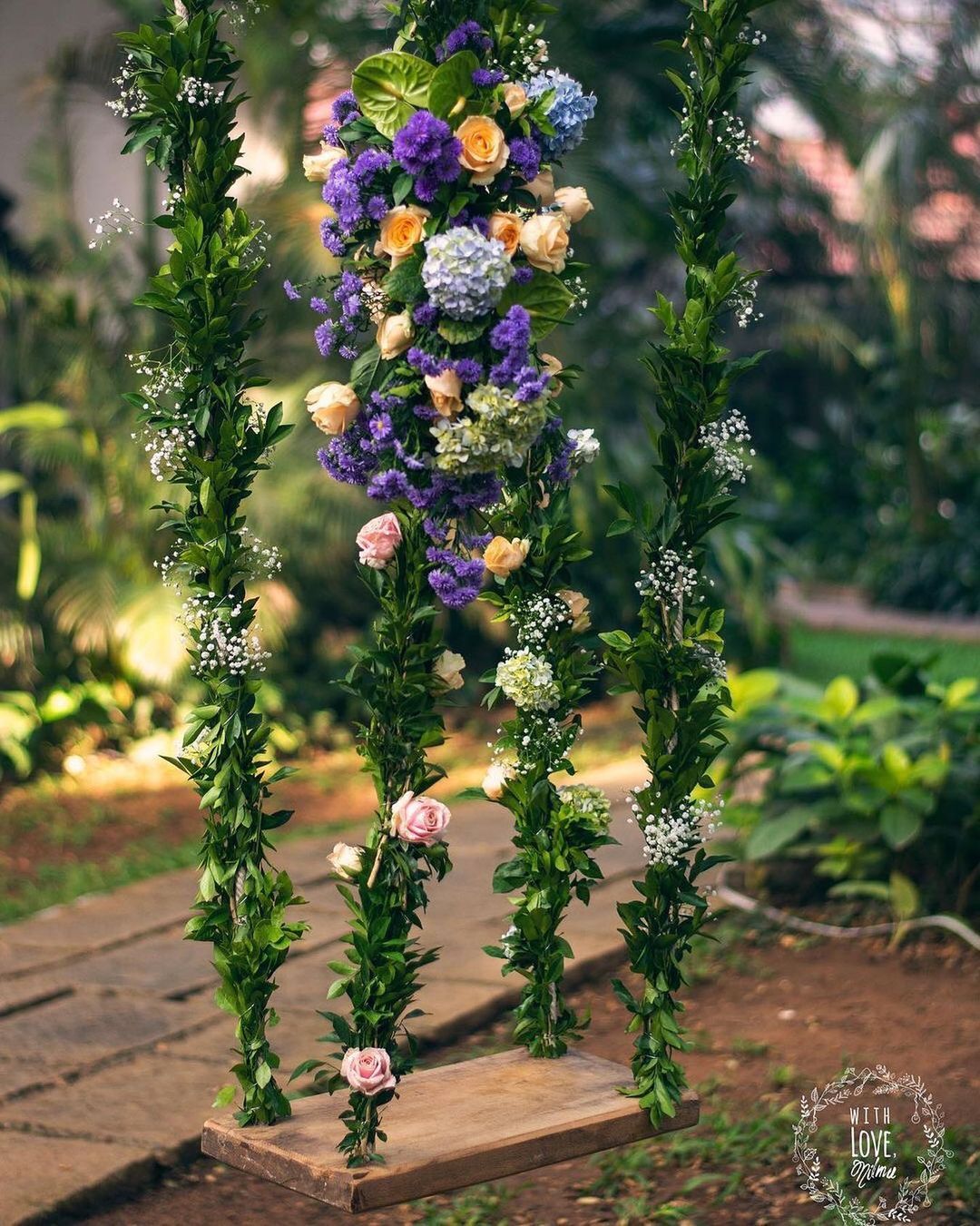 Image via With Love Nilma★ 5
Want to keep it refreshing yet picture-perfect? This bridal jhoola bedecked with fresh greens and pastel blooms is the one that won't leave you disappointed!
Bring your intimate wedding setup to life with these dripping garlands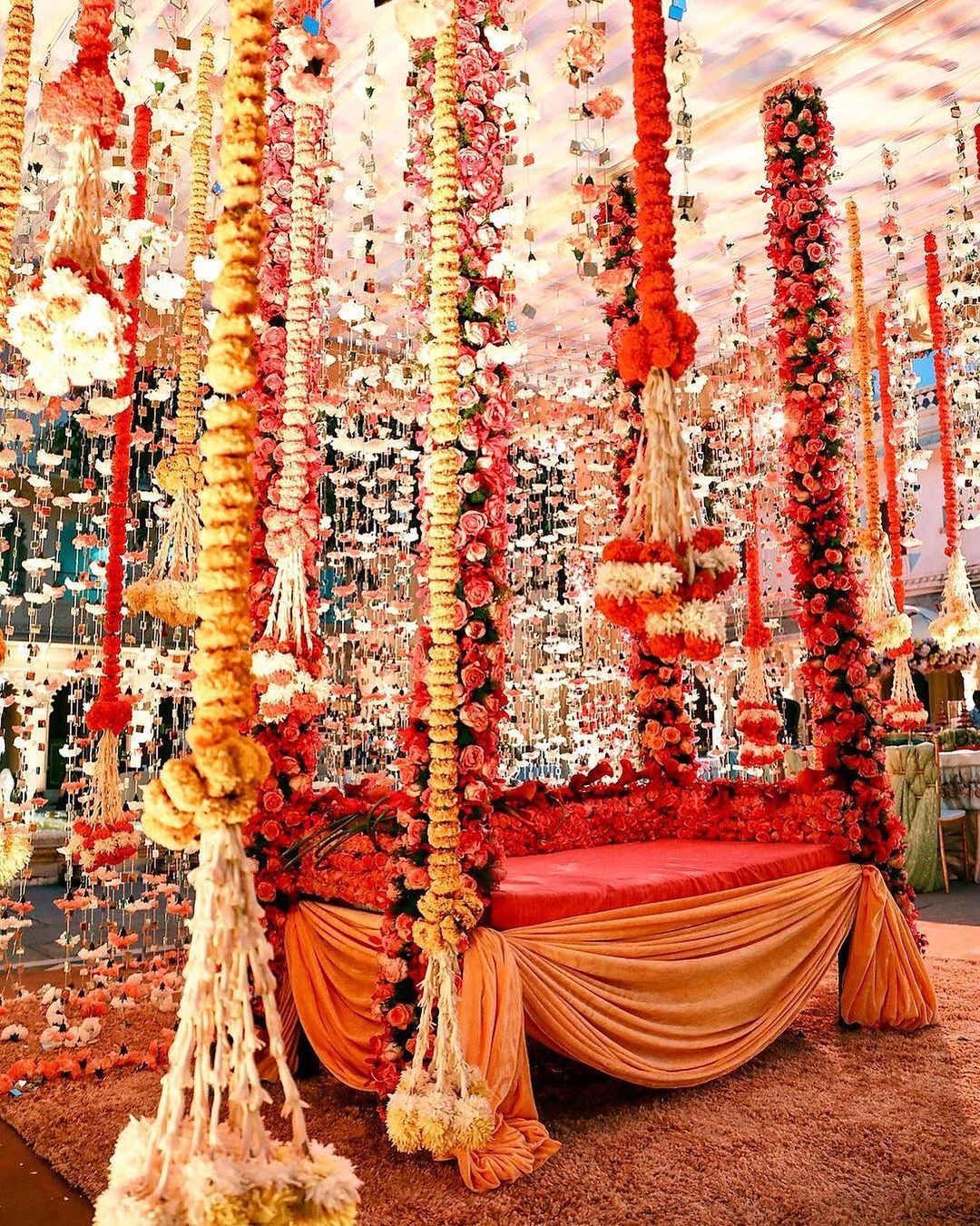 Image via @alibakhtiardesigns
By looking closely at this shot you'll realize how a basic swing chair is made 10x beautiful with cascading floral strings!
Love at first sight!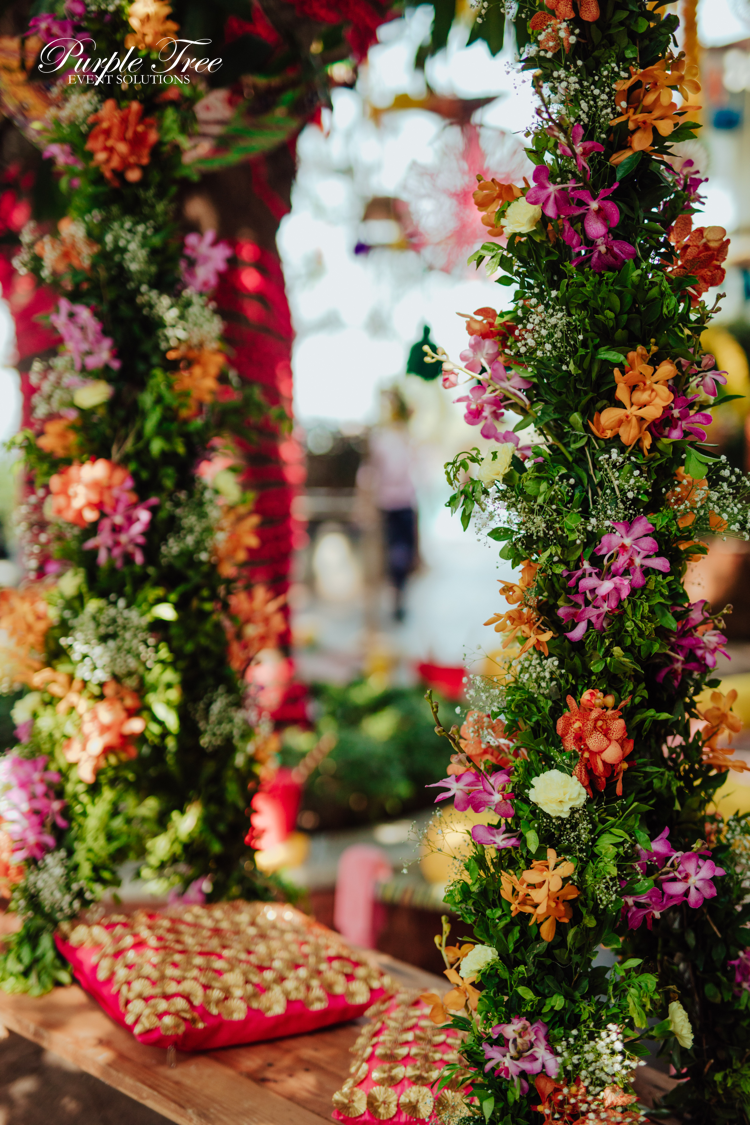 Image via Purple Tree Events Solution★ 4.9
Full marks to the tasteful play of colours used for this jhoola seating. From the vivid florals spiralling around the ropes of the swing to the standout cushion covers with gota work all over, everything added to the overall look and feel of this seating.
Bohemian dreams!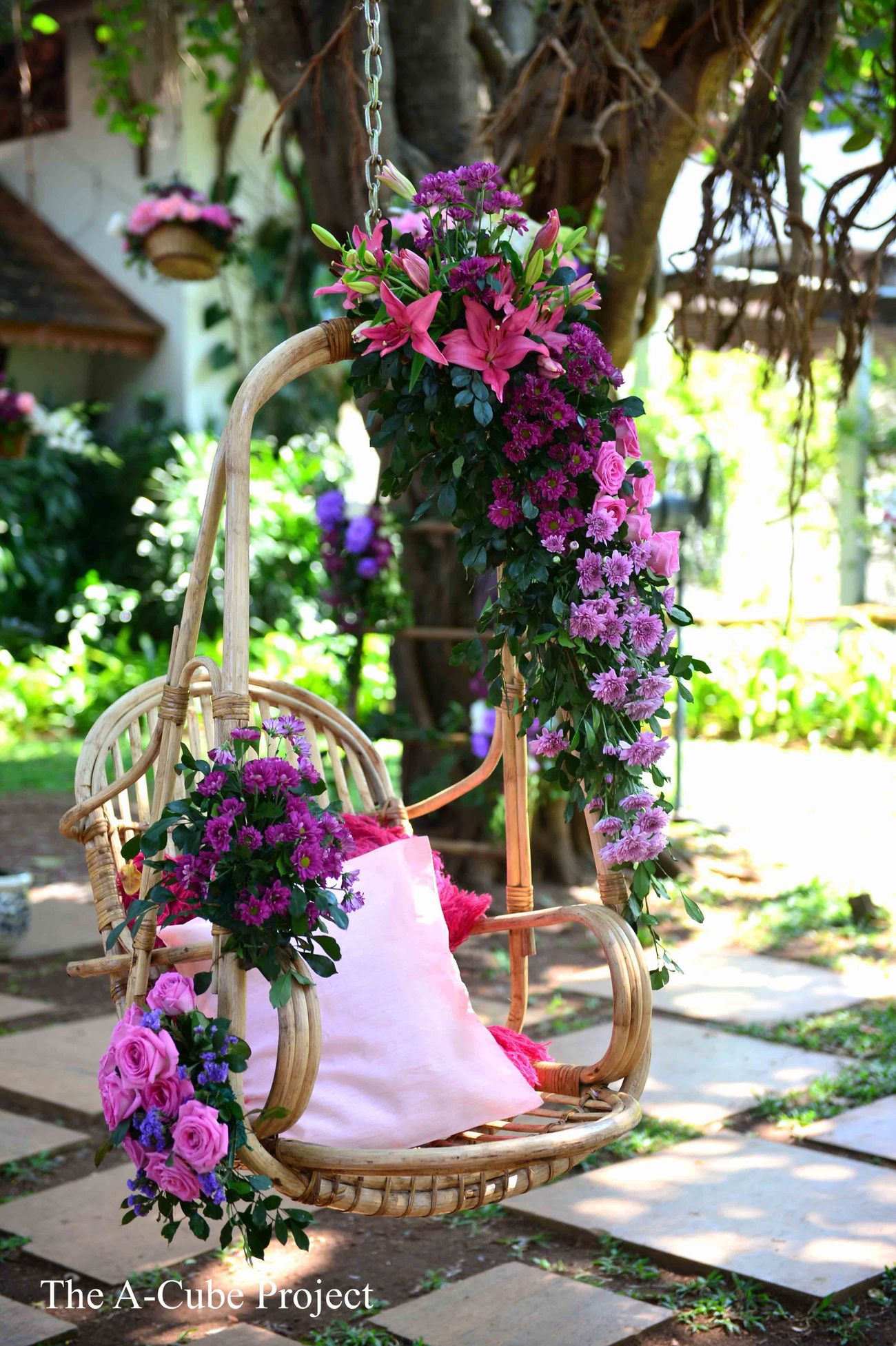 Image via The A-Cube Project★ 4.8
Get your hands on a cane jhoola seating and deck it up with a generous dose of lavender, and voila you get a bridal jhoola as stunning as this one!
A bed of roses!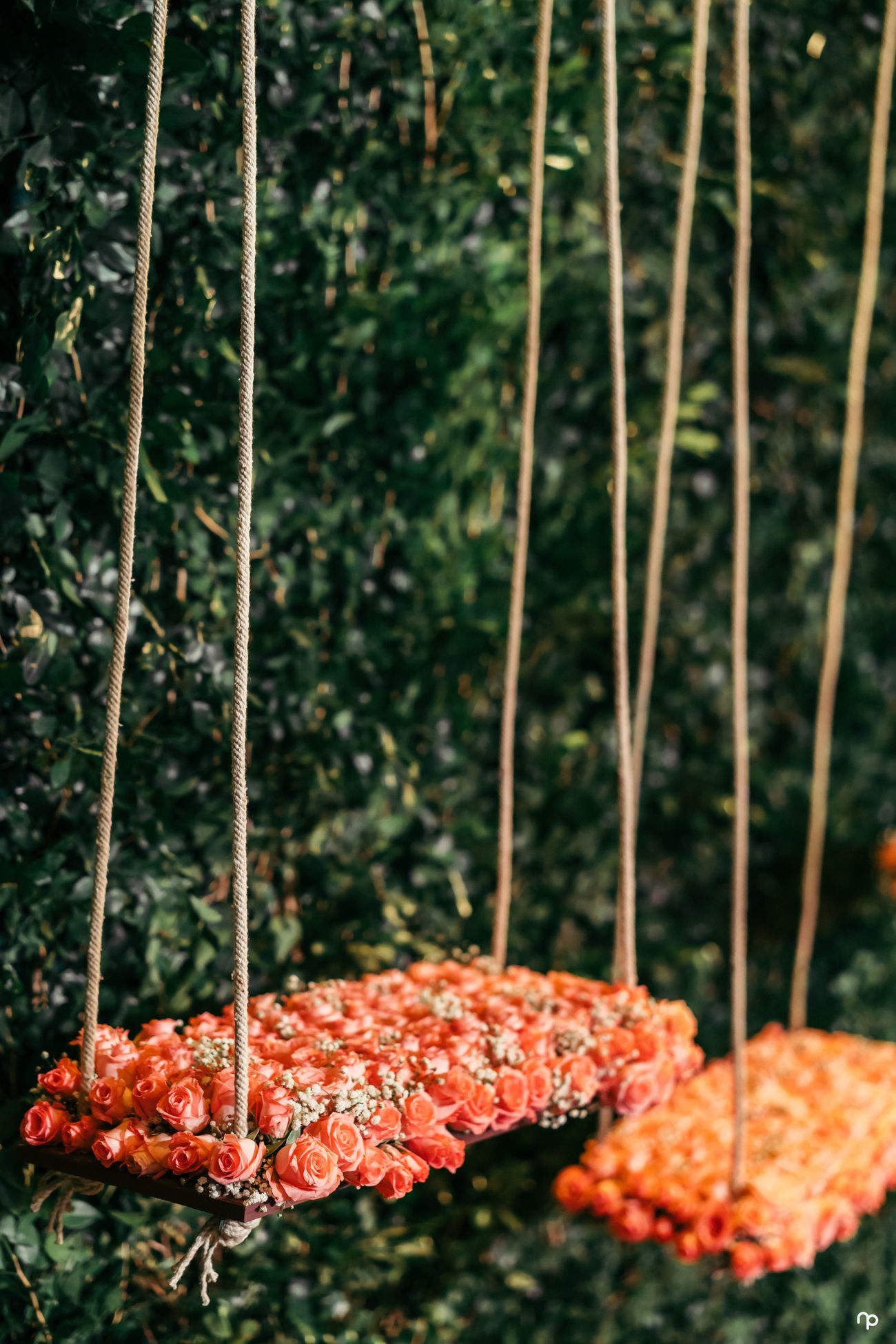 Image via Priya & Varun
Now that's a bridal jhoola seating you wouldn't wish to sit on! Abloom with peachy roses & babys breaths, this bridal jhoola seating is truly one of a kind.
All things pretty!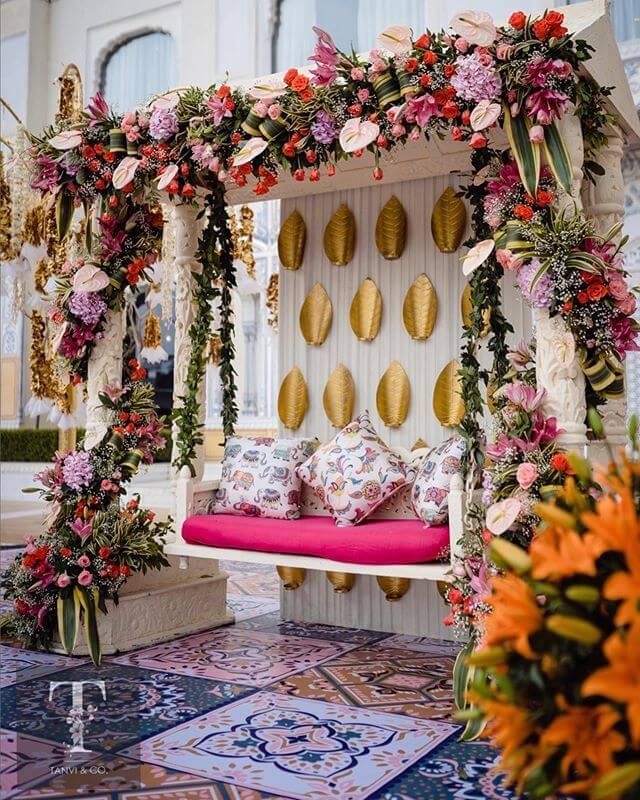 Image from Smiti & Nilesh
One cannot not fall for this dreamy mehendi jhoola seating that has extra-ordinary written all over!
A winning medley of yellow & turquoise!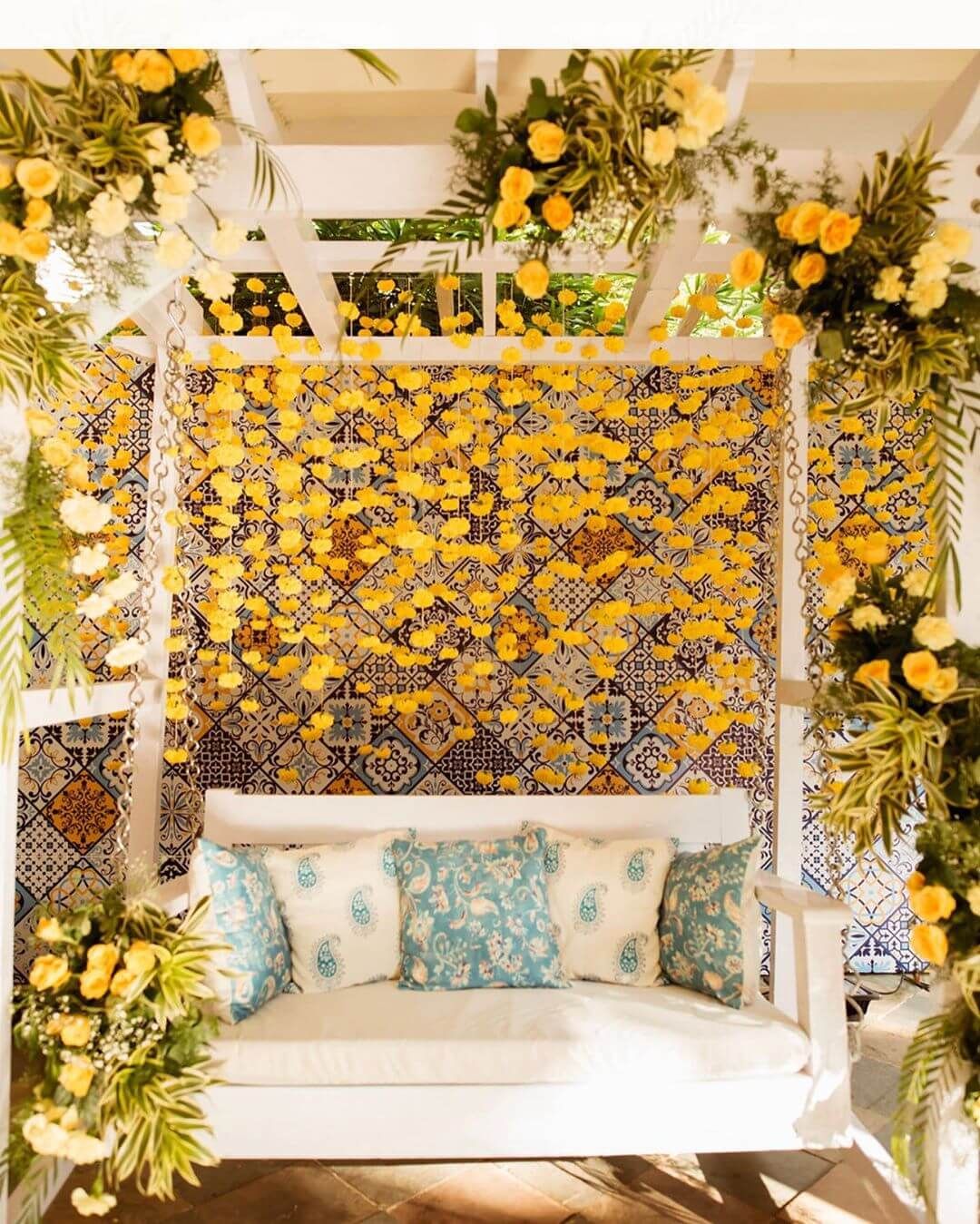 Image via Pink Parrots★ 5
While those suspended garlands of yellow roses are adding a generous dose of floral charm to this seating, those turquoise cushions are stealing all the attention.
A galore of pastel hues!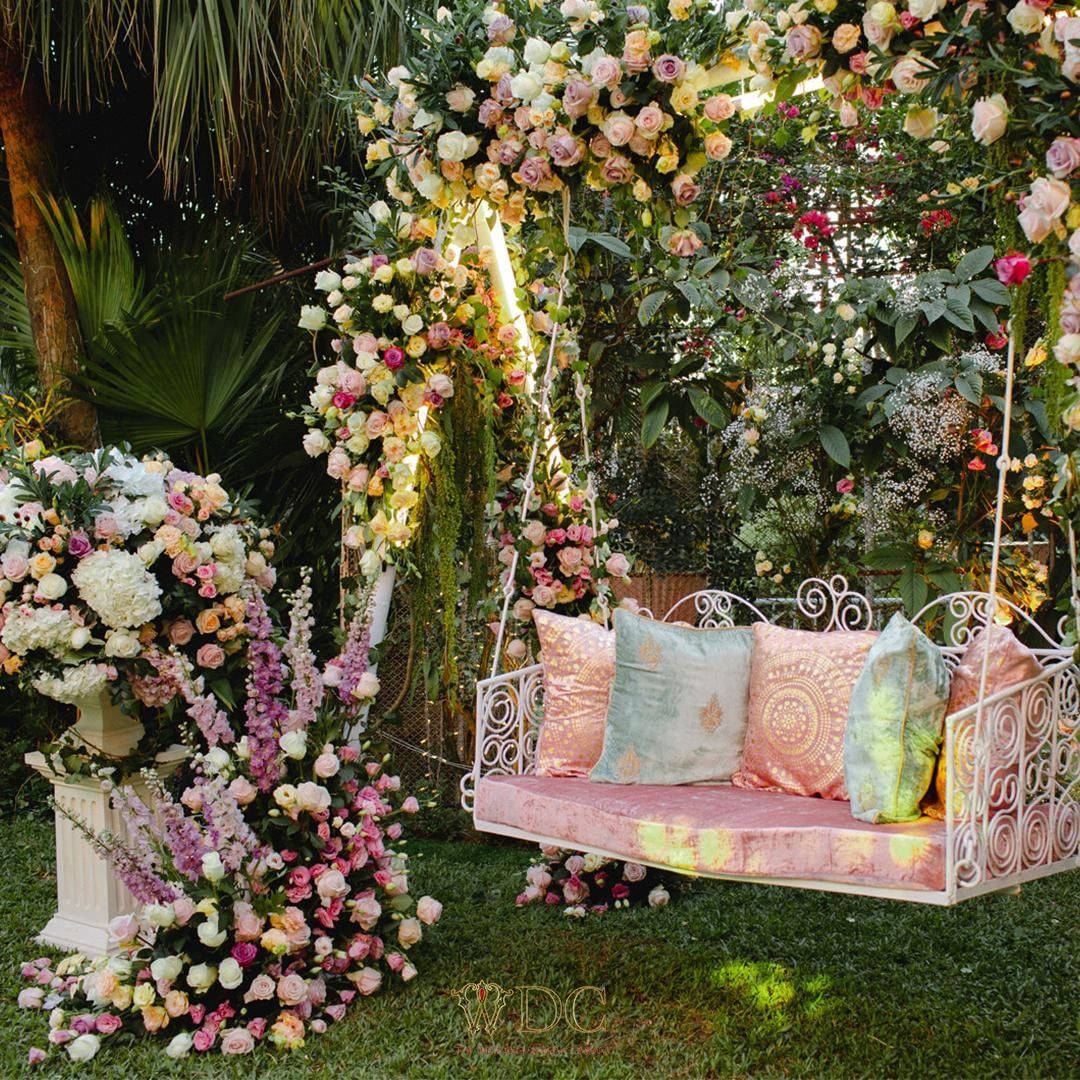 Image via The Wedding Design Company★ 5
Inspired by the gardens of England, this jhoola seating was drenched in a riot of saccharine hues.
Classic decorations never go out of fashion!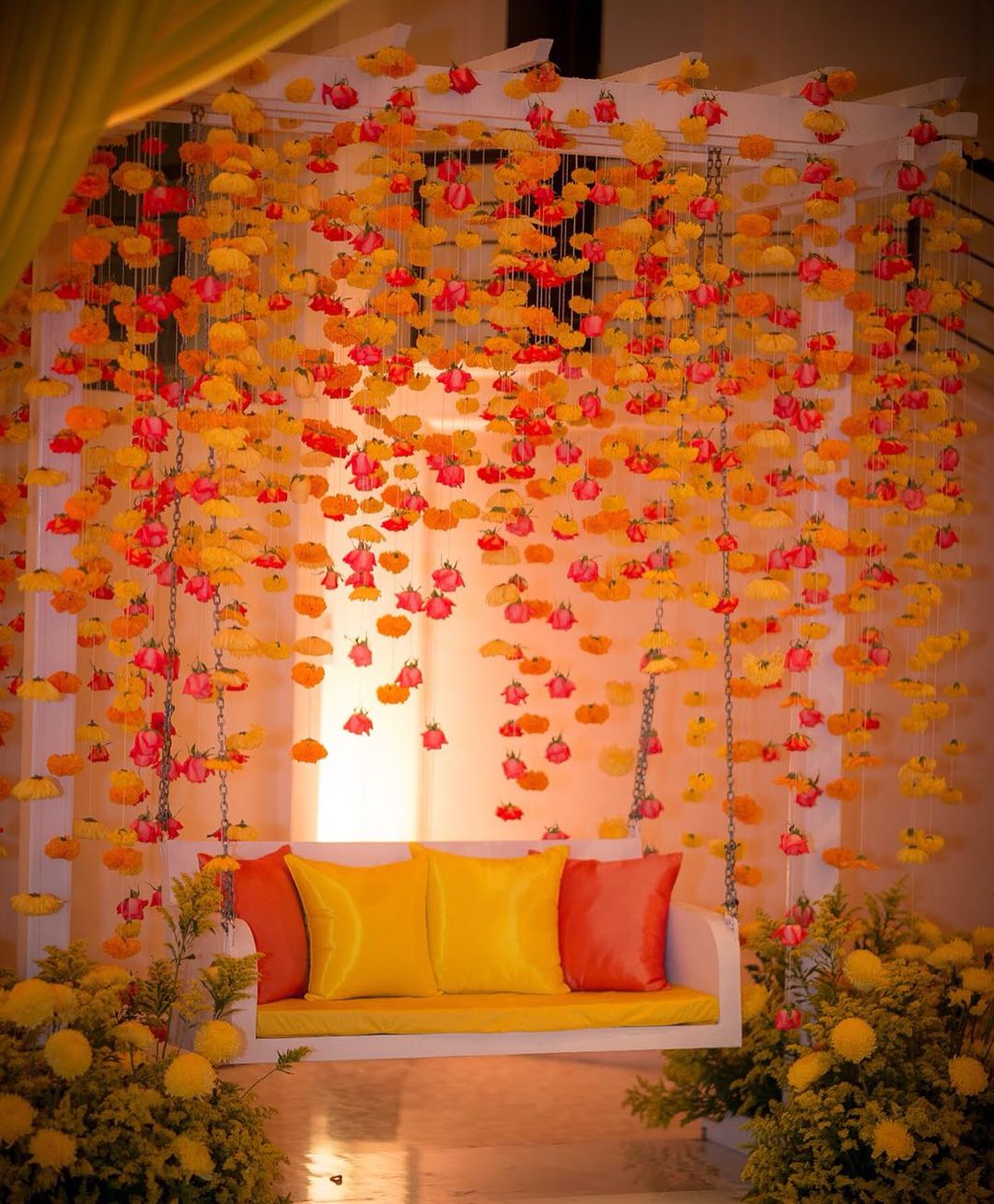 Image via Anoop Photography
Want to put your balcony swing to use during your mehendi? Let those marigolds and daisies takeover the setup, and get yourself a jhoola seating as pretty as this one.
One for a close-knit affair!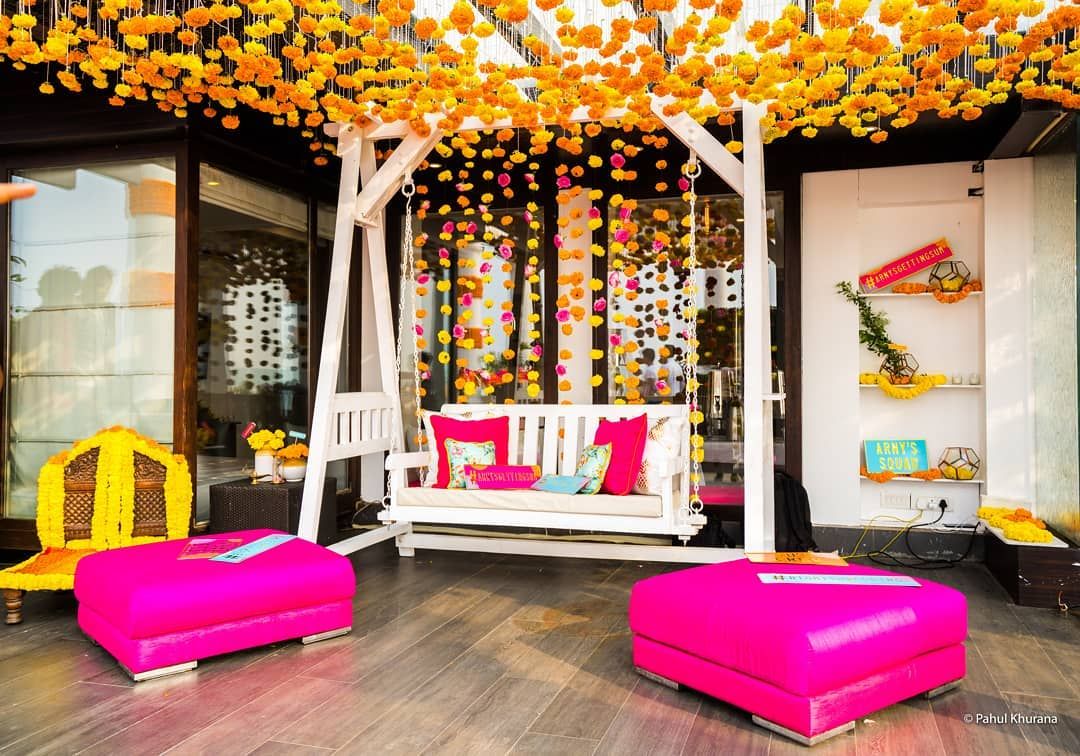 Image via Altair★ 5
An intimate home mehendi in your mind? This setup has all the makings of a perfect bridal jhoola seating at home!
Exuding all sorts of gardenia feels!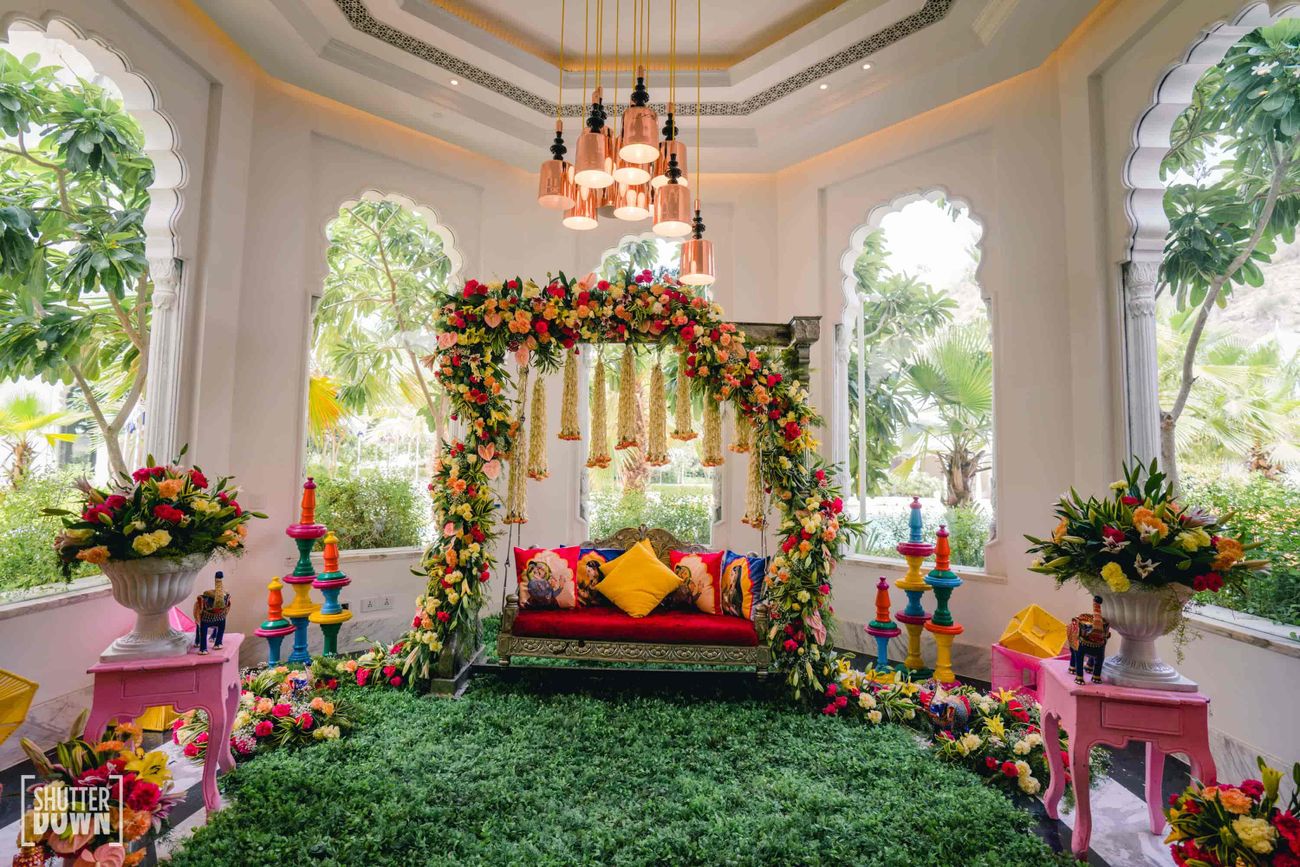 Image via Show Makers India★ 5
Now that's a mehendi jhoola seating you can't say 'No' to!
All about feminine hues & refreshing blooms!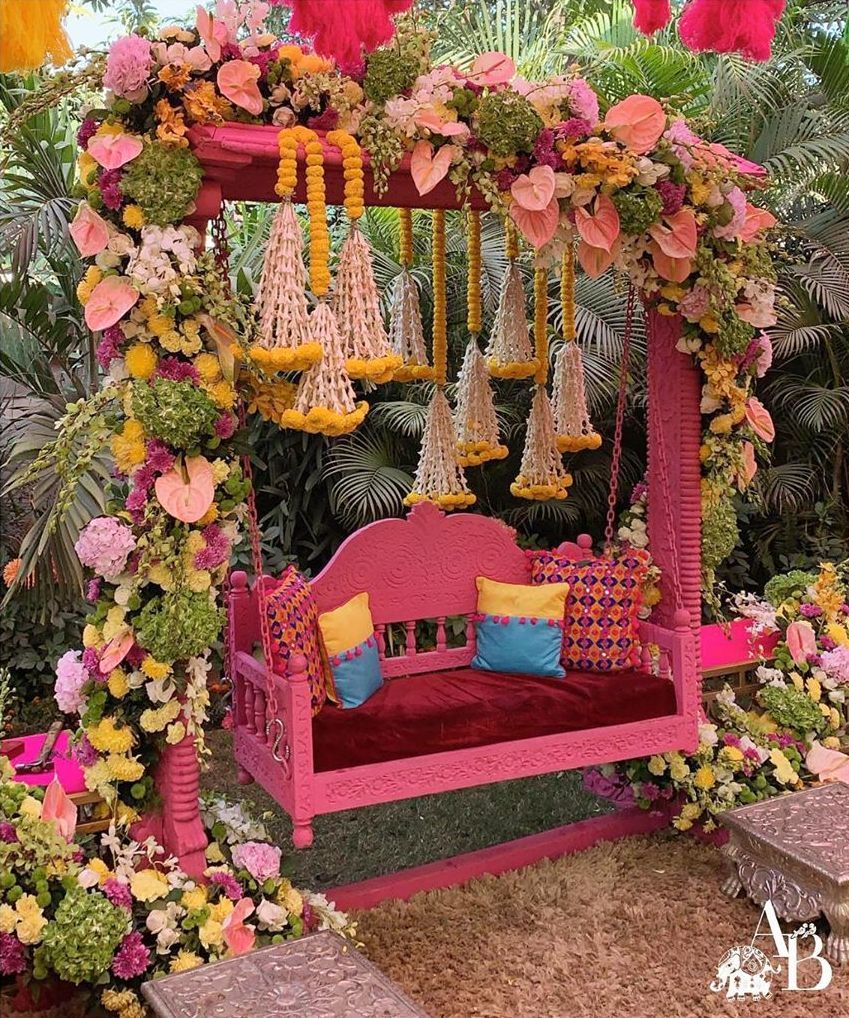 Image via Abhinav Bhagat★ 5
If you're a bride who wants to swear by a touch of pink for their bridal jhoola seating, this one right here will serve you just the right inspiration! Like or Love?
Stick to vivid hues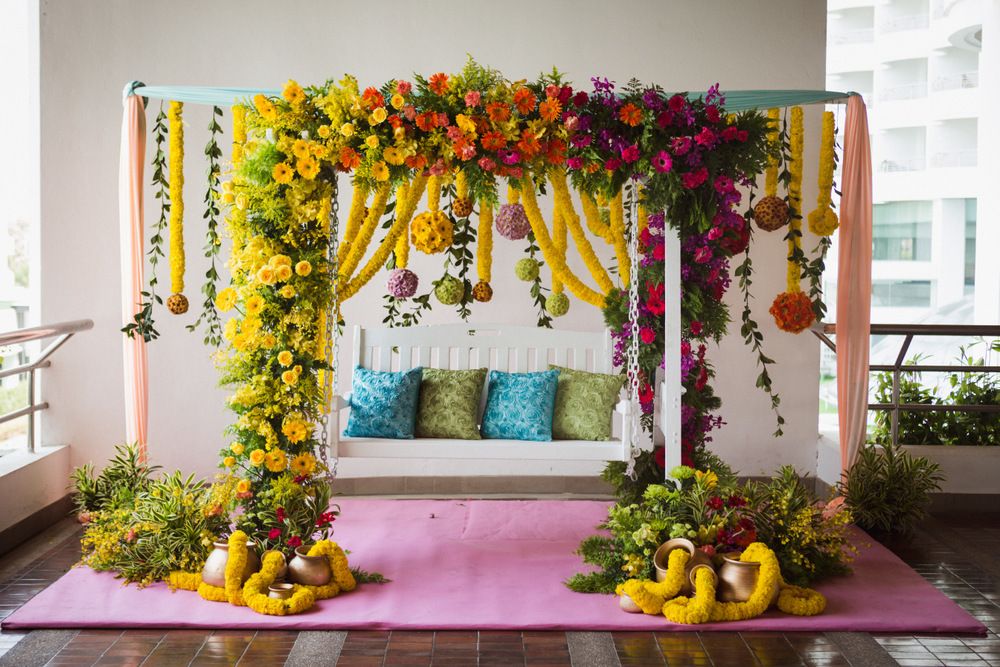 Image via Aman & Nupur
Adding a pop of color to your swing seating will bring in a fresh vibe to your home wedding, and that too, without burning a hole in your pocket! Told you it's a budget idea! Moreover, you really need not limit it to seating, as there are numerous ways to use a swing at the wedding.
And you thought microweddings can't look picturesque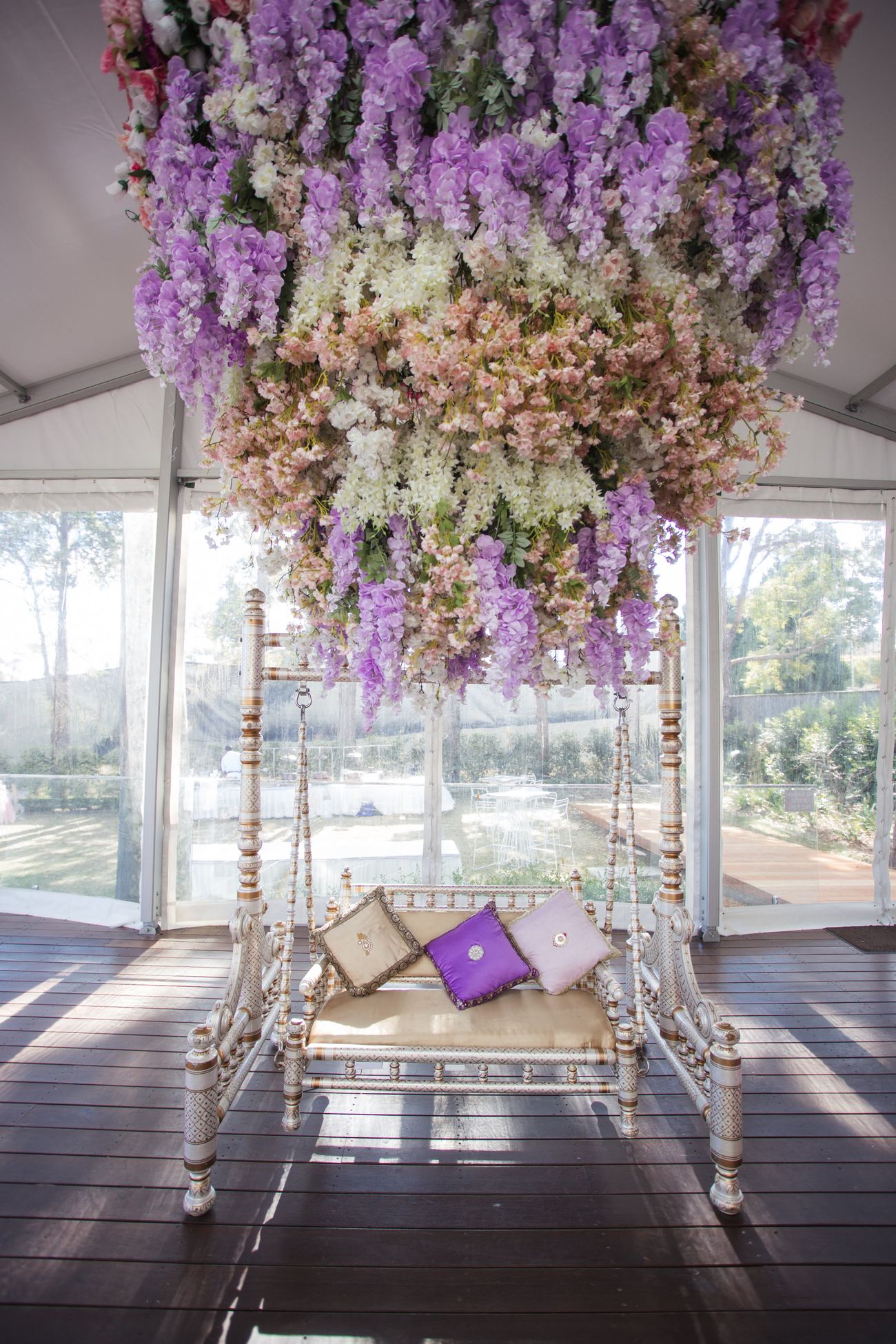 Image via Karen & Sunny
In case you don't wish to go extra, take a cue from this one. Loved how this bride got magnificent ceiling decor done and let the swinging chair exude minimal elegant essence! Super apt for an intimate wedding setup.
Just stop and admire a rustic setup like this one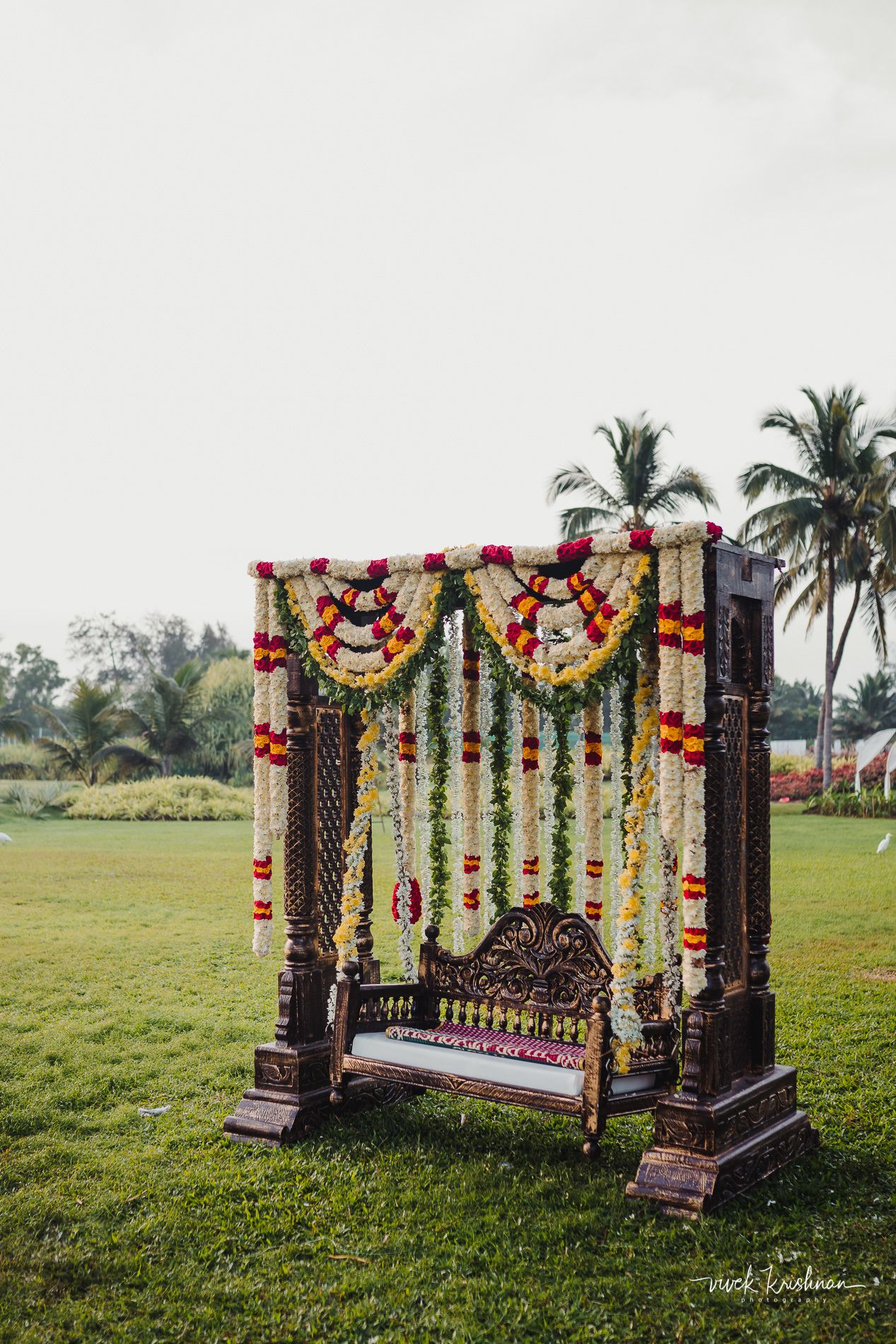 Image via Marriage Colours
Honestly, for the vintage lover in me, this is one of the fave swing decoration ideas on the list! Be it the old school swing set or the white & green traditional adornments, one cannot take their eyes off it.
How about a theme-based swing chair?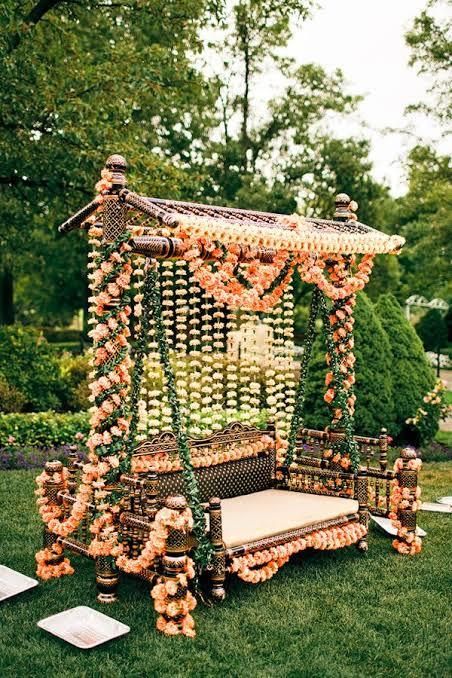 Image via Reliable Enterprises Event Company 
Looks like this couple wanted the swing to go with the theme/ hue of the wedding, and hence they stuck to one pattern. We think it's a total win-win, as all you got to do is keep the monotony intact!
Explore the drapes and other elements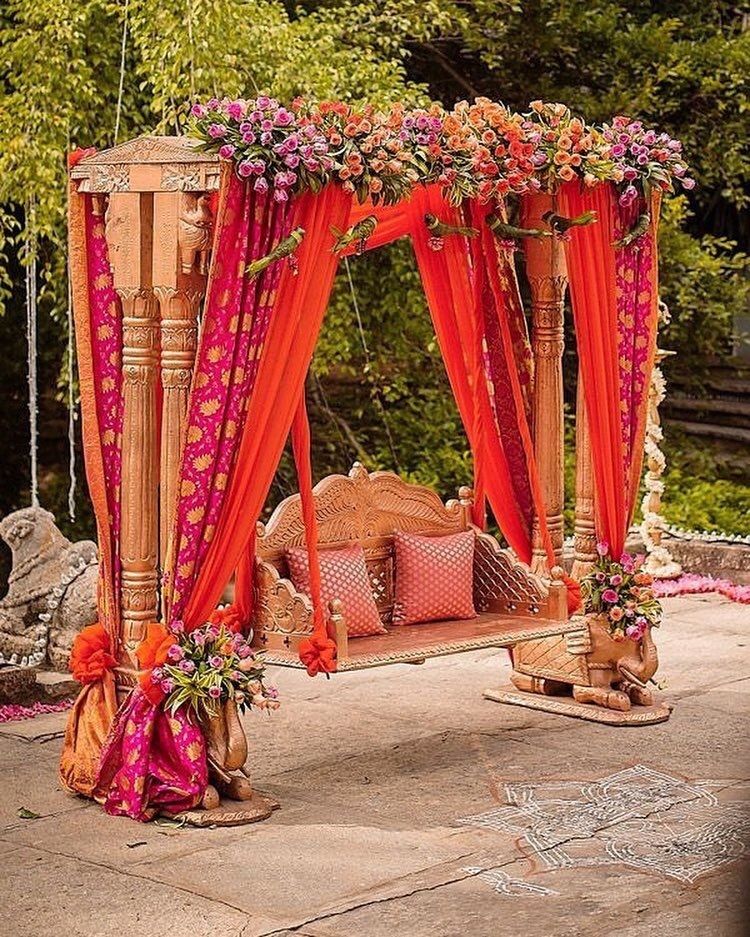 Image via The Design Atelier
Moving over the flowers, you can always get an outdoor swing decorated with fun fabrics and unique elements (parrots, in this case). There is so much you can explore when you're not swearing by a theme!
Get a dreamy fairytale one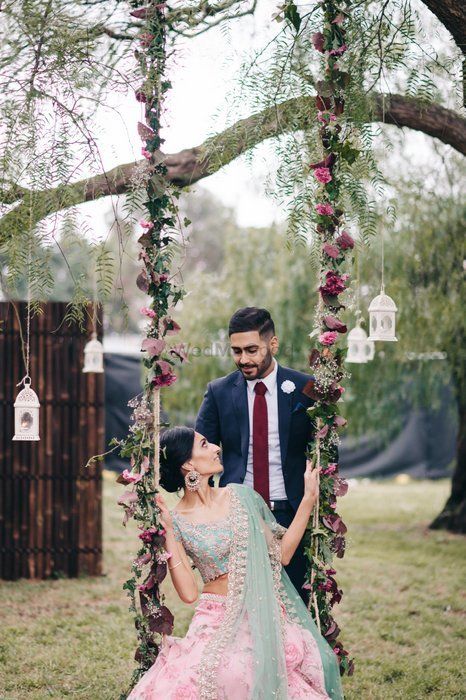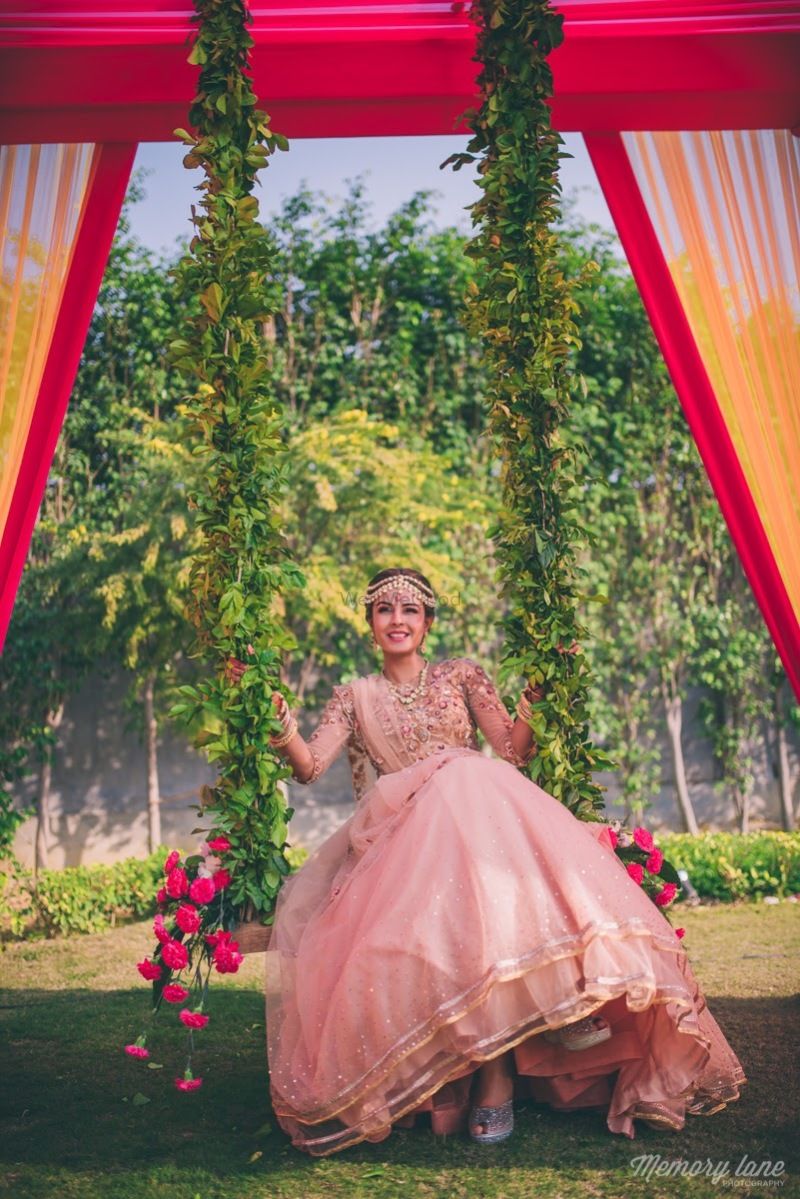 Image via Madeline Druce  and  Rimi Sen Photography★ 4.9
Looks like a princess sitting on one in an enchanted forest right? So pretty!
Get a pretty circular one decorated with botanicals and florals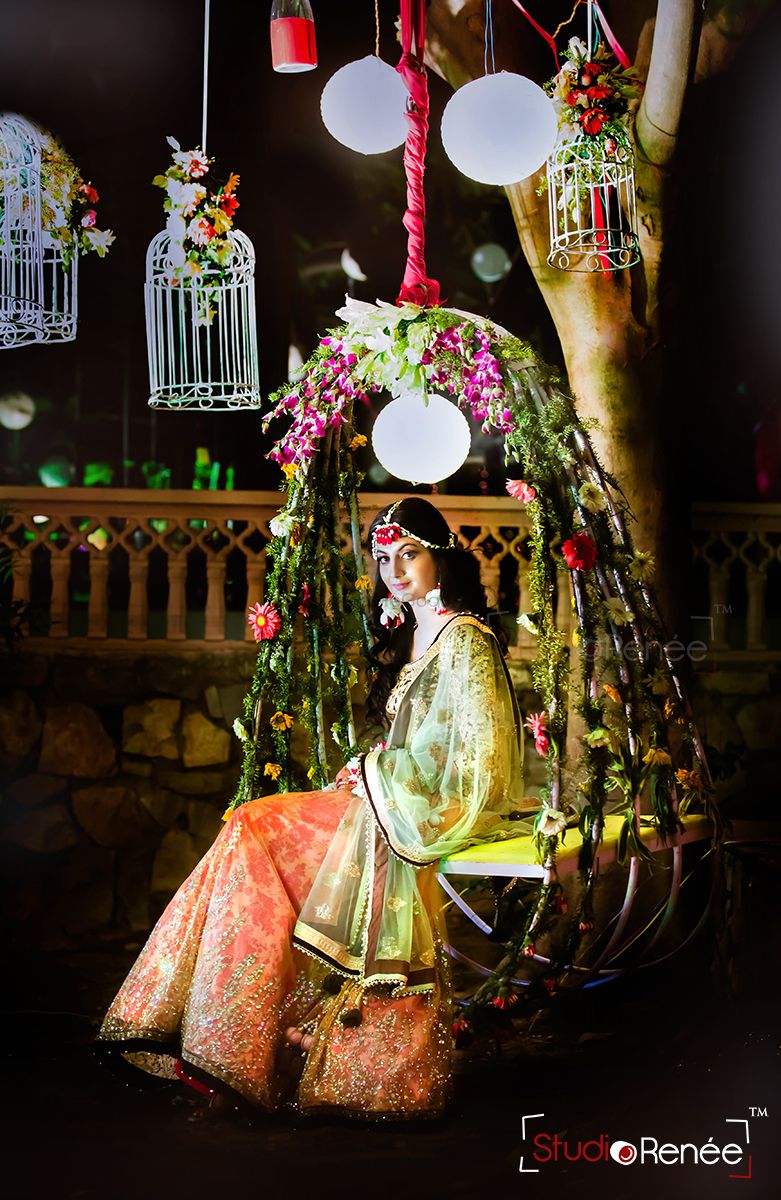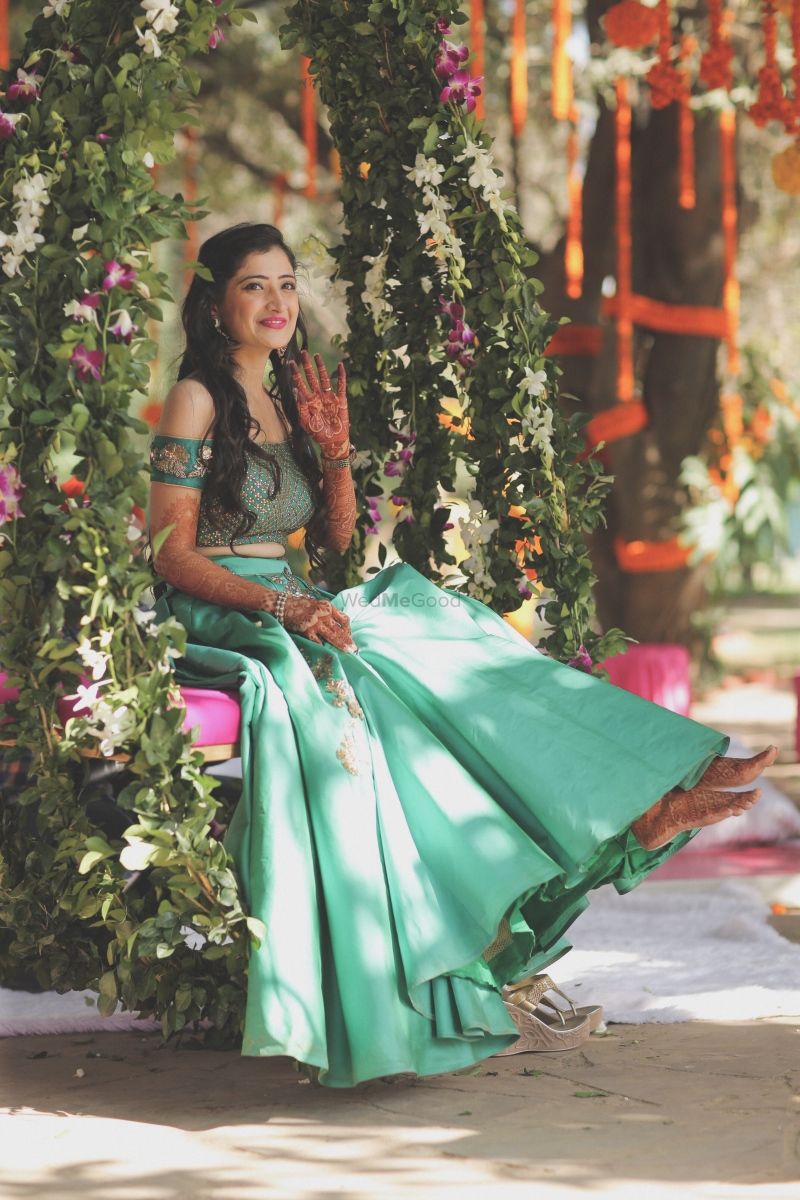 Image via Studio Renee★ 4.6 ; Safarnama Films
Contemporary and modern, this one is really trending these days- looks awesome!
Ombre flowers and greenery stands out well!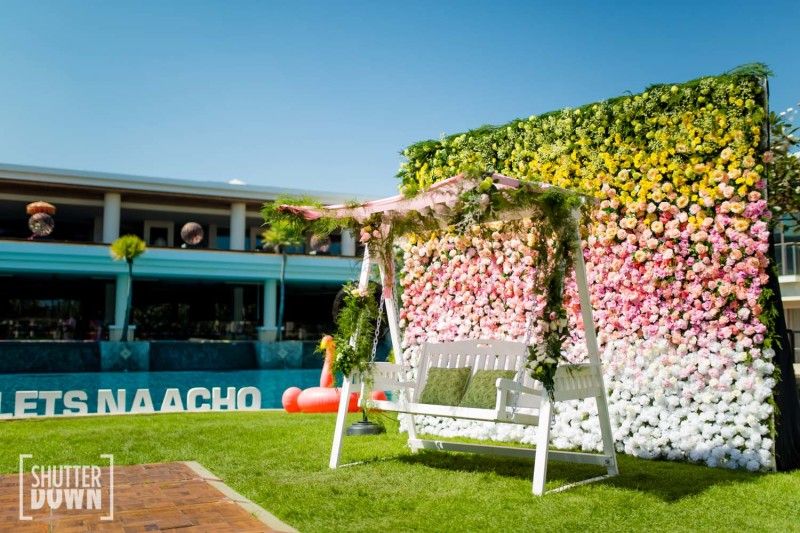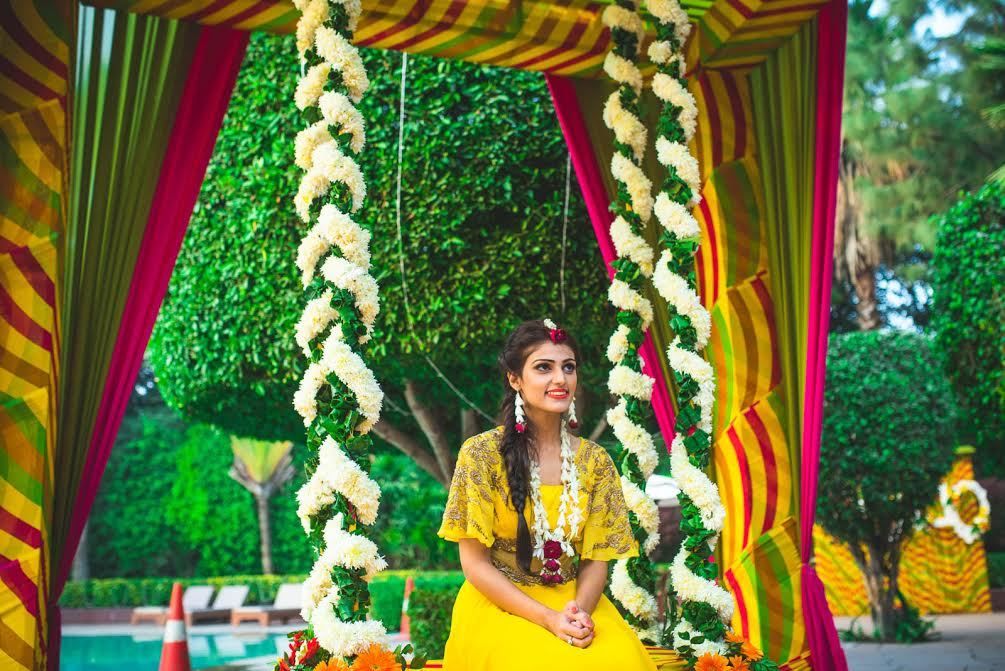 Image via Shutterdown - Lakshya Chawla★ 5 ;  Ankit Goel
This one is also such a cool idea- choose a colour scheme like green and go ombre!
Do it up with some interesting props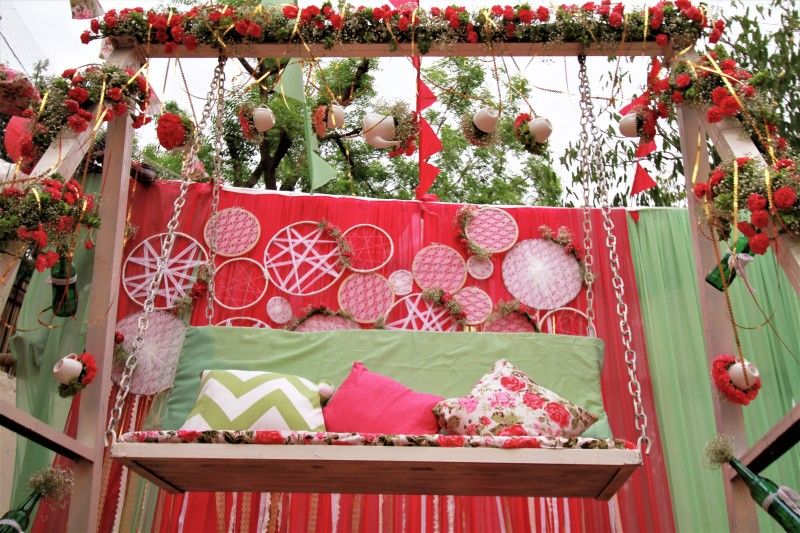 Image via Mor Punk★ 5
Hanging pots and embroidery hoops- who would've thought of that? So unique!
Paper props and Pom Poms can pack a punch!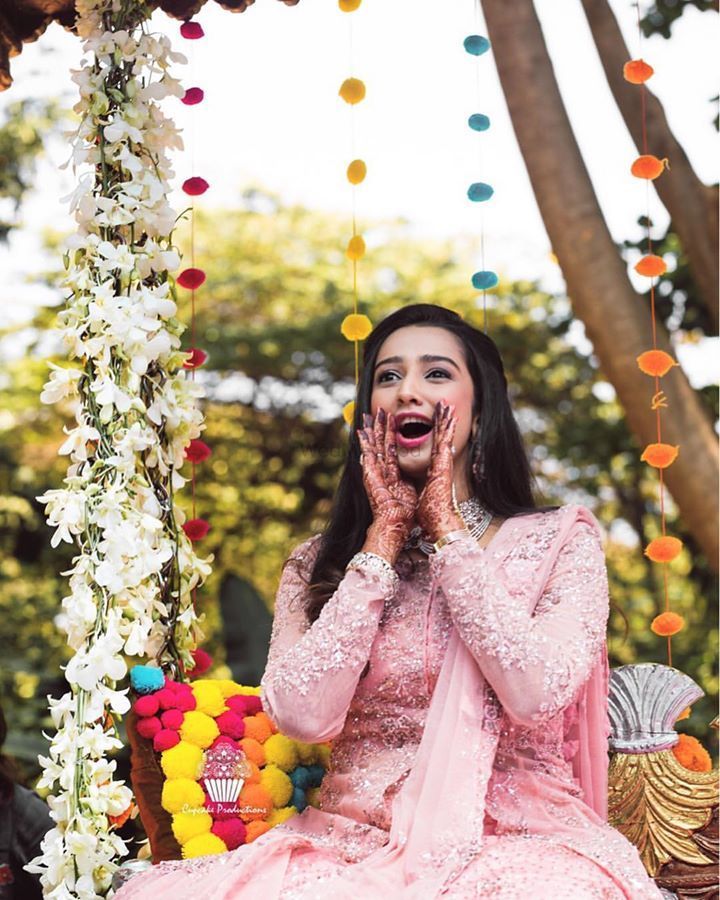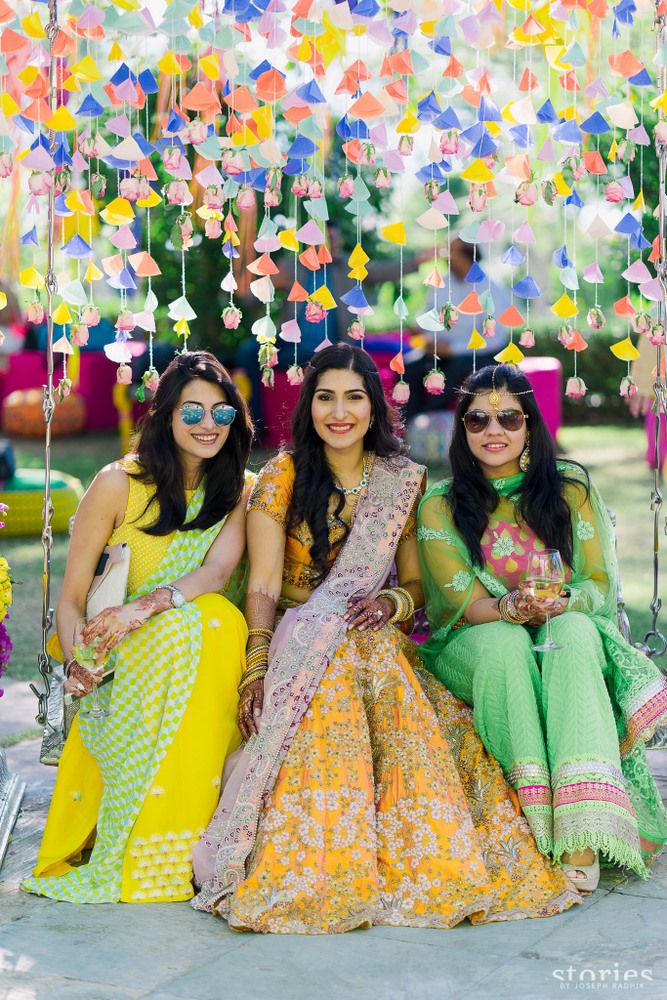 Image via Cupcake Productions; Anamika Khanna★ 5
Paper props and pom poms look super pretty too, this one is combined with florals for a pretty, colourful effect! So nice as a backdrop!
Floral strings can be simple but pretty!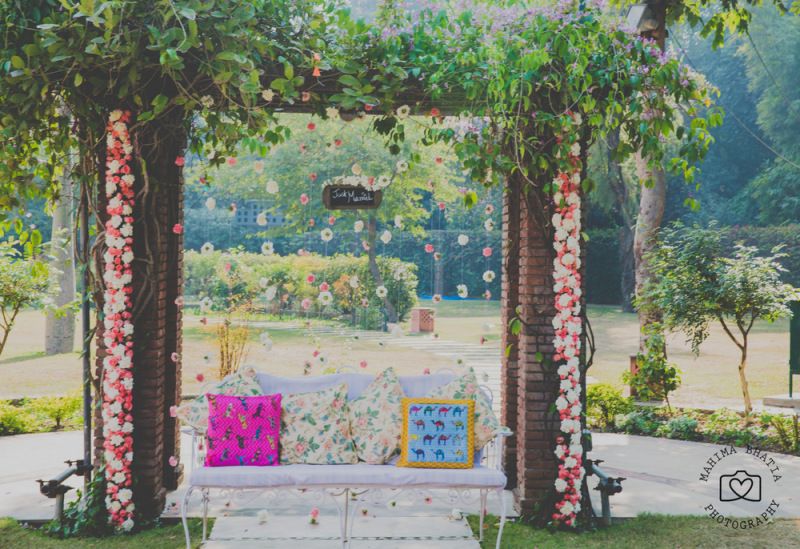 Image via Mahima Bhatia Photography★ 4.9
Simple, but there's something so striking about this one! Love the contrasting cushions and that simple yet elegant backdrop of floral strings!
Genda phool is awesome too, but in moderation!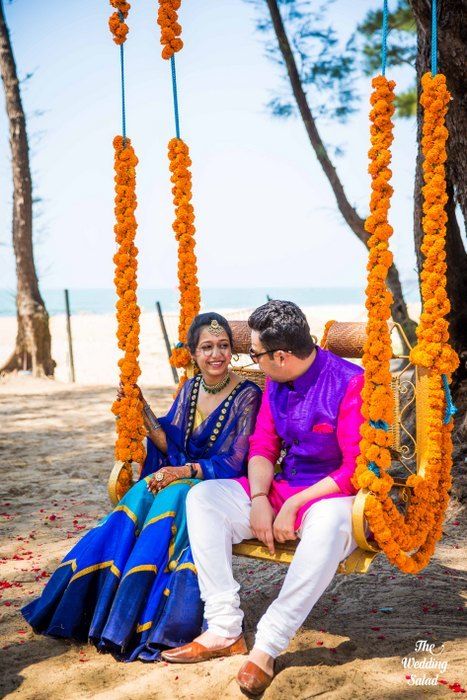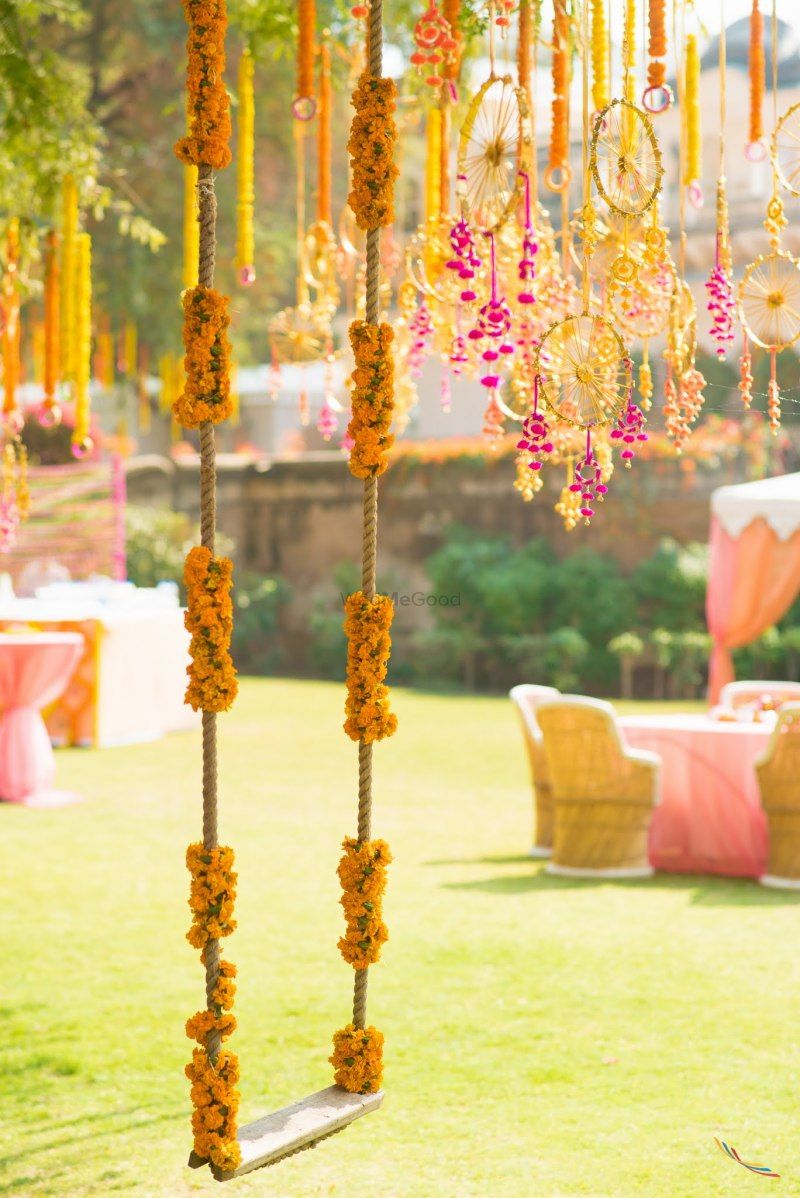 Image via The Wedding Salad★ 4.9 ; Vintage Nutters★ 5
Too much genda phool on a mehendi swing can look like clutter- we love this look- it's simple and so eye-catching!
A beautiful ceiling adds all the drama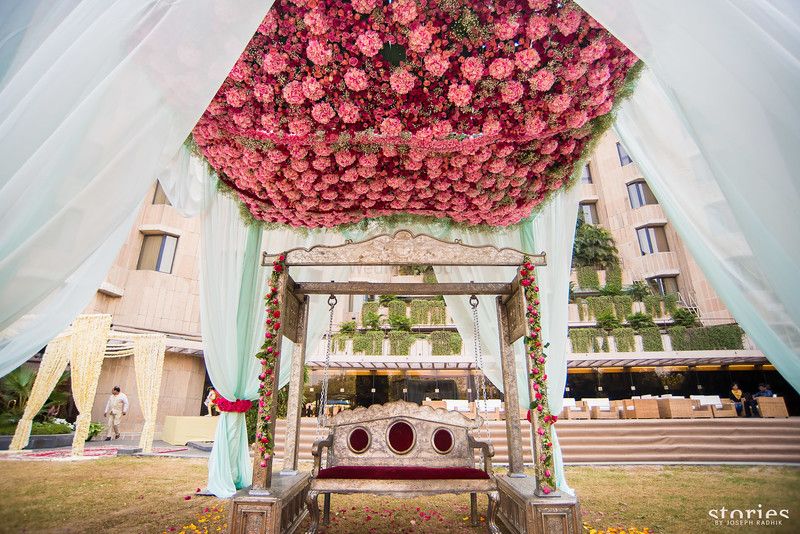 Image via SM Weddings
Make a ceiling a sight to behold - this floral one is just so amazing!
Fun cushions add the drama
Image via Wedding Commitments
Funky cushions just make it more personal and fun, right?
So, which one did you love? We really hope by the end of it, we managed to convince you to add a swing seating to your intimate wedding checklist! Let us know if you did. 
ALSO READ - Stunning Oonjal Decoration Ideas for your Wedding