How to : Wear a crop top bridal lehenga / sari for every body type
BY The WMG Bride | 05 Feb, 2015 | 1410 views | 3 min read
Crop tops have officially taken over the Indian wedding scene and while they were always the fashion forward outfit for the sisters of the bride, crop top bridal lehengas are 'cropping ' up (couldn't resist the pun) pretty much everywhere. It's not limited to bridal lehengas alone, crop tops with kanjivaram sarees worn by chic South Indian brides are trending as well.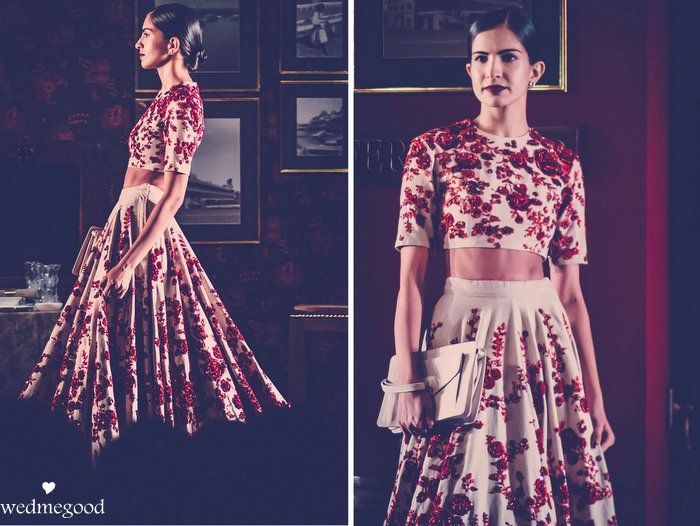 Crop top lehenga by Sabyasachi
Crop top bridal outfit do's
Do wear a full sleeved crop top . Since the choli will be cut short, the full sleeves adds grace to the look that a bride needs
If you are wearing heavy jewellery, then keep the neckline of your crop top plain and without much embroidery on it
Try and keep the neck high, on which you can layer your jewellery in a contrast or neutral color
In general crop top bridal lehengas look best in monochromatic colors (i.e: blouse in the same color family as the lehenga skirt) however if you are wearing a kanjivaram then a contrast crop top might look better.
Since this silhouette is modern, your dupatta drape should just be a simple veil over the head. Taking the dupatta drape in a regular Gujarati style or a sari style over a lehenga can tend to take away the edginess of the outfit.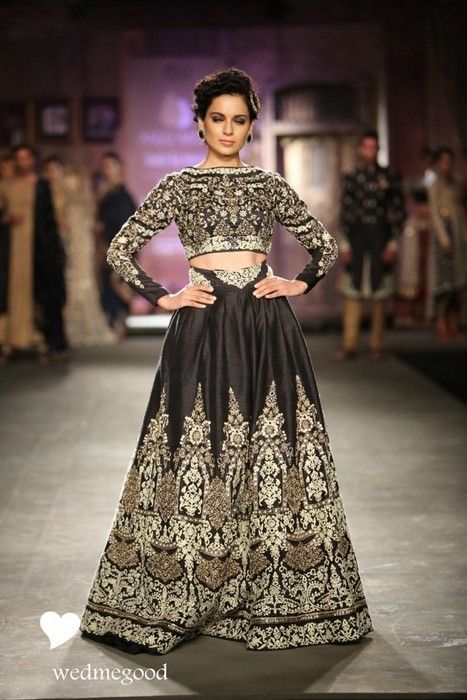 Crop top bridal lehenga by Anju Modi
For the  rounder girls with tummy issues:
Ensure your crop top  blouse ends just at the middle of your rib cage- this is the thinnest part of every woman
Wear a high waisted lehenga skirt  with a band at the waist which shows only about 1 centimeter of skin from the blouse. Since the skirt is high waisted and the blouse is cropped, only the thinnest part of your body is visible giving you a slim look
The band at the waist which rests flat against your stomach is also super flattering and gives the illusion of a slim body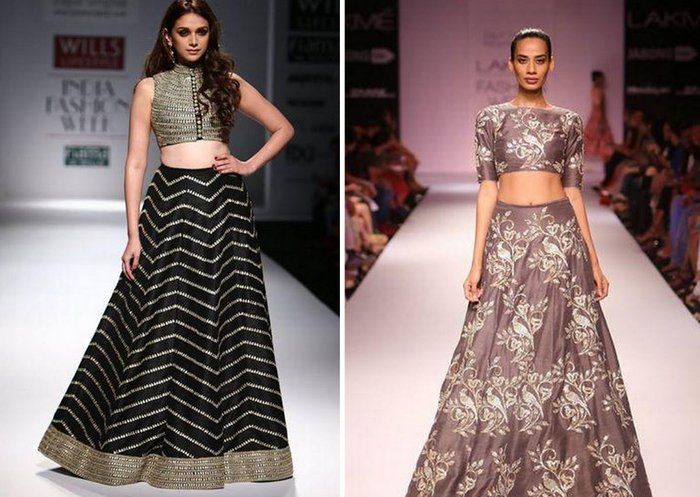 Crops top bridal lehengas by Payal Singhal
For the skinnier girls
You could experiment with a slightly lower lehenga with your crop top if your stomach is flat
Ensure your lehenga is very full and flared and in a heavy fabric like raw silk to give you balance and proportion.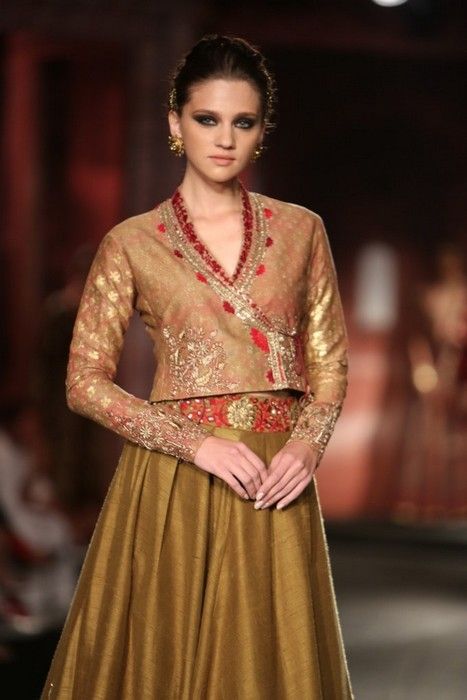 For the heavy busted girls
You might want to avoid the high neck blouses and opt for a simple scoop neck crop top with full sleeves  to minimise the appearance of your breasts- the more fabric you layer on your chest, the heavier it looks.
You may also want to try a front buttoned, jacket style crop top
Make sure your crop top is a wee bit longer and ends at your natural waist , the shorter ones can make you look even more busty.
Parting thoughts: