30 Lehenga Dupatta Draping Styles - Learn Different Ways
BY The WMG Bride | 13 Jul, 2017 | 52906 views | 8 min read
Every time one plans to invest in an expensive lehenga, common thoughts that often arrives in the mind are 'is it worth investing since I won't be able to wear it more than once' or 'how to wear lehenga dupatta in different styles so that it can be repeated again'!
Well, nothing changes up your look faster than a dupatta drape (nothing non surgical anyway! ;) You could have worn your anarkali/ lehenga once and had your photos all over Facebook but change up the drape the next time, and it will look like a spanking new outfit. Even for brides - adding a new dupatta, or re-draping an old one is a sure fire way to stand out. While there are some standard drapes that everybody knows- we compiled the mother of all draping styles in one post!
How To Wear Lehenga Dupatta In Different Styles
Single Dupatta Draping Styles
Drape 1: Single dupatta brought from back to front diagonally over the right shoulder to waist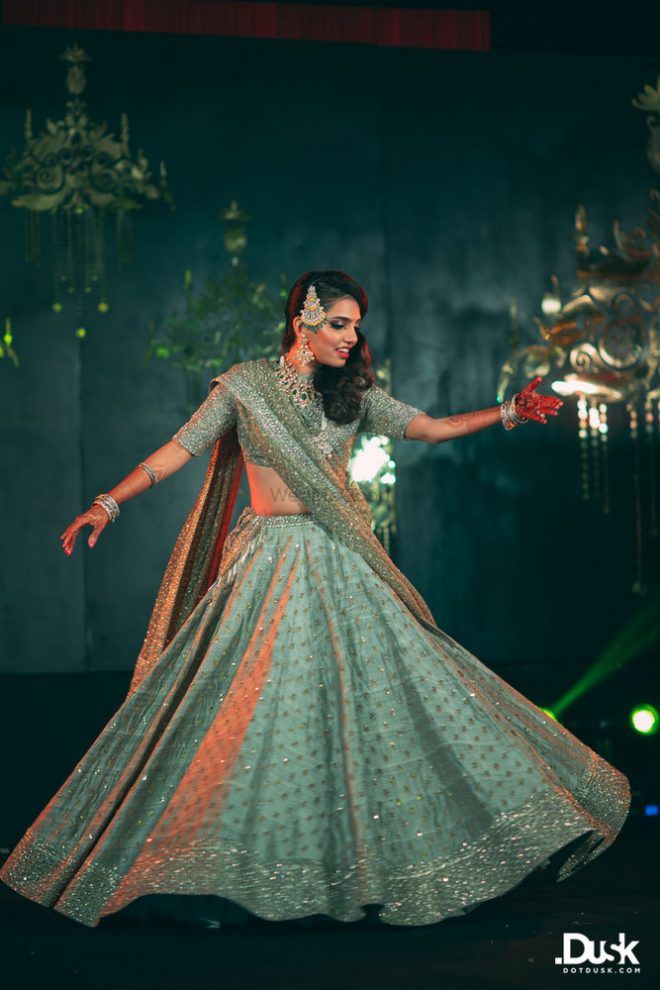 Image via DotDusk Studios★ 5
The most ideal form of lehenga dupatta draping, especially when you've got to dance a lot at the wedding. This style will keep the dupatta secure from falling and lets you be at ease throughout the event!
Drape 2: When draped saree-style over left shoulder with pleats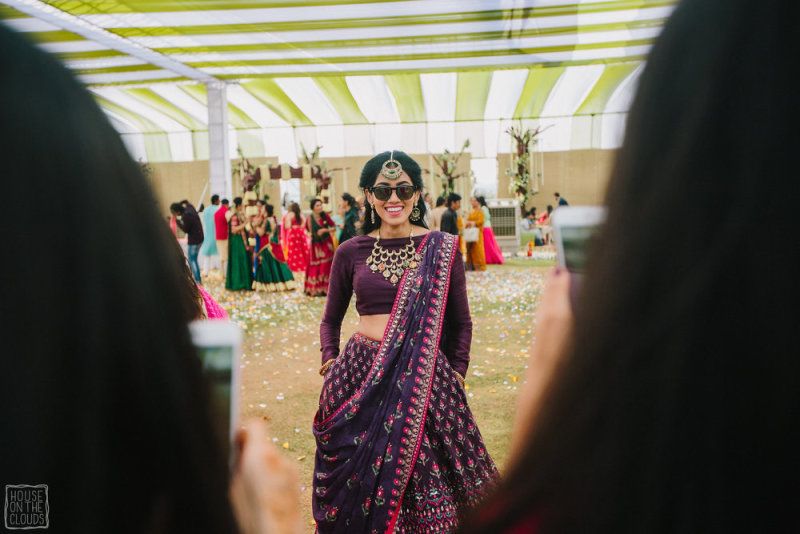 Image via Anushka and Shilp's Wedding
Standard Saree drape with a pleated single dupatta. This style completely transforms your outfit and gives it a lot more saree vibe than that of a lehenga. So basically, you get two outfits at a price of one! Good deal, indeed.
Drape 3: Single dupatta draped like a Gujarati seedha pallu saree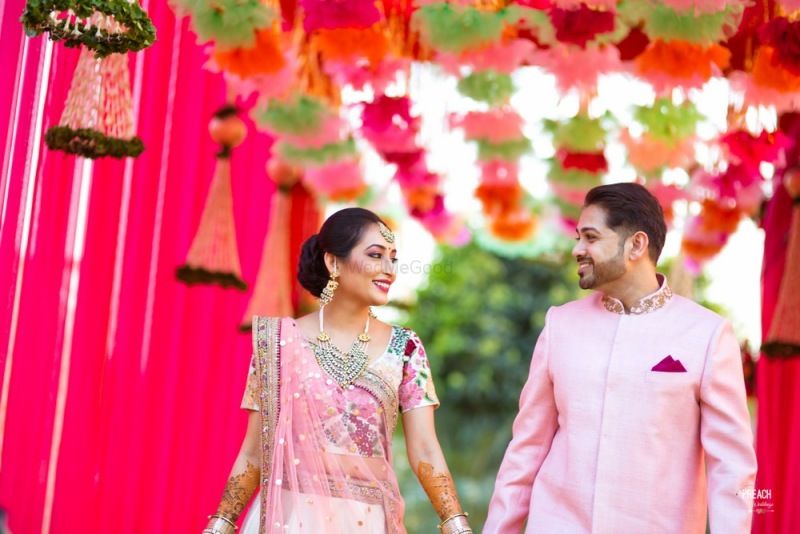 Image via Preach Art★ 4.9
This dupatta draping style often spotted on mother or aunt of the brides and grooms. Majorly opted in Gujrati weddings, just like how Nita Ambani wore at Isha's wedding, it looks quite simple yet elegant!
Drape 4: Single dupatta draped like a saree and then flared out over arm
Image via Shyamal Bhumika★ 4.7
A lot more modern, chic style which looks amazing if you're wearing a contrasting sheer dupatta. Sleek, minimal jewelry would look superb with this attire!
Drape 5: Draped in the front with a cowl gather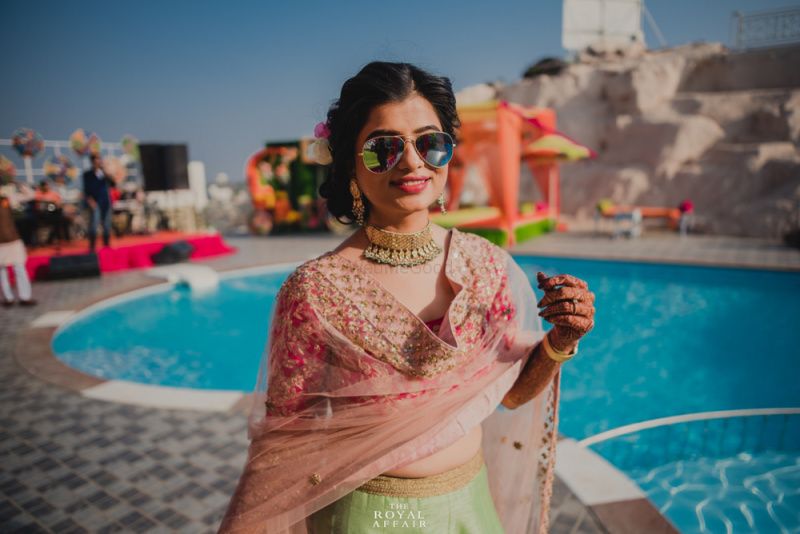 Image via The Wedding Salad★ 5
The oldest, traditional yet most favorite lehenga dupatta draping style for all! It works great if your dupatta has a beautiful border to flaunt. Most preferred during Mehendi ceremonies, because you've got keep your hands free for the henna. Right, girls?
Drape 6: Chunri, pinned to both shoulders and left as an open drape in the front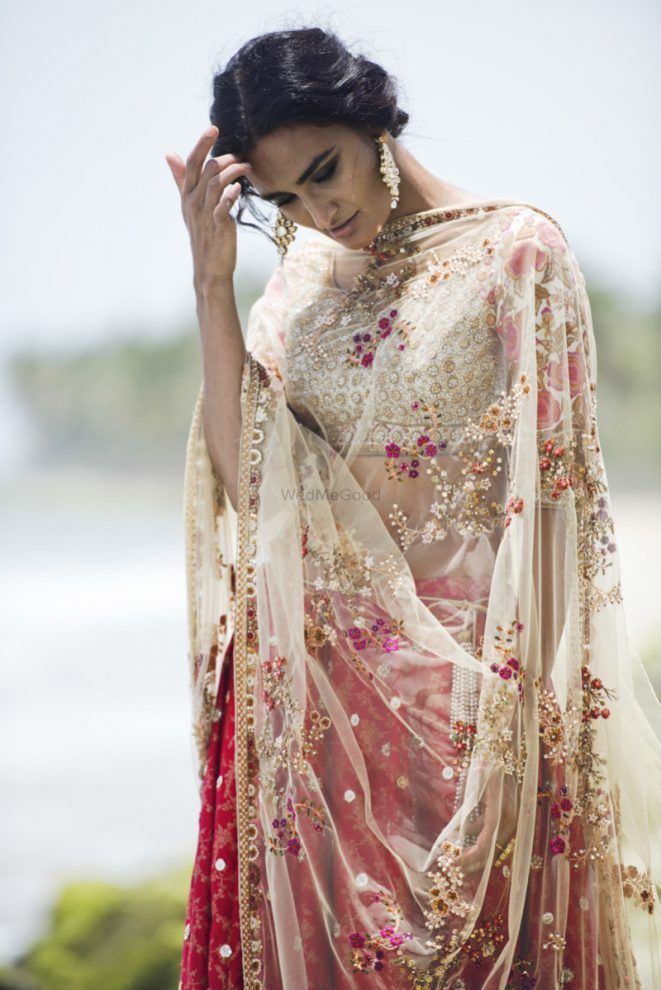 Image via Misha Lakhani
Your dupatta ought to have a beautiful pattern to display in case you go for this style! Ideal for both sheer and heavy dupatta.
Drape 7: Draped in a 'U' shape brought from behind and pinned to other shoulder with a triangle shape in the front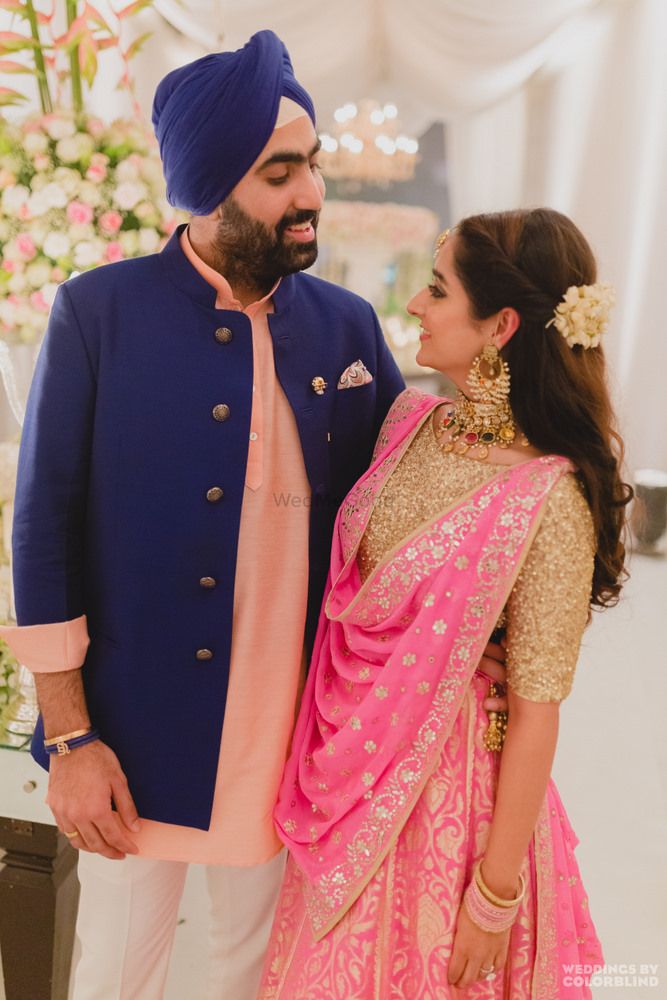 Image via Surekha Jain
Quite unique and effortless drape! It keeps one hassle-free since the dupatta is neatly pinned, for you to roam around and do your chores.
Drape 8: Diagonal wrap over the chest and dupatta brought from back to front over shoulder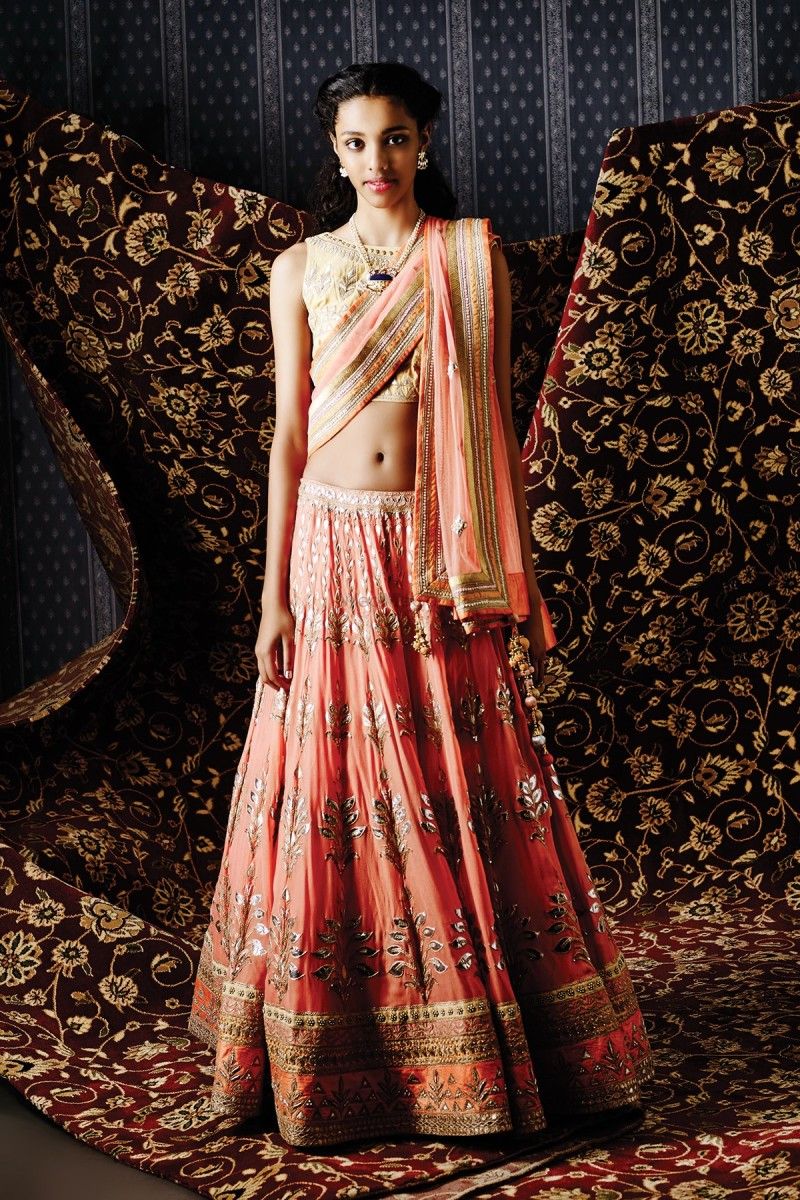 Image via Anita Dongre★ 4.9
We often get queries from bridesmaids that how to drape lehenga dupatta in different styles. This kind of wrap is so apt for those who look for unconventional styles to stand out of the crowd. So, if you're someone who loves experimenting then you should definitely go for it!
Drape 9: Draped like a saree with waistbelt and wrapped at the bottom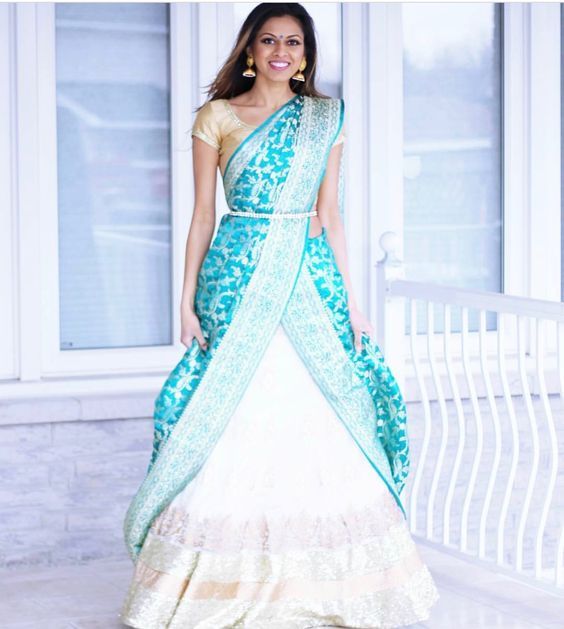 Image via Pinterest
To the phase when you want to drape a saree without really draping a saree, this style of draping a lehenga dupatta gives you a saree look while eliminating the tedious pleats making process! You can also add a waist belt to amp up the attire.
Drape 10: Draped over the shoulder and pleated with gathers on the bottom in front in a triangle shape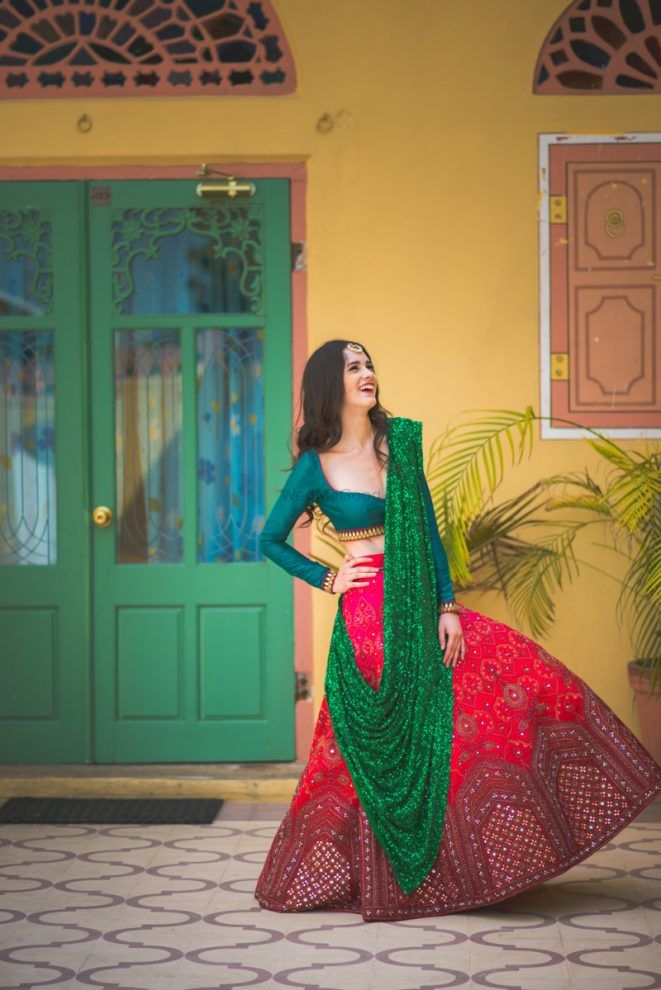 Image via Makeup By Hitesh★ 4.3
Totally in love with this lehenga mainly because of the vivid colors it exhibits. There's also an add-on as this dupatta drape doesn't hide your blouse design. So flaunt those contemporary necklines!
Drape 11: Single dupatta draped over the shoulder and left loose over arm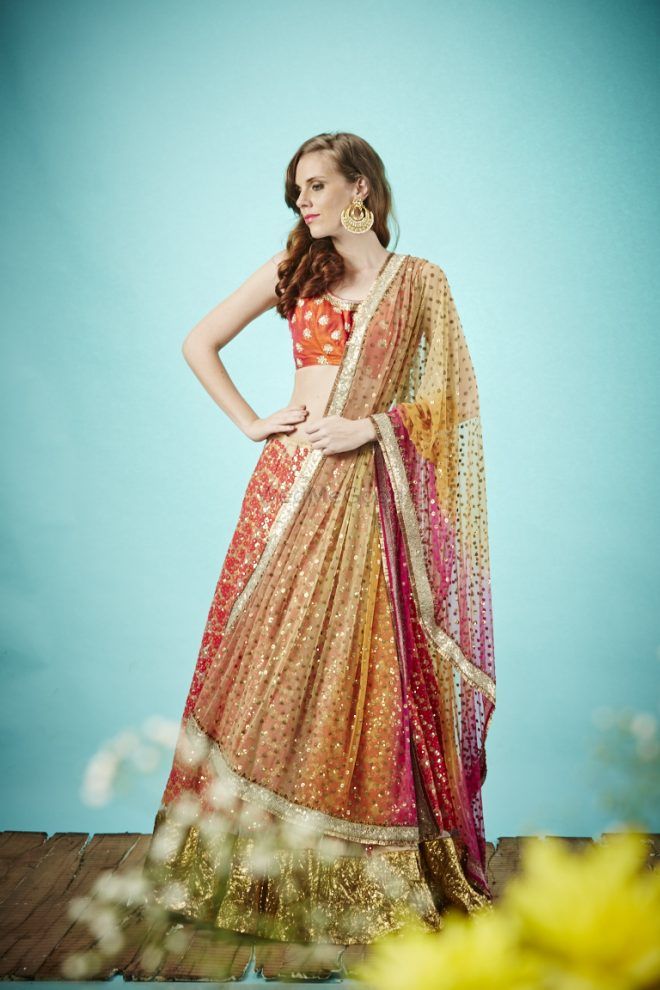 Image via Ritu Seksaria Bridal Wear★ 4.5
The easiest and the most effortless of 'em all! Such lehenga dupatta with a sleek border would be the perfect pick for this style. Mostly preferred by the bridesmaids.
Drape 12: Wrapped over one shoulder and arm and then crossed over opposite wrist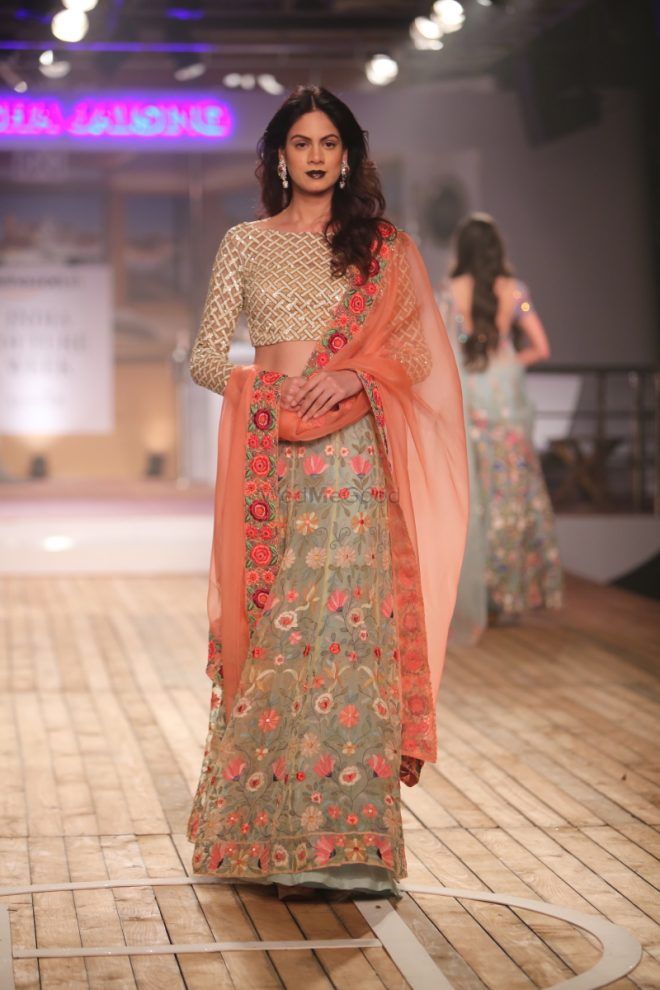 Image via Monisha Jaising★ 4.8
An Organza dupatta works great when you have to opt for this draping style. Not too jazzy and quite graceful!
Drape 13: With one side straight on the shoulder, the end other tucked to the opposite side of waist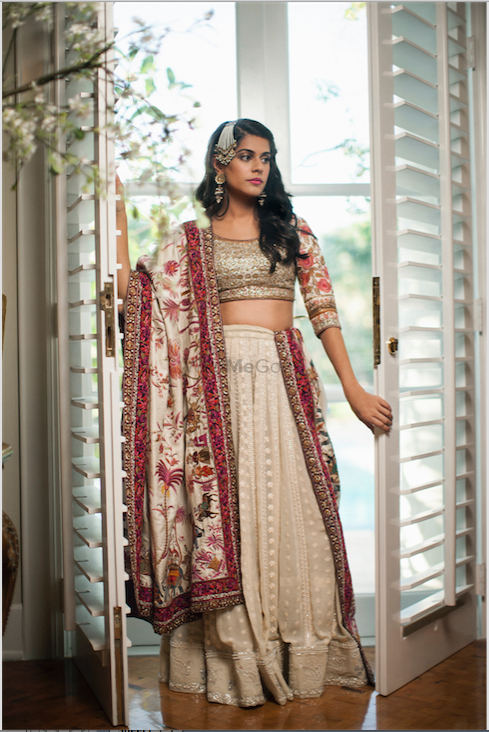 Image via Misha Lakhani
This way of draping dupatta ooks great when styled with extremely heavy lehengas, as it keeps you pretty much sorted for the wedding ceremonies.
Drape 14: When taken over one arm and wrapped around wrist on the other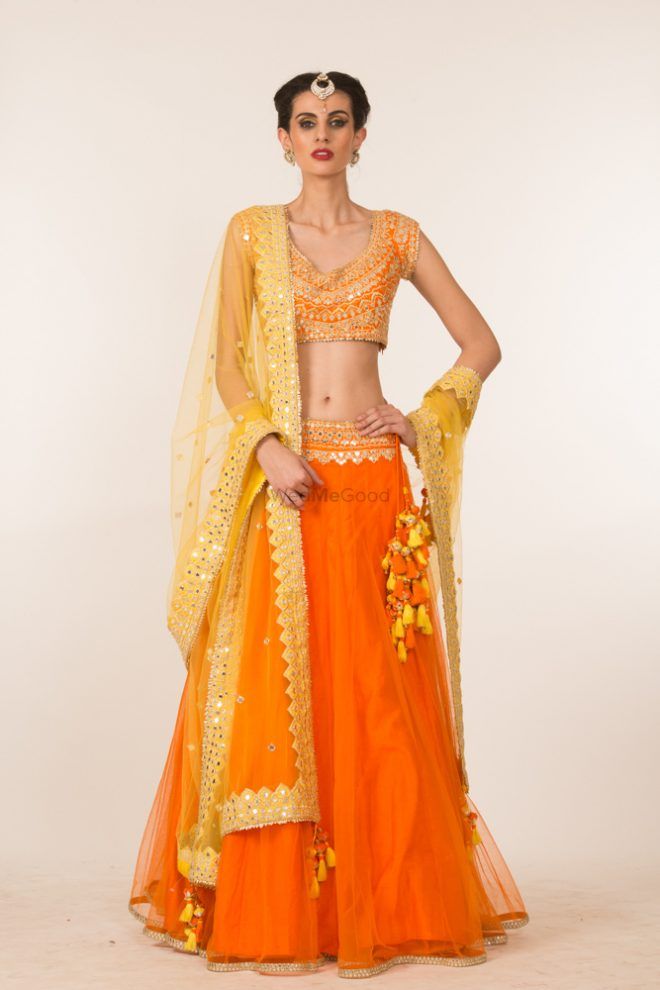 Image via Preeti S Kapoor★ 2.2
There must have been times when you don't realize that your dupatta's sweeping dirty floors and roads and by the time you do, the damage has been done. This drape totally avoids such mishaps!
Drape 15: Dupatta on head with one side pinned behind the shoulder and the other side brought to the front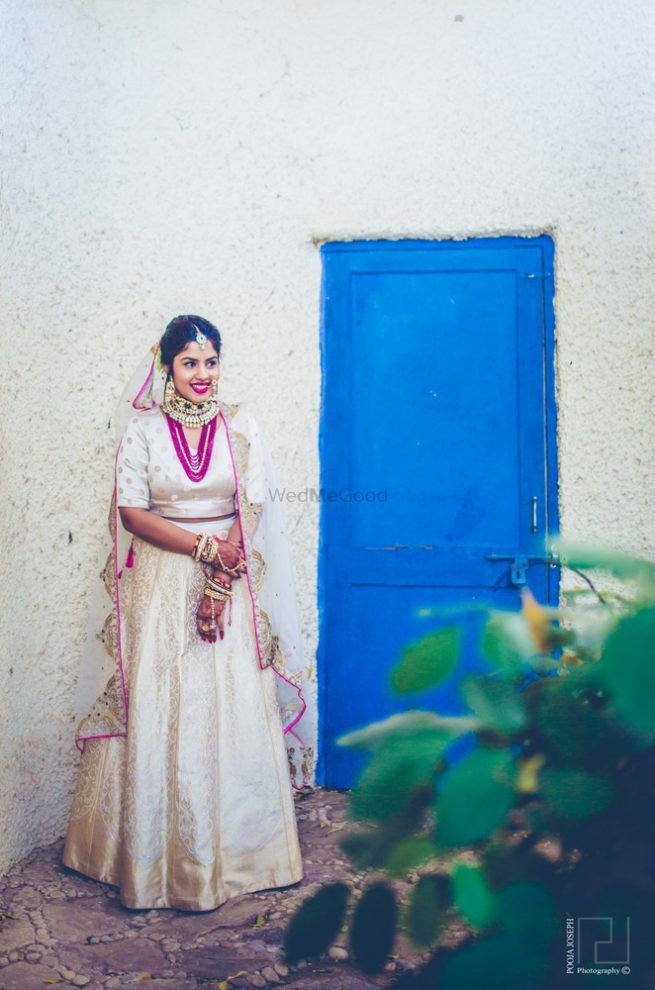 Image via Pooja Joseph Photography★ 4.9
For this drape, you should pick a very lightweight dupatta to avoid extra weight on your hairdo. Go for silk or raw silk fabric with sequin work.
Drape 16: Dupatta on head and then brought over shoulders from behind and pinned to waist on one side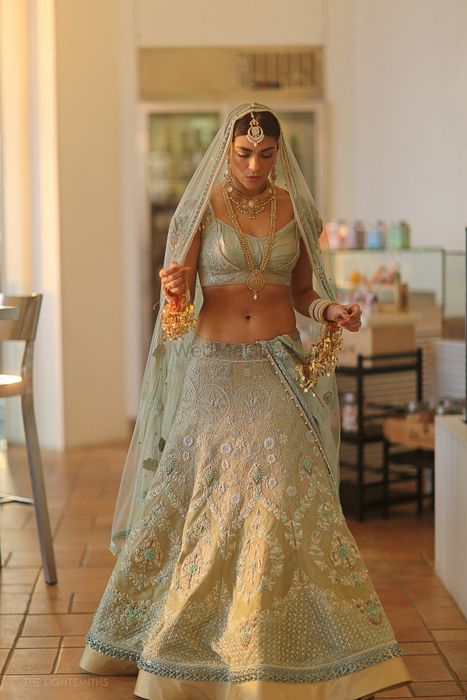 Image via The Lightsmiths
Looks the best if you want to wear a monotone lehenga for your wedding, as there'll be no second dupatta for a stark contrast!
Drape 17: Draped over the head and brought in the front on one side, while the other is tucked behind on the waist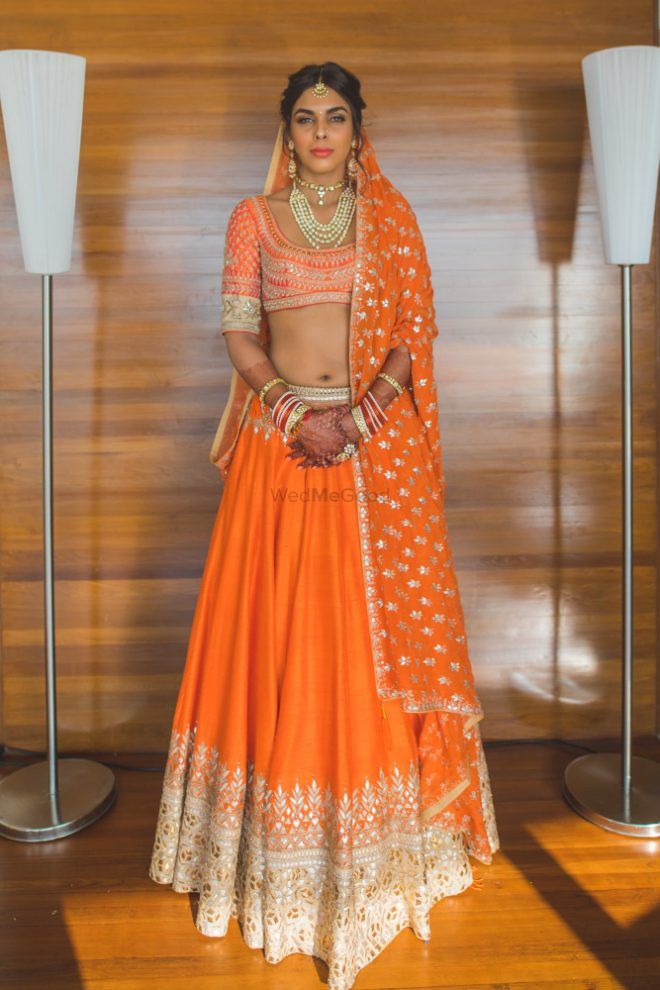 Image via Anita Dongre★ 4.9
A really vintage draping style to opt for. Was pretty popular amongst the brides until the double dupatta drapes came into the wedding scenario.
Drape 18: Over head and then spread over chest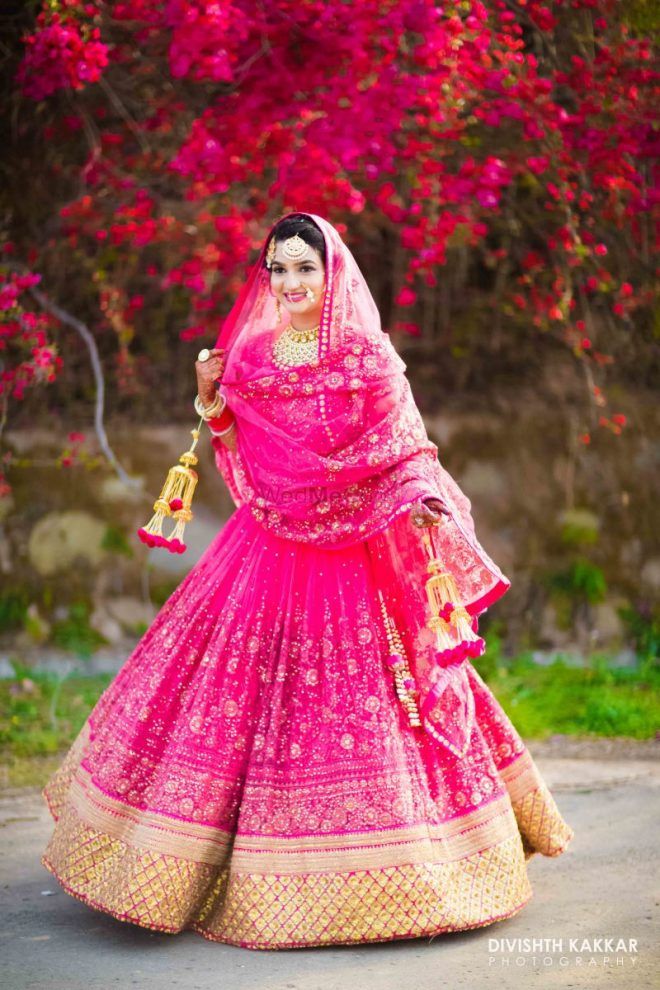 Image via Divishth Kakkar Photography
You don't really pin the lehenga dupatta in this drape and when you're done with the rituals you can either style it a different way or simply keep it aside!
Drape 19: Dupatta on head brought in front in a U-shape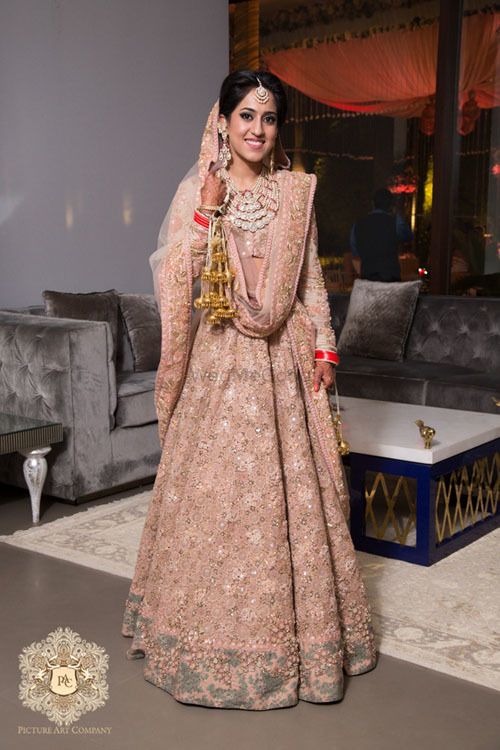 Image via Sabyasachi Mukherjee★ 4.9
This lehenga dupatta draping style gives an illusion of you wearing two dupattas while you're wearing just one! Saves cost, right?
Double Dupatta Draping Styles
Drape 20: One over head and the other draped normal saree style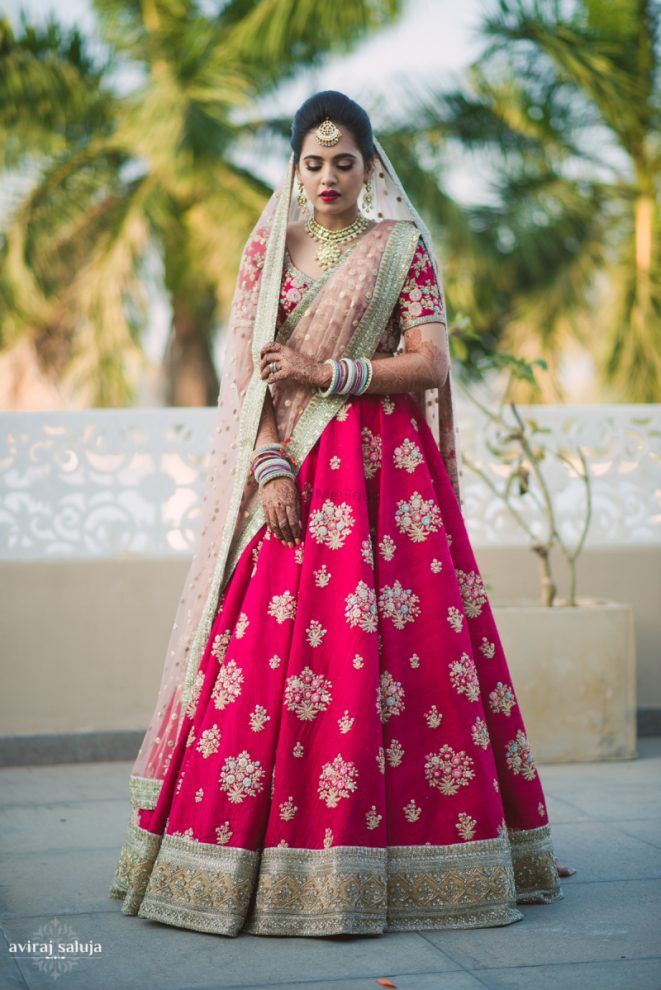 Image via Aviraj Saluja Wedding Photography
Looks best when styled with both the dupattas in the same color! Highly recommended.
Drape 21: One over the head and then brought over shoulders, the other draped like a Gujarati saree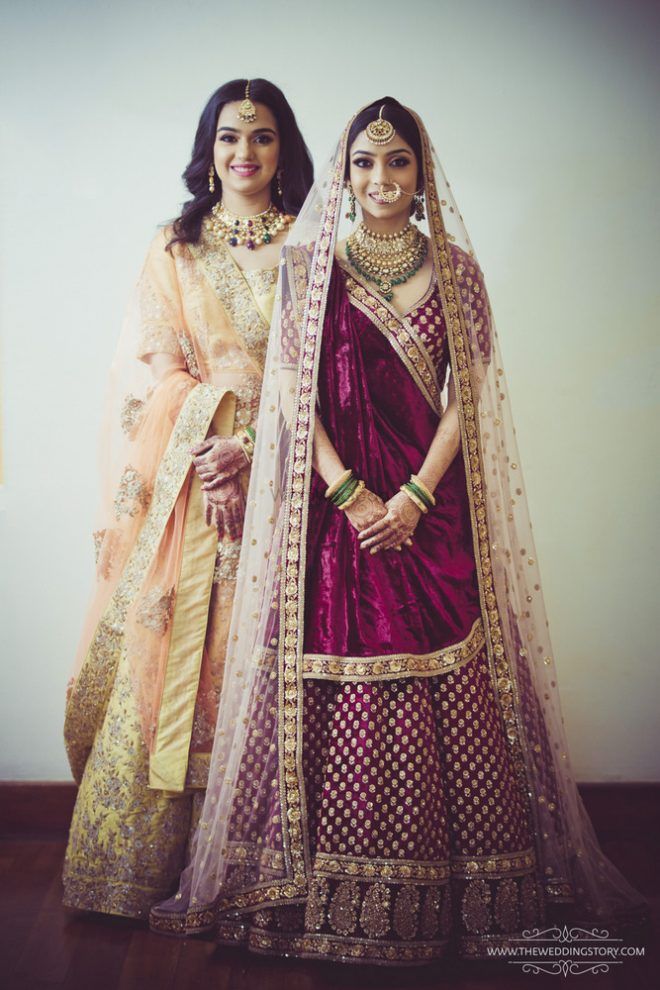 Image via The Wedding Story★ 5
For this drape, you can go for an intricately embroidered velvet dupatta over the shoulder and light sheer dupatta in pastel hue on the head for instant variation!
Drape 22: One over head and then one brought from back to front and over the arm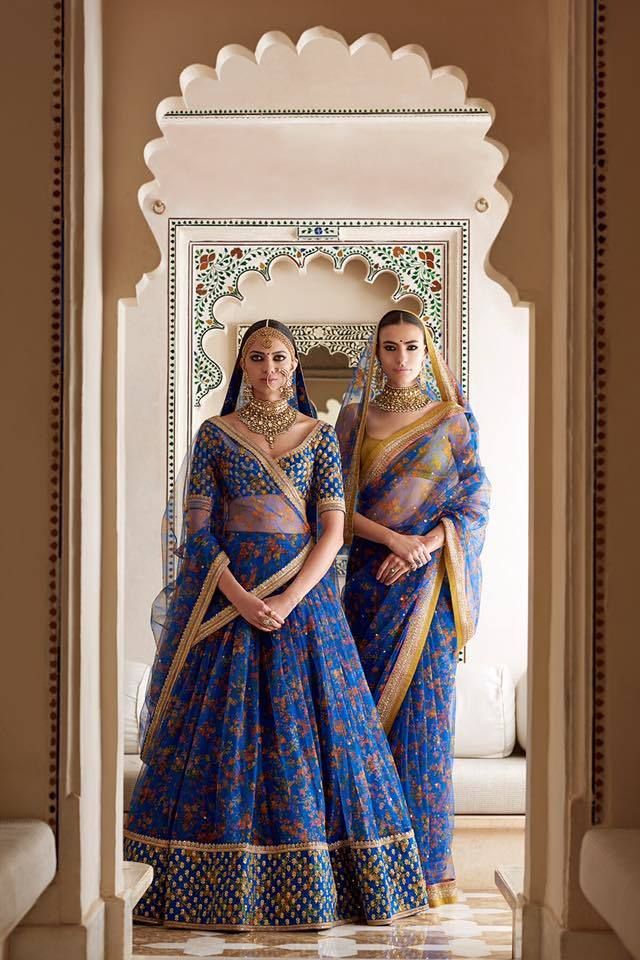 Image via Sabyasachi Mukherjee★ 4.9
Perfect style to wear double dupatta if your one dupatta is sheer and you have a heavily detailed blouse to flaunt!
Drape 23: One over the head, and a contrasting one on the side pinned to the shoulder straight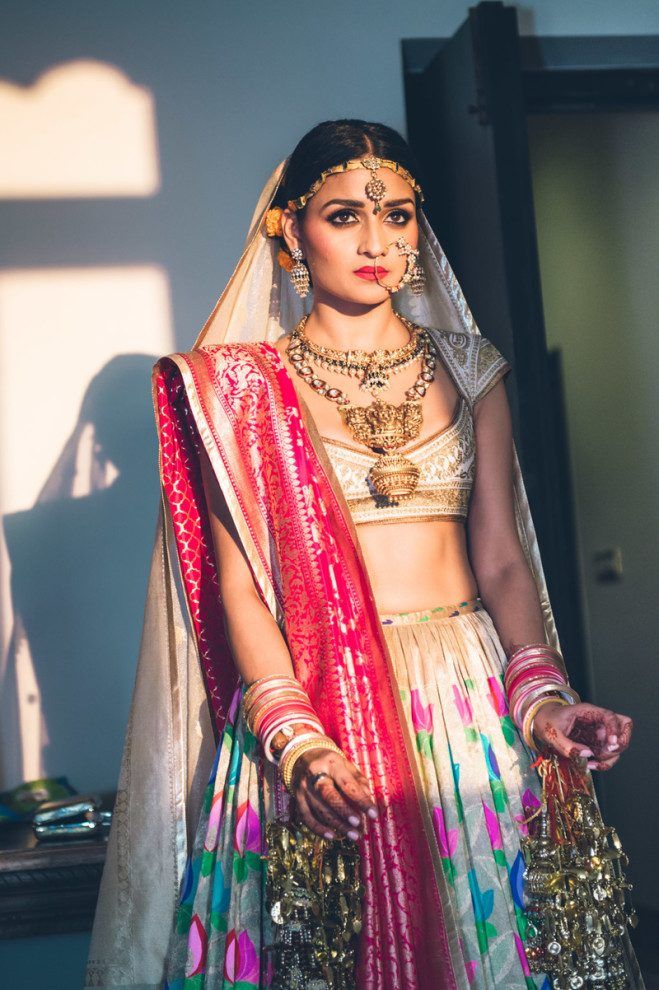 Image via Rohit Bal★ 5
Whoever thought that the 'how to wear lehenga dupatta in different styles' query was limited to the bridesmaids, was absolutely wrong because even the brides these days do not prefer mainstream draping style! With this style instead of taking two heavy dupattas, you can take heavier one over the head and lighter one pinned to the shoulder, in order to be comfortable yet stylish.
Drape 24: One over the head, and the other taking like a chunni across, covering the chest completely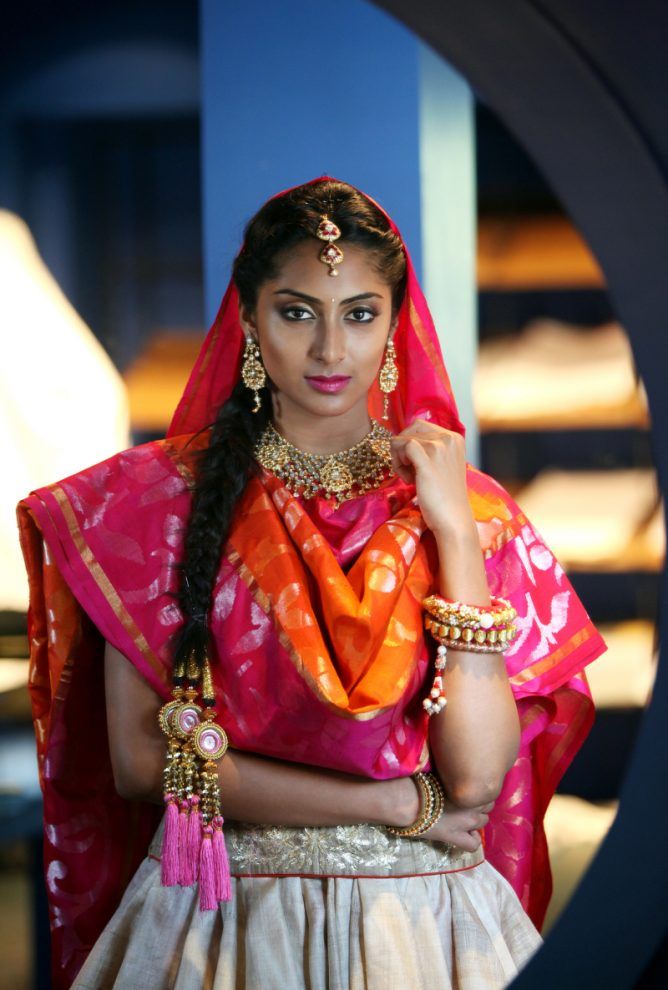 Image via Deepika Govind★ 5
Can't get enough of one dupatta? Well, take two! To keep it light one can pick vibrant silk dupattas on bridal lehengas and totally nail the day wedding looks.
Drape 25: One over the bride's head, the other draped wafer thin with only the border saree-style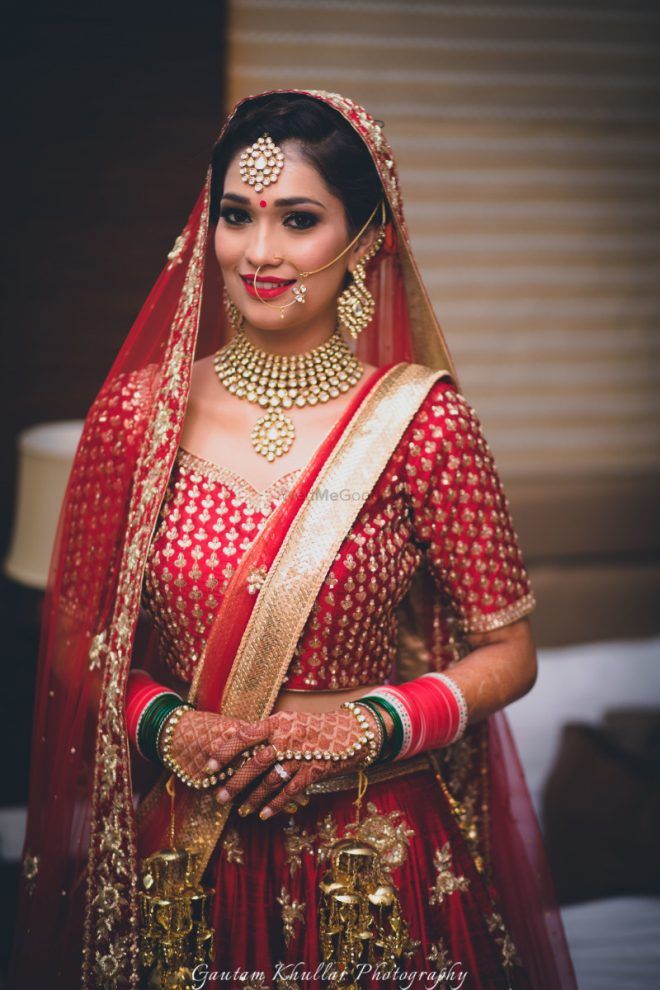 Image via Gautam Khullar Photography★ 4.8
Super apt when your bridal lehenga's dupatta has an alluring border to display. Also, it doesn't overlap your bridal jewelry!
Drape 26: One pleated on the side, the other worn like a saree with one end on the head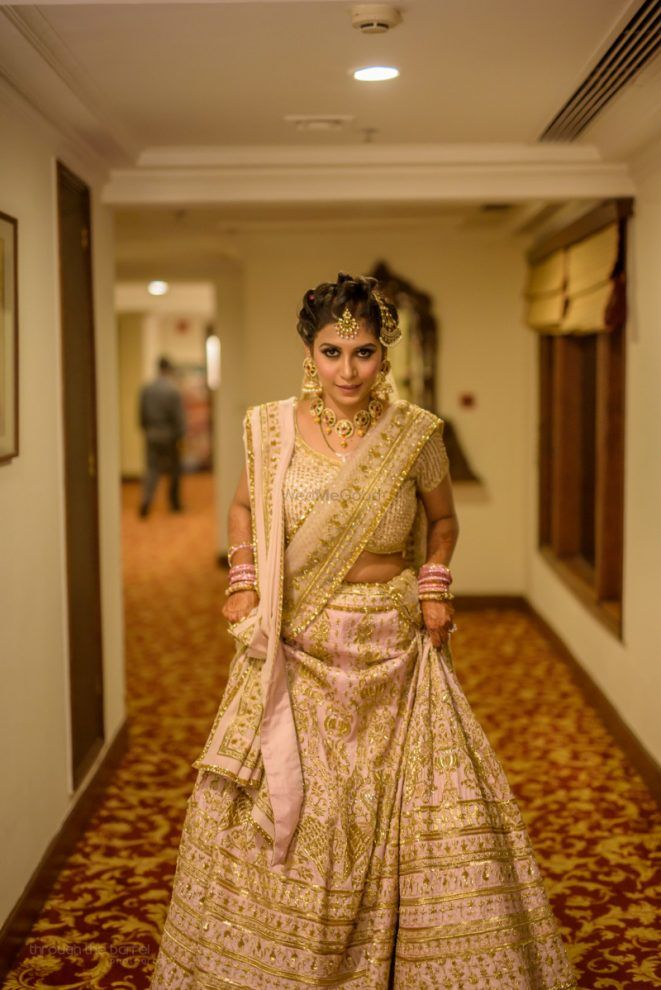 Image via Through the Barrel★ 4.6
Highly common amongst the Indian brides off recently. You can also pick contrasting color dupattas to give a modern essence to your bridal look.
Drape 27: One draped over head and the other draped over the chest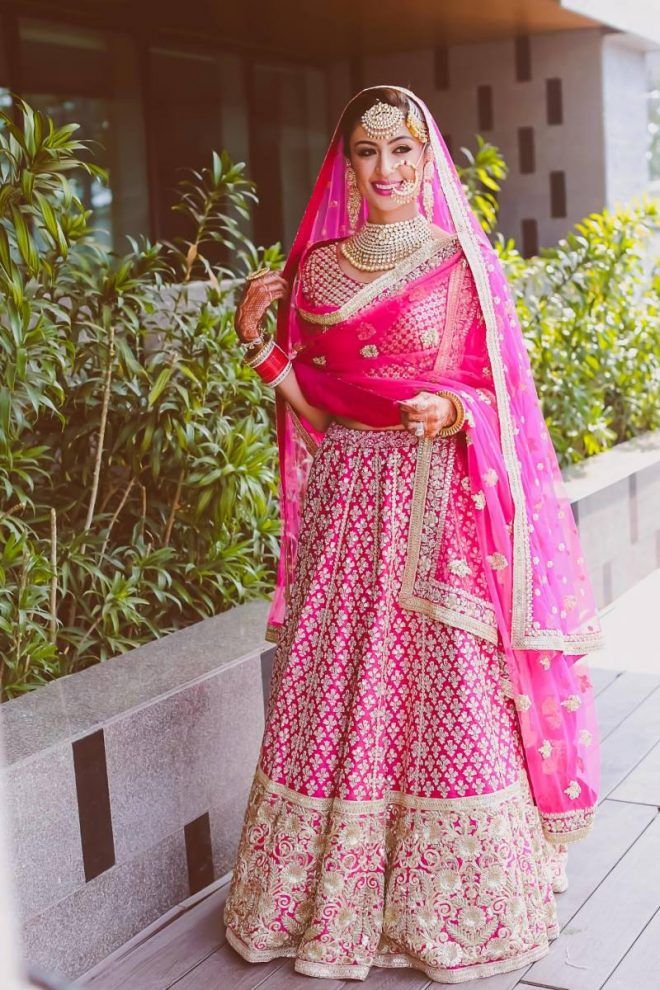 Image via Arjun and Kiran's Wedding
This lehenga draping style is catching up in India at a good pace. It keeps the bride hassle-free as both the dupattas are pinned & looks really beautiful yet comfortable.
Drape 28: Double Dupatta- One on the head, the other one brought in front with a scoop or 'U'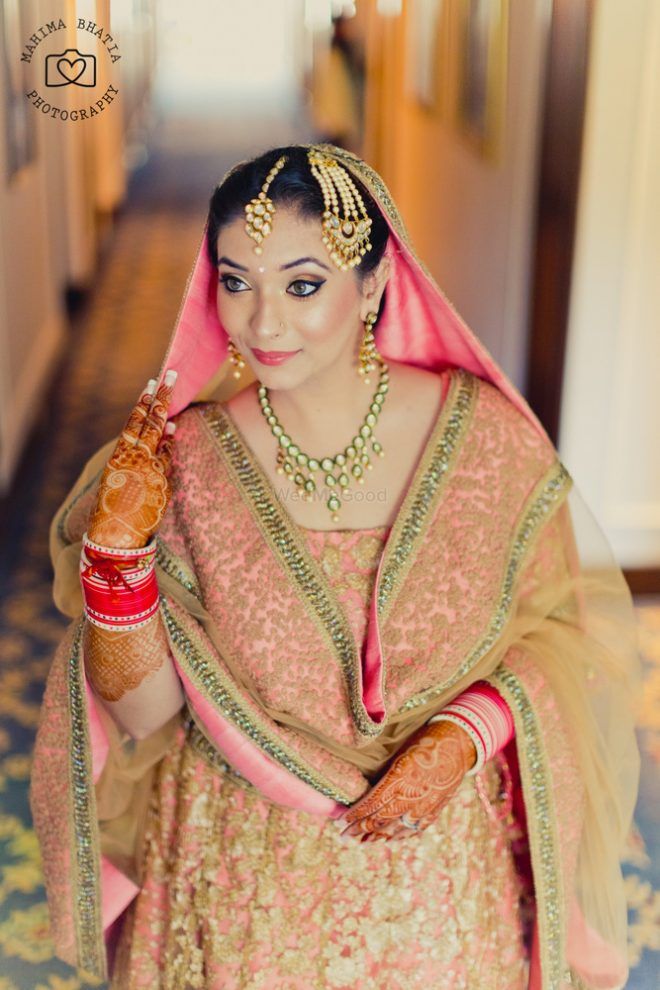 Image via Mahima Bhatia Photography★ 4.9
Quite popular style amongst the Sikh weddings. Definitely give it a try if you haven't already!
Drape 29: One over the head and one worn over shoulder and taken in one arm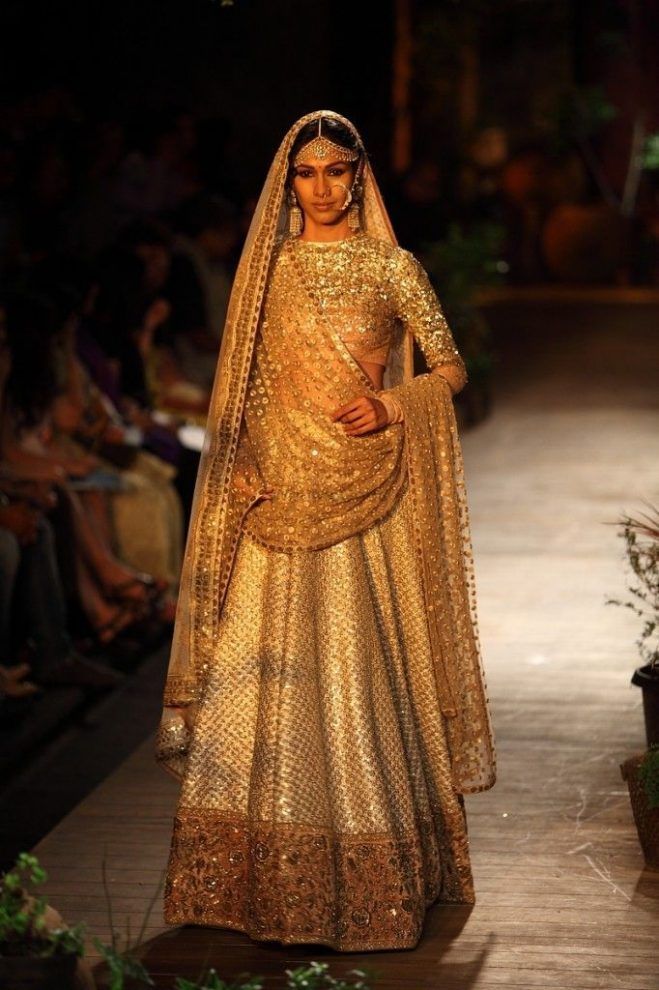 Image via Sabyasachi Mukherjee★ 4.9
Ever since the double dupatta came into existence, we've seen a lot of brides sporting this draping style with their bridal lehengas! Gives out a very royal vibe.
Drape 30: One taken pleated like a saree, and the other draped over one shoulder and taken on the opposite elbow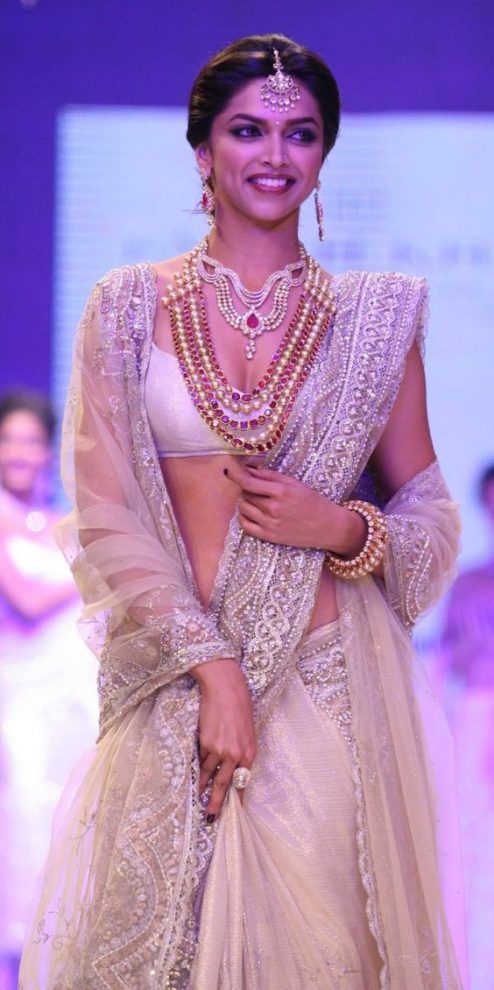 Image via Pinterest
The easiest & sassiest way to layer for a winter wedding! Since most of us don't prefer wearing woolens at weddings, this lehenga drape will do the drill and try to keep you comfy during the winter chills.
So which ones are your favourite? Comment below!
Stay updated with the latest wedding trends, Download the WedMeGood app now.