Photographers Reveal: The Bridal Pose That Should Be On Every Bride's List!
BY Sakshi | 07 Nov, 2019 | 4872 views | 4 min read
Who would know better than photographers what the best bridal poses are? To save you the hassle of browsing and narrowing them down, we decided to ask some of the best names in the industry to tell us what according to them is a bridal pose which should feature on every bride's list! So get ready to make your own list!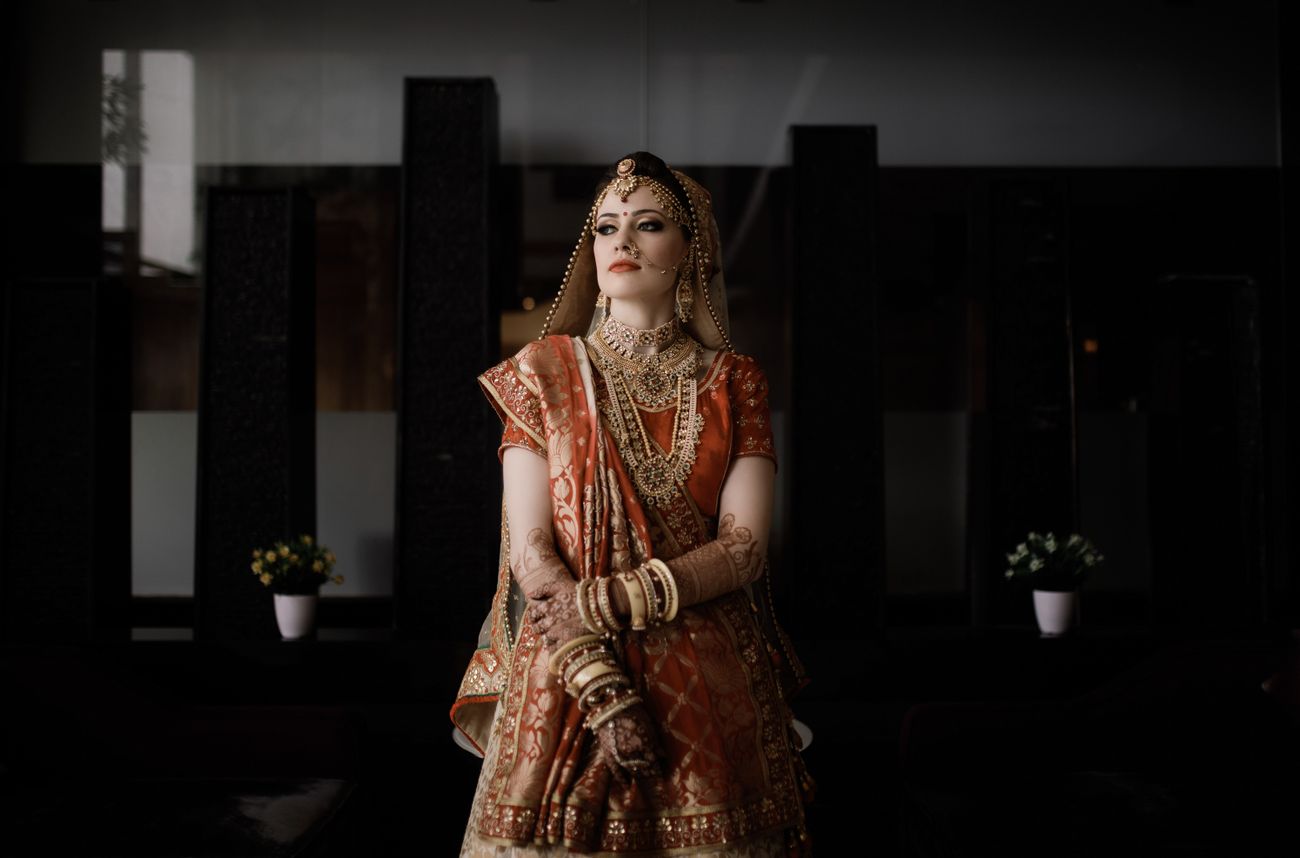 "In 2019, we feel a bride must have a photo that flaunts her attitude, as the wedding day is her's and she is the queen. This pose defines the inner boldness of the bride; the conquering sense of her. We truly feel this pose will empower the whole concept of a wedding this year. It's time to get out of the 'dupatta' and embrace yourself!"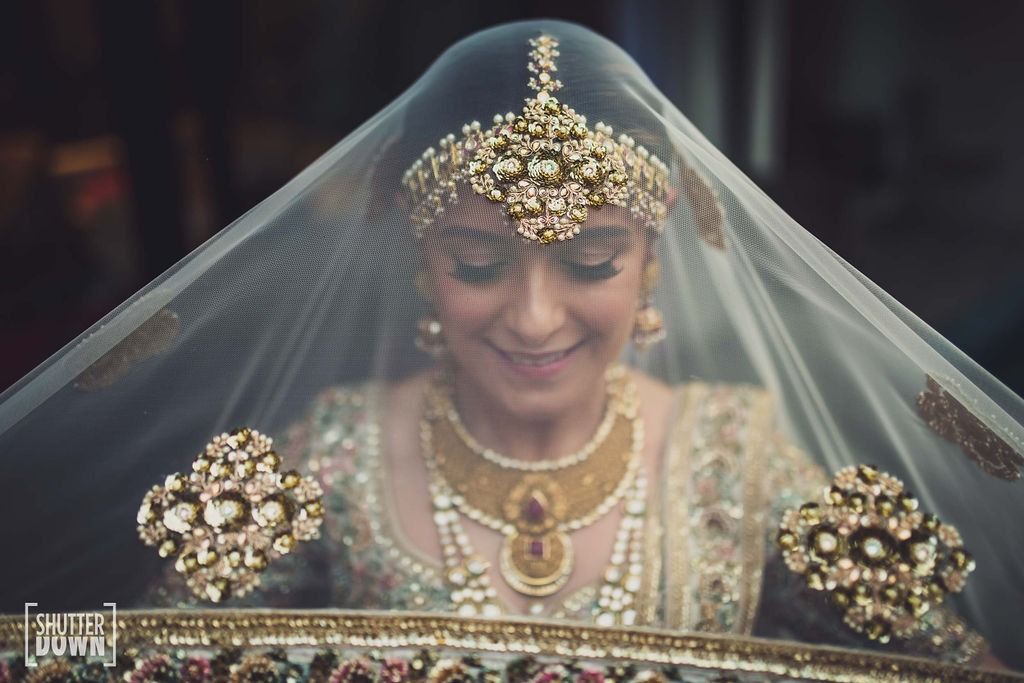 "We love love love to capture bridal details and close-ups. Every bride must include some detailed portraits of herself in her list of bridal poses. In fact, we make sure that anything that captures the essence of a bride and her big day is documented. Those can be her beauty shots, half face close-ups, the pictures of her outfit, jewellery, veil, so on and so forth."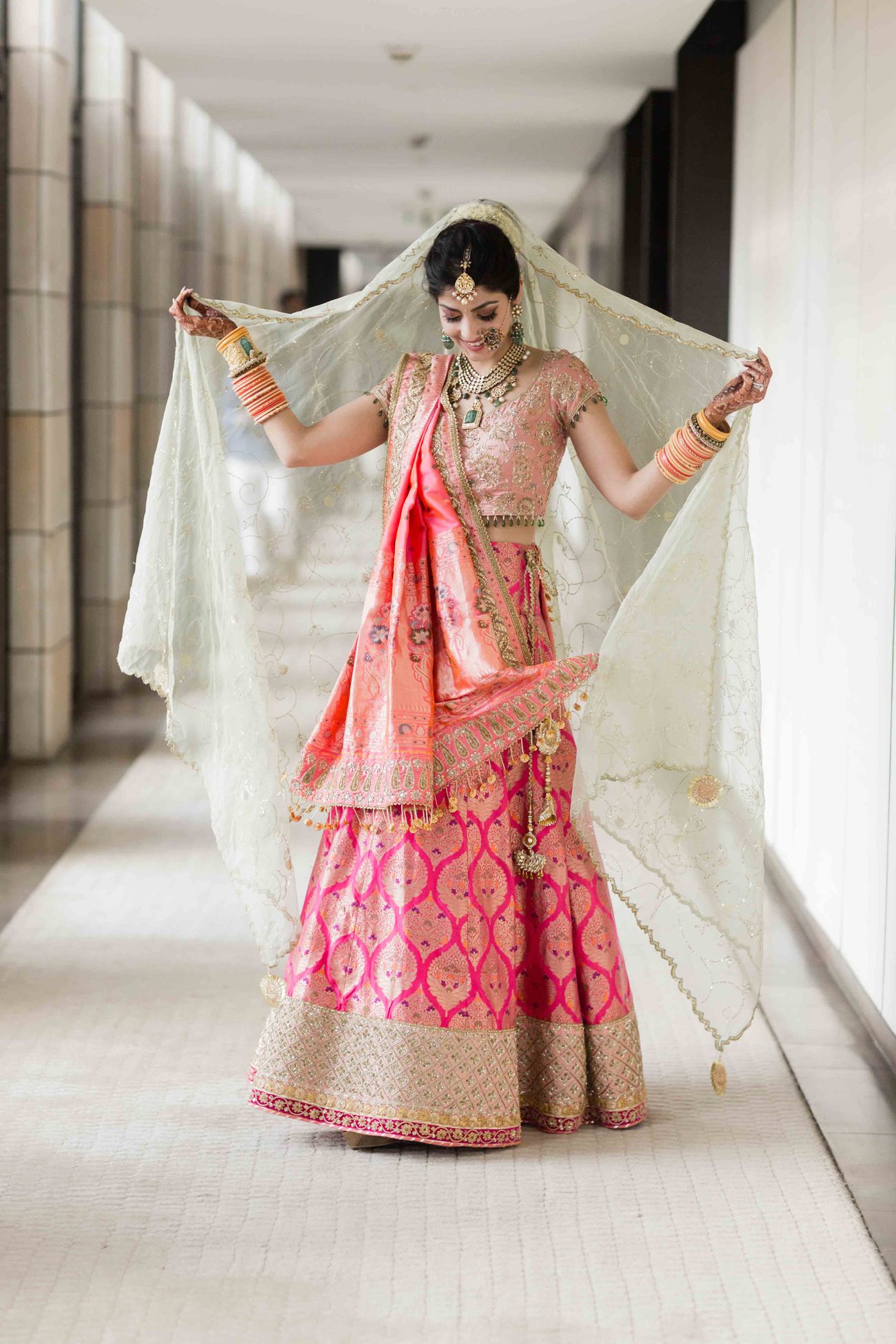 "The veil pose. Pro tip : Aim for a spontaneous shot like simply adjusting the veil, letting it wrap around you, let the wind catch it to create some movement, it really helps posed photographs feel less staged / camera aware. A veil can definitely add a lot more variety to your photographs and it can be used to add movement and depth to photos."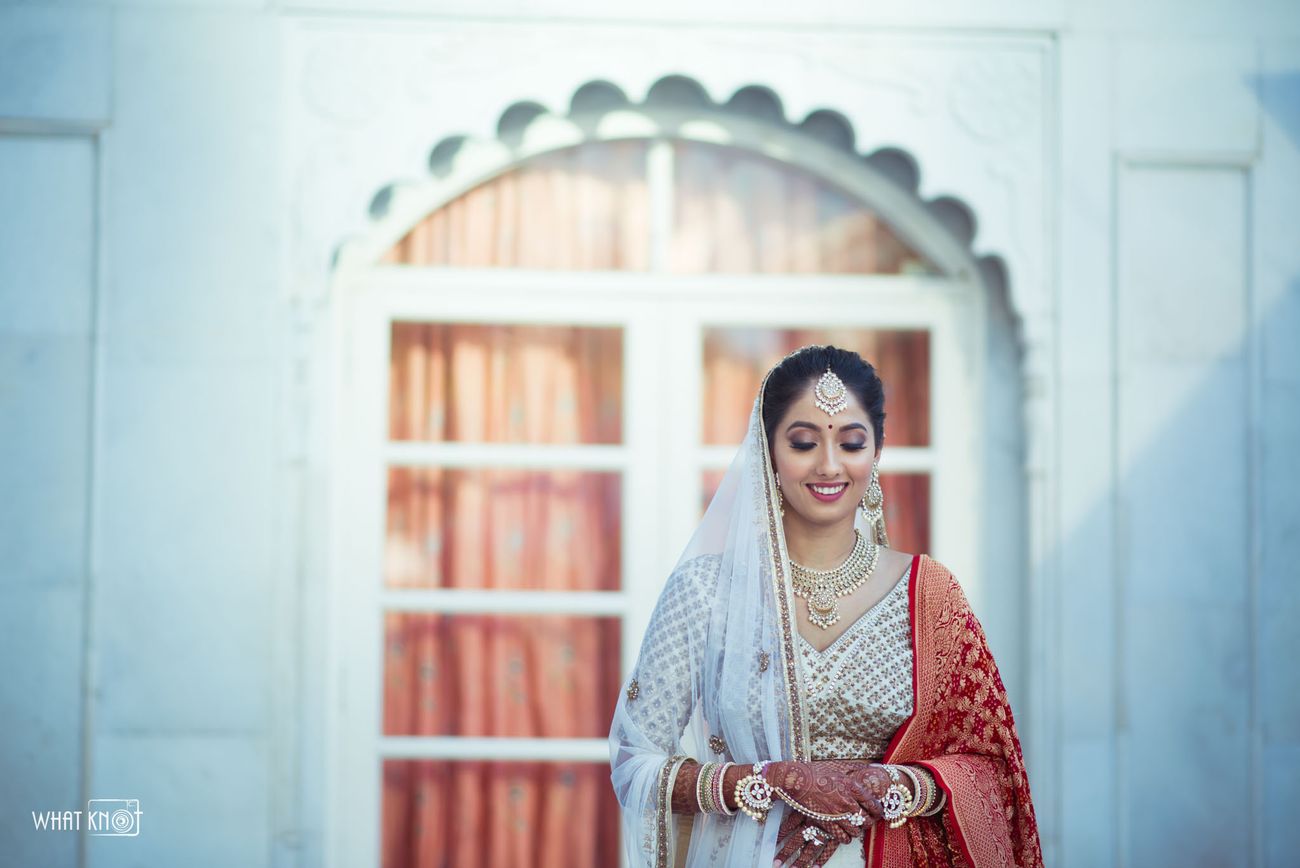 "There really isn't much to posing a bride. Their happiness and grace exudes even when they are just standing still. So, we just let them be in their space and give a few guidelines if needed."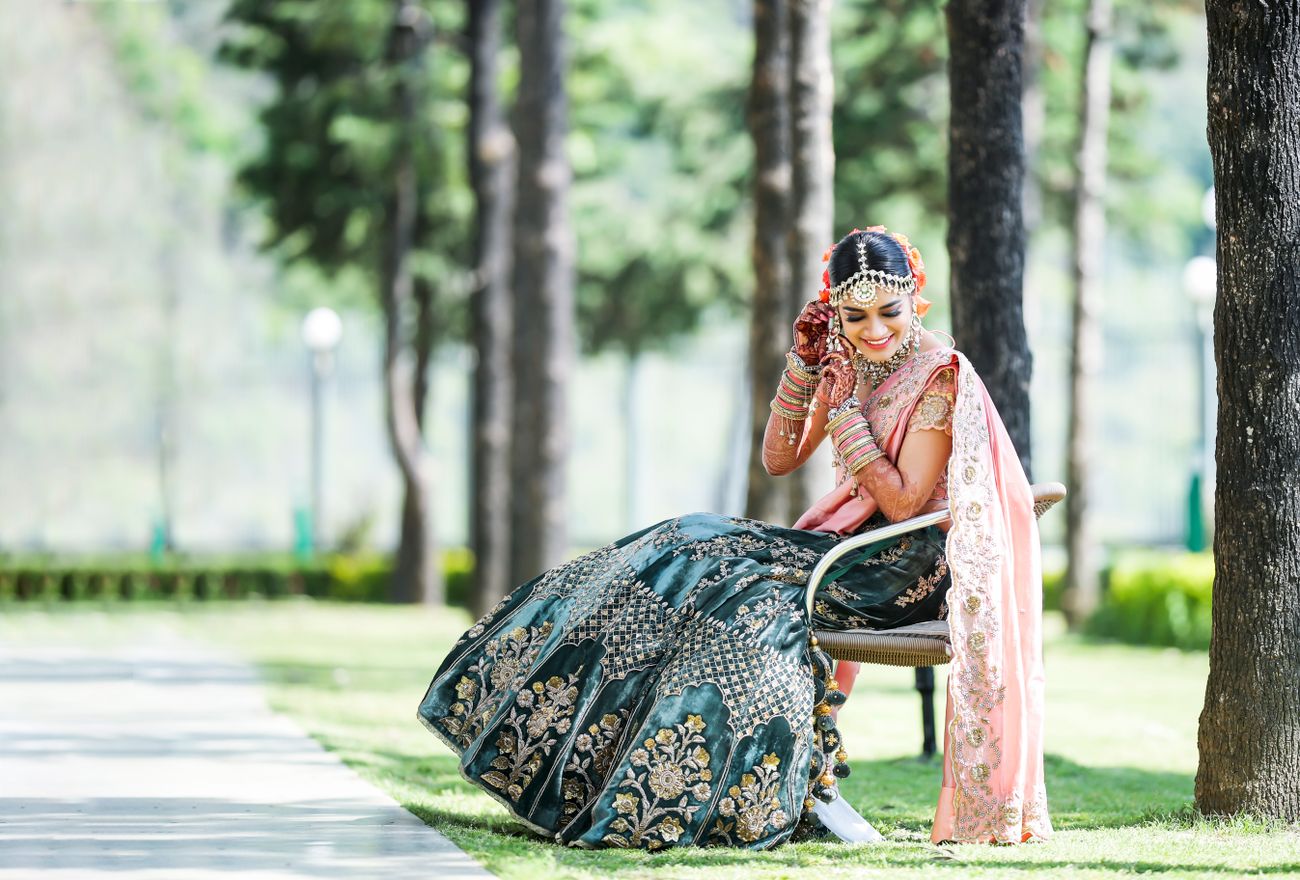 "Adjusting jewellery is a pose that creates great photographs! It looks candid and natural for a bride, and truly captures the beauty of the jewellery as everyone's eyes naturally go towards it in such a click."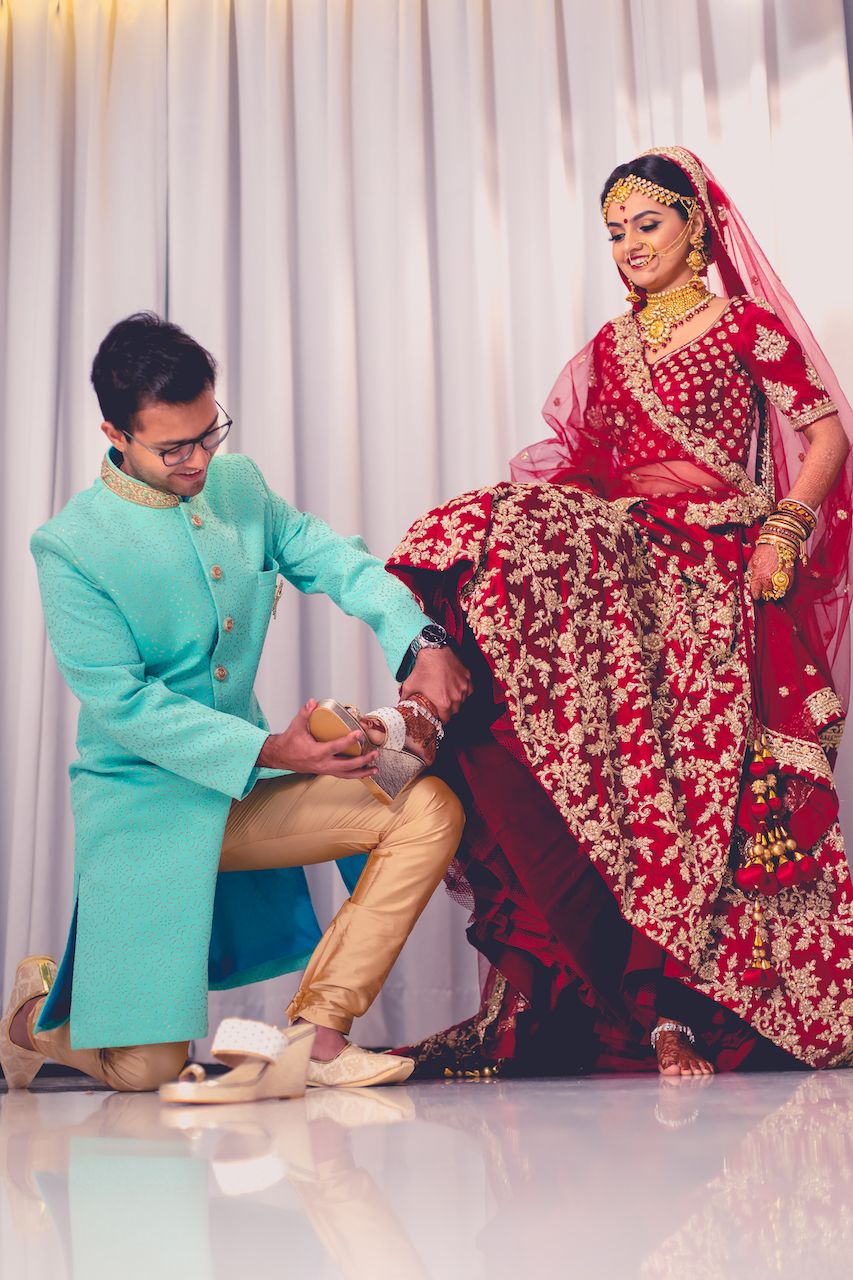 "A bridal portrait with your sibling! While shooting on wedding day we usually see siblings are always missed out. This time we tried to do something different with sibling- making Ritika's younger brother wear her wedding sandals was a fun pose!"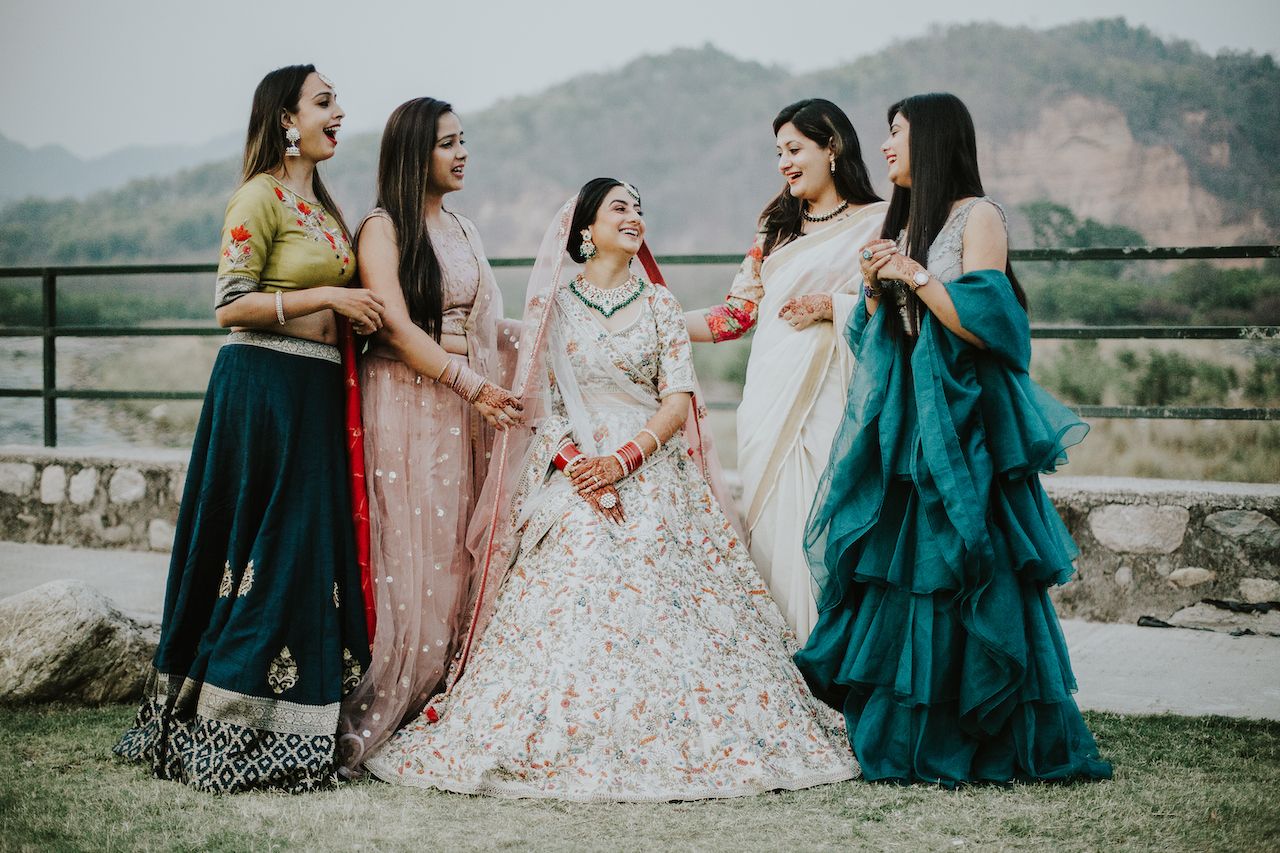 "There is not a second thought when one says that every bride must have a picture with all of her bridesmaids. Here's one example of such a bond. Our bride had some of the best shots clicked with her squad."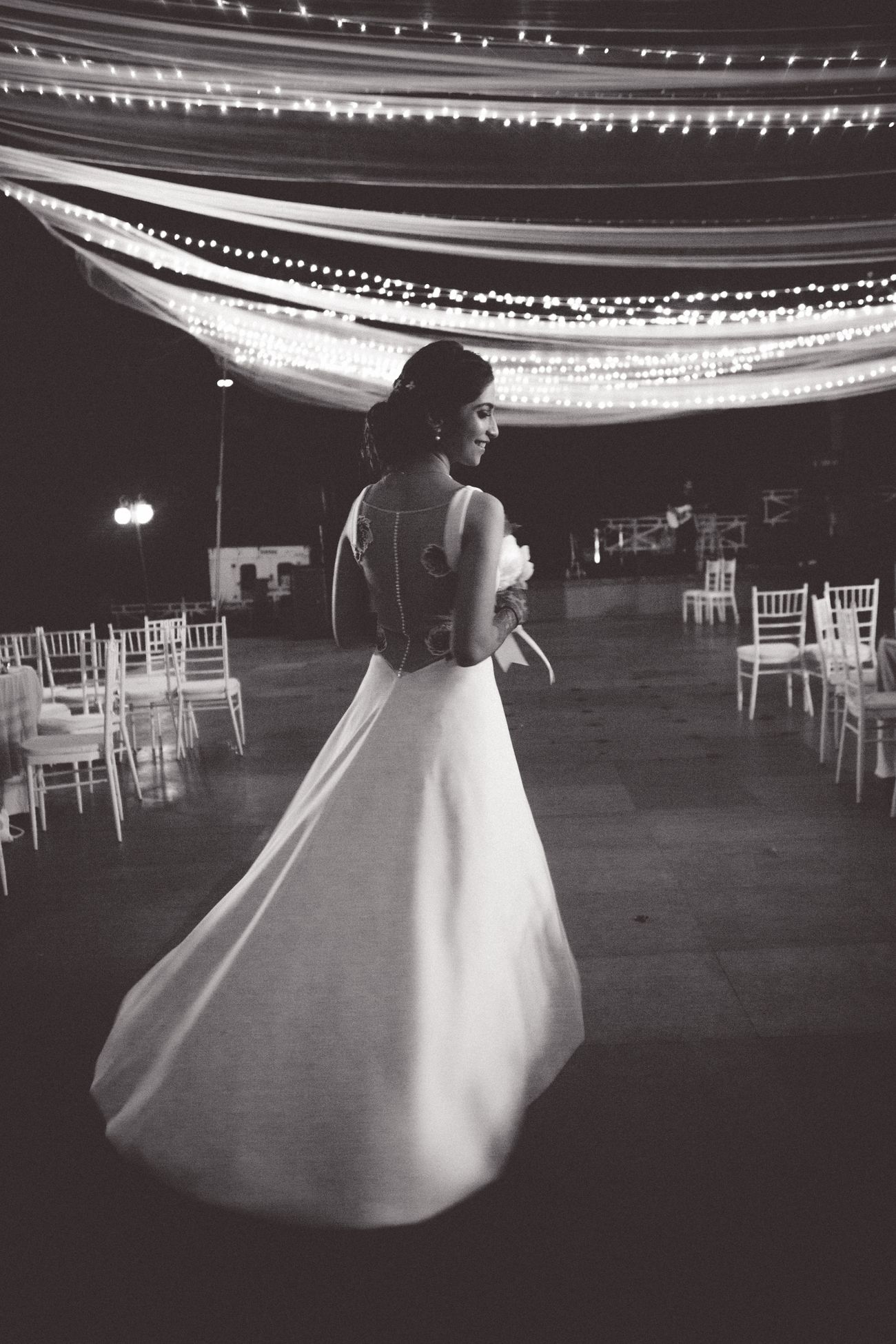 "After her wedding, as I saw Vihal walking towards her friends to toss her bouquet, I called out to her. As soon as she looked back, I took this shot. Vihal's white dress with the beautiful decor and most importantly, her elegance just makes this image one of my all time favourites. Oh! And her smile says it all."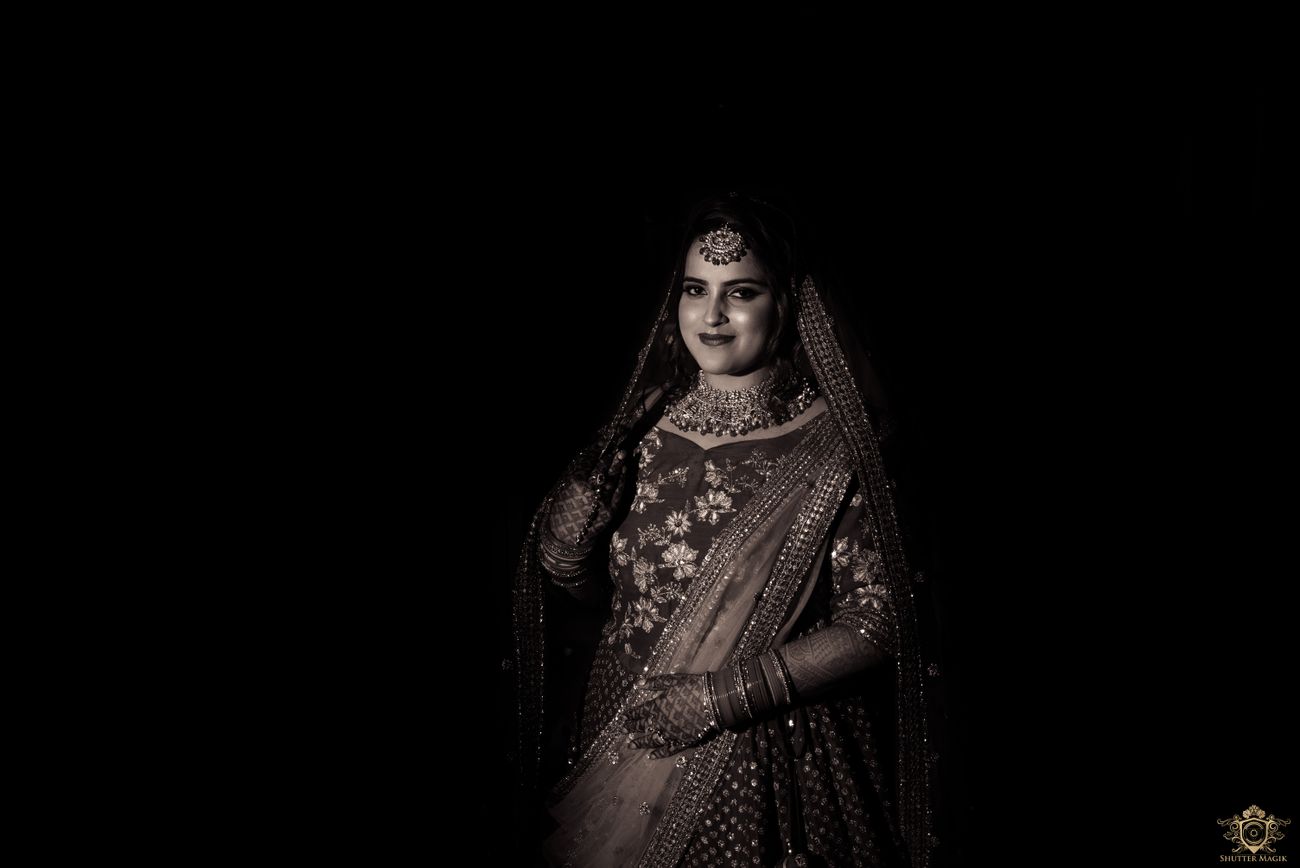 "Brides should always consider standing at an angle to the camera. Rather than standing facing the camera (shoulders pointing towards the camera), an angle always gives a better look and also the brides look slimmer. Other than that, both the hands should never be on the tummy because the focus of the viewer automatically goes to the tummy. A bride should instead engage one hand on the saari/lehenga pallu (holding the pallu with two fingers,showing the rings, bangles, mehendi etc.) and the other arm can rest somewhere around the waist with fist open naturally. Fists should never be closed as it gives an angry look to the photo. Back should be kept absolutely straight. Such small things could make or break a photo. Keeping these points in mind brings out the beauty of any bride and these points will definitely do justice to how beautiful a bride looks on her wedding day."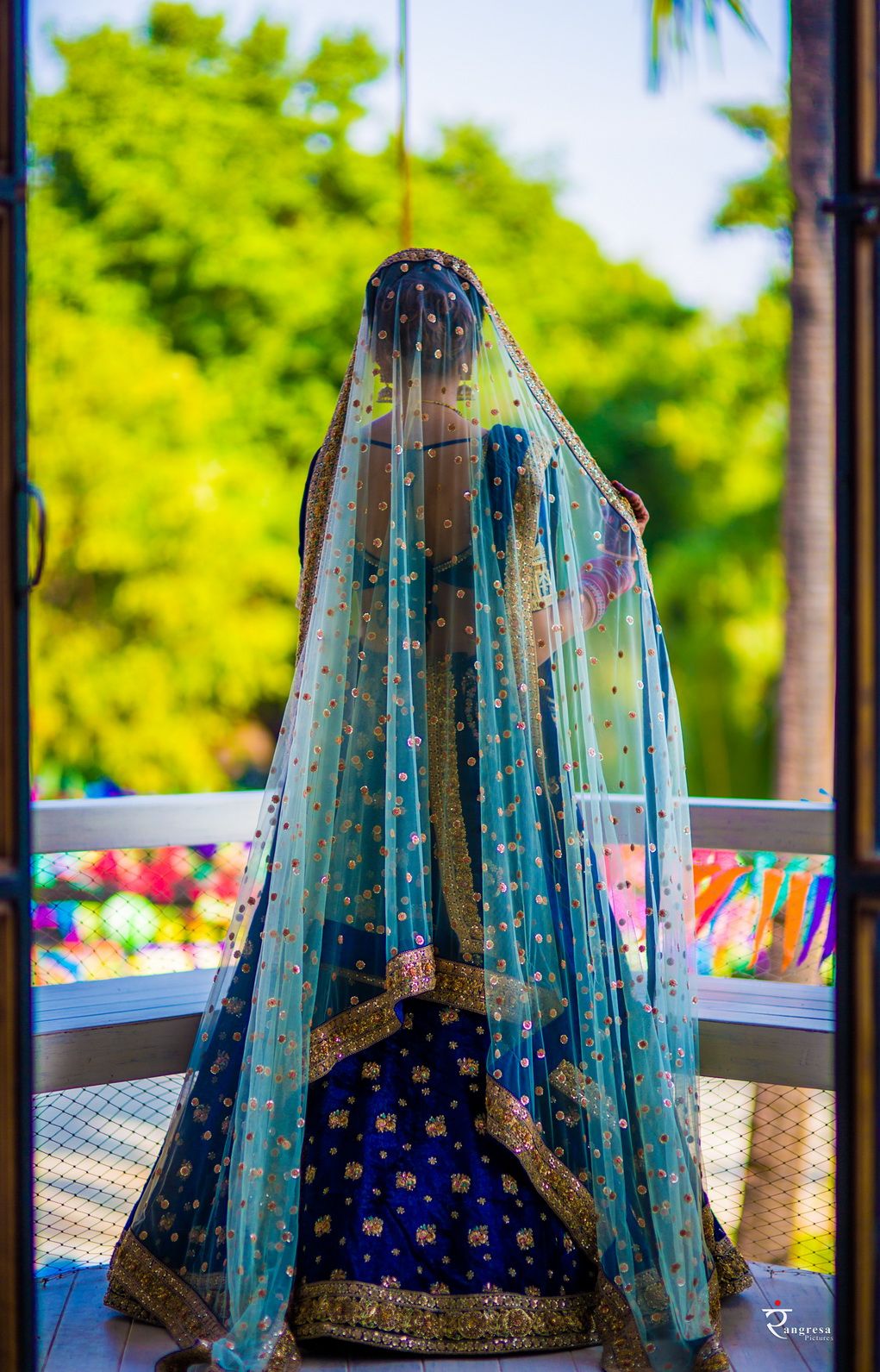 "A bride puts lots of thoughts for her dress on the Wedding Day and it has to be captured perfectly by the photographer. We believe all brides should have this pose in their list. Not only it gives a feel of grandness, but also shows, rather flaunts their attire for the day. "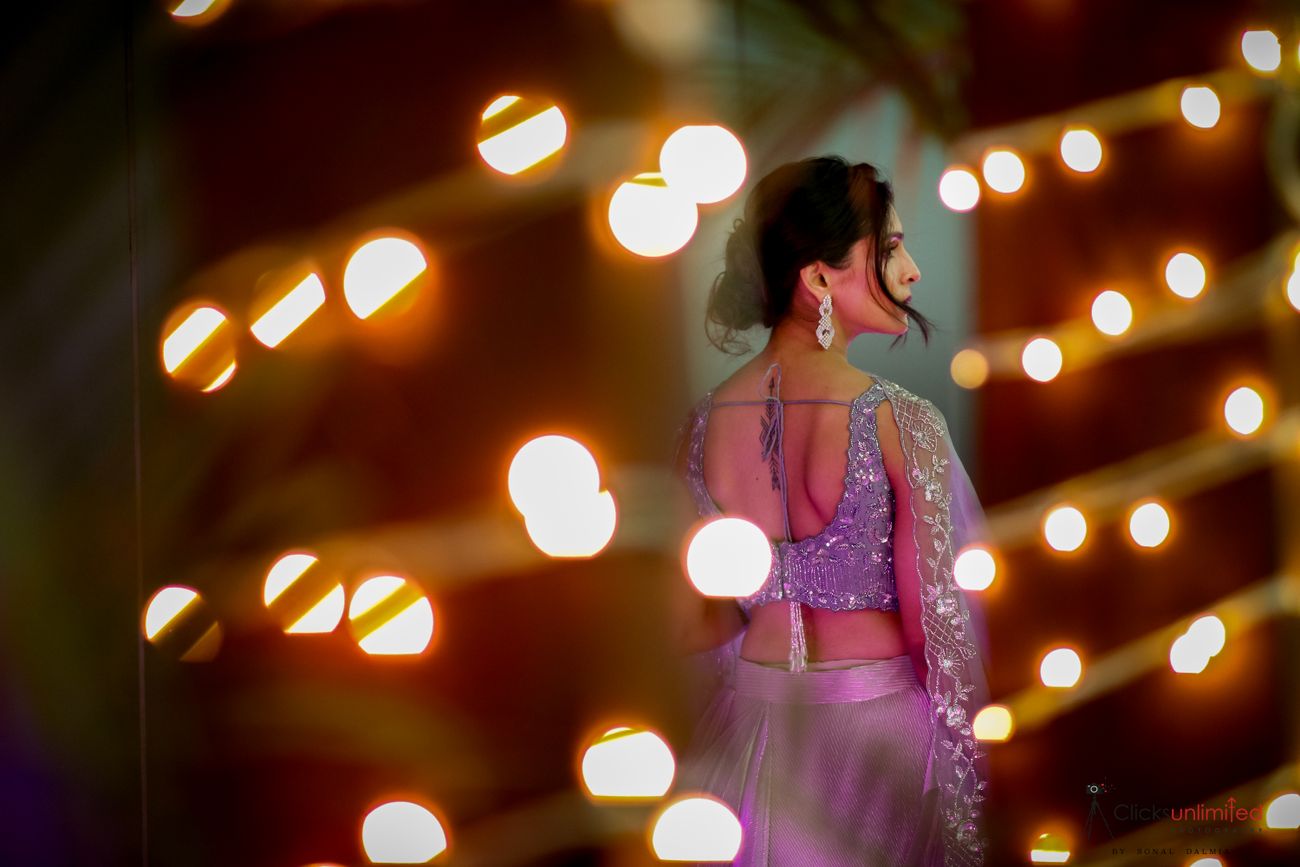 Standing against backdrop lit with fairylights/ lit backdrops! Lights are a dramatic way to create a lighted backdrop at events. Making the bride stand against these backdrops can create charming and lasting impressions at the weddig. This also makes your album look more dramatic.Hence all brides must opt for this unique pose which is showing off your back and turning behind at the same time.
ALSO READ: Photographers Reveal: Shots That Every Bride Must Get Clicked!