Real Brides Reveal - Tips And Tricks To Remember While Picking Up Your Bridal Outfit For An Intimate Wedding!
BY Apoorva | 28 Aug, 2020 | 13598 views | 5 min read
Shopping for your bridal outfit is one of the most exciting as well as strenuous jobs in the wedding planning timeline. There are hundreds of questions that clutter your mind while you go hunting that perfect bridal outfit - How do I make my wedding dress shopping special? What should I bring to wedding dress shopping? Who to take wedding dress shopping? Especially given the current times, the wedding dress stress is multiplied as you are also planning an intimate wedding! But it doesn't have to be so stressful. Shopping for your wedding outfit should be fun and a happy time so we've listed down easy tips and tricks that will help you while you pick that perfect bridal outfit for your upcoming intimate wedding!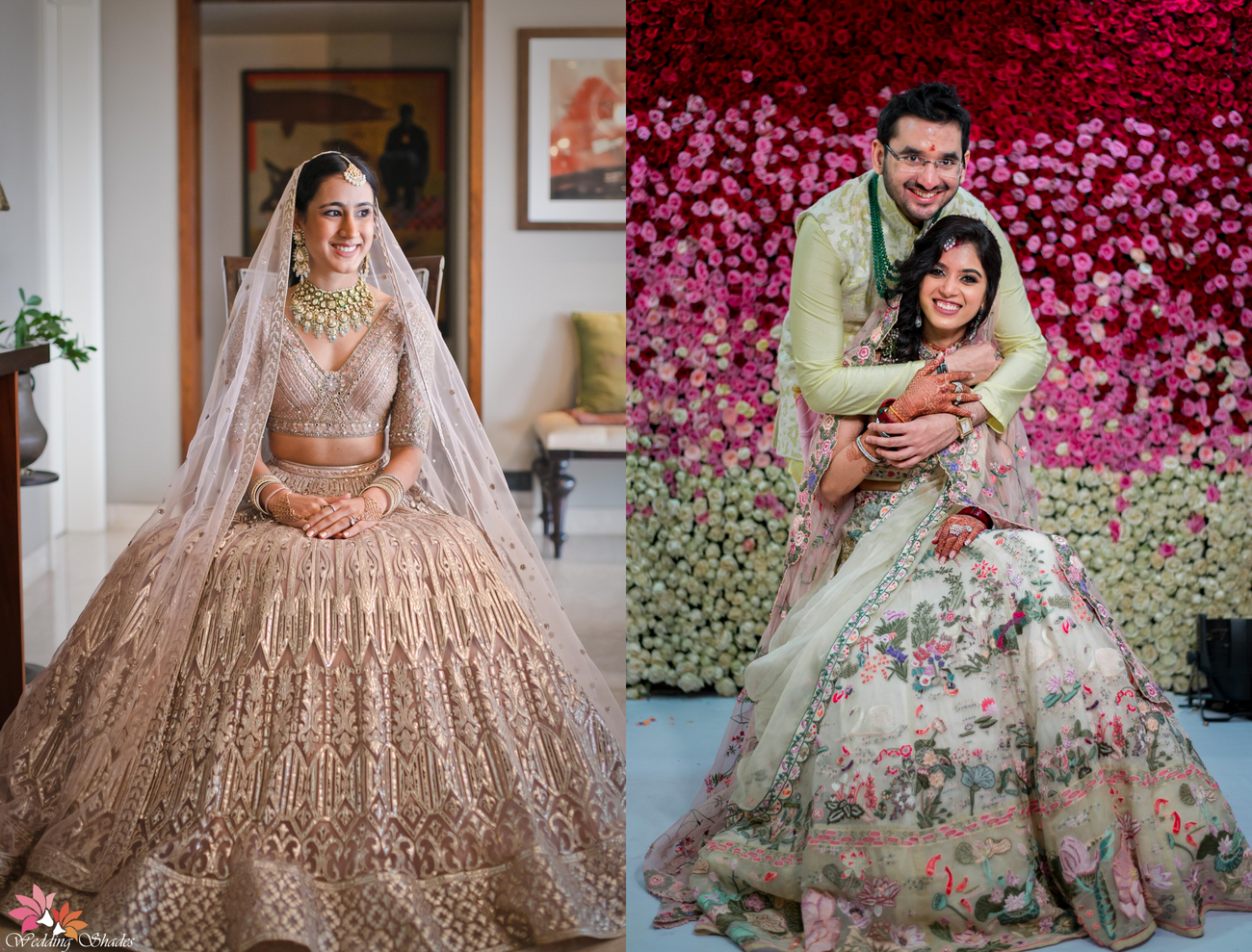 Image via Saloni & Anirudh and Aashna & Rishabh 
Aditi says
Are you going to have another wedding or celebration post the lockdown? If yes, you need to ensure that this bridal outfit is light and not super-duper bridal. This way it doesn't overpower your full-blown wedding outfit later plus you can re-use this one. So this is the one tip I would give brides who are having intimate wedding amidst the pandemic like me!
Vishakha says
I am a soon-to-be bride and I was and am skeptical about stepping out to shop in Mumbai given the rising cases. I saw that WedMeGood is doing this amazing Virtual Shopping service (life saver!) and I registered then and there. They have managed everything so well that you get to see the pieces from various designers and get amazing rates too. I had selected my wedding lehenga online with various inputs from the incredible team and now I have it ready with me! It was such a relief for me and my familyq. No need for any wedding dress shopping etiquette or the dilemma of who to take wedding dress shopping.  It's a god-sent for brides like me or even brides who are staying out of India.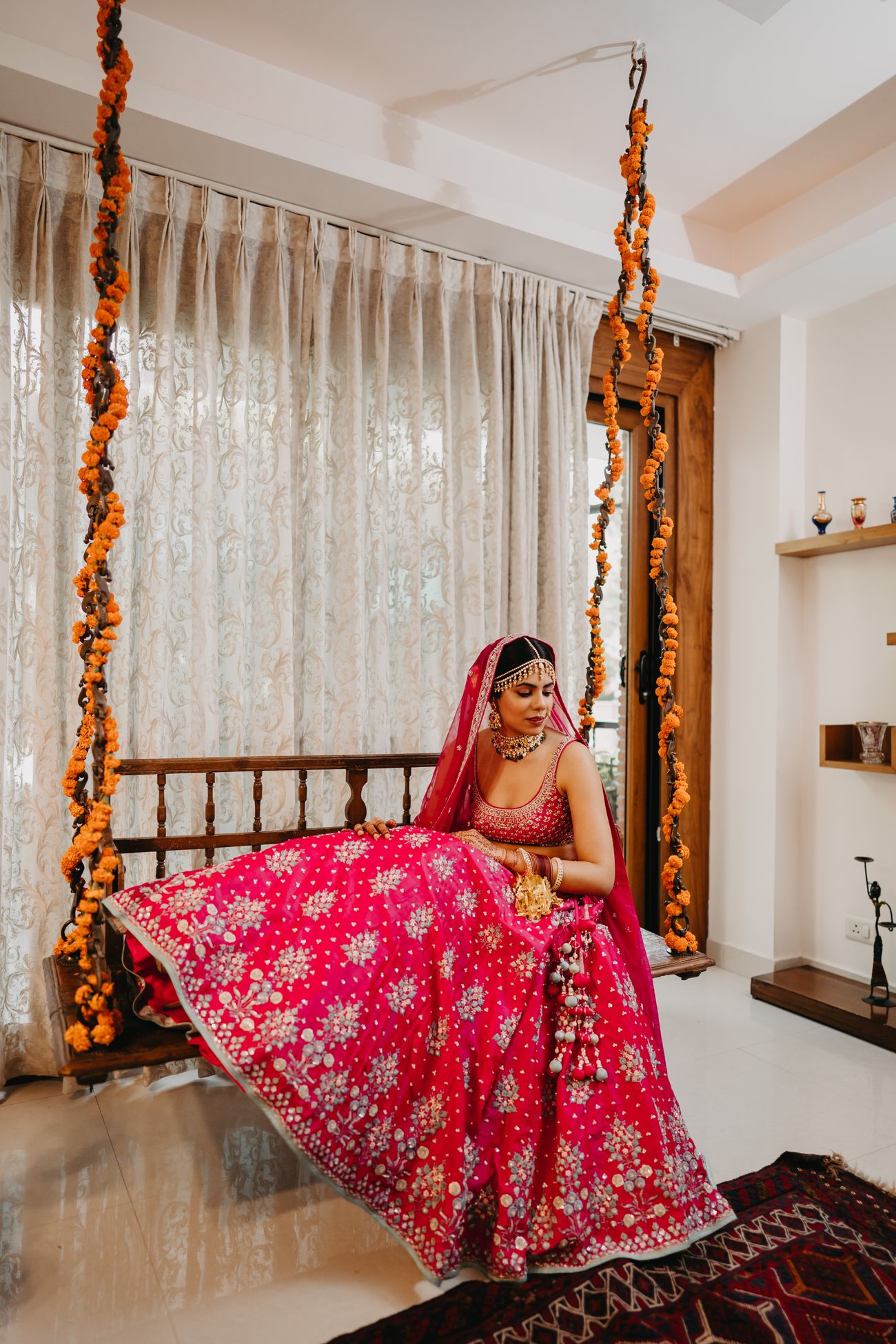 Image via Mehak and Rishabh
Vaani says
The one tip I would give brides to be shopping for their intimate wedding is that dress based on the venue that you are getting married in. I had selected a lehenga with a trail for my original (pre-covid world) wedding. But plans got shifted and we got married in the lawns of my house in JUNE! Given the rains and lawns, the trail lehenga wasn't a great choice. I altered it to cut out the trail but if you are shopping now, please keep in mind that where you are having your wedding since intimate weddings are now very different.
Pankhuri says
If you are getting married at home with limited guests, I suggest that you shop for something light and airy. You are at home so you want to be comfortable along with the design on the outfit. Pick something that you can easily carry instead of a super heavy lehenga.
Saloni says
As a bride who got married in this Covid situation, I would like to tell you that wedding dress shopping during coronavirus has to be the readymade/off the rack designs. Do not get into the hassles of making something from scratch because you never know what new rules and regulations might crop up plus if someone making your outfit falls sick – which happened to my blouse wala – everything messes up. So its better to shop something ready to wear and have it altered to your fitting. This tip will save you a lot of headache, trust me!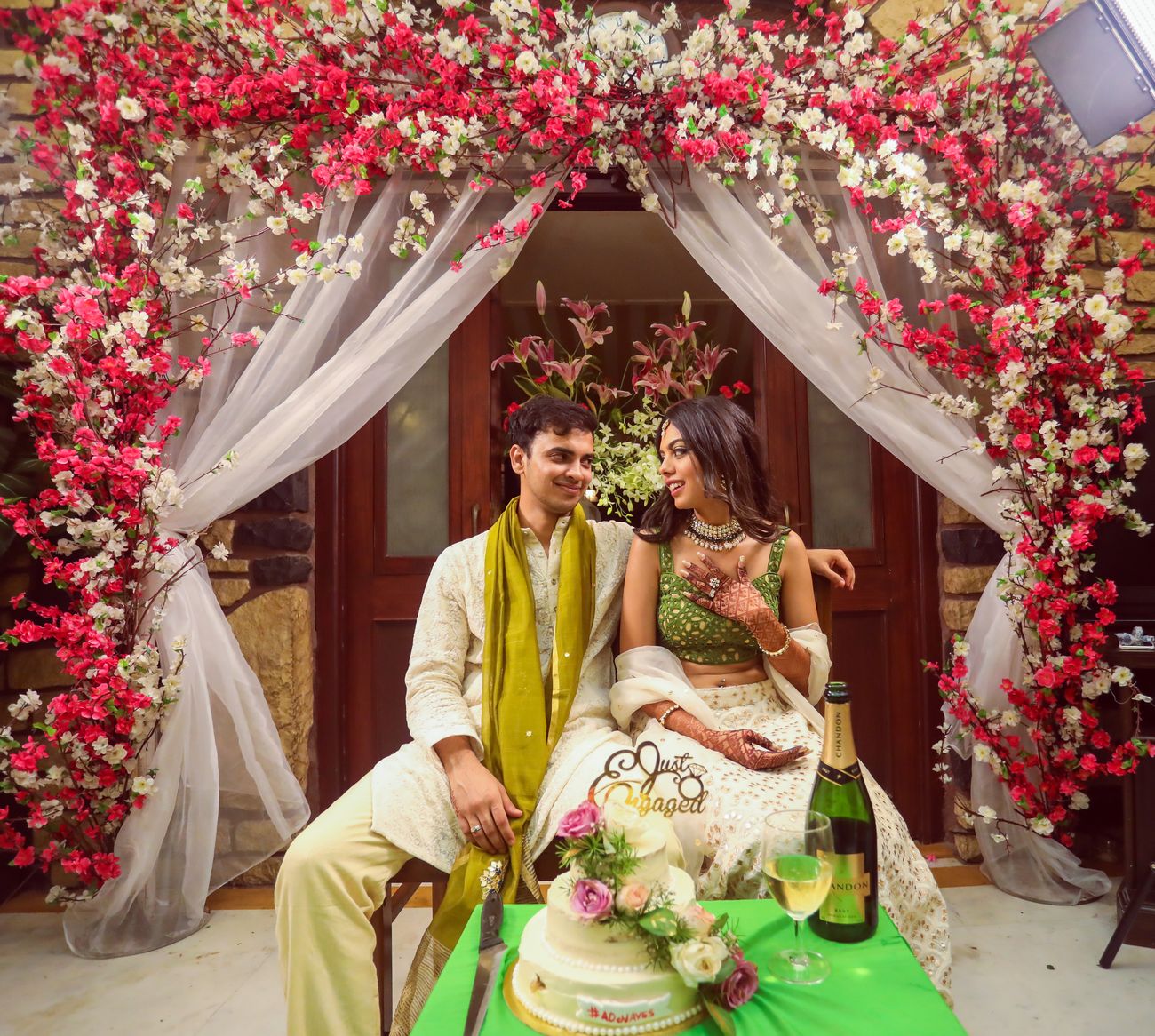 Image via Avani & Adwait 
Anusha says
I know a lot of people are like don't buy heavy stuff since it's a small intimate wedding but honestly I don't agree and I would like to tell brides to be that buy what you feel like a bride in! Don't worry about post-covid weddings and all, because this is the day when you get married for real. Later on its just a celebration and you are a bride today. So pick designer pieces if that's what your heart and budget allows. I did the same and I don't regret it one moment!
Esha says
I would like to recommend that brides to be wear the lingerie that they will be wearing on their wedding day under their wedding dress shopping outfit. If not the same then at least similar so that you can understand the fit of the bridal outfit very nicely. It also helps to take fittings for custom made outfits properly.
Worried about stepping out while shopping in these times for your wedding outfit? Check out our incredible virtual shopping service where you get to browse amazing designer wear and have personalised styling consultations from the comfort of your homes!
If you are going lehenga shopping, these real brides reveal one lehenga shopping trick they used while they picked their bridal lehenga!
Planning an intimate wedding at your home? Check these stunning outfits for your at-home mehendi under 15k! These 5 haldi outfits under 15k are also some beautiful picks for lockdown brides!