The Prettiest Yellow Lehengas We Spotted For You To Consider For Your Haldi!
BY Sakshi | 12 Oct, 2018 | 34915 views | 3 min read
Somehow the prettiest Haldi photos come out when the bride herself is wearing yellow! And if you're looking for Haldi outfit inspiration, here are a few outfits that we loved at first sight- lehengas that are bright, happy, beautiful and perfect for the your Haldi.
This one that's just so so amazing to look at!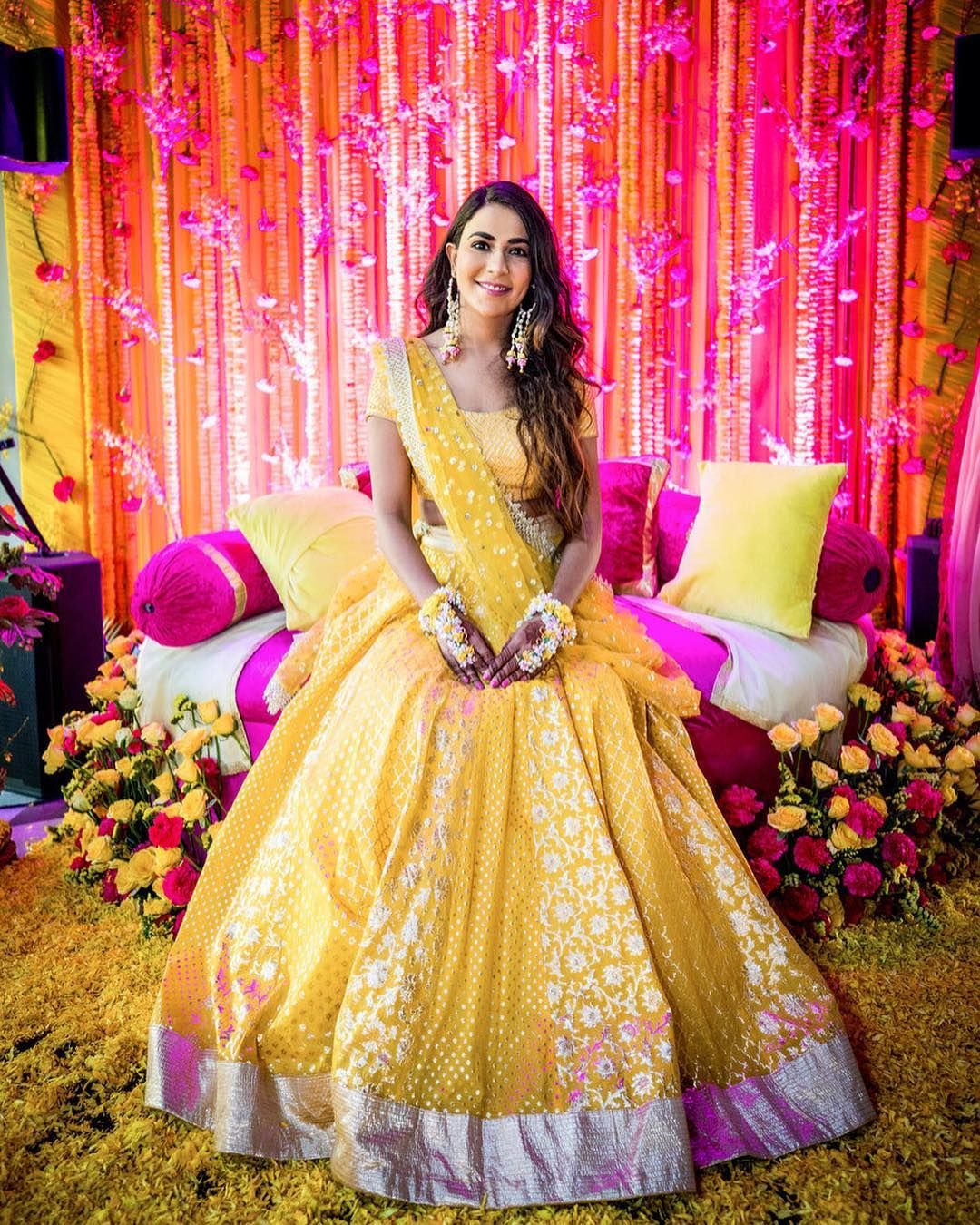 Image via @badalrajacompany; Lehenga by Abhinav Mishra★ 5
So pretty- benarasi is an all-time fave and this one nails it!
Do you want to wear a banarasi lehenga at your wedding function too? Buy a yellow benarasi lehenga here.
This Sabyasachi lehenga that has our heart!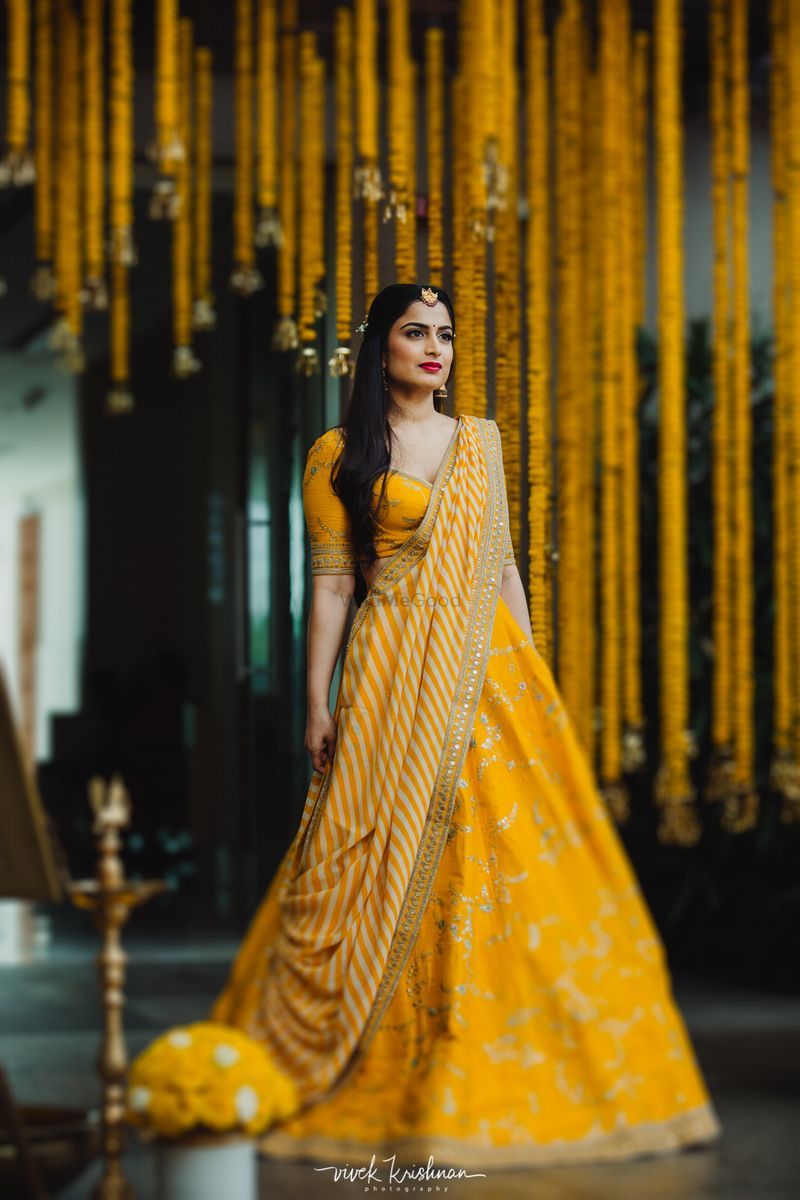 Image via Vivek Krishnan photography★ 4.9 ; Lehenga by Sabyasachi Mukherjee★ 4.9
This style with the striped dupatta is a very big hit with us- plus, love the deeper hue of yellow!
This dainty lehenga that's so pretty!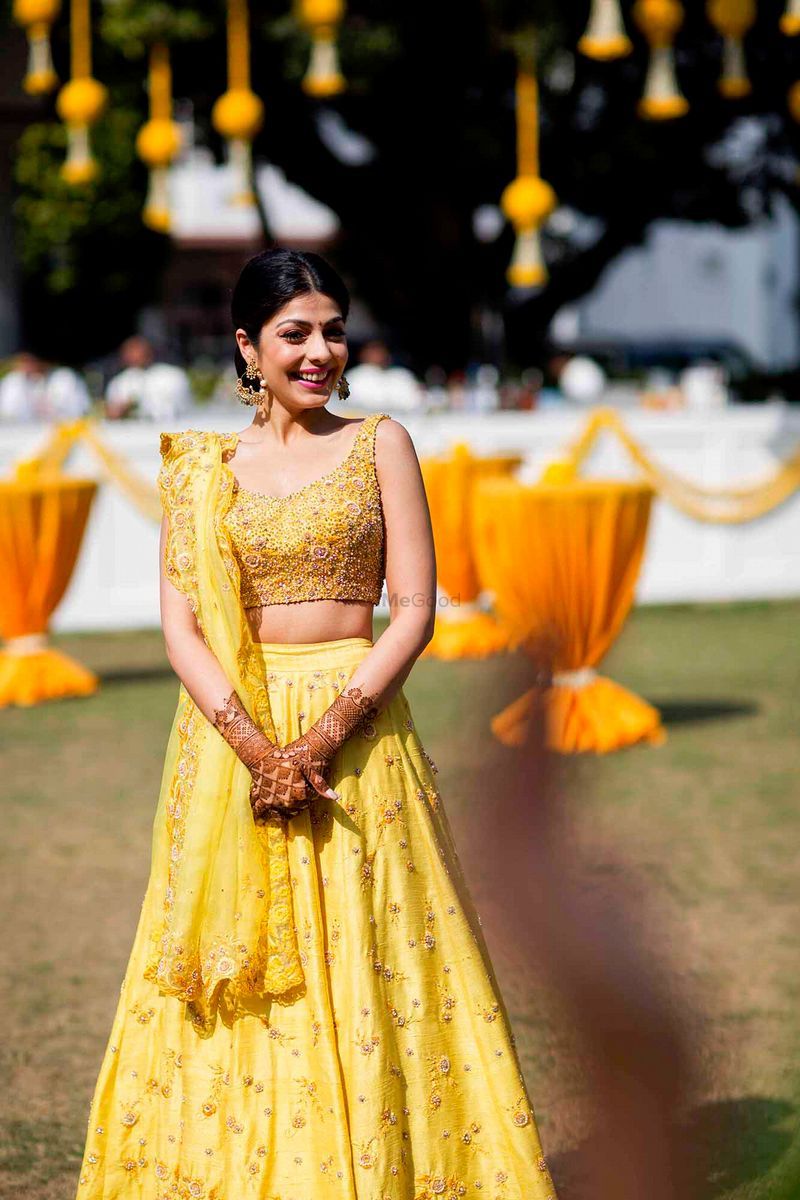 Image via Lilac Weddings★ 4.7 ; Lehenga by Christina WT
Simple but so so stunning!
This one in that almost pastel yellow shade!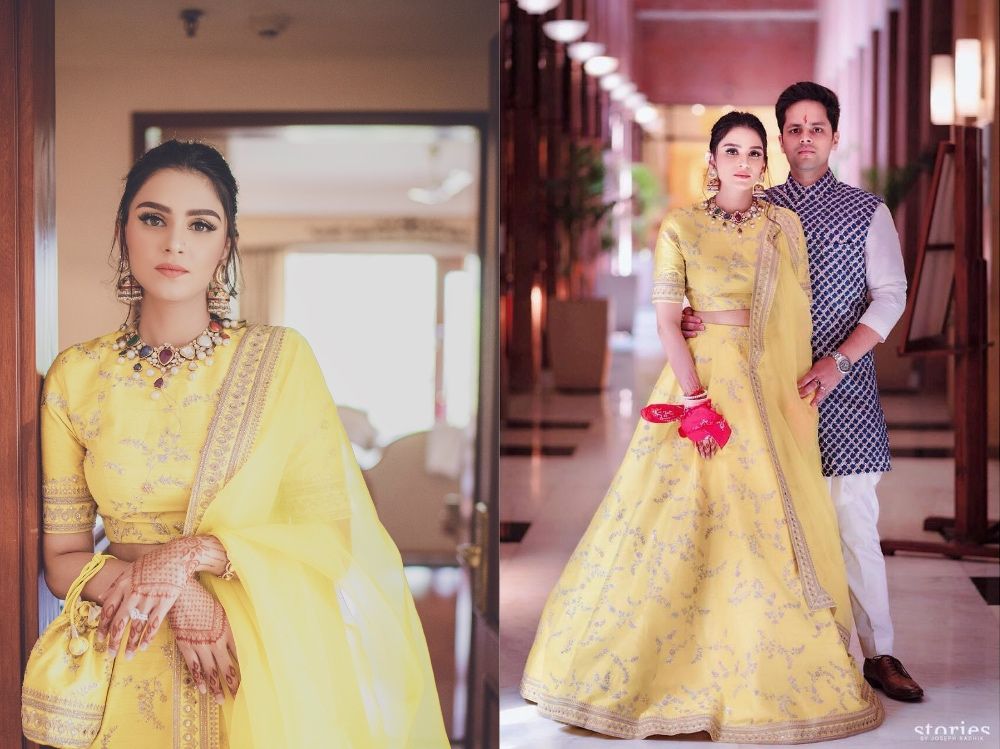 Image via asthasingh27 on Instagram
Love how pretty that shade is! Light and summery!
Or this one which has a similar shade!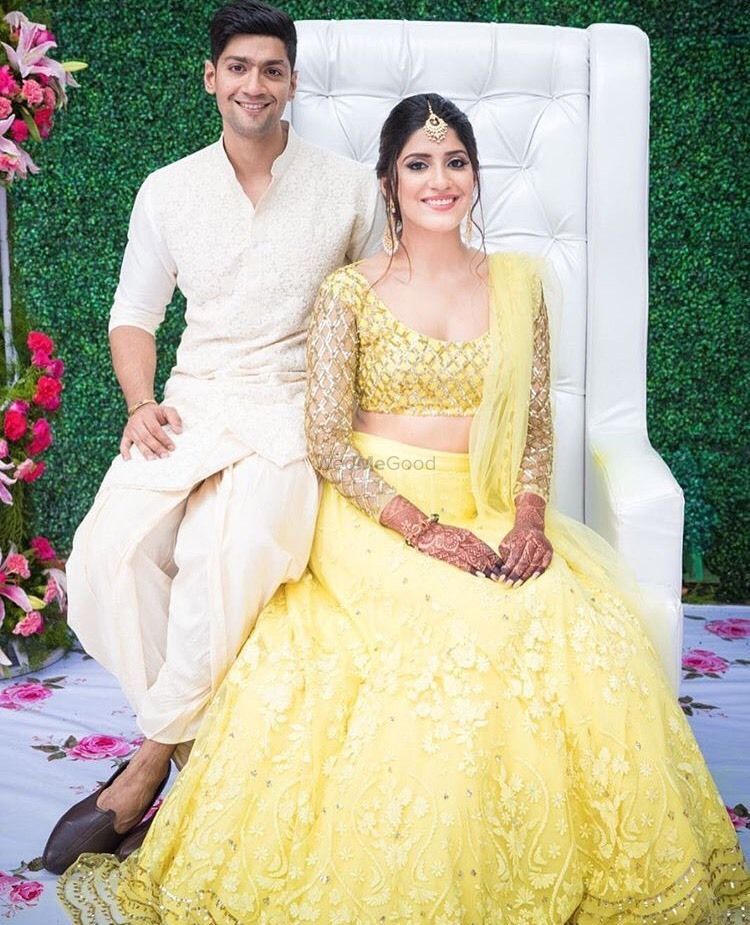 Image via Makeup by Anurita Chandrappa
So sunny and beautiful, love this offbeat shade of yellow!
This one in yellow with that trendy draped blouse!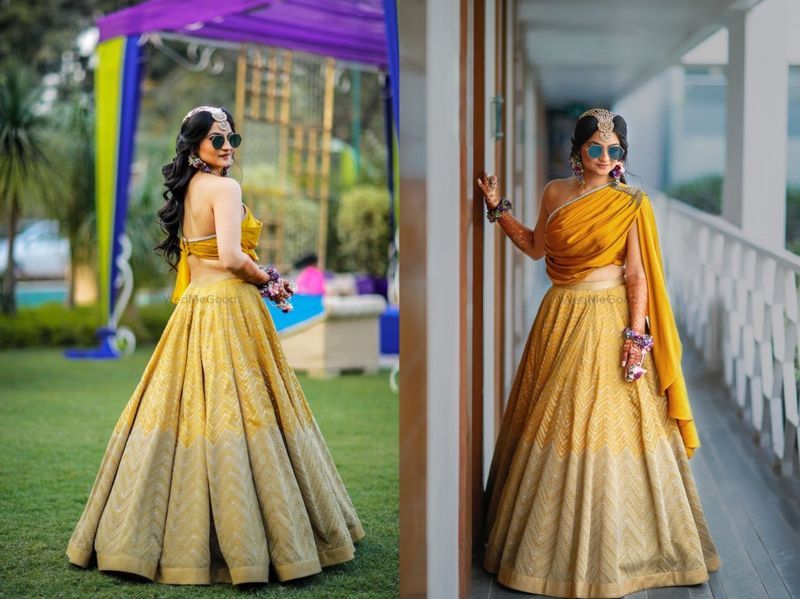 Image via Babal Productions: Outfit by Shantanu & Nikhil
Perfect for the modern bride, we love the blouse on this one!
Or this kanjivaram lehenga that's so elegant!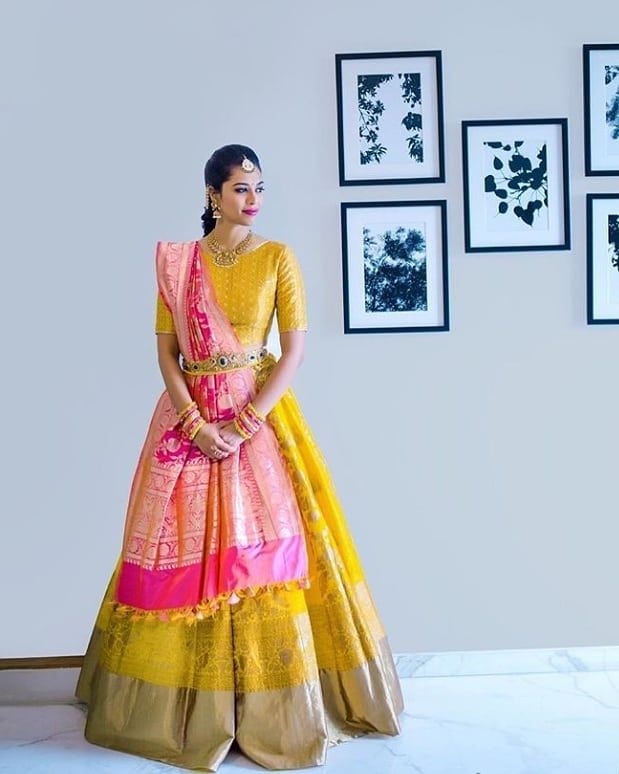 Image via @yst_photography; Lehenga by @shravankummar
A winning combination, and love that rich Benarasi!
Another Benarasi that's quite a winner!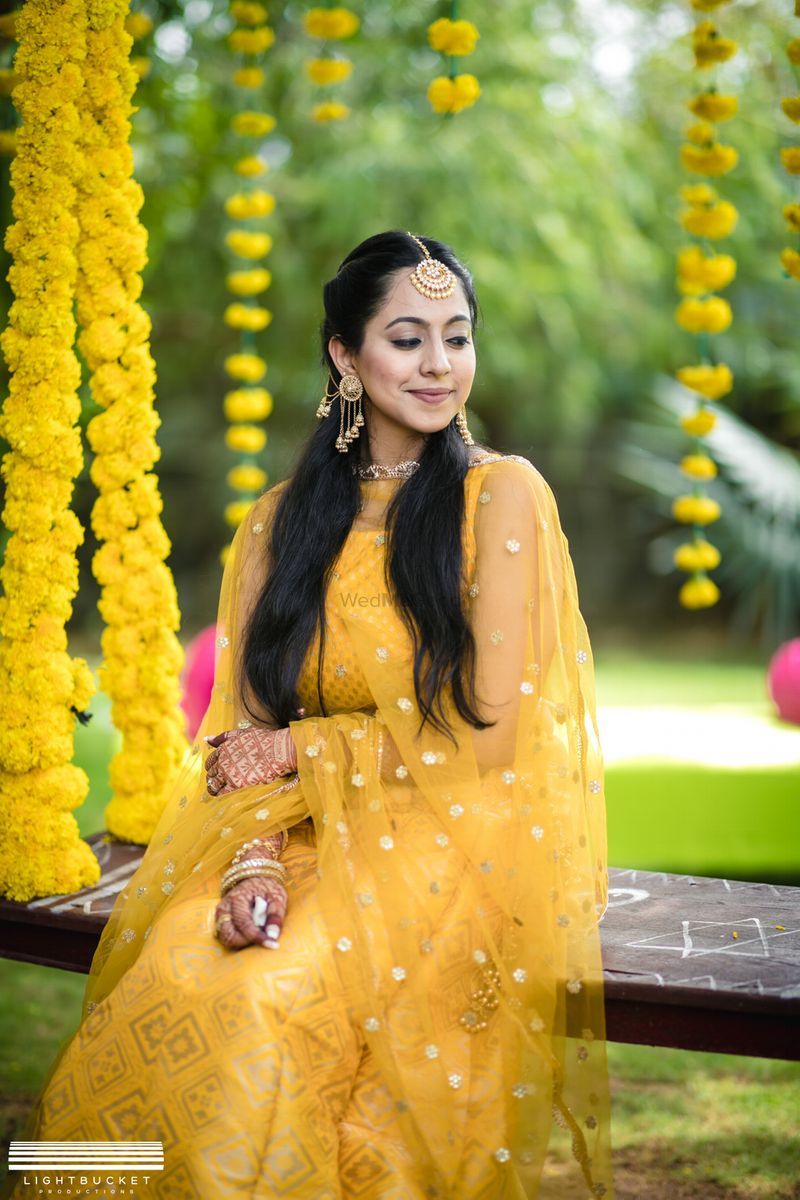 Image via LightBucket Productions
There's something about this one- it's simple but so elegant and summery!
This one that's such a nice offbeat shade of yellow!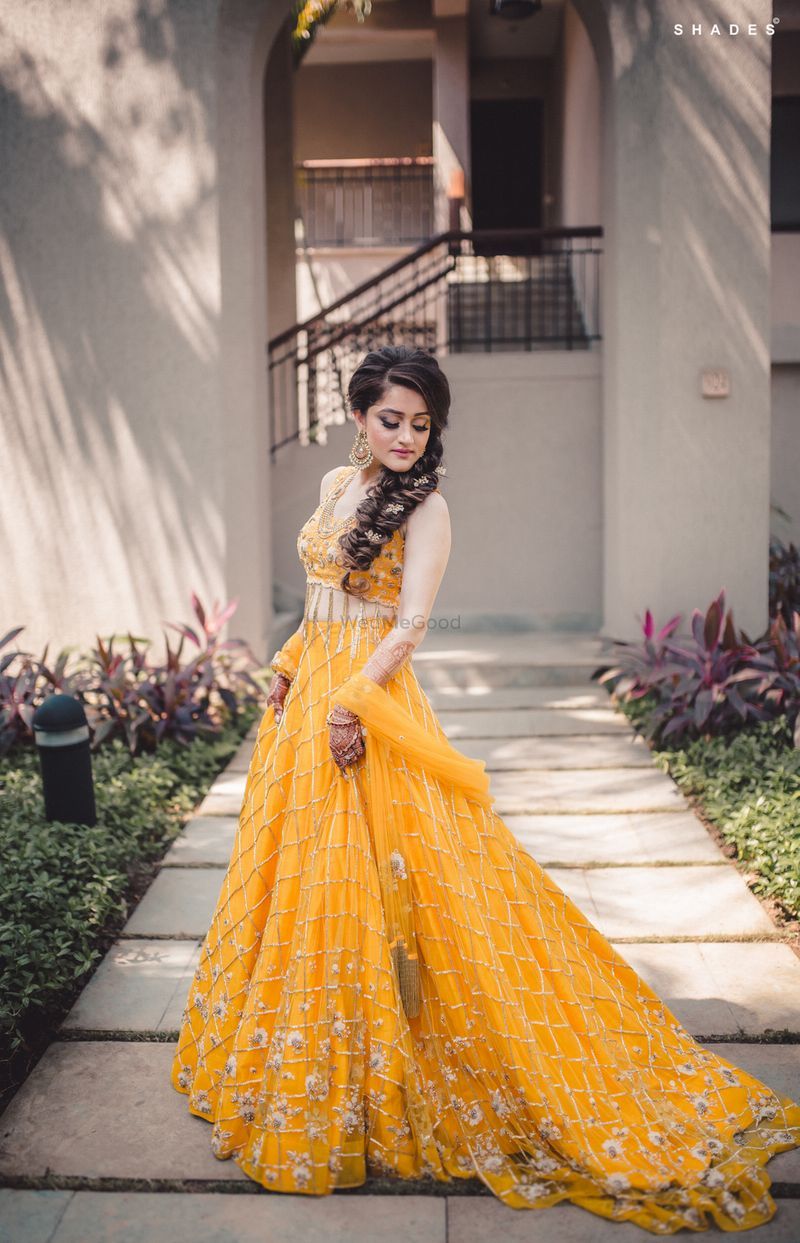 Image via Palak & Dhruv (Goa); Lehenga by Mahima Mahajan 
Almost orange, but not quite! Love how unique this hue is!
This one that's perfect for a princess!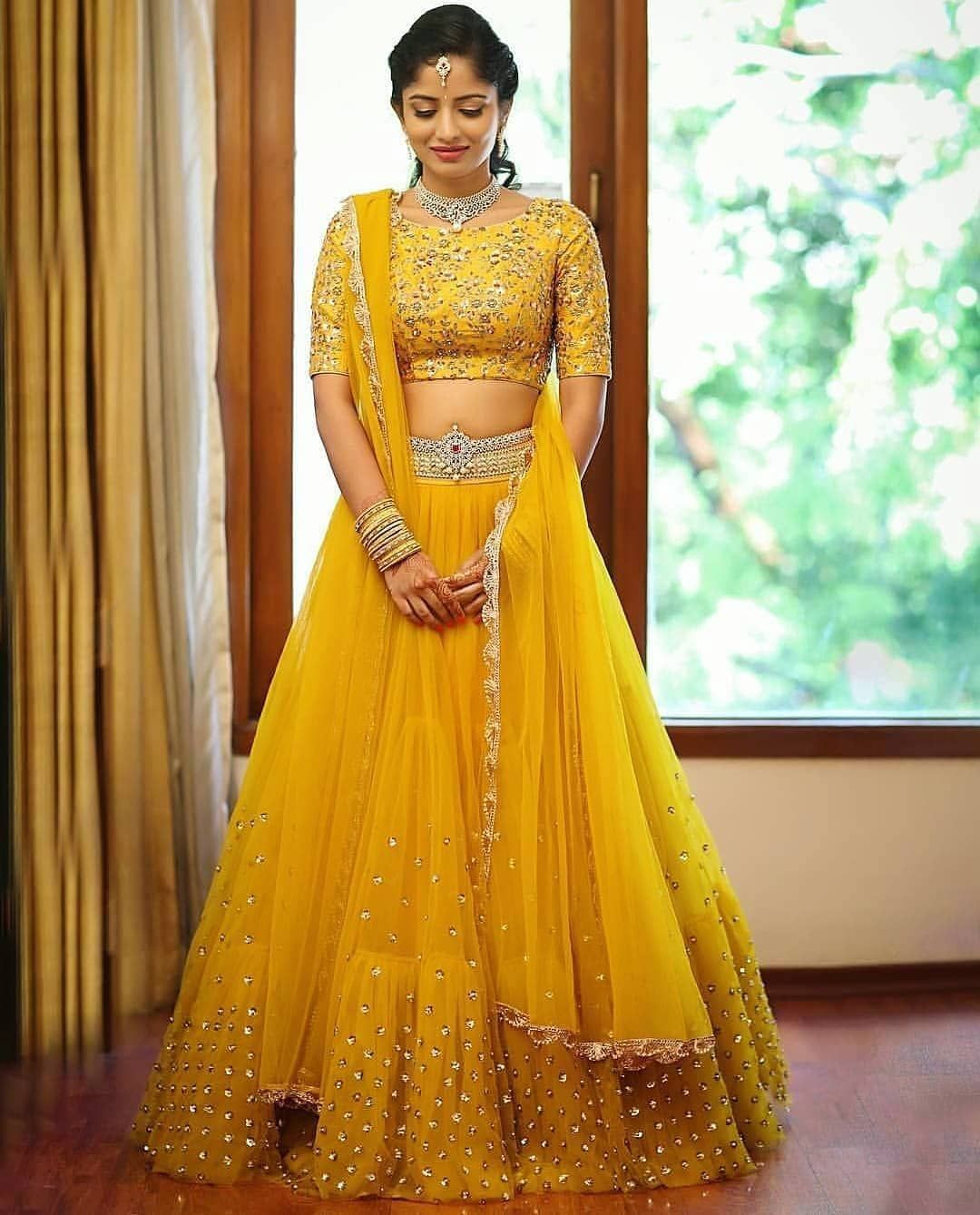 Lehenga by Mrunalini Rao★ 4.9
Maybe a little too OTT for the Haldi, but we love it so it's here!
Or this printed one that's easy breezy!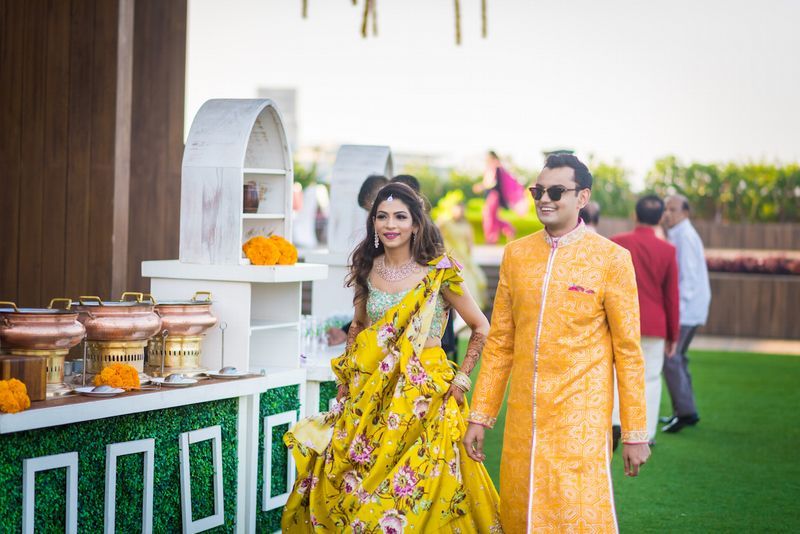 Image via WhatKnot; Lehenga by Anushree Reddy
Looks so light and comfortable no?
Or this one that's also quite gorgeous!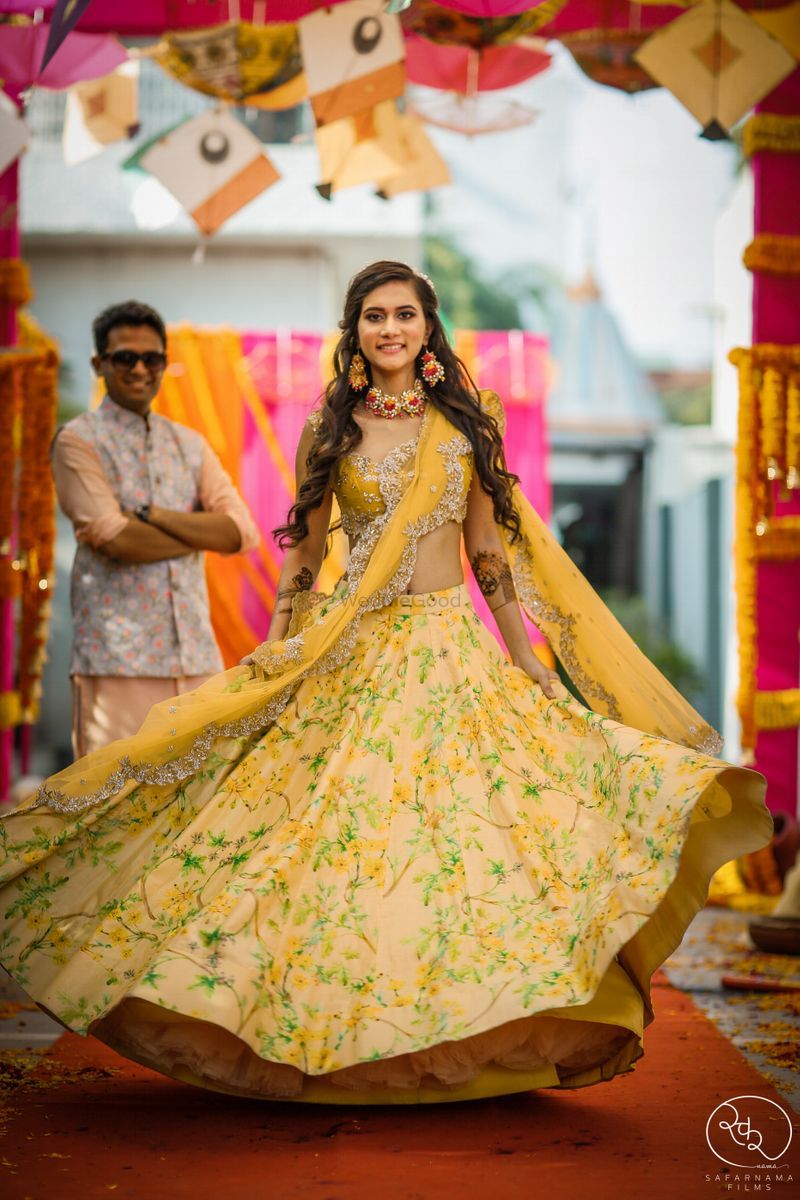 Image via Lakshya Manwani Photography
Another one that looks pretty, elegant and easy to handle!
This unique peplum lehenga with the light pink dupatta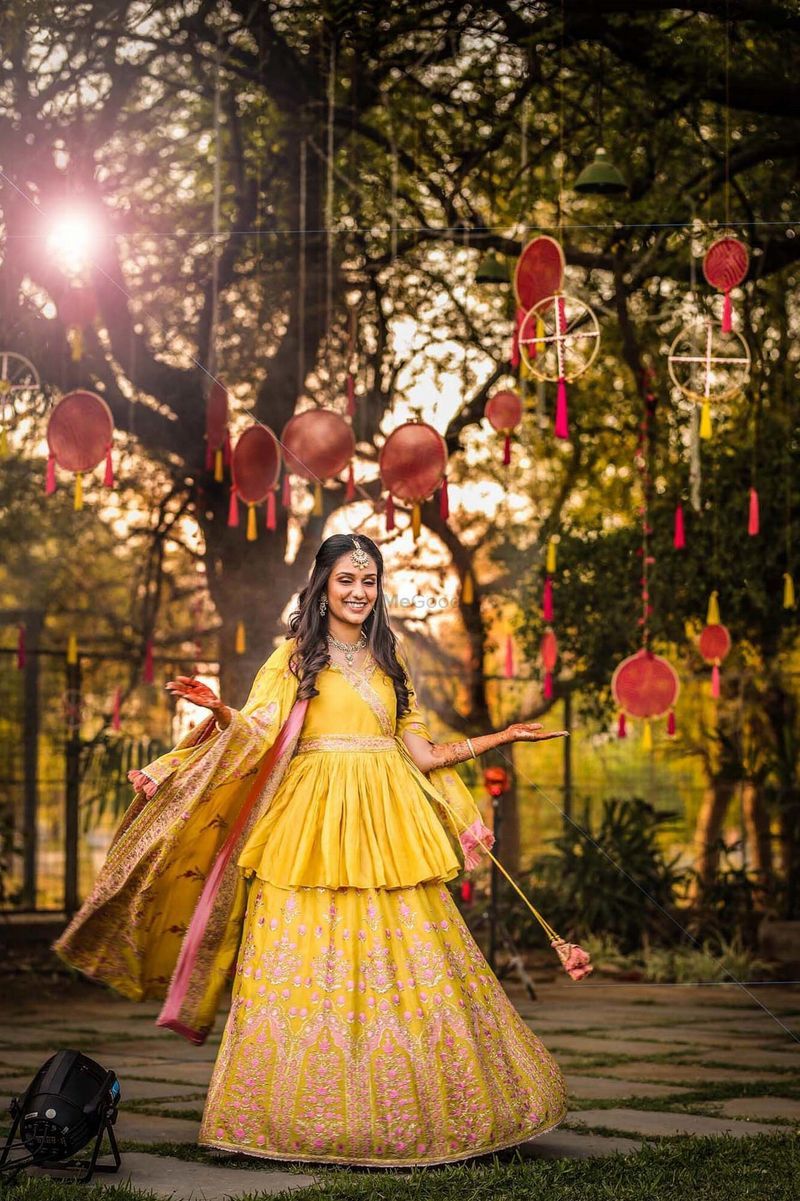 Image via Priyam Parikh Pictures★ 5
Peplum makes this lehenga unique and will make help you stand out!
This one with the tassels hanging on it!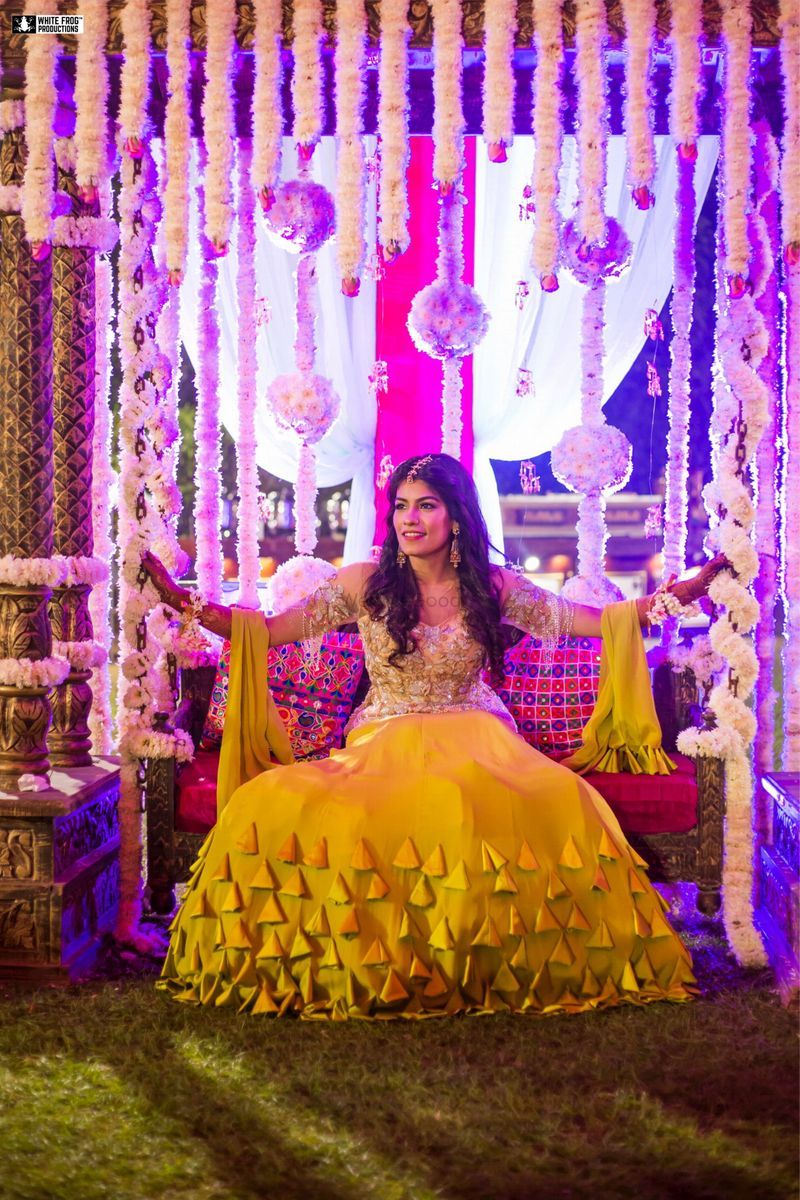 Image via White Frog Productions
Such a unique new style of work! Really does stand out!
This lehenga that's so bright and happy!
Image via Baraati Inc; Lehenga by Anushree Reddy
A happy lehenga means a happy bride!
Or this one with the floral print that's dainty!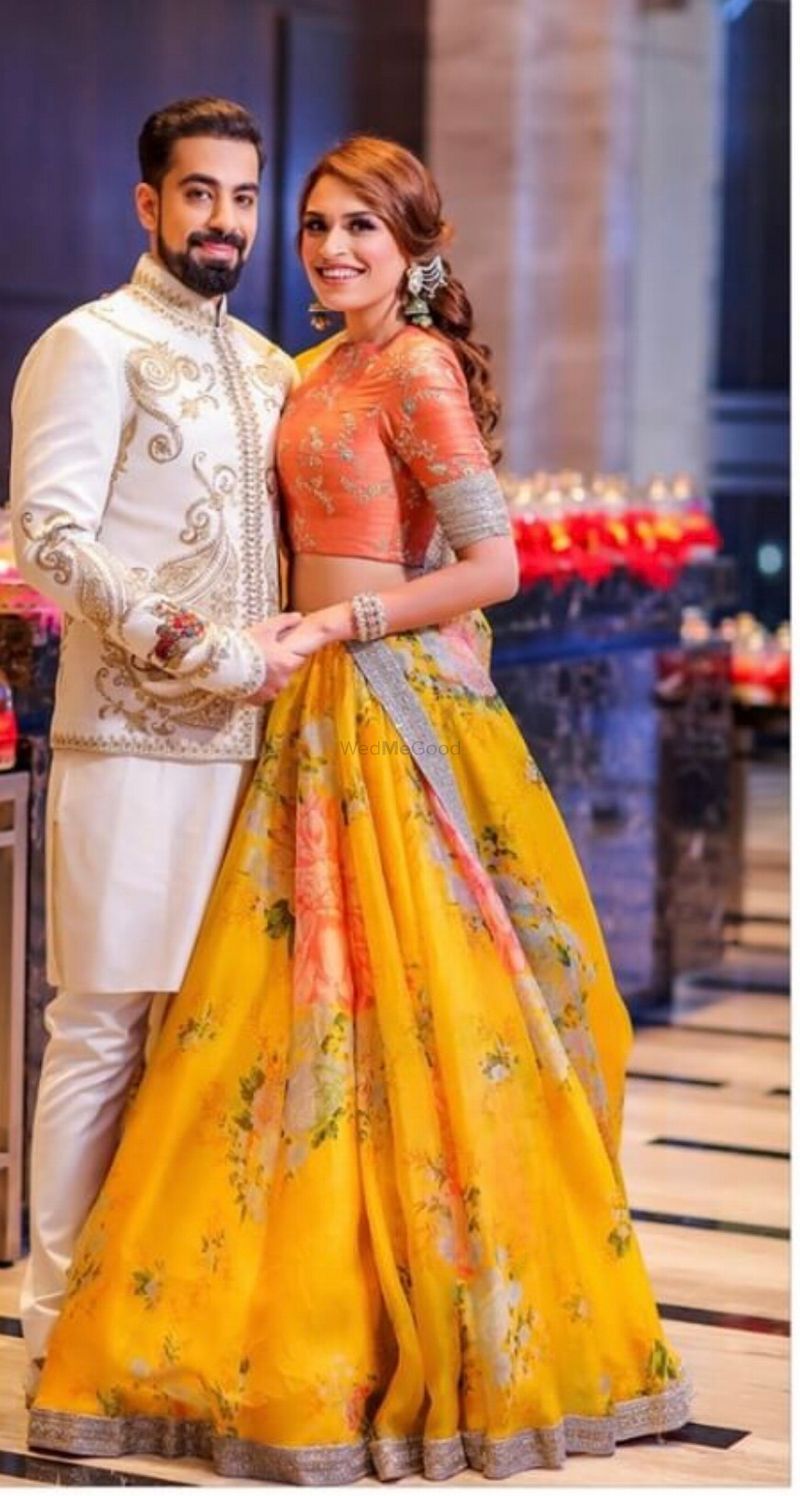 Image via House Of Beauty By Sahil Malhotra ★ 4.4 ; Lehenga by Sabyasachi Mukherjee★ 4.9
A stunner from Sabyasachi we wish we get to see more often!
This one in brocade and different shades of yellow!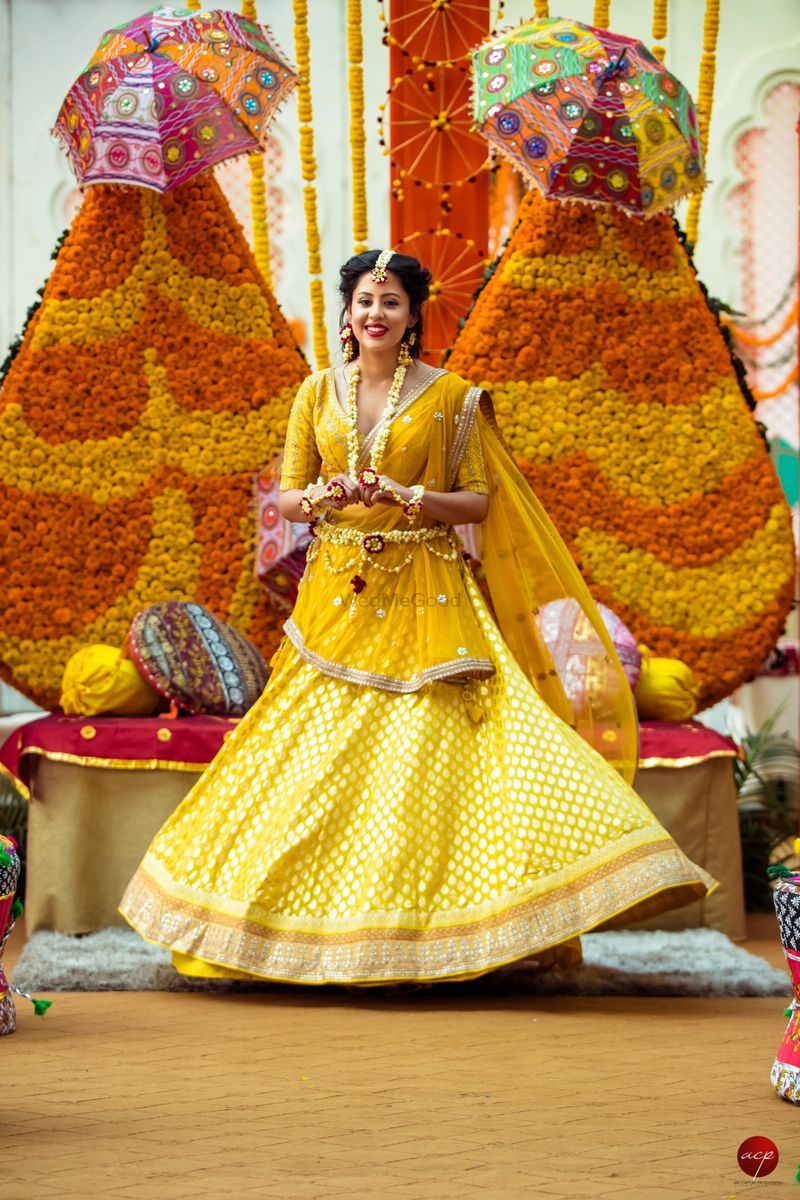 Image via Artcapture Productions★ 4.5
Happy happy, and the floral jewellery makes it all the more festive!
Or this one which is equally happy as well?
Image via Picsurely★ 4.7
And last but not least, this one that's plain but pretty!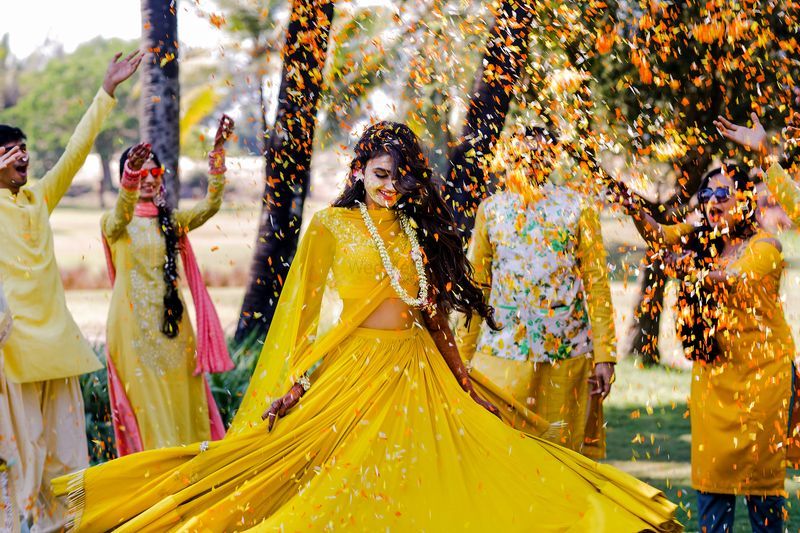 Image via Taj Studio★ 4.9
This lehenga proves that you don't need elaborate design or embroidery. Something simple and elegant works just as well.
Now that you have looked at some ideas, you can shop for yellow haldi lehengas here.
Looking for amazing haldi decor ideas within your budget? We have it all covered it for you.