Things Every Bride / Groom Should Know Before Their Pre-Wedding Shoot! ( Plus, Cool Shoot Inspiration Inside!)
BY The WMG Bride | 18 Aug, 2015 | 17960 views | 7 min read
A pre-wedding shoot is all kinds of awesome - it has a clear save-the-date mention, due hashtags and oodles of new ideas. While these pretty photo shoots may have initially seemed like a passing trend, they're clearly here to stay. For some couples, the idea of posing for these intimate photos can elicit fear and tension, but there are only upsides to having a mini-session before the big day. Here are some quick tips that we would want to share before you go for one!
1. It's NOT expensive as it looks ( That is, if you are smart about it!)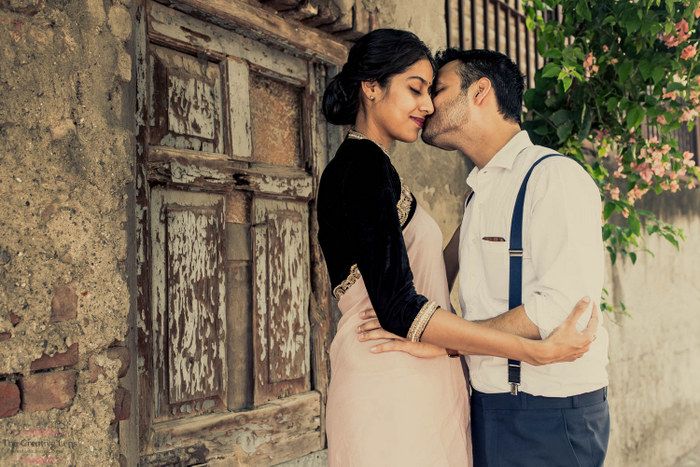 Photographer: The Creative Lens★ 4.9
Yes, you will see major inspiration across Pinterest for pre-wedding shoots at unusual destinations with luxe details. But trust us, a pre-wedding shoot need not cost you anything - if you are smart.  First of all most photographers give pre wedding shoots for FREE if you book them for a wedding. So makes sense to do your shoot once your final photographer is chosen.
Secondly, look for a friend who can do the job - I mean, we DO have a million budding photographer friends. Locate a good space to shoot and get your groove on. Love doesn't cost much, so does your pre-wedding shoot, if you know the strings you can pull. Get some DIYs done as props and do your own makeup and hair - bingo.
Read: The super low-cost DIY Vintage pre-wedding shoot that made us smile! The bride even made her own sari with materials from Chandni Chowk.
2. Get your logistics in place : They're the hardest part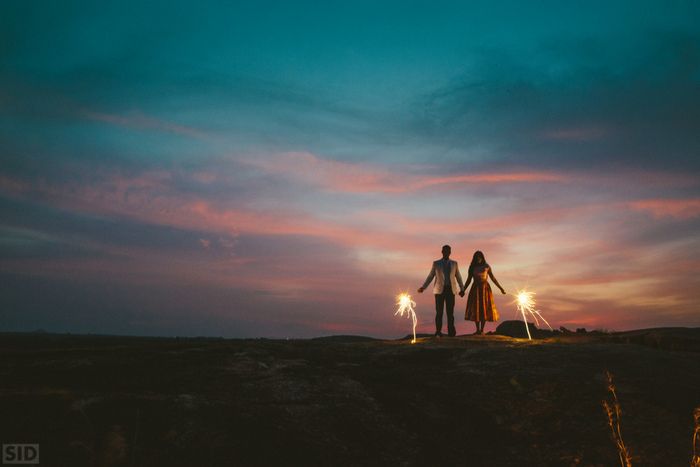 Photography: Siddharth Sharma
Where are you shooting? If its a resort, then they have charges where in you can only shoot in the lawns if you book a room. Try scheduling one where you will get the best light and yet have a cool breeze blowing to keep you comfortable. The time of day is a no-brainer. Early morning (we are talking 6-7:00 am people) or two hours before sunset, hands down! This is where the sun is most flattering and you get a gorgeous sky without harsh shadows. And as you get towards the end of your shoot you get golden, warm rays that fill your images. Just imagining that got you smiling, right? Early morning shoots are good if you want a sunrise specifically.
Read: Super creative sunset shots are part of this awesome Bangalore wedding. Sigh! It's all about the timing!
3. Make it about you: Plan an activity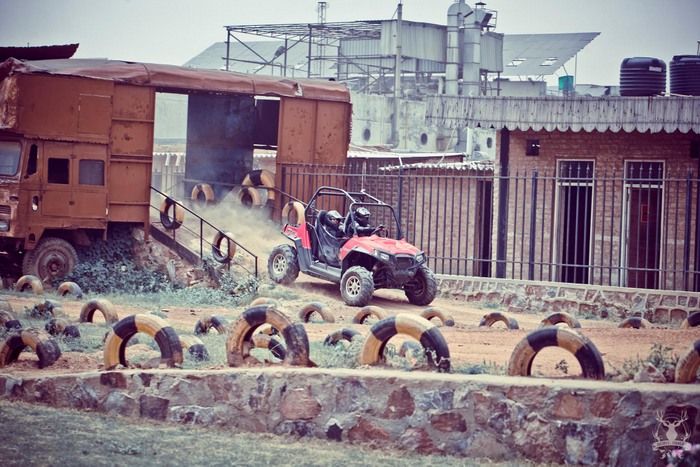 We believe that the most beautiful photos are the most personal ones. There is only so much you can do in an open field. Do things that you are comfortable with instead of only picking those that will make for good photos. You can plan an activity, like an outdoor picnic or even an adventurous one at an amusement park. The shoot should convey something about you as a couple - so do something both of you are comfortable in.
Read: A pre-wedding shoot on a dirt bike - this cute couple showcased their love for outdoors well. We loved the adventurous vibe!
4. What to wear?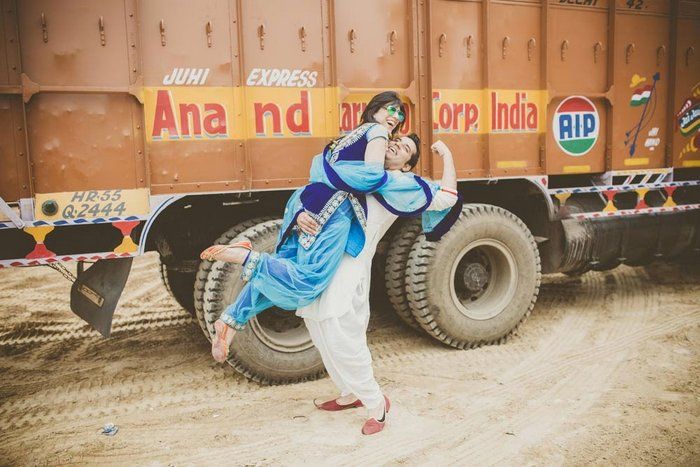 Photographer: Organised Chaos
Pick outfits that are flowy and floaty. Think dresses that can sway in the wind, a dupatta that can fly in the air or just outfits which have movement that can be captured on camera
Again, it's all about keeping it real. If you've always loved a dress and felt it was too 'dressy' to wear, wear it! Imagine how gorgeous those pictures will come out. Try and keep the outfit away from your big-day colours so that you don't end up with similar colour palette images. Balance clothes with your location too. Don't go for floral print while shooting in a meadow or garden. Also, just check on the groom's clothes as well. You want to complement each other in your pictures. Lastly, be comfortable!
Read: This couple shot on a lorry/truck and the girl and boy wore clothes they are comfortable in - so good to stay in control!
5. Shoots have different styles: Whats yours?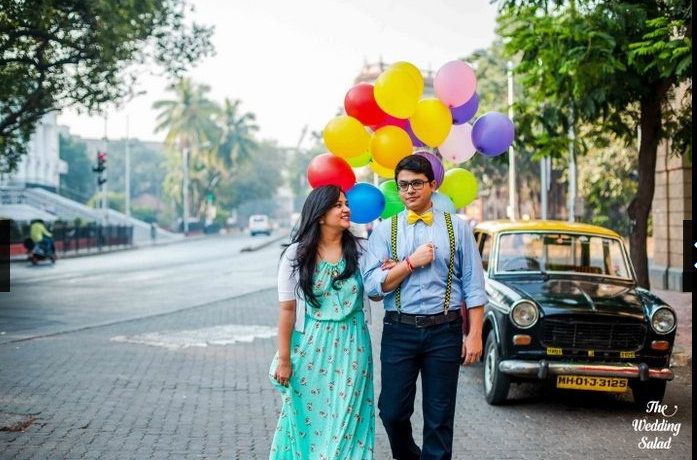 Photography: The Wedding salad
There is the romantic couple who can endlessly gaze into each others eyes. There is the fun couples, who can have a bit of fun splashing paint on each other.  Its important to tell the photographer what vibe you want in your photos. Are you looking at a Vintage, retro vibe? Are you looking for a modern, fun vibe? Are you looking for just the most breathtakingly romantic photos? Have a plan in place
Read: This couple had a quirky, fun vibe to their shoot  - which reflected their personalities.
6. Trust your photographer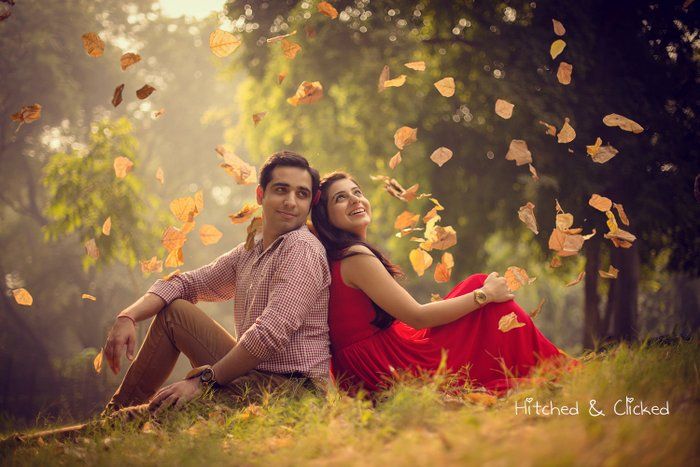 Photographers:Hitched & Clicked
We all think that we understand each and every shot that we want and have inspiration boards. Instead, take a deep breath, relax and trust your photographer. They are professional for a reason. You should do your homework about the photographer before you choose one. It also really helps if you're photographer is someone you click with (pun totally intended) as the more comfortable you are with this person, the more natural the photographs will be.
Read: This couple trusted their photographer and got a super filmy shoot their way. Like throwing autumn leaves in the air a la Veer Zara, who would have thunk it?
7. Props that tell a story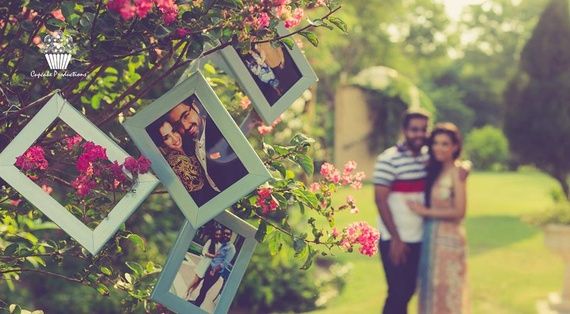 Add elements of fun to your pictures. Engagement rings, balloons, flowers, bubbles, backboard slates are some common ones. Family heirlooms, meaningful gifts, or love notes all add an extra dimension to your photos. But most importantly, keep your story real and tell the world why you two belong together.
Read: Cupcake Productions★ 4.7 shows the story of the couple in old pictures. So cute!
8. Unique Locations ahoy!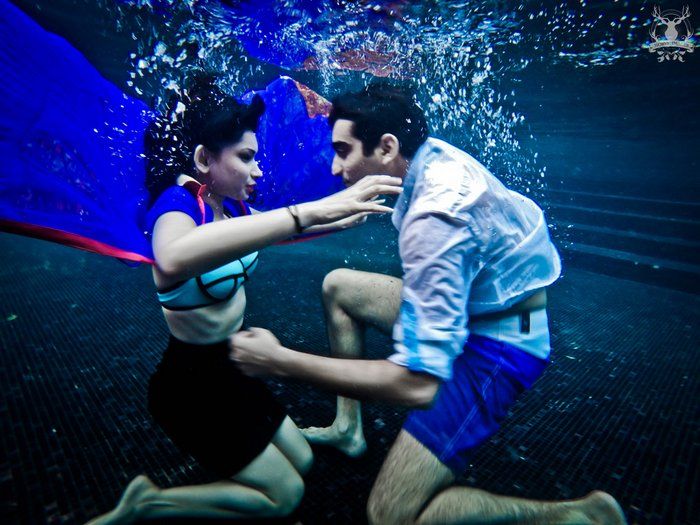 Most photographers will suggest a few different locations for your session, but we are all in for skipping the over-populated areas. Opt for a gorgeous, more isolated area as you'll be less nervous without strangers around. Also, opt for a location that imprints something about you and your partner. Sports fans? A basketball court. Schoolmates? Maybe a classroom! Go unique if you are into something different - like underwater!
Read: Underwater shoots are difficult but this couple just nailed the deal. It really made us sit up and take notice!
9. Beauty & Makeup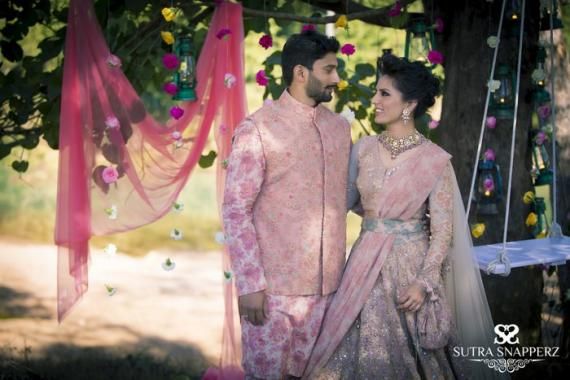 Both of you - sleep well the night before the shoot. Eat minimally and healthy - so you don't look bloated and have dark under-eyes. Give time for little details - get facials two days before, trim your hair and even do a spa day the day before to stay calm!
In terms of makeup- choose a matte foundation (dewy foundations can end up looking oily in photographs), keep a compact handy and go for lipsticks that are a tone brighter than your usual pick.
Read: Sutra Snapperz★ 3.5 shot this couple in close-ups and they never had to flinch at all. Grooming is everything, couples!
10. Get cosy & Intimate (Use a bottle of wine to relax if you have to)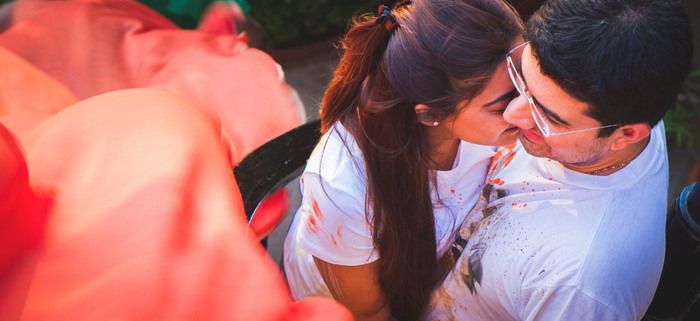 Just be yourself when you're together and don't be afraid to laugh together if you feel silly, or take a moment just to hold each other. The best photos will be those where you are lost  in each other and being cosy versus when you are making an effort to do something for camera.
Read: Sonder Frames caught this cute couple getting cozy at their artistic shoot, so intimate and so much fun!
A professional shoot is bound to get you nervous. The key is to keep it real. Try not to have an idea of how you want your session to go. Let it flow. DO NOT overdose on Pinterest. You can't overdo 'you' as these real moments are always timeless. Just have fun, be yourselves no matter how weird you are, trust your photographer and you will be well on your way to having amazing pictures.
- Apoorva Pagar
Have a pre-wedding shoot you want us to see? Send it to us to be featured here!