Best Boutiques in Shahpur Jat Delhi : Top 10!
BY The WMG Bride | 20 Feb, 2014
Best Boutiques in Shahpur Jat
Why does noone ever talk about poor old Shahpur Jat? It is  one of our most favourite places to shop in Delhi for Indian wear and if you are a bride to be, it is a MUST VISIT for trousseau items. You will not find your bridal lehenga here, that much I will tell you but you shall find a sangeet outfit, or a mehendi outfit or some nice anarkalis for your trousseau!
Shahpur Jat is actually almost like a village in ruins but houses these new age, lesser known designers doing some fabulously awesome work. Most people dont know where to actually go in Shahput Jat so here are some quick tips.
The main area where the designers are, is called JUNGI HOUSE. (I have no idea why they have named it such a strange name but bear with me !) This lane houses most of the popular shops you should check out first. PS: Dont bother googling them or checking their FB pages. The FB Pages are ancient and never updated!
In Jungi House, Shahpur Jat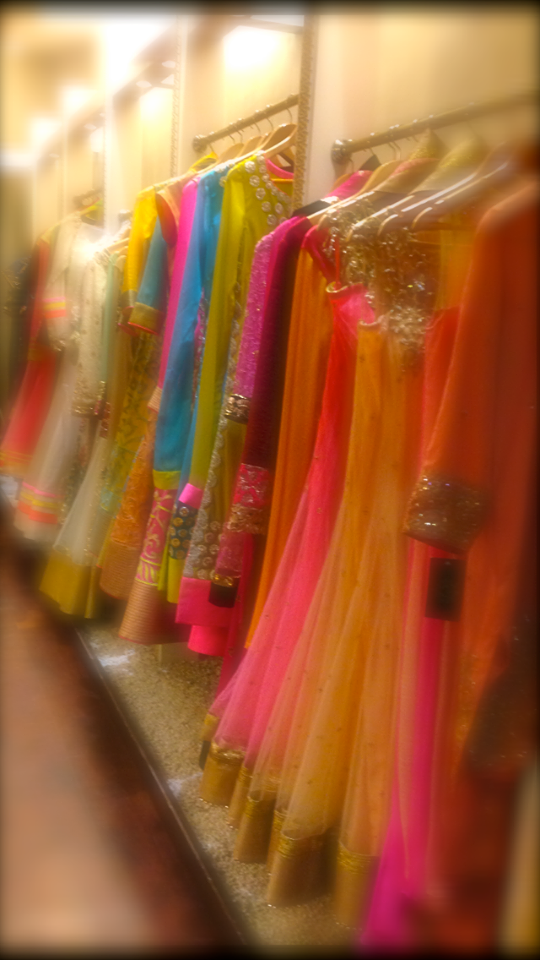 Monika & Nidhi store
- Liz Paul: Liz has two stores spanning bridal and trousseau wear. We actually really like the trousseau wear. Anarkalis and floor length layered outfits in a lot of different colors of coral, pink and lime ! Definite must have would be the light lehengas in the jungi house shop as well as the floor length sangeet outfits in soft fabrics. See some of her work here:Liz Paul★ 4.4  (most of the prettier stuff is in her store though)
-Bhumika Grover: Her anarkalis are quite nice, though you wont be able to find one for less than 25000 !WMG Loves: the pastel pink anarkali with chikan work all over the bodice and silver sequinned waist band
- Monika & Nidhi: One of my favourite places for lighter occassion outfits (trying to get them on our vendor guide), they have super cute colors and silhouettes. Their floor length anarkali-gowns, and peplum lehengas are perfect for lighter occasions and for sisters and friends of the bride. The price range starts at about 18000 and goes upto 60k. WMG Loves: the pastel pink and blue floor length raw silk gown with cutout at the waist, and the gold lace lehenga with pink peplum top!
-Kaira: If you love pops of neon and bright colors than Kaira has some uber cuteness available! Lots of bright, light lehengas that you can wear for your mehendi or as a brides sister. WMG LOVES: The colors!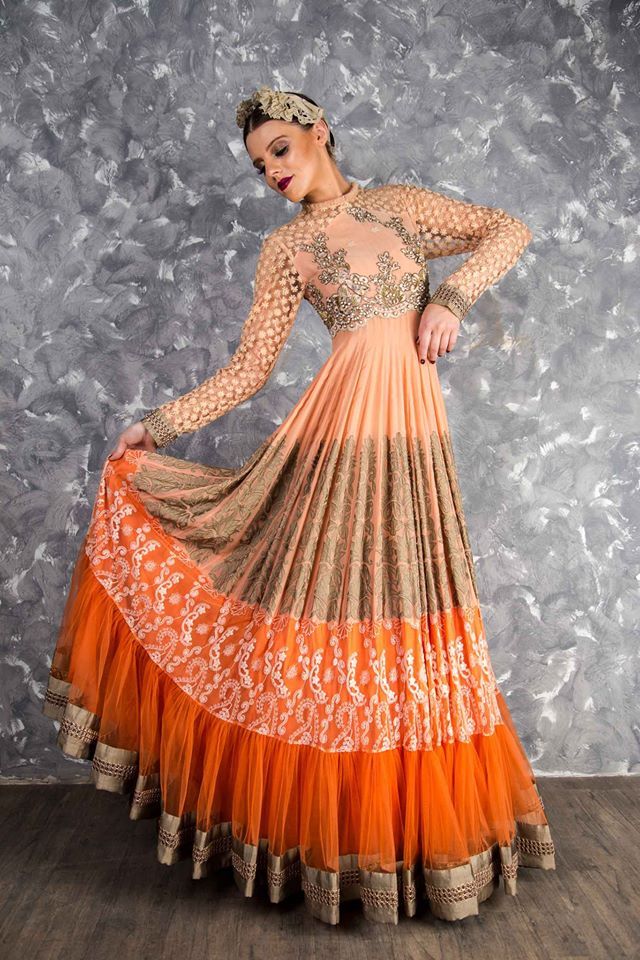 -1600 AD: This is a boutique with really edgy, sort of almost sinister looking clothing ! They have concept saris and gowns though which are very nice and fashion forward. The concept saris are for around the 30,000-ish mark. WMG LOVES: Navy Blue concept sari with work all over the black and plain , pleated front with shoulder embellishment
Outside Jungi house, Shahpur Jat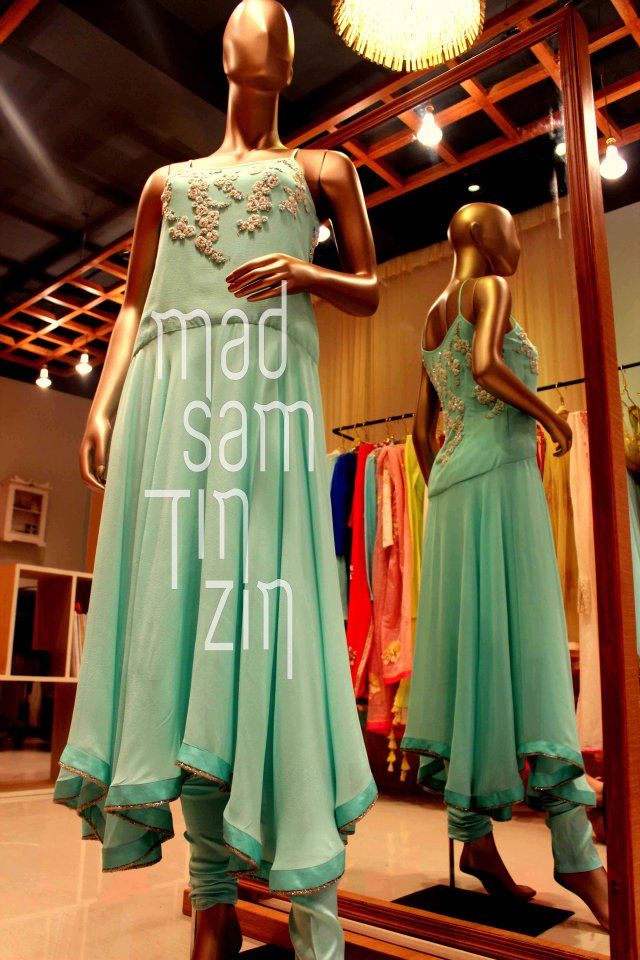 -Madsam Tinzin: A design house by 4 women who design beautiful outfits in some of the softest fabrics with beautiful colors. Their outfits are adorable and whimsical at the same time but they are quite expensive. You wont find a lehenga for less than 80,000 here and that too a light lehenga (appropriate maybe for sangeet). Cute kidswear as well !!! This is on the backlane of Jungi House.
WMG LOVES: Almost everything, but wishes they were cheaper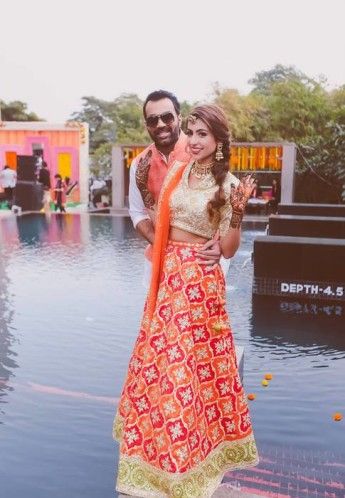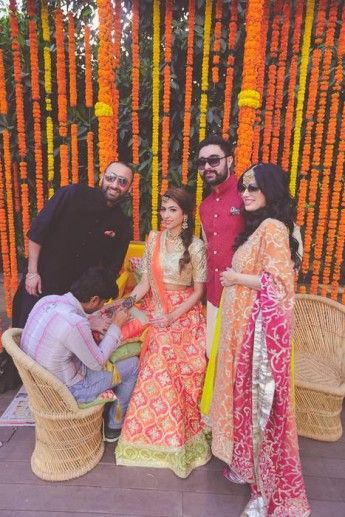 -Preeti S Kapoor : If you are looking for a lehenga for your wedding, Sangeet or Mehendi or an ornate anarkali for your mom, Preeti Kapoor has all the stuff you need for your special occasions for yourself as a bride and for your family. A heavy bridal lehenga will set you about about 1.5 lakhs, but you can find tons of other gorgeous pieces for your trousseau and other occasions as well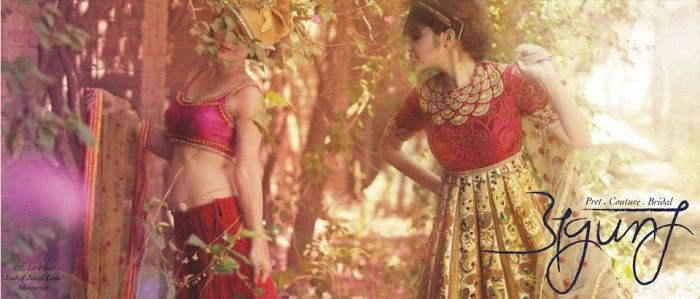 - Agunj: A shop on the first floor right at the edge of Jungi house. Love the stuff- its a little bit unusual so not everyones cup of tea and they only have maybe 20 pieces in store but each one is very unique . They dont do typical anarkalis and lehengas, their outfits are a bit ...edgy, with different silhouettes. WMG LOVES: The edgyness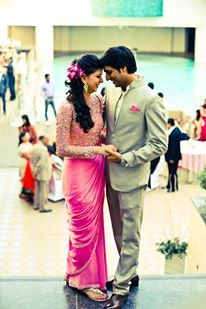 -House of Ombre: The lady who runs this store is a friend as well and she does great custom stuff as well as beautiful floor length anarkalis. She even made a concept sari for her own engagement (see above).She is quite affordable and definitely worth a dekko! WMG Loves: Orange Floor Length anarkali with side slit and cigarette pants
-NIkasha: She is THE person everyone wants to go to for their mehendi outfit because her colors are super fab!!! Off late she has started a bridal wear line but i still love her original fresh mehendi outfits more. She isnt cheap though, 40,000 minimum for anything you touch!
Pictures will come soon! If you do visit these places, do drop in a word about us.
What are your favourite haunts in Shahpur Jat??? Any hidden treasures you have discovered lately?
Would you like some guides for Mumbai girls??
Please also check out our Chandni Chowk Bridal Shopping Guide
Find vendors in your budget for all your wedding needs, Download the WedMeGood app now.