Unique Bridal Lehenga Colour Combinations Which Will Be Big In 2019!
BY Sakshi | 01 Jan, 2019 | 83657 views | 5 min read
2019 means more drool-worthy bridal lehenga colour combinations, and more brides who are willing to experiment! Brides are not shy to give predictable hues a new lease of life with some amazing combinations, so much so that even pastels are being reinvented with some pretty hues and combinations! So we decided to give you a peek into what we think can be 2019's biggest lehenga colour combinations!
White with a pop of Maroon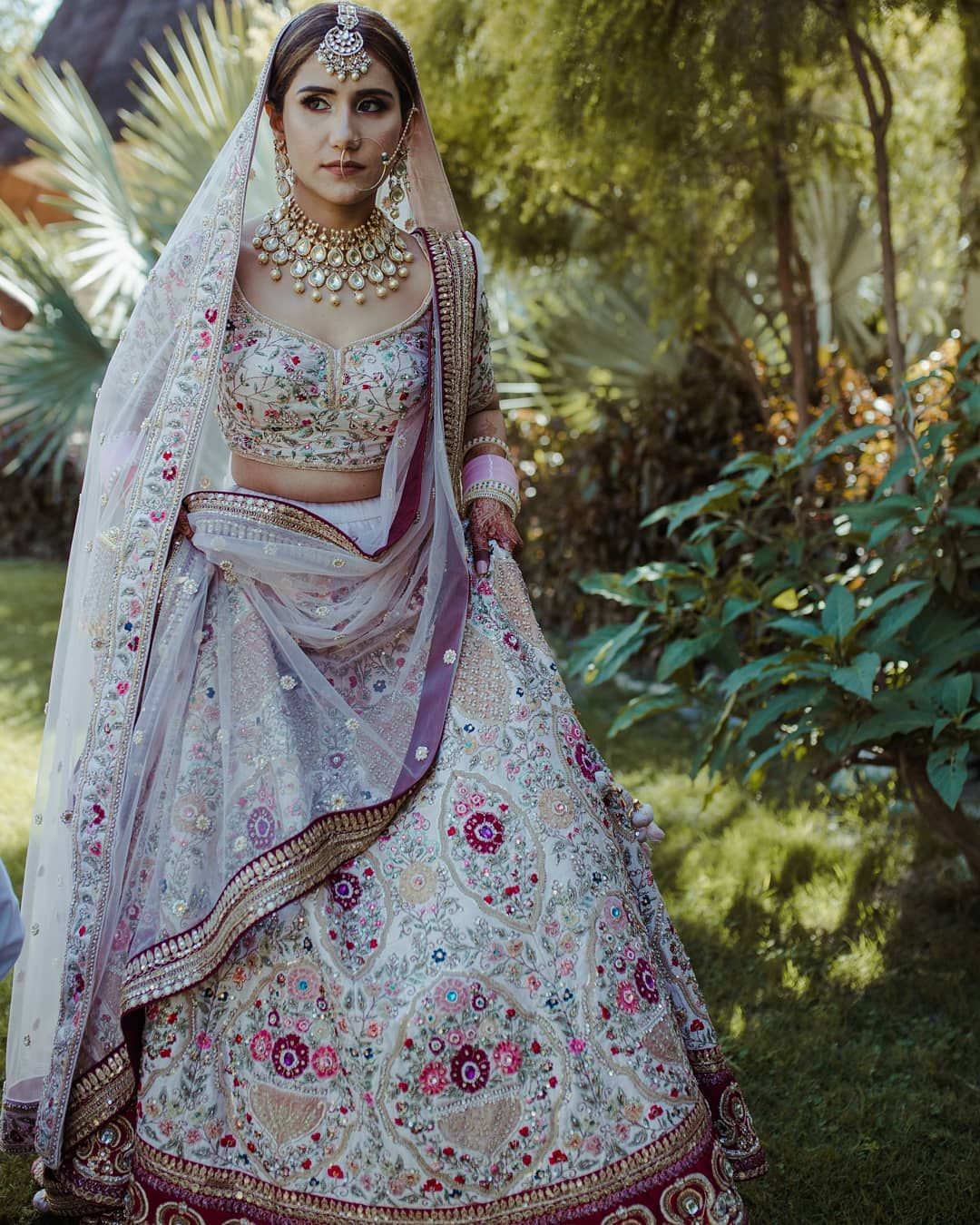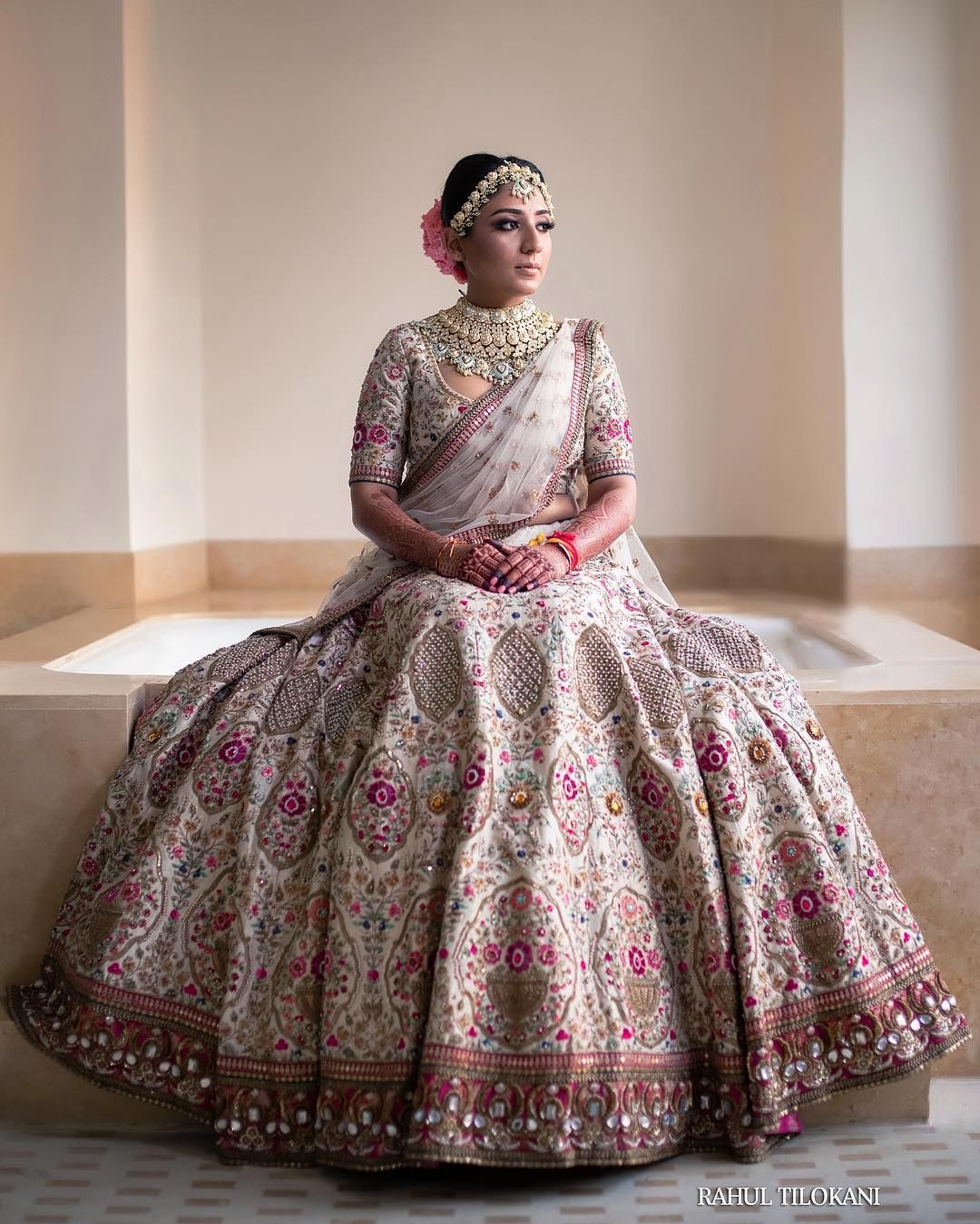 Image via @rahulprakashtilokani and Weddingrams★ 4.8
This is one new combination we have been spotting off late, and it looks so amazing- white with a pop of maroon, and honestly, it's one of our new fave lehengas too- looks dainty and perfect. Find more maroon lehengas, some with a twist here.
Mint Green with Fiery Red or Orange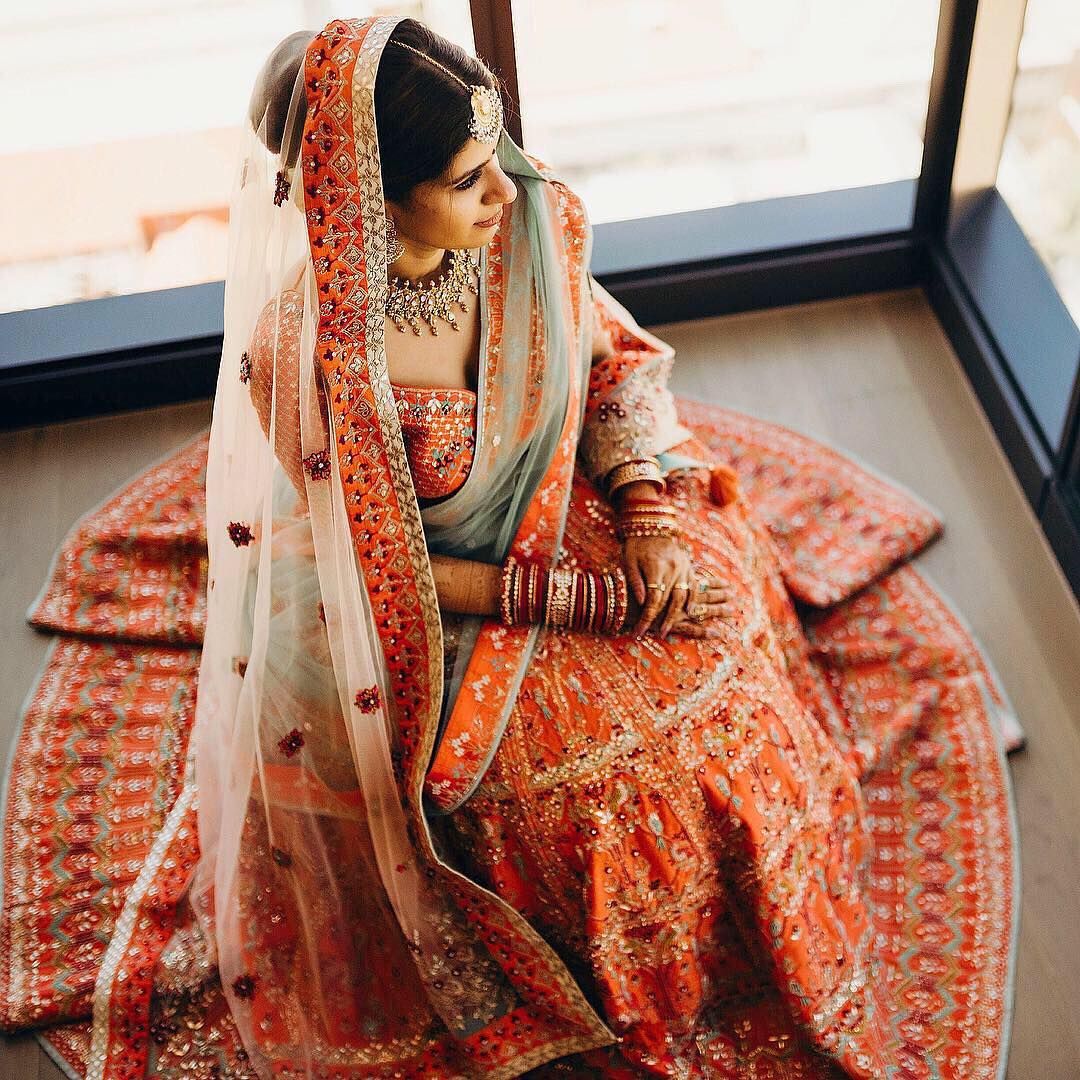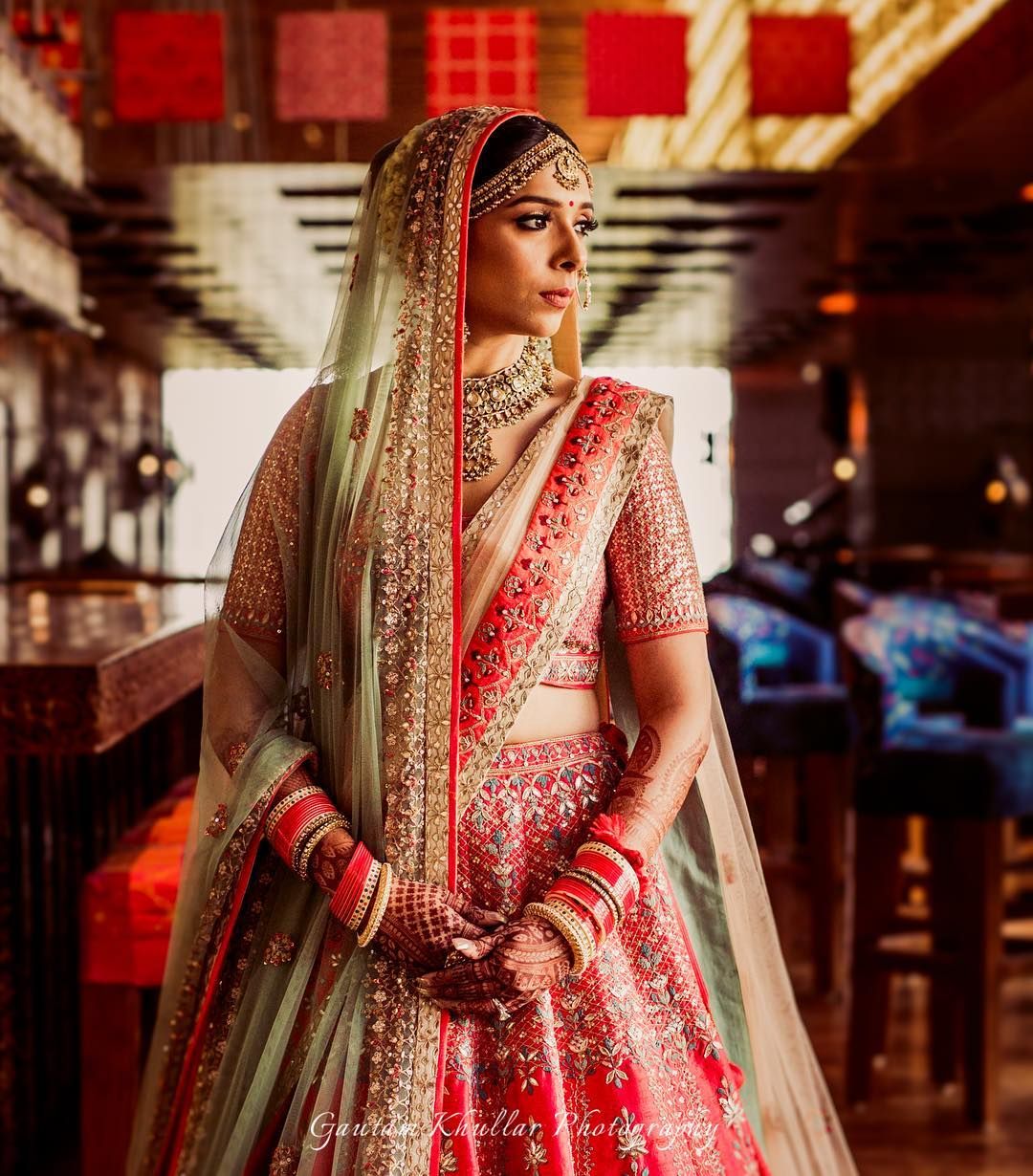 Image via @dominikamiechowska_photography and Gautam Khullar Photography★ 4.8
Mint green has been a shade that's been trending for brides for a while now, and whether you want to wear it by itself or paired with another shade, looks amazing either way. Now that is one stunning lehenga combination we came across, and we think it's perfect for new age brides who want to wear red or orange, but with a difference! Find more mint green lehenga ideas here.
Coral or Peach with Gold or Beige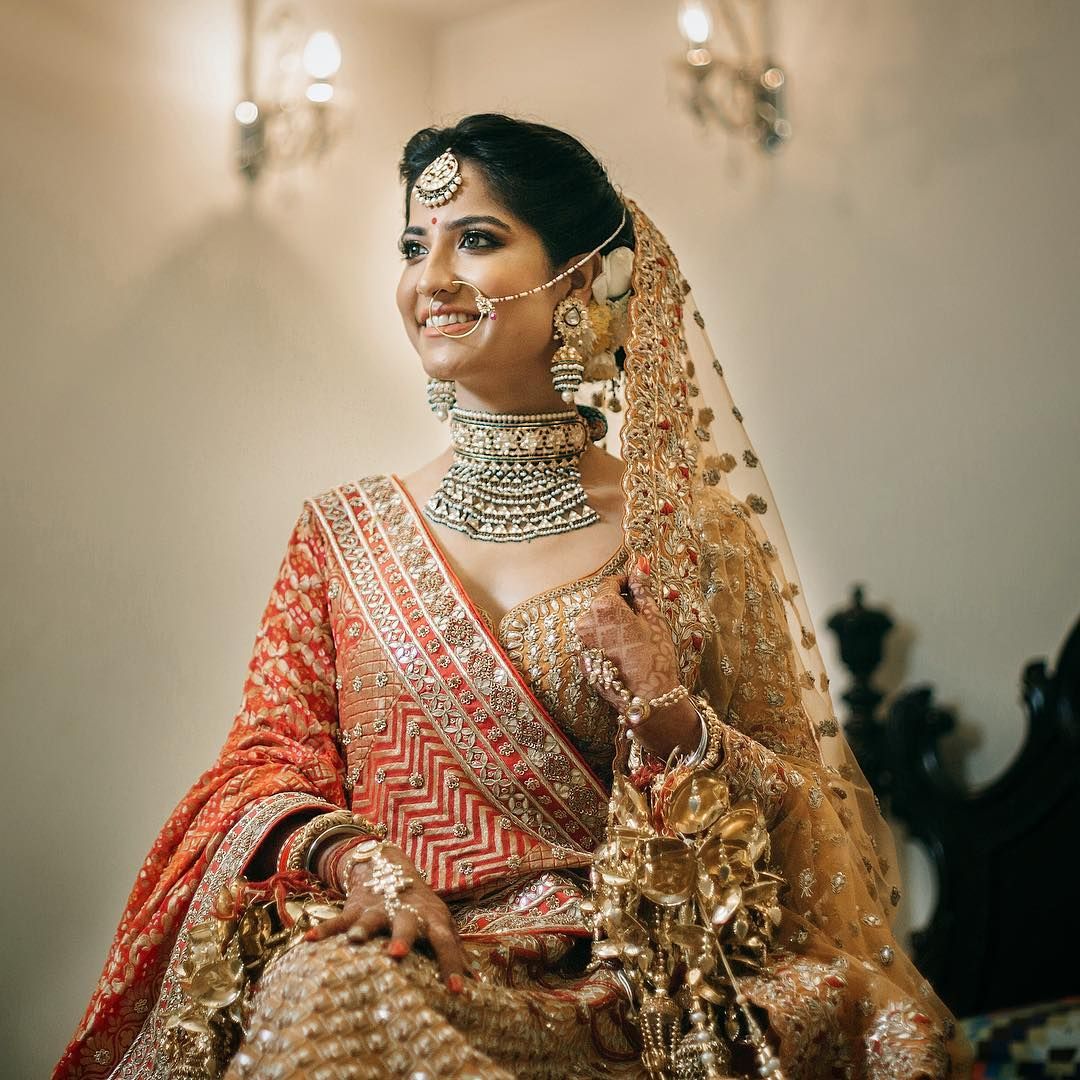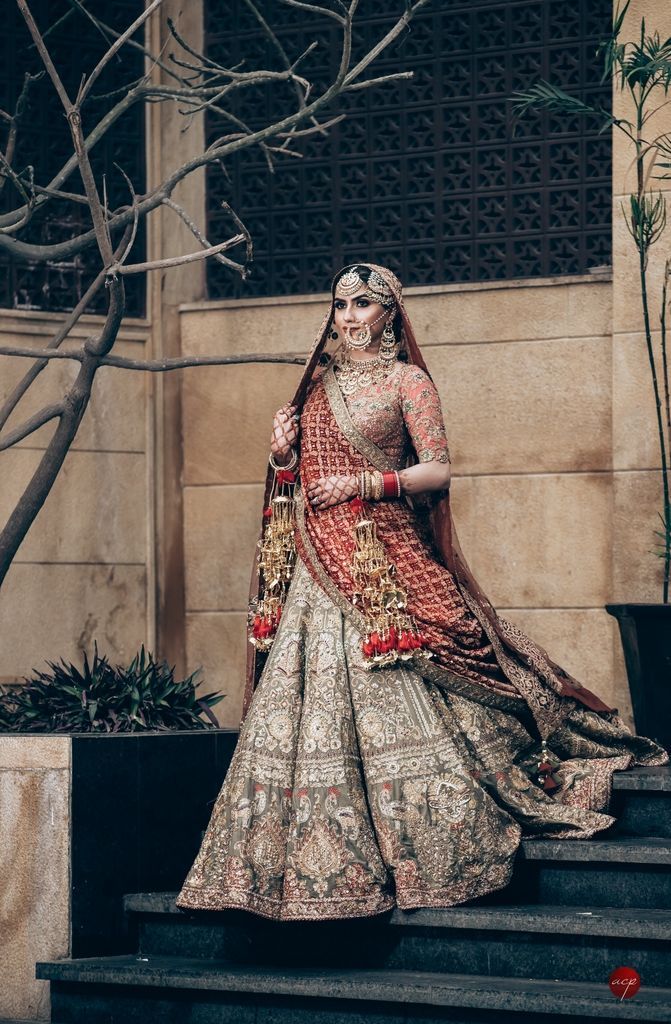 Image via Cupcake Productions★ 4.8  and Komal & Tanveer
Living Coral happens to be the Pantone Colour for 2019, and we love this pretty lehenga which brings out the beauty of the colour while keeping it a little subtle with the honey shade! Plus, if you want something a little more subdued, then you can even have a combination of peaches orange with beige, which still looks fab! Find more coral lehengas you'd love here.
Millennial Pink with Dull Pink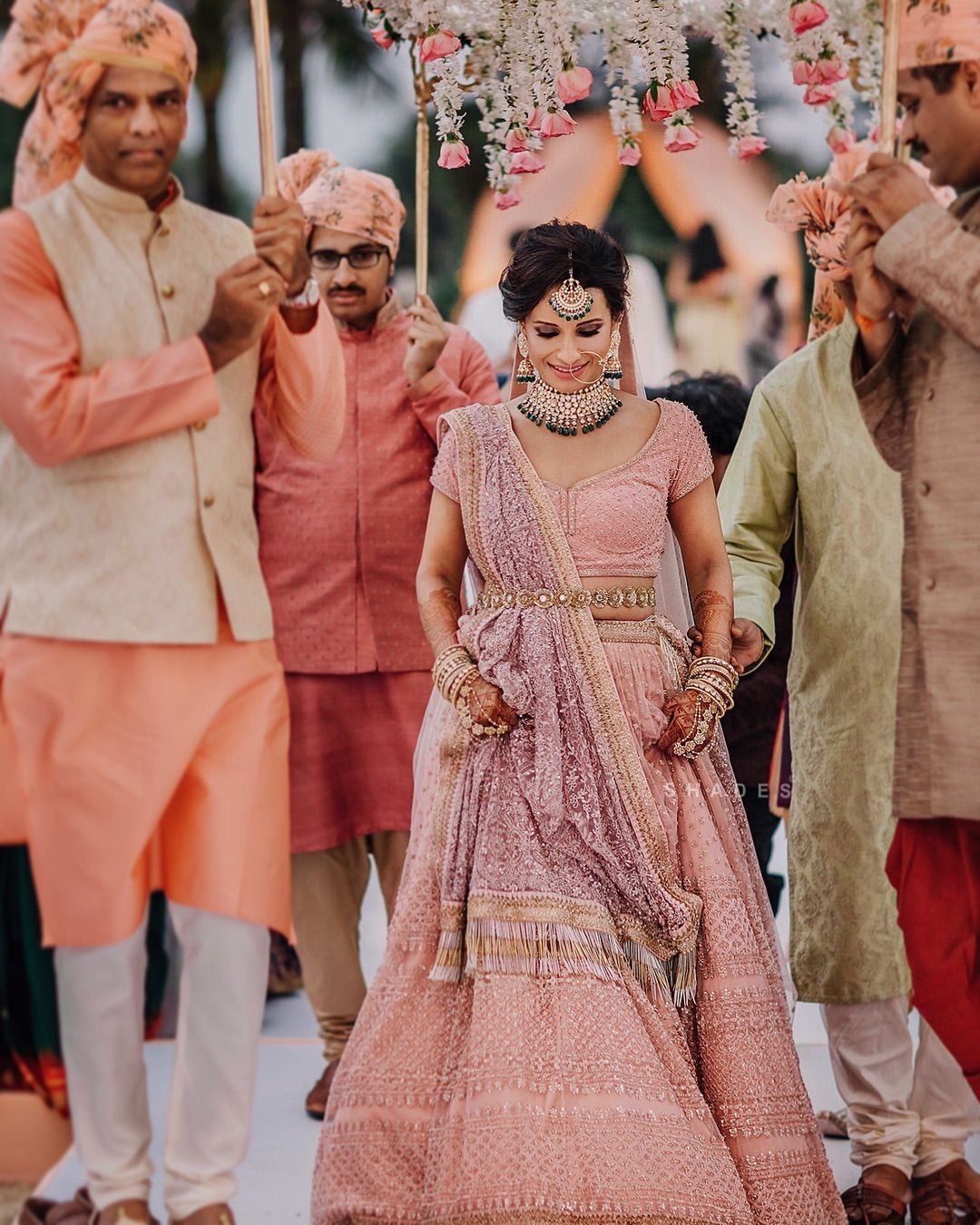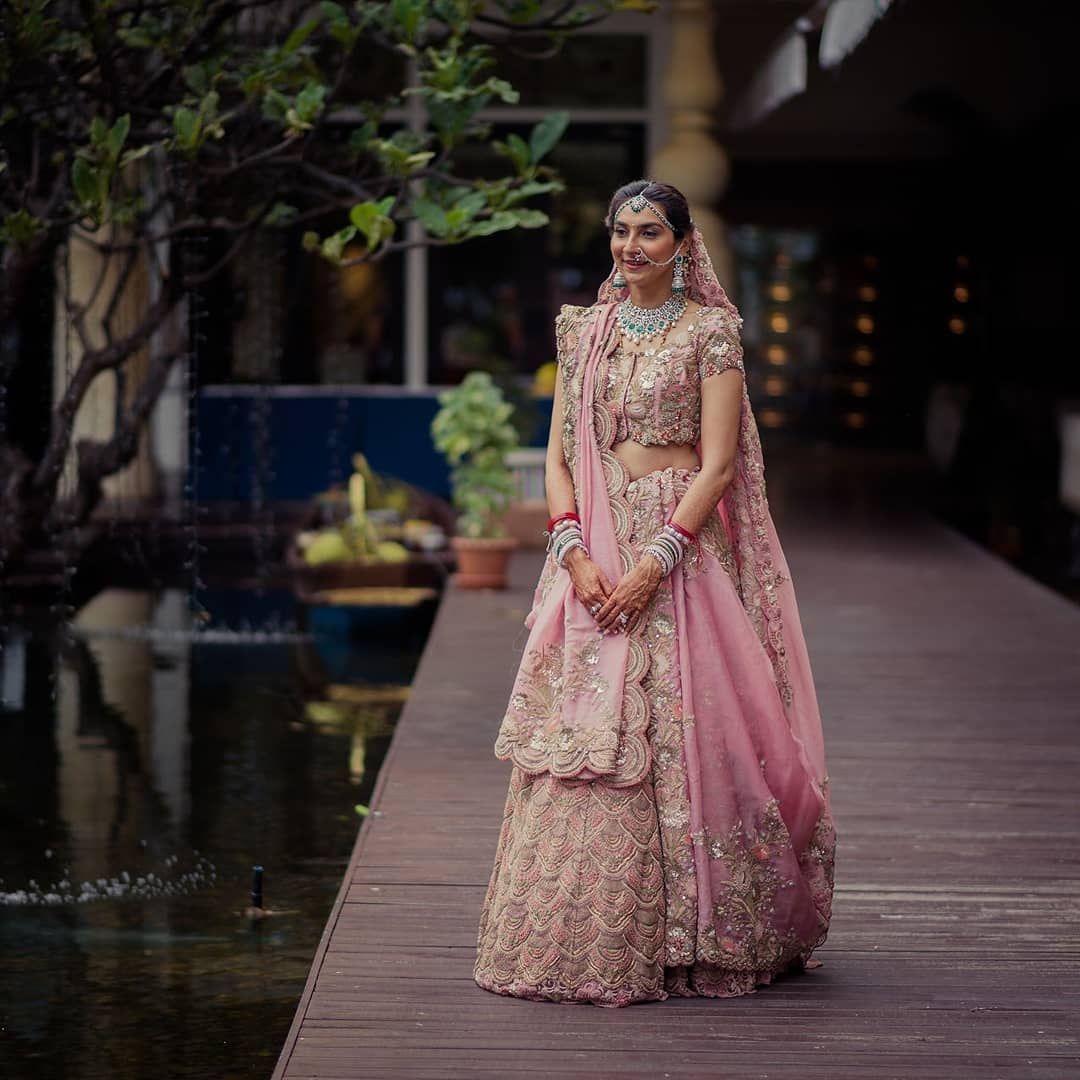 Image via Shades Photography★ 4.3  and Recall Pictures★ 5
Who knew mixing two dainty hues of pink together could also look so good? These brides mixed together two subtle shades of pink, and we love the end result. Looks pretty and subdued without looking boring or monotone. If you're looking for some more pretty light pink lehengas, then we suggest taking a look here.
Mint and Light Pink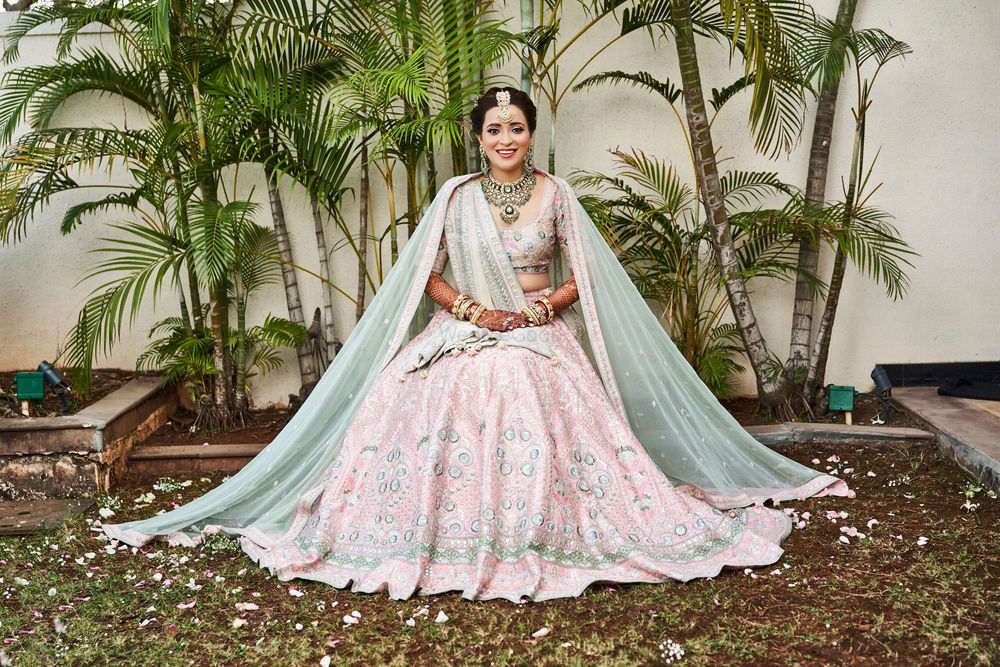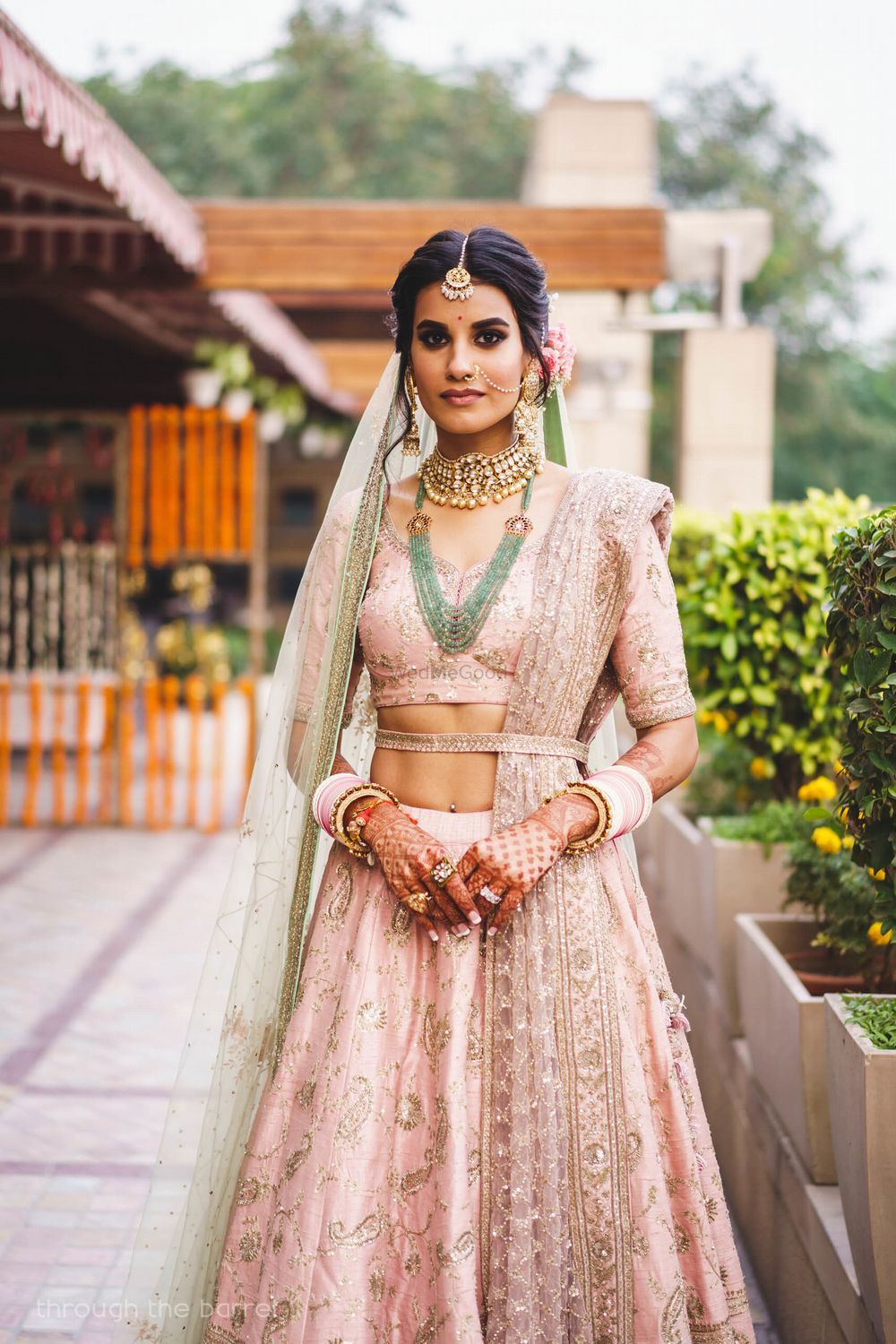 Image via @siddhisuchak and Through the Barrel★ 4.5
This is a combination we've been loving off late, if you're a fan of pastels just like us, then we are sure you'll find it amazing too. If you're looking for something in the pastel family, then instead of keeping the outfit monotone, consider pairing it with a fresh pastel shade like mint green or blue and it's such a pretty new combination to consider! Looking for more pastel lehenga combinations? Then click here.
Beige and Ivory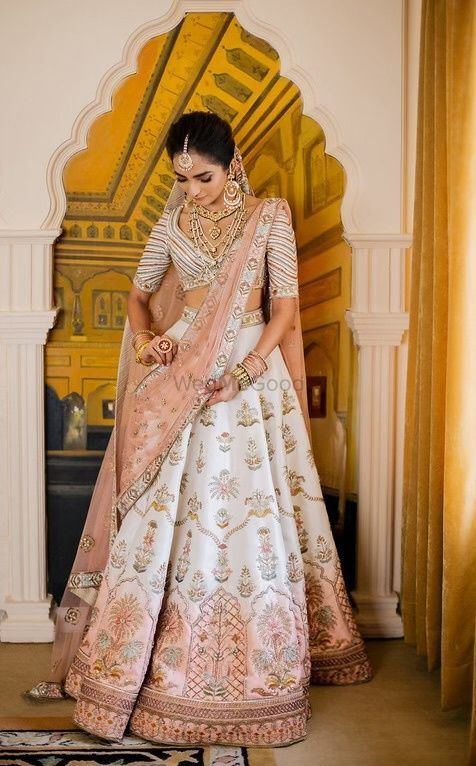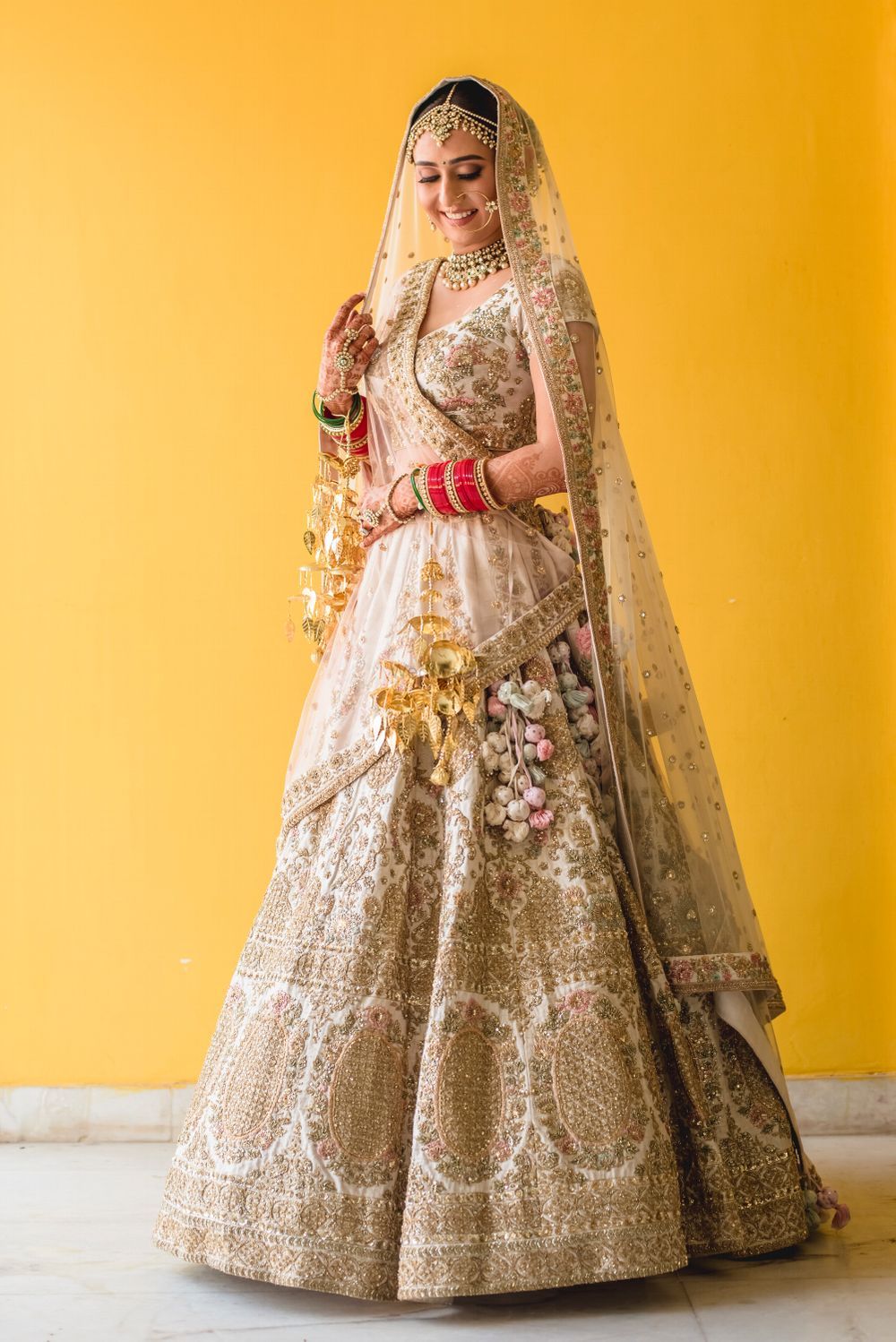 Image via Rhea & Dishant and Moving Pictures★ 5
Who knew two colours which aren't really considered 'bridal' would look so subtle and pretty for a bride when paired together? Well, this bride tried out the combination and really rocked it on her big day. If you love beige too, then check out some more beige lehengas here.
Soft Lilac with Dusty Lilac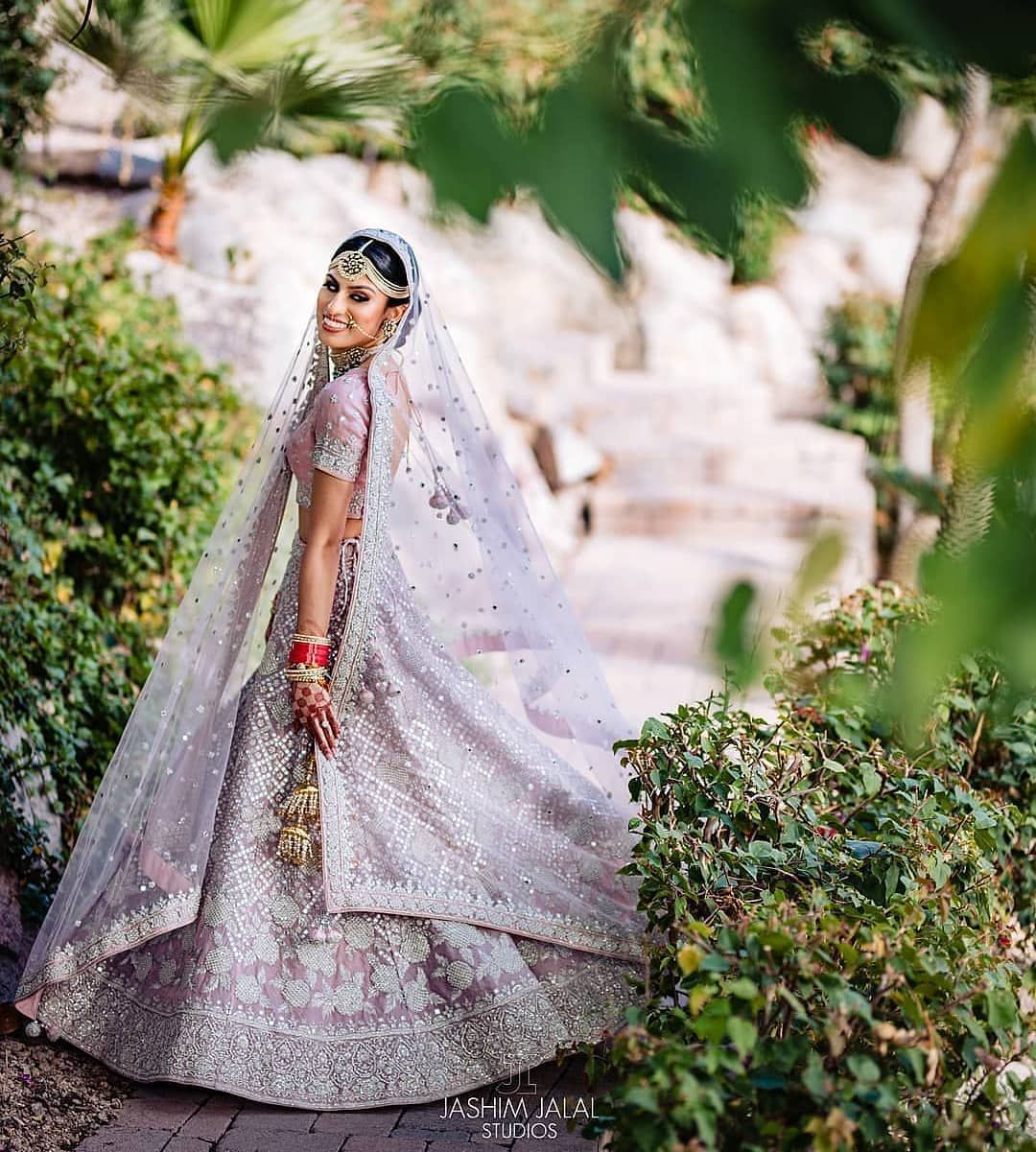 Image and Lehenga via bridesofsabyasachi and @jashimjalalstudios
Another unique new combination mixing two similar hues, and it looks absolutely amazing! This one might not be very popular, but it definitely is very offbeat and pretty- and lilac as it is is a super trendy hue to rock these days. For more lilac lehengas, click here.
Lilac with Powder Blue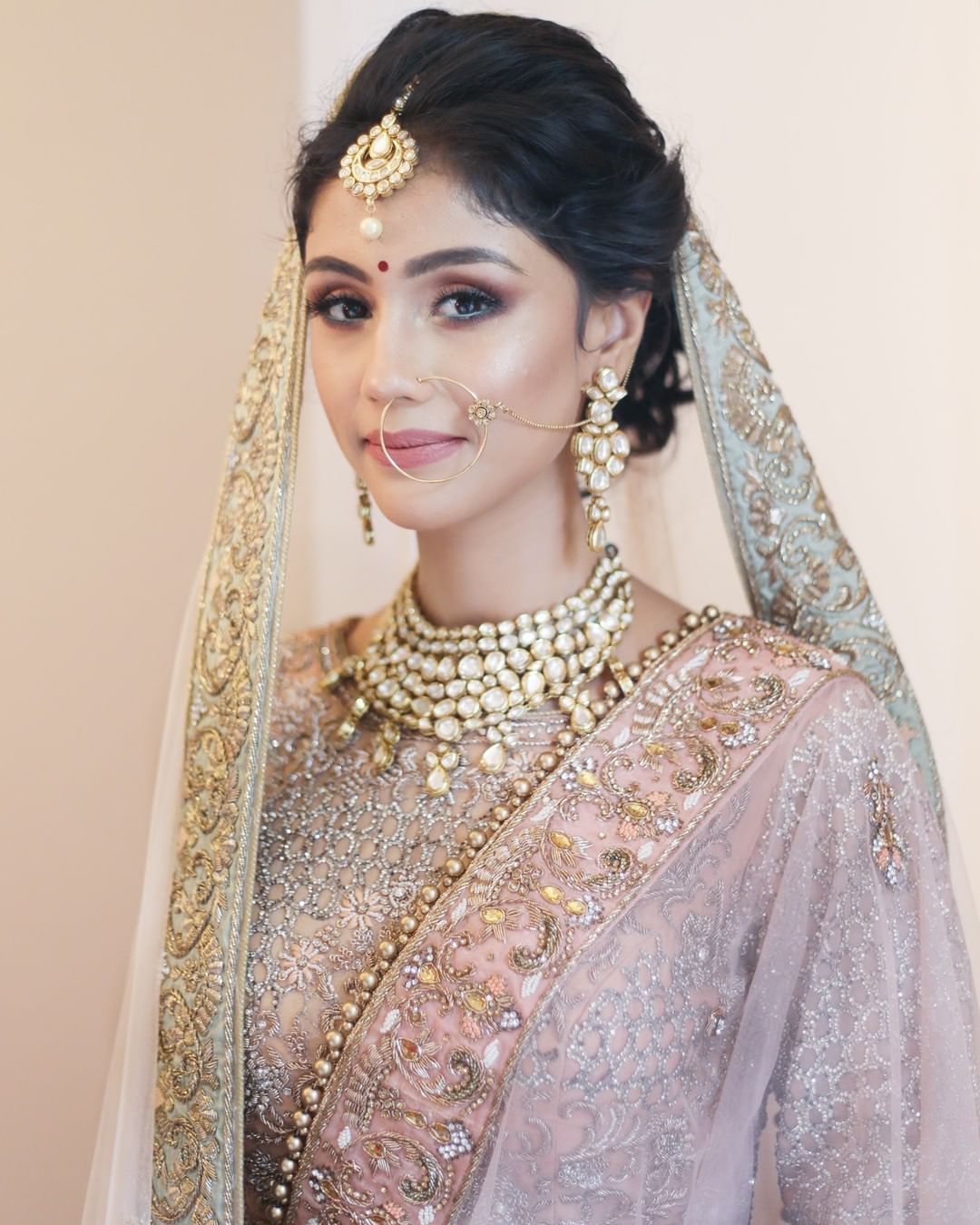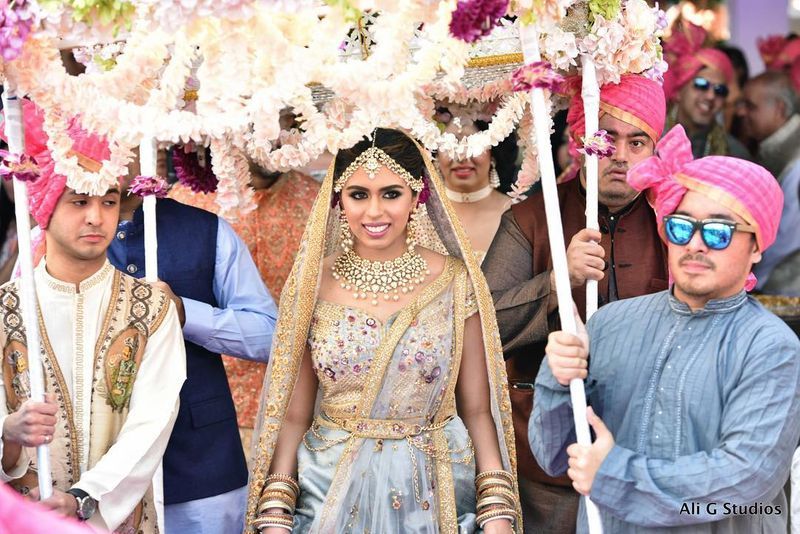 Image via @psycharitra.mayank and aligphoto
Another pretty pastel combination which looks super dainty, especially for a morning wedding! Plus, it looks super fresh and unique- lilac is a trendy shade, and so is powder blue, and both of them combined together look beyond amazing! If you love powder blue too, then find more lehengas in that shade here.
Light Pink and Light Blue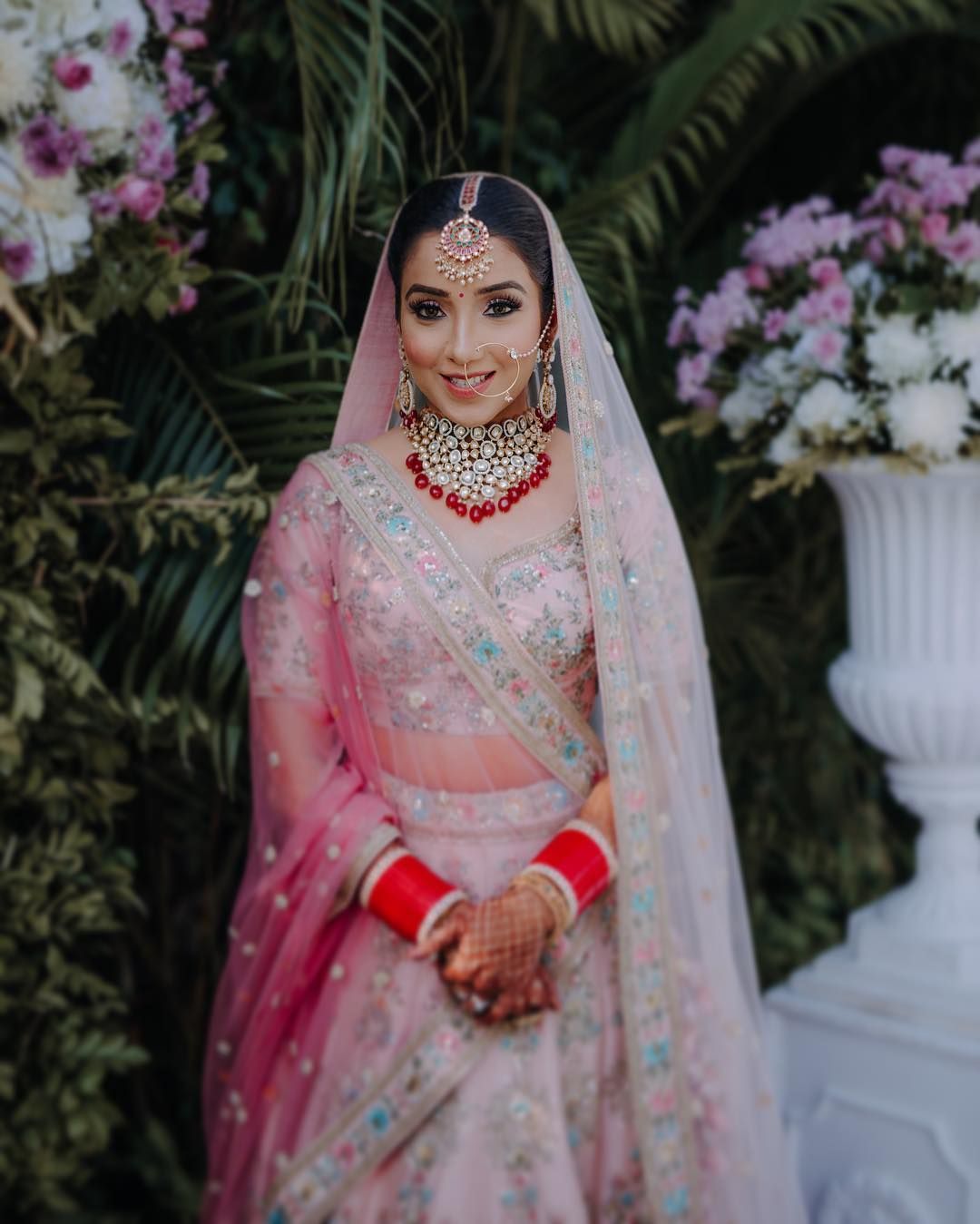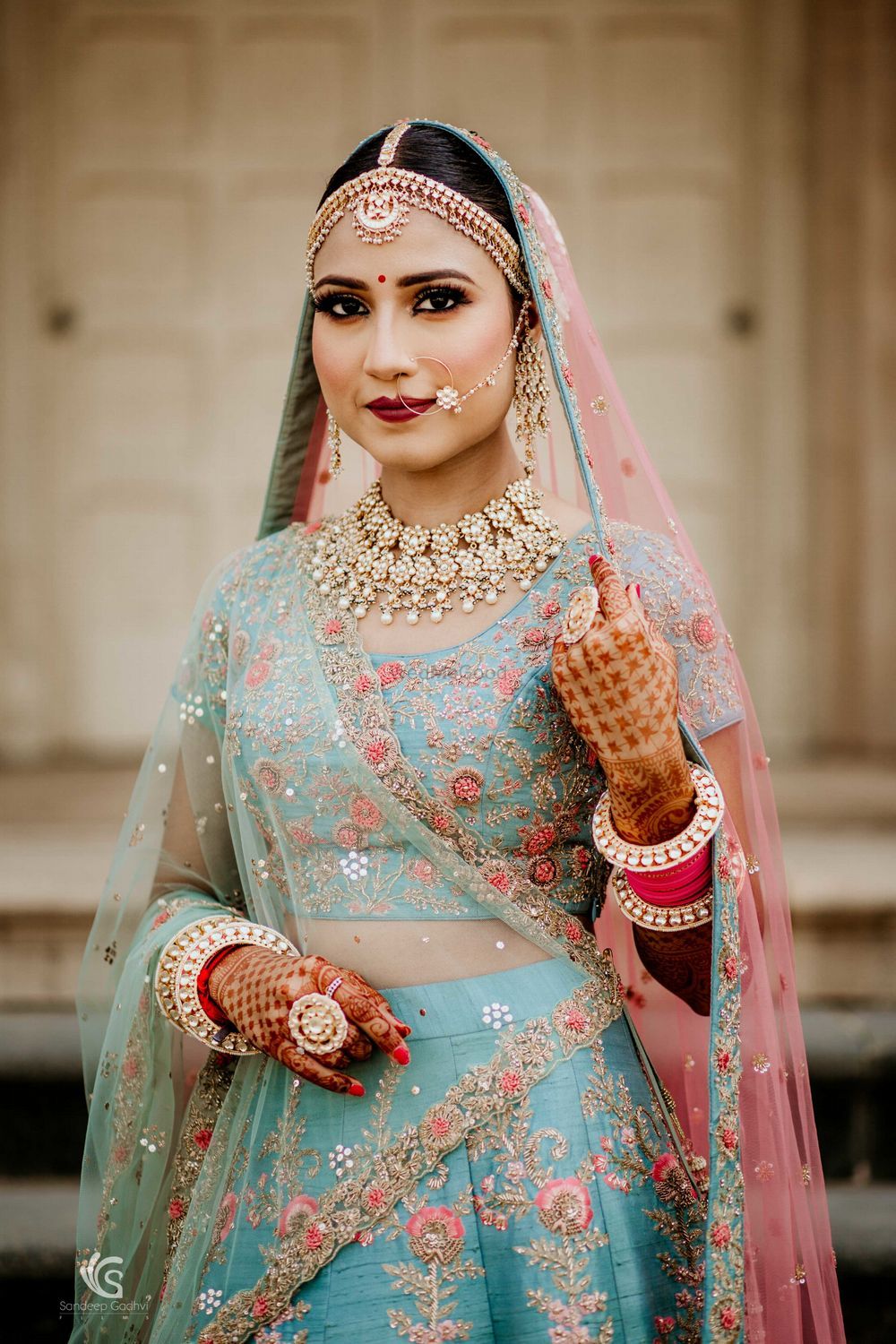 Image via Gautam Khullar Photography★ 4.8  and Sandeep Gadhvi Photography★ 5
Light pink and blue have been around for a while, but mix the two together, and it gives you an all new lehenga combination! While one mixes different shades of pink with it, the other one is shades of blue paired with pink, and both look fab! Looking for more pink and blue lehengas, then click here.
Royal Blue and Powder Blue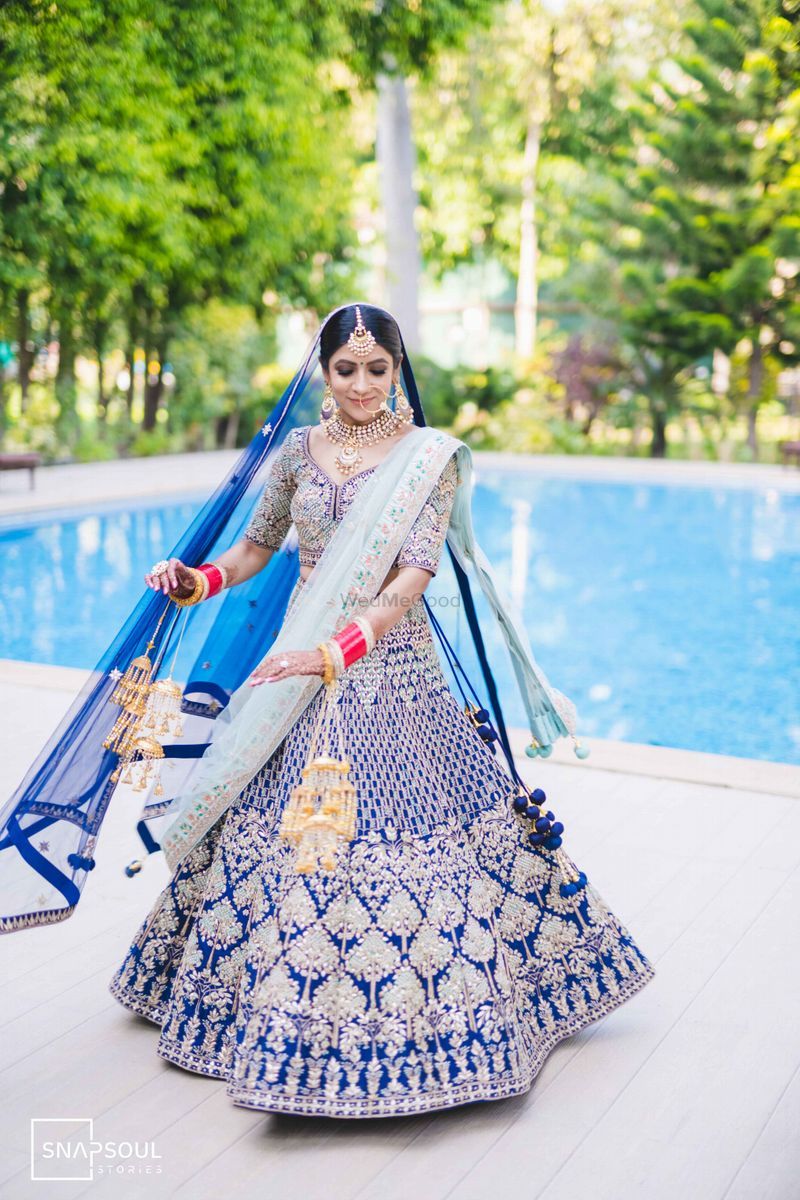 Image via Manvi and Kushagra
Now that's one refreshing combination for the day isn't it? Love how the powder blue breaks the richness of the darker hue of blue and makes it a fantastic combination to rock day or night! We have more pretty blue lehengas for you right here.
Light Blue and Ivory or White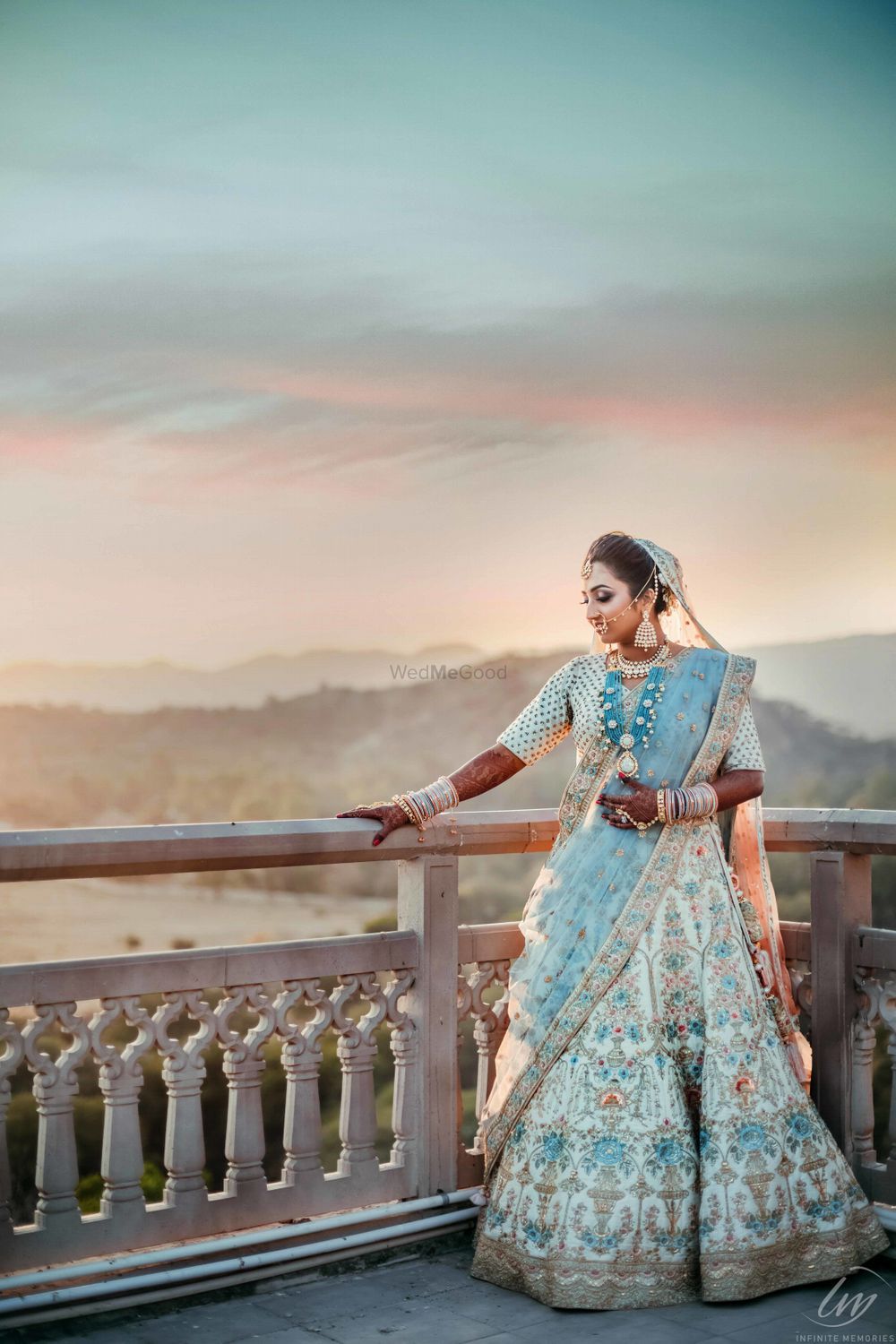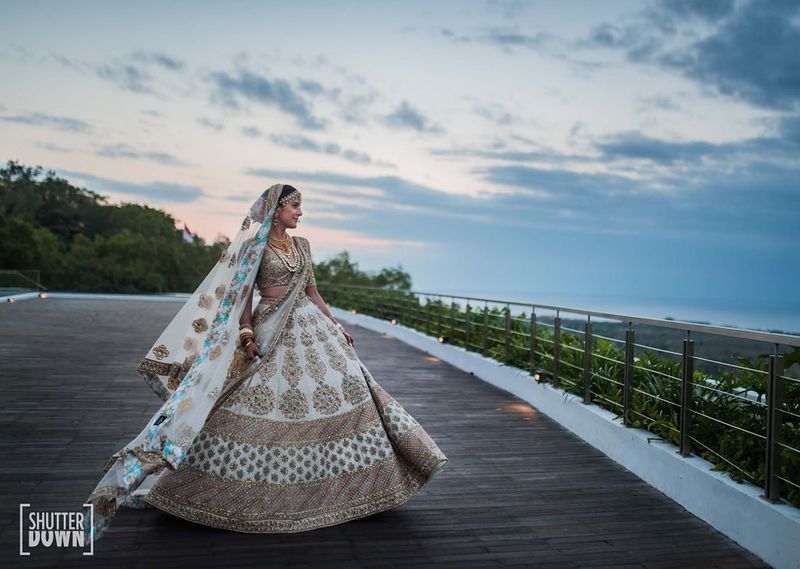 Image via Infinite Memories★ 4.8  and Shutterdown - Lakshya Chawla★ 4.9
White or ivory and light blue looks new and refreshing! It's one combination you don't see too many brides rock on their wedding day, and looking at these two brides, we don't know why more brides don't really give it a try! Find more gorgeous white lehengas here.
Indigo/ Midnight Blue with Milennial Pink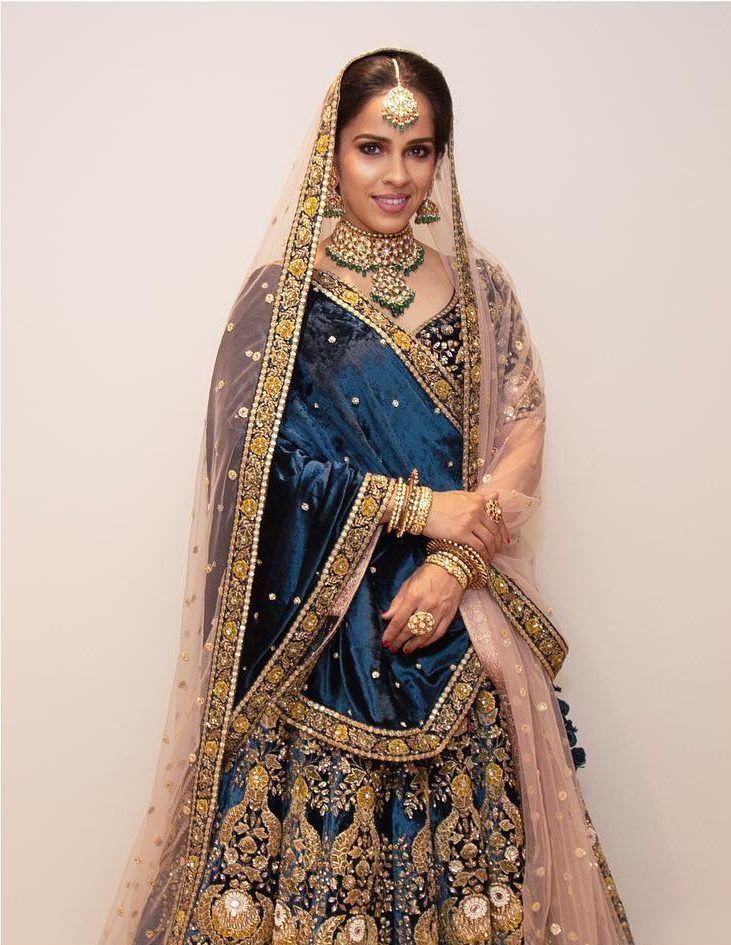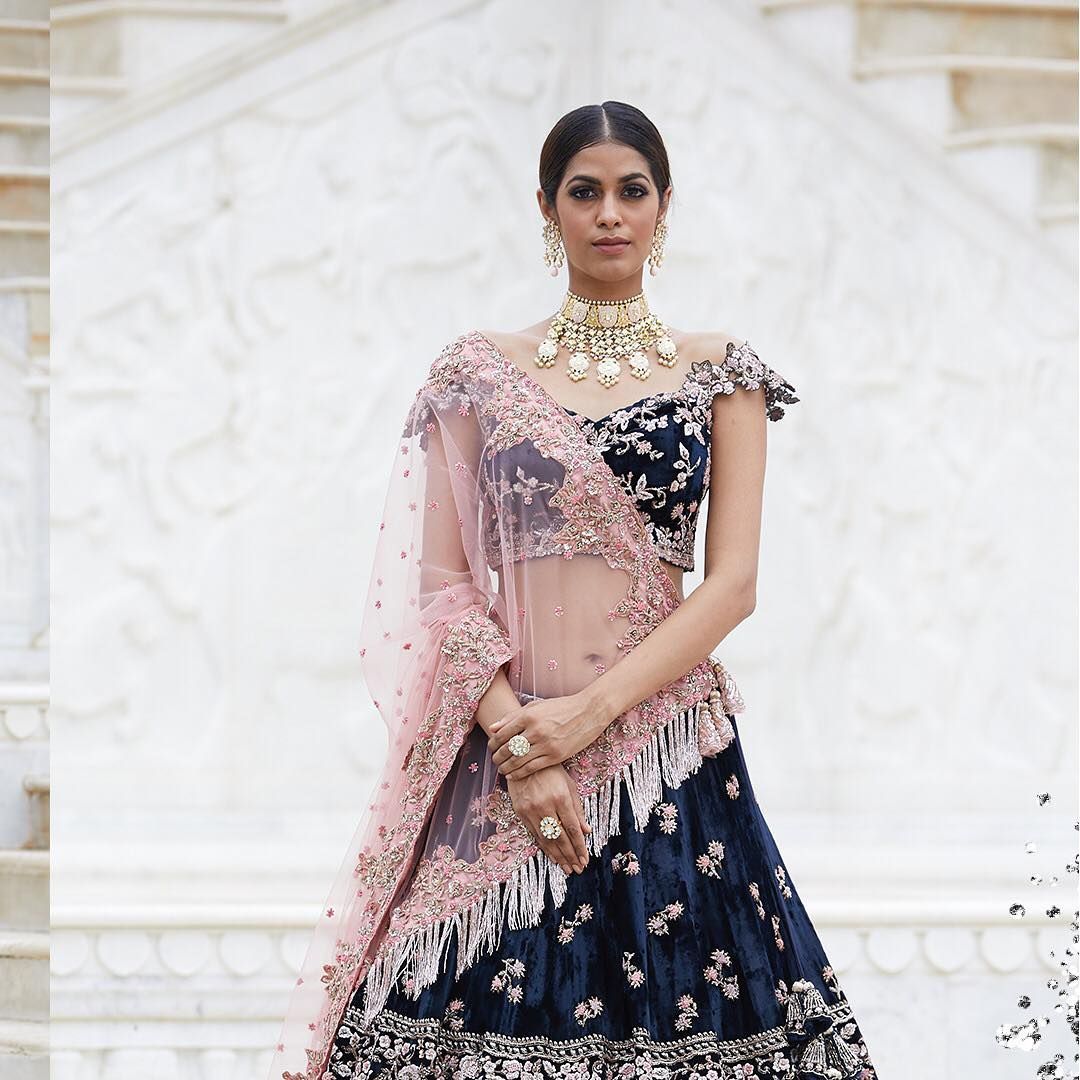 Image and Outfit via Dolly J Bridal Collection★ 4.7
Blue and pink is pretty common, but these two offbeat shades look wonderful together! The dark shade looks lighter thanks to the brightness and lightness of the pink, and it looks fabulous. Find more such amazing lehenga combinations here.
Now that you have got an idea of the newest lehenga color trends, then check out these latest lehenga blouse designs.
ALSO READ: How To Sort The Pastel / Bright / Dark Bridal Lehenga Conundrum!