Lovely Nauvari Sarees On Maharashtrian Brides That We Loved!
BY Apoorva | 01 Jul, 2019 | 125595 views | 9 min read
Marathi weddings have a different vibe all together from other weddings. There is more colour, more traditions and the most unique aspect – unique nauvari sarees to see!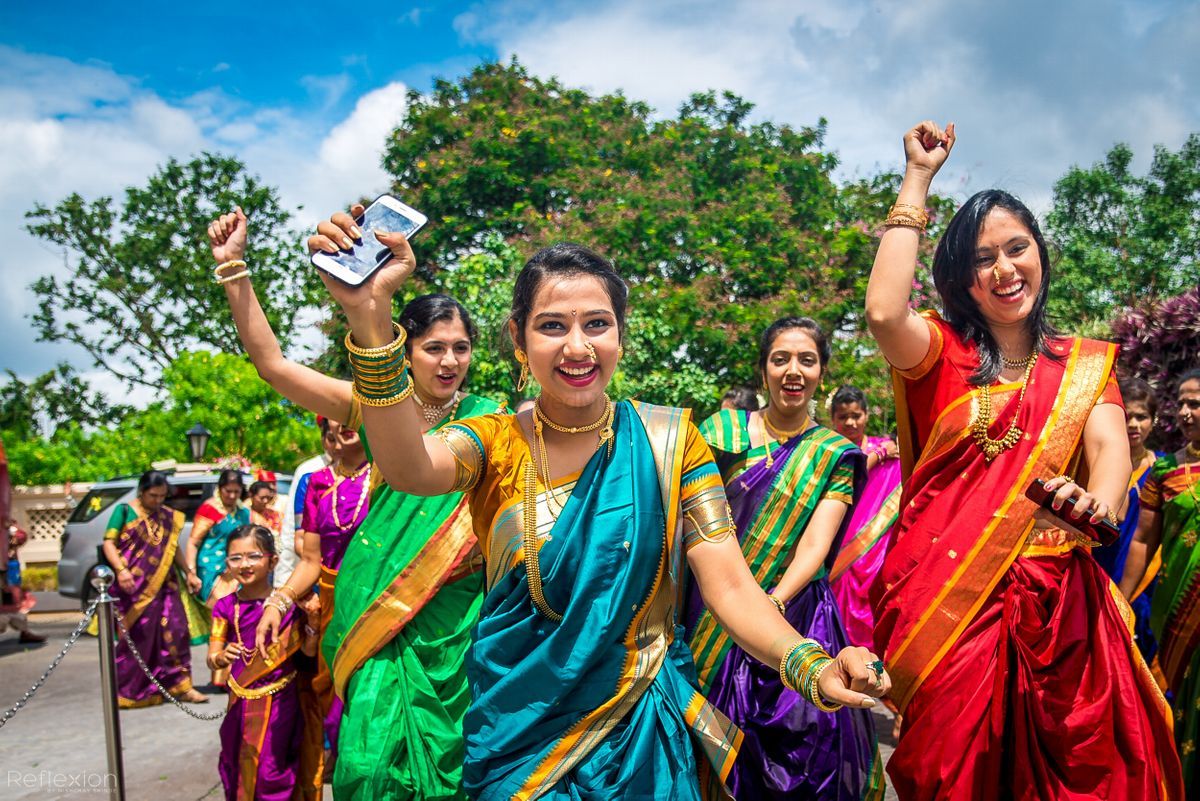 Image via Reflexion by Nishchay Shinde★ 5
Traditionally, Marathi brides wear nauvari sarees on their wedding day.There are various draping styles that you can opt for while wearing a sarees. The kaashtha or nauvari saree is a style of saree draping is very similar to the way the Maharashtrian dhoti is worn. The word kaashtha refers to the nauvari sarees being tucked at the back. Since the nauvari saree is usually worn by using a single nine yard cloth, it is also referred to as nauvari saree which means technically mean nine yards. The origin of the nauvari sarees came into being in the Maratha rule. It is said that during the Maratha rule, women were entrusted to help their fellow male warriors. To facilitate easy movement, Maharashtrian women introduced the nauvari sarees which resembled a male trouser.
In Marathi weddings, brides usually wear nauvari sarees as wedding sarees when the rituals take place. It's also accompanied by a shela (silk stole or scarf that Marathi brides take across their shoulders and hands with a nauvari saree). Most Marathi brides don yellow/mango coloured nauvari sarees by tradition but now brides wear different colours to mark their happy days. Want to see all the different types of Marathi brides donning nauvari sarees? We've got a list of 20+ beautiful nauvari wedding sarees that have our heart!
Loving This Stunning Turquoise Green And Blue Maharashtrian Wedding Saree For Bride


Image via Neel Chavan Photography★ 5
This Maharashtrian Navari Look Went With A Lovely Red Saree, Embroidered Blouse And A Shela!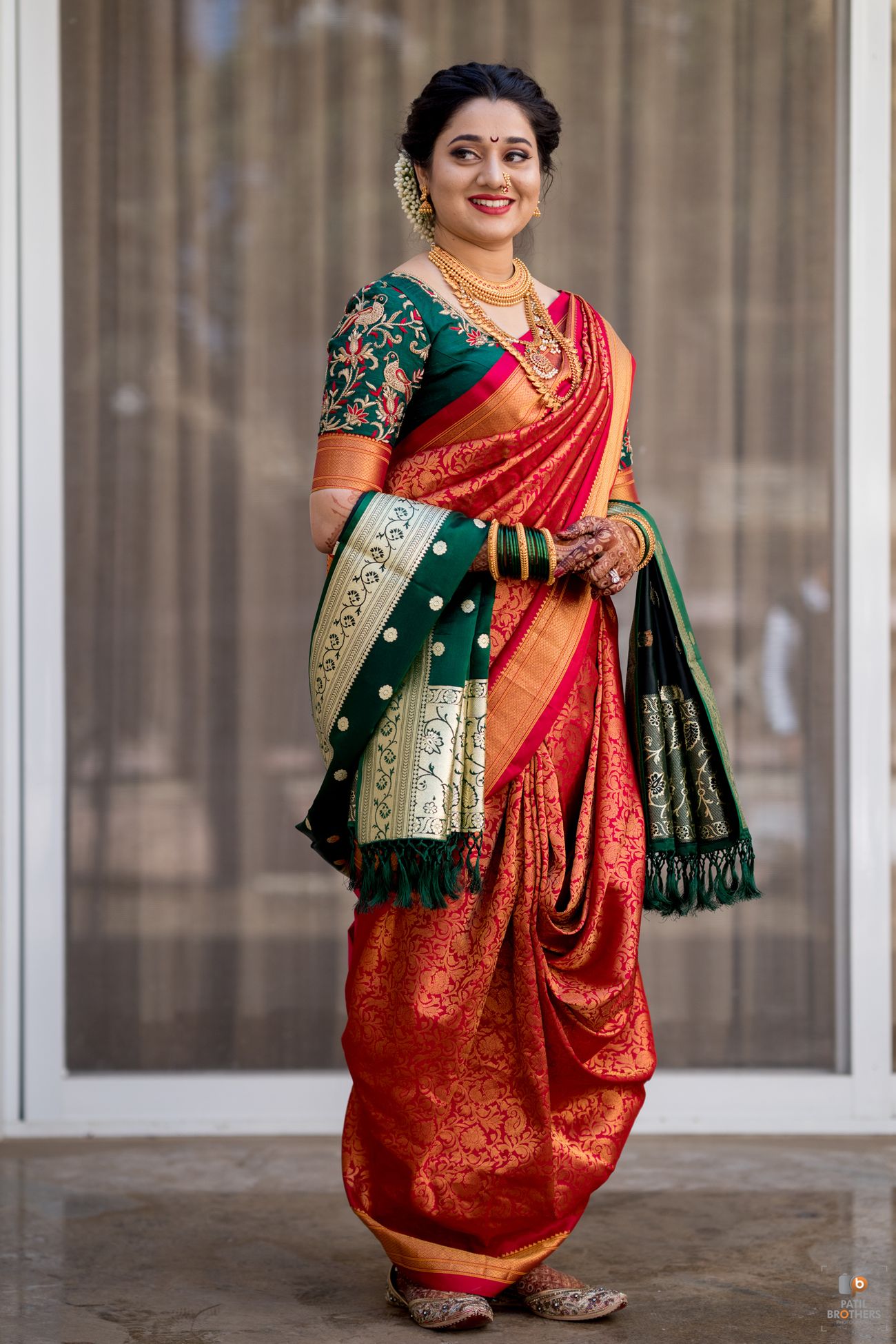 Image via Patil Brothers Photography★ 5
Royal Blue Stunner Nauvari Saree Look For Wedding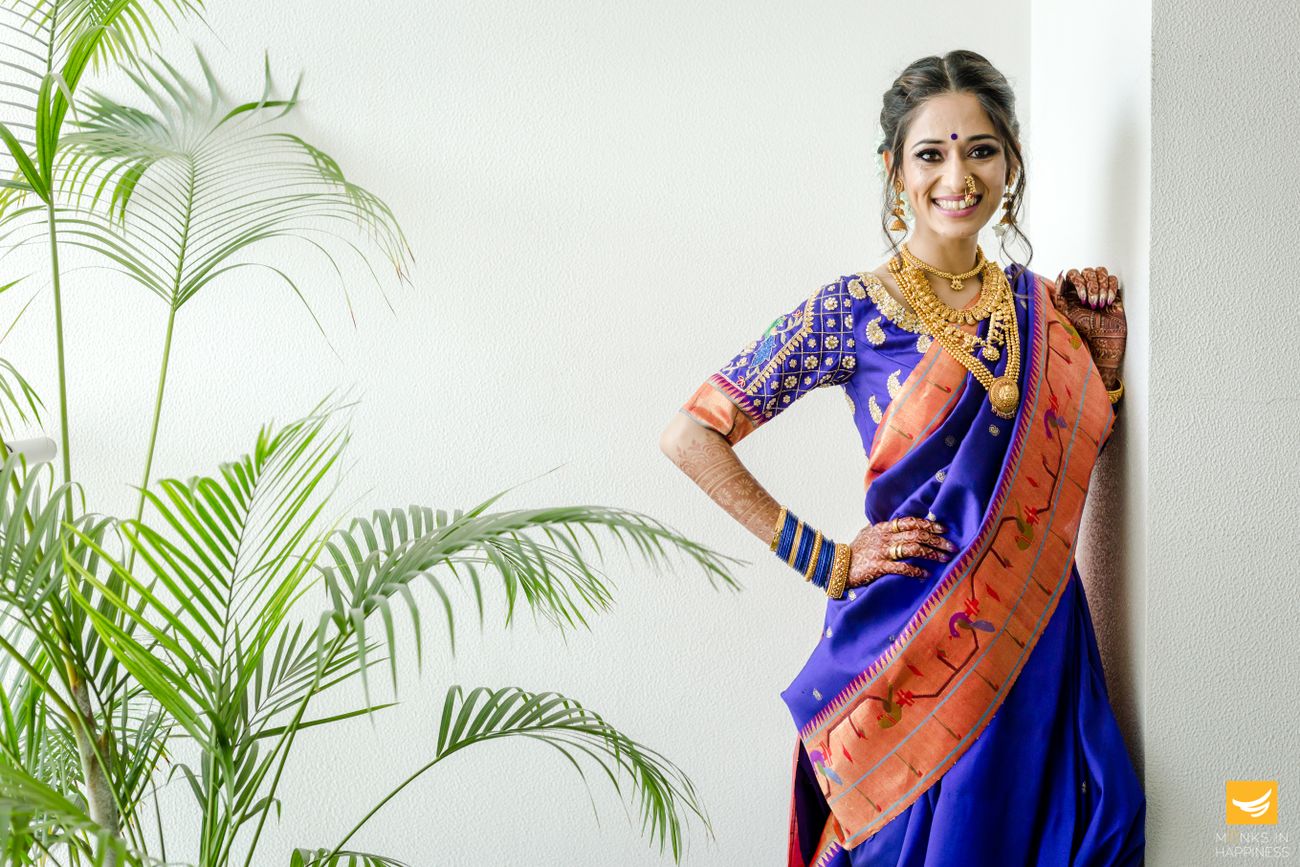 Image via Monks In Happiness★ 4.8
This refreshing hue of parrot green is a beautiful maharashtrian wedding saree for bride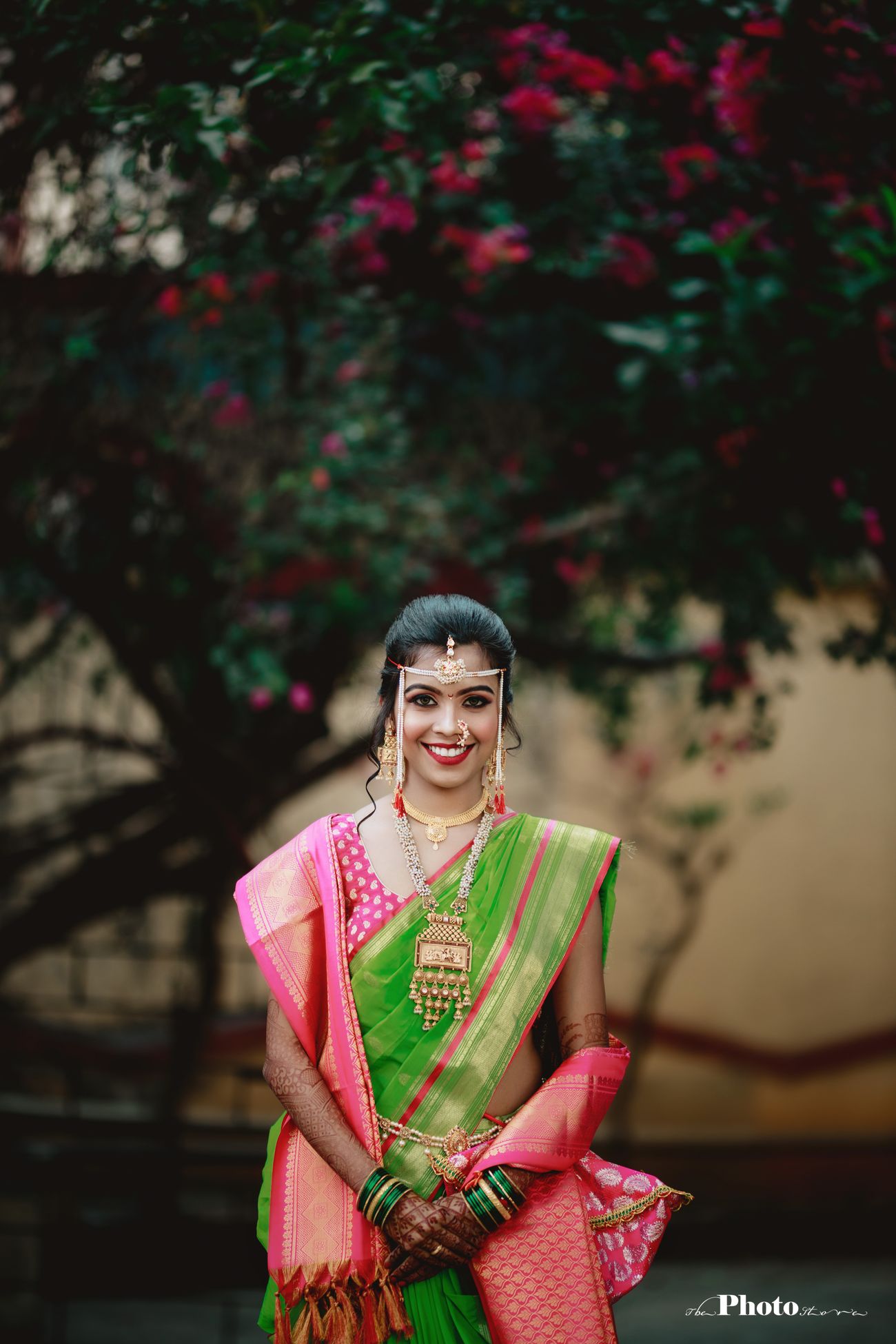 Image via The Photo Store★ 5
Nothing Like A Beautiful Mango Yellow Nauvari Saree For Bride!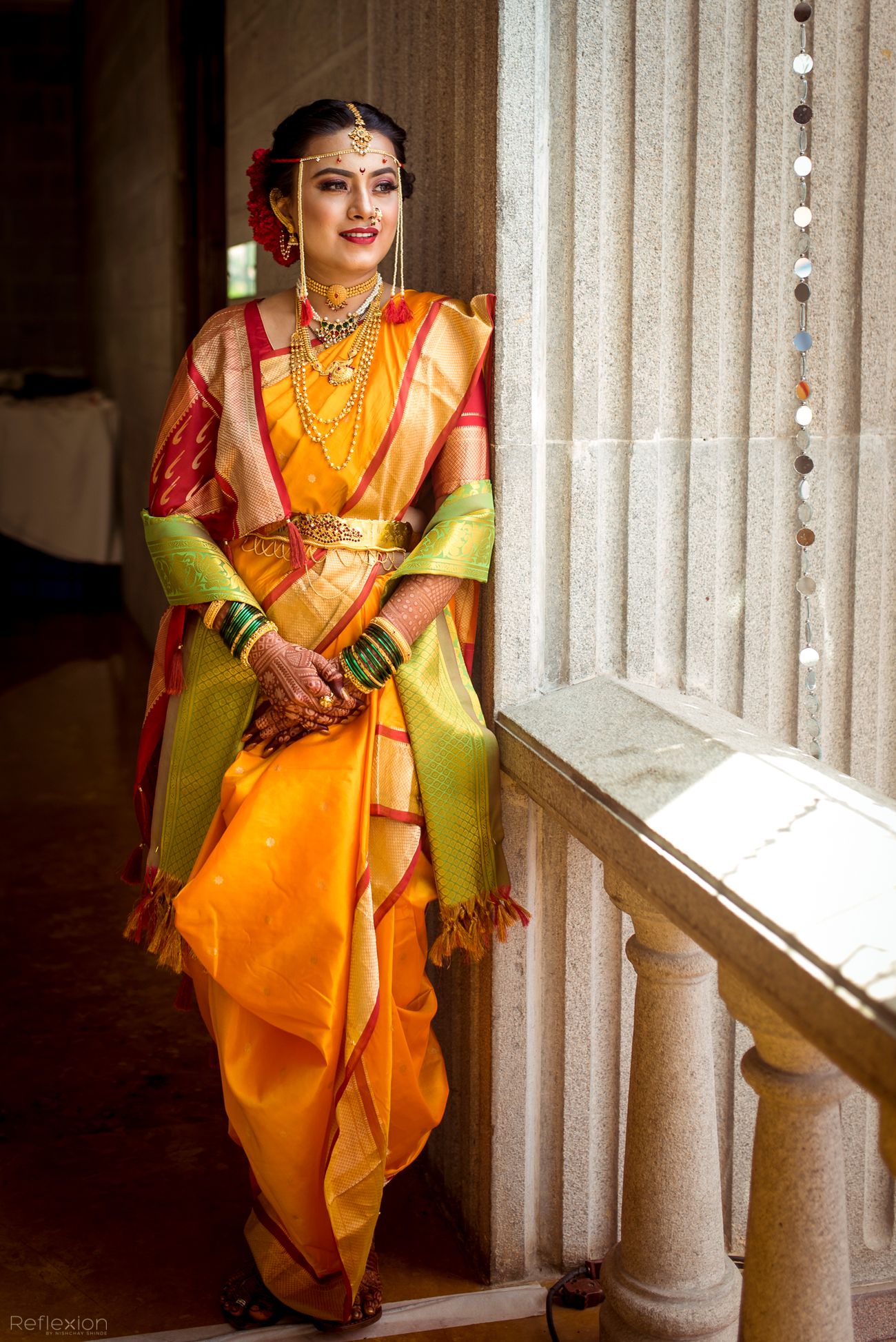 Image via BrideMeUp★ 4.9
Regal and opulent, this purple maharashtrian navari look is magnificent!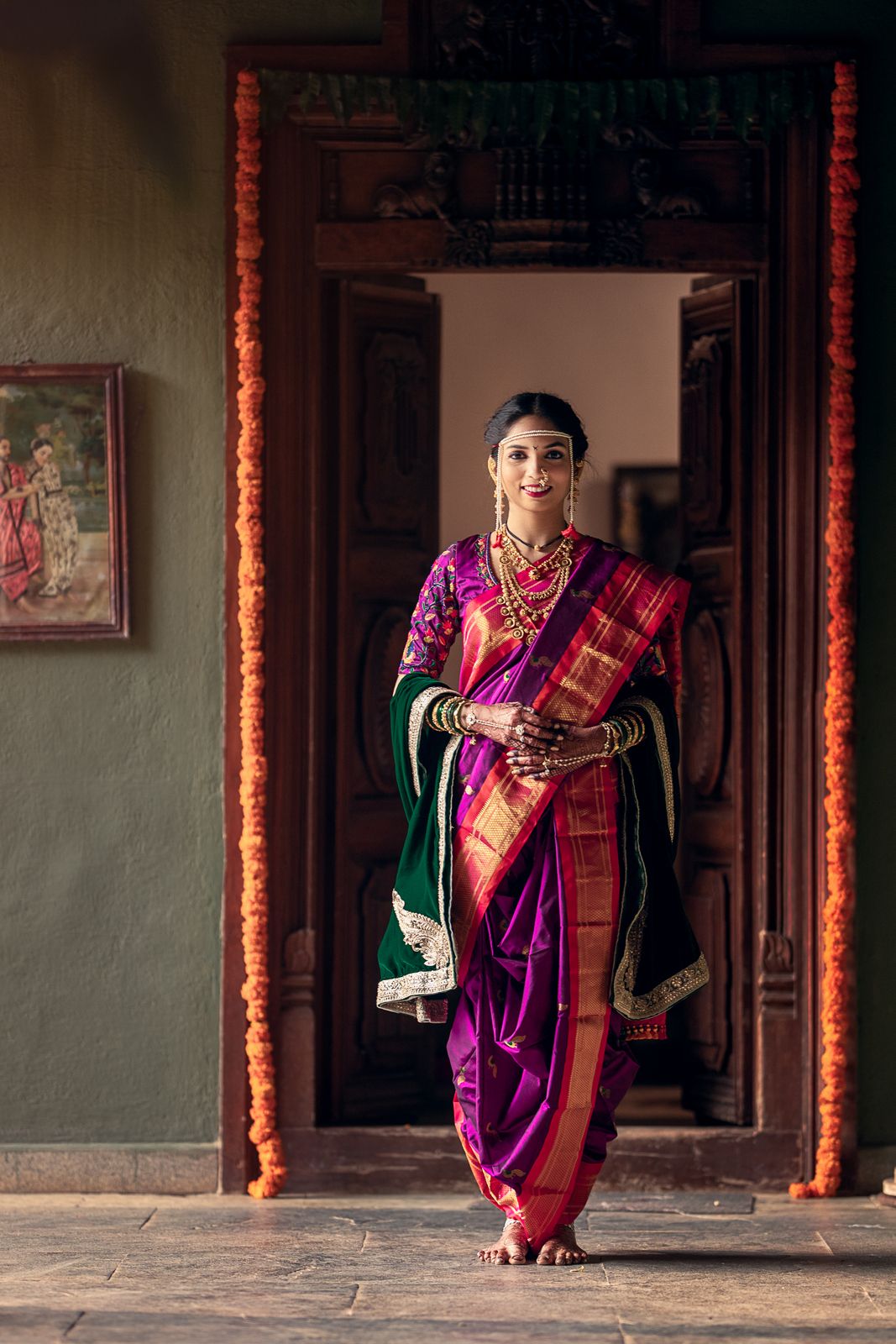 Image via LightBucket Productions★ 4.9
Pink love! This beautiful fuschia pink nauvari saree for bride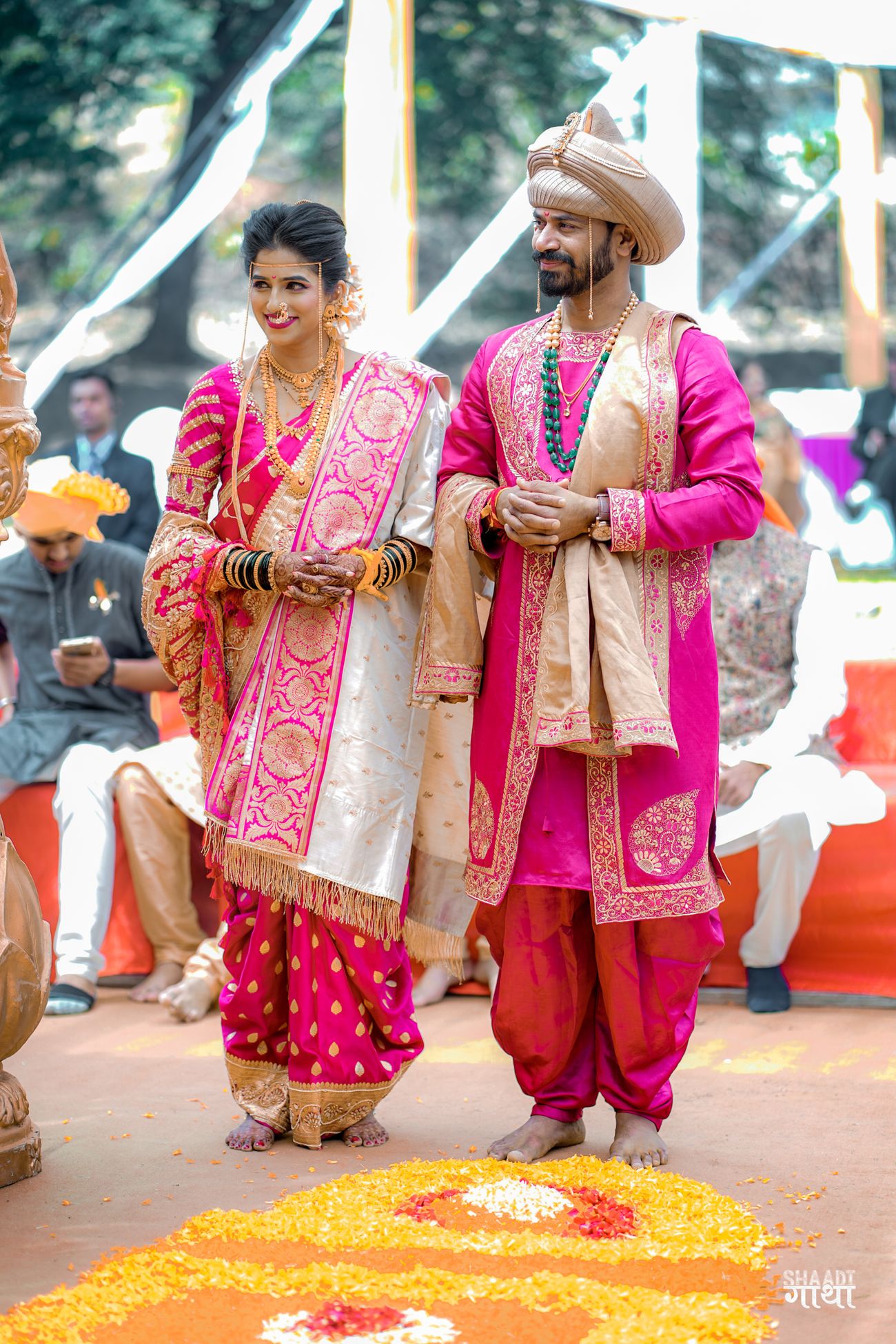 Image via Mithila and Sachin
Love black? Take inspiration from this black peshwai nauvari saree images we have for you.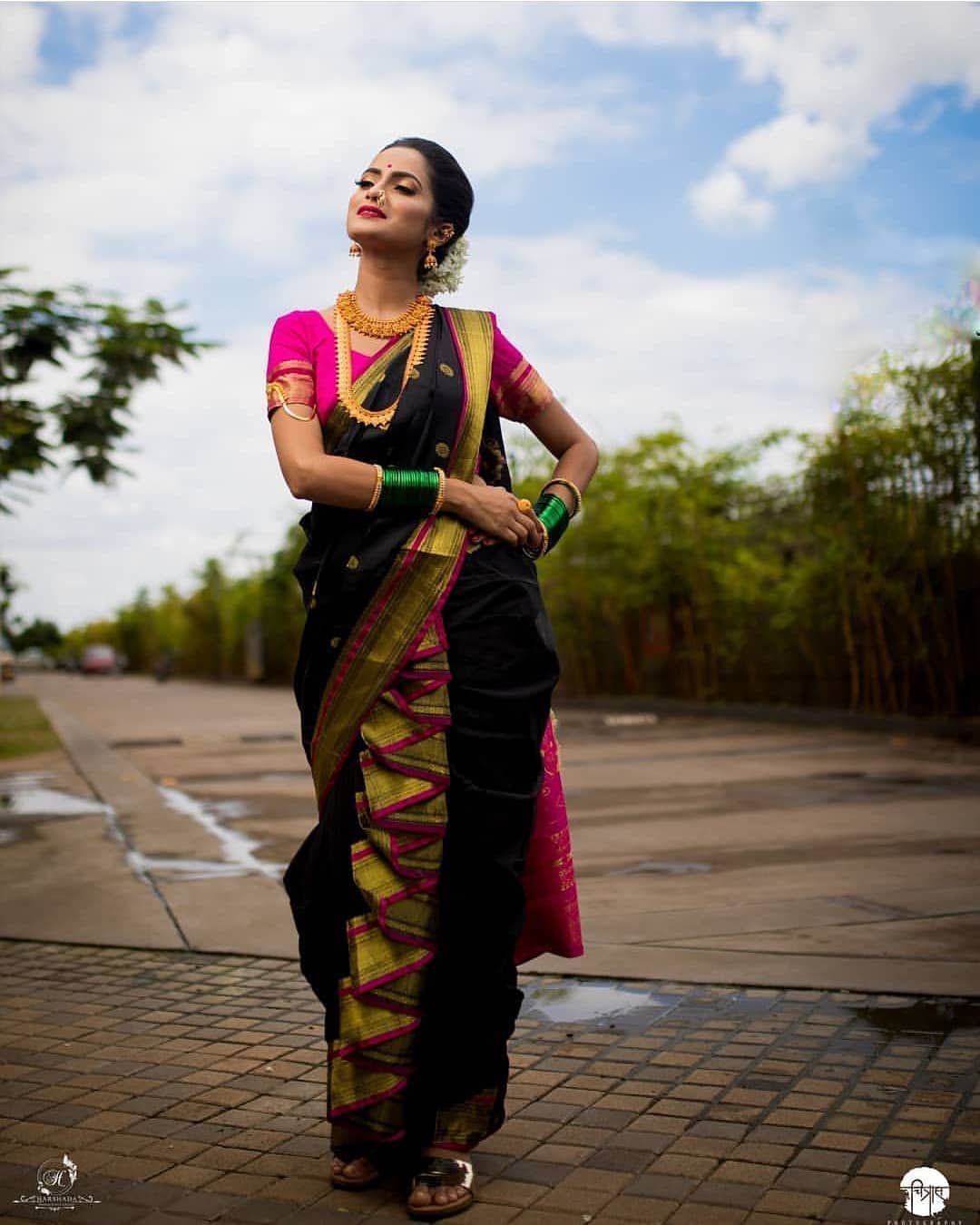 Image via Pinterest
A classic designer nauvari saree with a sheela from a paithani saree for bride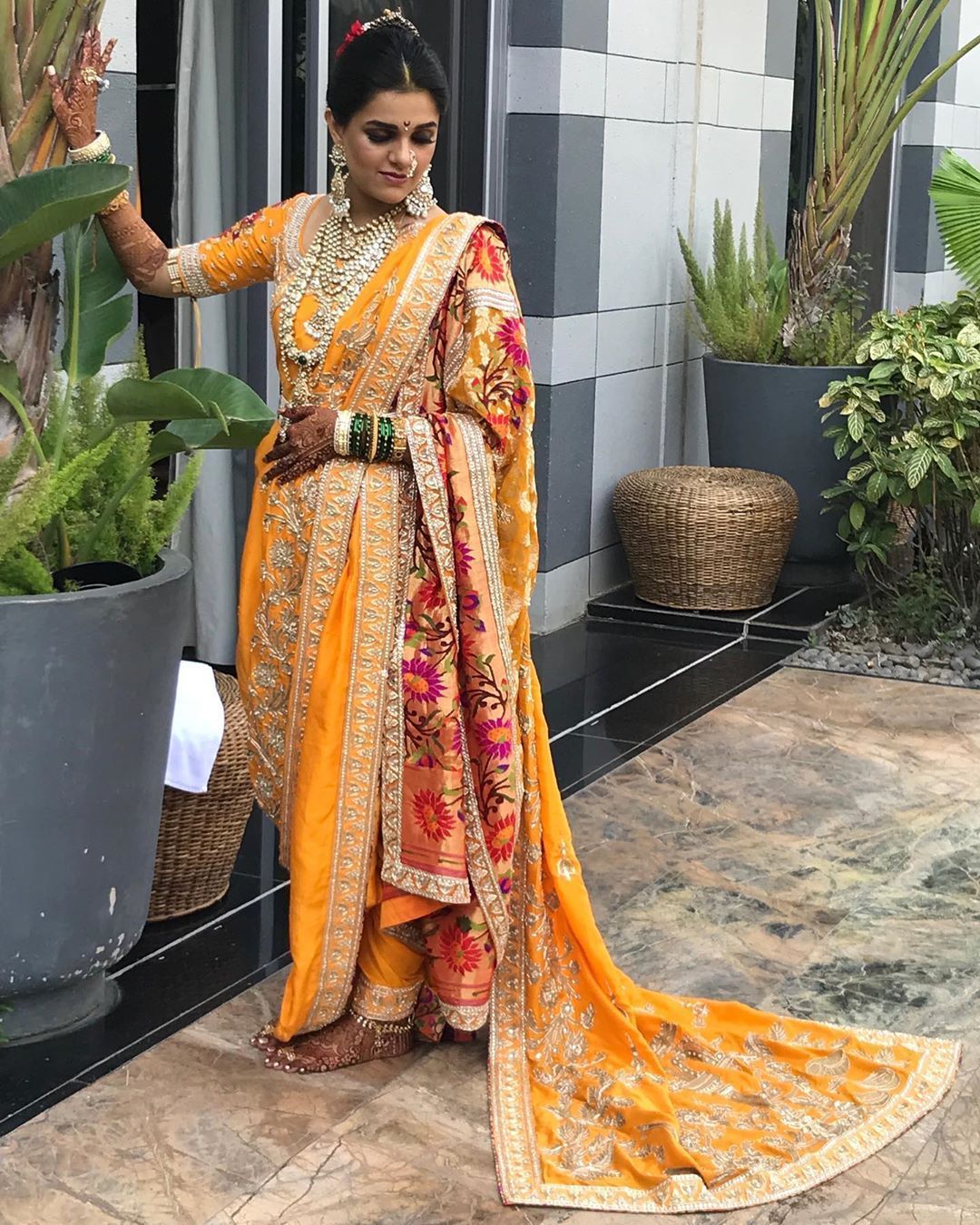 Image via Pinterest
Totally crushing on this baby pink nauvari kolhapuri saree with a matching benarasi shela!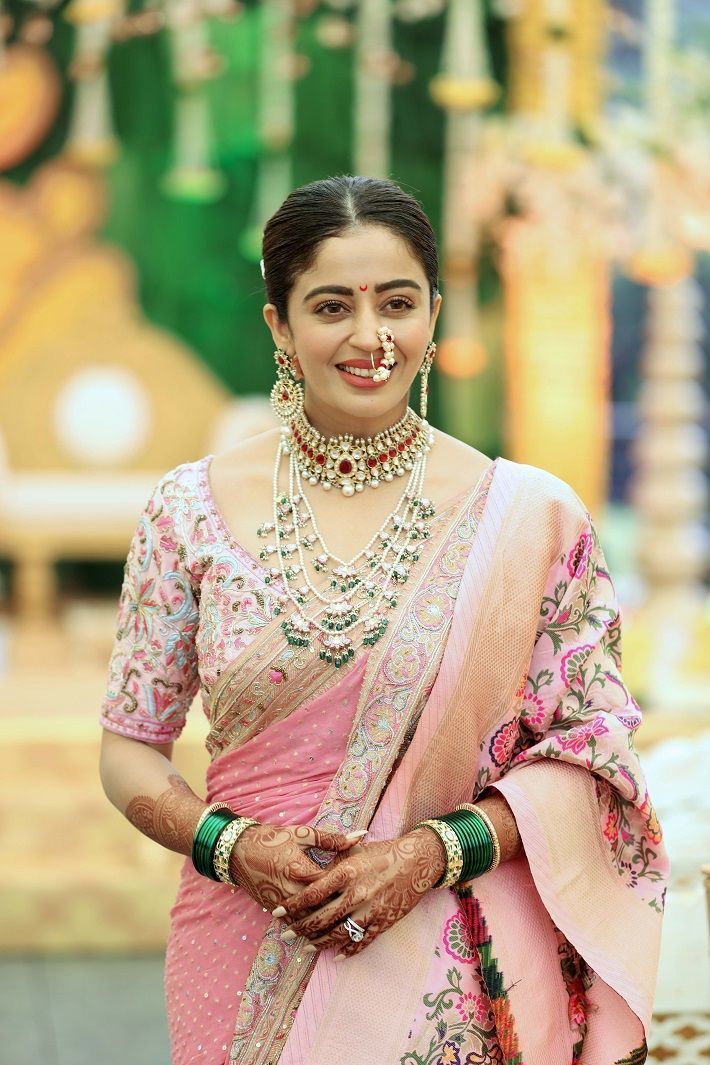 Image via Pinterest
This Stunning Turquoise And Pink Beauty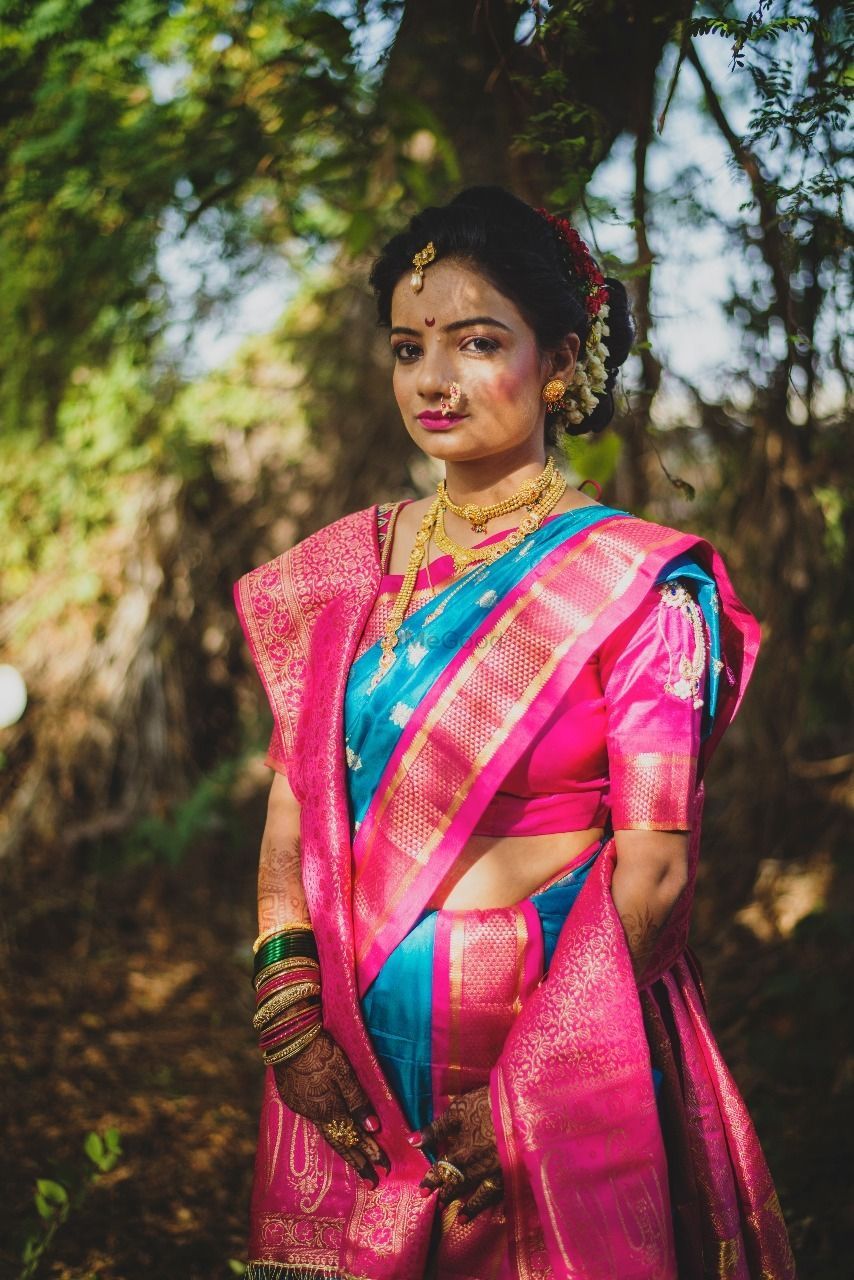 Image via Umesh Photoworks★ 4.9
This one is such a unique combination and will make any bride shine as they don these wedding sarees. We especially loved how she has kept her shela in that bright pink colour to compliment the border of her saree!
All The Shades Of Blue And Green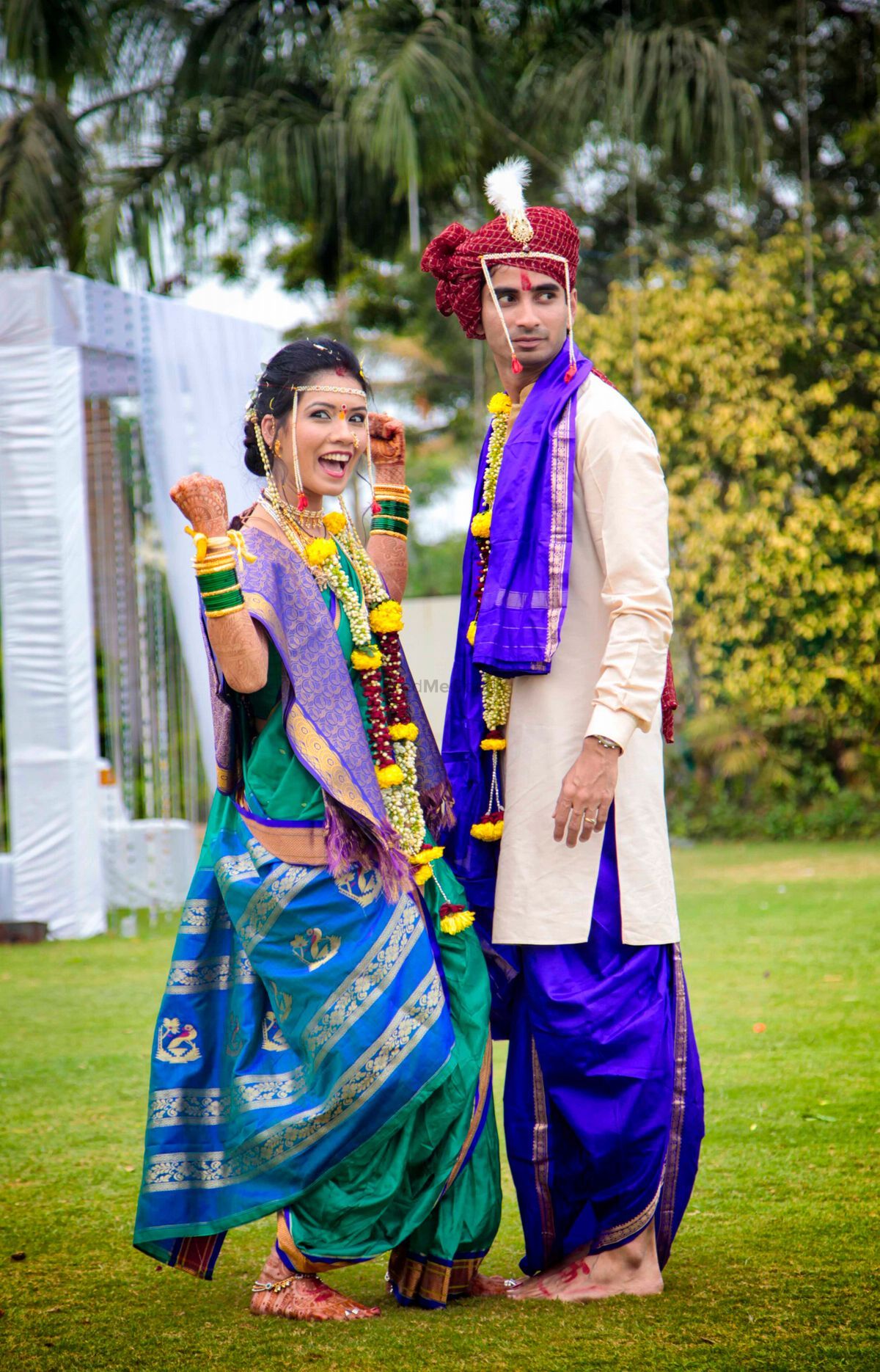 Image via CreativEyes Photography★ 5
Nothing sparks happy in a Marathi bride like different hues of colour. This particular one has all the beautiful hues of green and blue, usually called peacock colours. It complements the traditional green chudda that every Marathi bride wears on her wedding day.
Nothing Says Bridal Like Red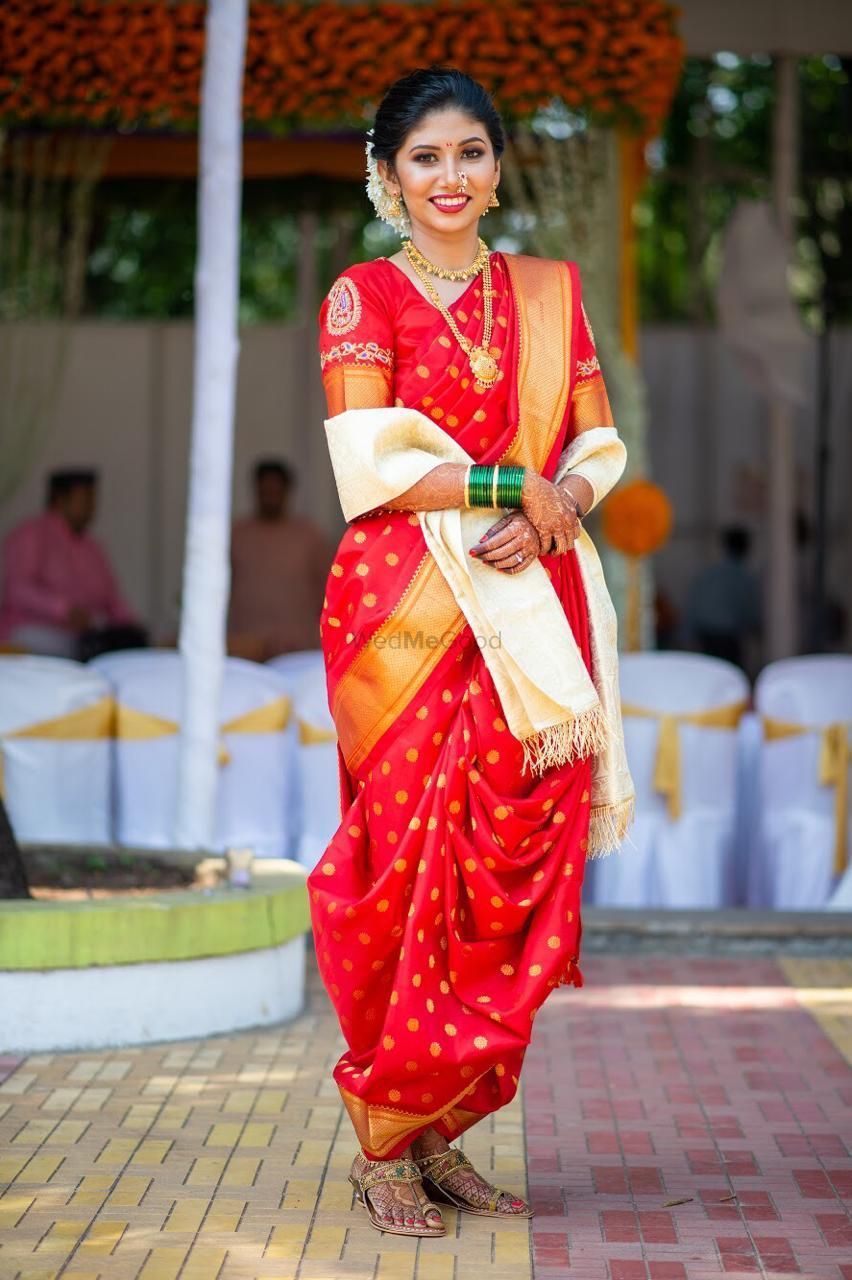 Image via Tejaswini Makeup Artist★ 4.6
If there was one universal bridal colour for Indian weddings – it would be red! And this Marathi bride shows how to carry off a beautiful red nauvari with style. We are loving how she chose to break the entire colour block with a lovely white shela.
Love Jewel Tones? How About This Lovely Purple And Green Nauvari Saree?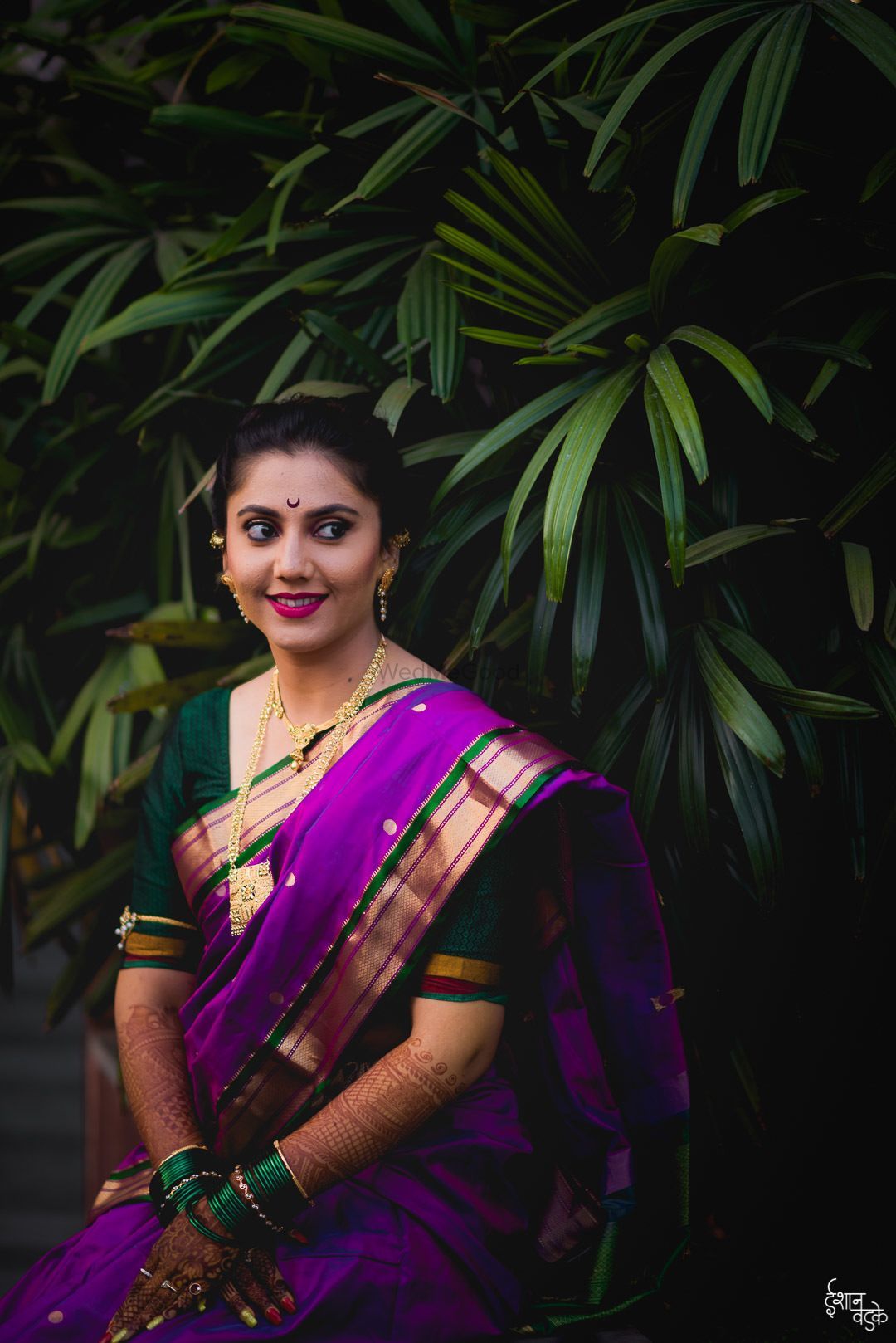 Image via Ishan Wadke Photography★ 4
Keeping it earthy instead of poppy, this bride opted for this beautiful combination of deep purple and green. It's a subtle combo with just the right hit of colour!
The Traditional Green Hue!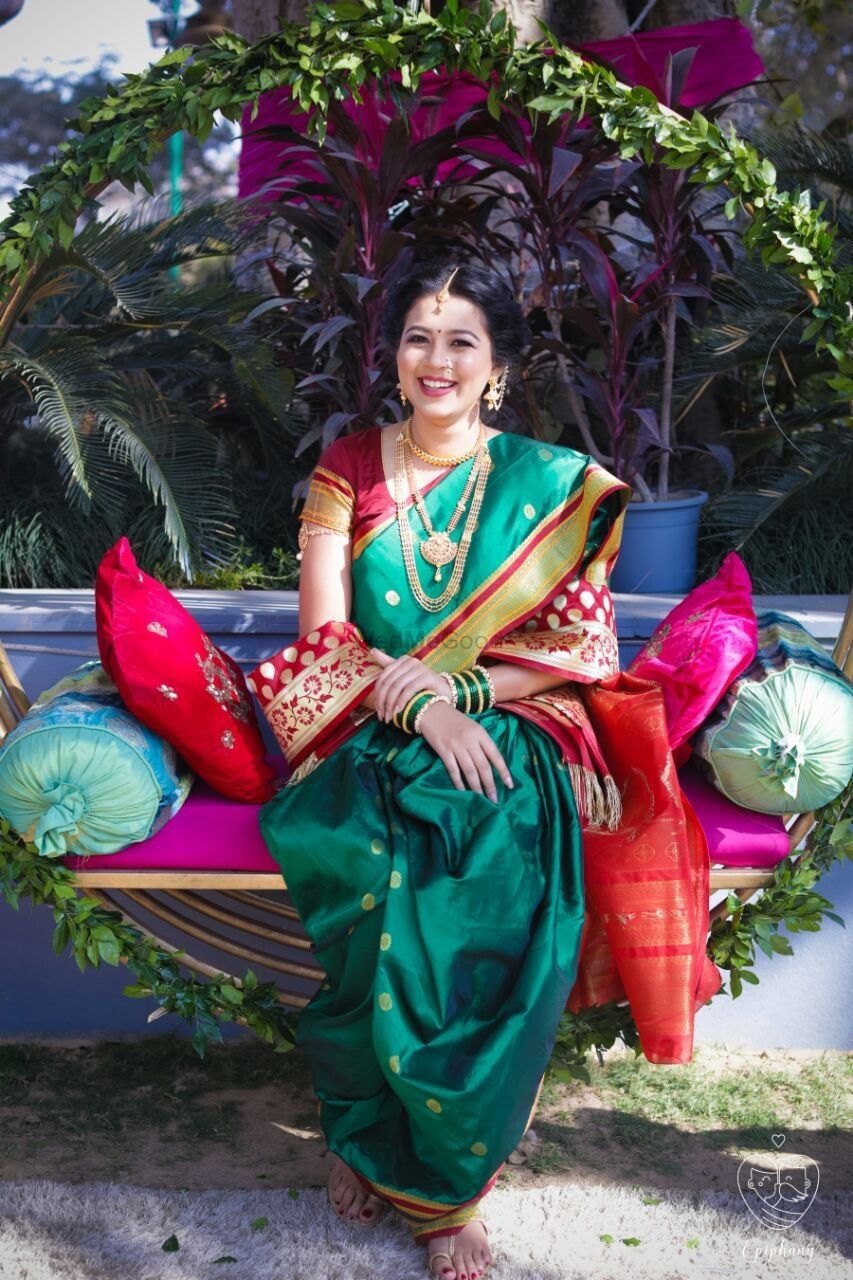 Image via Sheetal Dang Gupta Makeup Artistry★ 4.9
Along with yellow, another traditional colour that Marathi brides wear as their wedding saree is deep green. It's associated with deep rooted traditions and that's why a Marathi bride always wears a green chudda on the wedding day. This bride opted for this deep green keeping in mind the traditional colours.
Beautiful Mustard Yellow With Multi-Coloured Border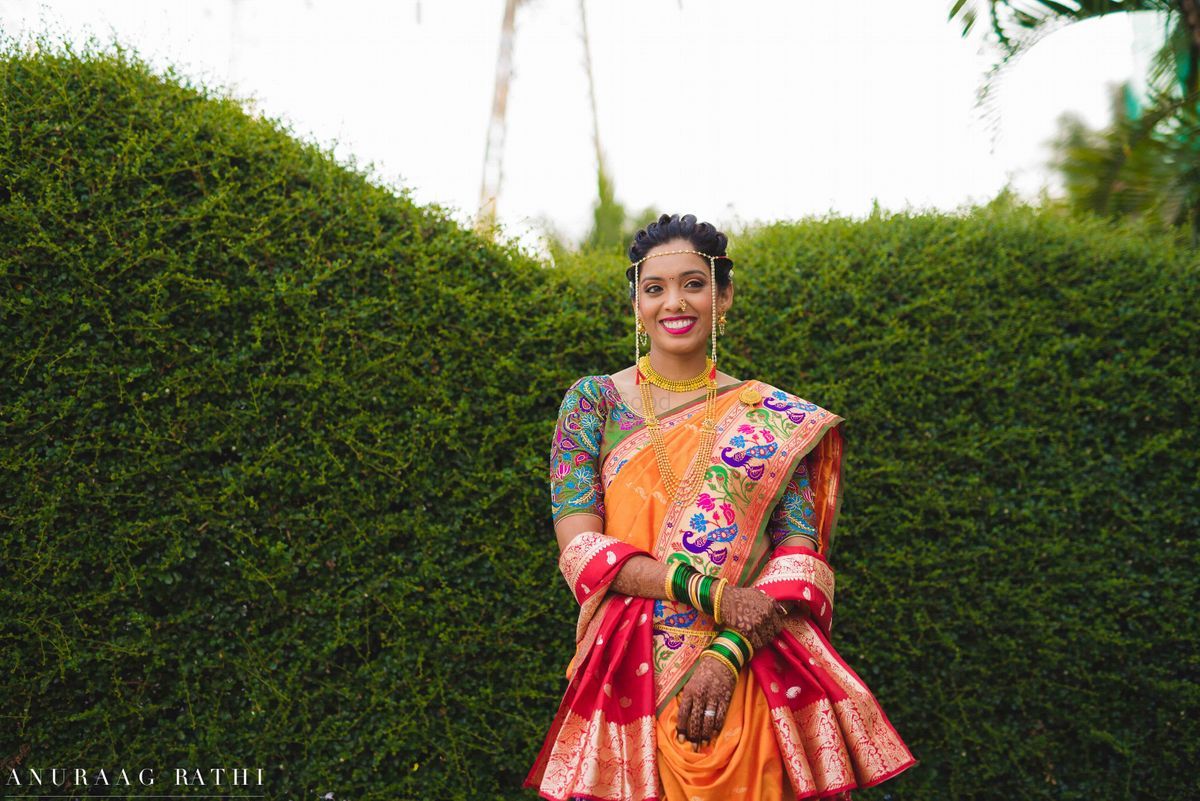 Image via Anuraag Rathi Photography★ 3.7
Give us a traditional coloured nauvari saree with a modern twist and boom! We are sold on it. This bride did just that. She picked out a border with traditional motifs like parrots and peacocks, but she went in for hand work instead of plain-old zari borders which made all the difference. She also got an embroidered blouse to match that unique border – isn't that clever?
How Exquisite Is This Bright Green And Purple Combo?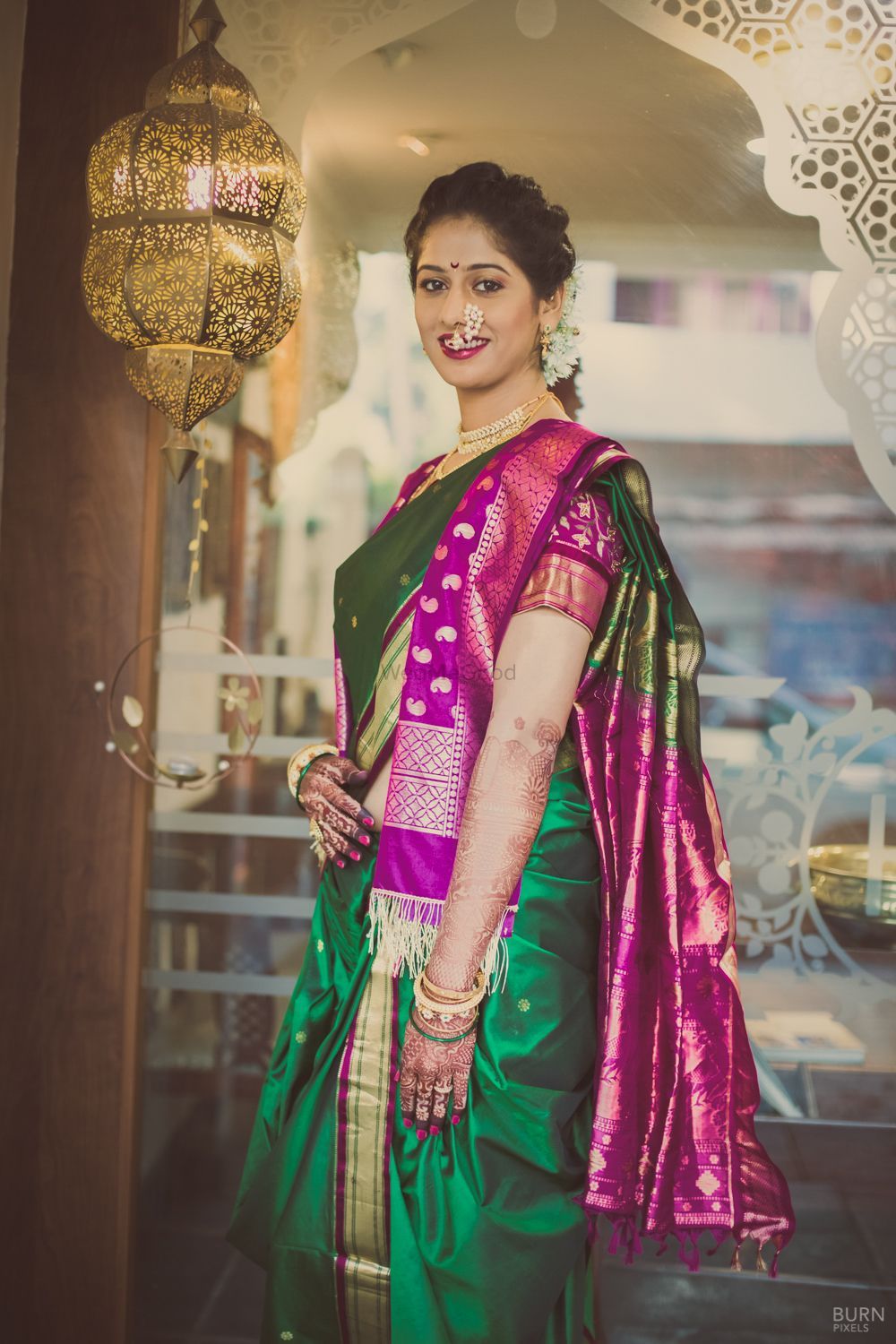 Image viaBurn Pixels Photography★ 4.7
Again, another traditional green saree combined with a beautiful dose of purple. This Marathi bride matched her shela with her pallu, which is that bright purple colour. We are loving how she kept the work on her wedding saree minimal, to let the combination of colours do the talking!
This Unique Pink And Green Hue!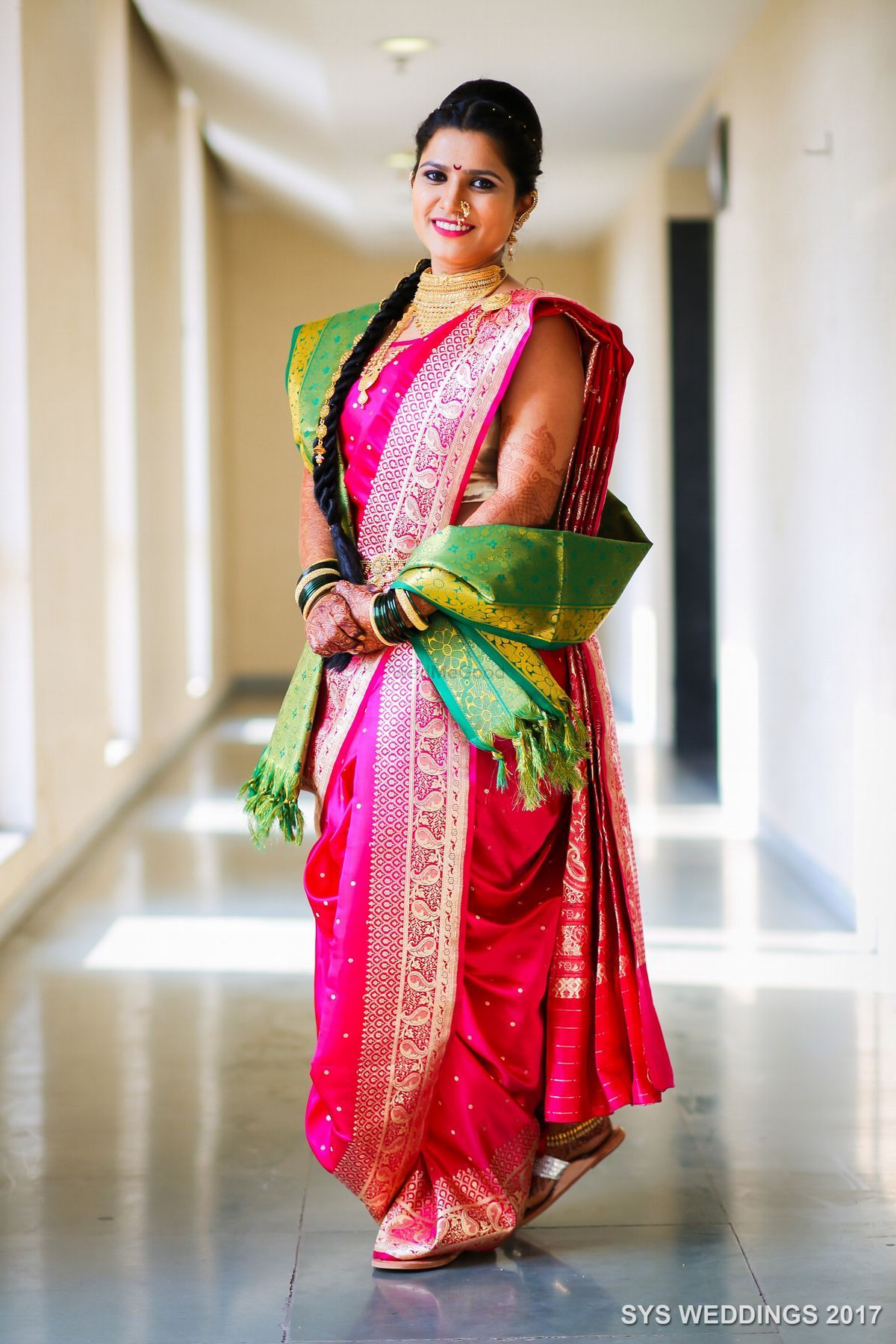 Image via SYS Weddings
Nothing says bright like a poppy pink saree coupled with an even bright green combination. Instead of a regular paithani saree, this bride picked a simpler saree with a unique zari border in gold. Just the hint of green makes such a difference, right?
While We Love The Pose, We Love That Lime Green Beauty Too!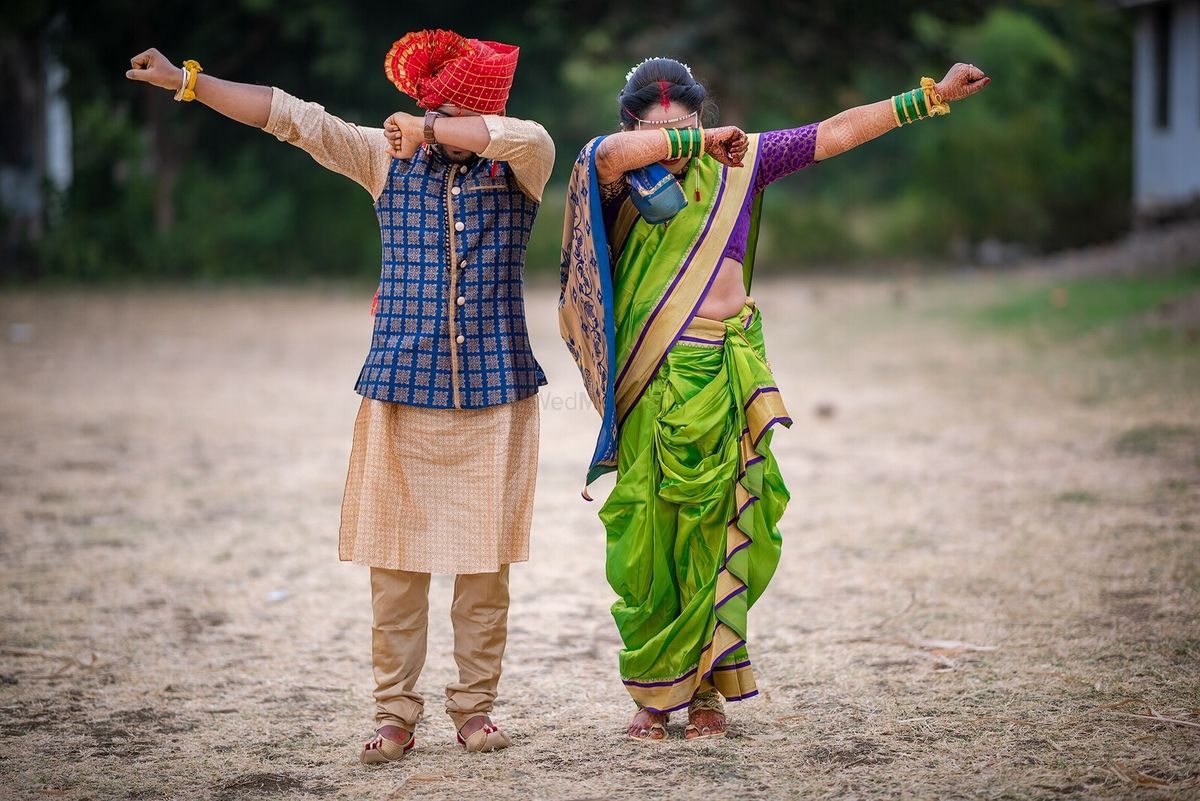 Image via Bhushan Patil Photography
These nauvari sarees have a different drape than the rest. This is called a mastani double kaashta drape when you have multiple pleats which look different than the regular nauvari sarees. We are digging that bright lime green colour. It's so vibrant and young – like you feel instantly re-energized by just looking at it!
Simple and Subtle Tangerine love!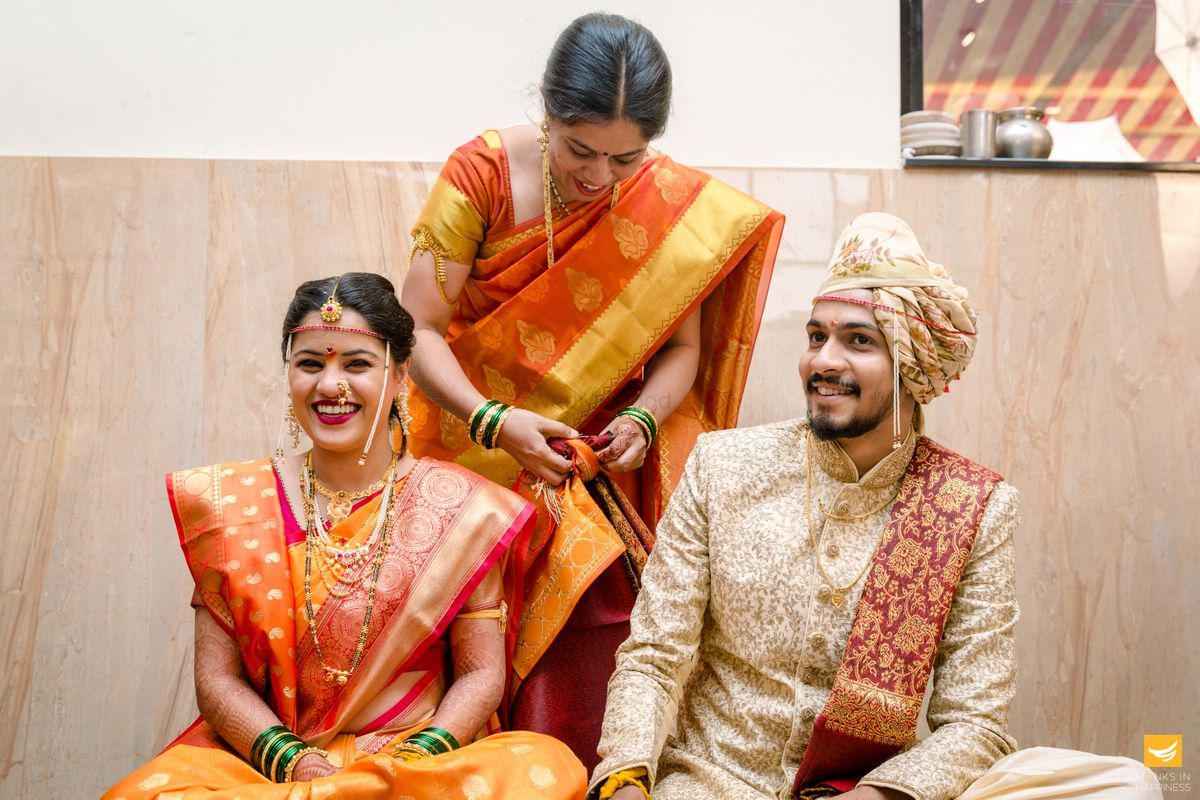 Image via Monks in Happiness
Keeping it simple, this bride opted for this gorgeous orange colour with a tiny red border. She kept it all in the same colour family with a tangerine shela and a matching red blouse. This colour too is so refreshing for a day maharashtrian wedding, isn't it?
Who thought cerulean blue and red would look so good?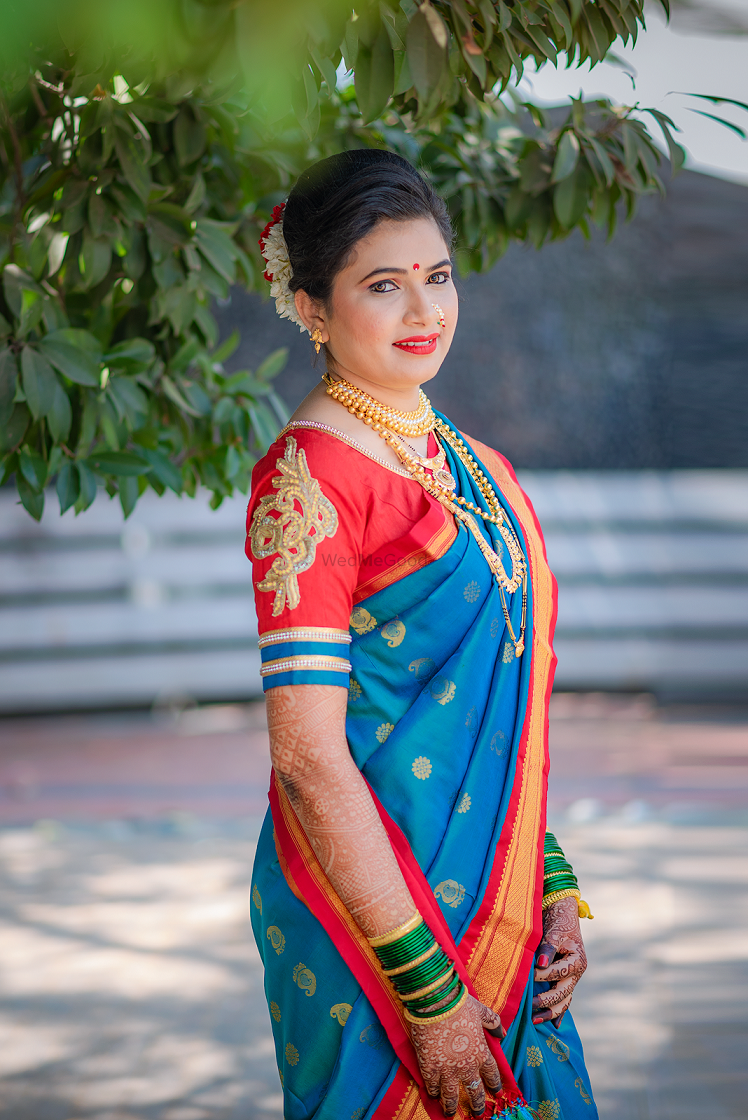 Image via Bhushan Patil Photography
Loving how this bride opted for such a non-traditional yet lovely combination when it came to picking out the colours for her wedding sarees. This bright hue of blue along with just a pop of red is bright yet pretty enough to not over-power the bride's gorgeousness.
Another green & pink beauty!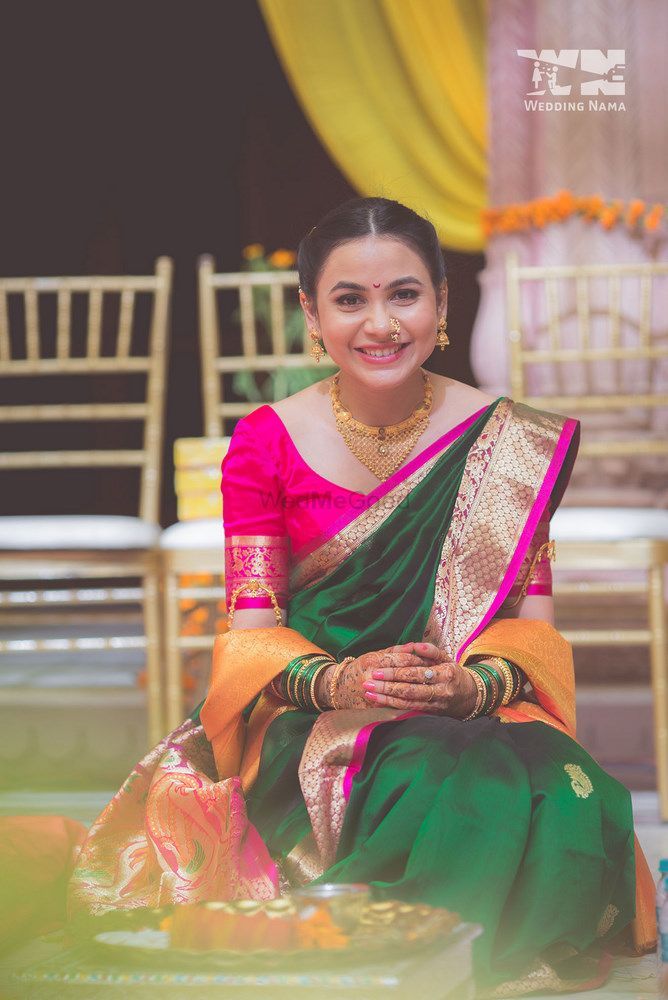 Image via Shweta and Arjun's Real Wedding
This is like a classic combination, something that never fails to amaze us. Whether is a lehenga, a normal saree or a nauvari saree, a green and pink combination is a total winner. This bridal look is so deep-rooted yet fresh. Loving the hint of yellow that she opted for her shela colour!
Royal Blue Saree With A Stunner Of A Blouse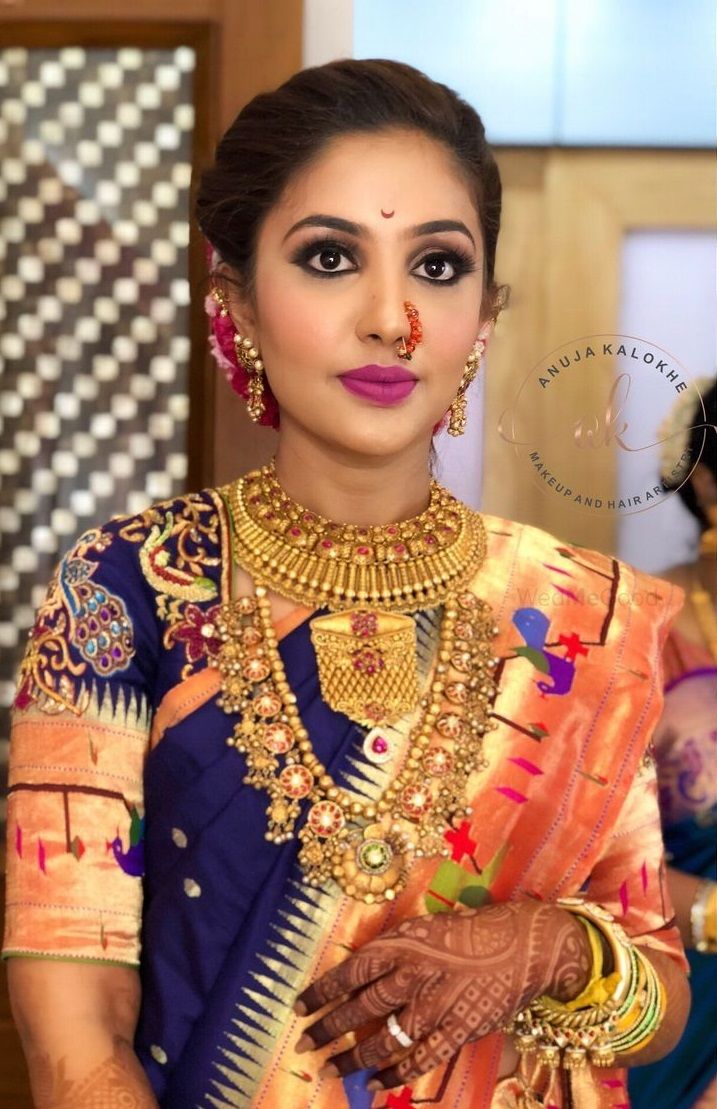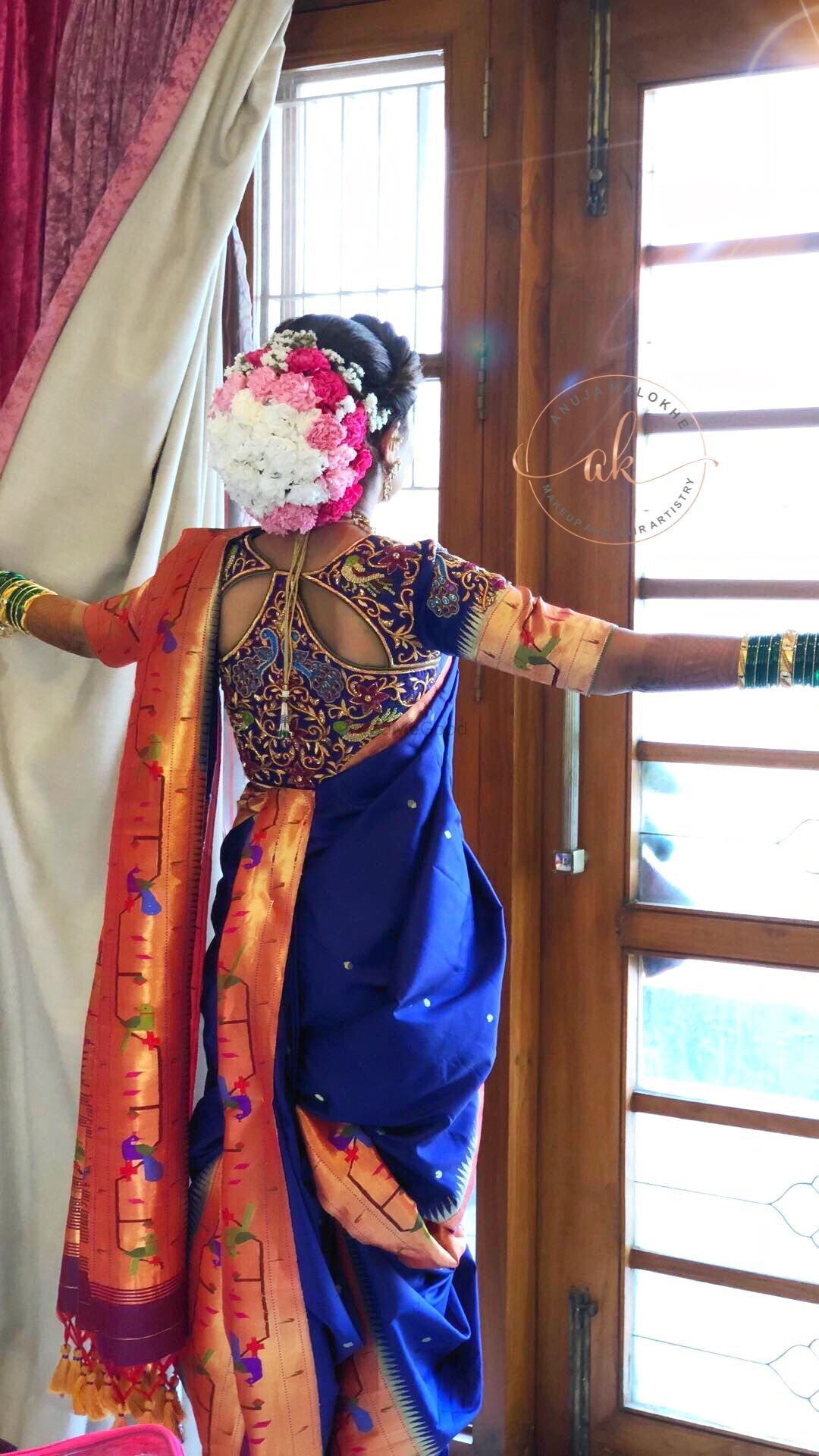 Image via Anuja Kalokhe Makeup and Hair Artistry★ 4.2
If there was one word to describe this nauvari saree, it would be stunning! She opted for a double border paithani saree with royal blue with a cut-out embroidered blouse. Does it get better? A double border paithani saree is a regular paithani saree but with two times the border. This Marathi bride combined that with a royal touch of blue, again an uncommon choice and let the double border shine through!
Mango Yellow With a Green Touch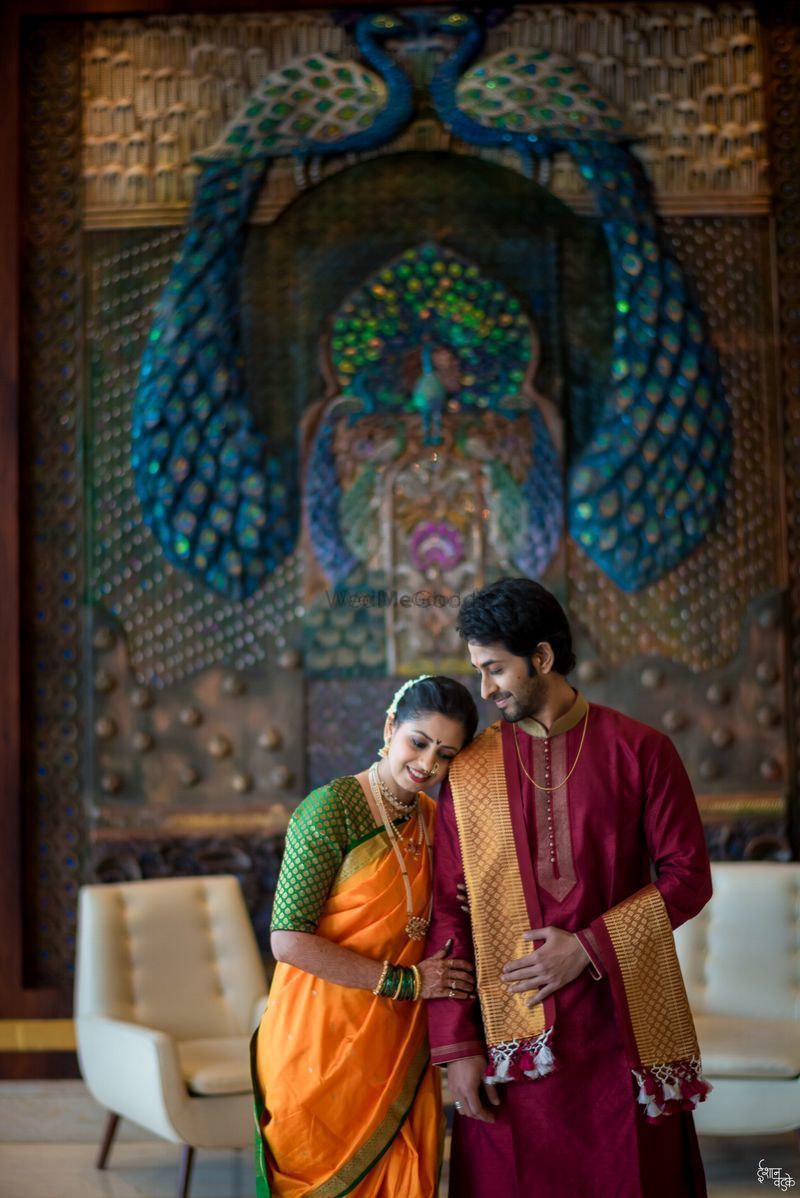 Image via Ishan Wadke Photography★ 4
If you want to do simple, take a leaf out of this bride's book. Keeping it simple, she opted for a mango coloured nauvari saree with just the touch of green – both traditional colours but the work was simple. It's perfect for a day-event, especially outdoors and for a bride who prefers minimalism over OTT!
A fresh dose of white!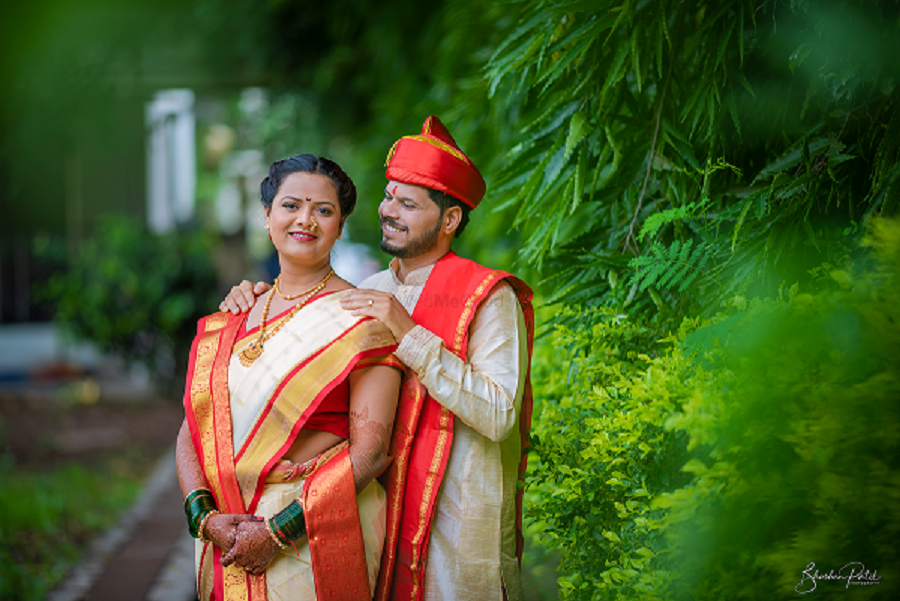 Image via Bhushan Patil Photography
White saree? Hell yes! White has been emerging as a bridal favourite in the past few years. While ivory and white lehengas are all over the bridal market, we loved how this bride broke all the notions and donned a white saree with a simple border as one of her wedding sarees. It lets the colours of the borders do the talking and also allows your jewellery to shine through!
A Lovely Dusky Pink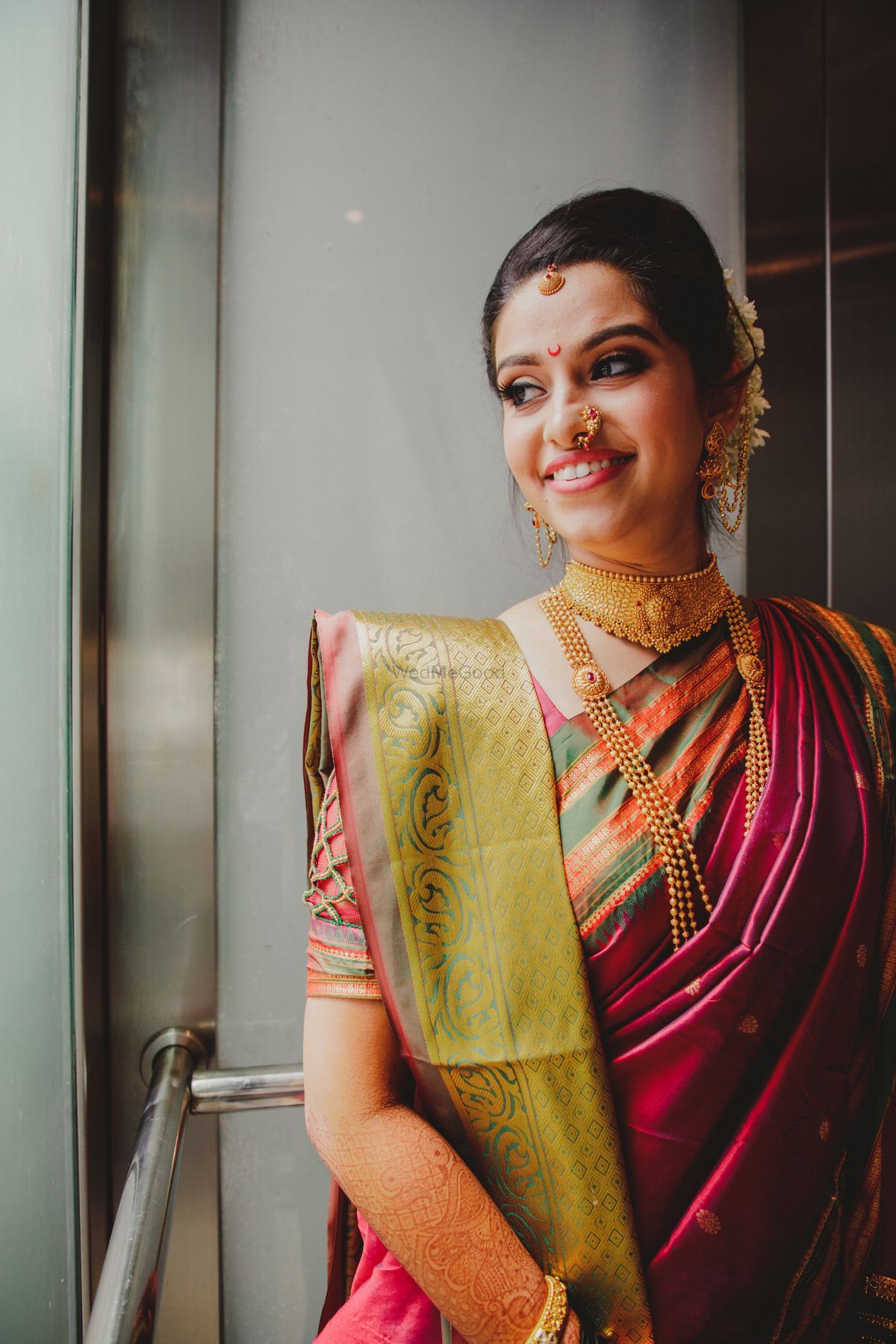 Image via Merry Makers
Who doesn't love a pink on a bride-to-be? Add to that the millennial pink which everyone is crushing on. This bride opted for just the right hue to get it trending on her wedding day. And check out the unique colour of shela that she opted for – olive green! We are so loving it.
How Unique Is This Orange And Blue Combo?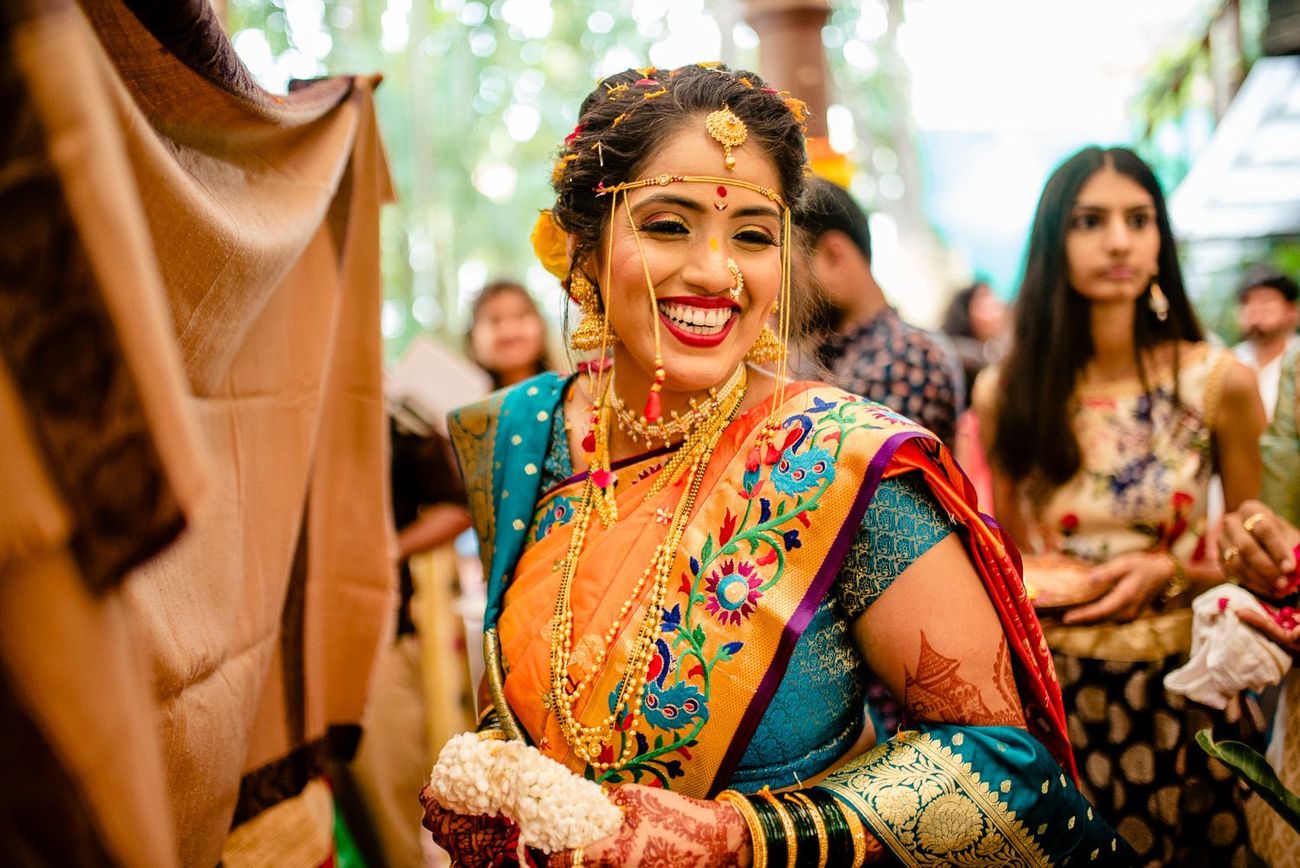 Image via Gaatha by Priyanshu Bhargava
Have you ever seen such a gorgeous and different combination? Taking the traditional yellow hue, this bride added a dose of multi-coloured happiness through that lovely paithani border. And picked out colours from that stunning border to create that shela!
This Gorgeous Olive Green Saree!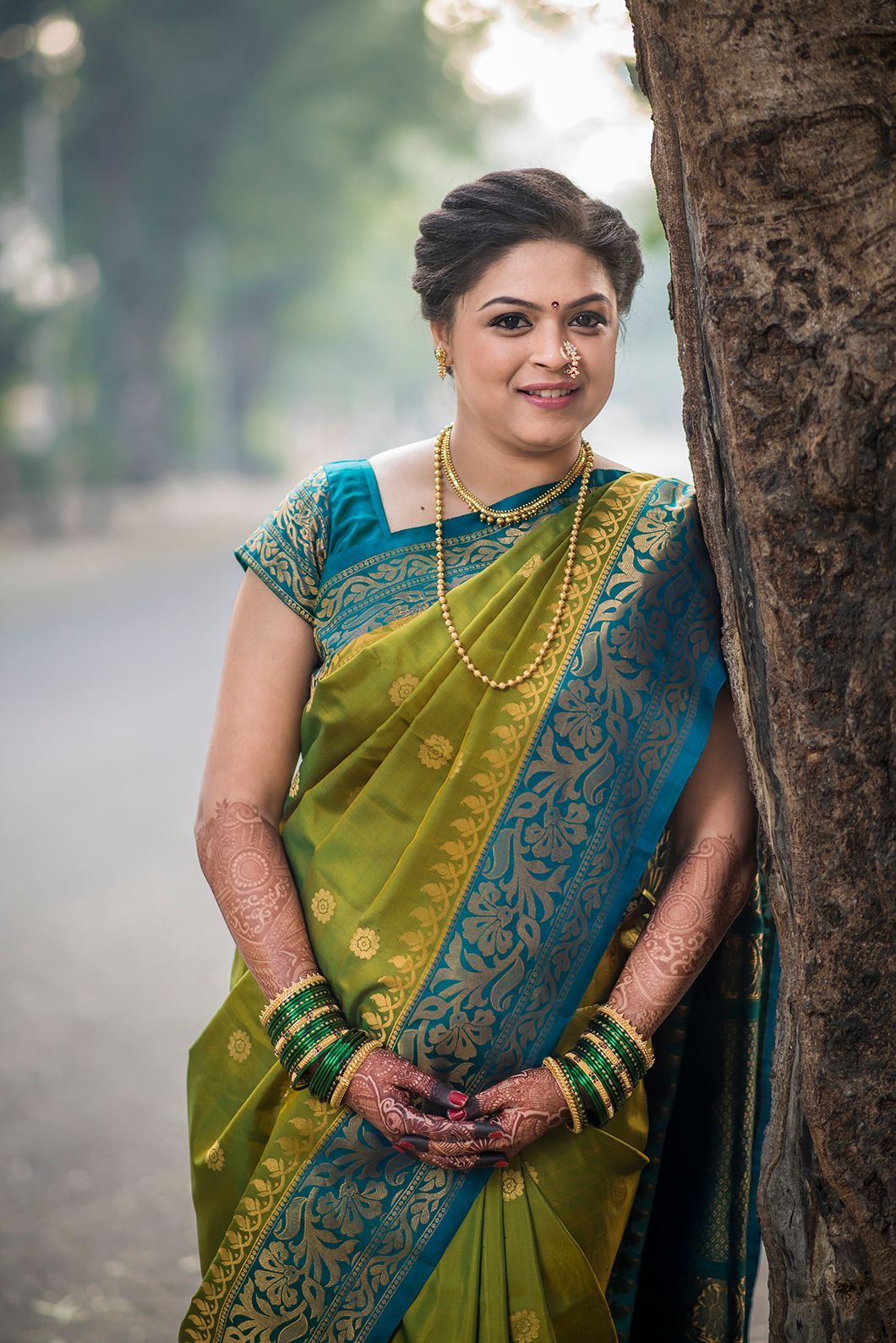 Image via Bhushan Patil Photography
Now this is a hue that we could say 'I love you' to! Olive green is such a subdued yet gorgeous colour that we can't resist it. This lovely nauvari saree with an equally subdued border, is all sorts of amazing on this bride!
Coral Beauty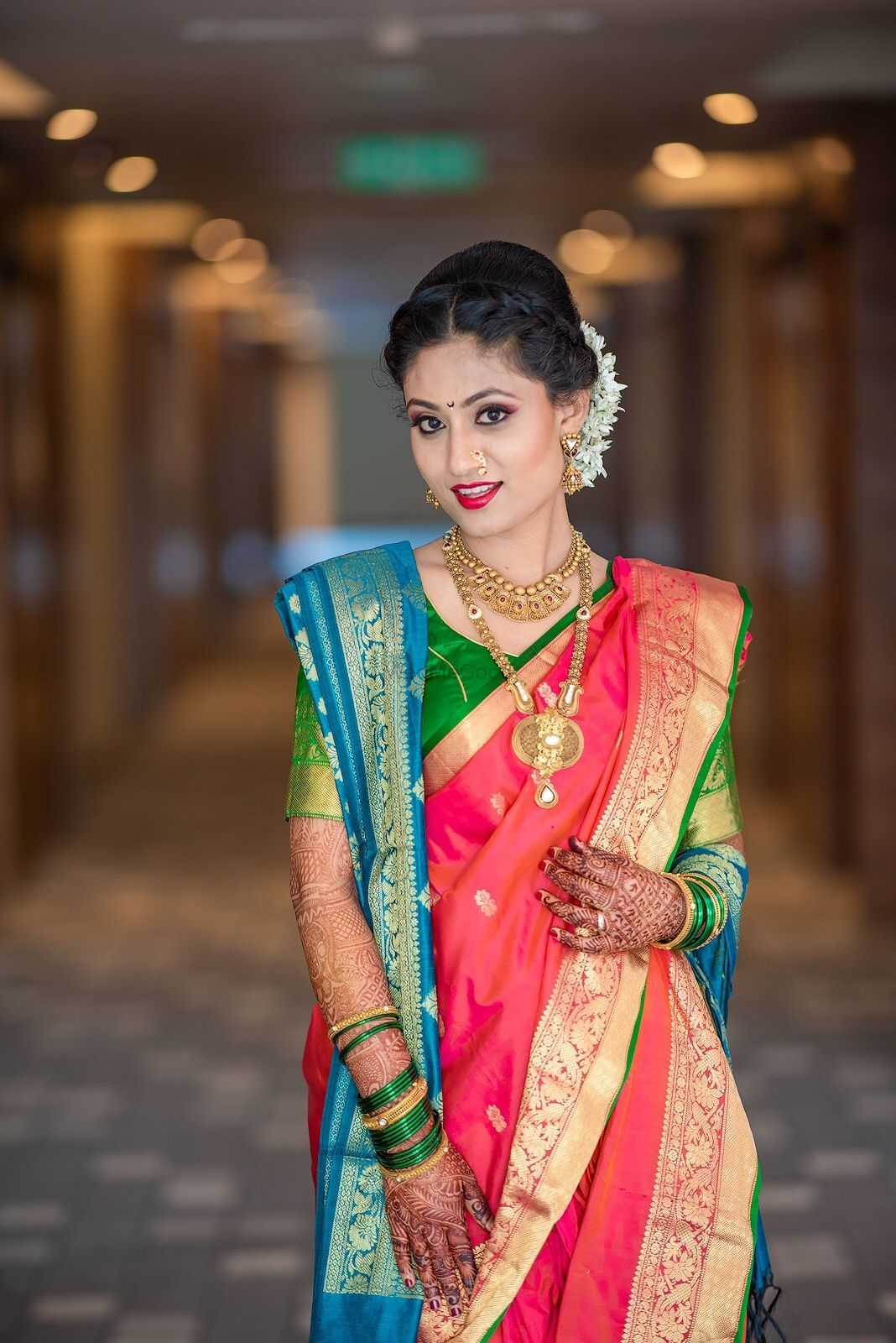 Image via Bhushan Patil Photography
Since the Pantone colour of the year is 'Living Coral', we can't help but adore this one. She dint opt for a standardized colour format and went ahead with three different colours for her wedding sarees, blouse and shela. This amazing combination allowed all colours to pop against each other giving her that loving colour riot that she was looking for.
Want something out of the box? Pick This Sea Blue And Purple Nauvari Saree!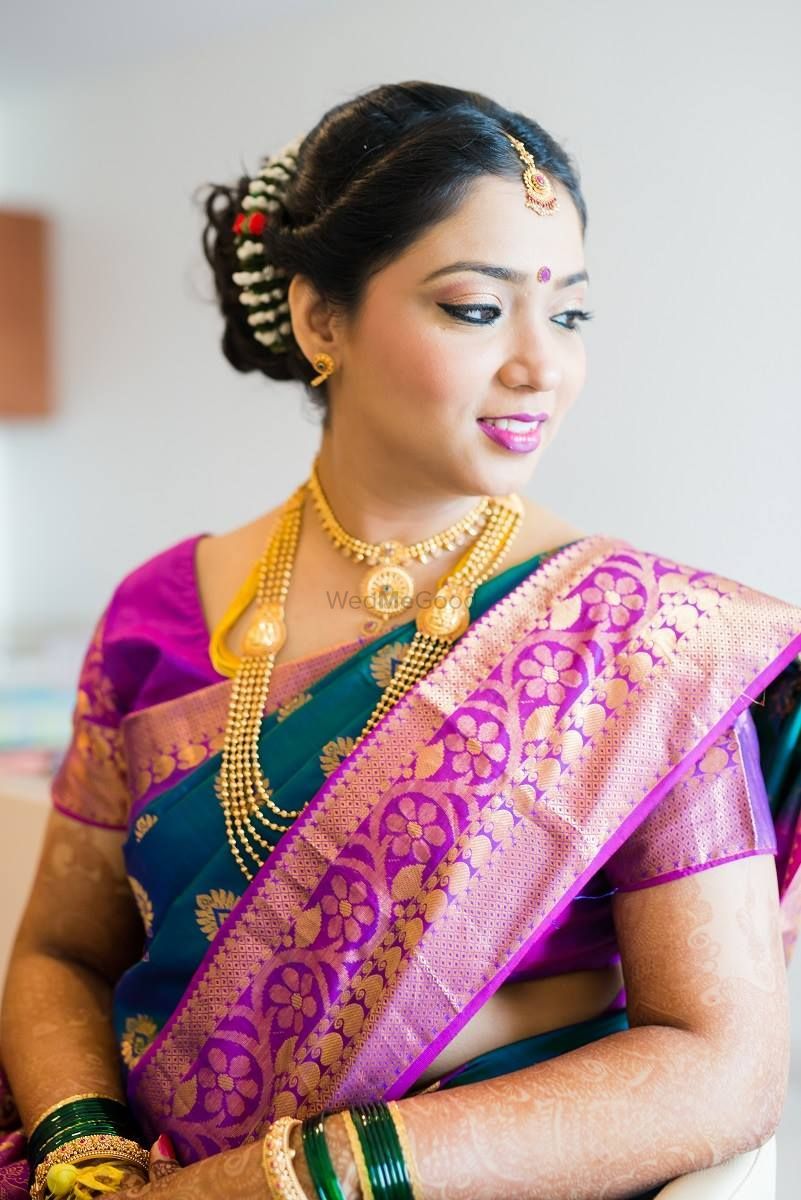 Image via Tonmoy Saha Photography and Films★ 5
Nothing says unique like a unique colour choice. Keeping her look and jewellery traditional, this bride opted for colours that are non-traditional plus super beautiful. This combo of purple and sea blue are so fantastic, especially if you are having an indoor event but in morning light!
Pretty In Pink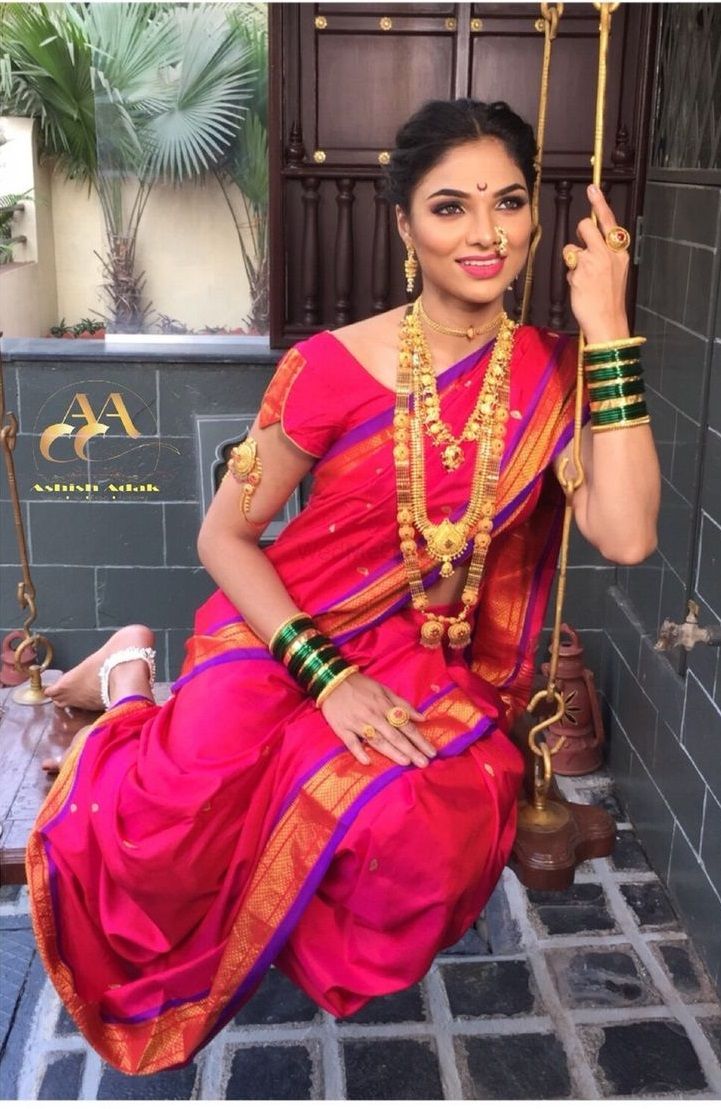 Image via Ashish Adak Makeup Artist★ 4.9
This lovely saree is all sorts of beautiful for its traditional colours and stunning drape style.
Cherry Red Love!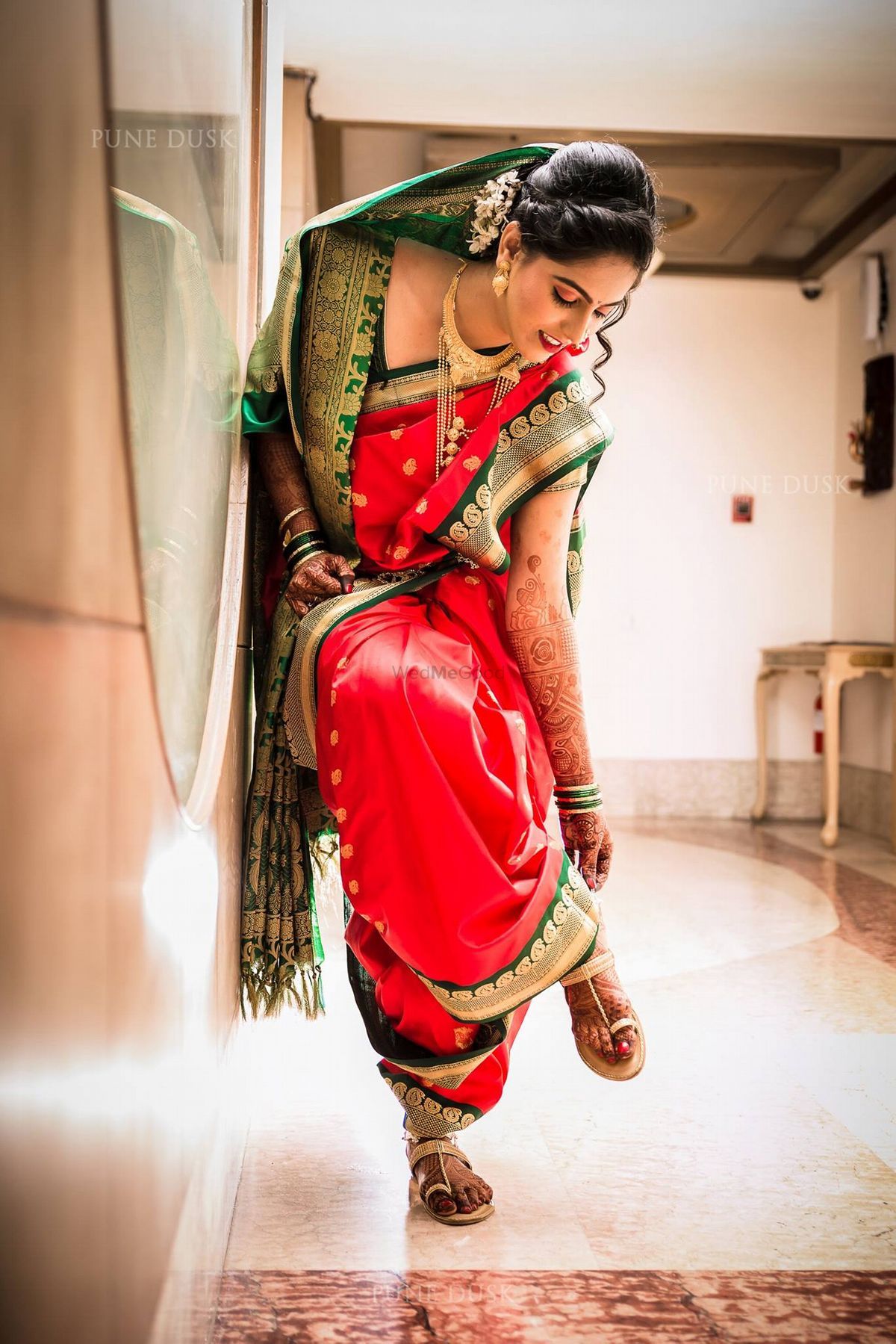 Image via Pune Dusk★ 4.5
Instead of the usual bright red, this Marathi bride picked this unique cherry red shade with green for just the right amount of loveliness!
Traditional Green!

It seems like a perfect end to this list. Opting for a bright, jewel toned green, this bride picked all the notes on the traditional maharashtrian wedding colours. She paired it with a touch of gold and red –making it perfect for a bride to be!