Fun Ways To Make Your 'At Home Mehendi' Amazing!
BY Sakshi | 03 Jun, 2019 | 21523 views | 5 min read
Just because you're having your Mehendi at home does not mean that it cannot look super Insta-worthy and fun. There are so many fresh new ideas that you can incorporate to make everything look a hundred times more amazing, and many of these ideas can even be DIYed to the best of your abilities. While most of these ideas come from professional planners or decorators, they are also quite practical to pull off by yourselves, or with professional help at home. And if you have a garden, then nothing like it! So go ahead, and get inspired!
Have a photobooth which doubles up as a bridal seat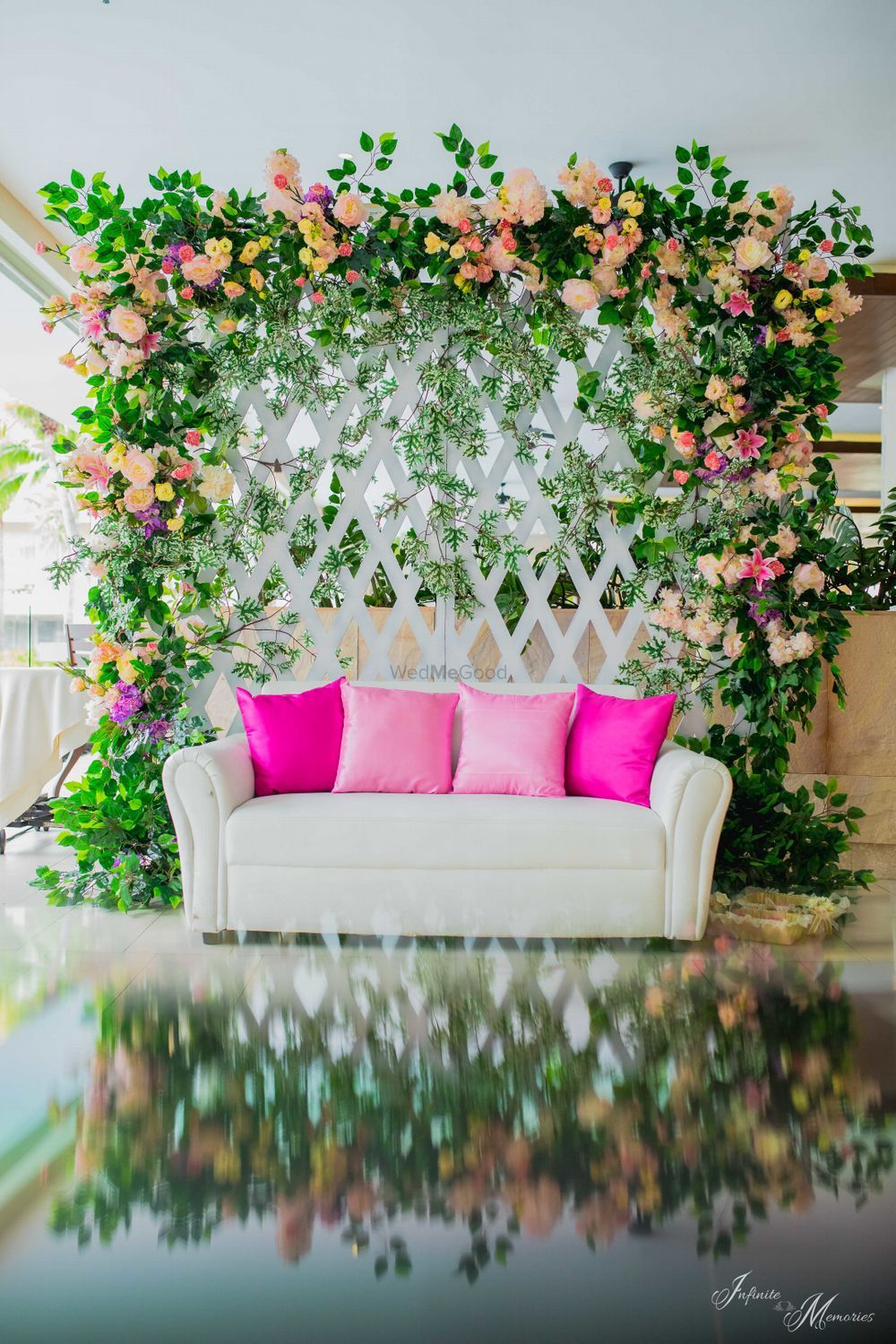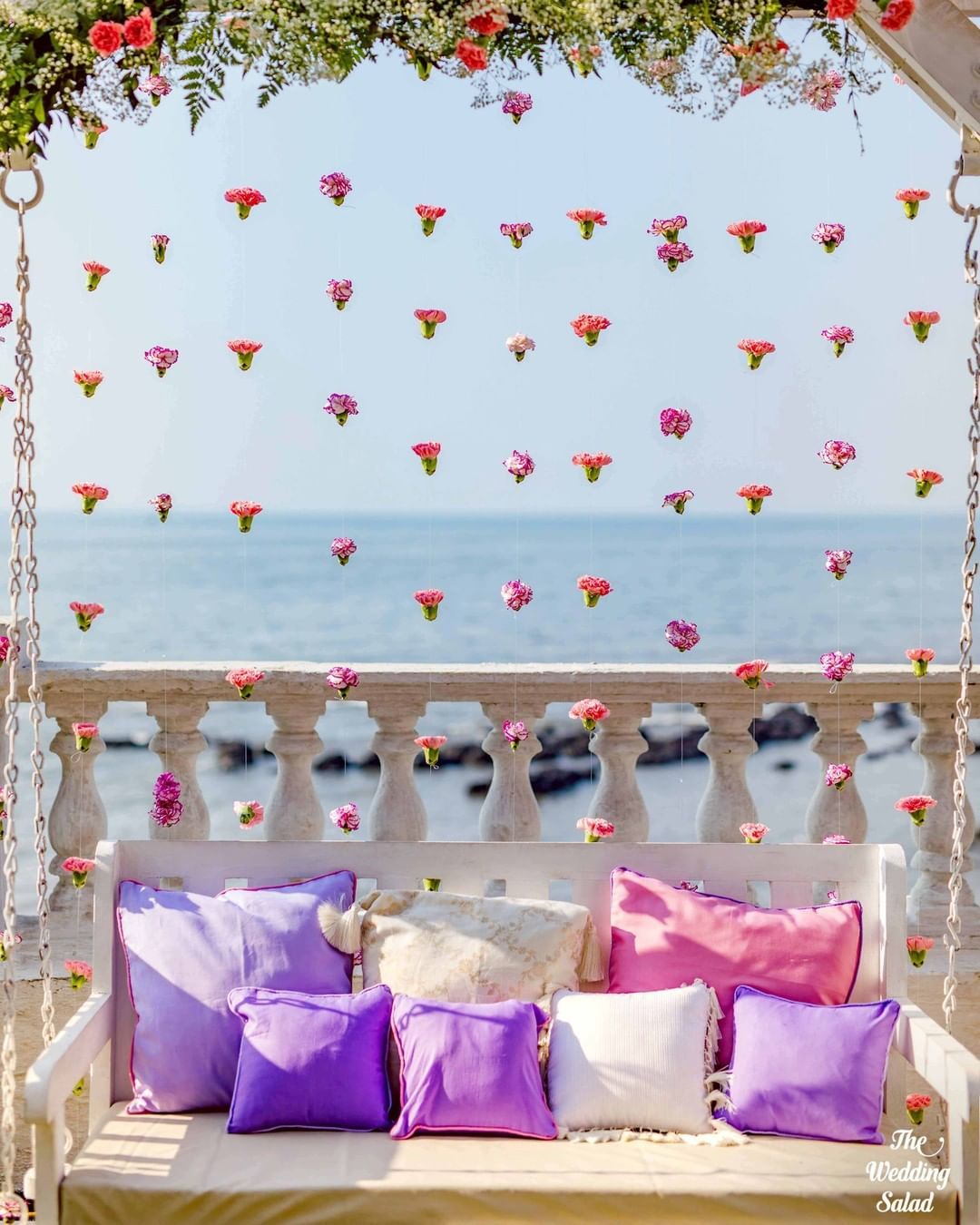 Image via Infinite Memories★ 4.8 and Altair★ 5
If you have something like this, then you don't need a separate photobooth and bridal seat, you can combine the two into one. Get something grand set up, or something simple can also look super pretty when done right.
Make the seating for the guests special too!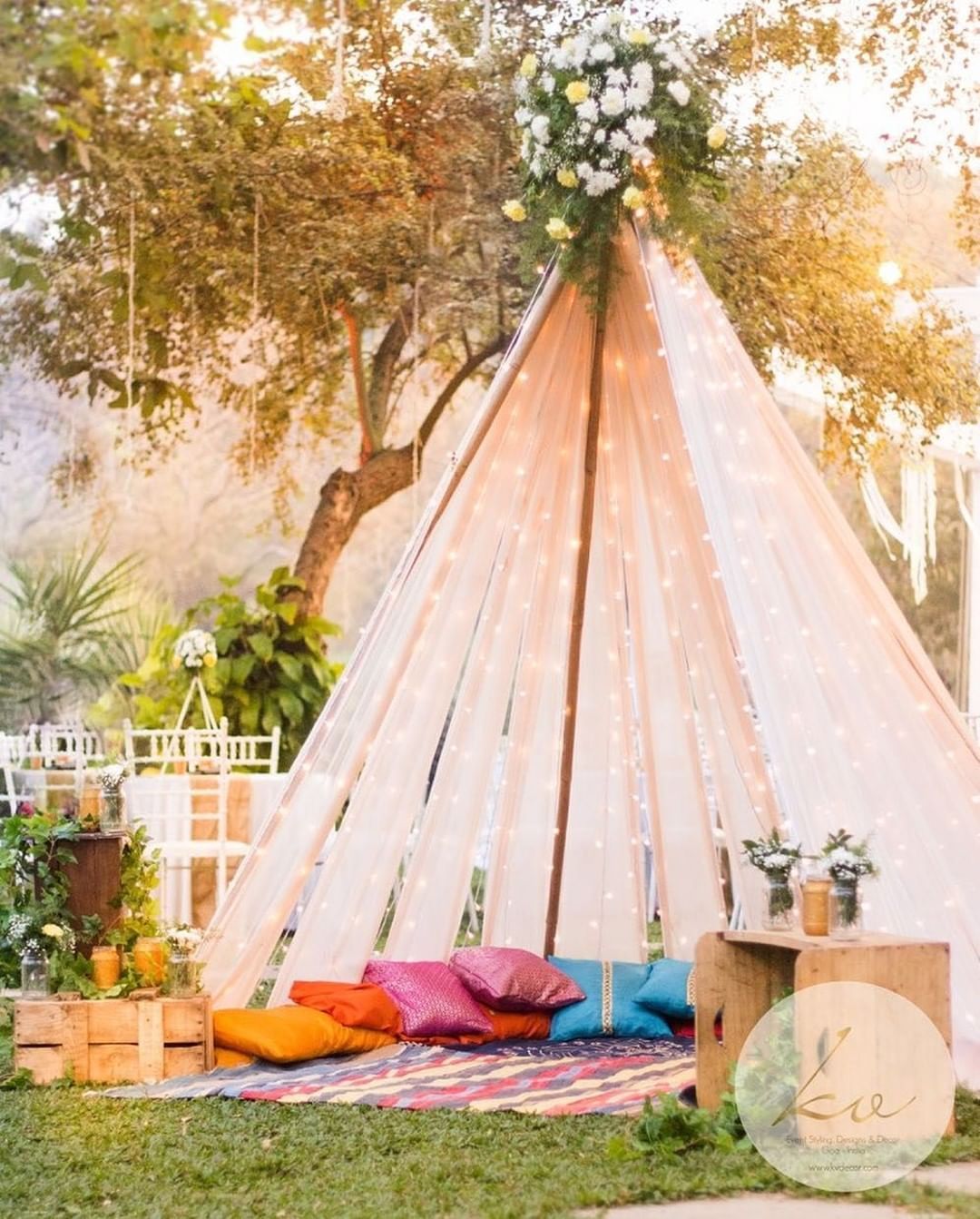 Image via KV Designs & Decor★ 4.8
While this might be a little out there, if you have a garden, you can DIY some cute teepee tents which can look amazing. And floor seating anyway is a great idea for your mehendi guests!
Or decorate the swing at home to make it look cute!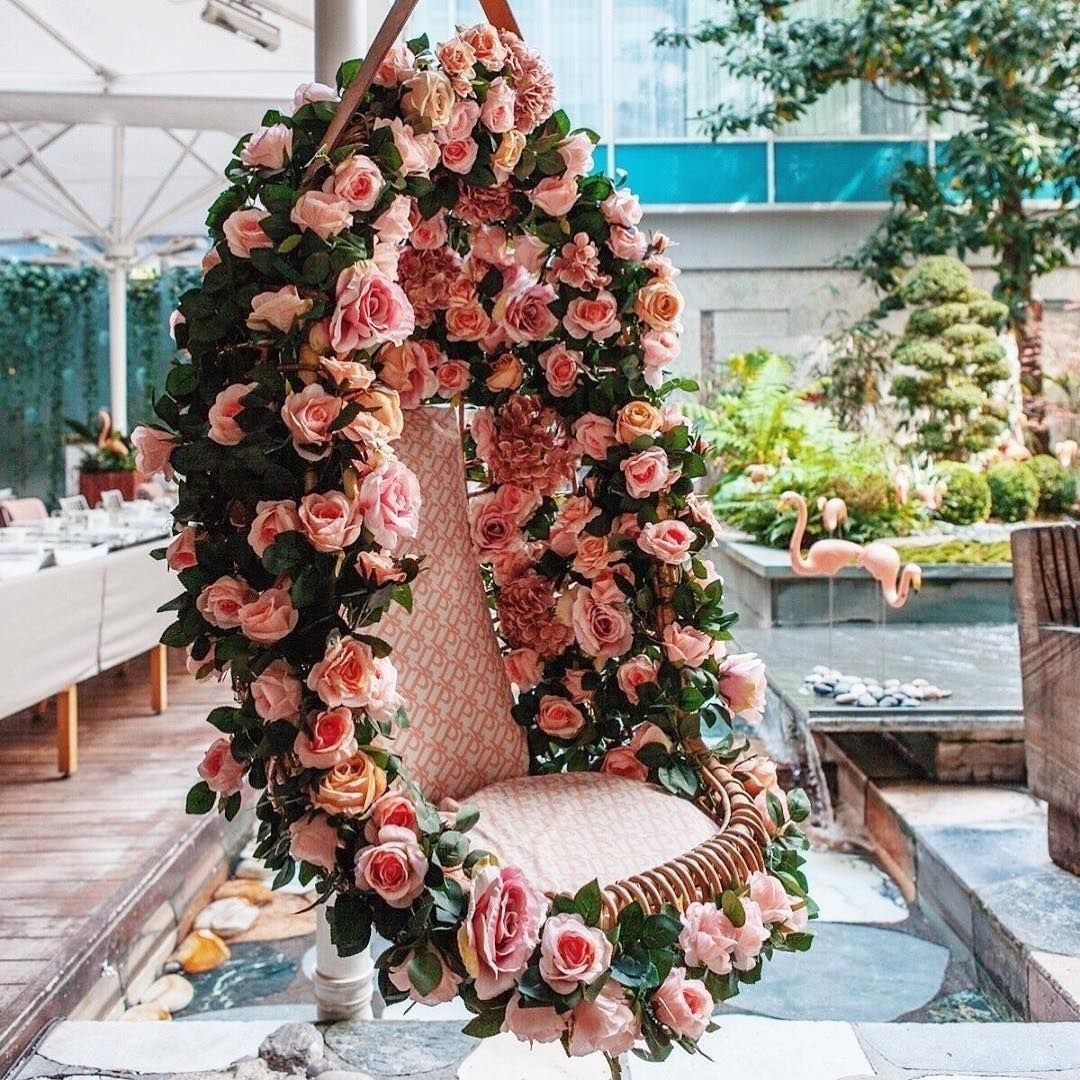 Image via @flordepassion
You can take the boring old cane or rattan swing a lot of us have at home and make it look amazing with some help too, and that could be your bridal seat.
Pick a theme or colour scheme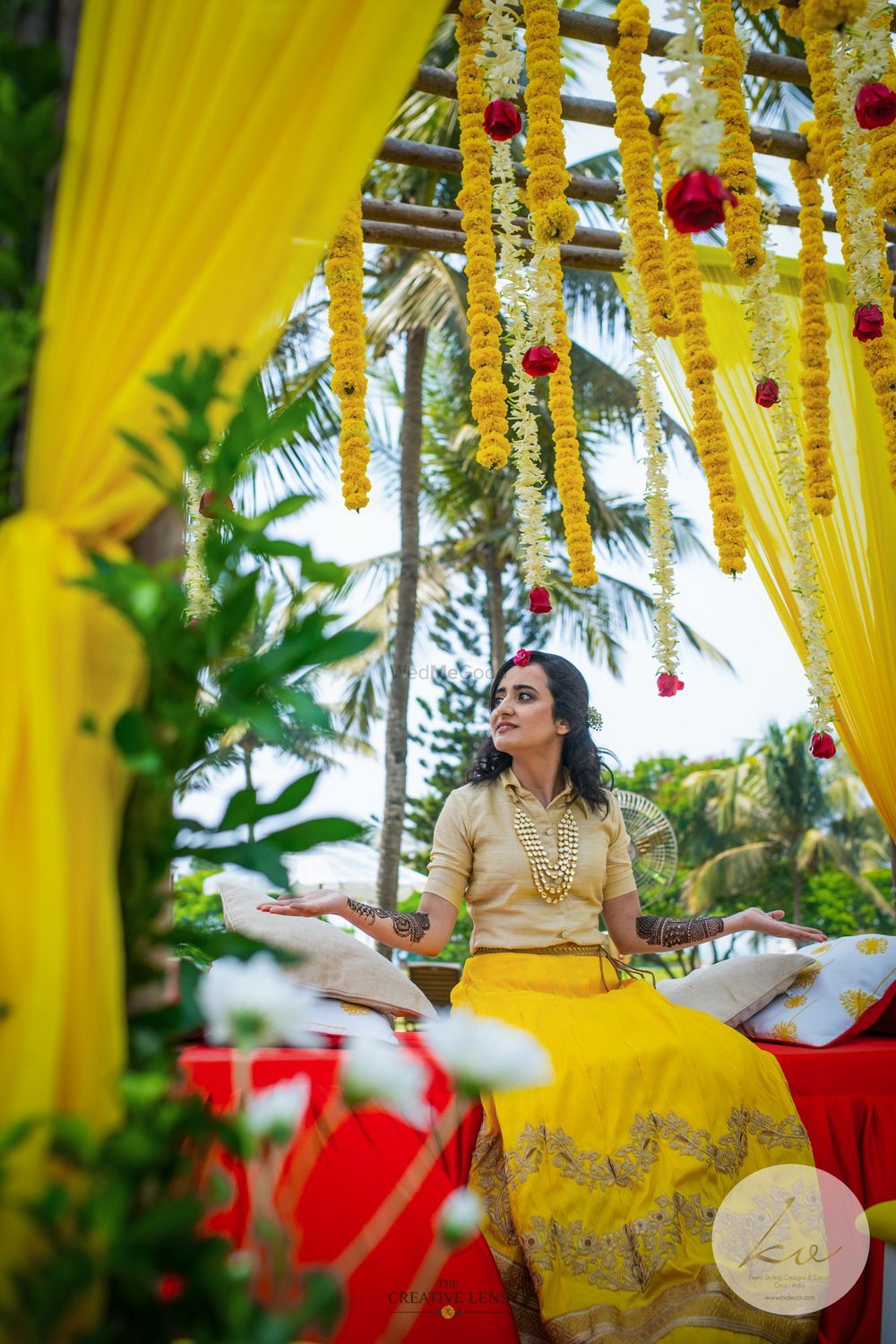 Image via KV Designs & Decor★ 4.8
Always makes it easier for the decor to look better and more put together, even if it is something very simple.
Nostalgic favours can bring back some memories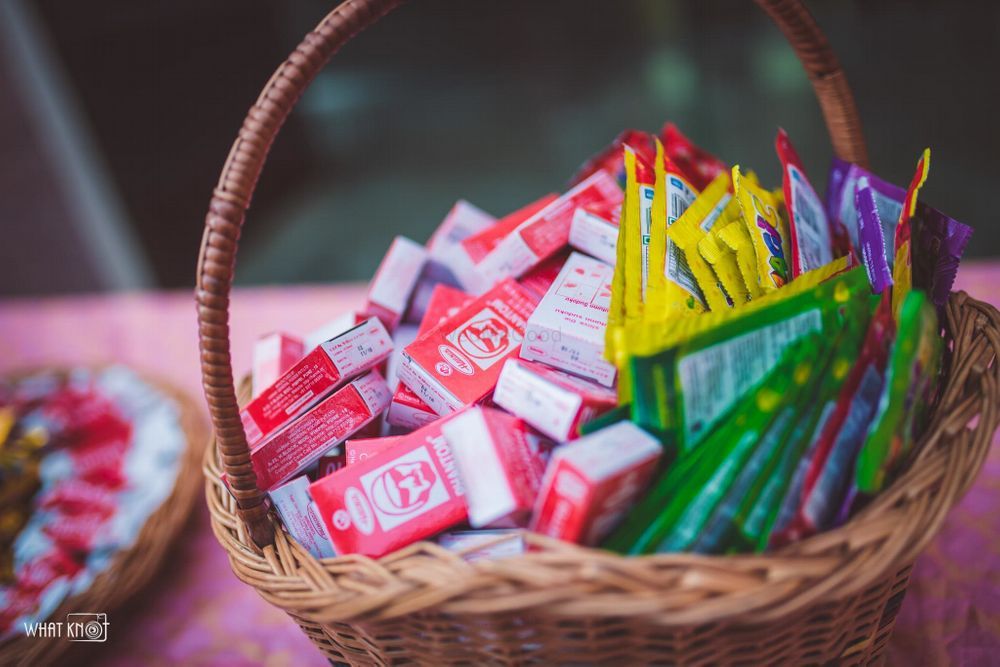 Image via WhatKnot Photography★ 4.5
Always a hit idea, and the best part is, most of them are available on Amazon now!
Give out personalised favours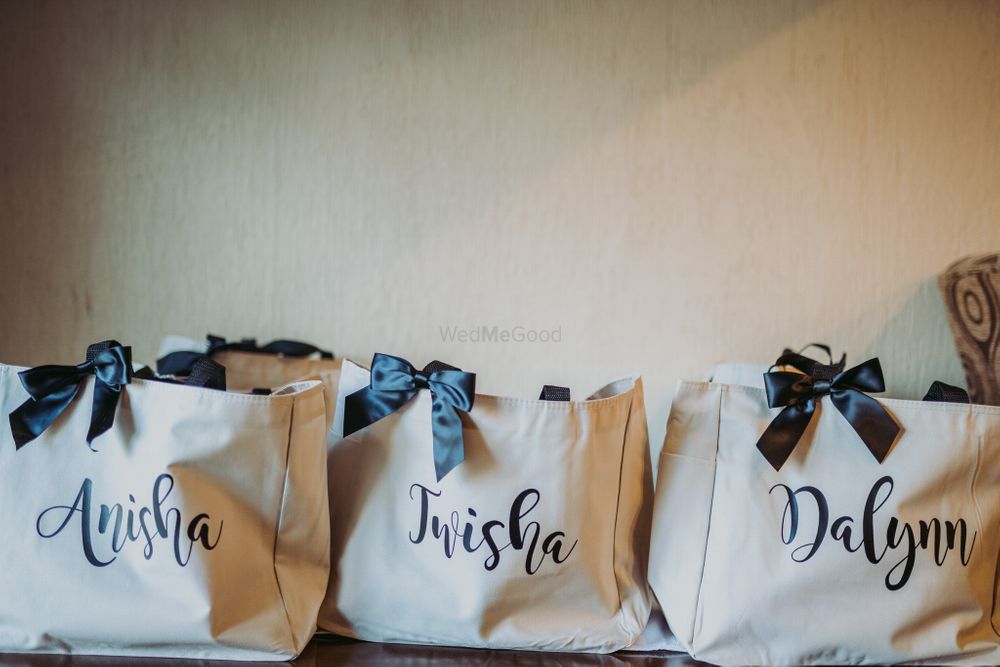 Image via The Bombay Brigade★ 4.9
Especially to those who matter to you. More ideas, including budget ones here, plus info on where to source them from!
A candy table that doubles up as decor too
Image via Rahul de Cunha Pictures★ 4.8
This is also such a cute idea- set up a candy table which also looks amazing!
Do up the decor with some cute elements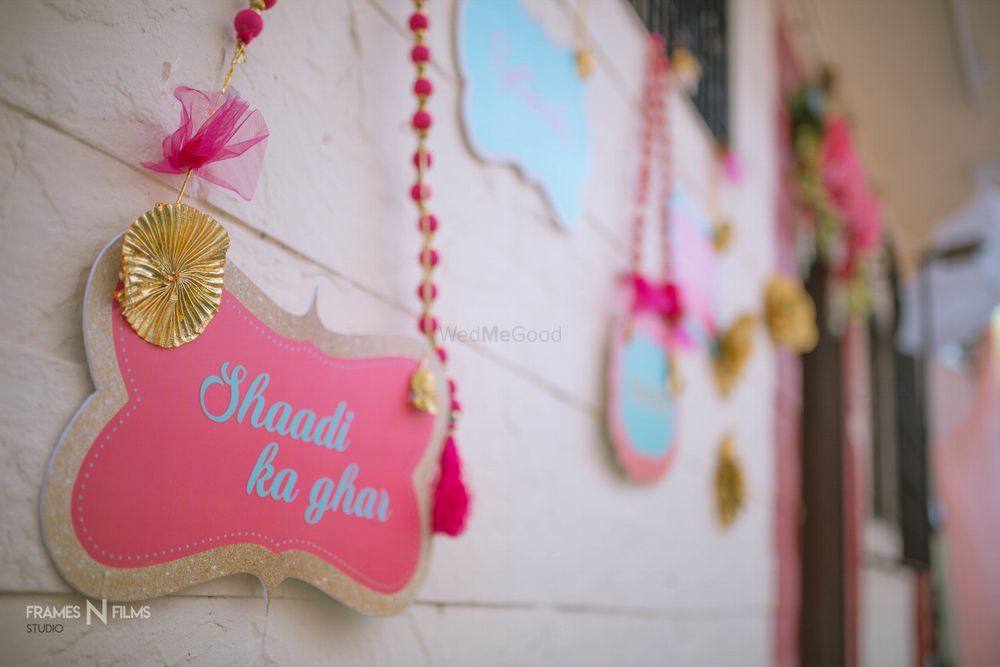 Image via Frames n Films Studio★ 4.8
Something like this can be done before the wedding and will last throughout your wedding! You can even DIY some cute signs!
Or add a few quirky standout decor elements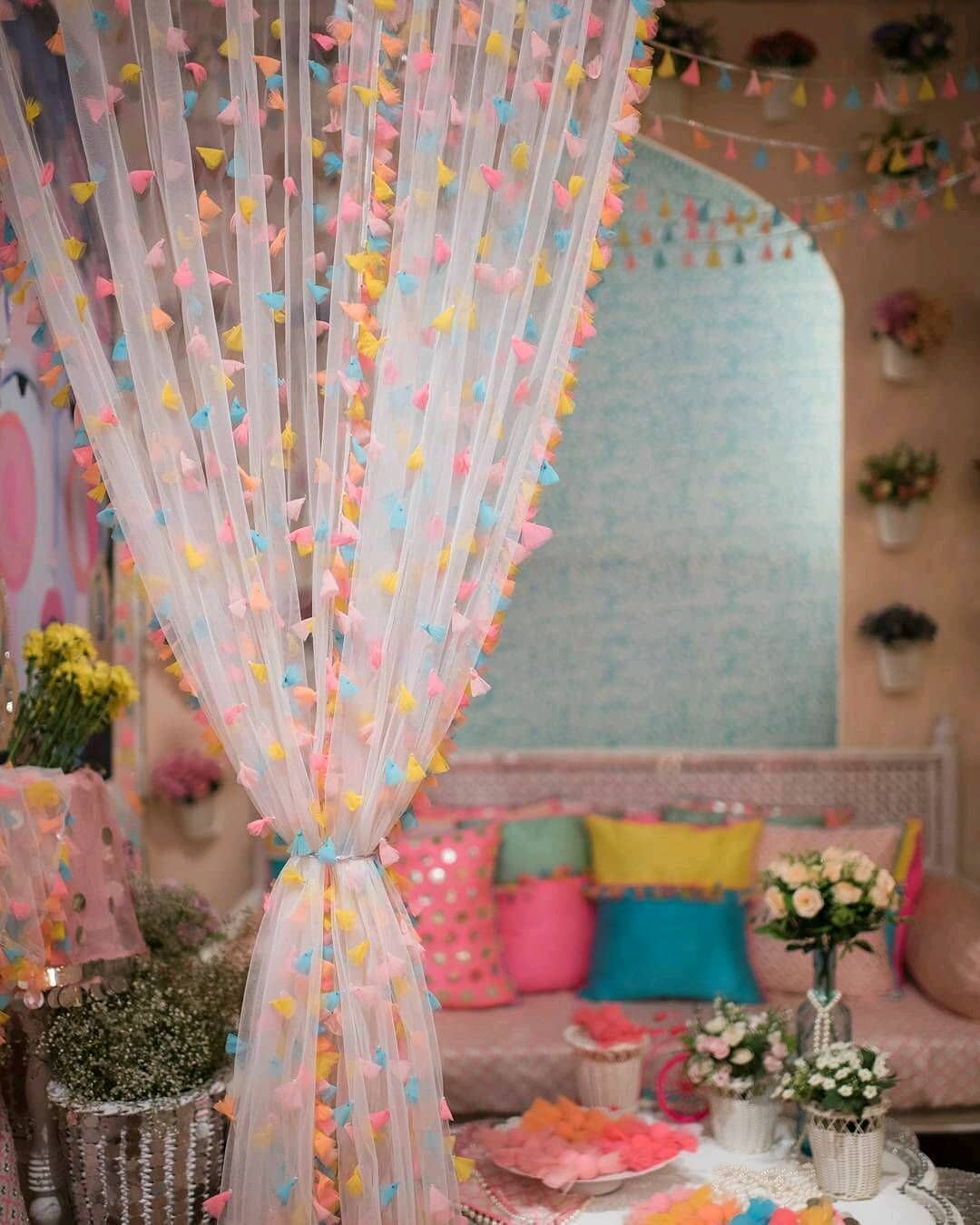 Image via Rani Pink★ 4.8
Just that tassel curtain adds such a whole lot of quirk to the setting! Get creative with tassels and pompoms to make the decor bright and happy! Here are some more ideas on how to pull off some pretty mehendi decor at home.
Make your jewellery pop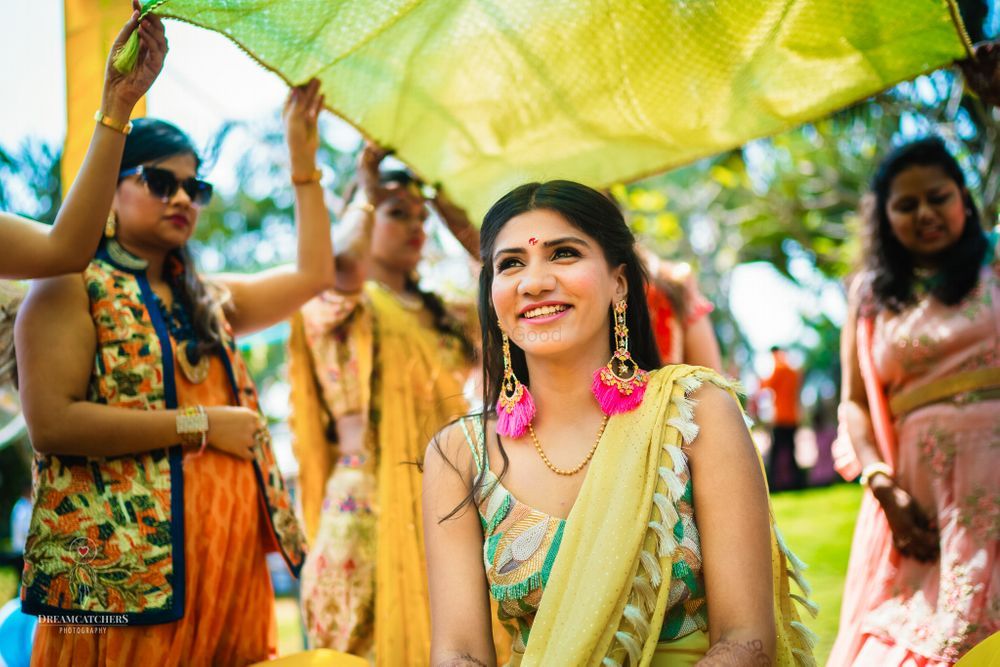 Image via Dreamcatchers Photography★ 4.9
Even if you are wearing a simple outfit for your mehendi at home, adding some funky mehendi jewellery is always a good idea to stand out as a bride.
Or your footwear!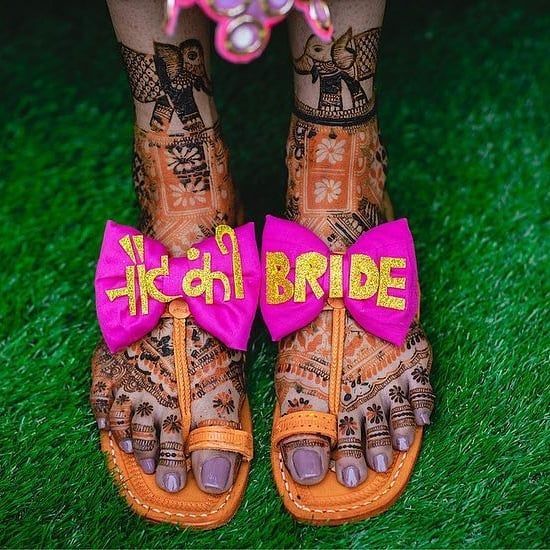 Image via Talking Toe
So many cute ideas out there- from customised to bridal ones, take your pick! We have some ideas here and also info on where to source them from.
Hand the guests smoke sticks for some fun photos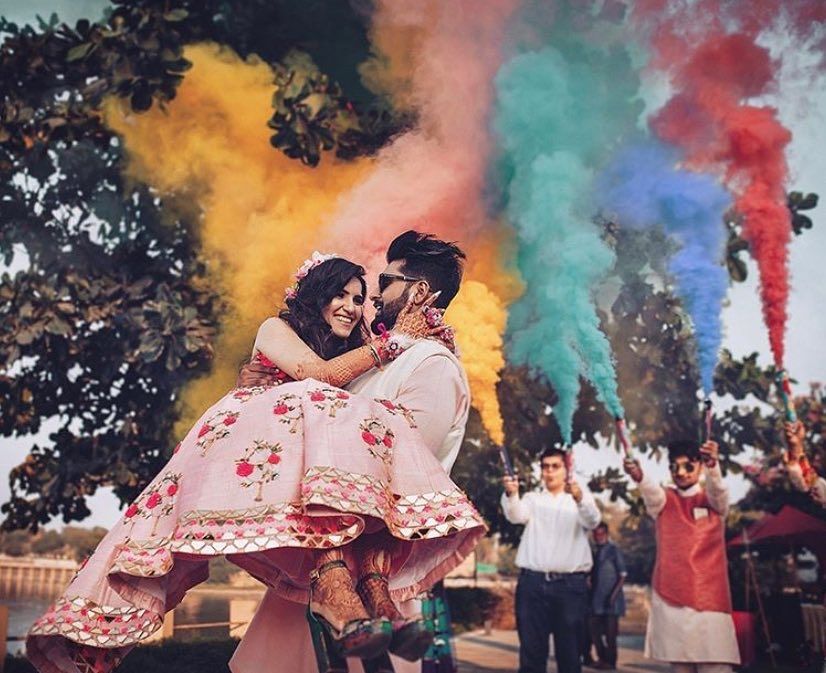 Image via Shades Photography★ 4.3
If you have a garden, then this is one idea you can implement! Makes the photos look so much fun!
Add some fun cushions for effect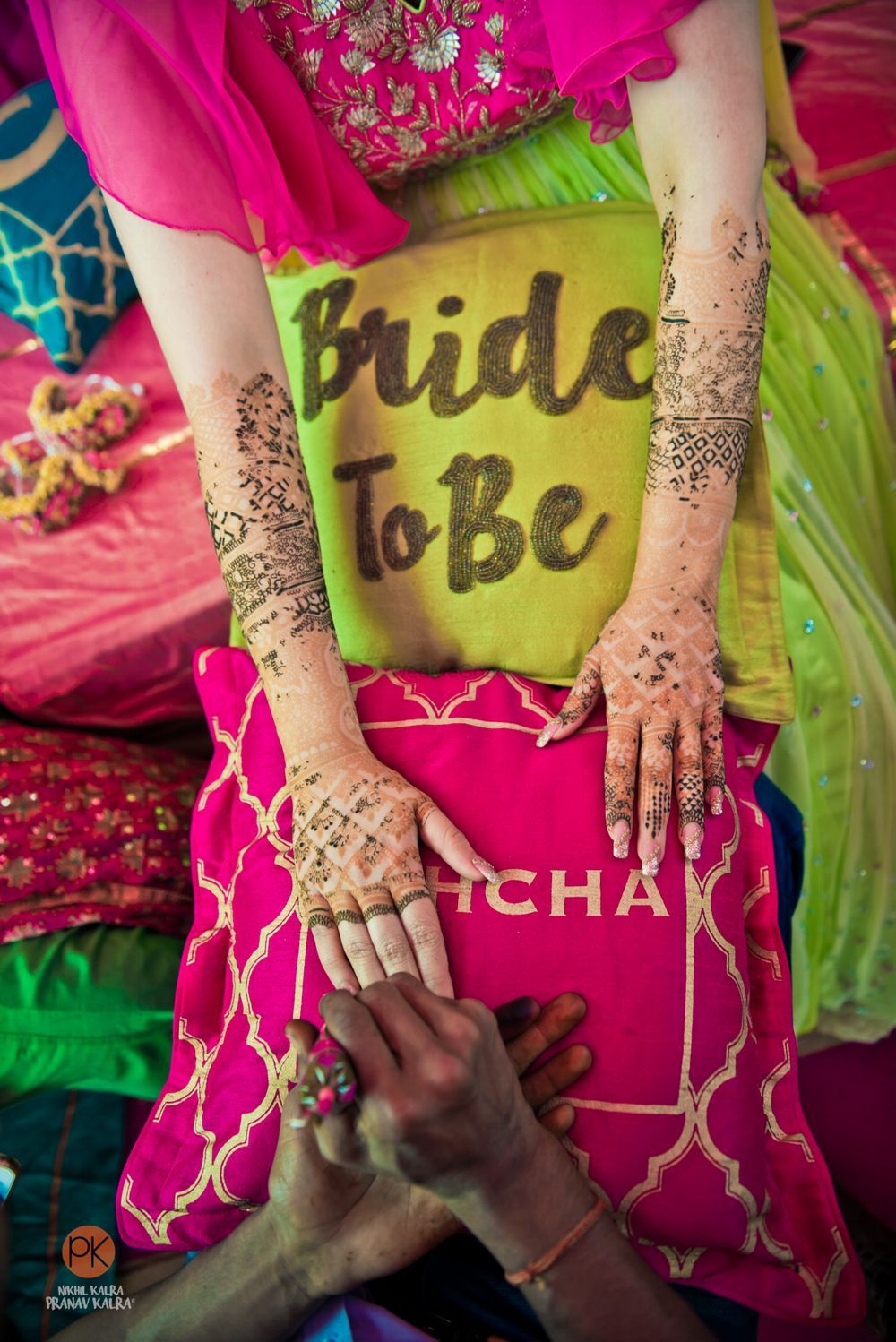 Image via Designer Events Inc★ 4.9
Just some cushions - either readymade or DIY can add a lot more to your decor and photos!
Have some fun yet easy to set up games!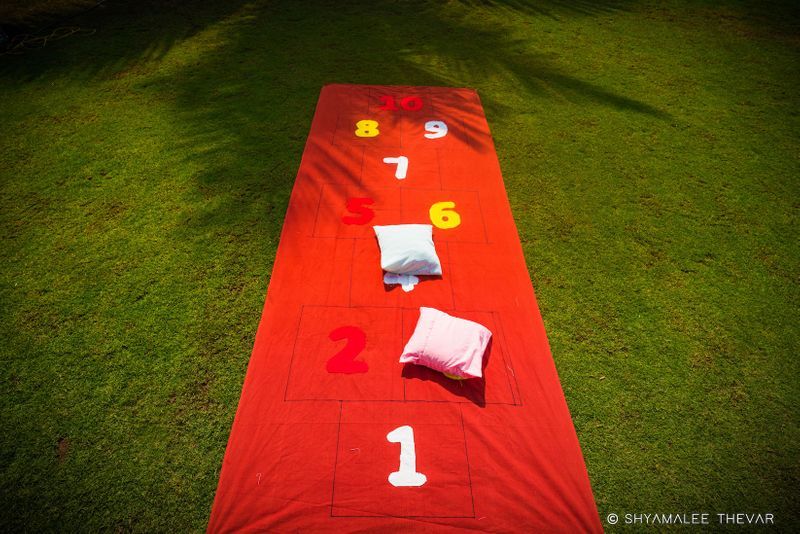 Image via Shyamalee Thevar★ 4.9 ; Shot by WhatKnot Photography
Always a good idea. There are so many games you can organise which are not hard on the pocket and fun to play for the guests. Here are some new games to consider playing!
Reuse decor elements from around the house to make it look rustic and pretty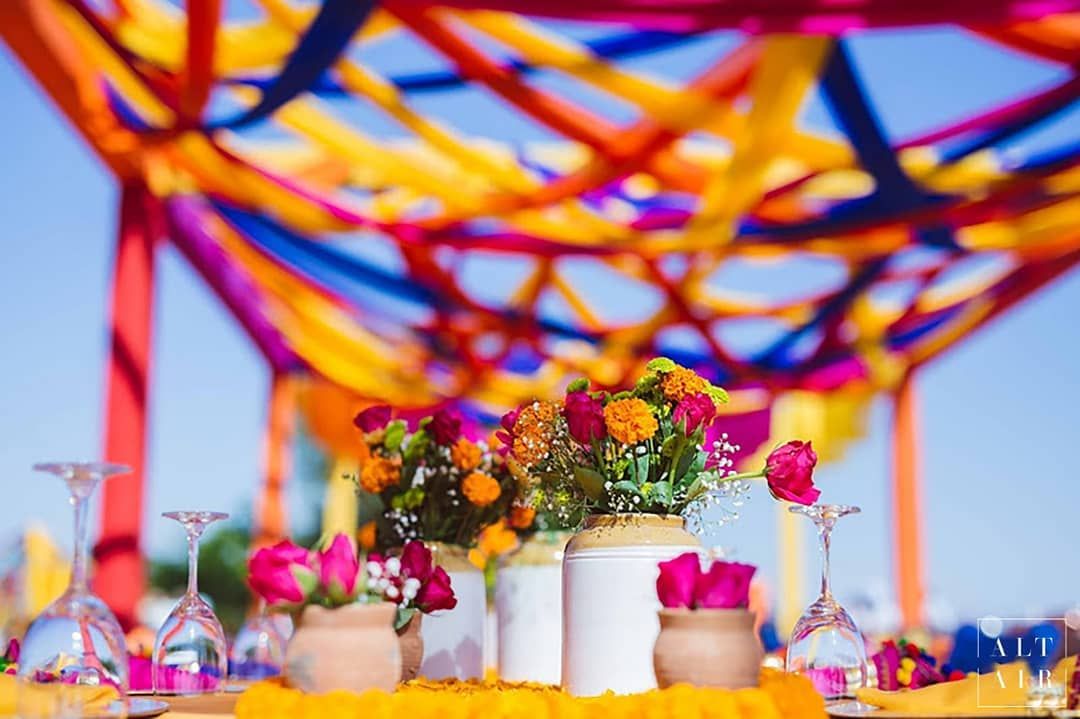 Image via Altair★ 5
From pickle jars to painted bottles, there are so many cool ideas for you to DIY! Over 30 of them in this post here.
And some finger food that's unique for Indian weddings!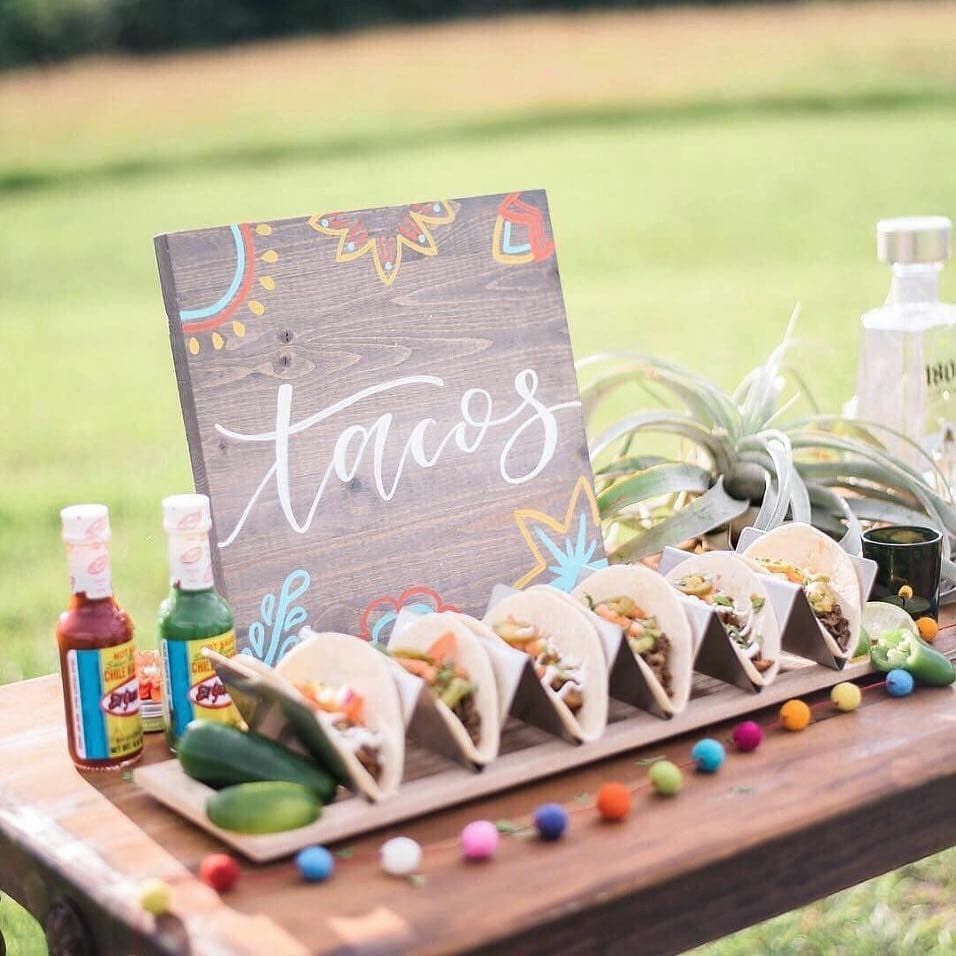 Image via @priscillafrey
Don't go for the usual food at people usually get to eat at weddings. Try something different that they might love or might be trying out for the first time. Some more finger-licking mehendi food ideas here.
And drinks that look Instagram worthy!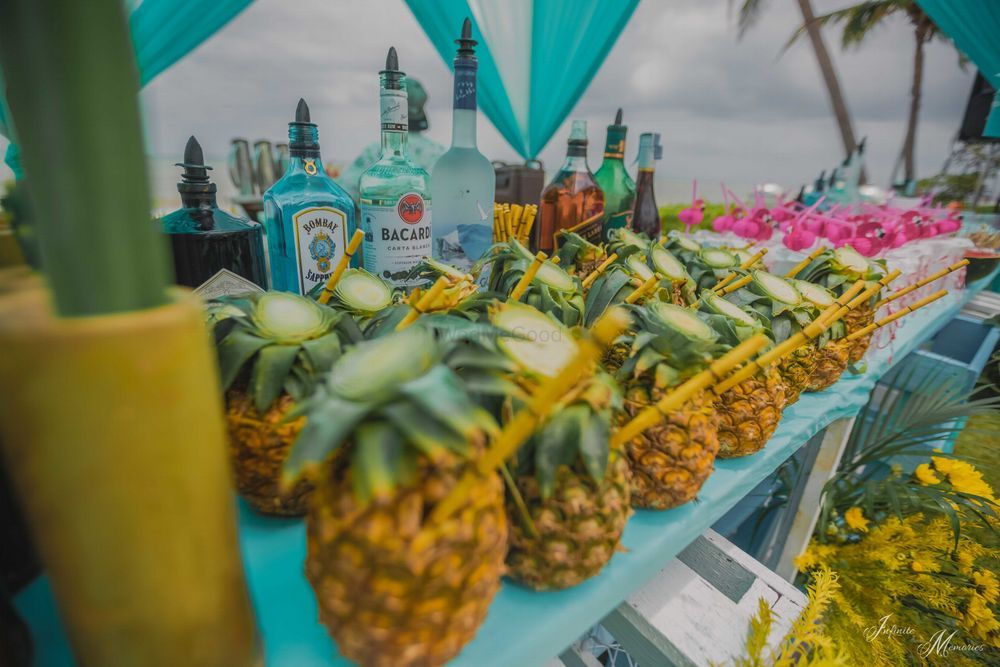 Image via Infinite Memories★ 4.8
Drinks served in pineapples or coconuts and with some cute stirrers or straws just add an extra touch to them! Make them look pretty apart from tasting amazing too.
Add some quirk to your bridal mehendi!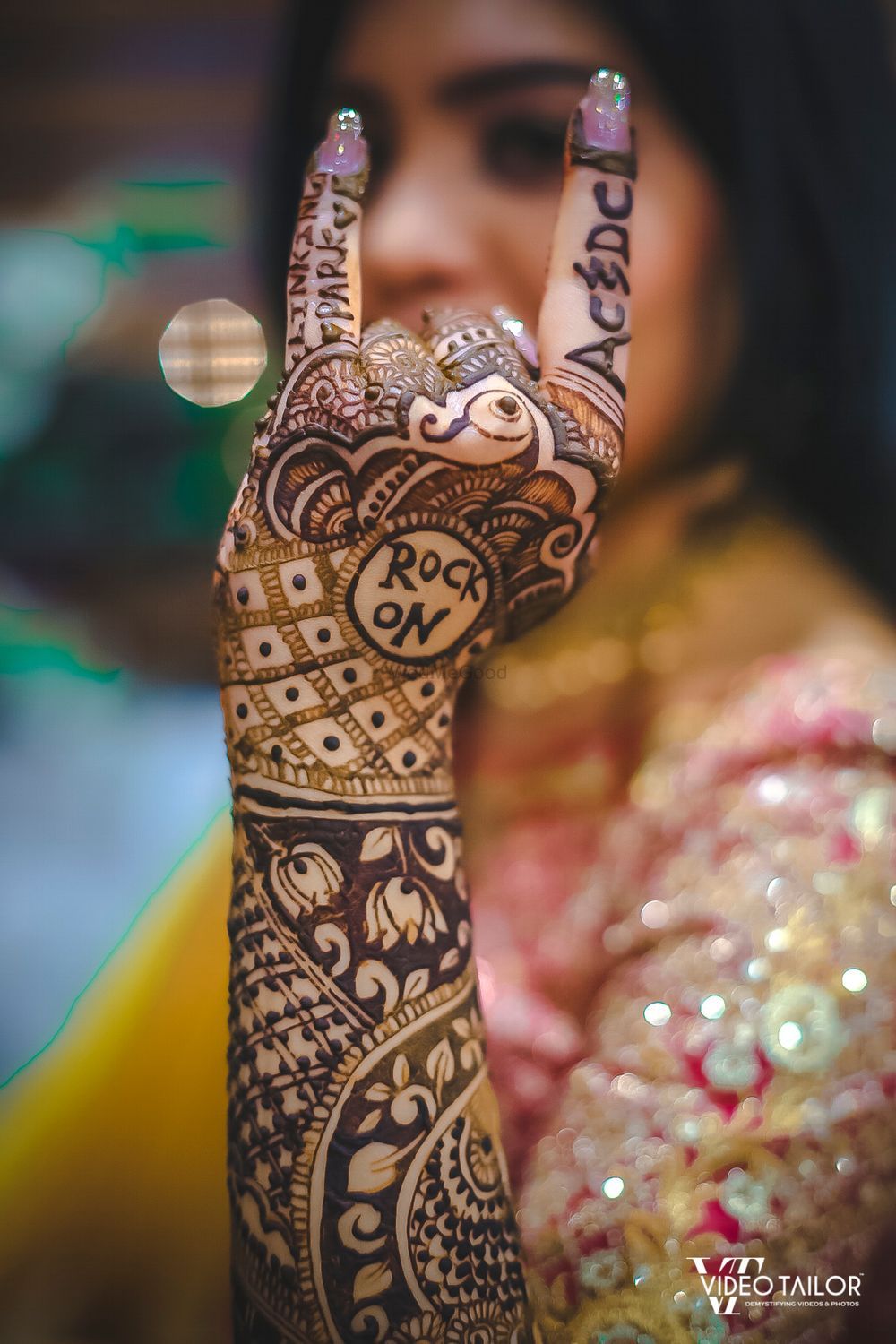 Image via Video Tailor★ 4.8
So trending these days, especially if you choose to personalise your bridal mehendi! More ideas to do that here.
Looking for even more ideas? Then go ahead and check out this post!
ALSO READ: Things To Remember Before You Have A Wedding Event At Home!