How to Select the Best Bridal Makeup Artist?
BY The WMG Bride | 10 Sep, 2017 | 1216 views | 2 min read
This is the most important day of your life! And makeup is something you brides DO NOT want to compromise on. We get that! If you're shelling out tons of cash on an excellent photographer and a photo album then you'd want to be looking gorgeous in them! If you have a Pinterest board of your favorite makeup looks, that is no guarantee that those looks will suit your face. Look for someone who actually works with brides and not models. Because photos of models are usually retouched and do not exhibit the actual work of the MUA.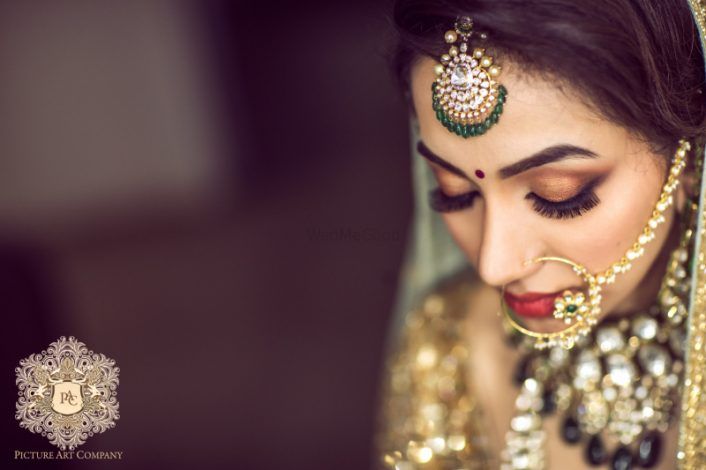 Image via Nayana and Jai's Wedding
You can find a list of bridal makeup artists here and pick the best for you based on their reviews, pricing, and work. You can also contact them from the site to discuss your look and the cost and other requirements. Make sure you test any new look that you want to experiment on your big day. Choose someone whose work you love and don't be afraid to ask for references. If you find anyone with whom you can get along with on a personal level, book them!

After it is all said and done and your vows are exchanged, and the celebration is over, all you are going to be left with are your photographs and the wonderful memories of your wedding day. Having a professional MUA who knows the right techniques and tools can really help excel your look and feel of your big perfect day. Nevertheless, the decision to hire a professional makeup artist for your wedding day is an important one and is your call.  
We're here to help you figure out some looks and give a few tips!
12 Things to check with your makeup artist before booking them!
Makeup Artists Reveal: One Product The Bride Should Carry To The Venue!
Make-up Artist's Reveal : Mistakes Brides Make These Days!
What To Buy For Your Makeup Trousseau!
10 Bridal Makeup Looks for Stunning Dusky Brides!
Getting married soon? Don't forget to book your makeup artist for your wedding day!