Simple Upgrades To Make Your Budget Wedding Look Luxe!
BY Latha Sunadh | 14 Jun, 2016 | 1997 views | 5 min read
Yeah, it's possible! It might require an extra bit of effort and planning on your part, so if you're one of those couples who like a challenge and can see it through, then you can do a lot to make your wedding look way more expensive than what it costs! Prioritising is the key people!
When it comes to making budget weddings look expensive, simplicity is the key. Embrace minimalism, as the more 'stuff' you add to the wedding, the more it adds to your budget as well. Stick to stuff that is classic and timeless rather than create clutter with a lot of ideas implemented together. Two good events is better than 5 crazy events with all the trimmings. We'd say a Mehendi + Wedding with a small party for close friends is good! 
---
Decor upgrades: Use flowers unexpectedly and in monotone.
Every wedding has flowers, but how you use them in your decor makes a very big difference. Instead of having flowers of every colour in every corner of the room, choose a simple arrangement in a single color. Use baby breaths, bougainvillea, mogra or marigolds - but in innovative ways. For example these draped gajra chairs add so much character.
Picture viaDevika Narain and Company★ 4.5
Balloons & Glitter used creatively = Luxe
Get Metallic or just plain white/ pastel balloons. See some ideas here for balloons and glitter creatively - always works.
---
Instead of cutting corners to throw a 'budget' wedding for 500 people with limited finances, try trimming down the guest list and throw a better wedding for about 300 people instead! Make it an unforgettable experience for people who really matter!
---
Do not choose a super 'auspicious' date
The price of everything goes up a lot on 'auspicious' dates and shaadi season, so consider bringing wedding costs down by choosing to have an off-season wedding.
---
Choose a venue with character
Instead of spending a lot on the venue and the decor separately, try getting a venue which doesn't need much to look amazing! Another good idea is to have a budget 'destination' wedding in a beautiful place on the outskirts of big cities. Like if you stay in Mumbai, you could choose to have a picturesque wedding in the hills of Lonavala, or go to Agra or Jaipur from Delhi. Smaller cities can bring down the costs by quite a lot only because not too many people choose it so you can go crazy. 
---
Design a wedding theme or motif
Carry it all throughout for the wedding to give it an exclusive and expensive look. You can plan one yourself or get a friend or sibling to do it for you. From the wedding cards to the entrance to the favours, make sure it features where your guests can see it! Make sure to also design and print your own wedding programs and place it in each room. Yes, don't forget the motif!
---
Consider having morning functions
Not only do they save you so much money on the lighting, but how much prettier do the photos look? Food rates are cheaper, people drink lesser, and the best part? Everyone gets to rock sunglasses!
---
Photobooths are fun, and they don't necessarily have to cost a bomb! Get innovative… make the props yourself or get your friends to do it… this is definitely something that the guests are gonna remember!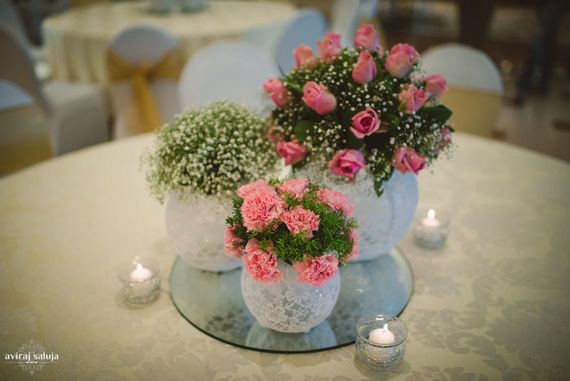 Pic via Aviraj Saluja Photography 
Plan everything in one place!
A smart way to make a wedding look expensive is to do everything in the same venue... the functions as well as the stay. You can always work out the type of hotel or venue to suit your budget, but this makes it way more fun for you, your immediate family as well as the out of town guests! Plus, you can strike a better deal if you're booking everything at the same place!
---
By this we don't mean try and do everything yourself, but choose to do one of two simple things that can add so much character to the wedding or one of the functions. Find some ideas and tips on WMG here and here. But remember not to overdo it! 
---
Make your couple entry really stand out!
Get your guests to do something creative, like throw confetti or blow bubbles when you guys enter! You could even enter on a decorated rickshaw or a bullet! Creative, cheap and oh so cute!
---
Focus on quality, not quantity when it comes to food!
Instead of serving the same old food in the same old counters, get creative! Serve the food in an interesting way to make things stand out! It doesn't even have to cost a lot extra! Find some inspiration here! 
---
Make it a better experience for the guests
Make sure there is proper parking space, or maybe you could rent a valet service as well. It won't break the bank, but will make sure your it's a hassle-free experience for your guests, that will create quite the impression! Also, make sure the entrance to the venue is pretty and done up well, as it is the first thing they're gonna notice and remember!
By Sakshi Saxena