Which Maang Tikka Suits On A Round Face
BY The WMG Bride | 12 Oct, 2017 | 1446 views | 2 min read
Maang tikka's are a smashing piece of jewellery that we believe every bride should own. Matha Patti's are of various classic designs, with layers and lot more. The maang tikka that would suit a round-shaped face is usually small ones because you don't want it to look too heavy or to take up all your forehead space. You could also style your mathapatti to a side, which gives off a royal vibe. Also, layered mathapattis with a small pendant would look stunning on a round face.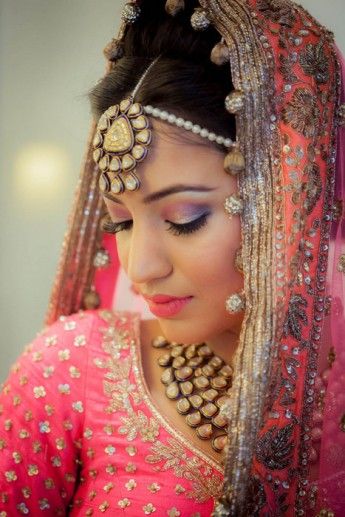 Maang tikka or Matha Patti is a headgear that is usually styled in the middle of a centrally parted hair, sitting on the forehead with a drop pendant. Now selecting the right maang tikka is very important because not all styles would suit all faces structures. Nevertheless, we're here to help you pick the right one according to your face shape! Here's what to start off with finding the right Matha Patti for every face shape!
We have some more ideas regarding how to style and where to buy Maang Tikka such as
Bride with a Round Face? Here's What to Keep in Mind!
10 Matha Patti Ideas For The Modern Bride From Real Brides!
10 Labels You Can Get a Stunning Mathapatti From!
Trending: A New Kinda Maang Tikka
8 STUNNING Mathapattis / Maang Tikkas Under 5000 Rs! * Because Window-Shopping Is Our Biggest Talent!