10 Brides Who Designed Their Own Outfits And The Unique Elements We Spotted In Them
BY Soha | 12 Sep, 2019 | 4275 views | 5 min read
Being a bride can be tough! What did you think; running in and out of shops for months at a stretch, in search of that dream outfit and the perfect jewellery comes easy? Nuh uh! But some brides don't go that route. No, who said we're kidding?
What happens when you don't find that masterpiece you've spent every ounce of your energy, searching for? You create it! Take it from someone who writes about weddings day in and out (self proclaimed wedding experts, I tell you). Brides these days are looking at personalized elements at their weddings, and are up for a challenge even if it means designing your own outfits from scratch! We got in touch with 10 brides who took the road less traveled and designed their own outfits! Read on to know more!
This Bride Designed Her Dream Mehendi Lehenga And It Was #OutfitGoals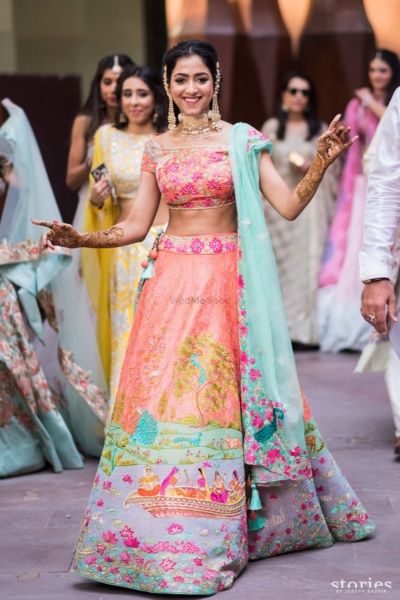 From Medha and Ritesh's Wedding
"The whole wedding from my side was based on the Kashmiri theme with shikarara, florals and colors! I wanted every little detail to speak a story of its own and that's why I had Khakhas, land and water on my lehenga" shared the bride.
And This Designer Bride Who Designed An Unconventional Sunset Pink-Ombre Wedding Lehenga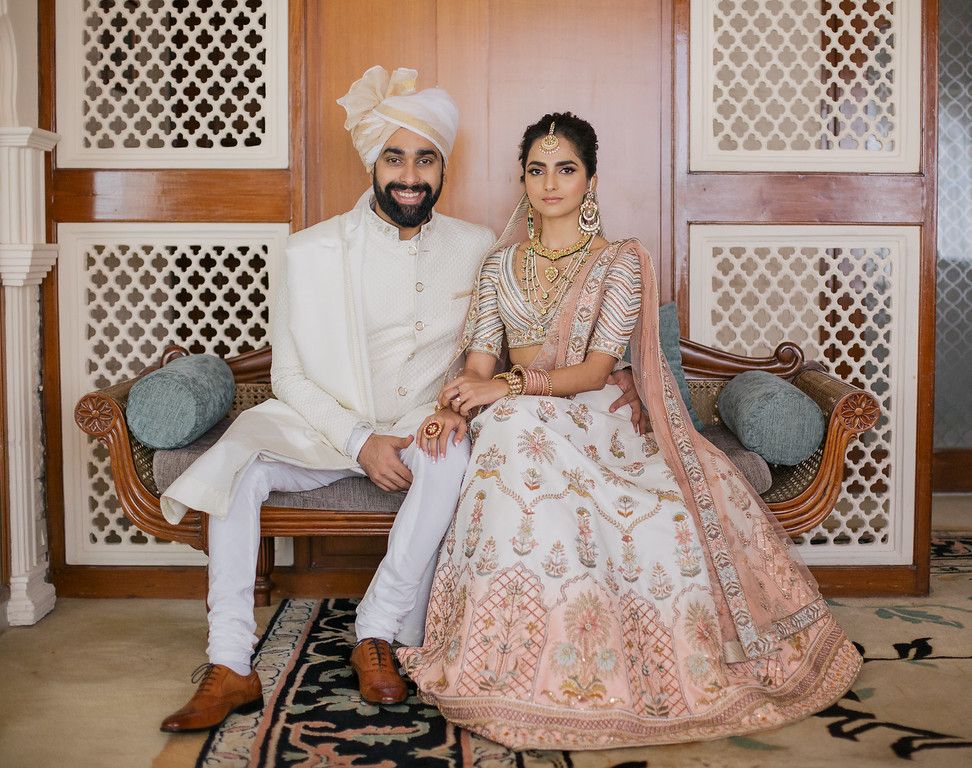 "I wanted something that wasn't traditional, not very heavy, and was simple and serene. Since I was having a wedding by the beach, I wanted to capture the shades of sunset in my lehenga- so it was an ombré ivory and sunset pink lehenga speckled with shades of earthy oranges and blues," revealed Rhea.
This Bride's Blush Pink Lehenga With Those Unique Sleeves Reminded Us Of Jasmine From The Arabian Nights!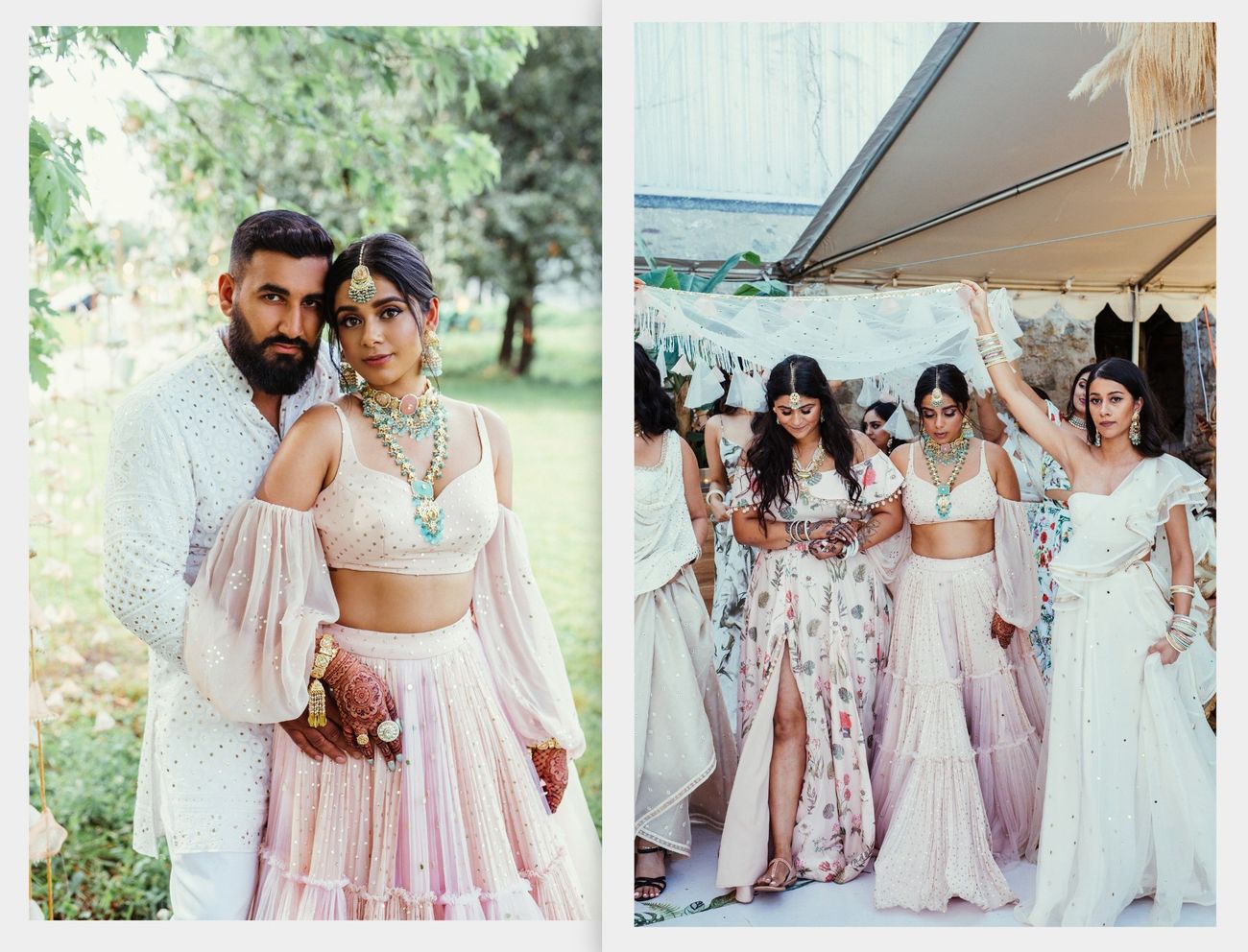 We absolutely loved how Mani picked a blush pink shade to match her Tulum-themed engagement but the USP of the outfit were the off-shoulder baloon sleeves. So striking, so unique!
Do You Love A Benarasi Lehenga Enough To Design One For Your Wedding?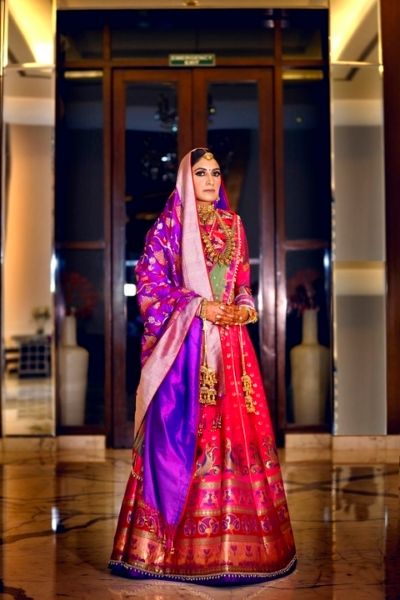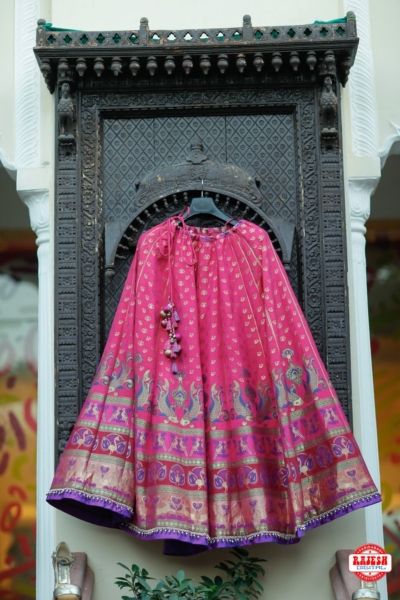 "Being a fashion fanatic, I wanted my dream outfit to be ageless regardless of the era or time we are in or will be tomorrow.  I visited Benaras for a wedding and stepped into the haven of our heritage loom. I instantly fell in love with the Benarasi heritage and picked a lot of fabric and kept it hidden in my wardrobe for more than 2.5 years before I finally had my wedding date fixed!"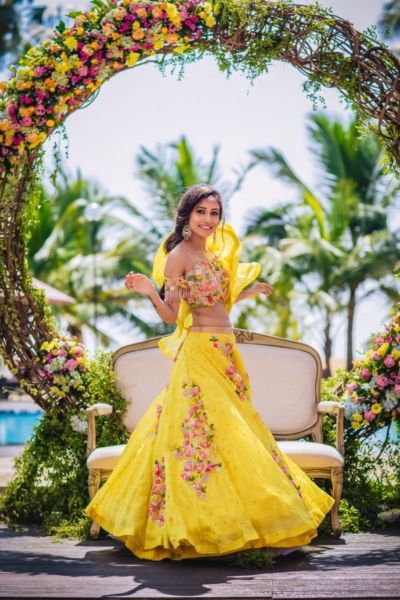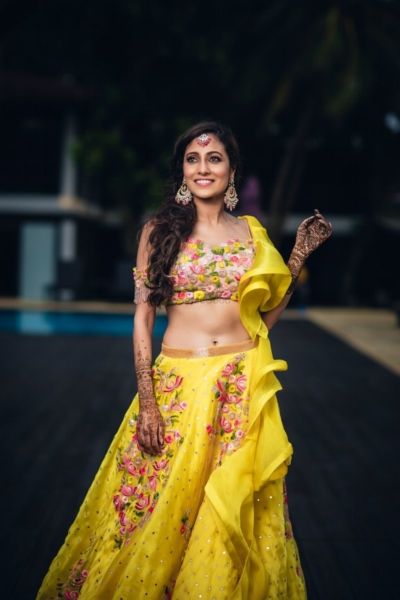 "For my mehendi, I made a sunny yellow lehenga with delicate floral motifs all over and mirrors to add to the glamour. My blouse was a burst of florals in vibrant colours with a playful cold shoulder with tassels. Instead of going the traditional way I had a flirty ruffled dupatta attached to my blouse," revealed Soumya.
She Also Designed This Parrot-Colored Saree With A Poppin' Pink Blouse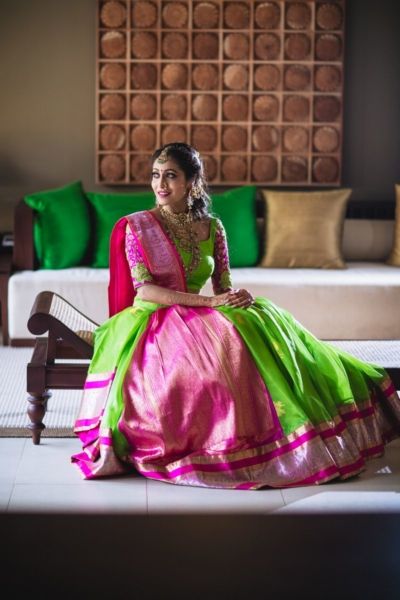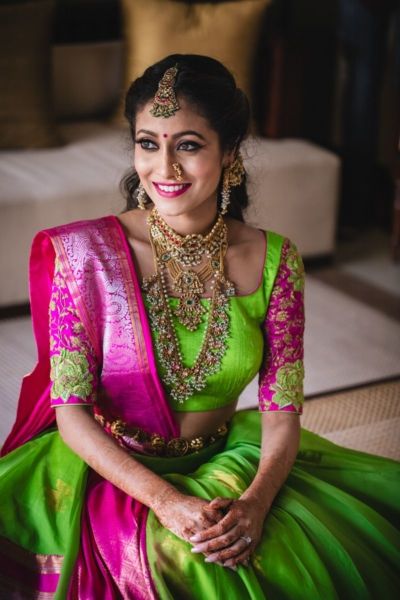 "For the pellikoothuru puja, I chose traditonal south Indian colours like a green saree with pink border but instead of wearing it the traditional way, I draped it into a layered lehanga. I wore a silk blouse with hand embroidered sleeves in French knots and zardozi and complemented it with lots of jewelry," she added.  
Thoughts On This One Who Designed Not Just Her Own But Also Her Mom & Sister's Outfits?'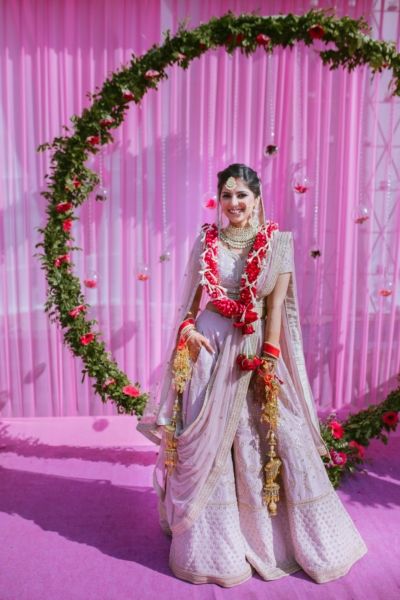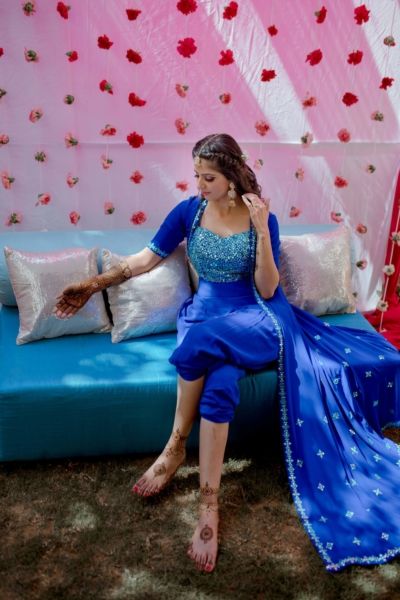 And Here's What She Made For Her Squad!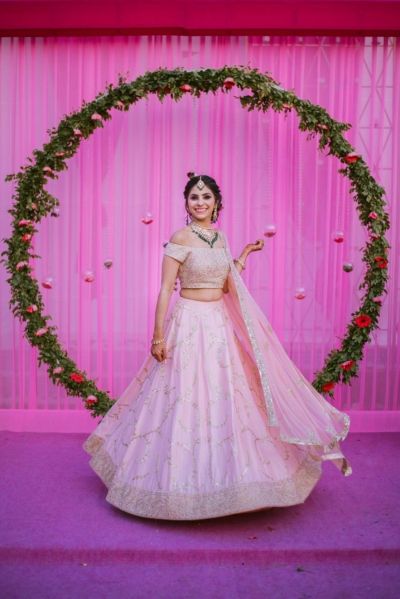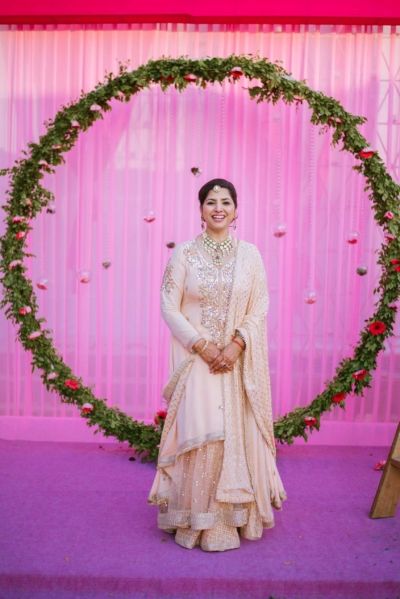 From Pratishtha & Shaun's Wedding
Prathishtha tells us "Pastel Elegance was the theme for the Anand Karaj and all the outfits we made for me, my sister and my mother were in different pastel shades so that they compliment each other. My sister wore a baby pink coloured raw silk lehenga set hand embroidered with zari, dabka and sequins while for my mother, we created a triple layered peach sharara set with mukaish, dabka and zari hand embroidery to give a more royal look."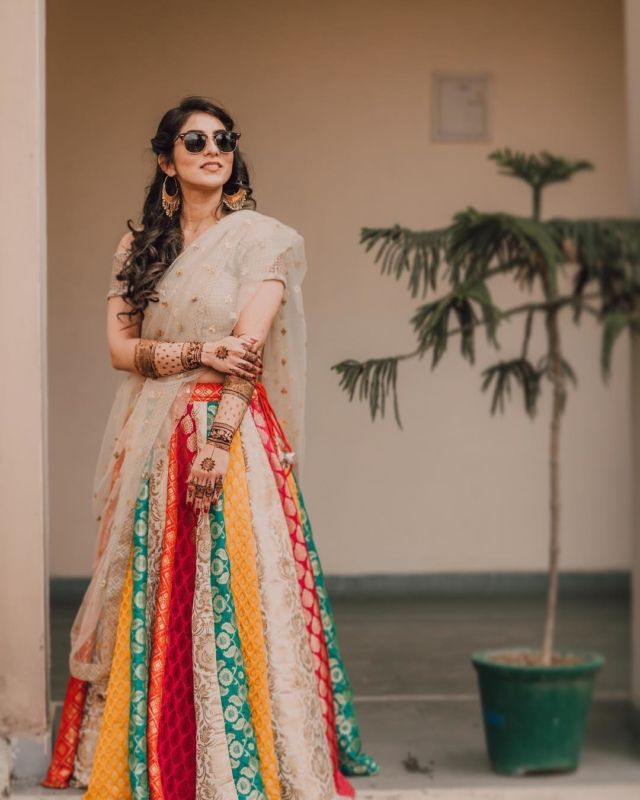 From Deepam & Raghav's wedding
What totally stunned us was the fact that the bride herself designed not only her Mehendi and Cocktail outfits, but also did the decor for all the functions by herself as well! Basically, this was truly a personalised wedding where the bride was involved from start to the end.
Remember This Bride Who Broke The Internet With Her Pigeon Blue Lehenga?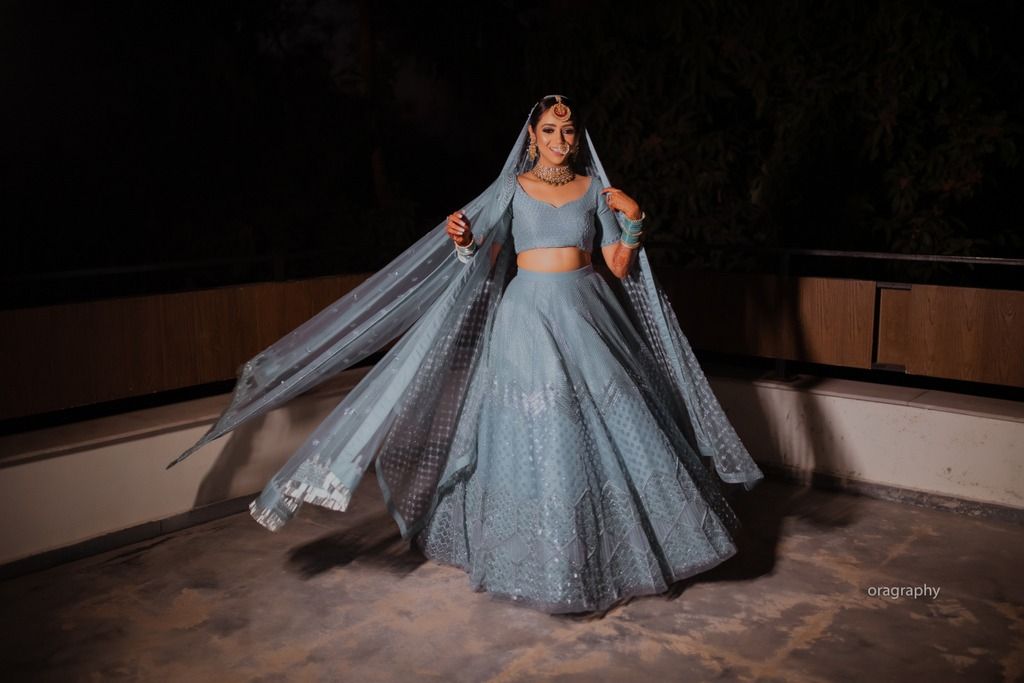 "I wanted a powder blue lehenga - it's different, it's fresh, and yet such a classic color! So we set out to N number of shops, trying out silhouettes and colors but we never got our hands on the exact shade that I had been looking for! Call it fate, but Pigeon was the only color closest to the one we were looking for. I was open to experimenting, and I absolutely loved the silhouette- it was classic and timeless, so we thought - "Why not?", revealed Zinal.
And This Won Who Won Our Hearts With Her Gold Lehenga?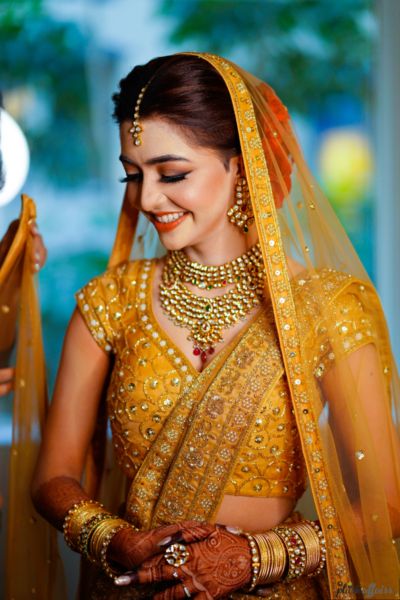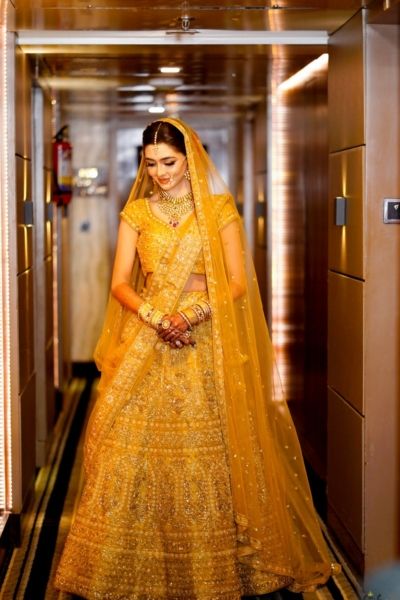 From Prajakta & Suraj's Wedding
 If your job involves making sure actors and actresses look their best all the time, wouldn't you know just what would work wonders at your own wedding? So when Celebrity Stylist Prajacta got hitched, we weren't disappointed a bit on her choice to wear a self-designed gold lehenga that truly was a stunning, unconventional pick! 
Do You Love Your Squad As Much As This Bride Who Designed Fabulous Outfits For All Of Them For Her Mehendi?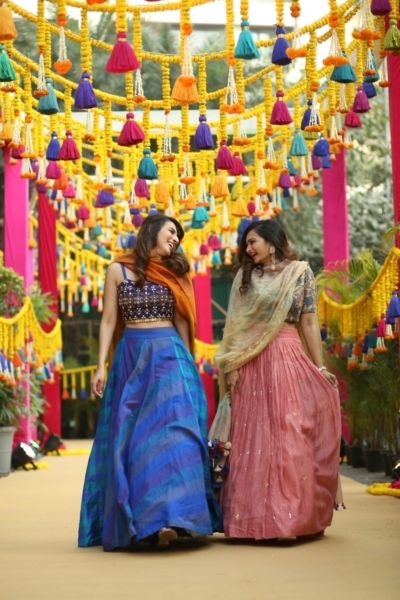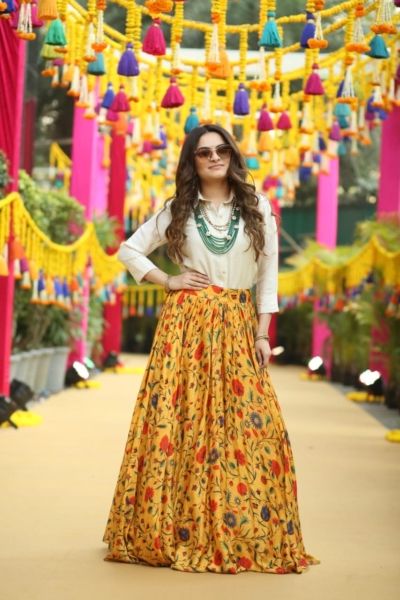 " I love playing with colours, textiles and prints and my most favourite clients are the mehendi brides! So, for my own mehendi I wanted to do something special keeping the aesthetic of the brand in mind. My best friends, my bridesmaids wanted to continue the story wearing outfits from the label so I decided to design for each of them keeping their personal taste in mind!" Anushree told us. 
Whoever said brides are superwomen wasn't wrong- what do you think now?