Intimate Home Wedding On Your Mind? 20+ DIY Decor Ideas You Must See!
BY Anupriya | 25 Apr, 2020 | 38139 views | 11 min read
Now that we're in the 'Unlock' phase, we see a lot of couples planning a micro wedding, while keeping everyone's health & safety on priority. Though the venues are slowly starting to roll, if you've already planned to host an intimate wedding at home, we're sure you must be in a dilemma as to 'how to decorate' it! There are an endless number of simple marriage decoration ideas that will help you make the best of your wedding. Put your worries to rest, because we have saved you some easy-peasy home wedding decor ideas for your apartment. They not only look fabulous but also require limited effort from your end. So what are you waiting for? Check out these intimate wedding decor ideas that are too easy to DIY at home, and guess what, they won't even cost you an arm and a leg!!
Let the Bookmarking begin in 3... 2... 1!
1. Marigold backdrops look like a dream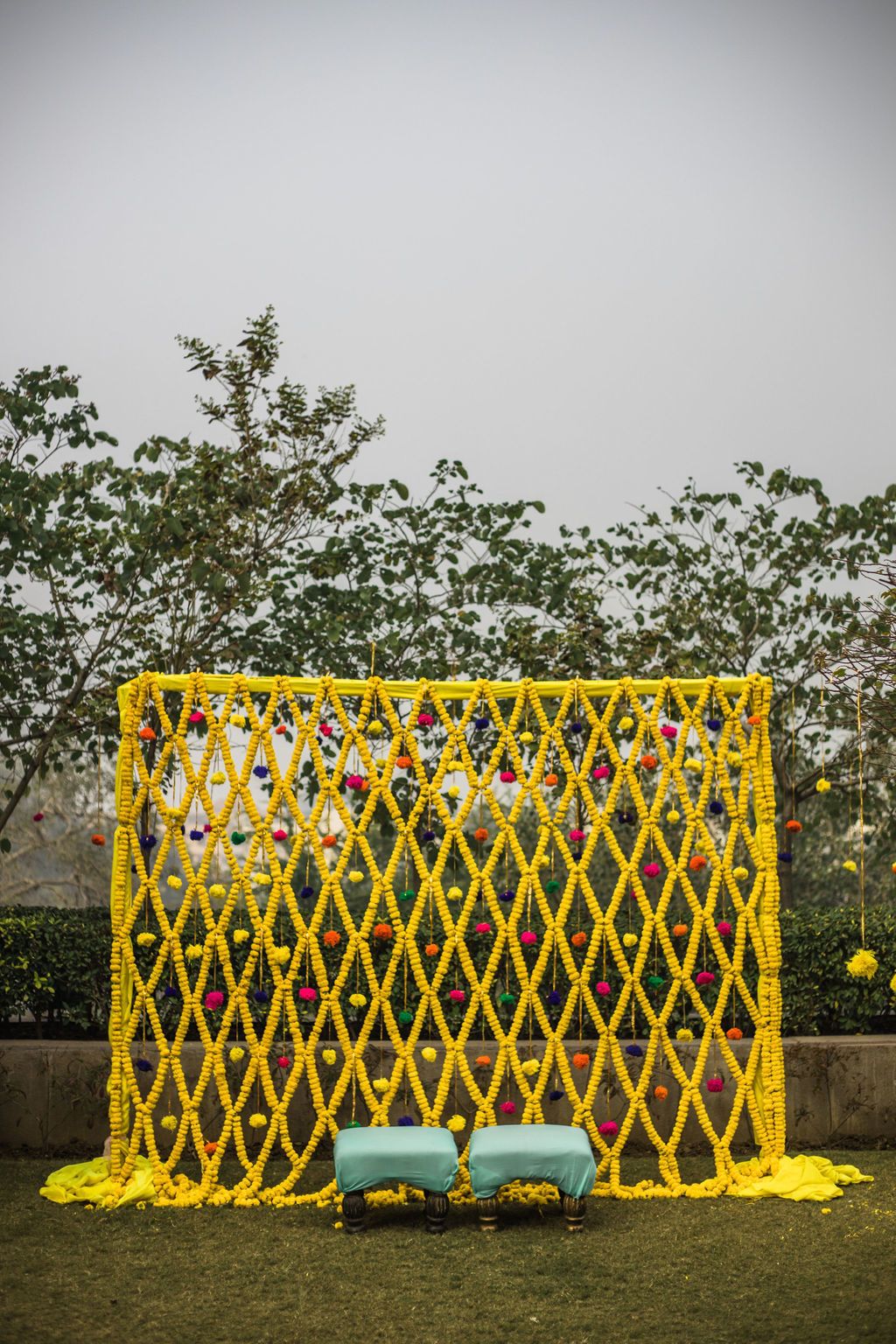 Image via The Millennial Bridesmaid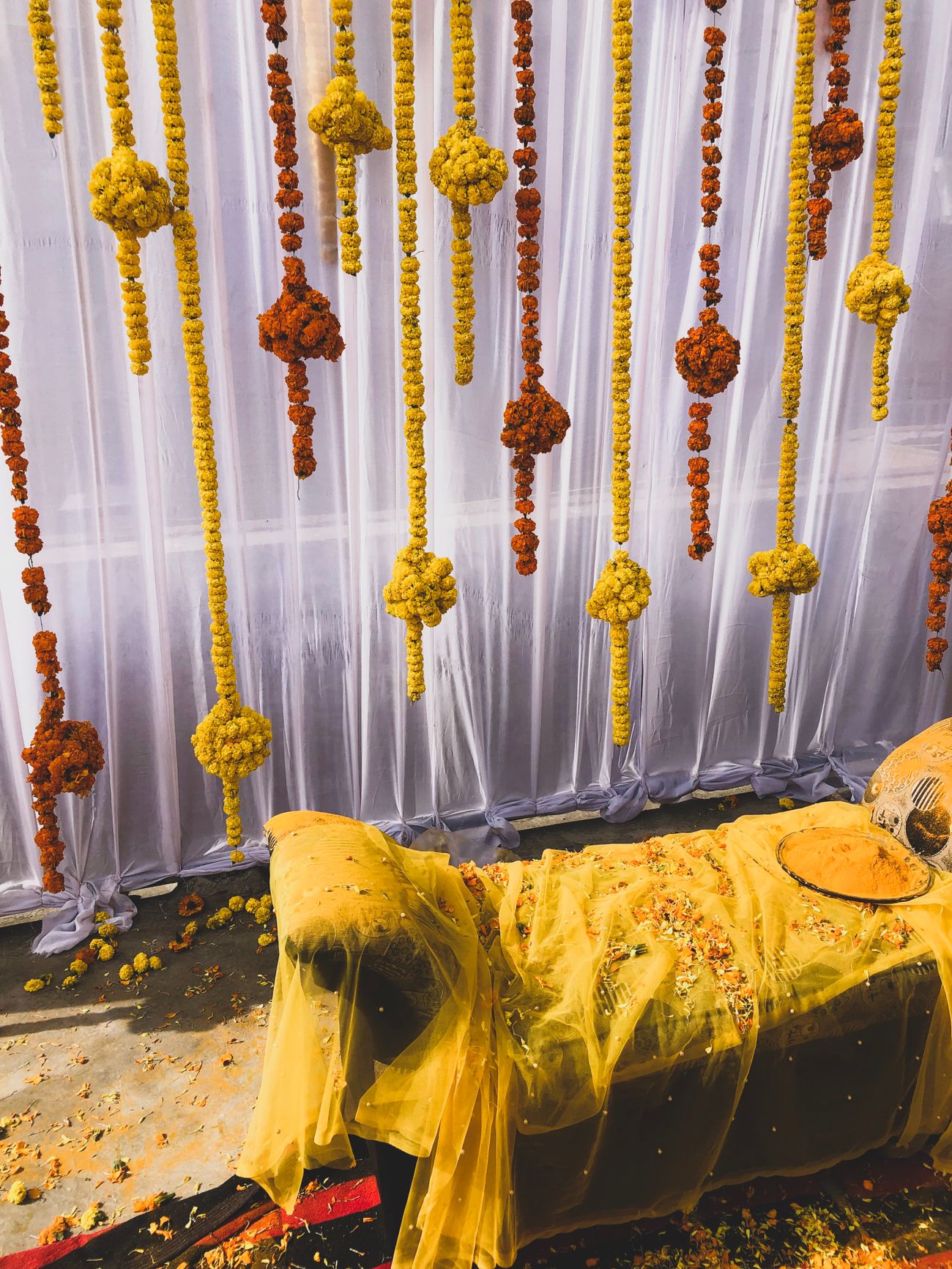 Image via @garvitagarg
Genda phool as they call it is an evergreen and a classic decoration when it comes to flowers. Extremely affordable and vivid, we'd highly recommend you shop for marigold for your decor for a small wedding function
at home. 
2. Make personalised tags for your chair backs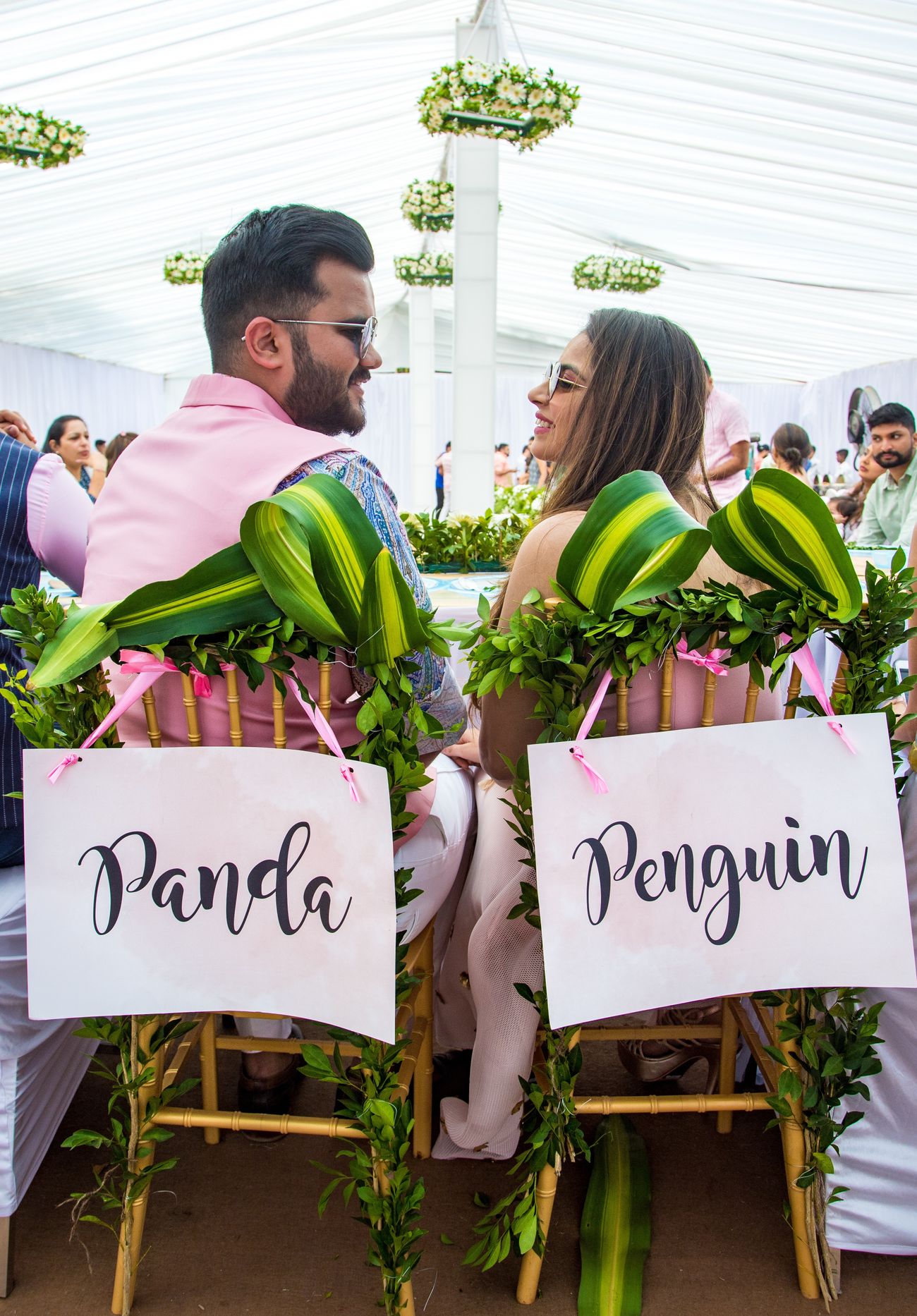 Image via Happyframes★ 4.9
Make your wedding a little extra special by printing cute nick names of your partners, using quirky fonts, a little personalisation is always good for an event creating beautiful moments!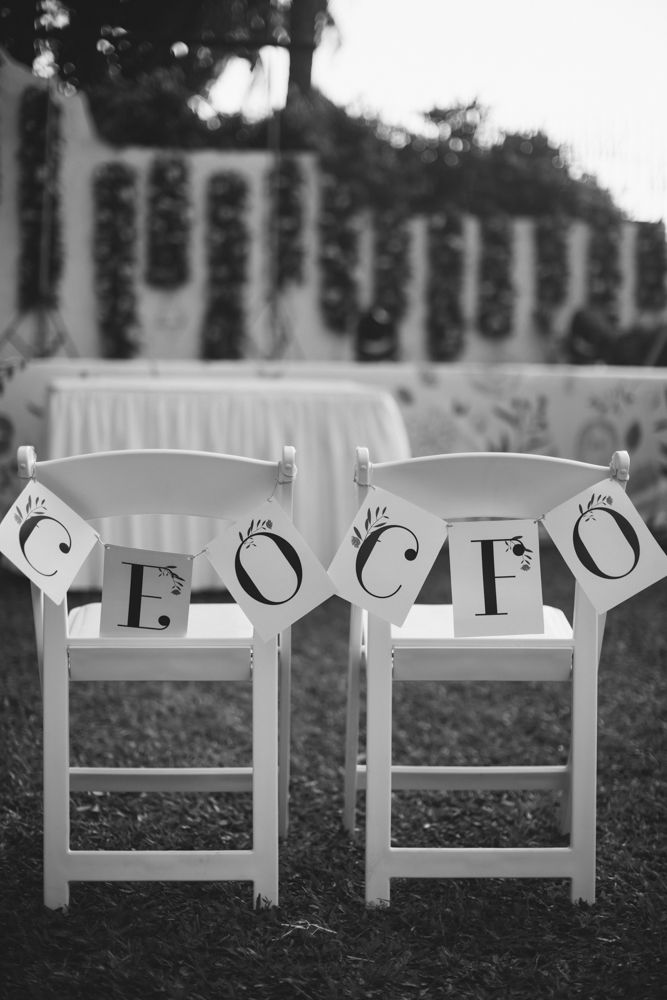 Image via Bros Concept
Never knew these plain-jane labels could deck up the back of the chairs so beautifully! Write your nicknames on a fancy piece of paper and personalize yours too. Let the canvas stay simple and the art overboard. You can always accompany it with some more decorative elements, like those ferns and leaves.
3. Deck up them ceilings with colourful buntings!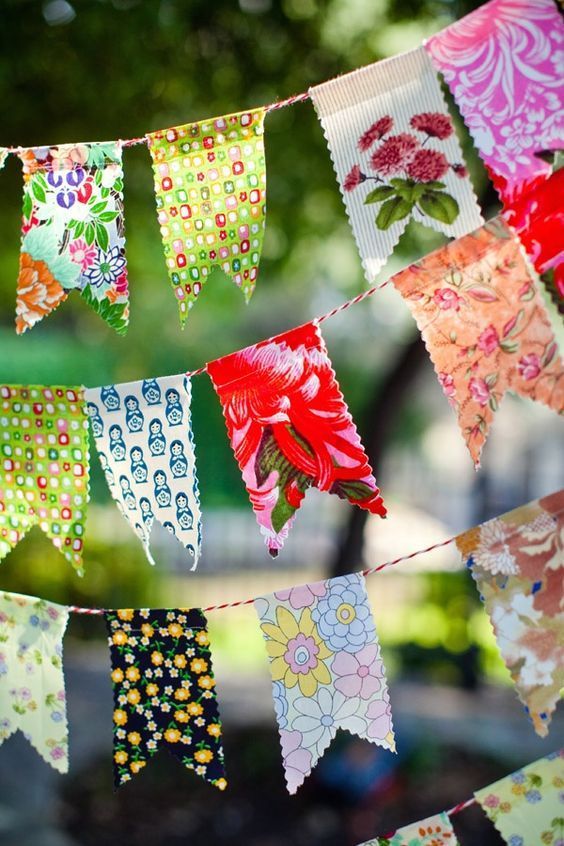 Image via Pinterest
And using old cloth pieces, your mums sarees makes it even more fun and cost effective. A perfect decoration idea for a bride and her personal functions. Make your wedding as brighter as it could get mixing numerous colours!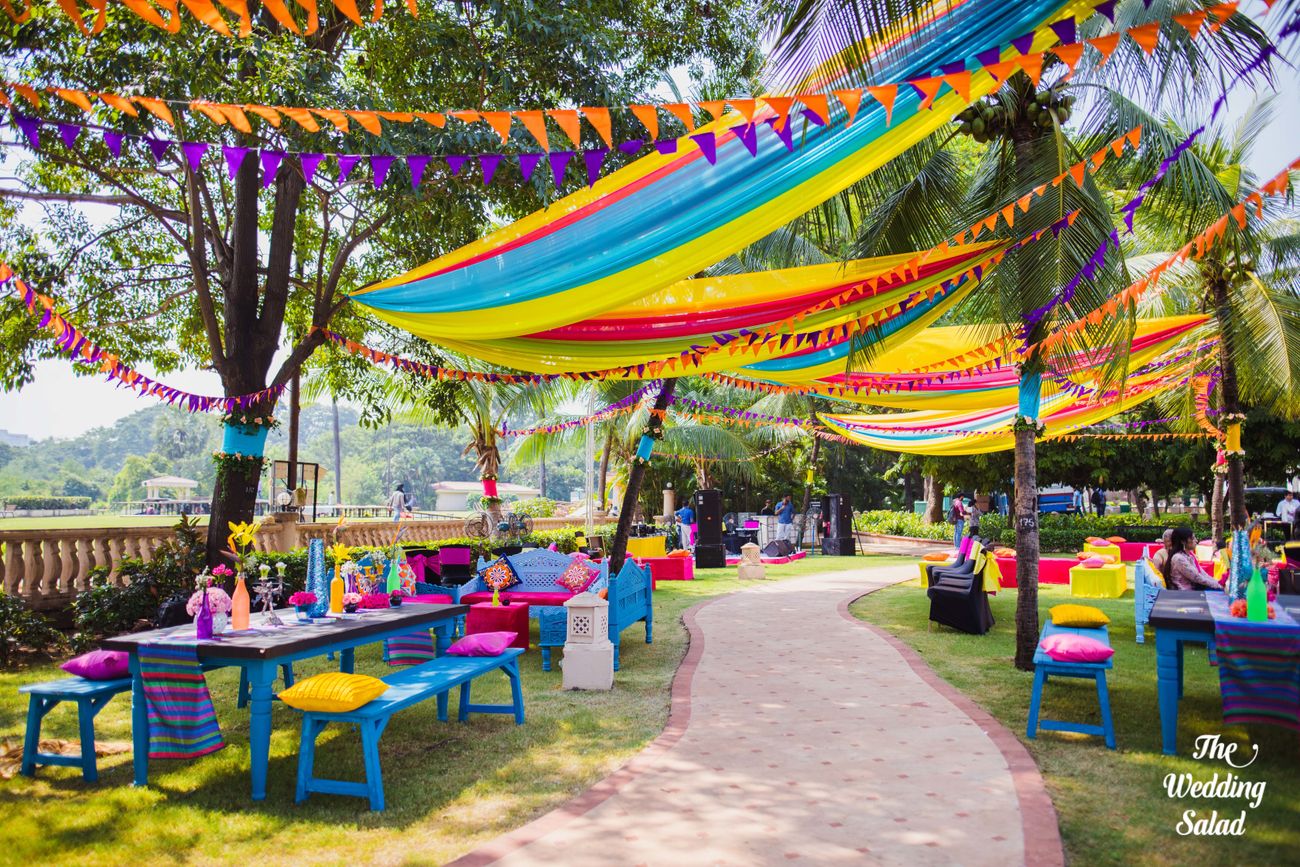 Image via The Wedding Salad★ 4.9
Buntings are always a great idea. They are the simplest out of a pile of decorations and the easiest to store and reusable wedding  home decoration. Just hang them over the ceilings or at the entrance of your home and they'll add a pop of colour to your wedding home decor.
4. Go green and let your plants amp up the surroundings!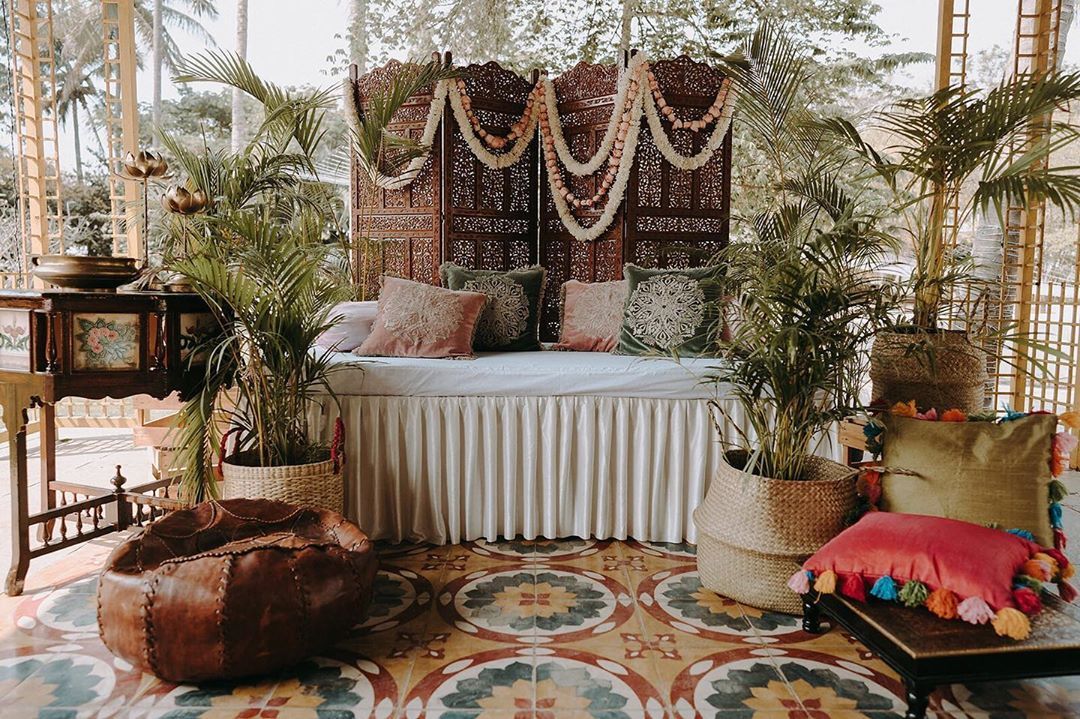 Image via With Love Nilma★ 5
Keep your decorations a little rustic or antique that charms a way through you and all the guests present, a simple room divider, some cushions and you are good to go as this makes it a simple home decoration for an Indian wedding.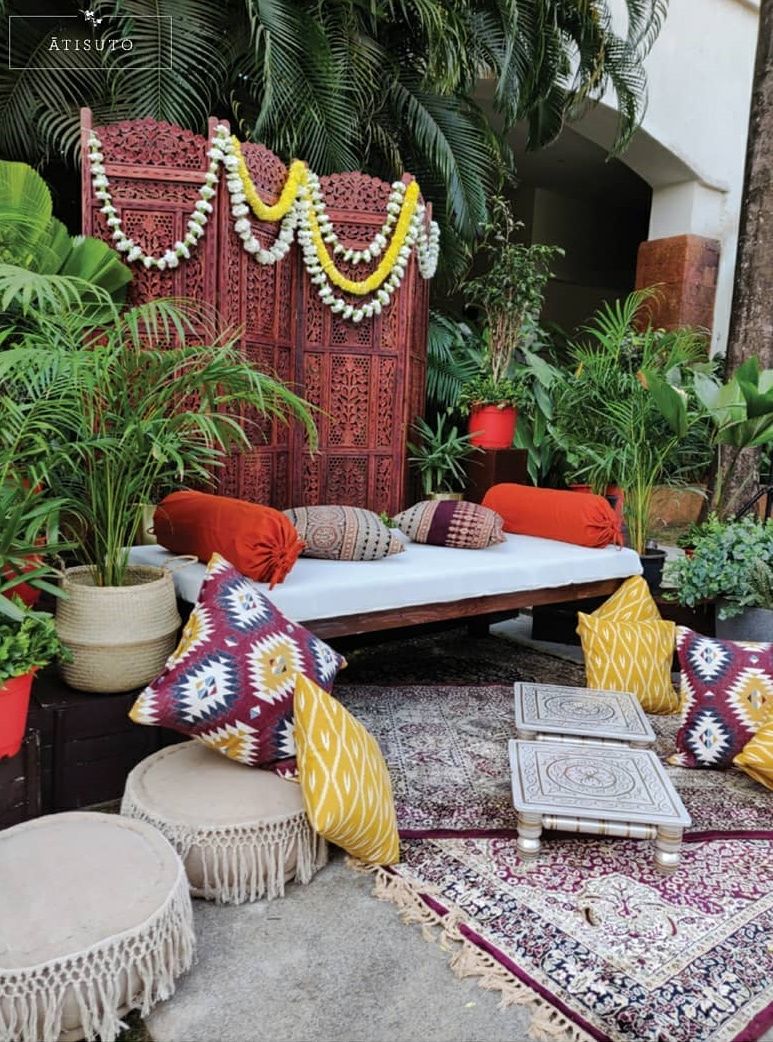 Image via Atisuto★ 4.6
Use your inhouse greenery as a backdrop for all which makes it a fully prepped decorative area which simply needs no more addition to it!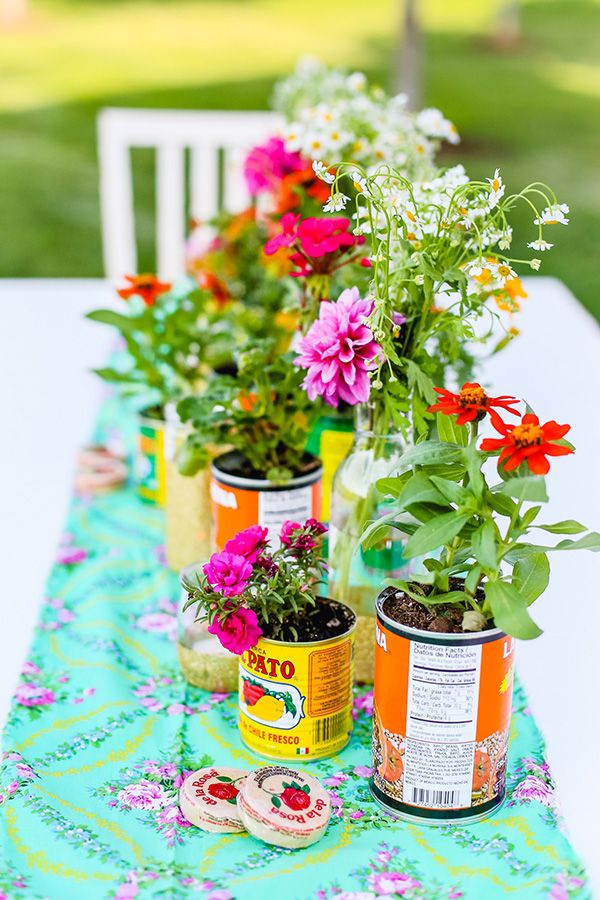 Image via Pinterest
For a fuzzy home decor, plants are your most valuable players! They add just the right kind of vibe to your ceremony, and do not demand any sort of extra effort from your end!
5. Paint those discarded tyres & put them to use.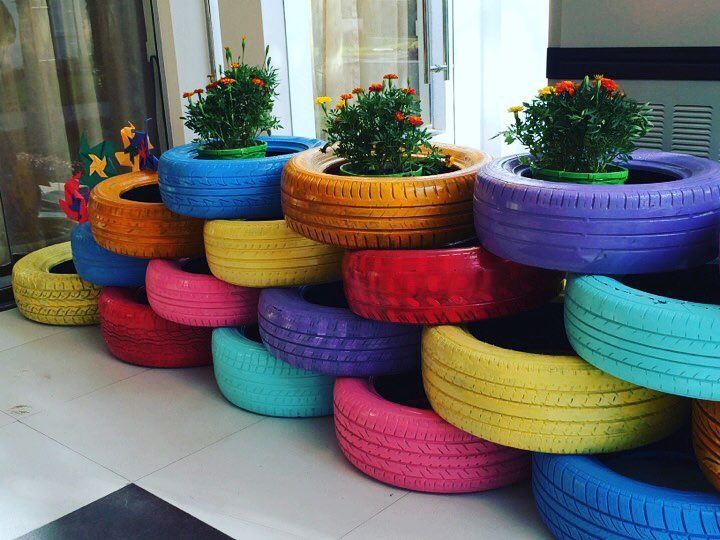 Image via Mosaic Events Oman
A little bit of hard work does no harm right? Spend time on painting these tyres and making the best out of them. These pop colours will do nothing but brighten up your event for good.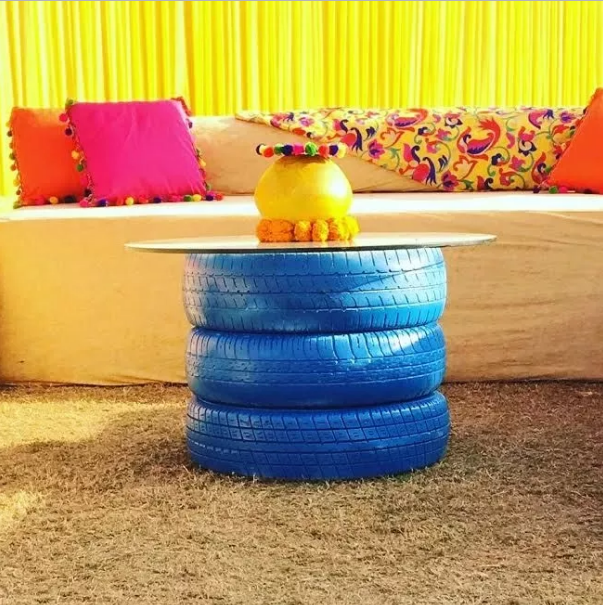 Image via The Event Yarn★ 5
A stack of painted tyres can easily be used to quirk up your wedding shenanigans, and these pictures are proof!
6. Or boxes for a rustic charm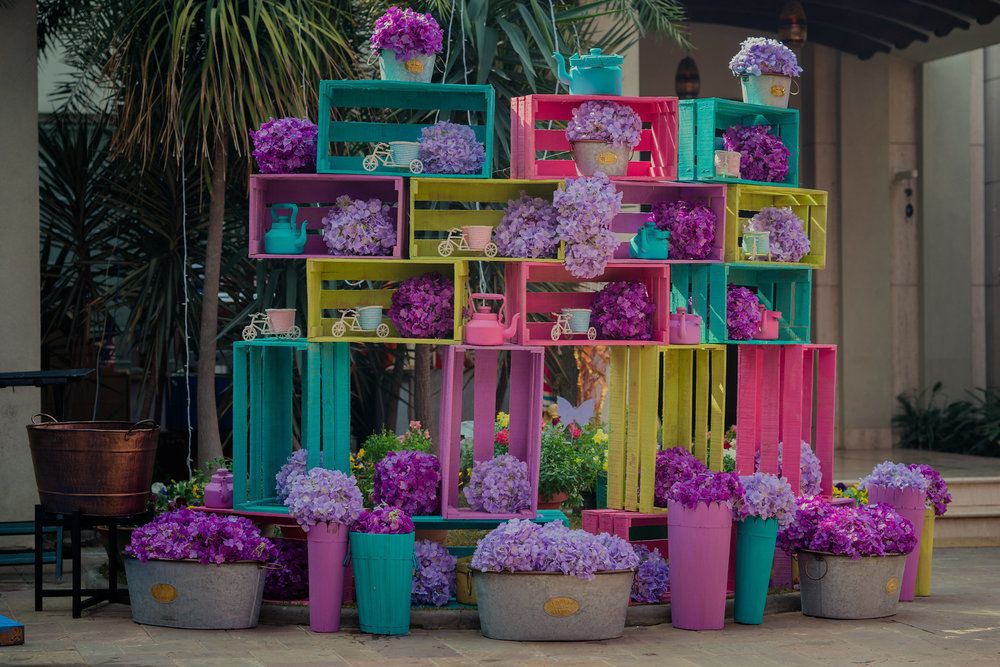 Image via Harman & Rajas
Intimate wedding decoration never looked this stunning! The pastel hues instantly tug at our heartstrings. You can amp it up with artificial flowers in your fav color to take the setup a notch higher. Add some cute little decorative pieces to make it look quirkier!
7. Give your guest room a makeover with colourful drapes & a bunch of fairylights!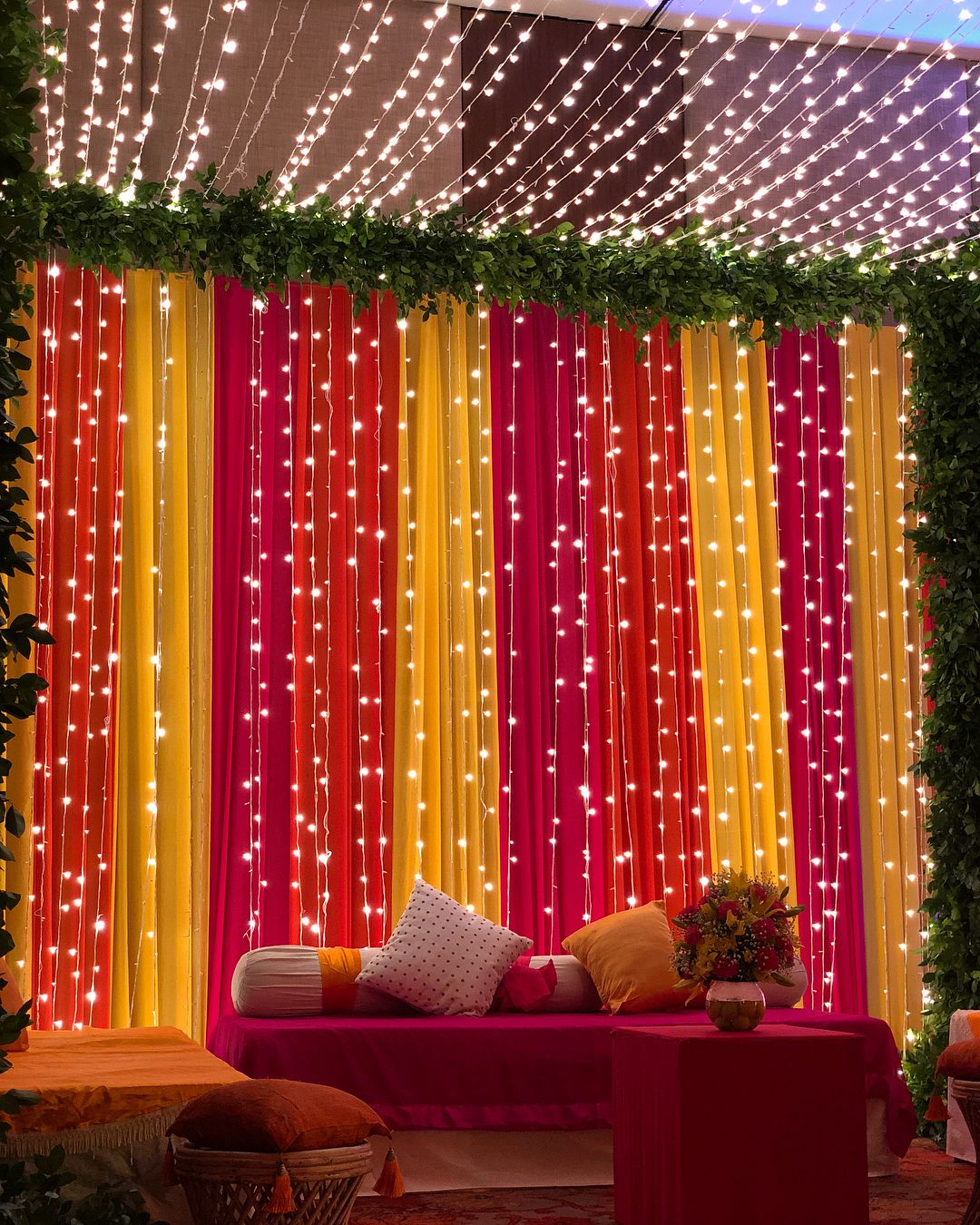 Image via Marigold Weddings★ 4.9
All you need is some colourful drapes and those twinkling fairy lights to turn the look of your backyard upside down! Something that looks closer to heaven.
Loved this? Then you might wanna give this DIY Roka Decor at Home too!
8. Bring out those paper fans & pinwheels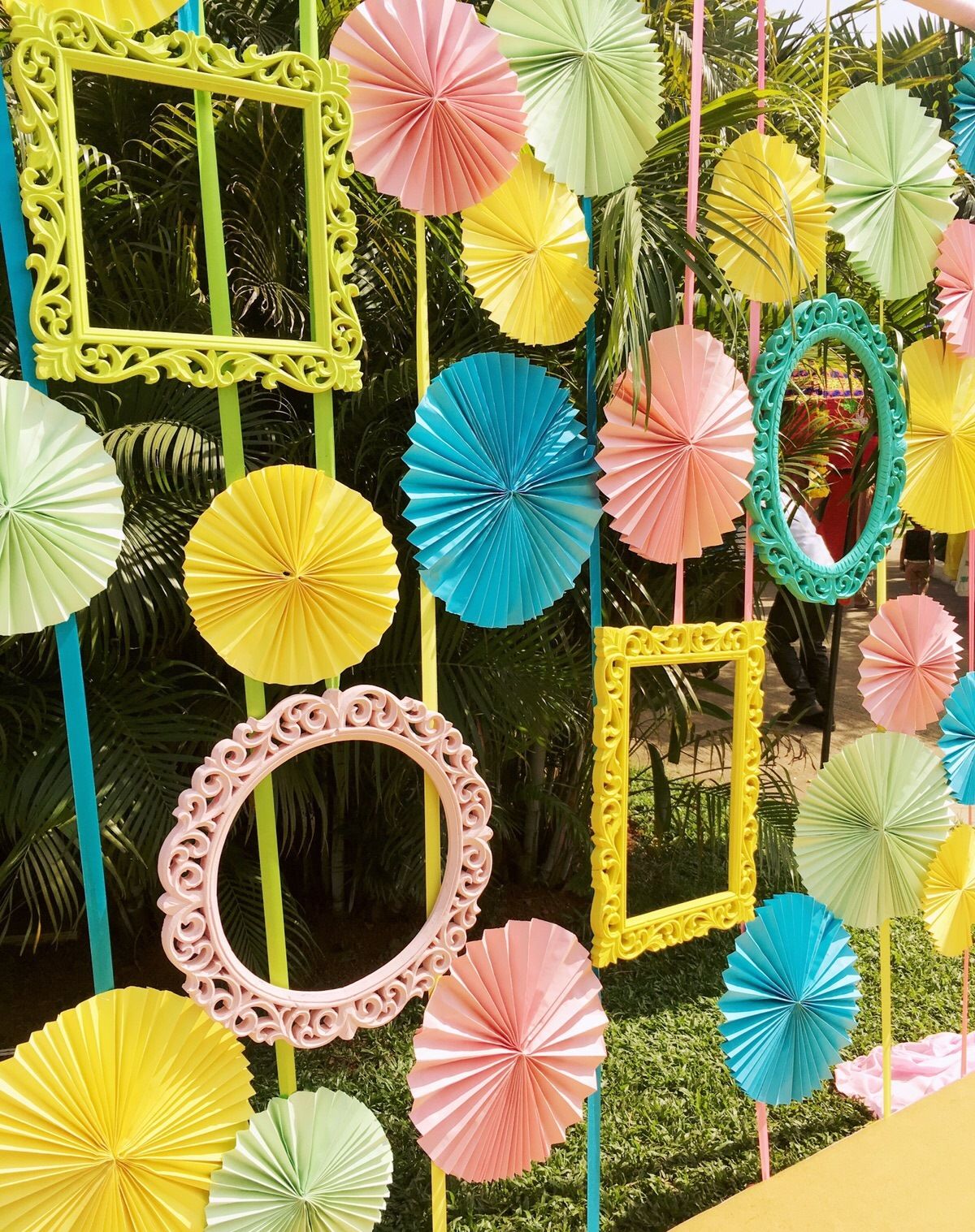 Image via Purple Tree Events Solution
These paper fans are the easiest to make and with the right colours contrasting, they look as cute and fab as ever! Make your Haldi or Mehendi a little more eventful by using such ideas for a home décor wedding!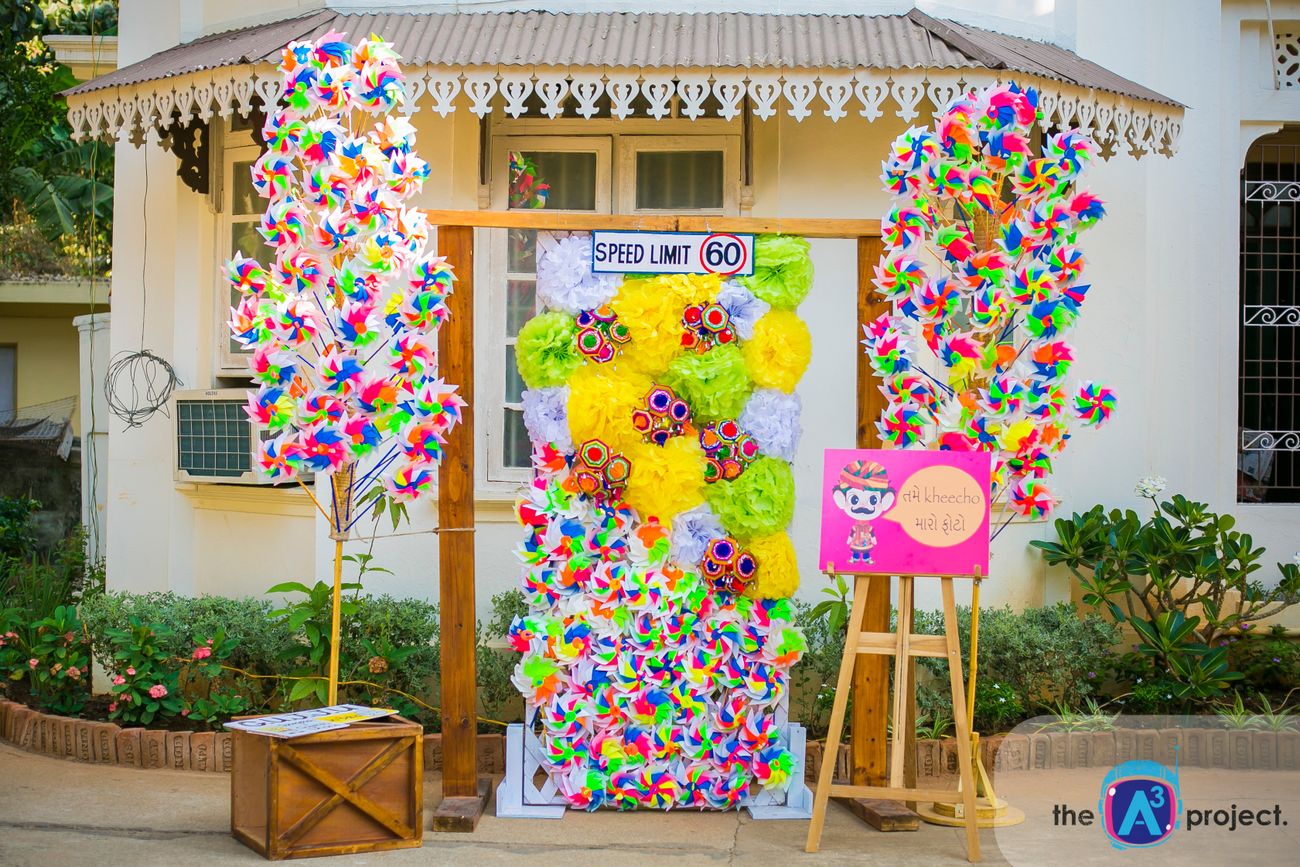 Image via The A-Cube Project
Trust us, this is by far the easiest way to add a pop of color to your intimate wedding decoration! The contrast of your simple outfits against the bold decor would look magical and might as well set a trend.
9. Create a beautiful backdrop with giant paper flowers!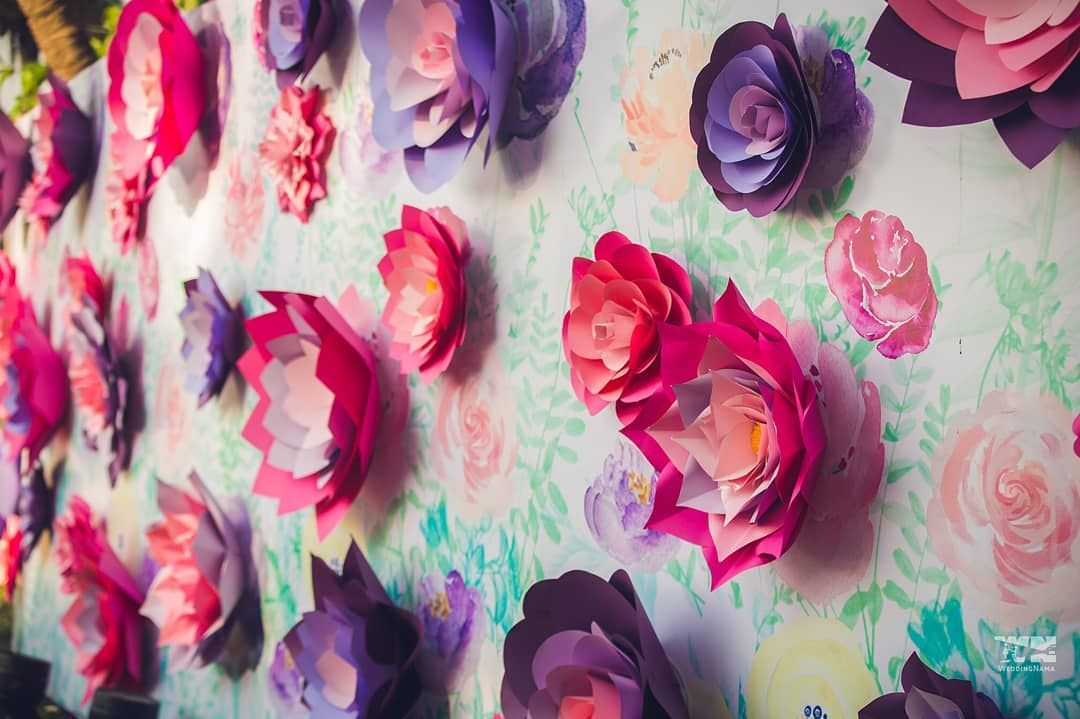 Image via Altair 
Get a little artsy and crafty using the perfect colours to match your vibe. These giant flowers are on the go and super trending! Something that is on the top of the home decoration ideas for a wedding.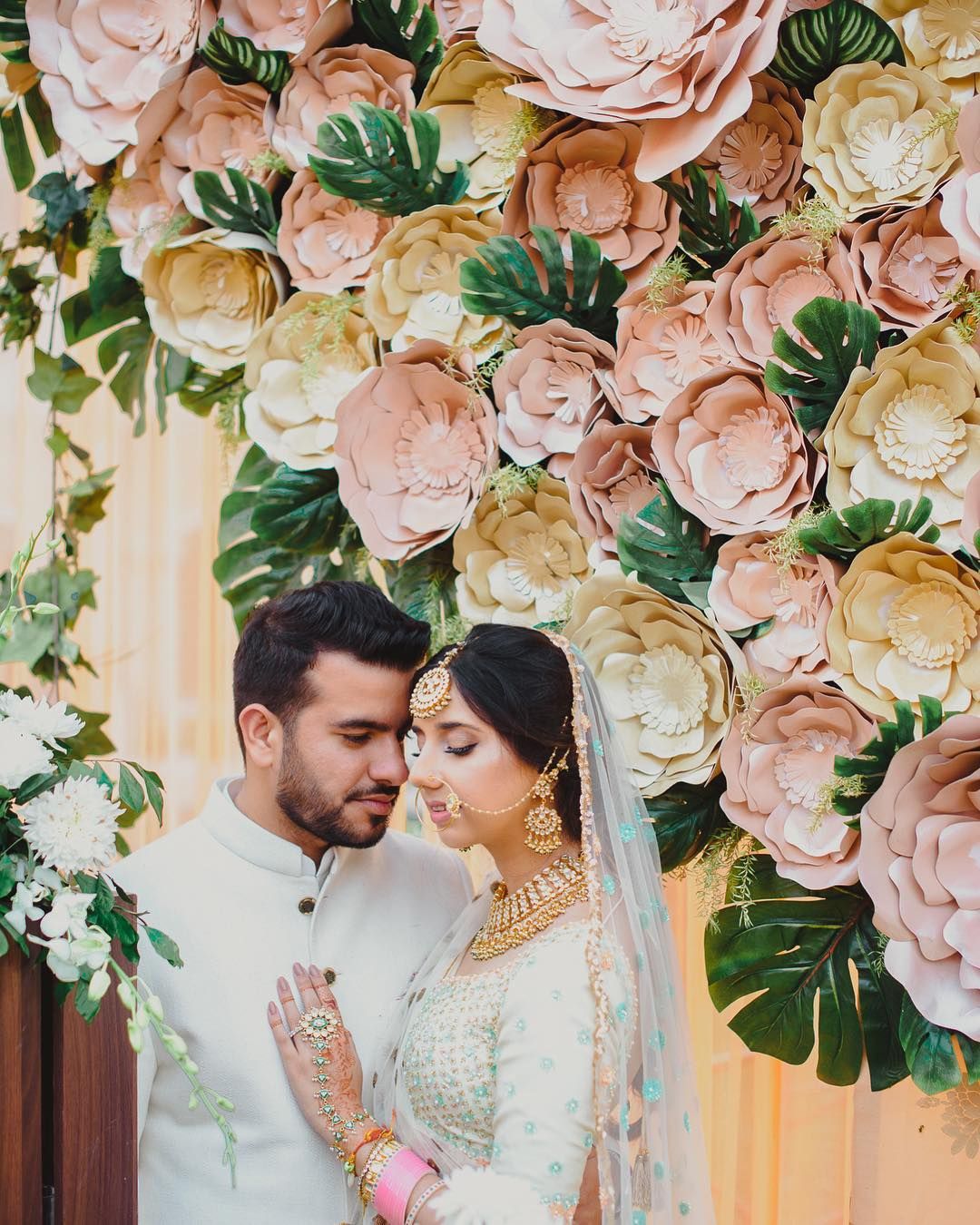 Image via Naman Verma Photography★ 4.9
Time to put those art and craft classes to some use! In case you've forgotten it, you will easily find tutorials on Youtube to create some amazing paper flowers. Take cues and get going!
10. Origamis can never go out of fashion! (PS. They are the easiset ones to make)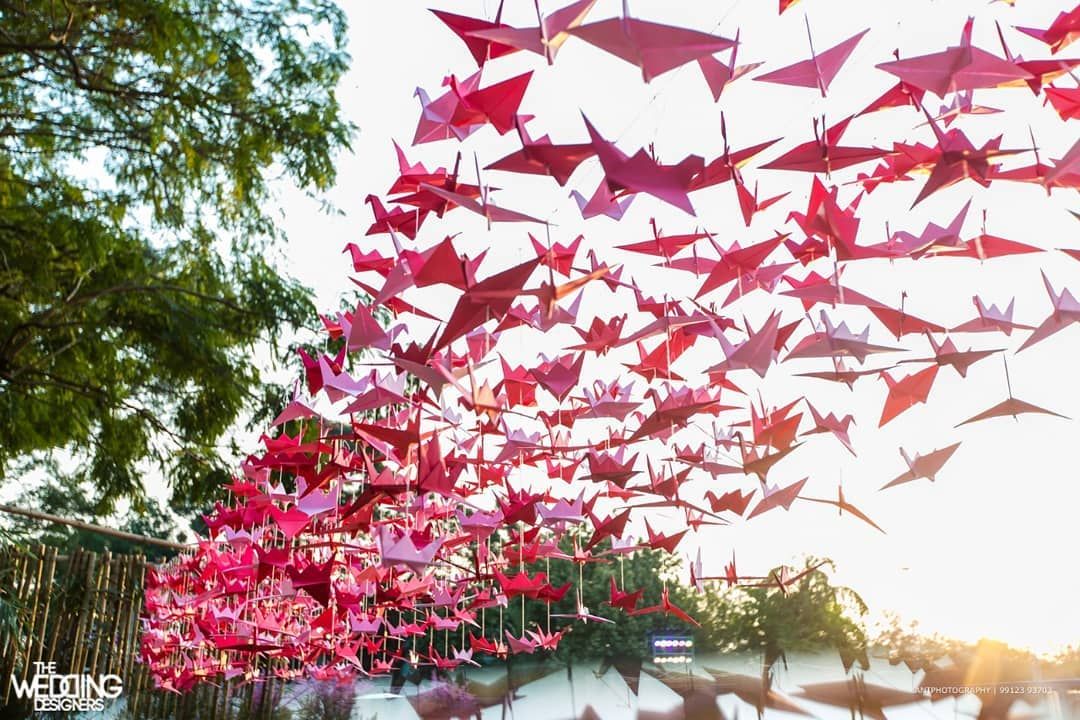 Image via The Wedding Designers★ 5
Run back to your childhood and use the origami skills in you to create beautiful hand decorations at home.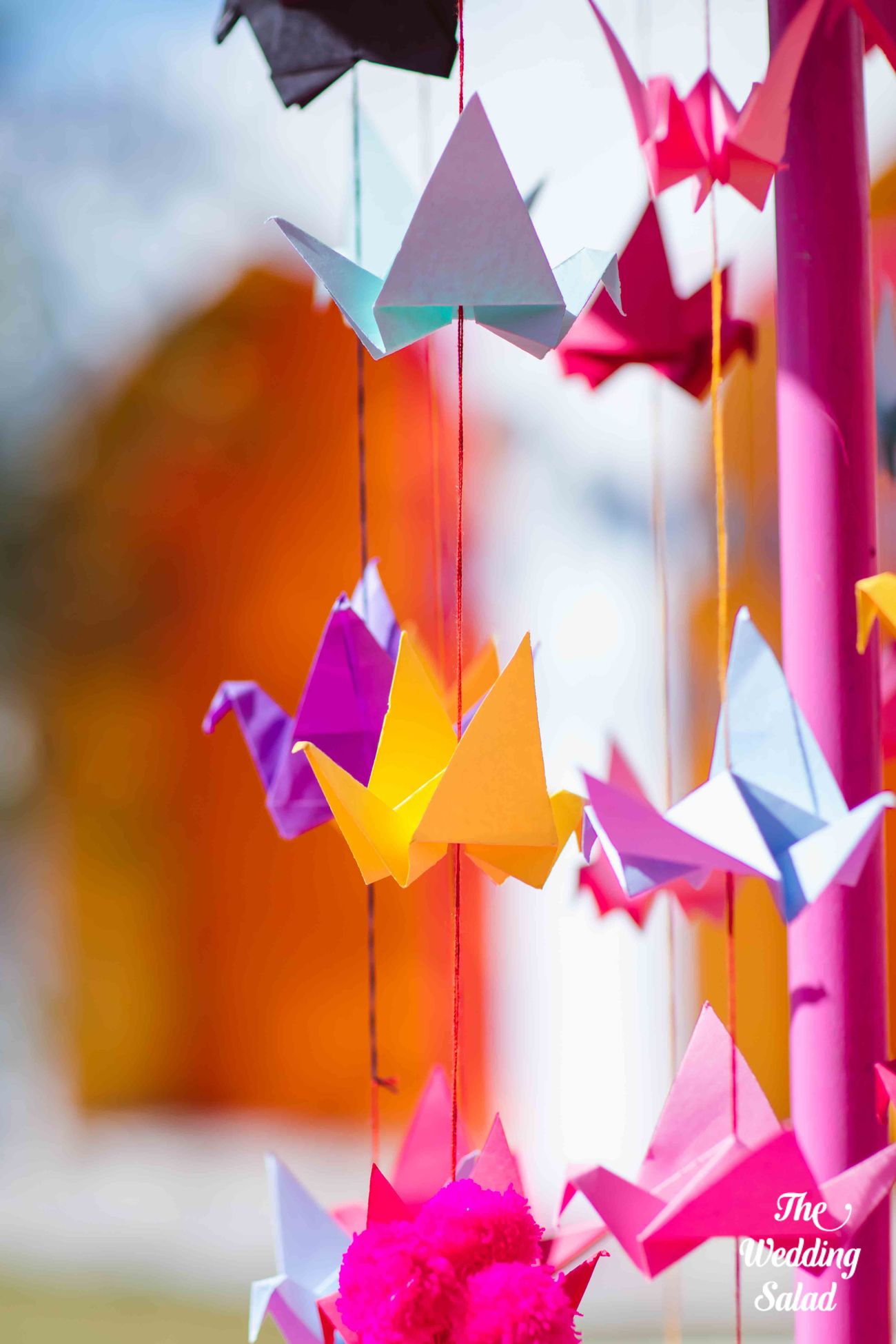 Image via The Wedding Salad★ 4.9
Pick glace papers in two colours and make paper cranes out of them. Sew them into threads and hang them around your house.
Want to get pro tips on how to DIY your wedding home decor? Hear it from the experts themselves!
11. Turn your mommy's old sarees into cushion covers for the seatings!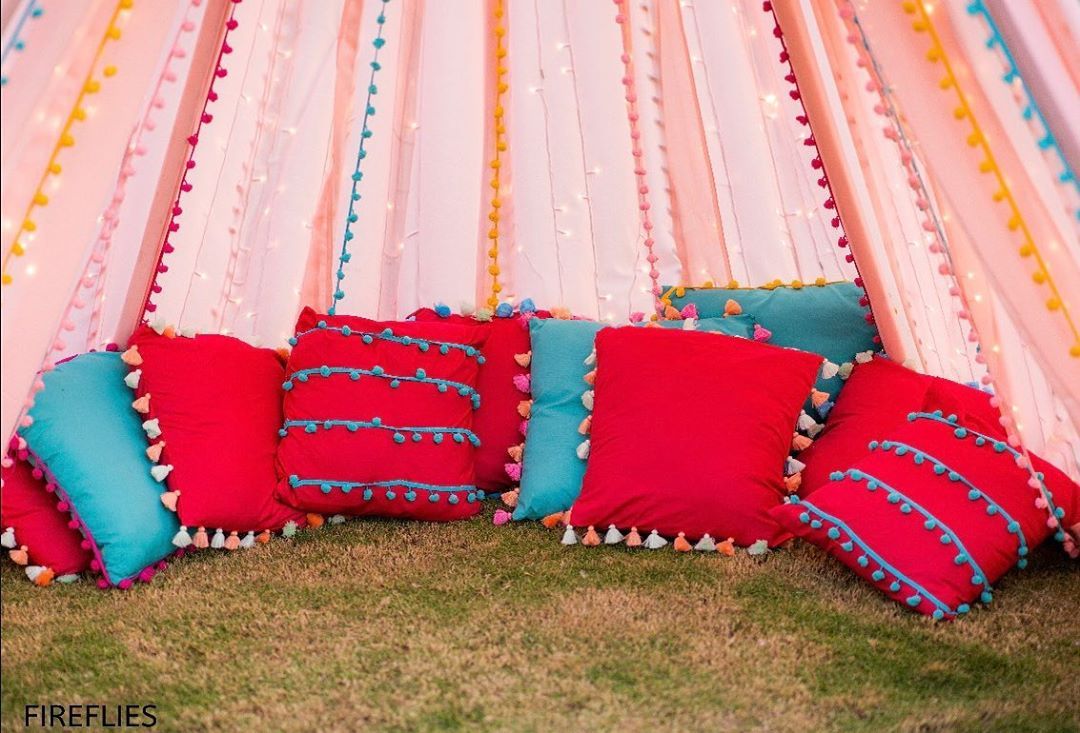 Image via FireFlies 
Why not add a little emotion to your décor? The best feeling is when you know there are sentiments attached and there is nothing better than using something which includes a mother, these solid based cushions are giving us major décor goals..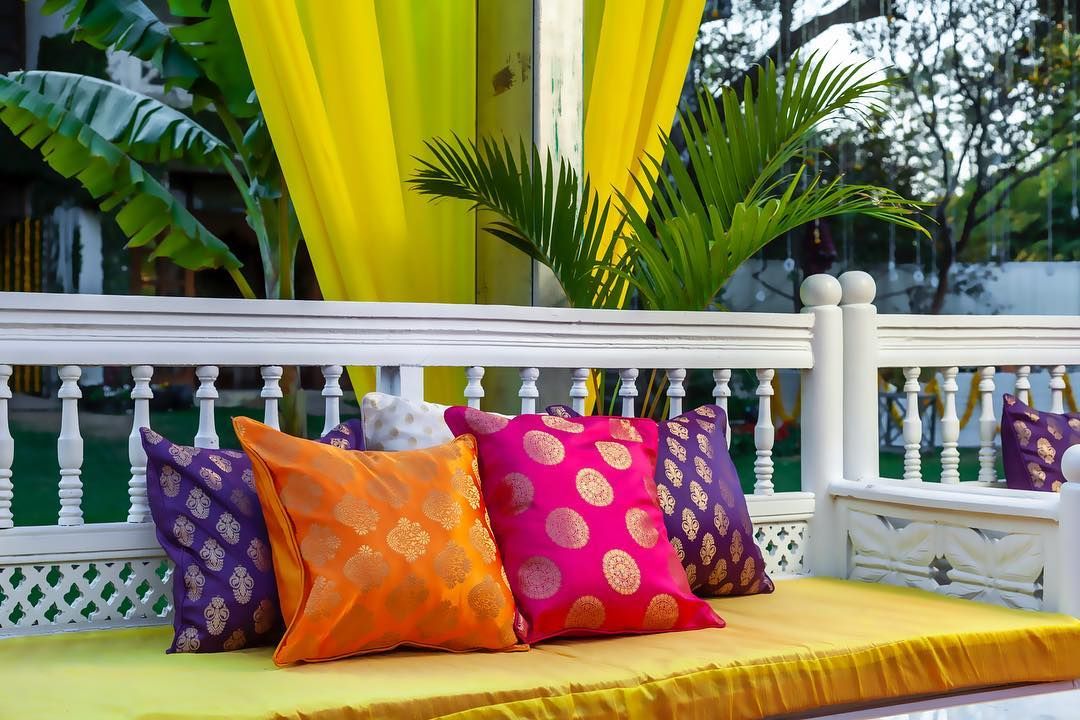 Image via Sepia Events★ 4.8
In case you are not too artsy, you can even perk up some readymade cushion covers with pompoms, laces or simply glue some sequins to it.
12. Add a Bohemian vibe with dreamcatchers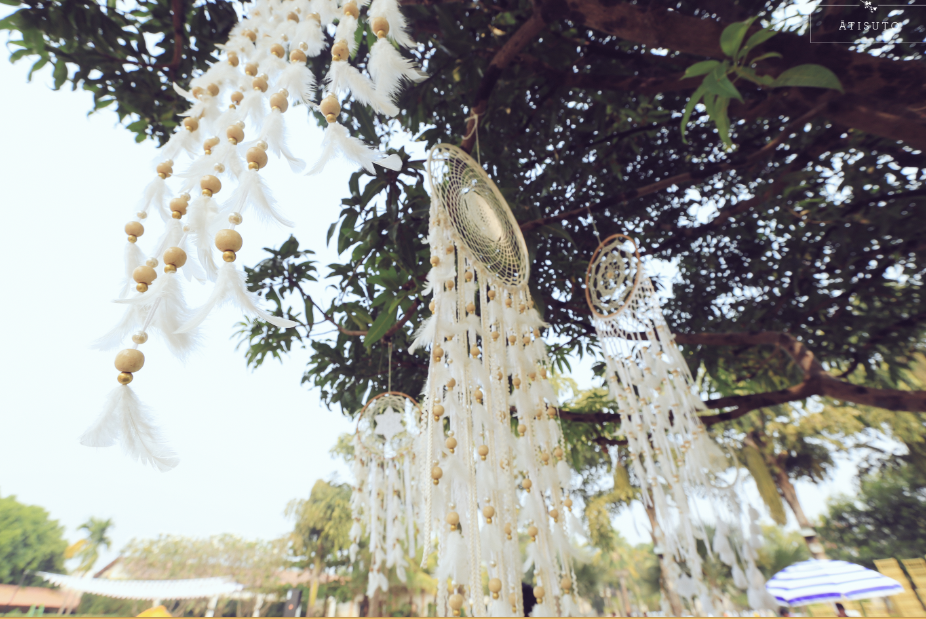 Image via Atisuto
Use dream catchers for your perfect dream wedding!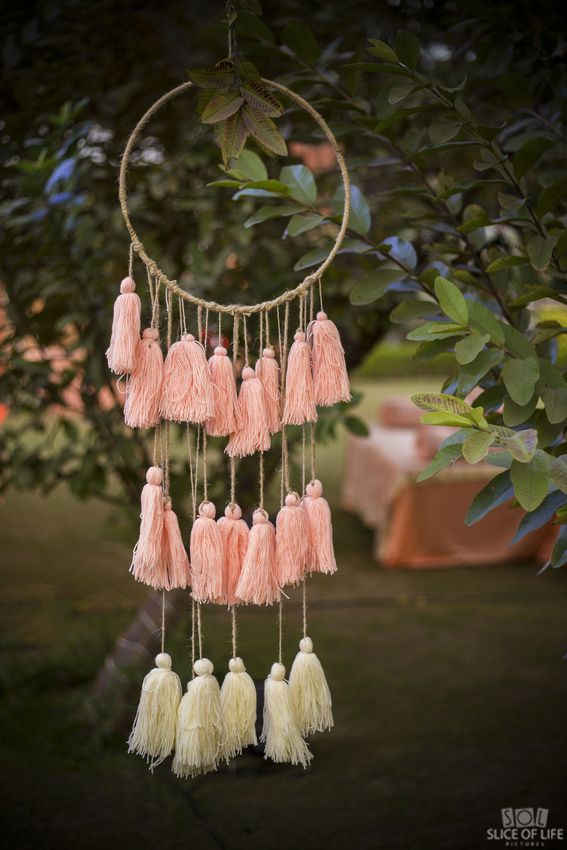 Image via Slice of Life Pictures
If you're planning a small intimate wedding in your garden, then you can just hang dreamcatchers to create a surreal space to tie the knot. They're easy to make & will look awesome at an outdoor decor.
13. Floral strings for the win!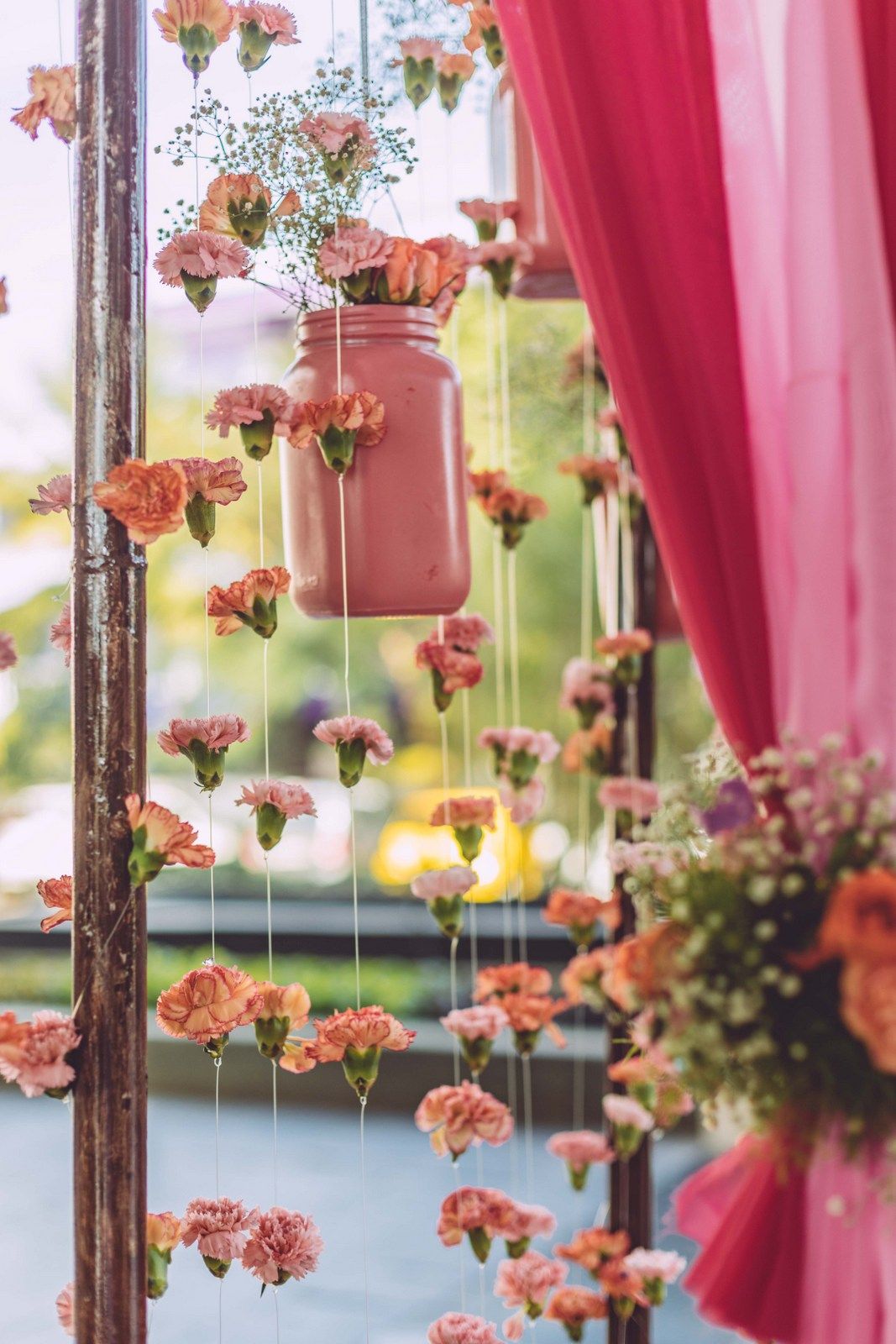 Image via Happy Shades
Simplicity at its best, a nice string of flowers can brighten up the room as it is!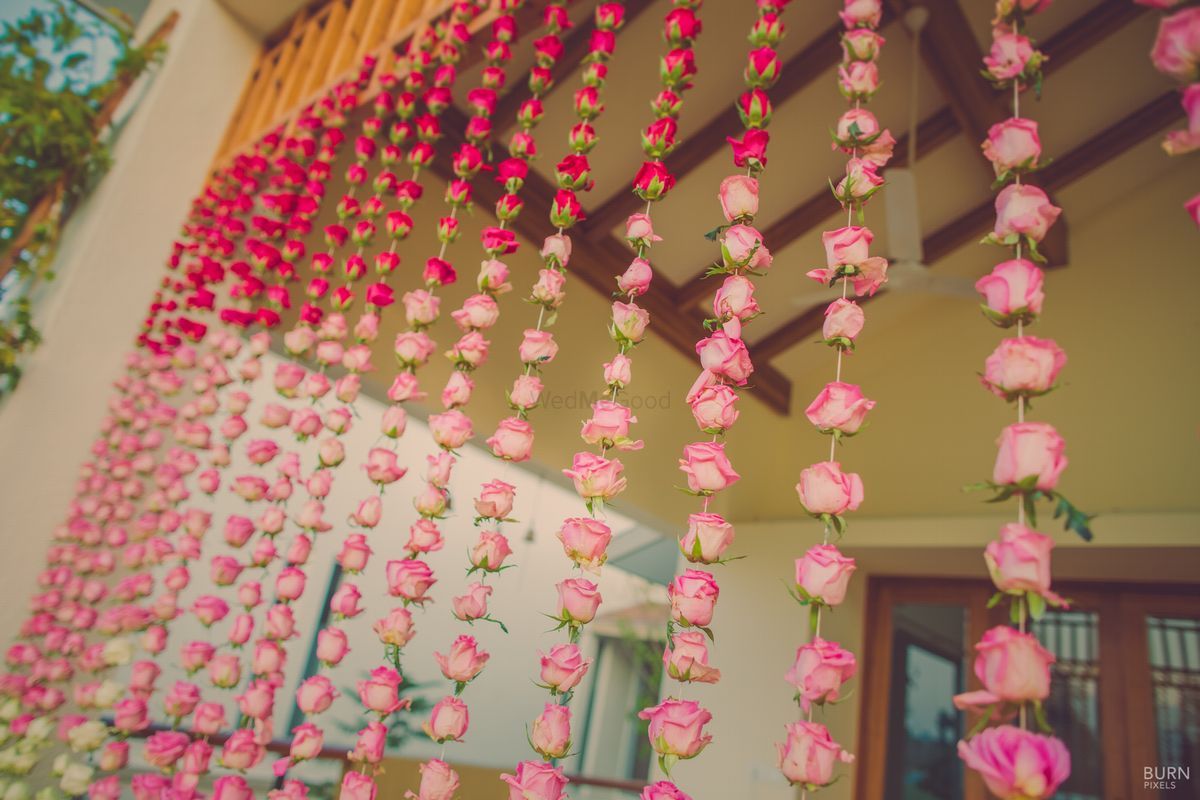 Image via Burn Pixels Photography★ 4.7
A handful of artificial flowers can help you add oodles of charm to your entrance decor! Just sew them into threads and hang them equidistant. They will have your guests smitten at the first glance.
14. Make a photo wall out of your mushy printables!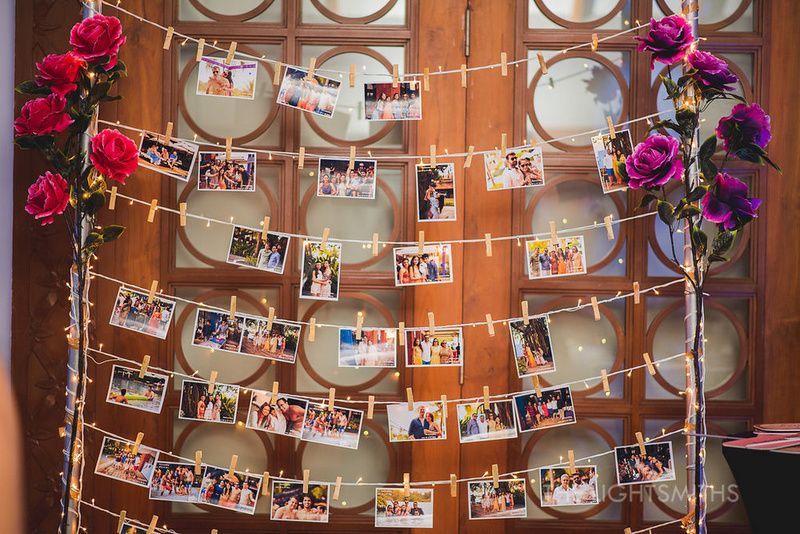 Image via The Lightsmiths★ 5
Another way you can take your home wedding decor a notch up is by putting up a self-curated photo wall of all the sweet memories you two have made till date. Something to be cherished forever, this makes it a perfect home decoration idea for a wedding.
15. How about Paper lanterns to add a hint of quirkiness?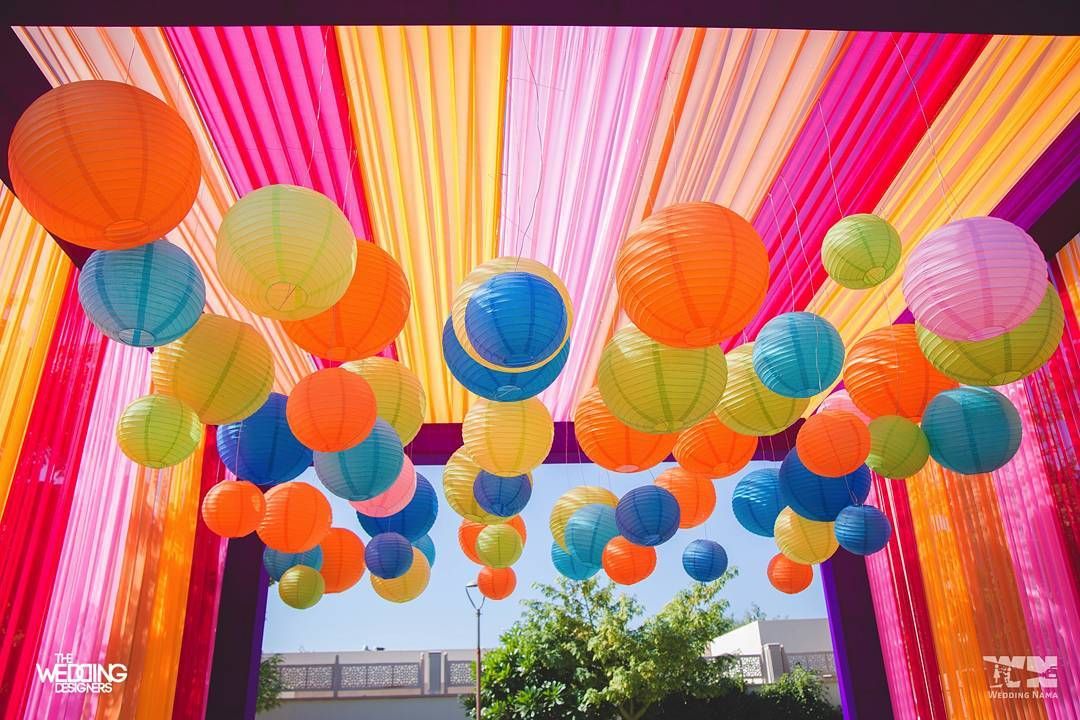 Image via The Wedding Designers★ 5
Don't we all love how pretty these ball-like structures look? Especially when in drenched in such vivid hues! You can definitely consider them for your intimate wedding decor.
16. Use tea cups and mason jars to create quirky table centrpieces!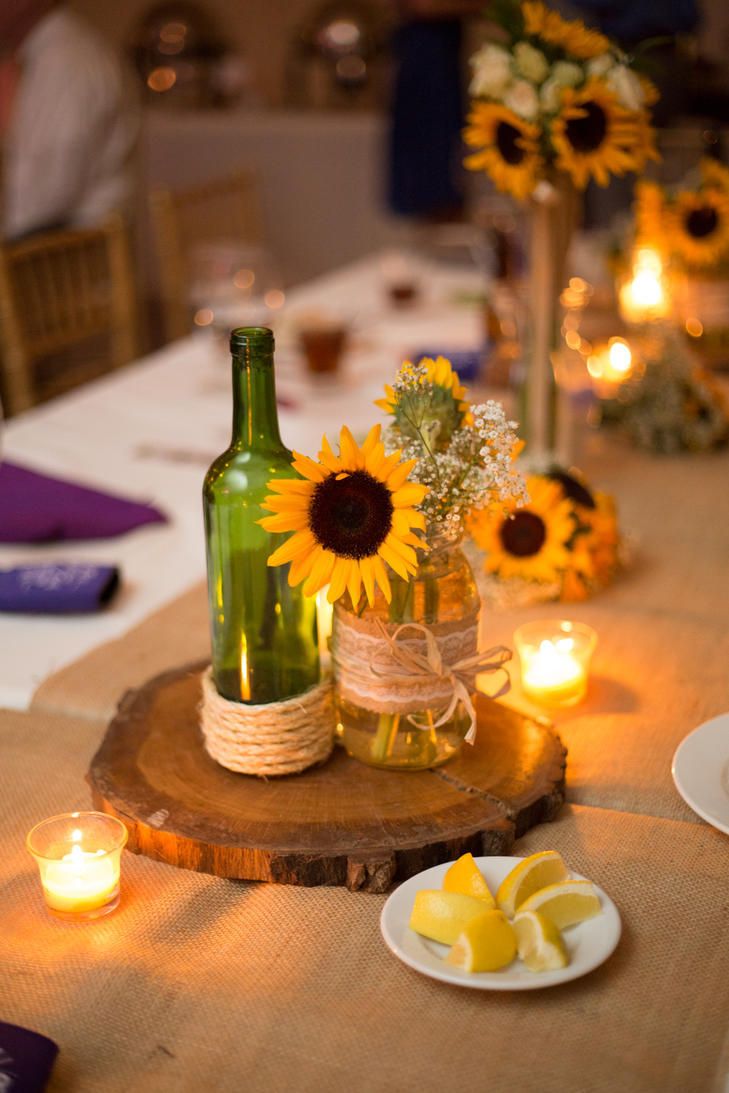 Image via Pinterest
Drink up and use those bottles as well as a suitable decorative piece!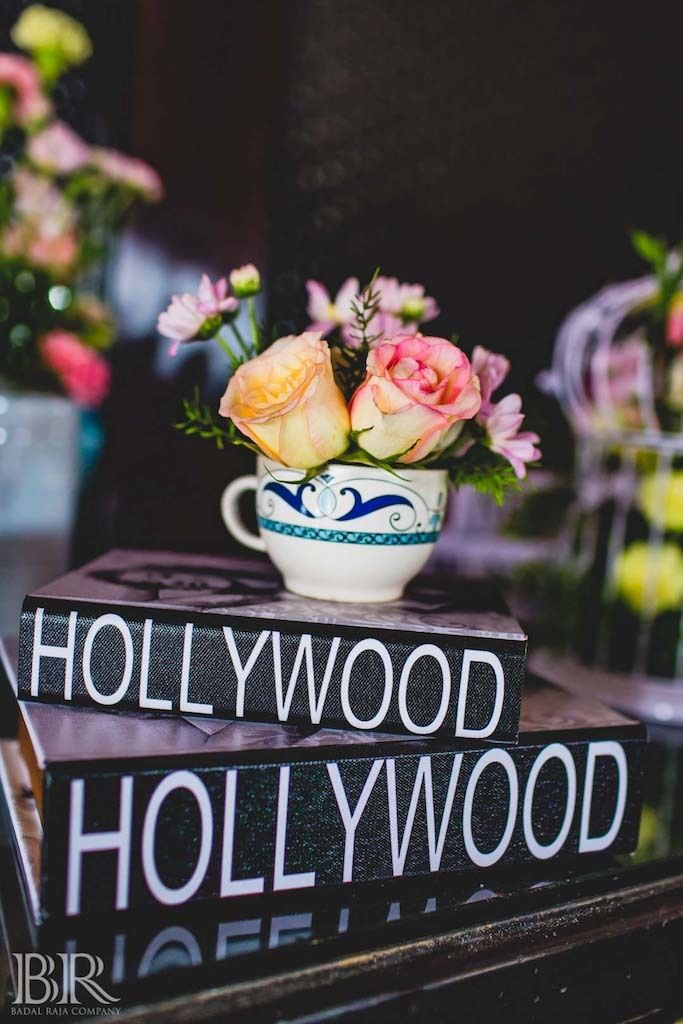 Image via Badal Raja Company★ 4.4
Why splurge mindlessly when you can easily pick some decor elements straight out of your kitchens! Plus, use them innovatively to do your table settings. 
17. Suspended glass bottles for a fun photobooth!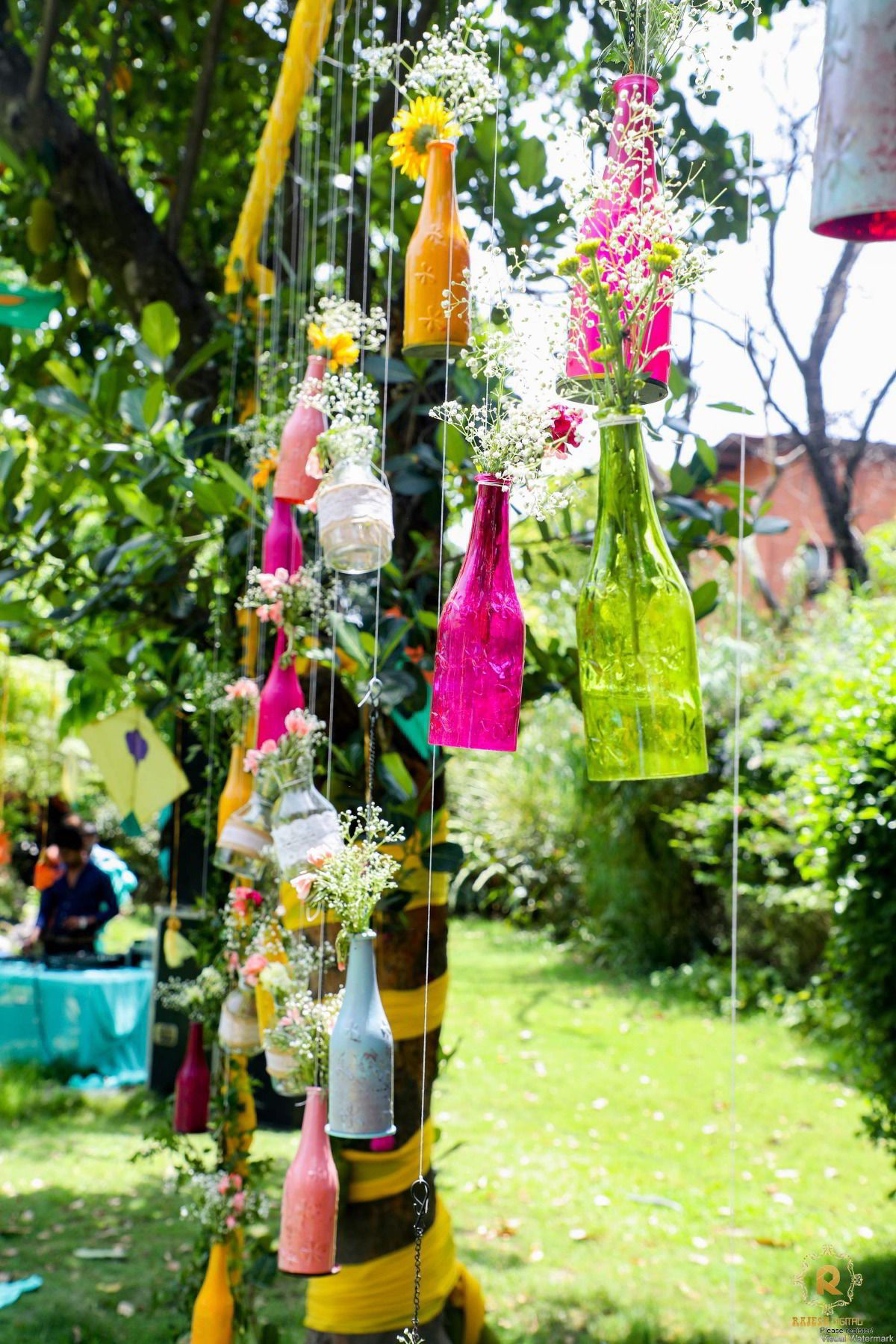 Image via Hyacinth Event Planner
How can you miss out on your photobooth? Glass bottles filled with fresh flowers always work wonders. Check this out for yourself!  
18. Sometimes a bunch of candles can do all the magic!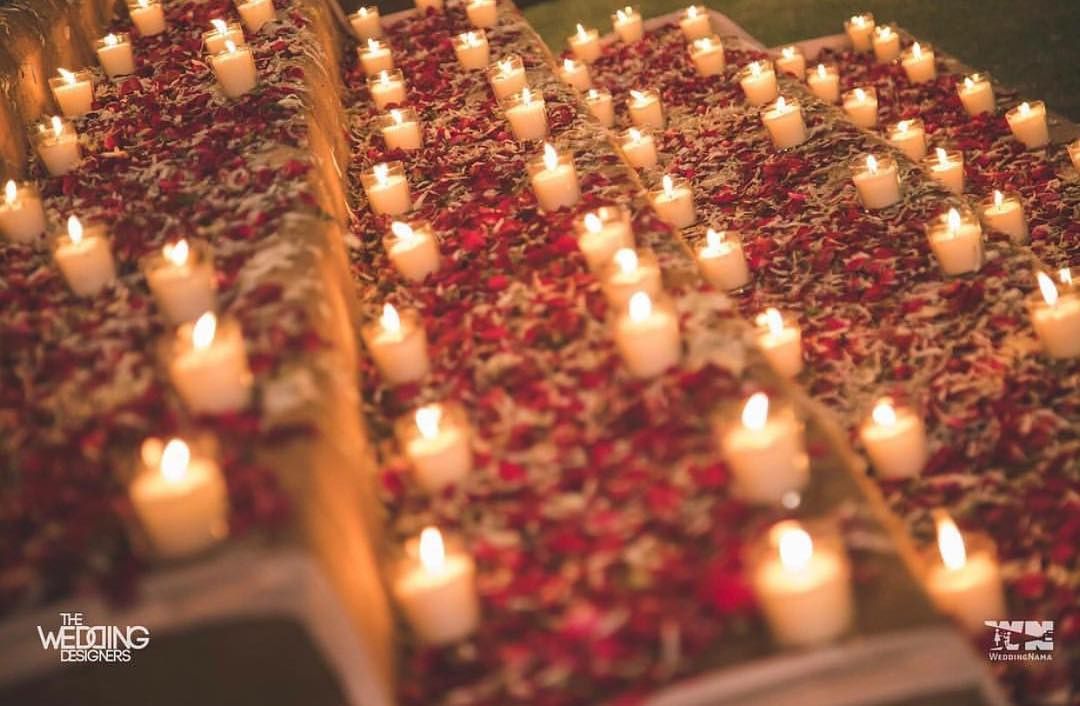 Image via The Wedding Designers★ 5
Just place it, light it and experience a floor full of stars!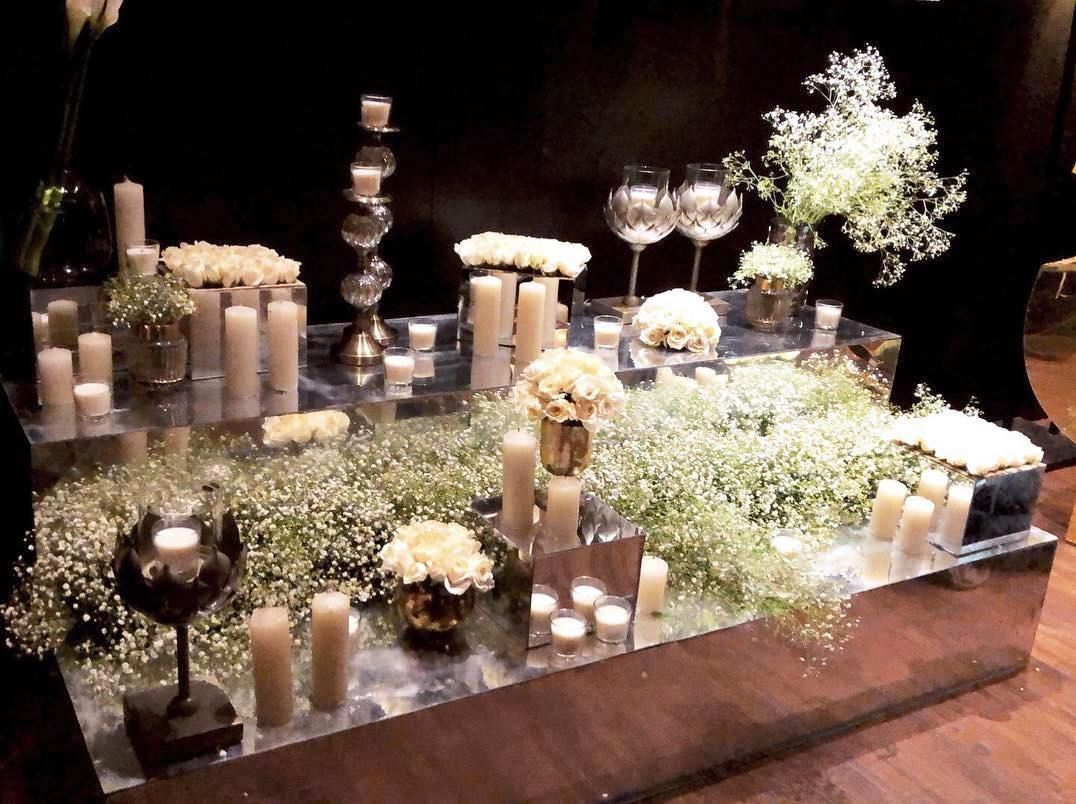 Image via Dreamzkraft★ 4.2
Trim every nook and corner of your house with these beauties to brighten up your wedding shenanigans.
19. Time to use the natural greens & ever-blooming flowers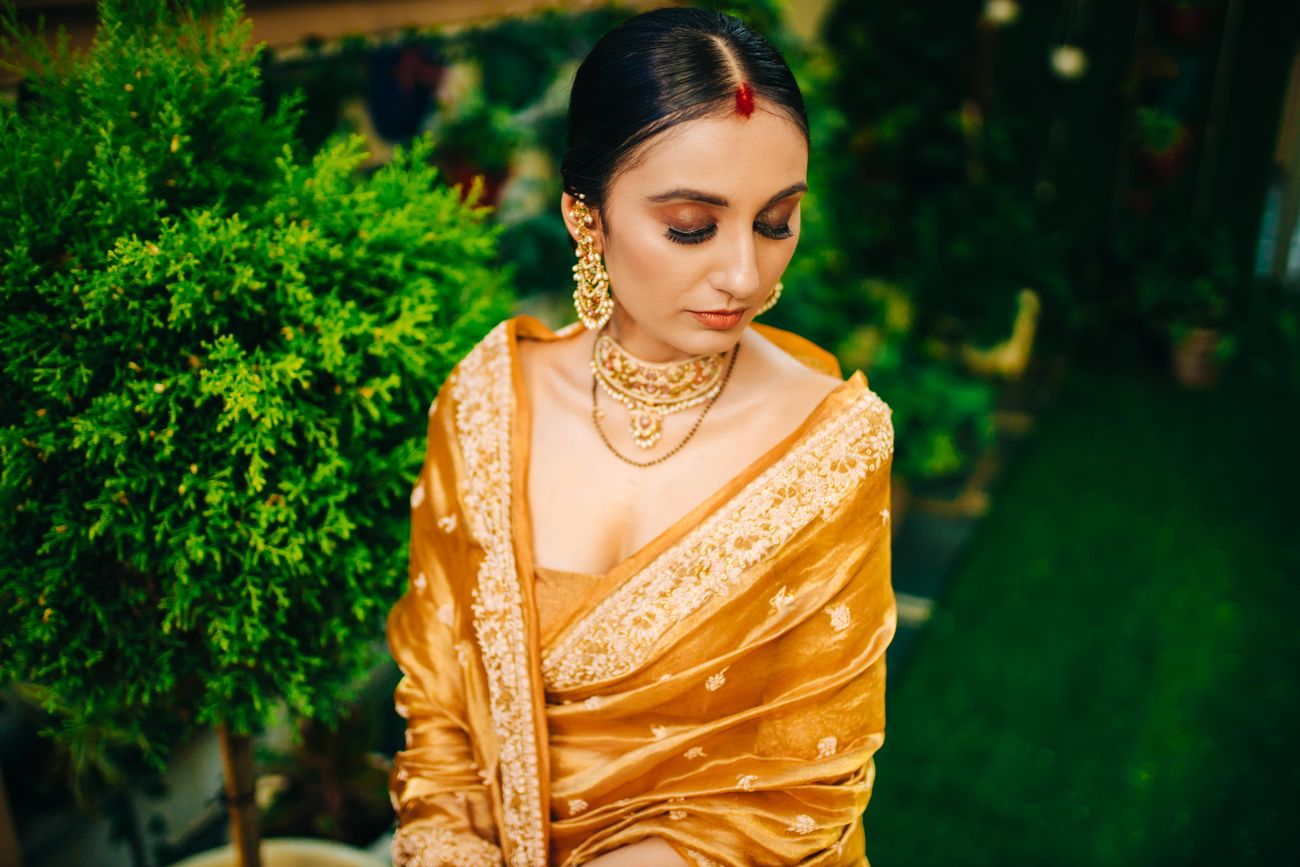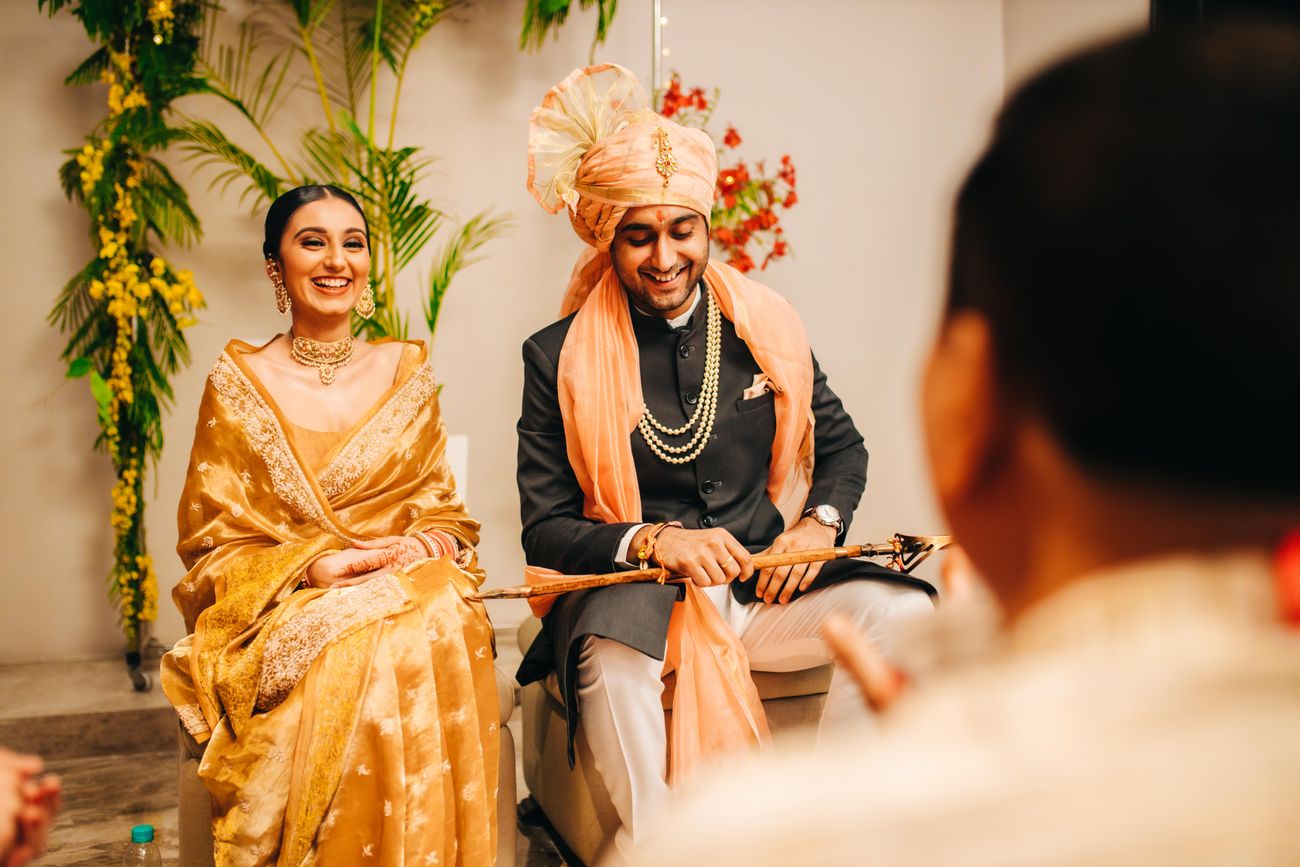 Image via Megha & Tushar
For now, doing an intimate wedding ceremony decor calls for using makeshift materials and the ever-blooming greens/flowers, that are easily available. Cut off spring flowers from the trees around your house, and use them for simple wedding decorations for your house. Plants work as a beautiful backdrop too!
20. Make it LIT with candles, instead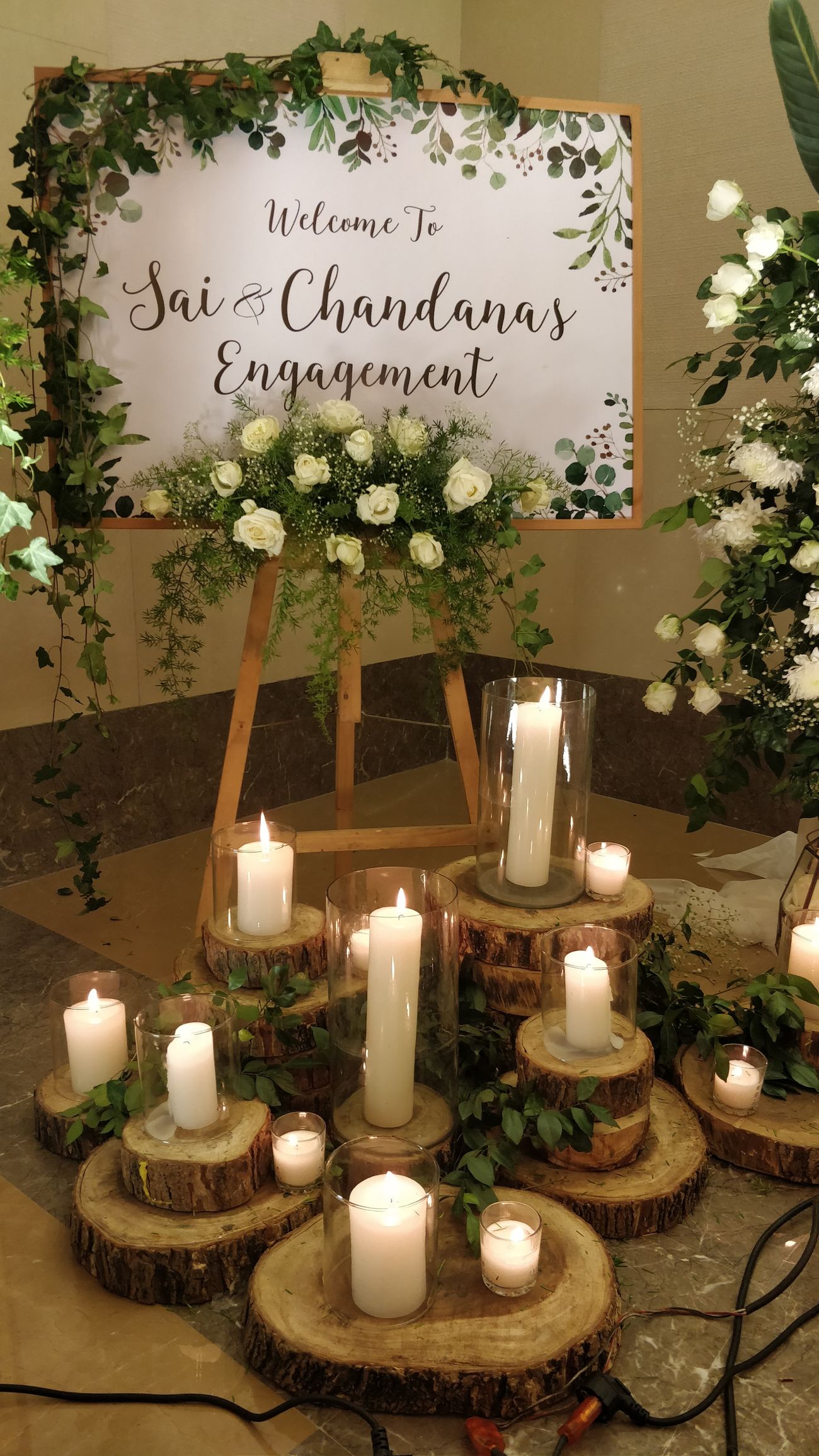 Image via The Partywaala
A corner full of candles is way better than whatsoever, creates moments, and brings calm and peace in between all the madness and the fun..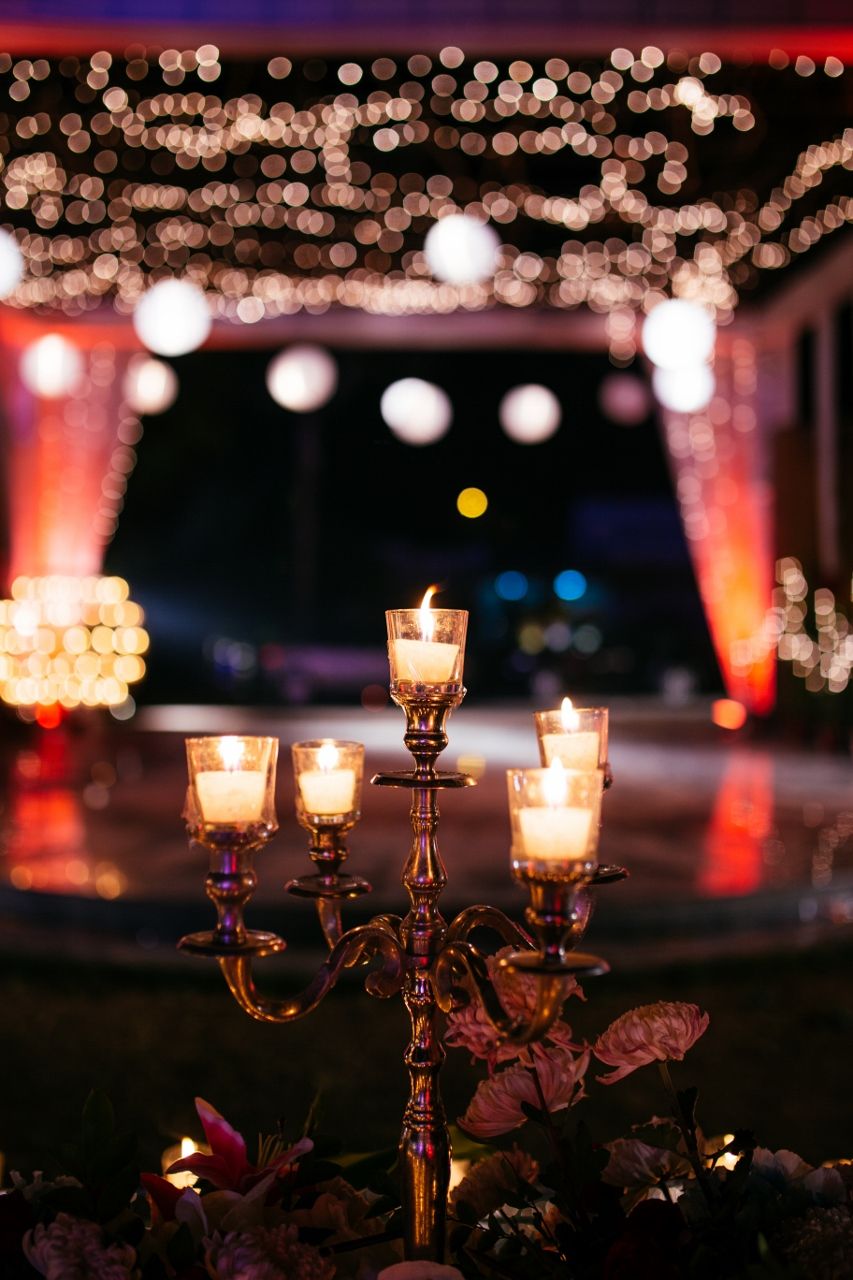 Image via Beginnings For You
We feel candles are the most underrated elements when it comes wedding decor. A whole lot of positive points might have convinced you to add them in your wedding decoration ideas. And now, it's time for you to explore the most of it for the marriage home decoration!
21. Home's got the best comfort, so why not do something life changing in the most comfortable environment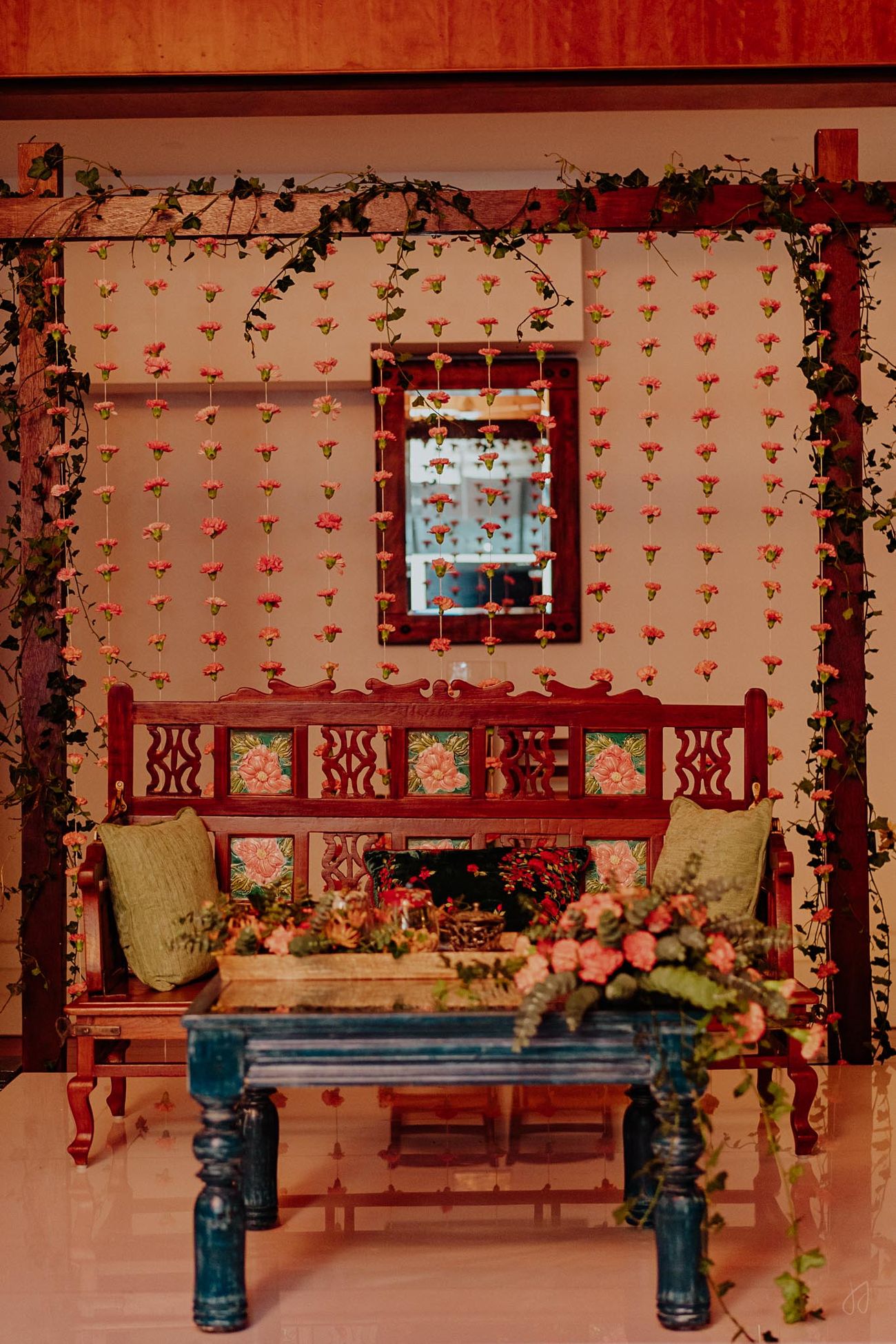 Image via: Jackson James Photography★ 4.6
Decorate and transform your living room into the best marriage decoration stage. Place some exotic flowers, use a wooden sofa bench with strings of flowers as a background. To give it a more natural vibe you can use leaves as creepers around the frame. So floral, thus absolutely beautiful.
22. Colorful pom pom decor for your mehendi!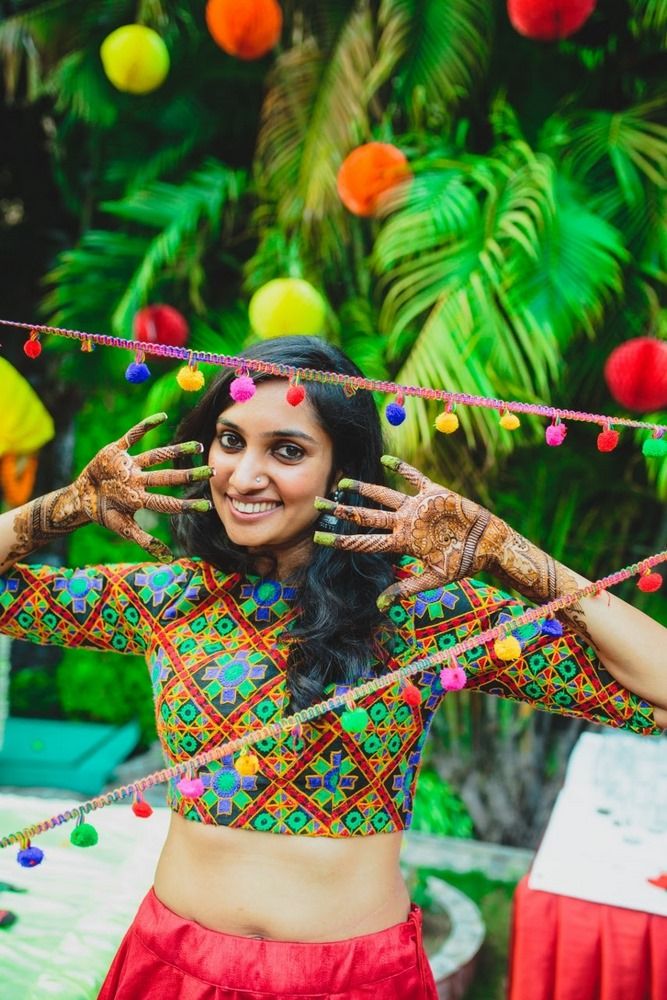 Image via: Memory Lanes Productions (SumanChakri Photography)★ 5
We are loving this low key mehendi decor idea which is full of greens and rest all the colours. All you need is different sizes of pom poms to be placed indifferently and string of the same. Nothing simple can match up to the colours you will bring this way with your wedding ideas for decoration. Do no more!
23. Have an open verandah? Why not consider it as a perk?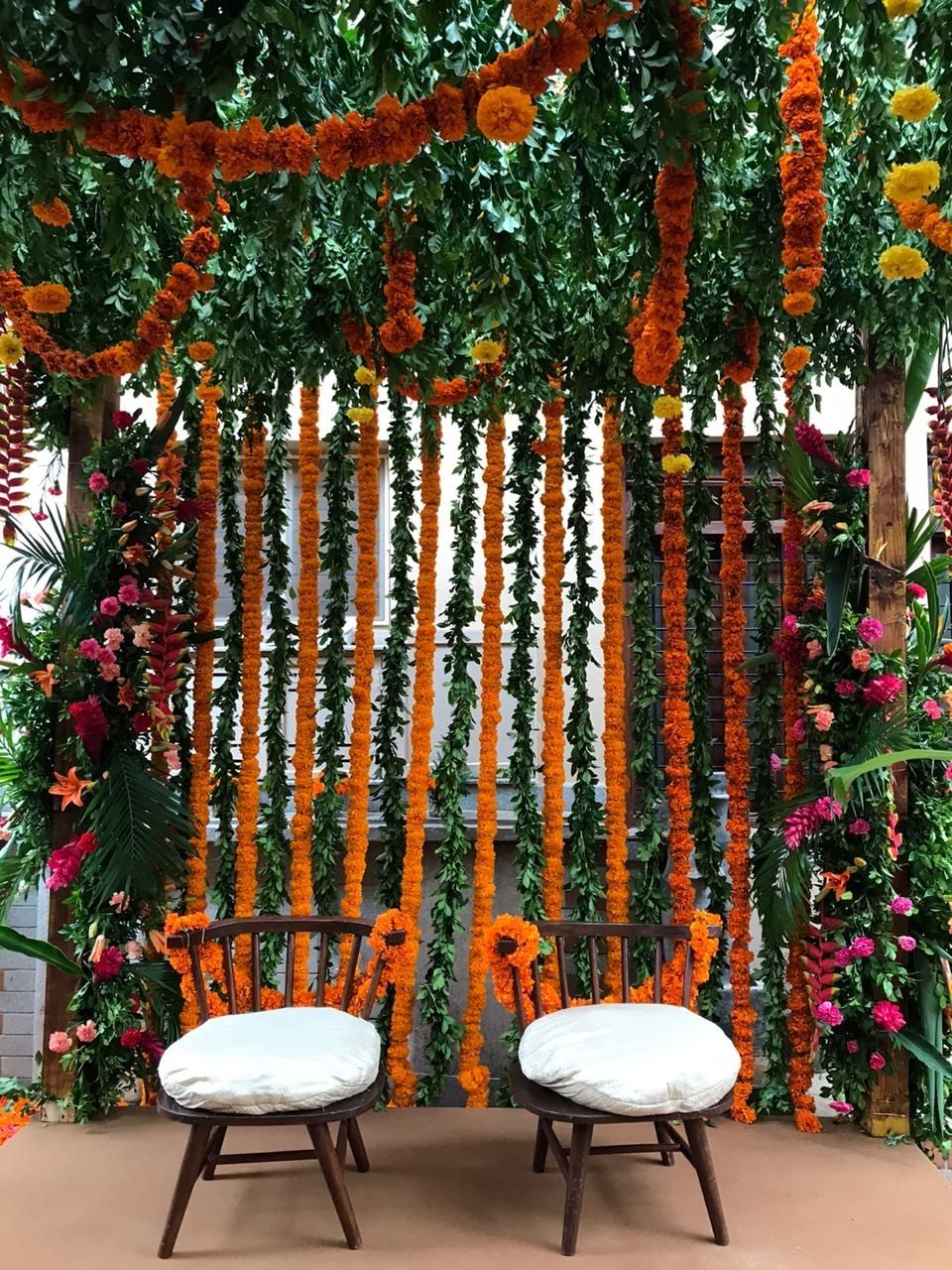 Image via: Just Rajanish Fusion Flowers★ 4.9
Use nature and greenery as your main source of decor as much as you can to save some of that hard earned money. Equivalent to the artificial decor used. This image of wedding decoration ideas is giving you some major inspiration to stay under the shell. Just add those classic genda phool to your nature loving basket.
24. Trendsetter tropical theme centrepiece with pineapple and flowers all over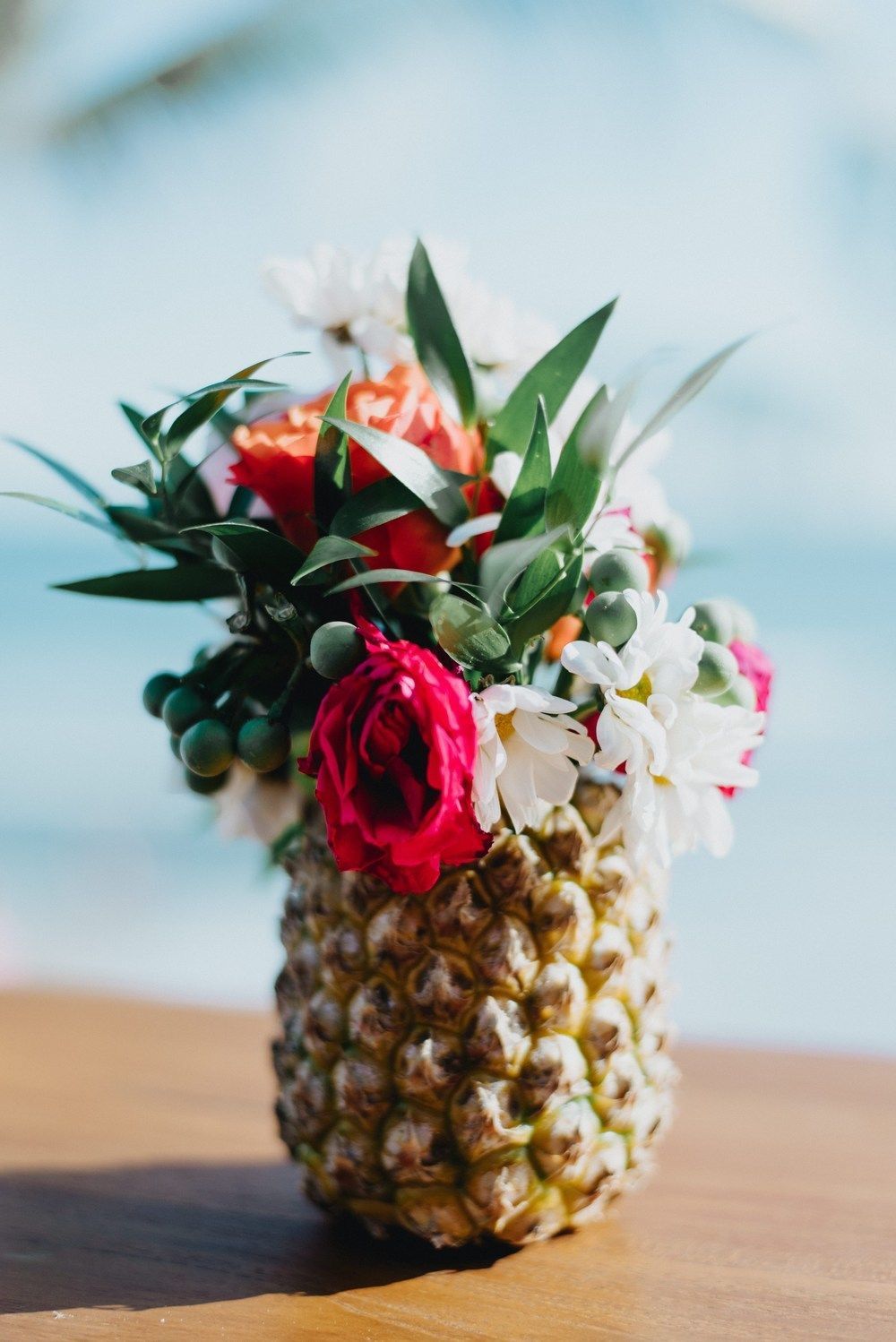 Image via: Terralogical
This can be excellent if you are a sustainable freak and otherwise as well. All you have got to do is ask your juice waale bhaiya's to save some pineapples for you, and from the look of it either pluck your flowers or book the bhaiya nearby your place. Totally in love with these cute wedding decoration ideas.
25. Ask all your guests to get nostalgic about school and go old school with your wedding ideas for decoration.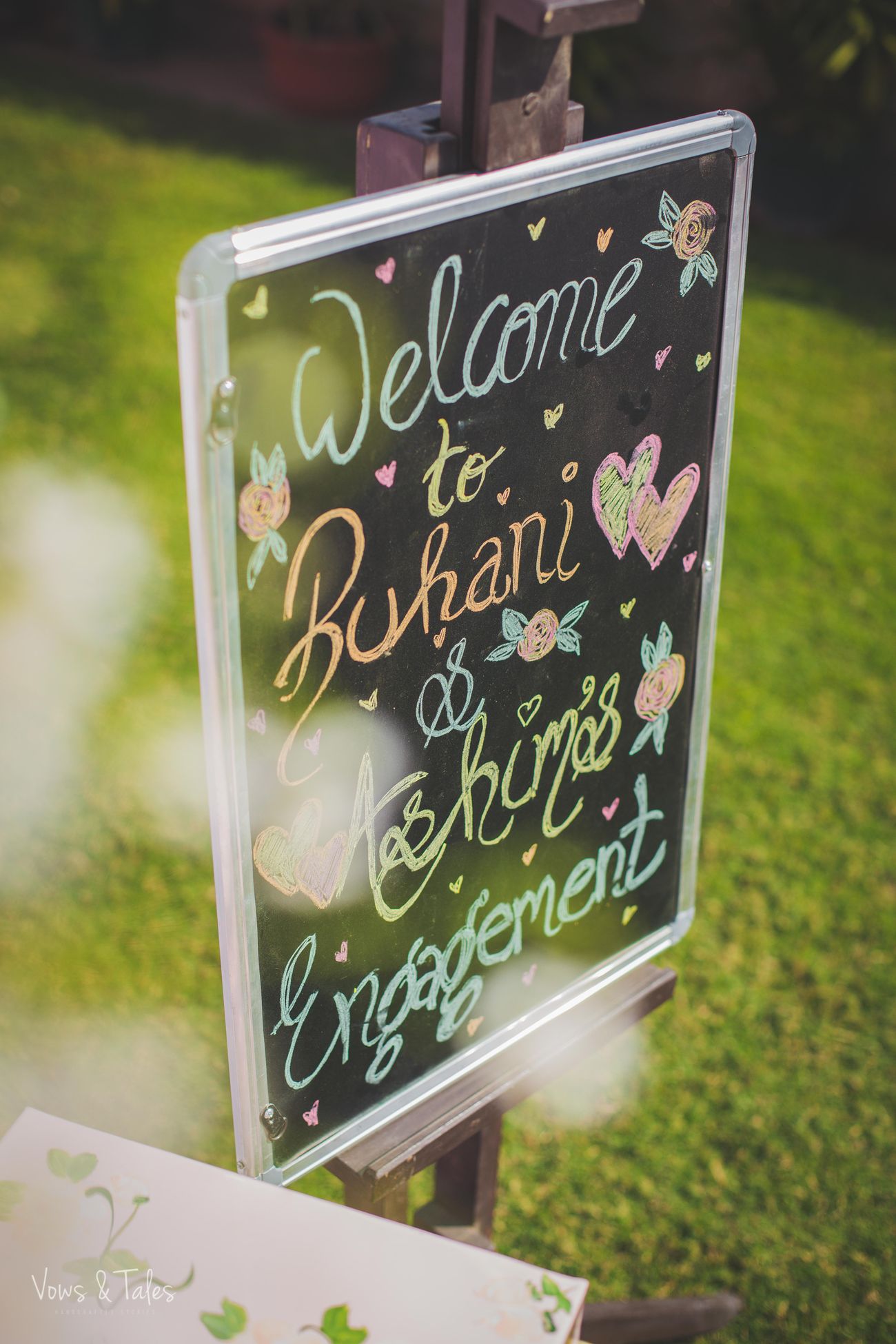 Image via: Vows & Tales★ 5
Welcome your guests with these welcome state boards that every kid wishes to have. No pressure, decorate or doodle as much as you feel like. Really special yet so personal and emotional for the guests!
26. Say no more, this minimal hanging bulbs decor is charming its way through simplicity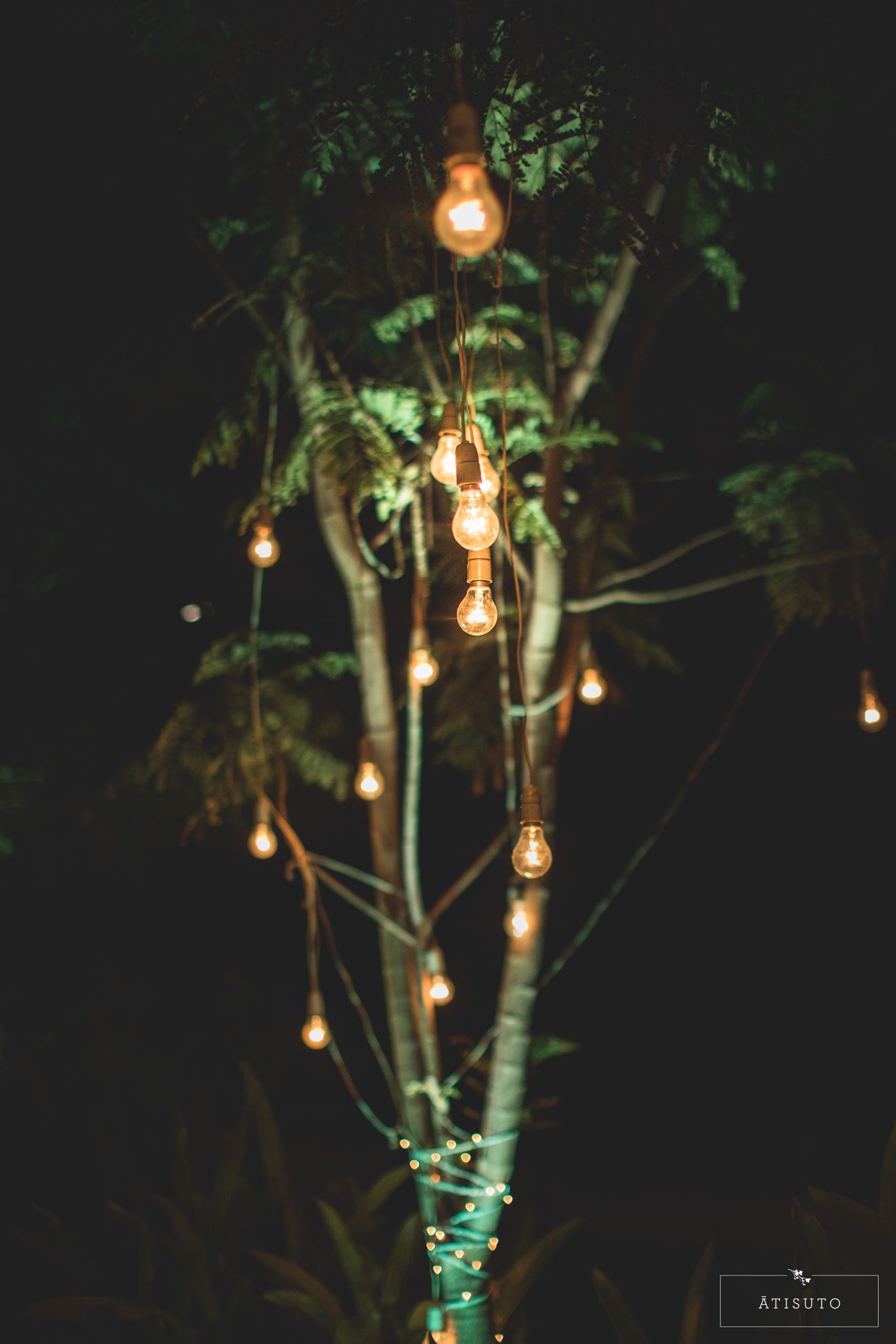 Image via: Atisuto★ 4.6
Starry lights...literally. Create that romantic vibe for your loved one with this DIY wedding decoration idea. All you need are some bulbs and a perfect tree to hang it up with.
27. Traditional decor is still very much in trend and can be absolutely used in DIY wedding ideas for decoration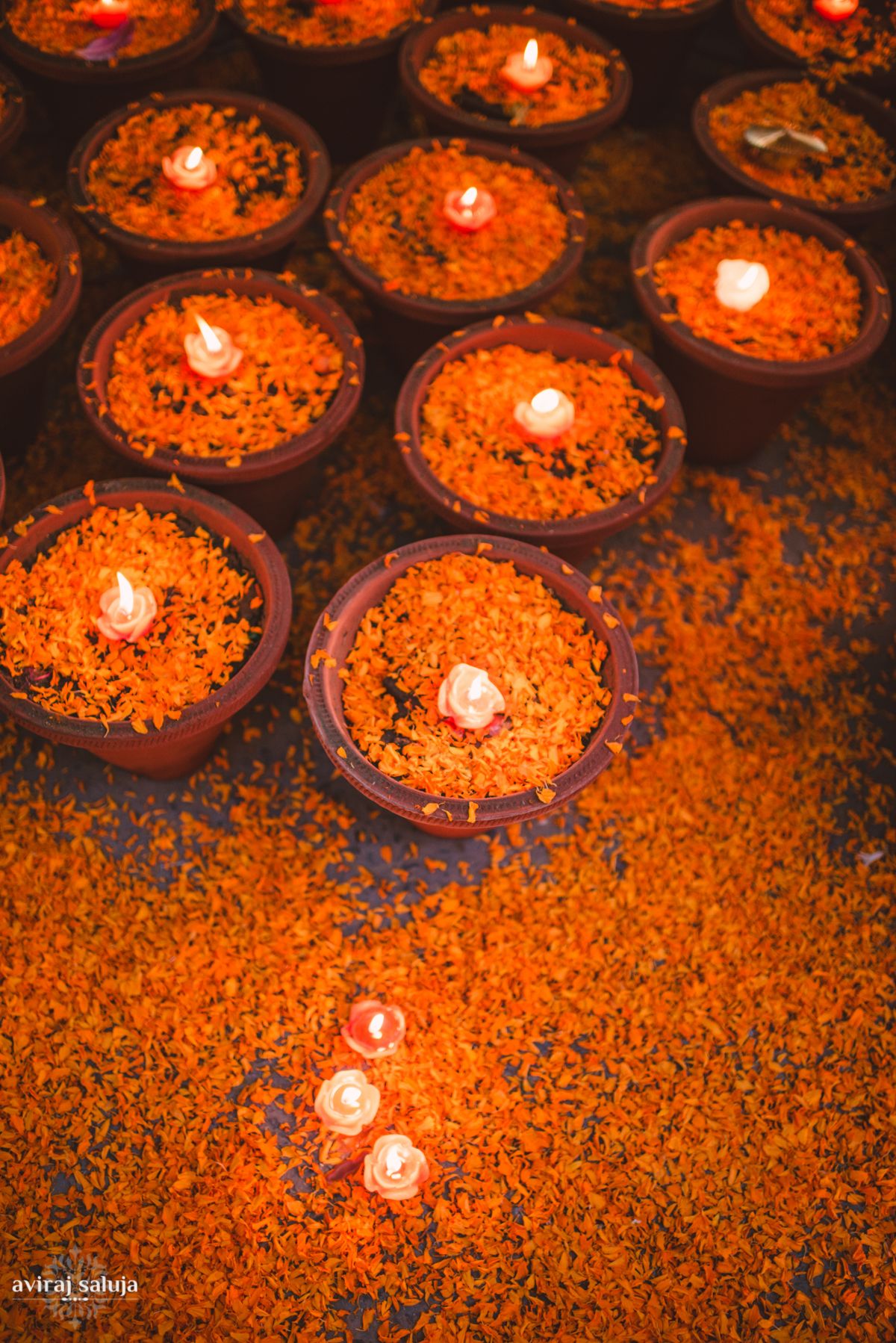 Image via: Feather Tree by Aviraj★ 5
Easy to find, to decorate and to simply make its place in the decor world. Add some genda phool petals to it and it will need nothing more to accompany.
28. Antique trunks and vintage clocks all the way up!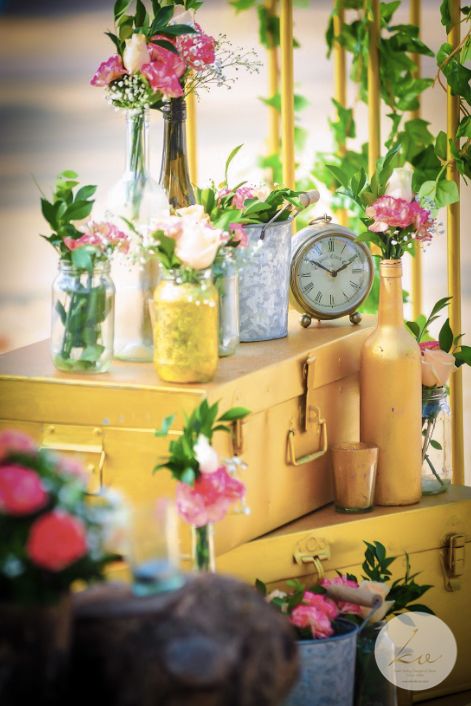 Image via: Ara fashion (Dubai)
Pull out your old grandma trunks and paint them with your favorite colour. Grab a few vintage clocks which are sure all your relatives must be having. A few old bottles and vases decorated with flowers. This does nothing major, but when kept on the side together brings this quirkiness for a function like haldi or mehendi. Indeed, the cutest marriage decoration idea amongst all!