Lehenga Colour Combinations For 2023 Brides
BY Garvita | 12 Dec, 2022 | 89122 views | 6 min read
Every time we think of a new year, the idea of witnessing brides in ethereal wedding lehengas always gets us super excited! Especially those brides who cannot stick to monotone outfits because half of their heart is inclined towards one hue and the other half is set on another. And this calls for us to predict 2023's ultimate bridal lehenga color combinations!
From playing with different shades of pastels to infusing fresh hues over a traditional palette; we see a lot of fun color trends ruling the bridal wardrobes. Scroll down to see what's in the pipeline and save the one that matches your aesthetic.
Cyan + Peach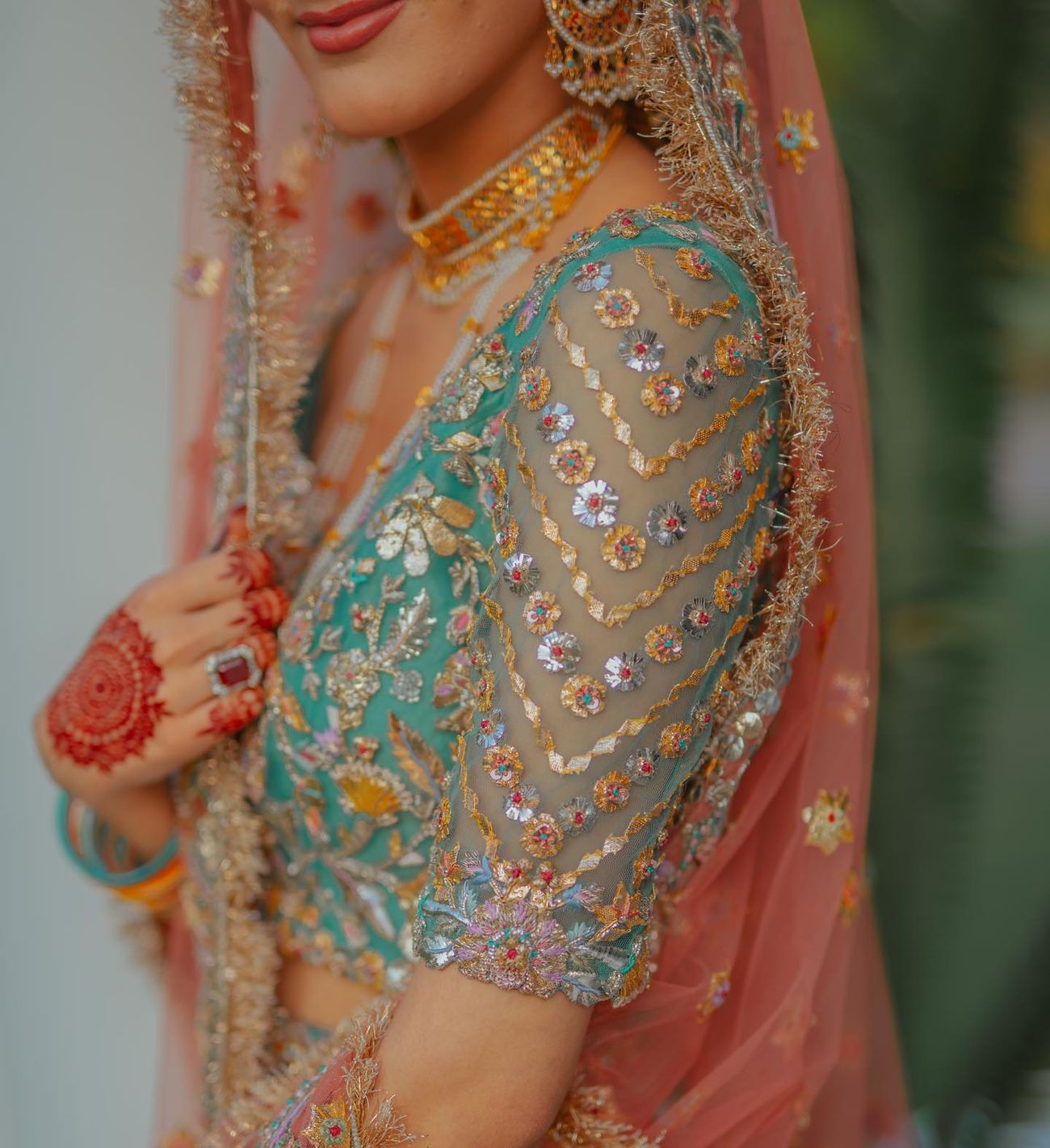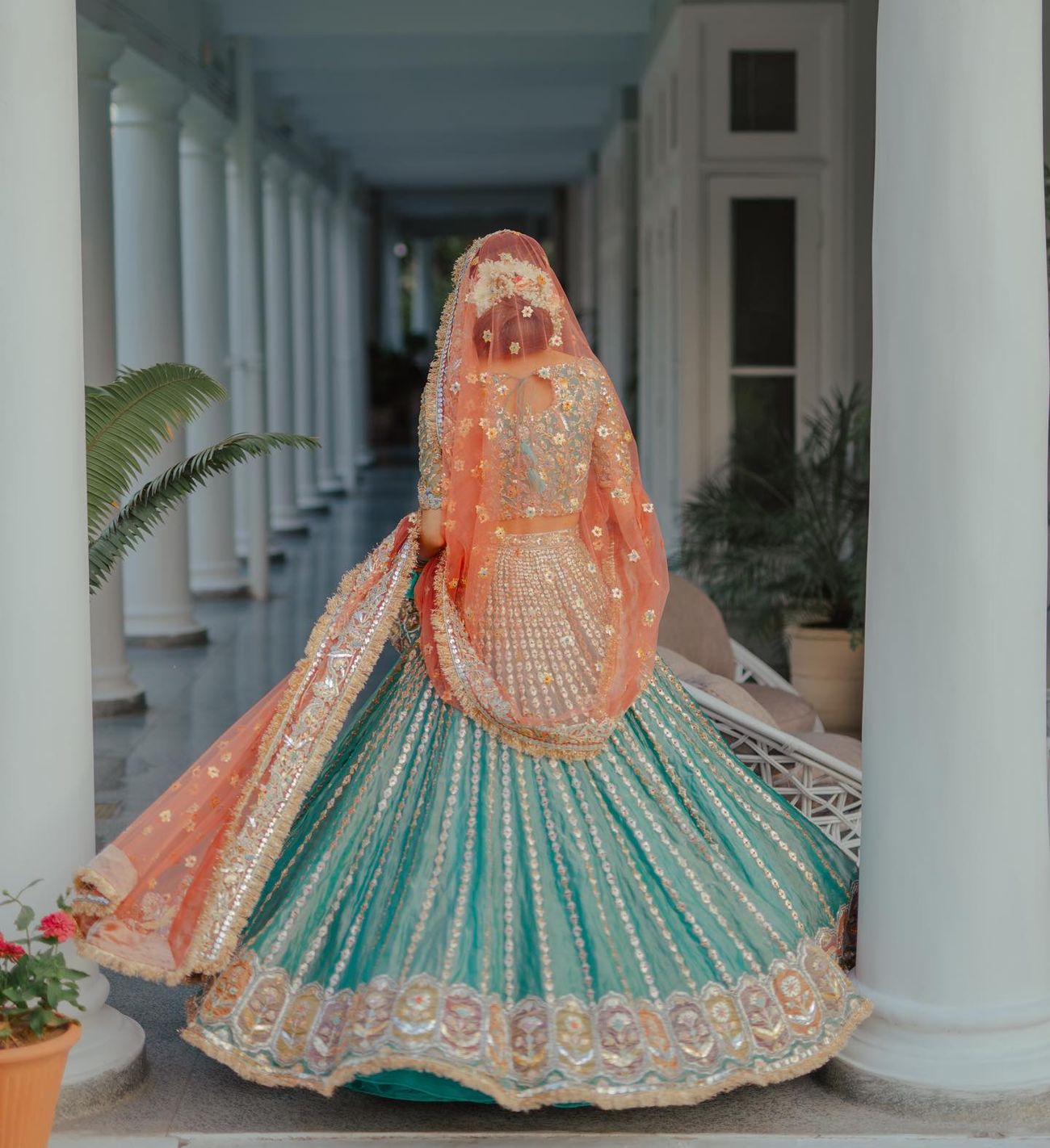 Image via pictroizzah
It looks like, we found the perfect summer wedding lehenga colour combination for you! Doesn't it exude truckloads of freshness and modernity?
Red + Apricot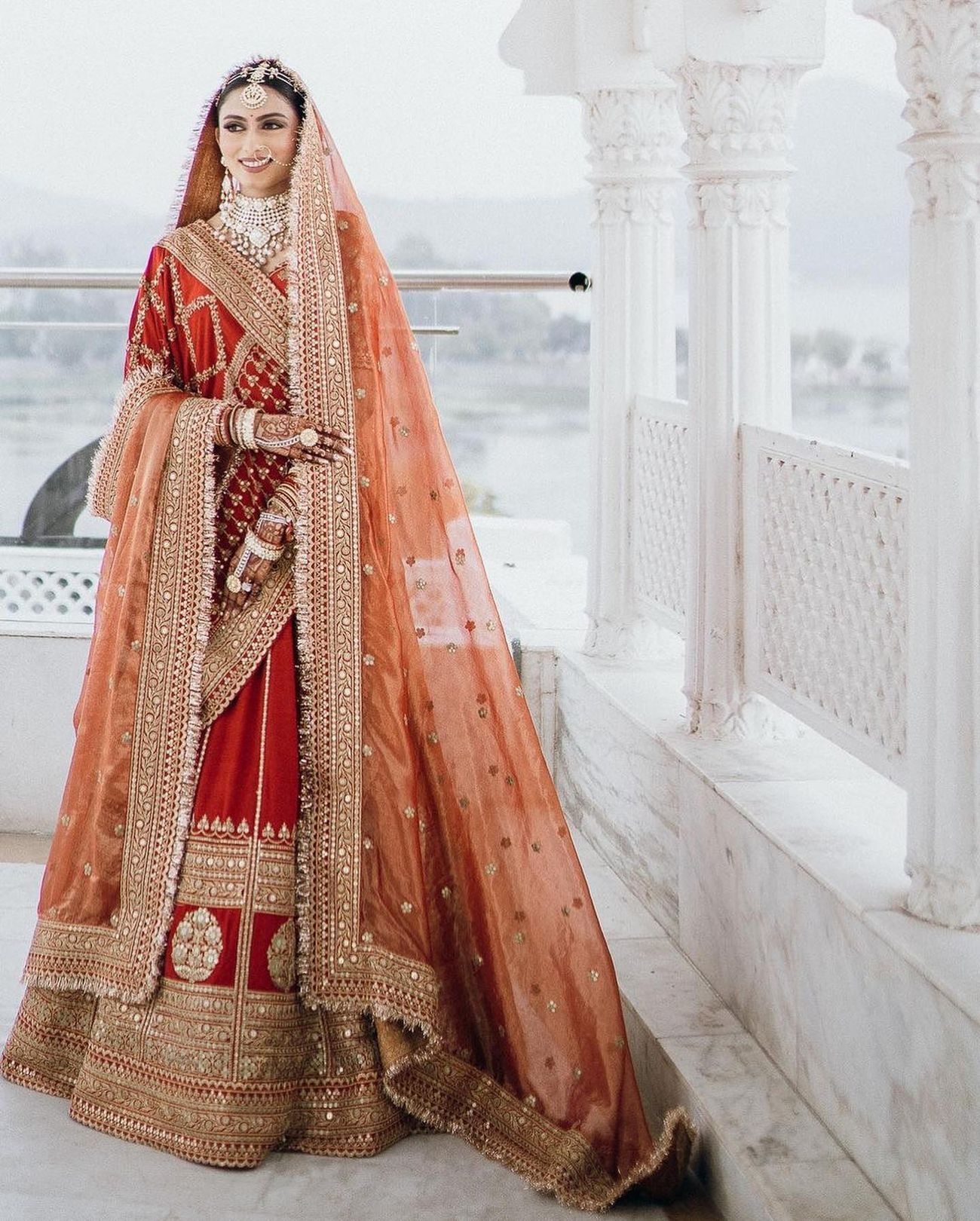 Image via The Wedding Story
The good 'ol warm wedding palette! Can't decide what we love more about her bridal look - the vintage vibe or the regalia-filled styling. Help us choose?
Pine + Olive Green + Antique Brass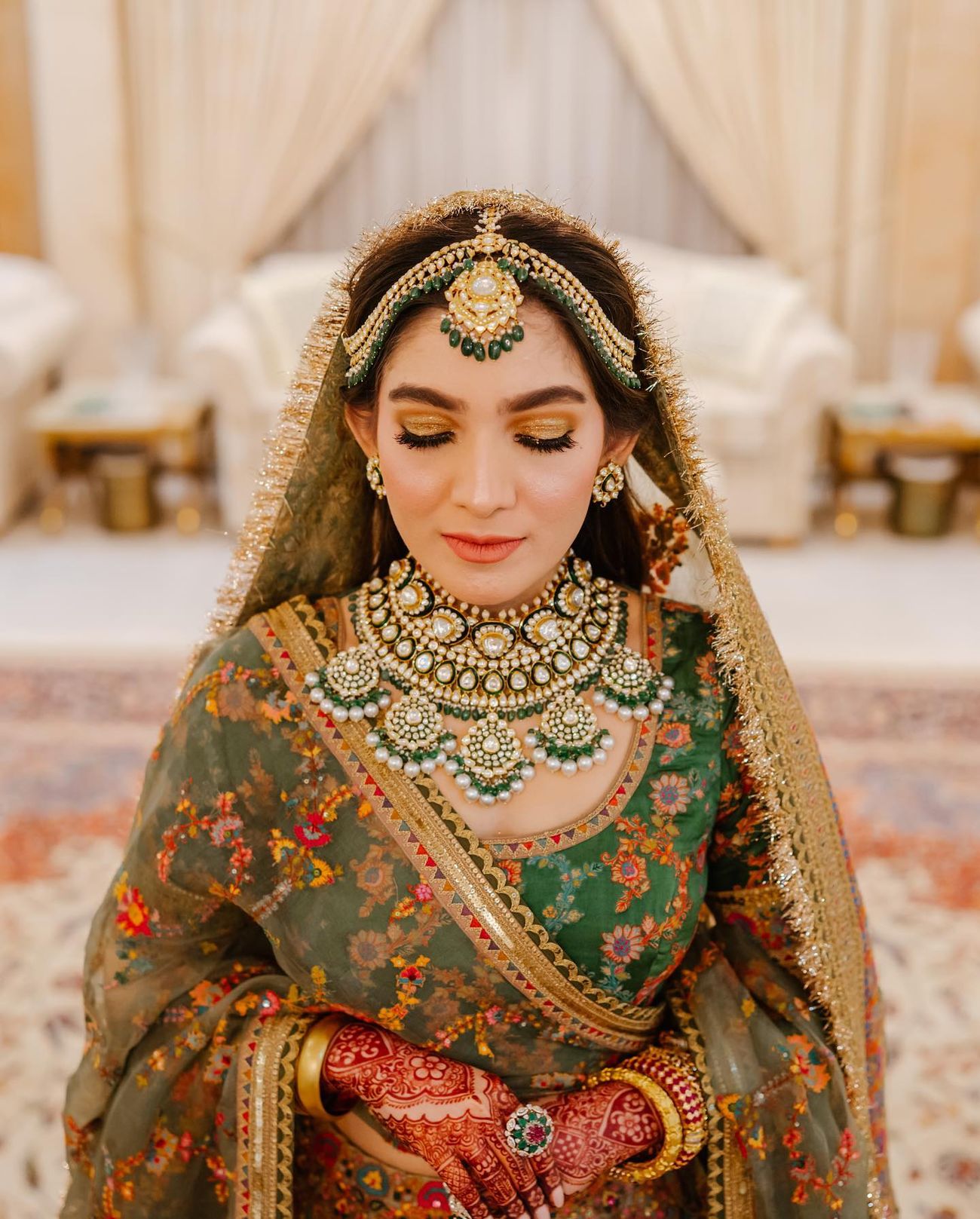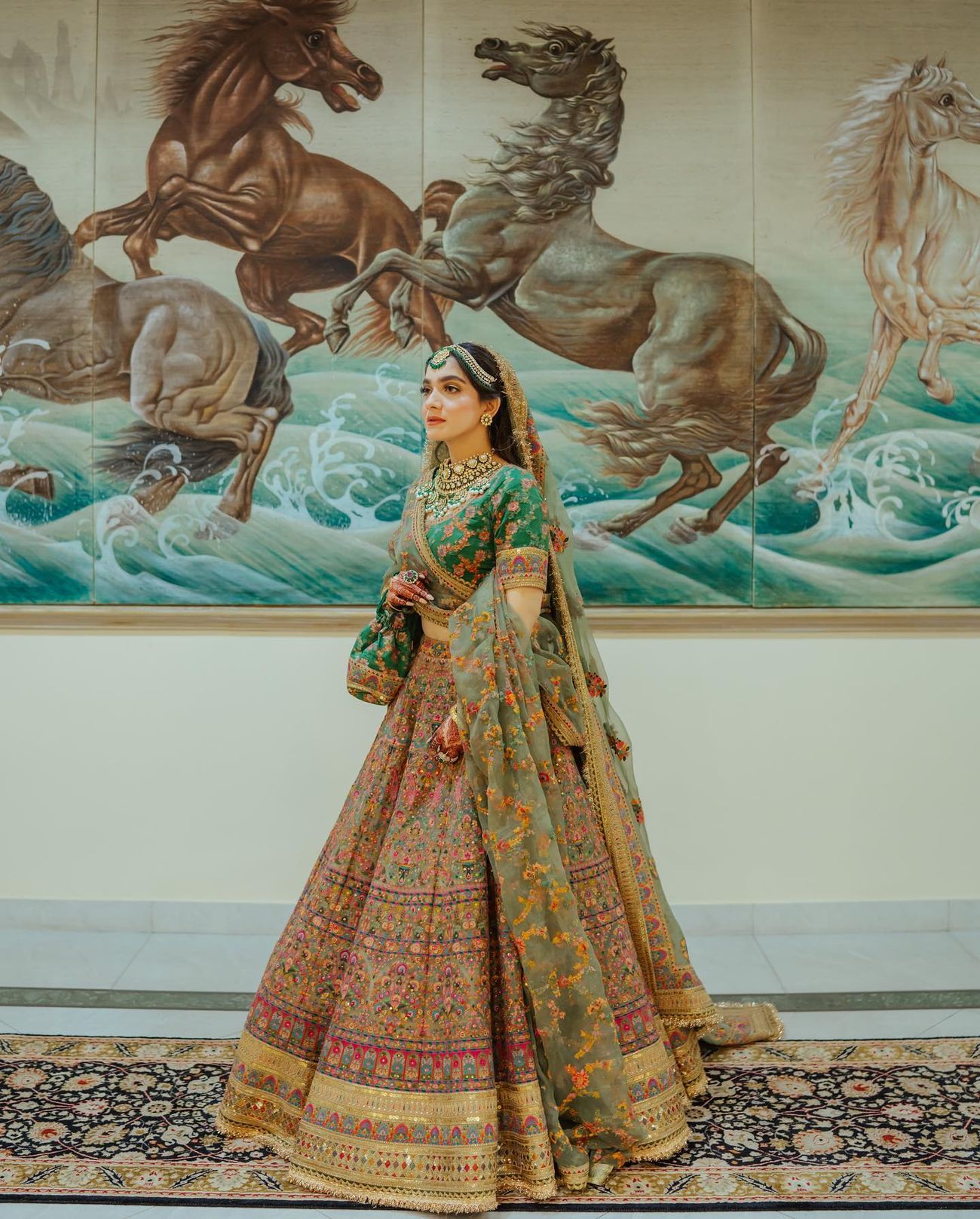 Image via pictroizzah
A lehenga colour combination with a whole lot of old-world charm? CHECK!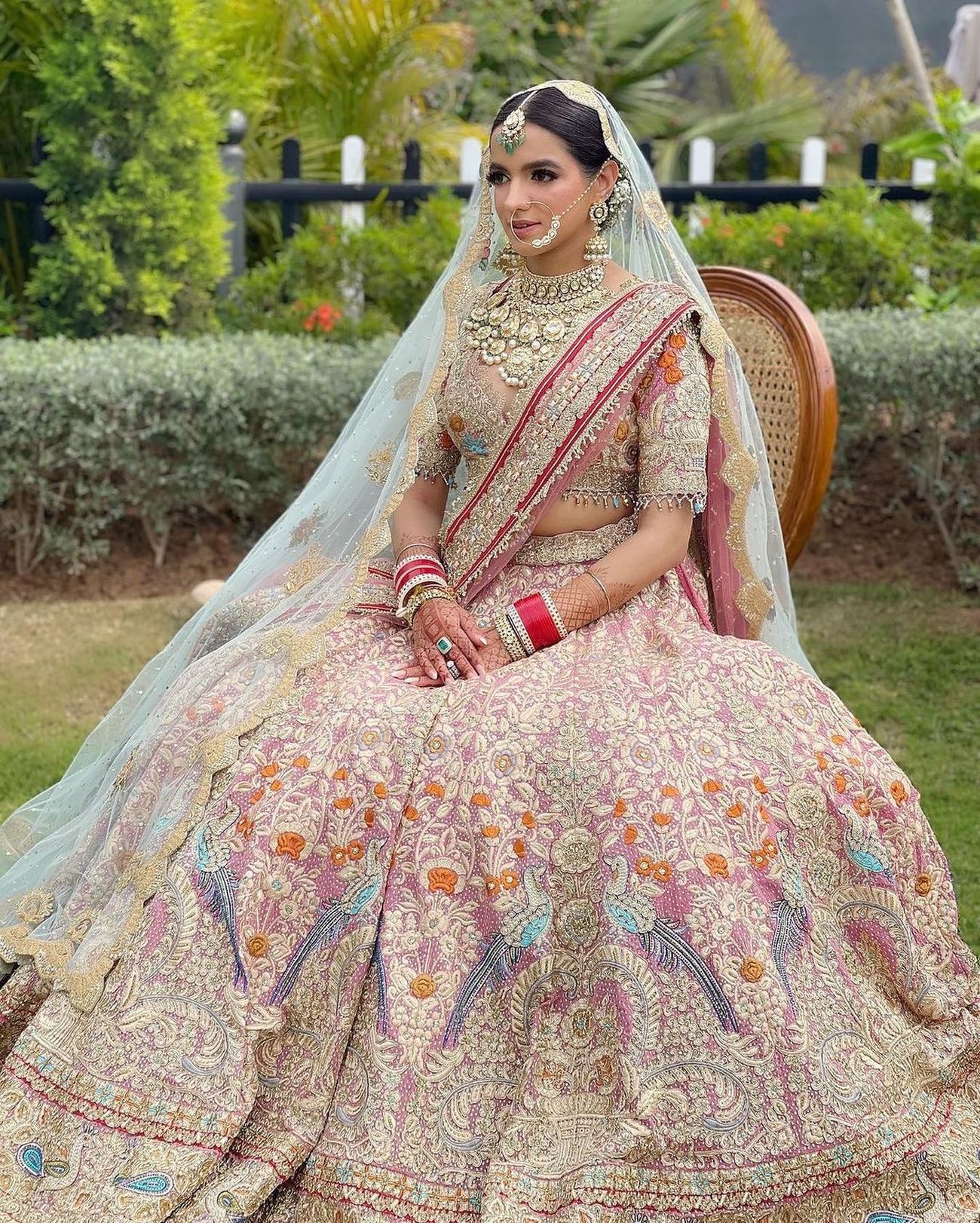 Image via Paveena Kh Rathour (Ablaze by Simran)
A concoction of intricate details dipped in soft pastel hues is a win-win deal for someone who loves unique!
Fuchsia + Ivory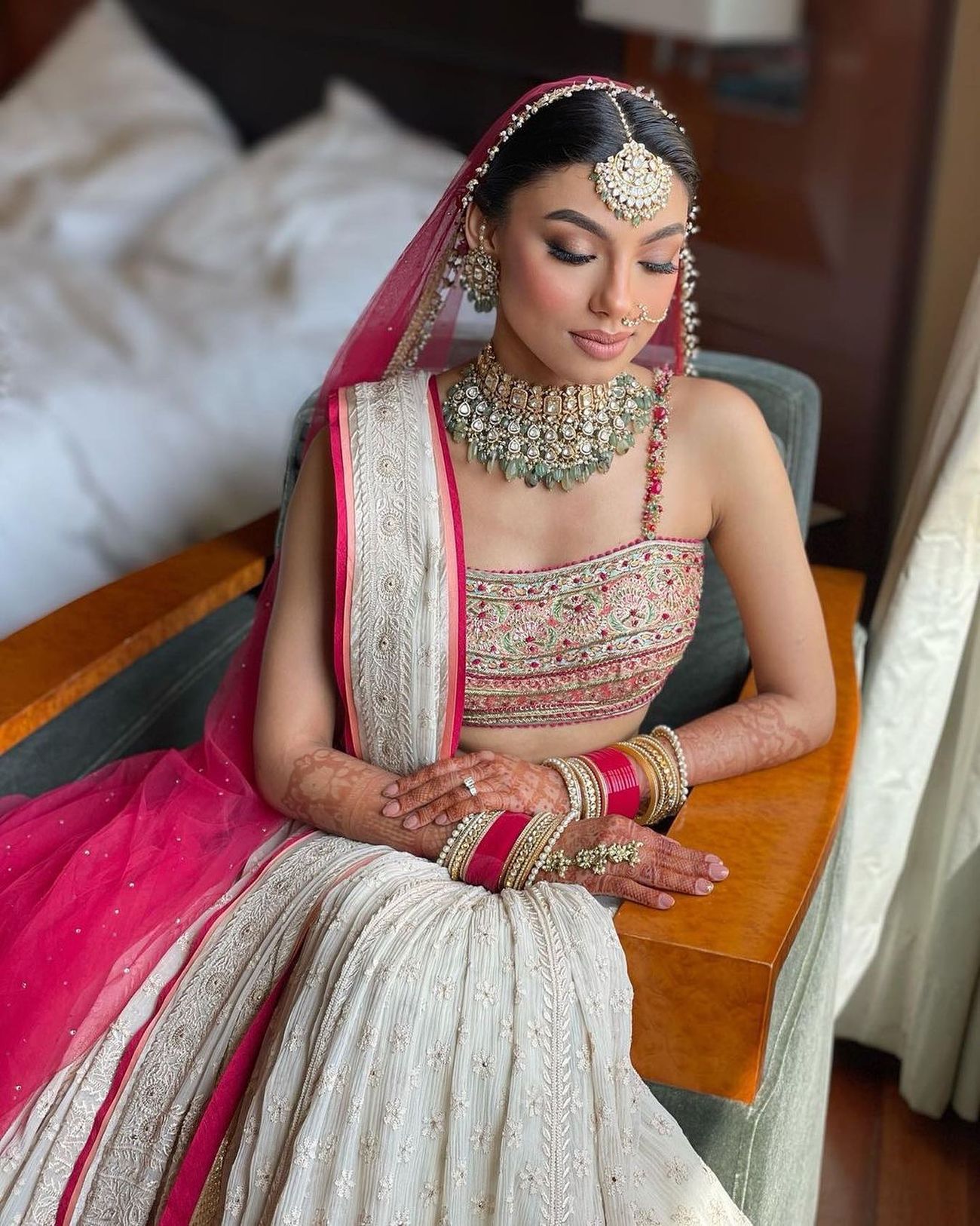 Image via Faces By Chaitali Sengupta
Taking fashion cues from this bride who perfectly complemented the contrasting hues with her 'on-point' styling!
Powder Blue + Antique Gold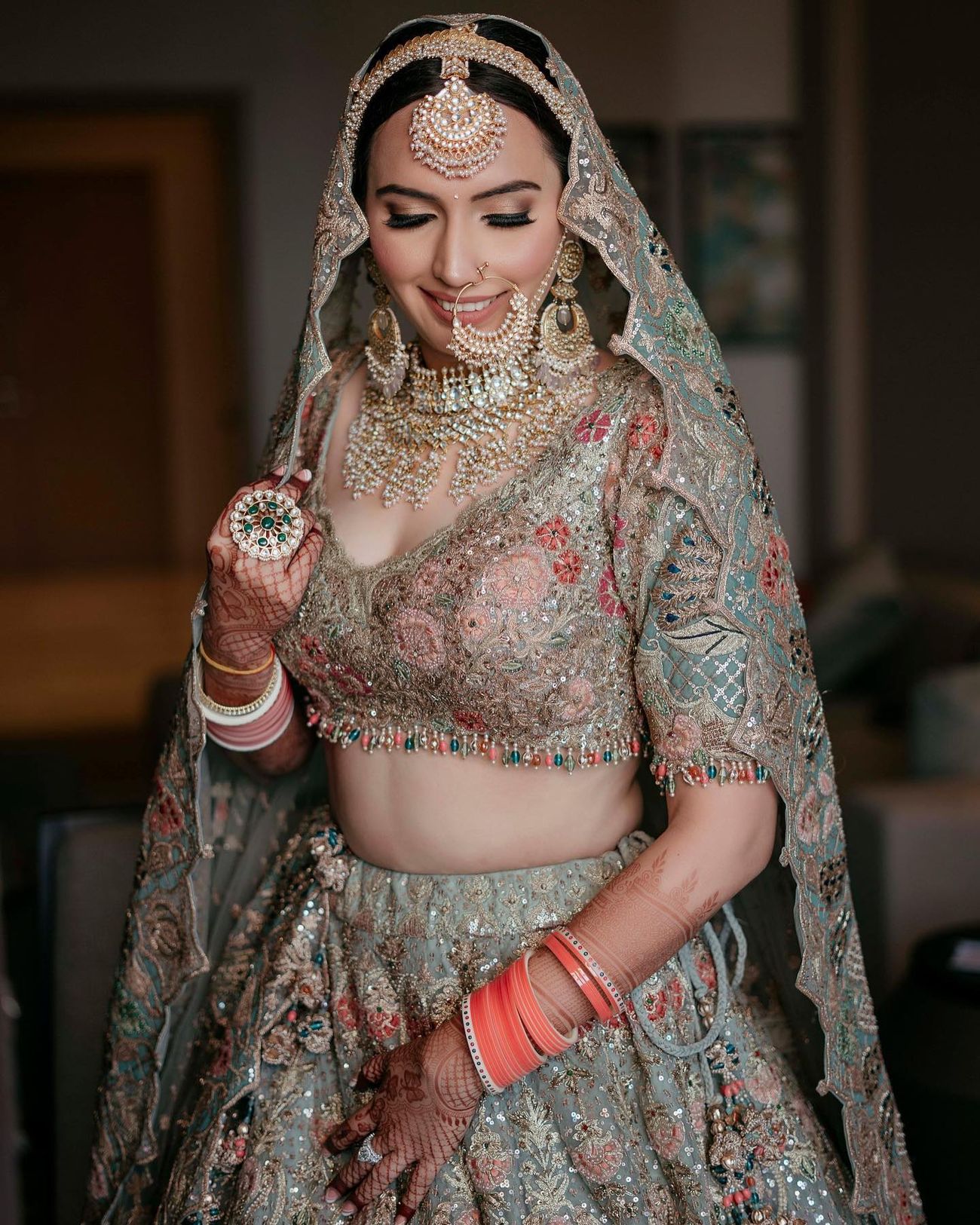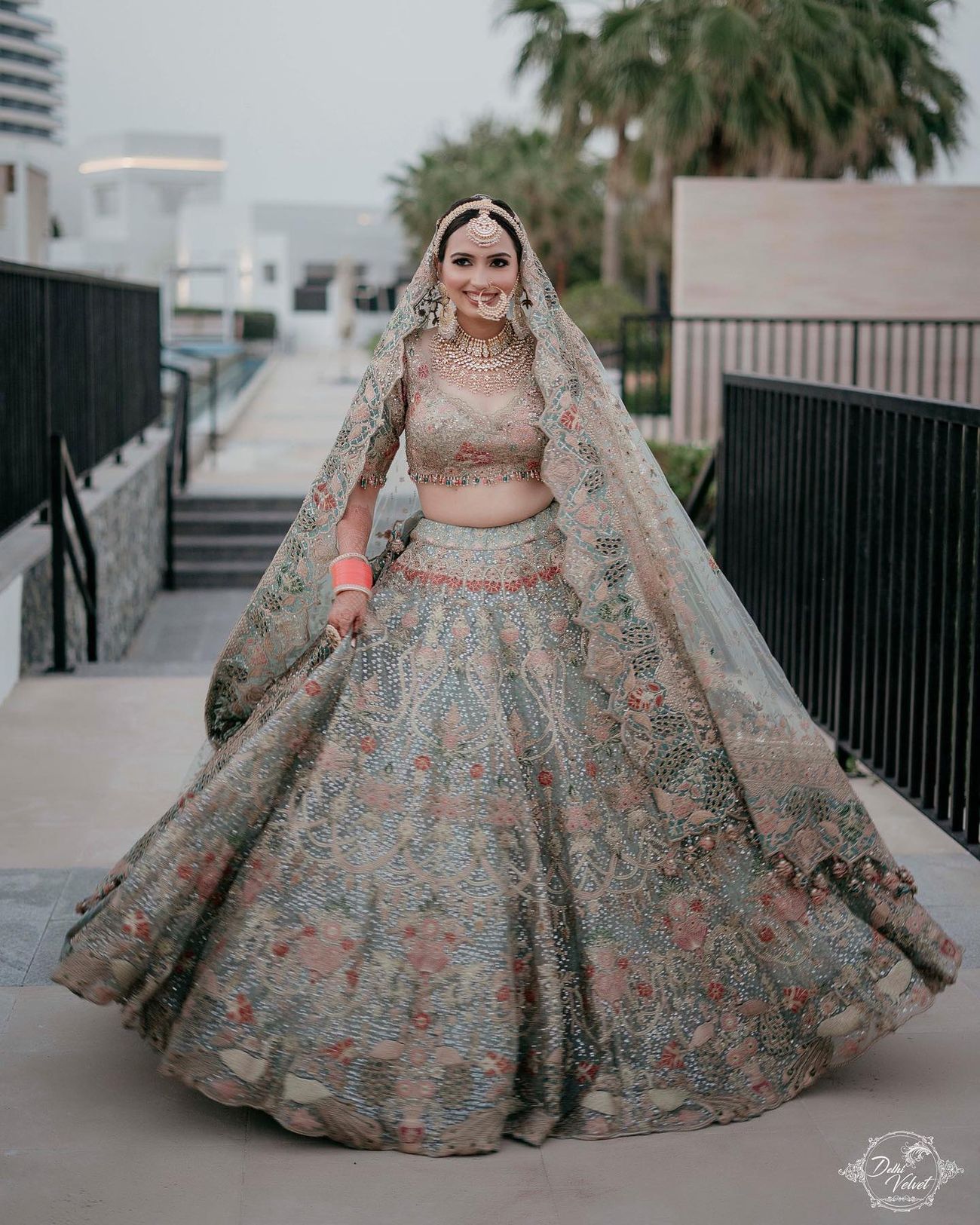 Image via Doll You Up By S
Love how this bride embraced powder blue coupled with floral motifs, dainty embellishments & a whiff of fresh air.
Honey Gold + Cheery Red + Deep Sea Green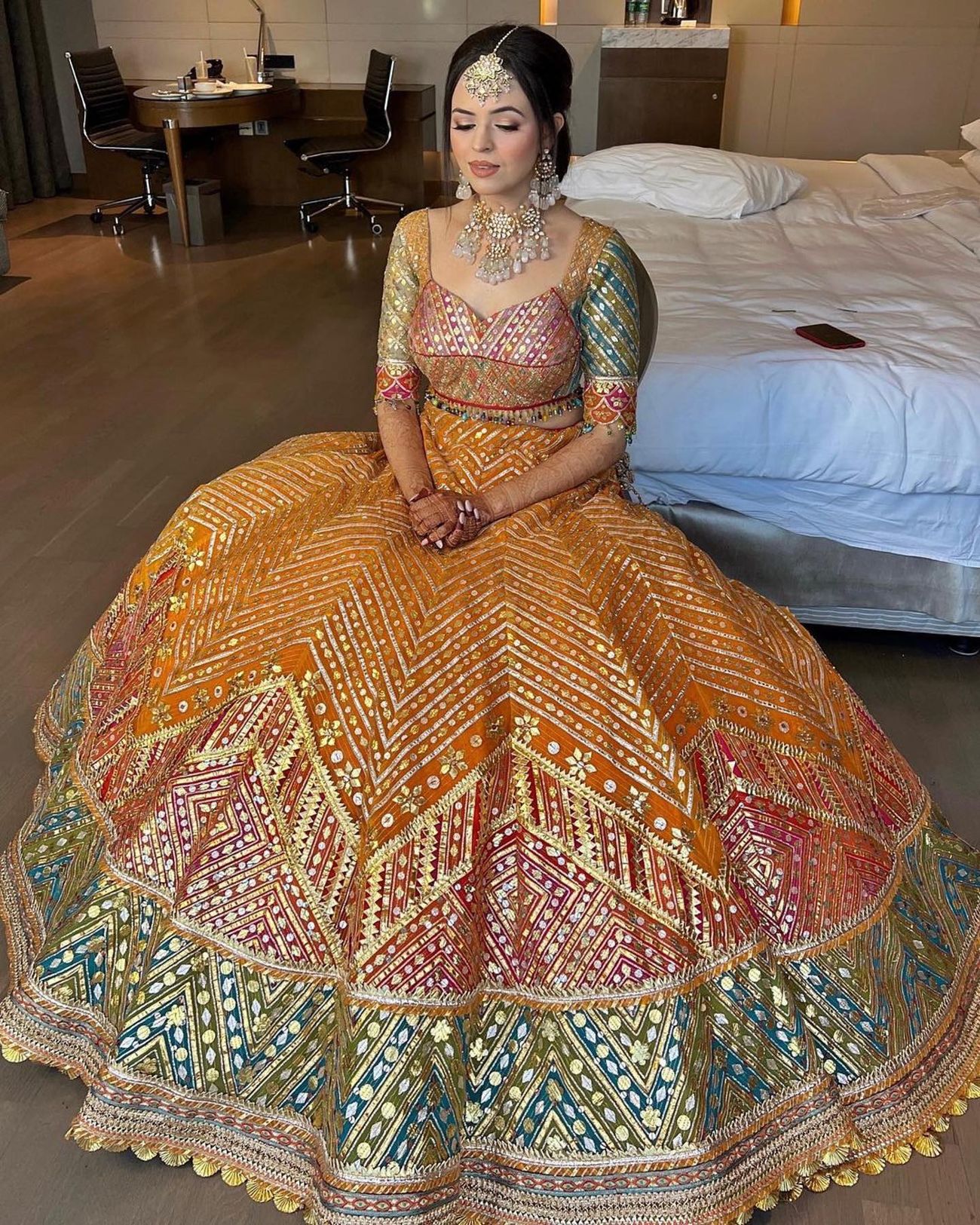 Image via Tanya Kaur Makeup Artist
Fan of high voltage hues? Find us a better lehenga color combination than this one.
Ochre Yellow + Moon Grey
 

 

View this post on Instagram

 
Video via tanvismarathe 
We swoon for a refreshing bridal lehenga palette, especially when there are pretty details involved!
Magenta + Sage Green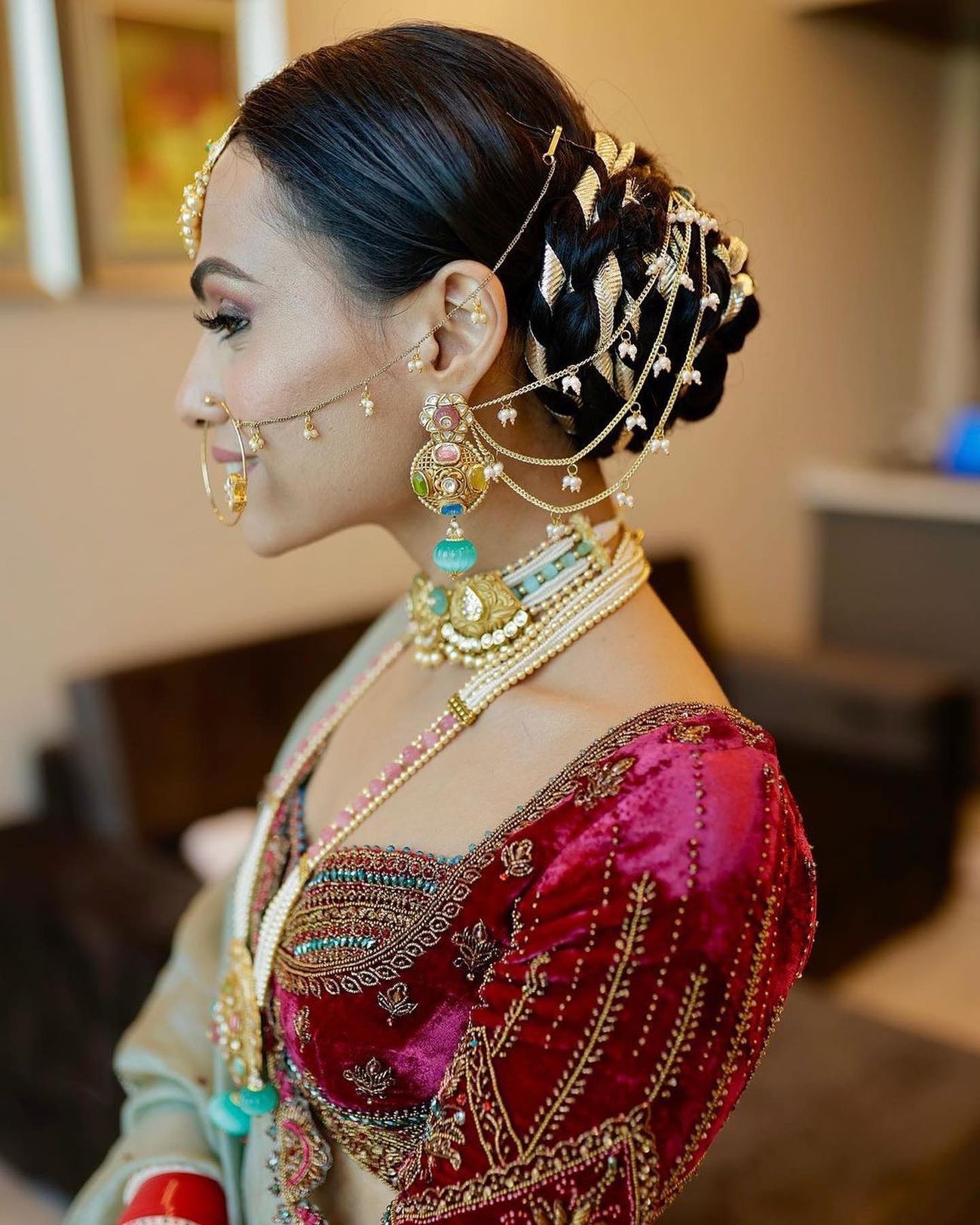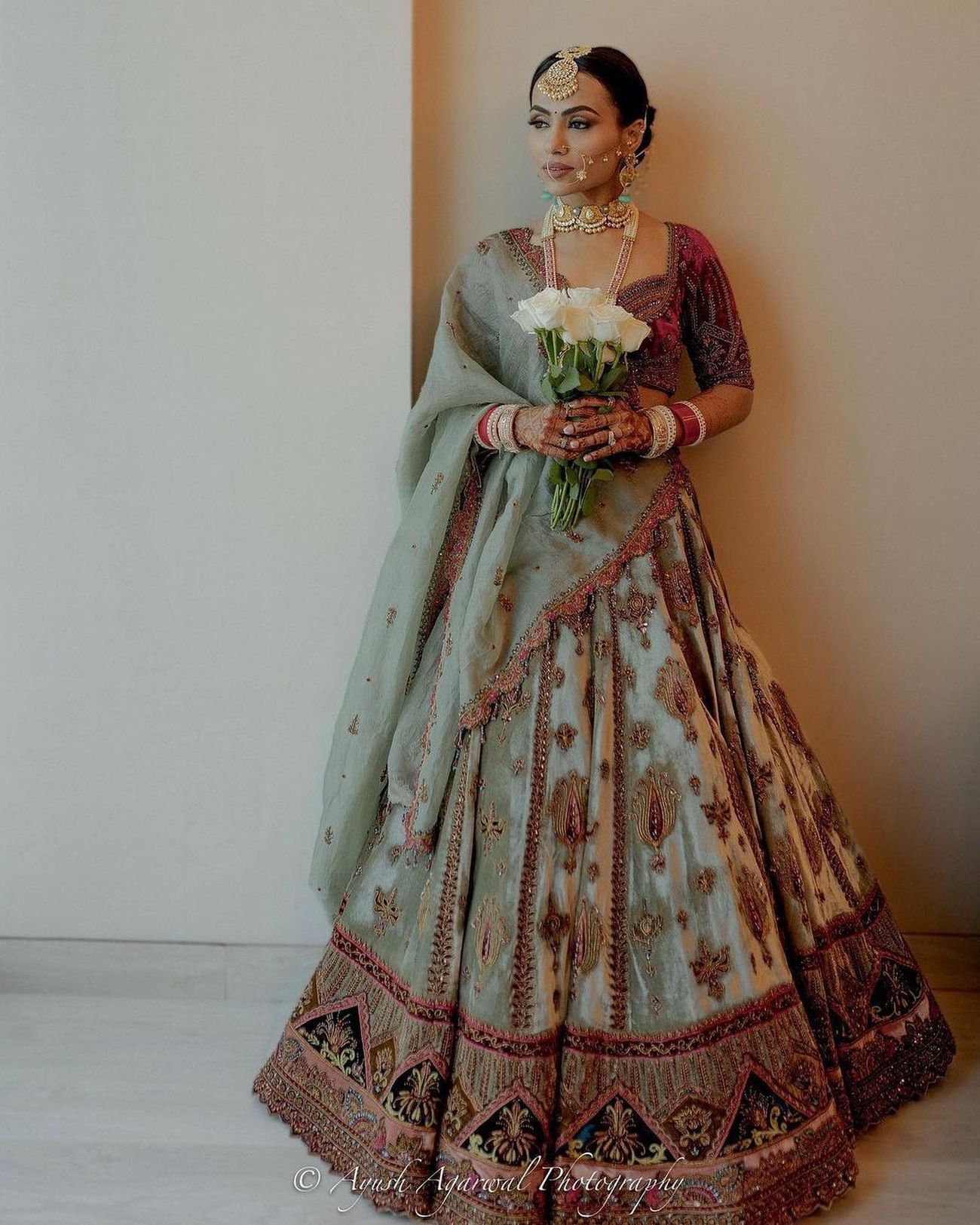 Image via @futrographer 
This bride added a pop of pink to her muted, sage green skirt, and it was love at first sight for us! What about you?
Steel Blue + White Gold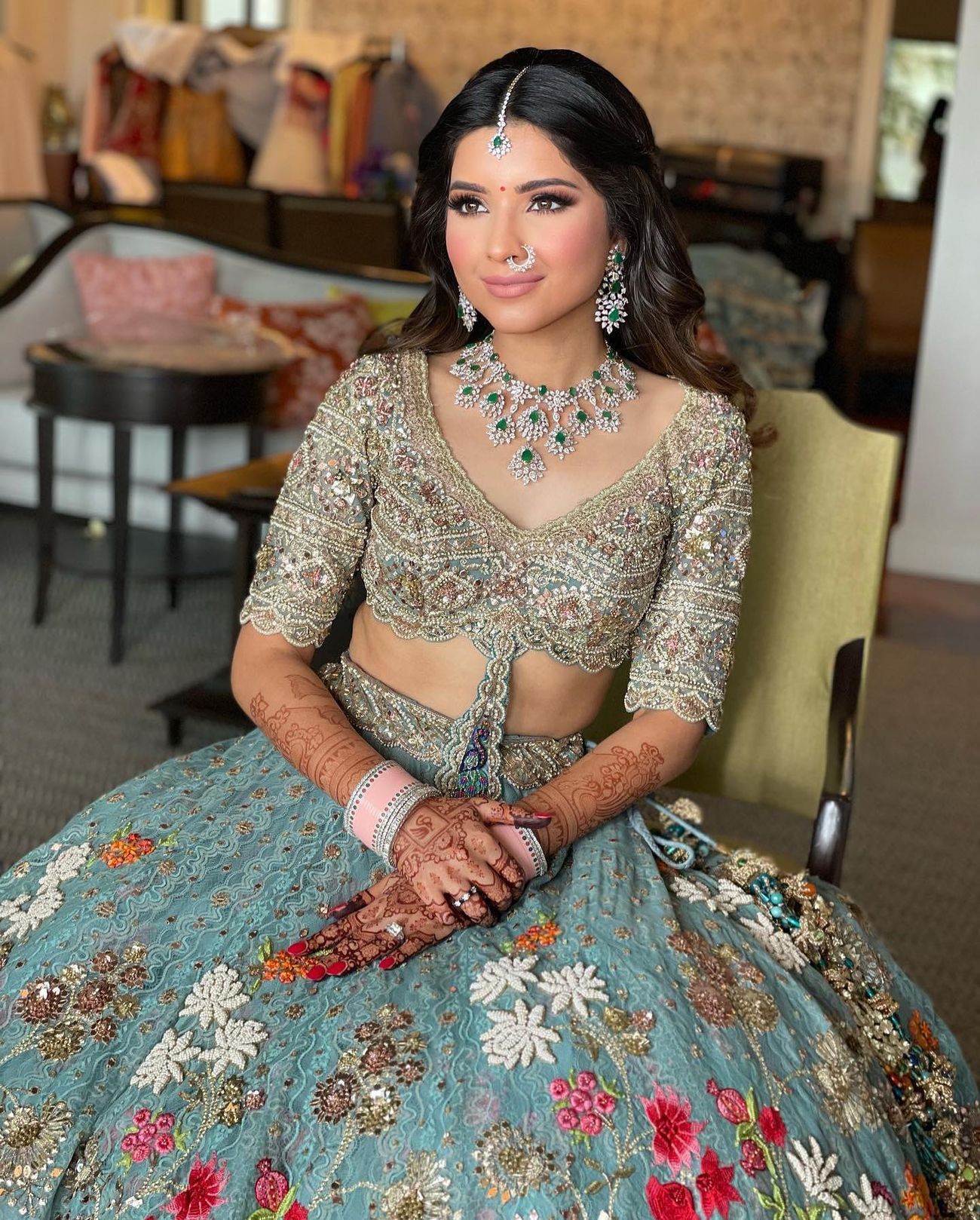 Image via Samaira Sandhu Makeover 
This offbeat lehenga colour combination caught our eyes & hearts!
Rust + Dark Blue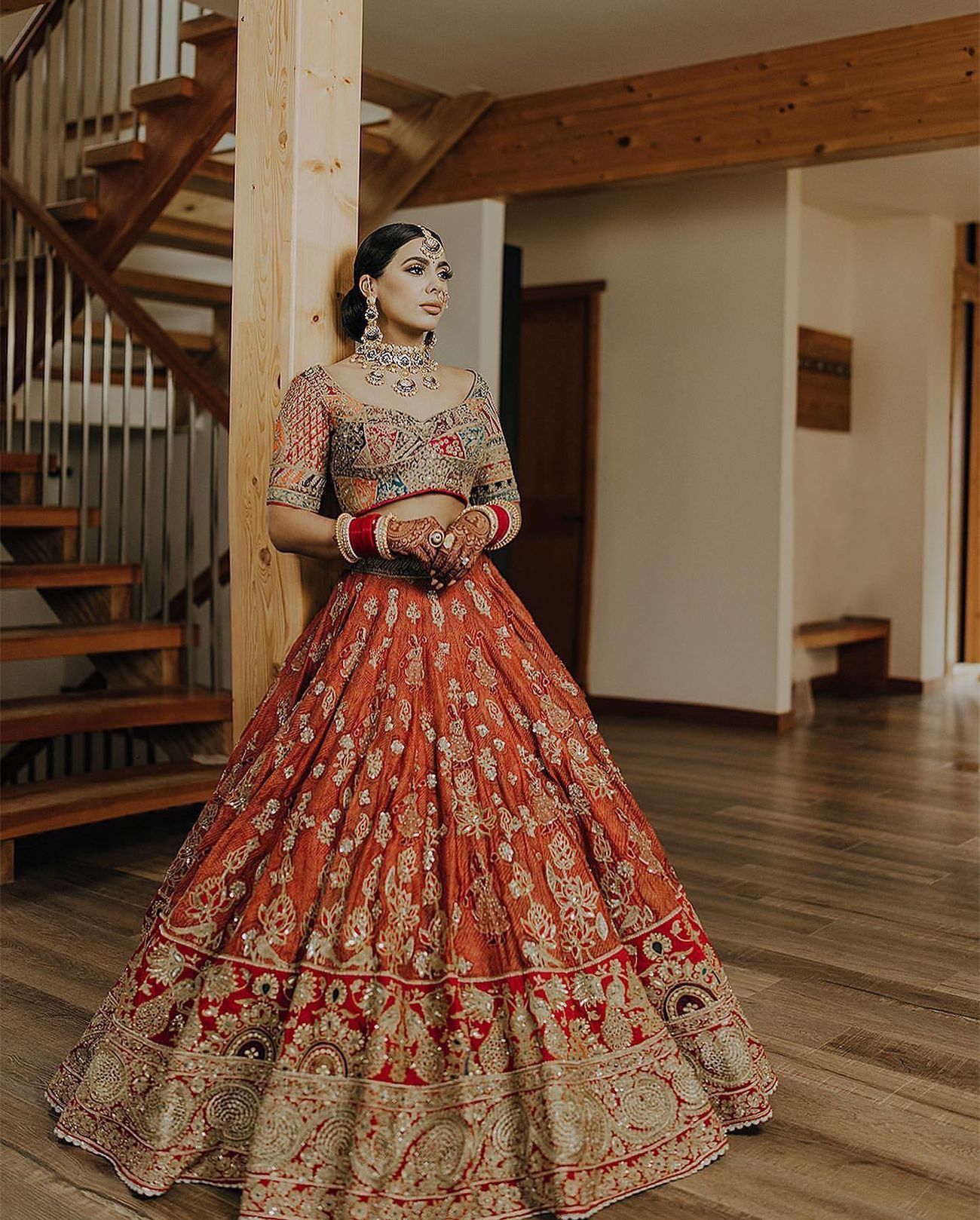 Image via @varsolavisuals
Are you all about timeless hues or subdued hues? See this bride who embraced the mix of both worlds!
Yale Blue + Taupe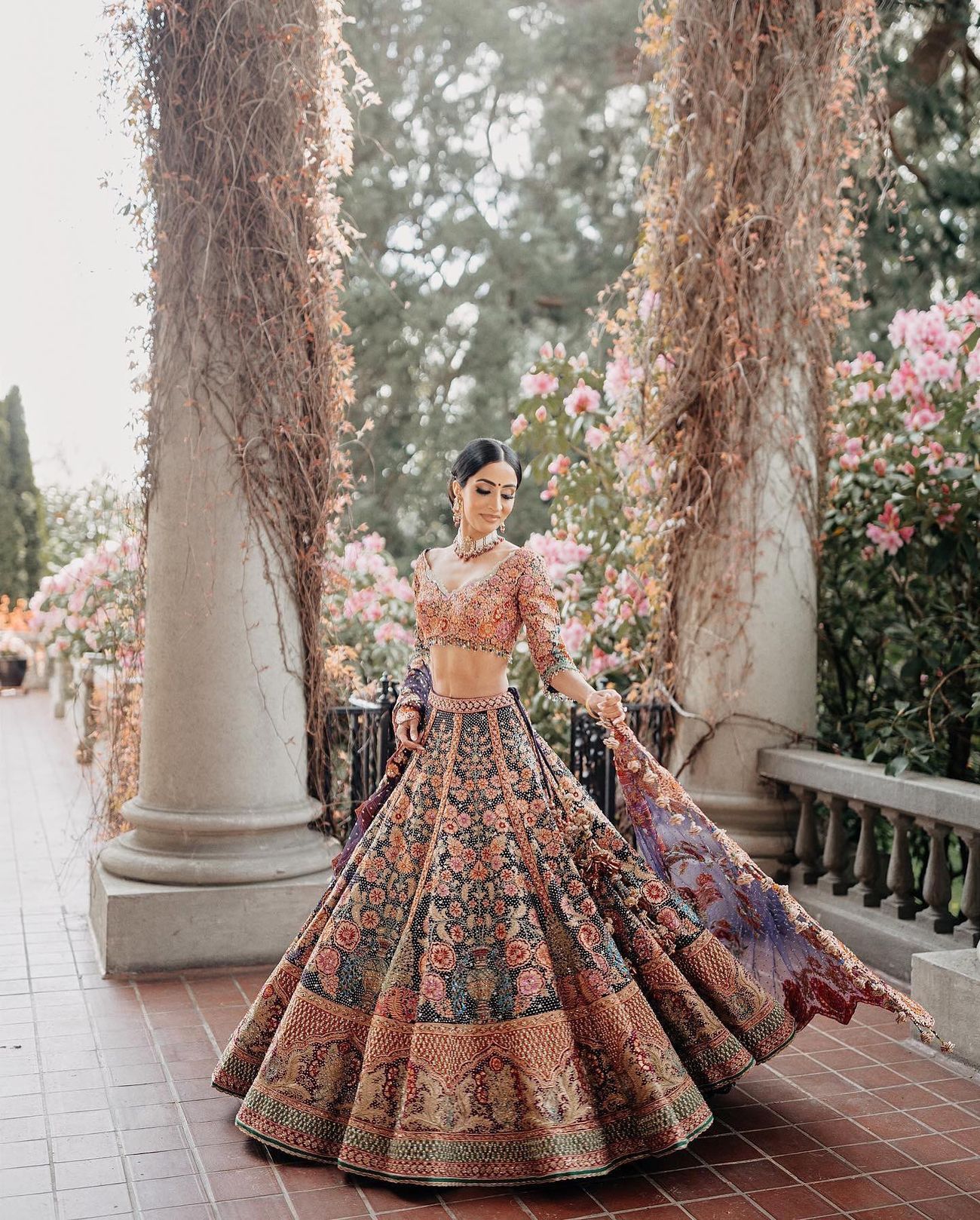 Image via @nimritakang
This offbeat lehenga style was love at first sight for us!
Deep Crimson + Rust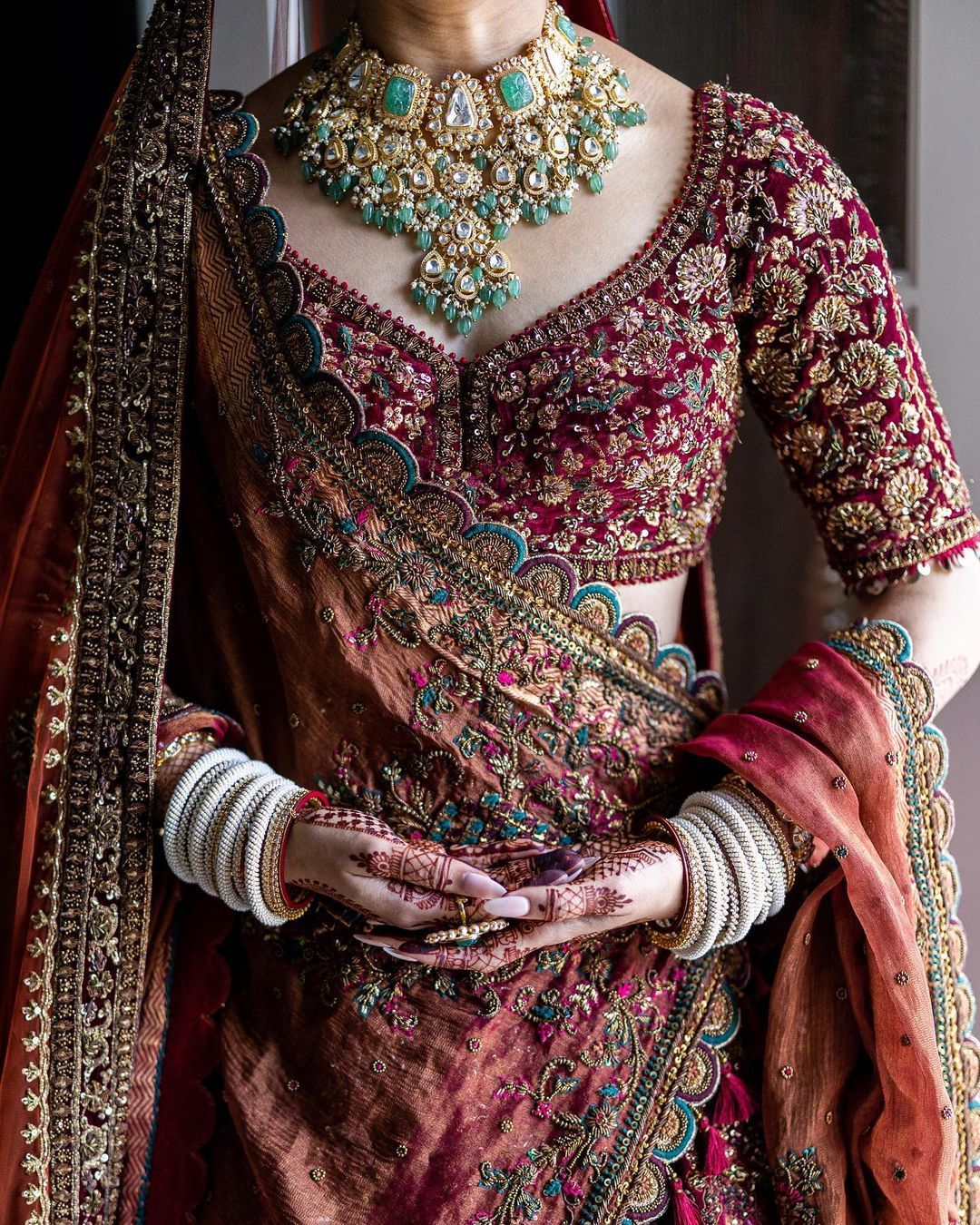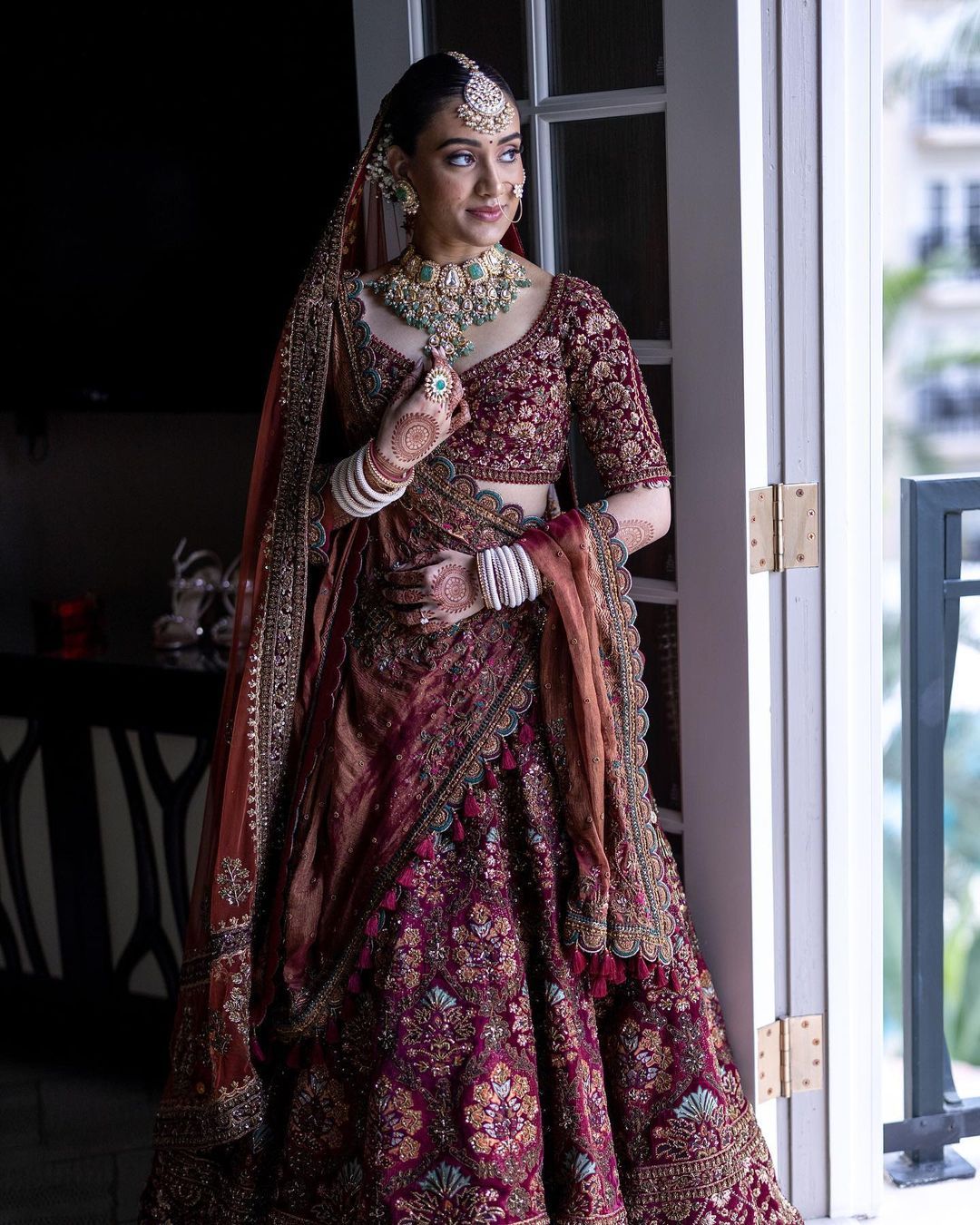 Image via @just.jully / Outfit via Marwar Couture
Traditional hues with a whole lotta twist! Totally falling hard for the dainty pop of green. So brides-to-be, in case you wish to stick to a conventional color palette but with a dash of modernity SAVE this. Find more maroon lehengas here. 
Dark Brown + Caramel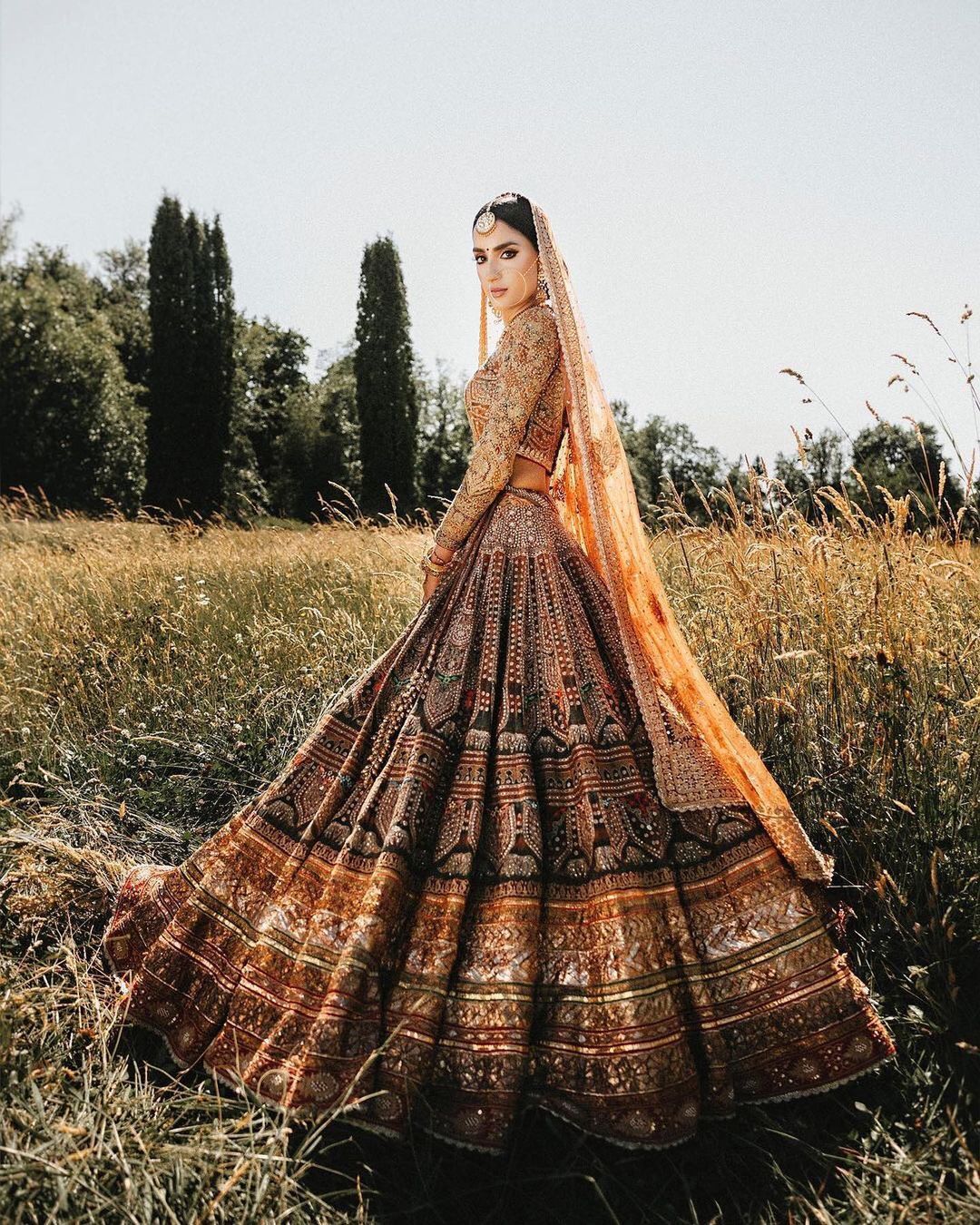 Image via Amrit Photography / Outfit via Rimple and Harpreet Narula
Oh boy, isn't this bride serving some serious fashion cues?! This one's a fresh blend of elegance and regalia, and can easily be pulled off for both day and night wedding celebrations. 
Mulberry + Grey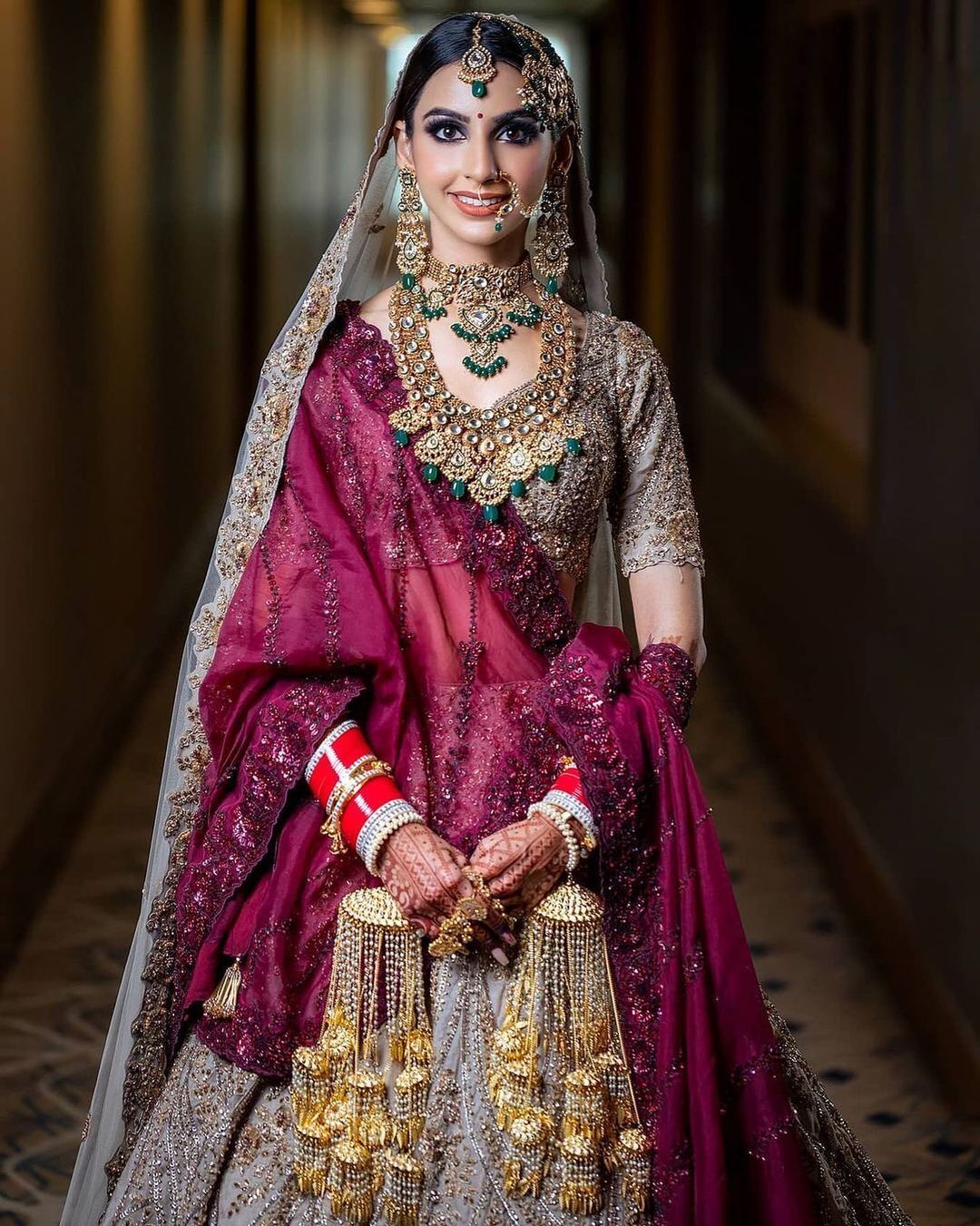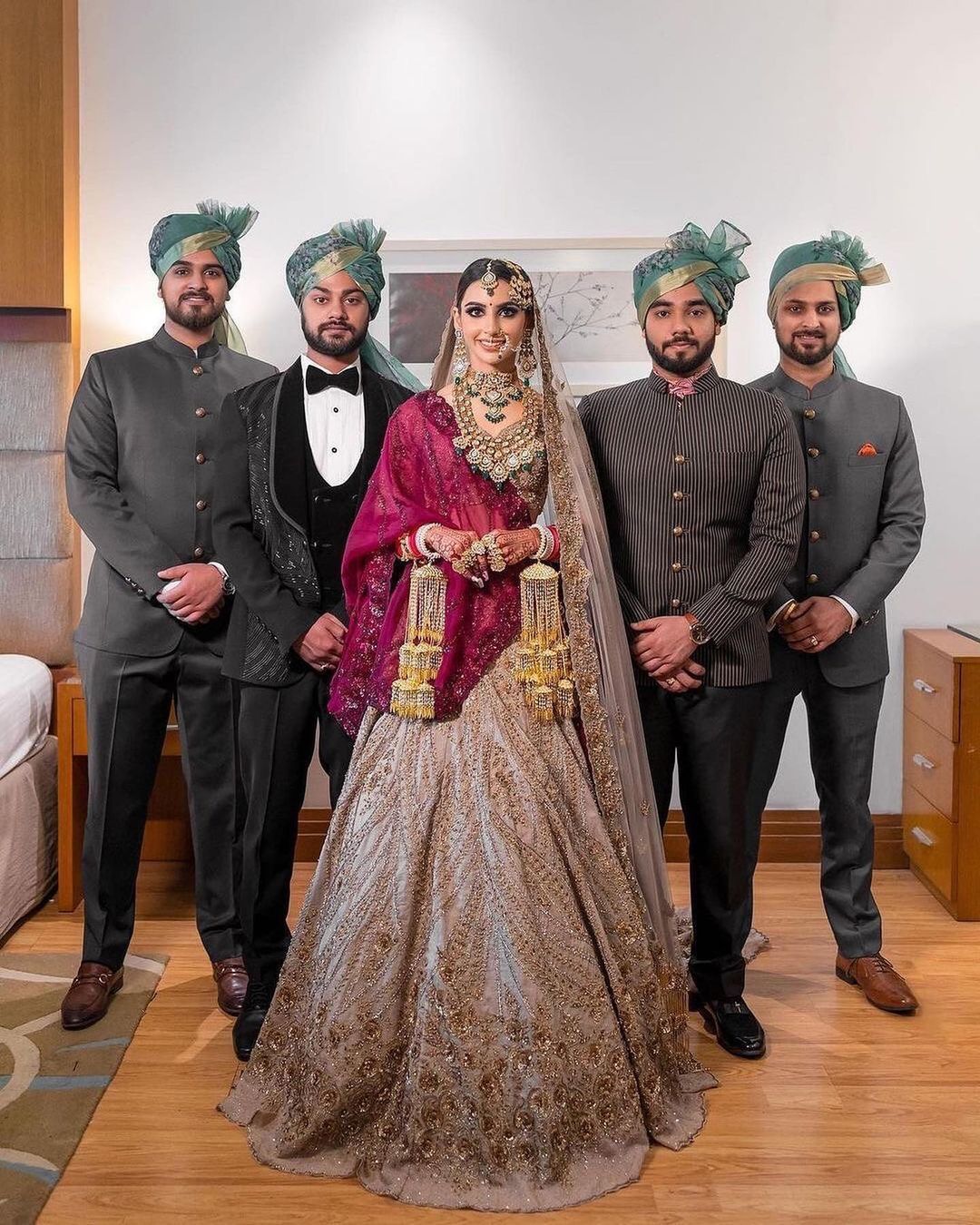 Image via Shahid's Makeover / Outfit via Asiana Couture - Chandni Chowk
The bride managed to bowl us over with a never-seen-before lehenga color combination! We'd totally want our #BridesOf2023 to pin this to their wedding inspiration board if they're still in a dilemma of 'what bridal lehenga to pick?'. 
Taupe + Peach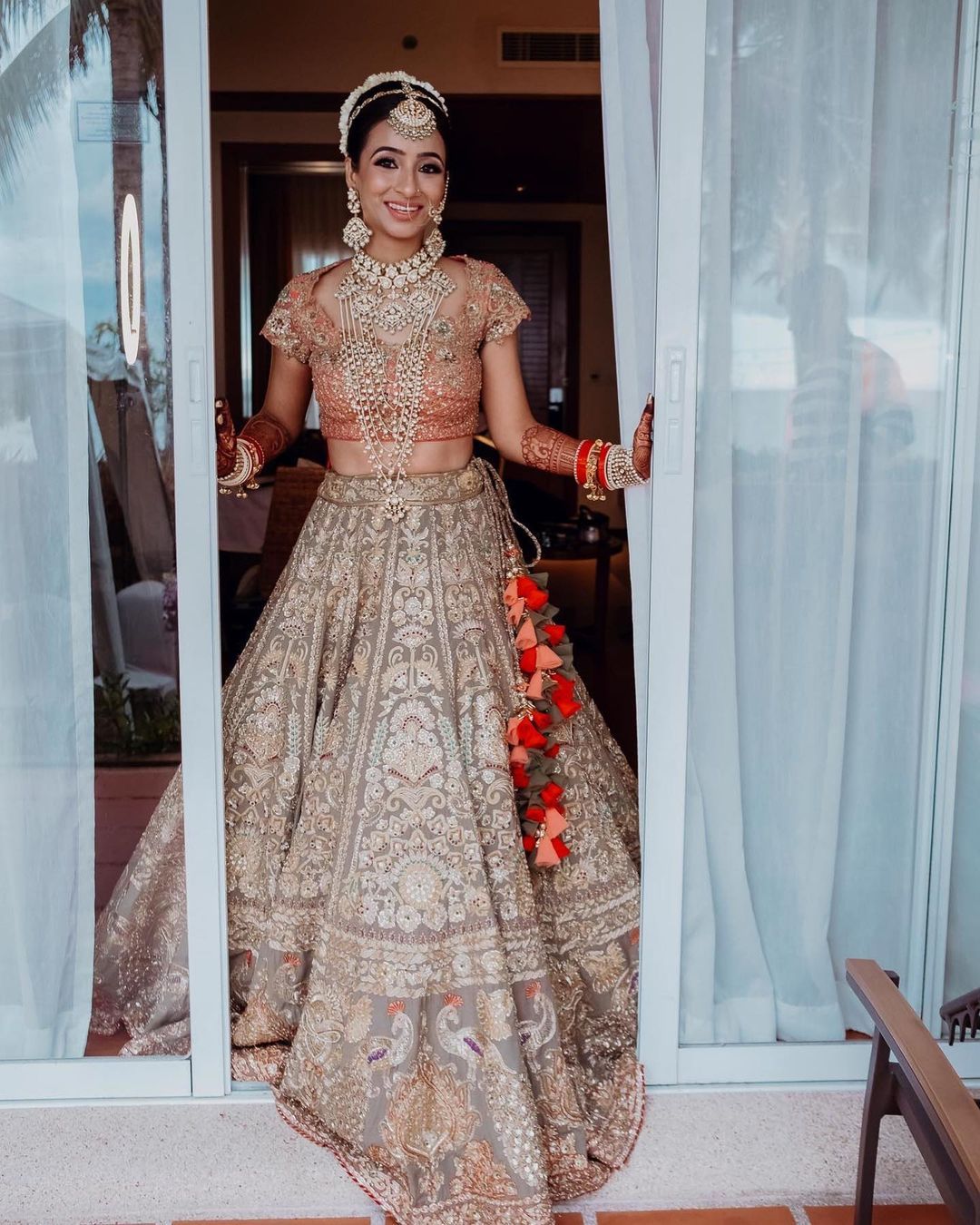 Image via Infinite Memories
Of earthy hues & sheer gorgeousness! We are short of words for this bride's epic choice of wedding lehenga. An unexpected bridal tone that effortlessly managed to spread its magic.
Old Rose + Khakhi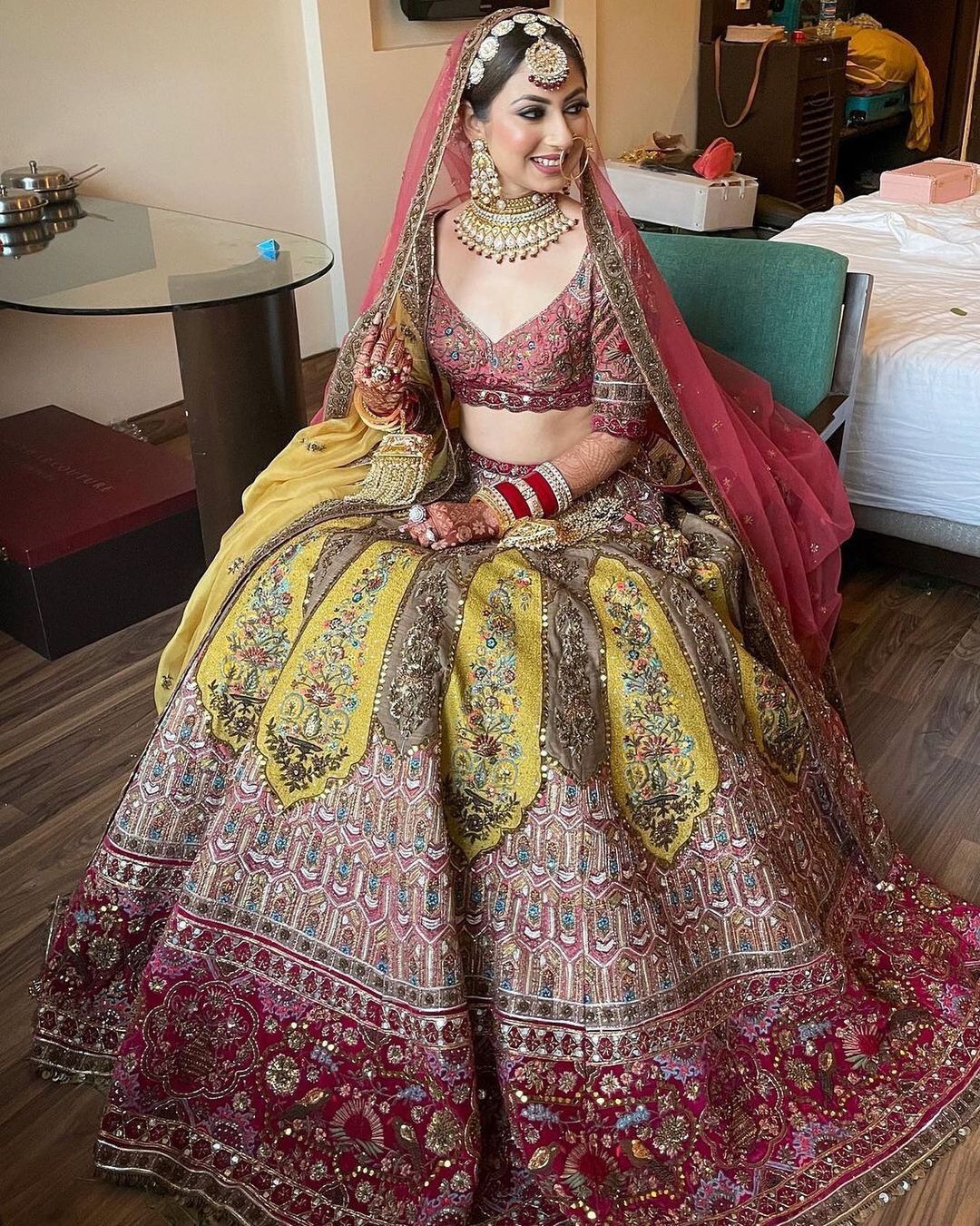 Image via Tanya Kaur Makeup Artist / Outfit via Marwar Couture
One glance at this bridal lehenga picture, and we all exclaimed, "what color is that!". We'd be lying if we'll say if we didn't have to google it. Would you pick such a stunner for your wedding?
Midnight Blue + Dull Gold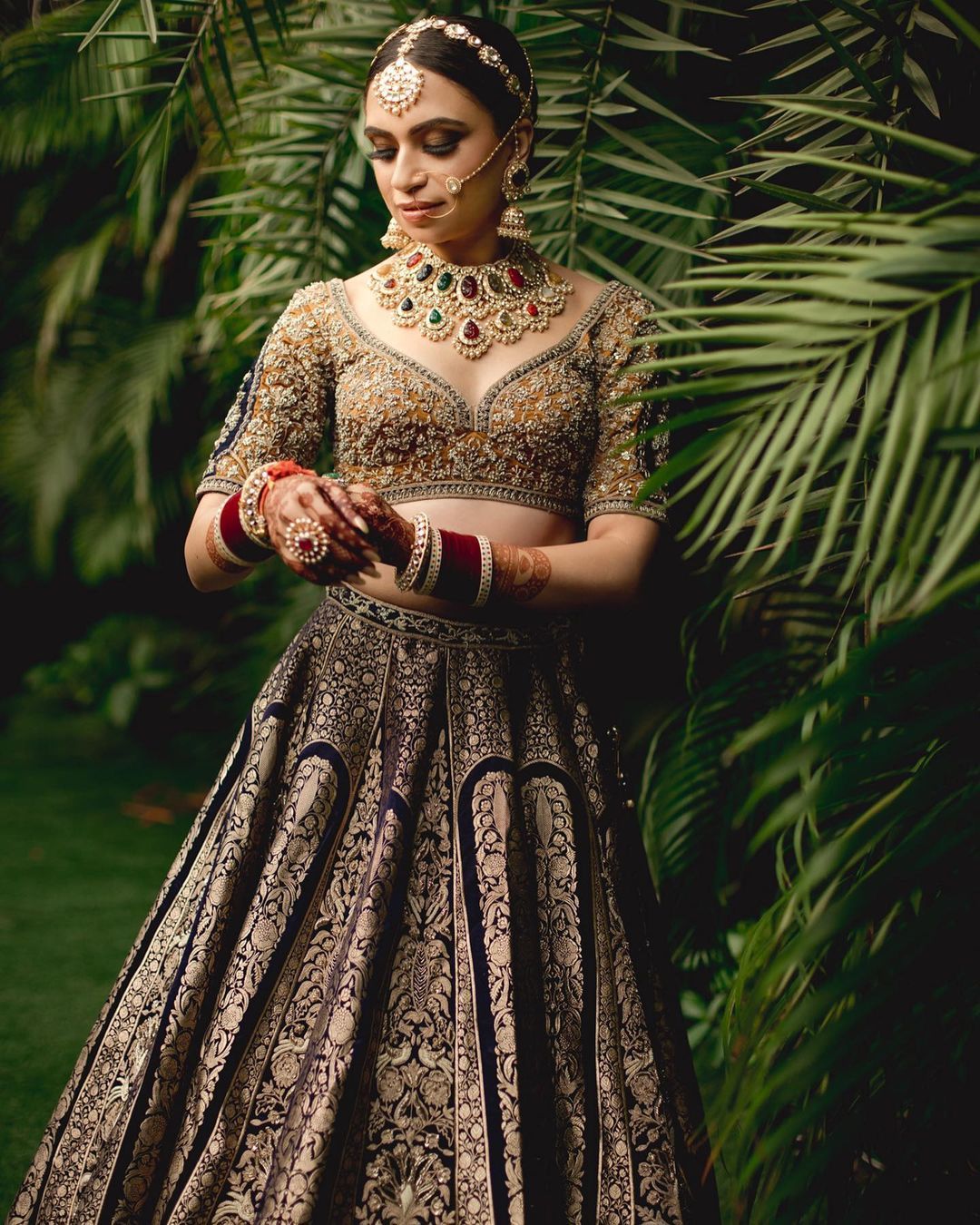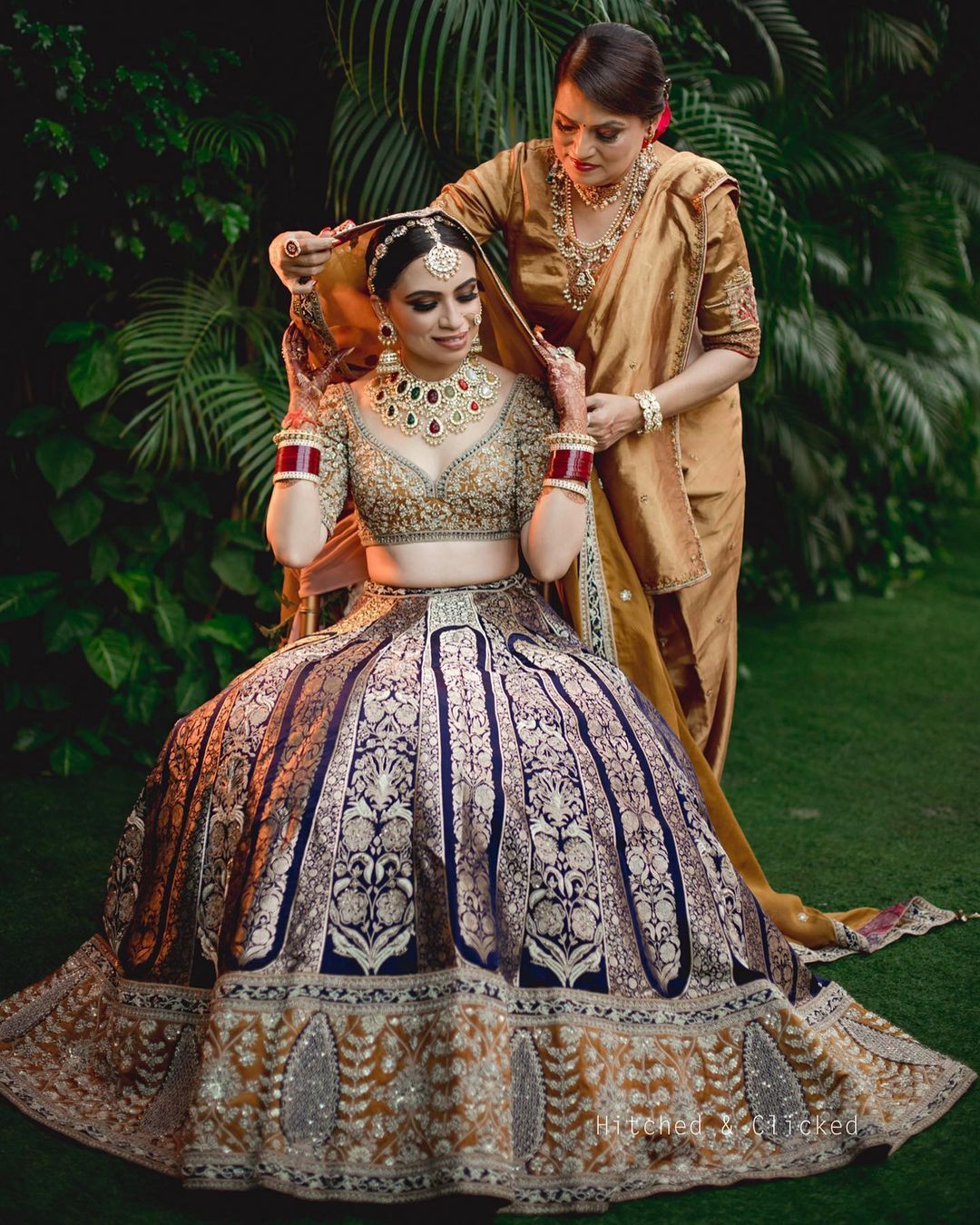 Image via Hitched and Clicked / Outfit via Marwar Couture
Obsessed with the Banarasi weave? Well, guess what, just like this bride you too can experiment with colors to make this timeless fabric stand out. Screenshot this right away! Wondering where to get Banarsi lehenga from? Read this!
Salmon + Turquoise + Red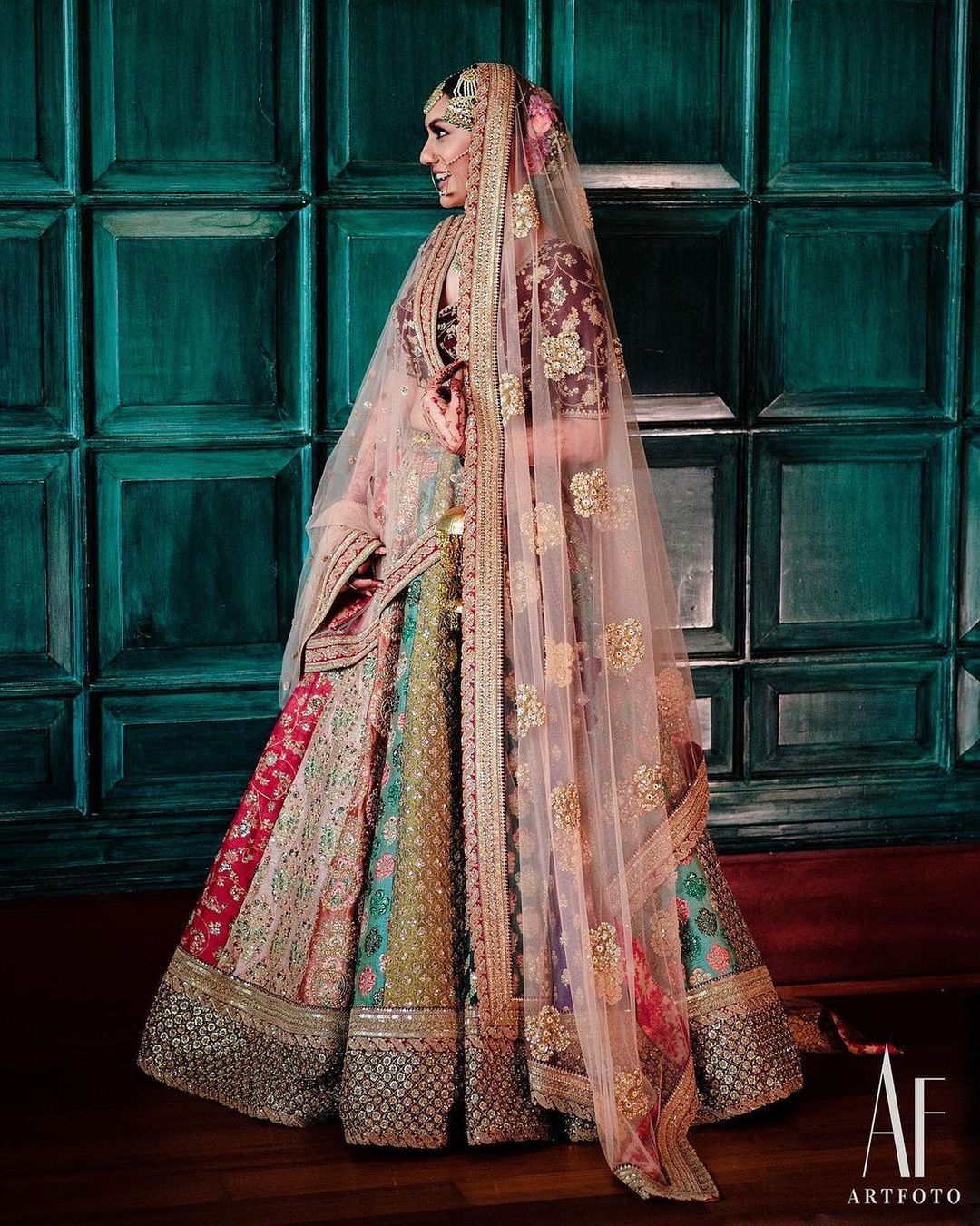 Image via Artfoto Studios / Outfit via Sabyasachi Mukherjee
Multi-hued bridal lehenga will definitely rule the wedding trends chart in 2023, and here's proof of it. So, if you're a modern bride who wants a riot of colors on her wedding outfit, GO FOR THIS!
Gold + Moss Green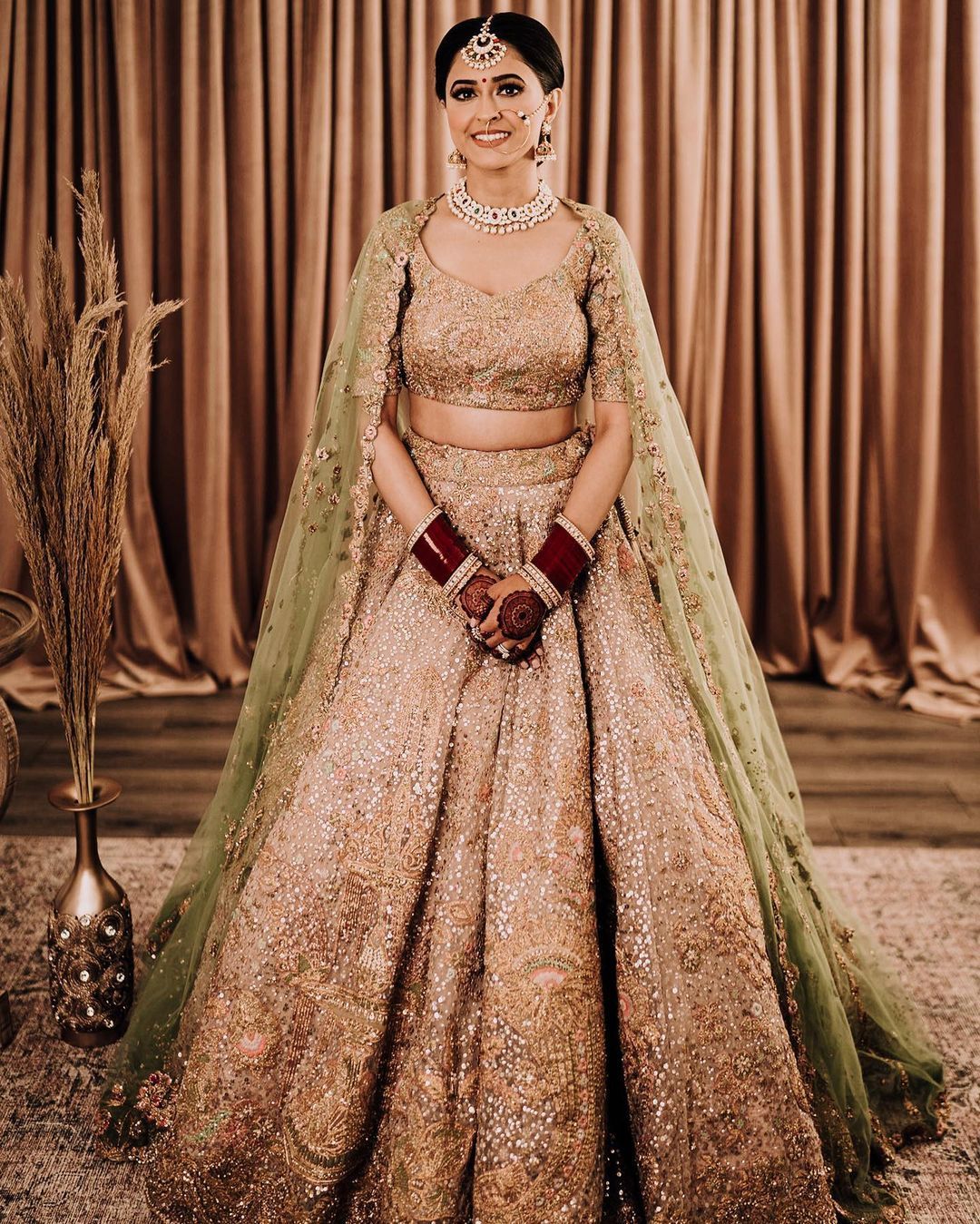 Image via Ksway Films / Outfit via Rimple and Harpreet Narula
Looking for a serendipitous lehenga color combination with the right amount of bling? We just found the perfect inspiration for you. Oozing with magnificence, this one's surely going to be a head-turner on your big day.
Baby Pink + Celestial Blue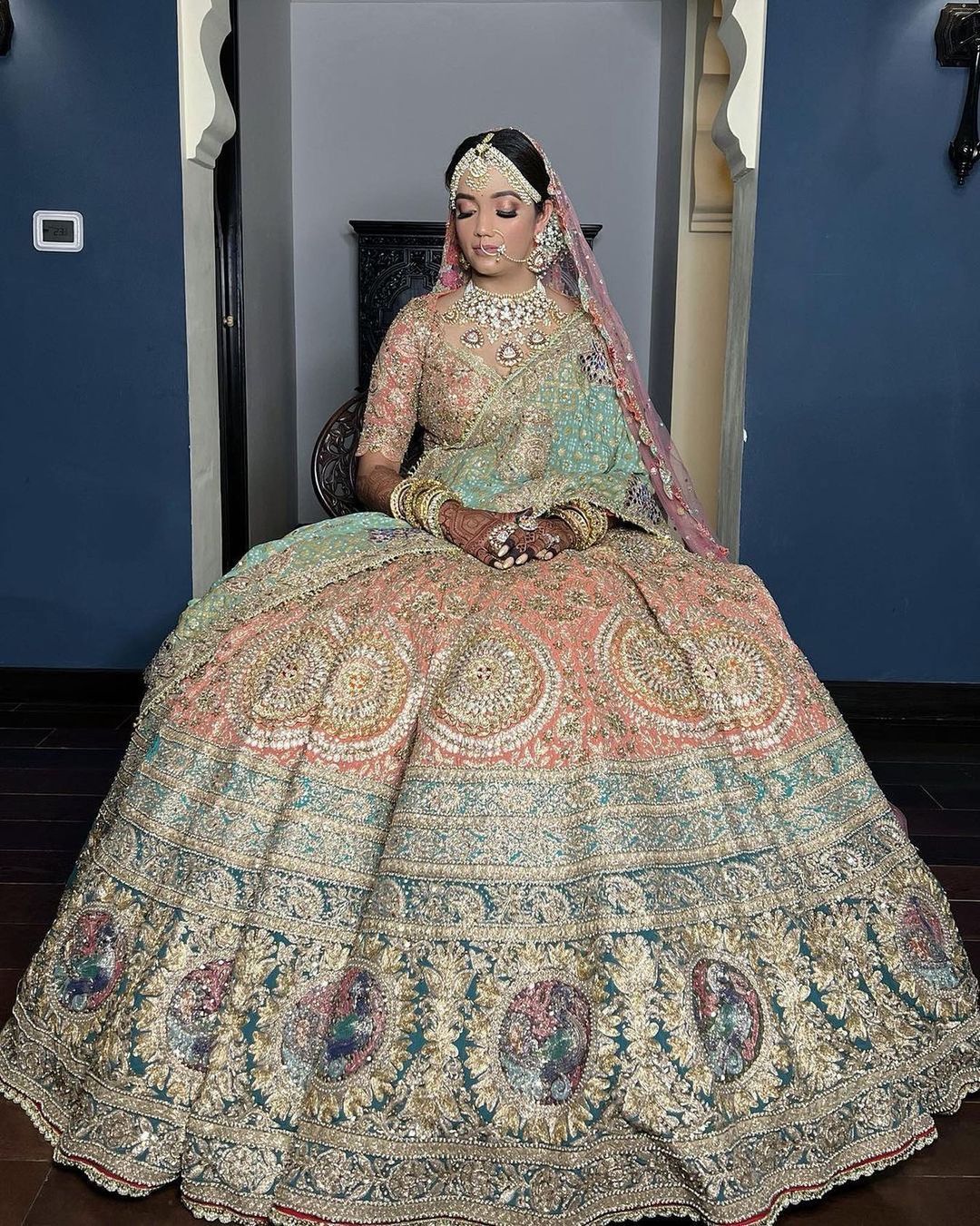 Image via Doll You Up By S / Outfit via Rimple and Harpreet Narula
A blend of different pastel colors never looked this pretty before! It is absolutely magical and such an eye-pleasing fusion that it'd instantly match your aesthetic. Surely want to see more of it in the coming year!
Sage Green + Tangerine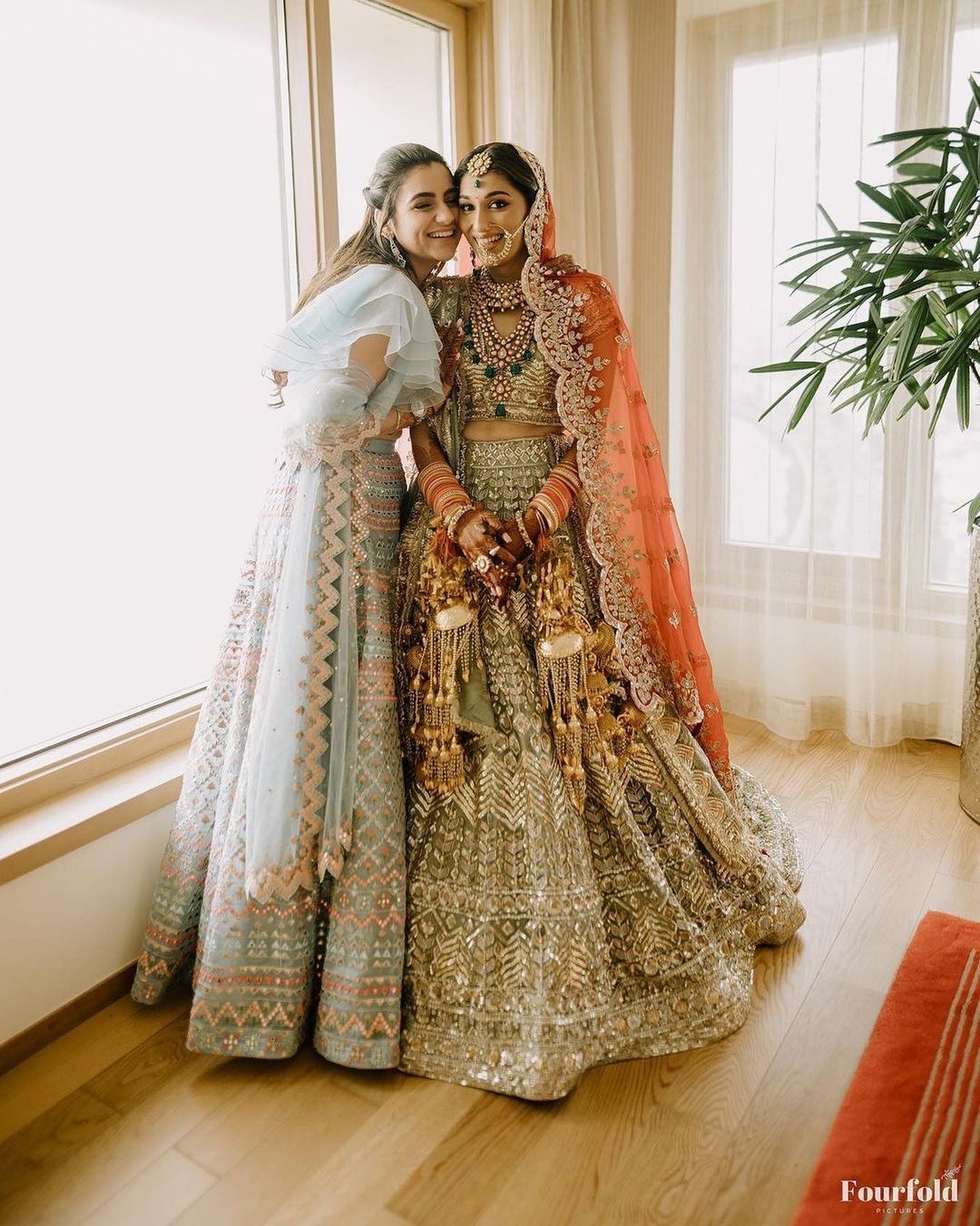 Image via @fourfoldpictures / Outfit via Manish Malhotra
Now that's one unforeseen lehenga color combination that turned out to be so visually appealing. Despite the scintillating embroidery, the bridal jewelry stands note-worthy, which makes it even more fab.
White + Magenta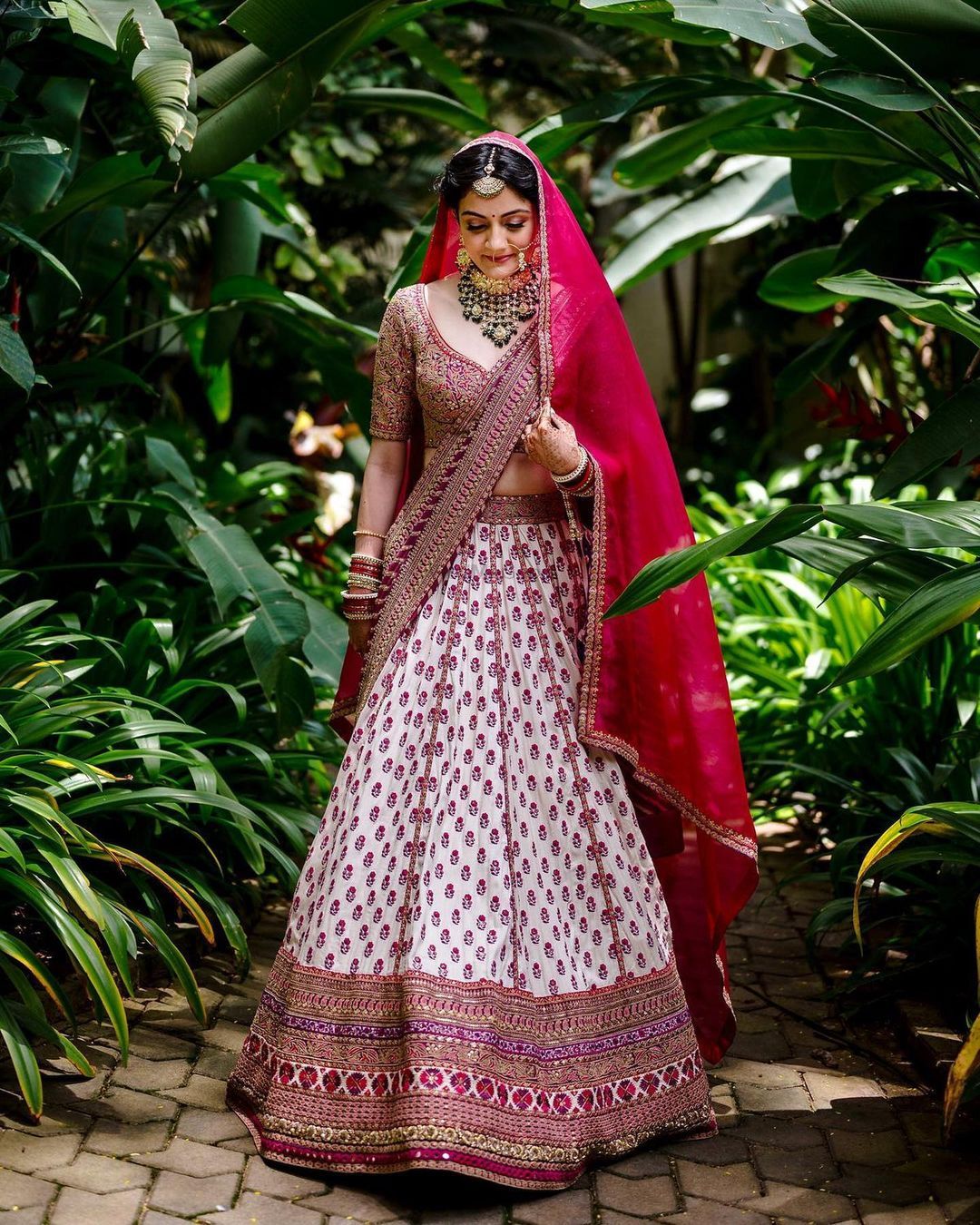 Image via Nikhil Shastri / Outfit via Sabyasachi Mukherjee
We can never have enough pink bridal lehengas! But if you don't want to go monotone with your outfit, this is exactly how to break it. Never knew adding a white lehenga skirt can end up looking this ethereal. Here are a few lehengas in the shades of pink, that you might want to gaze at before you mix and match.
Wine + Mauve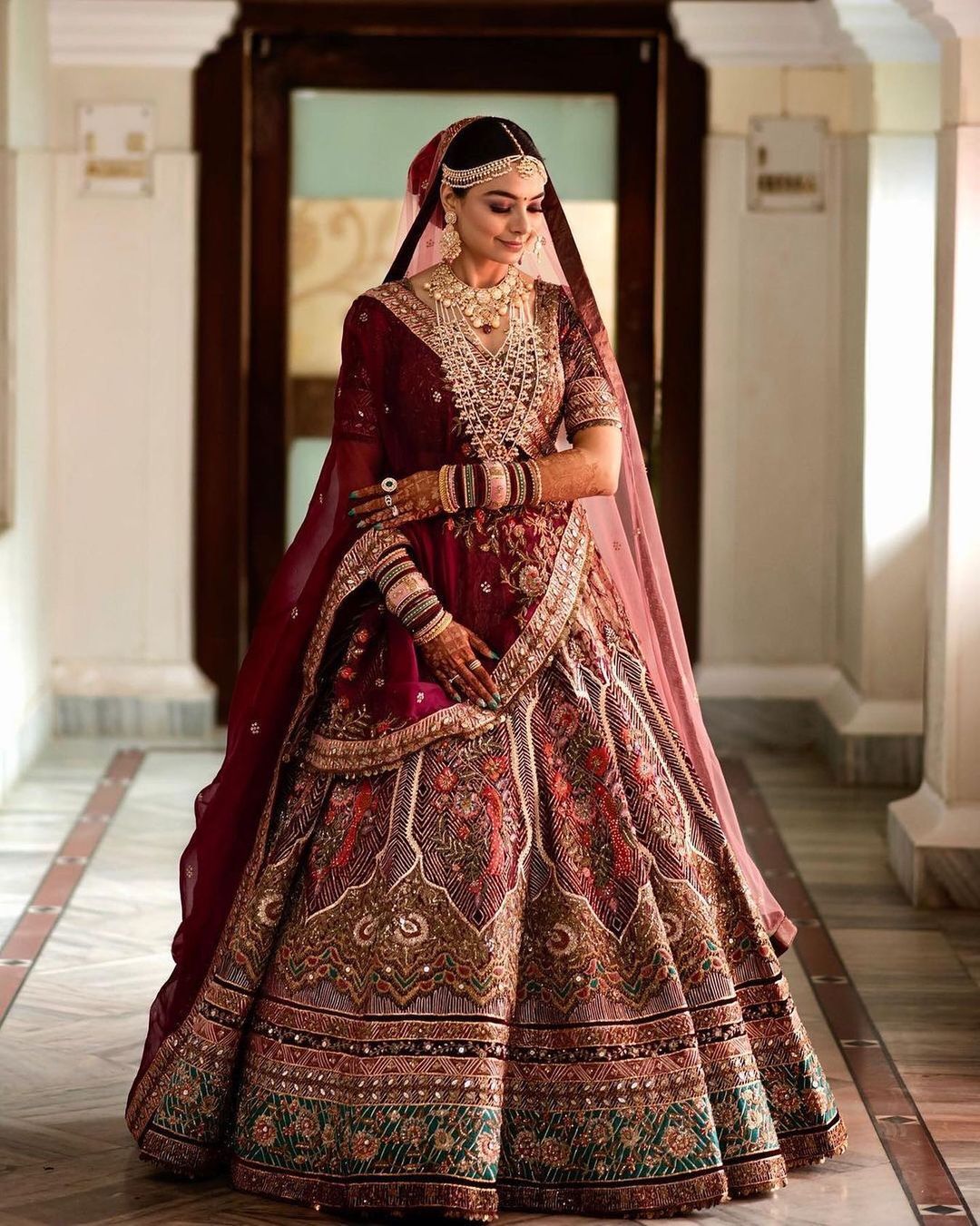 Image via Pratham Photography / Outfit via Marwar Couture
Deep dark tones on your mind (but with also a concern to look mundane)? Fret not, this bride right here rocked a combination that we had never witnessed before. So go ahead and make a style statement with this one.
Baby Blue + Sea Green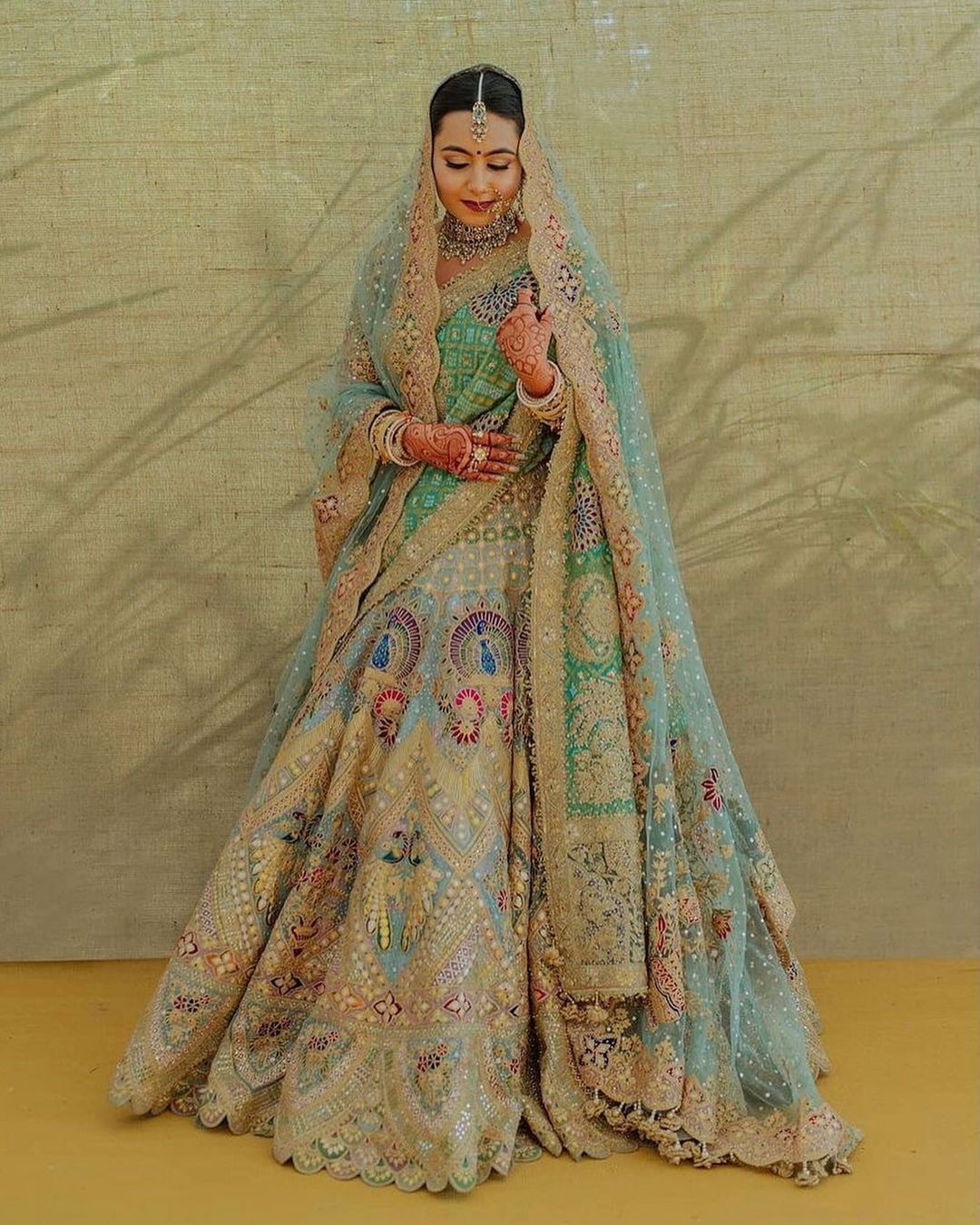 Outfit via Rimple and Harpreet Narula
If we were to describe this bride's lehenga in one word, we would say 'regal'! If a cool tone palette is close to your heart, don't shy away from donning it on your wedding day. Find more blue lehengas here, and lock your ultimate bridal outfit.
Olive Green + Antique Gold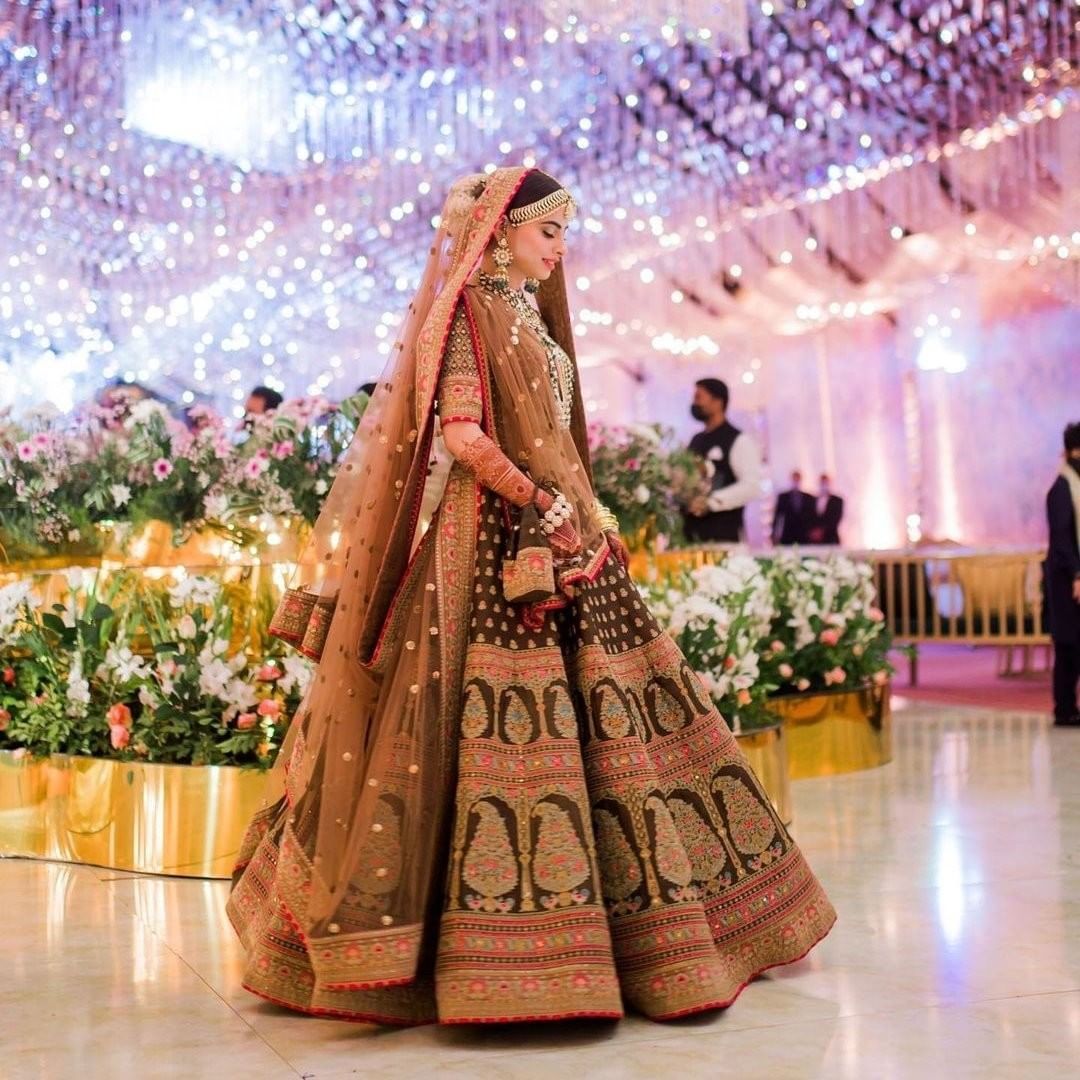 Outfit via Sabyasachi Mukherjee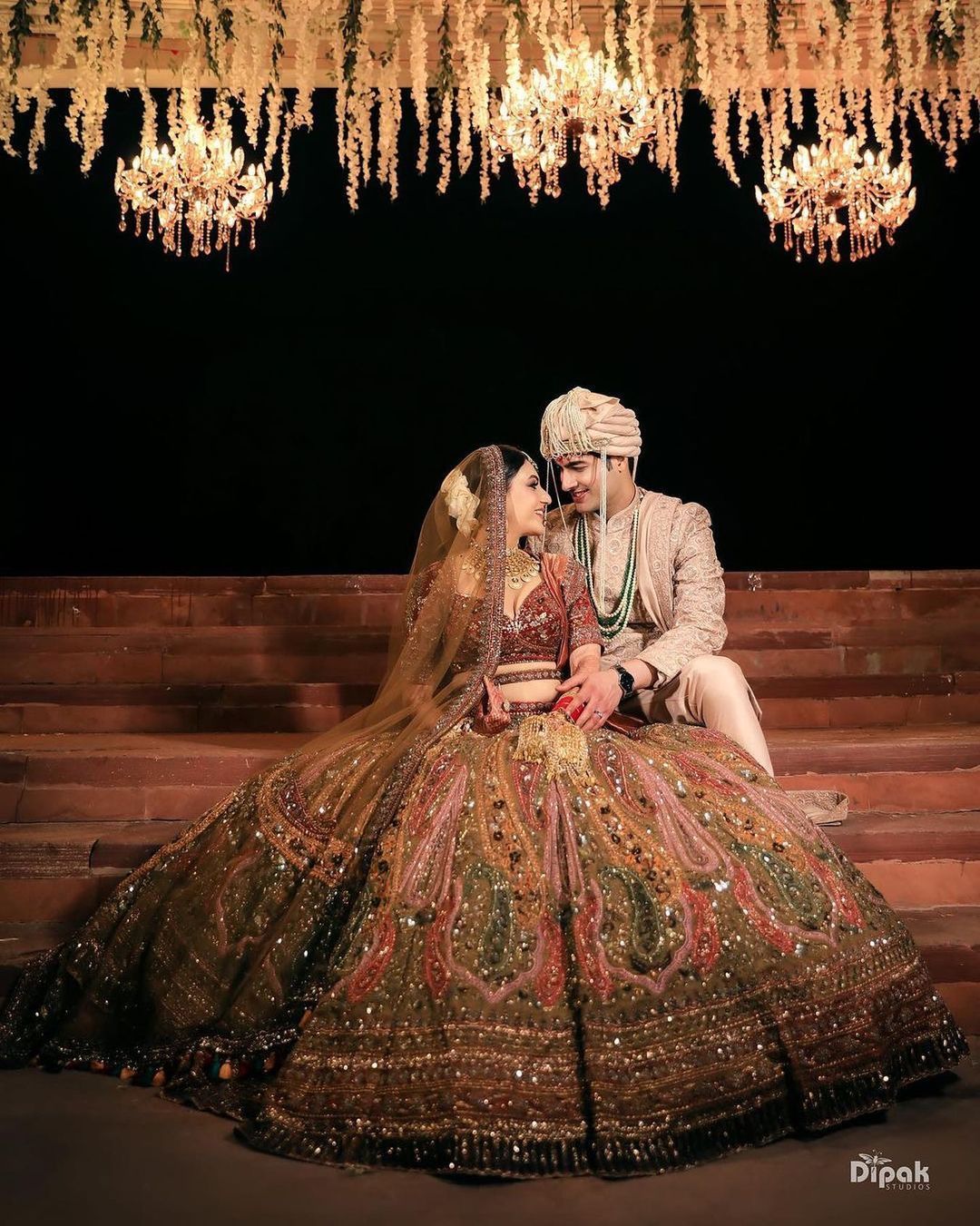 Image via Dipak Studios / Outfit via Payal Keyal Design
Now that's one royal color combination, isn't it? Earthy-hued lehengas rose to fame amongst nouveau brides and set the internet on fire with their uniqueness. And if this matches your vibe, then find more such lehengas here.
And with this, we hope that we helped you bookmark your ideal lehenga color combination! All set to exchange the vows?